People love famous Vietnamese recipes for many different reasons. Some can't get enough of their deep flavors, while others adore their colorful appearance and inclusion of nutritious veggies. Whatever you wish for, diverse Vietnamese foods have it and more.
After all, I'm talking about a cuisine spanning thousands of years. Some of its iconic dishes date back to the age of Văn Lang, the oldest kingdom in Vietnam's history, a period rich in myths and legends when long-lived Hùng Vương (Hùng Kings) ruled alongside gods.
By contrast, many other well-known dishes from the S-shaped country came about more recently (like a few centuries ago). They could be the result of Western influences or an adaptation of the existing Chinese characteristics in Vietnamese cuisine. Let's discover them all!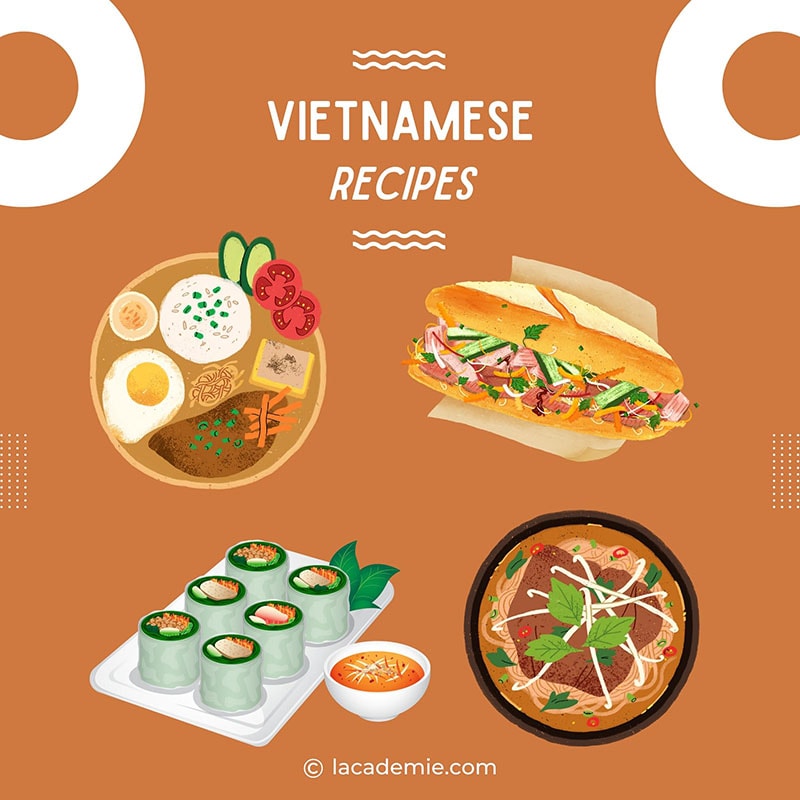 A Few Vietnamese Appetizers To Refresh Your Palate
To be honest, Vietnamese foods don't have many clearly defined appetizers or hors d'oeuvres. That can cause some problems for people who want to start their lavish parties the way Vietnamese people do. But this section will take care of that for you!
Total time: 30 minutes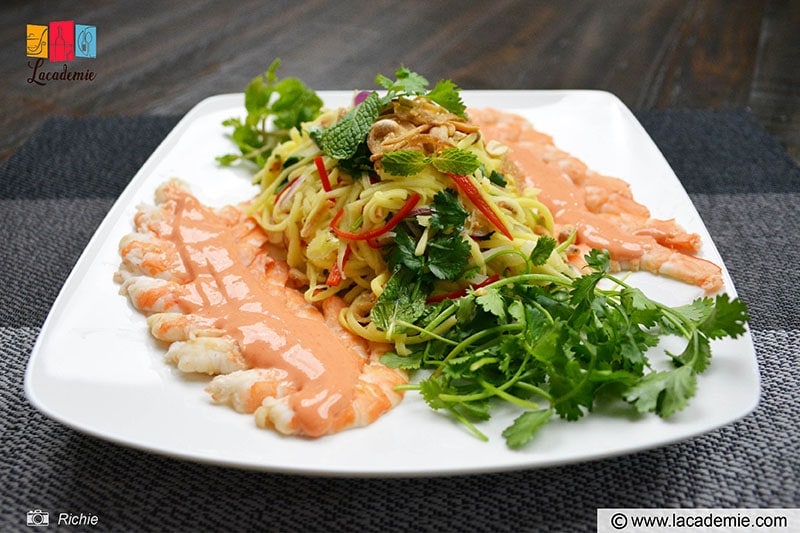 Give your taste buds a real treat with this delectable Vietnamese appetizer! It is a mind-blowing combo of tart mangoes, meaty shrimp, pungent onions, citrusy cilantro, and many other ingredients. The clash of flavors is enough to make every mouth water.
But wait until you feel the contrast in texture. The crunch of unripe mangoes both opposes and supports the firmness of shrimp, contributing to sheer pleasure in every bite. Many people like to enjoy the salad with crispy prawn crackers or soft pork belly.
While it makes a great starter to a lavish meal filled with heavy foods, there is no problem enjoying the salad as an interesting snack. Serving this colorful treat at a beach- or tropical-themed party is also a great idea.
Total time: 15 minutes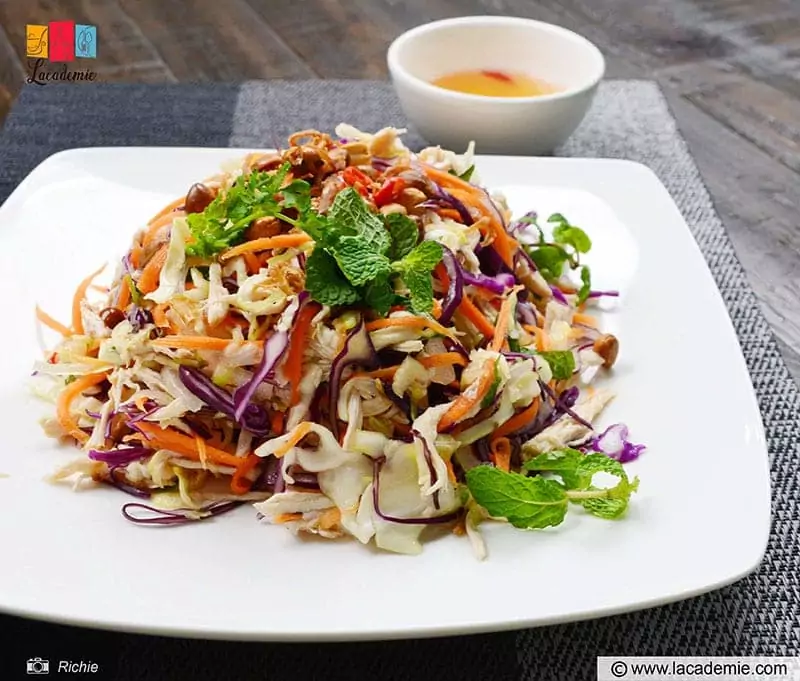 Suppose that you have some chicken roast, cabbage, red onions, and other veggies in the fridge, what is the best way to deal with them? Ask any Vietnamese foodie, and they will probably suggest making sour, sweet, and savory Vietnamese chicken salad.
The best thing about this recipe is that you can drop any type of cooked or canned chicken in it, though I personally like lean cuts best, like chicken breasts. Feel free to adjust the amount of lime juice and vinegar in the dressing to your liking, but don't let tartness overwhelm the overall flavor.
The salad works magnificently as an appetizer or side dish, but I find it an excellent idea to double or triple the ingredients and create a healthy, gluten-free item for the main course.
Total time: 40 minutes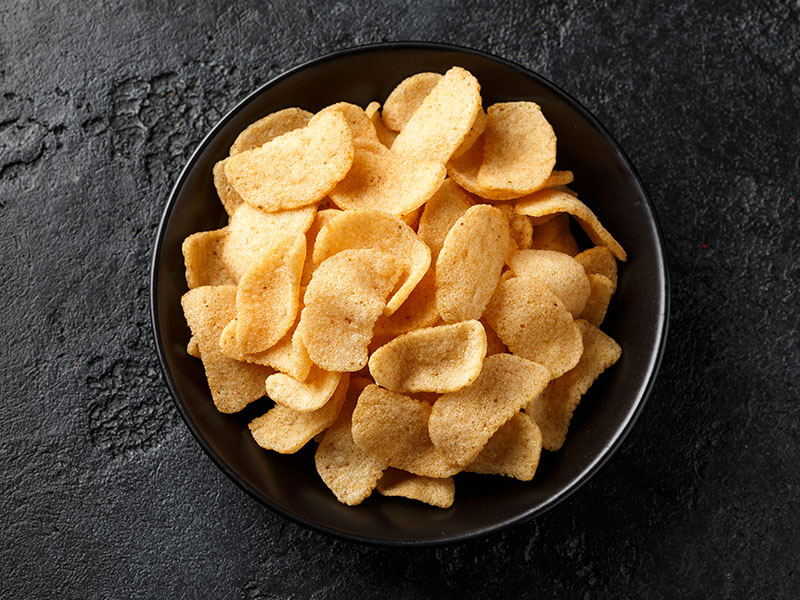 If the quick green mango salad still leaves you with plenty of time to spare, why don't you make these savory prawn crackers to go with it? Their excellent crispness and ability to absorb all kinds of flavors make them a flawless side dish for many things: soups, salads, snacks, etc.
It's a good idea to make a large batch of crackers to keep for later. While the fried crackers can only retain their texture for 1 – 2 days, uncooked ones can last for weeks in the fridge. To prevent them from going soggy, you should only heat them up right before the meal.
Total time: 35 minutes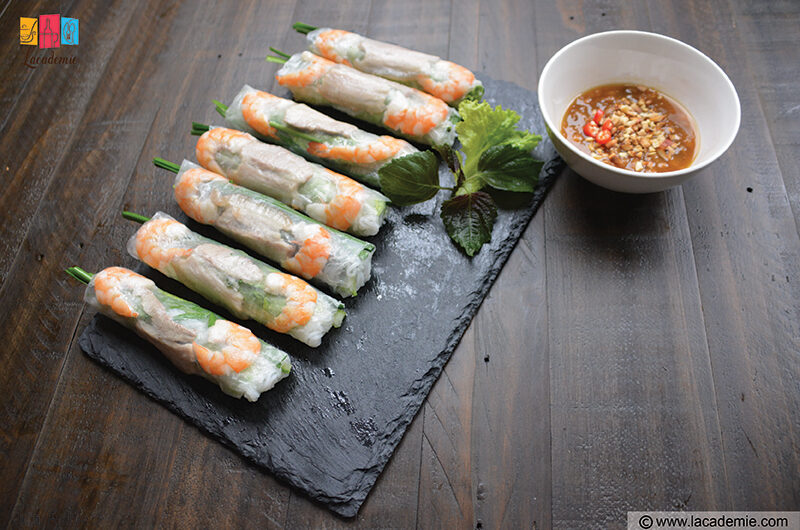 "Gỏi" is a flexible word in Vietnamese. It can mean a salad or a paper wrapper-based delight like this one. When your kids refuse to eat fiber-rich foods, entice them with these tasty bites. Each roll is full of leafy greens, like lettuce, basil, chives, etc.
Whatever hate the little ones may have about vegetables, they will forget it when the fragrant herbs mix with the porky savoriness and shrimp's sweetness in their mouth, resulting in a great explosion of flavors. The peanut-based dipping sauce will provide a smooth finishing touch.
Spring rolls are always among the most wholesome foods from Vietnam. But if you find the pork side too rich for your taste, just omit it or use something healthier, like lean pork or tofu.
Total time: 1 hour 5 minutes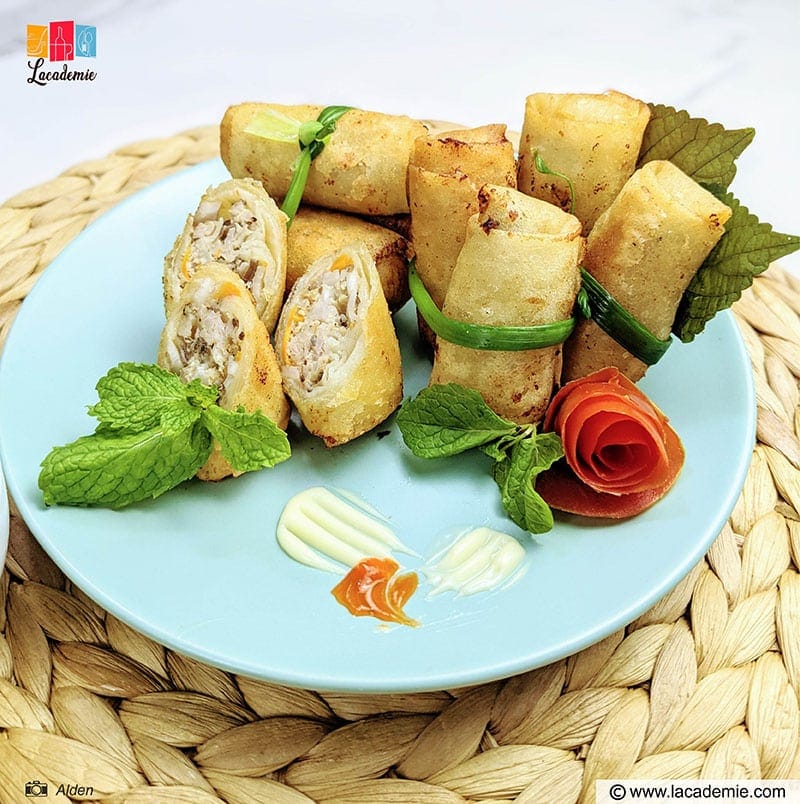 Just buy a bunch of spring roll wrappers, and you will have plenty of choices for a flavorful Asian appetizer. My favorite pick is usually Vietnamese egg rolls served on a veggie side with plenty of sweet-and-sour sauce.
The filling is already very tasty, with great ingredients such as ground pork, ground shrimp, wood ear mushrooms, taros, etc. But you can't miss the vital condiment that infuses Vietnamese essence into it: nước mắm (Vietnamese fish sauce).
I love the addictive feeling of having the wrappers break apart on my tongue, so I always deep-fry the rolls just before the meal for maximum crispness. In case you frown upon the amount of cooking oil used in this recipe, use an air-fryer instead.
Total time: 50 minutes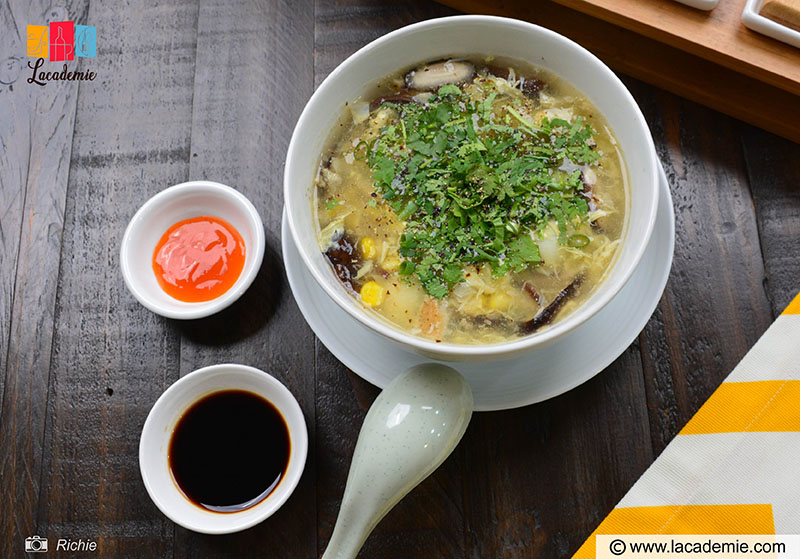 Yes, this Vietnamese appetizer was inspired by the Chinese drop egg soup. And no, it isn't the same thing as the soup served in Chinese – American restaurants. You will still find strands of silky beaten eggs in its rich broth, but this variation has other things to stand out from the crowd.
For example, it includes crab meat. You may expect the savory seafood to overthrow the main star, but that ingredient fits just right in with the smooth undertones of the eggs. Many other types of vegetables in the soup (like carrots, peas, and corn) are also there to improve the flavor.
I once made the mistake of being seduced by the colorful appearance of the soup and its large umami content and enjoying it so much that my stomach had no room for the main course. Hopefully, you will be wiser!
Total time: 35 minutes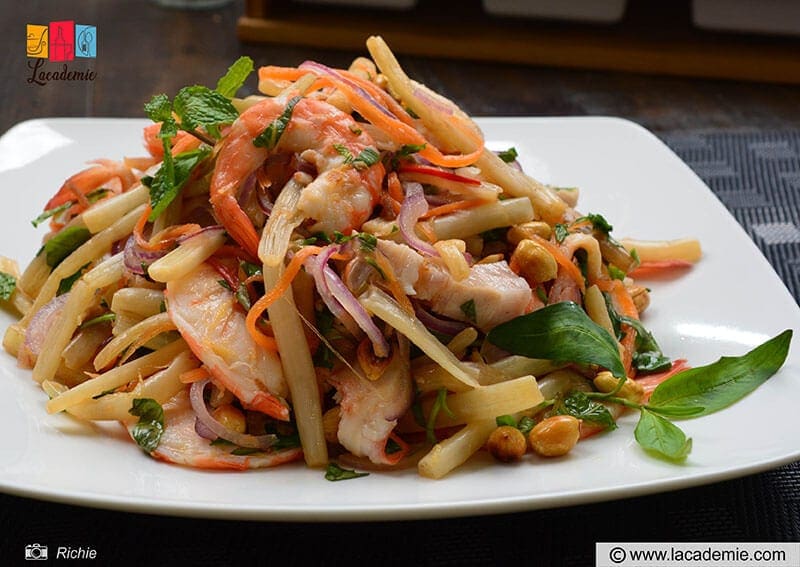 All lists of Asian superfoods have to include lotus stems. Chewing on them, you will enjoy the same pleasant, delicate flavor of sweetness that isn't unlike top-tier hearts of palm. But this delicacy also boasts the added pleasure of a stringy, starchy texture.
To appreciate that quality in the best way, you should light pickle lotus stems in warm water mixed with vinegar and sugar first. While you're at it, drop shredded carrots and white radishes in the mixture as well. The more, the merrier!
Assembling the salad doesn't involve much work. You just need to mingle the pickled veggies with boiled prawns, laksa leaves (or any aromatic herbs of your choice), peanuts, and lime juice to taste. The salad is a treasure trove of tropical freshness that you won't forget any time soon!
This instructive tutorial will show you the best way to whip up Vietnamese lotus shrimp and salad at home.
Wonderful Vietnamese Snacks And Street Foods You Have To Try
There is a fine line between snacks and main courses in Vietnamese cuisine: Many varieties of finger foods are filling enough to become a meal on their own. The same can be said about street foods in Vietnam.
Total time: 50 minutes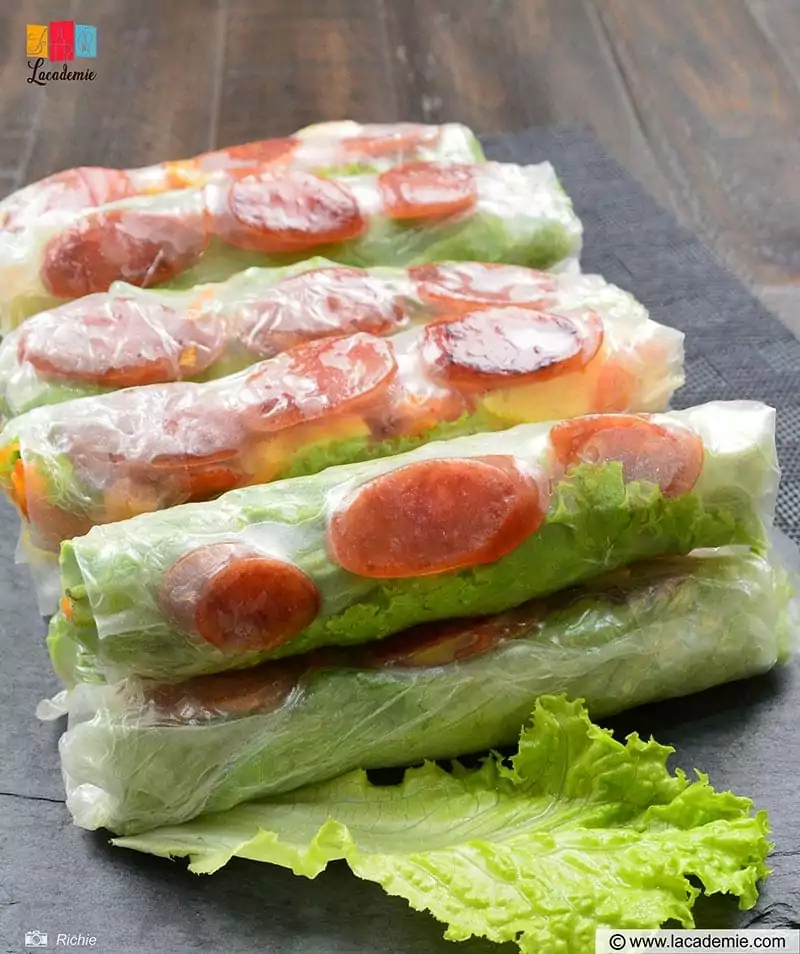 At first look, this colorful Vietnamese finger food of Chinese origin looks just like Gỏi cuốn: a mixture of meat and herbs wrapped in rice paper. But take a closer cook, and you will see the former features more ingredients: dried shrimp, Chinese sausage, cooked jicama slices, etc.
That diversity guarantees more flavors and textures in one bite. Whip up a few small bowls of sweet and sour sauce, roasted peanuts, and fried scallions, and you will have a fantastic meal. Anyway, Bò Bía is mostly a snack and street food, while Gỏi cuốn can play a variety of roles.
Total time: 2 hours 30 minutes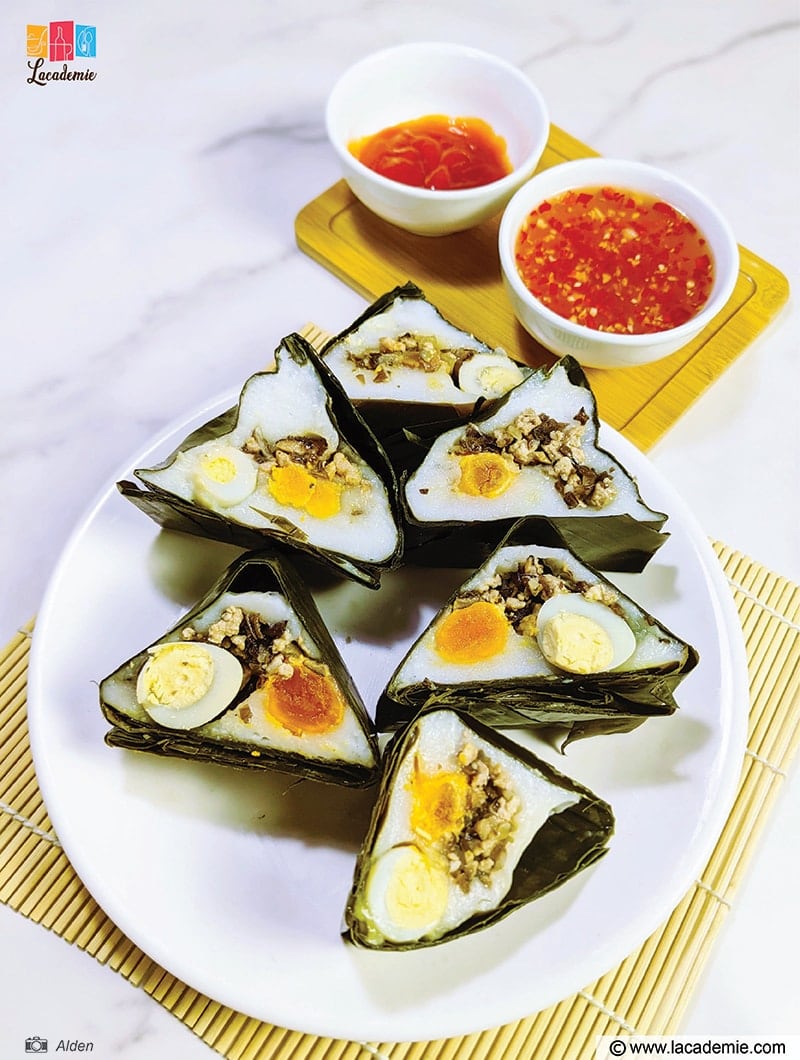 The large world of superb Vietnamese street foods has many banana leaf-wrapped delicacies. If you're looking for an easy introduction course, I recommend these fatty pyramid-shaped dumplings.
There are many things to love about them: the environment-friendly packaging, the sticky yet delicious white dough, and the little quail eggs whose nuttiness forms a nice symphony of flavors with woodsy mushrooms and savory pork.
But remember that it may take a little skill and care to wrap each dumpling into a tight shape. You can rely on the old adverb, "Practice makes perfect", or take a shortcut and buy a Bánh giò mold on Amazon or eBay.
Total time: 1 hour 10 minutes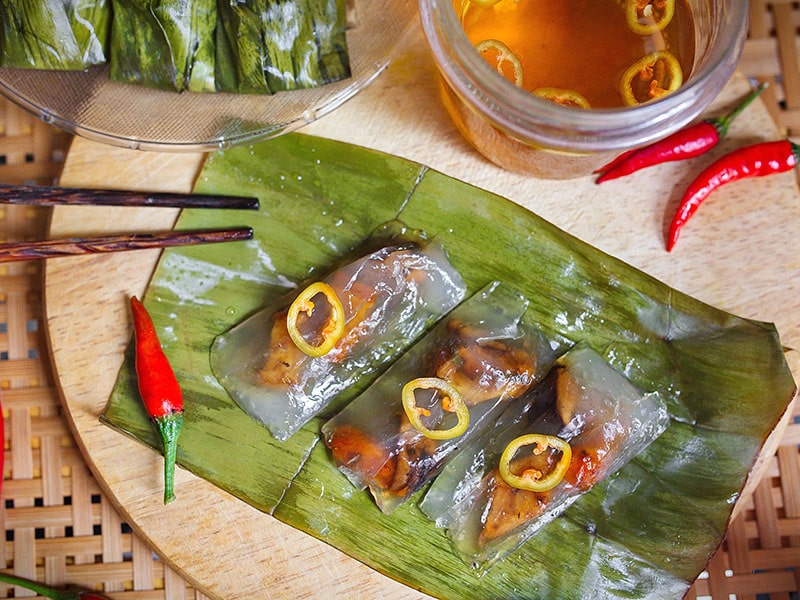 Tear off the banana leaf wrap, and you will discover the secret of this sexy treat. The transparent dough, as thin as a see-through silk veil, covers everything yet hides nothing. Beneath that sheer layer of chewy, starchy goodness are some crunchy prawns and pork belly you can happily savor.
Nevertheless, it will be a sin to omit another vital part of this recipe: the sweet chili fish sauce. The fillings of the dumplings are already sweet, but their deliciousness will get a major upgrade when dipped into this sauce. Also, no veggie side is needed: you can focus on enjoying these bites!
Total time: 1 hour 10 minutes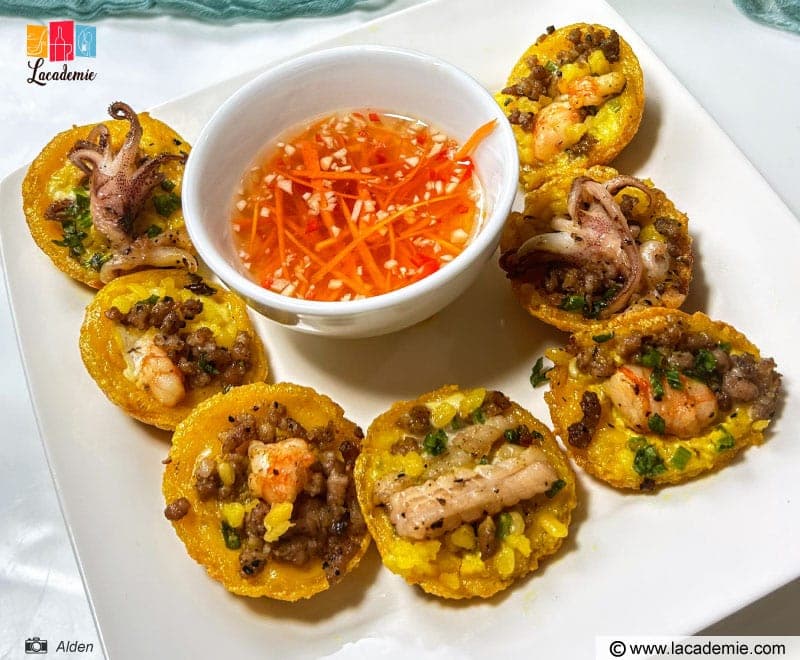 If you find the lack of elegant Vietnamese finger food disturbing, I've got the perfect remedy for you! These tiny golden pancakes pack an incredible richness of savory ground pork, salty squids, sweet mung beans, and umami-packed prawns in their firm and crisp texture.
To get that perfect round shape, you will need to go professional. I recommend you buy a Bánh Khọt pan to make the task easier. After all, this recipe is so good that I'm sure you will keep going back to it again and again!
But to bring out its most alluring taste, the right dipping sauce is a must-have. More care is needed for this one than other recipes: you have to properly mix Vietnamese fish sauce with garlic mince, chopped chili peppers, lime juice, and, most importantly, marinated carrot slices.
Total time: 50 minutes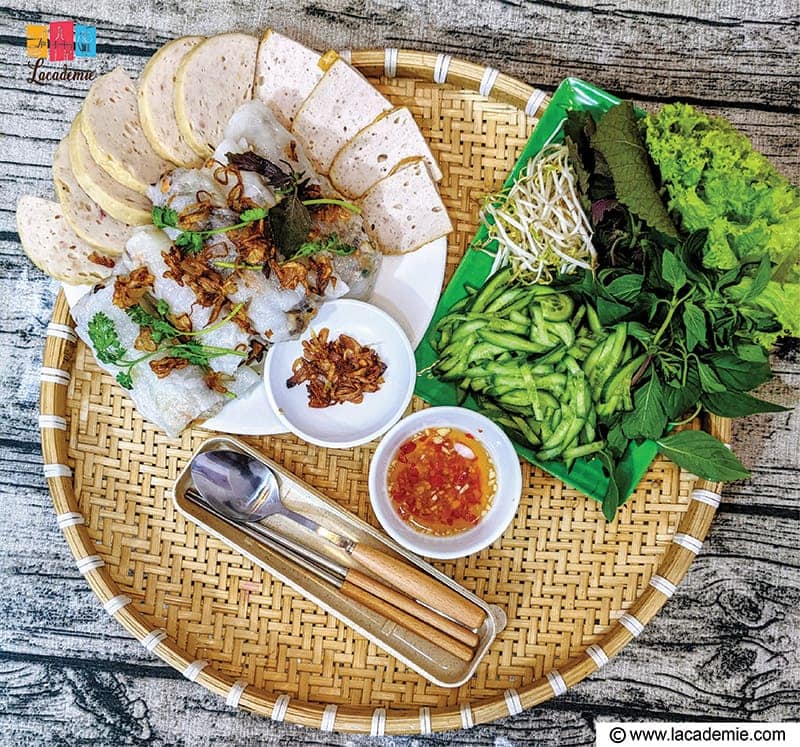 You will need to expand your list of Vietnamese cooking tools a little more to prepare these steamed rolled cakes. But if you've already got a steamer for cooking dumplings or steaming vegetables, that will save you some money.
This dish takes considerably less time than other Vietnamese cake/ pancake recipes, about 50 minutes or so. During that process, you only have to prepare the rice batter, sautee the pork mince-based filling, then use those two things to create the cakes.
It may take a few attempts to roll the cakes like a pro, but keep going, and you will soon become a master. The top-tier toppings for this dish are fried shallots, while pork sausage and vegetables will provide you with the most satisfactory sides.
Total time: 1 hour 20 minutes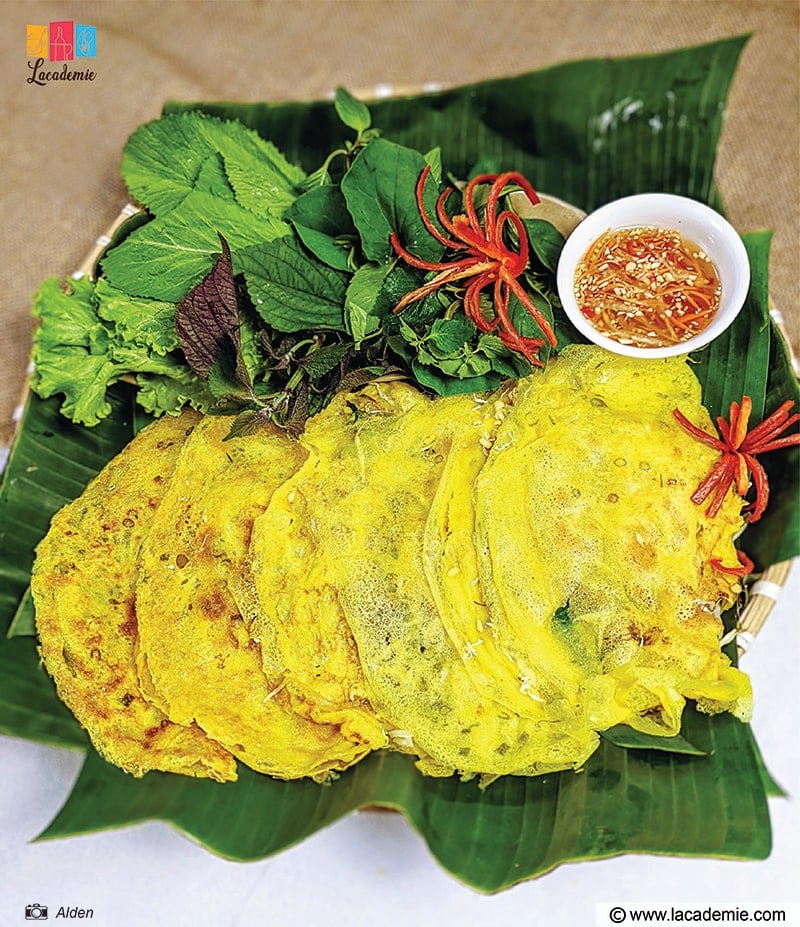 Are you confident with your skill of layering rice batter into a nice cake? Let's try your hand at a bigger challenge, like these large-sized Vietnamese crepes. You can imagine them like Bánh Khọt that get bigger, fattier, and more filling.
The mesmerizing autumn gold hue that immediately catches your attention also comes from turmeric powder. The more powder, the deeper the color will get. But don't be too greedy: using a huge amount of the condiment will cause the crepes to fall apart easily.
There is no mold needed for this recipe (yay!). All you have to do is to tilt and rotate the skillet skillfully so that the sizzling batter will spread evenly across the whole surface. When the musky aroma of turmeric wafts up, mingling with the rich aroma of pork and prawns, your crepe is ready!
Total time: 45 minutes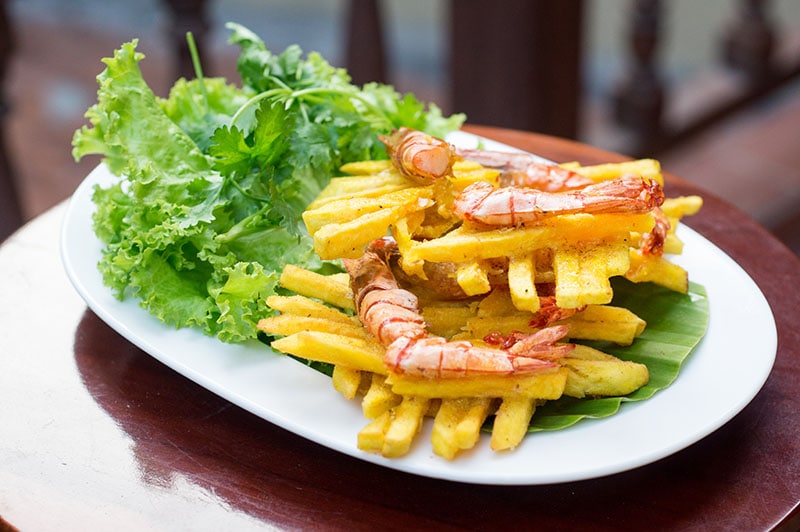 French fries have seduced countless people with their golden and crispy temptation, so imagine how irresistible their upgraded version will be. Allow me to introduce you to the ultimate snack from north Vietnam: Bánh tôm hồ Tây.
It is made with healthier sweet potatoes and savory prawns, all tossed in turmeric-based batter and fried to perfection. Mix the crunchy fritters that break apart in your mouth with fresh veggies on the side and great dipping sauces. The clash of flavors and textures is amazing!
Master the art of cooking Vietnamese prawn and sweet potato fritters with this helpful guide!
Total time: 25 minutes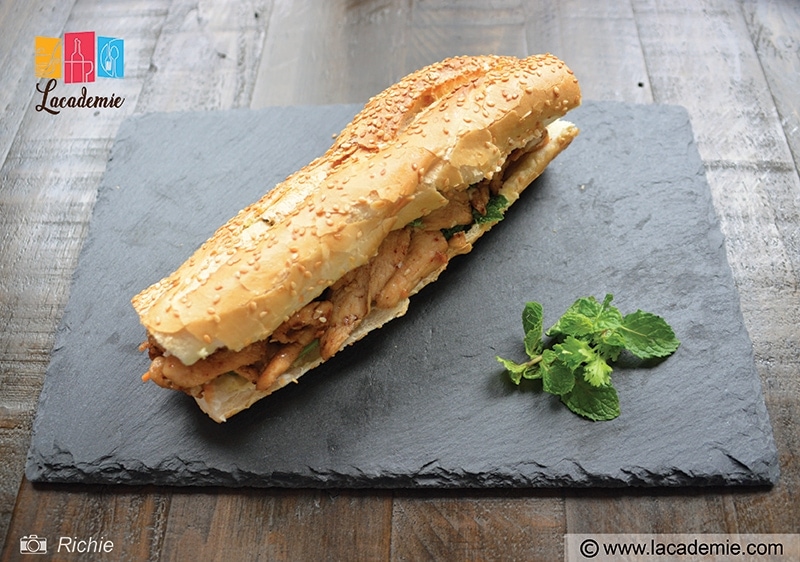 If chicken Phở exists, why not a makeover of another Vietnamese culinary classic with poultry as the star? I proudly present to you the Vietnamese chicken sandwich in all its golden glory!
It boasts everything that the world loves about old-fashioned Bánh mì: crusty sesame-coated baguettes, refreshing veggies, toothsome pickles, and, of course, full-flavored strips of chicken. In this case, well-marinated pieces of lean chicken breasts take the stage.
Take a bite, and let its intense flavors convince you how awesome this take on Bánh mì is. For an even better experience, remember to squeeze a bit of mayonnaise or hot sauce over this loaf of goodness the next time you pack it for a quick breakfast, lunch, or snack.
Total time: 2 hours 30 minutes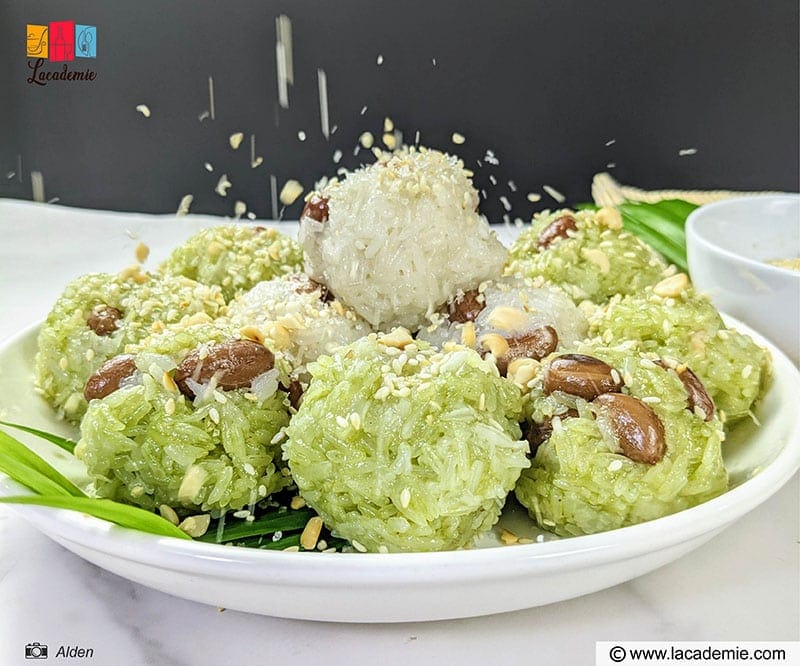 This sticky rice delight is tailor-made for people searching for an easy Vietnamese recipe with no animal-derived products. It only consists of ingredients coming from the lush vegetation in this tropical country, namely glutinous rice, peanuts, and coconut milk.
The richness and savoriness that has nothing to do with meat is the first sensation you can enjoy from this starchy staple. When shaped into small balls, the rice will take on a pleasing firmness that only gets better with the crunch of toasted peanuts.
Oh, I almost forgot the vanilla-like aroma drifting from the rice. That fruity scent hails from pandan leaf extract, which also bestows a light olive-green hue on the rice as an added bonus.
Total time: 17 minutes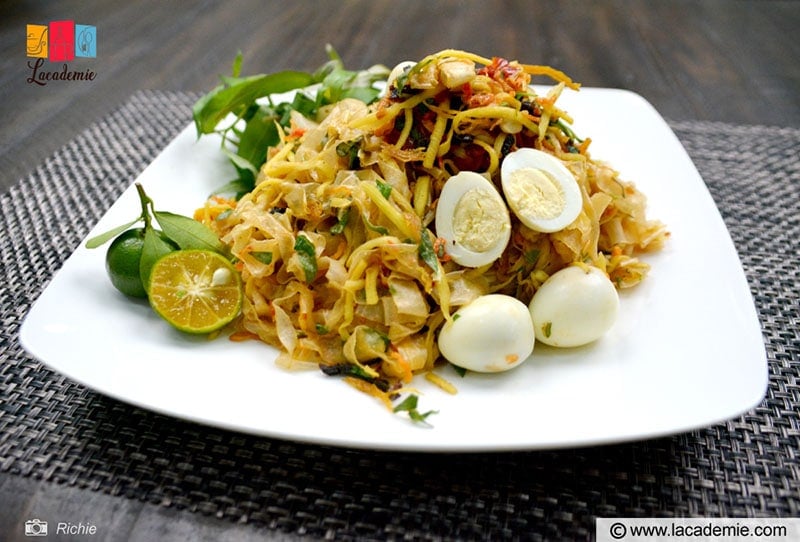 Chicken wings for a game day or popcorn for a movie night is so ordinary. I have a more interesting and nutrient-packed snack for you. It is a delicacy based on rice paper, some sour mangoes, lots of Vietnamese condiments, and various forms of dried meat and seafood.
All of those things come with different degrees of crunchiness, so the whole rice paper salad will give your teeth a good exercise. Beware that many people are so addicted to this sensation that they happen to consume a large patch without even realizing it!
But that isn't necessarily a bad thing. The more you chew, the more strongly you will feel how the sharpness of mangoes cuts through the richness oozing out of jerky, eggs, and mayonnaise. You can make a few patches, just in case!
18. Bánh Bao (Vietnamese Steamed Pork Buns)
Total time: 5 hours
This is another delicious contribution from Chinese cuisine, a tasty take on the classic da bao. But while the original bun can be made with chicken, the Vietnamese version always revolves around a slightly salty and deeply rich pork-based filling, plus one or two nutty quail eggs.
To distinguish it from similar stuffed buns, make sure you add a sufficient amount of Chinese five-spice powder and cooking wine to the filling. The resulting herbal aroma will be a nice blessing for your experience.
The recipe requires a few hours of preparation, but you can make it less troublesome by whipping up a huge batch and storing it in the fridge for days. Heating up a few buns for breakfast will give you a convenient on-the-go meal.
Total time: 3 hours 40 minutes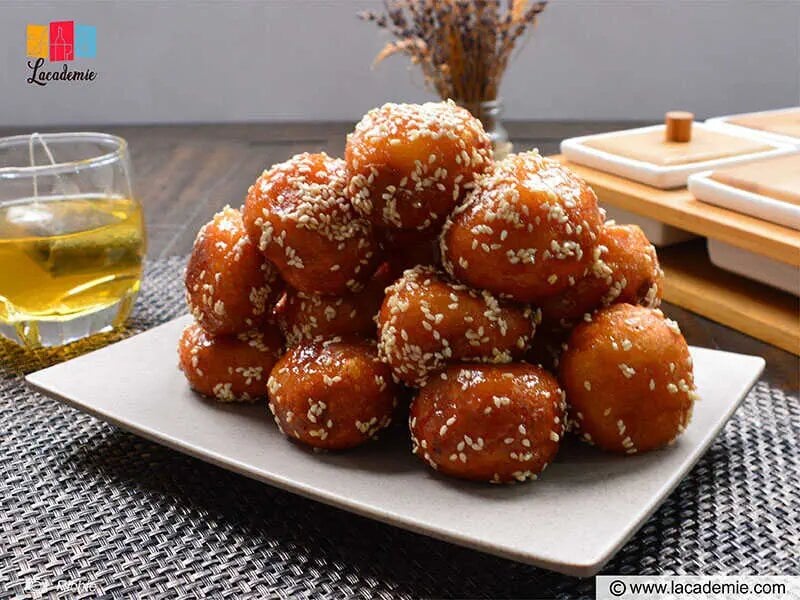 It's time for a vegan treat from Vietnam! If you love the nutty flavors of sesame seeds, the sweetness of mung beans, and the palatable crunchy fried sticky rice dough, these orange balls will be your next favorite snack.
The filling may be flavored with jasmine essence for a touch of sweet fragrance, but vanilla extract is my go-to choice. The soft mass of mung bean-based filling contrasts nicely with the crispy dough, leading to a pleasant sensation that any crave-worthy snack should have.
In some cases, people like to pour a layer of sugary syrup over the balls to give them an attractive sheen and a bolder flavor. But feel free to skip it to keep the snack healthy. Rather than a ball, you can turn Bánh Cam into a flat, round shape, like a holeless bagel.
From Vietnam With Love: Hearty Main Dishes To Leave You Speechless
It's time to indulge your taste buds with superb Vietnamese dishes for the main course. They turn the fresh bounty of nature into delicious bites that you will want to make again and again!
Total time: 40 minutes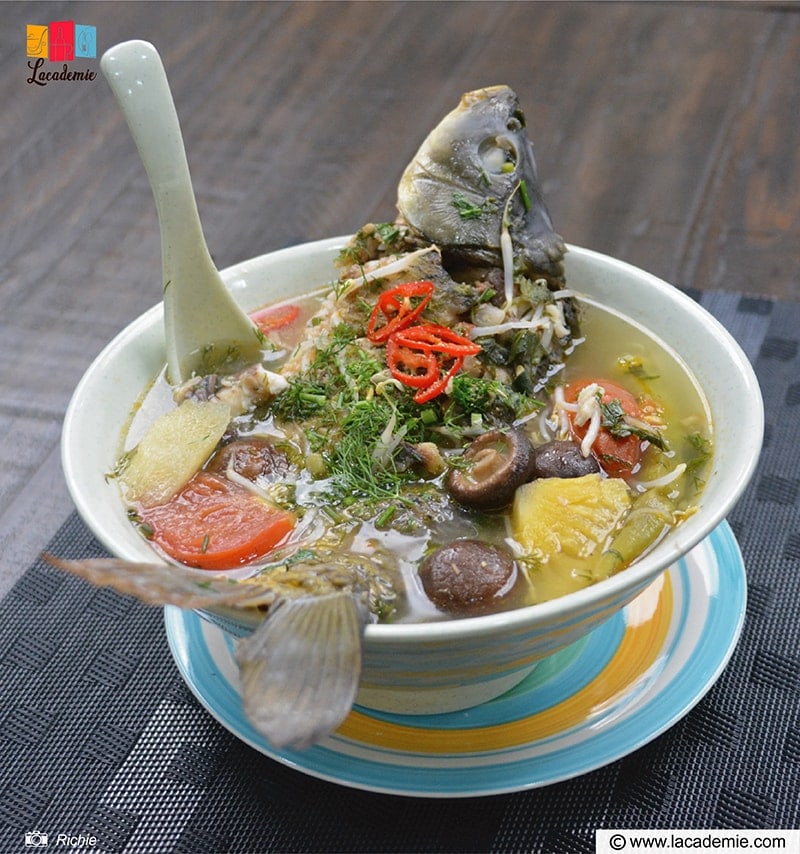 The perpetually hot weather in South Vietnam calls for great cooling dishes. When ice wasn't a thing in the region, locals usually turned to the veggie-laden Canh chua cooked with carp, one of the best soup recipes in Vietnam that you can enjoy.
You're suffering from a lack of appetite because it's boiling outside? Don't worry! The stimulating sourness from refreshing vegetables and fruits (like tomatoes, pineapples, bean sprouts, tamarind, and dill) will make your stomach grumble in no time.
Feel free to slurp the nutritious broth (you cut down on fish sauce and sugar to make it healthier). It contains a lot of proteins and minerals from veggies as well as carp. The gentle sweetness of this milky-white fish tastes extremely nice against the dominant sourness.
Total time: 1 hour 25 minutes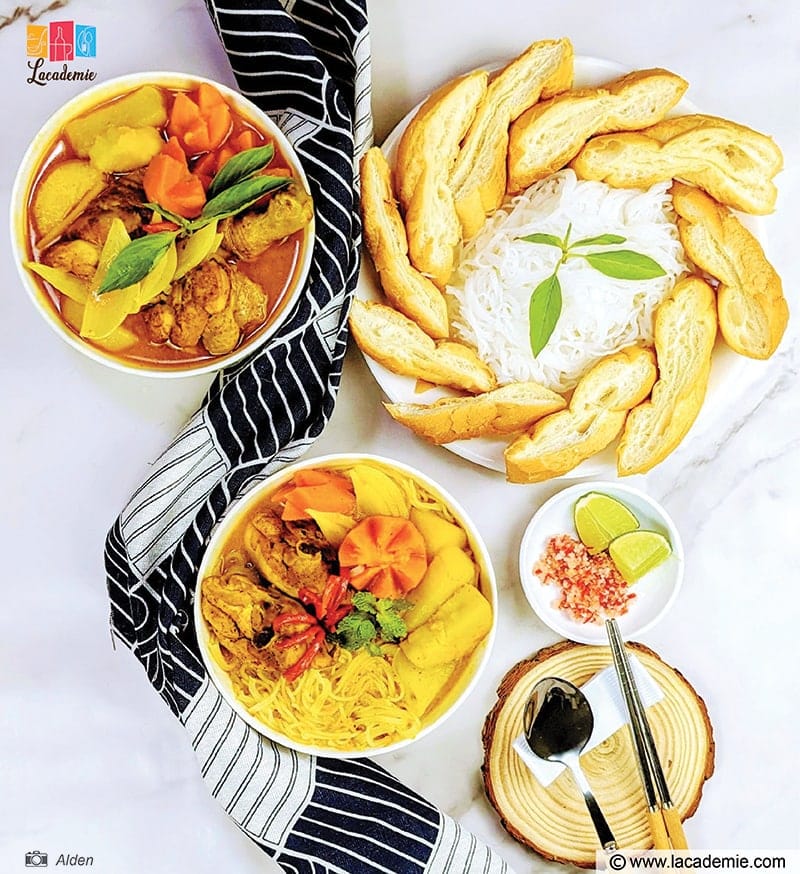 This irresistible Vietnamese chicken recipe is a terrific idea to renovate the timeless Indian staple. It includes a wide variety of aromatic spices, guaranteeing a wonderful dish that will make your kitchen smell good.
But don't worry if you're not into spicy food: The Vietnamese version is on the sweet and fatty side rather than the tongue-burning sensation that Indian (or Thai) curry has in plenty. The feeling is more like a spring zephyr that will send you to a cozy meal that even children can enjoy.
Another difference is that Vietnamese chicken curry usually goes with vermicelli noodles, though baguettes are also a common side dish. Can you feel the various shades of sweetness from different ingredients, like the coconut milk-based broth, chicken, and noodles?
Total time: 2 hours 15 minutes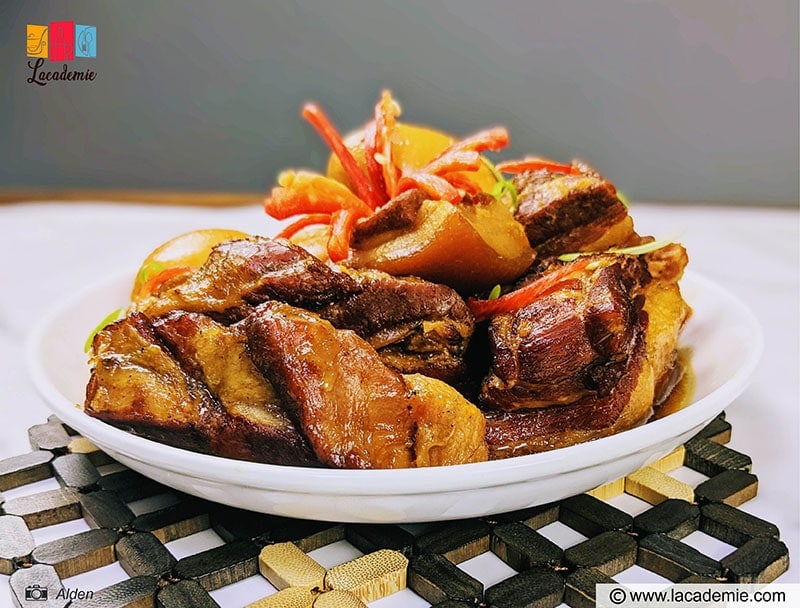 If you visit any family in South Vietnam during Lunar New Year, chances are that you will be served this delish braised pork dish. It is a crave-worthy Vietnamese comfort food that will unleash a storm of savoriness as soon as you bite into the juicy flesh.
Its appealing dark brown shade mixed between chocolate and coffee will attract your attention at first sight. You can use caramel food coloring to produce the effect, but making the condiment from water and toasted sugar is both fun and child's play.
To prepare the best broth, you must get real coconut water (either fresh or canned). It will impart tropical sweetness into the meat and balance that inherent richness nicely.
Total time: 20 minutes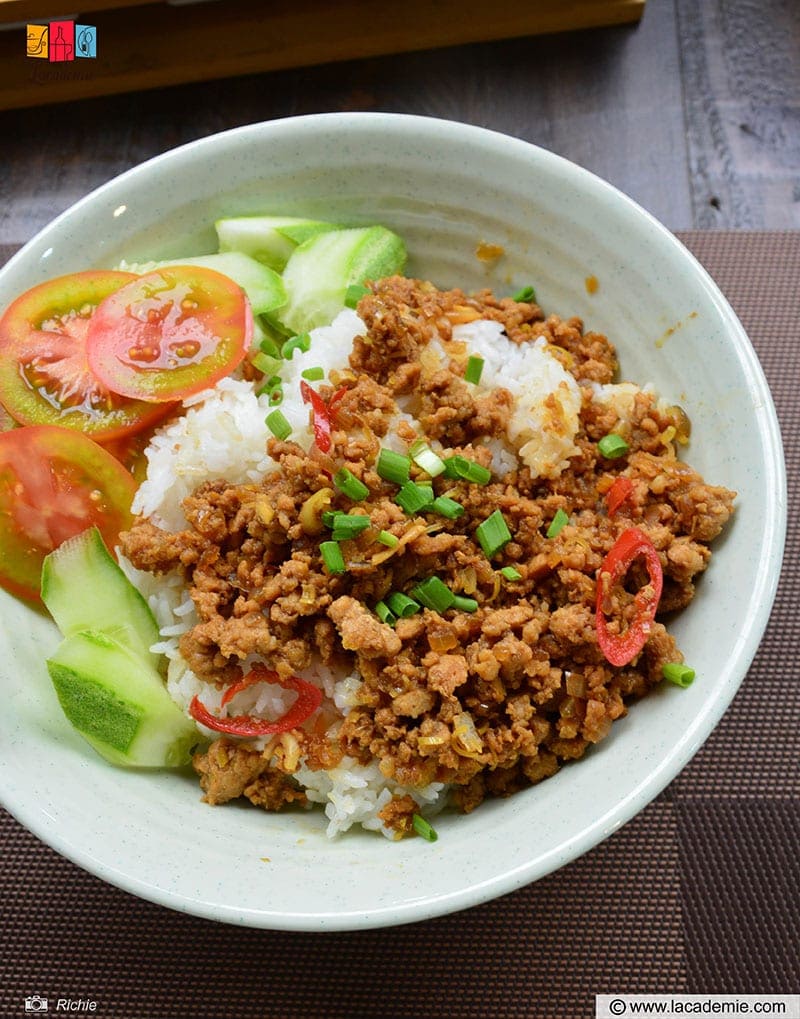 This isn't an authentic Vietnamese dish but rather a new take on the old-fashioned caramelized pork recipe. Most traditional recipes from Vietnam don't use pork mince, but this ingredient makes caramelized pork bowls quick and easy to prepare.
All you have to do is to stir-fry your favorite veggies and ground pork until cooked through and caramelized. Don't forget to add Vietnamese fish sauce for that iconic savory taste. Garnish with some scallions, and you have a tasty main dish to serve with rice or noodles.
Total time: 1 hour 10 minutes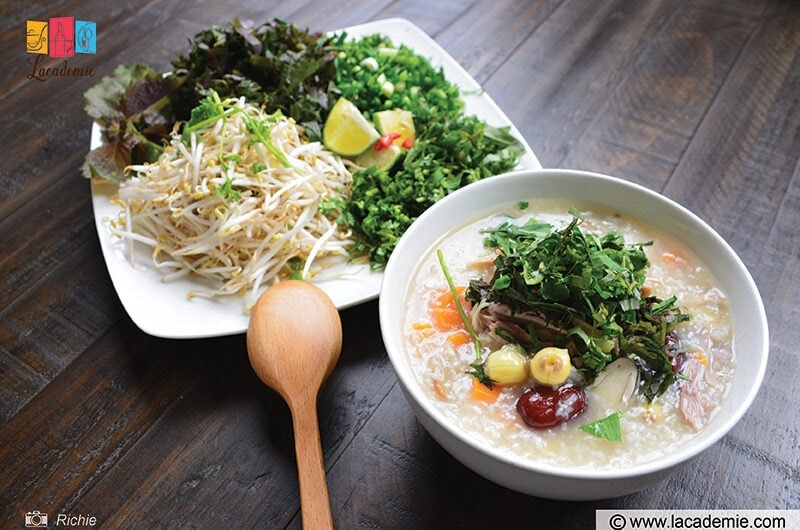 Congee is easy to make; that's why it's challenging to demonstrate your cooking skills with the dish. But this Vietnamese version will ensure a bowl of congee so good that people will remember it for a long time.
The secret is to simmer the whole chicken alongside the right spices in water until its essence seeps out, creating an irresistibly tasty broth to cook the rice. Trust me: that is more difficult than it sounds, and you have to keep a close eye on the pot during the whole process.
In return, your family meal will become healthier and more interesting with this wholesome, protein-rich delicacy. I say "family" because that's how Vietnamese people serve this dish: they eat it with their loved ones while the congee is still as warm as their affection for each other.
Total time: 11 hours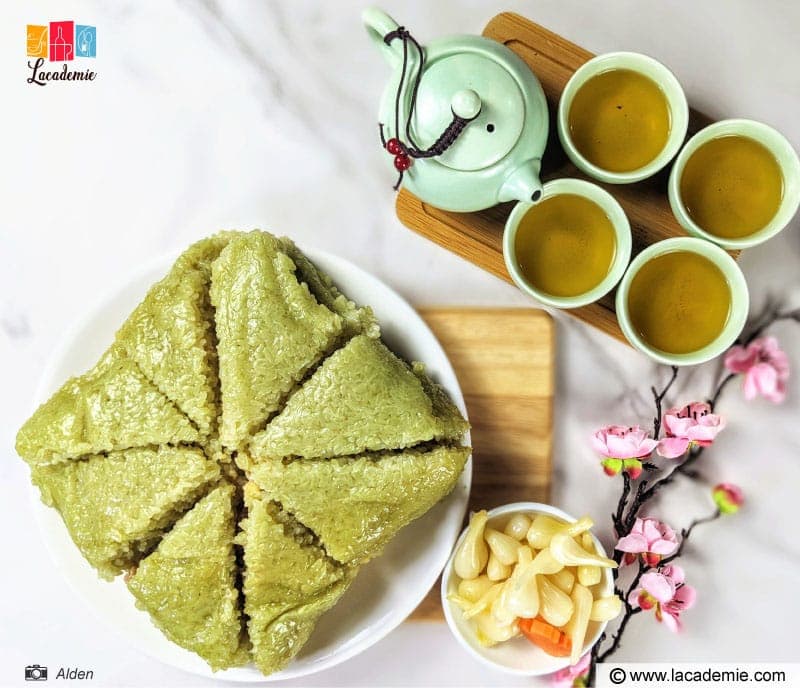 Once upon a time, the sixth Hùng Vương announced to his sons that he would pass the throne to whoever presented him with the most delicious Tết offering. While others searched for rare delicacies, an ostracized prince created a pair of simple dishes based on heavenly guidance.
Of course, he won. One of the dishes that led him to victory is Bánh chưng, a delicious staple made from the bounty of the good earth, like sticky rice, mung beans, and fatty pork. But how to combine them into a treat fit for a king? You will find the answer in my recipe!
But prepare for a long night because you have to spend half a day cooking it. But your hard work will pay off handsomely as you enjoy the faint grassy aroma wafting from the beautiful emerald green cake. Beneath that pretty appearance is a sea of savoriness waiting for you to discover.
Don't forget to prepare some hot chili sauce, dried shrimp, and pickled scallion heads (or any kind of vegetable pickles). Their added heat and tart flavors will make a great addition to the rich cake.
26. Bánh Tét (Vietnamese Cylinder-Shaped Sticky Rice Cake)
Total time: 6 hours 30 minutes
This fatty treat is the equivalent of Bánh chưng: the latter is very popular in North Vietnam, while the former is a ubiquitous sight in the South (apparently, people in Central Vietnam enjoy both types of cakes).
Bánh tét has many things in common with the northern cake, from the main ingredients to suitable side dishes. The biggest difference lies in its shape: this southern specialty always comes in a log-like shape.
In general, Bánh tét is easier to prepare outside Vietnam because it is wrapped in banana leaves, whereas Bánh chưng demands the hard-to-find dong leaves. If you want to welcome Lunar New Year like the Vietnamese, making this type of sticky rice cake is an amazingly fun idea.
Total time: 55 minutes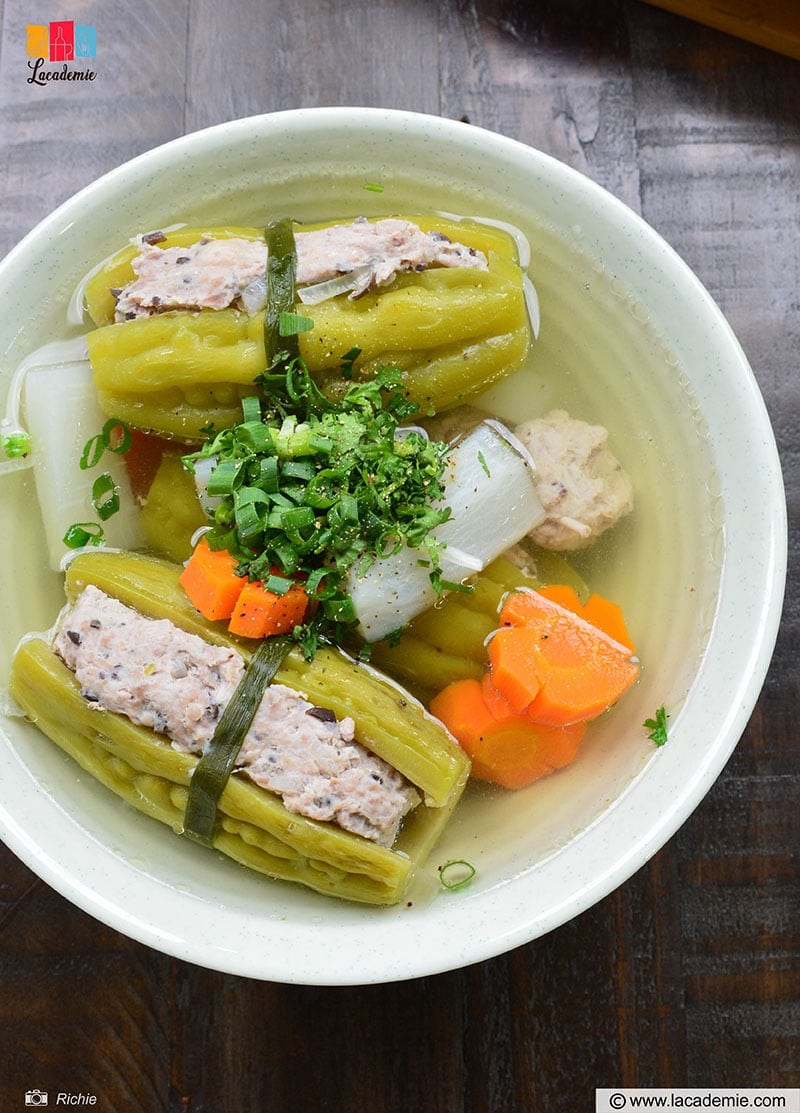 Perhaps you have had enough of greasy foods? In that case, let's refresh your taste buds with this reinvigorating soup. The Vietnamese name for bitter melons means something like "misery's/ bad luck's end", making the veggie a popular dish for Lunar New Year meals.
But there is more behind its popularity. Bitter melons will give you a roller coaster ride of flavors when their initial bitterness melts into a mellow flavor like the aftertaste of good tea. That wonderful goodness also seeps out to the broth, so don't hesitate to slurp it to your heart's content.
Of course, the stuffings also matter. Minced pork turns out to have a delicate taste if you mix it with enough wood ear mushrooms, thread noodles, dried shrimp, and seasoning. Its richness is still there, but the sensation is more agreeable thanks to the grassy aroma from the bitter melons.
Watch this guide, and you can prepare stuffed bitter melon soup like a Vietnamese cook!
Total time: 1 hour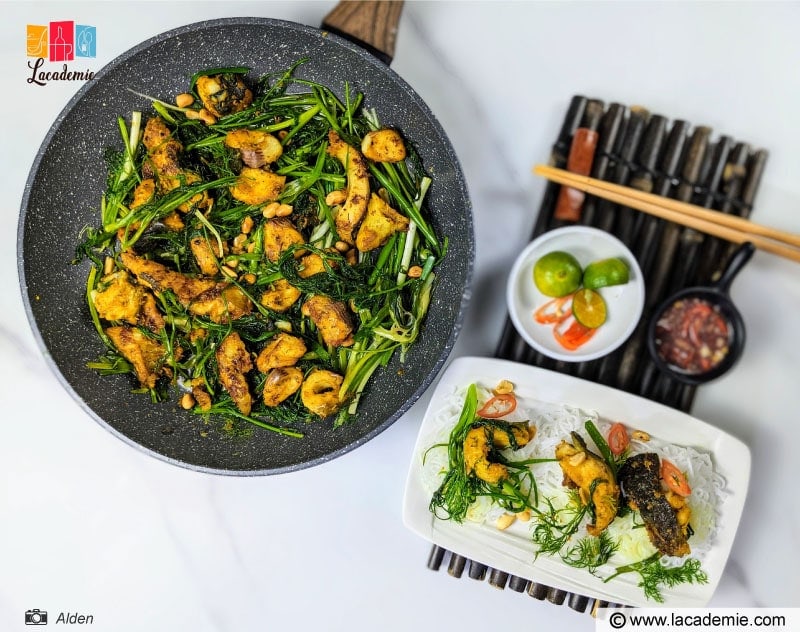 Here is a terrific noodle dish typical of Vietnamese cuisine for any food in love with fish-centered meals. The well-marinated white fish filets full of umami and powerful spices are the soul of this visually stunning recipe.
Their autumn gold color, courtesy of turmeric powder, shines so appealingly against the background of the milky-white rice noodles, especially when accentuated with streaks of lush green from various veggies. The whole thing looks like a wonderful still life begging for your attention.
In terms of sides and toppings, you should keep this dish simple. Some roasted peanuts and an uncomplicated dipping sauce made of lime juice, shrimp paste, and chili peppers are enough to bring out the full flavor profile of this artful dish.
Total time: 25 minutes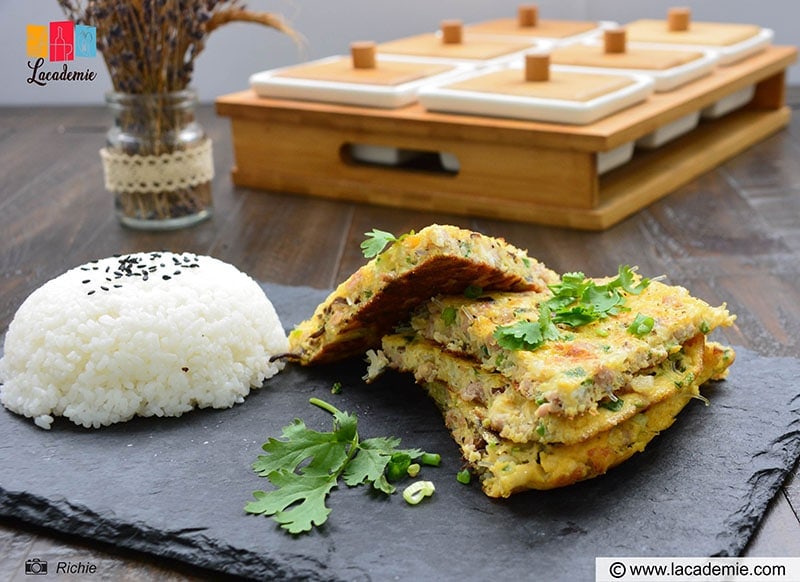 A golden egg omelet is the ultimate main dish for a quick Vietnamese dinner recipe. At its simplest, it is all about a few eggs whisked with fish sauce and seasoning that is fried in vegetable oil until crispy.
But feel free to fancy it up with more ingredients, like vermicelli noodles, wood ear mushrooms, onions, and olive oil. These things will improve the nutritional profile of the dish as well as give you some delicious bites full of various textures.
Total time: 50 minutes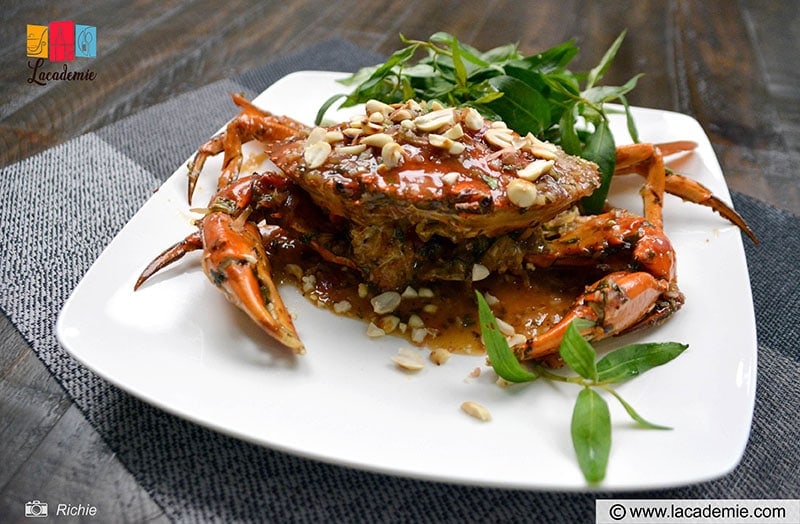 Sourness is a cornerstone of many popular Vietnamese recipes, such as this one. It is a superb seafood delight that anyone with access to fresh catch should try. Emphasis on "fresh": only live crab will bring about the most flavorful Cua Rang Me; frozen one is kind of inferior in taste.
Making this dish is easy: all you have to do is to stir-fry the crab in the piquant tamarind sauce. But it takes some care to whip up a perfect sauce. Make sure that you find all the required spices, and cook them to aromatic perfection before dropping the crab in.
When the appetizing bittersweet smell of the tamarind-coated crab fills your kitchen, it's time to open a bottle of beer to serve your seafood with. To get a more filling meal, feel free to prepare some steamed rice or bread. The toothsome sauce will make you eat to the last crumb.
Total time: 40 minutes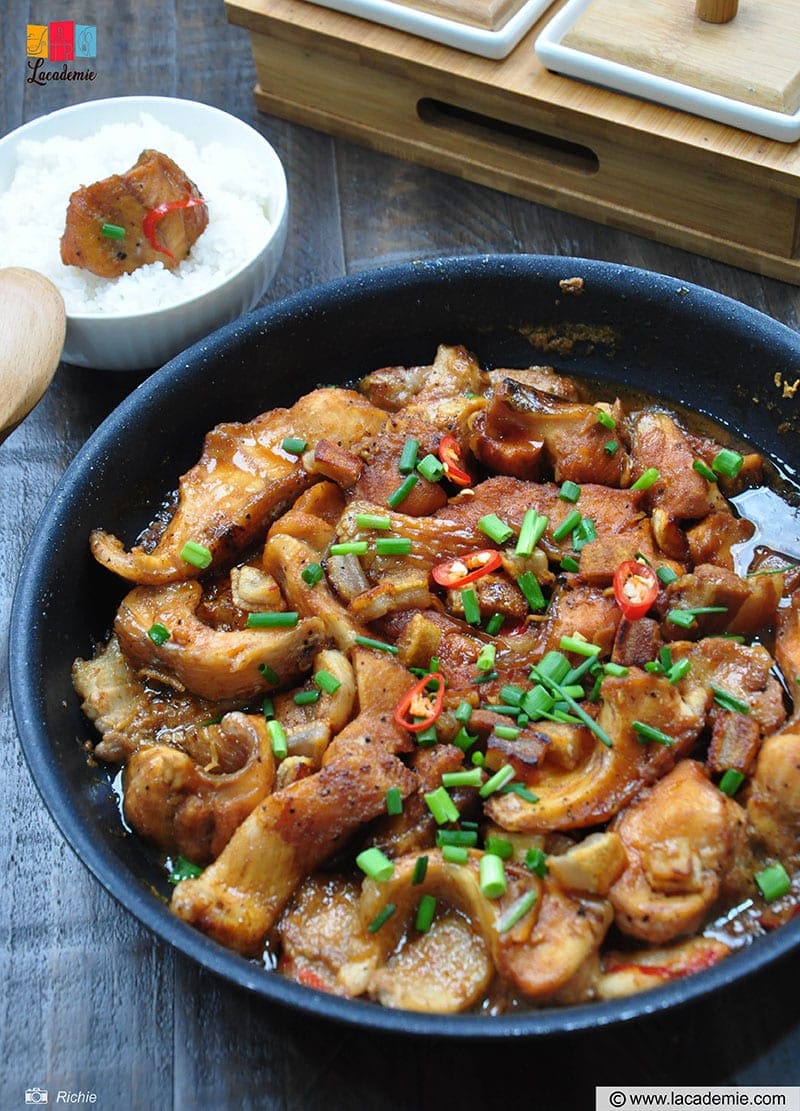 The magic of caramelized and braised food doesn't end with pork. Fans of fish-based dishes can make your dinner more eye-catching with these chocolate-colored bites of tender, succulent fish. A few slices of deep red chili peppers are just the right garnish to make the dish even prettier.
Traditionally, people braise the fish in a clay pot, but you can replace the tool with any type of cooking pot as long as it is non-stick and non-reactive to salt. The recipe requires a decent amount of caramelized sugar and nước mắm, so those traits are quite important.
Total time: 30 minutes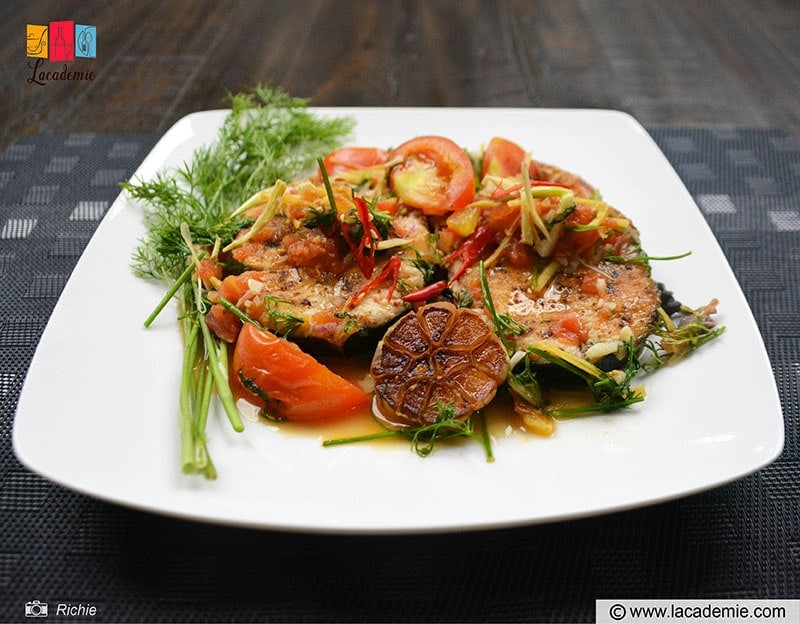 When you only have 30 minutes to prepare dinner and there aren't many foods in the fridge, this simple recipe will save your day (or night). It only requires a few easy-to-find ingredients that you can customize according to what is available in your kitchen.
Your store-bought mackerel is already sliced to the right size, so you only have to sear the fish lightly before bathing it in the tomato sauce. I recommend adding your favorite spices to enrich the taste. Now, the rich fish tempered with the tomatoey tartness is ready to serve.
Total time: 1 hour 40 minutes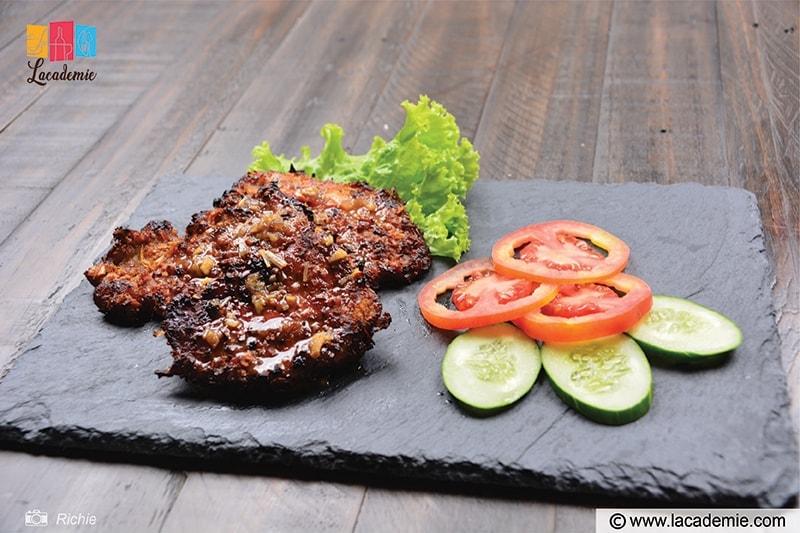 When you have more time to spare, like on a weekend BBQ party, preparing these grilled pork chops will refresh your run-of-the-mill menu very effectively. But this recipe uses an electric grill rather than the traditional charcoal one for a more convenient approach.
It's important to keep the temperature under control. Your pork chops should have a brownish-amber color with a slight char around the edges. Of course, you can take them out as soon as the pork is aromatic enough.
An interesting thing about this recipe is that you don't have to waste the marinade. Cook it with some oyster sauce and soy sauce until thick enough, and you will have the best dipping sauce to accompany the pork chops.
Total time: 1 hour 5 minutes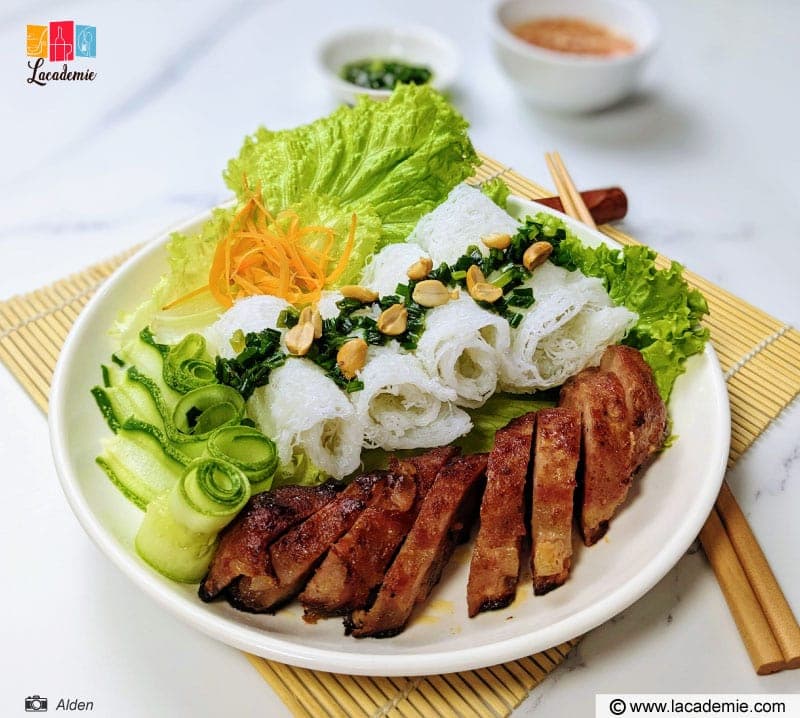 You have probably tasted kielbasa, chorizo, bratwurst, or Italian sausage, but wait until Nem nướng from Vietnam catches your imagination. This luscious and umami-rich delicacy goes extremely well with fresh cucumbers and Vietnamese dipping sauce to create a killer combo.
Keep that serving idea the next time you're looking for a great paleo breakfast recipe. If you can enjoy starch, steamed rice, rice noodles, or Bánh hỏi (steamed woven rice vermicelli topped with scallion oil) will give you a true Vietnamese meal.
There is nothing complicated about the ingredients of this pork sausage, which are simply ground pork, pork fat, and common Asian spices. But you should mix them well to evenly distribute the rich flavors.
Total time: 1 hour 40 minutes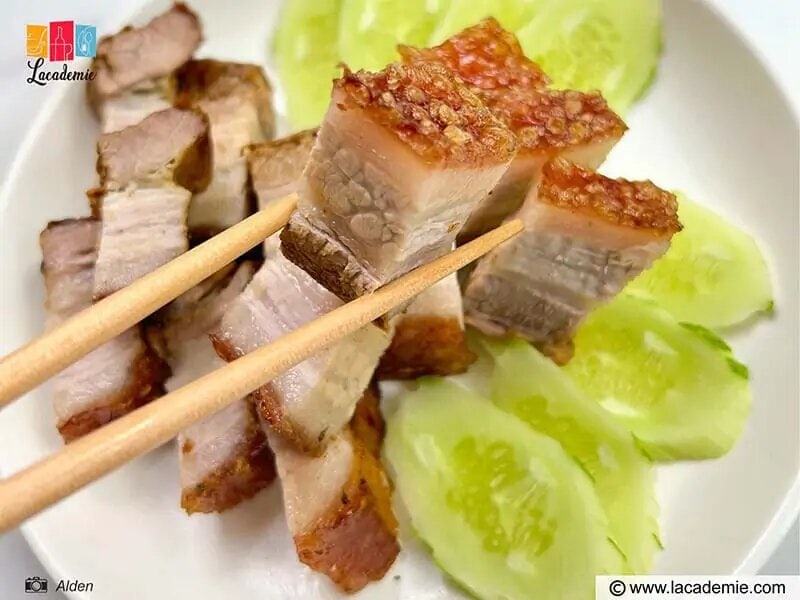 There are some similarities between roasting beef and making this type of roast pork belly, so you can transfer the skills for preparing one thing to another. However, the Vietnamese version requires more prep work and promises a more interesting result.
You have to marinate a nice slab of pork belly in a mix of fragrant Asian spices for hours. But first, poke the skin first to help the spices penetrate more thoroughly. Doing so will also ensure that the skin puffs up nicely and achieves maximum crispness.
When you bite into each piece of roasted pork, your taste buds will travel through three layers of goodness: the crunchy fried skin, the soft yet creamy pork fat, and the firmness of savory meat. Any kind of side or dipping sauce will only make the contrast between the three more pleasant.
Total time: 5 hours 30 minutes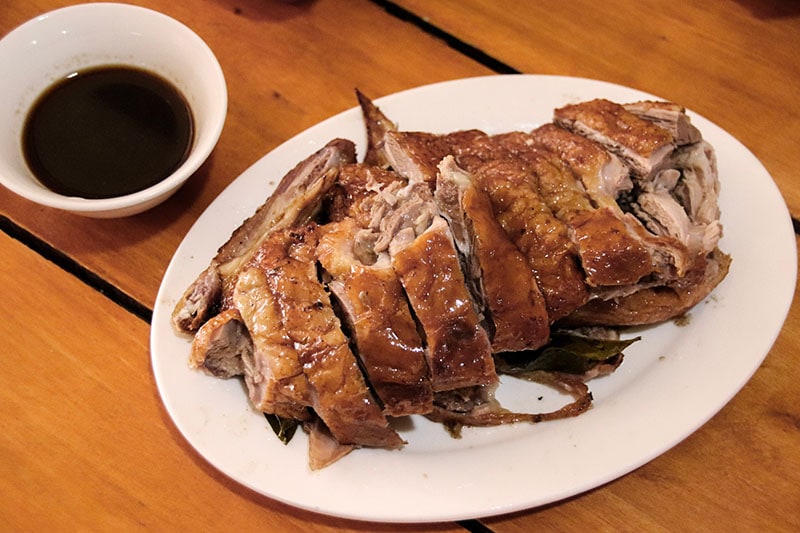 There are many similarities between roasting duck and making crispy pork belly. A complicated marinade and many hours of steeping the meat in it are necessary to infuse the meat with irresistibly savory goodness.
However, duck meat may have a distinct odor that can put you off. Get around this problem by choosing fresh cuts of duck and rubbing them with a mixture of ginger and white wine before marinating them.
While duck contains less saturated fats than pork, roasted duck is full of delicious juices dripping down from the deeply-flavored skin. A dipping sauce made from strong-tasting herbs and condiments is the best accompaniment to enjoy this delicacy.
Total time: 1 hour 5 minutes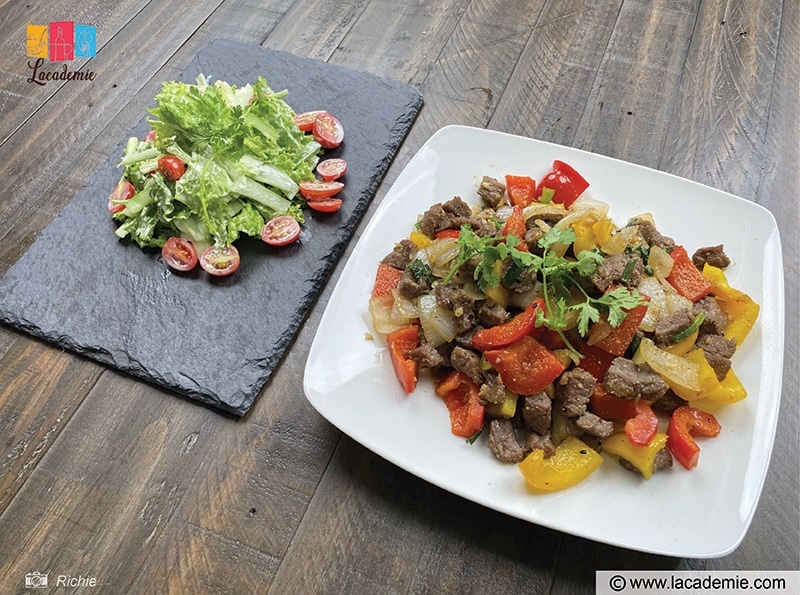 The fusion of French ingredients and Vietnamese essence results in this delicious dish full of vivid colors. Most of the ingredients, from the beef to the bell peppers, are diced into small cubes, hence the Vietnamese name ("lúc lắc" is another variation of "xúc xắc" – dice).
Meanwhile, the method of cooking gives birth to its English name. The dish requires you to sear the ingredients properly, which you can achieve by shaking the skillet and stirring everything constantly during the process. In the end, you can serve the beef with lettuce for a low-carb meal.
Total time: 2 hours 50 minutes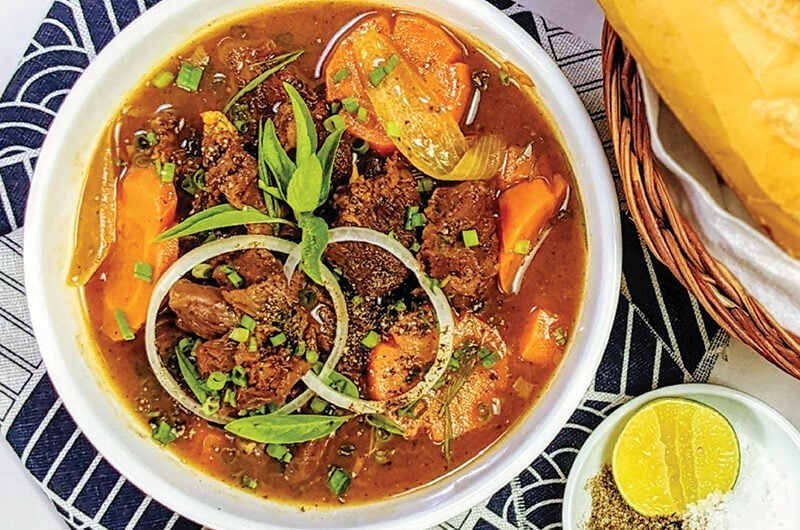 The magic of Vietnamese beef recipes continues with this renowned stew. Since its conception in the mid-20th century, this southern, high-spiced staple has delighted generations of Vietnamese foodies. Now, you can join in the fun!
In essence, it's an improved version of shaking beef, in which the seared beef cubes are stewed for hours in coconut water, carrots, onions, and exotic spices from Asia.
The long cooking time ensures rich, melt-in-your-mouth beef that feels so good with crusty bread. Don't let the appetizing broth go to waste: dip your crumbs in it and savor every drop. Still, this recipe is rather time-consuming to make, so save it for a really special occasion.
Total time: 55 minutes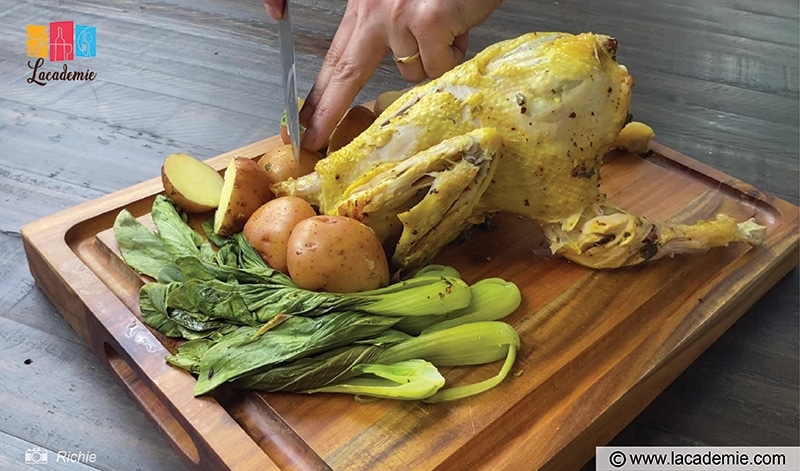 People who prefer simple cooking will love this no-brainer chicken recipe very much. Except for marinating the whole chicken, you don't have to do anything difficult. A good steamer will do the rest of the job just fine.
The method of cooking is another plus point. Steaming is among the most reliable ways to keep the nutrients in the chicken intact. Shred the juicy turmeric-dyed chicken into pieces, and you will have a healthy main dish to enjoy with steamed potatoes and veggies.
Total time: 2 hours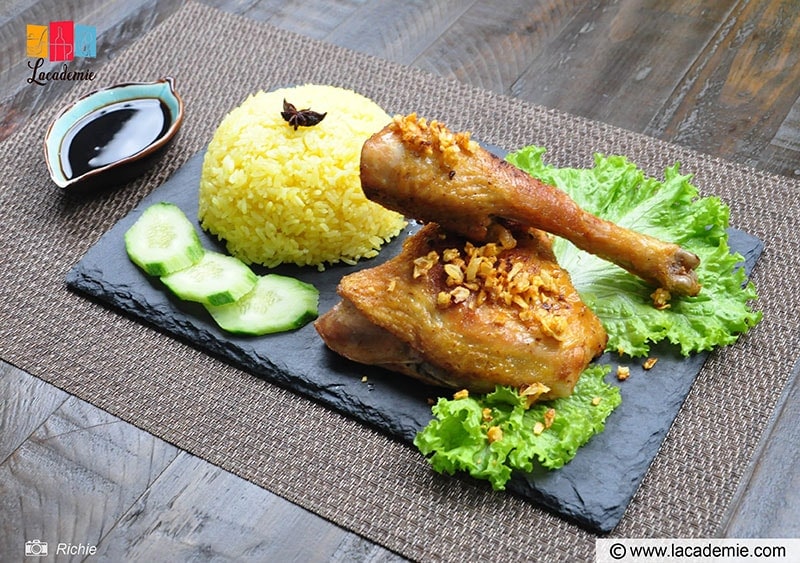 Here is an extremely rich comfort food for anyone not afraid of gaining extra weight! It is all about deep-frying the chicken until the meat absorbs lots of fats and develops a sweetly rich taste that few fried foods can beat!
Still, you can reduce the calorie count by not frying the rice in oil. Adding a side of lettuce, sliced cucumbers, and your favorite greens is another way to make the dish healthier. And don't you agree that the greasiness just melts away when mixed with the grassy goodness?
You should remember these notes to get the chicken to cook perfectly. Firstly, give the chicken pieces enough time in the marinade. Also, you should constantly pour the hot oil over the chicken pieces until they are evenly crispy. Lastly: Don't overcook them, or the chicken will dry out.
Total time: 1 hour 35 minutes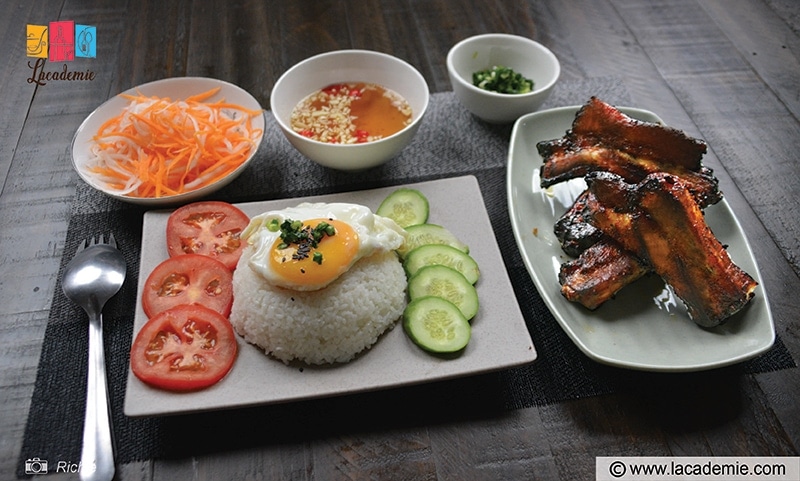 From a poor man's food, broken rice has risen to an enviable position in Vietnamese cuisine. This type of soft rice is excellent at absorbing the flavors from other ingredients, making it superior to normal rice in many aspects. Let this recipe show you that fantastic quality!
Many Vietnamese people enjoy having broken rice with flavorful grilled pork ribs for breakfast. The best type of cut is St. Louis-style ribs, which boasts highly fatty and easy-to-brown meat. You can grill it on a charcoal grill or an electric one for more convenience.
To assemble everything, simply place the ribs on the bed of broken rice, drizzle a few spoonfuls of dipping sauce over it, and add some veggies and pickles to the mix. A sunny-side-up fried egg won't go amiss.
Total time: 30 minutes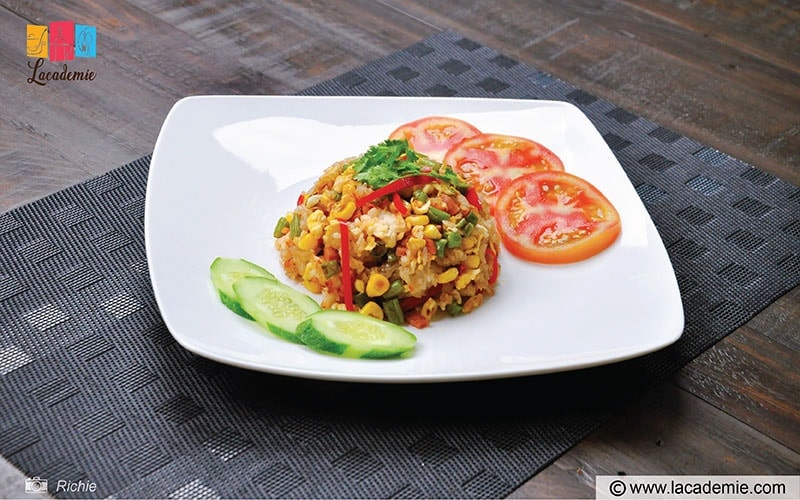 Fried rice is a wonderful way to clean up the leftovers piling up in the fridge, and this Vietnamese version is no exception. While you can cook with anything you fancy, my favorite choices are sausage, corn kernels, tomatoes, and string beans, among other things.
These things guarantee a well-rounded dish with lots of colors. To make everything more toothsome and Vietnamese, you can use aromatic rice (like basmati or jasmine variety) and add a large amount of seasoning to the mix.
Total time: 20 minutes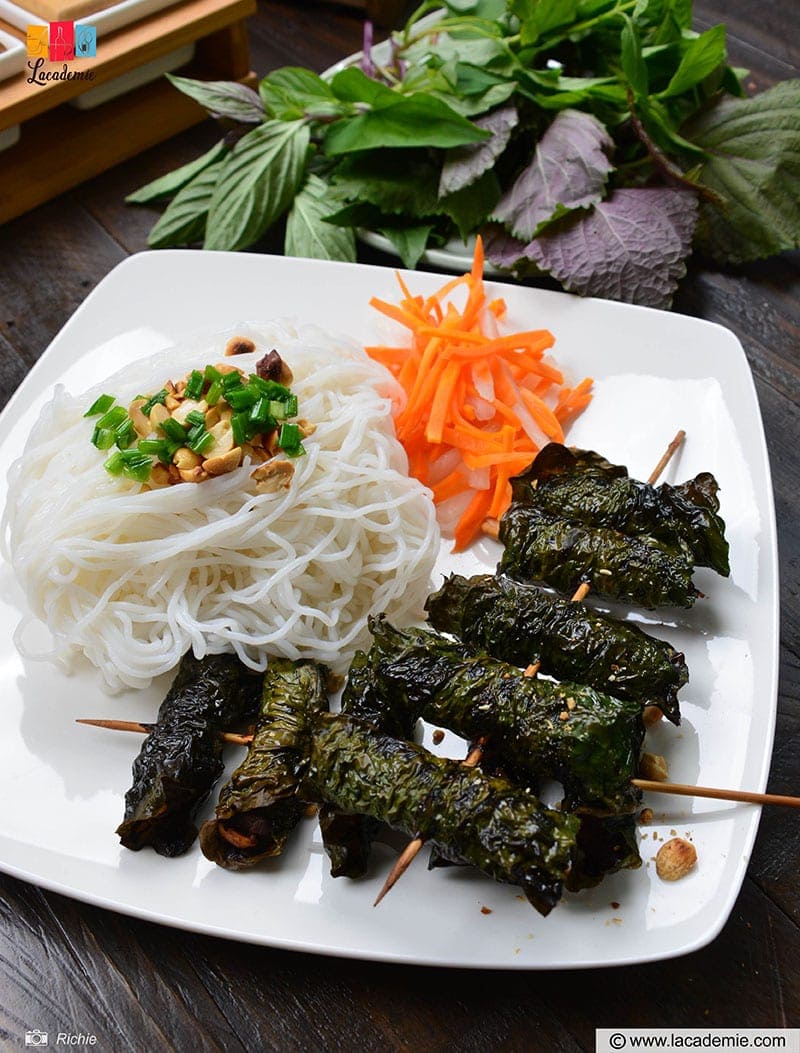 Think of this recipe as the Asian version of the famous dolmas. But rather than grape leaves, you should look for piper lot leaves (also known as betel leaves). They have peppery goodness and an unforgettable aroma that combines quite well with savory meat.
After wrapping the leaves around the stuffing into tight rolls, you just need to grill them as leisurely as you do at a BBQ party. When the outside leaves turn a mix of dark green and black, you can serve the fragrant rolls with Vietnamese dipping sauce and a side of fresh vegetables.
Total time: 40 minutes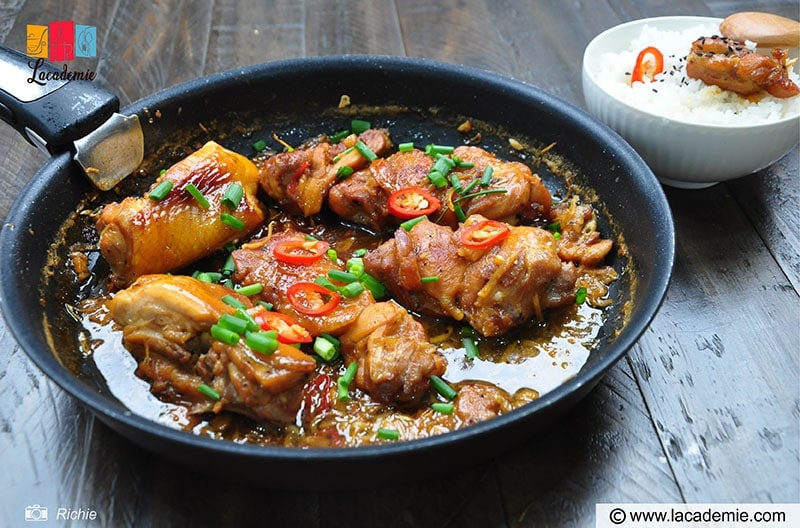 This hearty main dish unashamedly scorns the inclusion of veggies and, instead, tempts people with its delightfully firm meat, unrivaled richness, and a nice balance between sweetness and saltiness that will send your taste buds to a state of extreme joy.
Many types of chicken cuts are, well, cut out for this recipe, but I favor chicken drumsticks and chicken thighs. You can hold a chicken piece with your hand and tear off the juicy meat with your teeth to best experience its deliciousness. A side of steamed rice will make everything tastier tenfold.
Total time: 1 hour 30 minutes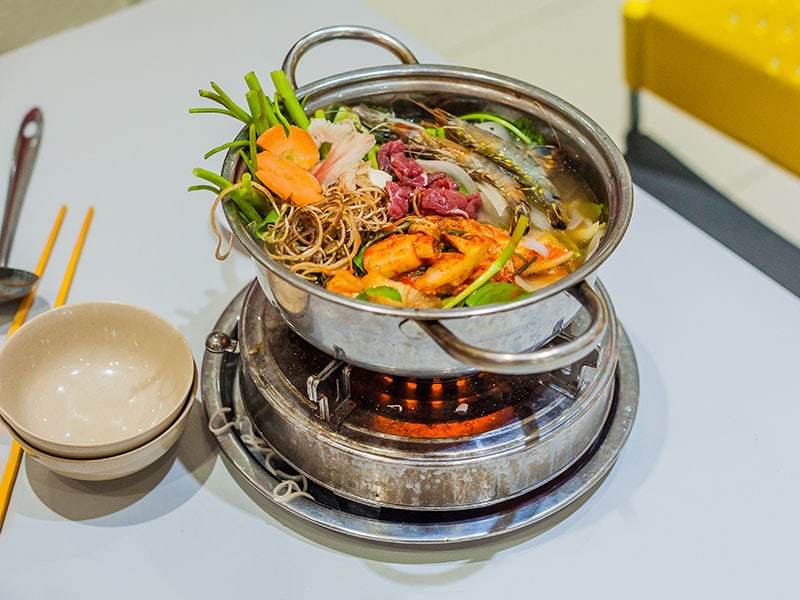 Vietnamese hot pots are nowhere as spicy as their Thai counterparts, but they still have enough heat to send your taste buds to hyperdrive. Also, they usually don't follow a fixed recipe, though you should add plenty of spices, veggies, and seafood to get an authentic Vietnamese experience.
If you want to go vegan, don't hesitate to replace animal-based ingredients with tofu, mushrooms, and faux meat. As long as they have a firm or chewy consistency, they will fit nicely into this recipe. Also, these things take less time to cook.
Hot pots are all about keeping the food warm and the broth simmering during the meal, making it the epitome of a hot meal. Go ahead, and warm your stomach with the savory broth enjoyed with starchy noodles and rich bits of meat and veggies in the hot pot.
Check Out These Easy Vietnamese Recipes With Noodles
Gone are the days when you enter a restaurant and discover that you are only served the Americanized version of flavorful Vietnamese noodle dishes! With this list at your fingertips, making authentic Vietnamese recipes at home can't get any easier!
Total time: 1 hour 30 minutes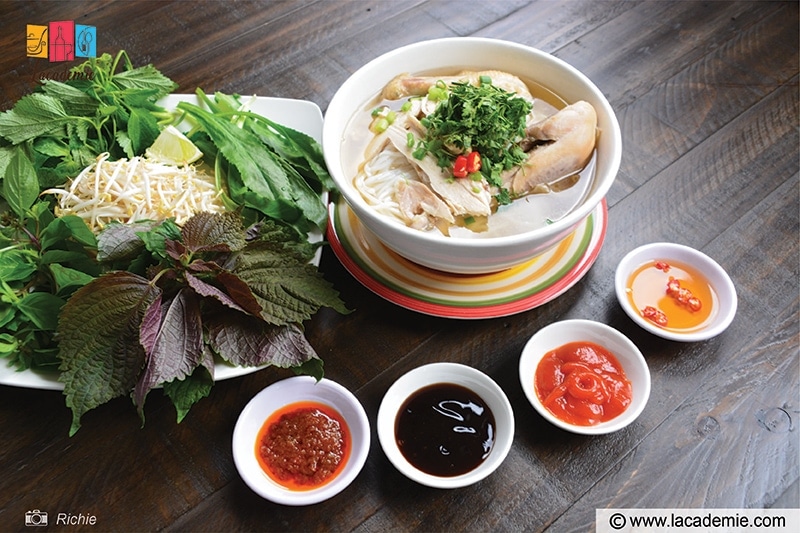 Everyone knows about the crown jewel of Vietnamese cuisine: Phở. But my recipe isn't about the version based on beef broth that you can find everywhere. I'm talking about the more subtle-tasting yet equally rich recipe made with chicken: Phở Gà.
The best thing about this type of Phở is its shorter cooking time. While it takes hours to prepare a batch of homemade beef broth, you only spend about 90 minutes on this one. Yet, the flavor is still meatily sweet, savory, and tempting as ever.
Of course, you still have to get the spices right. The list is rather extensive, but any Asian or Vietnamese food store will be happy to help you with that. You need to toast them lightly (I believe the right term is "blooming") to unlock their full aromatic appeal.
Even when you're a hardcore fan of the old Phở, this chicken-based variation will definitely please you with its delicate and elegant taste. You can even cut down on red meat consumption with it!
Total time: 55 minutes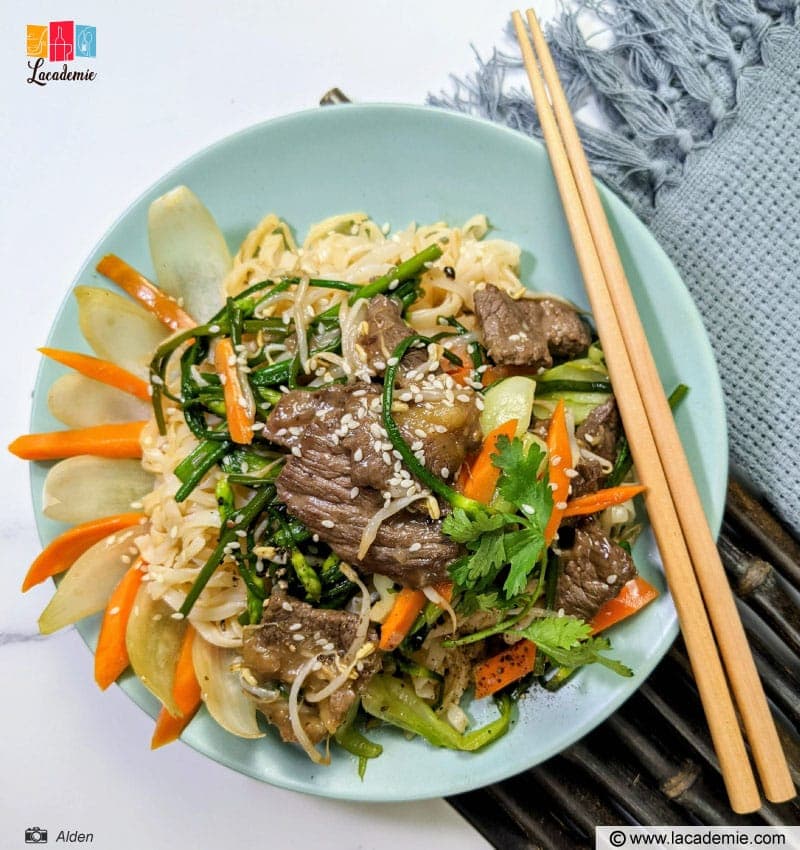 Don't think that "Phở" only means noodle soup! Allow me to diversify your concept of Phở with this wonderful stir-fried rice noodle treat. If you have some beef flank steak or tenderloin in the fridge, turning it into this stir-fry will be the best thing you can do.
But remember not to cook the beef and the noodles for too long because you will cook them again with lots of veggies in the end. Don't hesitate to use your favorite greens: whether they are enoki mushrooms, cabbage, carrots, or beans, they only make the stir-fry more flavorful.
Another note to keep in mind is to stop cooking when everything is just done so that you can enjoy a nice chewy texture in the beef and veggies. Doing so will ensure a tasty and well-rounded meal nobody can resist.
Total time: 7 hours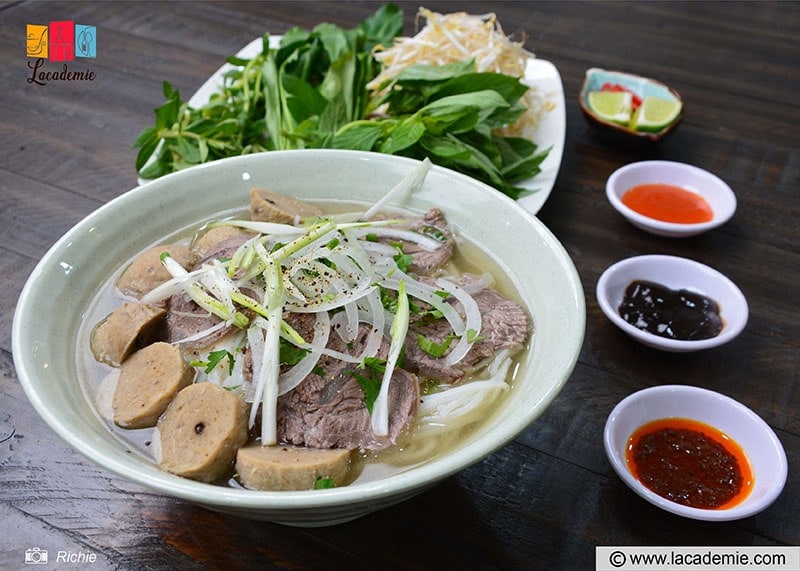 Phở Gà is fantastic, but do you still want to go back to the classic version? There you are – a serving full of starchy Phở noodles, savory beef, and clear yet rich broth. Cooking the fragrant broth to perfection is no easy task, but this recipe will show you how to master it with modern gadgets.
There are some disparities in how people in the North and South enjoy their Phở, so you should think carefully before making it at home. Do you like the simple and elegant flavors of the northern version or the bold tastes of the southern one filled with an overload of meat and veggies?
Total time: 1 hour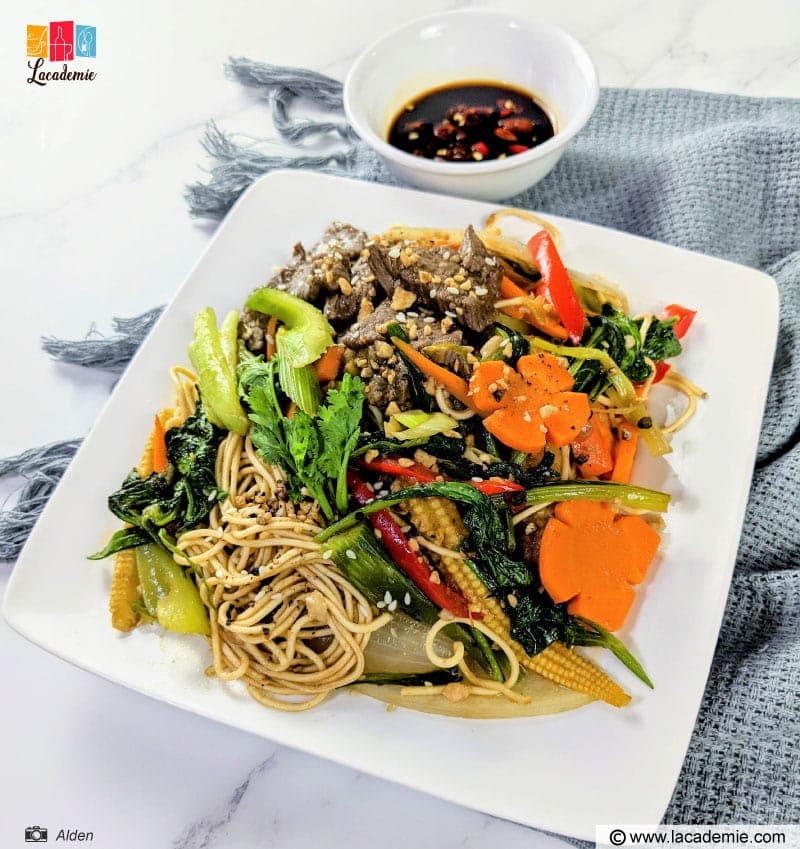 Here is another stir-fry with beef you can make for an Asian-style meal. From the beefy aroma to the colorful presentation, it shares many similarities with the rice noodle-based recipe above, except for the choice of starch.
Besides containing more nutrients, noodles also have a nice degree of firmness. They are excellent at absorbing all the savory goodness from the beef and its marinade, making every mouthful twice as tasty. However, gluten-free people must substitute them with a wheat-free variety.
Total time: 1 hour 35 minutes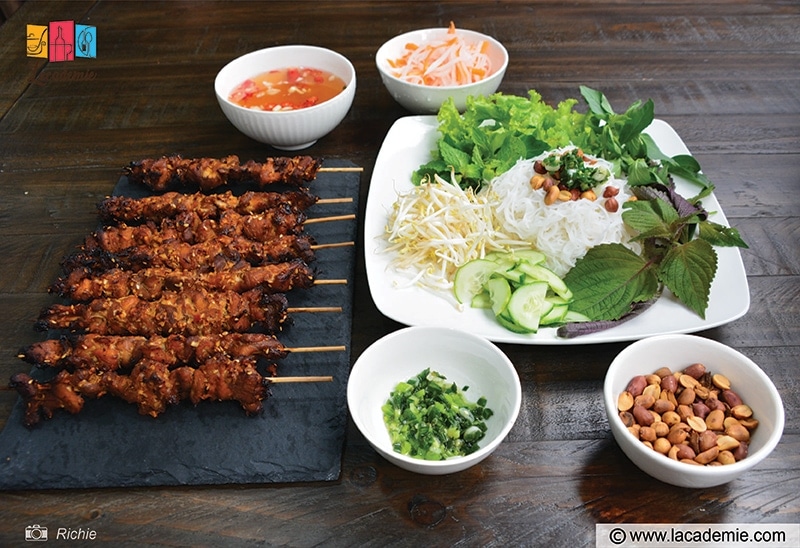 Don't just mix grilled pork sausage with noodles! While that kind of Vietnamese sausage is very versatile, its extreme savoriness may lead to boredom if served alone. You need to gather the most suitable garnishes, dipping sauces, and vegetables on the side.
My favorite options are roasted peanuts, Vietnamese fish sauce fixed with garlic and chili pepper, and a mix of bean sprouts, perilla, lettuce, and cucumbers, respectively. Extra pickles will contribute some much-needed acidity to elevate this protein-rich recipe to a new level.
Total time: 1 hour 30 minutes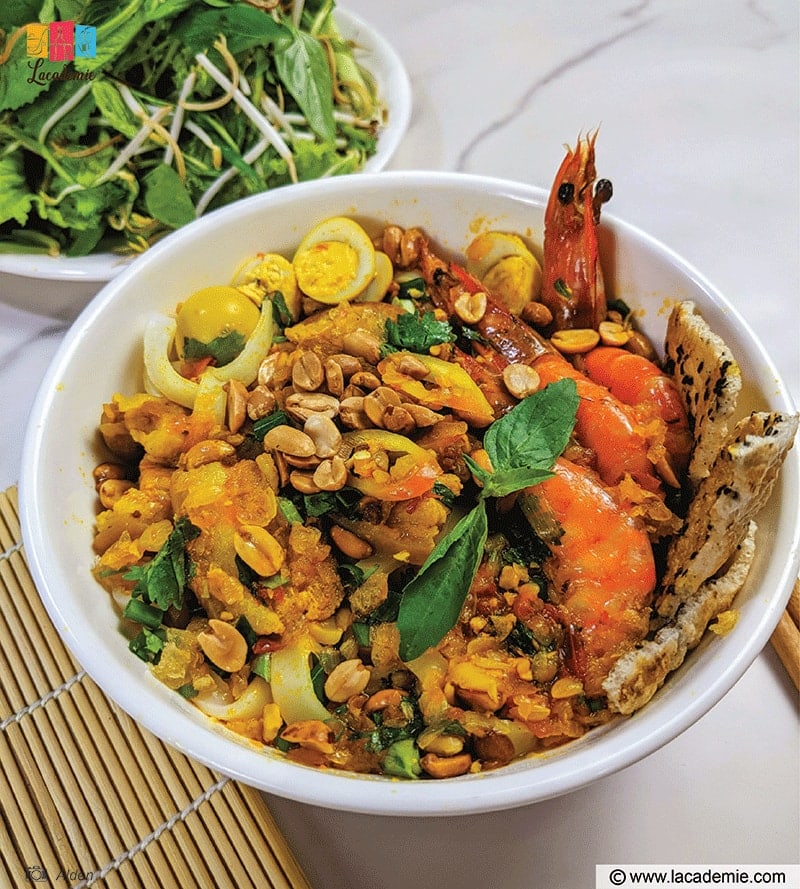 Many people regard Vietnamese cuisine as North vs. South. Well, it's time to let the Central region have its say: you will understand its charms when enjoying this must-tried noodle dish full of golden hues and powerful flavors.
It doesn't have much broth, which allows you to focus on appreciating the noodles and other ingredients better. The right way to savor Mì Quảng is to serve it with sesame rice crackers, whose nutty taste is a perfect blank canvas for the buttery shrimp to dominate.
While that rich flavor is still at the tip of your tongue, quickly munch on some crispy stir-fried pork belly and feel its savoriness rush to mingle with the refreshing bitterness of herbs and vegetables on the side. A dipping sauce with spicy chili peppers will complete the authentic Quảng experience.
Total time: 2 hours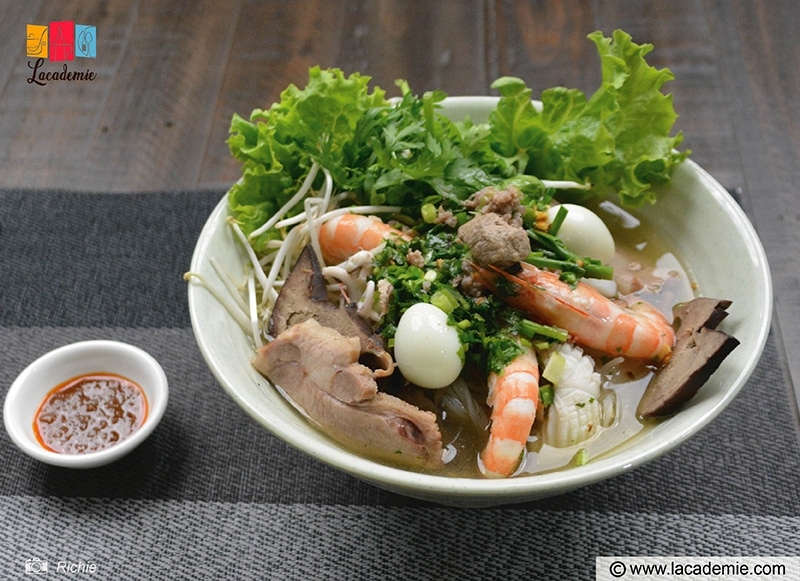 This exotic noodle soup will give you an exciting mouthfeel. It includes such pork offals as hearts and livers besides ordinary ingredients (like pork shoulder blades and squids). But do you know that the original version, which came from Cambodia, even had pig intestines?
The slices of chewy pork hearts and umami-packed livers bestow a particular allure, a sense of raw freshness that suggests life and vitality. In addition, they are high in vitamins and proteins, promising you a health-giving meal.
But it will be a crime to focus on the pork and forget how the seafood transfers its marine flavors to the broth. Meanwhile, the veggies balance that sea of savoriness with their herbal notes, from crown daisies to radishes and bean sprouts.
Total time: 1 hour 30 minutes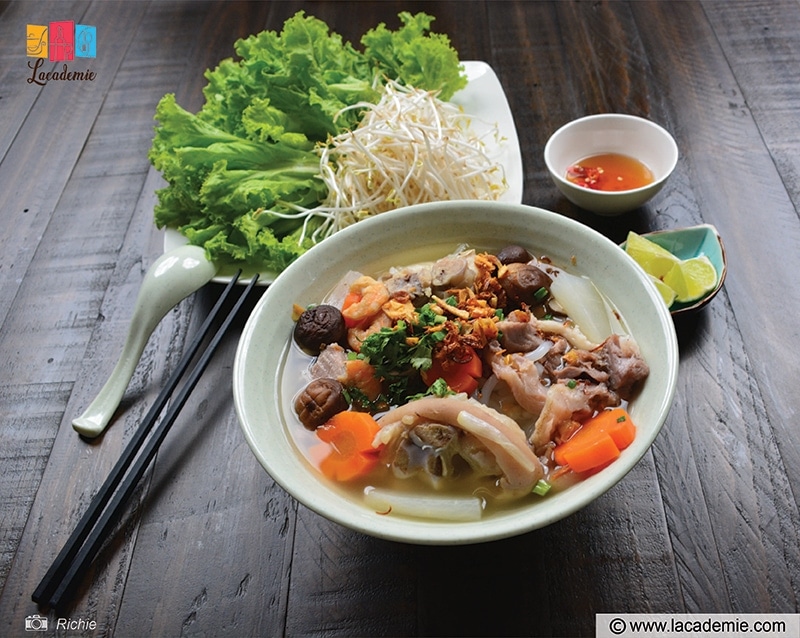 While followers of low-carb diets may be horrified by tapioca noodles, which contain nothing but carbs, this kind of starch creates extremely palatable noodles with an optimal level of chewiness. Few dishes can bring out the quality as wonderfully as this porky noodle soup recipe.
In essence, it is a harmonious marriage between pork knuckles and dried shrimp, plus the blessings from shiitake mushrooms, sugarcane, and rock sugar. They are all sweet in their own way, and the sum total is a must-tried dish that is both rich and delicate at the same time.
The highlight of this recipe is usually the well-cooked, collagen-rich pig trotters. Bite through the jelly-like outer skin, and you will enjoy the juicy flesh inside. I suggest dipping it in the lime juice-added sauce and serving it with bean sprouts.
Total time: 1 hour 15 minutes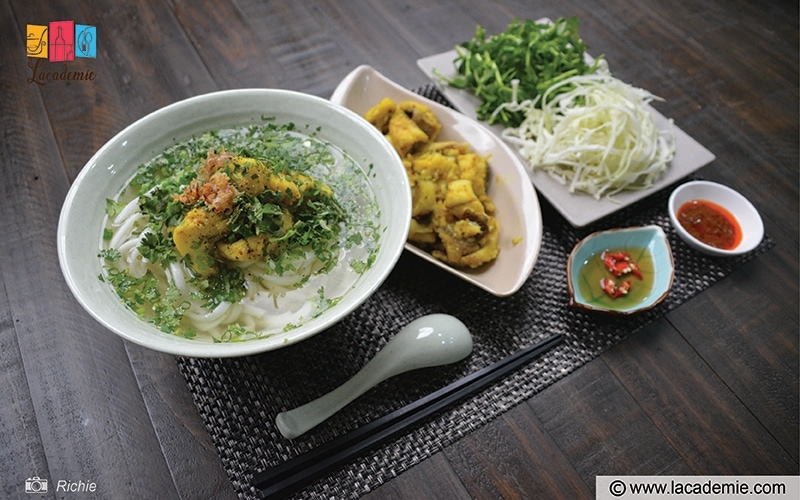 Do you like thick noodle soup but have issues with pig trotters? That part is very delicious, but it can be high in fats and so on. So how about substituting it with something healthier, like fish? I have just the right thing for you!
Rather than dried shrimp and pork, this recipe uses catfish instead. Marinated in various spices and fried to perfection, the crunchy fish filets will add a shower of subtle sweetness to the savory broth. But how to get that sunny yellow color on the fish? The answer is turmeric powder.
Total time: 1 hour 15 minutes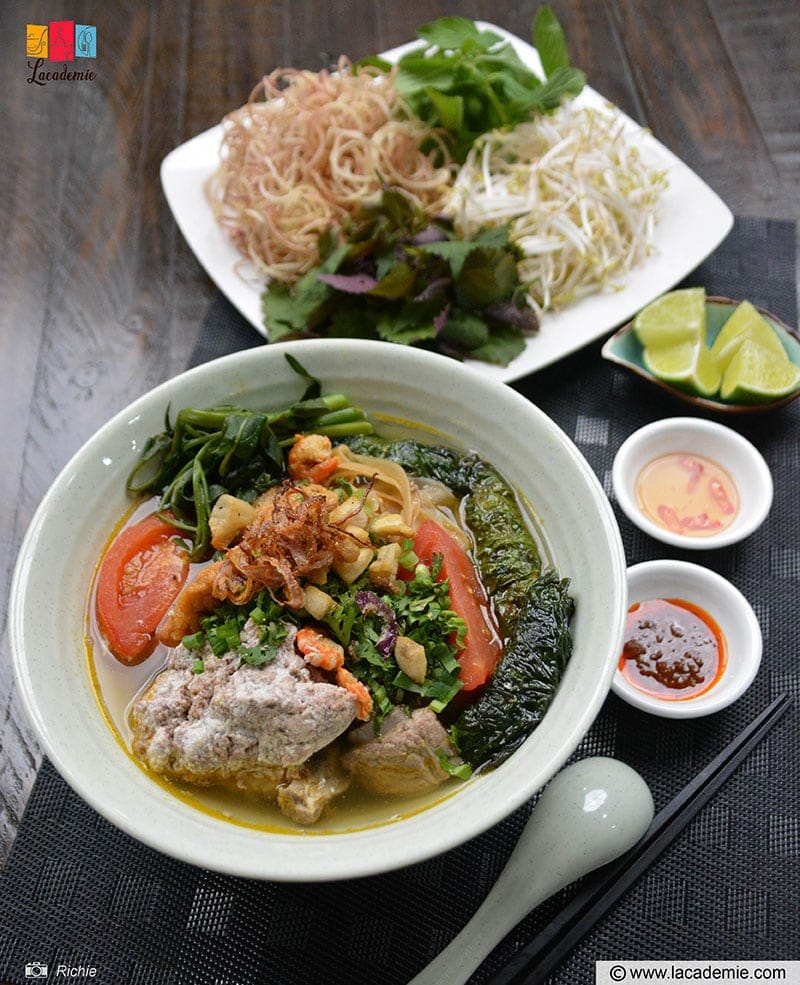 This rustic dish contains the essence of every fresh produce you can expect from a life in the countryside of North Vietnam. Its main selling point is the deeply sweet broth tinged with some saltiness, courtesy of minced crab.
The traditional version includes paddy crabs, which are small in size but mighty in sweetness. Fortunately, you can easily replace it with canned minced freshwater crabs. Still, the broth's flavor can't be complete without a few fresh tomatoes for that refreshing tang.
Another interesting ingredient is the made-from-scratch betel leaf rolls. The peppery aroma in the leafy green combines flawlessly with the savory pork, emphasizing the rich broth even further. The forest green shade of the rolls makes a nice decoration, too.
Total time: 2 hours 30 minutes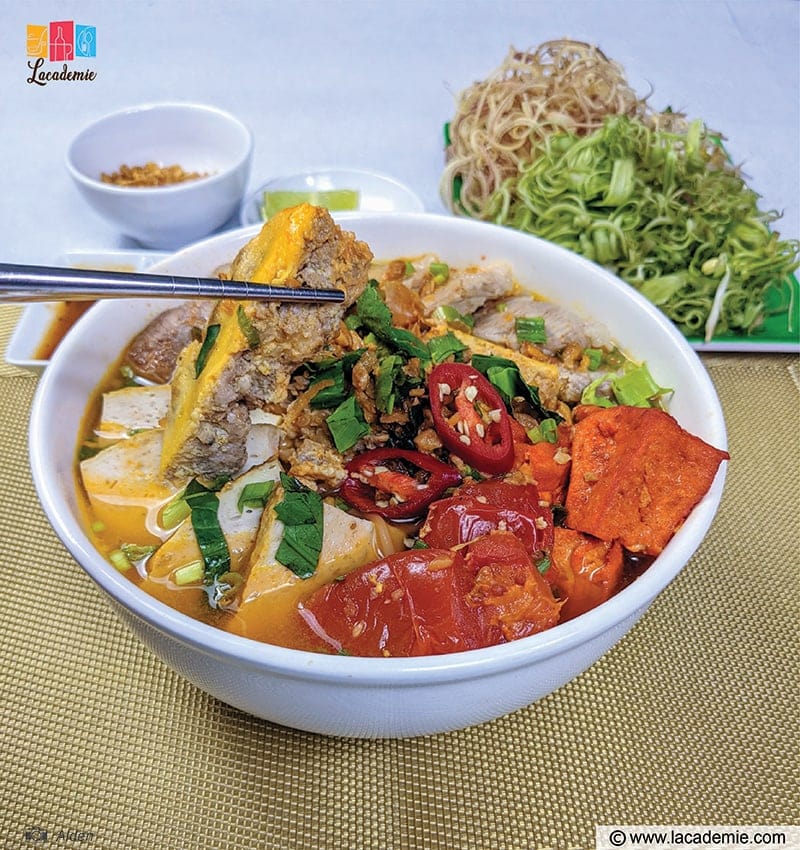 The previous recipe uses every bit of crabs, but this one is a little picky: only crab meat can go into it. One of its major steps is to make crab cakes from the meat: mixing it with pork paste and minced pork because steaming everything for at least 30 minutes.
But that isn't the only source of protein you can enjoy. There are also golden-outside, white-inside cinnamon pork pate, fried red-dyed tofu, and brownish pork leg. All are bathed in a rich broth full of savoriness seeping from pork bones.
Have you ever tried shredded water spinach and banana blossoms before? Well, you're about to get an education on how their neutral-to-bitter grassiness serves as a perfect blank canvas for the umami-packed noodle soup to shine!
Total time: 1 hour 50 minutes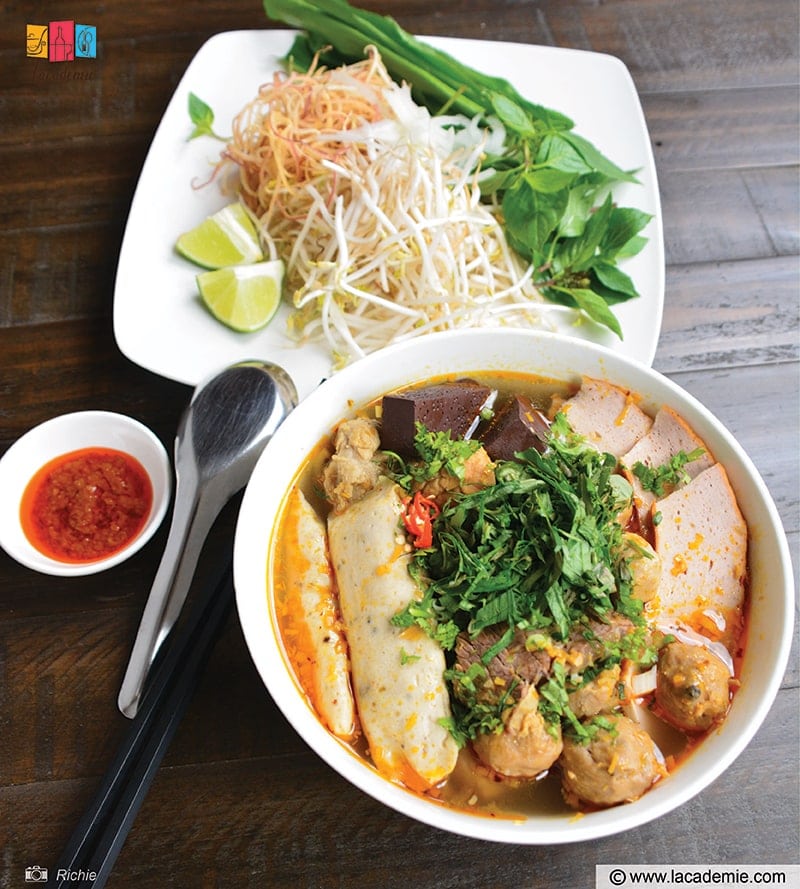 Remember the last time that spicy Mexican chilaquiles or beans with chile set your tongue on fire? You're going to revisit that experience in a delicacy from half the world away: the spicy beef noodle soup from the city of Huế, Vietnam's former center of culinary refinement.
The heat that will make you cry with pleasure comes from the fragrant sate sauce, a sauteed combo of lemongrass, shrimp paste, cashew oil, and chili powder. The condiment plays an important role in helping the broth reach a legendary level of tastiness.
You will find plenty of blood jelly among the many meaty ingredients added to your bowl. This iron-rich thing has a nice mild flavor and faint metallic undertones of blood that tastes surprisingly good against the sexy spiciness of the whole noodle soup.
Total time: 1 hour 30 minutes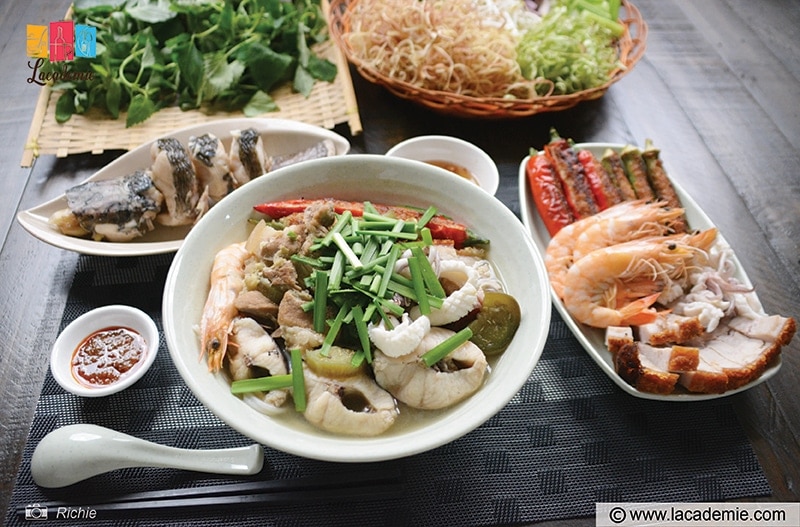 This recipe isn't for the faint of hearts! I bet you can smell it right from the name! Still, while the noodle soup seems to titter on the adventurous side, its flavor is comfortably rich and bright, like an uncut gem waiting for a seasoned craftsman who knows its worth.
In addition, the pungent aroma will become more tolerable if you add the right amount of veggies to the pot and on the side. Pineapples, okra, eggplants, or water lily are some suitable options you can use to tame this acquired taste.
But there is still a little problem. The main ingredients can have limited availability in some places, such as fermented mustached danio and fermented snakeskin gourami. You may have to ransack an Asian grocery store or contact your buddies in Vietnam to find authentic products.
Total time: 45 minutes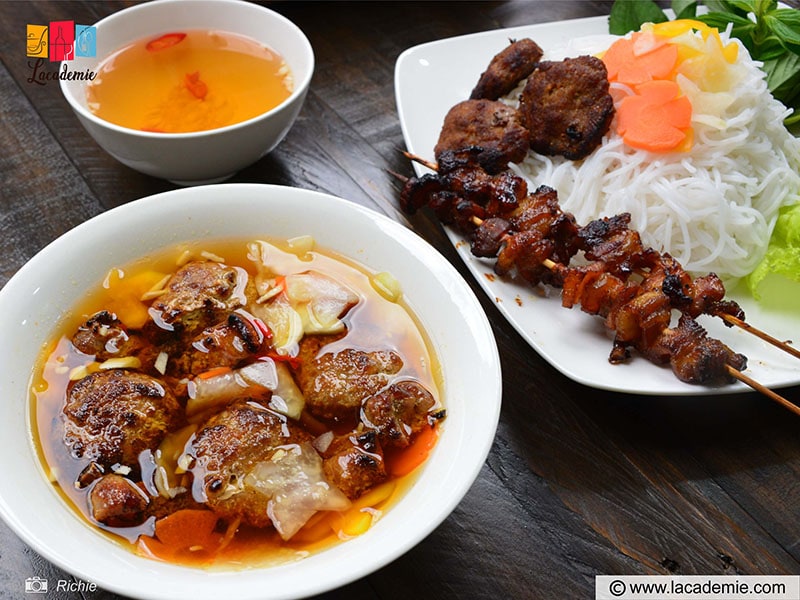 This finger-licking noodle delicacy looks just like the Bún thịt nướng above. But the latter is more popular in Southern Vietnam, while the former originated from the Northern region (to be more precise, Hanoi).
In 2016, then-U.S. President Barack Obama enjoyed Bún chả with the famous chef Anthony Bourdain during his state visit to Vietnam and expressed his great pleasure. What do you think about finding out what's wonderful about this Vietnamese noodle dish for yourself?
A complete serving of Bún chả should have soft rice vermicelli, a few meatball-like portions of minced pork shoulder, a veggie side with plenty of aromatic herbs, and a sour-and-salty dipping sauce. Some additional spring rolls will go a great length to make everything even more savory.
Total time: 30 minutes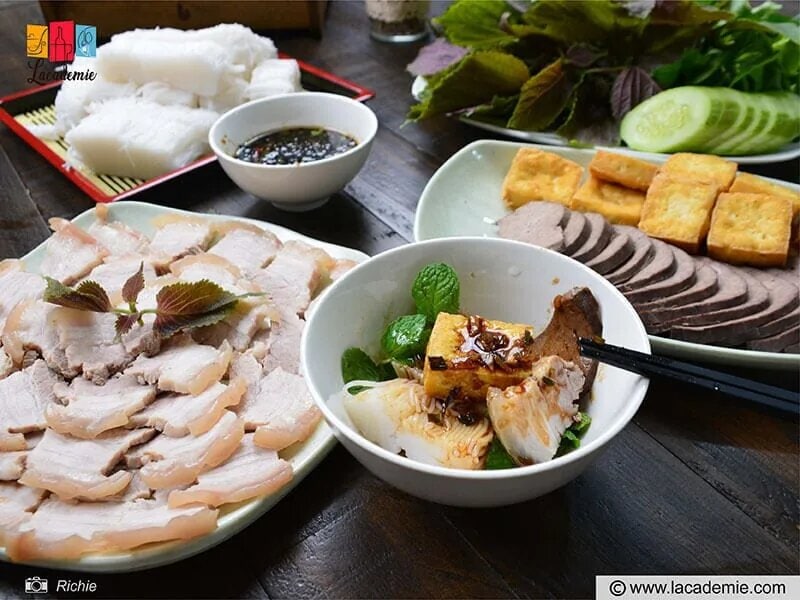 While the previous pungent noodle dish comes from the South, this one is a well-known snack and street food in North Vietnam. Its attraction lies in the pieces of crunchy fried tofu and the savory dipping sauce made from lime juice and shrimp paste full of seafood richness.
These flavors are absolutely overwhelming, so you will need something light to tamp them down. That's where the tasty vermicelli and various herbs, like Thai basil and lettuce, come into play. It's quite satisfying to feel how the strongly-flavored shrimp paste subsides into a mellow aftertaste.
Bún đậu mắm tôm is an affordable dish made with simple and easy-to-find ingredients. But feel free to fancy it up with delicacies like Vietnamese pork sausage or spring rolls.
Want to enjoy the authentic flavors of vermicelli with fried tofu and fermented shrimp paste? Check out this guide!
Total time: 1 hour 20 minutes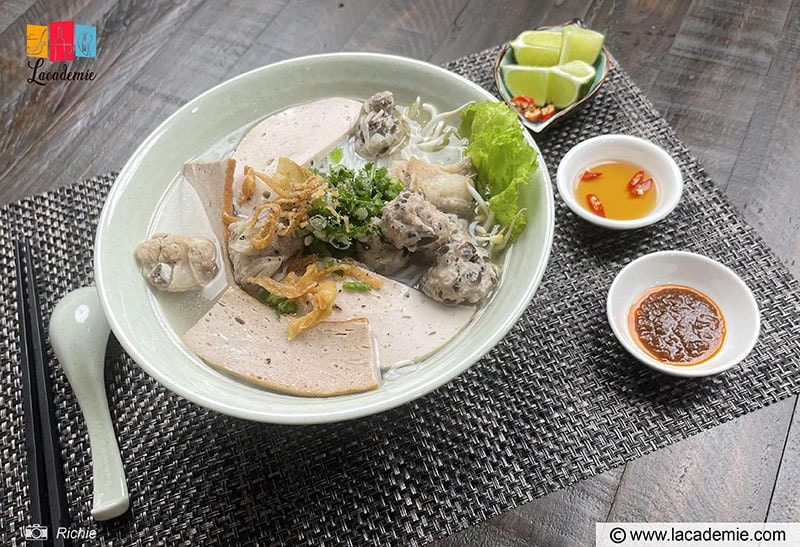 Using fermented fish in noodle soups may not be an idea to everyone's liking, but I guarantee this all-rounded meatball recipe is. You will be enticed by the sight of pork balls swimming in a sea of veggie-based broth and getting marooned on the snow-white vermicelli noodles.
A closer inspection with your taste buds will reveal the well-seasoned balls to be made of fatty pork, crunchy wood ear mushrooms, and sweet onions. They are so savory that you may not need the accompanying Vietnamese pork sausage and cinnamon pork pate.
While your mind is still figuring out why this simple combo works so well, the rich juice oozing out of the balls will make you forget everything else and focus on the main thing: living in the moment and enjoying your noodle soup to the fullest.
Total time: 1 hour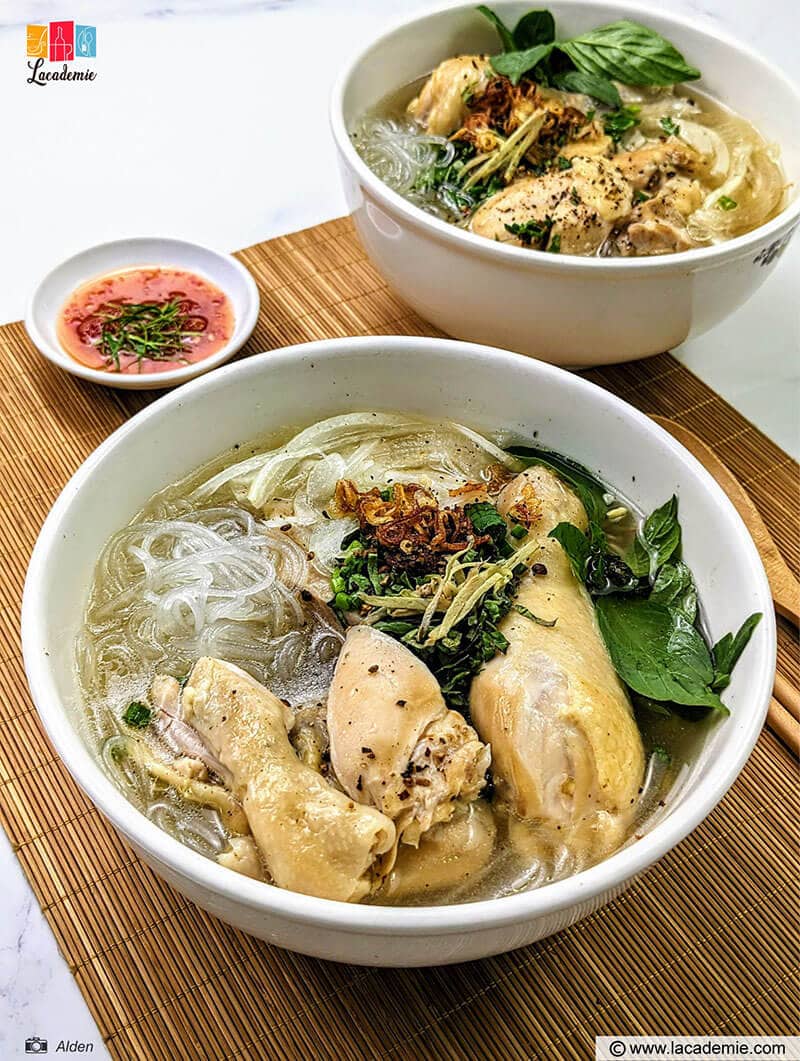 What do you think about a delicious Vietnamese noodle dish with insignificant carb content? I recommend Miến gà, which is prepared from mung bean-based glass noodles. It has a heavier and more filling texture, yet its taste is light and mellow compared to other types of noodles.
The same thing can be said about chicken. Its rich fattiness is still impressive but less greasy than red meat. Therefore, a fusion of these two ingredients guarantees a wonderful feel-good treat for anyone feeling under the weather.
The strong aroma of fried shallots and cilantro is an added delight. While Miến gà doesn't come with a generous veggie side and their accompanying nutrients, that absence makes it easier to prepare and savor this dish.
The Temptation Of Vietnamese Desserts And Drinks
Let your meal end in style with these interesting sweet treats and beverages. Many of them borrow ideas from other cuisines, but the adaptation to local conditions has made them truly Vietnamese!
Total time: 2 hours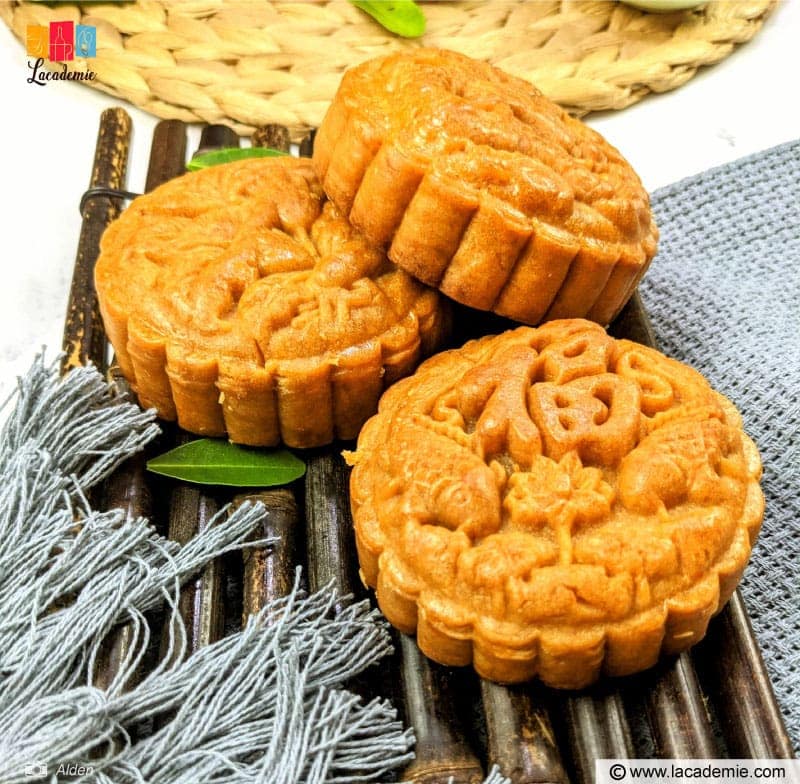 It only takes one minute or two to order a mooncake online, but can you say no to two hours of demonstrating your baking skills? There are many ways to enliven a fall meal, such as making your friends green with envy when you serve these beautiful treats to them.
The filling can make or break your mooncake, so make sure that only the best ingredients pass the test. Feel free to customize it to your preferences. The salted egg yolks are a must, but other high-fat things like Chinese sausage can go. Using the non-candied versions of certain peels is acceptable.
Among the many tools necessary for the task, the mooncake mold is the most important thing. Without it, you will fail to create a perfect cake as round as the moon and imprinted with beautiful patterns.
Before you're done baking the cake, don't forget to brush a thin layer of egg wash on it. Doing so will give it a fine sheen like moonlight. When the treat completely cools down, enjoy it with tea and enjoy when the extreme savoriness of the cake rushes down your throat.
Total time: 40 minutes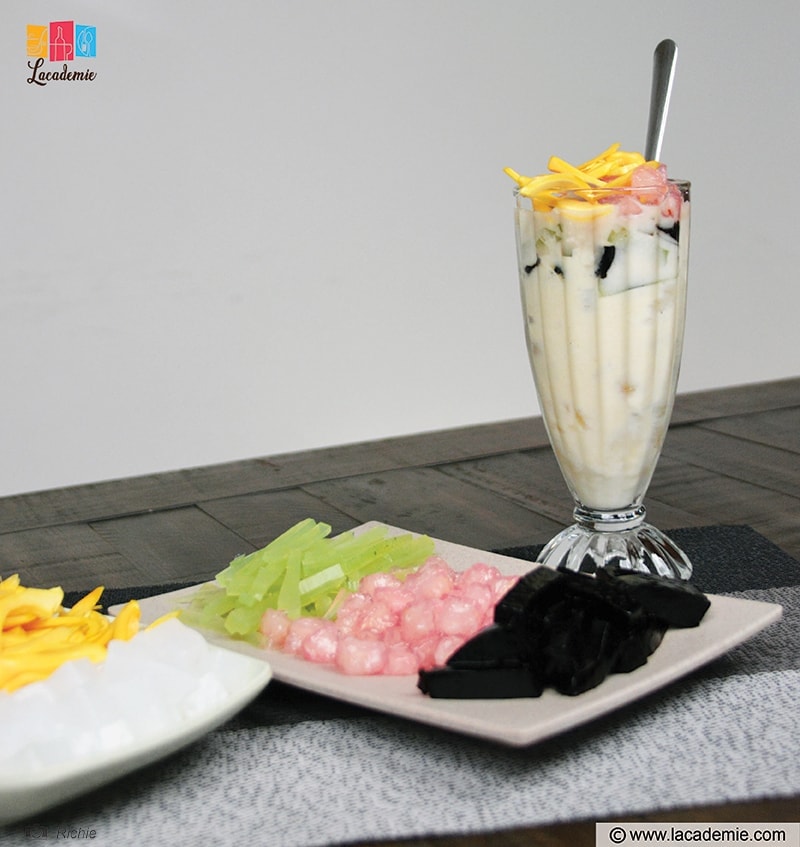 One of the most refreshing Vietnamese desserts happens to take inspiration from the nearby Thai cuisine. This fruit cocktail takes full advantage of the tropical fruits that Vietnam has in abundance and turns them into a sweet-and-savory delight.
My version includes pears, longan, jackfruit, and durian, but don't hesitate to change the ingredient list. For example, you can object to the last one and replace it with apples. The fruity goodness of this dessert won't change one bit.
But there are two things your Chè Thái can't live without: coconut milk and pandan leaf extract. The former provides the signature rich flavor that complements sweet-and-bitter fruits, while the latter means a stimulating smell.
Total time: 2 hours 20 minutes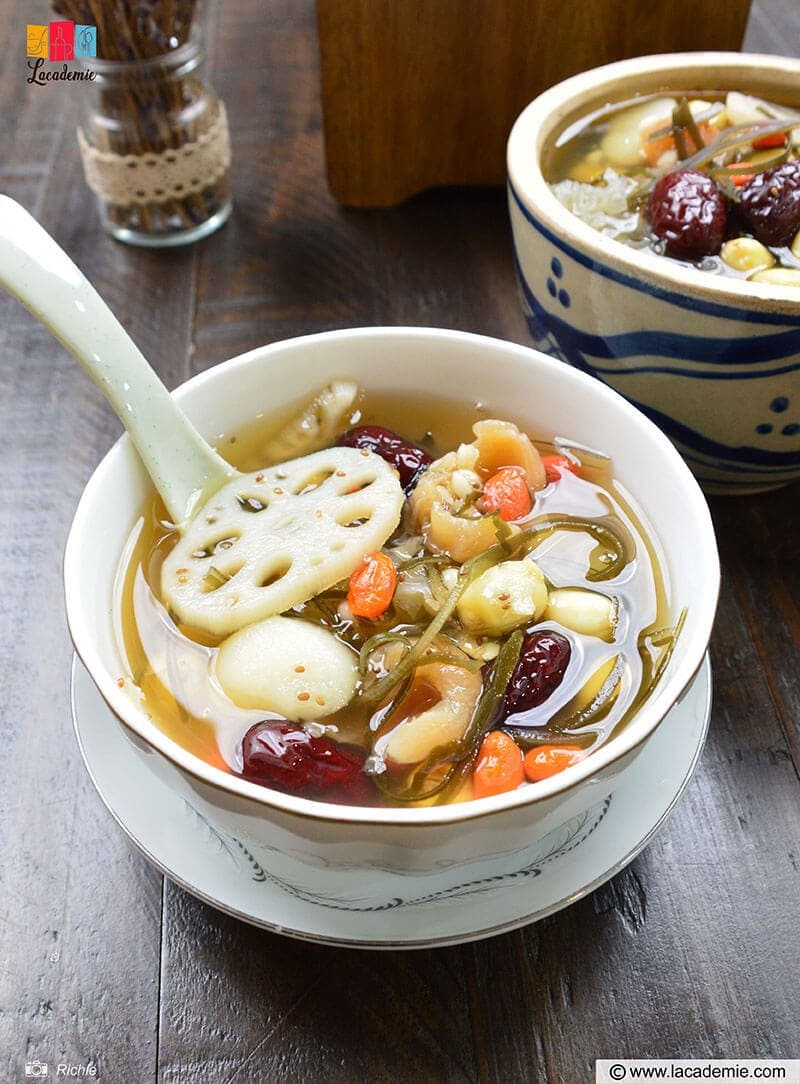 This refreshing drink originated in South China. Following the Chinese immigrants to Vietnam, it soon gained popularity with the locals and became a sought-after dessert, especially in the muggy southern region.
The liberal amount of ice is one reason why it is so cool. But another explanation is its wholesome ingredients: seaweed, red jujubes, and lotus seeds. They have great values in traditional Chinese medicine, like improving your sleep quality and protecting you from chronic diseases.
The addition of dried longan fruits and pearl barley provides the treat with additional sweetness and crunchiness. But if that isn't good enough for your palate yet, feel free to add more fresh fruits to your drink.
Total time: 15 minutes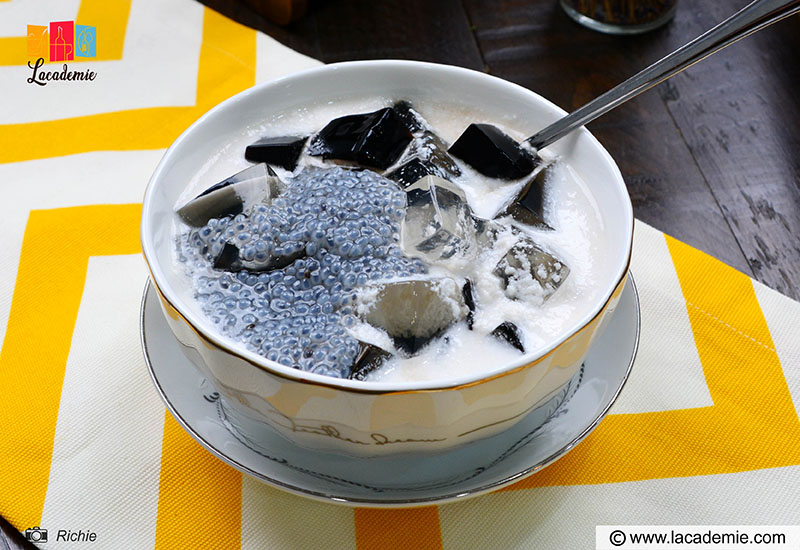 Move aside, Jell-o! Many people love colorful gelatin puddings that are so sweet and piquant with fruit juices, but how about diversifying your menu with something darker? A similarly jiggly treat yet dressed in a midnight-black color, like a gothic version of your childhood treat?
That's when you should try Sương sa, a jelly-like dessert full of vegetal aroma that people make from the extract of the Chinese mesona plant. It is easy to buy a packet of Sương Sáo premade mix in any supermarket or Asian grocery store.
Making this treat is all about boiling the mix in water, then waiting for the mixture to cool down and thicken. Plain grass jelly has some nice plant-based umami that you can enrich with coconut milk syrup and fresh fruits. But the most popular accompanying ingredient is soaked basil seeds.
Beat the summer heat with this straightforward grass jelly with basil seed recipe!
Total time: 1 hour 40 minutes
After you have removed corn kernels, what do you do with the leftover cobs? Don't throw them away yet because this wonderful Vietnamese dessert has a new use for them. Let's simmer the cobs in water for one hour or so until the broth acquires a subtle sweet scent.
The next step is to cook tapioca pearls (or sticky rice grains) in the water until soft and fluffy. Drop in the corn kernels, then continue simmering to thicken the mixture until it becomes pudding-like.
For toppings, corn slurry mixed with coconut milk will make an excellent choice. You don't even have to add any sweetener!
Total time: 40 minutes
Wait, is that a cake or a drink? The answer is both! While the chewy strands of rice flour noodles are quite fun to munch on, the rich iced and coconut milk-based sweet soup will relieve your thirst instantly.
The noodles take on additional appeal thanks to being dyed to a verdant green hue by pandan extract. That ingredient also imparts an irresistible sweet scent to the dessert, tickling your taste buds even more.
The combo of green and white is beautiful enough, but don't hesitate to go overboard with the colors. Yellow diced jackfruits, ruby-red pomegranate seeds, or rose-colored beans are a few things you can use to fancy up the treat.
Total time: 45 minutes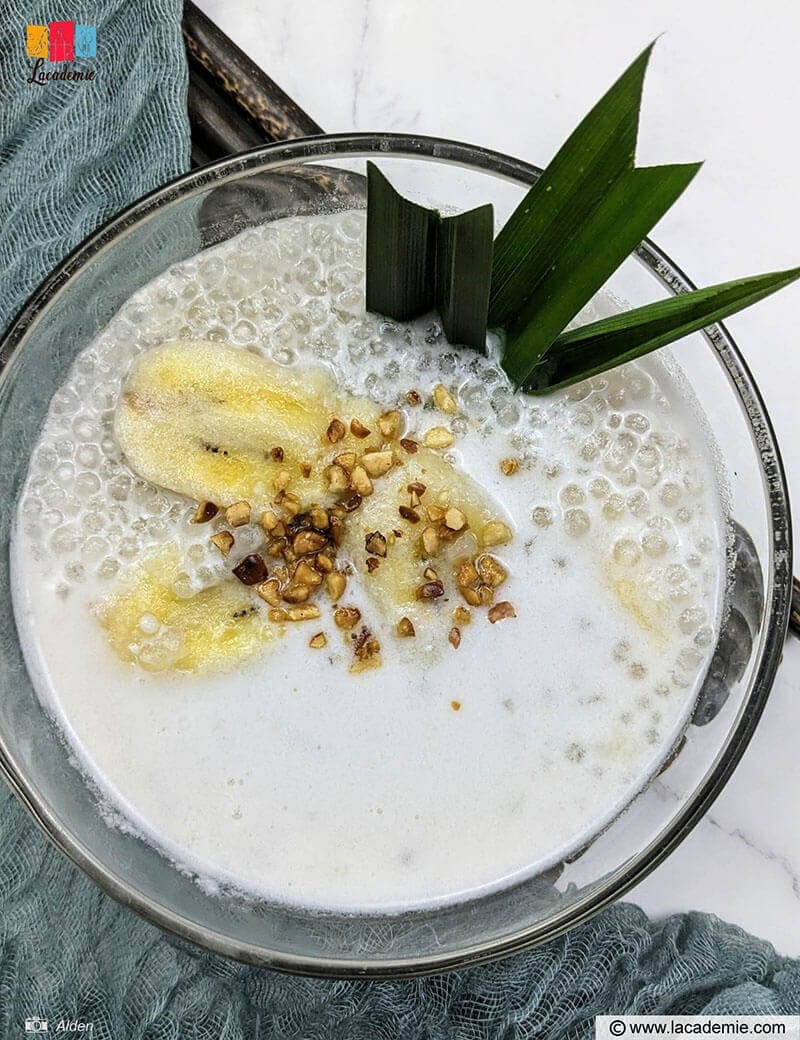 Besides being an excellent ingredient for sweet treats like waffles or crepes, bananas are also the core ingredient of this pudding-like dessert. The riper they are, the better your sweet tooth will be indulged! You may add extra sugar for a more mellow taste, but feel free to cut down on it.
After all, the fruity sweetness from the bananas, enhanced with the fatty coconut milk and chewy tapioca balls, is delicious enough on its own. However, a few drops of pandan leaf extract will go a long way to make this killer dessert a must-have treat after meaty and savory meals.
Total time: 10 minutes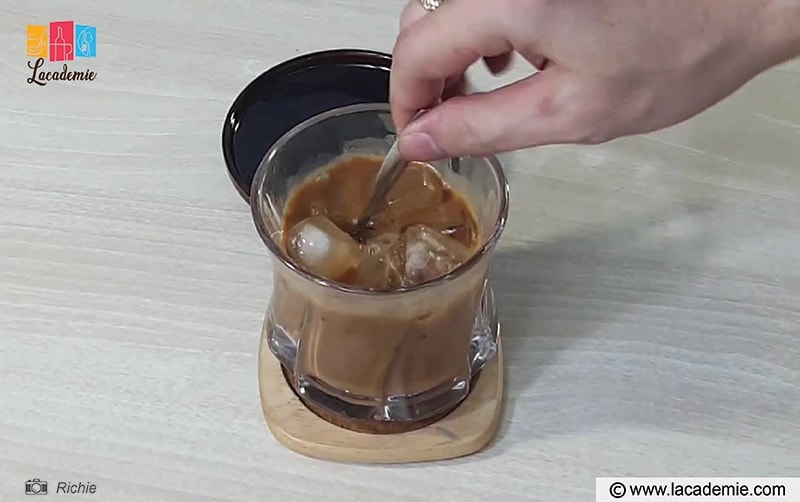 The list of iconic Vietnamese drinks can't be complete without iced coffee. Given the tropical climate of the country, adding ice to a commonly-served-warm beverage happens to be a perfect choice.
You can enjoy plain coffee or follow the Vietnamese way and add some condensed milk to the drink. The ratio is totally up to your preferences: people with a sweet tooth may turn up the milk and reduce the amount of coffee and vice versa.
There is nothing fancy about this stuff, but simple is the new sexy! When it is too hot to concentrate on your work, Vietnamese iced coffee will keep your mind coolly sharp and alert.
Total time: 15 minutes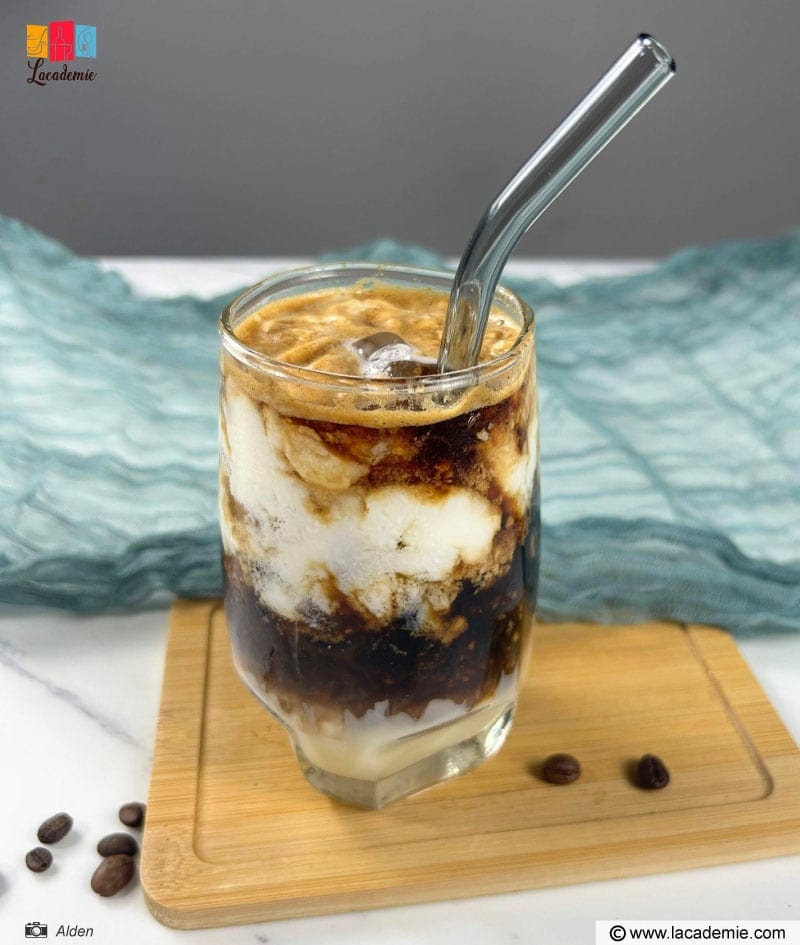 Yogurt might be the last thing you want to add to a cup of coffee, but the result is more exciting than you can imagine. The sharp tang of the former turns out to be a great accompaniment for the nutty acidity of the latter, getting the overall deliciousness up a notch.
But the drink isn't all about bitterness. Some condensed milk will do a great job of smoothing out any rough edges in the flavors with its silky sweetness. But if you like it rough, don't be afraid to play down that ingredient.
A cocktail shaker is an important tool in terms of fancying up the drink. You need it to whip up the foamy, caramel-colored coffee on top for a killer beverage.
Total time: 20 minutes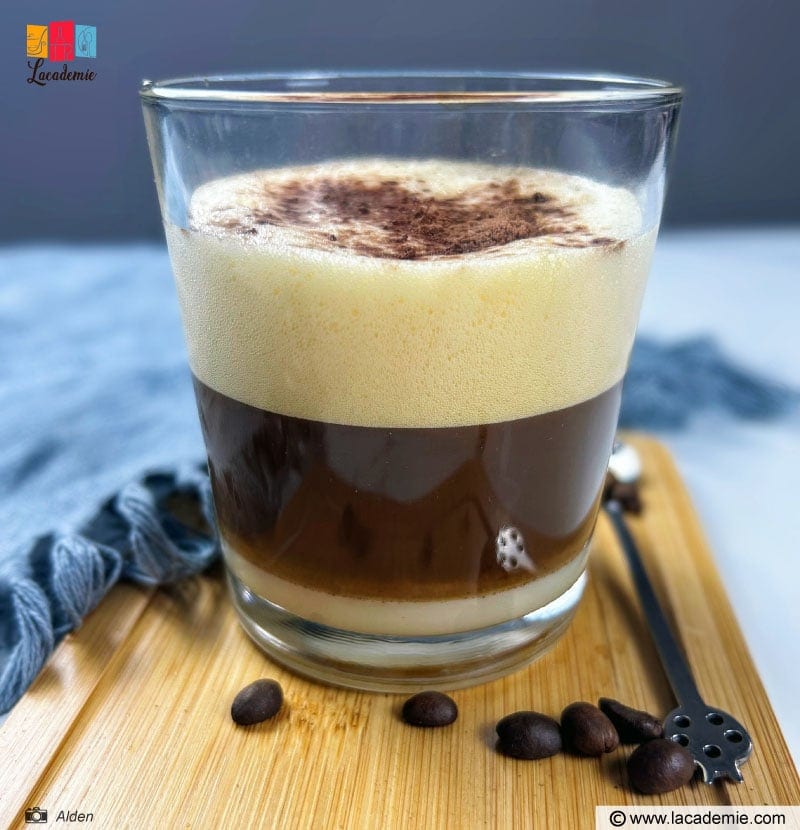 The first time I had this kind of Vietnamese coffee, I mistook it for a panna cotta. Now, I still think that if the sweet Italian treat were available in a liquid form, it couldn't get any richer and creamier than this drink.
Its making has many things in common with eggnog, except for the lack of booze. You have to whisk the egg yolks with some sweeteners until fluffy before pouring the mixture on top of black coffee. Add a pinch of spices or cocoa powder on top, and your cup of goodness is complete.
You will be surprised at how the bland flavor of the yolks becomes impressively rich when bittersweet coffee comes into play. Free-range chickens lay the best eggs for this recipe. You should consume pasteurized eggs for safety reasons, though.
Total time: 15 minutes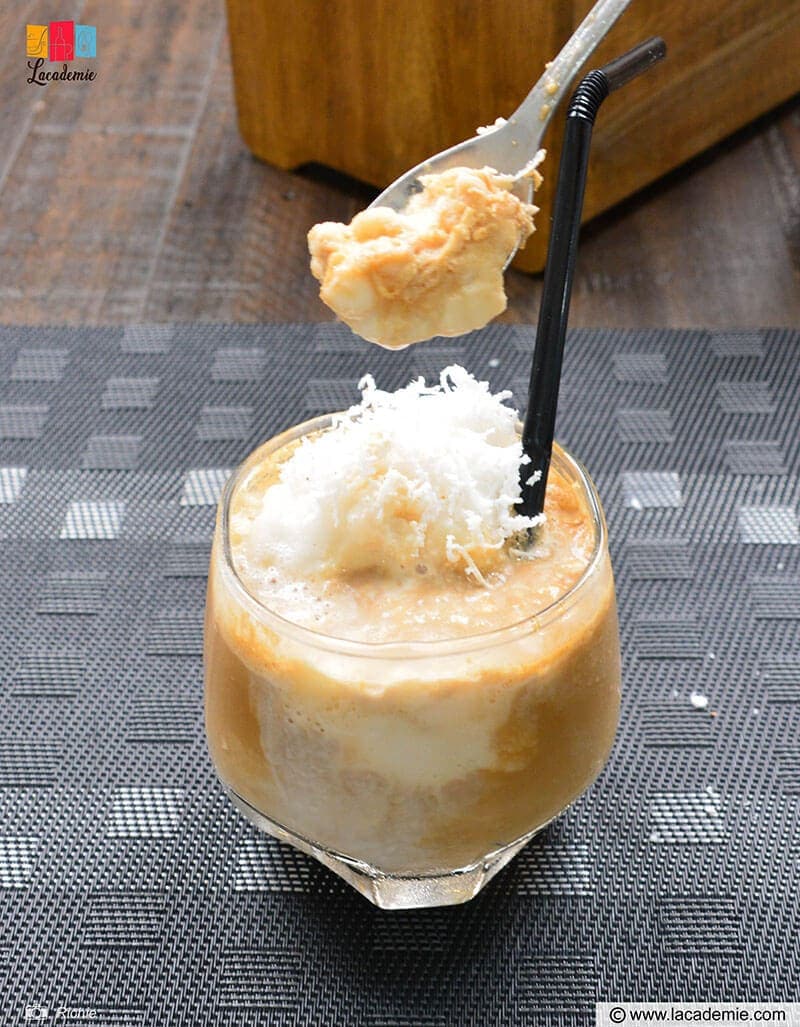 Coffee and condensed milk are already a match made in heaven, but how about adding some coconut cream for a flavorful mixture? The pleasingly mellow taste of that ingredient blends nicely with the bitter notes of coffee, proving how opposites attract.
But don't just mix everything together. You need to prepare the coconut slushy first by blending condensed milk, coconut cream, and ice together. Chill it if necessary, then pour the dark coffee over the snow-white slushy.
Tell Your Own Story With Vietnamese Recipes
You know what: Vietnamese recipes are full of traditional values, but they still allow room for creativity. Each one is an echo of the memorable past, which becomes better with new ingredients and cooking techniques. Let your creativity fly, and you will create something wonderful.
With this comprehensive list, I have spilled my guts. How about yours? Do you have any interesting tips or ideas to make these recipes more exciting or convenient? Speak your mind in the comment section!
Before you go, I have a small favor to ask: please introduce this post to your friends if you find it useful. They may need a spark from authentic yet easy Vietnamese recipes to level up their meals.
Nutrition Facts
2 servings per container
---
Amount Per ServingCalories632
% Daily Value *
Total Fat 15.2g

24

%
Cholesterol 85mg

29

%
Sodium 2927mg

122

%
Potassium 389mg

12

%
Total Carbohydrate 93.8g

31

%

Dietary Fiber 4.1g

16

%
Sugars 8.2g

Protein 29.5g

58

%
---
* The % Daily Value tells you how much a nutrient in a serving of food contributes to a daily diet. 2,000 calories a day is used for general nutrition advice.