Vietnamese stir-fried noodles with beef ("Mì Xào Bò") are a dish that no one can say no to. This delicacy is the Vietnamese take on comfort food with soft yet chewy noodles and flavorsome, tender beef. Better yet, it is super simple to make and requires no fancy ingredients.
If you don't know what to cook on a lazy Sunday or are looking for a colorful dish that everyone in your family will love, Mi Xao Bo is your go-to. Keep reading to learn the most delicious recipe for this crowd-pleasing stir fry.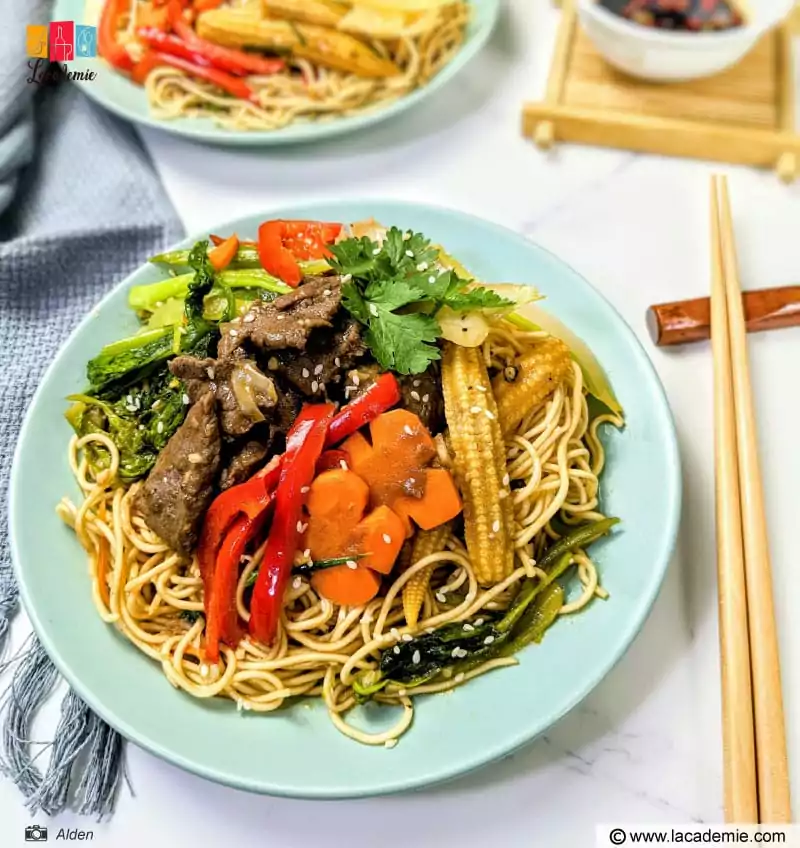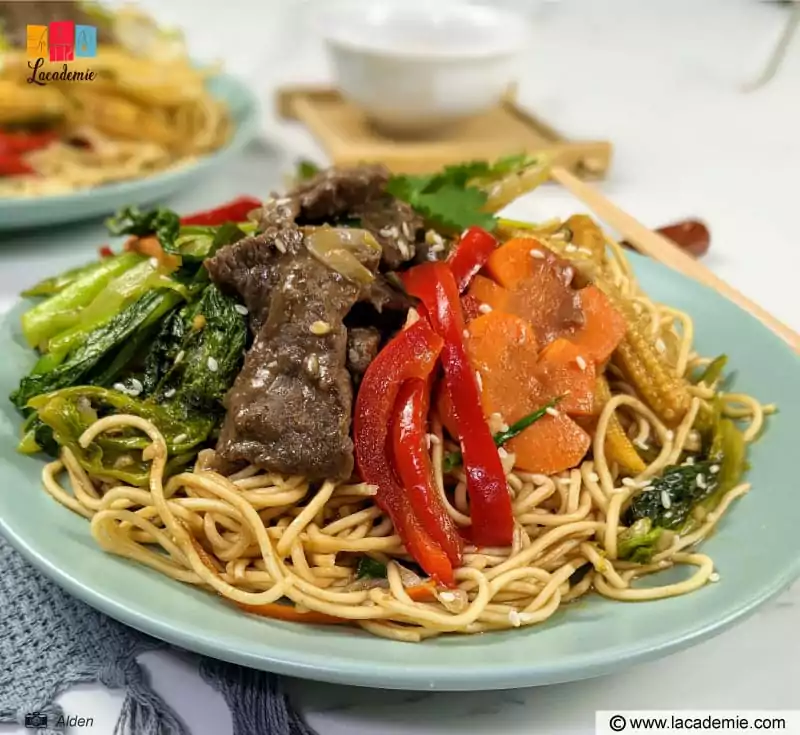 Why Mi Xao Bo Is A Must-Try For Food Lovers
Looking at Mi Xao Bo for the first time, you might think that it is nothing special, especially when compared to iconic Vietnamese noodle dishes, such as Bun Bo Hue. However, the beauty of this recipe lies in its simplicity.
As you will see later on, you don't need any hard-to-find ingredients to make a plate of Mi Xao Bo. Plus, the recipe is highly customizable, so feel free to toss in whatever kinds of meat or vegetables you like. You can even swap out regular egg noodles for Pho or Hu Tieu noodles.
Moreover, anyone, and I mean it, can make this dish as it is incredibly straightforward and requires no advanced cooking technique. Most importantly, Mi Xao Bo is super delicious and well-loved. In fact, it is one of the most popular street foods in Vietnam.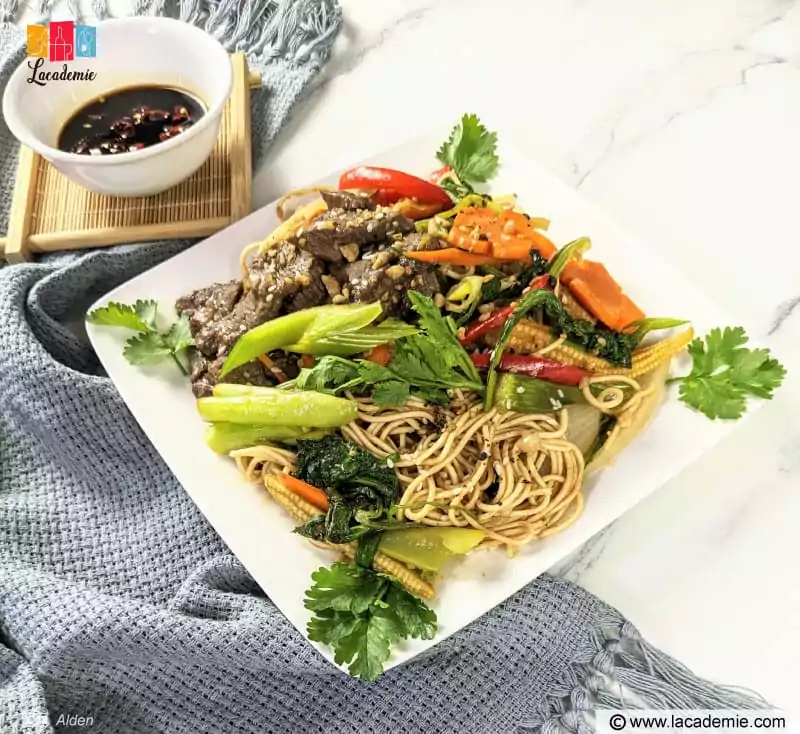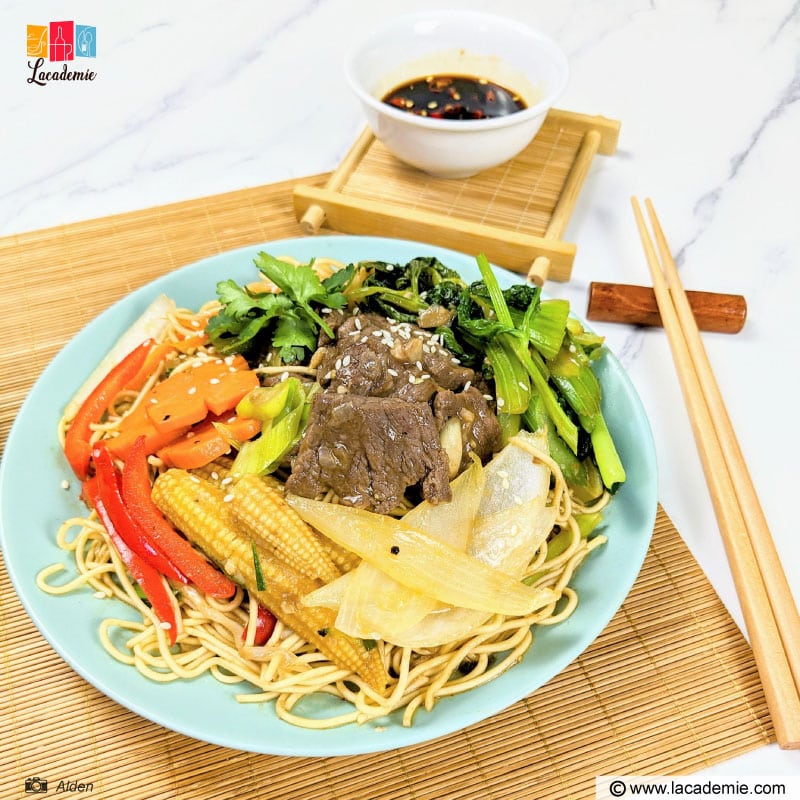 Tools
First, you should prepare the following tools to help with the cooking process. Don't worry; I believe most people already have these kitchen utensils at home.
Pan: For stir-frying veggies, meat, and noodles.
Large spatula and ladle: For taking the ingredients in and out of the pan/pot.
Large spoon: For mixing the meat, noodles, and vegetables.
Pot: For blanching the noodles.
Sieve: For draining the noodles after blanching.
Tongs: Help you transfer the noodles.
Knife and chopping board: There are plenty of vegetables in this recipe, and all of them need cutting. A high-quality knife and a chopping board will help you do that.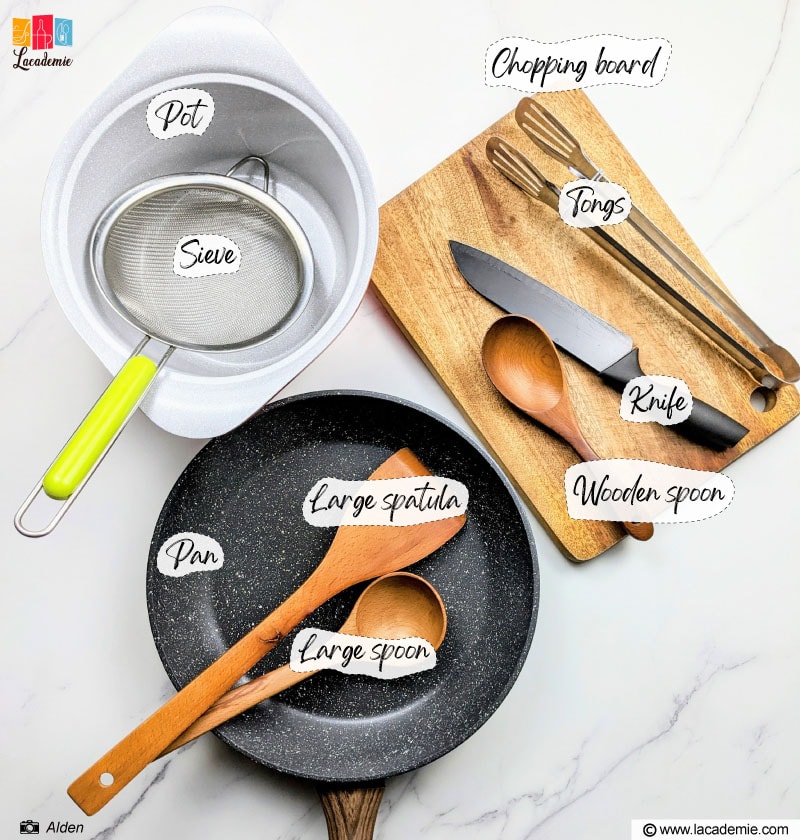 Ingredients
A successful dish of stir-fried noodles with beef comprises 3 main factors: the noodles, the meat, and the stir-fry sauce. Here are the ingredients you need to cook them perfectly.
Egg noodles: Egg noodles of any sort will do. Some people also use instant noodles in a pinch.
Beef: Beef tenderloin and filet are the most suitable cuts for stir-fried dishes. They are tender and can be cooked quickly.
Leaf mustard: Also called Chinese mustard, bamboo mustard, or mustard cabbage.
Celery: Adds an earthy flavor to the dish.
Bell peppers: These peppers have a slight sweetness and beautiful colors.
Carrots: To make the dish more eye-catching, you can slice your carrots in different ways.
Onion: Its strong flavor and aroma make onion a perfect addition to stir-fried recipes.
Scallions: Lends a delightful green color to the dish. You should add them near the end of cooking.
Cilantro: For garnishing the noodles.
Fresh garlic and shallots: For marinating the beef and stir-frying.
Fried garlic: Adding some fried garlic to the sauce will improve its texture and taste.
Leek: The Vietnamese call this ingredient "hành baro", which is derived from the word "poireau" in French.
Baby corn: These immature corn tastes very mild and adds a nice crunch to the dish.
Cooking oil: Besides stir-frying, you'll also add a little cooking oil to the meat marinate.
Spices and condiments:
Sugar: For marinating the beef and whipping up the sauce.
Oyster sauce: Lends a touch of umami flavor to the beef marinate.
Soy sauce: You also use soy sauce for both marinating and sauce-making.
Sesame oil: A healthy oil that offers nutty notes to your stir fry.
Cornstarch or tapioca flour: To prevent the beef from producing liquid while marinating.
Chili sauce: Gives the stir-fry sauce some spiciness.
Salt and pepper: An irreplaceable spice duo in cooking.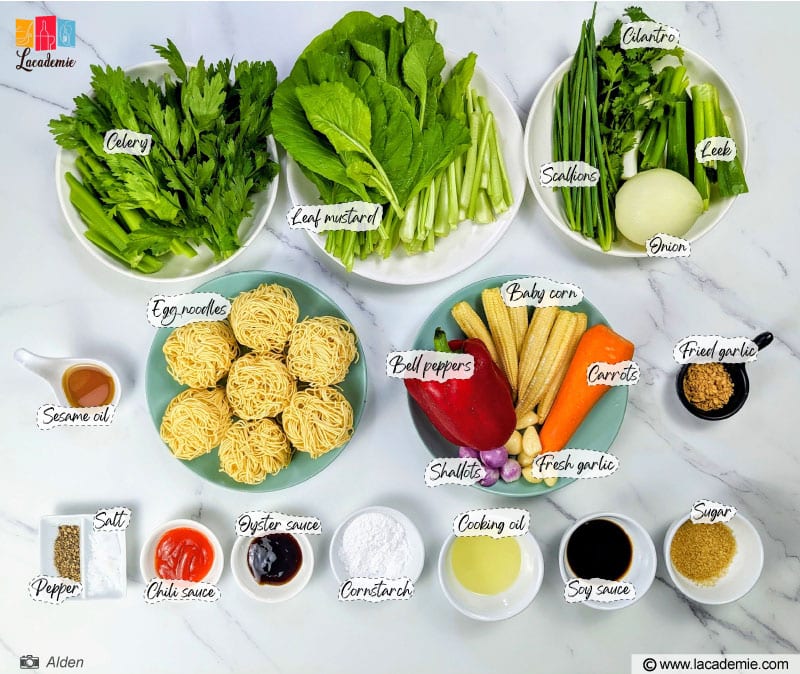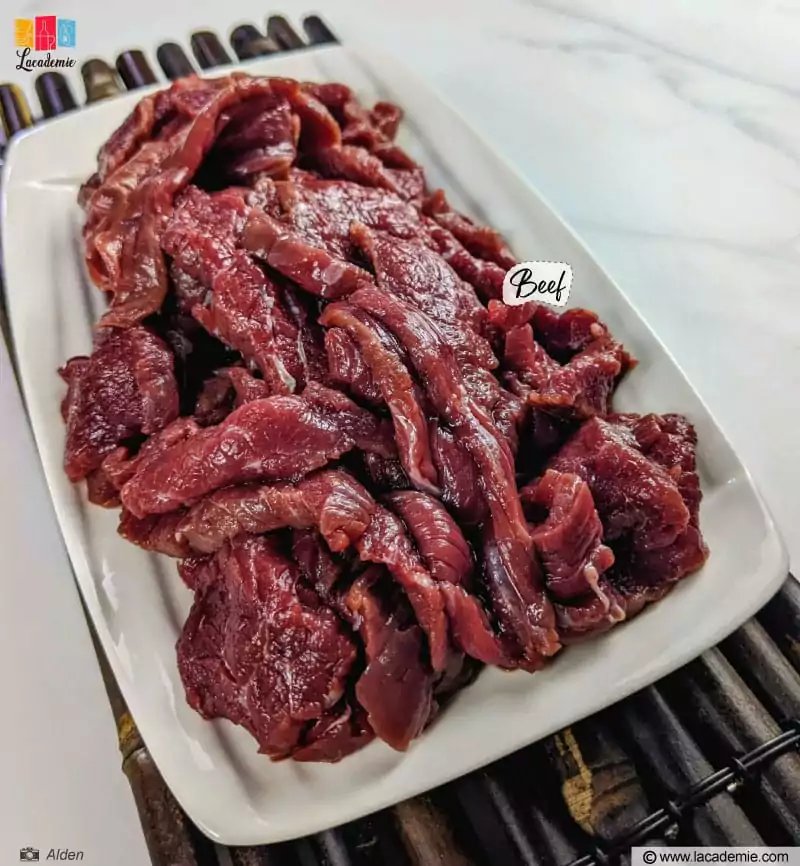 Directions
Have you got all the ingredients listed above? Well then, let's cook up a delectable plate of Mi Xao Bo with me!
Step 1: Prepare The Ingredients
Slice the beef.
Cut the baby corn into halves so you can cook them more easily. For the corn that's rather big, you can cut it into 3 pieces or slice it thinly across the body.
Separate the leaves and stems of the leaf mustard. Then, cut them into bite-sized pieces.
Likewise, keep the stems and leaves of the celery separate. Cut the stems diagonally into bite-sized pieces.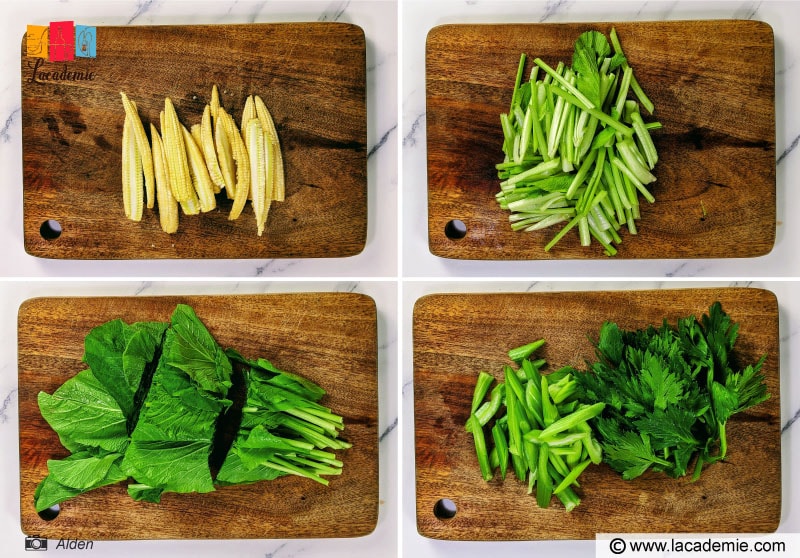 You can slice the carrots thinly or julienne them. Another option is to cut them into flowers. I usually julienne half of the carrots and cut the remaining half into flower shapes to make the dish more appealing.
Cut the onion into wedges. Chop off the bell peppers' top. Cut the peppers into large pieces along the lines on their bodies to remove the cores. Then, cut them into bite-sized slices.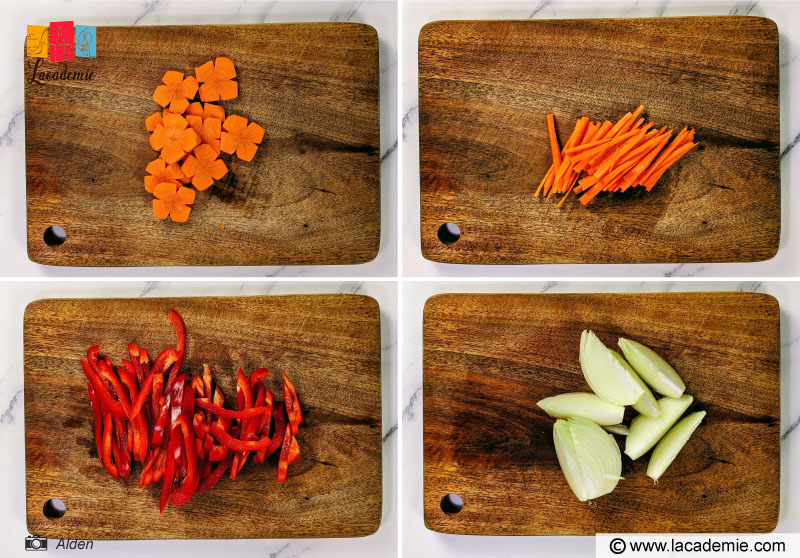 Cut the scallions into short pieces. Slice the leek. Mince the garlic and shallots.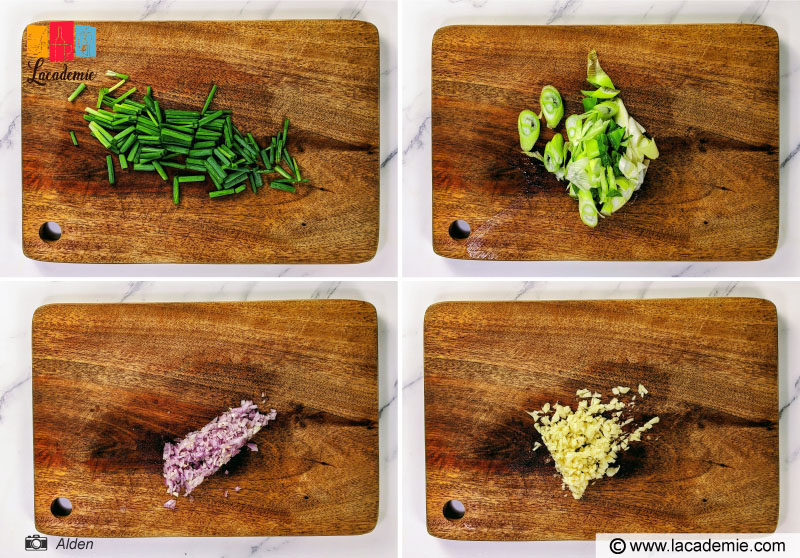 Place the prepared vegetables, scallions, and shallots on different plates.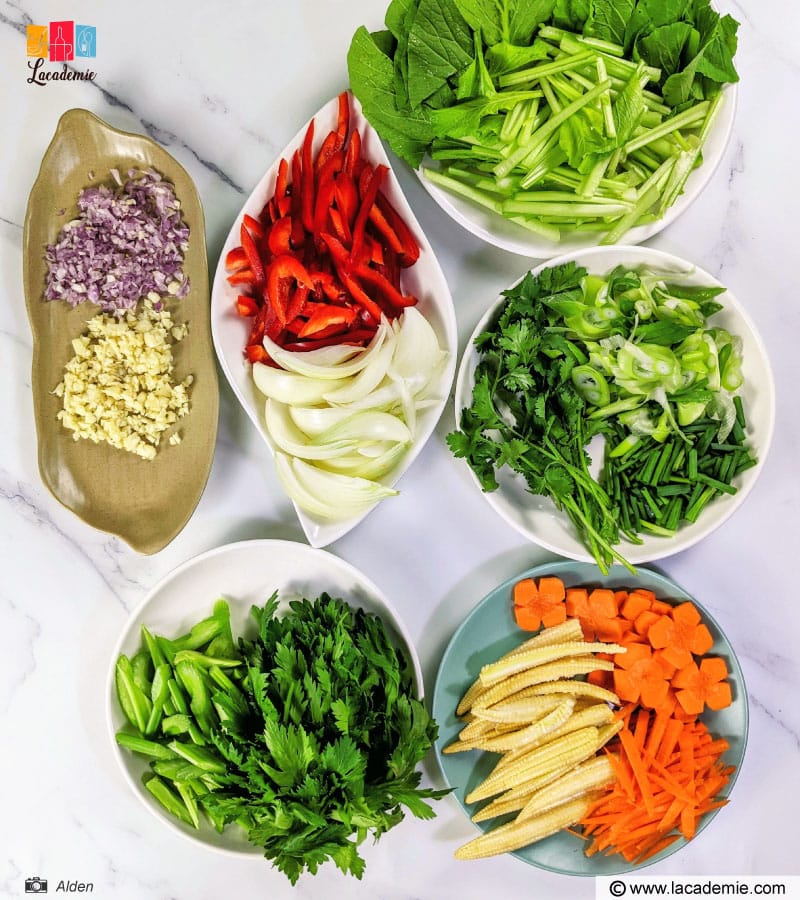 Step 2: Marinate The Beef
Season the beef with 1 tablespoon of minced garlic, 1 tablespoon of minced shallots, 1 tablespoon of oyster sauce, 1 teaspoon of pepper, 1 tablespoon of sugar, 1 tablespoon of cornstarch, 1 tablespoon of soy sauce, 1 tablespoon of sesame oil, and 1 teaspoon of cooking oil.
Mix well to infuse the meat with the spices and refrigerate it for at least 30 minutes.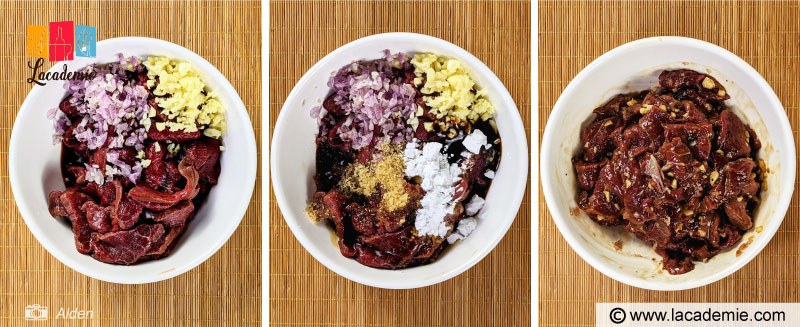 Step 3: Make The Stir-Fry Sauce
Put 2 tablespoons of sugar, 2 tablespoons of soy sauce, 1.5 tablespoons of chili sauce (more or less depending on your preference), 1 tablespoon of sesame oil, 1 teaspoon of pepper, 1 tablespoon of fried garlic, and 7 tablespoons of water.
Mix well to combine and set aside.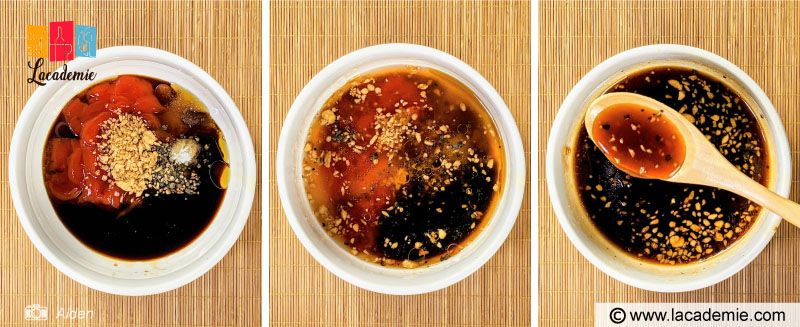 Step 4: Blanch The Noodles
Bring a pot of water to a boil and add about 1 tablespoon of cooking oil to the water. Blanch the noodles until softened, then transfer them to a sieve to drain. Put the noodles into a bowl of cold water, then quickly take them out. The sudden change in temperature will make the noodles crispier.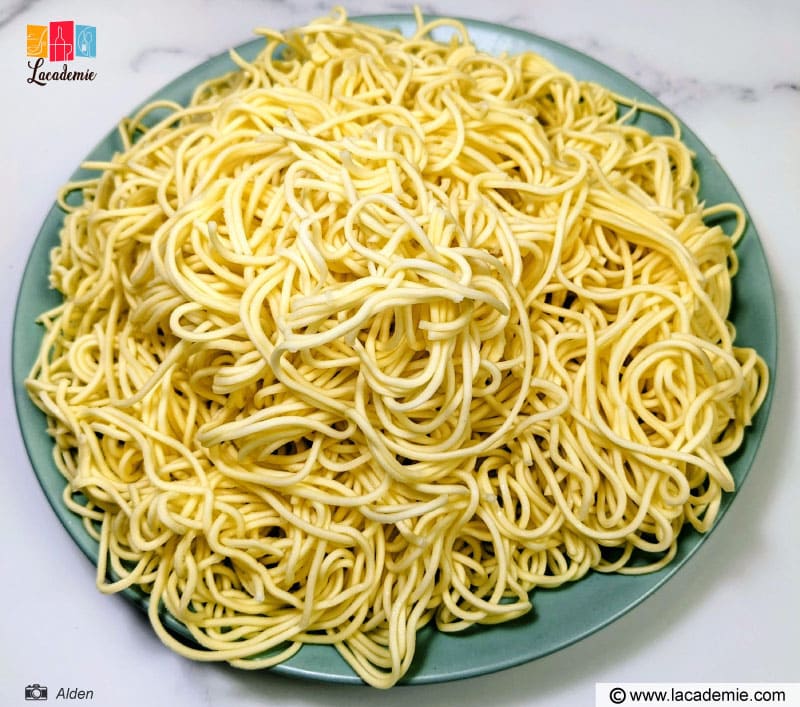 Step 5: Stir Fry The Beef
Heat some cooking oil in a pan. Once the oil is heated, add some minced shallots and garlic. Fry until fragrant.
Add the beef and stir fry it on high heat, stirring well. Cook until the beef is medium rare (about 70 to 80% fully cooked). Remove from heat and set aside.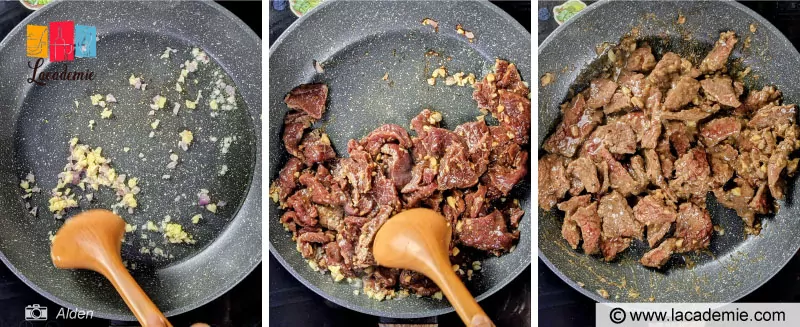 Step 6: Stir Fry The Vegetables
Fry the remaining minced garlic with some leek until fragrant.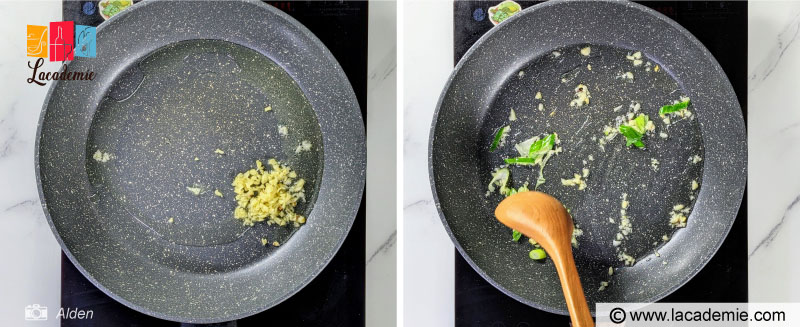 Stir fry the vegetables on high heat. You should add them in the following order: flower-shaped carrots, baby corn, julienned carrots, the stems of leaf mustard and celery, onions, bell peppers, the leaves of leaf mustard and celery, leek, and then scallions.
During stir-frying, gradually add the sauce so all kinds of vegetables can absorb it.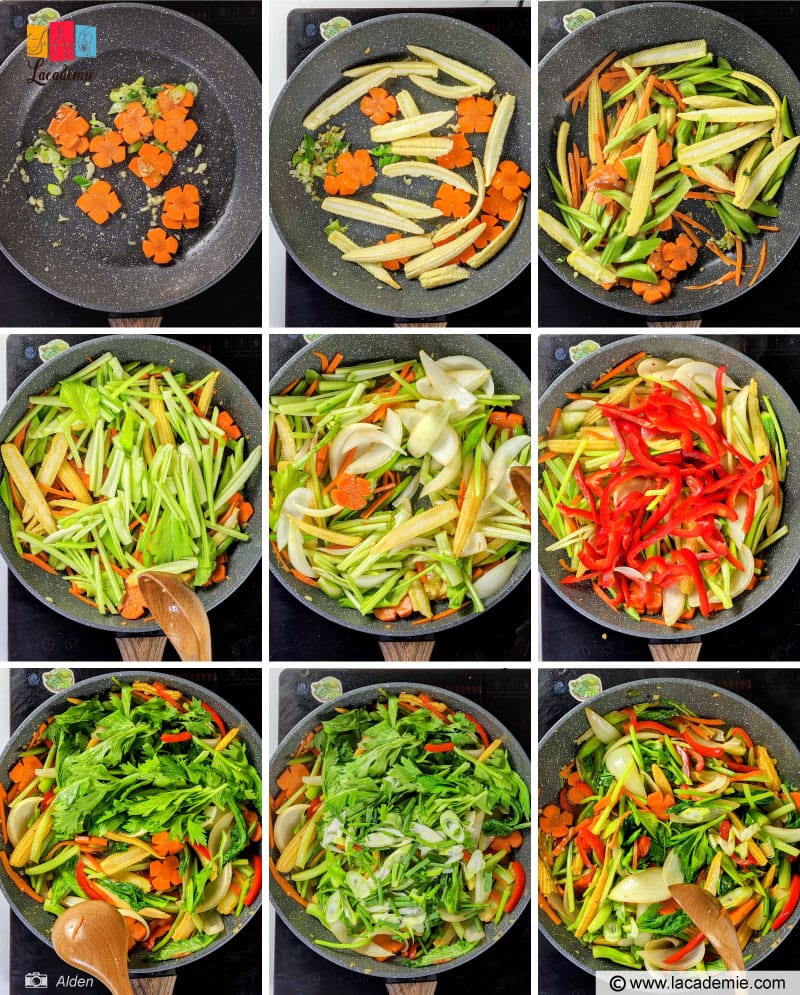 Step 7: Stir Fry The Noodles With The Meat And Vegetables
Add the noodles to the pan and turn the heat to low. Gently stir the noodles with the vegetables and sauce.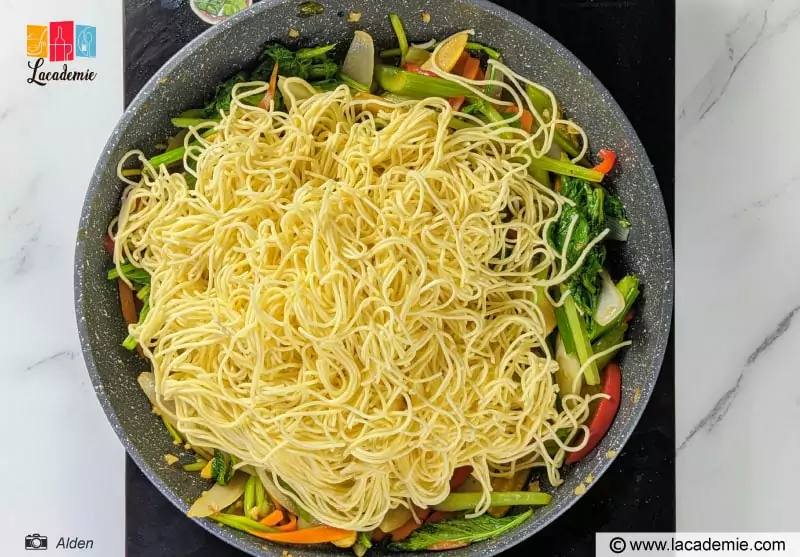 Stir in the beef and keep the heat low. Mix everything well for 3 to 5 minutes, and your dish is finished!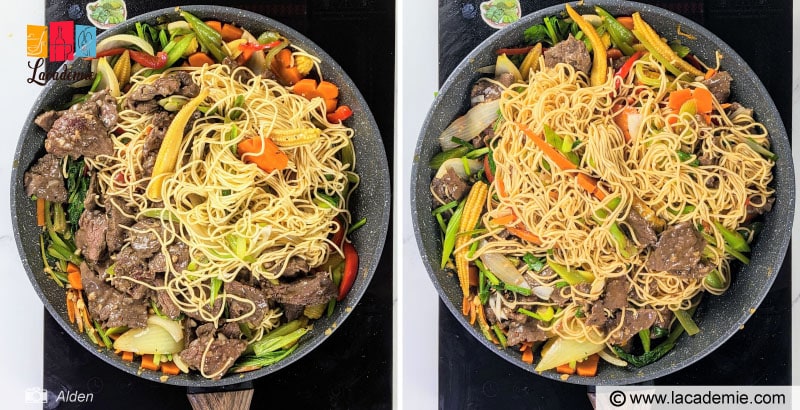 Step 8: Present The Dish
Put the stir-fried noodles along with the beef and vegetables on a plate. Sprinkle a little pepper (and sesame seeds, if you want) on top. Garnish with a few slices of chili and cilantro.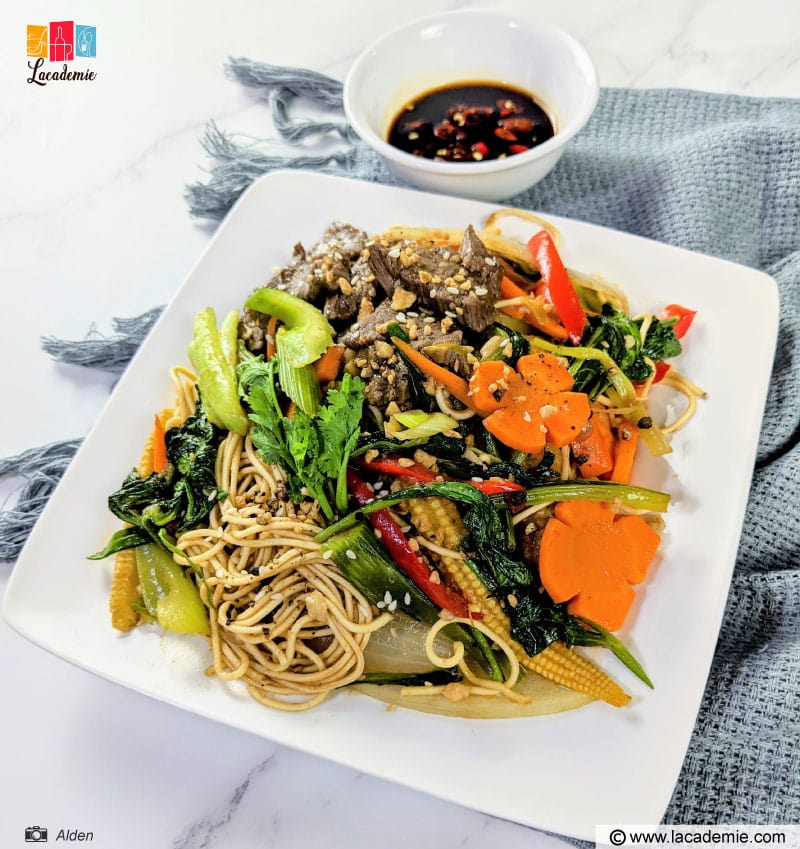 Useful Tips You Shouldn't Miss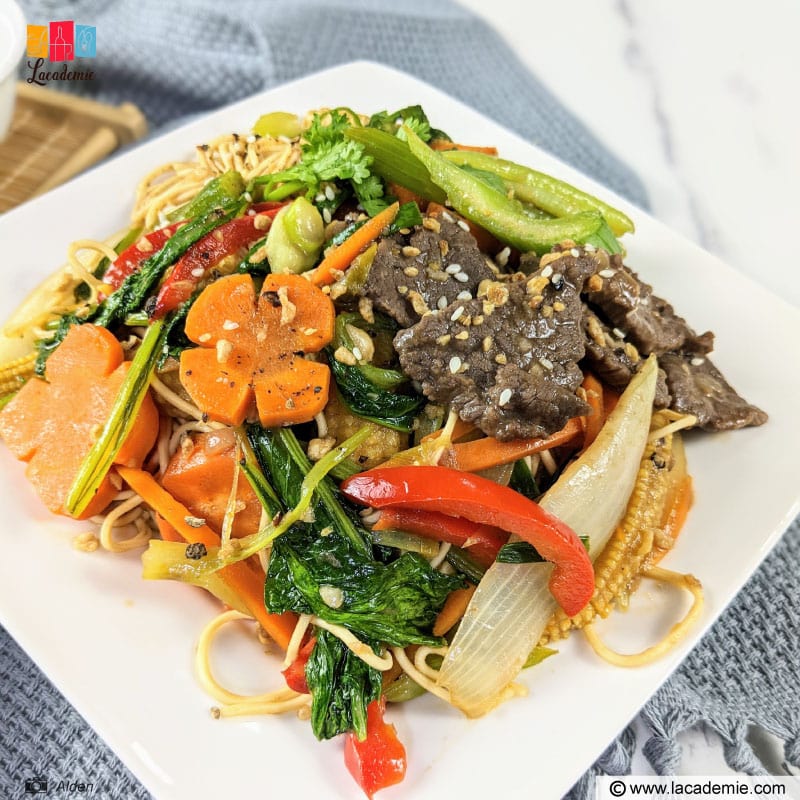 Now that you have made a perfect Mi Xao Bo dish, let's utilize the tips in this section to improve its flavor or customize the recipe to your liking.
Mi Xao Bo tastes best while it's still hot. To enhance the flavor, you can add some chili sauce, Sacha sauce, soy sauce mixed with a few slices of chili, or pickles.
If you want the dish to have a Chinese stir-fry vibe, simply add some soy sauce or rice wine while cooking.
Feel free to customize the vegetables based on your preference or the seasons. Bok choy, Chinese cabbage, green beans, mushrooms, etc., all taste great in this dish.
Marinating the beef with cornstarch will keep the meat from producing excessive liquid while stir-frying. As a result, the meat will taste better and be more tender after cooking. If you don't have cornstarch, you can also use tapioca flour.
When cooked perfectly, the noodles should be soft yet chewy and not lump together. At the same time, the beef is tender and retains its natural umami flavor, while the veggies are fresh and crispy. More importantly, all ingredients have to be well-infused with the sauce.
You shouldn't marinate the beef with salt, as doing so will cause the meat to produce liquid and turn chewy once cooked.
Elevate Your Comfort Food With Mi Xao Bo
Mi Xao Bo is an ideal dish to whip up when you don't know what to cook. It's also an excellent way to turn the instant noodles you have lying in the kitchen cabinet into a hearty and delectable meal.
If this is the first time you've heard of this Vietnamese dish, I highly recommend trying it today. Given how easy the recipe is, I believe that you'll have no trouble making it on your first try. Lastly, please like and share this post to spread the recipe to more people!
Nutrition Facts
4 servings per container
---
Amount Per ServingCalories563
% Daily Value *
Total Fat 18.1g

28

%
Cholesterol 112mg

38

%
Sodium 1625mg

68

%
Potassium 1529mg

44

%
Total Carbohydrate 52.8g

18

%

Dietary Fiber 7.9g

29

%
Sugars 19.8g

Protein 46g

92

%
---
* The % Daily Value tells you how much a nutrient in a serving of food contributes to a daily diet. 2,000 calories a day is used for general nutrition advice.