Let's immerse yourself in a lot of Asian cakes and desserts in the world of traditional Asian delicacies.
I understand you're probably yearning for something sweet yet distinctive to satisfy your palate. Fear not! From the velvety Japanese cheesecake to the irresistible Filipino Leche flan, you'll uncover enticing aspects: diverse taste diversity, fascinating cultural influences, and unique preparation techniques.
These insights will unlock your culinary creativity and might become your secret weapon for crafting desserts that wow others. So read on to find out!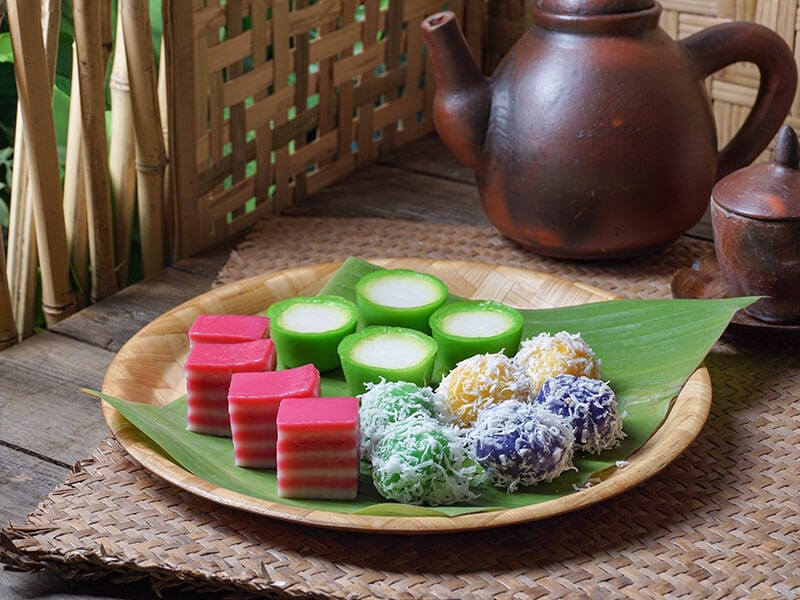 List Of Delectable Desserts and Cakes In Asia
Japanese
Mochi (Rice Cake)
Mochi Muffins
Japanese Cheesecake
Kasutera (Castella Cake)
Hato Sabure (Japanese Butter Cookies)
Matcha Cookies
Dango (Sweet Rice Dumpling)
Dorayaki (Red Bean Pancake)
Taiyaki (Fish-Shaped Pastry)
Anmitsu (Mixed Cold Dessert With Jelly)
Black Sesame Cookies
Filipino
Halo-Halo (Filipino Shaved Ice)
Bibingka (Baked Coconut Rice Cake)
Kutsinta (Steamed Sticky Rice Cake)
Sans Rival (Layered Dessert Cake)
Leche Flan (Crème Caramel)
Chinese
Tong Sui (Sweet Soup)
Mango Pudding
Egg Tart
Almond Float
Almond Cookies
Ji Dan Gao (Chinese Steamed Sponge Cake)
Mooncakes
Tangyuan (Dessert Soup With Glutinous Rice Balls)
Nian Gao (Chinese New Year Sweet Rice Cake)
Tanghulu (Candied Fruit)
Chinese Nougat
Lo Mai Chi (Peanut Mochi)
Korean
Hotteok (Sweet Pancakes)
Tteok (Rice Cakes)
Patbingsu (Shaved Ice With Sweet Red Beans)
Dasik (Tea Cookies)
Dalgona
Baesuk (Steamed Pears)
Injeolmi (Sweet Rice Cake)
Bukkumi (Pan-fried Rice Cakes With Sweet Red Beans)
Yaksik (Sweet Rice Dessert With Nuts)
Hwajeon (Pan-Fried Sweet Rice Cakes With Flower Petals)
Indian
Mango Kulfi (Mango Ice Cream)
Modak (Sweet Dumpling)
Ras Malai (Dumplings With Clotted Cream)
Ladoo (Ball-Shaped Sweet)
Mango Lassi (Yogurt-Based Drink With Mangoes)
Coconut Burfi Brownie Bites
Peda (Milk Fudge)
Gulab Jamun (Fried Dough Balls In Syrup)
Vietnamese
Bánh Chuối (Banana Cake)
Vietnamese Iced Coffee
Chè (Sweet Soup)
Sinh Tố Bơ (Avocado Smoothie)
Bánh Đậu Xanh (Mung Bean Cake)
Bánh Pía (Mung Bean Pastries)
Bánh Tiêu (Hollow Donuts)
Bánh Da Lợn (Steamed Layer Cake)
Bánh Khoai Mì (Cassava Cake)
Rau Câu (Jelly Cake)
Indonesian
Kue Putu (Steamed Rice Cake In Bamboo)
Kue Lapis / Kuih Lapis (Indonesian Steamed Layer Cake)
Lapis Legit (Thousand Layers Cake)
Klepon (Sweet Rice Cakes)
Other
Mango Pomelo Sago
Supangle (Chocolate Pudding)
Maamoul (Date Filled Cookies)
Tahini Cookies
Goreng Pisang (Banana Fritters )
Cendol (Iced Dessert With Green Jelly)
Khao Neow Mamuang (Mango Sticky Rice)
Halva (Sesame Paste-Based Sweet candy)
Japanese
1. Mochi (Rice Cake)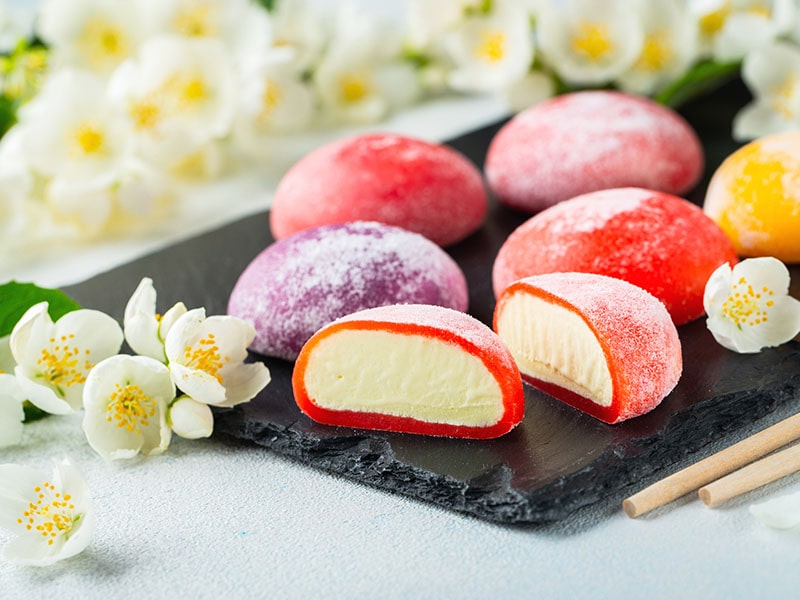 From Japan's Heian period (794-1185), this quaint dessert was created from Mochigome, a short-grain japonica glutinous rice. And since then, it has captivated everyone with its tantalizing chewy texture and mild sweetness.
As a part of the Mochitsuki, the ritual of hand-pounding rice for Mochi is an especially important Japanese New Year custom. It is also a symbol of celebration that is not only for New Year parties but also weddings and other special events.
Its versatile nature allows for various fillings, from traditional red bean paste to refreshing yuzu fruits or a modern twist of ice cream and match. You can draw to Mochi throughout the year. And from my experience, each bite is enhanced by a soothing cup of green tea.
2. Mochi Muffins
In the vibrant Berkeley, California food scene, the Third Culture Bakery introduced a phenomenal dessert in 2015 called Mochi muffins. And this sweet treat has since swept across many bakeries and coffee shops until now.
While this pastry is American-born, its roots delve deep into traditional Asian cuisine, integrating ingredients such as Indonesian coconut sugar, pandan extract, and sesame seeds. Flavors like matcha and ube, a purple yam, also add to its pan-Asian appeal.
One of my favorite parts about this dessert is the amazing texture contrast. It rewards you with a crisp golden exterior, giving way to a wonderfully chewy, Mochi-like interior. Moreover, its gluten-free nature broadens its appeal even further.
3. Japanese Cheesecake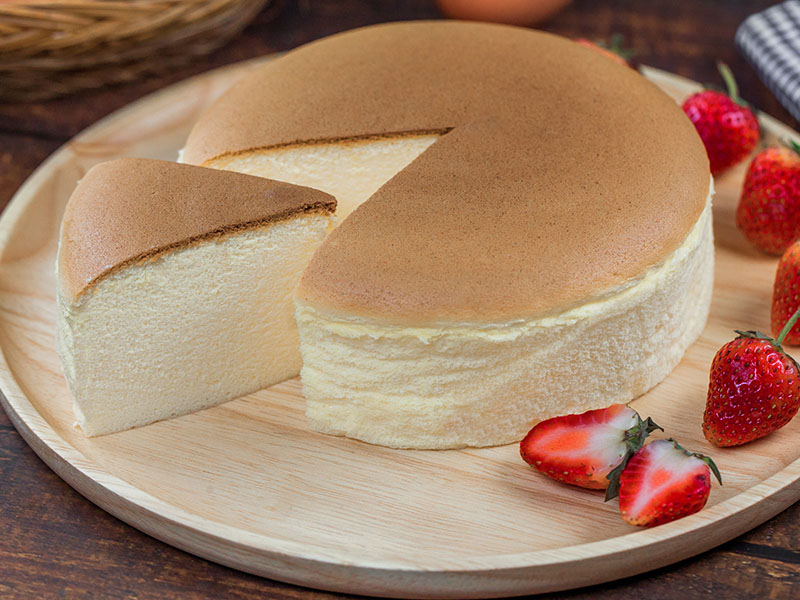 Japanese cheesecake, a delightful creation from the 1960s, brings together the best of both worlds—Western-style cheesecakes and the finesse of Japanese baking.
Picture this: a cake that resembles a charming blend of a soufflé and a chiffon cake. Butits lighter, airier, and fluffier texture, along with a less sweet flavor profile, sets it apart.
It uses the same basic ingredients as its Western counterparts: eggs, sugar, butter, and cream cheese. However, the cheese and sugar have reduced quantities.
Therefore, while enjoying a Japanese cheesecake, I marveled at its gracefully dancing on the palate with just the right amount of sweetness.
4. Kasutera (Castella Cake)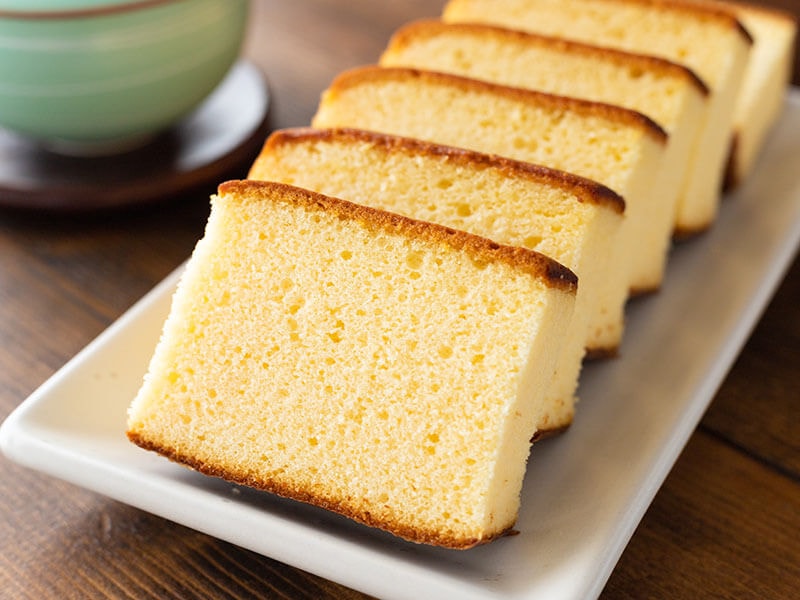 Sharing its roots with the Portuguese dessert recipes of the 16th century, Kasutera holds a special place in Nagasaki's culinary legacy.
Deriving its name from "Portuguese Pó de Castela," hinting at its "bread from Castile" origins, Kasutera transforms simple ingredients into a delightful treat.
With a harmonious blend of flour, sugar or honey, eggs, and an optional sprinkle of matcha powder, this cake has a moist, fluffy crust encasing an airy, creamy center. It's softer than its Western sponge cake counterpart and often comes with a Youkan (sweet bean jelly) filling.
Plus, the typical Kasutera is sold in long rectangular shapes, a form that's not just visually appealing but also practical. It can be refrigerated and savored for a whole 7 to 10 days.
Hato Sabure, a dove-shaped shortbread cookie, originated in Kamakura in the late 19th century. The name "Hato" refers to doves and a local shrine, while "Sabure" comes from the French for "butter cookies."
These treats are crispy, buttery, and not overly sweet. They provide a delightful taste without leaving an oily residue on your hands or mouth. Hato Sabure is suitable for a peaceful afternoon snack.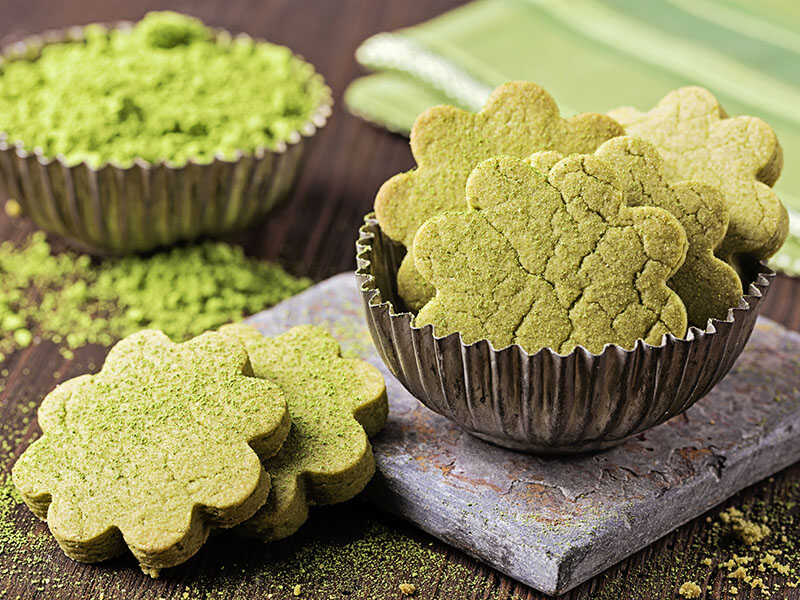 There's an allure in the vibrant green hue of matcha cookies. The key ingredient, matcha, is nothing less than powdered high-grade green tea, offering an array of tantalizing grassy and herbal notes that enrich every bite.
Thanks to the natural green shades from matcha, I don't need any artificial coloring. Moreover, adding chocolate, vanilla, or citrus creates layers of taste. But remember to pay close attention to the baking process. Overbaking could change their distinct green to a less attractive brown.
7. Dango (Sweet Rice Dumpling)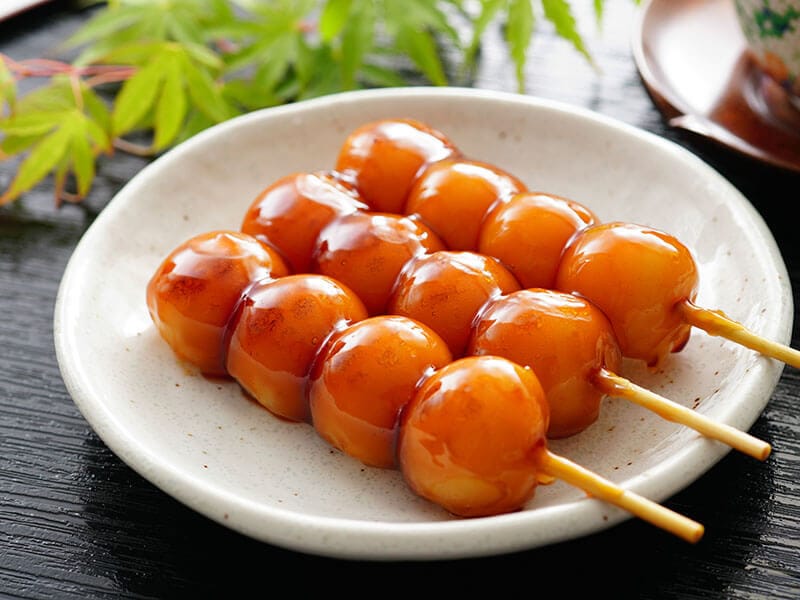 Dango is a popular wagashi treat, which is a perfect companion to a cup of green tea. These round dumplings are made from a blend of rice flour and glutinous rice flour.
Typically served on bamboo skewers, every three to five dumplings are skewered together, creating a delightful presentation. The texture of Dango is a delightful combination of tenderness and chewiness.
There are various varieties to explore. For instance, Mitarashi Dango with its sweet and sticky soy sauce glaze, Anko Dango with sweetened red bean paste toppings, Kibi Dango featuring millet flour, and the colorful Hanami Dango, often enjoyed during the sakura-viewing season.
8. Dorayaki (Red Bean Pancake)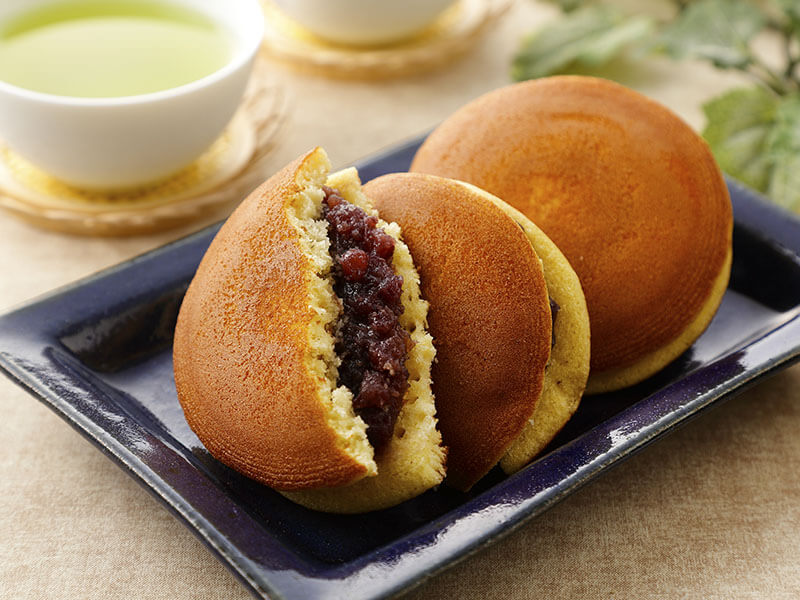 Named for its round, gong-like shape ("Dora" translates to "gong" in Japanese), Dorayaki stands out in the world of desserts. An interesting tidbit for anime lovers: Dorayaki is the favorite treat of Doraemon, a well-known anime character in Japan.
The golden-brown pancake layers envelop a sweet filling traditionally crafted from red beans. But others also come with fillings of custard, chocolate, and chestnuts.
Its sweetness can be overwhelming to some, making a companion drink like tea, coffee, or a matcha latte a perfect pairing.
9. Taiyaki (Fish-Shaped Pastry)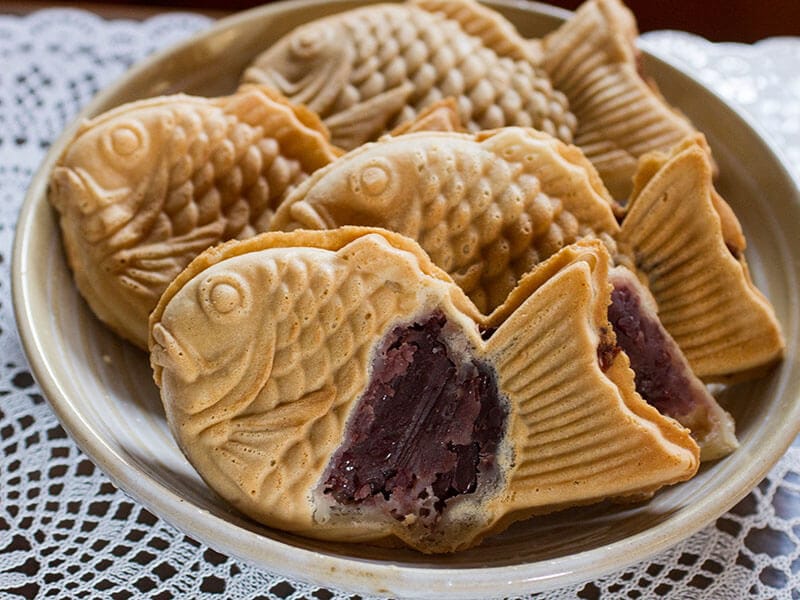 Inspired by the circular pastry called Imagawayaki, the iconic fish shape of Taiyaki emerged in the early 20th century. Today, Taiyaki has become a beloved Japanese street food, available in various sizes. Interestingly, Korean cuisine offers a similar treat known as Bungeo-ppang.
Taiyaki, despite its name meaning "baked fish," is not a seafood dish. Instead, it's a pastry shaped like a tai (red sea bream). The crust of Taiyaki is typically made from ordinary pancakes or waffle batter, resulting in countless textures, from light and airy to crisp and chewy.
While the traditional filling is red bean paste, you can also find variations with custard, ice cream, chocolate, or savory sausage.
10. Anmitsu (Mixed Cold Dessert With Jelly)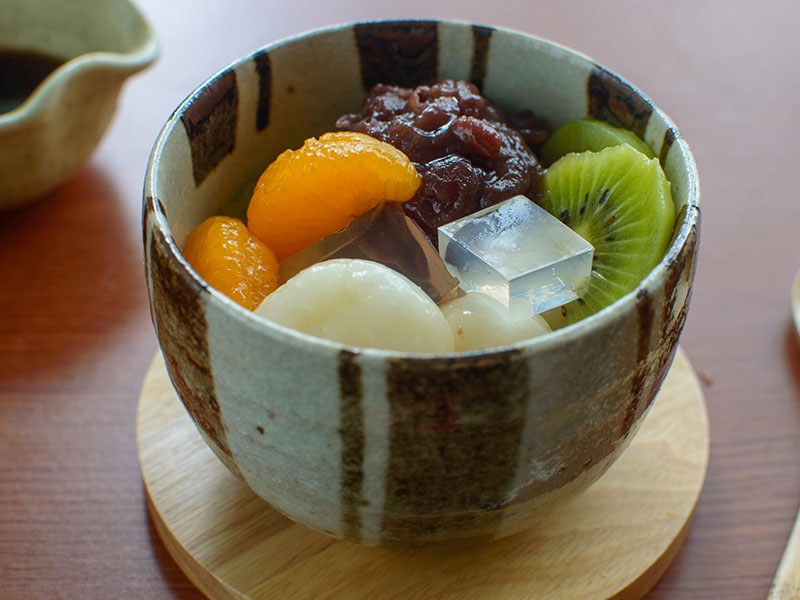 Created in the early 20th century, Anmitsu is another beloved dessert. This vegan treat is a mix of white, translucent kanten jelly (called agar-agar in English), red bean paste, assorted fruits, Mochi, ice cream, and black sugar syrup.
The recipe varies wildly from place to place. The sweetness of red bean paste is enhanced or balanced by adding fruits, such as pineapples, cherries, or peaches. Moreover, the contrast of the bouncy jelly and chewy Mochi is a delight to savor.
Finally, use a spoon or fork and savor this Japanese delicacy.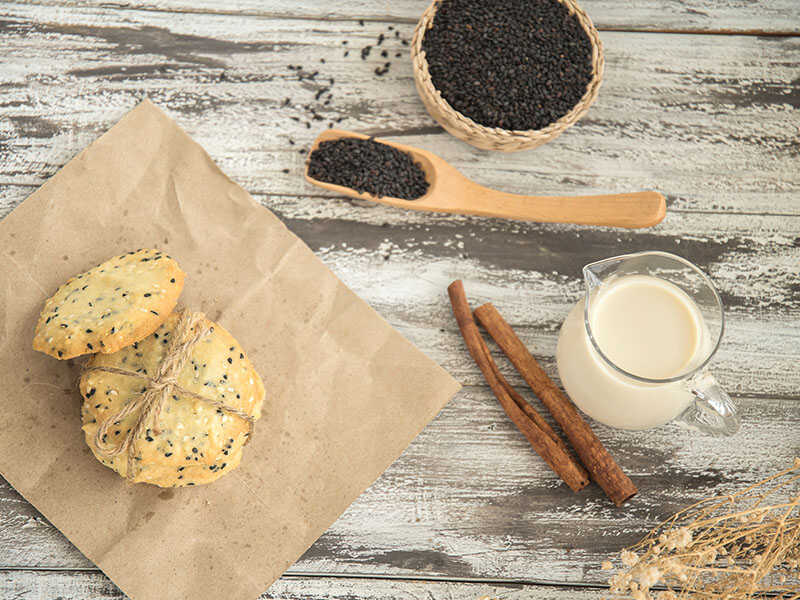 Black sesame cookies take the deliciousness of butter cookies to a whole new level. These cookies have a base of buttery goodness, but adding toasted and ground black sesame seeds makes them more special.
The result? A cookie has a striking dark color. Also, the appearance of these cookies makes them an ideal gift for your friends. Overall, these cookies offer a delightful balance of sweet and savory notes, with subtle hints of bitterness, setting them apart from the typical sugary treats.
Filipino
12. Halo-Halo (Filipino Shaved Ice)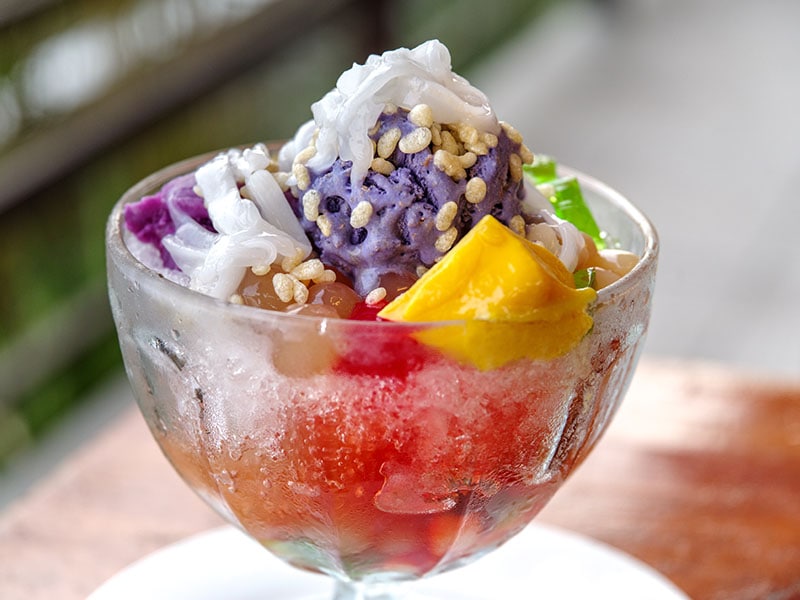 Invented around the 1920s – 1930s, Halo-Halo is a colorful Filipino shaved ice dessert. Drawing inspiration from Japanese treats like Kakigori and Mitsumame, it's served in a tall glass and invites you to "mix-mix," as the name translates.
Sweetened fruits, macapuno (coconut sport), and beans – usually sweet red or white ones, and coconut gel lay the groundwork for this dessert. Of course, it wouldn't be complete without shaved ice and ube halaya, mashed purple yam, lending their irresistible textures.
Furthermore, Leche flan and ice cream are two favorite additions of Halo-Halo. And remember, you're free to enhance the sweetness with more fruits or other components. I like to top mine with tapioca pearls and a good drizzle of evaporated milk.
13. Bibingka (Baked Coconut Rice Cake)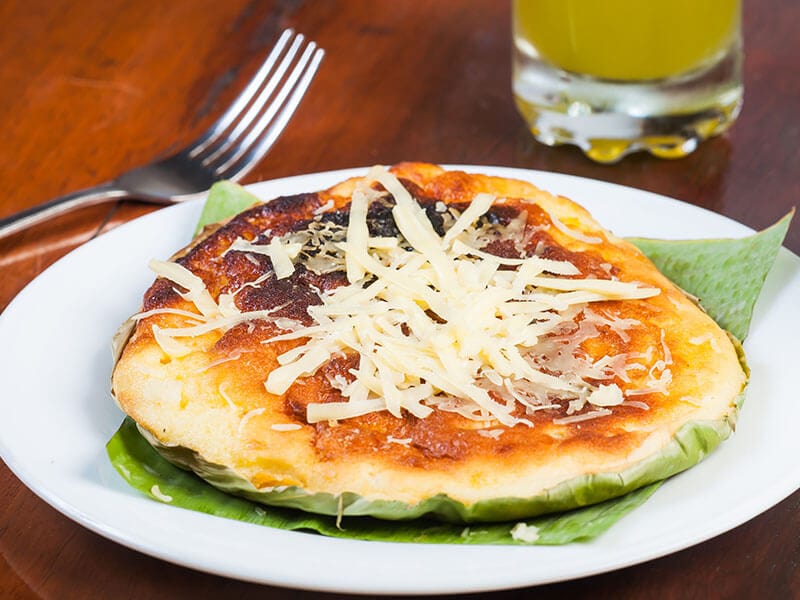 A baked coconut rice cake, Bibingka is a versatile Filipino treat for breakfast and snacks. It holds a special place during Christmas, becoming incredibly popular and often sold as street food near churches in the country.
The main ingredient is galapong, a smooth rice dough made from ground fermented sticky rice or cassava flour. It creates a tasty mixture when combined with sugar, coconut milk, and water. Typically, Bibingka is prepared in a banana leaf-lined terracotta oven.
It's best enjoyed hot, offering a soft spongy texture akin to rice pudding and a mellow flavor. You will also appreciate the lightly charred surface and the sweet, grassy aroma of the banana leaves from this delight.
You can include toppings like grated coconut, coconut caramel, or crushed pineapples for added flavors. In some regional variations like Bibingkoy from Luzon, a sweet filling can surprise you.
14. Kutsinta (Steamed Sticky Rice Cake)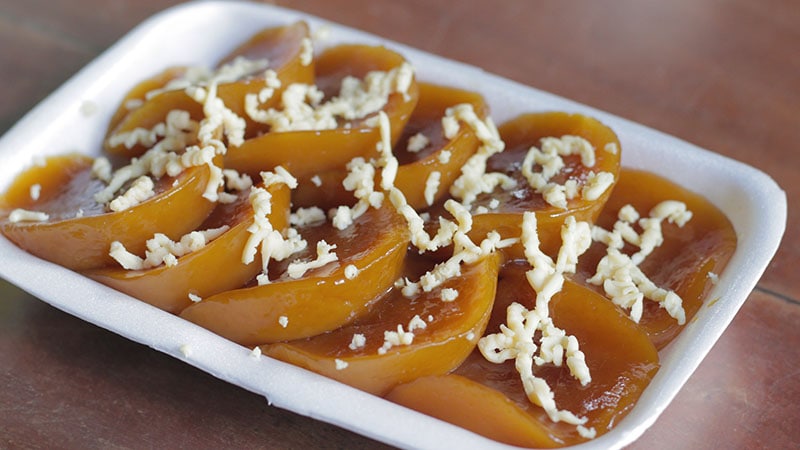 If you're exploring Filipino snacks, Kutsinta is a must-try. A masterful blend of tapioca or rice flour, brown sugar, and lye water creates its pleasing chewiness. For a striking hue, annatto extract is incorporated, but if it's hard to find, food coloring works just fine.
On the other hand, if lye water isn't handy, a mixture of 1 part baking powder and 4 parts water can step in. Finally, you will have a perfect cake carrying sweet molasses notes and a pleasing chew. The final flourish comes from grated coconut or cheese as a topping.
15. Sans Rival (Layered Dessert Cake)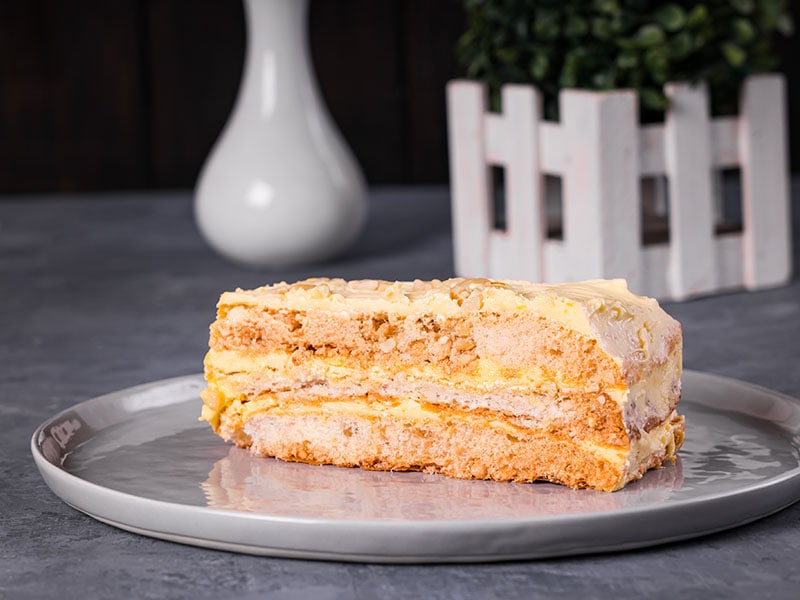 Sans Rival is a layered dessert cake with a French name meaning "unrivaled." This delightful treat is a masterpiece created by Filipino bakers around the 20th century who drew inspiration from European baking.
Imagine the harmonious blend of all-purpose flour, airy meringue, creamy buttercream, a generous amount of chopped cashews, and pistachios for garnish (optional).
The result? A cake has an irresistible rich flavor. FYI, Silvana, the famous frozen cookie, is actually a smaller version of this exquisite dessert.
16. Leche Flan (Crème Caramel)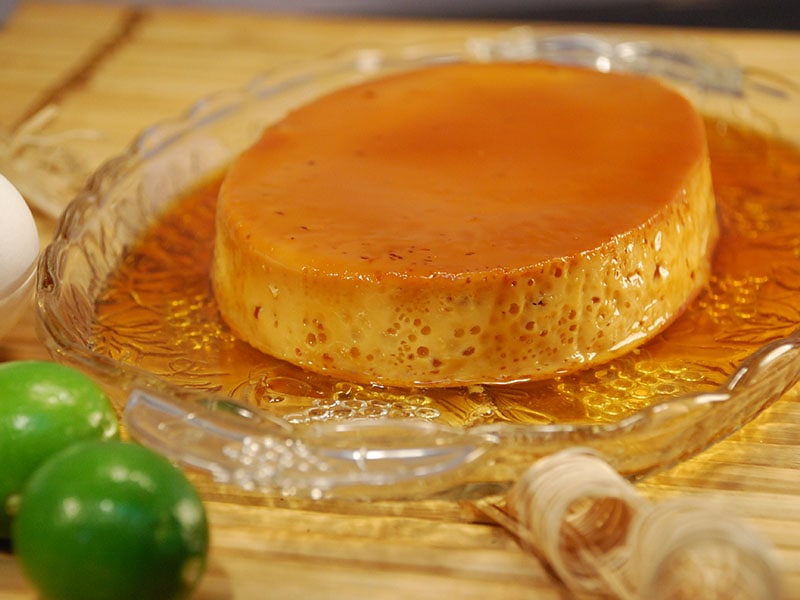 For anyone with a sweet tooth, Leche flan is an essential stop on the Filipino culinary journey. This divine dessert, influenced by Spanish caramel puddings, is notable for its generous use of egg yolks and condensed milk.
Adorned with a soft, delectable caramel on top, it's more than just a standalone delicacy. From enhancing Halo-halo to adding a sumptuous layer to Mamón (sponge cake), it's a vital ingredient in many classic Filipino sweets.
As for me, no festive occasion in the Philippines, be it a birthday, Christmas, or New Year's party, feels complete without a slice of this silky delight.
Chinese
17. Tong Sui (Sweet Soup)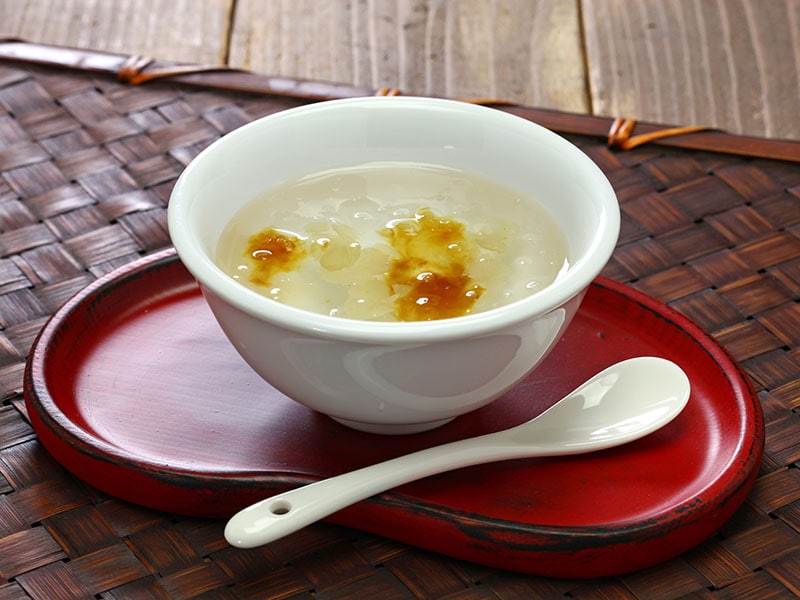 Tong Sui, or Tim Tong, is a delightful sweet soup commonly found in Chinese cuisine, particularly in the Southern region. This dessert soup is traditionally served at the end of a meal, providing a satisfyingly sweet finale.
"Tong Sui" means "sugar water," indicating its sweet nature. Typically, it features a base of either water or coconut milk, and the main ingredients include beans, nuts, and fruits, whether dried or fresh.
The key to a good Tong Sui is achieving a profound sweetness without overwhelming the flavors of the other ingredients. Each component should shine with its nutty and earthy flavors. In big Chinese cities, you can easily find Tong Sui stalls where you can explore a variety of options.
Even outside of China, you can often see Tong Sui served in Chinese-based restaurants, allowing you to savor this delightful sweet soup wherever you may be.
18. Mango Pudding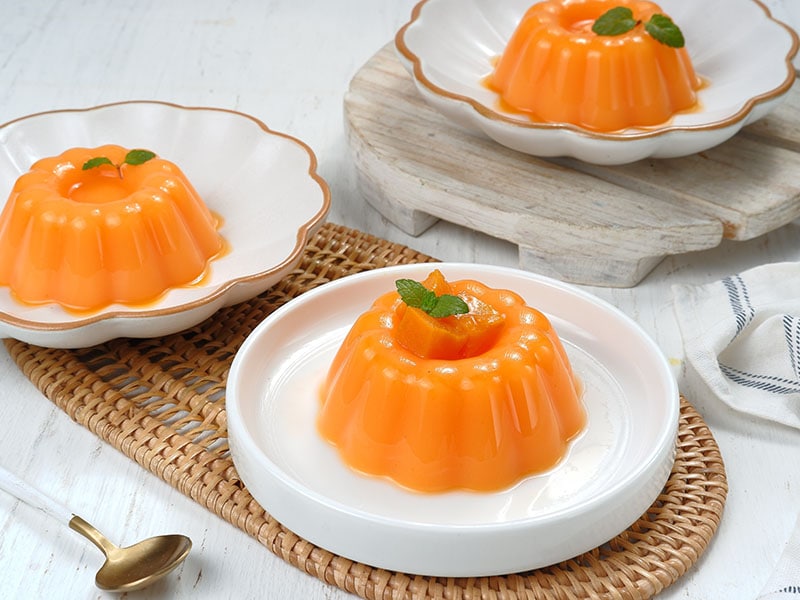 While navigating the culinary scene of Hong Kong, I came across a fascinating twist on traditional British puddings – mango pudding. This sweet treat has also garnered popularity across many Southeast Asian countries.
Mango pudding often appears on the table during dim sum meals. It brilliantly showcases the tropical sweetness of ripe mangoes.
A dash of evaporated milk and agar-agar combine to craft a soft yet pleasing springiness. To elevate its tropical charm, a topping of coconut milk or fresh fruits is ideal.
19. Egg Tart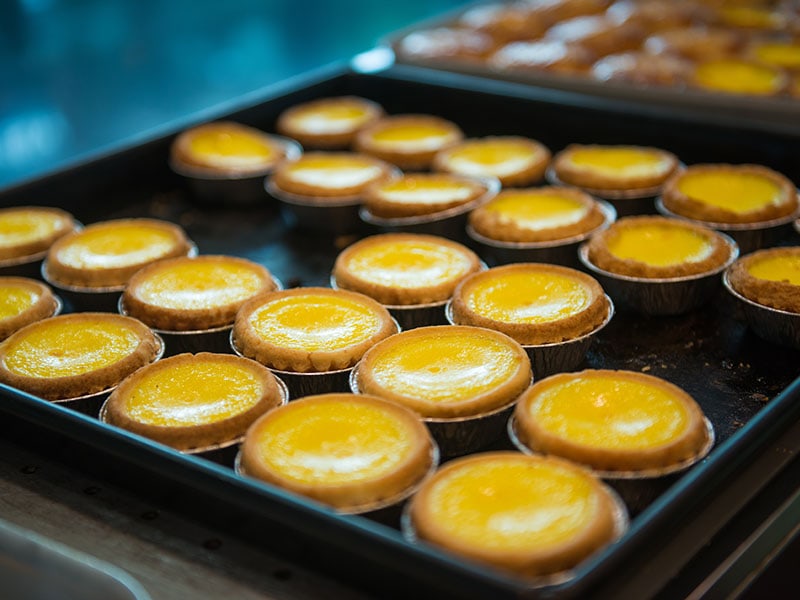 The egg tart, arguably the most famous Chinese pastry, is another must-try dessert in Hong Kong and Macau. While egg tarts from these two countries share a similar concept, there are slight variations.
Macanese egg tarts feature puff pastries and a touch of extra sweetness, while the Hong Kong-style version boasts a shortcrust pastry.
Overall, they are a great combination of flaky pastry and soft, sweet, and creamy custard filling. Pair them with a glass of milk, tea, or coffee for the best experience.
Regarding its origin, as inspired by English custard tarts and Portuguese egg tarts known as Pastel de Nata, egg tarts emerged in the early 20th century and gained immense popularity in the mid-century. Today, egg tarts have become a beloved item on dim sum menus.
20. Almond Float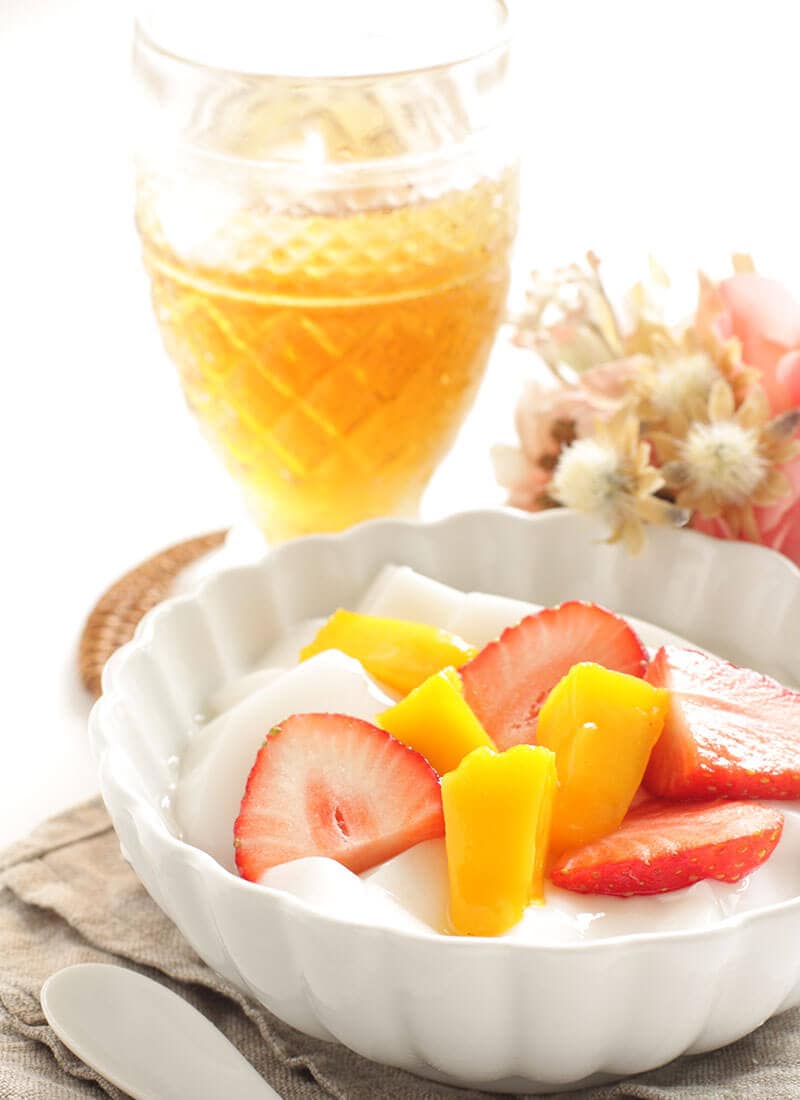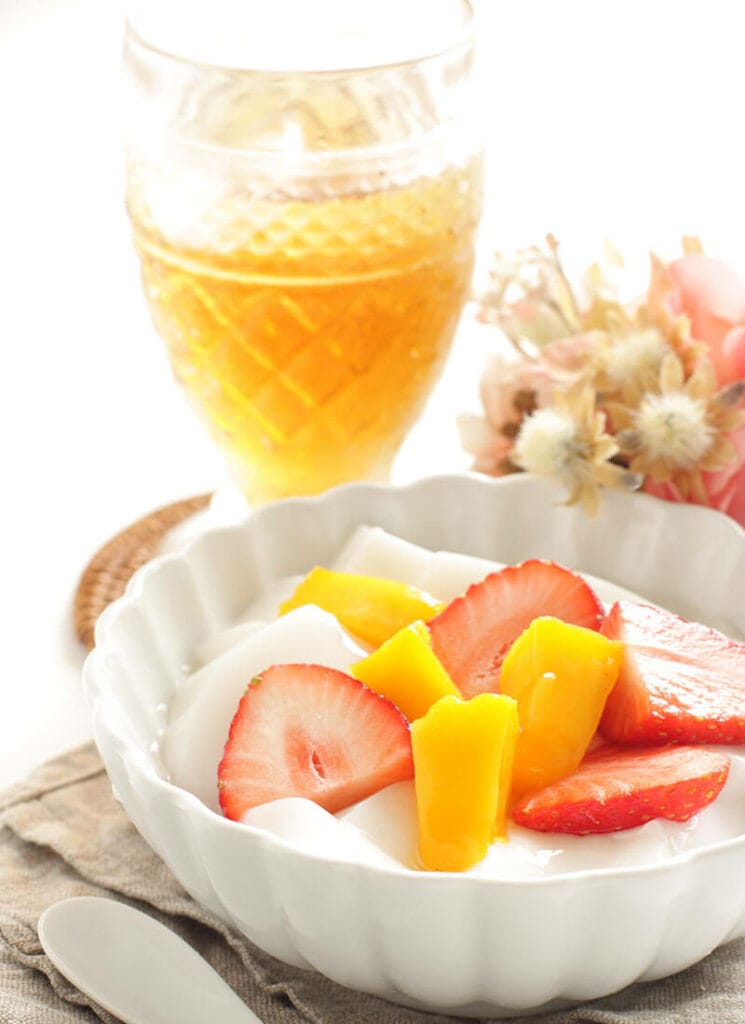 Almond float, an innovative dessert creation, traces its origins to Chinese immigrants in the US. It's a playful mix of basic elements: unflavored gelatin, almond milk, and sugar syrup, all topped off with fresh fruits, like longan, pineapples, mangoes, or strawberries.
This concoction shares a lineage with Xingren Doufu (almond tofu), a Chinese dessert staple, but almond float adds its signature fruity finish.
Not only does the dessert make for a refreshing treat on a scorching summer day with its mix of sweet and sour, but it's also a great opportunity to get the little ones involved in the kitchen. Bonus tip: Almond float is a clever way to use surplus canned fruits.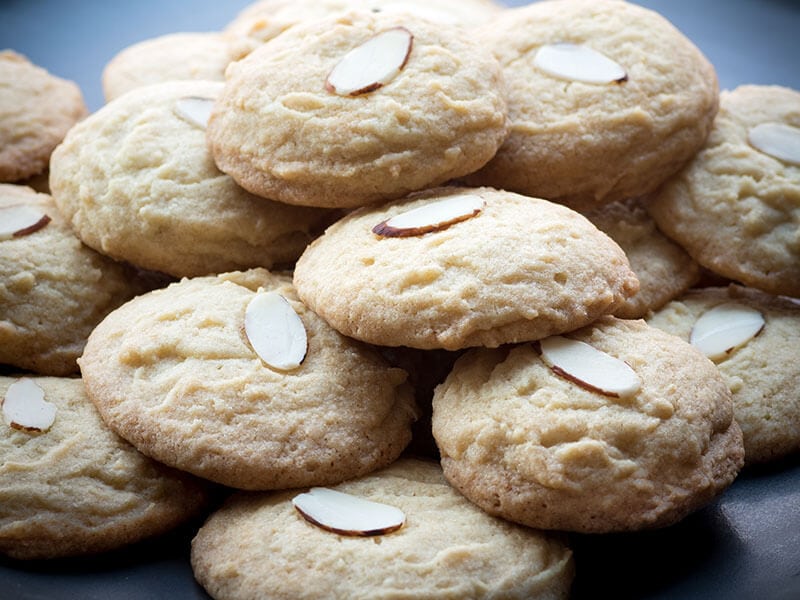 Made with almond flour, sugar, butter, and eggs, almond cookies perfectly balance sweetness and nuttiness. These round-shaped cookies have a delightful crunch and crumbly texture, making them irresistible. Some variations include the addition of almond extract for an extra burst of flavor.
Almond cookies are not only delicious but are also believed to bring good luck. You can find them at many Chinese restaurants at the end of the meal or during Chinese New Year celebrations, where they are widely enjoyed and appreciated.
22. Ji Dan Gao (Chinese Steamed Sponge Cake)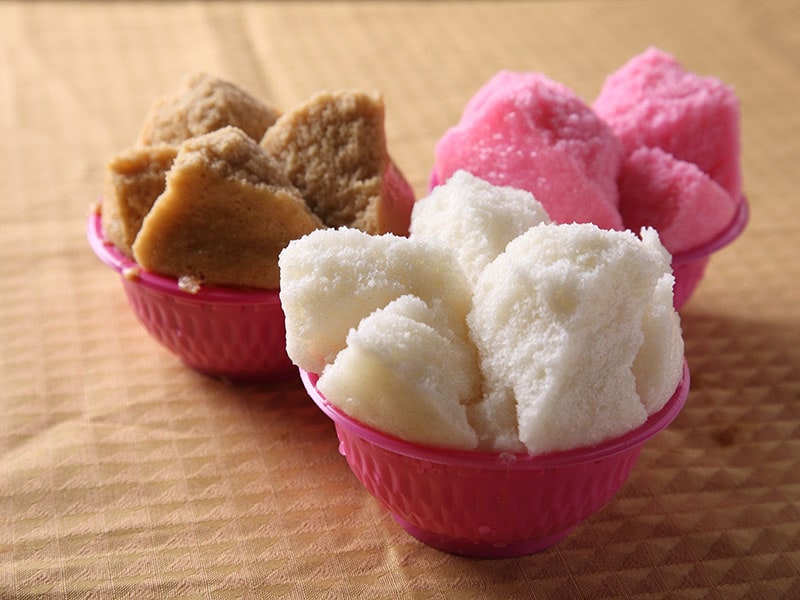 Ji Dan Gao is a Chinese twist on the sponge cake. It breaks from the norm by not using oil and dairy, yet it retains a sweet softness reminiscent of its Western brethren.
At its core, it uses humble ingredients: eggs, sugar, and all-purpose flour. Intriguingly, you can use a carbonated beverage, such as Sprite, or baking powder for leavening.
While a bamboo steamer would lend an authentic touch, a standard cake pan can also manage the task. And when steaming, opt for a tall-lidded pot without gaps, allowing the cake to have space to rise and crackle in its surface pattern.
Feel free to jazz things up with additions of pandan or ube extract, if desired.
23. Mooncakes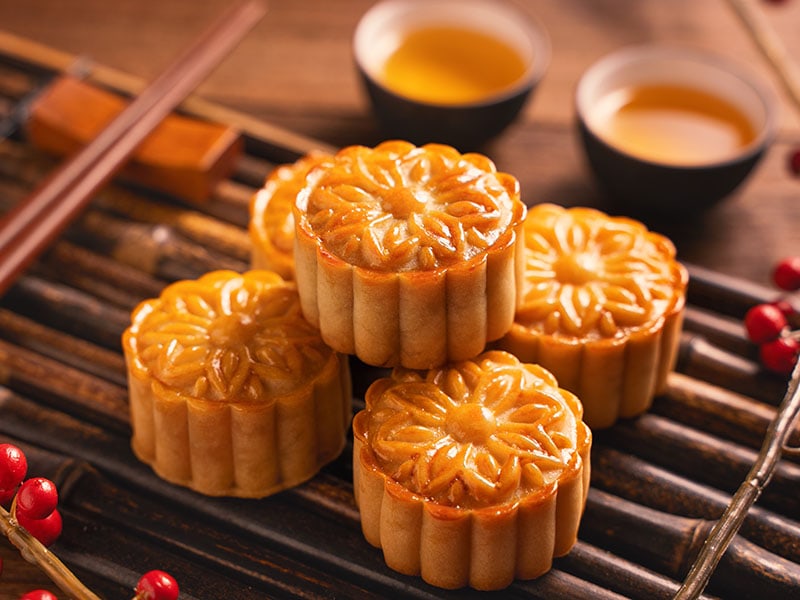 Mooncakes are Chinese-based treats popular in East Asia and countries with large Chinese communities like Malaysia. Traditionally served during the Mid-Autumn Festival, these beautiful pastries are molded into intricate patterns of flowers, moons, and landscapes.
Classic mooncakes are rich and sweet, often paired with tea, but modern variations use healthier ingredients. Traditional mooncakes contain flour, golden syrup, and fillings like sweetened red bean paste or salted egg yolks.
In general, they symbolize family reunions and are exchanged as gifts among superiors and business partners.
24. Tangyuan (Dessert Soup With Glutinous Rice Balls)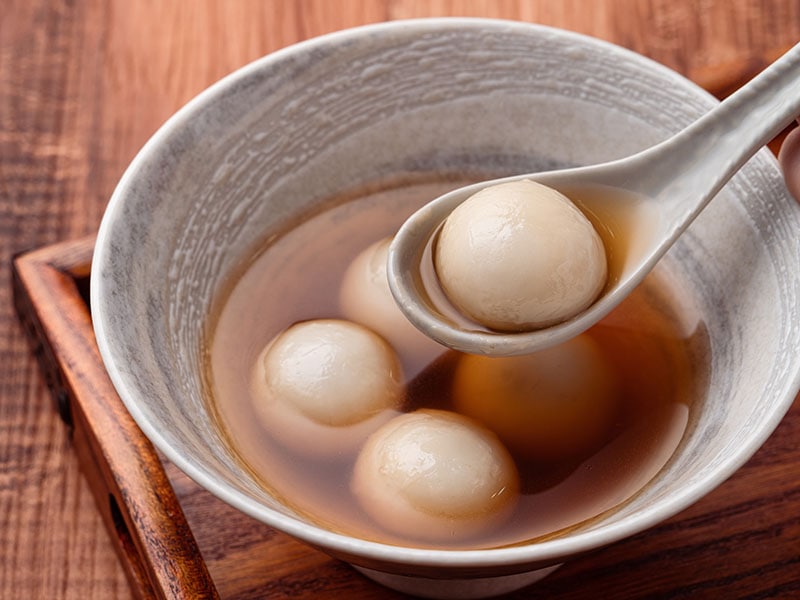 Tangyuan is a dessert soup from the Tang dynasty (618-907). It features chewy balls of glutinous rice bathing in a sweet syrup.
Primarily white, these little orbs can be filled with a range of delights, such as red bean paste, sesame paste, or even veggies, and there are also savory versions featuring minced meat.
This dessert is a staple during celebrations like the Lantern Festival and Chinese New Year. With its name, which resonates with the Chinese word for "reunion", Tangyuan has become a symbol of family gatherings.
However, the sweetness and high sugar content of Tangyuan require those with diabetes or weight issues to approach it with caution.
25. Nian Gao (Chinese New Year Sweet Rice Cake)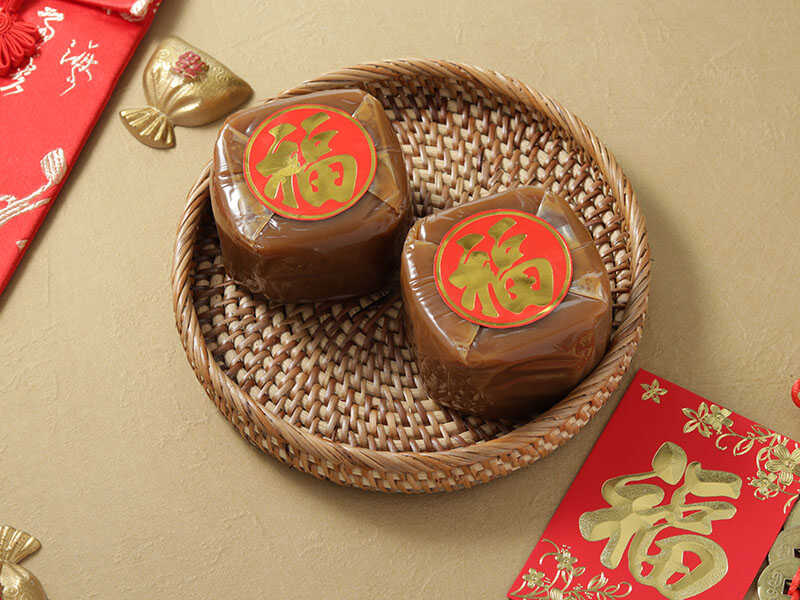 Nian Gao, the Chinese New Year sweet rice cake, holds a rich history spanning nearly two millennia. It has become a cherished delicacy, especially during the festive Chinese New Year season.
The name itself symbolizes growth and prosperity, making it a promising treat. Many kids look forward to this cake, hoping it will help them grow taller or for those who are seeking a job promotion.
Traditionally offered to the Chinese Kitchen God, Nian Gao comes in various regional varieties, but the common thread is the pounded sticky rice paste at its core. You can enjoy it as a sweet delight with brown sugar, dried fruits, and nuts or as a savory dish, stir-fried with cabbage and meat.
26. Tanghulu (Candied Fruit)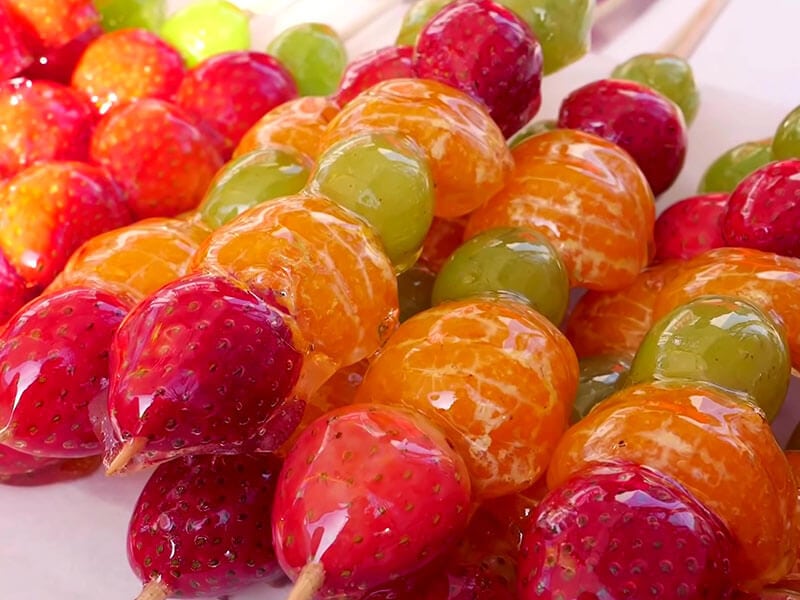 Tanghulu is traditionally crafted using the ruby red hawthorn berry fruit native to China. These fruits are bathed in sugar syrup and then skewered onto bamboo sticks, yielding a natural, striking hue without artificial colorings.
When you bite into it, its delectable crunch and the deep sweetness of the syrup are beautifully offset by the fruit's slight tartness. Despite being a good source of vitamins and antioxidants, you should note the high sugar content (1).
If hawthorn berries aren't in season, strawberries, blueberries, or even cherry tomatoes can be excellent substitutes. Just ensure they are properly dried before dipping them into the syrup.
27. Chinese Nougat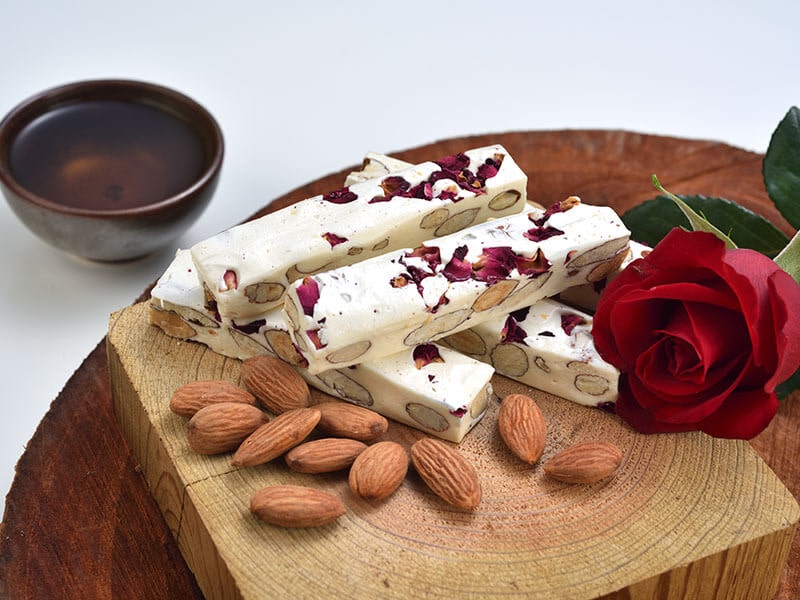 Chinese Nougat, also known as Chinese milk candy, is another traditional delicacy for Chinese New Year. Made with roasted peanuts, marshmallows, and powdered whole milk, it offers a satisfying crunch.
Dried fruits are added for bursts of color and sweetness to enhance their appeal, while pink marshmallows lend an extra touch of vibrancy.
For more information, Chinese Nougat is a bit similar to the holiday candy known as divinity or vanilla Tootsie Roll in the United States.
28. Lo Mai Chi (Peanut Mochi)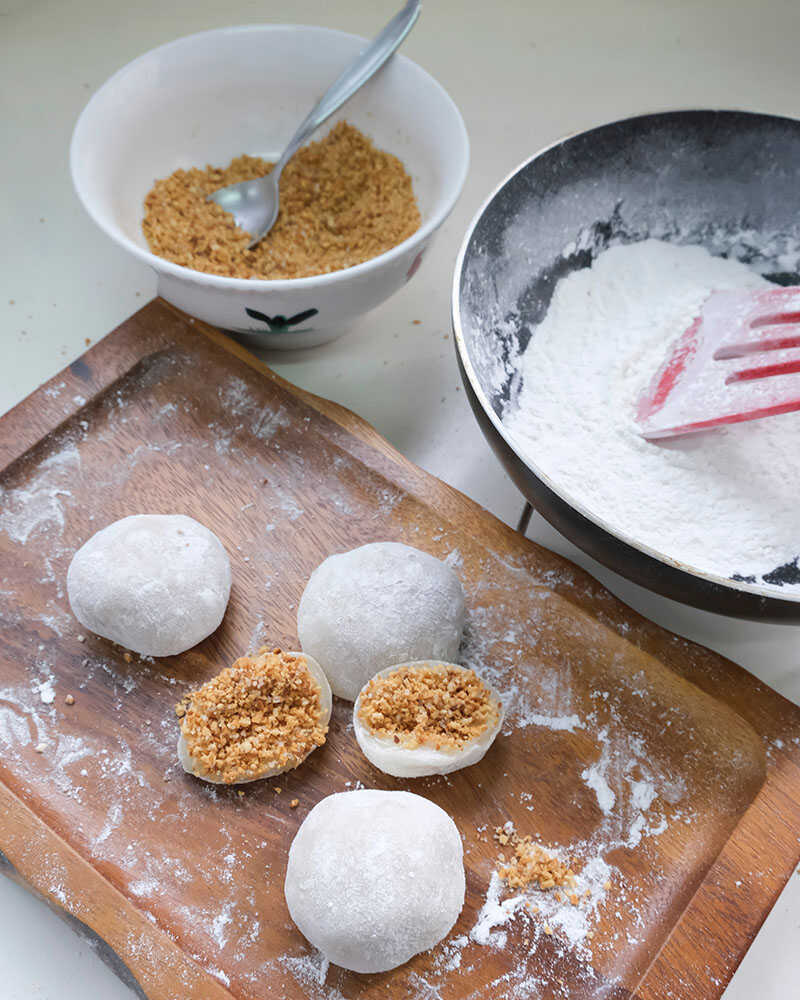 Lo Mai Chi, or Nuomici in Mandarin, is a distinctive Chinese pastry. Think of it as a glutinous rice dumpling with a chewy, sticky exterior crafted from rice flour dough and a diverse selection of fillings.
Some common fillings are crumbled peanuts mixed with sugar and coconut, red bean paste, or black sesame seed paste. But if you're up for a contemporary twist, flavors such as green tea and mango have also made their way into these treats.
To round off this unique sweet, generous dried coconut dust adorns the outside. Also, the treat is available in Hong Kong or overseas Chinatown bakery shops.
Korean
29. Hotteok (Sweet Pancakes)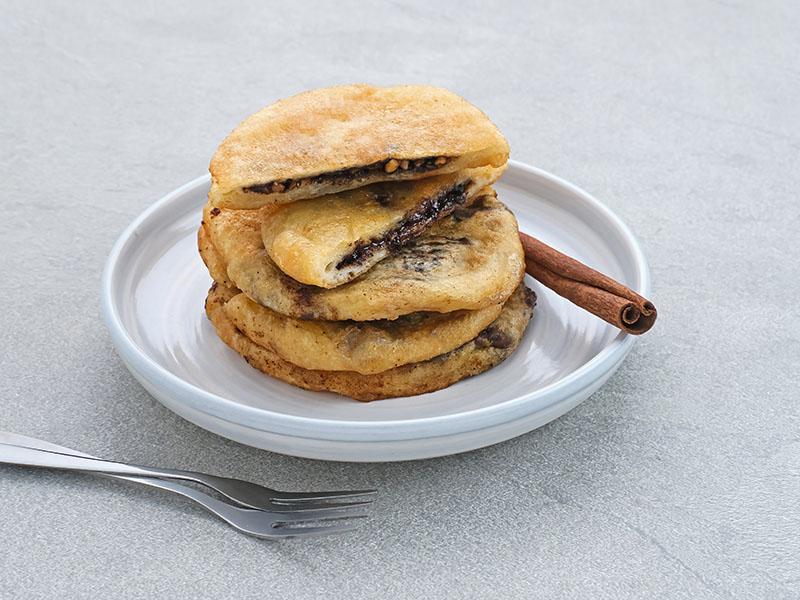 Let me introduce you to Hotteok, the wonderful sweet Korean pancake! The dough is made with yeast, all-purpose flour, sugar, and milk, just like other pancake varieties. But Hotteok's filling is what highlights it.
Originating from China in the late 19th century, these pancakes are often filled with a delightful mixture of nuts, brown sugar, and cinnamon. You can also find modern variations with matcha, corn, fruits, and more.
With their high sugar content, Hotteok is perfect for boosting your energy levels during winter. They make a great choice for breakfast or a tasty snack.
30. Tteok (Rice Cakes)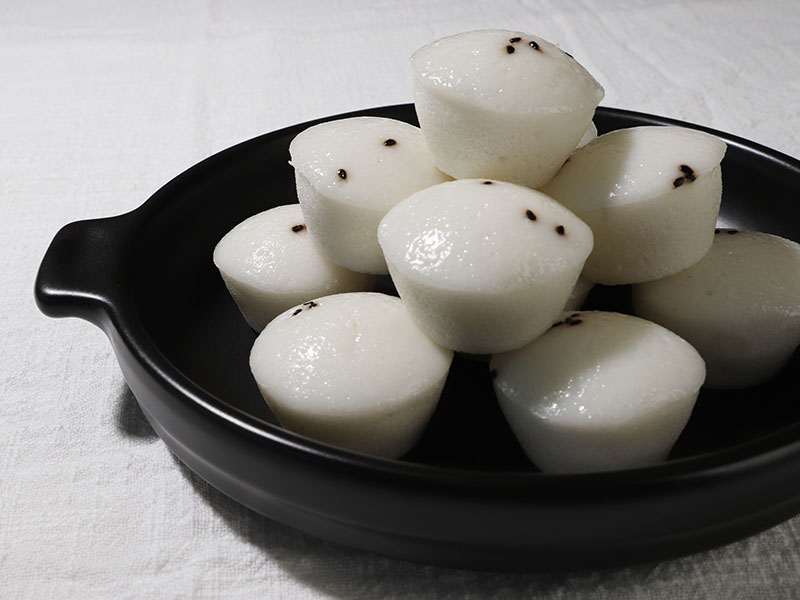 Tteok, or Korean rice cakes, are made from a blend of non-sticky and sticky rice. They can be steamed for a soft texture or pan-fried for a crispy finish.
Tteok comes in various shapes and colors, including additions like dried fruits, beans, and sesame seeds. Notable variations include Baekseolgi (made from white rice), Gyeongdan (containing red bean or sesame paste as a filling), and Hwajeon (decorated with edible flower petals).
Besides being a standalone snack, Tteok is a key ingredient in Tteokguk, a comforting rice cake soup.
31. Patbingsu (Shaved Ice With Sweet Red Beans)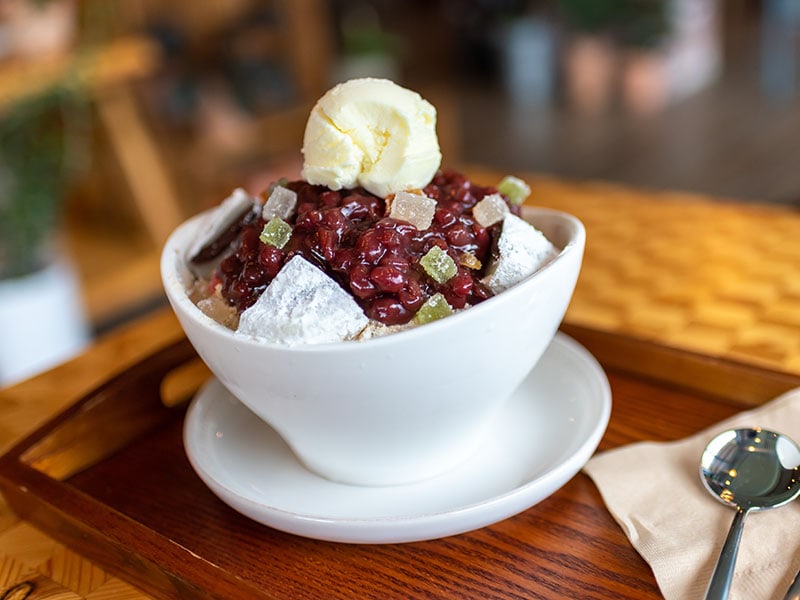 Get ready to experience the enchanting world of Patbingsu, a beloved Korean summer treat that will leave you craving for more. Also known as shaved ice with sweet red beans or Patbingsoo, this dessert has a rich history dating back to the 14th century.
The classic version combines crushed ice and chopped fruits, while the modern twist introduces sweetened red bean paste, rice cakes, and delectable toppings.
With its sweet and indulgent flavors, diverse textures, and widespread availability in Korean coffee shops, Patbingsu became the highlight of my trip to South Korea.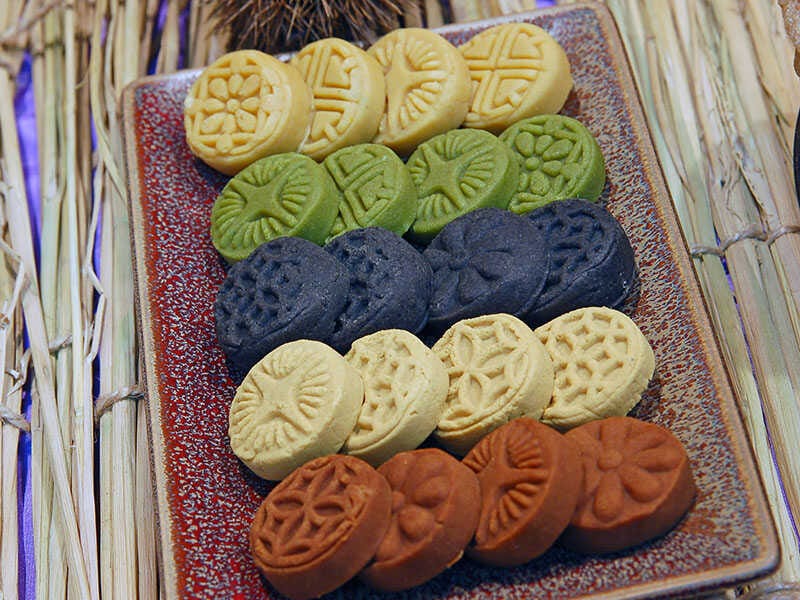 Dasik is a type of Hangwa, a traditional Korean confection. Generally, it is a beloved cookie dating back to the Song Dynasty.
These little delights normally contain rice flour, chestnut flour, black sesame, beans, pine pollen, and honey. They traditionally come in five vibrant hues: white, black, red, yellow, and green, each adding to the visual feast.
It is such a perfect tea companion with a subtly sweet taste and a delicate, crumbly texture. Besides their wonderful taste, Dasik cookies have intricate patterns imprinted by wooden or porcelain presses.
33. Dalgona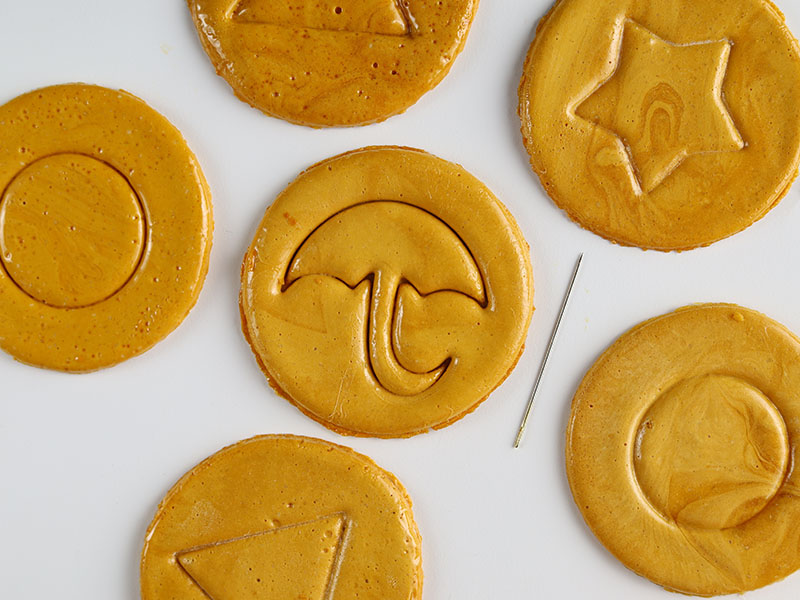 Have you tried Dalgona? It's a popular South Korean street food resembling honeycomb toffee candy created around the 1960s – 1970s. Made by melting sugar and baking soda, it creates a sweet treat with caramel hints.
You can enjoy it with ice cream or in a latte. What makes me love more about this candy is its adorable shapes, like cars, planes, stars, and hearts. I even got to play the Dalgona challenge, delicately breaking the candy along its shape.
Now, it's not just for kids; adults are also drawn to it, especially since it gained fame from a Netflix show called Squid Game, released in 2021.
34. Baesuk (Steamed Pears)
Baesuk, a Korean dessert initially savored by royalty, is easy to create at home. It involves simmering Korean pears, known as 'bae,' in a fragrant mix of water, black peppercorns, ginger, and sweeteners such as honey or sugar.
This dessert can be enjoyed warm, but it's traditionally served chilled. What's unique about Baesuk is the soothing quality of the tender steamed pears, which is particularly beneficial for those nursing a cold.
Unlike regular Western pears, Korean pear's distinct crispness and juiciness elevate the texture of this dessert. However, these pears can be pricey outside Korea.
35. Injeolmi (Sweet Rice Cake)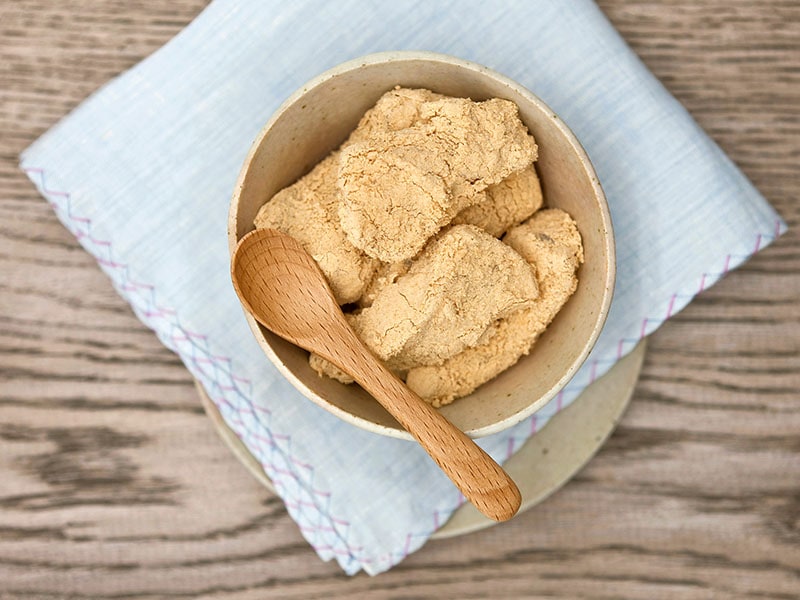 As a famous type of Tteok, Injeolmi is a bite-sized treat made from steamed glutinous rice. It's dusted with roasted soybeans, red beans, or sesame seeds for a buttery and umami flavor.
Dip it in honey or sugar syrup for added sweetness. Injeolmi has a long shelf life and is easy to reheat, making it a quick breakfast option.
This one is also popular in Korean weddings, symbolizing the couple's happiness, similar to how the rice cake sticks together.
36. Bukkumi (Pan-fried Rice Cakes With Sweet Red Beans)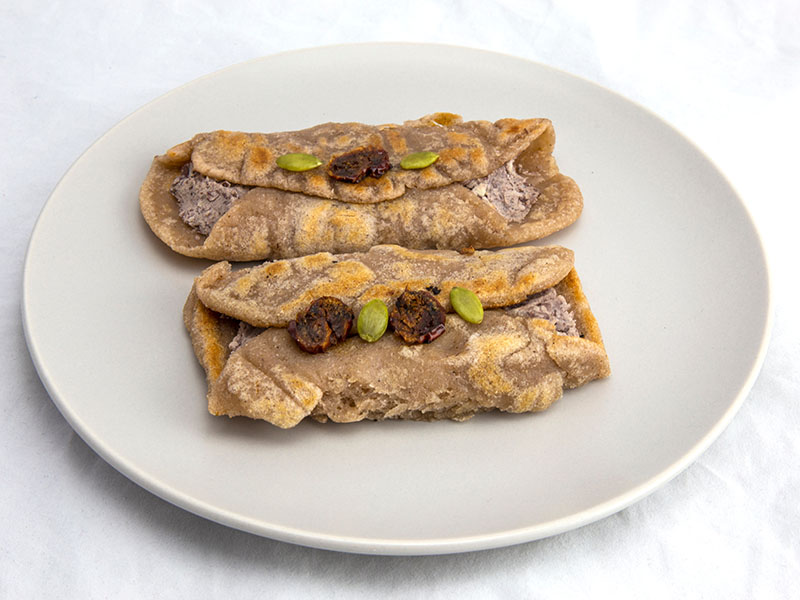 Bukkumi is a pan-fried Tteok rice cake with a half-moon shape. Most have fillings, but you can also find plain Bukkumi in the country.
The filling is a sweet mixture of red bean paste, sesame seeds, cinnamon, and sugar. You can coat it with honey, dried fruits, or crushed nuts for added sweetness.
Classic Bukkumi is white, but you can use food coloring for more options. The soft rice cake, sweet filling, and subtle flavors make it a yummy treat.
37. Yaksik (Sweet Rice Dessert With Nuts)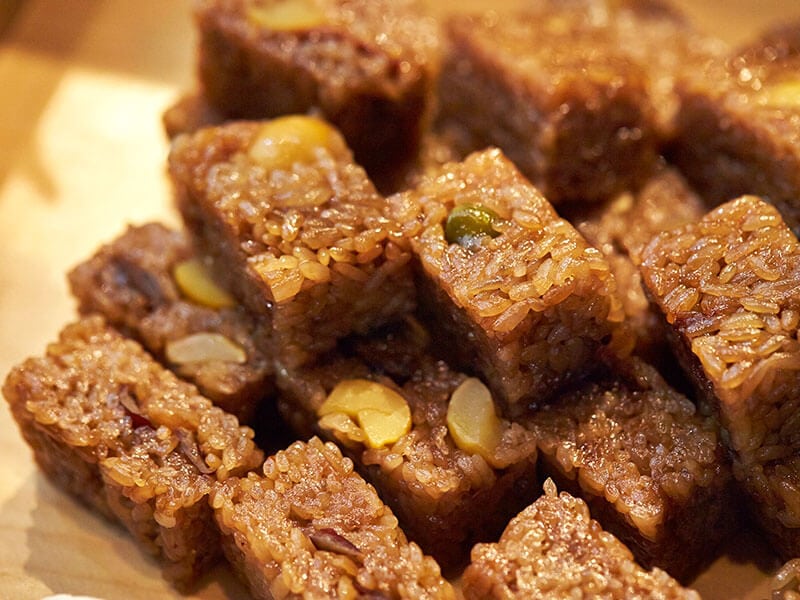 Yaksik is a steamed sweet rice dessert with a caramel-like flavor. It's made with glutinous rice, pine nuts, chestnuts, jujubes, soy sauce, and brown sugar or honey.
If you have a chance to participate in Korean weddings or Jeongwol Daeboreum (a festival on the first full moon of the Lunar Year), you can come across it.
Moreover, it's a healthy treat, as stated in its name, which means "medicinal food" or "medicinal rice." With its nutritious ingredients, Yaksik helps with anxiety and digestion. To prepare it at home, use modern appliances like the instant pot. For reheating, a microwave is an easy option.
38. Hwajeon (Pan-Fried Sweet Rice Cakes With Flower Petals)
Discover Hwajeon, pan-fried Tteok sweet rice cakes topped with edible flowers! They are white rice cakes topped with colorful flower petals, making them pretty pictures.
Different flowers are used based on the seasons: pear blossoms and cherry blossoms in spring, roses in summer, and chrysanthemums in fall. In the winter, jujubes or rock tripe shaped into flowers are ideal alternatives. These flowers are added during frying.
Traditionally, locals use sesame oil to add a flavorful touch. Finally, they will finish it by soaking the cakes in honey and dusting them with cinnamon powder.
Indian
39. Mango Kulfi (Mango Ice Cream)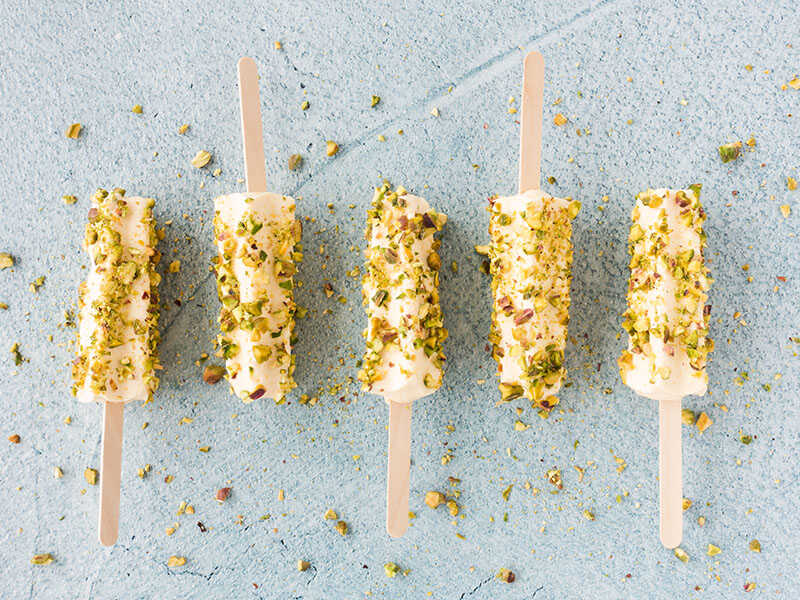 Mango Kulfi is an ever-popular Indian ice cream. Infused with the tropical sweetness of ripe mangoes and the creamy richness of Kulfi, it presents an amazing dessert experience.
Every bite surprises me with its dense, custard-like texture that's a step up from any average ice cream. The blend of caramelized sugar and spices like cardamom and saffron, alongside the crunch of nuts, adds layers of flavor.
Whether savored from a Kulhar (South Indian pottery cups) or stick, it's a dessert for all seasons, especially in summer. It is a favorite in countless Indian subcontinent cafes and restaurants. The frozen treat is also perfect for incorporating into a baking dish.
40. Modak (Sweet Dumpling)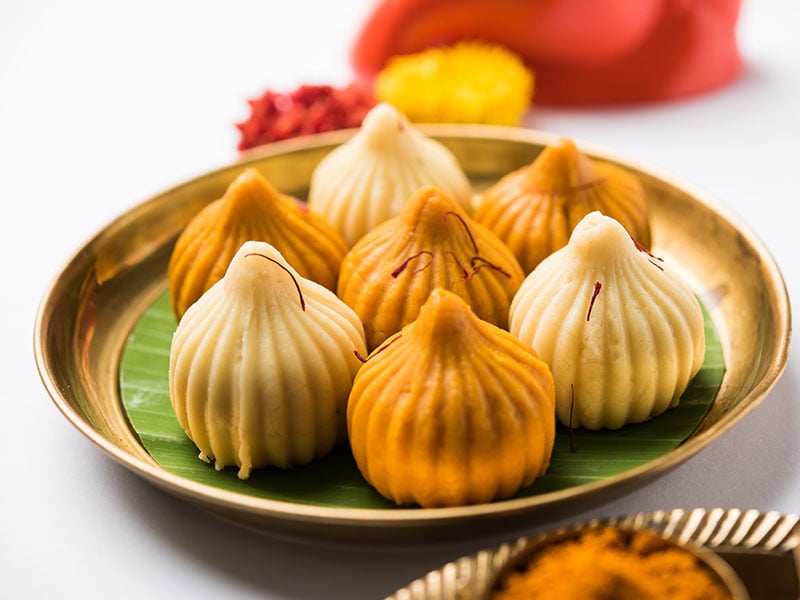 Modak is a sweet dumpling, believed to be a favored delicacy of revered figures such as Buddha and Lord Ganesha (the chief Hindu deity). Integral to the festivities of Ganesh Chaturthi, it encapsulates the jubilation associated with the birth of Ganesha.
There lies an intriguing option between the fried variant, admired for its prolonged shelf life, and the equally enticing steamed one. Beneath its exterior of rice or wheat flour, the Modak owns a blend of jaggery and coconut.
You can consume it independently or accompanied by ghee. Its popularity transcends borders, resonating from the vibrant markets of India to the countries in Southeast Asia like Thailand and Myanmar.
41. Ras Malai (Dumplings With Clotted Cream)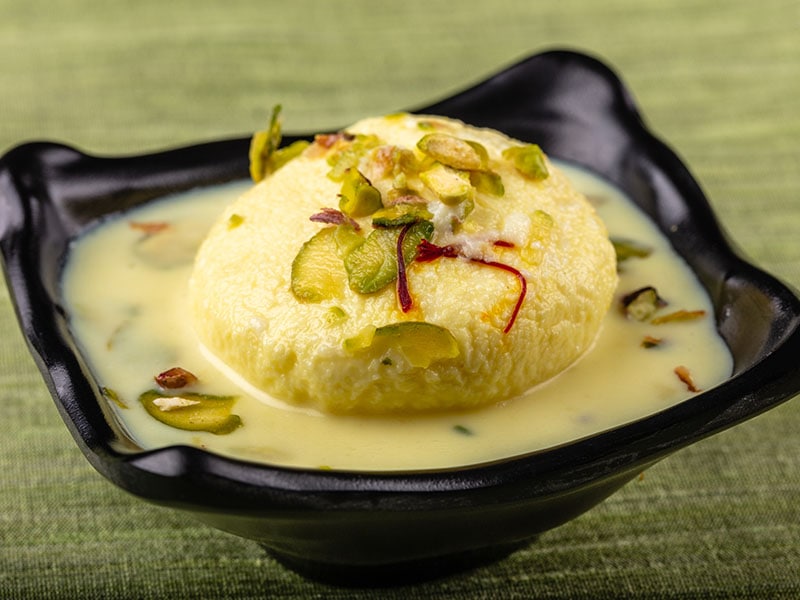 Despite having little information about its origin, Ras Malai appears to have come from Bengal. It is a splendid fusion of Chhena balls, a smoky Indian cheese drenched in malai or clotted cream.
Enriched with cardamom and saffron, it's akin to a crustless cheesecake, only elevated with add-ins like chopped almonds and pistachios.
Whether savoring these balls solo or swimming them in a sweet milky syrup, they are nothing short of joyful. It's high in protein and calcium, and there are even sugar-free versions, extending its luscious charm to the health-conscious and diabetics alike.
42. Ladoo (Ball-Shaped Sweet)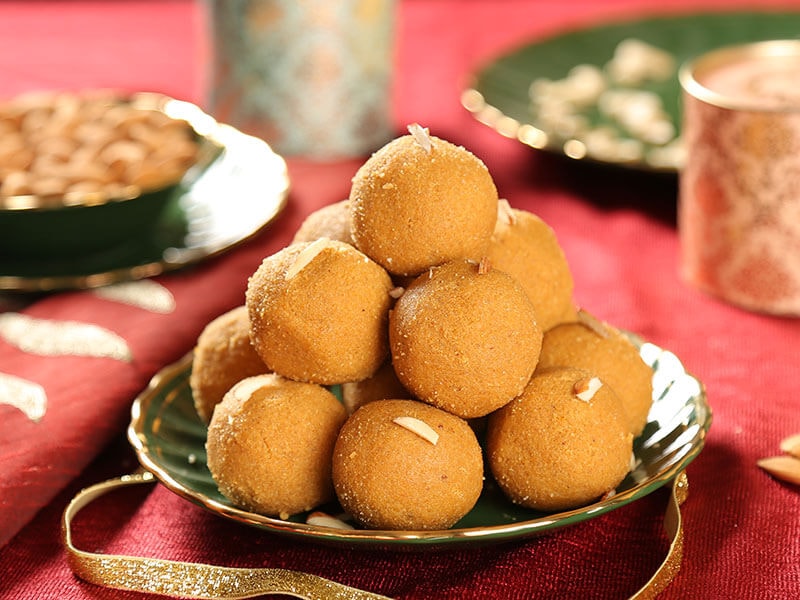 Ladoo, or Laddu or Laddoo as it's variously named, is one of the most ancient Indian sweets. It's closely tied to the Hindu deity Ganesha, enhancing the festive spirit of countless celebrations in India.
A medley of cereals, legumes, and spices forms the core, while nuts and dried fruits add a crowning touch. Each region adds its distinctive twist, leading to remarkable diversity.
As prepared by frying in ghee or oil, Ladoo is defined by its sweet, nutty flavor and irresistible crunch. Some popular incarnations in the country include the sugar syrup-soaked Motichoor Ladoo, the gram flour-based Besan Ladoo, and the Coconut Ladoo with freshly grated coconut.
43. Mango Lassi (Yogurt-Based Drink With Mangoes)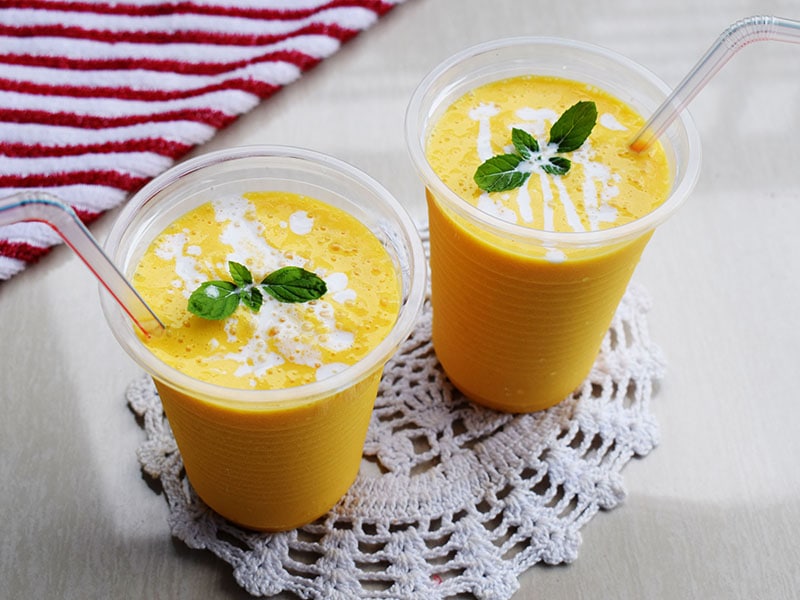 Mango Lassi is a beloved beverage across Asia, especially in South India, standing out as the most favored among Lassis. It weaves together the creamy goodness of yogurt, milk, rose water, succulent mangoes, and fragrant undertones of spices like cardamom and cinnamon.
It stands out with its pleasantly frothy surface, offering a well-rounded taste profile of sweetness, a hint of tartness, and a whisper of spice. While its consistency is lighter than a smoothie, its flavor complexity surpasses it.
Nutrient-rich and low in calories compared to a milkshake, mango Lassi is a treasure trove of protein, calcium, antioxidants, and probiotics. It's a perfect refresher for the summer, though I would happily savor it in any season.
44. Coconut Burfi Brownie Bites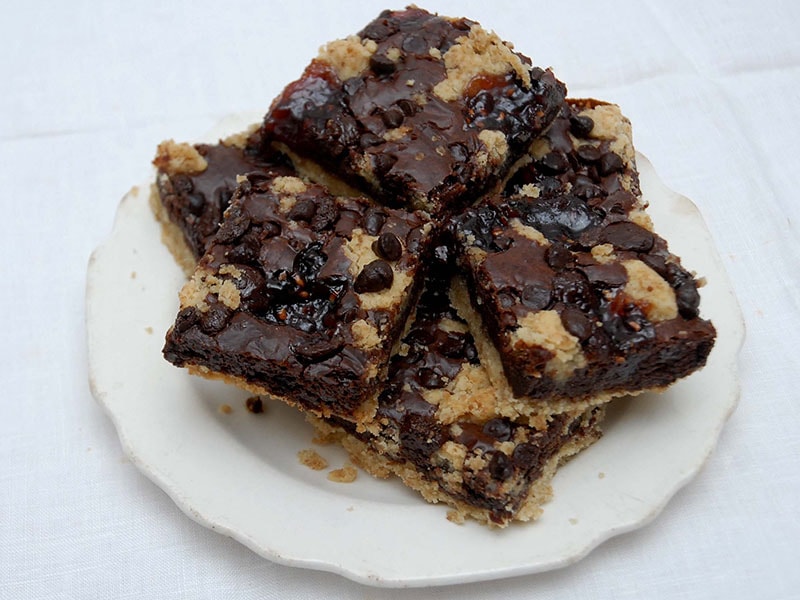 This dessert evolved from traditional Barfi, an Indian sweet staple made from Khoa (milk solids), clarified butter, condensed milk, and sugar. Coconut Burfi brownies enhance the original recipe with desiccated coconut and spices, especially during Diwali, the Festival of Lights.
Taking it further, the brownie version combines vanilla extract, eggs, and melted chocolate or chocolate chips into the mix. Today, thanks to the new additions, the Burfi's sweetness and the buttery and bitter notes are more diverse.
45. Peda (Milk Fudge)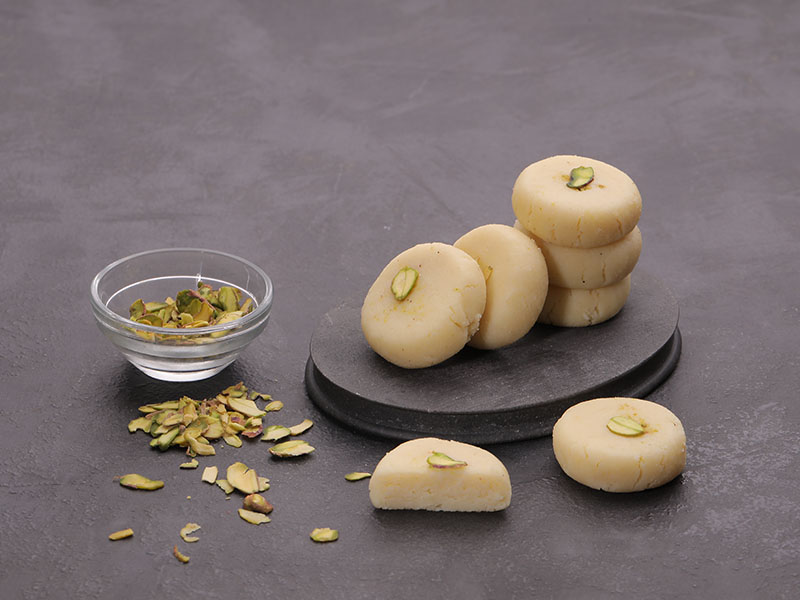 As a special type of Mithai (Indian desserts and confections), Peda is a milk fudge that wins hearts. Made from milk curds, sweeteners, and a sprinkle of nuts, dried fruits, and spices, it results in a sweet, rich, and soft delicacy.
It has an appealing round shape with colors varying from creamy white to caramel. Furthermore, Peda has a longer shelf-life than other milk-based desserts, especially when refrigerated (able to last 7 – 10 days).
It's a preferred choice for Prasada, religious offerings, and is celebrated as a favorite treat of Krishna, a revered Hindu deity. It's also a popular offering during Krishna Janmashtami Festival.
46. Gulab Jamun (Fried Dough Balls In Syrup)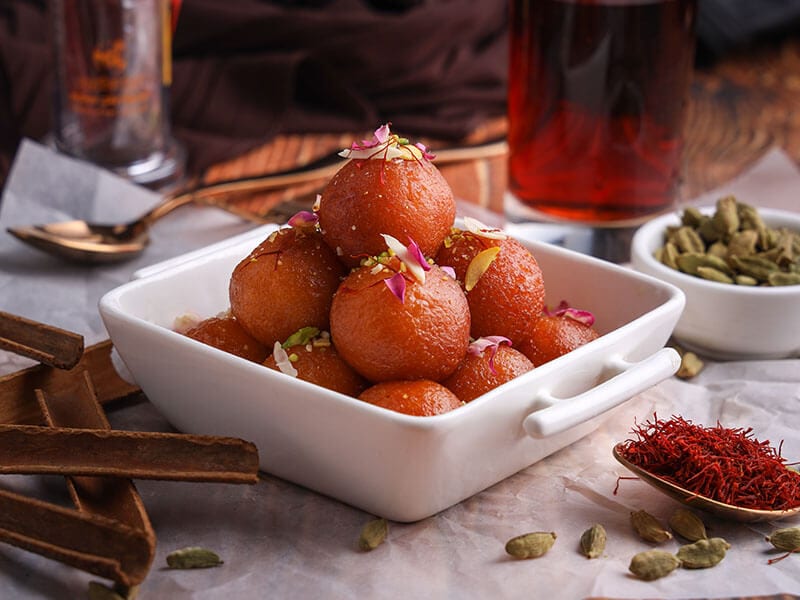 Gulab Jamun, literally translating to "rose water berry" or "rose berry," is a delight made from milk solids or dried milk and maida flour. This dough is shaped into small balls, deep-fried in ghee until the sugar caramelizes into a distinctive brownish-red hue.
In addition, a fragrant syrup of rose water and spices like cardamom and saffron enhances the flavor of these balls. You can serve them either warm or cold. Its popularity extends all over South India, and in 2019, it was declared Pakistan's national sweet after a voting poll on Twitter.
Modern adaptations of this treat include the Gulab Jamun parfait, replacing ice cream and fresh fruits with Gulab Jamun, yogurt, milk, and spices. As for the Gulab Jamun pudding, it consists of Gulab Jamun, whipped cream, and nuts or rose petals for toppings.
Vietnamese
47. Bánh Chuối (Banana Cake)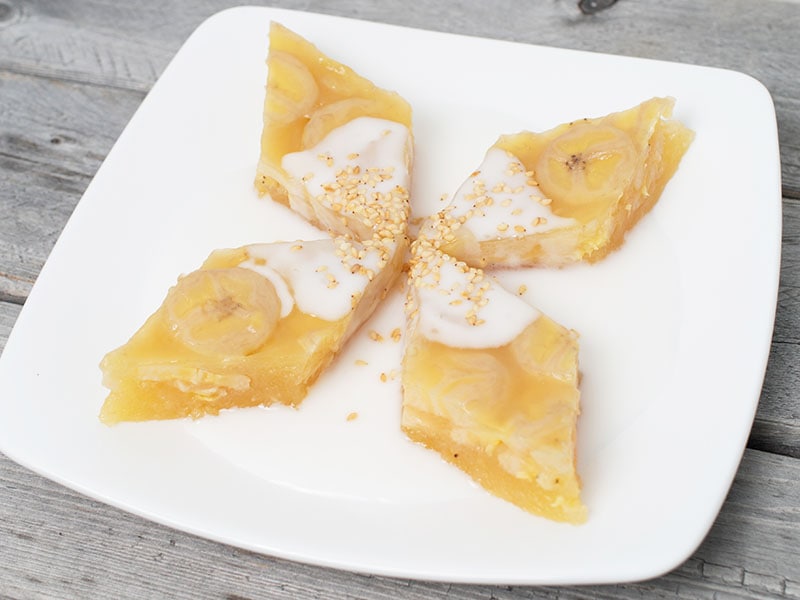 Bánh Chuối is a Vietnamese banana cake known for its unique profile. Rich with condensed milk, sugar, and coconut milk, this delicacy can transform into something similar to bread pudding with white bread, eggs, butter, or vanilla extract.
The steamed version is sprinkled with sesame seeds and enveloped in creamy coconut milk, besides the added tapioca starch. Yet, the baked form also has a charming crispy golden-brown exterior that appeals to many, including me.
For another twist, Vietnamese also fry them to create a variant that leans towards delicious banana fritters in other Asian countries.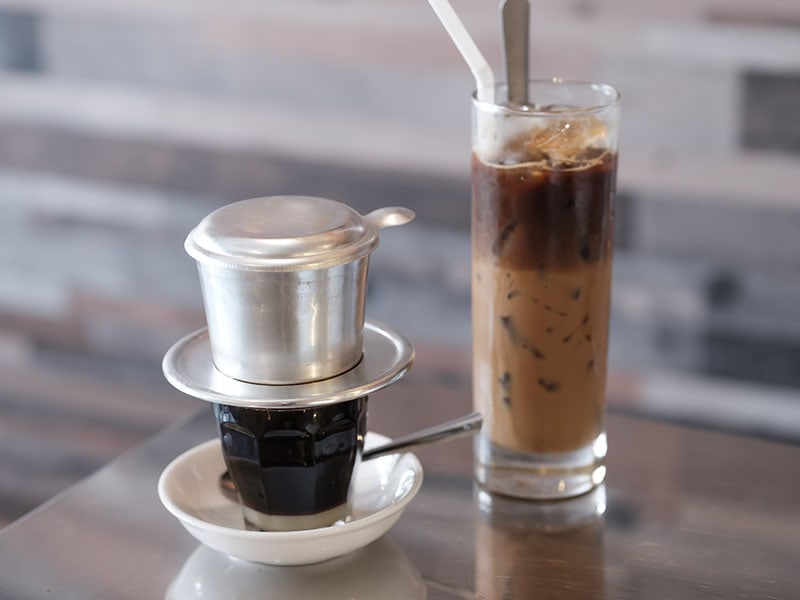 Vietnamese iced coffee, unlike your typical Starbucks, is a one-of-a-kind treat. It traces its roots to French and Dutch introductions of coffee to Vietnam.
The process begins with dark roast coffee, brewed slowly in a phin, a tiny metal cup, or a specific pour-over filter. The result is a rich, thick, and flavorful drink.
Beneath this layer, there might be sweetened condensed milk, sticking to a ratio of two parts coffee to one part milk. Whether hot or cold, this beverage is the most common breakfast drink in this country.
What's better, it is extremely cheap and costs around $1.30 – $4, based on where you buy it in Vietnam. My preference? I normally go to small street vendors to enjoy this drink.
49. Chè (Sweet Soup)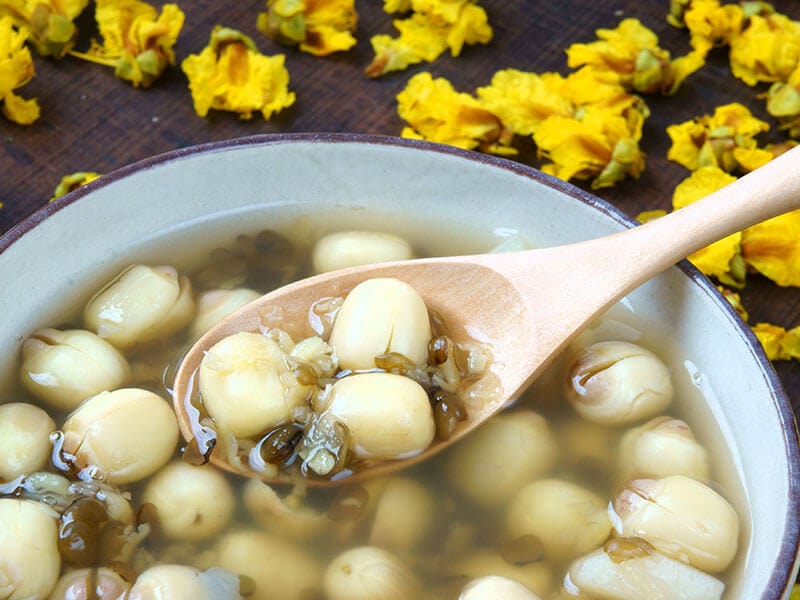 Chè is a traditional Vietnamese dessert in the form of soup, stew, pudding, or sweet beverage, that shares similarities with Chinese Tong Sui sweet soups. This flexible dessert includes ingredients like mung beans, kidney beans, tapioca, jelly, various fruits, and coconut cream.
More adventurous types can opt for additions like seaweed, aloe vera, lotus seed, or pandan leaf extract. Even dumplings have a place in certain versions, for example, Chè Trôi Nước.
In Southern Vietnam, Chè is cooked in water, sweetened with sugar, and garnished with coconut cream. Either served hot or cold, they are typically served in a bowl or a glass. If you buy it from street vendors, chè is often found in plastic cups.
50. Sinh Tố Bơ (Avocado Smoothie)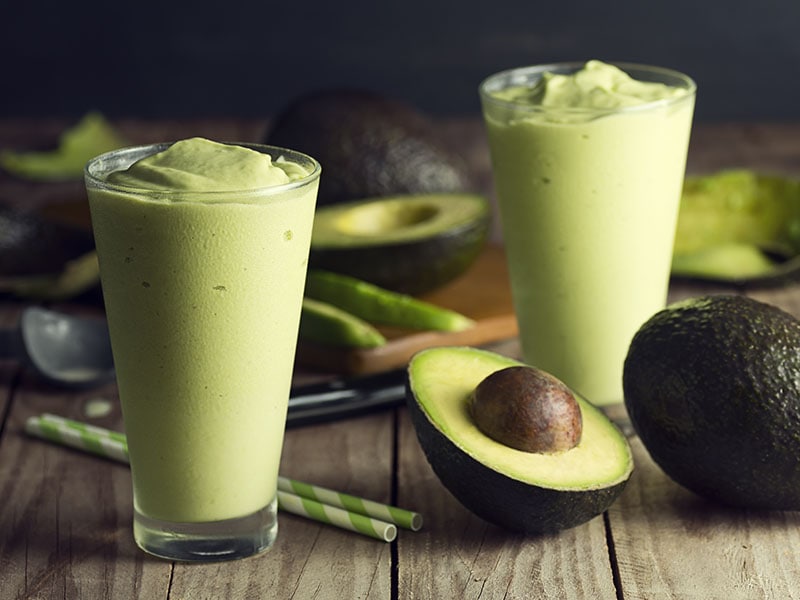 Sinh Tố Bơ is an essential Vietnamese drink for hot weather. This beverage is something akin to a milkshake with a twist.
This sweet, nutty beverage combines ripe avocado, condensed milk, and regular milk; all blended into a creamy, delicious treat. It's a simple recipe, yet it delivers a combination of flavors you can easily make at home, of course, with the help of a blender.
51. Bánh Đậu Xanh (Mung Bean Cake)
Hailing from Hải Dương province, Bánh Đậu Xanh is a delightful sweet treat that first found its way into Vietnamese hearts back in the 1920s.
Rectangles of mung beans, vegetable oil, sugar, flour, and other flavorings merge to form a snack with a smooth texture that practically melts in the mouth. It pairs beautifully with green or lotus tea.
52. Bánh Pía (Mung Bean Pastries)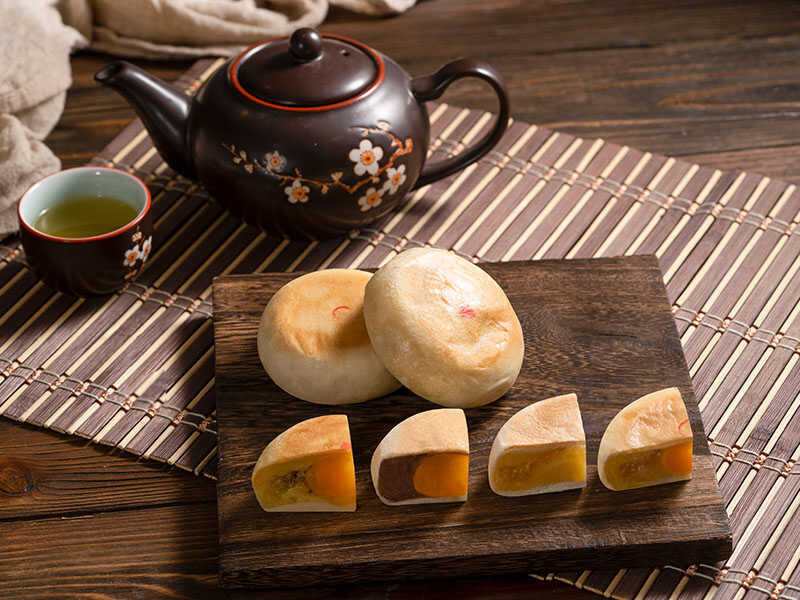 Bánh Pía, also known as "mung bean mooncake," is a beautiful pastry available all year round. This delightful creation can have a creamy filling made of mung bean, durian, or a blend of both.
This sweet pastry can also be stuffed with taro, red bean, or purple yam. Some even hide a surprise: a salty egg yolk. For easier telling it apart from other Vietnamese pastries, Bánh Pía has a thin crust stamped in red at the top.
53. Bánh Tiêu (Hollow Donuts)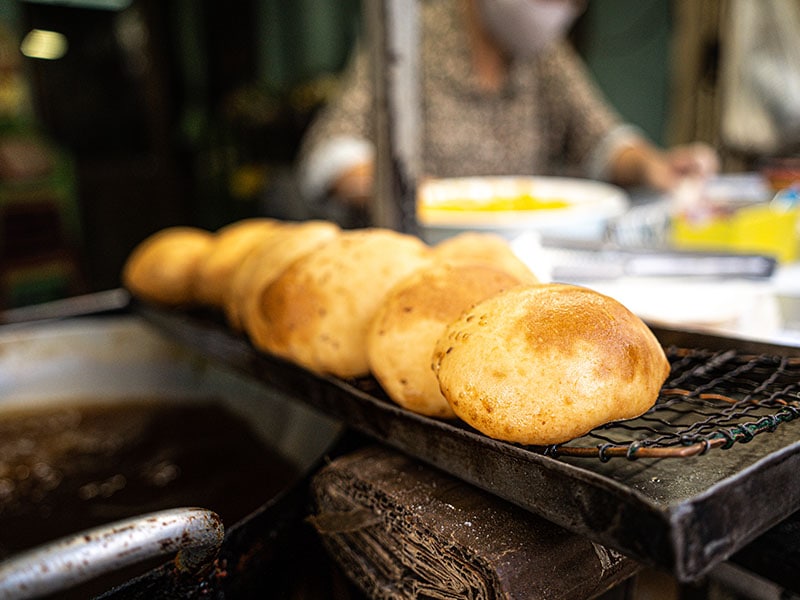 Bánh Tiêu, a type of donut, is a delightful blend of a dessert and a street snack in Vietnam. This treat is made by deep-frying dough crafted from wheat flour and baking powder studded with white sesame seeds.
Hollow in the middle and only slightly sweet, it's much lighter than your average Western donut. In the Mekong Delta, they take it further, filling it with steamed sticky rice, sugar, toasted sesame, and crushed peanuts.
As a ubiquitous street food, it's a must-try while wandering the Vietnamese streets.
54. Bánh Da Lợn (Steamed Layer Cake)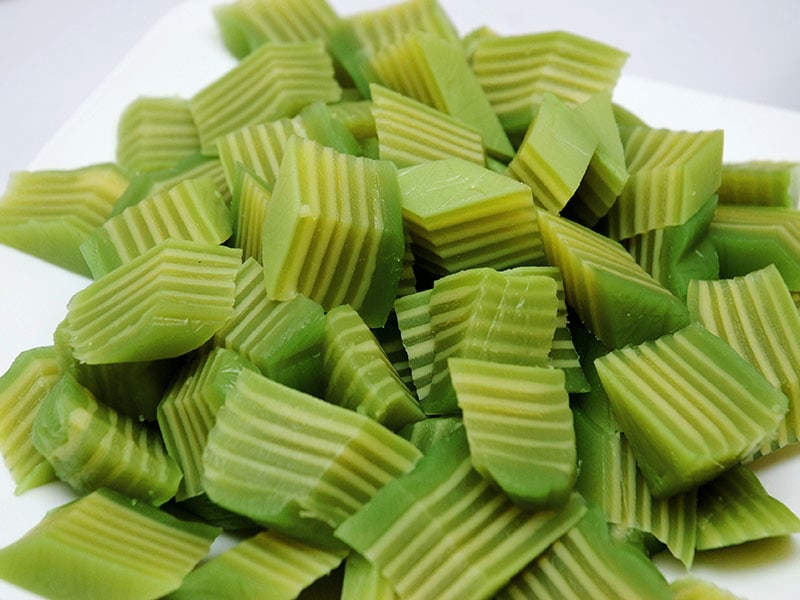 A multi-layered marvel, Bánh Da Lợn, or as I like to call it, "pig skin cake," is intriguingly named – with not a hint of pork in sight. The name refers to the thickness of each layer, likened to a pig's skin.
Sometimes known as "Bánh Chín Tầng Mây" or "9 layers of clouds cake," it's crafted using pureed mung beans, tapioca starch, rice flour, and coconut milk or water. Traditionally, a pale yellow mung bean layer alternates with a green layer colored and flavored with pandan leaves.
Optional ingredients like durian or taro might appear, depending on who's preparing it. Making this cake is almost as satisfying as eating it, with each layer carefully poured into the mold every five minutes during steaming.
The result? A stunning nine-layered cake, chilled and then cut into diamond shapes – a feast for the eyes and the taste buds.
55. Bánh Khoai Mì (Cassava Cake)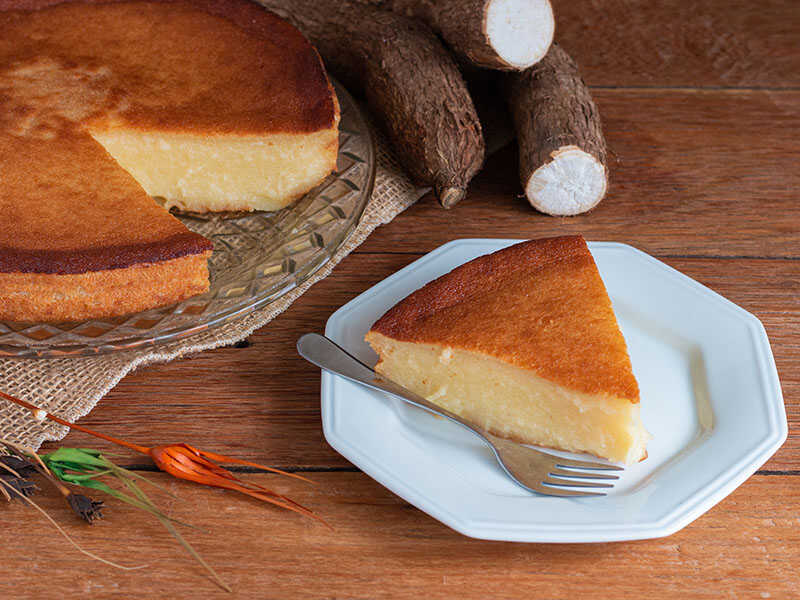 Bánh Khoai Mì is a cake I've come to appreciate with cassava as its main ingredient. Cassava, a root vegetable (also called yuca), brings a potato-like taste to the table.
The creation process involves mixing grated cassava, sugar, coconut milk, and a dash of salt, resulting in a charmingly chewy and sticky cake. In fact, this cake is also a cousin of the Filipino cassava cake.
It's served in two distinct styles: baked ("nướng" in Vietnamese) and steamed ("hấp"), though the baked variant is more prevalent. "Bánh Khoai Môn," a similar dessert made from taro, shares a likeness with Bánh Khoai Mì. Usually, these dense, rich cakes are served in small squares.
56. Rau Câu (Jelly Cake)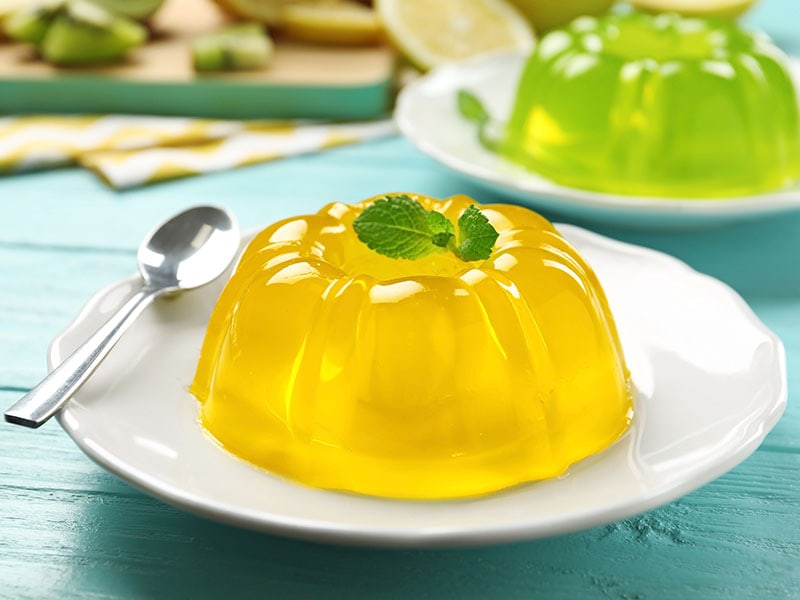 Rau Câu, the Vietnamese jelly cake, includes agar jelly, a gelatinous seaweed mixed with coconut and condensed milk. It offers a variety of flavors like coconut, banana, chocolate, mocha, and vanilla.
How about its texture? Think of panna cotta. A wonderful aspect of Rau Câu is its appeal to vegetarians; it's a plant-based delight. You can spot this cake in various Vietnamese delis and banh mi shops. Plus, other variations exist across Southeast Asia and Indonesia, with different names.
Indonesian
57. Kue Putu (Steamed Rice Cake In Bamboo)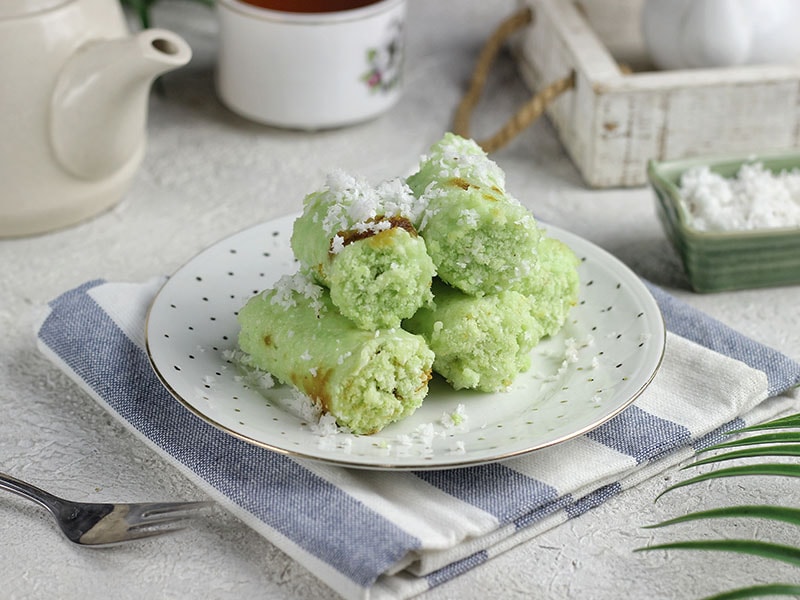 Kue Putu is commonly available at street vendors. It is a beloved Asian street food, particularly in Java, with a delightfully sweet, chewy center filled with palm sugar. This snack uses glutinous rice flour, flavored and colored with pandan leaves, traditionally steamed in bamboo tubes.
What's more, it's dusted with fresh desiccated or grated coconut for a perfect finish. Its origins may trace back to the Indian snack Puttu, and you can find similar versions in the Philippines and Malaysia, like the Filipino Puto Bumbong.
58. Kue Lapis / Kuih Lapis (Indonesian Steamed Layer Cake)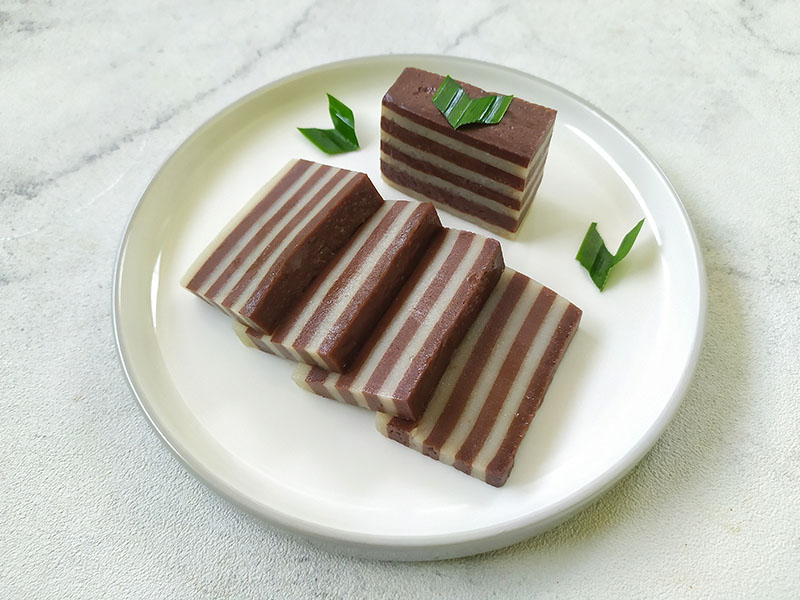 Kue Lapis, an Indonesian treasure, gets its name from "layers," meticulously made from rice flour, sago, sugar, salt, coconut milk, and food coloring. Each layer is steamed, creating a distinct, layered pudding-like visual with colors typically green, red, or rainbow.
The final product has a bouncy, sticky, and chewy texture, sold as individual slices. Its popularity extends to Malaysia, Suriname, Brunei, and Singapore. Overall, the vibrant dessert adds a burst of color and taste to bustling markets and lively streets.
59. Lapis Legit (Thousand Layers Cake)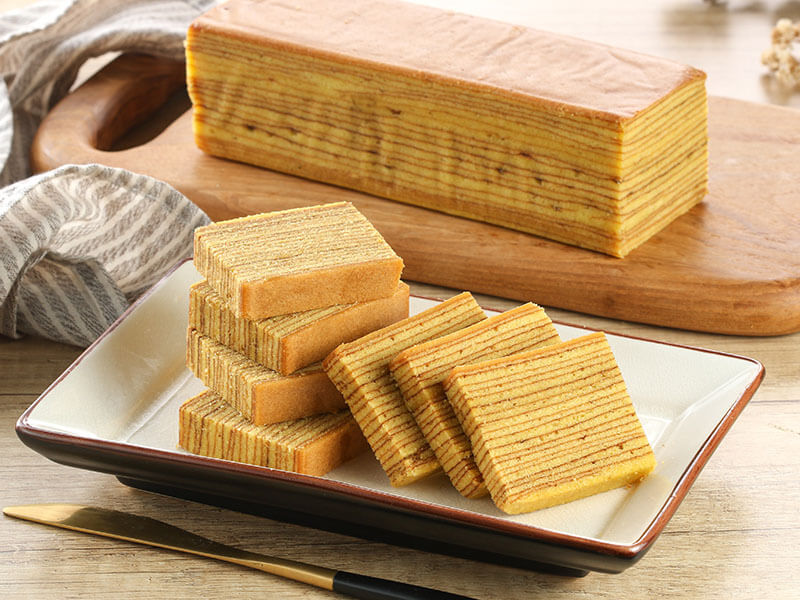 Lapis Legit, also known as Spekkoek, is a testament to the rich blending of Dutch and Indonesian cuisines. This Dutch-Indonesian layer cake draws inspiration from the European spit cake with a unique twist.
Its preparation involves baking 18 to 30 layers separately, each consisting of egg yolks, sugar, flour, butter, and aromatic spices like mace, nutmeg, cloves, and cinnamon. Astonishingly, the traditional recipe calls for 40 egg yolks!
Original versions might have prunes and cheese, but modern iterations with cinnamon or chocolate are more prevalent. Unlike its steamed cousin Kue Lapis, Lapis Legit is baked.
Also, it's a celebratory dish, marking occasions like Christmas, Chinese New Year, and Eid, with popularity soaring in Java and Bali. Plus, locals normally sell them in a whole Lapis Legit cake.
60. Klepon (Sweet Rice Cakes)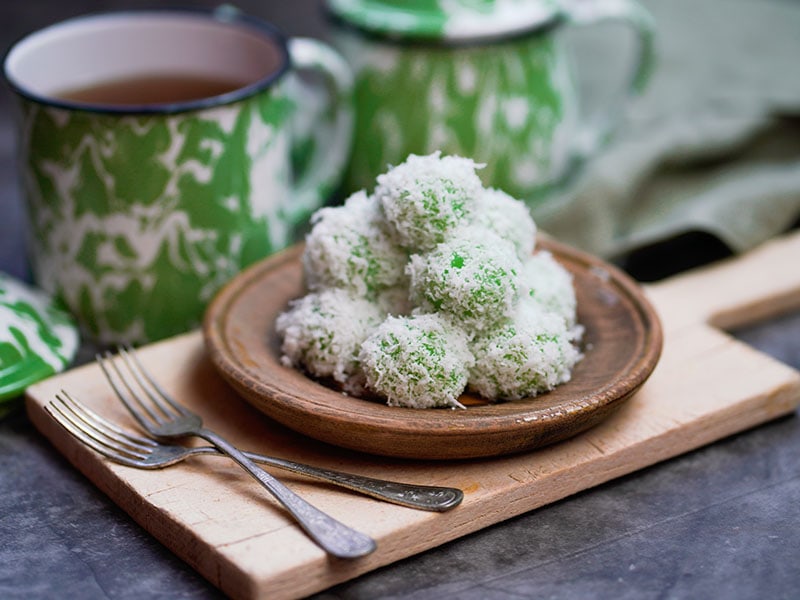 Klepon, an Indonesian sweet rice cake, is a tiny sweet food coated in grated coconut with a molten palm sugar core that's pure earthy sweetness.
Using glutinous rice flour and pandan or dracaena leaves, they're crafted into dough balls, stuffed with palm sugar pieces, and then boiled to achieve a melted core. Moreover, they bear some similarities to Japanese Mochi.
Known by different names, like Onde-Onde or Buah Melaka in regions like Sulawesi, Sumatra, or Malaysia, they're a staple in Java island.
Traditionally served wrapped in banana leaves, they're a classic jajanan pasar (market snack), with street vendors selling them in the early mornings (around 5 am-9 am).
Other
61. Mango Pomelo Sago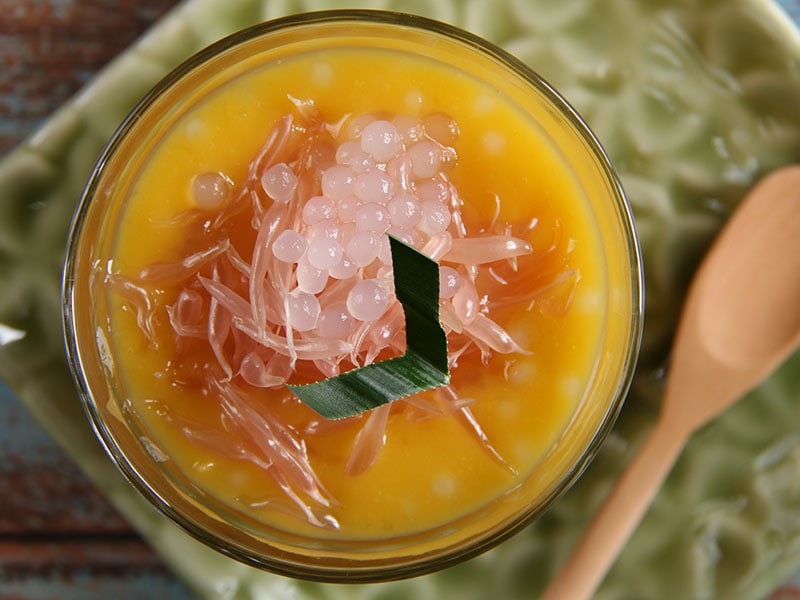 Originating in Hong Kong, mango pomelo sago is a contemporary dessert in this country. This chilled delight harmoniously blends diced mango, pomelo, sago, coconut, evaporated, and regular milk.
It's an utter joy to uncover this delicacy in numerous Chinese restaurants and dessert stores across Hong Kong, Taiwan, Singapore, Malaysia, and Guangdong.
Over time, it has birthed many variations, inspiring other desserts and drinks. My first spoonful in a bustling Hong Kong eatery was an explosion of sweet, creamy, and tangy flavors that I can barely forget.
62. Supangle (Chocolate Pudding)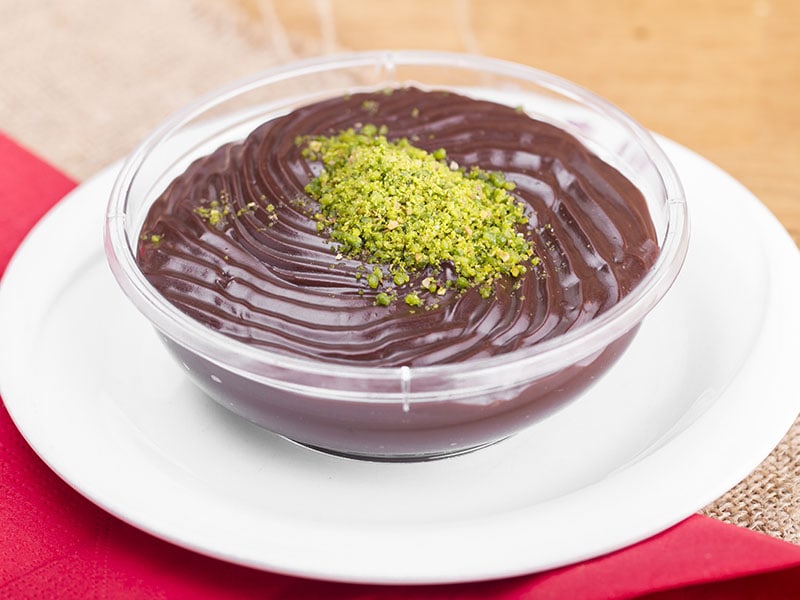 Turkish Supangle, while taking its name from Soupe Anglaise/Zuppa Inglese, is a dessert with a special identity. At the heart of this dish are cake pieces smothered under a rich chocolate pudding prepared with milk, sugar, flour, cocoa powder, butter, and dark chocolate.
Finished with garnishes like ground walnuts, almonds, pistachios, shredded coconut, or even ice cream, it is best to enjoy cold. Then you will feel the chocolate's richness paired with crunchy garnishes of ground walnuts, almonds, pistachios, and shredded coconut is so satisfying!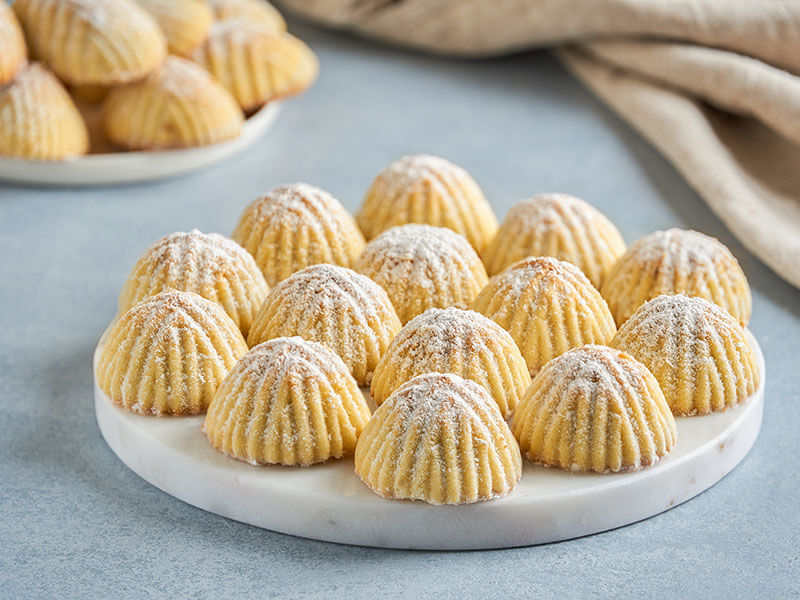 Maamoul, a butter cookie made with semolina flour, captures the essence of Middle Eastern festivities. That makes it a staple during Easter, Purim, and a few days before Eid Al-Fitr.
These hand-decorated beauties or ones shaped using special wooden molds known as 'tabe' hide treasures within, fillings of dried fruits or nuts like pistachios, walnuts, and even almonds.
In Turkey, they're known as 'Kombe' and often contain crushed walnuts spiced with ginger and cinnamon. People usually sit around a table with Arabic coffee in hand, indulging in Maamoul with friends and family after Ramadan's fasting.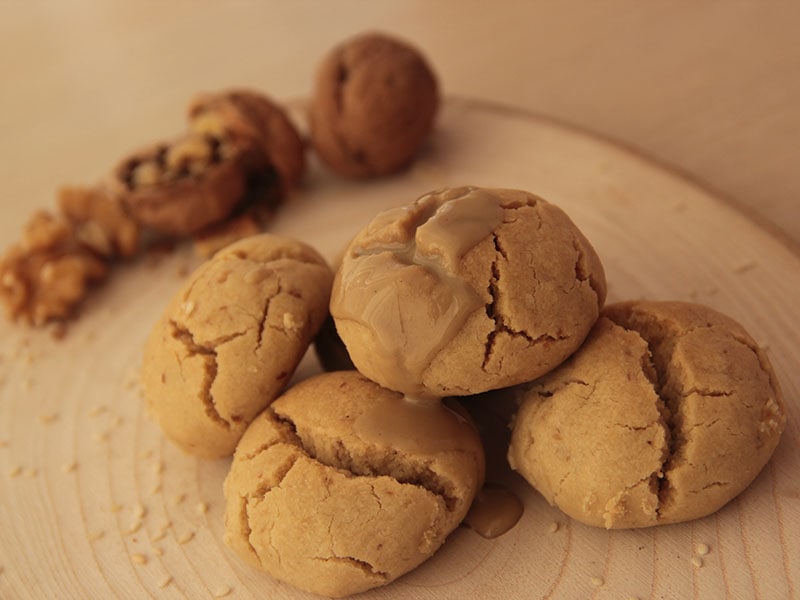 In Israel, Tahini cookies are a special treat, created from tahini, flour, sugar, and butter. The dough, mixing until crumbly, is imbued with raw tahini and shaped into round cookies. Topped with almonds or pine nuts, they resemble shortbread but offer a nutty flavor.
Other variations with cinnamon, rose water, or molasses made from date or grape add a twist to the traditional recipe.
65. Goreng Pisang (Banana Fritters)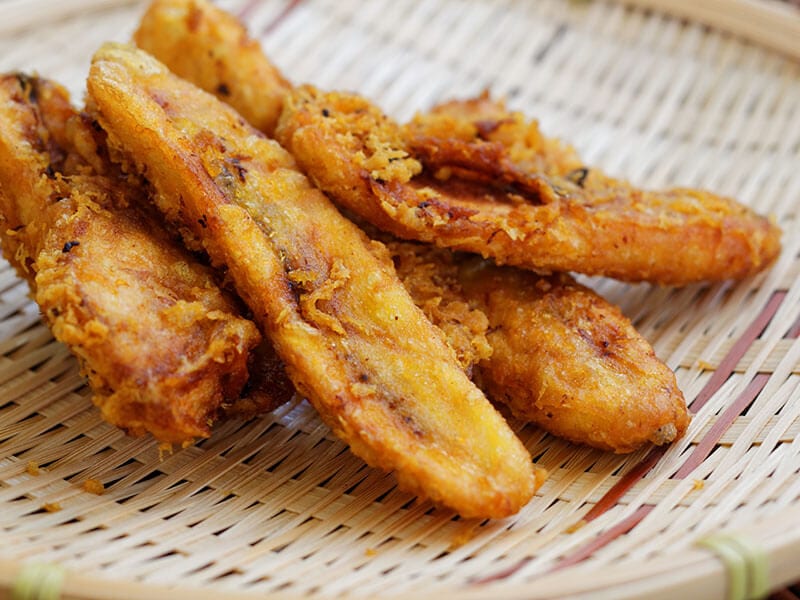 Goreng Pisang, or banana fritters, are special in my culinary memories. Originating from Southeast Asia and South India, these irresistible bites, known as Godoh Biu in Bali and Gedhang Gorèng in Java, represent a simple yet delicious art.
Plump ripe bananas, bathed in a coconut-rich batter, and embellished with a smattering of sesame seeds, are fried to golden perfection. For the final touch, a light dusting of powdered sugar or a generous drizzle of syrup or honey amplifies their luscious sweetness.
66. Cendol (Iced Dessert With Green Jelly)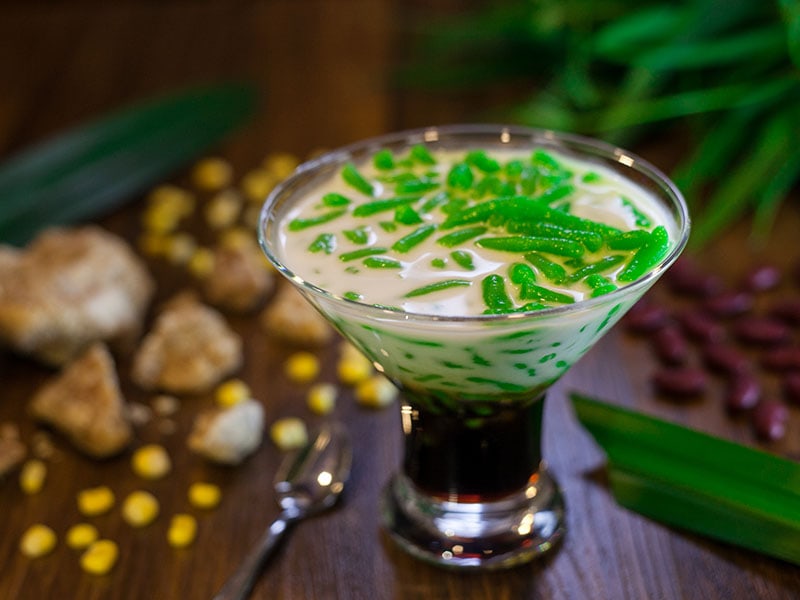 Cendol is an irresistibly refreshing dessert from Southeast Asia, popping up from Jakarta and Yogyakarta to the lively food courts of Malaysia, Thailand, and beyond.
In Java, the original Cendole was served without ice. Thanks to the introduction of refrigeration technology, the cold version has spread its popularity even better.
Generally, this chilled treat masterfully combines green rice flour jelly, creamy coconut milk, and sweet palm sugar syrup. A variety of toppings like diced jackfruit or red azuki beans can often be found in a glass of Cendol.
67. Khao Neow Mamuang (Mango Sticky Rice)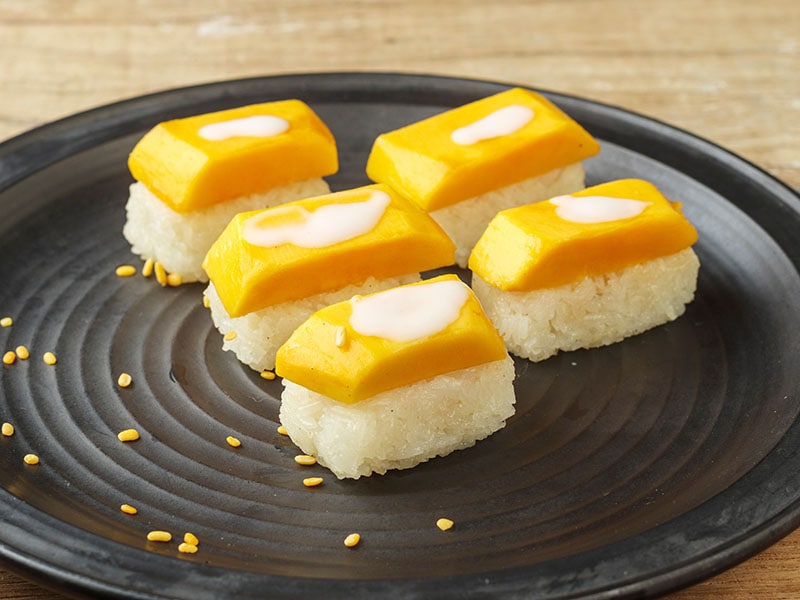 In the heart of Thailand, Khao Neow Mamuang, or mango sticky rice, is a dessert everyone loves. It's as prevalent in the beach shacks as in the Northern and Northeastern parts of the country.
Preparation requires soaking the rice to achieve a nice, sticky texture, then steaming it and blending it with sugar and coconut cream. Moreover, locals like to pair it with ripe, sweet yellow mango. Its appeal remains constant whether served cold, warm, or at room temperature.
68. Halva (Sesame Paste-Based Sweet candy)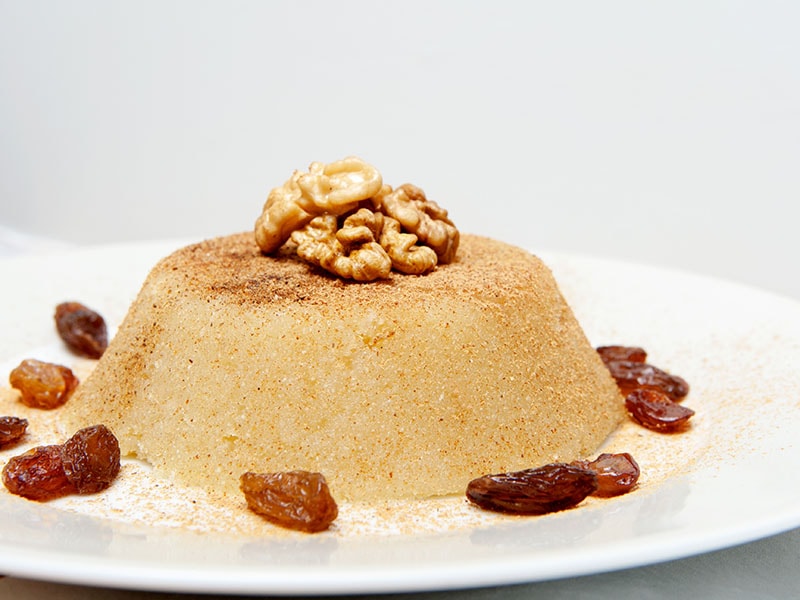 Halva, a Middle Eastern treat with Persian origins, has delighted palates throughout the Middle East, Iran, Greece, and India.
Made primarily from tahini, a thick paste crafted from flour, butter, liquid oil, saffron, rosewater, milk, and cocoa powder, it's sweetened with sugar or honey. Reminiscent of fudge, halva boasts an irresistible texture.
The range of flavors is vast, as it can contain almost anything. Semolina-based halva can vary from very buttery and moist to gelatinous and translucent, while sesame-based halva tends to be drier and crumbly.
Ingredients Commonly Used in Asian Desserts
Rice and Rice Flours: Rice is a staple food ingredient in many Asian countries and forms the basis for many desserts. Glutinous rice and rice flour are used to create a variety of cakes and sweet treats.
Various Types of Beans: Red azuki beans, mung beans, and black beans are often sweetened and incorporated into desserts, either as fillings or primary ingredients.
Exotic Fruits: Among different fruits and vegetables native to Asia, durian, lychee, mango, jackfruit, and other tropical fruits are used in desserts, either fresh or preserved.
Tapioca, Sago, and Other Starches: These are often used to create textures ranging from chewy to jelly-like in many desserts.
Sweeteners: Jaggery, brown sugar, palm sugar, and honey are popular.
Spice and Herb: Many Asian sweet course contain different Asian herbs and spices to make them more distinctive compared to Western desserts.
Dairy and Non-dairy Products: While dairy isn't as widely used in traditional Asian desserts, condensed milk, and cream are sometimes used. Coconut milk is a popular non-dairy alternative.
Tea and Other Flavorings: Matcha, jasmine, and other teas are used as flavorings, as are spices like cardamom and cinnamon.
Gelatins and Agar-Agar: These are used to set desserts and add more textures.
Techniques Used in Asian Dessert Preparation
Steaming: Among all familiar Asian cooking techniques, many prefer steam for their Asian desserts to gain a soft, moist texture. This is a common method for making cakes and dumplings.
Boiling: This method is often used for cooking ingredients like tapioca pearls, beans, and glutinous rice.
Baking: While not as common in traditional Asian desserts, baking is increasingly popular, especially for cakes and pastries.
Frying: Some desserts are deep-fried for a crispy texture and golden color.
Jelly Making and Setting: Many Asian desserts have a jelly-like consistency, achieved through ingredients like agar-agar or gelatin.
FAQs
Amazing Asian Sweet Courses Are Beyond!
Exploring the realm of Asian cakes and desserts is an unforgettable journey, one that marries delicious flavors with rich cultural narratives.
I hope you've been inspired by all the insights I've offered in this post. If you've enjoyed this sweet escapade as much as I have, why not spread the joy?
Like, share, and drop a comment below about your own experiences or favorite Asian dessert discoveries. Let's continue this delicious dialogue together!
References
Lang, A. (2021) 9 impressive health benefits of Hawthorn Berry, Healthline.