When it comes to Filipino breakfast ideas, it's no doubt Filipino folks love rice. It's true! Rice is the one element that ties different breakfast fixes together, from tocino and fried rice to sticky rice cakes.
There's a quote that says breakfast is the most crucial meal of the day. Getting a hearty and nutritious breakfast is a crucial step to working through your days with maximum power and productivity.
Today's blog is going to take you through some of the most beloved Filipino breakfast fares, how they're made, and the best way to savor them. After reading this, you won't hesitate to try them in your own kitchen.
If you're looking for some comfort Filipino day-starter to switch up your routines, let's dive into it now!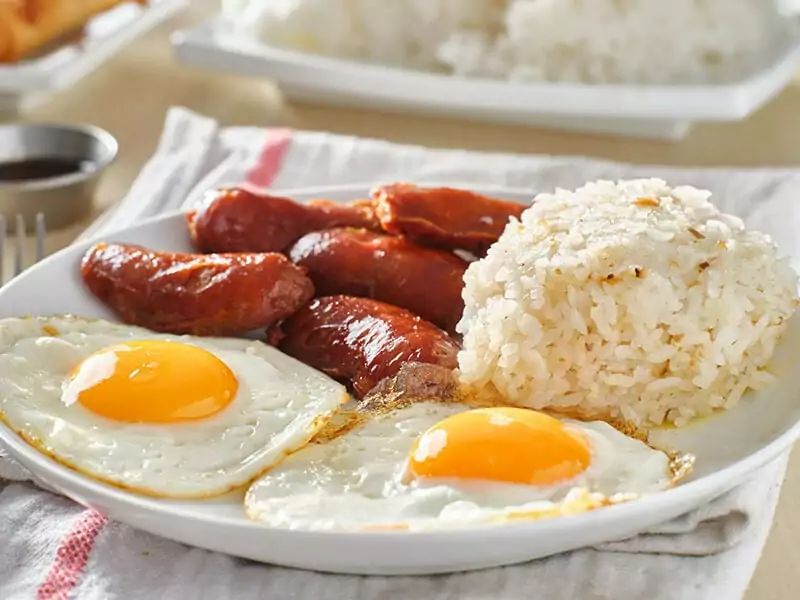 What Should You Make For A Filipino-Inspired Breakfast?
Do you want to switch your typical breakfast for some flavorful and irresistible treats? Here's a look at the best Filipino breakfast ideas that bring Manila to your kitchen.
Tortang Giniling (Filipino Beef Omelette)
Tortang Talong (Filipino Eggplant Omelet)
Tortang Tuna (Tuna Omelette) With Spinach
Daing na Bangus (Marinated Milkfish)
Tapsilog (Filipino Beef Tapa)
Ginisang Sardinas (Sautéed Sardines)
Ginisang Tuna
Sinangag (Filipino Garlic Fried Rice)
Longganisa (Filipino Sweet Sausage)
Tocino (Filipino Bacon)
Danggit Fried Rice
Arroz Caldo (Chicken and Rice Porridge)
Tosilog (Tocino, Fried Rice, And Fried egg)
Spicy Dilis
Pandesal (Filipino Bread Rolls)
Cornsilog (Corned Beef, Garlic Rice & Egg)
Champorado (Chocolate Rice Porridge)
Tsokolate (Filipino Hot Chocolate)
Taho (Filipino Sweet Tofu)
Putong Puti (Filipino Steamed Rice Cake)
Puto Bumbong (Filipino Purple Rice Cake)
Suman Malagkit (Filipino Steamed Rice Cake)
Bibingka (Filipino Coconut Rice Cake)
Filipino Scrambled Eggs
Lugaw (Filipino-Style Congee)
Goto (Beef Tripe Rice Porridge)
Maruya (Filipino Banana Fritters)
Poqui Poqui (Ilocano Roasted Eggplant And Eggs)
Calamansi Muffins
29 Drool-Worthy Filipino Breakfast Ideas That You Simply Can't Say No To
Filipino cuisine is quite heavy on rice, so it'll be hard to find a breakfast platter without a serving of rice on it. See it for yourself, the best Filipino breakfast ideas to get you powered up for the day!
Cooking time: From 30 to 40 minutes
Let's get started with a classic ground beef dish that defines Filipino cuisine. Essentially, Tortang Giniling is an omelet filled with tons of ground beef and veggies. It's a delicious, hearty, and super nutritious meal that'll get you pumped up for the day.
The greatest part about this recipe is how quick and easy it is to pull off. An excellent old tip to create a round Tortang Giniling without cracks is to allow it to firm up on one side before flipping it over.
This Filipino breakfast fare is perfect by itself. But if you want some complements, it's most commonly served with a side of white rice and banana ketchup, either sweet or sour of choice.
How to make traditional Tortang Giniling the right way!
Cooking time: From 25 to 45 minutes
Eggplants as an omelet? I bet you didn't see that one coming! The most significant part of this dish is how an eggplant is transformed into a tasty egg-battered cutlet. It's so satisfying and simple that any novice cook can dish it up.
While Filipino eggplants are the best option to keep this delicacy authentic, you can also use American or Italian versions in a pinch. Tortang Talong is no doubt an excellent way to sneak in some healthy veggies and enjoy a fulfilling breakfast at the same time.
Cooking time: 15 minutes
This fifteen-minute recipe is your lifesaver whenever you're in a frantic rush. As its name implies, Tortang Tuna is an omelet stuffed with sauteed tuna, onions, black peppers, and in this case, fresh baby spinach.
Delicious eggs with the tender, juicy canned tuna bring it all together in one dish. Cook until both sides are golden brown while it's still slightly soft in the center. You can enjoy it with some white rice or toast.
Cooking time: From 30 minutes to 8 hours 15 minutes (including marinating)
If you're familiar with the Filipino culinary style, you'll know Daing is a process where the fish, seafood, or meat is marinated in vinegar or salted and left to sundry. As a result, the fish gets a richer and more amplified flavor than its fresh version.
Milkfish, or Bangus, is the unofficial Filipino fish for good reasons. With its firm, bony texture and clean, tasty flavor, Daing na Bangus owns its unique place in fancy restaurants and local dinner tables.
Though milkfish is notoriously known for having many fish bones, the result is worth it. There's no need to plan anything fancy with this dish. All you need is some fried or steamed rice, a vinegar dipping sauce, and you can enjoy breakfast or lunch to the fullest!
Cooking time: From 20 minutes to 7 hours 40 minutes (including marinating)
An ever-reliable Filipino breakfast fix, Tapsilog is made up of three elements: tapa (beef), sinagag (garlic fried rice), and itlog (fried eggs). The greatest part about Tapsilog is that it's suitable for any meal of the day and not breakfast alone.
With Tapsilog, it's all about the harmony of flavors. The gooeyness of the fried eggs, the saltiness of the soy sauce, and the garlicky touch go down beautifully with the tapa, keeping you craving for more.
Most of the time, the Filipinos use leftover rice from the night before to make this dish. The fried eggs and tapa are also effortless to cook. Delicious and healthy, it's the best breakfast to power you up for the day ahead.
Making tapsilog at home will be a breeze with this tutorial!
Cooking time: About 15 minutes
Have you got a can or two of sardines in the back of your pantry? Save up this quick recipe; you won't want canned sardines any other way! Ginisang Sardinas, which means sautéed sardines, is a budget-friendly breakfast fix that fits the bill for anyone.
This recipe is made for you if you don't enjoy the overpowering fishy taste of sardines straight from the canned. It turns a pantry staple into a gourmet Filipino delicacy that one must try.
For spicy food lovers who prefer your sardines with a kick, a hot version of canned sardines or a touch of habaneros will get the job done. This Filipino dish is best enjoyed with pandesal or steamed rice and a hard-boiled egg.
Cooking time: About 17 minutes
You might have guessed what Ginisang Tuna is about. That's right! Ginisang Tuna, which translates to sautéed tuna, is a Filipino delight wherein canned tuna flakes are sauteed with onions, chili flakes, and black pepper with some chopped parsley for garnish.
From start to finish, Ginisang Tuna is super time-saving, taking less than 20 minutes altogether. A good tip for home cooks who have limited time in the morning is to prepare it the night before and microwave it before serving.
Ginisang Tuna is excellent for breakfast, brunch, lunch, and even a delightful winter dinner, a full-of-flavor and hearty recipe. Pair it with fried rice, crusty bread, or vegetable salad, and enjoy!
Cooking time: From 7 minutes to 20 minutes
It's no secret that Filipino culture is quite heavy on the rice. Sinangag is a traditional Filipino breakfast that has a special place in the heart of every Filipino. The fluffy rice grains perfumed with garlic flavors will please any eater.
Nothing fancy in its essence, sinangag's beauty lies in its simplicity. The delicacy is loaded with day-old rice, garlic, ground pepper, and oil of choice. In this dish, the garlicky flavor is the show's star, which elevates the rice and awakens your taste buds.
The perfect canvas for another savory course, Sinangag is an excellent Filipino dish for almost anything, from spicy pork to fried fish or simply a sunny-side-up egg. Usually, leftover refrigerated rice is best for cooking this meal, but boiled rice also does the job.
Cooking time: From 1 hour to 2 hours and 30 minutes
You're missing out if you've never had Longganisa – the unique Filipino sweet sausage for a Filipino-inspired breakfast! Each region has its version of Longganisa. Some are mildly sweet and salty, whereas others lean more to sourness or spiciness.
The origin of Longganisa goes back to Spain, where it's a type of long, thin spiced sausage. The link has become a staple in many Filipino households with unique Filipino twists.
Depending on its flavor, Longganisa is best eaten with fried garlic rice, fried eggs, or a dipping sauce. Some fresh tomatoes and cucumbers salad makes a beautiful complement as well. I suggest you experiment and find the side dish that best suits your taste!
Cooking up Longganisa is effortless with this tutorial!
Cooking time: About 72 hours 20 minutes (including curing)
Another Filipino delight that drew inspiration from Spain, Tocino, also called Burong Babi, is thinly sliced meat cured in salt and sugar for a couple of days. While tocino is a popular Filipino dish made with pork, some variations also use chicken and beef.
Flavor-wise, tocino stands out with its predominant sweetness, accompanied by a peppery and garlicky taste.
Typically, you'll see Tocina being served with garlic fried rice and fried eggs for breakfast, constituting the classic "Tocilog." The sweet, tender pork and the savory, aromatic rice are undoubtedly tough to beat.
Cooking time: About 20 minutes
One of my favorite Filipino breakfast fares, Danggit fried rice, is a simple rice-based dish with Danggit (salted and sun-dried rabbitfish). This recipe is a breeze to make with a few ingredients that you probably have in your cupboard.
Even for those who aren't fond of fish, fried Danggit is so savory, crispy, and effortless to eat with its boneless texture. When the fishes are golden brown, toss in some leftover rice, garlic, oil, spring onion, and you're good to go.
If you have the chance to walk the streets of the Philippines, make sure to buy half a kilo of these Danggit to take home and level up your rice recipe!
Cooking time: From 40 minutes to 50 minutes
Nothing's better than to start a chilly fall day with a bowl of rice porridge. In fact, "Arroz Caldo" is Spanish for "warm rice."
In essence, it's a traditional Filipino congee made with rice and chicken. Other elements of this iconic Filipino chicken dish include garlic, onion, ginger, and fish sauce. Harmony of the sour, sweet, and savory will satisfy your taste buds from the first bite.
Finally, top the bowl with a hard-boiled egg and a sprinkle of scallions before enjoying. With all these elements, this tasty Filipino chicken delicacy works well as a complete meal on its own.
Keep this recipe in your pocket to keep your soul warmed and your stomach full.
Cooking time: About 45 minutes
Garlic fried rice, fried eggs, and tocino are the ultimate Filipino culinary trio that you can't go wrong with. With its excellent and fulfilling flavor, Tosilog is well-loved as a savory recipe perfect for breakfast, lunch, and dinner.
This classic meal is full of flavors, with the sweet and savory Tocino complemented by the gooey, runny yolk on the canvas of fried rice. At its best, the perfect ratio of the rice to Tocino to the eggs makes every bite heaven.
Cooking time: From 15 minutes to 20 minutes
As an archipelago, it's no surprise that Filipino cuisine is abundant with all sorts of fishes, including dilis. Walking the streets of the Philippines, you'll often find street vendors selling spicy dilis made out of dried anchovies coated in a sweet and spicy layer.
While the dish doesn't look appetizing, its flavor is addictive. The fishes get their mouth-watering taste from ketchup, chili sauce, and brown sugar. It's fried until each bite is crispy without being flaky or dry.
Many locals enjoy this scrumptious Filipino snack as a pair with a glass of beer or whisky. Whether eaten as a standalone meal or served on top of a bowl of steamy white rice, spicy dilis will please anyone around the table.
Cooking time: From 2 hours 25 minutes to 2 hours 55 minutes
No doubt, pandesal claims its throne as the most beloved bread in the Filipino culture. This bread roll allows for endless options, whether for dunking in coffee or stuffed with delectable fillings like jam, peanut butter, and corned beef.
The exterior is golden and crumb-coated, while the center reminds soft and fluffy. There're many variations of pandesal across the Philippines, but most tend to be sweet and airy. This versatile bread can be eaten for every meal and as a delicious picnic side dish.
When it comes to the most delicious and fluffiest pandesal you can make at home, the secret lies in a well-kneaded dough. Also, it's better to use a light-colored baking pan to prevent too much browning at the bottom of the bread.
Capture the essence of Filipino food culture with this pandesal recipe!
Cooking time: About 20 minutes
By now, you must have guessed what Cornsilog is all about! A portmanteau for corned beef (corn), garlic fried rice (sinangag), and fried eggs (itlog). The meal is usually served piping hot and complemented by the side of fresh cucumbers or tomatoes.
As a staple in Filipino breakfasts, Cornsilog is served everywhere, from Jollibee, carinderias, to local's hotels. Whipping this up from scratch takes roughly 20 minutes, leaving plenty of time to savor the meal before leaving for the day.
Let's be honest! With all of its ingredients pan-fried, Cornsilog is not the most healthy breakfast fix you can find. But if you're looking to switch your typical cereal for some exotic delight and keep your body energetic all day long, this one's for you!
Cooking time: From 23 minutes to 30 minutes
Are you looking for a sweet sugar-filled breakfast to specialize your morning? Champorado is your best bet. The porridge takes 30 minutes to come together and a few simple steps that anyone can master at home.
This Filipino delicacy is made of pure chocolate, glutinous rice, sugar, and a dash of milk, not to be mistaken with a Mexican Champurrado, created like a hot chocolate drink.
Although a chocolate-based dish, this chocolate rice pudding gets most of its sweetness from the drizzle of milk. For serving, Champorado is topped with salted, dried fish, which lends it a burst of sweet and salty combination.
We all have different favorite comfort foods, but Champorado is quite hard to beat. Thick, creamy, and delicious with a complex chocolate flavor that tastes wonderful, either hot or cold. Thus, feel free to make a bowl beforehand and serve when needed.
Whip up the perfect Champorado with this guide!
Cooking time: About 10 minutes
It turns out you can drink hot chocolate as a day-starter. Tsokolate, pronounced "Cho-Ko-Lat-Eh," does a great job of giving your body a little morning boost. Not to mention, this Filipino drink is a brilliant birthday breakfast treat!
Making a cup of Tsokolate at home doesn't get easier than this. You need to whisk the tablea de cacao in some milk using a wooden stick or batidor. It may take more effort and time than other drinks, but trust me, it's all worth it.
If you wonder what dish can accompany this hot chocolate, both sweet and salty sides can get the work done. A buttermilk scone or pandesal drenched in hot Tsokolate is every chocolate purist's dream.
Cooking time: From 25 to 45 minutes
Not only breakfast, Taho, or the Filipino sweet tofu, is also a favorite Filipino street delight sold everywhere in the streets of Manila. Layers of silken tofu are drenched in brown sugar syrup (arnibal) and topped with sago, or tapioca pearls that constitute this timeless sweet treat.
The addition of sago pearls adds texture to the pudding-like tofu. From the first bite, you feel the taho melting across your tongue. When served warm, the dish brings nothing but comfort and refreshment to your soul.
But that's not all why you should give this sweet breakfast a try. As a soy-based dish, taho is packed with valuable vitamins and minerals that boost your health.
Cooking time: About 30 minutes
Putong Puti can be served for a company or just as an irresistible Asian dessert for your indulgence. Putong Puti, or white puto, gets its name from the stark white color and is one of the most well-loved putos in Filipino cuisine.
Rather than the usual flour, this rice cake is made with the galapong, or fermented rice dough. As a result, the texture is very chewy, sticky, and soft. Each cake is shaped into bite-sized portions, making it easy to finish a dozen or two in one sitting.
It's the perfect complementary dish for pork blood stew or simply a nice cup of hot chocolate. You can also top it with some salted eggs or a dash of cheese for extra dimensions of flavor.
Cooking time: From 15 minutes to 30 minutes
Putu Bumbong is a traditional Filipino delight served during Christmas. "Puto" means glutinous, whereas "bumbong" translates to bamboo. Essentially, this rice cake is steamed in a bamboo tube and cooked with a special steamer.
At first glance, Puto Bumbong is instantly recognizable for its dark purple color, which initially came from a unique rice variety called pirurutong. This distinctive color is often produced from food coloring or purple yarns.
This purple rice cake has a slightly sweet yet a bit bland taste when it comes down to the flavor. Therefore, it's always topped with muscovado and grated coconut. When Christmas rolls away, treat your family to this unique recipe!
Cooking time: From 3 hours 45 minutes to 9 hours 30 minutes
You know I have a thing for breakfast rice cake! In Suman Malagkit, the glutinous rice is cooked in coconut milk and sometimes ginger. The mixture is then wrapped in layers of banana leaves and steamed until all soft and chewy.
A classic way to eat Suman Malagkit is by unwrapping the layers of banana leaves around it; no utensils are needed.
Thanks to the cooking process, the rice is very aromatic. However, it's often paired with caramel sauce, coconut jam, or some hot chocolate due to the lack of sweetness.
Though this rice cake can be made year-round, eating it is closely associated with the Holiday season. From Christmas to the New Year, you'll find the Suman Malagkit sellers belting out for you to try this traditional delicacy.
Cooking time: About 45 minutes
Along with Puto Bambong, Bibingka is one of those signs that Christmas is just around the corner. Traditionally, this tasty treat is made from coconut milk, galapong, margarine, and sugar.
What sets this recipe apart from others is how it's cooked. For the best texture and distinctive smoky flavor, Bibingka is baked in a charcoal oven. Both sides and the bottom of the pan are covered in layers of banana leaves.
Besides its filling and delicious flavor, Bibingka is also beloved for its abundant health benefits. Most health experts consider this a healthy snack for your diet.
Cooking time: From 15 minutes to 20 minutes
Scrambled eggs are not so basic after all with this Filipino recipe. With three primary ingredients: eggs, onions, and tomatoes, which you most likely have in your pantry, breakfast's never been so effortless.
This good-for-you Filipino food can be served for any day meal, including breakfast, lunch, and dinner. Don't be shy to toss in some rice and veggies of your desire to make it even more fulfilling.
Cooking time: About 1 hour 30 minutes
The wintry season is the perfect time of the year to appreciate Lugaw. This food-for-the-soup congee is quite the most basic congee recipe ever. Rice, salt, ground chicken, eggs, and water are three elements it takes to whip up.
Flavor-wise, there're endless options for Lugaw. You can flavor it with Filipino fish sauce and garnish it with some fried tofu or scallions on top. The thick texture and the warm, complex taste will make you come back for more.
But you don't have to wait until winter to savor this congee. It's also the comfort food Filipino folks seek in spring, summer, and whenever they're feeling a bit tired.
Stay warm, my fellow home cooks!
Cooking time: About 50 minutes
Another lovely breakfast for autumn, when the days are cold and the nights are long, Goto shares quite some similarities with Lugaw. The most significant difference is that Goto is typically cooked with beef tripe or pig intestine.
Making Lugaw means you're already halfway through Goto. With more proteins used, it's no doubt Goto is more nutritious than its counterpart, making it the perfect breakfast fix for when you're feeling under the weather.
Cooking time: From 25 minutes to 30 minutes
Maruya's unique sweetness from bananas makes it an easy breakfast fare to satisfy the biggest fried sweet treat craving. Crispy and golden on the exterior, while the center remains fluffy and soft, it's one of the best types of fritters for sure.
Besides breakfast, locals also enjoy Maruya as a heaven-sent Filipino dessert or a part of merienda. If you happen to be in the Philippines, you don't have to look for these banana fritters somewhere far away. It's a popular street food in Filipino culture.
As with other cakes, Maruya is best served warm. For extra flavor, I recommend eating it with a few slices of jackfruits, some shredded cheese, or a scoop of ice cream, especially if you're a big sweet tooth like me.
Cooking time: From 20 minutes to 25 minutes
Truth be told, Poqui Poqui doesn't look very fancy from the outside. But its delicious flavor indeed makes up for everything. Sweet, smoky, and super aromatic, this Ilocano delight doesn't disappoint.
Essentially, Poqui Poqui is a delicious breakfast side, with its main ingredients including tomatoes, roasted eggplants, and eggs. A well-loved regional dish, Poqui Poqui, can be served all day.
This meatless recipe goes down beautifully with fish and smoked meat for a complimentary dish. Or else, have it with a bowl of steamed rice.
Trust me; you won't ever get bored of it!
You can see this video to know more:
Cooking time: About 30 minutes
Soft, moist, and with the tart flavor of calamansi, these bite-sized calamansi muffins will quickly satisfy even the pickiest eater. Since calamansi is a pretty common citrus fruit in the Philippines, it's safe to say that it captures the heart of Filipino cuisine in one bite.
Achieving the perfect bakery-style Calamansi muffins is not a challenging task, but it does take a bit of practice to master. Fresh out of the oven, these delightful pastries can be topped with some caramel sauce or chocolate for added flavors.
If you're anything like me, you'd want some muffins all the time, especially as a tasty and convenient picnic breakfast. Therefore, I suggest you double the recipe. You can leave the leftover for 2 or 3 days. Make sure to microwave it for 30 seconds before serving.
Eat Breakfast Like A King – A Filipino Breakfast Tour
And that's a wrap for our culinary journey to the Philippines. It's safe to say that most of these delicious breakfast fares aren't difficult to cook at home. What's more, lots of the ingredients above are likely available in your kitchen.
The next morning, make sure to spice up your breakfast with these exotic recipes. Be it sweet, savory, or both, I hope these tastes of Filipino cuisine will satisfy you and your loved ones.
Have you tried any of these Filipino breakfasts? What are you most excited to try? Let me know in the comment box right now!
Nutrition Facts
15 servings per container
---
Amount Per ServingCalories89
% Daily Value *
Total Fat 3.4g

5

%
Cholesterol 82mg

28

%
Sodium 121mg

6

%
Potassium 197mg

6

%
Total Carbohydrate 2.6g

1

%
Protein 11.6g

22

%
---
Calcium

15

%
Iron

6

%
Vitamin D

5

%
* The % Daily Value tells you how much a nutrient in a serving of food contributes to a daily diet. 2,000 calories a day is used for general nutrition advice.