Filipino Christmas recipes might be your life-saver when Christmas is just around the corner. No more stressing out over what to cook for the holiday dinners; you can keep your guests fed and happy with these tried-and-true recipes.
Delicious Filipino food isn't as widely popular as its fellow Asian cuisines, which is a shame, knowing how much this rich and unique culture offers. What's more, some of them are ideal and simple delicacies for Christmas that no one can refuse.
In today's journey, I'm taking you through the most popular dishes that Filipinos eat during Christmas and other special occasions like fiestas, wedding anniversaries, and family gatherings.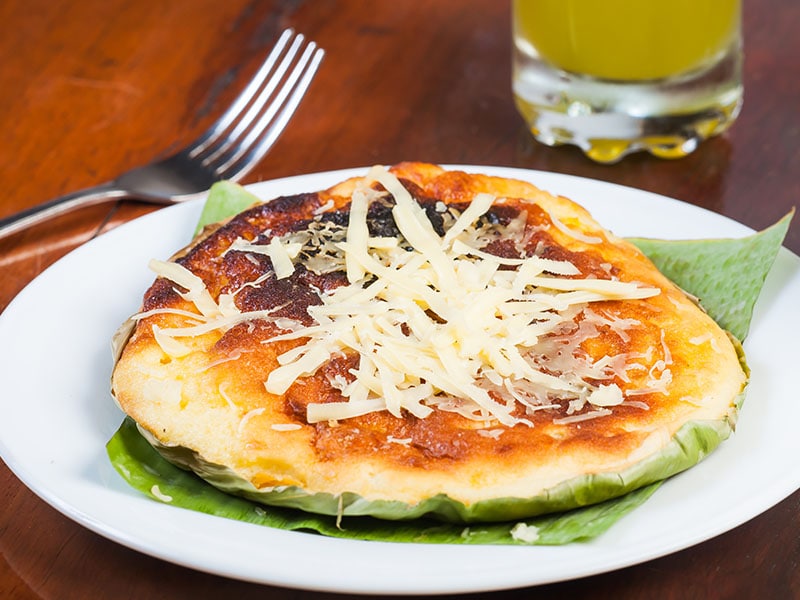 23 Beloved Filipino Christmas Recipes For You To Try
No doubt, these heavenly Filipino recipes are diverse, creative, and with some big flavors that set them apart from other food cultures in the world. Here are some of the best Christmas recipes from Filipino cuisine that will wow your guests.
Lechon Manok (Filipino Roast Chicken)
Filipino-Style Pasta Carbonara
Rellenong Bangus (Stuffed Milkfish)
Pork Embutido (Filipino-Style Meatloaf)
Filipino-Style Pork Menudo
Bibingka (Filipino Coconut Rice Cake)
Macron (Filipino Beef Roll)
Buko Pandan Salad (Young Coconut Pandan Salad)
Filipino-Style Lasagna
Rellenong Manok (Filipino Stuffed Chicken)
Tinolang Manok (Chicken Tinola)
Inihaw Na Liempo (Filipino Grilled Pork Belly)
Ginataang Alimasag (Crabs In Coconut Milk)
Leche Flan (Filipino Baked Custard)
Lumpia (Filipino Spring Rolls)
Buko Salad (Filipino Fruit Salad)
Macaroni Fruit Salad
Pancit Malabon (Filipino Stir-Fried Noodles)
Pork Hamonado
Camaron Rebosado (Deep-Fried Battered Shrimps)
Afritadang Manok (Chicken Afritada)
Maja Blanca (Filipino Coconut Pudding)
Beef Kaldereta (Filipino Beef Stew)
22+ Crowd-Pleasing Filipino Christmas Dishes For This Holiday
Without further ado, let's walk you through the most popular dishes during the Filipino holiday seasons. You'll want to get the apron out in case of inspiration kicks in!
Total time: From 1 hour 20 minutes to 3 hours 20 minutes.
Everyone who knows a thing about Filipino Christmas knows Lechon Manok's importance. This family-tasting, juicy, and savory chicken course is quite the Filipino version of rotisserie chicken, and it's no less festive.
Lechon Manok refers to a roasted whole chicken stuffed with lemongrass and shallots. A combination of garlic, calamansi juice, fish sauce, and soy sauce lends the chicken the most wonderful garlicky, sweet, and delicious flavor ever.
It's safe to say that this mouth-watering Filipino chicken dish is the centerpiece of any festive table in the country. The chicken is often served alongside some papaya atchara or liver sauce for a big shared meal. It's the kind of dish that'll keep your guests pleased.
Total time: 50 minutes
A world-class delight we all care for deeply, Carbonara makes a beautiful festive dinner with a unique Filipino twist. Instead of guanciale, the Filipino take uses ham, meat, mushroom, pasta, and cheese.
The result is even creamier with extra richness. Top the dish with a drizzle of parmesan cheese or chopped parsley for garnish before serving. With this simple recipe, it's straightforward to double or triple the amount of food to suit your guests.
Delicate as it is, this Filipino Carbonara can be ready in roughly 50 minutes. A good old trick to pull the perfect Pinoy Carbonara lies in the pasta water and quick-melting cheese, which can prevent a curdled or overly thick texture.
Total time: About 1 hour
Bangus, or milkfish, is regarded as Filipino's national fish. With numerous small bones that require a tedious and skilled deboning process, cooking milkfish may come across as a puzzle. But trust me, the result is worth all your effort!
A whole milkfish is stuffed with minced fish meat, celery, carrots, and potatoes in this dish. Eggs and flour are also added to help bind the filling together. After being baked till golden and crispy, the fish is served with atasty Filipino side of sweet and sour sauce.
Better yet, since this treasured Filipino fish recipe is cooked up in the oven, there are no oil splatters and less oil for a healthier meal. Delicious, full of flavors, and juicy, it will be a hit at any family gathering and party.
This is how to achieve the perfect Rellenong Bangus dish!
Total time: 1 hour 15 minutes
Pork Embutido is a Filipino meatloaf composed of ground pork, carrots, raisins, and shredded cheddar, wrapped around a boiled egg and sausage filling.
The traditional method to cook pork Embutido is steaming, but baking it using an oven works beautifully. It's got all the beautiful flavors: sweet, savory, and super juicy at the same time.
Like Lechon Manok and Lumpia, this unique Filipino pork-centered dish is primarily eaten during the holidays. Of course, it's best served hot after cooking with ketchup on the side. And the leftover tastes so good mixed with some garlic fried rice.
Total time: About 1 hour 45 minutes
Another Filipino pork recipe that always puts me in a Christmas mood is pork Menudo is comfort food at its finest. As complicated as it looks, the stew is very simple to make in the comfort of your kitchen.
This Filipino delicacy gets its medley of bold color from the use of fresh garbanzo beans, tomatoes, potatoes, and pork. Through simmered in a tomato-based sauce for about an hour, the stew has an incredible depth and richness of flavor.
Nothing makes a better accompaniment to this hearty stew than steamed white rice. Many people also add liver or sausage for some extra layers of protein. Either way, pork Menudo will surely leave the whole family happy.
Total time: About 40 minutes
Bibingka is no stranger to folks who know Filipino cuisine. When you walk through the busy cities of the Philippines during Christmas, it's hard to miss tons of Bibingka stalls on every corner. And this sweet treat is a national treasure for good reasons!
Coconut milk lends itself to a delicate, natural sweetness. Since the cake's main ingredient is rice flour, it has a soft, sticky, and chewy texture. Flavor-wise, it tends to be slightly sweet with a hint of coconut and saltiness to contrast.
When it comes to accompanying Bibingka, toppings like salted eggs, grated coconut, and cheese are Filipinos' favorites. This rice cake is an indispensable festive treat in the Filipino Christmas season, especially during dawn mass.
Total time: From 1 hour 20 minutes to 2 hours 30 minutes
There's just something so jolly about a Filipino beef roll. Morcon, at its core, is stuffed with a host of cheese, hard-boiled eggs, and lots of veggies. The wrapping composed of thinly sliced beef is truly a fulfilling meaty treat.
Before being brought to the table, the roulade is usually thickly sliced and presented on a platter. No doubt, the preparation for this dish is quite time-consuming and tedious, but the juicy, thick, and rich meaty bites will be worth it all!
Along with Embutido, Mocron is another popular course enjoyed during Christmas and New Year's Eve parties as a tradition. However, there's no reason not to make it for dinner now and then.
Total time: About 2 hours 30 minutes
No festive meal is complete without a sweet dessert to round everything out. A cold, tropical dessert-like Buko Pandan will get the job done if you've had a heavy dinner.
This sweet treat gives off a sweet, creamy, and addictive taste with pandan leaves, young coconut, and tapioca pearls. And pandan leaves provide the right amount of a flowery and soft fragrance. This tropical-style tasty Asian dessert is perfect for the summer heat.
A well-kept secret to making the perfect Buko Pandan is to make it one day beforehand. This allows time for all the elements to come together and chill. It's incredibly delicious with some toasted topping or a scoop of vanilla ice cream. Please give it a go!
Total time: From 45 minutes to 1 hour 15 minutes
Cooked in the same method as the Filipino spaghetti, this much-beloved Filipino take on the classic lasagna is just timely for the holidays. One big tray of lasagna is what it takes to satisfy your family and guests on a special occasion.
Layers of cheese, ground beef, pasta, and red sauce are assembled to create an eye-catching, show-stopping dish. Unlike the original Italian version, Filipinos prepare a lasagna sauce of tomato ketchup and oyster sauce to give it a distinctive sweetness.
On its own, this Filipino ground beef delicacy is a warming and hearty full meal. But for some extra flavors, locals tend to accompany it with some warm pandesals or a bowlful of green salad. Don't be shy to experiment and find out your favorite!
Total time: About 2 hours 10 minutes
Meaning "stuffed chicken" in English, Rellenong Manok lives up to its expectation as the main attraction of a festive party. A well-laid-out combination of ingredients includes a whole chicken, sausage, raisins, onions, and garlic.
In my experience, the most labor-intensive part of cooking this stuffed chicken is deboning the cavity. Once you've got it done, everything else is a breeze. It takes to debone the chicken, marinate it overnight, place the filling, and bake till perfection.
Flavor-wise, Rellenong Manok is impressive. Each slice has complexity in flavor and a tender texture that feels melting across your tongue. It's safe to say all eyes will be on this scrumptious Filipo chicken viand no matter what side it's served with.
Total time: About 55 minutes
Tinolang Manok was one of the classics when it was included in a Filipino novel back in the 1800s. Besides being a special occasion dish, this delicious chicken soup is comforting food at its best.
With its diversity in food culture, each region in the Philippines has its take on chicken Tinola. However, a basic recipe is composed of chicken simmered in the flavor of fish sauce, chicken broth, and veggies such as green papaya and spinach.
The particular element that gives chicken Tinola its unique appeal and zest is ginger. Overall, the signature Filipino soup delight tastes so warm, steamy, and full of flavors. What's more, its healthy nature makes it a favorite for Filipino children and adults alike.
Get a tight grip on chicken Tinolang with this step-by-step instruction!
Total time: About 2 hours 10 minutes
Inihaw na Liempo is like the grilled pork belly folks enjoy at a summer barbecue, but with an identifying twist: Inihaw marinade. This authentic mixture is made by mixing sugar, vinegar, garlic, pepper, and sometimes calamansi juice.
It is straightforward, but Inihaw na Liempo honestly tastes like heaven. The meat captures the essence of Filipino culture with a tangy and sweet medley. Cooking on the grill allows for a tender texture and a light sugary crust that delight the eyes.
You'll need to marinate the meat overnight for the best outcome, so remember to plan. You can enjoy this versatile dish in various fashions: from balancing it out with a tart sauce to adding pieces to a warming stew.
Total time: From 25 minutes to 45 minutes
Do you happen to crave seafood when Christmas is just around the corner? If so, Ginataang Alimasag is how to transform your typical crab dinner into a savory feast. With its name meaning "crabs in coconut milk," you get the basic idea of what it is.
Whipping up Ginataang Alimasag is as breezy as cooking the vegetables, adding the crab and chicken cubes, and letting the pot simmer for a couple of minutes. Like other dishes, you should use fresh ingredients to achieve the ideal flavor.
Since all these ingredients are easily accessible in local markets, the dish makes an appearance on many Filipino dinner tables throughout the year. It's so sweet and savory that you'll want to scoop spoonful after spoonful until the bowl is empty.
Total time: About 8 hours 30 minutes
Simply put, Leche Flan is the Filipino version of creme caramel, a famous French dessert served worldwide. This custard dessert has a layer of caramelized sugar on top of a custard mixture of condensed milk, vanilla extract, sugar, and egg yolks.
For an amateur cook, it's crucial to stir the sugar as it dissolves into syrup constantly to prevent the sugar from burning and sticking to the pan. To serve, Filipinos love Leche Flan with a hot milk tea to accompany.
This Filipino take apart from any other Flan recipe because it's made with egg yolks instead of egg white, giving the custard extra luxury. And because it's baked or steamed in a particular mold called Ilanera, you'll often find it in an oval shape.
With this recipe, making Leche Flan should be a breeze!
Total time: About 40 minutes
Historically speaking, Lumpia was brought in from Chinese culture during the former Spanish colonial era. As time went by, the snack has been adapted and captured the heart of Filipinos, becoming a much-beloved Filipino street food and holiday treat.
Not only is Lumpia easy to make, but all of its ingredients are likely available in your home or local market. A simple filling consists of ground pork, ginger, minced garlic, and seasoning wrapped in a thin, fresh spring roll wrapper.
Whenever you've got many mouths to feed, Lumpia is your go-to. On the outside, the dish is ultra-crunchy yet insanely juicy, light, and tasty in the center. Set out a few trays of Lumpia at your holiday party table and watch them disappear in a flash!
Whip up Lumpia in a pinch with this easy tutorial!
Total time: About 2 hours 36 minutes
Healthy without sacrificing the big flavors, Buko salad is the Filipino recipe for health-conscious folks. Essentially a fruit salad, this lovely treat is filled with a medley of fresh fruits, cream cheese, condensed milk, young coconut, and nata de coco.
This tropical dessert is irresistible for anyone, especially sweet tooths. Tangy, sweet, and creamy, it's the perfect dish to serve after a meaty and heavy main course. Though primarily a treat during fiestas and celebrations, you'll want to make it all summer!
Total time: About 18 minutes
If you haven't tried the combination of macaroni and fruit, you're missing out! These two elements perfectly complement each other in a treasured Filipino dessert. From the basic recipe, it's so easy to tweak with other ingredients to suit your liking.
This delightful salad gets its crunchiness from veggies, its freshness from the harmony of fruits, and its extra-creaminess from macaroni. This concoction can be made in 15 minutes if you're in a rush.
However, with this fruit salad, it's better if you make it a few hours or one night beforehand, so you have time to refrigerate it. A bowlful of fresh and heavenly salad is something your family and guests won't miss!
Total time: From 45 minutes to 1 hour 20 minutes
Pancit Malabon owns its origin to the Malabon city, Metro Manilla. Considering that it's a place abundant with saltwater fish and seafood, it's so surprising that the main variety of seafood is the main topping of this dish.
The basic version of Pancit Malabon is a thick noodle recipe coated in a flavor-packed, orange-red sauce and loaded with toppings. This Filipino holiday dish is sure to win over the crowd, a delight to the eyes and a joy to the palate.
Similar to other Asian cultures, noodles represent long life and good health. With that in mind, this noodle dish is a staple at almost every Filipino celebratory event, including the Christmas season.
Total time: About 55 minutes
Hamonado is a Spanish word that merely translates to "be prepared like ham." But other than that, pork Hamonado also involves cooking the meat in pineapple juice and soy sauce. Other aromatic seasonings like garlic, bay leaves, and onions can also be added.
Flavor-wise, pork Hamonado carries a beautiful balance of saltiness and sweetness that you can never get enough of. This meaty course was once only served on Christmas and fiestas. However, it's not bizarre to see it in regular meals nowaday.
It's easy, simple, and a budget-friendly recipe without missing the flavors. No doubt, pork Hamonado and steamed white rice are a match made in heaven.
Pork Hamonado in a flash!
Total time: Fromm 21 minutes to 40 minutes
Camaron Rebosado, more commonly known as battered fried shrimps, is the ultimate finger food for any party. Asides from shrimps as its main component, this Filipino recipe also includes a batter made of tapioca starch, salt, pepper, and cold water.
Preparing Camaron Rebosado is as easy as coating each shrimp in the batter before frying it until golden brown perfection. This versatile recipe can be served as the ultimate Asian appetizer, finger food, or snack.
It's safe to say that this deep-fried shrimp recipe has the perfect texture: crunchy on the outside yet remaining soft and juicy on the inside. With the accompaniment of a sweet and sour sauce, the flavor has the right sweet touch to its delicate taste.
Total time: 1 hour 10 minutes
Nothing beats a steaming pot of chicken Afritada in those gloomy winter months. This Filipino chicken stew often has a medley of elements such as chicken, fish sauce, carrots, bell peppers, and onions, all stewed in a tomato sauce.
This hearty stew will wow the crowd whether cooked on Christmas or on regular days. Besides being a burst of beautiful flavors, chicken Afritada takes little to no effort to cook. All you have to know is to let it simmer away and stir it now and then.
Total time: From 20 minutes to 8 hours 30 minutes
Considered a holiday dish, Maja Blanca is an exquisite dessert primarily made from coconut milk, sugar, and cornstarch. The crunchiness of toasted toppings balances out the milky and smooth texture.
When it comes down to the flavor, Maja Blanca is truly heaven to your taste buds. It's delicate, super-creamy, and sweet without being overwhelming. It's commonly cut into square shapes before serving, creating an identifying look.
As complicated as it looks, this heavenly coconut dessert takes little time to come together if you don't count the chilling time. The secret to avoiding burnt patches at the bottom is to ensure the mixture is thick enough before you stop stirring.
Total time: 1 hour 30 minutes
In short, beef Kaldereta is a hearty recipe that many Filipinos take pride in. And that's for good reasons! The chockful-of-flavor stew consists of a harmony of vegetables and liver paste cooked in a tomato sauce for almost an hour and a half.
The result? A rich, delicious, and perfect dish for family gathering occasions. The addition of liver paste gives beef Kaldereta the unique identity that sets it apart from other stews. It creates an addictive richness and acts as a thickening agent for better texture.
I suggest cooking up some steamed rice while you're at it. Nothing beats a bowlful of rice with a savory beef stew. You can carry out this recipe using an oven, a stove, or even a slow cooker. It's up to you!
Get A Filipino Taste Without A Trip ASAP!
Whether you're craving some Filipino dishes or preparing for a hectic celebration, these Filipino holiday recipes will take the stress off your shoulder. If you're not in the Philippines, the best way to get a good taste of these foods is to cook them yourself!
That's right. Most ingredients are likely available at your local market, albeit with some authentic elements. And the process shouldn't be too tricky. Some viands indeed need the labor of love and patience to achieve the best result; everything is worth it.
What are you hesitating for? Get to the kitchen and make your delicious Filipino food bowl now. If you have any questions or experiences to share, I'm our ears. Make sure that your friends get this too by sharing this blog!
Nutrition Facts
4 servings per container
---
Amount Per ServingCalories505
% Daily Value *
Total Fat 22g

34

%
Cholesterol 358mg

120

%
Sodium 1375mg

58

%
Potassium 837mg

24

%
Total Carbohydrate 29.2g

10

%

Dietary Fiber 2.5g

8

%
Sugars 13.7g

Protein 47.1g

94

%
---
Calcium

192

%
Iron

4

%
Vitamin D

24

%
* The % Daily Value tells you how much a nutrient in a serving of food contributes to a daily diet. 2,000 calories a day is used for general nutrition advice.