What does fish sauce taste like? Over the years, many who know of fish sauce also ponder the same question. You may hear your Asian friends like the flavors of fish sauce, and they recommend you to try it to know its flavors.
However, you may get put off by the smell. You may be too afraid to get a bottle of fish sauce from the shelf of the local Asian store. You need to know what the exact flavors of fish sauce are before trying it.
Worry not, in this article, that is what I'm going to do for you. I'll explain to you the different tastes of fish sauce as clearly as possible so you can determine whether to try this particular sauce or not.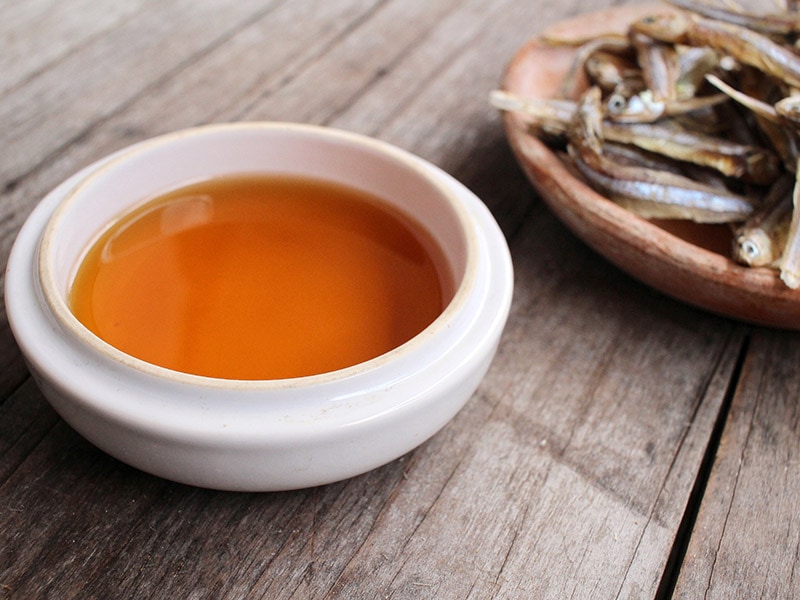 So What Is The Taste Of Fish Sauce?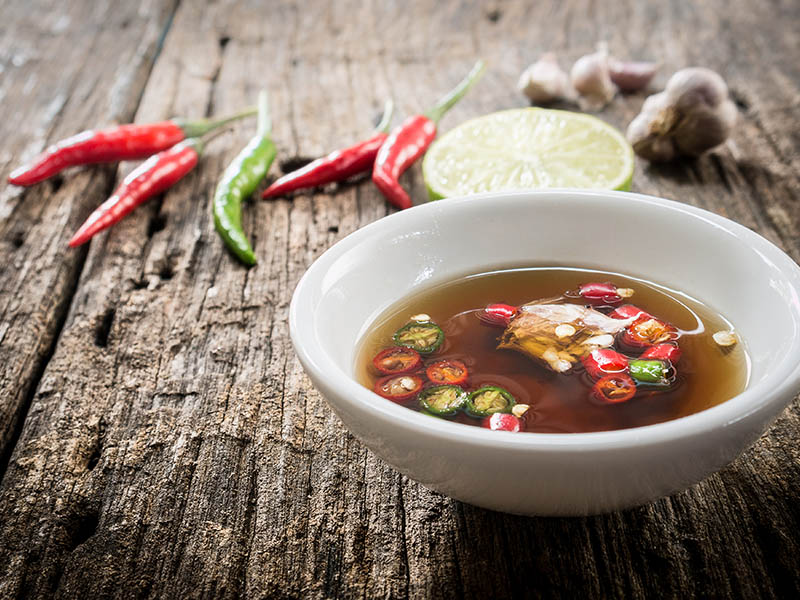 With how common it is to compare oyster sauce against fish sauce, is it true that these two famous Asian are similar? Find out the answer to your many questions regarding fish sauce by checking out what this condiment is about!
Generally, fish sauce as a condiment tastes amazing. It is savory, salty, full of umami and fishy flavors. You don't normally consume fish sauce directly. The sauce is often used to enhance other foods, and it is good at its job.
Fish sauce is salty, that's for sure. However, it is more than just salty fish juice. Good fish sauce doesn't smell fishy at all. It looks clear and tastes wonderful.
However, fish sauce is infamously pungent with the smell of fish. That strong odor is why many people know it but still decide not to try it. However, if you ever had any Southeast Asian dishes, you may have had fish sauce without knowing.
There is not much difference in flavors between fish sauces from different regions. You can interchange them between recipes, and unless you're a connoisseur of Asian condiments, you wouldn't notice a change.
What is Fish Sauce Anyways?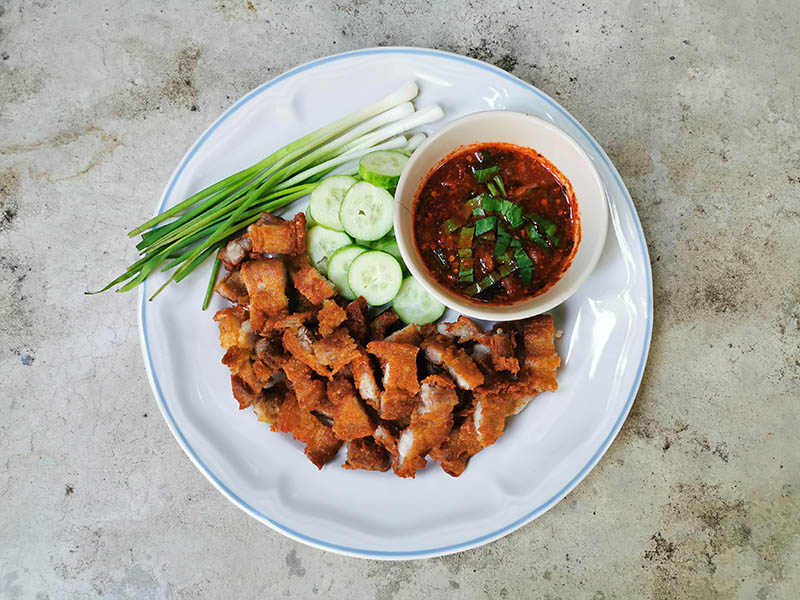 Fish sauce is a popular condiment in various countries of the world, especially those in Southeast Asia. It has many uses in plenty of Asian cuisines, like prominent dishes from Vietnam, Thailand, and the Philippines. It can also be used in Western cuisines as well.
As the name implies, this famous sort of sauce is made from fish, with a lot of salt. Therefore, it is salty and filled with the umami-ness of the fish. This is what makes it a great additional ingredient for many different dishes.
You can always see fish sauce at your local Asian store, or even in most supermarkets nowadays. It is a dark liquid, bottled in either glass or plastic bottles. You may find fish sauce similar to Worcestershire sauce in this regard.
How Fish Sauce Is Made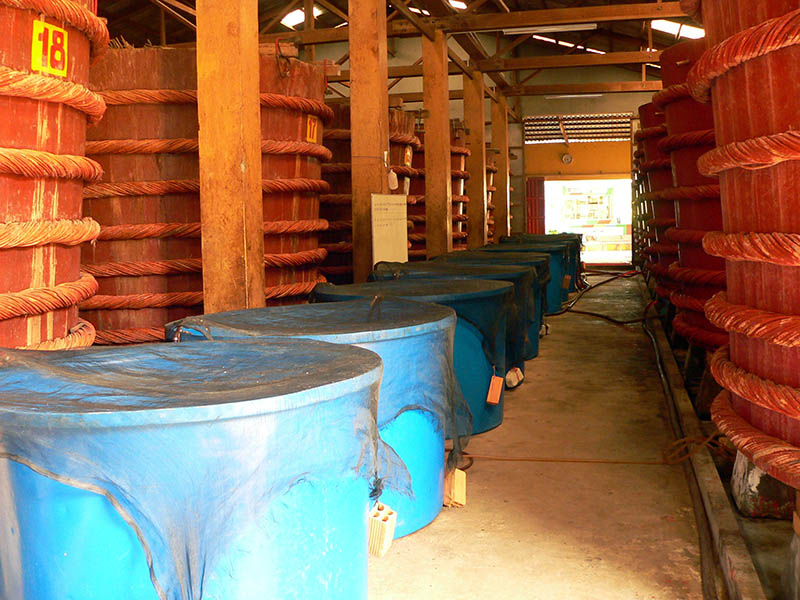 I will let you have a glimpse into the process of making fish sauce. In theory, it is fairly simple. Fish is loaded into a container along with salt. Then, it is packed layer by layer with salt in-between to maximize efficiency.
The fish inside the container will be fermented with salt. The result is the dark brown liquid dripping out from the container, which is the condiment we're talking about. Some manufacturers even add some additives and preservatives to the finished product.
The general time frame for making each batch of commercial fish sauce is 2 years (1). In reality, you can ferment fish to make fish sauce for as long as you like at home. Don't worry about the possibility of fish sauce going rancid, it's unlikely for the sauce to go bad during the fermentation process.
3 Different Types Of Fish Sauce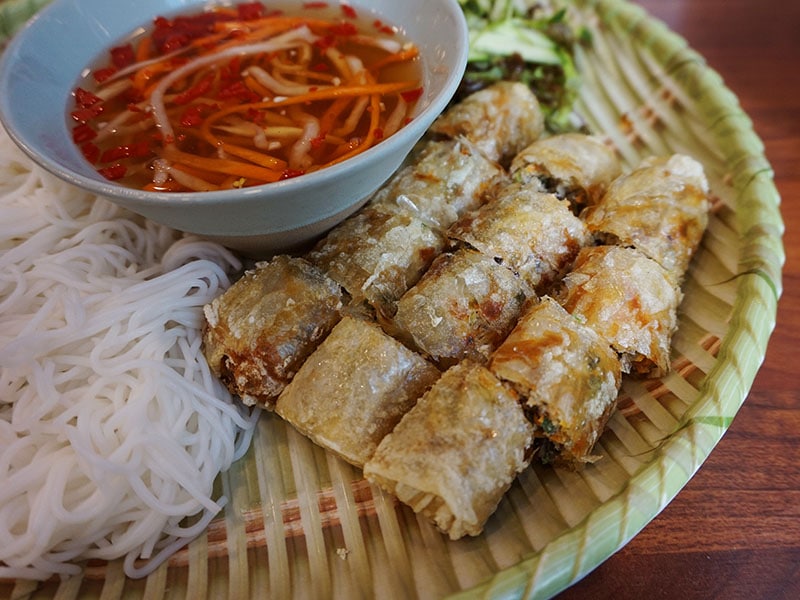 Not every fish sauce tastes the same. Each brand has its distinct flavors, and the type of fish also influences the final taste of the sauce.
Although all types of fish sauces have some similarities in flavors, they can have different names. Based on their origins, fish sauces can have 3 different names based on the country that it is made in.
1. Nam Pla
Nam Pla is the fish sauce used in the cuisine of Thailand, a country in Southeast Asia. The name is literally translated to "fish water". Nam Pla is usually made with anchovies and salt. Generally, this Thai fish sauce is saltier and smells stronger than other variants of fish sauce.
2. Nuoc Mam
This is the name of fish sauce in Vietnam, another country in Southeast Asia. Just like that of Thailand, this Vietnamese variant of fish sauce is also made with anchovies and salt. Its smell is milder compared to Nam Pla.
Regions in Vietnam produce different types of fish sauce based on fish availability and other factors. The best Nuoc Nam is publicly accepted to be from Phu Quoc, an island to the south coast of Vietnam.
Some Vietnamese brands also include the level of nitrogen in their product on the label. This number indicates the quality of the fish sauce. Better fish sauce has a higher nitrogen degree than others.
3. Patis
Patis is the Filipino variant of fish sauce, and it is an essential food in Filipino cuisine. It is made as a by-product of fermented fish or bagoong. Because of this reason, Patis takes longer to make than other types of fish sauce.
Unlike other fish sauces which are usually consumed raw, Patis is always cooked before eating. This applies to every dish, even when it is used as an accent for salads.
What Can You Use Fish Sauce For?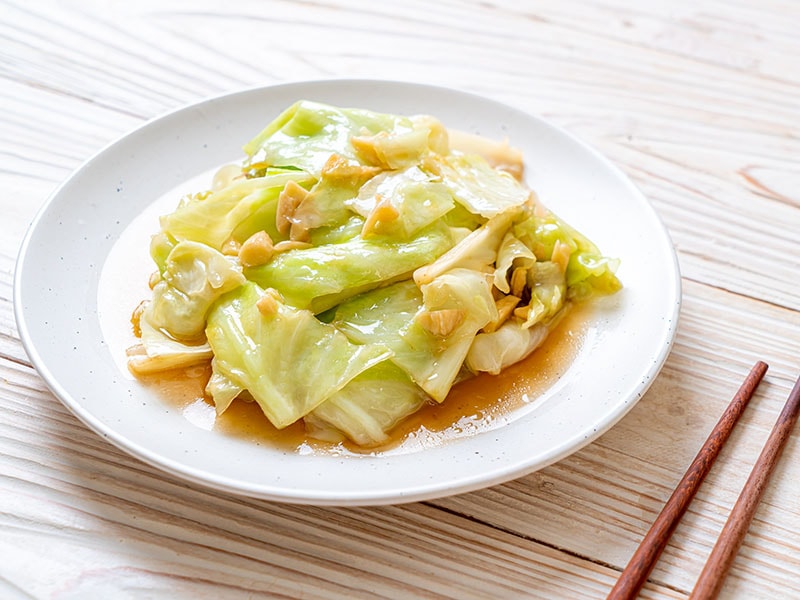 Fish sauce is an absolute treasure of the culinary world. It has such a distinct taste but can still be so versatile in cooking. You can add fish sauce to anything and it will taste better. Here are some ways you can use fish sauce to improve your eating experience.
Fish Sauce As A Dip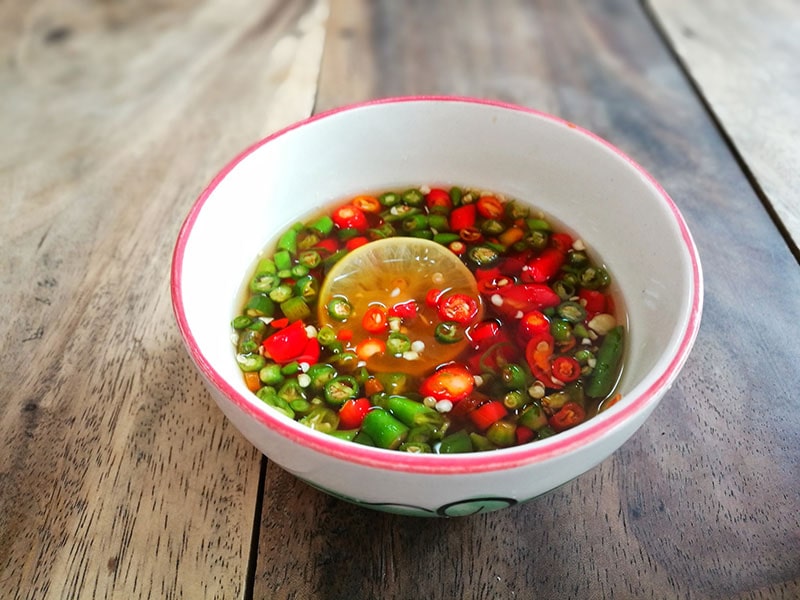 Fish sauce is a great dip for any meat or vegetable dish. It adds an extra layer of natural flavor to the food. However, most people usually mix more things into the sauce to make its flavor profile more complex.
A must-try recipe that stems from Vietnamese cuisine to make the fish sauce taste better includes sugar, garlic, and chili. This combination is called Nuoc Cham in Vietnam, and it's a sweet and savory dip that is aromatic and not fishy.
Fish sauce as a dip goes well with boiled dishes and other bland food that may require an additional push in flavors.
Marinate Your Food With Fish Sauce
In Southeast Asia, fish sauce is often used to marinate different types of meat. This includes chicken, pork, beef, and any other meat you can think of.
Fish sauce can enhance the original flavors of other foods pretty well. So when you let it soak into the meat, their tastes are increased to another whole new level.
In Vietnam, a famous dish called Bun Thit Nuong (Vietnamese grilled pork) makes perfect use of this technique. The next time you have a BBQ party, consider adding fish sauce to your need-to-buy list.
You can marinate steak with fish sauce instead of salt to reduce sodium.
Cook With Fish Sauce
You can also use fish sauce in cooking as an alternative to salt. (2) Fish sauce is full of flavors, which can enhance your dish better than basic ingredients like just salt and pepper.
Add fish sauce to your stew or noodle broth. You can't really smell or taste the fish sauce when it's in the pot, but a stew with fish sauce will definitely taste better than before.
You can also make use of its umami in fried rice. Instead of salt, add a teaspoon or two of fish sauce to the pan while the food is cooking. Its depth of flavor also works well as a glaze for other fried dishes. The outcome will absolutely please your palate.
You can use fish sauce to make tasty glazed fried chicken.
Add Fish Sauce To Other Sauces
I'm sure you're familiar with Bolognese sauce. Mix in 2-3 teaspoons of fish sauce to make it even more savory. Another similar candidate is BBQ sauce. You can't really go wrong with fish sauce when it comes to these savory sauces.
This BBQ sauce tutorial uses fish sauce as one of the ingredients.
Use Fish Sauce As A Dressing
You can use fish sauce to give your salad a bit more of a twang. Fish sauce can provide a great boost of flavors for your favorite starter. In Vietnamese cuisine, fish sauce is also used as a base in salad dressing.
However, you can also add fish sauce to Western dishes like coleslaw. Just add a tablespoon when you're done adding other ingredients. It may sound weird, but I guarantee you that it will taste good.
Check out this guide to make a tasty fish sauce dressing for your salad.
Tips To Choose The Best-Quality Fish Sauce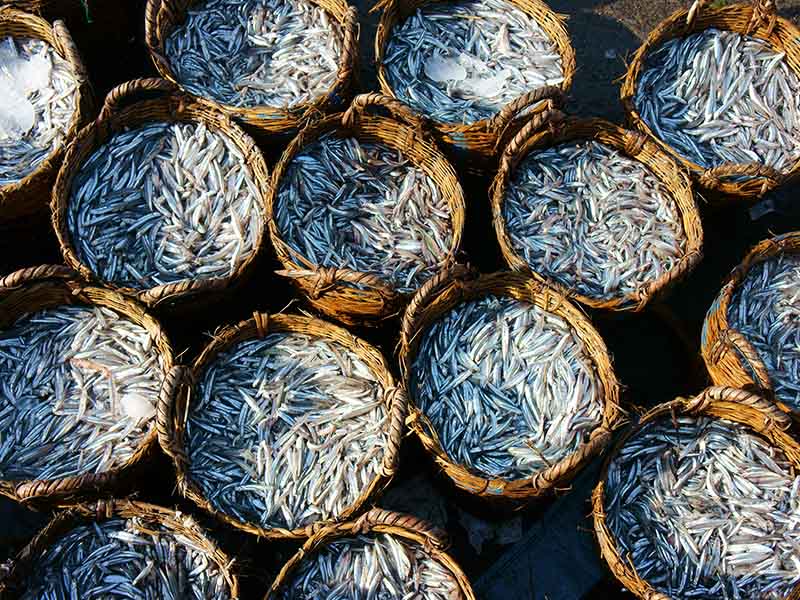 Fish sauce is a delicious and versatile ingredient. It can be used in many ways to improve your culinary experience. With that in mind, I'm going to give you some more tips to enjoy fish sauce better.
Fish sauce from the first draw tastes better. You can read the label to find out whether the fish sauce you intend to buy is from the first draw. It should have a more concentrated taste that is sharp and full of umami.
Check the quality of the fish sauce by adding a few drops onto your finger. Premium fish sauce is thick and should stick to your finger a little.
Fish sauce made out of anchovies is less salty. It also has a nice distinct aroma that sets it apart from other types of fish like mackerel and scabbard fish.
When you buy fish sauce, choose the bottles with only natural ingredients. This means that the ingredient list should include only names you recognize: fish and salt. There should be no extra preservative that can alter the original flavors of the fish sauce.
Check where the fish sauce was bottled. Besides ingredients, the location also determines the quality of fish sauce. For example, in Vietnam, Nuoc Mam from Phu Quoc usually has the best quality compared to that of other regions.
Remember that fish sauce can have different degrees of concentration. If you want to use it for cooking, choose a low-degree bottle. If you want to use it as a dip, high-degree fish sauce is a better option.
FAQs
I'm sure by now you can somewhat imagine the taste of fish sauce. However, I'm sure you still have more to ask about this staple ingredient of Southeast Asia. Here is a list of popular questions and their answers regarding fish sauce for you to satisfy your curiosity.
Fish Sauce Adds An Extra Layer Of Wonderful Flavors
Fish sauce is one of the few dominant ingredients in the culinary world. I hope that by reading this article, you have realized what fish sauce can taste like. If you currently don't have fish sauce, don't be afraid to get your family a bottle.
I'm sure that as you get used to its taste, fish sauce will become a staple in your own kitchen. From making broth, stew, or pasta, you just need a few drops of fish sauce to take it to the next level.
Don't forget to leave a comment if you find this article on fish sauce useful. If you have any more tips about fish sauce you can share, feel free to inform all of us food enthusiasts reading.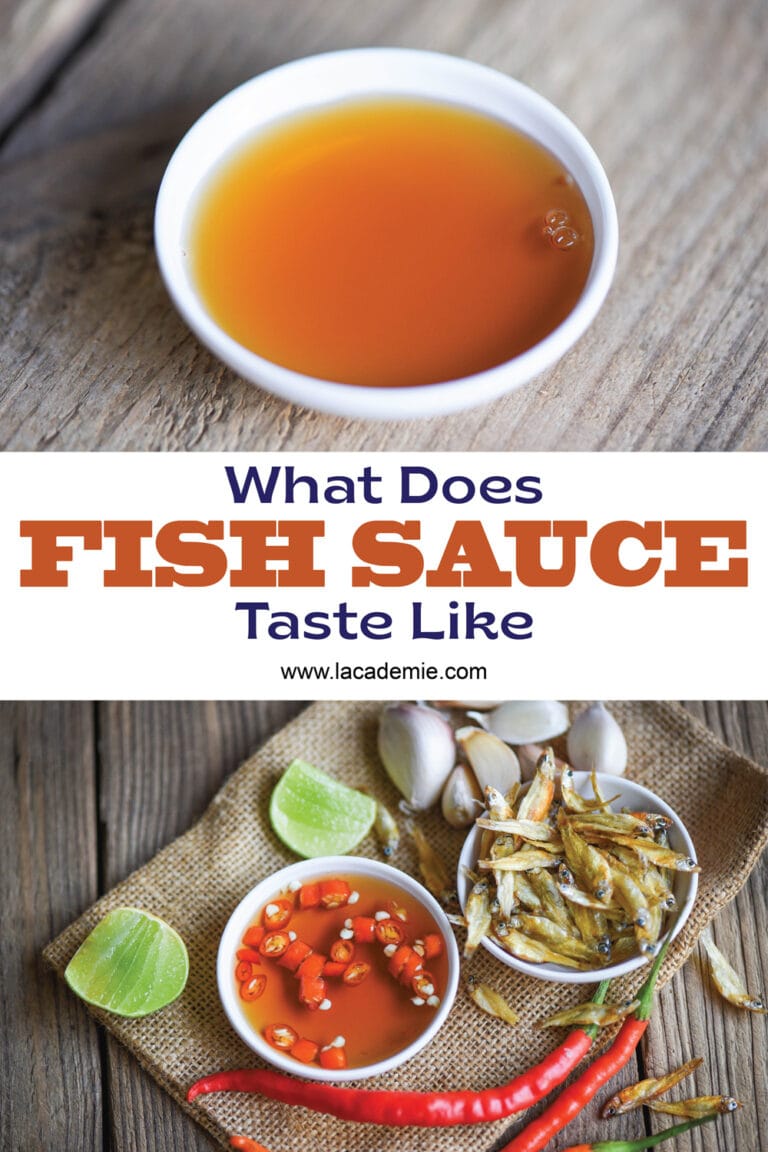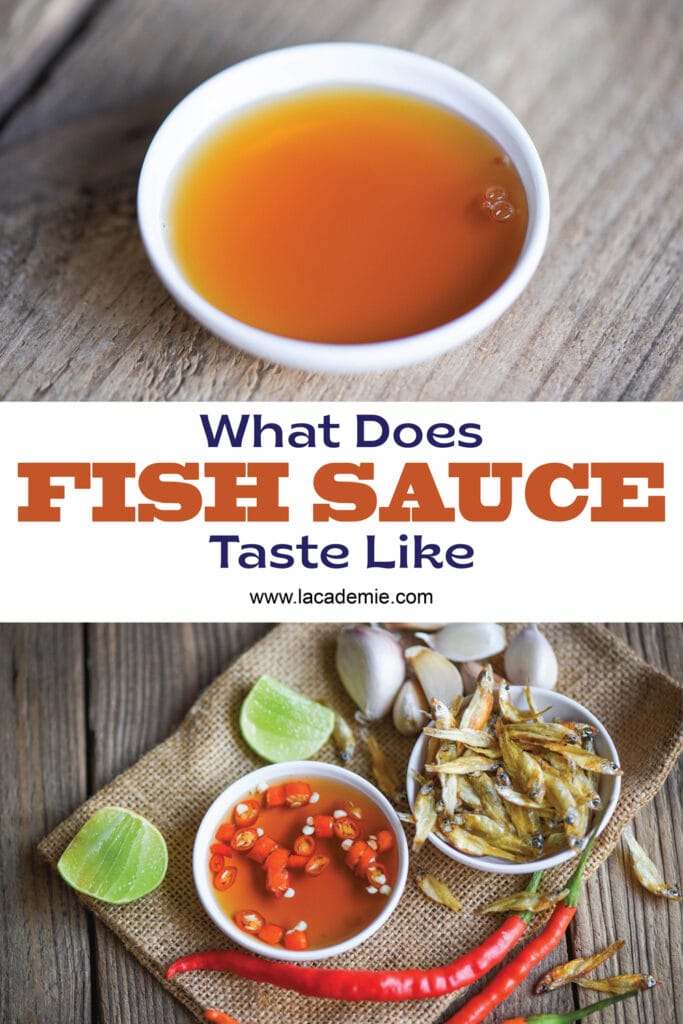 References
Foods, N., 2021. Fermented Fish Products in the Philippines.
sciencedaily.com. 2021. A new alternative to sodium: Fish sauce.