Vietnamese fried tofu in tomato sauce is what I consider the perfect dish for a family meal, and I believe that many Vietnamese people will agree with me on this. Why is that? Well, it only asks for easy-to-find ingredients and is quick to make. Yet, the result won't let you down.
Tofu is a versatile ingredient, and with this health-giving Vietnamese recipe, your tofu will taste better than ever. The golden fried tofu is bathed in a tomato-based sauce that balances sweet and savory, creating a phenomenal dish everyone will enjoy. Let's learn how to make this Vietnamese classic today!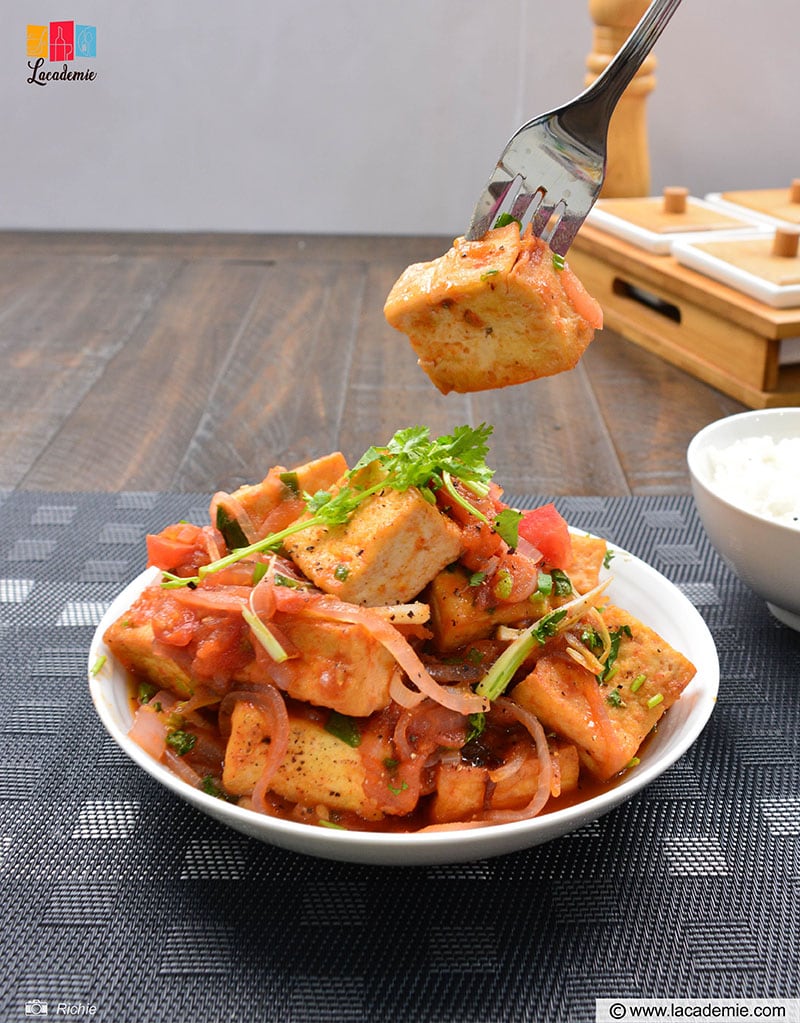 Dau Hu Sot Ca Chua – A Family Meal Staple
If you grew up in a Vietnamese household, you have undoubtedly had Dau Hu Sot Ca Chua more than a dozen times. Since the dish is so easy and quick to make, yet packed with flavors, it's the ideal choice for a family meal on busy weekdays.
Essentially, this Vietnamese staple is a combination of fried tofu, tomato sauce, and a couple of simple seasonings. Although it's not the most complicated dish in Vietnamese cuisine, the charm actually lies in its simplicity.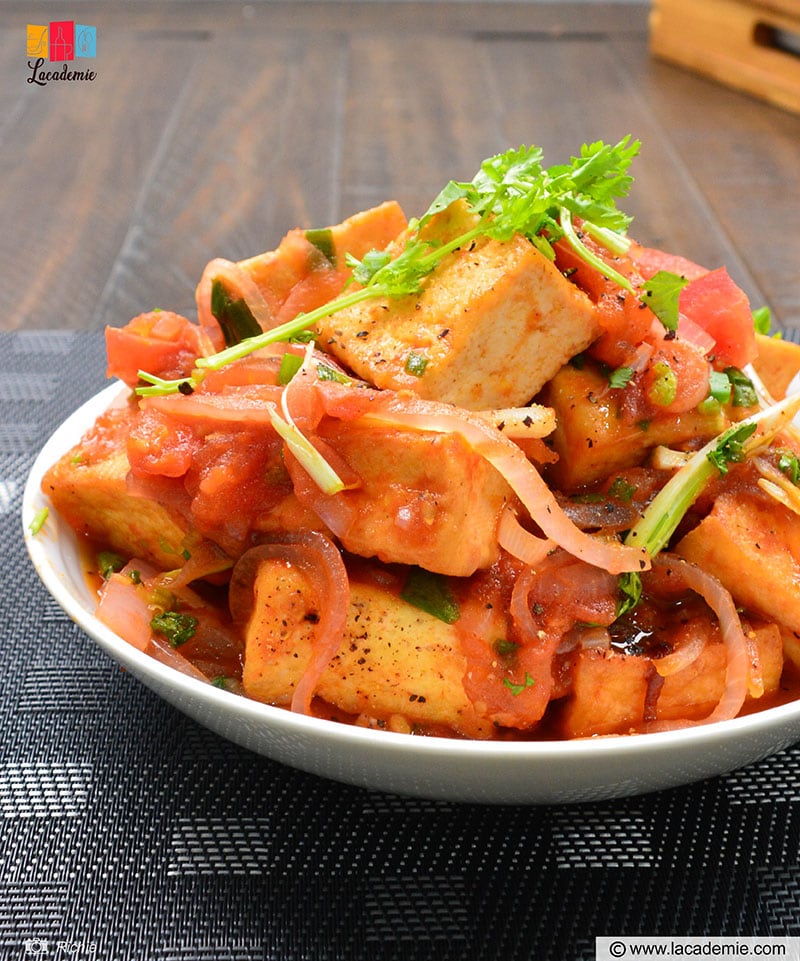 The sauce, in itself, is a gem. Try pouring it on hot rice to enjoy a remarkable upgrade in flavor! Once you have mastered the Vietnamese way of making Sot Ca Chua, you can also use it to whip up many great dishes, such as Ca Thu Sot Ca Chua (mackerel in tomato sauce).
Moreover, if you think that tofu is bland and flavorless, this dish will completely change your mind. As you cook the tofu, it will quickly absorb the tomato-based sauce and become irresistibly delicious.
Tools
Having the right tools can make your cooking experience a lot smoother. I've rounded up all the required kitchen tools for the recipe in this section. Check them out.
Knife and chopping board: Help you do all the cutting and chopping.
Frying pan: Preferably non-stick and with a lid.
Tongs: For turning the tofu.
Wooden spoon: For stirring the ingredients.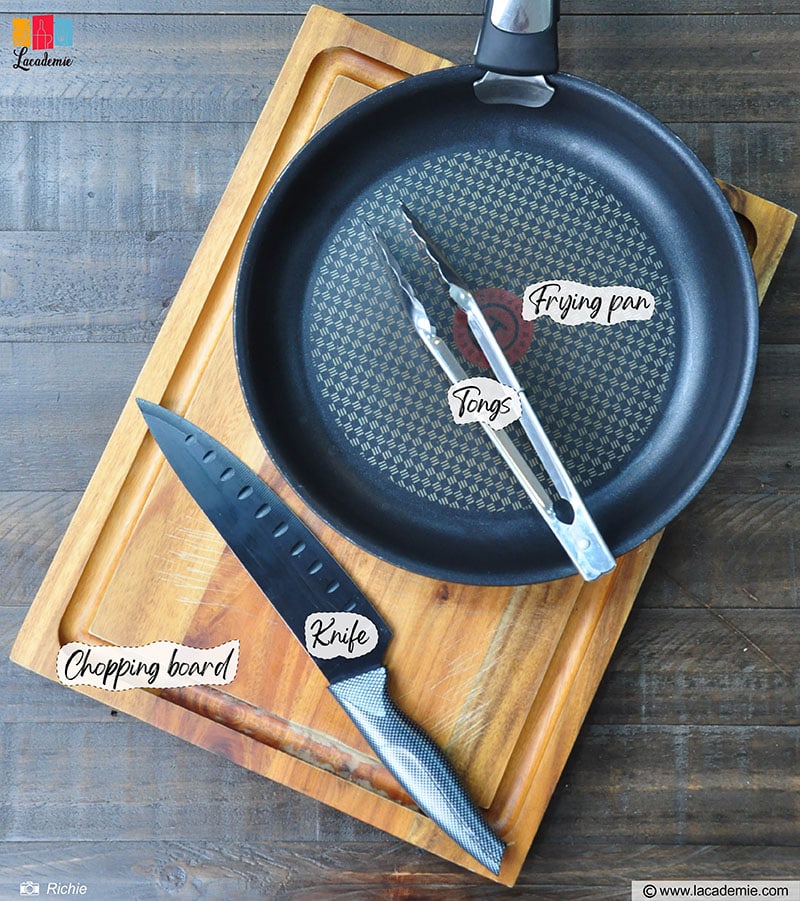 Ingredients
Simplicity is one of the many reasons for Dau Hu Sot Ca Chua's popularity. As such, this recipe doesn't require any hard-to-find ingredients.
Tofu: I recommend firm or extra-firm tofu.
Tomatoes: Use about 2 medium-sized tomatoes.
Red onion: White onion or other kinds are also great choices. However, I like the mild and slightly sweet flavor of red onion best.
Herbs: Cilantro and scallions.
Spices and condiments: Soy sauce, oyster sauce, ketchup, brown sugar, salt, and pepper.
Water: The liquid base for the sauce.
Vegetable oil: For frying.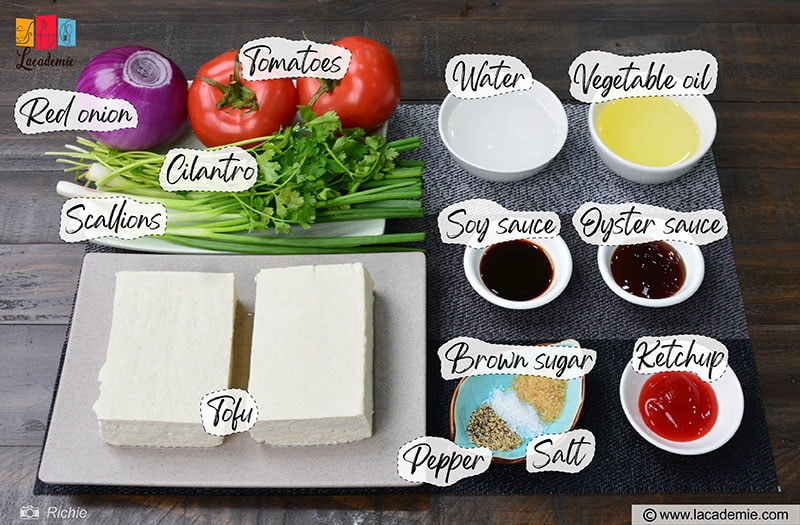 Directions
Now that you've gathered every necessary tool and ingredient, let's get to the recipe. A yummy meal is coming your way!
Step 1: Prepare The Ingredients
Remove the moisture from the tofu blocks by pressing them with paper towels. Then, cut them into bite-sized pieces.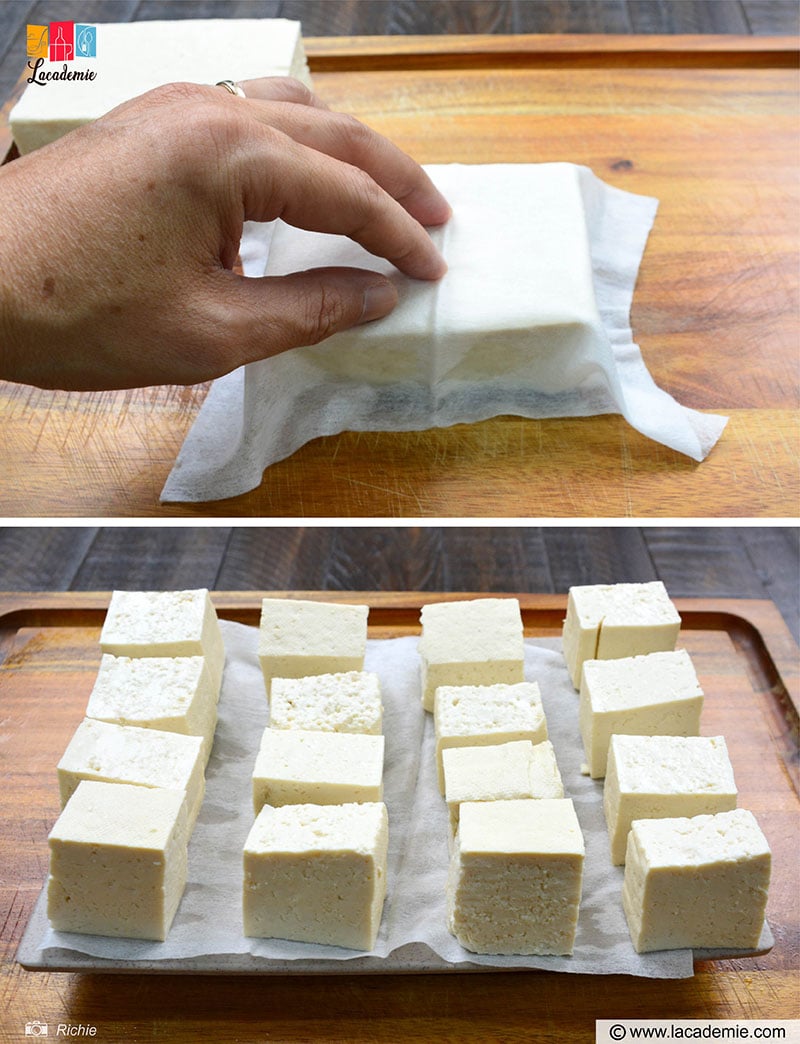 Cut the tomatoes into pieces.
Thinly slice the red onion or cut it into wedges.
Chop the scallions and cilantro thinly. Alternatively, julienne the scallions with the roots intact.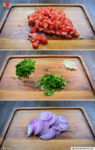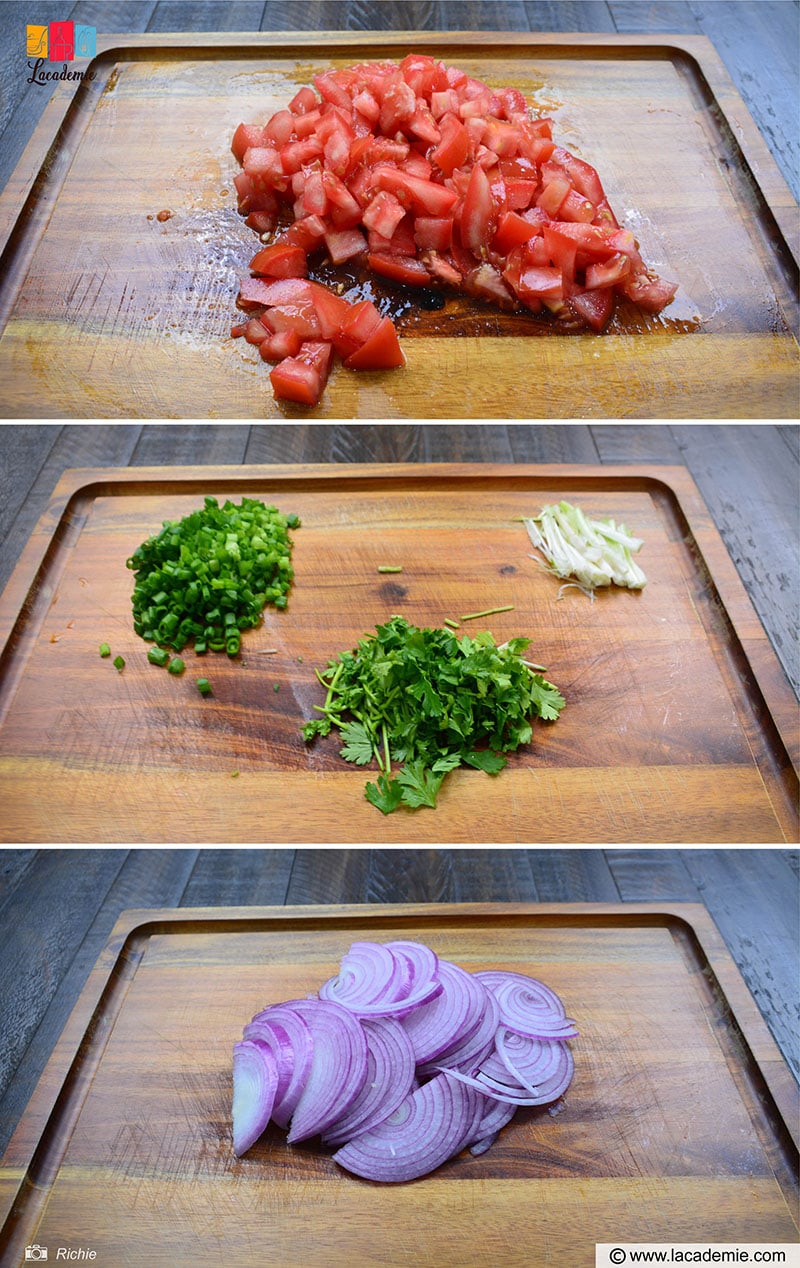 Step 2: Fry The Tofu
Add oil to a heated pan. Once the oil is heated (it doesn't have to be smoking hot), place the tofu into the pan, piece by piece.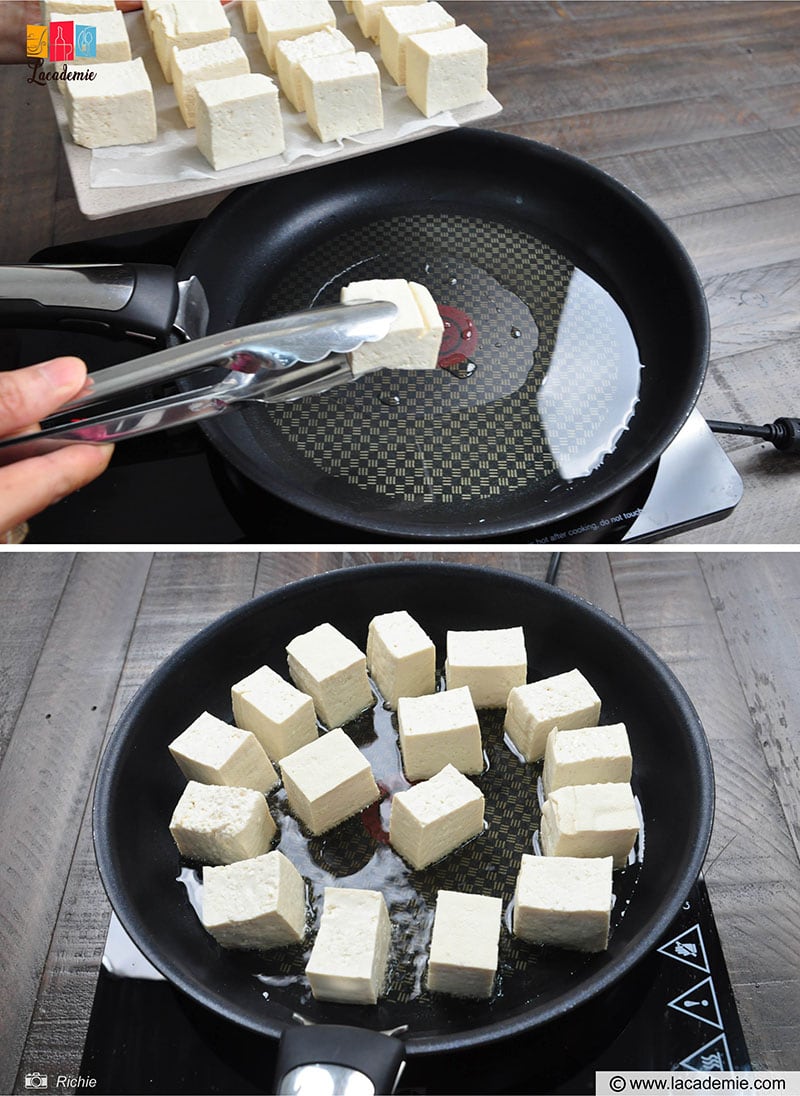 Fry the tofu over low heat. Gently turn the tofu pieces during cooking. Fry them until golden brown on all sides. Remove the tofu from the pan and set aside.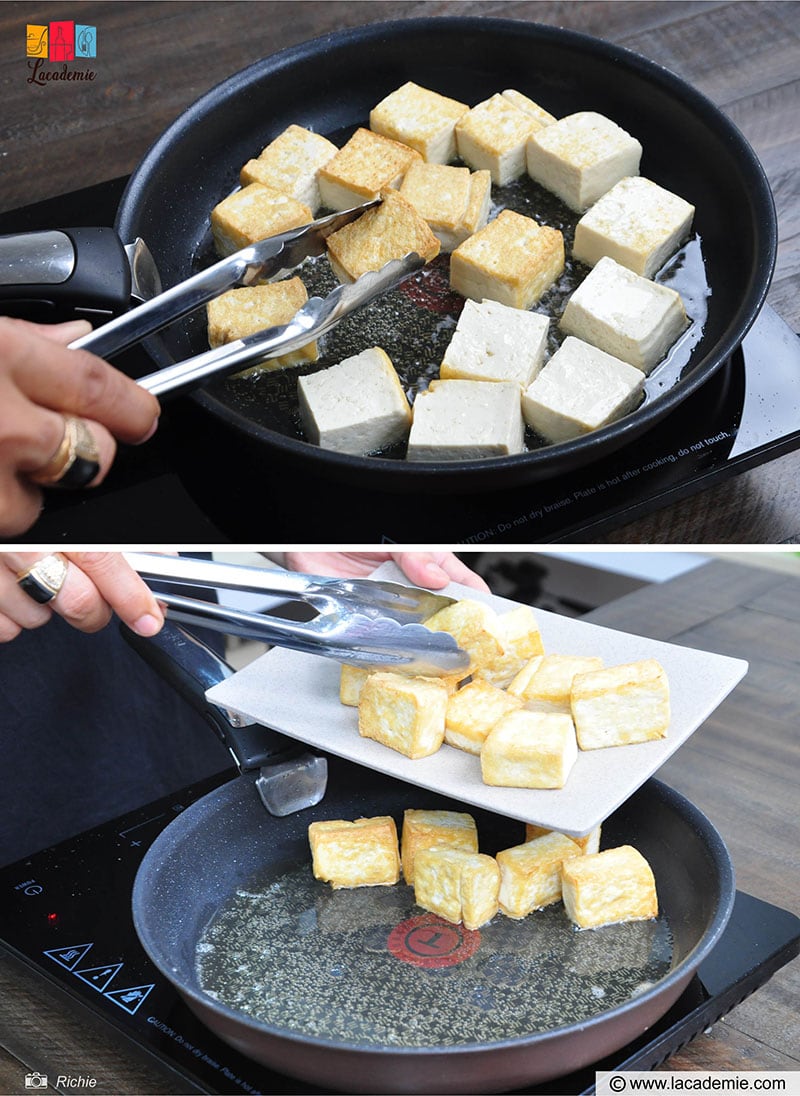 Step 3: Make The Sauce
Heat a little oil and add the red onion. Stir the onion slices briefly. Then, add the tomatoes and stir well.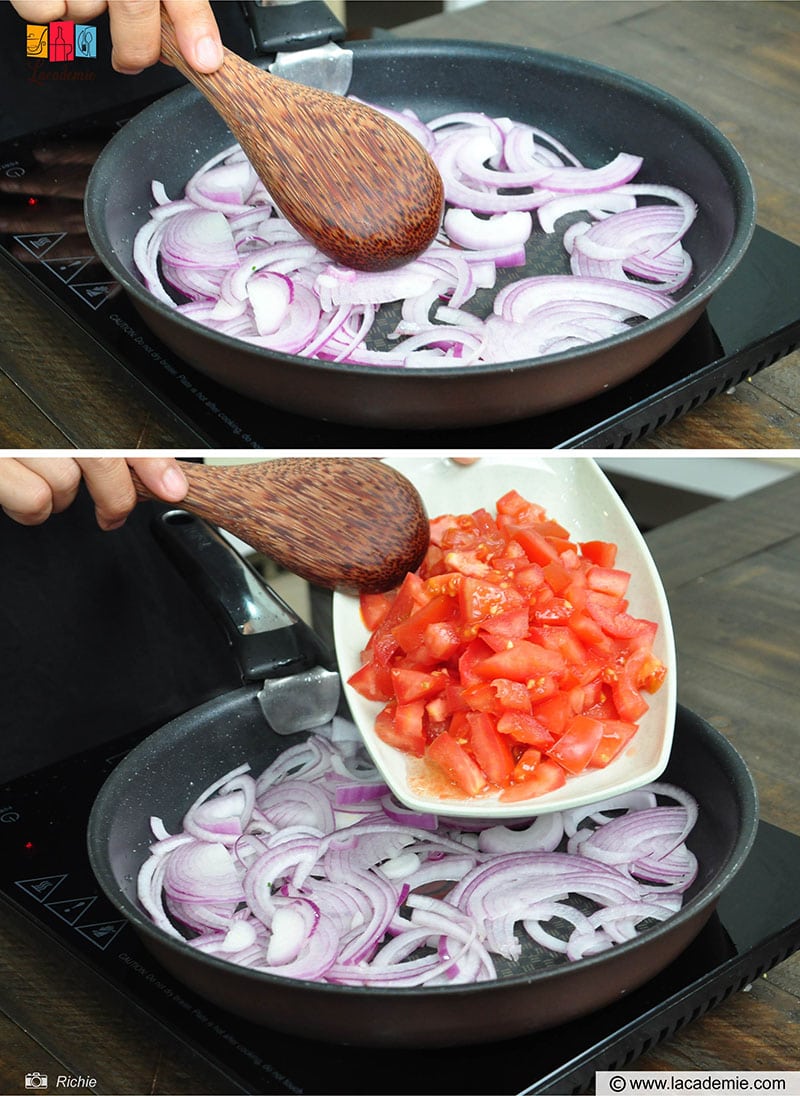 Pour in water and season the mixture with salt, pepper, ketchup, soy sauce, and oyster sauce.
Cook for 2 to 3 minutes to soften the tomatoes and infuse the sauce with the spices.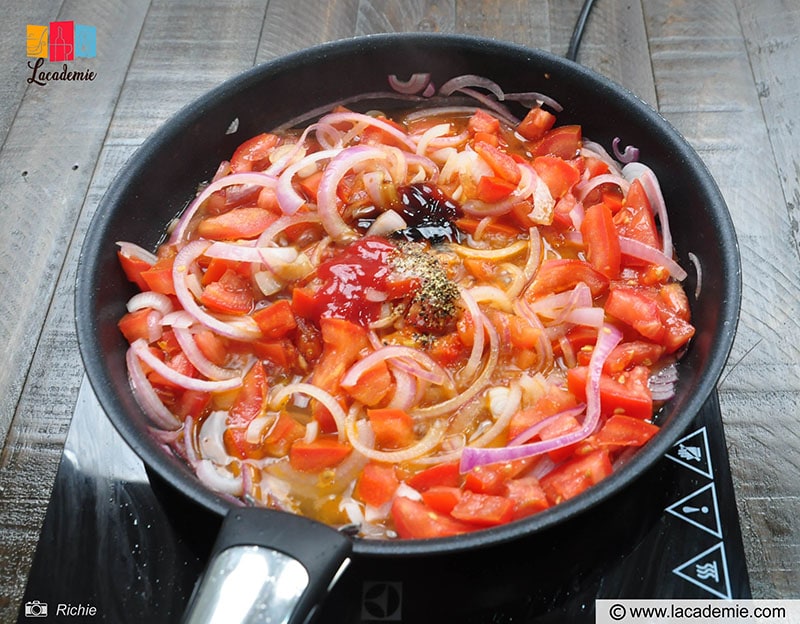 Step 4: Add The Tofu
Add the tofu to the sauce. Stir gently so as not to break the tofu.
Cover the pan and cook for 5 minutes (or until the sauce thickens a little) over low heat.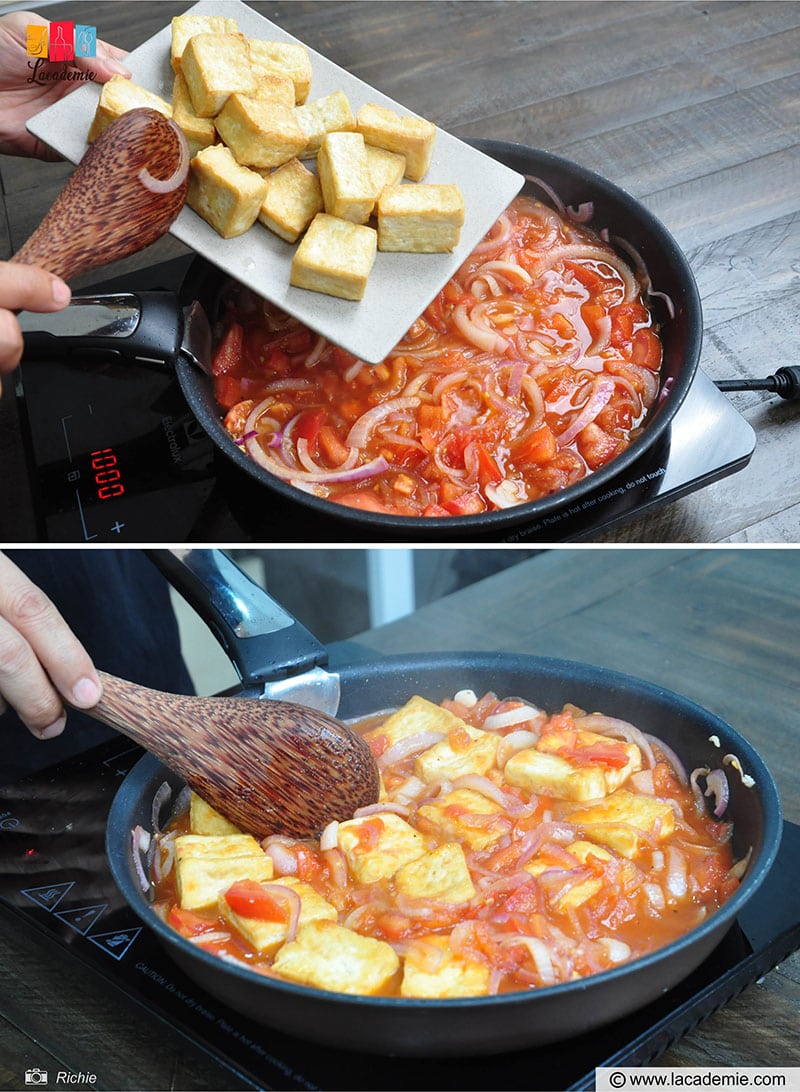 After about 5 minutes, sprinkle the scallions and cilantro on top. Turn off the heat.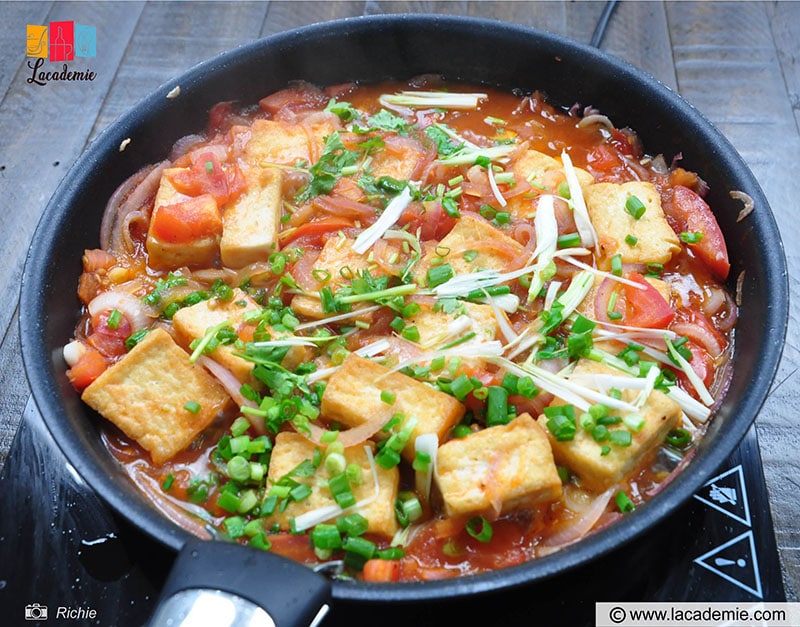 Step 5: Present The Dish
Transfer the tofu pieces to a plate and sprinkle some ground pepper over them. Serve them with hot rice. Remember to spoon the sauce over the rice for the best flavor!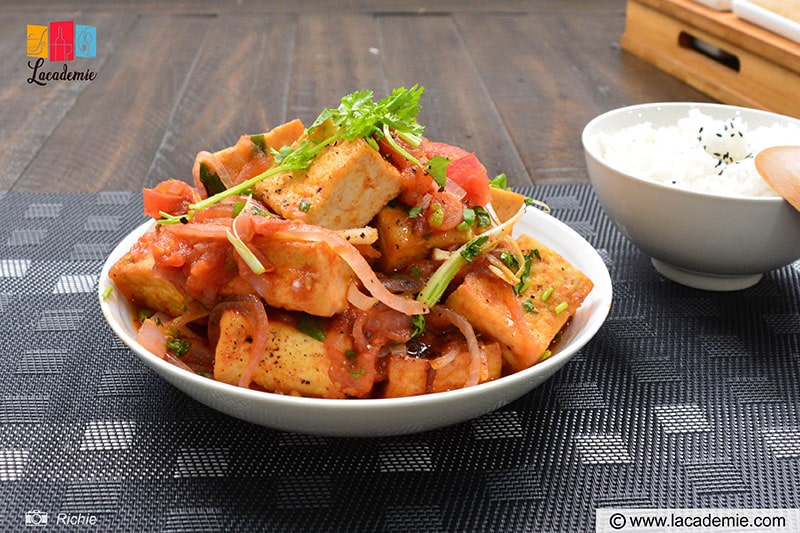 Notable Tips
Here are some worth-knowing tips you can use to make the cooking process smoother and change up the dish. Give them a read!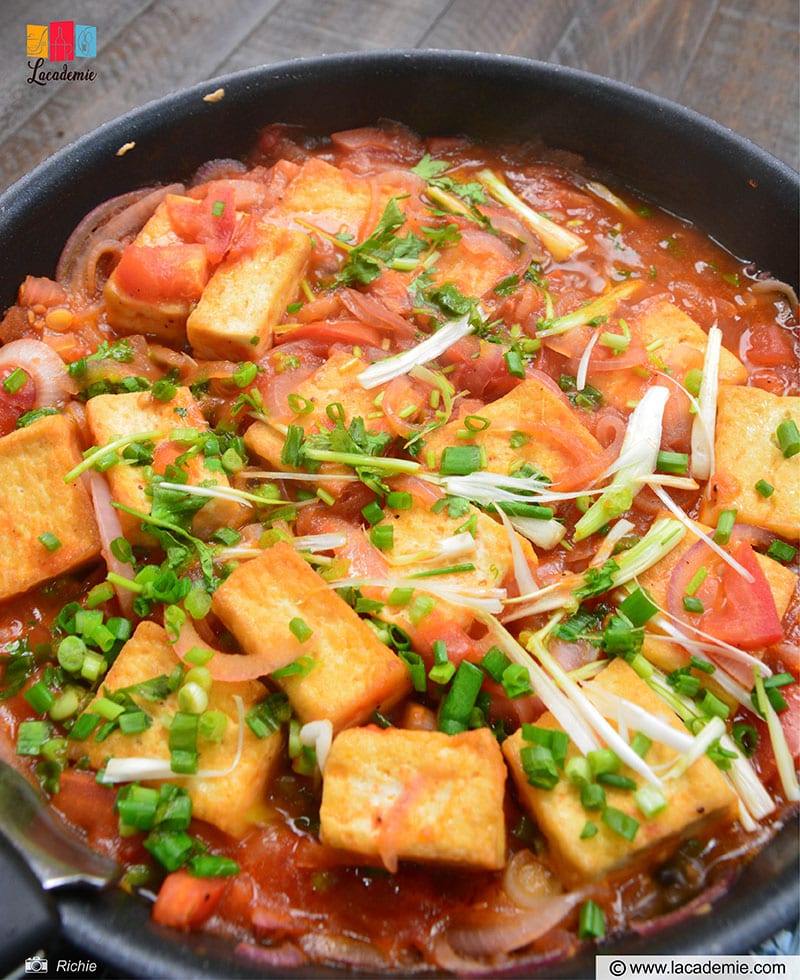 Always remove the moisture from the tofu before frying to prevent oil splattering.
Pre-fried tofu is a decent choice if you want to save time. However, I recommend frying your tofu for the best-tasting dish.
Keep the heat at low or medium-low. Otherwise, the oil might splatter during frying.
You can turn Dau Hu Sot Ca into a vegan-friendly Vietnamese recipe by replacing regular oyster sauce with the vegan, mushroom-based version.
Don't be hesitant to adjust the seasonings to your liking.
This dish will taste even better when you serve them with lettuce or other vegetables on the side.
Have A Delightful Meal With Today's Recipe!
Dau Hu Sot Ca Chua is a homey and delicious dish that always brings joy when appearing on the dining table of Vietnamese families. Plus, it is super easy to whip up and packed with nutritious ingredients, making it an ideal choice for any occasion.
Are you a fan of Vietnamese delicacies? When do you plan to cook this recipe for your loved ones? Please drop by the comment section and leave your answers and feedback there. Also, don't forget to spread the love by liking and sharing today's post!
Nutrition Facts
3 servings per container
---
Amount Per ServingCalories193
% Daily Value *
Total Fat 8.2g

13

%
Sodium 1472mg

62

%
Potassium 787mg

23

%
Total Carbohydrate 17g

6

%

Dietary Fiber 5.1g

20

%
Sugars 8.7g

Protein 18.2g

36

%
---
* The % Daily Value tells you how much a nutrient in a serving of food contributes to a daily diet. 2,000 calories a day is used for general nutrition advice.