If you've never tried making these Swiss recipes at home, prepare yourself for a delightful treat. Boasting mind-blowing flavors, these Swiss dishes are much easier to prepare than you may think. Follow the recipes listed here, and you'll have the perfect meal with Swiss dishes.
If you don't pay much attention to other countries' cuisine, you probably don't know that Switzerland has a lot of delicious dishes. Sure, you can get Swiss takeout, but nothing can beat the wonderful experience of making Swiss dishes at home.
I know; it can be hard to replicate something you've never tasted before. However, with these simple Swiss recipes, you'll be able to make authentic Swiss dishes even without any prior experience. So, let's check out these delicious and simple Swiss recipes.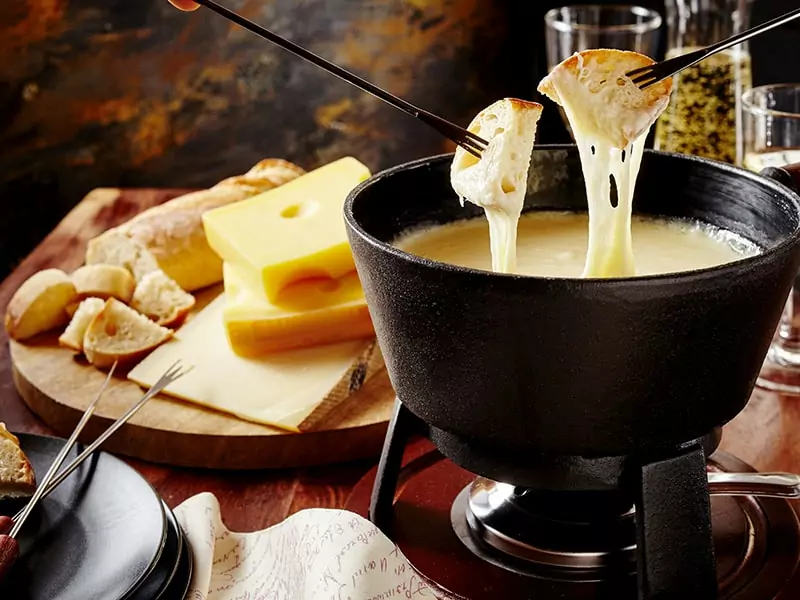 The Best Swiss Recipes That You'll Love
Without further ado, below are the best Swiss recipes you can make right at home. Don't be afraid to give them a try, as they're swoon-worthy dishes.
Main Course
Swiss Steak
Caramelized Onion And Swiss Cheese Quiche
Saffron Risotto
Bircher Muesli
Swiss Meat Pie (Churer Fleishtorte)
Swiss Potatoes
Zurich Ragout
Side Dishes
Bacon, Onion, Raclette Potato Gratin
Potato Rosti
Butterzopf Bread
Swiss Beer Bread
Cheese Fondue
Hot Ham And Cheese Dip
Desserts
Swiss Apple Pie
Spitzbuben
Chocolate Swiss Meringue Buttercream
Swiss Walnut And Chocolate Cake
Swiss Mocha Coffee Mix
Top Classic Swiss Recipes To Sate Your Appetite
You should try out at least one of these top Swiss recipes, especially whenever you're at a loss for what to prepare for dinner. Buckle up and get ready!
7 Savory Swiss Recipes To Prepare Main Course
These Swiss recipes will help you make your weekly meal rotation more diverse and exciting. With the easy recipes below, you'll definitely succeed in preparing the main course made of just Swiss dishes alone.
Oozing with complex taste and colors, Swiss steak has a tender texture that seems like it can melt in your mouth. The thick and hearty tomato-based gravy that goes with Swiss steak gives it an extra burst of flavors that will surely impress even the pickiest eater.
If you like your steak extra tender, be sure to use cube steaks, which are steaks that have been softened with a premium tenderizer specifically designed for meat.
Although the features of meat tenderizers allow you to soften your hard meat, it's still essential that you refrain from frying the steak for too long, as it can make the meat hard and chewy.
Take a trip to Switzerland by learning how to cook authentic Swiss steak.
This eye-catching quiche is made with high-quality Swiss cheese, white onions, crispy bacon strips, and hearty, heavy cream. The combination of shredded cheese and heavy cream lends this dish a robust flavor with subtle nutty notes.
The beautiful thing about this caramelized onion and swiss cheese quiche is that it can be served with many different side dishes. The most compatible dish for this Swiss quiche is lemon buttermilk scones, but fresh fruits and homemade strawberry jam pair well with this too.
Even though risotto is more widely associated with Italy, there's no denying that many parts of Switzerland adore this dish. While saffron risotto is clearly Italian-inspired, it still has its distinct Swiss flavors, especially with its pronounced aroma from wine.
Requiring less than 30 minutes to prepare, saffron risotto makes a hearty main dish. You can even prepare some other side dishes with this risotto to warm you up during the winter. Try this dish once, and you'll fall in love with its lovely silky richness and its pleasant fragrance.
If you like overnight oats, you'll like bircher muesli. Alright, I know that bircher muesli is basically overnight oats too, but this Swiss dish is too unique and tasty to just simply refer to it as such.
Typically, bircher muesli requires oats, yogurt, milk, grated apple, apple juice, and various other garnishes. This Swiss oat dish is perfect when you want a light but fulfilling meal. If you feel bloated after the holiday season, be sure to opt for a bowl of bircher muesli.
Swiss meat pie, also known as churer fleishtorte, is probably one of the best pie combinations ever. A crispy layer of pastry envelopes a hearty filling of juicy beef and tender pork mince. With a few tablespoons of spices, you'll have a savory dish for dinner.
To make Swiss meat pie extra tasty, I usually cook some onion with parsley and butter until the onions turn soft and golden. Adding a bit of broth to the meat can also make the filling more tender and flavorful.
If Swiss rosti is a dish with a crispy, crunchy texture, Swiss potatoes are a tender and gooey dish made with creamy cheese and soft potatoes. Trust me; the luscious Swiss cheese layer on top of this dish makes it nearly impossible for me to stop eating it.
While Swiss potatoes can be enjoyed without any side dishes, you'll find that they taste best when paired with meaty dishes like chicken or beef. Just remember to slice the potato paper-thin to achieve the best texture for the dish.
Are you trying to find the next best dish to add to your weekly meal rotation? Zurich ragout might be just the meal you're looking for.
A popular dish in Swiss German regions, Zurich ragout consists of various ingredients like mushrooms, veal fillet, beef broth, and cream. Zurich ragout has a light creamy texture to it that makes it pair well with dishes like mashed potatoes or Rosti.
6 Swiss Recipes For Enticing Side Dishes
The following Swiss recipes will be the perfect complement to your main course. Roll up your sleeves and start preparing these; you will definitely not regret it.
If there's any dish I can't say no to, it's this delicious raclette potato gratin. Savory and hearty, this special raclette potato gratin is the very definition of comfort food. As this Swiss dish is best served warm, you'll find that it makes the perfect dinner during the winter.
Taking the classic raclette to the next level, this delicious recipe adds potatoes and onions to the mix. As a result, this fantastic raclette potato gratin will make sure that you'll leave your dinner table full and satisfied.
Swiss potato rosti is the divine combination of hash potato pancakes and hash browns. The beautiful golden exterior of potato rosti is more than enough to invite you to take a bite. Crunchy, crispy, and heavenly, potato rosti will make your palate experience an explosion of flavors.
With how much I've been hyping up potato rosti, you probably think that this dish is made of extravagant ingredients. However, the main ingredients for this scrumptious Swiss dish are shredded potatoes and clarified butter.
You should see the video below:
Due to its fun shape, butterzopf bread can also be known as Swiss braided bread. I'm not exaggerating when I say that this is one of the most popular Swiss breads. The soft, tender texture and the irresistible fragrance are enough to sway the hearts of even the worst skeptic.
The key to making the butterzopf bread is to give the dough enough time to rise, especially after you knead it. Once you shape the dough into the desired taste, be sure to leave it to rise further. This is important because the long rising time will give the bread a fluffy texture.
Another competitor with butterzopf for the Swiss-most-beloved-bread position, Swiss beer bread is a delicious dish that can be enjoyed as a snack or a side dish. Savory Swiss cheese, once combined with a bit of beer, will give you the best sensation you can imagine.
Considering how enticing Swiss beer bread is, I'd recommend that you always make this dish in bulk and keep it in some bread boxes with sufficient capacity. Why? Because I'm afraid it will not last long. Swiss beer bread is alluring enough to make everyone fight over it.
I think it would be a crime not to mention cheese fondue when talking about Swiss recipes. Traditionally, cheese fondue is made with Gruyère and Emmental, which are Switzerland's famous cheeses. However, you can use raclette, gouda, fontina, or even comté.
Cheese fondue is one of the most foolproof Swiss recipes; you can prepare this hearty dip in under 30 minutes. As there are several meats that can go pretty well with cheese fondue, you can make this Swiss dish at the next party. Your guests will definitely love it.
This is one of the best ways to prepare cheese fondue.
If there's any dip that can rival even cheese fondue, it would be this hot ham and cheese dip. The smoked ham added to this dip will give it a more complex, pronounced flavor. Make this for your friends or family, and watch them rave about how delicious this hot ham and cheese dip is.
Typically, smoked ham, various cheese combinations, and some chive are enough to make this delicious cheese dip. However, I always add a copious amount of caramelized onions to this dip, which gives it an extra crunchy texture and an even better taste.
5 Swiss Recipes For Mouth-watering Desserts
Wrap up your meal with these fantastic Swiss recipes for desserts. After all, no meal is truly complete without the presence of dessert, am I right?
Whenever the holiday season comes, I always love to prepare Swiss apple pies, as they're always a crowd-pleaser. In fact, I've never seen anyone complain about this luscious, inviting apple pie.
Not any random apples can be used to make this fantastic pie, so don't forget that Granny Smith apples are the best match for this Swiss recipe. Their firm texture prevents them from turning into mush during the baking process, and their tart flavors really balance out the dish.
Don't fool yourself that American apple pies are the most delicious; Swiss apple pie is also sweetish.
Aren't these cookies just the loveliest? While these cookies are still new in Switzerland, they surely have wormed their way into many people's hearts, including mine. In fact, these cookies are now a must-have in many Swiss households during Christmas.
Spitzbuben is super crispy and incredibly buttery. The filling can vary from person to person, but the most popular one is red currant. This doesn't mean that you can't go for other equally delicious fillings such as raspberry, chocolate, or even caramel.
Chocolate Swiss meringue buttercream is the perfect dessert for sweet tooths. This tender, decadent dessert is so good that you'll be indulging yourself in it, regardless of how many pounds you can put on.
To make the ultimate chocolate Swiss meringue buttercream, you'll need to master the arts of preparing buttercream icing. You'll need to mix the ingredients well enough that you'll get a smooth, light, and absolutely delicious frosting.
Knock everyone's socks off with this delicious Swiss walnut and chocolate cake. Nut, fudgy, and gooey, this decadent cake will be the highlight of your day. While this cake can be eaten plain, I think it's best to pair it with a cup of hot coffee or tea.
There's no need to worry if you're not good at baking. Swiss walnut and chocolate is a foolproof dessert – anyone can prepare it, as long as they have the right recipe.
On a cold winter day, you can get yourself a cup of hot Swiss mocha coffee mix. There's hardly anything better than drinking hot chocolate with a hint of coffee when the weather gets cold.
To make a Swiss mocha coffee mix, you'll need to have three main ingredients: instant coffee, cocoa powder, and milk. However, if you want your drink to be richer and more robust, you can add some coconut sugar and coconut milk to the mix.
Scrumptious Swiss Recipe Makes Mealtime Easy
As you can see, Swiss recipes offer a wide variety of delicious dishes and desserts. Whatever your need is, there's a high chance that these Swiss recipes have what you need. So if you don't know what to add to your weekly meal rotation, do consider these tasty Swiss dishes.
Did you find what you need? What's your favorite Swiss recipe? Have you tried any of these recipes before? Be sure to let me know in the comment.
Nutrition Facts
6 servings per container
---
Amount Per ServingCalories313
% Daily Value *
Total Fat 15.3g

24

%
Cholesterol 100mg

34

%
Sodium 156mg

7

%
Potassium 236mg

7

%
Total Carbohydrate 8.2g

3

%

Dietary Fiber 1.7g

7

%
Sugars 3.8g

Protein 35.4g

71

%
---
* The % Daily Value tells you how much a nutrient in a serving of food contributes to a daily diet. 2,000 calories a day is used for general nutrition advice.