Picking the best meat tenderizer requires thorough research. And with these reviews that I have prepared here, you can find the ideal product to make your cooking job much easier.
In this article, you will discover what excellent products can help you prepare meals in the fastest way and find out the tricks to use these meat tenderizers efficiently. Let's start with why you need a meat tenderizer.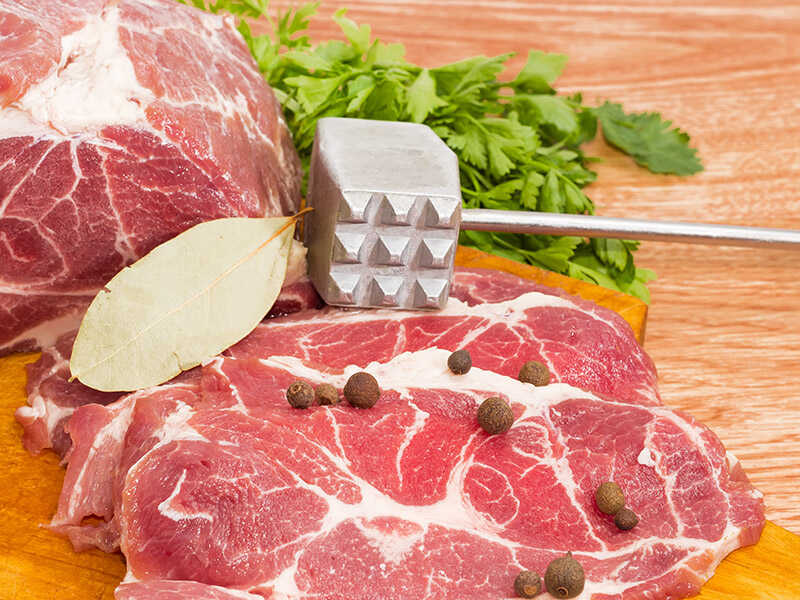 Why Do You Need A Tool To Tenderize Meat?
Some of you might not know the exact definition of meat tenderizer, or they might assume it is the powder sold in the supermarket. In fact, there are 2 styles of meat tenderizer which use 2 different ways to soften your foods.
The first one uses biochemical reactions, the second one is mechanical meat tenderizers, which is the key subject in this post. They are tools for manual use. But regardless of their styles, they all work well to:
Tenderizing Raw Meat
Beef, pork, veal, chicken, fish, etc., no type of meat that this cookware cannot handle. It can break down the connective tissue and fibers inside the mead and make them softer to cook and chew.
Save Your Time
Do you want to spend hours in the kitchen just to deal with tough meat? I guess not. With a meat tenderizer tool, you can reduce your cooking time as it already makes your meat tender enough to cook faster.
So if you are a cooking lover, you should buy one and create a lot of tasty meals with various hearty dinner ideas for your family at ease. And even your work deadline is approaching soon, you can still make for you and your family many yummy foods.
Great For Limited Budget
Many soft and succulent steaks carry a hefty price. But with equipment like this one, you can even transform a slice of cheaper meat into the juiciest delicacy.
Deliver Superb Appearance and Taste
Meat tenderizer can provide the same thickness cuts, which ensure even cooking. It also creates tiny channels inside that allow the seasonings or marinades to be absorbed fully and efficiently.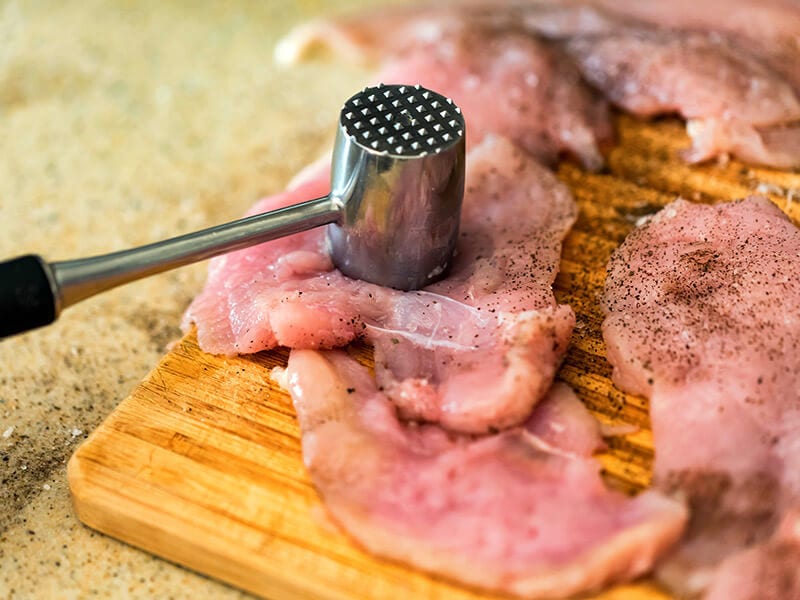 Top-rated Brands For Durable Meat Tenderizer Tools
Among numerous meat tenderizer manufacturers, here are some most popular and high-rated brands that you will be fully satisfied with their products.
OXO is a USA brand that aims to make your life easier, especially in the kitchen. With a hundred innovative and delightful items, OXO has gained customers' trust and high satisfaction.
KitchenAid was founded in 1919. With decades of development and innovation, you can find many premium appliances for cooking, baking, or brewing at KitchenAid.
Jaccard brand is a New York-based corporation praised for its compelling items in food processing markets. They produce various product lines regarding hand-held and commercial meat tenderizers with the highest quality.
This is another well-known brand where you can discover well-made goods to treat your foods properly. Weston offers the ideal approach for cooking with a large selection of kitchenware such as knives, blenders, ovens, meat bags, meat tenderizers, and so on.
Top 10 Picks Of The Best Mechanical Meat Tenderizers
Why did I choose them to become the best 10 meat tenderizers on the market? Let's check their key features, and you will understand why.
In my opinion, the KitchenAid Gourmet product is the ideal tool for beginners as it is extremely easy to use. This kitchenware gets the job done perfectly with a 2-sided head and an ergonomic handle.
If you like bladed-style tenderizer, I highly recommend the Jaccard 48-Blade. What makes it special is its double-side sharp blades, which help you achieve the best tenderization result.
Comparison Chart Of 10 Best Meat Tenderizers
So what are these best meat tenderizers? Please check their basic specifications regarding styles, material, product dimension, and weight with the following chart.
Unbiased Reviews Of Best Meat Tenderizer That You Need To Check
These items below are varied in styles, designs, material, etc., so they all have good and bad sides to clarify. But overall, they are the best products when it comes to meat tenderizer tools. Check them out now, guys!
1. KitchenAid Gourmet Meat Tenderizer
(Best Overall)
Shop now at Amazon
This product is always the first thing I recommend to my friends who are uncertain about which meat tenderizer to buy. This tool is constructed with sturdy, durable yet lightweight aluminum, allowing you to clean at ease with warm water and light soap.
Moreover, this is my go-to tool for softening chicken, particularly the breast and tenderloin sections. Despite the textural differences between chicken breast and chicken tenderloin, this cookware performs perfectly on both.
The KitchenAid mallet has 2 different sides for various tenderizing requirements. With a smooth-surface side, you can pound and flatten your meat cuts, and the other side with grooves for tenderizing.
Key Features:
Well-made aluminum construction to provide durable and strong tenderizer
Dual sides for different uses including tenderizing and pounding or flattening
High-performance Santoprene grip for comfortable holding
Ergonomic handle with a hole so you can hang and store easily
Pros
Ensure the best performance on all meat types (cuts), and other foods like nuts, peppercorns, hard candy, etc.
Lightweight but heavy-duty
Easy to use
Simple cleaning by hand-washing
Leave no stains on hands
Cons
It would be better if this product were dishwasher-safe
Product Specifications:
| | |
| --- | --- |
| Style | Mallet/Pounder |
| Dimension | 1.97 x 3.4 x 9.45 in |
| Weight | 14.1 oz. |
| Color | Black |
| Material | Aluminum (Construction) |
| Number of Blade/Needle | N/A |
| Dishwasher Safe | No |
| Suitable For | All types of meat and other foods (e.g., nuts, peppercorns, hard candy, etc.) |
| Brand | KitchenAid |
2. Jim Beam JB0150 Rolling Meat Tenderizer
(Best Budget)
Shop now at Amazon
This rolling tool is the best option for a limited budget. The strong stainless steel construction and tough wood handle quickly break any meat, even the toughest ones.
All you have to do is just push and roll it on the surface, and its sharp cutting blades with a small pyramid shape will do the tenderizing job perfectly. In addition, the handle and its ergonomic design will keep your fingers safe during the rolling process.
Key Features:
Rolling meat tenderizer
Heavy-duty construction with high-quality and durable stainless steel
Wooden ergonomic handle for your safety
Sharp pyramid-shaped blades
Pros
Come at a bargain price
Low-profile and lightweight design
Simple use
Compatible with different types of meat
Work quickly and evenly that can increase the effectiveness of absorbing spices or seasonings
Cons
Might not be too easy for cleaning when the meat stuck between the roller's spikes
Product Specifications:
| | |
| --- | --- |
| Style | Roller |
| Dimension | 6 x 12.5 x 19 in |
| Weight | 10.6 oz. |
| Color | Silver |
| Material | Stainless steel (Blade) Wood (Handle) |
| Number of Blade/Needle | N/A |
| Dishwasher Safe | Not highly recommended |
| Suitable For | Many meat types |
| Brand | Jim Beam |
3. Jaccard 48-Blade Meat Tenderizer
(Best With Blades)
Shop now at Amazon
If you need a bladed meat tenderizer, you should try this product. This kitchen gadget from the Jaccard brand has dual sides of 48 stainless steel blades. And there are no kinds of meat that are too hard for it.
They also come in with a Jaccard 16-blade version at a lower price but still ensure their best performance on any meat. With these sharp blades, this tool can save up to 40% cooking time and help your meat absorb seasoning by up to 600%. Such a remarkable number!
The manufacturer also uses stainless steel to make these sharp blades and high-quality plastic for the body, creating a last-long hand-held meat tenderizer.
Key Features:
48 razor-sharp knives made from 301 stainless steel
Double-side sharpness for great penetration
Save up to 40% cooking time and enhance up to 600% absorb efficiency
Constructed with strong ABS plastic
Dishwasher-safe (place it on the top shelf only)
Pros
Ergonomic design for easy and comfortable grip
Easy and quick spring action
Cut through tough meat fiber or connective tissue without too much effort
Will not alter the look of meat cuts
Done a perfect tenderizing job for any meat type
Cons
Might take a little effort to clean it by hand because it is quite challenging to access the middle row of blades
Product Specifications:
| | |
| --- | --- |
| Style | Blade/Needle |
| Dimension | 4 x 1.5 x 5.75 in |
| Weight | 12 oz. |
| Color | White |
| Material | 301 stainless steel (Blade) ABS plastic (Construction) |
| Number of Blade/Needle | 48 |
| Dishwasher Safe | Yes (top shelf only) |
| Suitable For | Most of the meat sorts |
| Brand | Jaccard |
With this review, you might wish you would know the Jaccard 48-Blade sooner.
4. OXO Good Grips 50-Bladed Meat Tenderizer
(Best Compact For Home Use)
Shop now at Amazon
You will wonder how a small appliance like this can soften your food so well. Well, because this meat tenderizer features 50 blades inside it.
These blades will form many channels on the meat and aid in absorbing marinades, making your dishes juicier and soft. Moreover, it is designed with safety locks that cover blades for safer storage.
Of course, it is also easy to disassemble and clean, no matter whether it is cleaned by hand or in the dishwasher. With its transparent base, you can check any indent remaining to ensure equal tenderization. Overall, this product is well-suited to a small kitchen.
Key Features:
Include 50 stainless steel sharp blades
Equipped with recessed toggle lock for covering blade when not using and cannot unlock by its own
Designed with non-slip and contoured-shape grip
Clear base and vertical edges for easier meat checking and ensure even tenderizing
Compatible with dishwasher (only on top crack)
Pros
Ultra-lightweight and compact shape
Excellent in penetrating and creating tiny holes on meat for quicker marinade or seasoning absorption
Flat base provides the same thickness of meats to ensure the even cooking
Effortlessly cleaning with disassemble parts
Locking mechanism can prevent you from any accidental cuts
Cons
The spring might be quite stiff and hard to push down into the meat
Product Specifications:
| | |
| --- | --- |
| Style | Blade/Needle |
| Dimension | 2 x 3 x 4.5 in |
| Weight | 4 oz. |
| Color | White |
| Material | Stainless steel |
| Number of Blade/Needle | 50 |
| Dishwasher Safe | Yes (top shelf only) |
| Suitable For | All meats |
| Brand | OXO |
How does the OXO Good Grips 50-blade work? This is a must-see demonstration.
5. Weston Heavy-Duty Cuber Meat Tenderizer
(Best Cuber For Pork Chop)
Shop now at Amazon
The style of this item might be a little different from the other 9 products, but it still works like a charm to bring out the best and juiciest flavor to your meats.
With the crank handle and heavy-duty base made from cast aluminum, this Weston product can handle the toughest meat with ease. The 31 stainless steel blades inside will do the tenderizing job wonderfully more than you expect.
Also, it is coated with food-safe material, so there is nothing to worry about purified food when using this kitchen gadget. And you can disassemble it to clean as well.
Key Features:
Firm cast aluminum construction
Include 31 stainless steel blades
Food-safe coating
Clamps to counter up to 1.5-inch meat thickness
Include 1-year warranty
Pros
Come with tongs for safe uses
Cleaning without any difficulty with 2 disassembled housing
Ideal for making the meat thinner and tender (e.g., chicken fried steak, cubed steak, etc.)
Strong crank handle
Reduce jamming with stainless steel combs
Cons
2 screws on the head tend to loosen and unstable after several uses
Product Specifications:
| | |
| --- | --- |
| Style | Cuber |
| Dimension | 6.75 x 13.5 x 13.75 in |
| Weight | 9.86 lbs. |
| Color | White |
| Material | Stainless steel (Blades) Cast aluminum (Construction) |
| Number of Blade/Needle | 31 |
| Dishwasher Safe | No |
| Suitable For | Cubed steak, schnitzel, or chicken fried steak |
| Brand | Weston |
This review will show you why a Weston Heavy-Duty cuber tenderizer is a must-have item.
6. XSpecial 48 Blades Meat Tenderizer
(Best With Detachable Design)
Shop now at Amazon
Here is another 48-blade tenderizer that everyone raves about. First, its detachable design is a big plus for everyone who struggles with cleaning.
So if you are a busy person, you should buy one and make various delectable dishes, like some tasty Mexican crockpot ideas with steak, pork, chicken breast, etc. And regardless of what meat you use to prepare your treats, this tool provides the easiest way to clean and sanitize it.
Plus, it delivers the perfect cut-through on any tough connective tissue and turns hard meats into soft and succulent meals. It also reduces up to 40% cooking time.
Key Features:
High-performance with 48 stainless steel blades
Detachable design for deep cleaning in a breeze
Crafted from easy-grip and no-slipping plastic body
Save up to 40% time for cooking
Can be washed in the dishwasher
Pros
Well-built design
Create thin and even cuts on the meat so it can lock in juices and allow hot air to run through when cooking
Can break connective or fibrous tissue effectively
Tenderize the meat fast and cook evenly
Safe and simple to use
Product Specifications:
| | |
| --- | --- |
| Style | Blade/Needle |
| Dimension | 4.65 x 1.85 x 3.46 in |
| Weight | 7.2 oz. |
| Color | Black |
| Material | Stainless steel (Blade) Solid plastic (Construction) |
| Number of Blade/Needle | 48 |
| Dishwasher Safe | Yes |
| Suitable For | Many types of meat (like poultry, beef, pork, fish, veal, etc.) |
| Brand | XSpecial |
Let's meet your new favorite toy to treat the meat well with this XSpecial 48-blade.
7. Keissco Dual-Sided Meat Tenderizer
(Best With Reversible Surfaces)
Shop now at Amazon
The highlighted advantage of this tool is its reversible disc with 2 different surfaces for other functioning. Its ergonomic vertical handle also offers a comfortable and leveraged grip that efficiently helps you prep the meat.
It is a top-quality tenderizer that is made of chrome-plated zinc alloy. And with this material, its weight is heavy enough to do the tenderizing job beautifully.
You do not have to care about the cleaning either because it can be disassembled and sanitized in the dishwasher, but please remember to take off the plastic gasket first before placing your tool in it.
Key Features:
Reversible disc with double sides to operate both flatten and tenderizing works
Chrome-plated zinc body that is heavy-duty
Vertical handle that is ergonomic and comfortable to hold
Crafted for dishwasher compatibility
Pros
Solidly made for best sturdiness
Heavy enough to work well on many types or cuts of meat
Can be cleaned by hand-washing easily as well
Allow deep penetration on meat
Parts can come apart quickly to reverse the sides, making it simpler for storing or cleaning
Cons
You must pay more attention during operation when the spiked side is up
Product Specifications:
| | |
| --- | --- |
| Style | Mallet/Pounder |
| Dimension | 3.31 x 3.31 x 3.94 in |
| Weight | 2.03 lbs. |
| Color | Silver |
| Material | Chrome-plated zinc alloy |
| Number of Blade/Needle | N/A |
| Dishwasher Safe | Yes |
| Suitable For | Pork, beef, veal, poultry, etc. |
| Brand | Keissco |
8. OXO Good Grips Meat Tenderizer
(Best Mallet For Chicken)
Shop now at Amazon
OXO Good Grips is a 2-in-1 item that can maximize the effectiveness of flattening and tenderizing meat, regardless of what type. This tool will not require too much effort but still deliver the maximum force to make your favorite meat softener with the angled head.
And with the soft and non-slip grip, you can easily hold and use it, even when your hand at this time is wet. It is compatible with a dishwasher and its steel interior and impact-resistant ABS plastic.
Key Features:
Double sides heads include a flat surface for pounding and a textured surface for tenderizing
Constructed with solid steel for the interior and BPA-free ABS plastic that can resist impact
Non-slipping grips to maximize the comfort holding
Able to be washed in the dishwasher
Pros
High level of sturdiness
Great in meat-flattening and softening jobs
Good weight balance
Can operate on all meats and other foods
Will not leave marks when you hold it
Cons
The handle is relatively short
Product Specifications:
| | |
| --- | --- |
| Style | Mallet/Pounder |
| Dimension | 1.3 x 4 x 15.2 in |
| Weight | 6 oz. |
| Color | Black |
| Material | BFA-free ABS plastic and steel core |
| Number of Blade/Needle | N/A |
| Dishwasher Safe | Yes |
| Suitable For | All meats and other foods |
| Brand | OXO |
9. Chef-Master Meat Tenderizer
(Best With Grip Handle)
Shop now at Amazon
Like its name, this Chef-Master tenderizer is another ideal option for both professional chefs and home-cookers. But do you know what the best thing about it is? This is its grip handle.
Unlike another bladed tool above, this one offers the maximum safety handle to keep your finger away during operation and avoid any unexpected injury.
Besides, as the blades are made of quality stainless steel, this kitchen appliance ensures the most effective performance on different types of meat.
Key Features:
Decrease 40% time of cooking
Optimizing the safety with grip-handle design
48 blades are constructed with stainless steel material
Dishwasher safe
Pros
Well-made for high durability and heavy duty
No assembly needed
Create channels to allow spices to be absorbed quickly
Provide the best tenderness to meats
Compact size to store
Cons
Meat might be stuck on the blade that requires taking off manually
Product Specifications:
| | |
| --- | --- |
| Style | Blade/Needle |
| Dimension | 11 x 8 x 3 in |
| Weight | 1.25 lbs. |
| Color | Red and Black |
| Material | Stainless steel (Blade) |
| Number of Blade/Needle | 48 |
| Dishwasher Safe | Yes |
| Suitable For | Pork, beef, chicken, turkey, fish, veal, etc. |
| Brand | Chef-Master |
10. TPFOON Meat Mallet Tenderizer
(Best Stainless Steel For Steak)
Shop now at Amazon
If you like a hammer-style tool that is fully made from top-grade stainless steel to provide sturdiness on hand, this product might be your new lifesaver when it comes to meat tenderizers.
With 2-side heads to perform different tasks, this TPFOON item ensures the best and easiest way to soften and flatten the meat.
The handle also provides a comfortable grip. And with the balance in design, you do not have to use too much force to pound the meat.
Key Features:
Double-sided surface
The whole unit is made from solid 304 stainless steel
Comfortable-grip handle with a hole for easy storage
Safe in a dishwasher without changing color or deform
Pros
Suitable for both left and right-handed people
Work well on meat and other foods like nuts, shellfish, etc.
Need less pressure when using thanks to its well-balanced design
Perfectly make the meat softer, wider, thinner to chew easier
Cons
There are open gaps on the head which might not be too easy to clean thoroughly
Product Specifications:
| | |
| --- | --- |
| Style | Mallet/Pounder |
| Dimension | 8.23 x 2.95 x 2.63 inches |
| Weight | 15 oz. |
| Color | Silver |
| Material | 304 stainless steel |
| Number of Blade/Needle | N/A |
| Dishwasher Safe | Yes |
| Suitable For | Various types of meat (steak, chicken, pork, etc.) |
| Brand | TPFOON |
Buying Guide For A Decent Meat Tenderizer
Now, let's look at other factors regarding their style, looks, or other qualities to help you choose the best appliance for turning tough meat into soft and luscious dishes.
1. Style
There are 4 common meat tenderizer styles: mallet and bladed (or needled) meat tenderizers.
Mallet
A mallet (or a pouder, hammer) is the basic style of this kitchen appliance. Regularly, they are designed with a 2-sided head. One surface is smooth for pounding and flattening jobs. The other surface is a textured one with many small points for tenderizing.
A flat side ensures the meat cuts have even thickness and makes them thinner, while the other side can boost the effectiveness in flavoring absorption.
Blade/Needle
Another style contains many tiny sharp blades (or needles) with a sturdy construction so you can easily and safely operate your tool. Technically, these tenderizers bring the same result as mallet ones in tenderization.
When you press this equipment down, its blades (needles) will cut through the meat fibers or connective tissue (from 1.5 to 2-inch depth) to soften the raw cuts. It also helps the penetration process work better and reduce cooking time.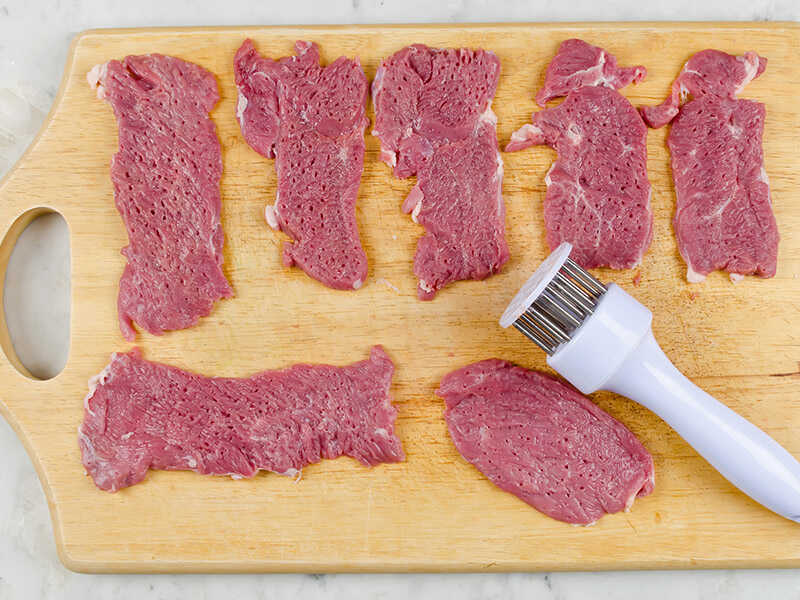 Cuber
This can be seen as a heavy-duty one that enables you to turn thick and tough meats into thinner, smaller, and more tender slices.
You will place the meat inside the tool and apply circular motions on a crank handle to run your food through. Pretty easy and super safe.
Roller
Simply roll your cookware into the meat, and this tool's sharp edges will rip apart the muscle fibers. It also has a handle for easier maneuvering.
2. Material
The second aspect that many of you are concerned about is its material. In fact, every tool that involves cooking must be food-safe, right? So how many kinds of materials that you can choose?
Aluminum
If your priority is a lightweight yet high-performance appliance, you can choose those made from aluminum. However, it might not be a great idea to put them in the dishwasher for cleaning.
For your information, the upgrade type of this material is hard-anodized aluminum, which has more advantages compared to regular ones with better durability.
Stainless Steel
What to choose between hard-anodized aluminum and stainless steel kitchenware? Well, the best thing about this material is its durability. Additionally, they can resist water so that you can clean it in the dishwasher.
Plastic
This one might be seen as the least durable material compared to the above, but some products constructed with high-quality ABS plastic to cover the aluminum/stainless steel blade/needle/core are not bad choices either.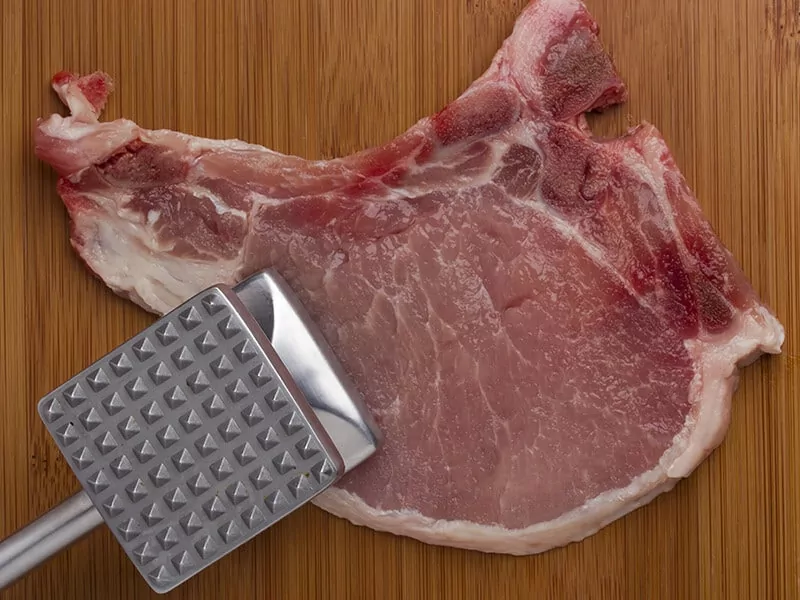 3. Blades/Needle Characteristics
This type works best with blade numbers ranging from 31 to 48. The more blades/needles, the softer your foods will be. However, if there are too many blades, they might tear the meat, particularly thinner cuts.
They should also be sharp and robust enough to cut through any form of meat, including the toughest. If they are not sharp, the smaller pieces might be stuck on the blade, and you have to remove them manually, which might be quite dangerous for some people.
4. Handle
Regardless of which style of meat tenderizer you choose, their handle should have an ergonomic design. Those products with comfortable and well-balanced grips are also preferable, especially when you opt for a mallet one.
Some types include vertical handles, which must be strong enough to tenderize food with a downward motion. Regarding needled or bladed tools, the handle should be wide so you can easily press it down when using it.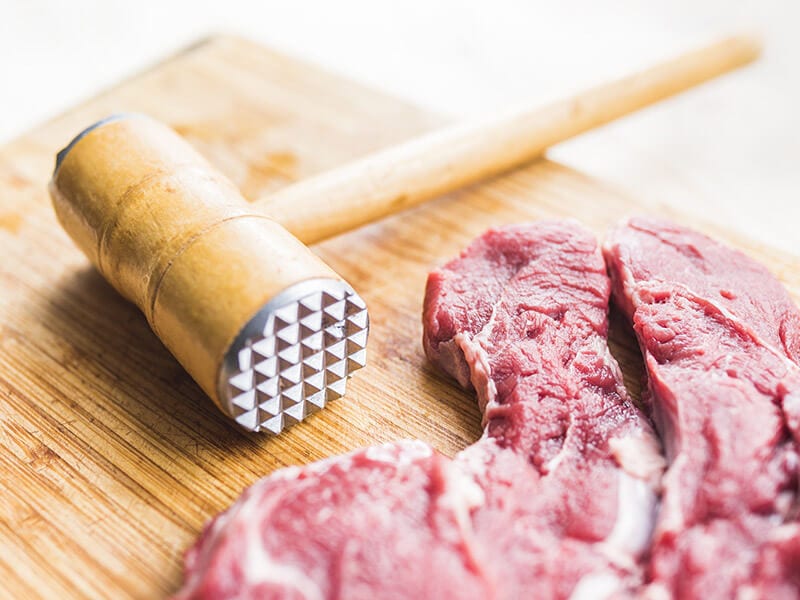 5. Cleaning and Maintenance
As explained above, stainless steel products seem easier to clean as they are dishwasher-safe. But with the needle or blade style, you should go with detachable parts because it would be easier for you for deep cleaning and sanitizing.
If you use an aluminum or zinc appliance, you better wash it by hand with warm water and light soap. And do not forget to dry them as soon as possible to prevent any discoloration.
6. Safety
The last thing to consider is your safety to avoid hurting yourself. It would be better if you opt for products that have:
Lock Settings
It will keep them in place, so even if you accidentally push your tool, these blades will not hurt you. This aspect is mostly found in blade-style tenderizers.
Retractable Blades
Sharp blades are dangerous, so if your equipment has retractable blades, it can reduce the chance of unexpected injury. The spring action can prevent you from cutting yourself as the blades already retract inside the tool when you do not apply any pressure on it.
Guard
You should also choose a product that comes with a plastic cover on the top of blades/needles, or on the pointed surface of a mallet-style tenderizer.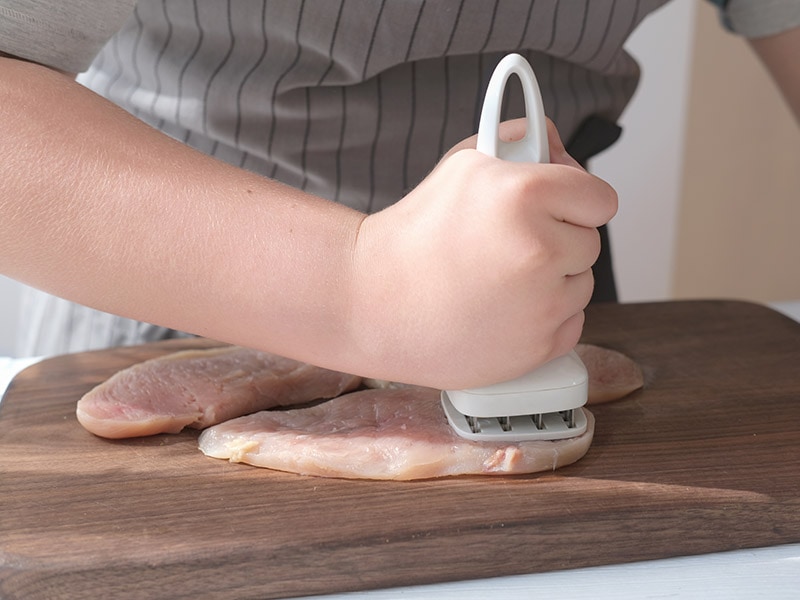 How To Use These Tools Correctly
If you are not sure how to properly use your new meat tenderizer, keep reading to learn more.
First, you should prepare the work surface with a cutting board that is ample enough for the whole meat. Place it on the board and start the tenderizing process. Different styles might be used in different ways, such as:
Mallet or Pounder Style
Use 1 hand to hold the meat's edge and another hand to beat or flatten it from the middle toward the edges until it reaches the expected thickness.
Blade or Needle Style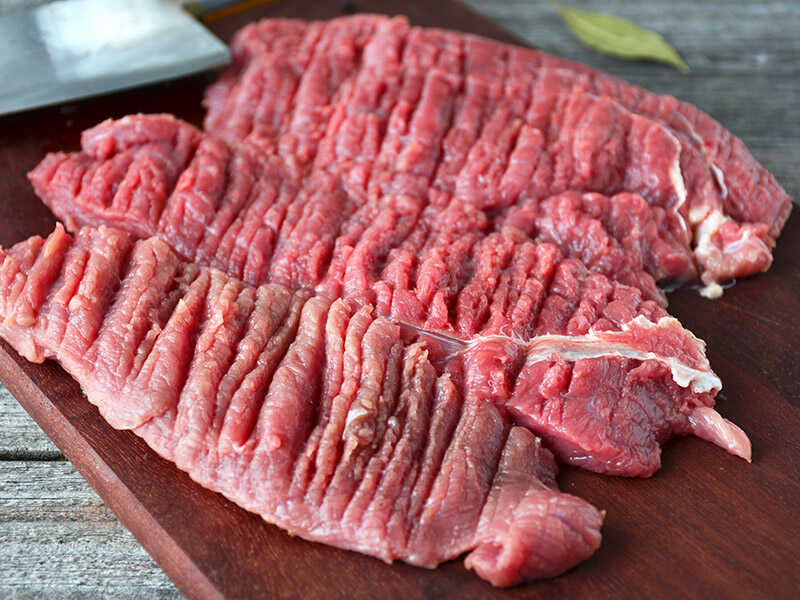 Start from the edge, use a little bit of pressure, and press the handle down so that the blades/needles break into the fiber, muscle, or connective tissue. Do the same in other areas until you finish the whole meat.
Roller Style
Similarly, you will start it from the meat's edge, apply a bit of pressure and roll your tool across the meat's surface.
What is the quickest way to tenderize steak? Here is the answer.
FAQs
Finally, there are other related questions about this topic. So do not skip it; otherwise, you will be missing out on some useful information.
My Top Pick
To sum up, I would like to choose KitchenAid Gourmet Meat Tenderizer as it always makes my prep job easier whenever I want to cook steak. Though it is not dishwasher-safe, I can clean it in a snap. The handle is long enough to swing and pound as well.
Luckily, I also found another bargain option with a Jim Beam JB0150 Rolling. What I love about it are its sharp blades that can tear meat's surface at ease. And with the wooden handle and stainless steel construction, it is extremely sturdy for any heavy-duty job.
And those are my selections; what are yours? Can you tell me about a product you have been using or are intending to buy after reading this post? I sincerely hope you will attain the finest cooking results with your meat tenderizer. Thank you for reading!