"How long to cook a meatloaf at 400°F" is a top question when people make it, aside from how many ways to freeze your meatloaf. Frankly, focusing on the temperature and cooking time is the most important step. If you aren't careful, your dinner will become a disaster.
But, do not worry because you have my side from now on. This article will explain the answer and give you informative tips for your best meatloaf dishes. What are you waiting for? Scroll down for more!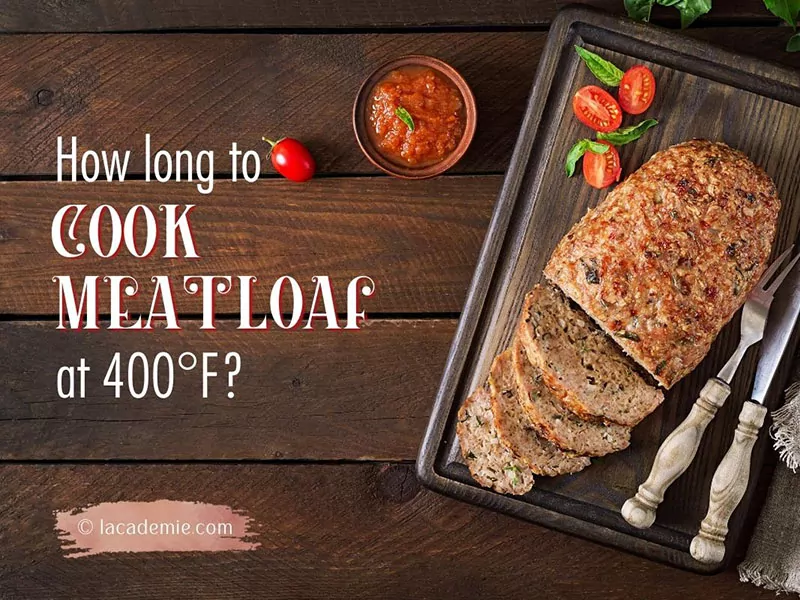 What Is In Meatloaf Recipe?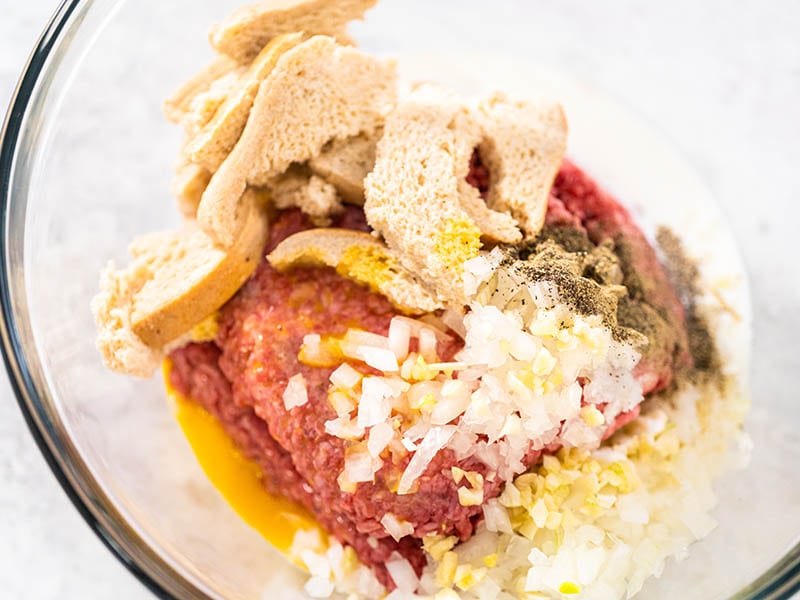 Meatloaf is one of the most delicate and popular dishes in the world. Typically, a common meatloaf can serve for dining meals having from 4 to 5 people. Therefore, meatloaf is the best dish when there are family parties with many children at home.
There are thousands of recipes for meatloaf in the world. For instance, meatloaf in Italy is full of cheese and sausage, while meatloaf in India has curry flavor. However, on the whole, there are 04 main kinds of ingredients used for meatloaf:
Ground meat: Any kind, but usually beef and pork.
Filler: Bread, crumbs, starchy ingredients.
Seasonings: Salt, sugar, or some local seasonings.
Liquid: Usually milk and tomato sauce. (1)
Do you love juicy meatloaf? Here is the instruction.
How Long Does It Take To Cook 1 Lb Meatloaf At 400 Degrees F?
Under 400 degrees F, the time you need to set for 1 pound of meatloaf is 40 minutes. However, this number will not be 100% accurate because there are many other factors affecting it. Still, 40 minutes is the best moment to check the meatloaf.
So, what's the bottom line of meatloaf cooking time? Let's explain the next part to you.
Is There Any Other Time Duration To Cook Meatloaf?
Yes, there are lots of cooking time durations for baking meatloaf. Usually, the duration ranges from 20 minutes to more than 40 minutes according to different conditions, namely main ingredient, meatloaf size, and meatloaf texture.
Difference In Main Ingredient – Meat
Meat, the main ingredient in meatloaf, is one of the key conditions to set time for baking. Based on the cooking time of each different type of meat, the meatloaf cooking time will vary from a few minutes to tens of minutes.
| | |
| --- | --- |
| Types Of Meats | Time |
| Beef | 27-55 minutes |
| Pork | 35-40 minutes |
| Chicken | 45-50 minutes |
| Turkey | 45-50 minutes |
| Mixed Meat | 35-60 minutes |
Beef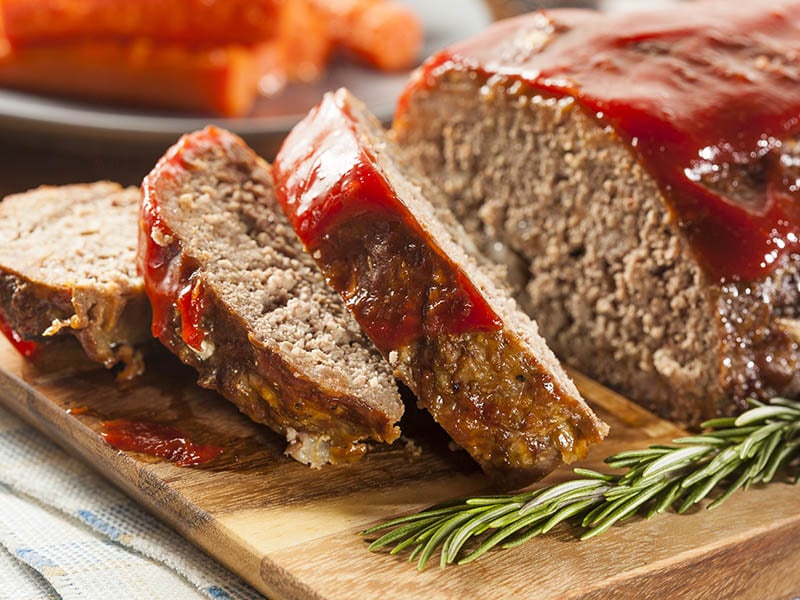 Beef is the traditional key ingredient in the classic recipe of meatloaf. People often choose lean ground beef to make meatloaf due to its taste and tight structure.
However, lean ground beef contains less fat, which causes the meatloaf to drier after baking. Therefore, with this classic recipe, people usually add lots of milk and some sour cream to increase the fatty and moisture of the meatloaf.
According to the moisture of red meat, beef is very easy to cook. Thus, the meatloaf made from beef often requires 27 to 55 minutes to reach from the pretty to the good doneness. In addition, if you drizzle more sauce on top, you should bake the meatloaf for 10 minutes more.
Pork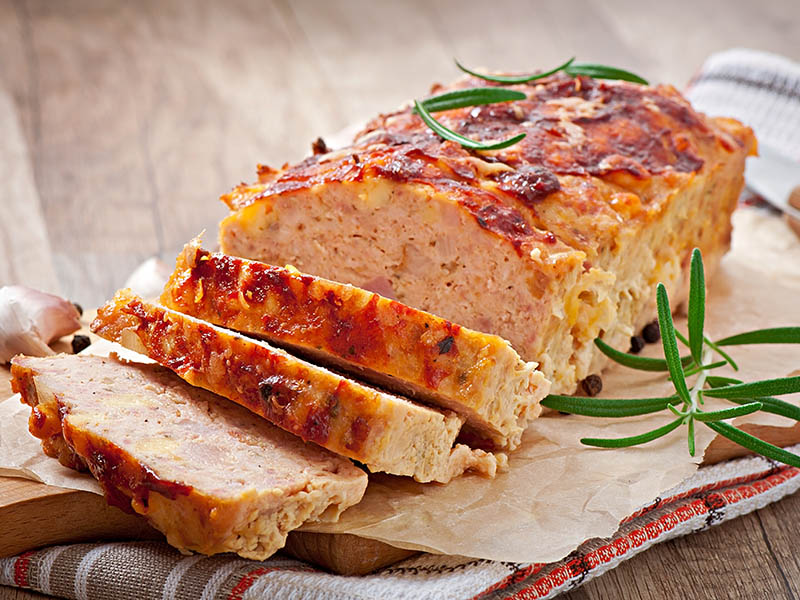 Besides beef, pork is the second most popular type of meat for making meatloaf. According to its benign, many people prefer a dish of ground pork meatloaf to ground beef meatloaf.
If you want to have a pork meatloaf, you should bake it for 35 to 40 minutes until it reaches 165 degrees F of the internal temperature and has clear water coming out. That is when the pork meatloaf is completely done and ready to eat.
Chicken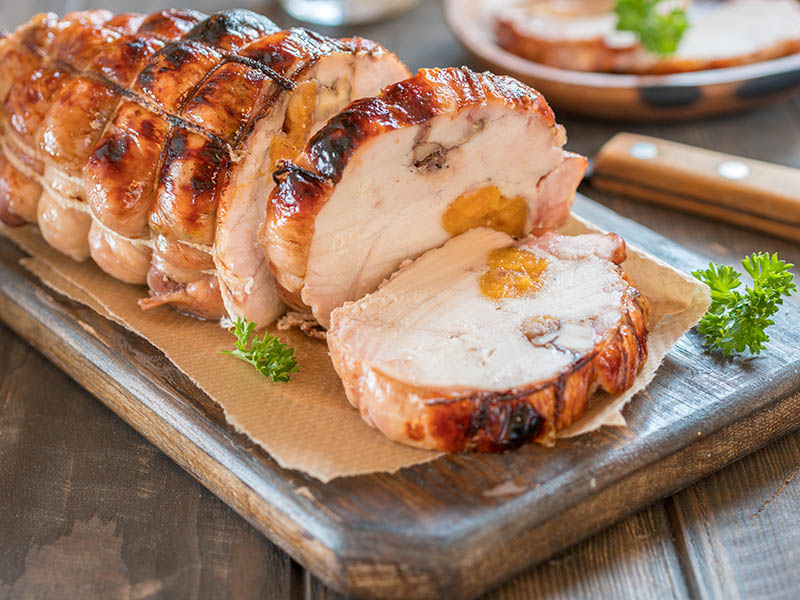 Although chicken meatloaf is less popular than the other two, it still has a position in people's hearts who are on diets due to its low-fat content.
Compared to red meat, chicken is leaner and less moist. Therefore, it requires more time to cook, ranging from 45 to 50 minutes baking. In addition, you should cover the loaf with foil to prevent water from escaping since a white meatloaf from chicken is drier than red ones.
Besides cooking a chicken meatloaf, you bake many parts of a chicken at 400 too. For example, try learning about the right duration for baking chicken tenders at 400 and you'll be surprised with how delicious your poultry turns out. Trust me on this!
Turkey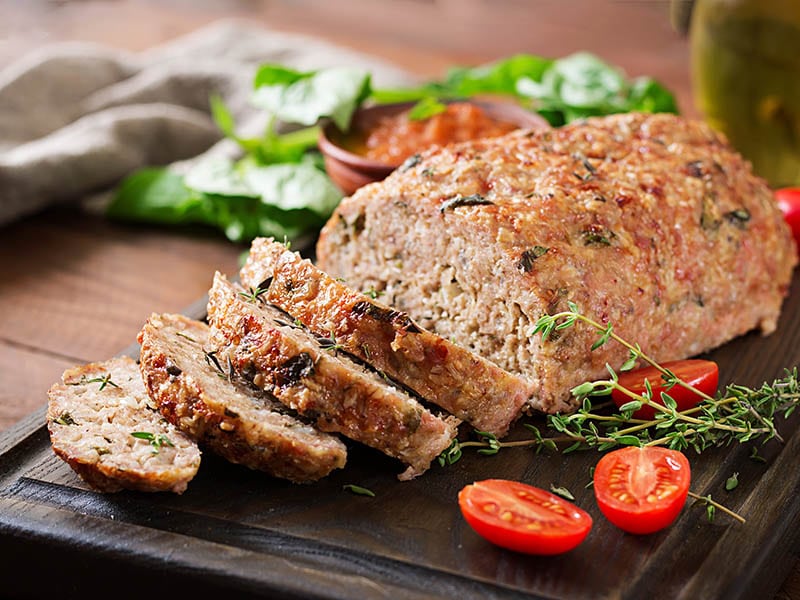 Turkey meatloaf is quite strange to some people, but it is one of the favorite foods in the United States, especially on Thanksgiving days.
Like chicken meatloaf, turkey meatloaf has similar properties, namely lean and dry. Thus, it requires 45 to 50 minutes of cooking for the meatloaf. And do not forget to use the foil covering the meatloaf to keep the moisture inside!
Additionally, by sprinkling ketchup on top twice in 40 minutes, you can increase the taste of the meatloaf to the next level. Remember to bake it after sprinkling and watch out for the temperature. Cook for about 35 minutes more until the meat thermometer displays 165 degrees F.
Mixed Meat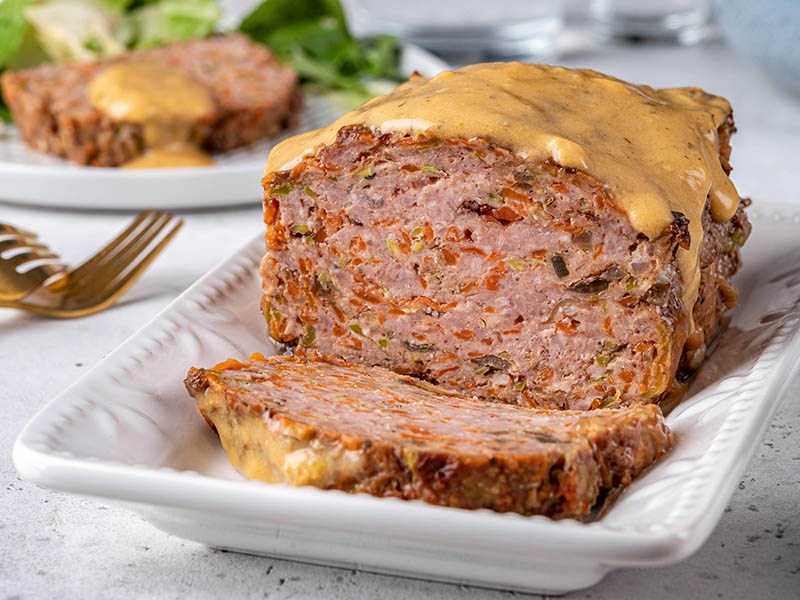 Mixed meat for meatloaf is usually a combination of ground beef and ground pork. In particular, the mixed meatloaf you find in some grocery stores also has an addition of veal besides beef and pork, which will create an incredible flavor to your dishes.
According to the percentage of mixed meats, the time duration of mixed meatloaf will be different, which often ranges from 35 to 60 minutes. If you add the glaze on top, you should bake your meatloaf for 20 to 25 minutes more.
Size Of The Meatloaf
Besides the types of meat, the size of the meatloaf is also an important condition in determining the cooking time. Specifically, there are four sizes of meatloaves, including mini, small, average, and large sizes. Accordingly, I have shown the cooking time below.
| | |
| --- | --- |
| Sizes Of Meatloaves | Time |
| Mini | 25-35 minutes |
| Small | 35-45 minutes |
| Medium | 45-55 minutes |
| Large | 60-80 minutes |
Mini Meatloaf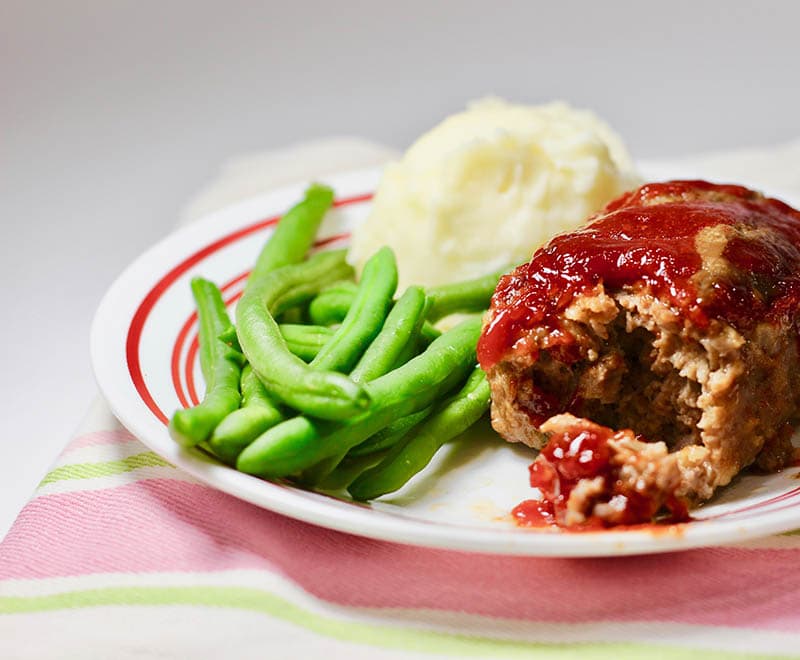 Thanks to the convenience, many people love and enjoy eating mini meatloaf for daily meals. And so do I! Not only is it quick to prepare, but also easy to store in the freezer. Thus, I spend this small part showing you how to bake mini meatloaf in 25 minutes.
First, you need to prepare all the ingredients you want to have in your meatloaf. Next, after whisking the mix, you will divide it into four or five mini meatloaves and place them on your foil pan. And then, you will brush the sauce on top and put the pan into the oven at 400 degrees F.
Ding! After 25 minutes, your mini meatloaves are ready to eat.
Check out how to cook mini meatloaf at 400 degrees F!
Small Meatloaf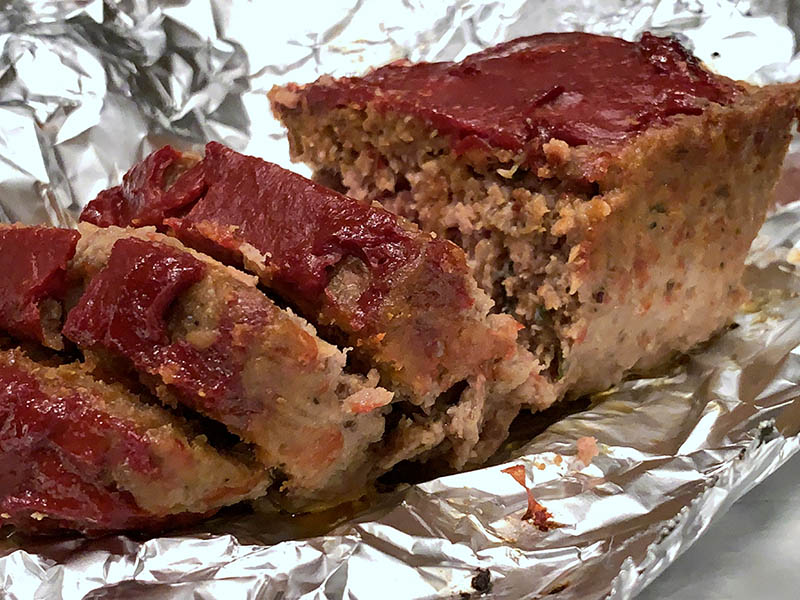 If the mini meatloaf is not enough for your breakfast, a small meatloaf will be a fit. To make a small meatloaf, you will need 35 to 45 minutes to cook it.
Like mini meatloaf, you will prepare all the ingredients and mix them well. Then, mold your small meatloaf into shape and place it on the aluminum tray for baking. After about 40 minutes, your small meatloaf dish will be fragrant and ready to serve.
Medium Meatloaf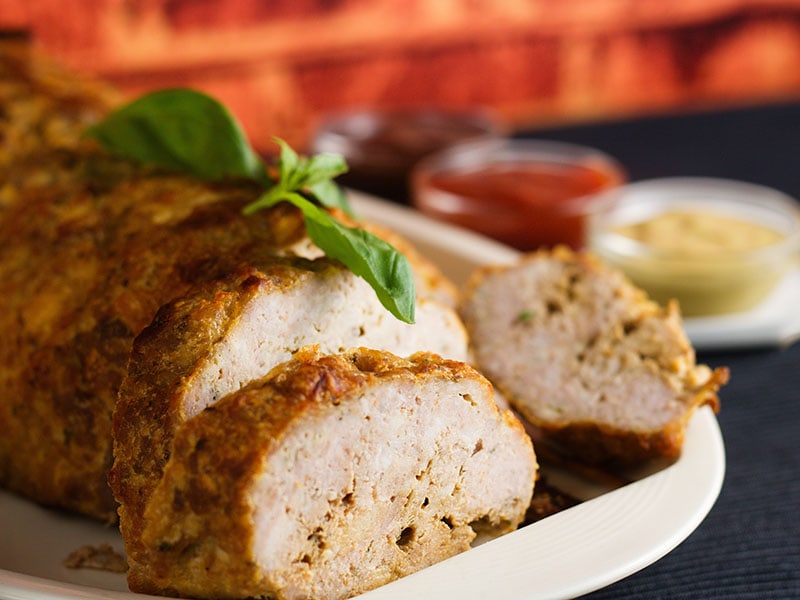 With the average size, medium meatloaf is often fit for a family dinner. Usually, it will take 45 to 55 minutes to bake a medium meatloaf.
Thanks to its ease of temperature control, there are various recipes to make medium-sized meatloaf. If you like, you can use different types of meat or seasonings to create a unique taste for your meatloaf. As for how to do it, medium meatloaf is the same as other meatloaves.
Large Meatloaf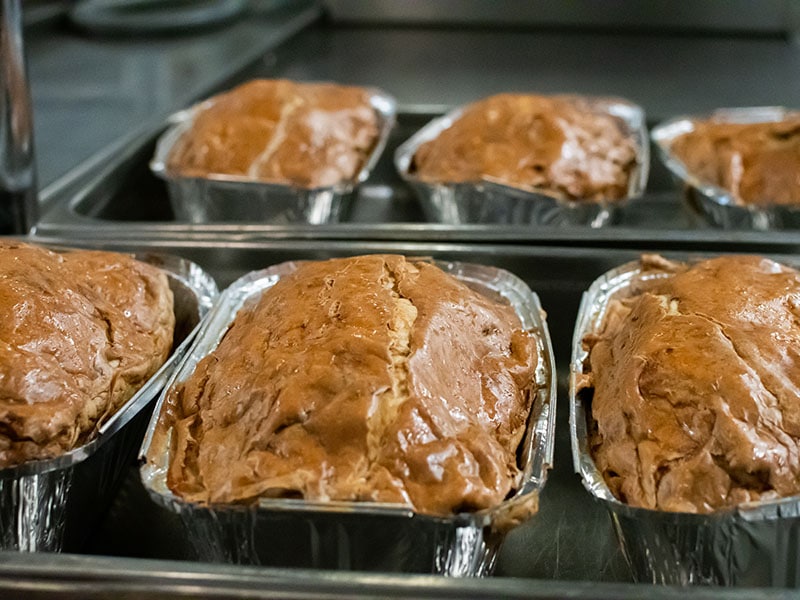 You can make a large meatloaf for a big party at your house. It will be both delicious and convenient for you to cook it. Often, a large meatloaf will cost you 60 to 80 minutes to bake.
The making process of it will be similar to some classic meatloaf recipes. However, due to its size, people usually make more effort to check for its doneness. Thus, be sure you have enough time and patience for this large dish!
A huge and amazing meatloaf recipe for you.
Texture Of Meatloaf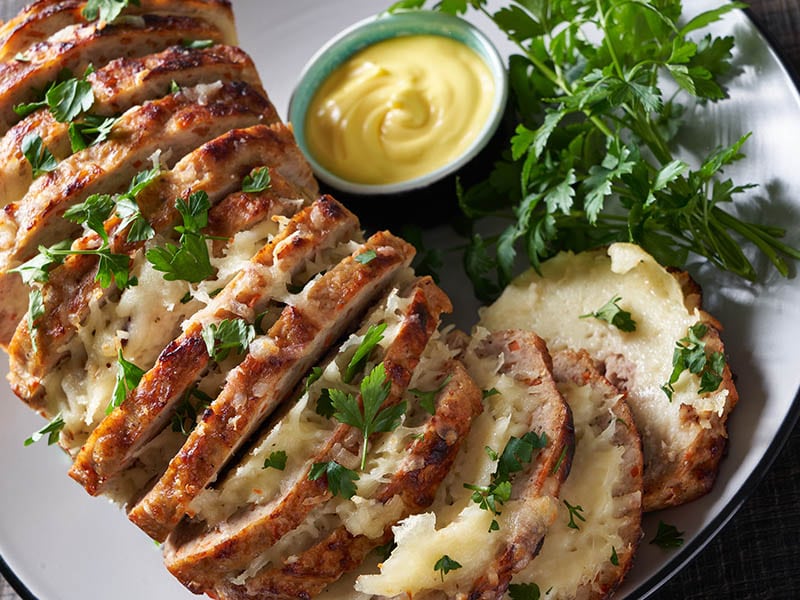 Also, you can set the time to cook meatloaf by your expected texture. If you like to eat a crispy meatloaf, your meatloaf needs to stay longer in the oven. On the contrary, if you like to eat a moist one, you will bake the meatloaf for just the right amount of time.
| | |
| --- | --- |
| Texture Of Meatloaves | Time |
| Crispy | 60-70 minutes |
| Moist | 30-45 minutes |
Crispy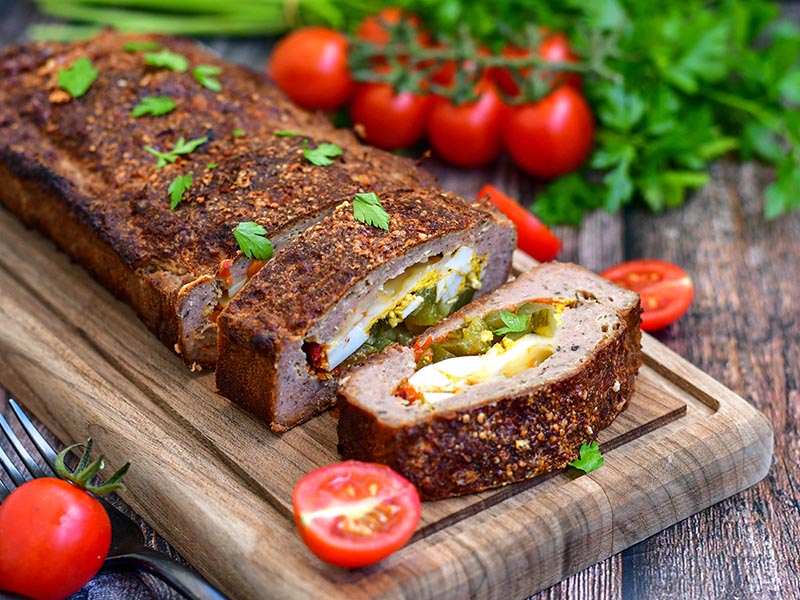 For crispy texture, you need to bake your meatloaf for at least 60 minutes. However, due to the high temperature, you should frequently watch out for the meatloaf and brush the oil on the top if it is too dry.
Besides, you can also increase the crispiness of your meatloaf by coating a layer of fried dough and frying it in the skillet.
Moist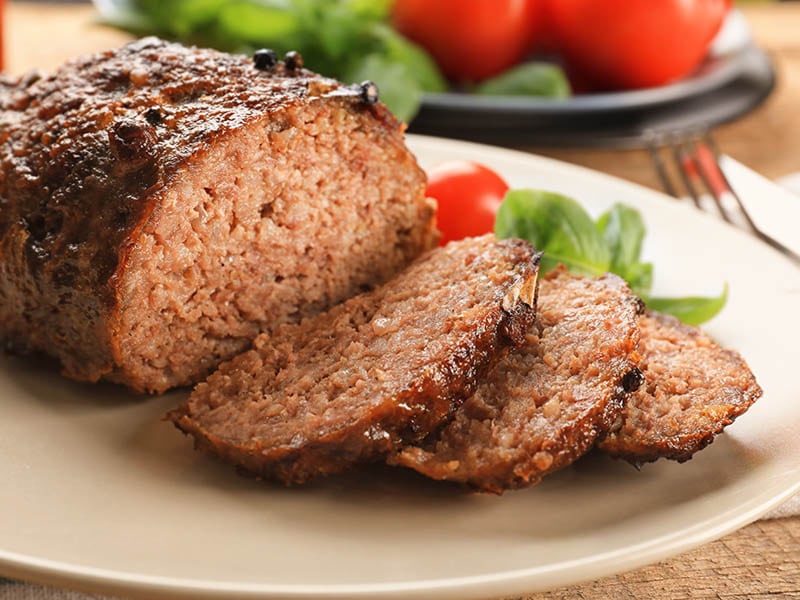 For moist texture, you only need to cook your meatloaf for 30 to 45 minutes at 400 degrees F, which will bring you a moist meatloaf. In addition, you can also increase the liquid in the recipe to soften and moisten meatloaf.
Are you curious about how chefs make meatloaf? Here is the recipe.
How To Know If Your Meatloaf Is Done?
Now you understand the conditions needed to identify the cooking time. However, there may be complex mixes of conditions. Thus, the best way to have a perfect meatloaf is to check the doneness frequently.
Then, how to know if the doneness of your meatloaf is perfect? Let me share it with you!
With Thermometer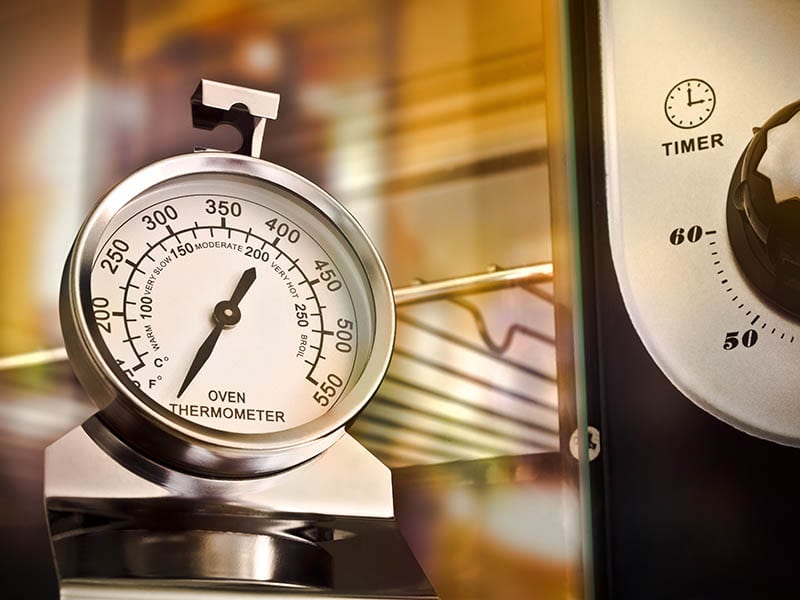 To ensure the doneness of your meatloaf, the most exact way is to use the thermometer, a tool to measure the temperature in various fields, such as food and health care. In this case, the thermometer will help measure the internal temperature of your meatloaf.
Not all meatloaves have the same internal temperature. Accordingly, for different types of meatloaves, there will be different temperatures. For example, the safe temperature for ground beef meatloaf is 160 degrees F, while the ground turkey is up to 165 degrees F. (2)
However, in general, people baking meatloaf usually take 160 degrees F as a standard temperature when meatloaf is in the oven and 150 degrees F when taken out.
About the instructions for using a thermometer, you should poke directly at the thickest part of the meatloaf for measurement while the meatloaf is still in the oven. Remember to use your glove!
Or if you're afraid of heat, you can always look for a high-quality wireless thermometer specialized for meat or an oven-friendly one. The number will be on the thermometer. If it displays 160 degrees F, it is safe to serve the meatloaf dishes on your dining table.
Tips: Poke your thermometer to reach at least half of an inch.
Not clear how to use a thermometer? Let's dive in!
Without Thermometer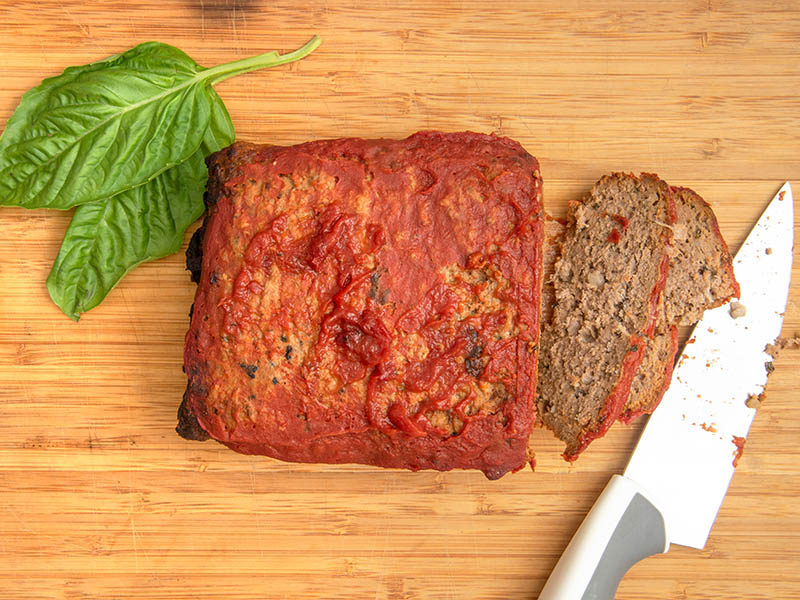 If you do not have a thermometer at home, it is totally fine. You can use some cooking tips below to check the doneness of the meatloaf.
Utilize A Fork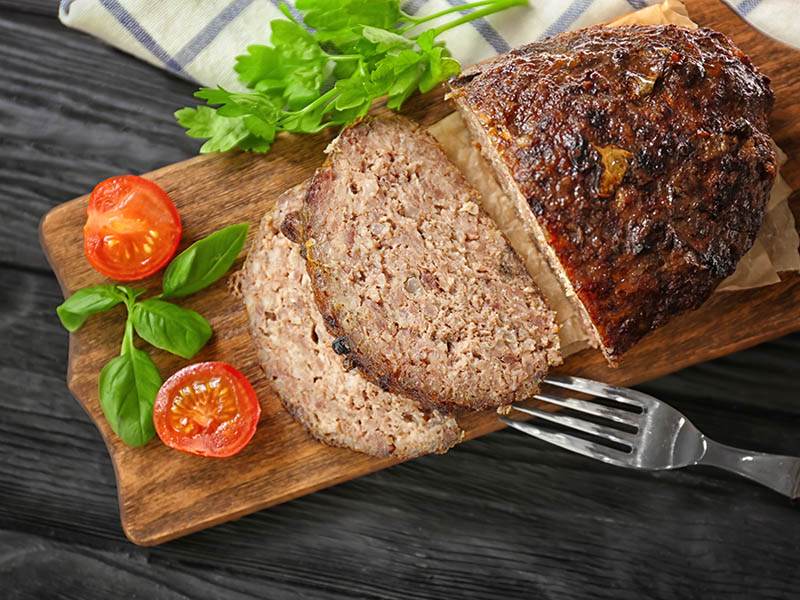 Using a fork for doneness testing is similar to using the thermometer. You poke the fork into the thickest part of your meatloaf until it gets to the center. If the fork goes easily into the center, your meatloaf could be done.
Besides, you can check the doneness through the temperature of the fork. If the fork is still warm after going out, your meatloaf may be ready to serve. But if not, you need to put it back in the oven and keep waiting.
Use A Cake Tester Or Toothpick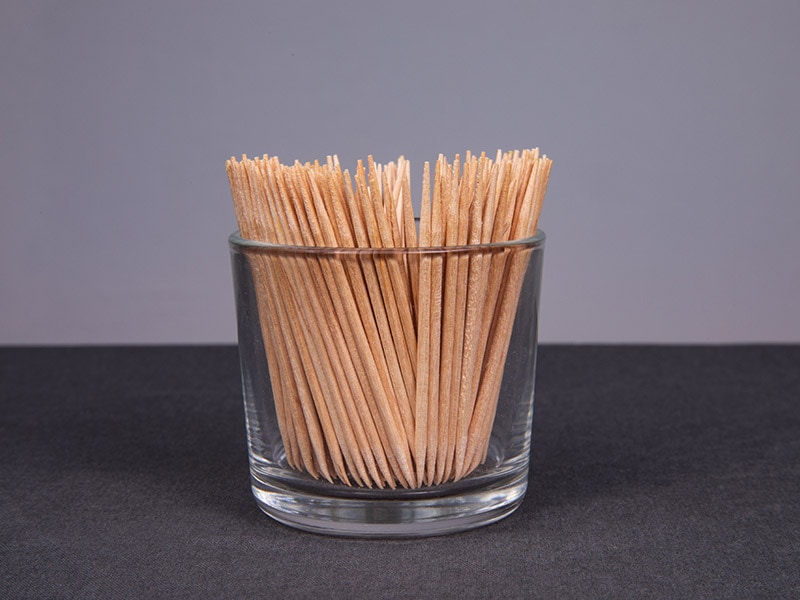 Using a cake tester or toothpick is the traditional way to check for the doneness of the cakes. And in this case, you can also use these tools to check the meatloaves.
Like using the fork, you need to insert a toothpick into the thickest part. Then, after pulling it out of the meatloaf, you will know whether your meatloaf is ready or not by looking at the crumbs sticking to the pick. If crumbs exist, your meatloaf is not ready.
Regarding using the cake tester, it is the same as using the thermometer. Just poke it into the thickest part of your meatloaf and watch the temperature displayed number if your dish is ready or not.
Physical Impact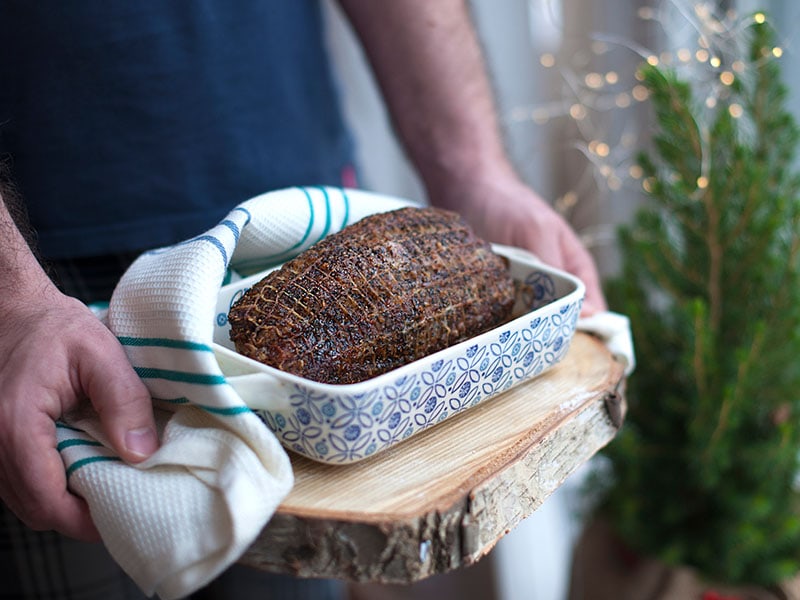 Also, you can use your hand or spoon to squeeze or touch the meatloaf gently. If your meatloaf returns to shape after squeezing, congratulations, your meal is ready to be on the dish!
Besides, you can also use your fingers instead of all of your hands. Push your index finger onto the surface of the meatloaf. If the meatloaf bends easily, you will need to bake it again because no matter how hard you poke, the baked one will be firm and not shape-changing.
A little note here is that if you use your hand and finger to test the doneness, do not forget to clean it first for hygiene matters.
Observe A Meatloaf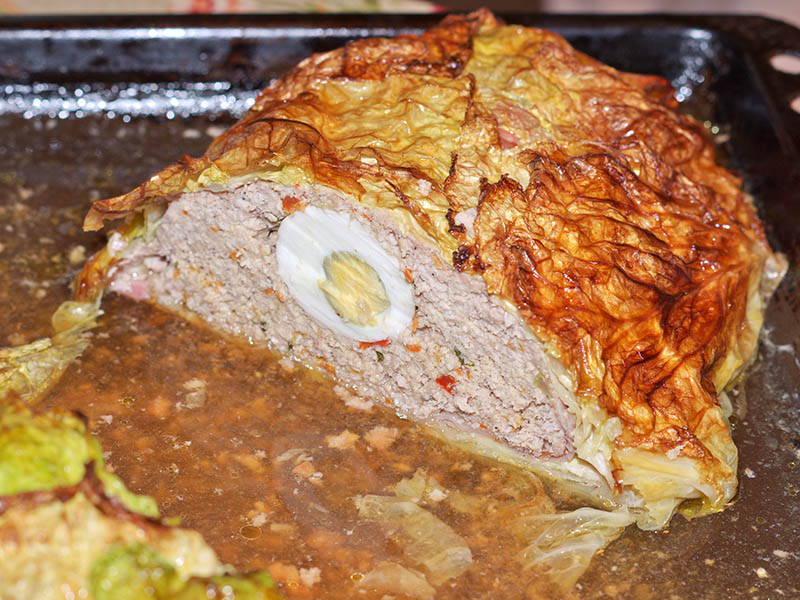 To make sure your meatloaf is completely safe to eat, having an observation of the loaf is the best way on the list.
You can observe the liquid coming out of the meatloaf. If the liquid is clear, your meatloaf could be done. But, if the liquid is bloody or in red color, your meatloaf is not ready. So, watch out for this appearance!
In addition, you can test your dishes in the traditional way, slice and watch the color of the meatloaf slice to know its readiness. For done meatloaf, you should look for a brown color. If there is any pink color in your meatloaf, bake it again!
Tips: To correctly check the juice of your meatloaf, remember to poke the knife in the center of the meatloaf for the best result.
Trust The Recipe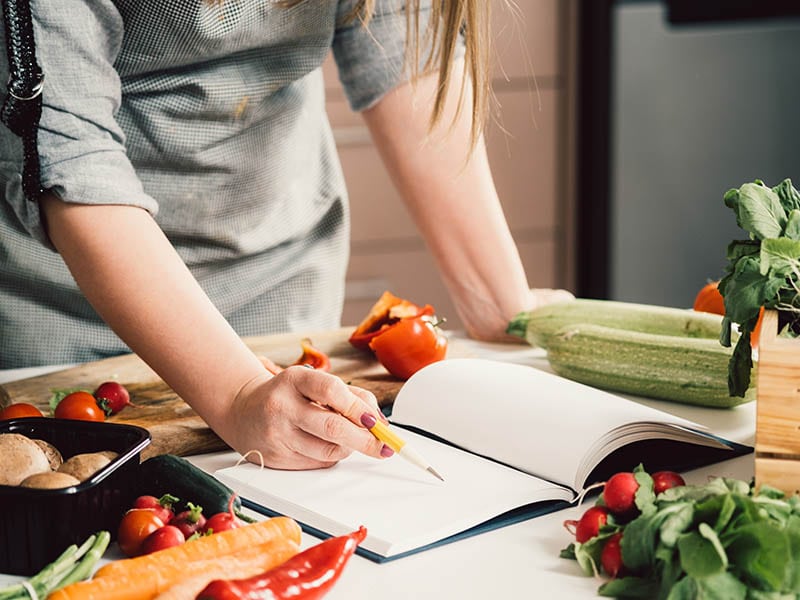 And here comes the easiest way, trust the recipe. Although there are many ways to check for the meatloaf doneness, following the available recipe is an effortless option.
Therefore, if you feel all the tips are troublesome, just ask for a recipe and follow exactly what it says. However, you need to selectively choose the recipe since not all recipes on the Internet are from professional chefs.
You could have made some big mistakes while baking meatloaf. Check it out!
Bonus Tips For Perfecting Your Meatloaf Dishes
Well done! You are on the way to making perfect meatloaf. But besides making other side dishes to compliment meatloaf, there are still several tips to upgrade your meatloaf dishes to perfection!
Tip 1: Use Bread Or Crackers To Bind The Meatloaf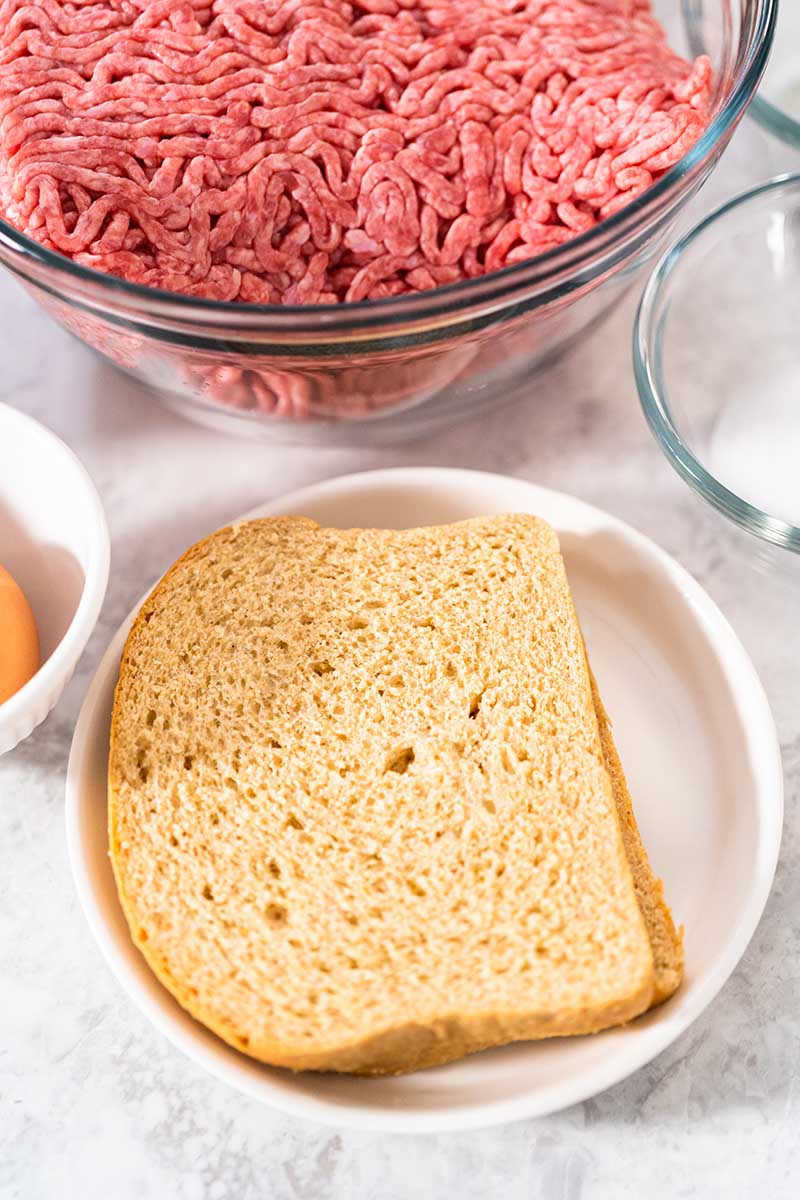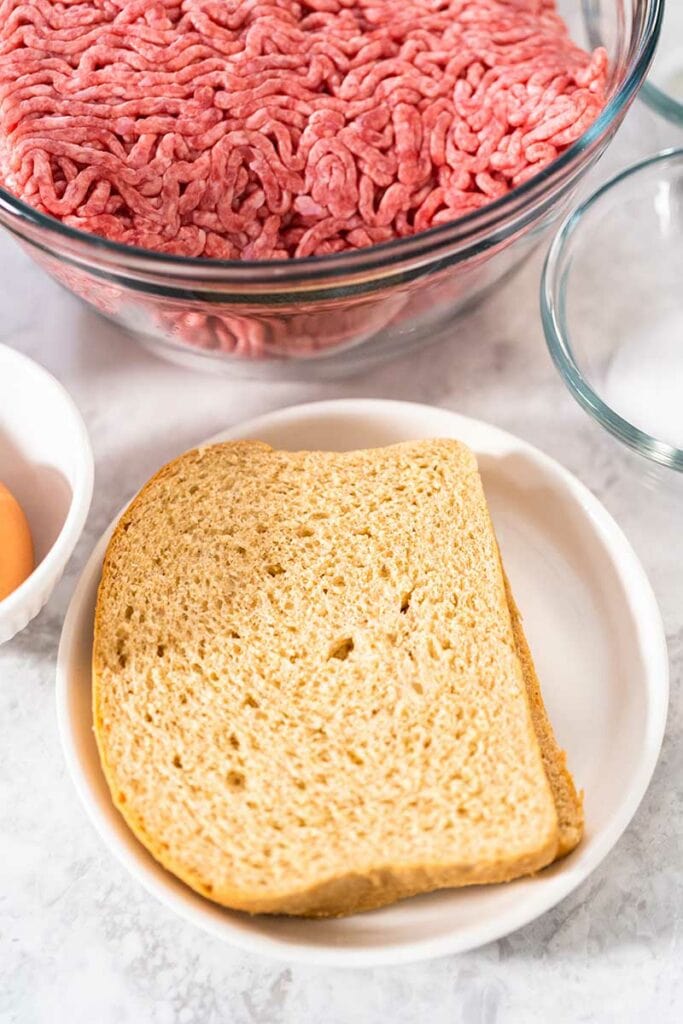 Besides meat, a binder is the most essential ingredient in making meatloaf. Choosing the right binder will help you gain the right texture for the meatloaf. Therefore, the first tip is to use your favorite kind of bread or crackers as a binder for your loaf.
Why bread and crackers but not something else? Because not only bread and crackers will help prevent your meatloaf from falling apart and improve the moisture in your dishes thanks to their water absorption and retention.
In particular, adding crackers with salt and butter will be a preferable option for you, which is quite convenient in seasoning the meatloaf.
Tip 2: Choose The Right Meat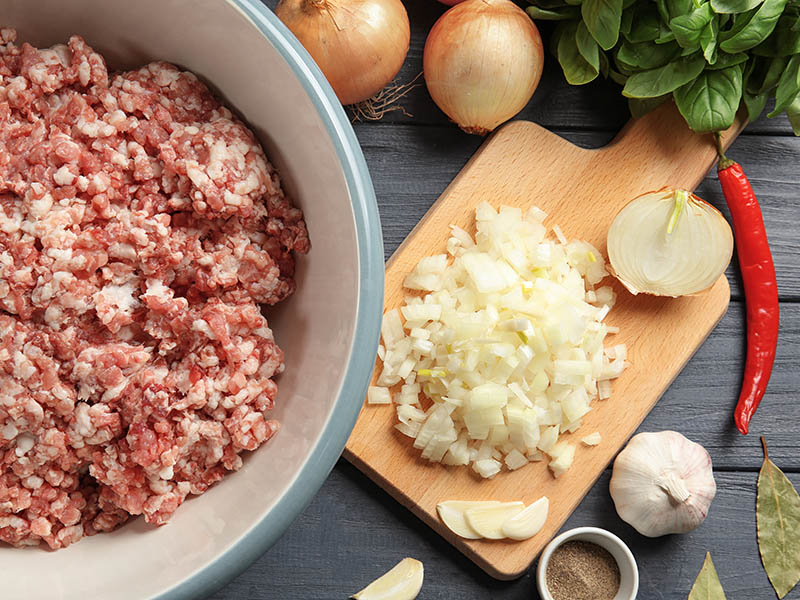 Choosing the right meat for your meatloaf means that you are half successful in cooking the dishes. So, the tip is to mix beef and pork with some eggs so that your meatloaf will have a perfect structure and not fall apart. You can also replace the eggs in meatloaf with other substitutes.
Now, you may wonder whether ground beef is better than ground chuck. Well, in this recipe I highly recommend using the ground chuck from beef because of its taste.
However, the chuck part of beef is less in fat, which causes a drier texture if you overbake the meatloaf. Thus, for a juicier meatloaf, you should choose the fattier meat.
Tip 3: Heinz Tomato Sauce Is A Plus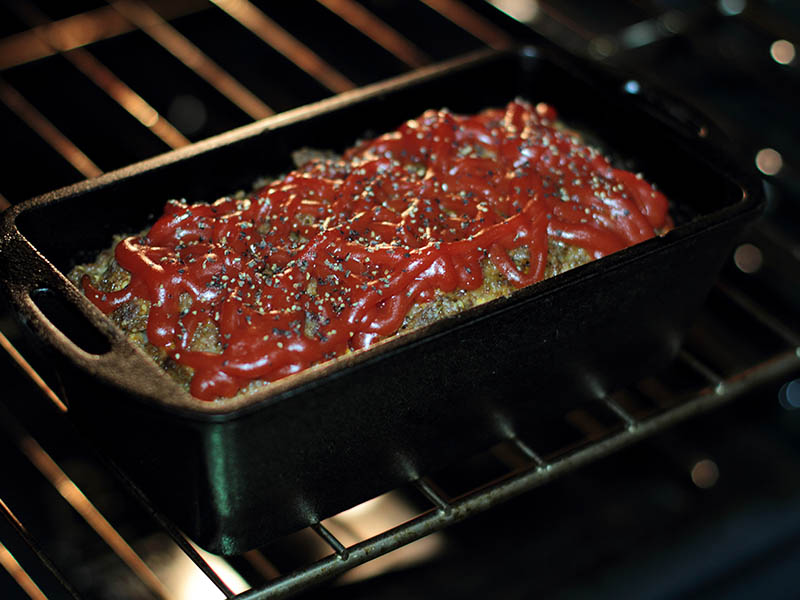 I'm not sponsoring Heinz, but you have to agree that the Heinz ketchup recipe is somewhat tasty and helps bring out the flavor of dishes. Therefore, I suggest adding Heinz ketchup to your sauce for a more tasty flavor.
Tip 4: Use A Foil Cover To Keep The Moisture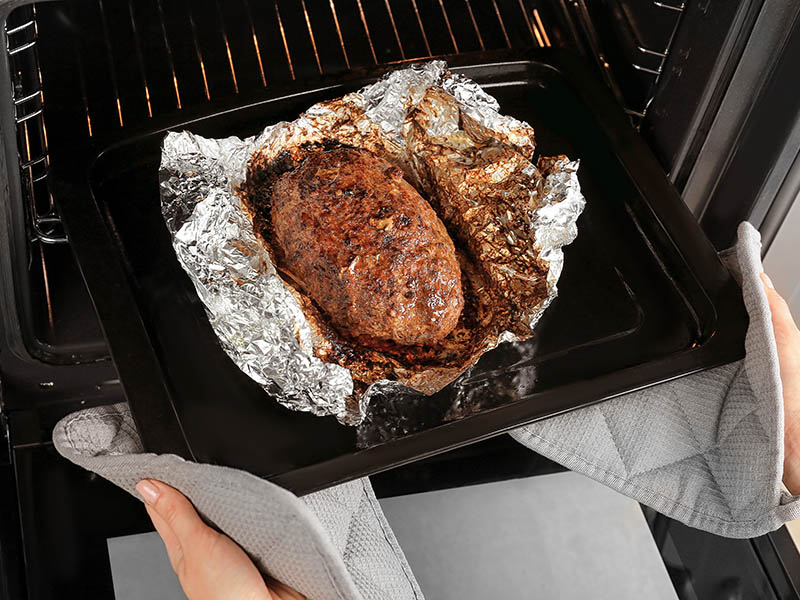 Unlike red meat, other meats are lean and easy to dry when overcooking. Thus, if you use meats other than red meat, you should use foil to cover the meatloaf pan to keep the moisture of the dishes.
The foil will play the role of a lid that prevents the water from vaping out, which will cause the dried texture of your meatloaf.
Tip 5: Use Bacon Strips Or Salt Pork For Moisture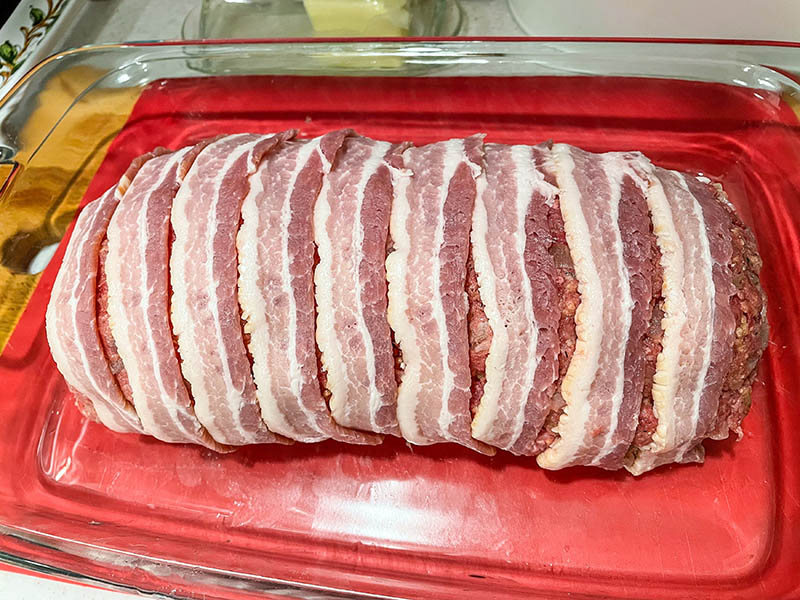 While there are some differences between bacon and salt pork, they all help keep your meatloaf moisturized. Just put bacon strips or salt pork on top of the meatloaf. The fat from these meats will come out at high temperatures and support moisture to your meatloaf from the top.
When the baking ends, your meatloaf will get a juicy texture inside with a crispy texture on top, which will make your mouth water immediately.
If you want to actively make the moisturized meatloaf at the beginning, using soft bread crumbs is a great step to do. The soft bread crumbs will contribute to the softer texture of the meatloaf and make it more tender to eat.
In case you do not have any soft bread crumbs, you can add milk or water to moisturize the dry crumbs before putting them into the meatloaf mixes.
Want to know how to avoid the dry meatloaf? Join in!
A Delicious Meatloaf Recipe To Make At Home
Now that you've known about the proper duration to cook meatloaf at 400, it's time to put all that knowledge to use and make your own meatloaf. Follow these instructions to cook up a tasty meatloaf for your dinner!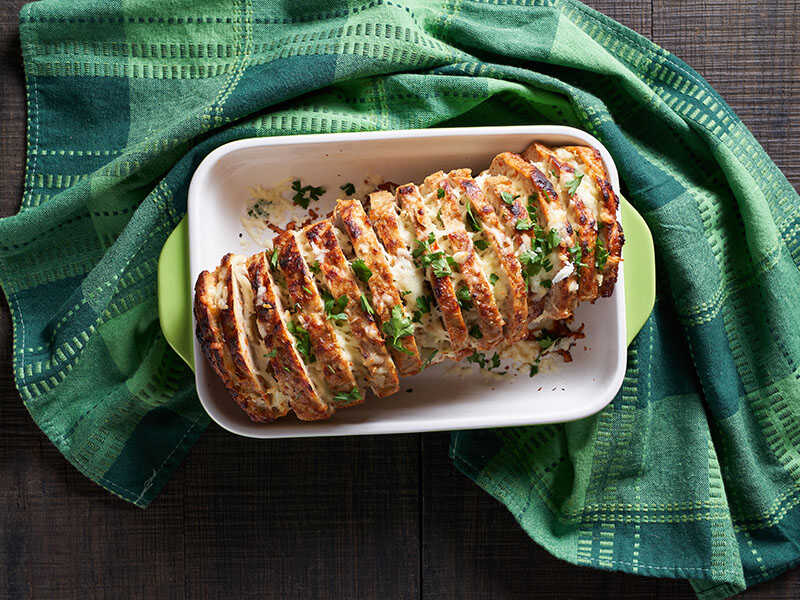 Ingredients
One of the reasons why meatloaf is so well-loved is that its ingredients are all incredibly easy to find. Here are all the things you need to cook up a delicious meatloaf.
1 ½ pounds ground beef (at least 85% lean)
½ pound ground pork
1 egg
3 minced garlic cloves
1 diced green pepper
1 diced onion
¼ cup ketchup
½ cup breadcrumbs
1 teaspoon salt
1 tablespoon mustard
¼ teaspoon black pepper
Directions
Have you gathered all the ingredients? if the answer is yes, let's get cooking!
Step 1: Preheat The Oven
Preheat the oven to 400 degrees F. This should take about 15 minutes.
Step 2: Combine The Ingredients
Meanwhile, add all the ingredients into a large bowl and mix well to combine.
Step 3: Shape The Meatloaf
Grease a baking sheet and put the mixture on it. Form the mixture into a meatloaf shape.
Step 4: Bake The Meatloaf
Bake your meatloaf for 45 to 60 minutes. To check your meatloaf doneness, insert a thermometer into it. When the thermometer reads 160 degrees F, your dish is cooked through.
Step 5: Let The Meatloaf Rest
Allow the meatloaf to rest for 5 to 10 minutes before slicing.
FAQs
For your information, here is a collection of frequently asked questions. Take a look at it, maybe you will gain some interesting knowledge!
Now You Are Ready To Make Your Unique Meatloaf
As you can see, it is not too hard to cook meatloaf at 400 degrees F, right? All you need to attend to is the meatloaf's meat, size, and texture. Besides, in this post, I also share some incredible cooking tips with you. Hope you can get it for your next meatloaf baking!
From now on, I truly believe that you are ready to cook one delicious meatloaf for your family. If any of your friends need this informative article, please feel free to share it. I honestly appreciate your support. I wish you a nice day, and cheers!
Nutrition Facts
4 servings per container
---
Amount Per ServingCalories563
% Daily Value *
Total Fat 30.6g

47

%
Cholesterol 196mg

66

%
Sodium 1011mg

43

%
Potassium 459mg

14

%
Total Carbohydrate 19.3g

7

%

Dietary Fiber 2.3g

8

%
Sugars 6.4g

Protein 51.6g

102

%
---
Calcium

66

%
Iron

2

%
Vitamin D

4

%
* The % Daily Value tells you how much a nutrient in a serving of food contributes to a daily diet. 2,000 calories a day is used for general nutrition advice.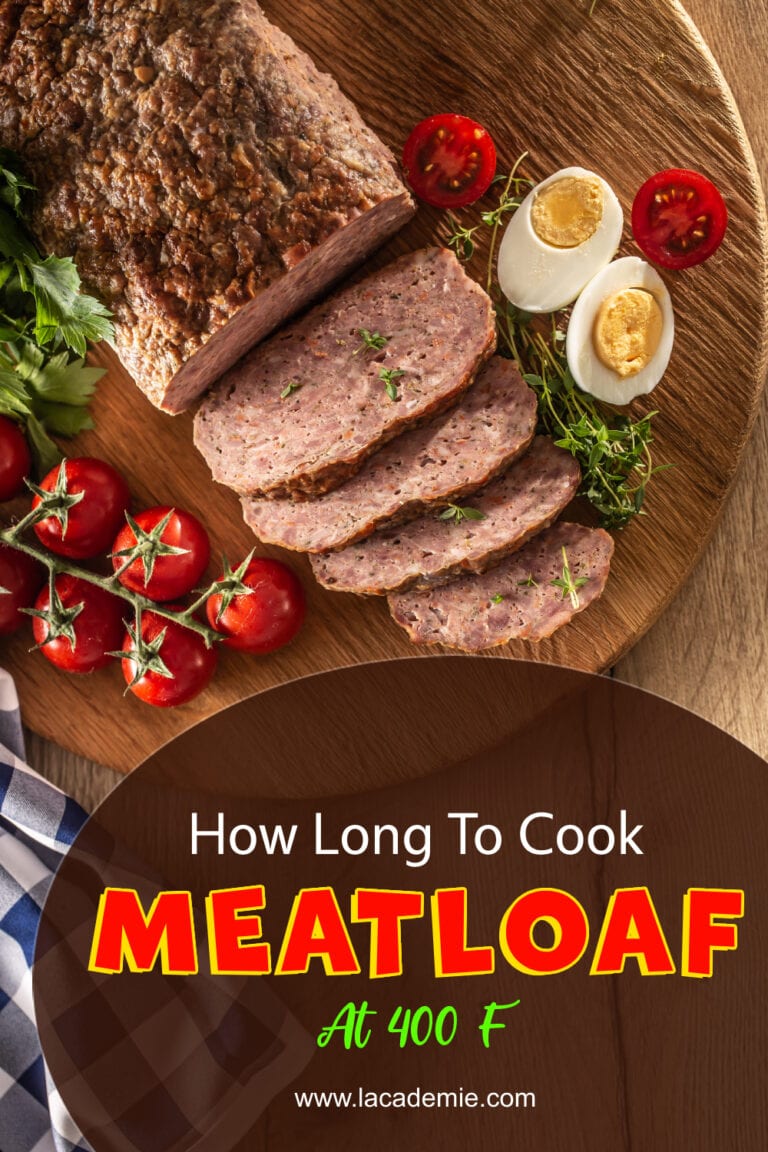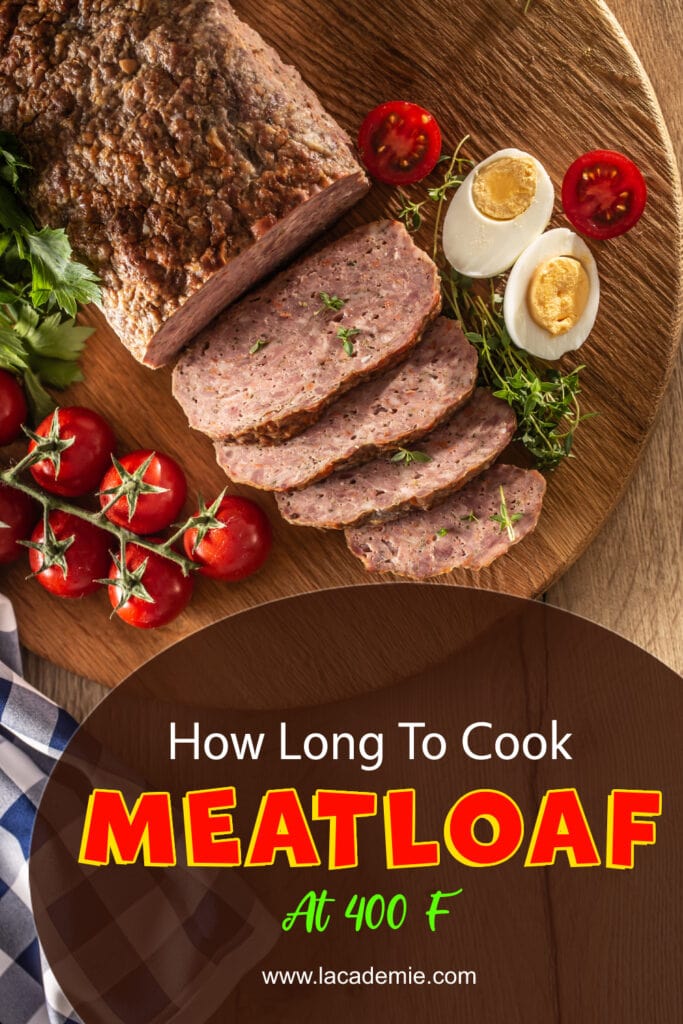 References
En.wikipedia.org. 2022. Meatloaf – Wikipedia.
usda.gov. 2020. Cooking Meat? Check the New Recommended Temperatures.