Hard salami vs. genoa salami, are they two different names for a kind of sausage? Why is it sometimes red, sometimes light pink? Is it made with beef or pork? If these questions have been messing with your mind for days, it's about time you let them go.
Here's a little sneak peek to ease your mind: hard salami and genoa salami are completely different entities, and to tell the truth, they are more dissimilar than you think. Keep reading and find out the differences between them.
Bonus, there's a guide on making them at home in this post! It will be a fun project to try, so don't miss it!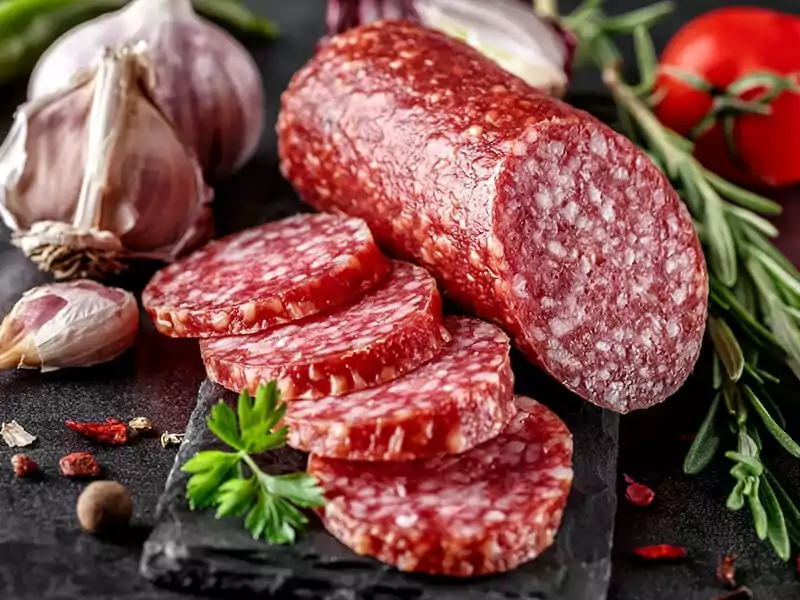 Hard Salami Vs Genoa Salami, Same Same But Different
How do these dry sausages differ from one another? Check out the short list I have rounded up below to get a glimpse of what you will learn about them in this post.
Origin
Ingredients
Production
Color and texture
Taste
Nutrition content
Storing method
And now, I will begin the post with a few interesting facts about salami. Let's go!
Salami – The King Of Sausage
First, do you know how pepperoni differs from salami when many people use them interchangeably? Their origin is what makes them distinctive.
Originating from Italy during the Roman times, salami is a type of cured sausage made from air-dried meat and can be enjoyed with pasta, cheese, or used to create a cocktail mix – no kidding!
This delectable sausage kind gets its name from the Latin word that means "salt" or "to salt," so you can expect how it tastes: salty, somewhat sweet with a slight kick. The flavor profile will vary significantly based on the variety you purchase.
For instance, if you go with the original pork variety, it tastes rich, but the beef equivalent has a deeper flavor. Other meat choices for salami include veal, horse, and lamb. The final taste is rounded with herbs like basil or thyme, along with paprika, oregano, or cayenne peppers.
Up till now, there are about 300 varieties of salami worldwide, and the chances are that you have tried at least one of them, pepperoni. Two other varieties you may want to try next are hard and genoa salami, which is commonly mistaken for one another.
Hard Salami
Hard salami is made from pork, sometimes a blend of beef and pork with pepper. The origin of this dark red sausage remains an enigma, but most people say it first emerged in Central Europe. It can be smoked sometimes, producing a firm texture with a smooth flavor.
Genoa Salami
The dry sausage is native to Genoa, a beautiful port city situated in the Liguria region of Italy. You will mostly find genoa salami made from pork and seasoned with red wine, peppercorns, and garlic. Although not smoked like hard salami, it still carries an amazing fermented taste.
Differentiation Of Hard Salami And Genoa Salami
That said, if you don't know which's which when standing in front of the deli counter, the table below will give you a helping hand. You will learn not only about their visual difference but also their origin, taste, and many more.
| Difference | Hard Salami | Genoa Salami |
| --- | --- | --- |
| Origin | Central Europe, particularly Czech Republic, Germany, or Poland | Genoa, Italy |
| Base ingredient (meat) | Only pork, can be mixed with beef | Pork, beef, or veal |
| Herbs and seasonings | Garlic; Ground pepper | Garlic; Whole or cracked peppercorns; A dry Italian red wine can be added if preferred |
| Manufacturing process | Smoked | Cured, not smoked |
| Color | Darker than genoa salami | Lighter than hard salami |
| Texture | Dry, firm, and can be a little rubbery | Soft, moist, and greasy |
| Flavor | Mild, beefy, with a deep smokiness | Tangy, sharp, and more flavorful than hard salami because more spices are used |
| What to pair with | Meat, milder cheese, or vegetables | Can be served alone with mozzarella; Sandwiches or salads |
| Nutritional value | Overall unhealthy if consumed to excess; Higher in sodium than genoa salami; Fairly rich in B vitamins | Overall unhealthy if consumed to excess; Lower in sodium than hard salami but still high on average; Rich in B vitamins |
| Storing | Last longer than genoa salami; Does not really need refrigeration | Does not last as long as hard salami; Should be refrigerated after cut |
Origin
As per the name, you can guess where genoa salami is from. It was born in Genoa, a city in northwestern Italy. Since the geographical location is not ideal for raising cattle, the main ingredient for this salami is mostly pork.
Unlike other members of the family, hard salami is not Italian-made. Its origin is a mystery, with some claiming that it is native to Germany, but a few associate its origin with the cuisine of the Czech Republic or Poland. The general consensus is that it's first made in Central Europe.
Both of them have European origins, but their popularity now spread worldwide, including America to Asia. Many people prefer to use salami for their served-cold appetizers ideas. Indeed, when you combine salami with cheese or fruits, they are so perfect to stimulate your hunger.
Base Ingredient
Pork is the most common meat choice for salami. Precisely, only female pork is used since it smells clean. Male pigs will exude an odor known as boar taint when they reach puberty, so they are not recommended for making salami. (1)
Apart from pork meat (60%), fresh pork fat (40%) is also incorporated into salamis for an extra depth of flavor. It tastes rich, nutty, and is incredibly moist, and can be substituted with beef, duck, or sheep tail fat if desired.
Genoa salami generally uses pork, but beef and veal versions are also available. On the other hand, hard salami is made with pork or a blend of beef and pork. Although the meat is not cooked, it is cured, so you can be assured that salami is safe for consumption.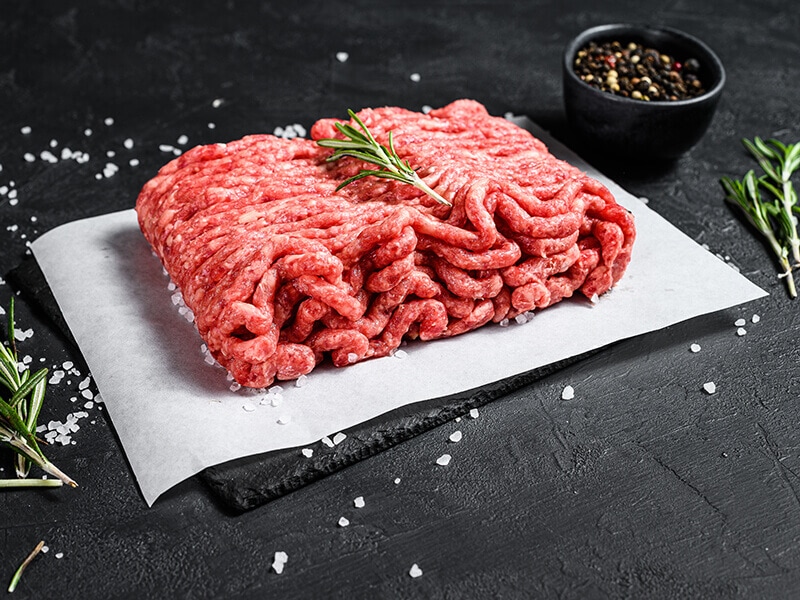 With this guide, grinding meat has never been more straightforward:
Herbs And Seasonings
Salami without herbs and seasonings is like a fish out of water. Regarding herbs, people usually choose oregano to make salami. But feel free to use the alternatives of oregano, like thyme, bay leaves, marjoram, etc, to blend in the meat.
On the other hand, paprika and garlic are also commonly-used salami's components to enhance the overall taste.
However, when cut into slices, you will see that genoa salami has whole or slightly cracked peppercorns, whereas hard salami uses ground pepper. In addition, the former is laced with red or white wine.
Besides rounding the final taste, wine was used in lieu of starter culture to facilitate the growth of beneficial bacteria. If you feel like it's too fancy to waste a bottle of pinot noir, feel free to leave it out of your recipe. The difference without it is not too noticeable.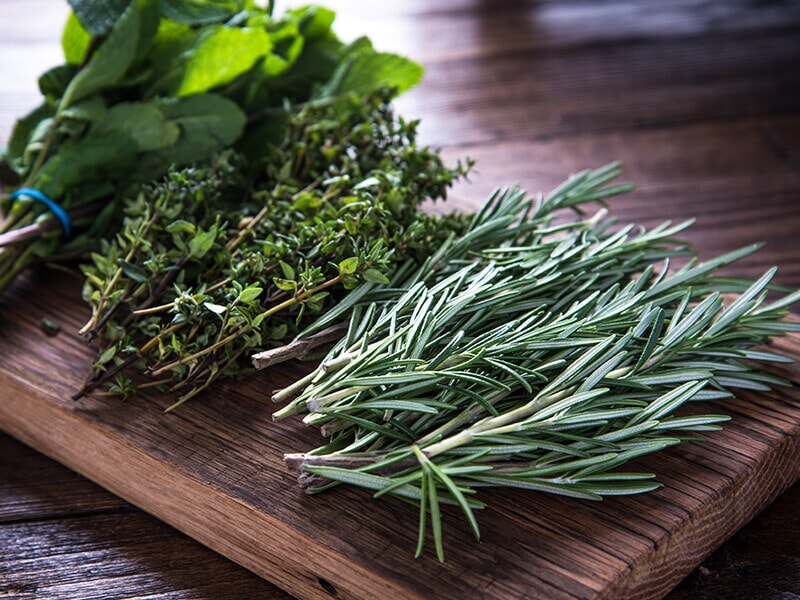 Manufacturing Process
The procedure of making salami is a labor of love. It comprises three different stages, which are preparation, fermentation, and drying.
Preparation
In the inaugural stage, the raw material is coarsely ground and mixed with sugar, salt, pepper, herbs, and other spices. Yeast is then inoculated into the mixture to stabilize the color development.
It also controls acidification within acceptable pH levels as the product ages. Contrary to popular belief, the starter culture for salami is not yeast but lactic acid bacteria, which are added only when the variety requires.
The starter culture does more than just fermenting the meat. It keeps the harmful bacteria at bay, improves the consistency, and imparts a distinctive tangy flavor to the final product.
Both hard and genoa salami need this starter for the next stage of the process, fermentation.
Fermentation
At this stage, the mixture is inserted into a cylindrical casing and hung dry in the chamber. Unlike genoa salami, which is only cured, hard salami has to go through an extra smoking process to speed up fermentation, plus impart a smoky finish to the result.
This process will last for about 48 to 96 hours.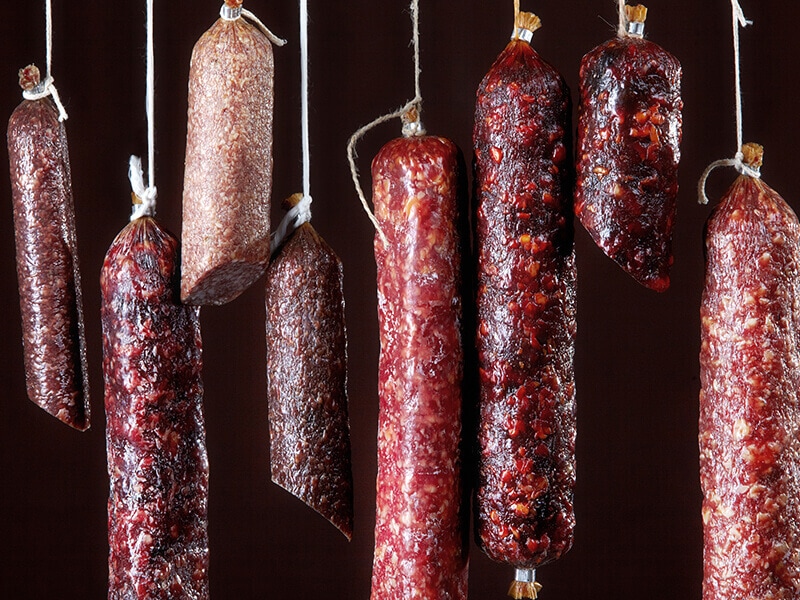 Drying
After fermentation, the sausage will undergo dehydration to hamper the growth of bacteria that cause spoilage. Nitrates or nitrites are sometimes enlisted to help preserve the color of the finished products.
Color
The color will vary from light pink to dark red depending on the proportion and type of meat you use. Since hard salami is made from an uneven blend of beef and pork (the amount of beef used is larger), it possesses a distinctive dark red color resembling wine.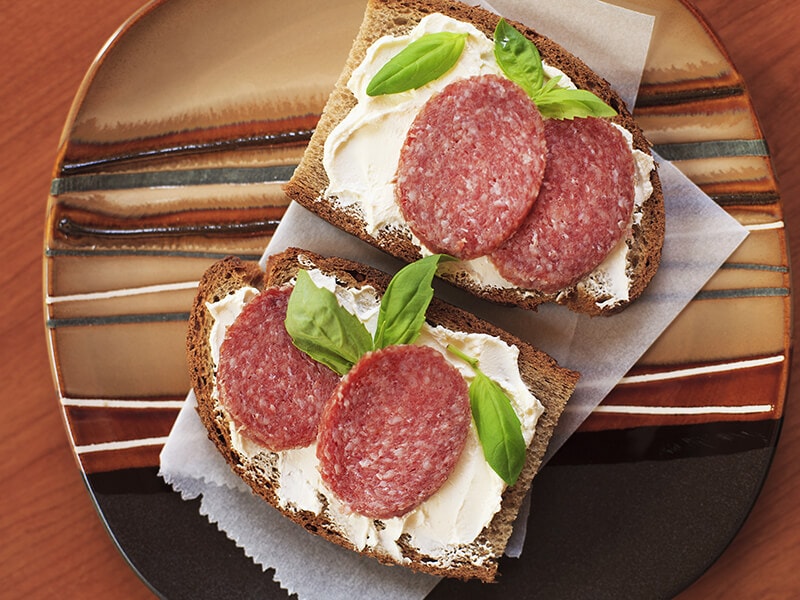 Meanwhile, genoa salami has a lighter shade of red than dark salami since beef is not involved. Should you notice changes in color, for instance, black, blue, or green, there's a high possibility that salami has passed its prime. Discard it immediately.
Texture
Regarding the name, you can expect how hard salami will go on your tongue. It is firm, dry, and somewhat chewy since it is smoked. Additionally, hard salami calls for less fat than genoa salami and is not moistened with wine.
Even though genoa salami is classified as dry sausage, its texture is soft and greasier due to the high-fat content, which accounts for about 60-70% of the product. Thus, the flecks of fat are more discernible on genoa salami than its counterpart.
Flavor And What To Serve With
Hard salami and genoa salami, which one tastes better? They all taste wonderful and can be paired with many other foods, so it's all a matter of preferences. That said, they have a few dissimilarities concerning the flavor.
Genoa salami is accentuated with a fermented taste thanks to wine, leaving a tangy finish on your palate. Its flavor is also more complex, unlike hard salami, which is milder and has a smoky hint that goes great with something delicate like vegetables or cream cheese.
To enjoy genoa salami, there's no need to go overboard. You can enjoy it alone or serve with some slices of mozzarella. You will love to have it with sandwiches or salads as well.
Nutritional Value
If you think you cannot live without salami, here's my honest advice: you'd better learn to do it, or you will be putting your health at risk. Despite being a favorite delicacy in many regions, particularly Europe, salami is not healthy. The chart* below will prove it.
| Nutrient | Hard Salami | Genoa Salami |
| --- | --- | --- |
| Calories | 111 | 105 |
| Protein | 6.3g | 6g |
| Carbs | 0.2g | 0.3g |
| Total fat | 9.3g | 9g |
| Saturated fat | 3.3g | 3.3g |
| Sodium | 516mg | 393mg |
| Potassium | 108mg | 90.2mg |
*Per a serving of 27 grams
Overall, hard and genoa salami is low in carbs and high in protein and fat, ideal for a keto diet. Therefore, they are sometimes considered to be healthy alternatives until you look at the sodium department.
The high concentration of sodium found in salami is relatively high, which can lead to high blood pressure, stroke, or health issues concerning the heart and kidney. Therefore, salami is meant to be eaten in moderation.
Another thing you should take note of is the amount of saturated fat they contain. When consumed to excess, you are prone to risks of stroke and heart diseases because of an increase in LDL cholesterol.
On the bright side, salami carries a considerable amount of different B vitamins (thiamine, pyridoxine, cobalamin, etc.), particularly genoa. These vitamins play a vital role in maintaining your well-being, promoting cell health, and reducing the risk of dementia. (2)
While nitrates or nitrites are relatively safe food additives, overconsumption can lead to body weakness, fatigue, or dizziness. Thus, it's well-advised to go with "free salami," a name given to those varieties that do not contain these ions.
Storing
​When unpackaged, salami can sit nicely on the counter for about six weeks and last almost indefinite if you refrigerate it.
If they are opened, you should use wax paper to wrap them. You can use other replacements of wax paper, like paper bags, cover your food and store in a cold dry place or in the fridge.
Unlike genoa salami, which is not smoked, hard salami can be stored at room temperature even when opened.
Hard salami also outclasses genoa salami with its shelf life, which ranges from a week or two to a few months. The longer you hang it, the more it will dry out and be less palatable.
Although I said that some salami could last for life, it's best to use it according to its expiry date. Like other sausages, if not handled and stored properly, mold and other bacteria can penetrate and ruin your salami.
How To Make Hard And Genoa Salami With No Fuss
Making salami sounds like a painstaking job, so there's no way you can make salami from scratch at home. Dead wrong. The idea is workable so long as you have enough patience and the right ingredients at hand. If you are curious, don't be hesitant to scroll down.
Prepare The Ingredients
First thing first, you will choose the right type of meat. Pork is a no-brainer, but you will love to try salami made with veal, duck, or horse. If desired, you can combine different types of meat. Don't forget the fat!
Next, prepare the herbs and spices as suggested below. Feel free to leave or add anything to the list to suit your preferences:
Fresh garlic or garlic powder if you want a smooth consistency
Marjoram
Thyme
Basil
Coriander
Allspice
Sugar
Kosher salt
Whole peppercorns (for genoa salami) or ground pepper (for hard salami)
Wine, depending on what kind of salami you make
And of course, you cannot miss the starter culture, the ingredient that kick-starts everything!
How To Make Salami With No Fuss
There are many starter cultures for salami available on the market nowadays, for instance, T-SPX. However, if you are interested in making your starter, read the guide below to learn how you'll do it using sauerkraut juice.
Option 1: Using Sauerkraut As A Starter
Step 1: Sanitize the equipment and working area.
Step 2: Make sure the chamber where you will hang the sausage is around 66 degrees C. You can make one from scratch using a frost-free fridge, a temperature controller, and a humidifier.
Step 3: Grind the meat cuts. Move on to the next step if you already have ground meat.
Step 4: Combine the ingredients listed above. Then, stir the mixture in the processed meat and add the sauerkraut juice.
Step 5: Roll the mixture so that it turns into a log.
Step 6: Stuff the meat mixture into casings and brush the sausage with the mixture. Over 6-8 weeks, the color and texture of the sausage will change.
Nothing can beat this fantastic homemade salami recipe. Watch this video to know:
Option 2: Baking (No Starter Needed)
What happens if you don't have a chamber with a conducive environment? You bake it in the oven! Of course, this is not an authentic approach to make salami, so the result won't live up to your expectations, but it's acceptable.
Step 1: Combine ground meat with the spice mixture.
Step 2: Likewise, you will roll the mixture to form a log.
Step 3: Wrap the meat log in aluminum foil and refrigerate for at least 24 hours.
Step 4: Preheat the oven to 165 degrees C. Fill the pan with a little water (should be about an inch) so that salami won't dry out.
Step 5: Bake the sausage for 90 minutes, and you are done. This method will not give you the distinctive tangy flavor, unfortunately, but it does taste great overall. Serve with cheese and other cold meats and enjoy.
FAQs
Have you got more questions? I'm here to help! The following section includes some of the most asked questions about hard salami, genoa salami, and how to make them correctly at home.
The Diverse World Of Salami
Hard salami vs. genoa salami, which one's the winner in your heart? Well, it's tough to decide the final answer. And really, save your answer until you have tried all kinds of salami in the world. From pepperoni, chorizo to soppressata, you will love to taste them all.
By the time you are here, I hope that the differences between hard salami and genoa salami have been made clear. If you want me to clarify any point further or have some tips for making salami to share, comment below. Everything for the love of salami!
References
wikipedia.org. 2021. Boar taint – Wikipedia. [online] Available at: <https://en.wikipedia.org/wiki/Boar_taint>.
2021. Vitamin B Complex: Benefits, Side Effects, Dosage, Foods, and More. [online] Available at: <https://www.healthline.com/health/food-nutrition/vitamin-b-complex#benefits>.