Have you ever looked at meat labels in supermarkets and stumbled into the dilemma of choosing between cured and uncured meat? What exactly is the difference between the two? That is the question I will be answering in this article.
Or maybe that question never came across your mind, and your only goal is to bring home the bacon. This post will, regardless, save you some time in the future when such information comes to be relevant.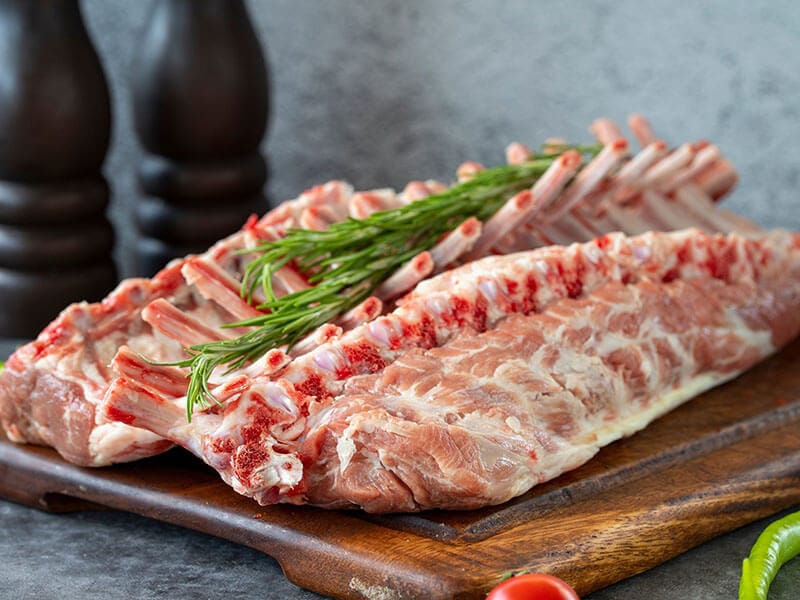 What Is Considered Cured Meat?
First, you will need to know about the details and the tidbits of the two sorts of meats before coming to the final showdown between the two. The result of which should be quite a surprise, so please stay tuned.
Cured Meats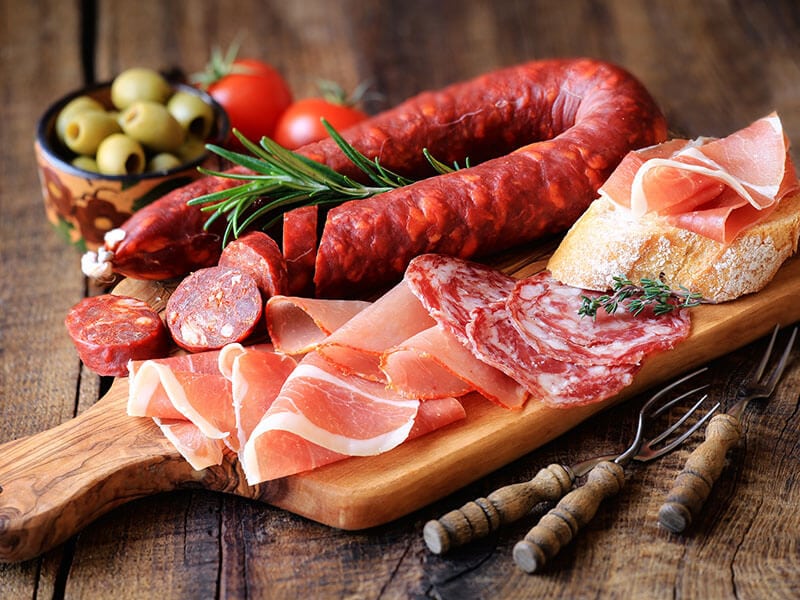 As the saying goes: "Prevention is better than cure", which is true in most cases. In the case of treating meat, however, curing is prevention, more specifically, preventing it from developing microbes that can cause spoilage.
This process aims to remove moisture from the body of the meat, thus making it easier to preserve. Though the methods of curing have changed and evolved ever since their first practice dated back to antiquity, the one essential ingredient of curing remains the same – salt.
Nowadays, cured meats are often considered meat that has been tampered with preservative additives such as nitrates and nitrites. These chemicals help kill bacteria in meat and give them the familiar pink-ish appearance often seen in packaged bacon.
However, those chemicals can be harmful when consumed in large quantities and thus must be used with careful consideration and in accordance with safety guidelines.
Uncured Meats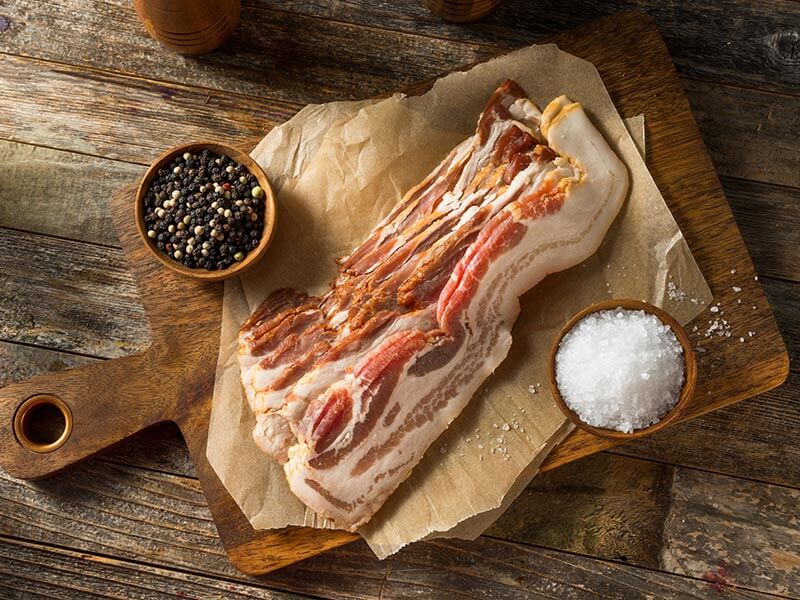 Uncured meats, unlike the name suggests, are not exactly the polar opposite of cured meat. The only difference is what has not been added to the preserving process, in this case, the aforementioned chemicals.
Instead, they employ more natural ingredients such as celery juice, which after being processed, will convert into nitrite. To make up for the lack of added chemicals, more sodium will have to be used, resulting in saltier meats.
The texture and taste of uncured meats should be the same as those of cured meats, though the coloration of the uncured one would be much paler due to not having chemical preservatives.
Uncured meat, then, is essentially a marketing term targeted at more health-conscious consumers who dread the notion of having any unnatural ingredient in their food. At the end of the day, both sorts of meat are cured, it is just that one is less 'scary' than the other.
Fresh Meats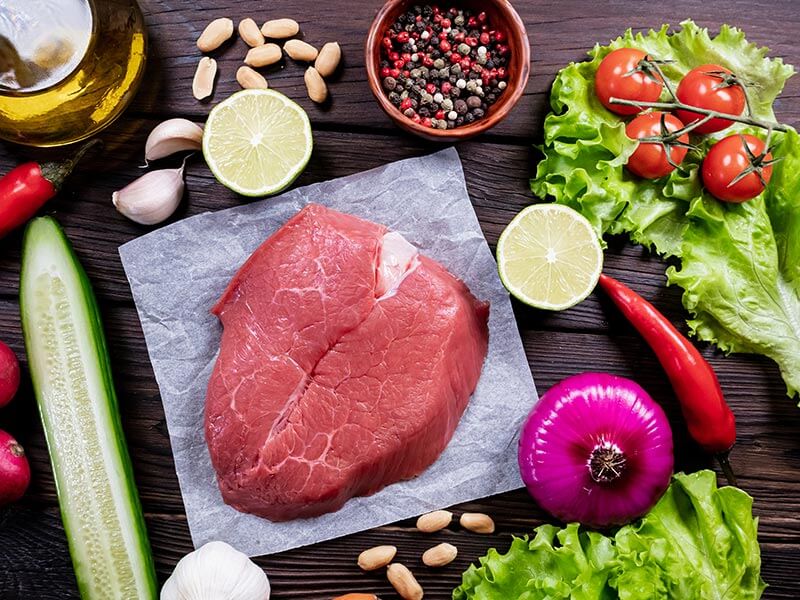 Now that the two main culprits of such confusion have been investigated, in comes another suspect that is often mistaken with the 'uncured' one – fresh meats.
This type of meat is no strange thing to those who prefer going to the traditional markets instead of the frozen or packaged meat deli section in the supermarkets. The reason why they are confused with uncured meat is that, technically, they don't go through any curing process.
Fresh meats are handled directly by butchers, usually sent straight from slaughterhouses to the stall and then to customers without passing through any preservatives-adding process. This type of meat plays by the rules of nature and would go off quickly if not well-refrigerated.
And of course, without any artificial additives, they will not taste like any cured or uncured products. How they taste would largely depend on the quality of the product and your own culinary skills.
Cured Meat vs. Uncured Meat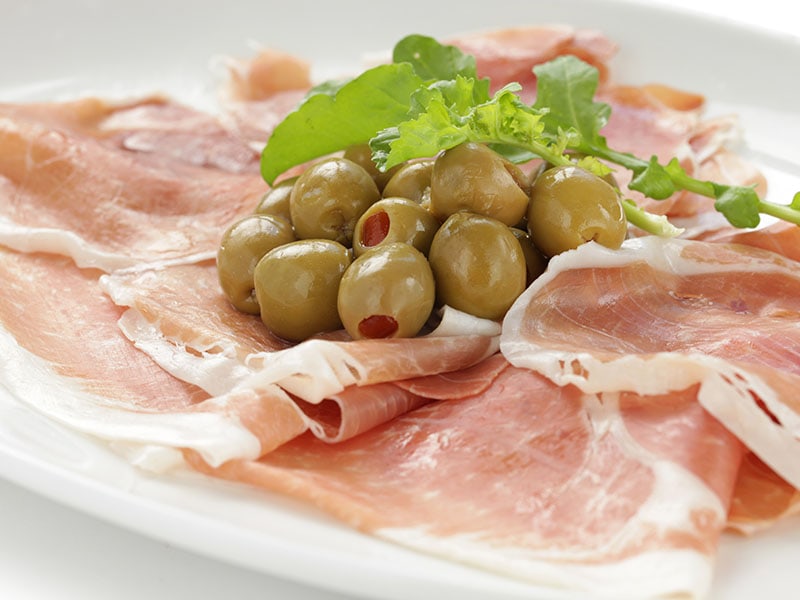 As promised, this section of the article will satiate your initial curiosity and eagerne,ss to witness the final showdown between the two sorts of meats, which so far have been established as not that different from one another.
Similarities
Fundamentally, both cured and uncured meat are meats that have gone through a preserving process in order to make them last longer when exposed to the elements. They both contain nitrite and have similar textures.
In cooking, you can use both sorts of meat interchangeably since the taste is quite similar, which is like that of classic bacon. Just remember that uncured meat is a tad saltier than cured one.
Once the packaging has been opened, it needs to be refrigerated to last as long as the expiration date indicated on the label.
Differences
Are uncured meat really healthier than its cured relative? Should you opt for the uncured labels and put the cured ones back on the shelf the next time going to your favorite deli?
Unfortunately, it is a tricky question to answer, for the two sorts of meat both contain nitrates and nitrites in them. One through artificial additives, the other derived from plant-based sources such as celery, and there's no proof that one is better than the other so far.
However, without a definitive answer, I will provide a table of comparisons so that you can make up for yourself which one should be on your shopping list the next time.
| Features | Cured Meat | Uncured Meat |
| --- | --- | --- |
| Preservatives | Synthetic | Plant-based |
| Coloration | Deep pink or red | Pale, light pink |
| Flavor | Rich Flavor | Milder Flavor |
| Texture | Less water content | More water content |
| Sodium Content | Less | More |
| Shelf Life | Longer | Shorter |
If that neatly organized table did not offer enough to satisfy your hunger for information then worry not, I will elaborate further and break each criterium down to answer to your voracious appetite.
Preservatives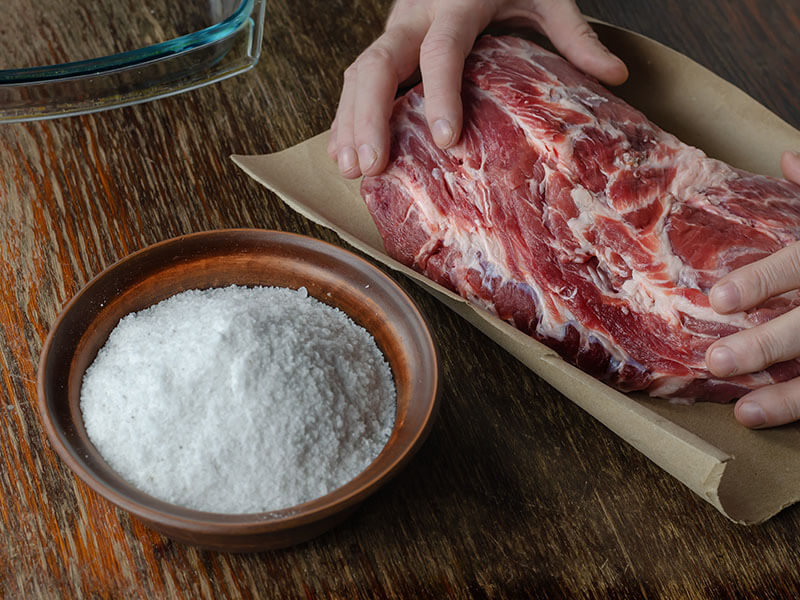 This is the biggest differentiating factor between cured and uncured meat, with one using synthetic chemicals and the other using natural ingredients to achieve the end goal.
In cured meat, the mixture used to cure contains salt and sodium nitrite (less than 1%). This is a chemical used to prevent the growth of microorganisms, particularly Clostridium Botulinum. It is added to meat to keep the distinct red color and flavor.
In uncured meat, which is not nitrite-free, but rather, the nitrite is derived from leafy vegetables like celery or spinach. More salt has to be added to the mix to make up for the lack of added chemicals in this case.
Learn more about the differences and health effects of the two preservatives!
Coloration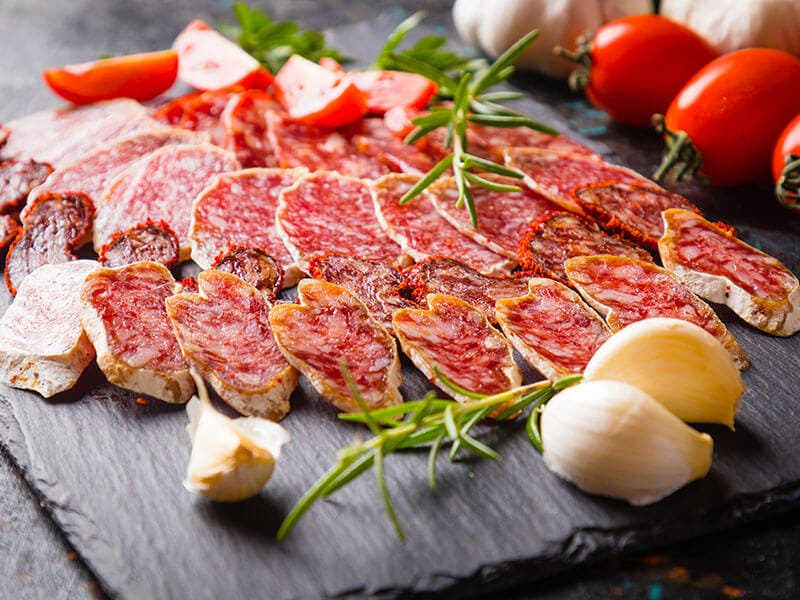 Yes, you can tell them apart by looking at the way they express themselves with colors. Cured meat retains its attractive redness with the help of the aforementioned nitrite, while uncured meat becomes less saturated at the end of the curing process.
Flavor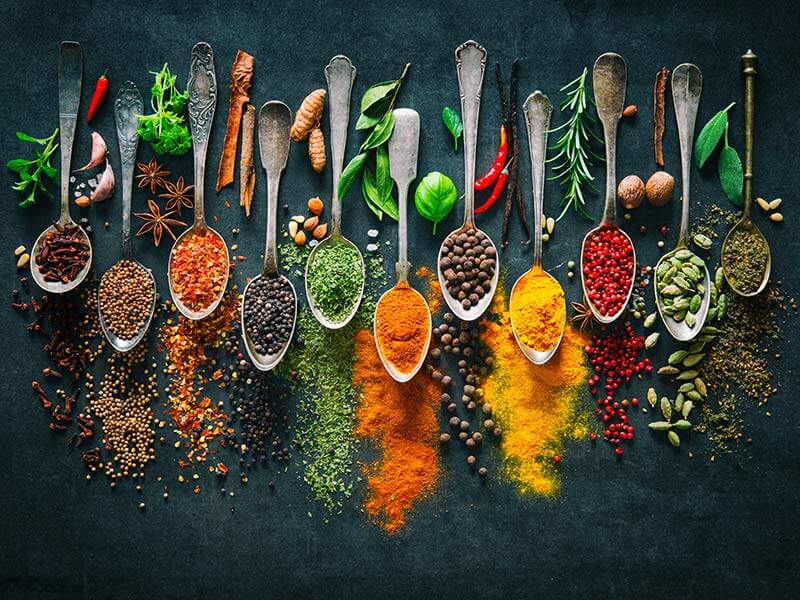 If you have had cured meat your entire life, you will definitely be able to tell the difference in taste between the two types. In general, cured meat has a richer flavor, while uncured meat will be milder but saltier due to having more sodium added.
Their flavors can also differ depending on the spices and herbs added to the curing mixture.
Texture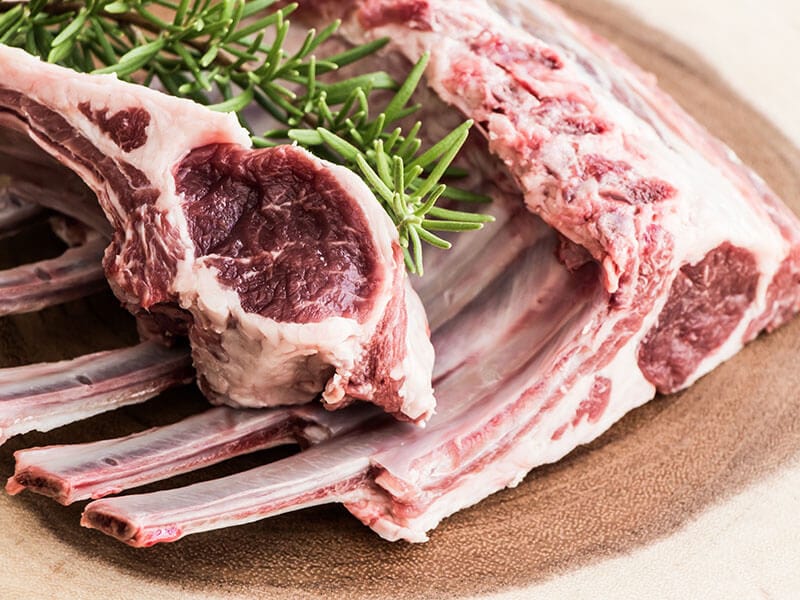 Due to the difference in preservatives added in the curing process, cured meat tends to retain less water while uncured meat is a little bit juicer. The fat in cured meat is also denser and chewier.
Sodium Content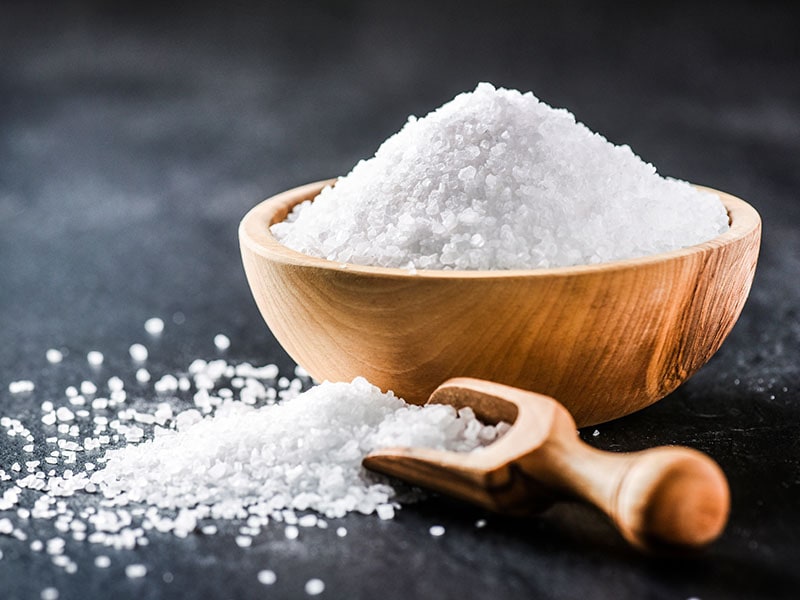 As mentioned before, uncured meat would have to use more salt to fill in the blank of synthetic chemicals, making it saltier in the process. This could be concerning for those with heart problems, obesity, or any complication that requires close monitoring of sodium intake.
The exact sodium content would depend on how much salt each manufacturer chooses to put in their product. The best way to tell is by looking at the ingredient listing.
Shelf Life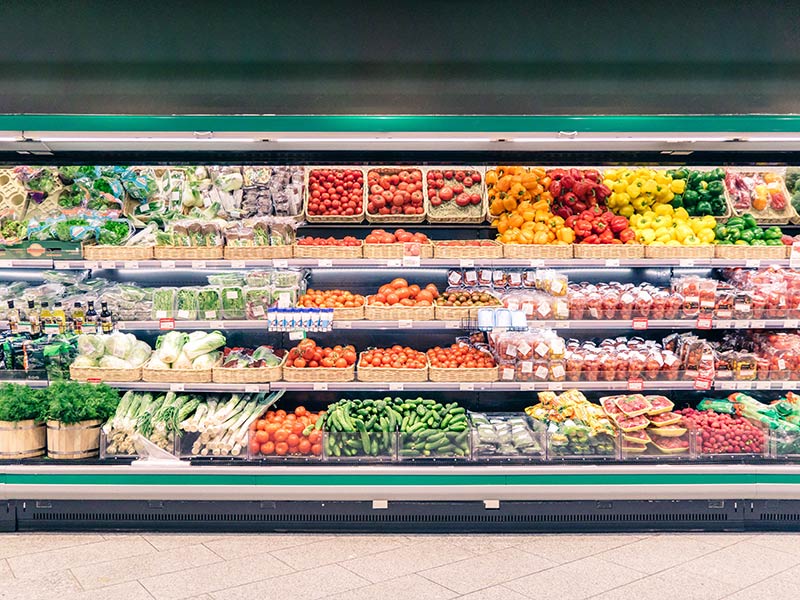 If you think that cured meat having chemicals in them would make them last longer, you are correct since nitrite does an amazing job in hindering bacteria from spawning. This is only applied when the product is still in its packaging. Once open, they both need to be refrigerated.
The expiration date would show you exactly how long you have before your meat expires, so make sure to check it before buying.
Learn about cured meat with and without nitrite.
Cured And Uncured Meat: The Common Types
Cured meat is a general term and covers a lot of products that you may not consider as such. There are, in fact, a lot of them, coming from different cultures around the world and developed at different points in history.
In this section of the article, I will only be covering a few of them (both cured and uncured) that you and I are most familiar with and would likely encounter on the next trip to the supermarket.
Bacon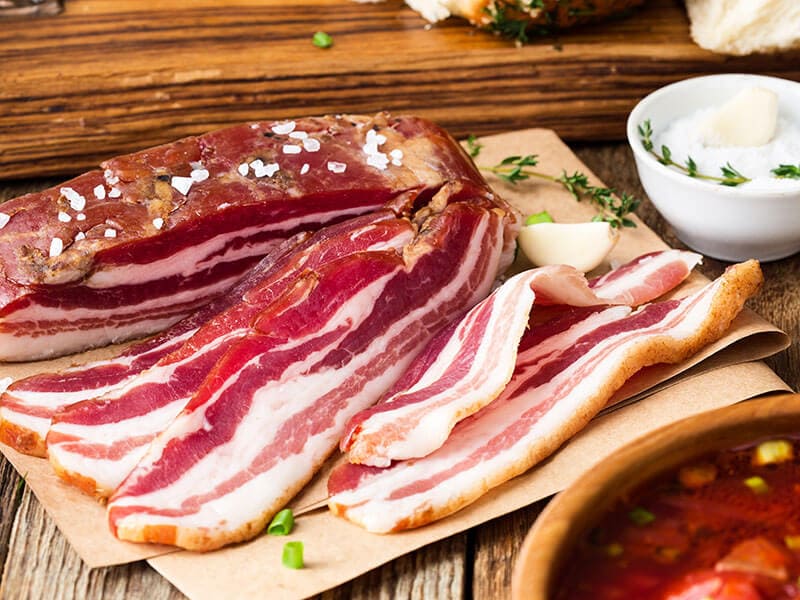 The almighty staple of every American's breakfast, a bit salty, a tad smoky, topped with the perfect amount of savory. Though the variant made from pork belly is most commonly spotted, bacon can also be made from many other animals.
Cured vs. Uncured Bacon
The situation between cured and uncured bacon is similar to that of cured and uncured meat. Cured bacon will be soaked in the brine containing synthetic nitrite, and uncured one will use celery juice in the brine instead.
In terms of taste and flavor, the uncured one would be saltier due to spending more time in the high sodium brine, and it will taste somewhat like pork belly.
Pepperoni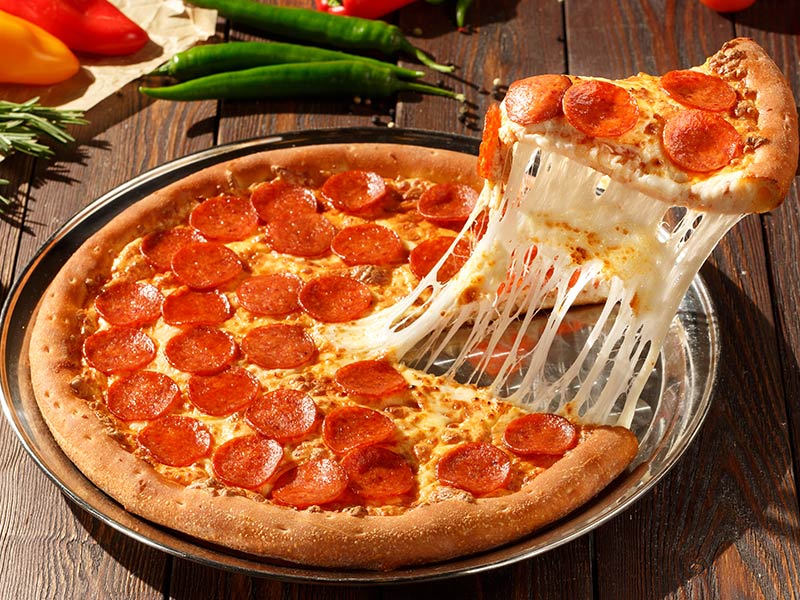 One of the most popular pizza toppings out there, this Italian-sounding meat is made from a mixture of ground beef and pork. Spicy and savory, it can be eaten uncooked but preferably roasted to enhance the flavors.
Do not mistake pepperoni vs. salami, and you will learn more about the latter by continuing reading.
Cured vs. Uncured Pepperoni
Being a type of cured meat itself, pepperoni is cured with chemicals, and the uncured version, with plant-based nitrite. They taste as you would expect them to taste, spicy and savory, with the uncured one leaning more to the salty end.
Both of them are nitrite-rich and should be consumed in moderation.
Bologna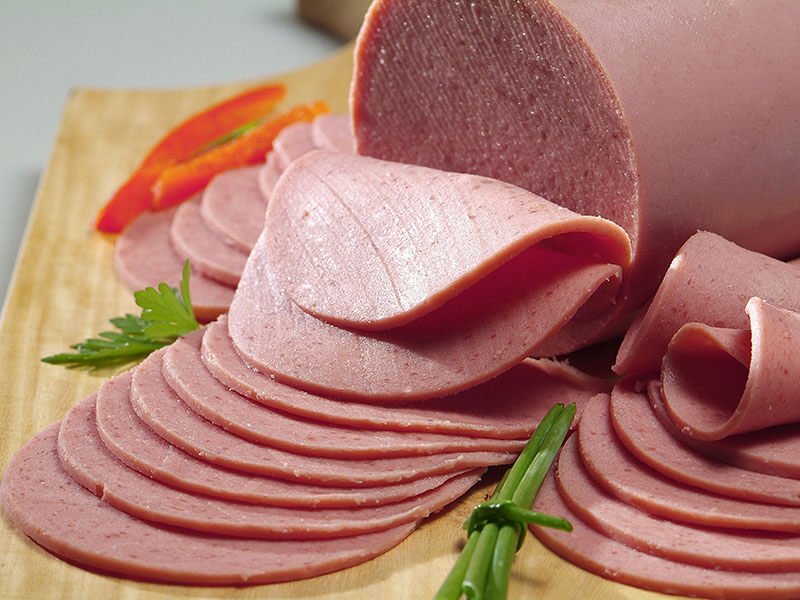 Bologna is a delicious type of sausage that can be made from any type of meat, but usually from pork. It is heavily seasoned and the distinctive peppery flavor is the product of the myrtle berries used during that process.
Cured vs. Uncured Bologna
As of now, you may have been familiar with the situation – the cured Bologna would use synthetic material as preservatives and the uncured one would use natural ingredients.
As for the taste, besides the uncured version being saltier, it also depends a lot on the extra herbs and spices added in the process. So I recommend you try them out and decide for yourself which one is better.
Salami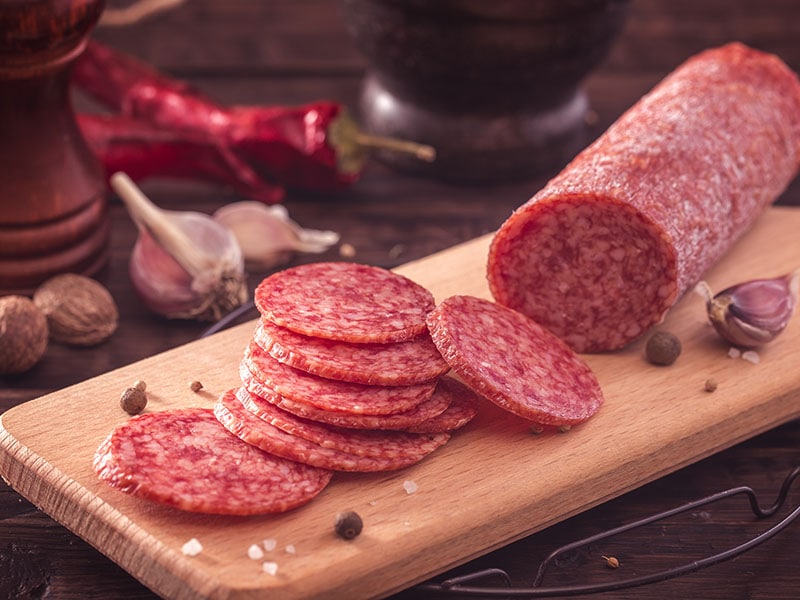 This Italian sausage is made from lightly ground beef or pork, combined with animal fat and seasonings. It is then stuffed into a casing and hung up in an air-conditioned room for the fermentation process. It can be consumed uncooked after finishing fermenting.
Cured vs. Uncured Salami
The difference between cured salami and uncured salami, you ask? It's the preservatives they use: the former with the assistant of nitrite – the chemical, the latter with celery juice – the plant-based nitrite source.
And the taste, you wonder? Well, the uncured salami is saltier due to the large quantities of sodium added in the curing process, but other than that, you would have to try out different salami from different brands to know which one is best.
Prosciutto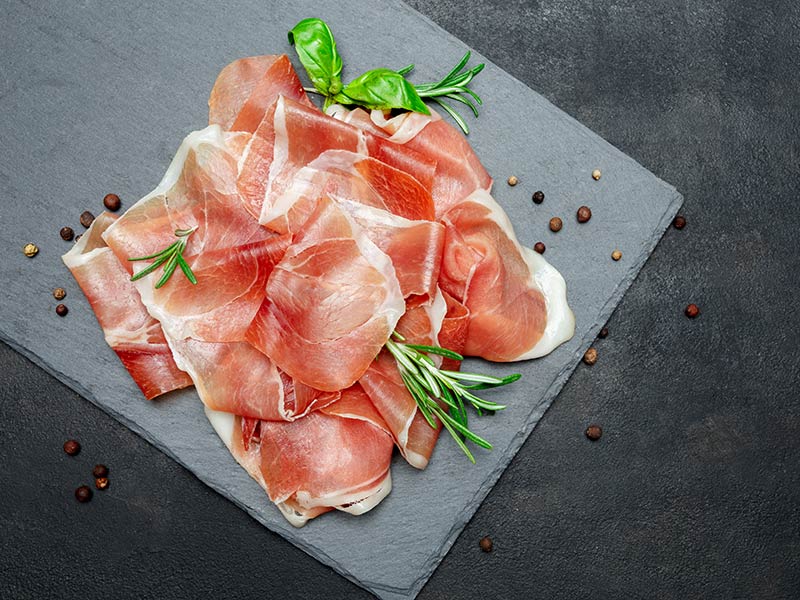 Another Italian dish that can be eaten uncooked. This certain Prosciutto is made from a whole hind leg of a pig, cured with salt, and then air-dried. The texture of this meat is very chewy. Thus it should be thinly sliced for the best experience eating it.
Cured vs. Uncured Prosciutto
Worry not about losing the chewiness if you choose uncured Prosciutto instead of the cured one, for the only differences between the two are from the preserved additives used and how saltier one tastes.
How To Cure Meat Yourself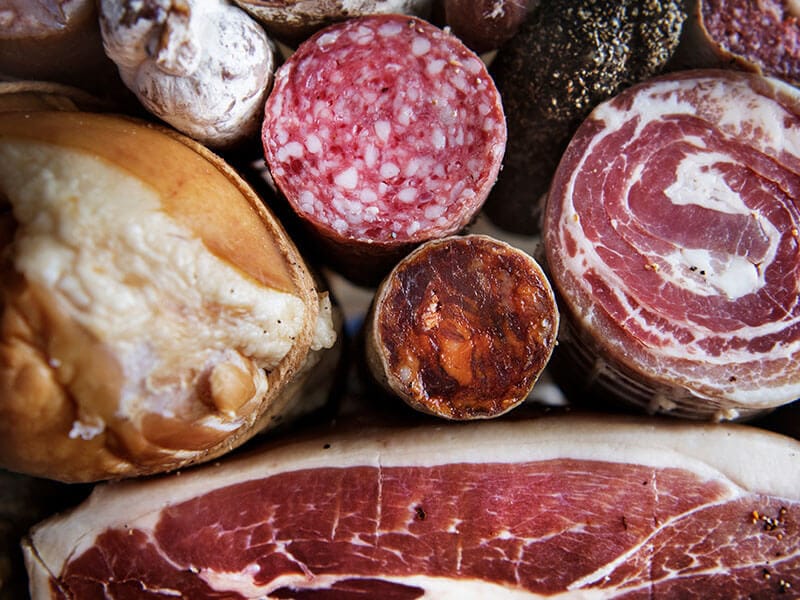 Meat curing has quite deviated from its original purpose, which is to make it last longer. Nowadays, this process is also a way to add flavors.
Still, if you want to experience the joy of curing meat yourself, maybe to avoid buying overly-processed cured meat at supermarkets, or to spice up your cooking game, you will find this section very helpful in assisting your endeavor.
What You Will Need
Meat (Of course): Beef, pork, veal, lamb, fish,…
Salt: Once as valuable as gold, salt is one essential ingredient for the process of curing meat.
Sugar (Optional): Sugar can be used to counteract the harsh salinity of sodium.
Nitrates and Nitrites (If you don't mind): As mentioned above, these chemicals are often used in this process in moderation to kill bacteria and can be found in a curing mix.
Containers.
A refrigerator (Or a walk-in fridge if you fancy).
Methods
There are some commonly used methods that you can easily implement at home. Plus, with these methods, you can also add your own touch of flavor to the mix and level up your meat curing game.
Dry Curing
First thing first, be generous with your salt and fill up about half of the container. Then put your meat on top, and once again top them all up with more salt to cover the entire body of the meat. You can also add some seasonings of choice (black pepper, for example).
Make sure you put on the lid and put the container inside your fridge. And then wait, patiently, for half the fun is waiting for your meat to become dehydrated. How long you should wait depends on the thickness of the cut. Here's how to determine when it is ready:
Weigh your meat before the curing process, then weigh it again after a few days. If the cured meat is at about sixty-five percent of its original weight, then it is set.
After that, take the meat out of the container, shake off the salt, and let the fun of the next part begin – flavoring. This is where you can add your own touch of taste and go to town with seasonings. Make sure to coat the entire body of the meat with that flavor mixture of yours.
Useful tip: If you decide to use the curing mix that has nitrates and nitrites in it, remember to not go overboard with it and follow the instructions on the packaging closely.
Here's a tutorial on how to dry cure meat with salt.
Wet (Brine) Curing
As the name suggests, this method involves water, mixed with salt or a curing mix, which creates a sweet pickle solution. From there, you can choose either to entirely soak the meat into the liquid or to inject the liquid into the body of the meat with a meat pump.
Make sure that the meat is fully submerged in the solution by placing a plate or anything that you deem suitable to act as a weight on top of it. Then put it in the fridge and wait for the process of curing to do its magic.
Learn to make your meat-curing brine at home here!
Combination Curing
This method is often utilized for curing many ham varieties, using a combination of both dry and wet curing. The previously mentioned solution of curing mix will be injected into the meat, and then the treated meat will be put in a container filled with salt and put in a refrigerator.
With this method, the curing process will happen from the inside and outside of the meat, resulting in a shorter waiting period and a lower risk of spoilage.
Sausage Curing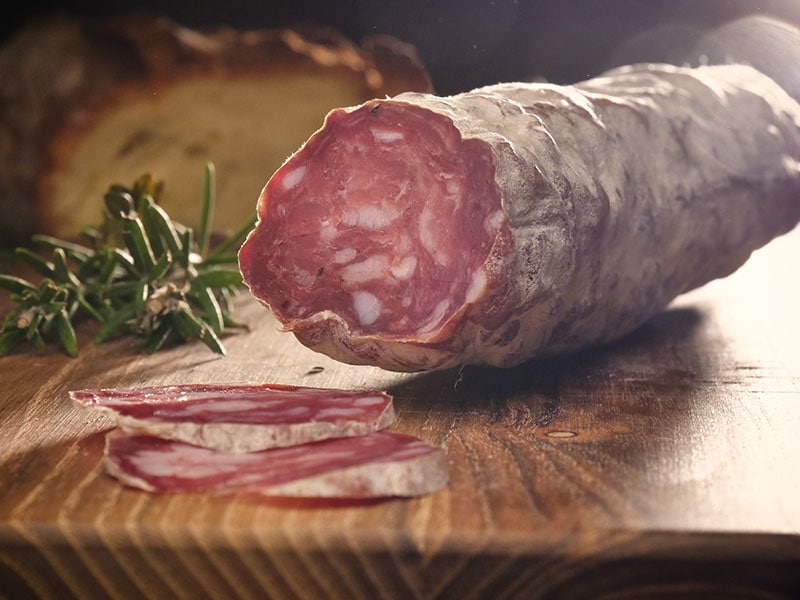 The sausage curing process should be similar to that of dry curing. The difference comes from the type of meat used, in this case, ground meat, mixed with curing mix and spices of your choice. And, of course, refrigeration and waiting are essential steps, too.
Bad Signs To Look Out For
Dealing with food is not always an easy task, small errors and mishaps could lead to serious consequences. If this is your first attempt at curing meat at home, or even if it is not, there are some details that you need to look out for.
Foul Odor
If you spot a funky smell coming from your meat during any step of the curing process, it possibly means that the curing mix was not properly applied and bacteria have been growing. At that point, you can forsake such a foul, spoiled piece of dead meat and start over anew.
Bubbles
The solution in which you soak your meat should not develop any bubbles, and if it does, it means there is something alive in there, and that is not a good sign at all.
Molds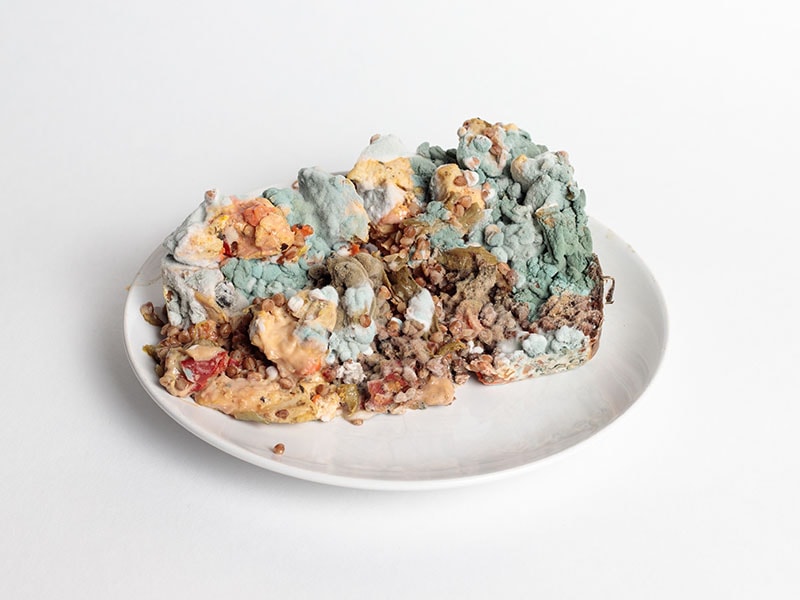 What do you do with bread that has molds on them? You would not want to eat it, of course. The same logic is applied to your cured meat or brine.
So, Now You Want To Make Some Dish With Them?
I think by now, after feeding your mind with such intriguing information, you may start to crave some protein-rich dish from cured meat. Don't go anywhere else except your kitchen because I'm going to serve up some meaty recommendations right away.
Why not start off with a salad as an appetizer?
Lettuce, peas, onion, and bacon, all mixed up and dressed up with Dijon mustard, paired with a slice of baked bread or two. It is quite simple to make, you would need the main ingredients listed above, all cooked except for the lettuce.
With the chewiness of the bacon, the freshness of lettuce, and that sweet flavor of caramelized onion, this bowl of salad will get you ready for the next dishes to come.
You can learn how to make this delicious bacon and roast onion salad step by step with this video!
No, this is not a full-blown pizza, it is only a bunch of whisked eggs trying to imitate it.
If you know how to make an omelet, then you are set. Whisk up some eggs, fry them as you would normally do, and add tomato sauce on top, and of course, pepperoni, then some mozzarella cheese. Et voila, one pizza omelet for you, five minutes top!
Now that you have finished the last slice on the plate and yet your voracious appetite is not quite satiated, worry not because this list still has quite a few recipes left for you.
Learn how to cook this amazing pizza omelet for yourself!
Here comes the main course, a rice-based dish with Bologna in the mix. It is basically fried rice, leveled up with the addition of bologna. It is quick, simple, and guarantees to fill you up even if you started out with an empty stomach.
I hope by now you have been completely full of all those delicious dishes. But what about tomorrow? What would you have for breakfast? How about the next one?
A quick, easy-to-make sandwich in the morning for breakfast, what could go wrong?
It would take you about five minutes to make, but it will surely fill you up for the entire morning! Just cover up your bread slices with the cream cheese mixture, add in lettuce and vegetables of choice, and don't forget the salamis!
There's no going wrong with this sandwich, you can have as much liberty in the making process as you want, and you can eat them at any time of the day.
This dish is really easy to make. Try making the salami cream cheese sandwich to surprise your loved ones!
If you like Hawaiian Pizza – the one with pineapple as a topping, you will find this tart very pleasing to consume.
As a warning, don't be too greedy with your bite, the almost gum-like texture of prosciutto means that you will have to thoroughly chew them before swallowing to take another bite. And yes, you will want to take another bite!
Learn how to make them tasty tarts through the following video!
Recommended Brands
So now you go to the supermarket to pick up some packages of cured meat but find yourself paralyzed by all the choices presented to you on the shelves. So many names, so many brands. Which one should you put into your cart?
Depending on where you go, they will have different brands of cured meat (and uncured) in store, and I will not have any opinion on what you pick. I will, however, recommend some brands of cured meat (and uncured) that you can order online to spare you the hassle of commuting.
Cured Meat Brands
These companies are focused on providing the best cured meat on the market and sure are proud of what they do.
Brooklyn Cured offers a wide range of cured products for you to choose from. Ham, bacon, hotdog, salami,… you name it. You can order them directly on their website, and they will be delivered to your doorstep.
Their products are organic, nitrate-free, they have no antibiotics added, and all their cattle are raised on family farms.
This one is for my British readers. The Real Cure originates in the UK, and they offer a wide range of selections of cured meat. Their cattle are raised and fed organically, their products are claimed to be gluten-free and lactose-free, with minimal additives.
Saltpig Curing delivers both quality and passion in their products. Though they are small in scale, what they offer is not at all lacking. You can order from them to your heart's content and still have some more left on the menu.
As the name suggests, The Cured Beef Company specializes in serving cured beef – the best quality ones. Their cattle are locally raised, and the spices they use are totally organic. Even the packaging is mostly recyclable, with eighty-five percent of it made from paper.
Uncured Meat Brands
These companies choose a slightly different route and decide to offer uncured meat instead. Take a look if you want to try out this sort of meat.
Boar's Head is a family-owned establishment dating back to 1905. Their focus is set on: cured (uncured) meat, quality, and uncompromising standards.
They do offer cured products with synthetic chemicals and also those with natural ingredients. On top of that, their meat is gluten-free, lactose-free, sugar-free, and surprisingly, some of the products are suitable for vegetarians.
Gusto delivers small-batch artisan meat made from responsibly farmed material. They have Pepperoni, Chorizo, Toscano, etc. All without the use of chemical additives. All of their products are individually packaged and can be found at Whole Foods Market.
Applegate is committed to looking at the best way to produce meat smartly and sustainably. They do that by employing more organic farming, treating their livestock better, and making sure that their practices are regenerative.
This company offers a whole range of meat products for you to choose from. You name it, they'll have it – all organic. You can find their meats at your local store, if not, you can also go to their website and order online.
Why Not Go Fresh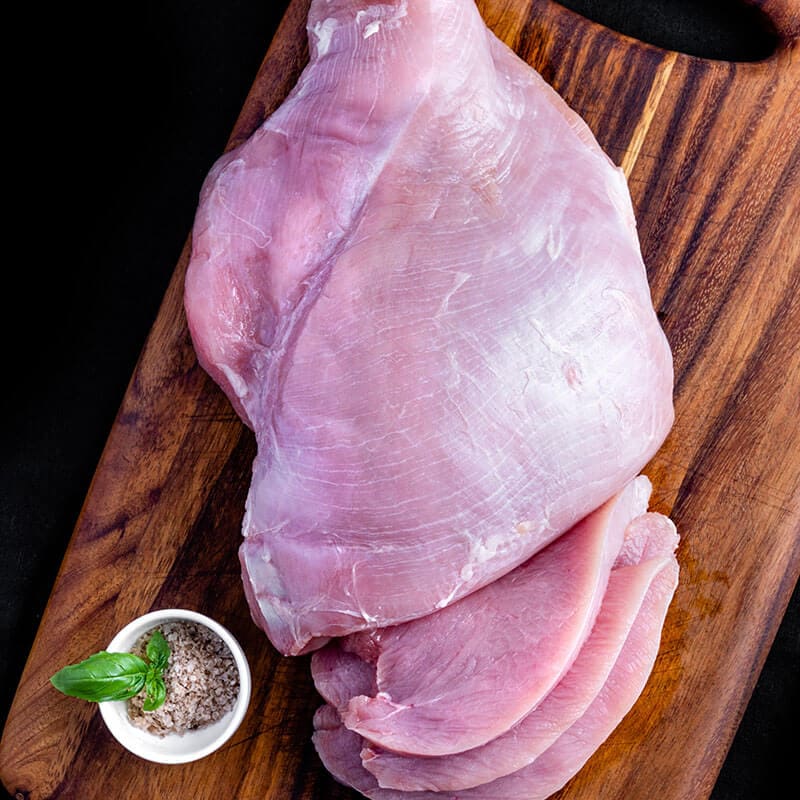 I believe, after reading this article thus far, you have come to terms with the fact that the so-called 'uncured' meat is very disappointingly cured, just with supposedly fewer chemicals. Maybe the option you were on the fence about turns out to make no difference after all.
Don't lose your hope just yet, cured and uncured meat are not the only options on the table, you can go fresh, and by that, I mean opting for the unprocessed, freshly chopped meat straight from the butcher.
I understand that not many people have the time to go grocery shopping for fresh meat, and fresh meat spoils much faster than cured one. But if it is your health and that of your family members you prioritize the most, then you may consider cutting down on the cured option.
And I get it, if you are into the taste of cured meat, please keep enjoying it. Just keep in mind that processed meat is 'probably' carcinogenic as many studies suggest, though correlation does not necessarily mean causation. (1)
Still, it is best not to go overboard with your cured meat consumption and make sure to integrate fresh, unprocessed food into your daily diet. Remember, moderation is key!
One Further Note
Maybe you have come here expecting to find the information necessary to convince your family members about buying the uncured meat the next time they hit the deli, only to find yourself being deceived by the misleading labels all along.
There have been petitions to change the products' names into what they truly are. They suggested the cured term be classified into two categories: traditionally cured with synthetic chemicals and cured with plant-derived nitrates and pre-converted nitrites (Natural). (2)
Fresh meat, aka the truly uncured one, would be labeled accordingly to its name to clear up the mist of confusion.
For now, however, the terms remain unclear for those who don't know. But you have come here and equipped yourself with a better understanding of the two marketing jargon and hopefully will be more at ease the next time choosing between the two of them.
FAQs
Now, it is almost the end of the article, I hope that you have had many questions of yours answered. However, here are some more answers to the questions I suspect you may have, just in case!
Cured Vs. Uncured Meat – Does It Matter?
Technically, they are different in terms of the ingredients used in the curing process. Uncured meat may be more natural, but none is truly nitrate-free, and such chemical is only harmful when excessively consumed.
Most cured meat products nowadays follow safety guidelines, so you need not worry much about that aspect either. You should, however, consider the amount of salt in it, which should not be consumed more than six grams per day.
For now, uncured meat stayed cured, but the fact that many people are still misled by the terms is concerning. This information should reach and hopefully influence their next buying decision, and I would have to count on you to spread the word, dear readers.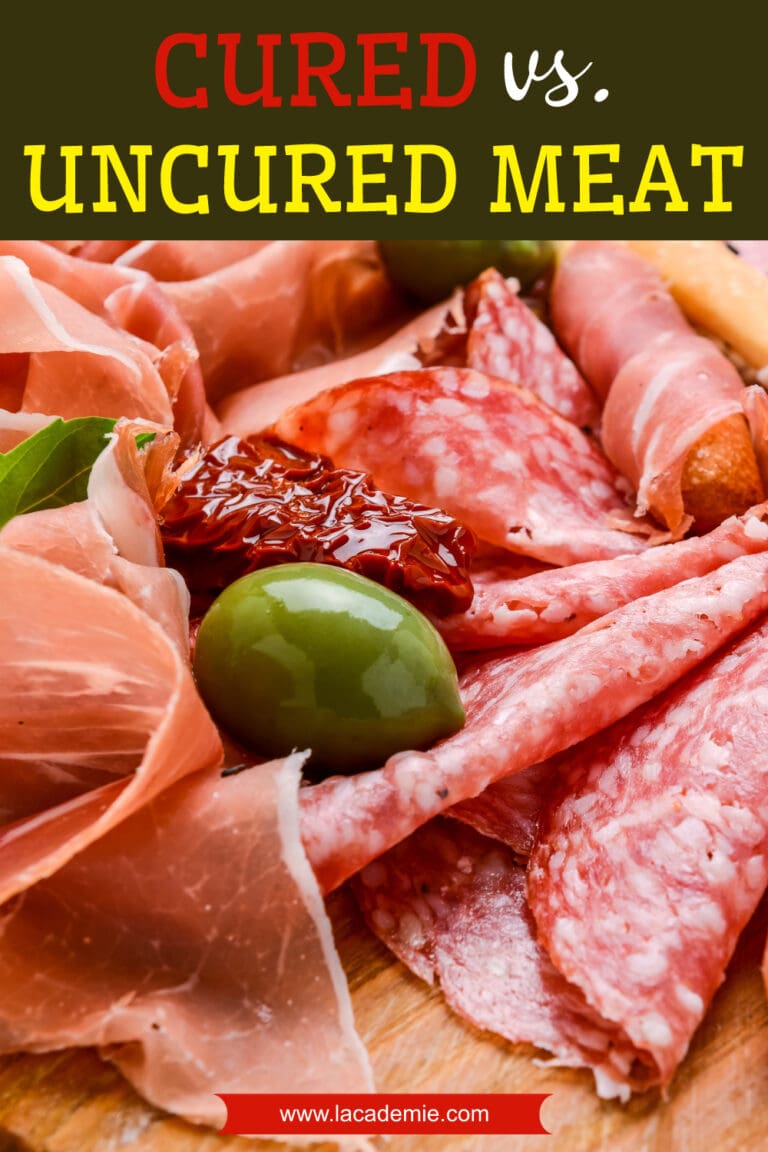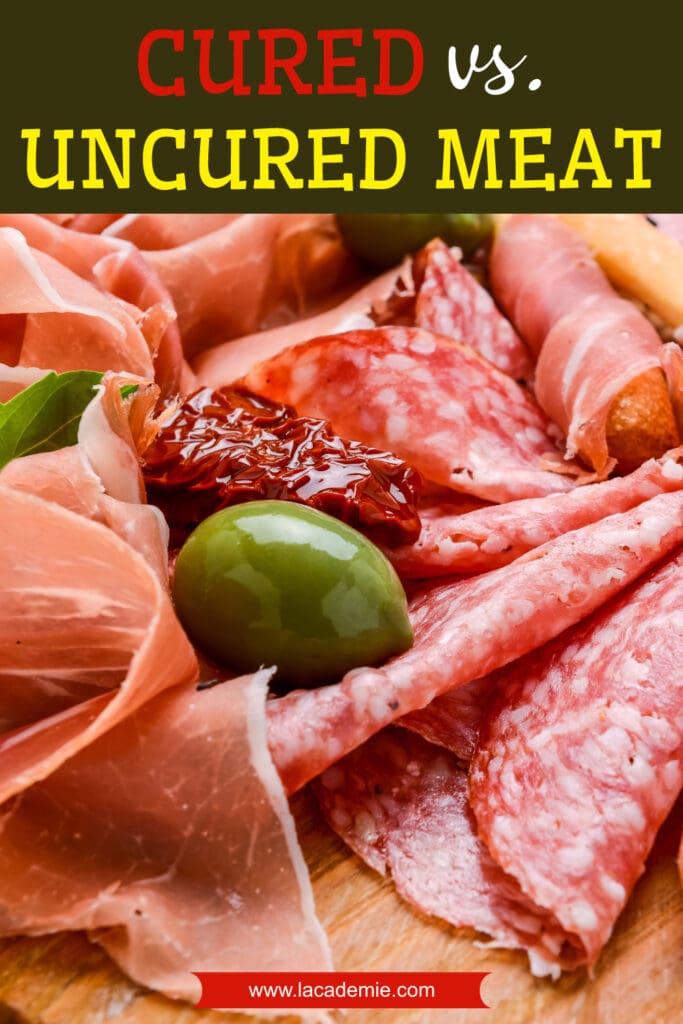 References
WHO report says eating processed meat is carcinogenic: Understanding the findings. (2022).
Rivera, N., Bunning, M., & Martin, J. (2019). Uncured-labeled meat products produced using plant-derived nitrates and nitrites: Chemistry, safety, and regulatory considerations. Journal of agricultural and food chemistry, 67(29), 8074-8084.