Different types of ham have distinctive flavors that you have never tried before. Ham is a typical food adored by many people around the world. In the Western region, this savory food is vital to the success of so many recipes.
In Asia, ham is not as famous as in Western countries. However, that doesn't mean that you can't find mouth-watering ham varieties in Asian countries with deep food cultures. Let's keep on scrolling to discover all these ham from all over the world.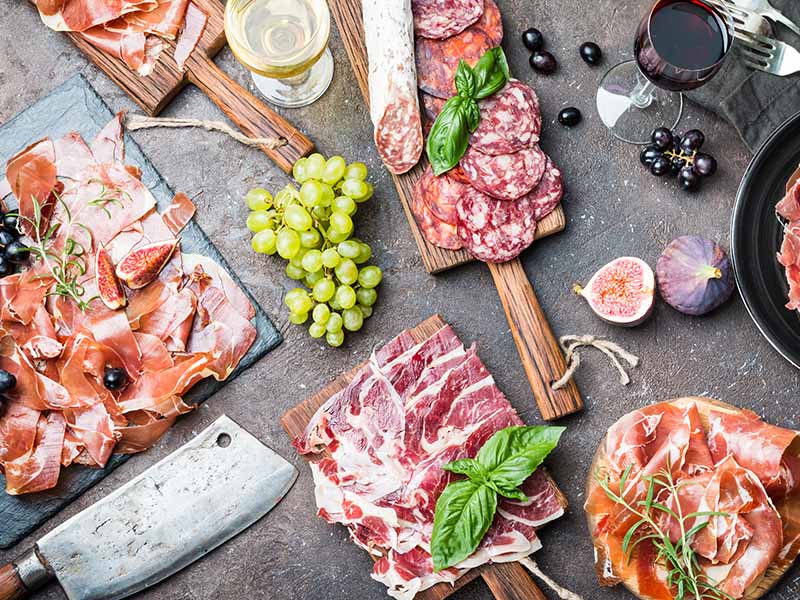 Ham – Do You Really Know It?
Ham is a pork product that has been through a curing process (either wet or dry curing). Some ham recipes require a smoking process, while others don't. The back of a pig leg is the best position to make ham.
Each region will have a signature way to cure, smoke, cook, or age the pork. Therefore, the flavor of ham in each area is different from one another. Fleshy texture and an underlying sweet taste in every slice are typical ham features.
Making ham is one of the best ways to preserve your meat, but you need to store them properly. The best duration to store ham in the refrigerator is around three days to three months, depending on the type of ham.
Ham has a long history spanning over thousands of years. This dish is believed to originate in China. On the other hand, many records show that ham was extremely popular in ancient Rome.
From there, it gained widespread fame in the Western world. But Romans could have learned how to make it from the Chinese through trade.
Some Criteria For Choosing Your Favorite Ham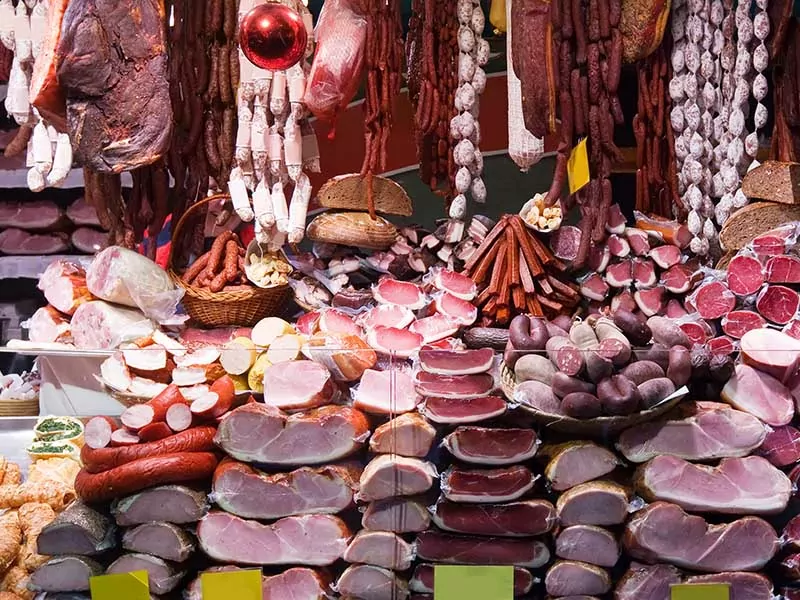 If you want to choose the best ham for you, you need to know how the meat is made. Different preservation methods will result in different tastes. So, here are some criteria you should consider when choosing ham. Let's explore now!
Cuts of Ham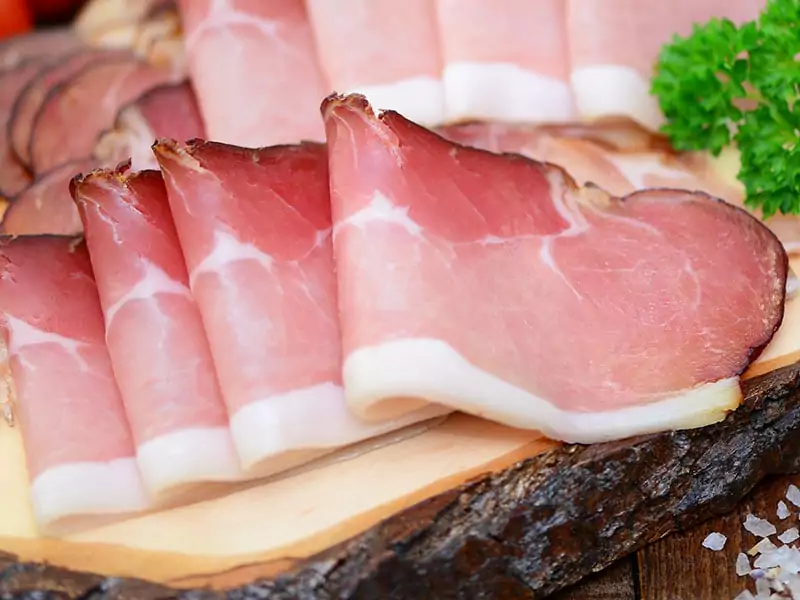 There are many types of ham derived from different cuts. While what to buy depends on your preferences, I recommend the following cuts:
Whole Ham: Whole ham is the entire leg of the hog, including the shank and butt cuts. It usually weighs around 10 to 20 pounds.
Butt End: This is the meatier part of the hog's hind leg. It is the uppercut that has more fat than the shank part. This part is more challenging to carve due to the presence of pelvic and hip bones.
"'Butt half'-labeled ham doesn't have its center slice removed. Otherwise, it is called the 'butt portion'.
Shank end: Less fat and not as meaty as butt end, shank end is an easy part to cut. Its taste is sweeter compared to the butt end part.
'Shank portion'-labeled ham has its center slice removed, while the 'shank half' doesn't.
Center ham slice: This is the best part of the whole ham, lying in the separate part of the butt end and the shank end. To get this part, you need to cut the slice from the center of the ham.
Cooked / Uncooked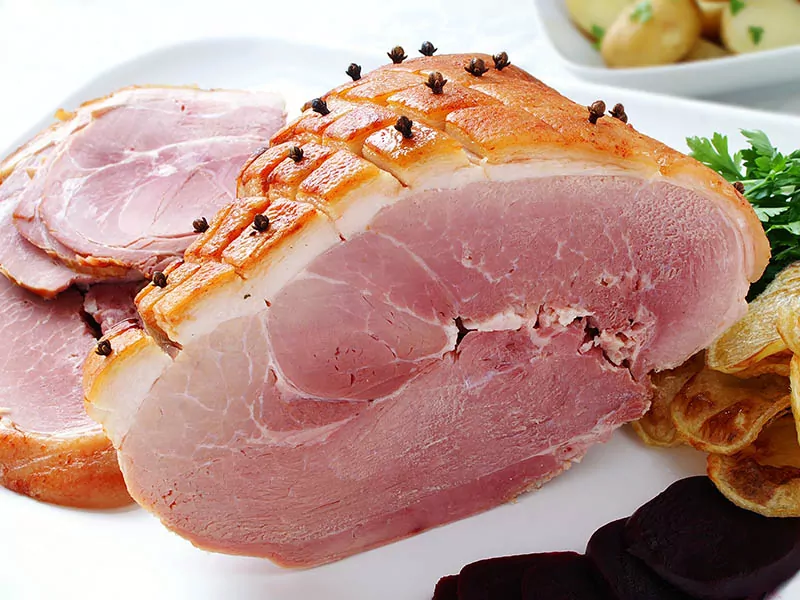 Ham is available either cooked or uncooked. This label affects the flavor and storage time of your ham to a great extent, so pay attention to it.
Fully Cooked Ham: This ham is ready to eat because it is cooked under the temperature of 147° F. You will find it in most commercial products labeled 'Fully Cooked' or 'Heat and Serve.'
Partially Cooked Ham: People cook and process this type of ham until its internal temperature is between 137°F and 148° F. This temperature range is enough to kill parasites in the meat, but you still need to cook the ham properly before serving.
137° F is a must to eliminate the trichinella spiralis parasite. So, the commercial Partially Cooked Ham is heated around 140° F.
Uncooked ham: The internal temperature of this ham doesn't reach 137° F during the preparation process. Therefore, this ham requires more cooking time than the two varieties above.
Boiled Ham: This is a fully cooked ham, but people use boiling water for cooking the meat.
Bone-In / Boneless
Hams are also available with a bone-in or boneless version.
Bone-in ham: It could be any part of the ham: Butt end, shank end, or even the whole ham. This part is moist with a rich flavor, but you need to carve the meat before serving. And you can use this bone-in ham to make a soup with collard greens for a deep and savory flavor.
Semi-boneless ham or bone-removed ham (partially boned): Leg primal cut ham with hip or shank bone removed. The leg bone is left to add flavor to the ham. You don't have to worry about the carving process for this ham.
This ham contains more fat and marbling, just like the bone-in ham. Semi-boneless ham is an ideal choice for those who love bone-in ham flavor and hate the carving process.
Boneless ham: There is no bone left in this ham version, so it is easy for you to cut it. Usually available in rectangle-shaped or round cuts that have most of the fat removed.
Small chunks are usually shaped to create this ham. Without the bone, the taste will not be as flavorful as bone-in.
You can learn how to carve a bone-in ham right here!
Water Content Of Ham
The water content in ham is one of the main criteria that directly affects the taste of ham. Ham with low water-containing has a more intense flavor and natural texture. So, choose your harm carefully, and here are some labels you will encounter when purchasing ham.
Ham: Contains at least 20% protein. The ham is dry-cured without water added. They have an intense salty flavor. This ham is usually a special order and sliced extremely thin before serving.
Ham with natural juices: Contains at least 18.5% protein with a little presence of water. The ham has a moister and a smoother texture that is perfect for dinner.
Ham – Water-added: Contains at least 17% protein. You can use this ham in slices or steak, depending on your preference.
Ham and water products: Contains less than 17% protein. People usually use this ham for sandwiches or simply slice or shave to serve.
Fresh or Cured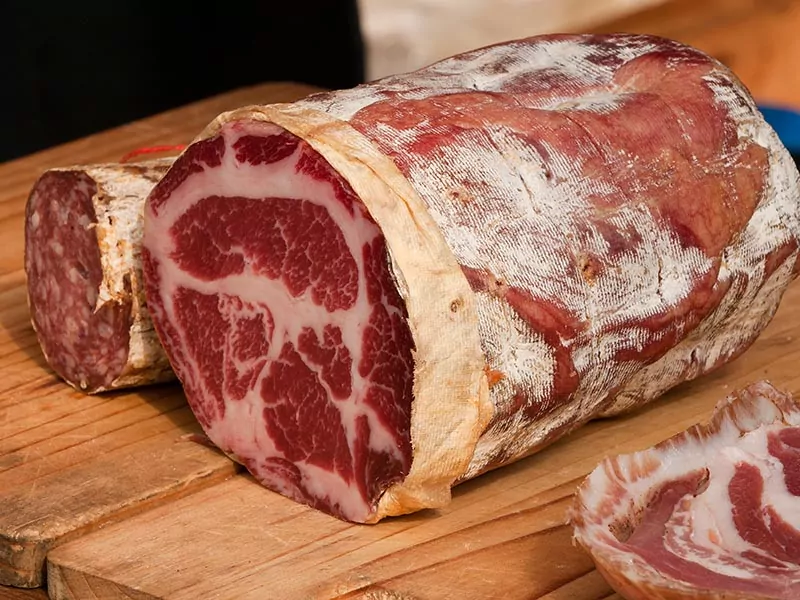 Fresh or cured ham is also a crucial criterion affecting your ham flavor. Let's have a look at this part.
Fresh ham: This ham isn't cured or smoked and often has a grayish-pink color. After being cooked, fresh hams will have a grayish-white color similar to pork roast.
Dry-cured ham: Cured without any water added. Due to a long aging duration, these dry-cured hams have a layer of mold or white specks. Don't worry; these specks and mold don't affect the quality of your ham.
While making dry-cured ham, people can also hang them for months or years to have a rich and intense flavor. You can enjoy the ham right after the drying process without additional cooking.
You can store this ham at room temperature as it has been drained out of most of the moisture.
Wet (or brine) cured ham: Cured with an injection of water and brining ingredients. This charmingly pink ham variety has a beautiful sweetness and a delicate moist texture.
Smoke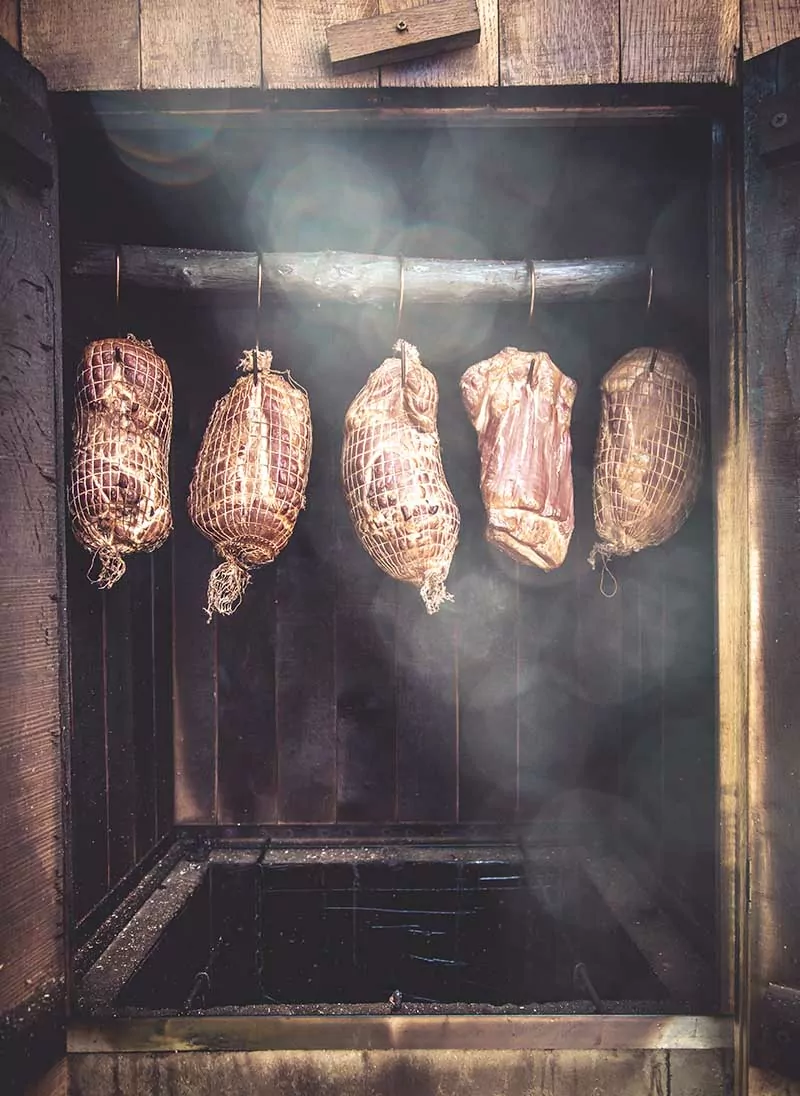 Smoke ham has a fascinating smoky flavor and a unique black cover for the dish. This is the reason why people love smoked ham. The ham could be smoked for days or weeks in 70°F to 140°F with either the 'hot smoking' or 'cold smoking' method.
Hot smoking will cook the ham, while cold smoking is just a method of perfuming the meat with a lovely aroma.
Age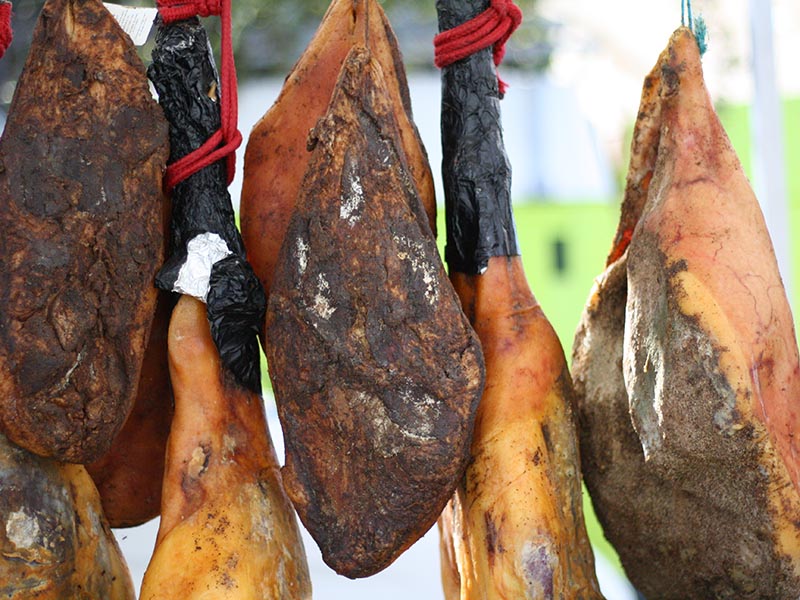 Usually, people will age the ham to develop its flavor. These hams have a strong taste due to the long aging duration from one to seven years. The outcome is covered with mold, so you must scrape and wash off the mold layer before serving.
The appearance of mold is not a sign telling your ham is bad. It shows that your ham has a well-developed flavor. Aged hams often have a high price with a sophisticatedly developed taste.
22 Types Of Ham Around The World
Are you ready to be amazed by the upcoming ham from all over the world? I bet the answer is yes. So, what are you waiting for?
1. Prosciutto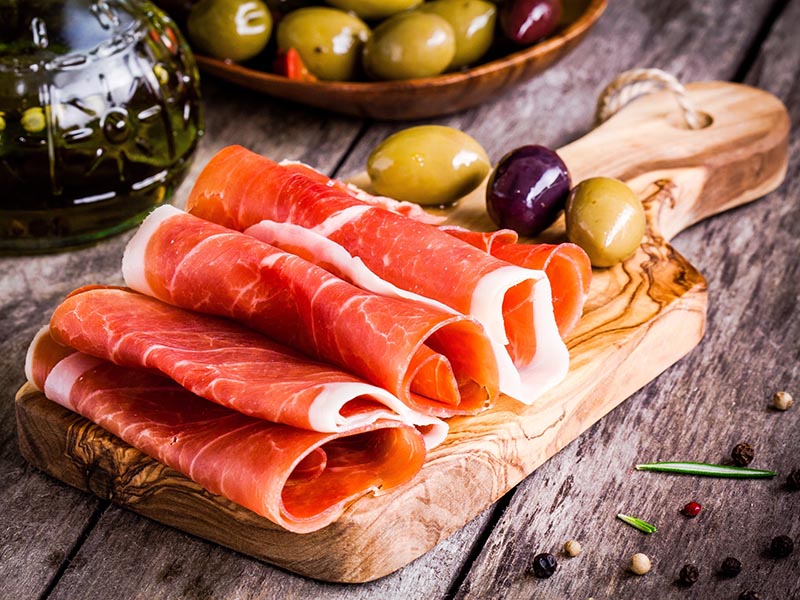 Prosciutto from Italy is one of the most famous hams you have to try. Prosciutto or Prosciutto Crudo is a dry-cured ham often served in thin slices. This ham is uncooked and unsmoked with a beautiful salty flavor. There's also a similar dish in Montenegrin cuisine called Njegusi Prosciutto.
In Italy, plenty of variants of prosciutto are made across the country. Prosciutto di Parma and Prosciutto di San Daniele from Emilia-Romagna and Friuli Venezia Giulia, respectively, are the most famous variants. They are given the Protected Designation Of Origin (PDO) status by the EU.
In Italy, the term 'prosciutto' indicates any kind of ham. However, outside Italian territory, Prosciutto is known as the famous 'Prosciutto Crudo'
This is a tasty starter from Italian that you can try. You can use Prosciutto as a topping for pizza, but the typical use is a sandwich or Panini filling.
Besides pork, lamb is an ideal option to make Prosciutto. It takes around nine months to two years for the ham to develop its flavor. Italians often serve the dish first or wrap it around Grissini (Italian Breadstick).
Let's explore how this tasty Prosciutto gains its spectacular flavor.
2. York Ham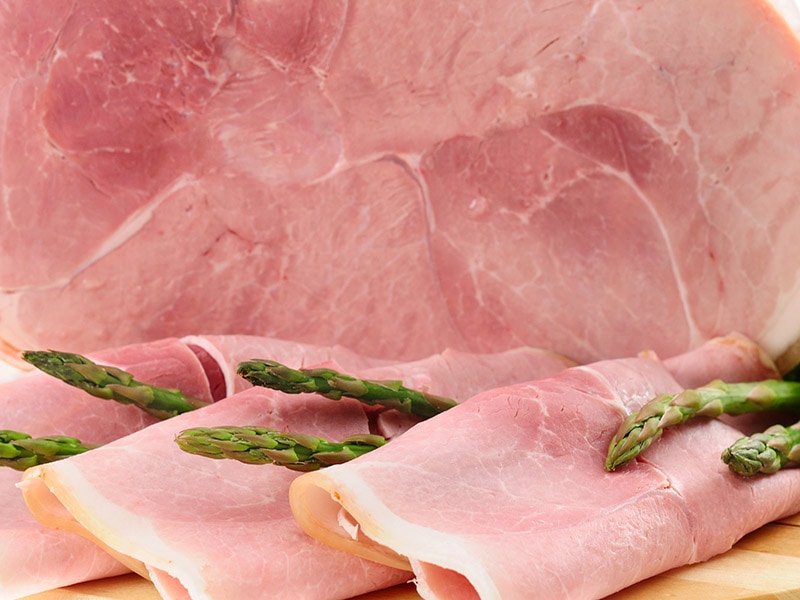 York ham is so famous that it is considered 'The king of ham'. This is a dry-cured ham made from Large White pig's legs. York ham has a gentle salty flavor with a firm texture as it is aged in the cool and dry cellar for a long time.
The ham originates in England and is traditionally made on St Martin's Day (November 11th) when the weather starts getting colder. After lying in the salt for a few days, the ham will be hung for at least two months until it dries out.
The flavor will gradually develop as time goes by. The more time the aging duration takes place, the deeper the flavor of York ham will develop. You need to cook this type of ham before adding it to your meal. A small tip: its flavor is just perfect to pair with Madeira sauce.
3. Smithfield Ham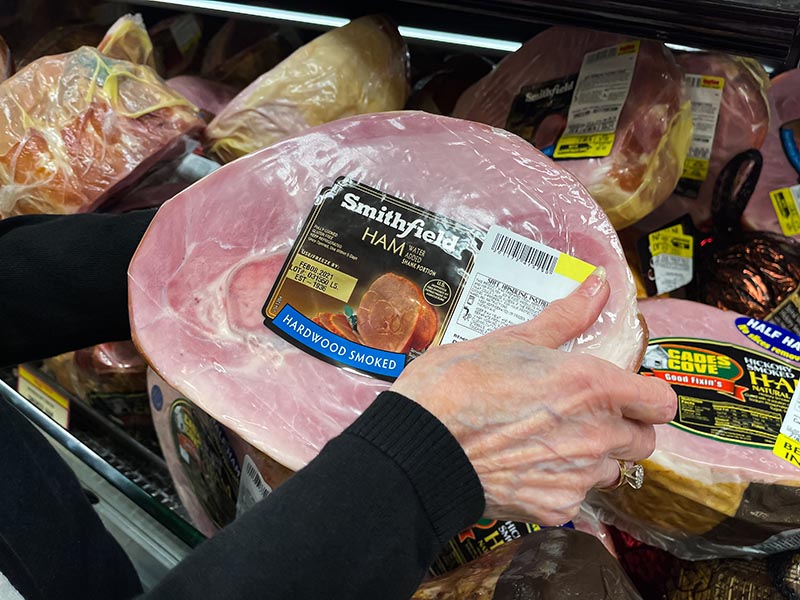 This American ham will change your perception of the taste of ham. Smithfield ham is a cured and smoked ham in Smithfield, Virginia. The ham is made from peanut-fed hogs, making this ham become an amazing food in this region.
Smithfield ham follows the cold smoking method to bring a delightful smoky aroma to the meat. Oak, applewood, and hickory are typical wood used in the smoking process for this ham.
Then, people will coat the ham with black pepper and age the meat from 2 months to 6 years, depending on the recipe. The final product is a salty, dry, and stingy ham. You will find a fully-cooked and sealed Smithfield ham package in the supermarket.
This ham has a deep red color that requires slow-cooking for a long duration before serving.
4. Presunto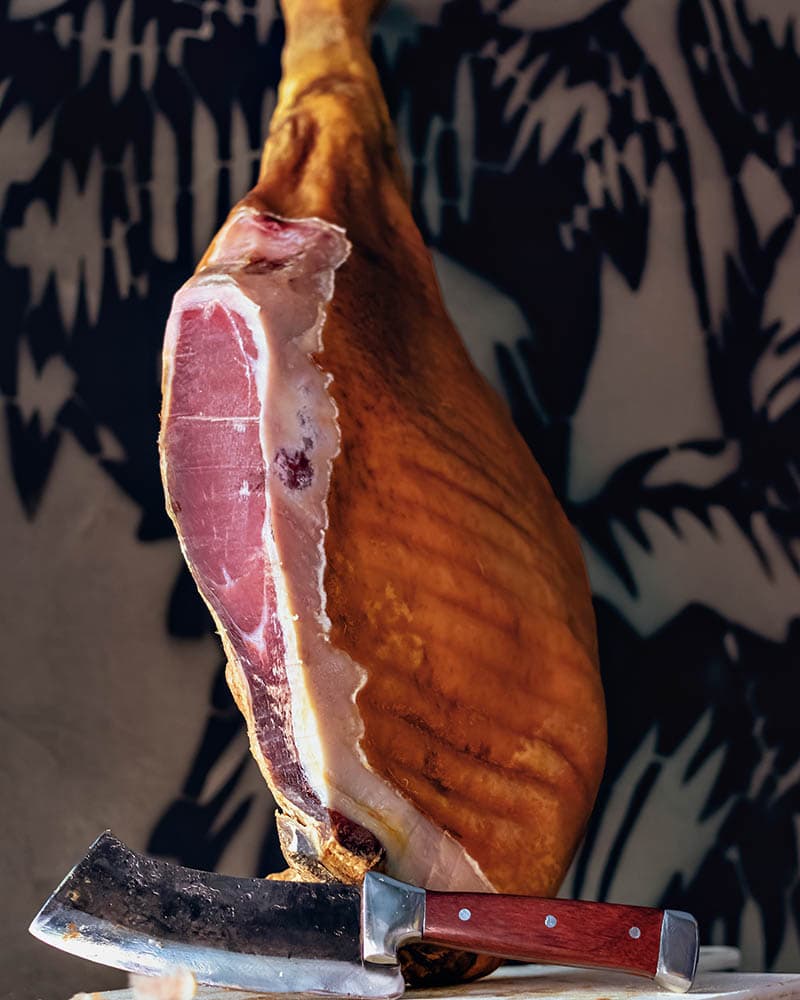 Welcome to Portugal! This country has Presunto, a famous dry-cured ham similar to the Italian Prosciutto. The Presunto from Chaves (Northern Portugal) and Alentejo (Southern Portugal) are the most prominent variants.
The PDO protects the one from Alentejo and some other Presunto versions. Traditionally, the pig's leg is heavily salted. After the salting process, people will wash the ham and allow it to dry. This way, the salt will be spread evenly onto the meat.
Presunto has a lovely brownish-yellow cover with a beautiful reddish interior and slightly fibrous appearance. The taste is salty with gentle smoky notes; you should also expect a touch of sweet after-taste.
5. Anfu Ham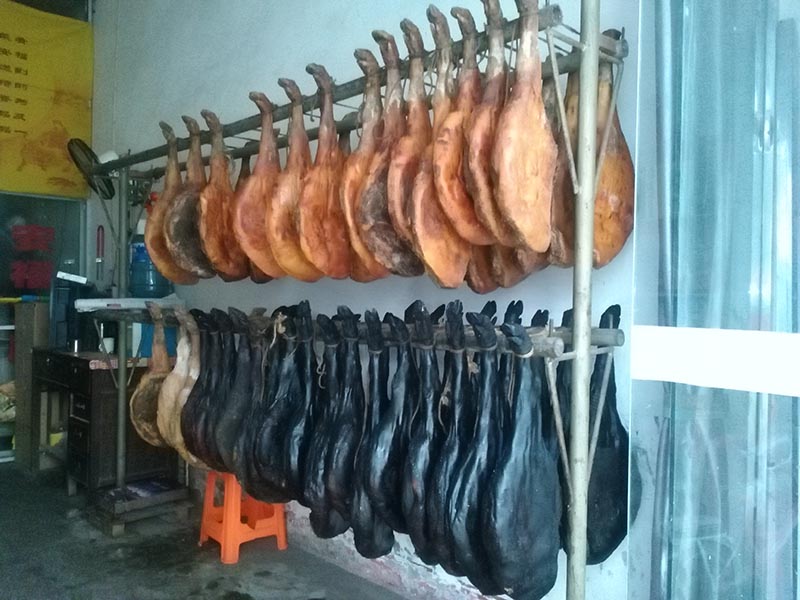 As the first country to create ham, China has a savory delight of this kind that you should not miss. Anfu ham, a dry-cured ham in Anfu town (Jiangxi, China), has thin skin with extremely thick meat. Anfu ham has a red color with a gentle yellow hue.
This antique ham has its appearance described as 'willow leaves', which are a bit long with a larger size toward the center. Anfu is one of the 'three great hams' in China (the others are Jinhua and Xuanwei ham).
This ham first appeared in the Qin Dynasty and became a famous specialty. You can use Anfu ham for years without the risk that this ham will go bad.
6. Canadian Bacon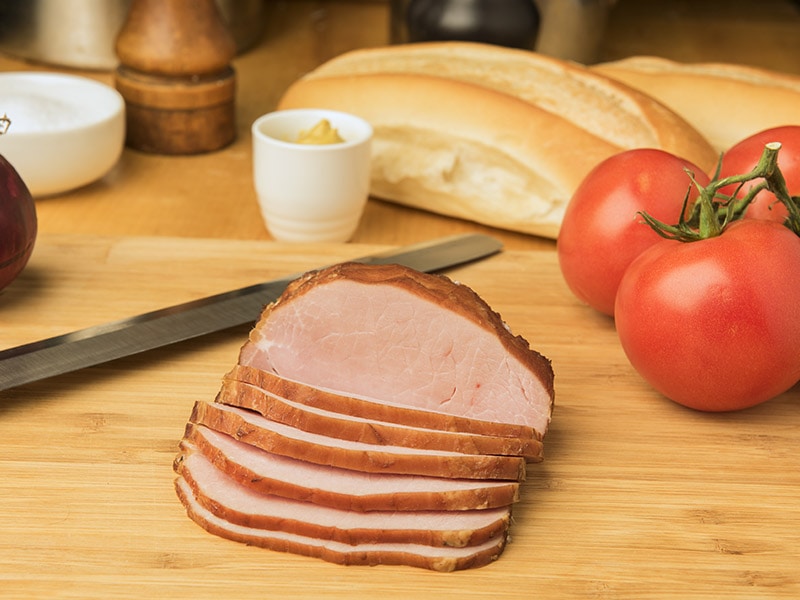 I guess you are wondering why bacon is listed in this list. Well, despite its name, Canadian bacon is more like ham than bacon. If you put Canadian bacon and ham on a scale, they share some similarities.
Canadian bacon is also wet–cured, smoked, and sliced like other hams. The only difference is ham is made of the back legs of a pig, while Canadian bacon is made out of a pig's back.
This bacon has a beautiful light pink hue and is often served in circular discs. Canadian bacon is a typical ready-to-eat breakfast with a note of salty and sweet taste. It is a perfect topping for pizza or a savory filling for a grilled cheese sandwich.
7. Gammon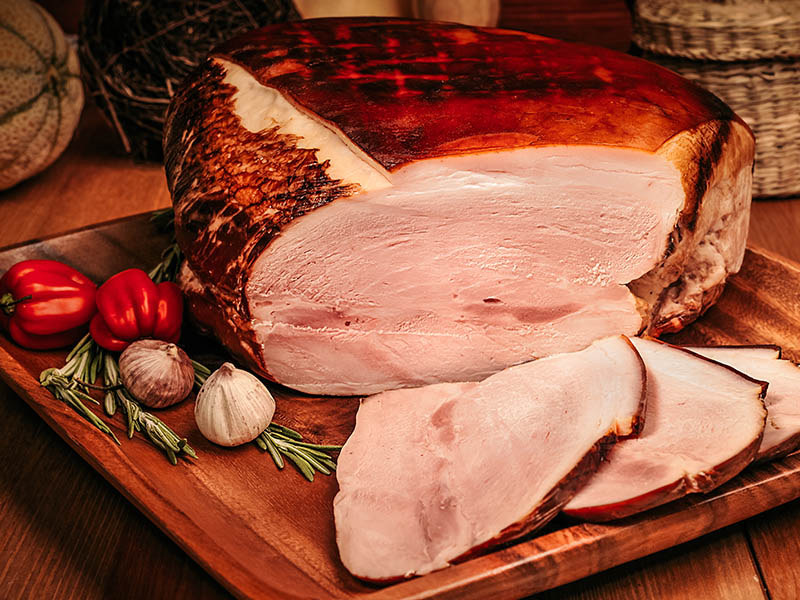 Gammon is a finger-licking type of cured meat resulting from dry-salting, brining, or smoking (or non-smoking) technique. Gammon is the bottom end of a whole hind leg that must be cooked before serving.
This feature makes Gammon more like fresh pork meat and different from Prosciutto and other dried meat. The meat has a beautiful black cover with a dazzling pinkish color in the interior.
Gammon is a common term in the United Kingdom and Ireland. This meat is a typical choice for Christmas. Slice the meat into steaks and fry it with a pan.
8. Culatello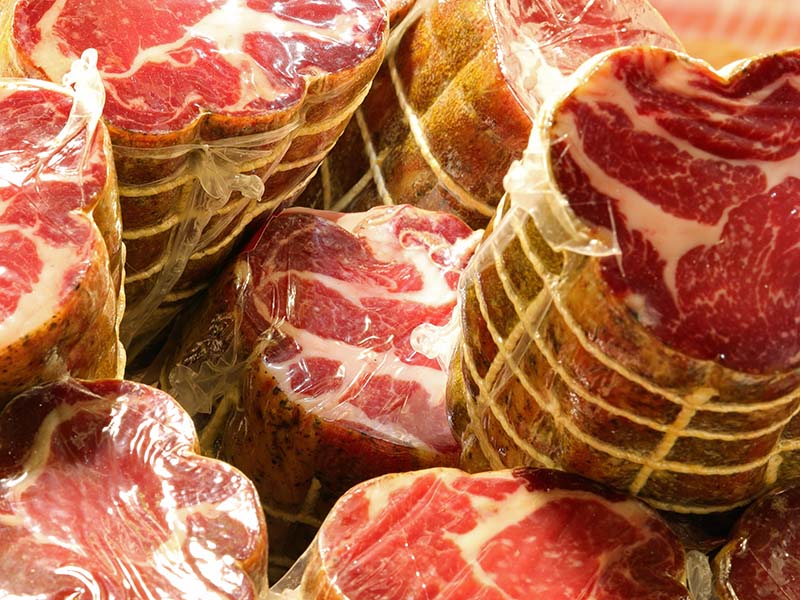 In the city of Parma (Northern Italy), there is a special cured meat called Culatello that is protected under the PDO. The cured meat is customarily stuffed into a pig's bladder to form an egg-like shape that weighs around 6.5 pounds.
The special feature of Culatello is that people only cure the haunch's rear muscle of Lombardy and Emilia Romagna pigs. The curing process for Culatello traditionally takes place for at least 12 months.
This special meat needs to be kept in a cool place. Its cut-edge is often covered with white wine dampened cloth along with string and waxed paper. You can have Culatello as an appetizer along with other Italian salumi.
Culatello has a delicate taste with a lean and rosy red appearance. It is a must-try ham when you are in Italy.
I bet you will love the taste of this Culatello.
9. Country Ham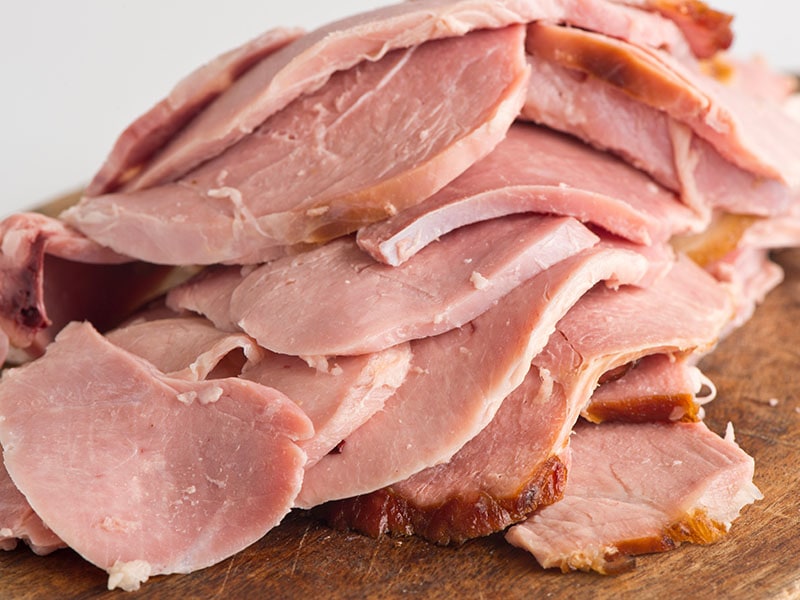 Country ham is cured just like Prosciutto and then dried by hanging it at a controlled temperature. The taste of country ham is sweet, nutty, and salty, with a slight odor resulting from a long aging duration (a few months).
It could be smoked or unsmoked and often sold raw on the market, though a cooked version is also available. You can bake or boil the ham to make a wonderful meal.
This ham is often served as an appetizer or main course or just served as thin slices at room temperature. People often pair this ham with salad, other meat dishes, and seafood. Typically, you will find marble, honey, or hickory flavors in most country ham dishes.
Before serving, people will soak the ham in water for a day to remove salt and add more moisture to the meat. This will reduce its traditional dry texture.
10. City Ham
City ham is a result of soaking or injecting the ham into a salted solution. This ham is usually smoked and fully cooked, which is really convenient for a quick meal without too much preparation.
If you are looking for a delectable picnic morning meal, city ham will satisfy your hunger. This ham has a sweet or savory flavor, while country ham has a bold and intense salty taste over a long period of being cured and aged.
Cold cuts of city ham are a typical ingredient of many delicatessens recipes. Using this ham for sandwiches is also an excellent idea that you should try.
11. Glazed Ham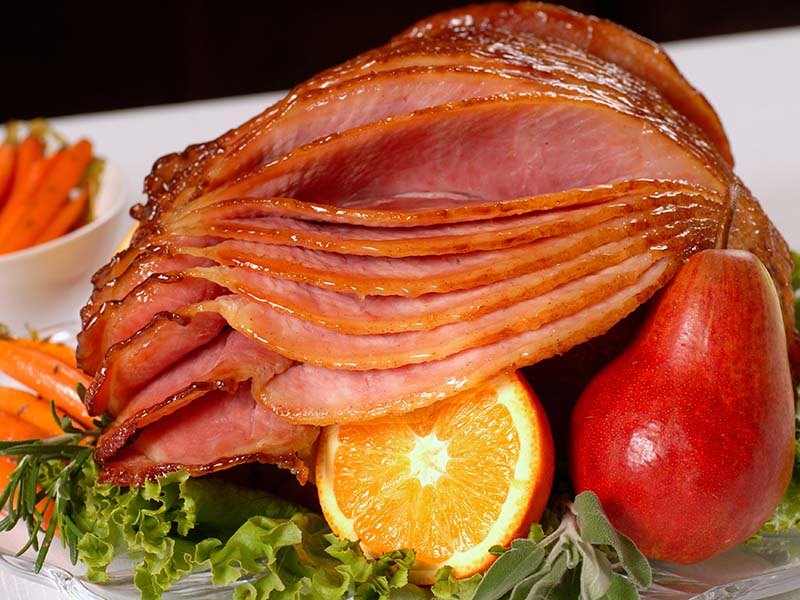 Glazing a ham is a fantastic way to coat your ham with an enchanting flavor, color, and texture. There are many ways to glaze your ham, but maple syrup or honey glaze seems to be the most common way.
Brown sugar, mustard, jam, and tons of other choices of ingredients can pair with the dish splendidly. The ham is baked until hot, and then the glaze cover will be applied to finish the dish.
The shiny cover from the glazing and a magnificent twist in the flavor of the glazing ingredient are the features making this ham stand out. You can make the dish in any holiday celebration to treat your family and friends.
12. Black Forest Ham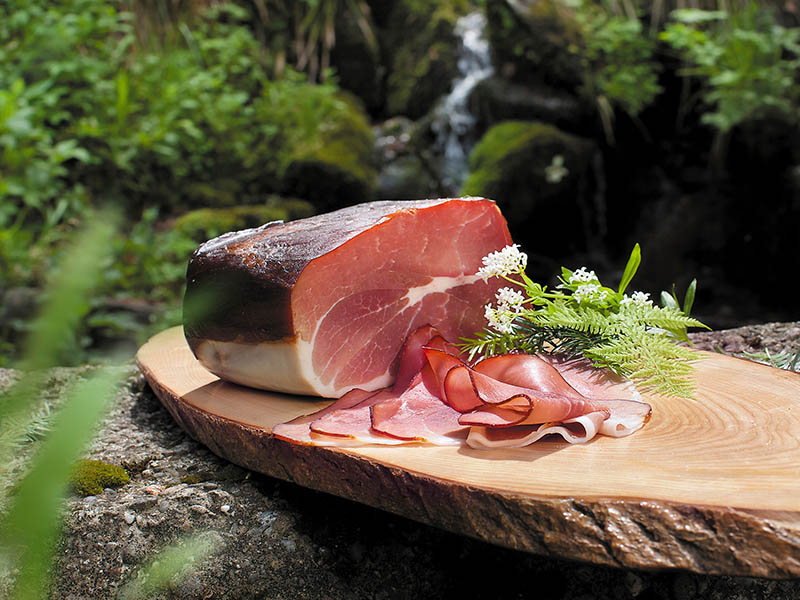 This ham might have the most strange name compared to other hams. Black Forest ham is a masterpiece of dry-cured smoked ham in Germany. Its production started back in 1959, thanks to Hans Alder from Bonndorf.
This ham derives its name from the Black Forest mountain range in Germany. It only takes around three months to make, in which two weeks are for the curing process and two weeks for the aging procedure.
The ham is then air-cured in the final two weeks before being suitable for sales. Black Forest ham has dark skin, a smoky aroma, and a nutty flavor from the air-curing and cold-smoking process.
Hickory, maple, hardwood, and applewood are typical woods for this ham. The applewood will bring a sweeter and richer flavor.
When you cut it, the vibrant red meat will make your mouth water for sure. This ham has 20% fat with a slightly spicy taste. You can enjoy Black Forest ham raw or add it to other cooked dishes for a savory flavor.
13. Bayonne Ham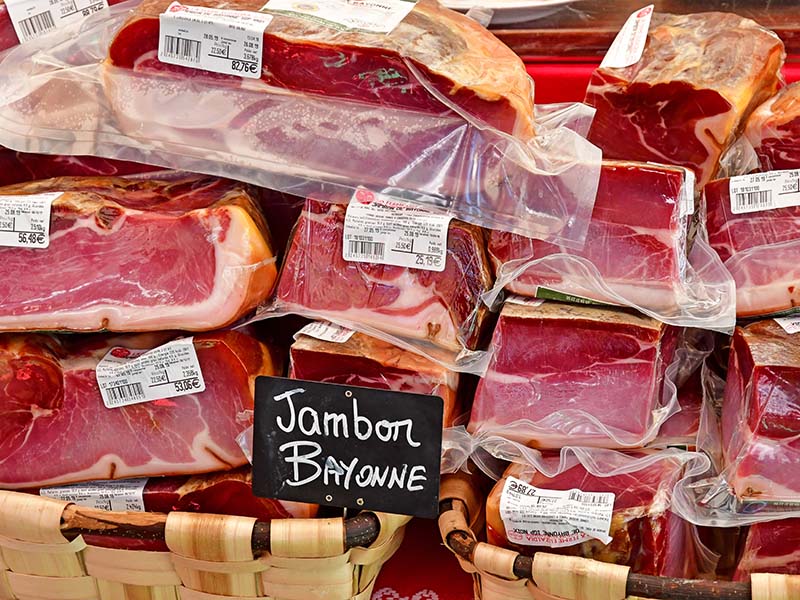 Bayonne Ham is a wonderful ham from Bayonne (Southwest region of France). This French ham can only be manufactured from certain special pig breeds in Basque. Spring salt and fresh ham are its two main ingredients.
This ham requires wind and fresh air and nine to twelve months to dry and ripe. Then, people will use a probe to evaluate the quality and flavor of the ham.
Bayonne ham has a slightly salty and sweet flavor with a gentle hint of hazelnut flavor. When you cut the meat, you can feast your eyes on the pinkish hue inside before letting your taste buds experience its wonderful savoriness.
The ham is often served in thin slices and paired with an aperitif. These slices have a special chewy texture that makes them different from other cooked hams.
You can also use Bayonne ham as an alternative choice for bacon at breakfast. Sandwiches and salads are some tasty dishes that you can use Bayonne ham for an extra flavor.
Let's discover the taste of this Bayonne ham in the peaceful streets of France.
14. Ham Hock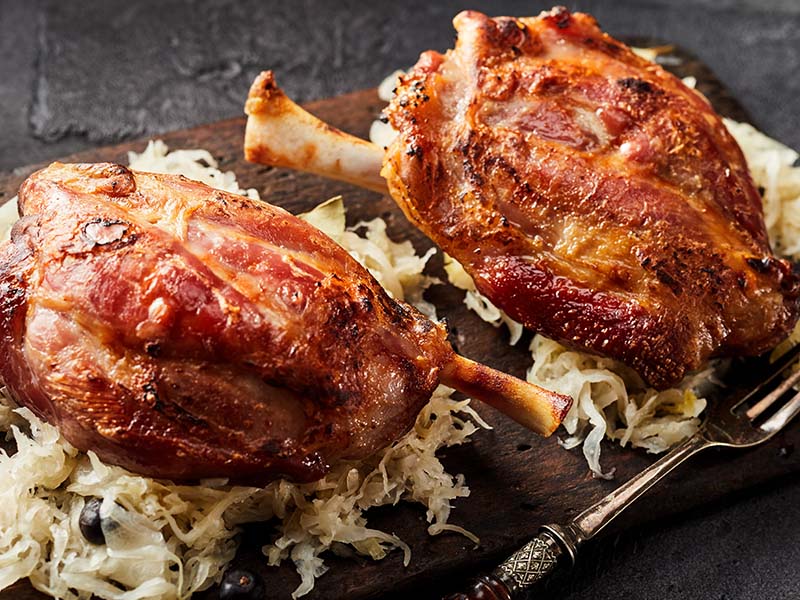 A ham hock (also known as a pork knuckle) is a part that connects a pig's foot to its leg. For an easier demonstration, just imagine that this part is an ankle of the pig. The hock has a fusion flavor of a foot and the leg's part.
This unique cut is incredibly tasty and is considered a staple food in Latvia, Germany, the Philippines, Vietnam, and other countries in Asia and Europe.
Hambone and ham hock are two different portions of the pig; however, you can use them to substitute each other. The ham is often cured with salt and smoked to gain a savory and smoky flavor.
Ham hock contains a large quantity of collagen due to the appearance of tendons, ligaments, and skin. It is usually cooked for a long time to soften these parts and make the meat more delicious.
You can slow-cook, braise, or roast the ham and serve it as an entree of the meal. This ham is a perfect base to flavor some soup and broth recipes.
Veggies like navy beans, cabbage, and collard greens are typically added for a distinctive flavor and aroma. Its flavor is usually described as bacon. In fact, you can substitute bacon with ham hock to create a tasty meal.
15. Irish Ham
Welcome to Ireland! The ham in this country will amaze you with its distinctive flavor. Irish ham is typically referred to as Belfast or Limerick ham. This ham is brined or pickled and then smoked with juniper or peat to gain its authentic taste.
Irish ham is salty and sweet with a touch of spiciness from evergreen. The ham requires cooking before serving on your family table. People will buy this ham and soak it overnight on Christmas and Easter.
People will display the ham in spiral slices garnished or basted in savory sauces. The basting sauce is usually savory, like mustard, beer, or whisky. However, sweet versions like brown sugar or honey are also available to refresh your palate.
16. Serrano Ham Or Jamón Serrano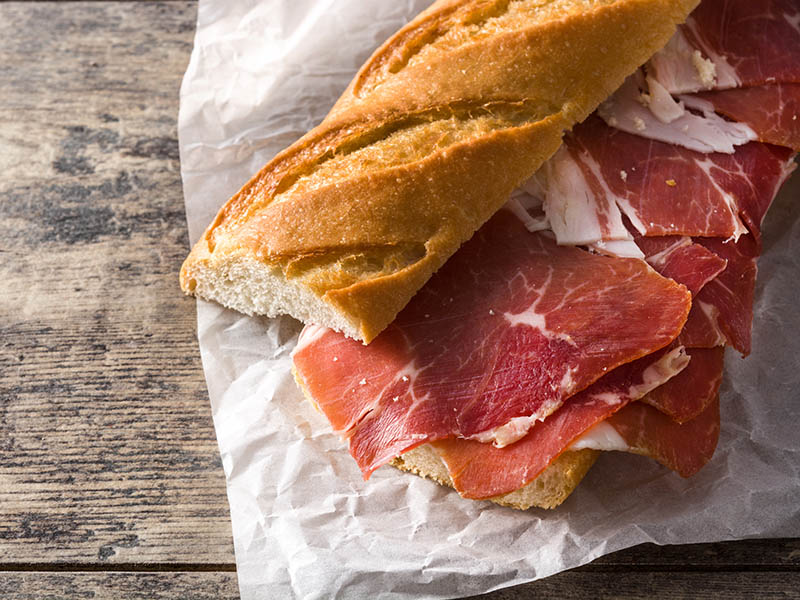 If you are wondering what is the best ham to try in Spain, Serrano ham should be your top listed choice. There are two popular ham recipes in Spain called 'Jamón Serrano' and 'Jamón Ibérico'.
Jamón Serrano or Serrano ham is also called 'mountain ham' because of the requirement for a drying shed at high elevations for the curing and aging process. This dry-cured ham is often boiled or baked in a salted solution.
Serrano can be the best air-fried morning meal for your family. The red meat will wow you with a dazzling appearance when sliced. This type of ham has less fat and moisture with a deeper flavor compared to Prosciutto ham.
It takes around 24 months to make this Serrano ham from start to finish. With a slightly salty flavor and soft texture, Serrano ham will not disappoint you. The ham is often displayed as a huge leg with a nice golden brown cover.
17. Jamon Iberico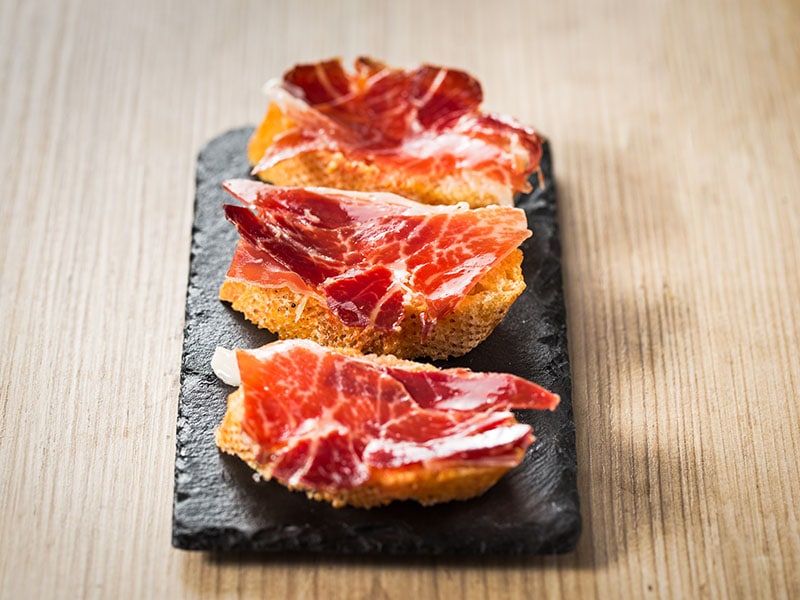 Speaking of Serrano, here comes another tasty Spanish ham that you can not miss. Jamón Ibérico (also known as Iberian ham) is the best dry-cured ham that you should try.
This ham can only be produced from Iberian pigs, a special bread in Southeastern Portugal and Southwestern Spain. These pigs are raised in a special condition where they eat cereals, acorns and roam around the countryside.
It takes roughly a year to three years for the ham to develop its flavor in the curing process. This ham has a fatty marbled texture, making it famous and usually compared with Kobe beef.
This ham is big with a long snout, slender legs, and a black hoof. Its flavor is more intense and complex compared to the Serrano one. Jamon Iberico has three different grades, in which you need to pay more money for higher graded ham.
Wow! I can't believe that this Jamon Iberico has such a complex cooking method.
18. Speck Ham
Speck is a cured, lightly smoked ham originating in the southern region of Tyrol (Italy). Germany and Austria also have a beautiful variant of Speck that you should try at least once.
Unlike other hams, Speck is traditionally made from pork belly (smoked or pickled). This ham is mostly pork fat with or without the presence of meat. Speck ham has a sweet and salty flavor with a touch of mild smoky taste.
If you wonder whether freezing ham is possible, don't worry, you can store Speck in a dark and cool place or keep it in the freezer. Speck ham often has a layer of the whitish mold with a gentle flavor that balances the whole ham.
Bread and wine are perfect to pair with Speck. You will also find this type of ham in pasta sauce, but the easiest way is to slice it and enjoy it with your hands.
19. Westphalian Ham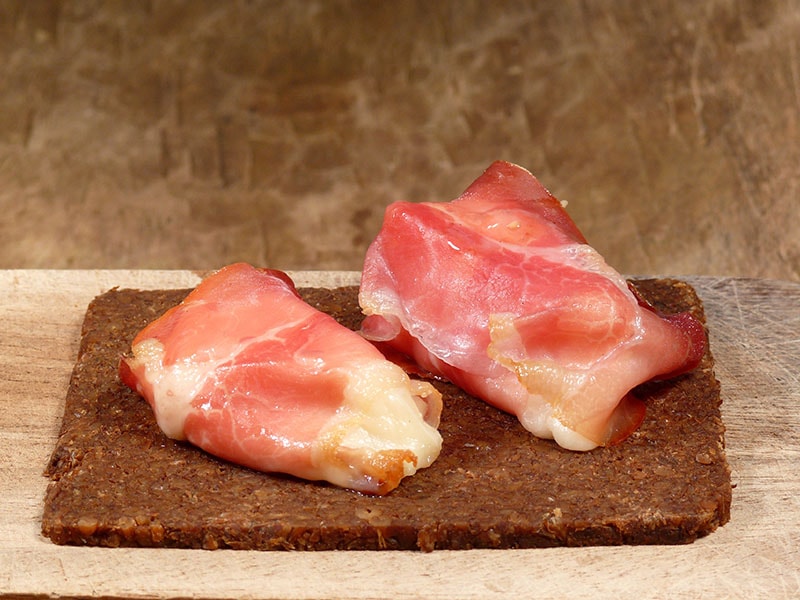 Westphalian Ham is a type of ham made from acorn-fed pigs in the Westphalia forest (Prussia, Germany). This ham is rindless with a gentle smoky flavor. Westphalian ham has a bright pink appearance that matches its taste.
This dry-cured ham is smoked with beechwood and juniper branches to evoke a lovely aroma. It is available in boneless and unsmoked versions in the market. After roughly six months of aging, the ham is ready to serve in thin slices without any further cooking.
20. Canned Ham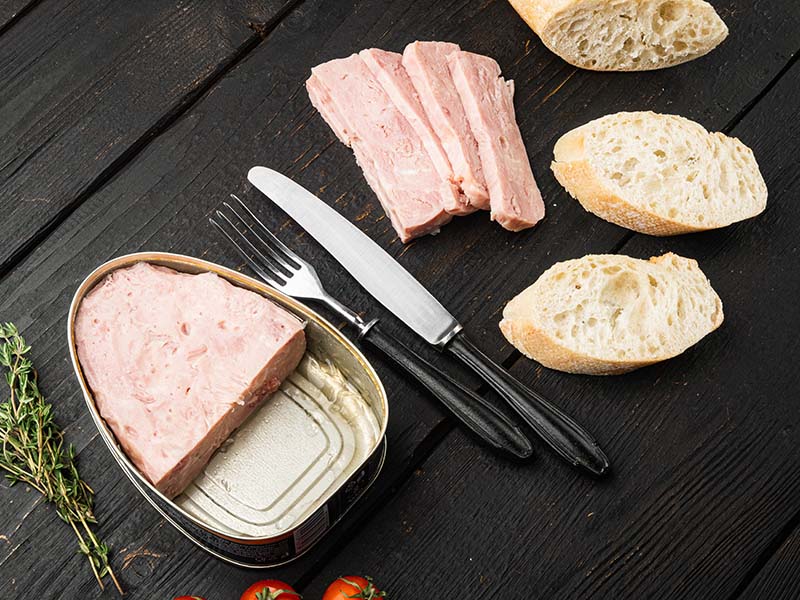 Canned ham has a friendly pinkish flavor that shows its gentle and mild salty taste. Traditionally, canned ham is cured pork cooked and pressed into a can. Most canned ham can be served immediately with slices of bread.
Other ingredients, which are always deboned if possible, are added to keep the ham in the best condition. Some manufacturers use gelatin to maintain the moisture and flavor of the meat.
There are plenty of canned ham producers on the market; therefore, you should check the most excellent canned ham available in your place before purchasing the product.
Canned ham has two typical versions: shelf-stable and refrigerated canned ham. The shelf-stable can be kept for two years or longer before serving. The other version needs to be under refrigeration until you use it. You can store this version for up to nine months.
21. Capicola Or Capocollo
Capocollo is an Italian specialty with a dry-cured, cold-cut pork shoulder or neck. Capicola slices have a beautiful reddish color with plenty of tendons and fat appearing on the slice. This ham is not brined like other common hams.
The name Capocollo describes the meat as 'capo' means 'head,' and 'collo' means 'neck'. Traditionally, people will soak the meat in red or white wine and then salt it for a savory flavor.
Capicola has a fatty and soft texture with a delicate salty flavor, making it more expensive than other salumi. Italians often use it in an antipasto or a savory ingredient in pizzas and sandwiches.
Amazing! This Capicola is a one-of-a-kind ham recipe in Italy.
22. Xuanwei Ham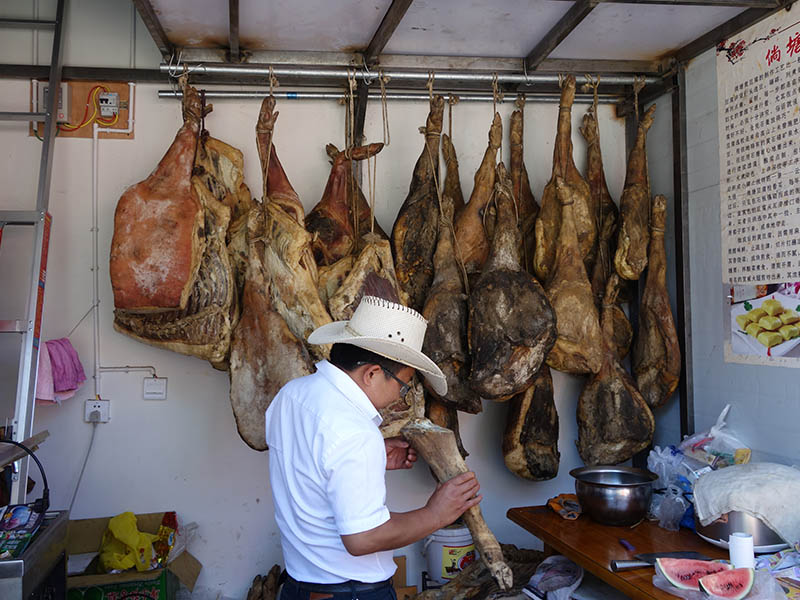 Don't miss out on this tasty dry-cured ham from Yunnan province, China! The meat has a long history dating back to the mid-18th century. Many people liken it to good wine: older ham are better at indulging your taste buds. By "old", I mean a few years of curing.
Xuanwei ham has a beautiful rose-red hue and a unique shape described as a pipa – a musical instrument in China. Customarily, this ham uses the legs of Wujin pigs – a breed of pig with high-fat content and thin skin.
The meat of Wujin pigs is described with an excellent muscle quality due to their natural habitat and veggie diet. Soybean, buckwheat, horse bean, and potato are some typical veggies used for raising these pigs.
Xuanwei ham has a sophisticated salty flavor covered with a black or brown mold layer after the aging process.
5 Best Ham Recipes Are Coming For You
Don't go yet! Here are some tasty ham recipes that you can make to wow your family. Dive into this section with me if you want amazing dishes to wow your friends!
This beautiful ham recipe will cheer you up immediately. The way to cook this honey-baked ham requires much time but trust me; it's all worth it. After a day of absorbing all the spice, the ham will be smoked for the next 24 hours to get a succulent texture and flavor.
If you want some tasty leftover ham dishes, I suggest turning them into a yummy cheesy casserole for everyone. You just need to place all the ingredients inside the container, especially with some cheese, to raise the dish's creaminess.
Here comes a delightful holiday ham recipe that you can try at home this year. Maple glazed ham is very popular on Christmas day because of its aromatic taste, crispy texture, and fascinating look.
Are you looking for a delicious breakfast recipe? Well, you're in the right place! Ham hash is effortless to make; you just have to cube all the ingredients and stir-fry them all in a skillet. The dish is savory and provides very much energy to start a new day.
Check out the recipe to make an excellent ham steak! I promise that you may fall in love with it right away. The dish is actually made with a thick slice of ham, but you spice it up with sauce or glaze to make it even more delicious and tender in every single piece.
What Is Your Favorite Type Of Ham?
Ham is a wonderful food that can come in many shapes and flavors. Regardless of where they come from, those diverse varieties will always boast unique features that will surprise you. These slices of savory ham are waiting to treat you with the most delicate flavor.
Feel free to share your favorite ham in the comment section. And if you find this post helpful, support me by hitting the like button. This is a wrap for today. I will see you next time!