These easy air fryer breakfast recipes can help you save a lot of time for cooking and guaranteeing your family's health. With the method of frying without the oil, air fryers have gained popularity worldwide and to be the most worthy item to have in your kitchen.
Maybe you already know that your air fryer can help a lot in meal preparation. There are tons of foods it can make like frying your chicken, baking your crunchy cookies, or making snacks with root vegetables. However, just being around these common things can make you bored.
Fortunately, your air fryer can do many other things for making a refreshing breakfast for all your mornings of the week.
Thus, looking for other easy but delicious air fryer breakfast recipes is a must for you, and I will help you with it.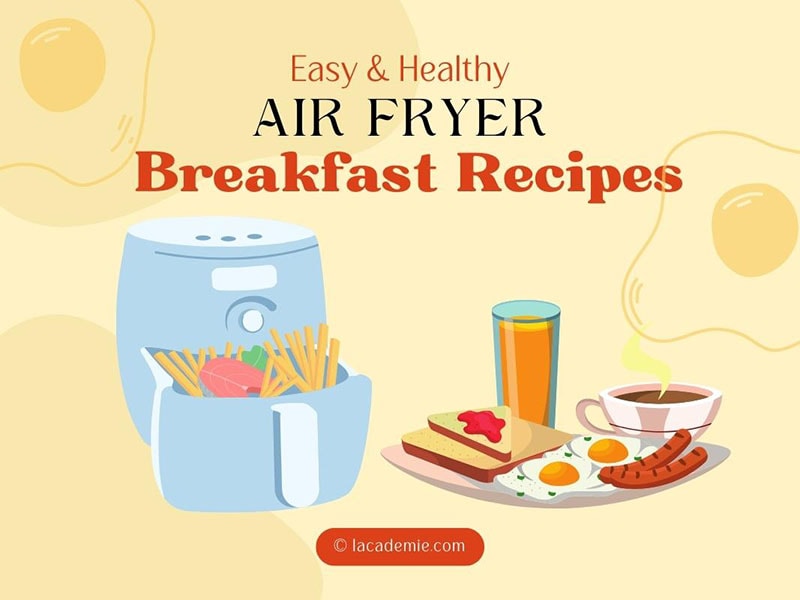 What Are The Most Flavorful Breakfast Made In An Air Fryer?
Go through the list below to know what breakfast recipes I want to share with you for your mornings. They can be cakes, bread, roll-ups, pizza, and so on. Let's choose one and scroll down for more details!
Air Fryer Breakfast Recipes With Eggs
Air Fryer Donuts
Breakfast Egg Rolls
Ham And Egg Pockets
Hard-Boiled Eggs
Scrambled Eggs
Cheesy Baked Eggs
Bacon And Egg Cups
Soft-Boiled Scotch Eggs
Sausage Breakfast Casserole
Air Fryer Breakfast With Vegetables And Fruits
French Toast Cups With Raspberries
Breakfast Sweet Potato Skins
Candied Bacon And Sweet Potato Hash
Banana Bread
Red Potatoes
Baked Apples
Roasted Oranges
Strawberry Turnovers
Brussels Sprouts And Bacon
Strawberry Pop-Tart
Lemon Blueberry Bread
Other Savory Air Fryer Breakfast Recipes
French Toast Sticks
Bourbon Bacon Cinnamon Rolls
Breakfast Burritos
Bacon Crescent Rolls
Ham And Cheese Breakfast Bundles
Sausage Patties
Breakfast Frittata
Top 26 Easiest Breakfast Recipes In Your Air Fryer You Must Try
Continue reading to get a deeper understanding of the following air fryer breakfast recipes. Even if you don't know how to pinpoint different varieties of air fryers, you can still make the right decision by getting the general information about food ingredients, taste, and side dishes.
Air Fryer Breakfast Recipes With Eggs
The most popular ingredient to make easy dishes must be eggs. With an air fryer, you can create many different recipes, ranging from egg rolls, scrambled eggs, boiled eggs to cheesy baked eggs.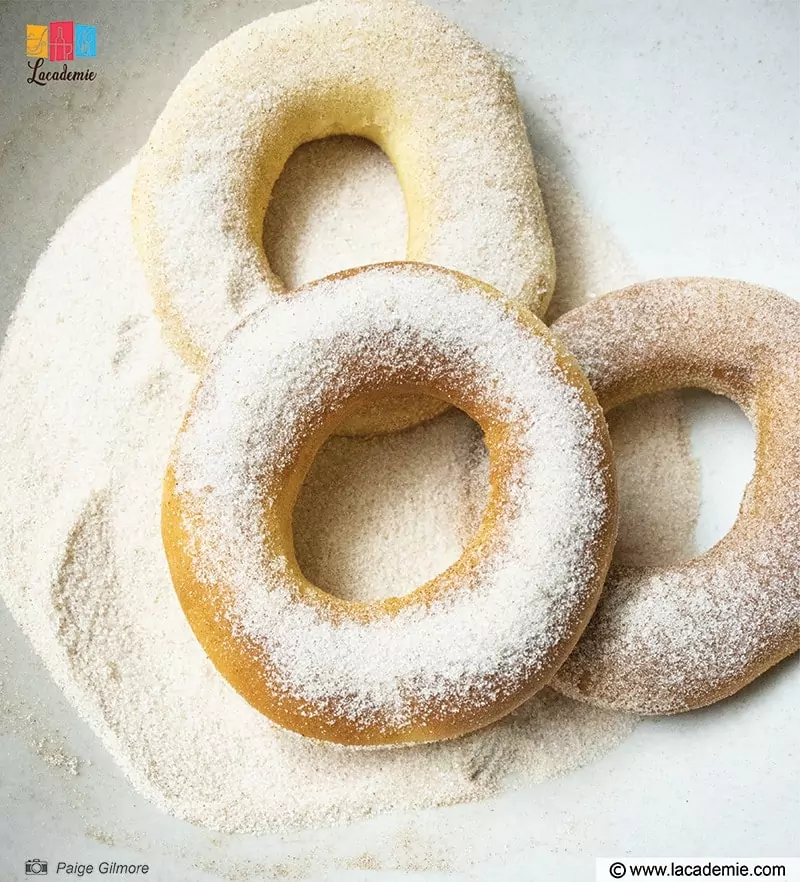 People often think of donuts as a midday snack. But for sweet lovers, nothing's better than waking up to aromatic donuts with cinnamon sugar. To save time, I recommend preparing the dough in advance.
This way, the next morning, you'll only need about 5 minutes to fry them in the air fryer. Moreover, while cinnamon sugar is a traditional partner for donuts, you can change it to other toppings: sprinkles, chocolate ganache, sundae sauce, etc.
You will be amazed when enjoying egg rolls for a new and energizing day. And with an air fryer, your breakfast egg rolls are healthier than ever.
You are free to choose whatever add-ins you like, but some highly recommended ideas for you are sausage, bacon, ham, spinach, avocado, tomatoes, mushrooms, or cheeses. Thus, you can change the fillings every day to prevent boredom.
With this breakfast, the delightful blend of egg, milk, ham, and cheese is covered by two separate rectangle crescent dough and then baked in an air fryer until golden brown for about 8 to 10 minutes.
You will feel a sense of softness, creaminess, and deliciousness from the magic combination of ham and egg pockets.
Moreover, I know breakfast is the most important meal in your day, and supplying enough essential nutrients should be considered. Fortunately, ham and egg pockets help provide your body with protein, sodium, fat, and carbohydrates.
Watch this video to know detailed steps for making ham and egg pockets:
Nothing is easier than hard-boiled eggs to serve as your breakfast. They reminded me about the past when I was in university with a hectic schedule. Then, I often used my air fryer to make breakfast with eggs to save my time.
The air fryer can make perfectly soft, medium, or hard-cooked eggs without boiling water. To get hard-boiled eggs, put your eggs in the air fryer for about 15 minutes.
One more easy breakfast made with eggs that appears in popular cookbooks for air fryers is scrambled eggs. This breakfast idea is the most suitable for incredibly busy mornings because you just need to spend around 10 minutes finishing the dish.
You need to make scrambled eggs to stir your eggs with butter, milk, salt, pepper, and cheese. Moreover, to maximize the taste of scrambled eggs, serve them with pesto veggies, crispy kale and smoked gouda tacos, avocado toast, or smoked salmon.
If you are a fan of eggs, cheesy baked eggs must be one option for your breakfast recipes. And cheese bake eggs are an ideal idea for those busy workday mornings or if you want to keep your breakfasts simple but nutritious.
Your baked eggs will be more glamorous with the addition of gooey smoked gouda cheese inside. You have cheese and eggs that are two things almost all children love, so they will be into the dish!
The video will let you know how to make air fryer cheesy baked eggs:
The magic combo properly satisfies your expectations about a perfect breakfast during your weekday mornings. Bacon and egg cups will let you know a sense of crunchiness on the outside but the softness and delight on the inside.
The addition of cheese on half of the egg cups makes for a great, easy, and enjoyable breakfast that your whole family members love to eat.
If you think that egg-based dishes go bland, this Keto dish coming out from your air-fryer with soft-boiled scotch eggs will blow your mind with its special appearance and flavor as well.
Your boiled eggs will be covered with pork sausage and rolled in flour mixture, dipped in the beaten eggs, rolled again with panko crumbs, and finally placed in the air fryer until you get irresistible golden brown batches.
You can serve them with some kind of sauces like whole grain mustard, sriracha mayo, honey mustard sauce to get a perfect taste.
Watch this video to know how to finish soft-boiled scotch eggs with your air fryer:
Now, get ready to enjoy an appetizing breakfast with sausage breakfast casserole that is made with foil, hash browns, ground breakfast sausage, pepper, onions, and eggs.
You can serve the dish with bread, biscuits, fruit salad, bacon, banana, or bagels.
To make your sausage breakfast casserole appealing by giving it the final touch of fresh basil.
Air Fryer Breakfast With Vegetables And Fruits
If you are a fan of vegetables and fruits, you can take them to make dishes with the help of an air fryer. The air fryer can help you leave the il out of your recipes and save a lot of time for cooking.
If you love starting your days with lovely loaves of bread, French toast cups with raspberries must be on your list. Just use an air fryer for baking your bread, then sprinkle it with raspberry syrup to make your bread more appealing, delicious, and nutritious.
The raspberry syrup is made with raspberry, of course, lemon juice, and lemon zest. Moreover, your bread will be more attractive with the final touch of cinnamon.
Can you eat sweet potato skins? Well, yes, of course, you can. First, take them to make a healthy recipe for your breakfast now. Your baked potatoes will be scooped out of the flesh, so you get the potato skins already.
Next, fill them with some ingredients like a full-flavored mixture of eggs, salt, milk, and crumbled bacon or fried meat. Moreover, your dish will be appealing with some shredded cheese, tomato, and onion
The video will let you know the steps to turn your sweet potato skins to perfect breakfast meals:
I think that the magic combination of sweet potato hash and candied bacon will satisfy your expectation about a decent breakfast.
The natural sweetness from crispy sweet potato cubes, the crunchiness of flavored bacon, The aroma from caramelized sweet onion, and the floral smell of rosemary are in one bowl to make your breakfast glamorous.
I think that with the incredibly wonderful breakfast, you will spend a new day with good things!
An easy air fryer banana bread pizza will be the next suggestion for your family breakfast. Why? Eating one banana in the morning is good for your health, but repeatedly eating like this is compulsory; therefore, creating it in another way might be a good idea.
Banana bread pizza is topped with tasty apple filling, cream cheese, and some of your favorite choices. Importantly, your pizza will be perfect if you serve it with caramel syrup.
How about red potatoes? Breakfast with red potatoes is simple to make but elegant in both flavor and color. Some chopped fresh rosemary gives these air fryer red potatoes a distinctive and delightful taste.
What you need to notice about this recipe, besides its flavor, is time to cook; it can take you around 20 minutes for eight servings; therefore, the dish is so suitable to be a decent breakfast for your whole family in busy mornings.
If you are an apple lover, take your favorite fruit to make this delightful breakfast to praise autumn flavor. Do you think it works? Of course, yes. Baked apples are cored apple halves packed with a mixture of butter, sugar, nuts, and oats and baked until tender and juicy.
With the air frying method, your apple can keep moisture inside but create crispy crusts.
Moreover, you should serve them with a scoop of vanilla ice cream to maximize their flavors.
Can you imagine a healthy breakfast recipe without using eggs? Just set aside 5 minutes to roast oranges to get an easy, healthy, nutritious, and delightful dish. You need fresh oranges, cinnamon, and honey to make this breakfast.
An air fryer can help you roast oranges quicker and easier. Just slice oranges in half, place them in the air fryer and drizzle some cinnamon and honey on the top.
You had better serve them with vanilla ice cream or some custard on the side.
Strawberry turnovers must be on your breakfast recipe list if you have sweet teeth. The pastry parcel is filled with thick strawberry jam before being folded and rolled over butter, creating a lot of thin layers of dough and fat.
You can consider using store-bought pastry to keep things simple but also produce a delicious taste and excellent quality of the cakes. However, before making it, remember to defrost it.
Let's start your day with a healthy, nutritious, and tasty breakfast by cooking brussels sprouts and bacon for you and your whole family. I always love the natural sweetness and crunchiness from brussels sprouts, and marinated bacon will add meaty and salty flavor.
Your breakfast will be more attractive when you pour some balsamic vinegar to taste the whole meal.
Do you love strawberry pop-tarts? Let's use an air fryer to make them tastier and healthier. And they are suitable breakfast meals for your family on weekend mornings when you and other family members can gather, cook, and enjoy meals together.
Making pop-tarts can also be an exciting weekend recreational activity for your children because when I was young, my mother often asked my sisters and me to cook with her. I think I got many unforgettable memories from cooking time.
You love bread, but just eating bland loaves of bread makes you feel bored. So I will let you know one more idea to make your favorite bread tastier, tangier, and more appealing. And the bread will be amazing to start your day.
Lemon blueberry bread is light, fluffy, and delicious but easy and quick to taste for everyone, making it a popular breakfast across the world.
However, don't be afraid of the difficulty of cooking it because an air fryer can help you with it.
You can see this video to know more:
Other Savory Air Fryer Breakfast Recipes
Besides making recipes from eggs, vegetables, or fresh fruits, you can use your air fryer for cooking many types of cupcakes, bread, or other dishes with bacon, ham, cheese, sausage, or some stuff like this.
French toast sticks are made with bread dipped into a mixture of eggs, cream, salt, vanilla, and cinnamon. The dip will make your breadsticks full-flavored and more delicious.
Frying breadsticks is much easier with an air fryer than using a saucepan with oil; therefore, your breadsticks are also far healthier.
You can prepare it the night before and then reheat it to save time in the morning. That's still ok!
Now, it's time to take out your Ninja air fryer and use it to make this recipe. The result will be bourbon bacon cinnamon rolls with a crispy exterior but juicy and sweet interior.
Preparing you and your family members with these cinnamon rolls will be an amazing thing, or you can take advantage of this occasion to ask your beloved ones for cooking together.
These crispy air fryer breakfast burritos are the most incredible recipes I wanna share with you. Burritos are made by filling a tortilla with your favorite ingredients and then wrapping up.
For me, I often fill my burritos with bacon, scrambled eggs, cheese, vegetables, and diced green chilies at the end. I love getting up because I can have a lot of time to prepare for my work, make breakfast by myself, and enjoy it.
The light colored-breakfast burritos always make me feel refreshed and energetic for a new day. Importantly, with an air fryer, I can save a lot of time to do other things for my busy mornings.
The video will guide you on making the perfect breakfast burrito meal for your breakfast.
The mouth-watering aroma of warm bacon from these bacon crescent rolls will draw folks to the table. Then, on Sunday mornings, let your children assemble the rolls for themselves; they will get fun from it and love to eat these rolls so much.
However, bacon crescent rolls are easy to make with some basic steps. What you need to do is create triangle shapes with crescent dough, add bacon slices, sprinkle onion powder, roll it up, and then put it in your air fryer for about 10-15 minutes.
25. Ham And Cheese Breakfast Bundles
It's possible to make the most delightful and tangy bundles in your air fryer with ham and cheese.
The breakfast is made with phyllo, a piece of cream cheese, chopped fully cooked ham, eggs, seasoned bread crumbs, and some other fresh herbs for tangy and appealing scents.
I think that this breakfast recipe is suitable to serve on Sunday mornings when your family members reunite, prepare ingredients, and cook together.
Sausage patties cooked by an air fryer to perfection will make them a juicy and tender breakfast option. There is no doubt that without the addition of oil, your sausage patties will be good for your health.
It will be best to enjoy them immediately or store them for up to 3 days in the refrigerator. Besides, you can eat sausage patties with grilled vegetables, salad, or classic coleslaw to get the perfect taste.
It will show you the basic steps for cooking sausage patties for your breakfast with an air fryer.
Breakfast frittata is an easy, quick, and delicious recipe that comes together in just minutes. Besides, this kind of dish is low in carb but high in protein, which is precisely what you and your family need to start the day off right.
Being made with inexpensive common ingredients, this frittata is a hearty meal that is easy on the wallet.
Is There Any Breakfast Made With An Air Fryer?
With your air fryer in the kitchen, you can make many more 26 of these mentioned breakfast recipes for you and your beloved relatives. However, with the list above, I want to share with you the most basic, quick but healthy, and delicious ones for your breakfast meals.
Some other dishes you can make with your baked potato pancake, frozen fish fillet, grilled cheese sandwich, churros, fried green tomatoes, and the list goes on. When you have free time, you can try making and enjoying them with your friends and family members.
For recommended recipes, following them strictly is not necessary. You can flavor your dish as you want and regulate the number of spices to fit your taste. However, applying your experience in making these dishes is encouraged to make the dish better.
If you think my article is useful, share it with your relatives, and if you have any experiences with using air fryers for making outstanding meals, feel free to share it with me in the comment section below.
Nutrition Facts
8 servings per container
---
Amount Per ServingCalories383
% Daily Value *
Total Fat 10.7g

16

%
Cholesterol 20mg

7

%
Sodium 53mg

3

%
Potassium 347mg

10

%
Total Carbohydrate 65.6g

22

%

Dietary Fiber 4.6g

16

%
Sugars 25.1g

Protein 7.2g

15

%
---
Calcium

79

%
Iron

2

%
Vitamin D

2

%
* The % Daily Value tells you how much a nutrient in a serving of food contributes to a daily diet. 2,000 calories a day is used for general nutrition advice.