Are you ever curious about how to flip an omelette yet still keep it in 1 piece? If yes, do not go anywhere because what I am about to show here will master your cooking skills, particularly in flipping and tossing omelettes.
There are many ingredients to mix with eggs for creating a tasty omelette for any meal, particularly breakfast. You can find numerous recipes for savory breakfast to master your kitchen skills, and the flipping technique is one of them to ensure your food is cooked evenly.
Basically, the omelette is not a challenging recipe. But making a flawless one is a kind of art, which requires some special hacks. So let's keep reading to learn the correct ways to flip your eggs and create many delicious and stunning treats for you and your beloved family.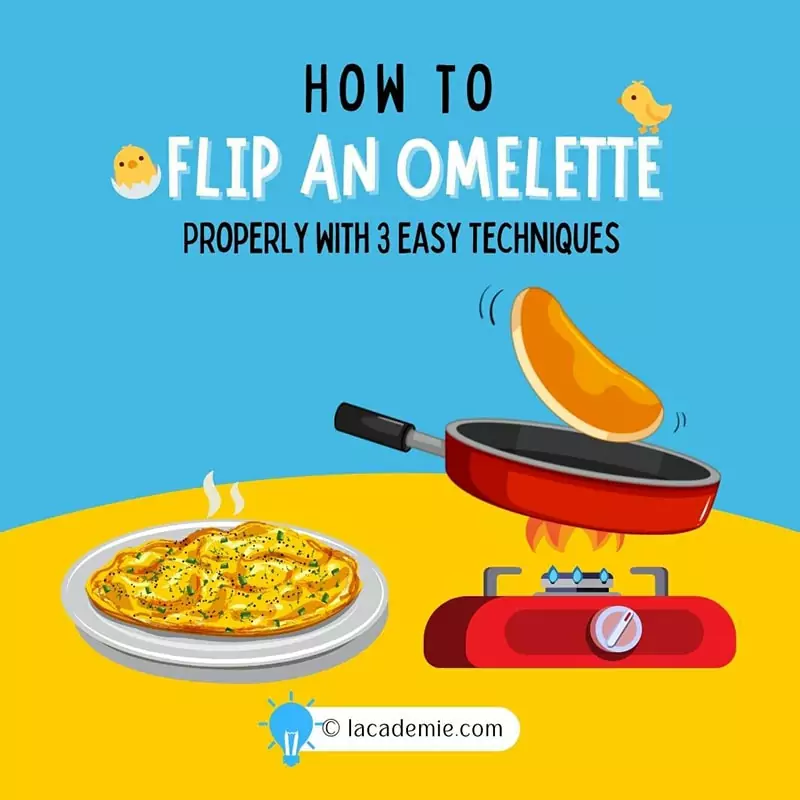 The Origin of Omelette – An Iconic and Amazing Egg-based Dish
Many know the main ingredient of an omelette (or omelet) is egg, but not everyone knows about this dish's origin, right?
The original one is claimed to be from the ancient Persia era. And the term "omelette" is a French word that has been known since the mid-16th century (1). This word originated from "amelette", which means a little blade.
Nowadays, each country has its own way of cooking omelettes. But the most basic one is made with beaten eggs, oil (or butter), and fillings that might be mushroom, bacon (or ham), chives, or other veggies. Unlike scrambled eggs, you do not have to stir the eggs when making this dish.
If you want to know other easy and mouth-watering recipes with eggs, there are numerous ideas for upgrading your culinary skills. There are also many simple but delicious recipes with uneaten egg yolks for you to discover if you only like the flavors of egg yolks.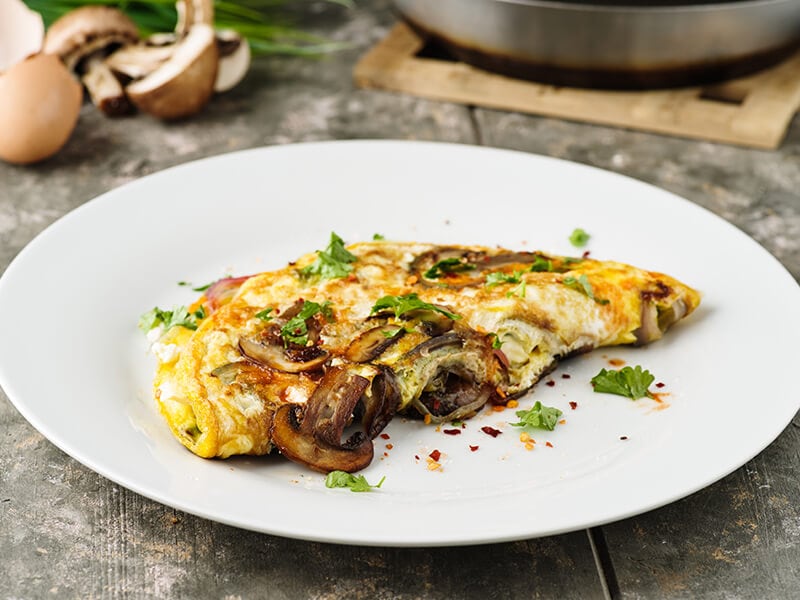 How To Flip An Omelette Like A Professional Chef
Regarding the flipping technique, there are 3 ways to perform without breaking them. Now, you have to prepare some basic things like:
But first, let me briefly show you how to start to cook this dish correctly before you want to flip it.
Step 1: Beat the Eggs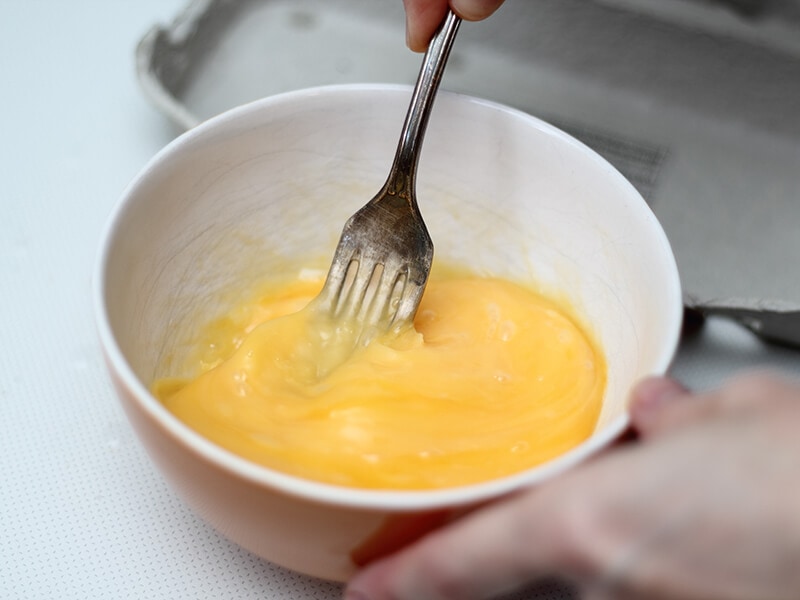 Crack the eggs and put them in a bowl, then use a fork to beat them slightly. You can use 2 to 3 eggs based on your preference.
Step 2: Heat Up Your Pan
At this step, you need to set your stovetop at medium-low heat, then add oil or butter. If you use butter, let them melt. This step will prevent your eggs from sticking on the pan surface to increase the possibility of flipping. Maintain medium-low heat for all the cooking stages.
Step 3: Pour the Eggs into the Pan
Wait for a minute, use a spatula to lift the cooked part from the pan's edges. Now, use the other hand to tilt the pan so the uncooked eggs can run to the edges.
Step 4: Add the Fillings (or toppings)
When you see your eggs are starting to set, gently sprinkle other ingredients to stuff your omelette and let them cook for a few more seconds. On the other hand, many people like to add the filling right in step 1 after beating the eggs, so choose which way you want.
After you have done these steps, it is time to move to the flipping part. And here are 3 methods to do it such as:
Method 1: Flip Them In The Air
This method requires decisive action. Here are 3 more steps to flip them with this method.
Step 1: Tilt the Pan
You need to tilt your cookware to an angle at 30 degrees which the further edge should be tilted down. At this point, you can snap your wrist to flip the eggs with just 1 action.
Do not tilt the pan more than 30 degrees as your food might slip out of the pan, or you cannot flip it as there is no leverage to do so.
Step 2: Shake the Pan
Do it gently until you see the bottom of your food is completely loose from the pan surface. If the eggs still stick to the pan, you will break your food into pieces when you flip the eggs.
Step 3: Use Your Wrist to Throw the Pan
Use your wrist to move the pan forward, upward with a quick and smooth motion. Flip and lift the haft of an omelette in the air upward, then move the pan backward to catch it. Now your omelette will be folded in half.
Please do not throw it too hard; otherwise, you cannot catch it, and your food might end up on the floor, not on the pan.
Here is a short demonstration for flipping an omelette into the air:
Method 2: Use A Spatula
A spatula plays an important role in making this egg-based dish. So let's see how you can use it to flip your food.
Step 1: Insert the Spatula Underneath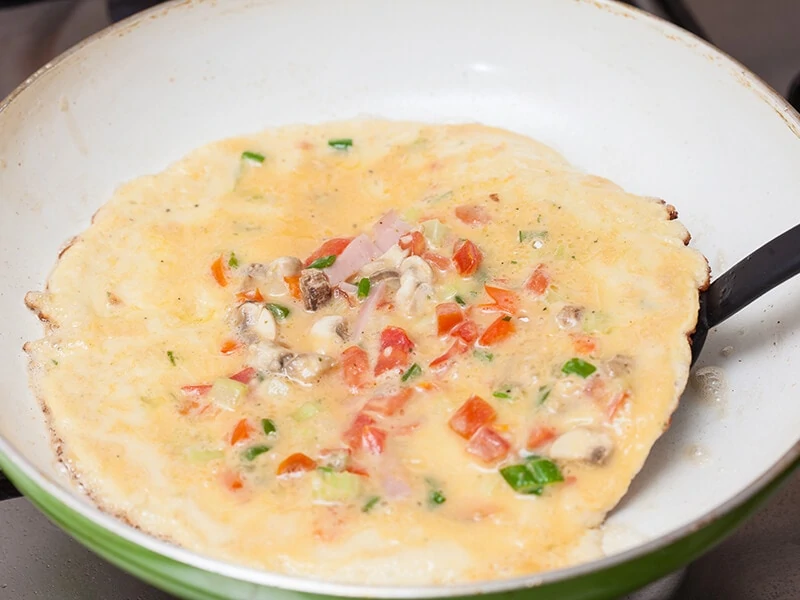 When you see the eggs are slightly solid on the edges, now search for the most cooked part and insert the silicone spatula on the bottom of your food about 1/3 of the way.
Do not insert the whole one into the middle; otherwise, you might split the eggs into 2 pieces. In this step, if you cannot slide your spatula underneath easily or cleanly, it means you have not used enough oil or butter at first, or you should wait a few seconds for the eggs to set more.
Step 2: Flip and Fold
Use a spatula to lift one side of the eggs carefully to ensure this side is still in 1 piece before you flip it. If you see your food might break apart, you can try to flip from another edge or wait a little more.
Before flipping, you can use a little pressure on the pan's handle, give it a few shakes so it can move, and loosen your food from the pan's surface thoroughly.
When the eggs are solid on the sides, and the center is set enough, now you are ready to flip. Slightly lift and fold your omelette in half with a spatula, then use it to press on the center so 2 sides can stick.
Step 3: Flip Again
When 1 side turns golden brown, you can flip your eggs again so another side can also have the same color.
Let's learn how to make a perfect omelette with a spatula through this lively instruction. Watch this video:
Method 3: Use A Plate
This is another super simple trick to flip your omelette with just a plate. And I believe all of you can do it at ease.
Step 1: Choose a Right Size Plate
It could be about 2 inches bigger than the cooking pan on each side. Avoid those that are smaller or have the same size as your pan.
Step 2: Tilt the Pan and Slide the Food Onto the Plate
But first, you should check the eggs' bottom is totally loose from the pan's surface. If yes, then tilt your pan and let the omelette slide into the plate.
But do not drop the whole omelet on the plate. Just allow it to fall halfway, and you will use the pan's edge to flip your eggs in half. Another thing to be noted is that you should ensure your plate and pan are close together to prevent the omelette from falling outside.
Do not miss this guide if you want to use a plate to flip your food. Watch this video:
What Other Considerations To Ensure The Perfect Flipping
Besides using the right techniques to flip and toss omelettes, you need to know other factors impacting the final results. It includes Timing, Heating level, Omelette pan, Spatula, and Fillings (or Toppings).
1. Right Timing
Knowing when the eggs are ready to flip is the first thing to ensure the foods will not be split.
After pouring the eggs into the pan, you should check when your food starts to solidify so it will not be stuck on the pan when flipping. However, do not let them completely solidify because, at this point, your egg dish is too chewy and firm to flip over.
2. Heating Level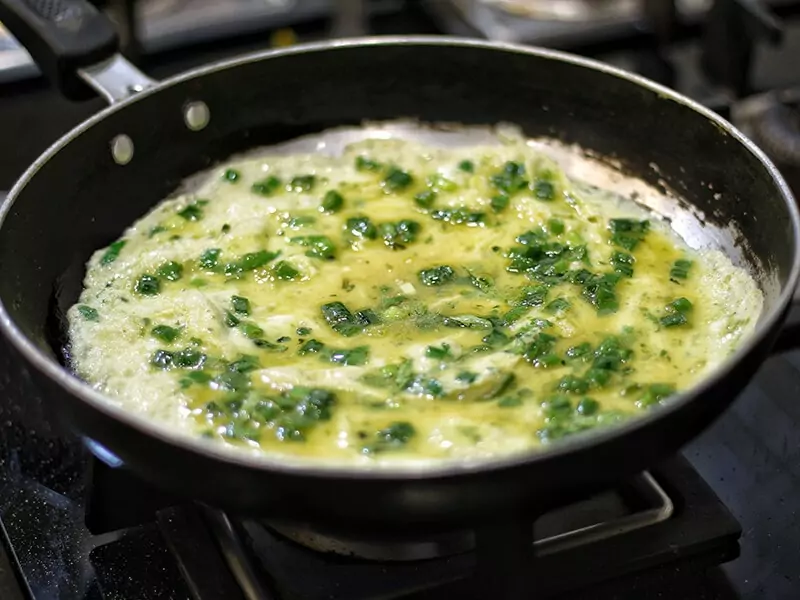 You should not use high heat when making this recipe because the bottom part can be dry and cooked completely while its top is still soft and runny. And it might result in a big mess if you try to flip it.
Particularly when your dish is big and thick, using high heat is a big no-no. Therefore, medium-low heat is the best option to make omelettes, ensuring the bottom and top of the dish will be cooked evenly to flip it at ease.
For more information, the doneness of the omelette must be thickened, and there is no egg-liquid left. The safe temperature to cook this dish is 160 degrees F.(2)
3. Omelette Pan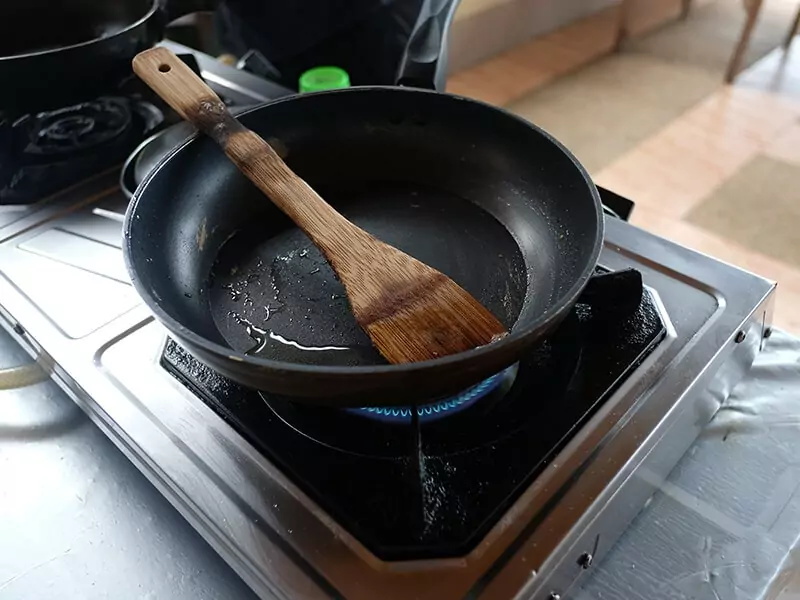 You will need a good pan to do so. You can use oil, butter, or grease to make the pan's surface non-stick, but if you are more conscious about your health, you should opt for the non-stick pan.
Indeed, investing in a high-quality and durable non-stick pan to cook food is necessary. It can help you reduce the amount of oil or butter yet still keep your food from sticking on the surface. Fortunately, there are many good choices for omelette pans on the market for you to choose from.
The size of a pan is another consideration in this circumstance. Omelette pans are normally smaller than regular pans. It might range from 8 to 12 inches, but the ideal size is an 8-inch pan. The smaller size of it, the easier it is to flip your omelette.
If you are too afraid to flip the eggs, you can find various ideal omelette makers that allow you to create the perfect egg dish in a snap. Appliances like these are best when you want to serve breakfast foods at dinner or crave a savory dish to eat during brunch.
Proud owners of waffle irons can also make this mesmerizing dish with waffle irons. By doing this, you can add almost any toppings you want without worrying that it'll become impossible to flip the egg.
4. Spatula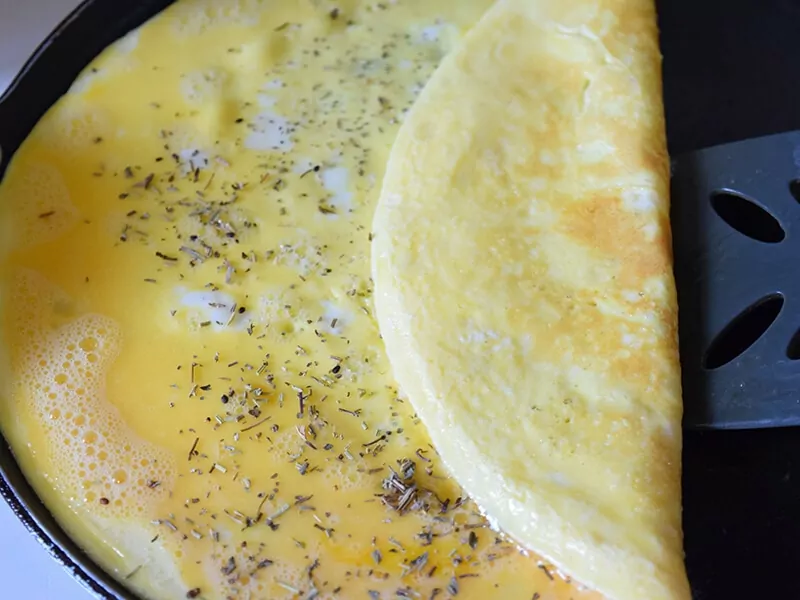 Another cookware that you need to look at is the spatula you are using. When it comes to the flipping omelette, your tool should be firm and sturdy.
Moreover, it must be made from non-toxic and durable materials like silicone. And do not forget to choose the wide spatula so it will not break your soft omelette.
5. Fillings (or Toppings)
This dish's common fillings (or toppings) are cheese, ham, bacon, veggies, etc. If you are a cheese lover, try this dish with some top-rated Mozzarella cheeses for optimal melting.
However, if you want to have a perfect flip for your eggs, you should not overstuff them with too many fillings or toppings.
Apparently, a plain and non-heavy omelette is much easier for flipping. So if you want to add fillings, remember to cut them finely and spread them evenly on the surface. In case you find your omelette with toppings is quite heavy, you should not flip them but fold instead.
If you do not like to (or cannot) flip your omelette, try to fold it with this demonstration:
Top 4 Classic Yet Delicious Omelette Recipes
If you are looking for the best omelette recipes, do not look anywhere else because I will show you delicious methods to prepare eggs with 4 simple recipes as below.
First, choose a small 8-inch or 10-inch non-stick pan and melt the butter over medium heat. When you see the butter forming bubbles, it is time to pour the mixture of eggs, seasonings like pepper, salt, and a bit of water on the pan surface.
It might take a few seconds for the eggs to start to set. Try to flatten them until the runny eggs can cover the entire pan. You can add fillings like cheeses if needed, then use a spatula to roll the eggs and make sure the surface is smooth. And that is how to make a classic omelette.
Even when you can't finish the omelette in one go, it's also possible to reheat omelettes in a few simple steps. This way, you'll have a quick, effortless yet hearty meal to curb your hunger.
The difference between French omelette and other types is their appearance. These delectable French dishes are folded to have oval or cylindrical shapes, so there is no flipping required in this recipe. Moreover, its fillings are soft and quite runny.
The ingredients for this version are similar to the classic idea, which are eggs, seasonings, fillings (if desired), and chopped herbs to sprinkle before serving. You also need to pay attention to the heat to prevent browning.
Spanish omelette (aka Spanish tortilla) is the combination of eggs, potatoes, and onion (optional). Another special trait of this recipe is that you can serve it at room temperature. And you have to fry potatoes and onion first before mixing them with beaten eggs.
Similar to the above recipes, pour the mixture into the pan and let it cook until the eggs are set, then you need to slide it from the pan to a plate and flip the plate so you can switch the omelette side so that both sides are evenly cooked.
Here is a low-carb meal that everyone craves for breakfast or brunch. Veggie omelette consists of eggs with various veggies like mushrooms, peppers, onions, tomatoes, etc., to create a colorful and healthy meal.
You can cook the vegetables either before or after pouring the egg mixture; both ways are fine. Furthermore, adding grated cheeses is ideal if you want some gooey flavor.
FAQs
Finally, if you still have other worries regarding cooking and flipping your omelette, I believe the following questions and answers will help you.
Practice Makes Perfect
Flipping an omelette requires practice. The more practice, the more you improve your skills and become a professional flipper. You can try with a clean pan first, try to move, and use your wrist correctly.
Last but not least, if you love this post, please click like and share it with everyone. And if you want to share your opinion from your own experience, do not hesitate to leave a comment below. Thank you so much!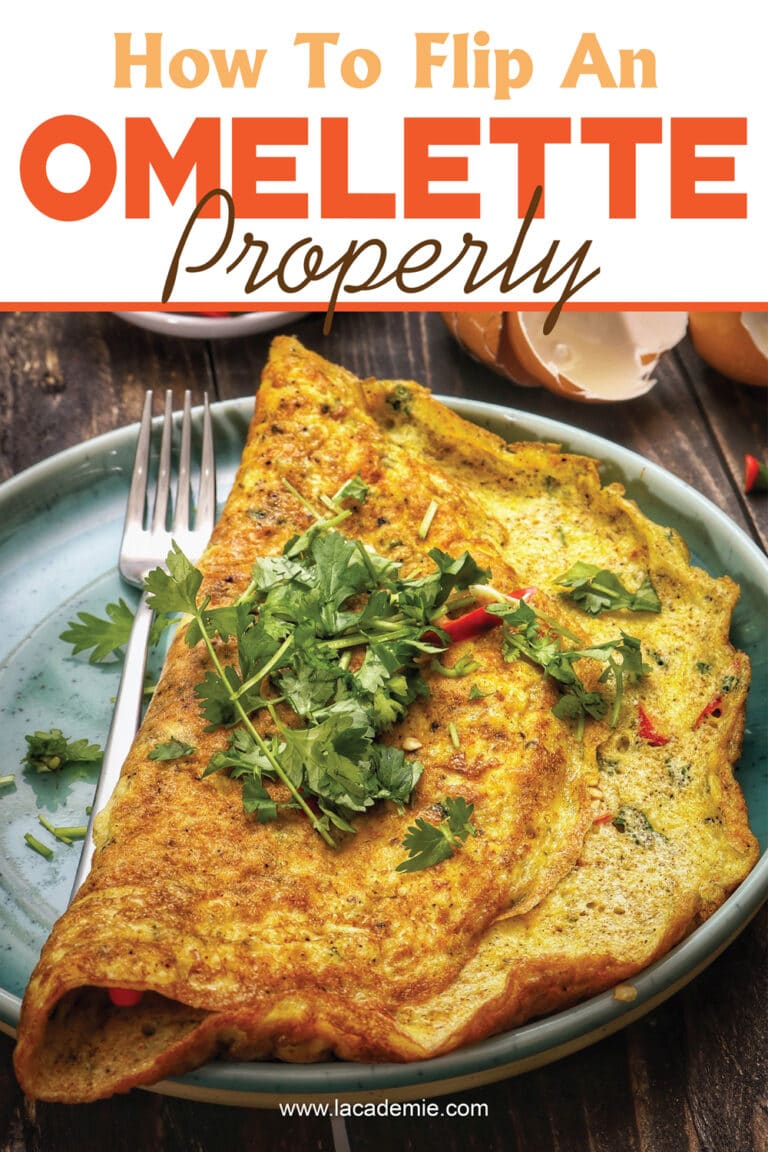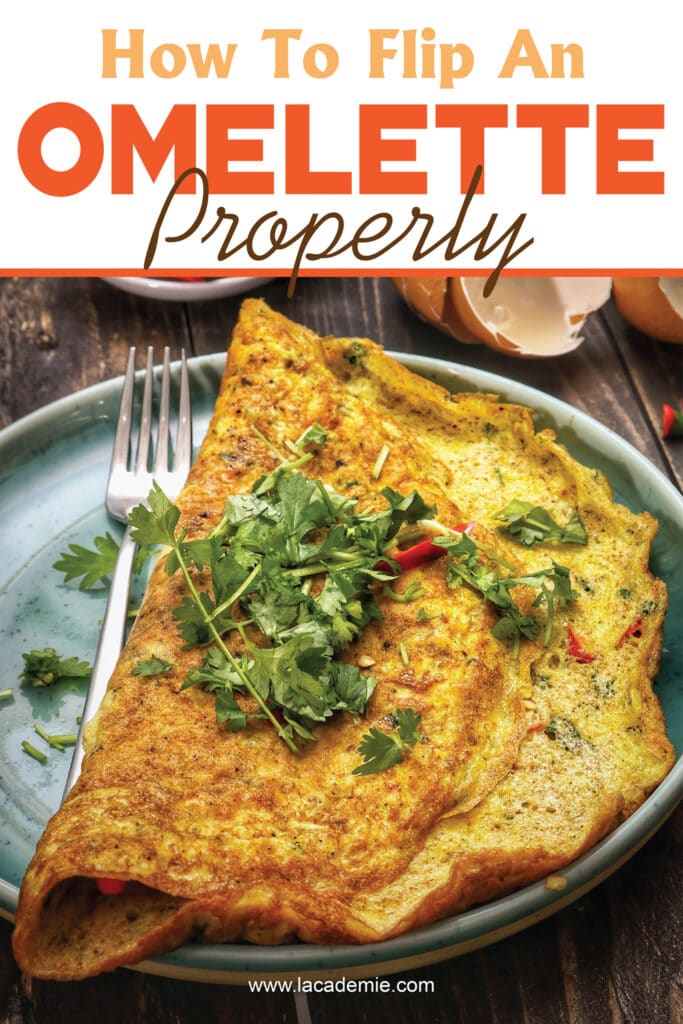 References
En.wikipedia.org. 2022. Omelette – Wikipedia.
Eggsafety.org. 2022. What Is The Safe Temperature To Cook Eggs?.