If you are searching for reviews to find the best omelette maker available in the market now, you are in the right place. And if you are no good at making wonderfully creamy Mediterranean omelets with a regular pan, it is time to buy a perfect machine to help you enjoy your favorite food at its finest.
Making this recipe is not too challenging, but making them look flawless and fluffy is not easy. That's why I decided to make a list of 10 amazing omelette makers to show you how amazing they are. So please continue to read and explore new things with me.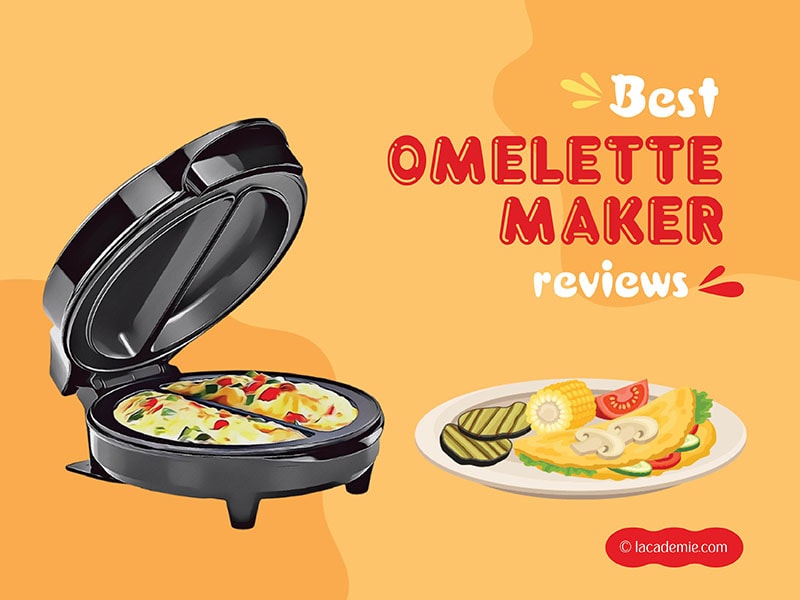 3 Common Types Of Omelette Maker
Let's start the article with 3 popular categories of omelette makers that you can easily find in any household appliance store or online website.
Electric Cooker
The first type I want to present must be electric omelette makers. And you need to plug it into the power outlet before using it.
These machines can handle your cooking work and make your omelettes not only delicious but also super-slightly. They generally come with 1 or 2 portions in 1 unit. Some models have a bigger capacity and can cook various recipes as well.
Microwave Cooker
As the name suggests, you will need a microwave to cook your eggs. Like electric cookers, you can make any egg-based dish with ease in a blink. Overall, this one is perfect for busy bees, college students, or office workers.
Omelette Pan
Omelette pans are mostly designed non-stick so that you can flip or toss your food with ease. They also come in various shapes, sizes or are made from different materials. There are many ideal omelette pans with a wide range of prices to choose from.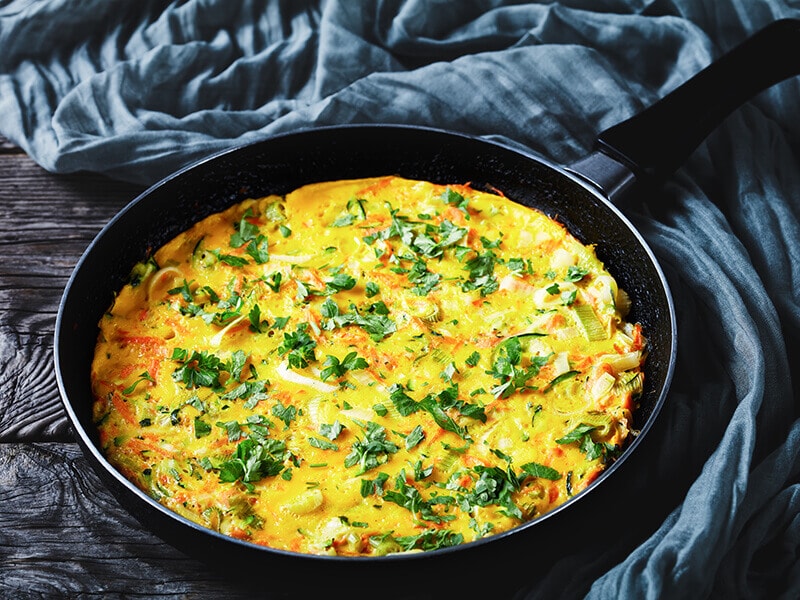 High-Rated Brand Names For The Greatest Omelette Makers
You might be confused with the countless number of omelette maker manufacturers, right? So let me provide you with some special and well-liked names to get a durable and satisfying product.
Holstein Housewares: This is an American company with more than 30 years in manufacturing household appliances. They are very famous in Latin America with their exclusive distribution brands.
Nordic Ware: (aka Northland Aluminum Products company) was founded by Dave Dalquist in the 1950s. Their main products are microwave cookware, and they commit to providing the highest quality products to customers.
Dash: At Dash, you will find various products in many beautiful colors that work amazingly and make your kitchen look more fun. They also help your prep and cook foods more efficiently, easier, and healthier.
Comparison Chart Of Best Omelette Makers For Quick Review
The chart below will show the basic information about the 10 best choices for omelette dishes, like product dimension and weight, their types, and what materials people use to create them.
What Are These 10 Best Omelette Maker Products To Buy?
The next part is about the significant traits of each best omelette maker so you can briefly know why they deserve to give them a shot.
From my perspective, the best overall one, in this case, is Holstein Housewares Maker. This device offers the quickest and super handy way to cook eggs with various features to improve outcomes.
Another item that I also want you to know is Nordic Ware Microwave Maker if you have a microwave at home. This will be your lifesaver on busy days because it can provide hassle-free and very quick omelette cooking.
Reviews Of 10 Best Omelette Makers On The Market Currently
When the top-tier cookers for eggs can no longer satisfy your love for dishes from eggs, maybe it's time to buy an omelette maker. With analyzing each product's features, pros, and cons, let's list down what you want in a maker and compare it with 10 products here.
1. Holstein Housewares Omelette Maker
(Best Overall)
Shop now at Amazon
Holstein Housewares omelette maker is incredible and handy cookware that everyone should have. With 2 individual portions, you can make 2 delicious and fluffy omelettes in a row.
All you have to do with this equipment is choose the appropriate cooking temperature, fill your food into the trays, close the lid, and let your tool do the magic. After a few minutes, it is time to enjoy your beautifully cooked omelettes.
Moreover, the non-stick coating also makes this tool much easier to clean after each use. And if you have any trouble during use, the manufacturer also offers the product warranty in 1 year to optimize your satisfaction after purchasing.
Key Features:
2-portion omelette maker
Non-stick coating for easy cooking and cleaning
Designed with a light indicator to show when your food is ready
Skid-resistant feet for fixed condition
Stainless steel upper housing
Include 1 year of the limited warranty
Pros
Can cook and reheat your foods in a few minutes
Suitable for making other recipes (e.g., frittatas, apple turnover, mini pizza, etc.)
Have compact design
Do not require too much oil/butter to cook
Heat-up and cool-down quickly
No flipping needed
Cons
Light indicator might confuse beginners (green light means the machine is on, red light means it is ready to cook, but there is no light indicator to show whether the eggs are cooked)
How To Use And Clean:
Contact Customer Service:
Product Specifications:
| | |
| --- | --- |
| Type | Electric cooker (120W) |
| Material | Stainless steel (PFOA free) |
| Color | Varied |
| Dimension | ​​10 x 4.5 x 8.11 in |
| Weight | 2.8 lbs. |
| Capacity | 2 portions (can hold 2 eggs per portion) |
| Dishwasher Safe | No |
| Brand | Holstein Housewares |
Making omelette cannot get easier with this Holstein Housewares omelette maker. Watch this video:
2. Progressive International Omelette Maker
(Best Budget)
Shop now at Amazon
With only a few bucks, you can have a quick and super convenient appliance to make this egg-based dish for breakfast, lunch, dinner, or snack in a microwave.
This product from Progressive International manufacturer has a large capacity to hold a maximum of 4 eggs in 1 portion. It is also an ultra-lightweight and BPA-free tool to maximize your convenience and safety in use.
If you accidentally crack too many eggs to eat in one go, you can get inventive by whipping up new dishes from unfinished egg yolks. These will go nicely with your fluffy, perfectly made omelettes.
Another good thing about it is you do not have to wash it with your hands. Just throw your maker into a dishwasher after each use and let it clean.
Key Features:
Use the microwave for cooking eggs
Large capacity which can hold up to 4 eggs per cook
Non-stick surface
Free of harmful chemicals like BPA
Dishwasher safe
Pros
Perfect for low budget
Deliver the most convenient and fast way to make omelettes
Super easy to use
Can clean with warm water at ease if you do not have a dishwasher
Very lightweight
Cons
The lid might pop off in the microwave
Might not cook the eggs inconsistently
Product Specifications:
| | |
| --- | --- |
| Type | Microwave cooker |
| Material | Plastic (BPA free) |
| Color | Yellow |
| Dimension | 8.2 x 2 x 5.5 in |
| Weight | 3.35 oz. |
| Capacity | Up to 4 eggs |
| Dishwasher Safe | Yes |
| Brand | Progressive International |
3. Health and Home 3-in-1 Omelette Maker
(Best With Removable Plates)
Shop now at Amazon
I love this maker because of its removable plates with 3 different types for other dishes, including omelets, waffles, donuts, etc. Fans of omelettes and recipes made in waffles iron can now rejoice because, with this product, they'll be able to make both.
What's more, this is featured with the 360-degree rotating function to make sure both sides are cooked evenly. Thanks to the non-stick surface, you can easily clean it by disassembling baking plates and washing them with water.
It is also designed with a locking clip to reduce leakage when rotating and ensure even food distribution on the tray for cooking. This equipment is backed with indicator lights to show when your tool is ready to cook or energized.
Key Features:
Removable and interchangeable plates with 3 different plate types for making other recipes
360-degree rotation performance
Heavy-duty heat level at 1000W
Indicator with lights
Designed with a special Locking Clip to prevent leakage and better food spreading
Pros
Simple cleaning with a non-stick coat
Can cook food equally
Plates can be disassembled effortlessly
Very quick heating
Equipped with cool-touch handles to prevent burns
Cons
Lack indicator when food is done
The locking might need a little bit of effort to align
Product Specifications:
| | |
| --- | --- |
| Type | Electric cooker (1000W) |
| Material | Stainless steel |
| Color | Silver |
| Dimension | 17.4 x 10.7 x 7.9 in |
| Weight | 8.08 lbs. |
| Capacity | 2 portions |
| Dishwasher Safe | No |
| Brand | Health and Home |
4. Cuisinart WAF-B50 Breakfast Express Omelette Maker
(Best Premium Maker)
Shop now at Amazon
Here is the best premium choice when it comes to an omelette maker. Indeed, this Cuisinart WAF-B50 will satisfy everyone, even the pickiest people, by its high performance in making fluffy and slightly omelettes.
You can also make frittatas, pancakes, muffins, or more with this product. Equipped by the automatic flipping, your foods are evenly cooked on both sides.
This maker is even better with 2 LED indicator lights and 2 audio signals to tell you when your dishes are done, so you do not constantly monitor the cooking process. Sounds so promising, right?
My favorite side dish to eat with omelettes is pizzelle. And thanks to the product's indicator light, I can make this delicious food in my top-tier pizzelle maker. Add in a cup of hot coffee, and I'm ready to face a new day with my savory and hearty breakfast.
Key Features:
Use strong electric power 1400W to cook food faster and efficiently
Non-stick coating for quick and easy cleaning
Designed with deep 1-inch tray
Automatic 360-rotation
LED indicator light and audio signal to indicate when food is done
6-setting for customized cooking with the browning control knob
Pros
Do not require special skills to use this tool
Have a slick attractive design
Can make various dishes, including omelettes, waffles, fried eggs, muffins, etc., like professional cookers
Suitable for big families
Able to make 1 waffle and 1 omelette at the same time
Cook foods consistently
Cons
Come at a quite high price
Relatively heavy, which might not be too ideal for portability
How To Use And Clean:
Contact Customer Service:
Product Specifications:
| | |
| --- | --- |
| Type | Electric cooker (1400W) |
| Material | Stainless steel |
| Color | Stainless steel |
| Dimension | 10.88 x 16.5 x 10.25 in |
| Weight | 12.4 lbs. |
| Capacity | Not specified |
| Dishwasher Safe | No |
| Brand | Cuisinart |
This is a lively instruction on using the Cuisinart WAF-B50 that you should not miss. Watch this video to know:
5. Lekue Omelette Maker
(Best With Silicone Material)
Shop now at Amazon
Another maker that requires microwave heat to cook your eggs is here. With this Lekue maker, you can cook your breakfast quickly in just 3 simple steps: crack your eggs and mix with other ingredients, pour the mixture into the maker, then place it in a microwave.
And this is how to make the fastest omelette recipe ever. Besides, this maker is made of healthy silicone material, so there is nothing to worry about safety.
This product also weighs 8 ounces and comes in small designs to fit well in any microwave, even the smallest ones.
Key Features:
Function as a microwave omelette maker
Made from high-quality and heat-resistant platinum silicone for high safety
No oil, butter, or grease required with non-stick surfaces
Able to cook many kinds of omelettes within a few minutes
Safe in dishwasher, oven, and freezer
Dual-sides designs
3-year warranty
Pros
Offer super quick and even cooks in both sides
Cleanup by hands is a breeze as well
Perfect for busy people and office life
Do not need flipping
You can pop out your food without any effort
Weightless and compact design
Cons
Require special care when placing it in the microwave as it is prone to spill
How To Use And Clean:
Contact Customer Service:
Product Specifications:
| | |
| --- | --- |
| Type | Microwave cooker |
| Material | Platinum silicone |
| Color | Red |
| Dimension | 9 x 4.5 x 1 in |
| Weight | 8 oz. |
| Capacity | Up to 2 eggs |
| Dishwasher Safe | Yes |
| Brand | Lekue |
Lekue Microwave maker is one of the greatest innovations in making this egg dish. Watch this video to know:
6. Nordic Ware Microwave Omelette Maker
(Best Microwave Maker)
Shop now at Amazon
If you are a health-conscious person, you would love this tool because it does not need additional oil or butter to cook your eggs, which means better for your health.
Let me introduce my favorite microwave pan from Nordic Ware. With a bigger capacity that can hold up to 4 eggs in 1 cooking, this cookware can feed well for 2 people.
Additionally, it is designed to be dishwasher-safe, so you do not have to clean it by hand anymore, making it so handy to use. But in case you do not have a dishwasher, do not worry because you can use a wet paper towel to wipe and clean it in a snap.
Key Features:
Microwave-based egg maker
Big capacity that can hold 3 to 4 eggs at once
Made from non-toxic plastic, which is free of BPA and melamine
Compatible with dishwasher
Pros
Can feed more than 1 people
Can save your time in cooking and cleaning by hand washing
Deliver healthy oil-free foods as it has non-stick surfaces
Ultra-lightweight and convenient
Affordable price
Cons
Might need some effort when putting it into the microwave without spilling
How To Use And Clean
Add beaten eggs evenly to 2 sides of the pan. Microwave the pan (opened) for 2 minutes. Stir, then add toppings. Cook for another 1.5 minutes. Fold the pan, then open and slide your omelette out.
Contact Customer Support:
Product Specifications:
| | |
| --- | --- |
| Type | Microwave cooker |
| Material | Plastic |
| Color | White |
| Dimension | 8.38 x 2.25 x 6.5 in |
| Weight | 0.16 oz. |
| Capacity | Up to 4 eggs |
| Dishwasher Safe | Yes |
| Brand | Nordic Ware |
7. Dash Express Omelette Maker
(Best For Versatility)
Shop now at Amazon
Looking for a versatile omelette maker? I believe this Dash Express maker might become your new go-to kitchen appliance.
Like other electric cookers, you do not need to do too much cooking as it will handle your food well. Just place your food into the tray, then close the lid, and that's it.
But it is even better as it can cook numerous dishes regardless of breakfast, lunch, or dinner like salmon, pizza pocket, frittatas, etc. With dual and non-stick plates, there is no difficulty in the cleanup.
Key Features:
2-portion maker
Non-stick plates
No PFOA for healthier eating
Designed with anti-slip feet
Green light indicator to inform the machine is preheated
US-based support
Pros
Come with a 1-year warranty
Simple using
Effortlessly create perfect dishes besides omelette in a blink
Quick cleaning with a wet cloth
Have a compact design
Cons
Might need manual flipping
How To Use And Clean:
Contact Customer Service:
Product Specifications:
| | |
| --- | --- |
| Type | Electric cooker (760W) |
| Material | Plastic, metal |
| Color | Red |
| Dimension | 10.3 x 8 x 4.1 in |
| Weight | 3.34 lbs. |
| Capacity | 2 portions |
| Dishwasher Safe | No |
| Brand | Dash |
8. Red Copper Chef Omelette Maker
(Best Compact Electric Maker)
Shop now at Amazon
If you need a small electric omelette maker to bring around, you can place your trust in this Red Copper Chef item. I tried to cook my eggs in it, and it turned out so amazing that I need to include it in this list.
The oval shape will give the perfect fluffy shape that you always want for an omelette dish. Though it only has 1 portion, it would not be a big problem if you do not live in a big family.
This product does not limit your cooking recipes either, as you can make grilled cheese sandwiches, paninis, burgers, etc. Moreover, you will receive a recipe book and a spatula in 1 purchase.
Key Features:
Durable machine that made from stainless steel
Non-stick surface for easy cleanup with a wet cloth
Anti-scratch technology
Come with a spatula and recipe book
Pros
Able to cook other foods than eggs like hash browns, grilled cheese, etc.
Fast and evenly heating
Provide perfect oval-omelette shape
Compact shape with higher portability
Cons
Might not be too sufficient for a larger family
How To Use And Clean:
Add eggs, pepper, sausages, and cheese. Close the lid and wait for your delicious omlette to cook. After using, wipe the pan clean.
Product Specifications:
| | |
| --- | --- |
| Type | Electric cooker (800W) |
| Material | Stainless steel |
| Color | Red |
| Dimension | 13 x 4.5 x 3.75 in |
| Weight | 3.16 lbs. |
| Capacity | No specified |
| Dishwasher Safe | No |
| Brand | Red Copper |
Owning a small shape but this Red Copper maker is a game-changer in creating many tasty recipes. Watch this video:
9. TeChef Pan Omelette Maker
(Best With Oven/Dishwasher Safe)
Shop now at Amazon
For those people whose priorities are oven-safe and dishwasher-safe, do not miss out on this TeChef pan. This is a perfect non-stick pan that allows you to make excellent omelettes or frittatas to impress everyone.
With the dual sides, you can easily flip your food and cook them like a pro. No PFOA; it ensures your safety and health in eating. Besides, it is equipped with a stay-cool double-riveted handle to offer a nice feel when used.
And the best of its features is you can use your pan in the oven (up to 450 degrees F), or if you are sick of cleaning cooking utensils after each use, this pan is totally safe in the dishwasher.
Key Features:
Dual-side pan
Aluminum coated interior
Compatible in the oven heat (up to 450 degrees F) and dishwasher
Sturdy stainless steel handle which can remain cool on the cooktop
No PFOA, lead, cadmium included
Limited lifetime warranty
Pros
Trouble-free use
Excellent in even heat distribution
Ideal for making omelettes and frittatas
Non-stick and slippery surface for better flip
Take no time to clean even if you do not own a dishwasher at home
Cons
Might not function well on the induction hob
Contact Customer Service:
Product Specifications:
| | |
| --- | --- |
| Type | Pan |
| Material | Aluminum coated interior, stainless steel handle |
| Color | Purple, black |
| Dimension | 9.5 x 9 x 3.5 in |
| Weight | 1.6 pounds |
| Capacity | Not specified |
| Dishwasher Safe | Yes |
| Brand | TeChef |
If you do not know how to work with a TeChef pan, this demonstration will guide you.
10. Dash Rapid Omelette Maker
(Best For Egg-Based Dishes)
Shop now at Amazon
If you love every dish made from eggs, I guarantee you will be pleased with this choice. The Dash Rapid Egg Cooker is the ideal appliance to turn simple eggs into many delicacies that no one can resist.
Omelettes, poached, soft, medium, or hard-boiled eggs, nothing can challenge this machine. You will get various types of trays, including boiling, omelette, and poaching ones.
On busy days, you can quickly whip up some soft-boiled eggs with this machine. It only takes a few simple steps to peel soft-boiled eggs to get them ready for your breakfast. Or, you can get a good egg slicer to speed up the process for an even quicker meal prep.
Plus, its small and lightweight design will not take up too much space in the kitchen, making it ideal for small apartments. And guess what, the cleaning is also simple as all the non-electric parts are compatible with the dishwasher.
Key Features:
Have big capacity
Sleek design with different color choices
Include 3 tray types for various cooking purposes
Backed by a 1-year warranty
Non-electric parts can be washed in the dishwasher
Pros
Can save your time in cooking many egg-based dishes
Ensure the inconsistency in cooking
Ideal for busy people or big households
Come with a measuring cup for more precise results
Better in storage as it has a compact shape
Designed with a clear lid so you can see how your food is cooked
Cons
The timer bell is a little bit loud
How To Use And Clean:
Contact Customer Service:
Product Specifications:
| | |
| --- | --- |
| Type | Electric cooker (360W) |
| Material | Plastic |
| Color | Varied |
| Dimension | 5.5 x 6 x 5.5 inches |
| Weight | 1 lb. |
| Capacity | Up to 6 eggs |
| Dishwasher Safe | Yes (Non-electric parts only) |
| Brand | Dash |
What To Look For When Buying A Decent Omelette Maker
Many traits of a product require careful consideration. And selecting an ideal omelette maker is not the exception. So with the 7 factors as below, you will have a closer look before buying a maker.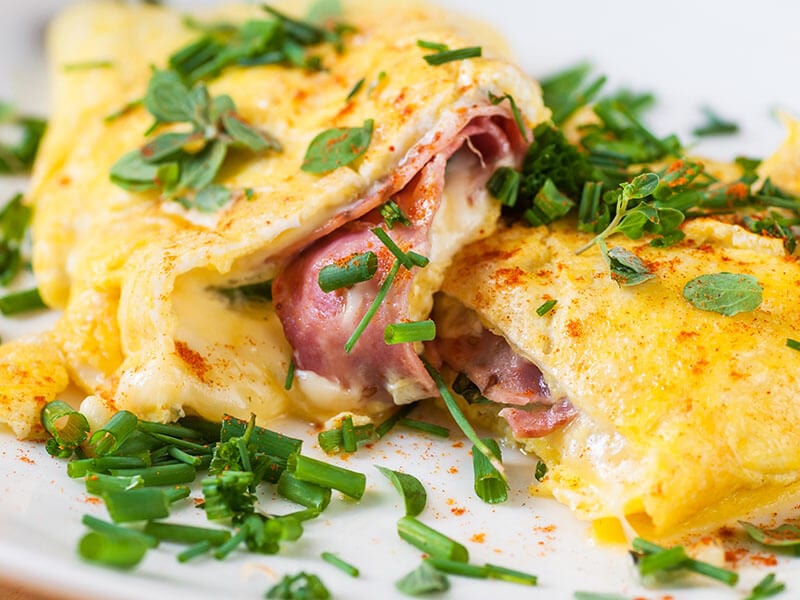 Size and Weight
If you live in a big household, you will need a big maker for sure. Do not worry if it might take up more space in your kitchen because some models are designed with removable parts, so you can store them easier.
On the other hand, various products have compact sizes that can fit on any countertop. These machines are ideal for carrying around as they are usually lightweight.
Cooking Time
This is a very important factor to consider when using an omelette maker. Different products will have different cooking times, but make sure you get a model that can cook your food as fast as possible.
The ideal time range is around 5 minutes. Or if you can find a maker that can make these egg dishes in less than 5 minutes, buy it, then you might thank it every morning for making many delicious and healthy breakfasts for your busy days.
Capacity and Quantity
Another trait to look for is how many eggs it can hold or how many portions it has in 1 machine. The more compartments, the more food you can make at 1 time.
Therefore, this consideration is based on your living condition or needs to make sure it can cook a sufficient amount of food for you and your family.
Controls and Safety
For electric makers, it would be better to buy a machine that has a power button to turn on or off. Sometimes you might forget to unplug it from the power outlet, but with this on-off switch, it will not work if you are turning your machine off.
Also, most omelette makers are designed with heat-free handles to increase your safety. They can be silicone grips, extended panhandles, or cool-touch knobs.
For more convenience, you should also check for other control features like indicator lights or timer alarms to ensure you can use your machine safely and your foods are perfectly cooked.
Versatility
Besides cooking omelettes, you might want to cook other recipes, right? Luckily, many models enable you to work with various dishes, for example, sandwiches, burgers, muffins, pancakes, frittatas, and more.
So with 1 versatile machine, you can create many yummy dishes to treat yourself and your family no matter for breakfast, lunch, or dinner.
Ease Of Cleaning
Sick of washing dishes and other kitchen utensils after eating? So you should opt for makers or their parts that can be washed in a dishwasher.
But most electric makers need to be cleaned with a damp paper towel. And do not worry, these also have non-stick surfaces so you can clean them with no hassle.
Lifespan
The last thing to check when buying this cookware is ensuring your tool is long-lasting. It should be made from quality materials like stainless steel, durable plastic, etc., or reliable brands that offer warranties.
How To Use Omelette Maker Properly With Different Omelette Maker Types
I will show you 3 ways to cook this tasty dish with 3 types of cookware, including electric, microwave makers, and pans. First, you need to prepare eggs and other ingredients and mix them well before pouring them into your tool.
Remember, you also need to check the capacity of your maker to estimate the appropriate amount of eggs. Alright! It is showtime. Let's grab your tool and cook the most delicious savory breakfast ideas now!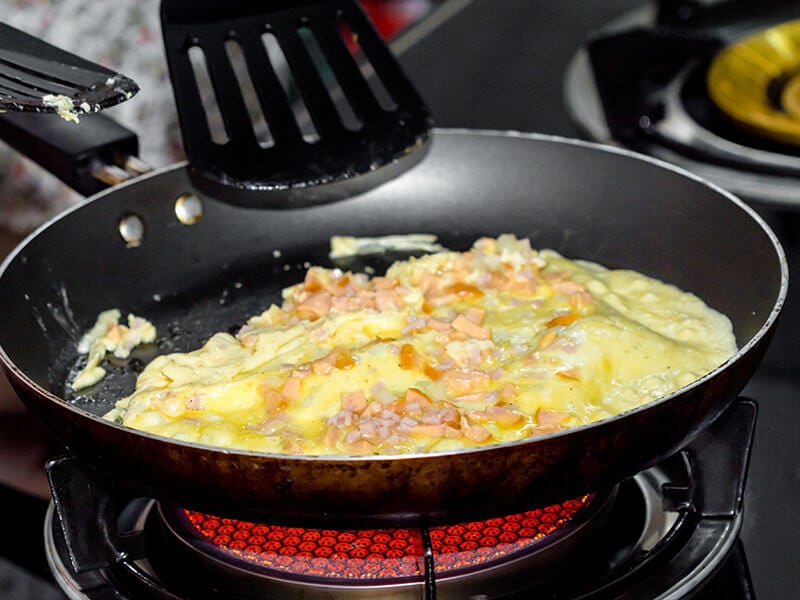 With Electric Makers
Below are some short but precise steps to use an electric maker for making various amazing omelettes.
Step 1: Plug the maker and wait for it to warm-up.
Step 2: Choose appropriate heating or controls if any.
Step 3: When your machine is ready, open the lid and pour the mixture. Do not overfill the cavities to avoid spilling.
Step 4: Close the lid and let the maker do the cooking in a few minutes.
Step 5: When your food is done, take it out and serve it immediately.
Step 6: Clean your machine by wiping it with a wet cloth.
With Microwave Makers
Microwave makers are other fast options that I believe busy people are willing to pay for. Let's learn how to use it with 7 simple steps.
Step 1: Spray a little bit of oil on your maker. You can skip this step if you do not want any oil, butter, or grease for healthier eating.
Step 2: Pour the mixture into 2 portions of the maker. Make sure it fits well in the space.
Step 3: Set the microwave at medium heat and let it heat your food for 2 to 3 minutes until you see your eggs are a little bit set.
Step 4: Remove it from the machine, stir the mixture, and add toppings. This is an optional step if you have toppings, so you might skip this step if you just want to serve your eggs in the most basic way.
Step 5: Place it back in the microwave and set an extra 1 to 1.5 minutes.
Step 6: Remove it from a device and fold the maker over.
Step 7: Use a spoon or any utensil to take the omelet into the plate and serve hot.
As you have a microwave, you can also use it to reheat your leftover egg dishes as well. But make sure you know how to reheat your omelettes correctly for the best results.
No matter how busy you are, you still need to eat well, right? So let a microwave omelette maker help you.
With Pans
Similarly, here are some basic steps for making a yummy and fluffy omelette with a non-stick pan.
Step 1: Place it on the stove, set medium-low heat, and add some oil or butter.
Step 2: After the butter has melted, now pour the egg mixtures and let them sit there for a minute.
Step 3: Use a silicone spatula to lift the eggs gently. You should start from the edges for easier lifting, then tilt your pan so the uncooked food can run to the edges.
Step 4: Fill with other ingredients, if any. But do not overfill your omelette when you find your eggs are already set. Let it cook for a few seconds. You can flip your food at this point, and learning how to flip an omelette is not too hard. Trust me!
Step 5: Fold your pan, use a spatula and gently slide the food into a plate to serve.
Here is another guide to cooking this egg-based dish with a dual-side pan. Watch this video:
FAQs
Let's finish this post with some frequently asked questions and their brief answers for more information.
My Top Pick
Durable, easy to use/clean, long-lasting lifespan, etc., are some of the major considerations in shopping for the best cookware, particularly omelette makers.
For me, I always tell my friends to get a Holstein Housewares Maker as my top recommendation when they are confused about which product to choose. Indeed, this machine is amazing as it is packed with all the greatest features to create masterpieces in omelettes.
In case you need a low-budget option, I think no product can beat the Progressive International Maker. You cannot imagine how pleased I was when I cooked my breakfast with it for the first time. Very affordable yet so efficient.
Finally, I hope all of your concerns about this matter are solved after reading this post. And if you like it, please rate and share it with your beloved people so everyone can enjoy their cooking time every day. Thank you!