Peeling soft-boiled eggs requires a lot of effort and patience, and you won't be doing it correctly the very first time. And, it's more than just removing the shell – it's about making your egg look appetizing so that you can impress your guests at a dinner party.
If you are looking forward to becoming an expert in peeling soft-boiled eggs, I'm here to help. After reading this article, no one would ever say that you can't boil an egg again. And with a little help, you might become an expert in tasty dishes from eggs that everyone takes advice from.
So, no more fooling around; let's help you get started!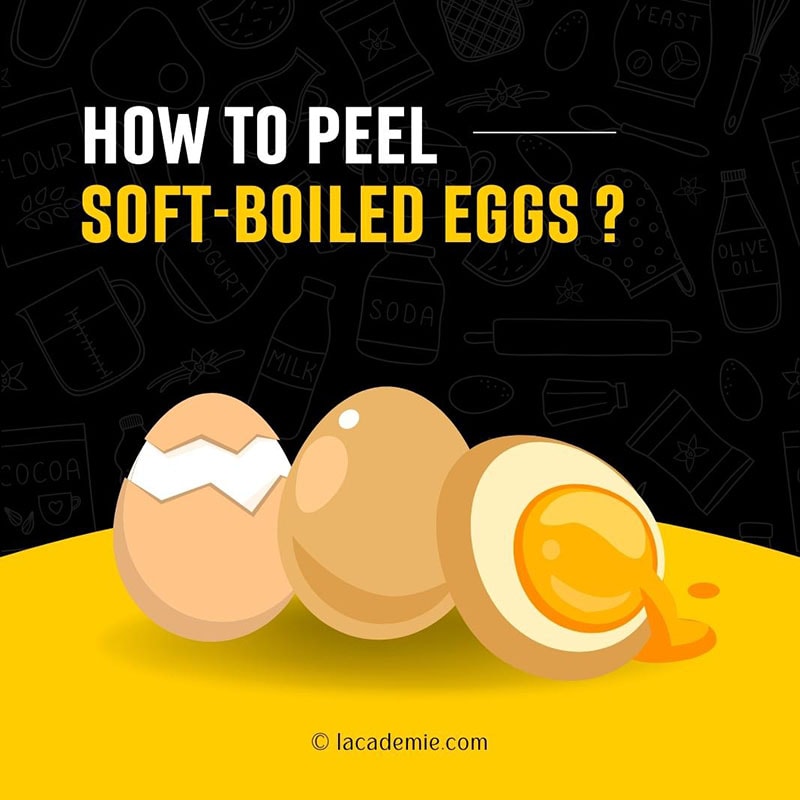 So, What Is The Best Method To Peel Soft-Boiled Eggs?
Overall, there are different methods to do it, but the best way is to soak your egg in a bowl of iced water as soon as you remove it from the boiling pan. Other methods involve using your own hands and mouth, kitchen utensils, or specialized tools.
Use your hands
Blow it
Spoon
Butter knife
Egg topper cutter
Spring-loaded egg topper
Something You Should Know About Soft-Boiled Eggs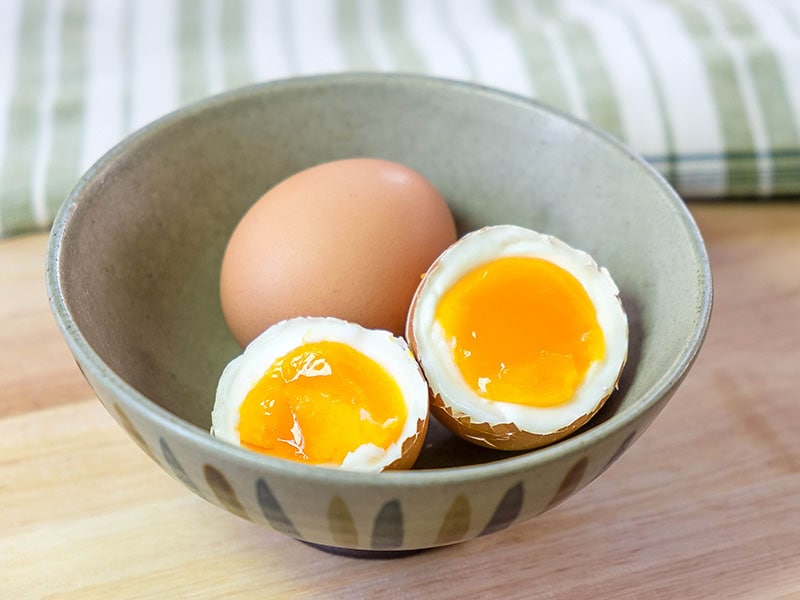 Soft-boiled eggs are the kind of cooked eggs that are cooked in boiling water without removing the shell. The word "soft" implies that the red yolk is only half-cooked; as a result, the yolk has a semi-condensed texture, while the egg white is fully cooked.
Even though it's called "soft-boiled eggs," there are many different approaches that bring the same result. You can boil, steam, sous vide, or even bake it. Whatever the cooking method is, soft-boiled eggs are still everyone's favorite. They are consumed in every part of the world as a quick, effortless breakfast dish or a light snack.
Methods To Peel Soft-Boiled Eggs
While cooking the egg seems like the easiest thing in this world for those with a top-tier egg cooker, peeling it is quite tricky and frustrating. So, what's the best way to remove the eggshells without messing it up?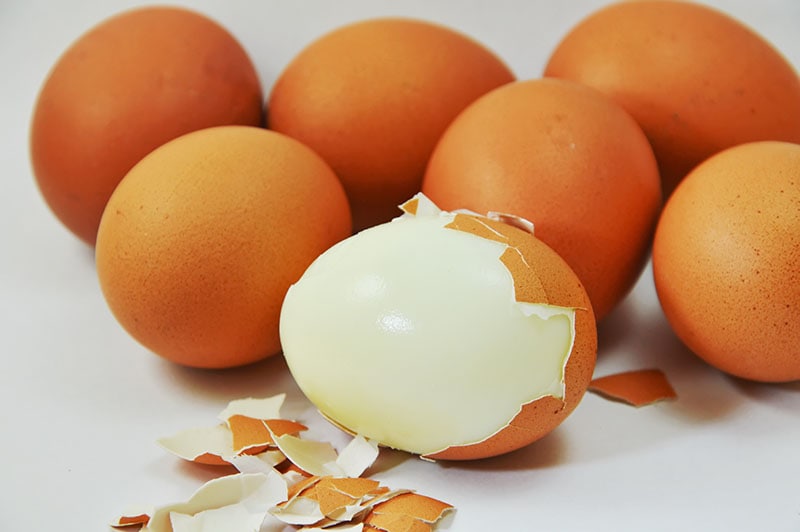 Use Your Bare Hands
You will need to walk on eggshells if you use your bare hands (no pun intended). It's simple, and all you have to do is to be very careful while doing it. This method works best if you see that the shells are falling off on their own.
First, gently crack the egg by tapping it onto any surface (your kitchen counter, for example). Then, let your egg sit horizontally and place your hand on it. Slightly rub your egg until the shells start to fall apart.
Remember to keep the surface clean so that the egg does not contact any dirt or bacteria. Don't apply too much pressure on the egg – otherwise, you will smash it!
Watch this video to know more:
Blow It Out
With this technique, the point is to avoid cracking the shells way too much, which usually results in a crumb that takes forever to wash off.
To do it, gently tap both sides of the egg to any hard surface and start peeling. Once you have finished, blow from the narrow end so that it would pop out (prepare a bowl or something to catch the egg from that nosedive).
If the egg struggles to leave the shell, you can try to blow it from both sides to loosen it. And, blow as hard as you can – some eggs are really stubborn, you know.
You should see the video below:
Use A Spoon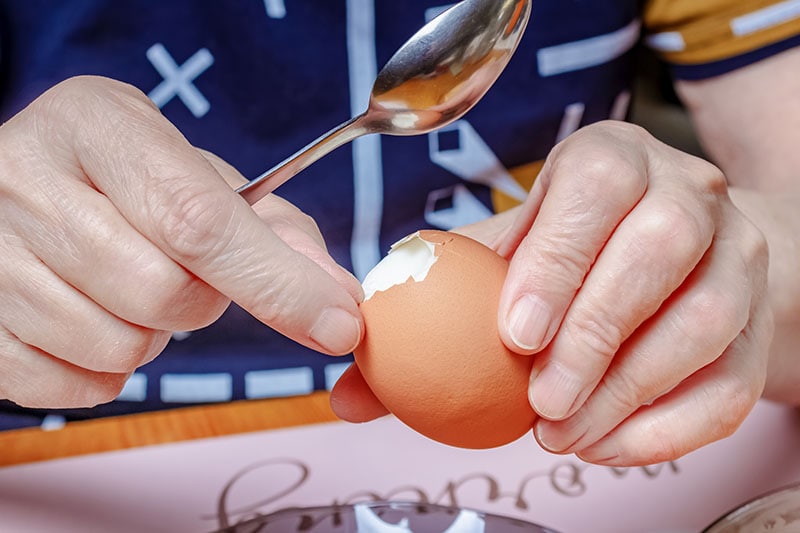 It's a classic trick that never gets old. To do it, use a tablespoon and gently tap the narrow end of the egg (pointier one) until it cracks. You don't want to hit it too hard, as the pressure will deform the egg.
Next, use the spoon and continue tapping all over the egg until the cracks are evident. Once you feel that it is enough, use your spoon and gently lift the eggshell. The pieces should come off quickly.
Now, you can use a well-rated slicer for eggs to cut the egg into thin slices if you plan to put it in recipes such as egg salads. However, remember that the maximum time egg salad can stay fresh is not very long, so it would be ideal to finish the dish soon.
Let's have a look at the following video!
Hit It With A Knife
I know it sounds a little too violent, but, trust me, this method does wonders. You may want to use a knife with a small blade (a butter knife, for example) to do this. Like the spoon method, you start with the narrow end of the egg. Hit it quickly and decisively. Turn over to the sides and repeat the steps.
As the shells slowly fall apart, use the blade to lift the shells. Avoid using any knives that are too sharp; you don't want to pierce the egg or cut your fingers by chance!
Use An Egg Topper Cutter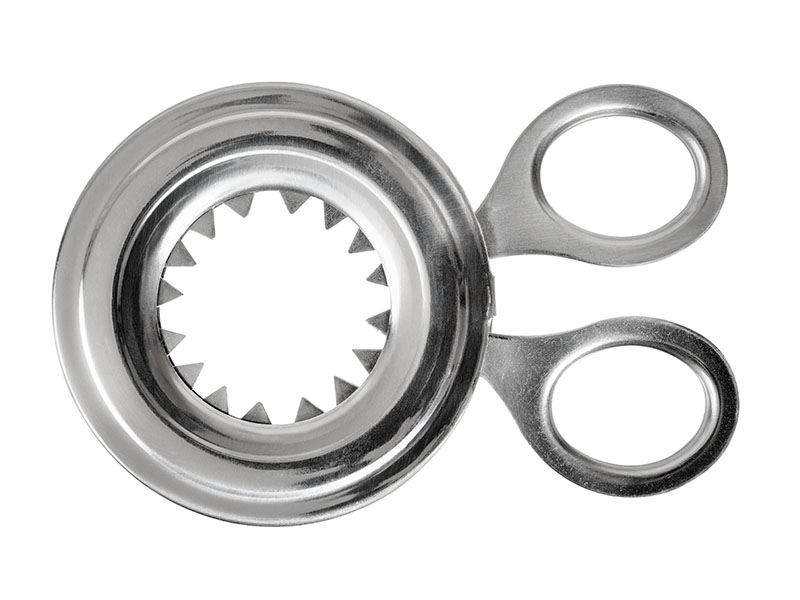 In case you have not heard about it, an egg topper cutter is a tool that is specifically created to cut the top of the eggs, as most soft-boiled eggs are served in the half shell. But, if we make great use of it, it should help us peel off the shell easily.
Here's how you are going to do it. Let the egg sit in a small cup. Place the topper cutter on the wide end of the egg. Hold the two handles with your index fingers, and give it a quick press. As soon as you hear the cracking noise, lift the top of the eggshell and remove the rest of it.
I know it sounds a little too risky, as you may press it too hard and end up cutting through the egg. However, the cleaning up is less daunting, since the shell does not crumble too much.
Watch this video to know more:
Use A Spring-Loaded Egg Topper
It's pretty similar to using the egg topper cutter, but I assure you that you won't break into a sweat. What exactly is a spring-loaded egg topper anyway? It works exactly the same as the topper cutter, but it is much easier for those who are not too dexterous.
A spring-loaded egg topper is a gadget that is used to remove the top shell part of the egg. It resembles a plunger with a handle on one end for you to pull. All you have to do is place the topper on your egg, pull the handle, and release.
It does not give a nasty cut like the topper cutter since it uses vibration instead of serrated blades. However, it's a little more costly, but you get to save your time on the cleaning.
The Iced Water Bowl Method
This technique is unmatched when compared to the methods I have just mentioned. It's quick, it's neat, and it does not cost you a fortune. So, what's the secret behind this?
First, you will need to prepare a bowl filled with cold water and, if possible, some ice cubes as well. As soon as you remove your egg from the boiling water, put it in the bowl and let it rest for a bit. After that, grab the egg and start squeezing the shell gently, and you will be taken aback by how simple it is!
Is it magic, you ask? No, it is pure science. The cold water helps prevent the egg from being cooked further, and, at the same time, it separates the egg from the shell with little effort.
And, it looks like the iced water bowl method is the winner, no cap. The bowl water also helps rinse off the tiny fragments of eggshells thoroughly, giving your egg that shiny finishing.
Let's have a look at the following video!
The Factors That Decide The Success
No, it's not luck, and it's not hard work and practice either. So, what factors affect the outcome of a spot-on soft-boiled egg?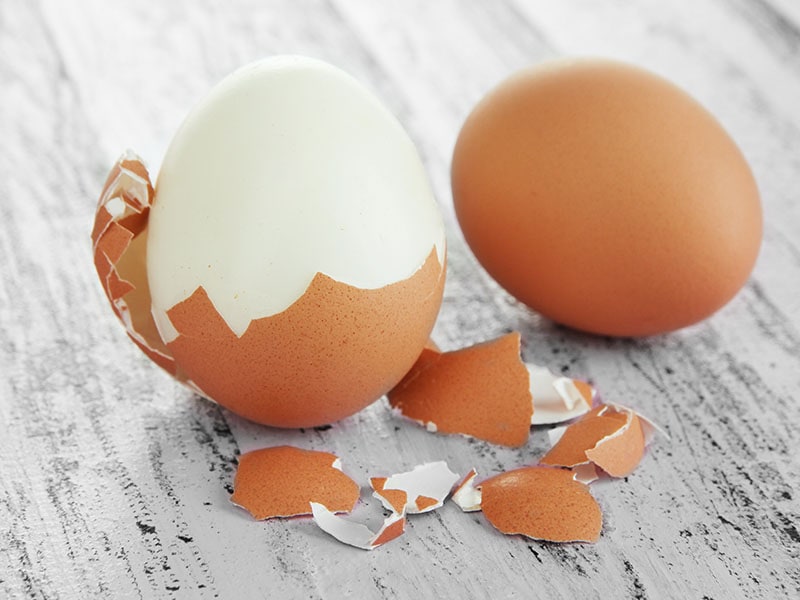 The Pressure You Apply
This is pretty obvious, and even though I have repeated this many times, it's worth saying it again. Whatever the method you use, treat your egg with kindness – some have thinner skin than others. This is the result of mother chickens who have a low-calcium diet.
The Age Of The Egg
How can you tell how old an egg is? First, it doesn't relate to if you have left these eggs at room temperature overnight. You need to read the label to find out when the eggs are packaged and that's the age of your egg.
Why does age matter? As the egg gets older, the level of pH rises, which causes the membrane (the white layer that covers the egg) to detach, making it separate from the shell effortlessly. The ideal eggs for peeling should be around 7-10 days old.
The Missing Ingredients
What are you missing? Some vinegar and a pinch of salt. It's not rocket science, and I'm going to explain to you how it's done.
The eggshell is made of calcium carbonate. This compound, when coming into contact with inorganic acids, will create a chemical reaction, causing the eggshells to be dissolved. Therefore, a few spoons of vinegar in the boiling water should help break down the toughness of the egg, making it easier to peel – since vinegar has 5% acetic acid in it.
Another handful tip is to add a pinch of salt to the water. If you use an old egg, its outer surface is most likely porous, full of tiny holes that allow air to pass through. In other words, the salt molecules patch the holes, which helps to peel easier. The shell will come off in big chunks rather than small fragments.
Note: if you use vinegar, just drizzle a little bit. You don't want to end up pouring too much, as the shell will disappear completely, leaving the "naked egg."
FAQs
Stuck at any of the steps I mention? Are the instructions not clear enough? Whatever your question is, this section explains it all.
An Extra Reminder To Help You Peel Your Soft-Boiled Eggs
One common mistake that makes soft-boiled eggs more challenging to peel is not using the right method – it's how you boil it. Make sure that the water reaches boiling point before you let your egg submerge.
And, don't just toss your egg into the pan – the shells will crack, and you don't want to end up with a nasty scald on your hand! Use a slotted spoon or a strainer, and always proceed slowly.
Now that you have become a master in peeling soft-boiled eggs, it's time to treat yourself with one. If you come up with a better solution, don't hesitate to comment below – the more, the merrier.
Nutrition Facts
5 servings per container
---
Amount Per ServingCalories72
% Daily Value *
Total Fat 4.8g

8

%
Cholesterol 186mg

62

%
Sodium 71mg

3

%
Potassium 69mg

2

%
Total Carbohydrate 0.4g

1

%
Protein 6.3g

13

%
---
Calcium

28

%
Iron

1

%
Vitamin D

41

%
* The % Daily Value tells you how much a nutrient in a serving of food contributes to a daily diet. 2,000 calories a day is used for general nutrition advice.