Welcome to L'Academie de Cuisine! We are a passionate team of food lovers dedicated to bringing you the best in cooking and culinary experiences that can make your life much easier and more comfortable.
Our website was founded in 2017 by our Lead Author, Jamie Scott, and has since grown into a thriving online community where food enthusiasts can find delicious recipes, in-depth food and drink guides, substitutes, taste comparisons, and essential cooking tips/appliances.
Our goal is to inspire and educate our readers by providing trustworthy and high-quality content that adds value to their lives.
Our Story
Lacademie.com was created out of a deep love for food and a desire to share the joy of cooking with others. Jamie, our founder, wanted to create a platform where food enthusiasts could connect, learn, and grow their culinary skills.
Over the years, our website has evolved into a thriving online community where readers can explore the world of cuisine and discover new favorite recipes. Today, our website boasts over 1,200 recipes and attracts a million of hungry visitors per month.
Moreover, you can find other food- and kitchen-related posts to make your work in the kitchen hassle-free and enjoyable.
Our Vision, Missions, And Goals
All readers are deserved to read top-notch articles that can help them find the things they need or quickly solve their problems. From simple to fancy recipes, from cooking tips to other informative articles about worldwide cuisine, we have everything to make your culinary journey more enjoyable.
Therefore, our goal at Lacademie.com is for you to discover and fall in love with cooking, finding new favorite recipes that your whole family will enjoy. The ingredients we use are simple and easily accessible – not overly hoity-toity. We believe that if you can read (a well-written, tested, and trusted recipe), you can cook.
Plus, we understand that tracking down the best kitchen products on the Internet is time-consuming since there are countless models and variations available.
That's why we strive to provide you with the most honest reviews for the best kitchen gadgets and appliances that we carefully pick up. Additionally, you can also have an excellent chance to read the most actionable tips as well as simple and practical recipes from professional chefs and experienced home cooks.
Neither do we choose the most feature-packed products nor the products with the most exquisite housing. We just pick up the product that we think is the best for most people. We bend over backward to seek the product that best fits into your daily lives.
It takes time and effort to find the best products because there are many overpriced products with many junk features that you scarcely use. And we don't aim for these products. We spend lots of time flipping through customer reviews to find out what factors are essential. Then we can precisely pick up the items that really appeal to your needs.
Therefore, we only recommend high-quality, reasonably-priced products that are durable and stand the test of time. These are products we also use ourselves and recommend to our family and friends.
Meet Our Team
Jamie Scott – Lead Author and Content Creator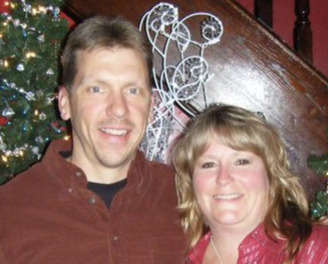 Jamie Scott is a food enthusiast and talented cook with over 15 years of experience in the culinary industry. Holding a degree in Nutrition, Jamie specializes in creating nutritious and delicious meals. As the Lead Author and Content Creator for Lacademie.com, Jamie shares his passion for food, nutrition, and cooking, providing readers with engaging content and inspiring recipes.
With over 15 years of experience in the culinary industry, Jamie Scott is an authority in the world of food and cooking. Holding a degree in culinary arts from a renowned institution, he has honed his skills in professional kitchens and gained a wealth of knowledge throughout her career.
As the Lead Author and Content Creator for Lacademie.com, Jamie is dedicated to sharing her expertise and passion with our readers, creating engaging and authentic content that helps them become better home cooks.
Bui Quoc Phong (Richie) – Photographer, Food Lover, Video Editor, Traveler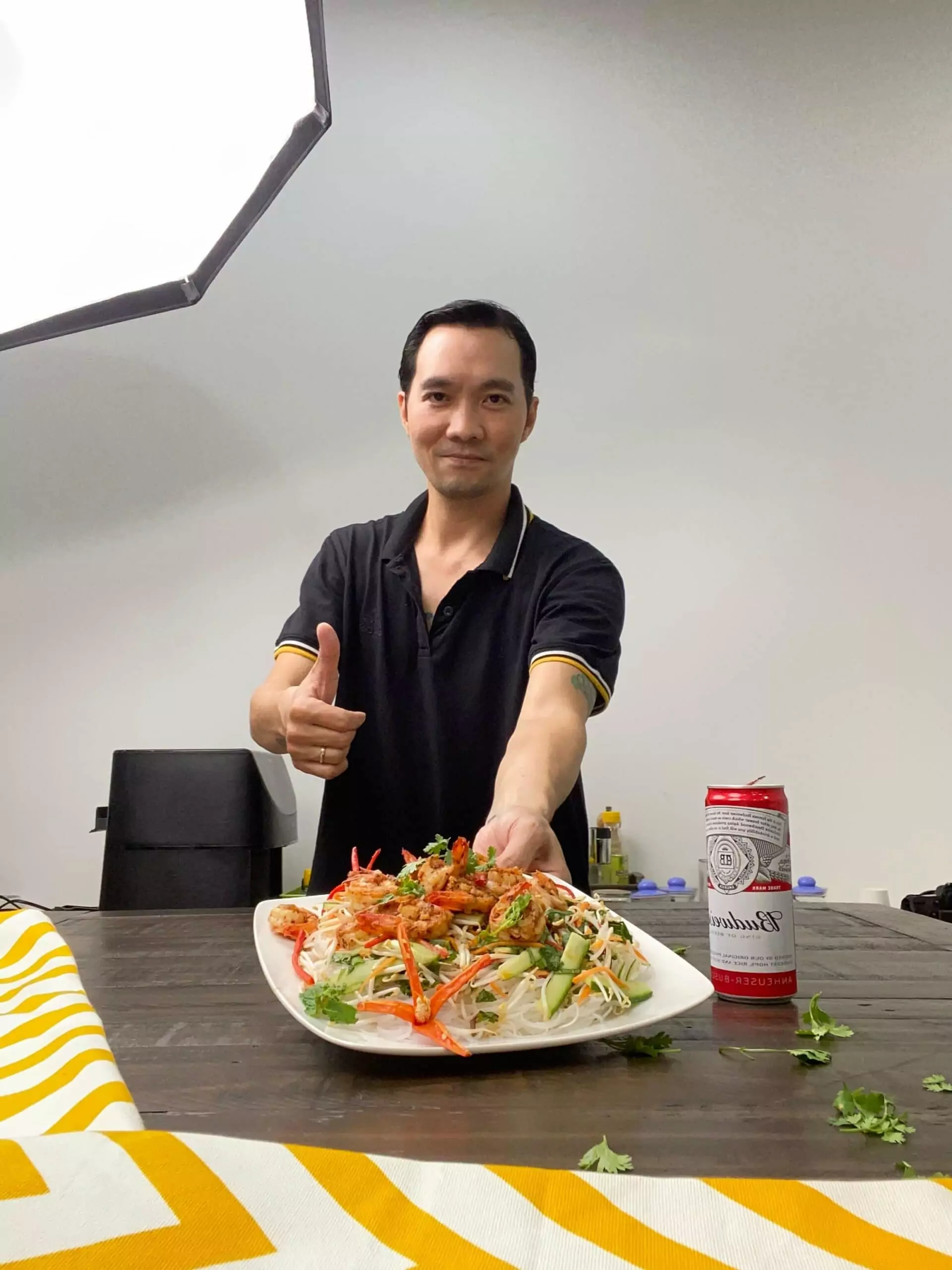 Richie is a Graphic Designer and culinary writer with over 10 years of experience in the field, specializing in Vietnamese, Japanese, and Asian cuisine. With a family background in Vietnamese cooking and military kitchen experience, Richie is passionate about creating delicious, high-quality meals for his family and sharing his culinary knowledge with others. As a chef, father, photographer, and content creator, Richie is dedicated to inspiring others to explore and enjoy cooking together, using simple and accessible ingredients.
As a photographer, Quoc Phong is passionate about capturing the world's beauty through the lens of his camera. And as a self-proclaimed foodie, he views food not only as a necessity but also as an art form.
Moreover, he's constantly on the lookout for new flavors and culinary experiences by trying out new recipes or indulging in exotic cuisines from around the world.
Phong believes that food has the power to bring people together, and through his photography and video, he aims to document the moments that highlight this power.
Truc Tran (Kris) – Senior Editor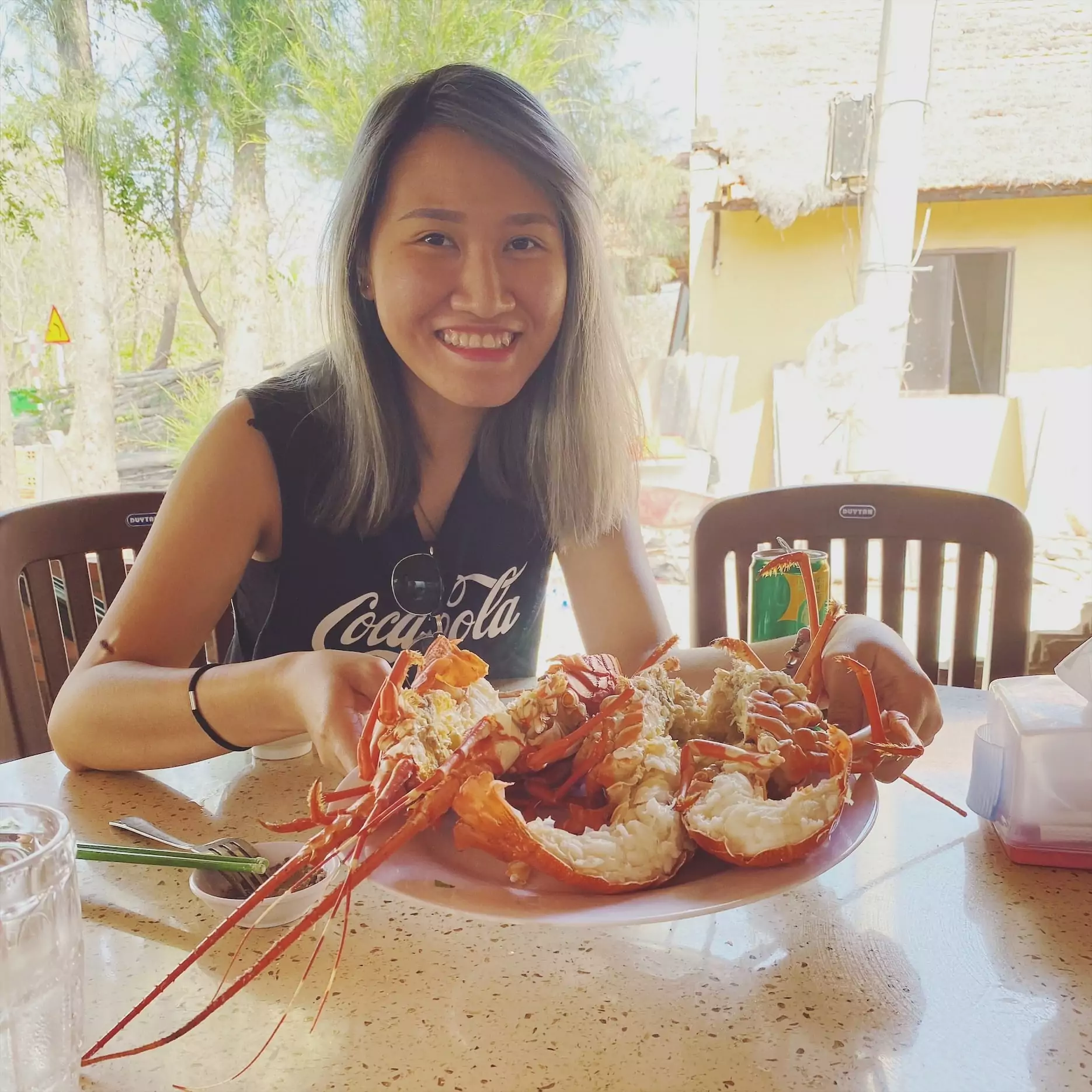 Hello, I'm Truc Tran (you can call me Kris). With a huge passion for food and travel, I strive to transport my readers to different places around the world and uncover the secrets that lie within each bite of their dishes. Sharing is caring, so let me take you on this flavorful adventure and celebrate the richness of our global culinary heritage.
With years of experience as a food writer, Thanh Truc always devotes her love for cuisine and inspires readers to try new recipes, visit new restaurants, and discover new flavors.
Whether you're looking for the latest food trends, the best restaurants in town, or just some delicious recipes to try at home, she's here to help.
Khanh Pham (Sally) – Managing Editor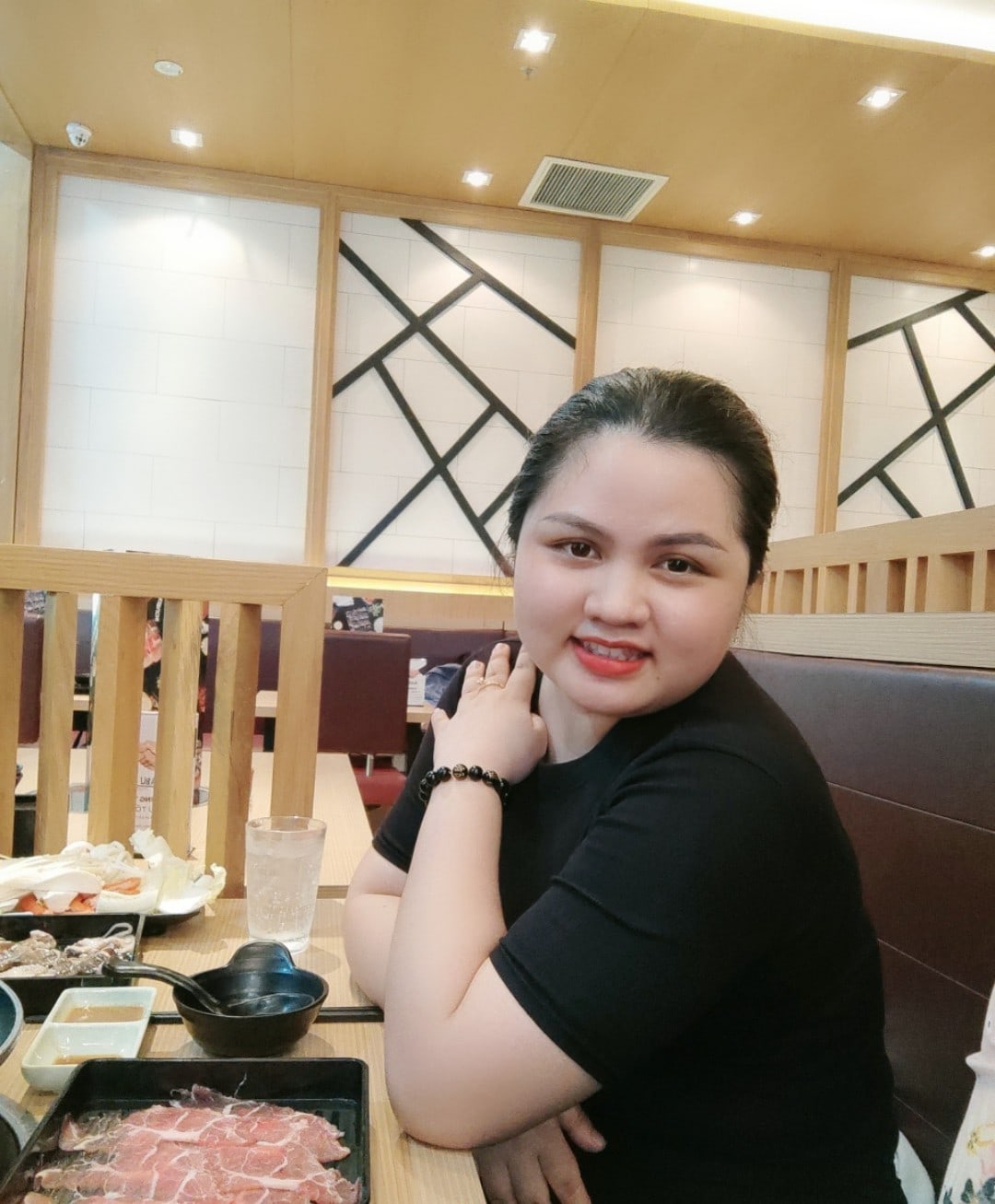 Hey there! I'm Khanh Pham (Sally), a food-loving home cook and writer from Vietnam! My family's cooking secrets sparked my love for creating delicious meals, and now I like to experiment with new techniques while staying true to the traditional methods that make dishes unique. Food is my life's passion, and sharing my knowledge of it is what brings me true fulfillment.
Khanh Pham, also known as Sally, is a passionate home cook, food enthusiast, and writer from Vietnam. With a strong culinary foundation from her family's traditional cooking methods, Sally enjoys exploring new techniques and technologies in the kitchen. She is an avid writer focused on global cuisine, dining trends, and cooking know-how. In her free time, Sally loves gardening and connecting with nature.
Tien (Alden) – Contributing Writer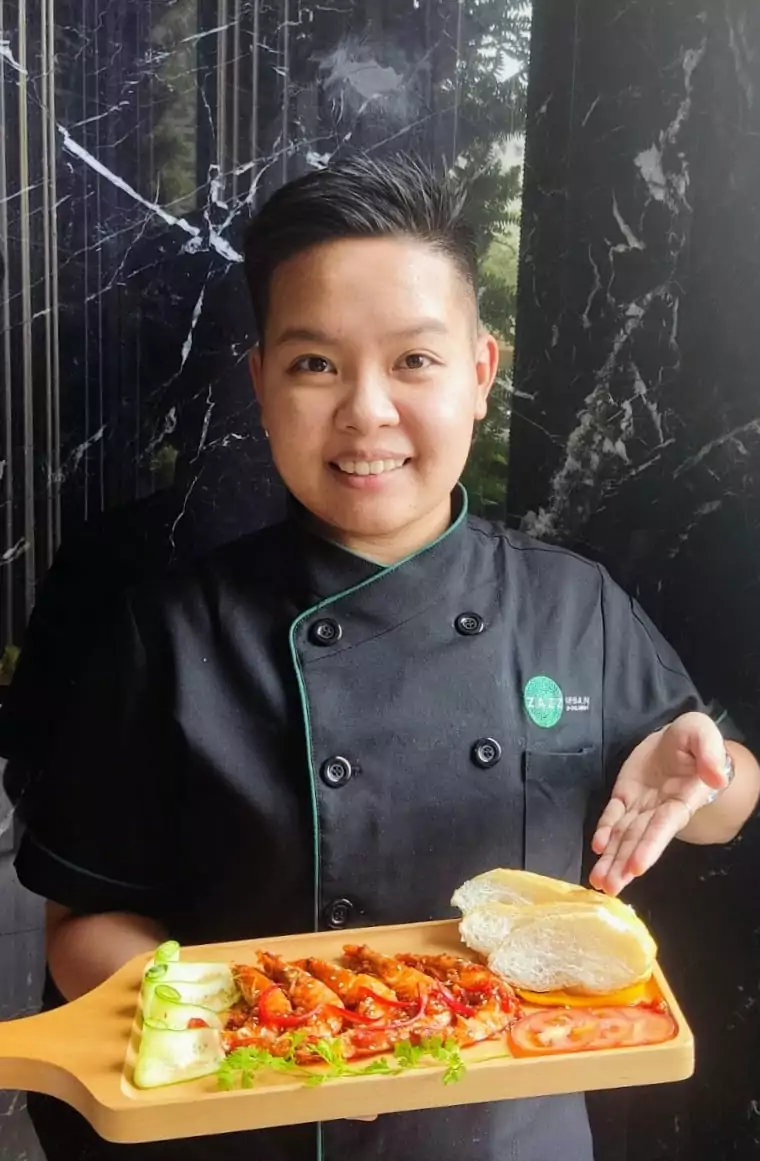 Tien (Alden) is a skilled chef at Day'li Cafe & Restaurant at Zazz Urban HCMC, with a strong family background in Vietnamese cooking. A graduate of Saigon Tourism College, Tien has developed expertise in both Vietnamese and Chinese cuisines. As a chef, Tien's primary goal is to delight diners and provide an exceptional dining experience. In his free time, Tien practices martial arts, arranges flowers, and sings, believing these activities bring balance and sophistication to his culinary creations.
With a deep appreciation for the artistry and creativity that goes into crafting a beautiful dish, Alden strives to capture that essence in every photograph he takes.
Plus, he approaches every dish with the same level of excitement and enthusiasm, then shares his culinary adventures with others.
Mia Dimitrova – Contributing Writer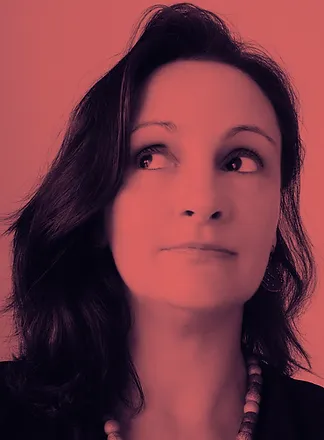 Hi, I'm Mia, Food Stylist and Food Photographer. I live in Sofia, the capital of Bulgaria, a country with very beautiful nature, located in Europe. For me, food photography is a real passion. In my work I am inspired by the magic of nature and my love for traveling and exploring other cultures and countries.
From classic comfort foods to exotic international cuisine, Maria is always excited to share her latest discoveries with her readers. So if you need some inspiration to spice up your cooking routine, you can place your trust in her.
How We Work
Every recipe and article on Lacademie.com is thoroughly tested and approved by our team and often critiqued by friends and family members. We only post the content that we love and would make ourselves. Our website has grown significantly since its inception, now boasting over 1,200 recipes and millions of hungry visitors per month.
Our Commitment to Quality
We take great pride in providing well-researched, original, and engaging content that reflects our passion for food and cooking. Our team members are knowledgeable and skilled in their respective fields, and we strive to create content that showcases their expertise. We focus on creating people-first content, primarily designed to benefit our readers, rather than to manipulate search engine rankings.
Transparency and Trustworthiness
At Lacademie.com, we believe in being transparent about our content creation process and the sources of our information. We clearly indicate authorship and provide background information on our team members, ensuring that our readers can trust the content they consume. We also encourage feedback from our readers, which helps us maintain high standards and improve our content offerings.
Featured On
Our work at Lacademie.com has been recognized and featured in several prominent websites and publications. Some of these include Food & Wine, Bon Appétit, and The Huffington Post. We are grateful for the recognition and strive to continue providing exceptional content for our readers.
Follow Us
Stay connected with Lacademie.com and join our growing foodie community! Sign up for our mailing list to receive regular updates, exclusive recipes, cuisine and valuable tips. You can also follow us on social media platforms such as Facebook, Instagram, and Pinterest for daily inspiration and the latest news from our team.
Our Favorites
We love sharing our favorite kitchen tools, appliances, and ingredients with our readers. Check out our recommended products section, where we showcase our top picks with affiliate links, making it easy for you to shop and explore our favorites.
Thank you for visiting Lacademie.com. We hope you enjoy exploring the world of cuisine with us. If you have any questions or feedback, please don't hesitate to reach out to our team. Together, we aim to create a trustworthy and inspiring online food community, where everyone is welcome to learn, discover, and share their love for cooking and food.
How to Make Use of Our Website?
At the Home page, you can find some most popular posts on our websites. Please access the Home page if you want a quick view of our website. When you click the Kitchen Gadgets page, you can see all of our latest reviews that we update and post daily.
When you need a detailed review of a particular product, feel free to click on the Product Reviews page. Here we provide comprehensive and accurate data, noteworthy features of the product, as well as its main benefits. You can also track down the most famous brands of kitchen equipment you want to find on the Product Reviews page.
Are you in search of some dinner ideas for tonight? Let's visit the Recipes page right now! Whether you want to make some soups to warm up winter or you want to start baking, some easy but impressive recipes that we suggest are truly what you need.
The Blog page is where you can find trustful advice and tips. Whenever you need some guides, please don't hesitate to access the Blog page. If you need to find a post or a product immediately, you can do a quick search.
Common Myths About Kitchen Appliances
It is vital that you should understand how each appliance works, as various opinions can leave you confused. Now, let's learn about some common myths that people usually have about kitchen appliances.
Myth #1: The Fridge Keeps Food Cold by Blowing Cold Air
In fact, the condenser of the fridge extracts hot air from the food and emits it into the atmosphere. No cold air is blown inside the machine. When you see that your fridge isn't getting cold, it's time for you to call the fridge repair expert.
Myth #2: Microwave Releases Harmful Radiation
A lot of people think that microwave releases harmful radiation. The truth is that microwave uses radiation to heat your leftovers. You would never expose yourself to dangerous radiation that's aforementioned unless you were inside the microwave.
Myth #3: Vacuum Packaging Contains Harmful Chemicals That Can Be Transferred to Food
Vacuum bags are made of high and low-density polyethylene and polypropylene. These materials are the safest for vacuum cooking. There will be no harmful chemicals transferred to your food, so you do not need to worry.
Myth #4: Vacuum Cooking Increases the Risk of Food-Borne Illness
Vacuum cooking improves the margin of food safety as sufficient standards for cold storage are followed, and you also have to apply appropriate cooking temperature and cooking time when you use this cooking method. Additionally, because food is prepared prior to cooking, the risk of handling is reduced.
Get In Touch
Want to contact us? Feel free to leave a comment in our posts or access our Contact page!
Address: 16006 Industrial Dr, Gaithersburg, MD 20877
Phone: (301) 670-8670
Whenever you want to ask something or you want to share your opinions, please don't hesitate to contact us, we will try our best to answer you as quickly as possible!