Egg salad is one of the easiest dishes with eggs globally, accompanied by the question of many interests "how long does egg salad last?". Although egg salad isn't the hardest dish to store, it can also bring you a few problems if you aren't aware of its shelf life.
Egg salad is one of the popular recipes to produce, either for lunch, breakfast, or for a delicious snack at your fingertips when the craving hits. In certain circumstances, though, you can make more egg salad than you can eat by mistake.
Therefore, knowing when to hold and toss the egg salad is essential. While the answer may appear obvious, it depends on several factors, including temperature, conditions of storage, and even ingredients in the preparation of egg salad.
This article will answer your questions in detail and give lots of helpful information on adequately preparing and preserving egg salads to keep the original quality.
You are feeling very curious about the article content, right? So let's go!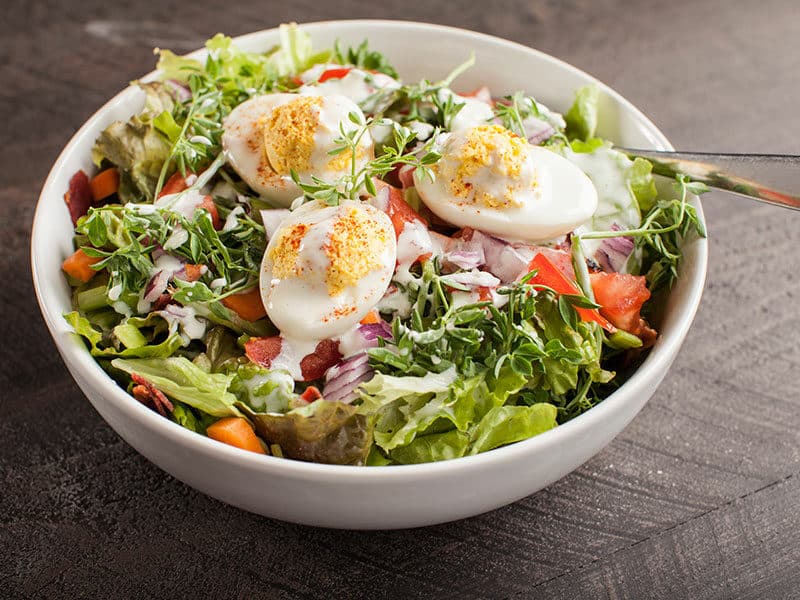 What Is Egg Salad?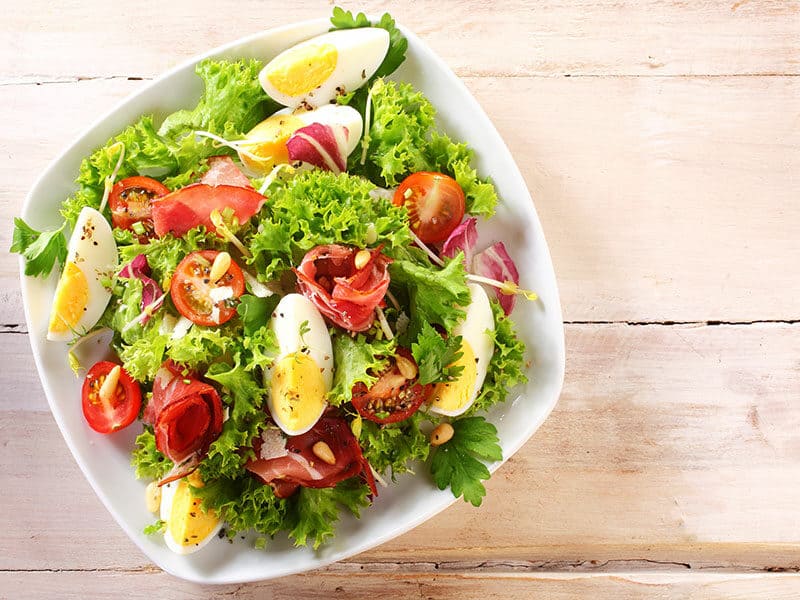 Egg salad is a delightful dish made with everyday ingredients in your kitchen. It is a snack or side dish that everyone enjoys. Besides the base ingredients, egg salad usually includes soft bread or crackers, giving it more texture.
Egg salads contain very delicate ingredients such as mayonnaise and eggs. It is comfort food, budget-friendly, and protein-packed. It's super tasty and quick to produce.
Egg salad can be made more quickly when you have handy kitchen tools such as such as convenient egg slicers. You can make a lot of egg salad in advance and keep it in the fridge to enjoy it through the week or pack it in a lunch box for classes. It is ready in about 20 minutes.
I believe you already know how to make basic egg salad, but if you want to see a professional and perfect version of egg salad, this video will interest you.
How Long Does Egg Salad Last?
The period your egg salad is fresh depends on many things, for example, whether your eggs can survive at room temperature for a night. The temperature of the salad is the most critical consideration. The colder the climate, the longer the period.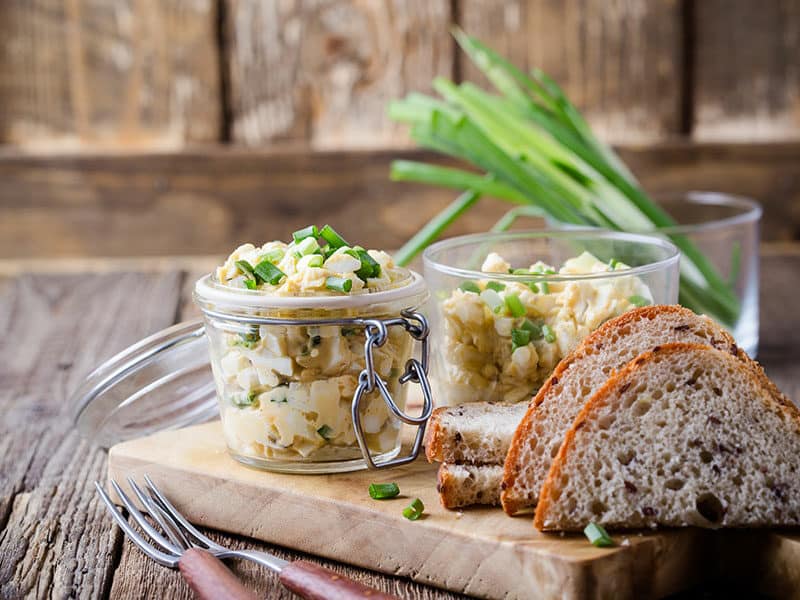 In general, salad is a delicacy that is perishable. You must quickly consume it right after you have cooked it. Take into account the salads are made from fresh or uncooked components. While one of the critical components of salads is boiled eggs, their lifespan is not long.
| Egg Salad State | Lifespan |
| --- | --- |
| Room temperature | 2 hours |
| Refrigerator | 3 - 5 days |
| Freezer | Freezing not advised |
How Long Does Egg Salad Last At Room Temperature?
An unrefrigerated salad would not last for long. The hotter it is, the further the salad is spoiled. Egg salad contains many uncooked ingredients, as you might have noticed, including vegetables and mayonnaise.
Moreover, you should know that eggs and mayonnaise don't do well when kept at room temperature. The temperature of the bacteria varies between 40° which 140° and makes the egg salad susceptible to spoilage in 2 hours.
When you're outside, egg salad's shelf life can be shorter. The heat doesn't allow it to last long unless you have an insulated lunch box. My advice is to eat the salad as fast as you can, and don't give it a chance to spoil.
Be aware that food is vulnerable to the elements in a room environment. The main culprits for food ruin include heat, moisture, water, and bacteria. You can never let them be outside of your refrigerator unless you have a way to shield your salad from these elements.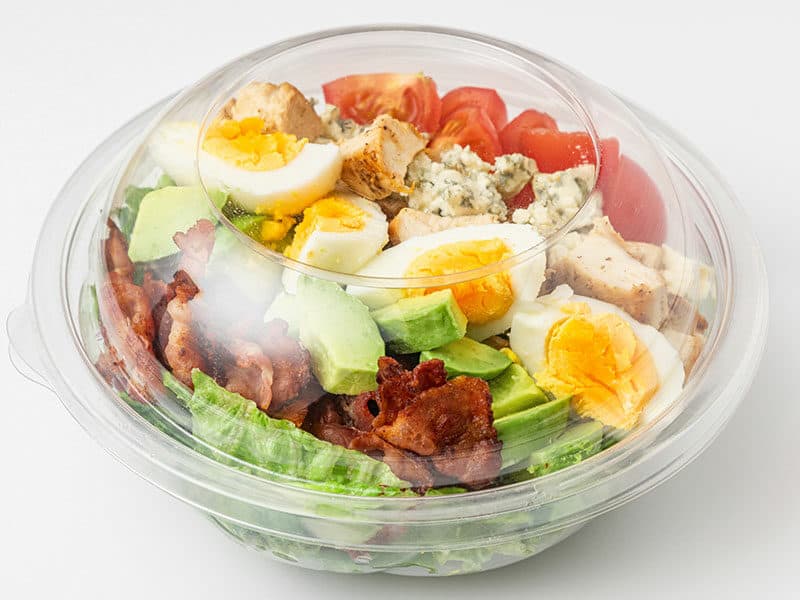 Your food will not last long in summer unless you place it in a lunch box with insulating features. It might last longer in the winter when the temperature is low. To be safe, if the salad no longer smells nice after being left in the open for a while, you should throw it out.
How Long Does Egg Salad Last Inside a Refrigerator?
Cooling is the perfect way to preserve all food styles, including egg salads. You can keep your egg salad for a longer time at colder temperatures. Your egg salad will last in the refrigerator for around 3 to 5 days as long as it is properly sealed and packed.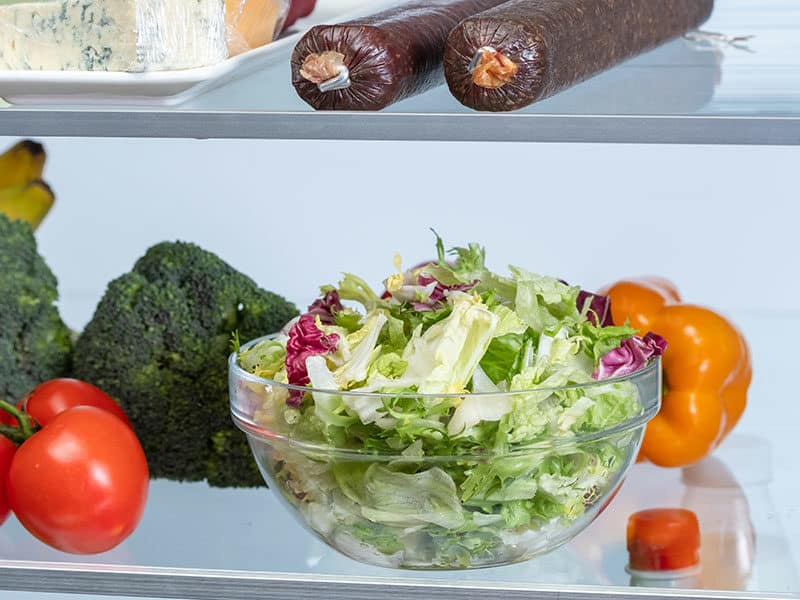 Adding lemon juice or vinegar to your egg salad can prolong its shelf life. Remember to keep it in an airtight container to make the egg salad last longer.
Put the container in the coolest receptacle, and don't place it on the refrigerator door bins. The temperature on these shelves varies too much, causing salad to spoil more quickly.
Different refrigerator types have different door configurations. For example, the side-by-side and French door fridge have a pretty big gap between them. So, you should compare these types and consider placing the salad somewhere that doesn't have minor temperature changes.
The egg salad will spoil faster if you put it directly in the refrigerator without cover. It'll only be able to stay fresh for 2 days at best.
Bear in mind, though, that there are limits to how cold you can store your egg salad. The ideal temperature for refrigerating egg salad is between 36 and 40 degrees F. It's not safe to keep egg salad outside that temperature range.
Freezing Egg Salad: Good or Bad Way?
Since egg salads are perfect for picnics and family gatherings, you might be tempted to make a large batch and put it in a freezer. But is freezing salad a good way to store it? Let's find out.
In reality, freezing is not an ideal way to increase the shelf life of this easy-to-make dish. The reasons lie in this salad's main components – mayonnaise and eggs.
These two ingredients are the last foods you should place into the freezer since neither one freezes well. Just like it is one of the deciding reasons whether freezing potato salad is possible, mayonnaise also affects how you should store egg salad.
Usually, the ingredients will be separated after thawing, making the salad tastes significantly worse. Yes, the salad is still edible, but it won't taste nearly as good.
In short, it will be better to keep your egg salad in the refrigerator instead of the freezer, especially if it contains mayonnaise.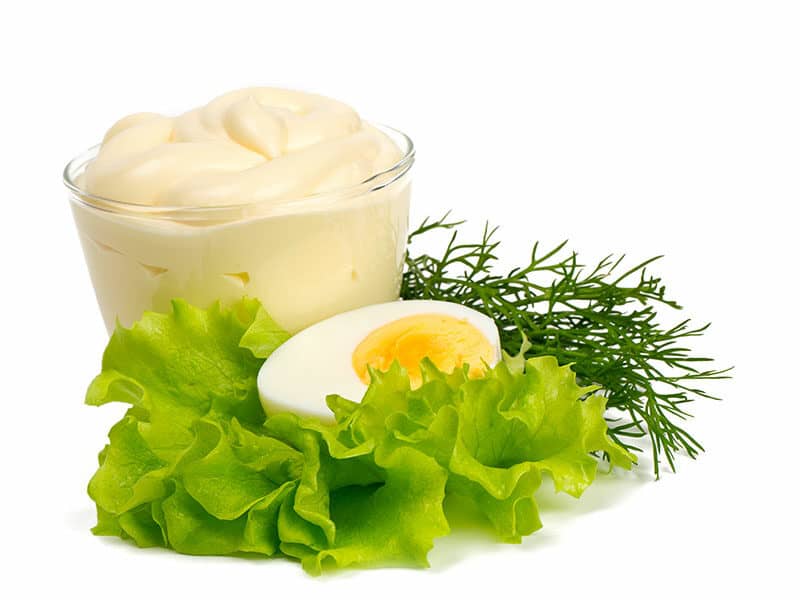 If Necessary, How Can I Freeze Egg Salad?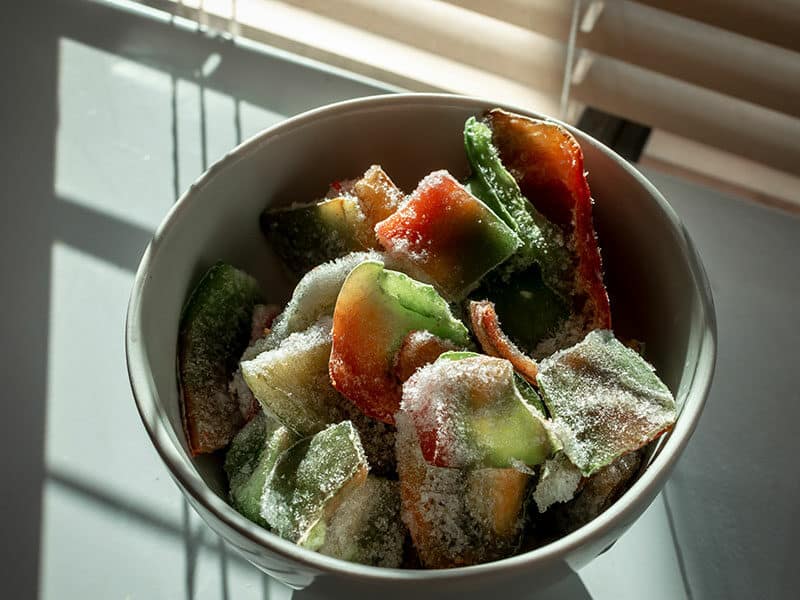 Although it's not the most recommended method, you can still freeze this food that begins with E for more extended storage.
Freezing egg salad can be a last resort if you don't want to waste the excess.
Put your egg salad in an airtight container carefully. In this step, it is essential to use clean kitchen utensils because uncleaned ones can transfer bacteria into the egg salad and spoil it.
Seal the container, label the dates, and fit it into the freezer. Place it near the front of your freezer. The salad will last between 1 and 2 months this way.
Signs That Egg Salad Has Gone Rancid
It is a waste to throw away leftover egg salad after a meal, but it's also dangerous to keep the spoiled food to eat next time. As with other foods, rotten egg salad can cause poisoning and other gastrointestinal ailments, affecting the health of you and your family members.
So, how to know if the egg salad is spoiled or not? Here are a few common and recognizable signs to keep in mind:
The Odor
The foul smell is one of the first and most recognizable signs to decide whether your egg salad is stale or not.
Rancid eggs smell awful, and the smell only gets worse from there. The salad continues to have a bitter, sulfur-like scent as the bacteria grow. At first, the smell can be very slight, but it becomes stronger with time.
Visible Mold
Surely no one wants to get poisoned or other health problems when eating a moldy egg salad.
Mold stains can be green, black, or white and appear on eggs or directly on vegetables in salads. These traces are pretty easy to spot, so you should not ignore even a small one. When you see signs of mold, the food has been spoiled and is no longer safe for consumption.
Be At Room Temperature For Too Long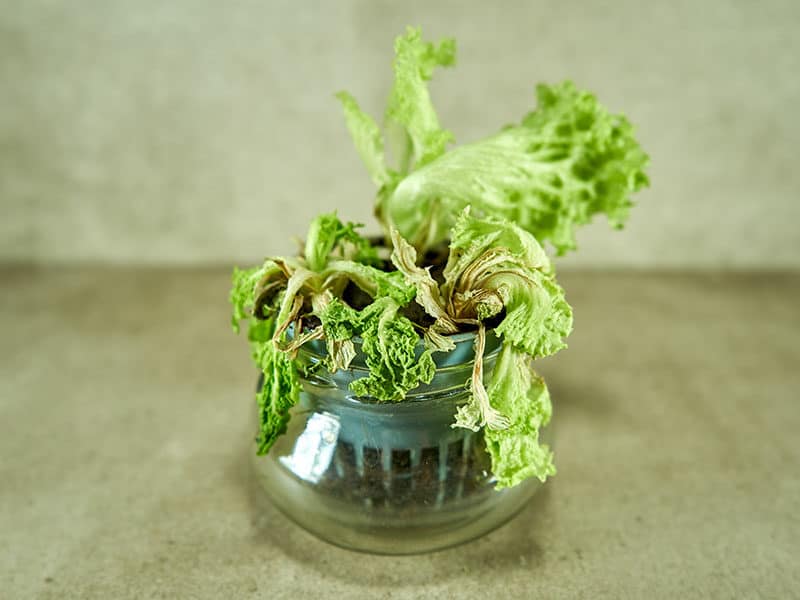 If the egg salad has been left at room temperature for more than 2 hours, bacteria may have started to invade and affect the dish's quality. To be safe, you should throw this egg salad away.
It's best not to try eating it because even if there are no apparent signs of damage, the dish has many potential dangers to the eater's health.
Food Preservation Tips You Should Follow
With its ease and convenience, egg salad can urge you to make more than you can eat. Trying to eat up the excess or find a way to store them and retain the flavor can be tiring and time-consuming, so the following tips are quick solutions for you:
Use Lemon Juice or Vinegar
One of the best ways to ensure that your egg salad has a better shelf life is to add some lemon juice. This solution reduces bacterial growth and prevents the salad from being contaminated, at least for some time.
The acidity in lemon juice creates an unhealthy environment for bacteria to grow, protecting your food for several days. Lemon juice also has a unique flavor that makes the salad taste better.
Alternatively, you can also replace the lemonade with vinegar, which has the same effect and taste. However, use just the right amount. Otherwise, your egg salad will have an inedible sour taste.
Store Below 40 Degrees F
The reason egg salads go wrong when you leave them at room temperature is that bacteria grow incredibly strong between 40 and 140 degrees F.
So the most effective method is to keep them cold, preferably between 36 and 40 degrees F. Low temperatures will reduce bacterial growth, thereby extending the shelf life of dishes.
Use Aluminum Foil or Insulated Lunch Box
Wrapping food is an effective method to avoid bacteria penetration and other influences such as temperature, humidity, environment, etc.
You should place the egg salad in an aluminum foil or an isolated lunch box until you have the option of refrigeration. This method will keep your food healthy outside the refrigerator for about 5 hours. This is the perfect way to store the remaining salads.
Frequently Asked Questions About How Long Does Egg Salad Last
Although many details have been given out, I understand that they do not always cover all the essentials. Some rare problems can entirely arise that can confuse you in the kitchen.
Please search the following commonly asked questions if the above details cannot cope with all your merits. Do not hesitate to let me know if you have any questions, and I will try to answer them for you.
Additional Advice
Although it is a simple dish, egg salad also requires proper storage methods. The tips I mentioned above are simple but will bring outstanding results!
Don't let your delicious egg salads go to waste just because you don't know how to preserve them. You can take advantage of the leftover salad by combining it with some other ingredients to create a new salad or a tasty sandwich for breakfast.
I hope you find the information in this post useful. If you have any concerns about how long eggs, salad, and other dishes can last, don't hesitate to ask! Also, please like and share this post with other people!
Nutrition Facts
1 servings per container
Serving Size1 cup (222g)
---
Amount Per ServingCalories471
% Daily Value *
Total Fat 41g

64

%

Saturated Fat 8.7g

44

%
Trans Fat 0.1g

Cholesterol 523mg

175

%
Sodium 550mg

23

%
Potassium 267mg

8

%
Total Carbohydrate 5.3g

2

%

Dietary Fiber 1.1g

5

%
Sugars 2.4g

Protein 18g

36

%
---
Vitamin A

15

%
Vitamin C

4.7

%
Calcium

7.3

%
Iron

15

%
* The % Daily Value tells you how much a nutrient in a serving of food contributes to a daily diet. 2,000 calories a day is used for general nutrition advice.