Can you freeze potato salad? This question seems to be a common topic that needs to be addressed thoroughly.
As you might know, people love potato salad because it is one of the most popular and delicious side dishes, besides canned baked beans, that goes well with BBQs and picnic meals.
Moreover, it doesn't take much time to prepare this salad, and once in a while, you might find yourself overestimate the actual consumption. As a result, by the end of the day, a lot of salad is left.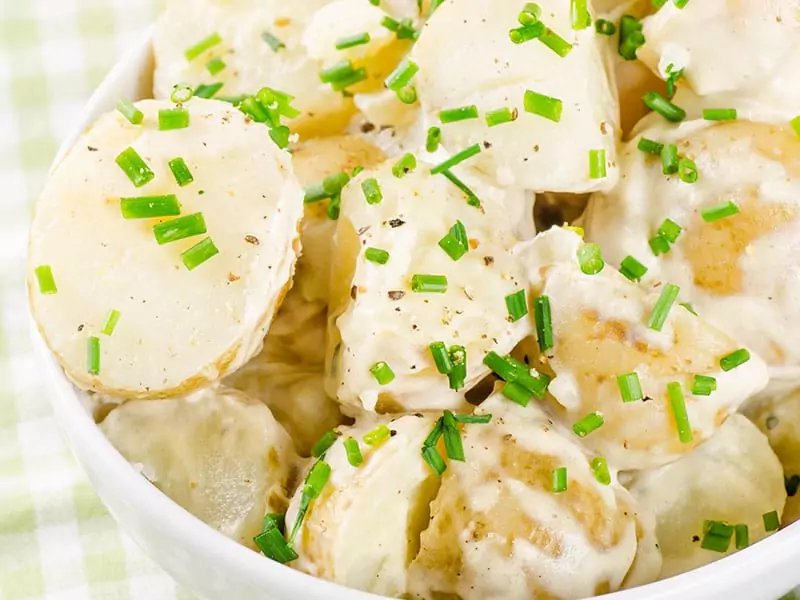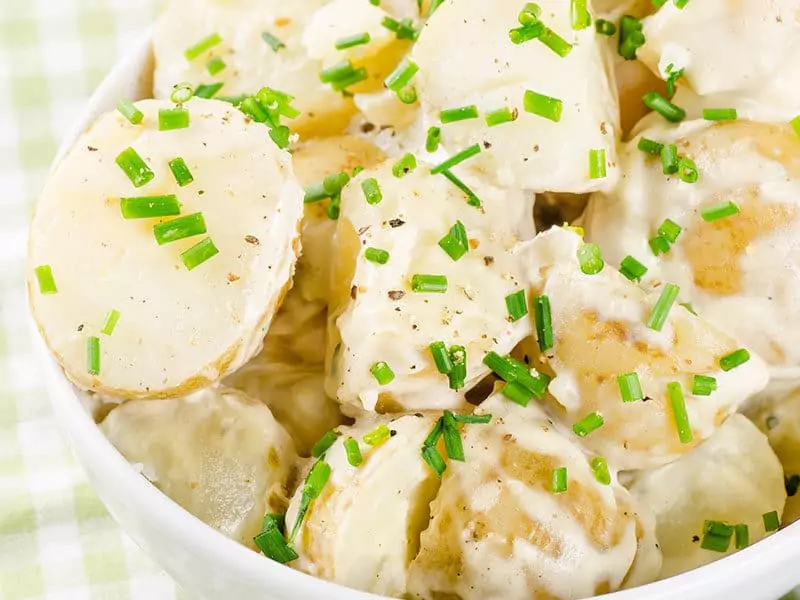 You are faced with the dilemma of using and discarding. At this time, the best solution is to put the leftover in a freezer so that you can keep your salads in good condition until you're ready to have them in not so distant future.
How to freeze potato salad? What happens to frozen potato salad? How to thaw them properly? Let's follow my practical guide to find out
Can You Freeze Potato Salad?
Where To Begin?
Before thinking about freezing your potato salad, you need to consider what the ingredients are included, such as mayonnaise, eggs, mustard, or sour cream.
In other words, the ingredient depends on what kind of salad you are going to make.
Types Of Potato Salad: What's In It?
Potato salad has many variations, as you might have known. Below is a list of some popular types of this tasty dish:
Mayo-based potato salad: As the name implies, this dish contains a generous amount of mayonnaise as a dressing. Besides, it's tossed with onions, herbs, and eggs.
Dairy-based potato salad: It surely features sour cream, fresh yogurt or both. You should note that yogurt and sour cream have many similarities, so it would help that you pay attention to what kind of dairy-based dressing you're using for your salad.
German potato salad: As is indicated in the name, it's a dish originating from Germany. This salad is with vinegar, fried bacon, eggs, onions, herbs and should be served warm.
Vinaigrette-based potato salad: This delicious recipe is made with a dressing of oil and vinegar. It's also added with onions and chopped bell peppers.
You can also add the following to your liking: pickles, green beans, celery, herbs (parsley, mint, basil, etc), lemon and Dijon mustard.
See more in this video:
Among all potato salad recipes, the vinaigrette-based dish can quickly restore the original flavor and texture. It seems to be mushy initially, but when being moved around slowly with a spoon, it may retain its consistency.
If your potato salad comprises mayonnaise, cream, or eggs, the storage time will not be as long as you expect, especially when thawing; you should be careful to avoid bacteria growing. Moreover, once the dish is totally defrosted, it might not look and taste as delicious as the first time. The texture will appear a bit watery.
Dangers Of Freezing Potato Salad​
Scientifically, low temperatures inhibit the growth of disease-causing bacteria. That's why freezing is one of the most ideal and easiest methods to prolong your potato salad's storage duration.
It is essential to point out that freezing is relatively easy, but thawing needs to be cautious. Remember, your salad couldn't taste as good as the first day you made it once you place it in the freezer.
Even so, if freezing potato salad is your only option, go ahead and do it, just learn how to carry each step appropriately.
Top Products For Freezing Potato Salad
Refer to the list of essential products so that you can start storing your potato salad right now
Salad spinner: Run your salad through an ergonomic salad spinner so that you can quickly remove any excess moisture before freezing. I suggest you purchase a convenient vegetable chopper that not only chops herbs but also includes a salad spinner.
Airtight freezer-safe container: It would be necessary for you to choose a container with an airtight locking lid. This way, you can prolong its freshness and prevent spoilage.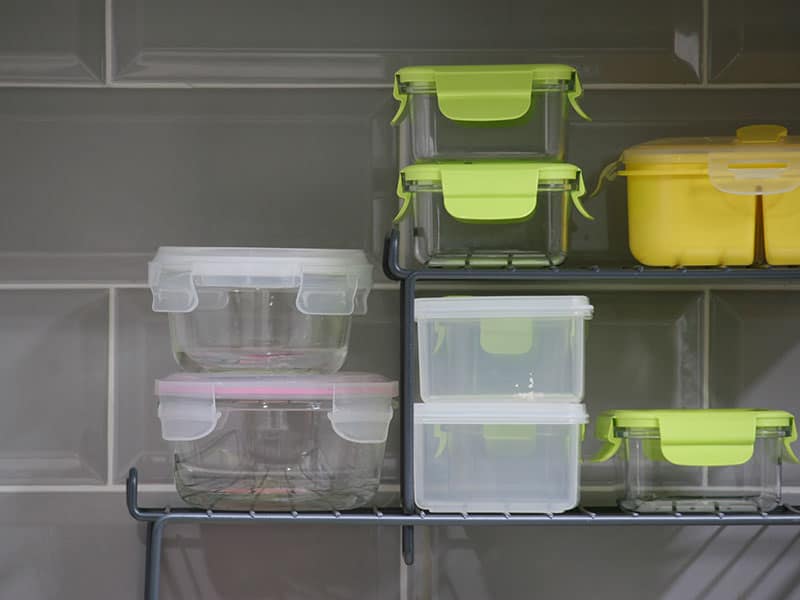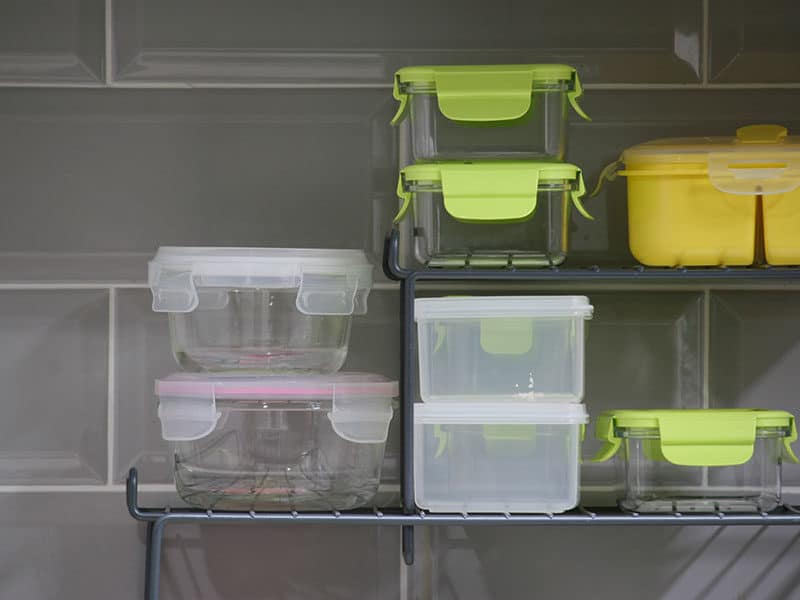 Ziplock plastic bag: I recommend that you go for freezer-friendly bags.
Sticky label: It's essential that you label the container or bag with the date you put the salad in the freezer.
How To Freeze Potato Salad
In order to ensure that the salad is successfully frozen, the first step is to remove any difficult-to-freeze ingredients such as eggs. When thawing, the eggs will not retain the taste they were once freshly served and not quite safe to consume.
That's why for potato salad recipes that contain eggs, you should separate this ingredient before freezing the rest.
Method 1
What You'll Need:
A freezer-friendly plastic bag
Ice scoop
Sticky food label
Instruction:
Step 1: Use an ice scoop to transfer food from a bowl to a plastic bag.
Step 2: Keep doing until there is a quarter of the bag left empty.
Step 3: Squeeze the air out entirely and seal it carefully.
Step 4: Stick a food date label on the bag and put it in the freezer.
See more in this video:
Method 2
What You'll Need:
A freezer-safe airtight storage container
A metal spoon
Sticky food label
Instruction:
Step 1: Divide the potato salad into several equal parts and place them into storage containers.
Step 2: Keep about 2 inches from the lid free.
Step 3: Seal them tight with provided lids.
Step 4: Use a sticky food label to remind the date.
Can You Freeze Coleslaw And Potato Salad?
You can freeze coleslaw and potato salad if it comes with vinegar-based dressings.
However, if it's made with mayonnaise-based formula, you should know that the salad's consistency will not be the same. Due to mayonnaise property, this dressing tends to split when being defrosted.
The same goes for the dairy-based options. Like mayonnaise, sour cream, or fresh yogurt could be separated and make your salad look less attractive.
With German potato salad, onions seem not to be an ideal ingredient for freezing once mixed together with other things. The overall taste might be affected.
Can You Freeze Potato Salad Made With Sour Cream?
The answer can be pretty controversial, as whether it's a good idea to freeze sour cream is also up to debate. As for me, you can freeze potato salad with sour cream, but the texture after freezing will appear unappetizing. To be more specific, it will become a bit runny and separated.
For frozen sour cream alone, it's best to use in making cakes, casseroles, and soups – some recipes related to cooking this ingredient.
Can You Freeze Potato Salad With Eggs?
Eggs don't freeze well and can shorten the storage duration of your potato salad. It would be helpful if you remove eggs from your dish before freezing.
The food might stay fine for several weeks, but with eggs, it should be used as soon as possible for the sake of your health.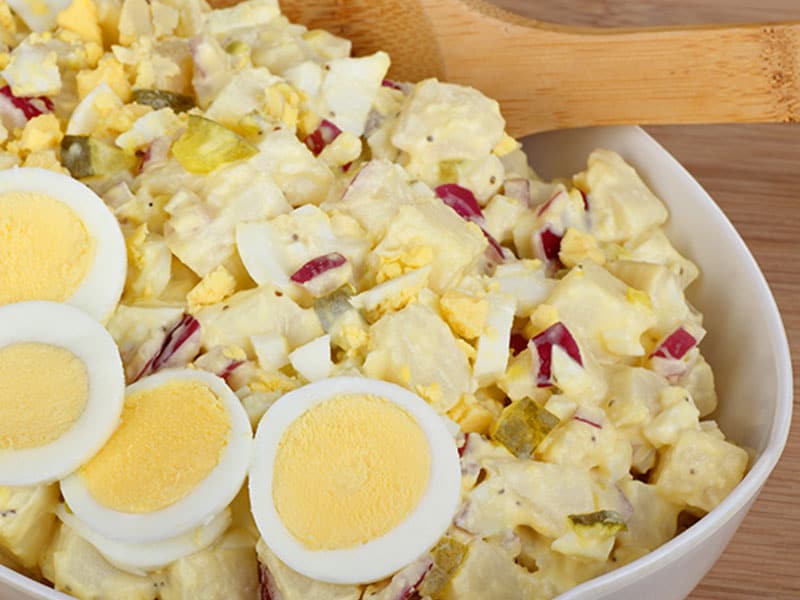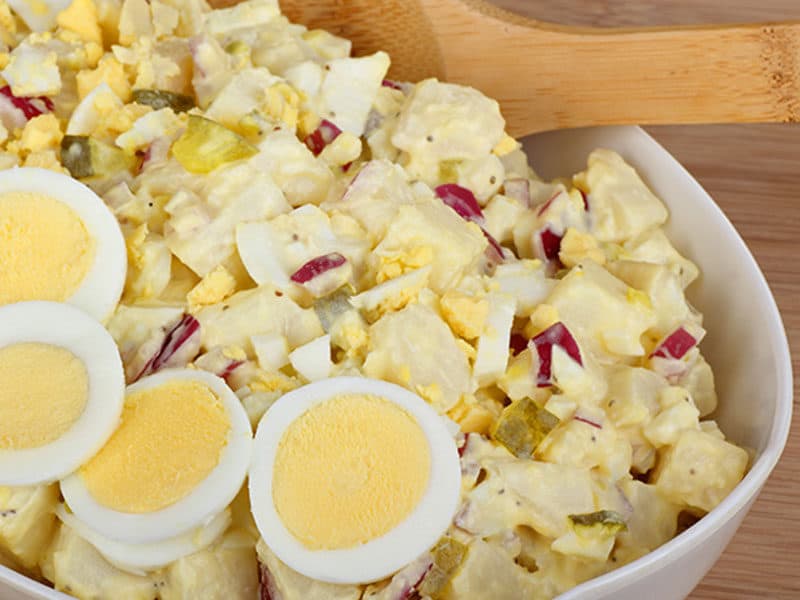 Can You Freeze Potato Salad With Miracle Whip?
Miracle Whip is a lower-fat and lower-calories alternative to mayonnaise and is perfect for salads.
It's made from freezer-safe ingredients such as egg yolks and cornstarch. Moreover, it contains less amount of oil than mayonnaise. Therefore, Miracle Whip seems to be a better candidate for freezing than other dressings.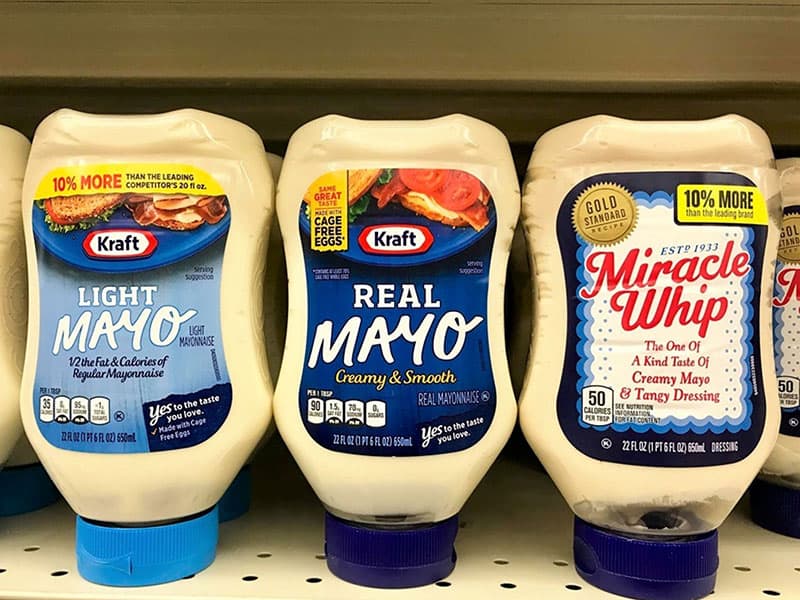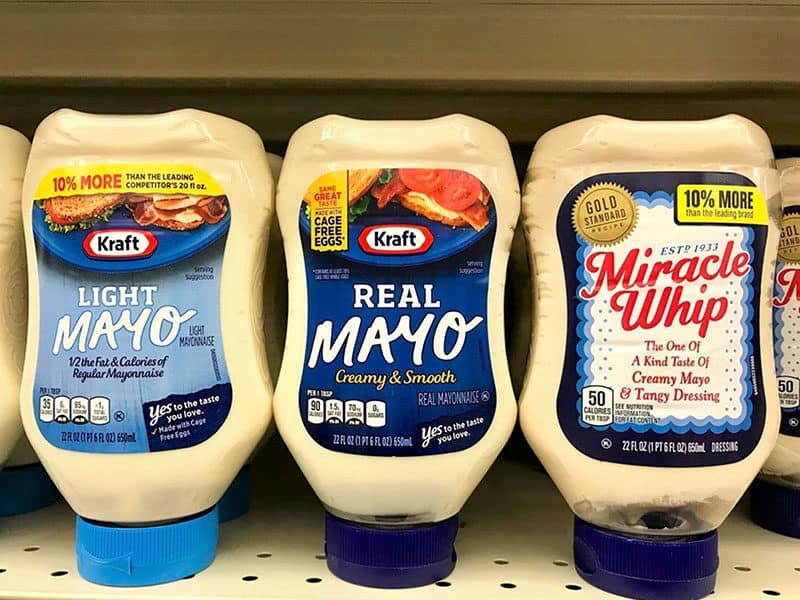 How Long Does Potato Salad Last In The Fridge?
If you store each ingredient separately, you might keep it safe for more days. However, if stored together, potato salad can maintain its flavor and nutrition for less than 5 days.
In order to keep it fresh for a longer time, you may put the salad in the fridge as soon as it's done and serve just enough for the number of people attending the party. Or you can serve with ice trays underneath to maintain cool temperatures all the time.
Nevertheless, you can tell if the food has spoiled through the taste. If the potato salad has a sour smell, it's best not to eat it, and it's time to throw it away.
How Long Does Potato Salad Last In The Freeze?
Same as above, if potatoes, onions, eggs, herbs, and dressings are frozen one by one in different storage containers, it will increase the chance of keeping them for a longer time.
As for leftover potato salads, if stored in the right way, in airtight containers or freezer-friendly plastic bags, they can last for a maximum of 3 months.
It's a safe bet that potato salads left at room temperature for more than 3 hours, will tend to spoil soon even if it is frozen.
For the sake of your food, keep them cool all the time. Otherwise, you could use a high-quality kitchen timer to remind you after one hour so that you can reduce the risk of ruining your well-prepared salad.
How To Thaw Potato Salad
Method 1
What You'll Need:
Instruction:
Step 1: Take the potato salad out of the refrigerator.
Step 2: Turn on the faucet and wait until the water fill more than half a sink, then turn it off.
Step 3: Put the container into the sink.
Step 4: Drain the sink every 30 minutes (or when the water becomes icy) and refill it.
Step 5: Keep repeating until the salad is fully thawed. Once it's ready, serve the potato salad with a compatible side dish for a more well-rounded meal with better nutritional values.
Method 2
What You'll Need:
A refrigerator
A salad bowl
A spoon
Instruction:
Step 1: Remove the potato salad from a freezer to a fridge and let it stay overnight.
Step 2: Next, you scoop it into a salad bowl.
Step 3: And continue to thaw it at room temperature. Meanwhile, try to come up with something to enjoy with potato salad. It can range from meat-based dishes to purely vegan meals, depending on your dietary needs and preferences.
Additional Tips When Thawing
Thawing potato salads is quite challenging and requires patience to get it done correctly. Below are some handy tips which help you achieve the best result.
It's highly recommended that you shouldn't freeze it once more time after thawing. This way, it's not sanitary enough to eat because it might develop bacteria.
When defrosting in a fridge, remember to keep the temperature at 40 degrees Fahrenheit.
Microwave is not a good idea.
Don't let it sit at room temperature for too long.
Frequently Asked Questions
If you have questions regarding freezing potato salad, I'm glad to answer some of them below
Can You Freeze Potato Salad – The Truth
The answer is yes; you can freeze potato salad. However, it doesn't mean that it is a solution you should think about first. After thawing, the taste won't be the same, and the texture tends to soggy and watery. Sometimes it might be discolored and appears less attractive.
So, how about sharing with your close friends or neighbors? How about using it as a filling for tortillas? What do you think about roasting it instead of freezing it? Try to be creative this time.