Looking for authentic Italian side dishes that are also easy to prepare? From salad to roasted potatoes, these delicious and simple recipes will give you the taste of authentic foods for your Italian night. And I guarantee they will make you feel like heaven.
Whether you're preparing meals for a big party or the whole family, the authentic Italian side dishes below will be excellent additions to your main course. And as these side dishes are all incredibly simple to make, you'll still have time and effort to invest in your main dishes.
With these authentic Italian side dishes, there's no need to prepare extravagant ingredients or elaborate foods. These delicious side dishes are the perfect examples of how simplicity can work in your favor.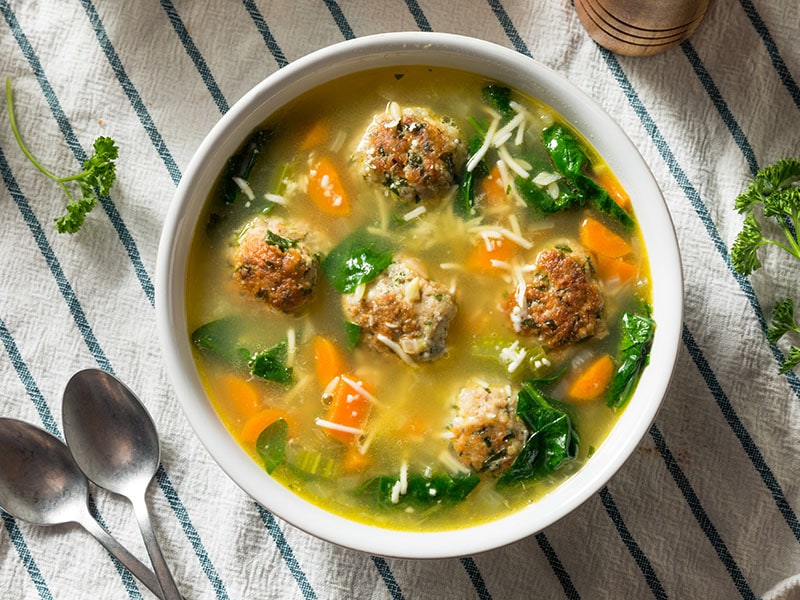 Be sure to check out this shortlist of the best authentic Italian side dishes before getting into the main section of my article. 27 authentic Italian side dishes into separate categories (salad, vegetable, bread and soup) to make it easier for you here:
Salads
Italian Green Bean Salad With Tomatoes
Caprese Salad
Tuscan White Bean Salad
Italian Chickpea Salad
Pasta Salad
Italian Farro Salad
Burrata Salad
Radicchio Salad
Vegetable Side Dishes
Italian Pickled Eggplant
Italian Giardiniera
Italian Stuffed Tomatoes
Italian Stuffed Artichokes
Italian Roasted Potatoes
Italian Marinated Mushrooms
Italian Stuffed Zucchini Flowers
Zucchini Bites
Cacio E Pepe Brussel Sprouts
Breads
Italian Breadstick
Italian Friselle
Italian Pinwheels
Garlic Bread
Focaccia Bread
Parmesan Cookies
Italian Bruschetta
Soups
Minestrone Soup
Pappa Al Pomodoro
Italian Wedding Soup
Salads
These authentic Italian side dishes are best when paired with meaty main dishes. Packed with refreshing vegetables, the side dishes below will ensure that your meal is as nutritious as it is scrumptious.
Italian green bean salad with tomatoes is probably one of my top favorite authentic side dishes. This authentic Italian salad is incredibly light and savory, with green beans and tomatoes as the main ingredients.
Like many Italian salads, this green bean salad with tomatoes will taste amazing when soaked in Balsamic vinegar dressing. Or you can try with other dressings. In case you wonder whether these Italian dressings are vegan, check the ingredients of the dressing.
On the other hand, you can serve this fantastic side dish with pork, steak, pasta, casserole, or even grilled chicken.
A perfect salad for the summer, this authentic side dish (or you can serve it as a delicate Italian starter) features fresh, juicy tomatoes and mozzarella cheese. Drizzled with Balsamic vinegar dressing, Caprese salad offers a refreshing taste to cleanse your palates between heavy main dishes.
You may think that to achieve the best Caprese salad, you'll need to have refrigerated tomatoes and mozzarella cheese. The key behind a successful Caprese salad is room-temperature ingredients, so be sure to remove them out of the fridge at least one hour before preparation.
This hearty salad is an amazing choice for busy people. With only 10 minutes, you can whip up a delicious bowl of Tuscan white bean salad. Because there's virtually no cooking involved, anyone can prepare this side dish without any complications.
Because Tuscan white bean salad can last up to 5 days in the fridge, you can prepare this side dish in advance. Enjoy this authentic Italian side dish with savory stew or potluck, and you'll be amazed.
Should I need to prepare a vegan Italian side dish packed with proteins, this Italian chickpea salad is always my go-to choice.
There are different versions of chickpea salad, like in flavorful Spanish side items. But no matter what cuisine you choose, chickpea is a superb component in many dishes. Because chickpeas are incredibly rich in plant-based protein, adding them to your salad will ensure a well-balanced dish.
Italian chickpea salad can go with several different dishes. If you want something simple, toasted bread is the best choice. If you wish for something more savory and fulfilling, I'd recommend eating this with pizzas, pastas, or casseroles.
Perhaps one of the most fulfilling authentic Italian dishes, pasta salad is the way to go if you want to make sure everyone leaves the table with their tummies completely full. With its vibrant and eye-catching colors, this Italian pasta salad will be a hit even with picky children.
Why is Italian pasta salad such a popular side dish? If I have to take a guess, I'd say that this is probably because it features so many delicious ingredients: chewy pasta, juicy tomatoes, creamy mozzarella cheese, tangy olives. Throw everything together for this yummy dish.
Can I talk about how much I love Italian Farro Salad? Featuring an ancient grain – farro, this hearty salad perfectly balances the nutty flavors and refreshing tastes from vegetables. As a result, Italian farro salad is deliciously hearty and savory.
It's true that Italian farro salad is fulfilling enough on its own, but I'm sure that you'll want to serve this as a side dish. So pair this with homemade pizza, enjoy this with creamy pasta, or savor it with beef stews.
Watch this video to know more:
In this salad, you'll get to enjoy creamy burrata cheese, which is an Italian cheese made from buffalo milk. Throw in some thin slices of prosciutto, juicy tomatoes, ripe nectarines, as well as lemon herb vinaigrette drizzle, and you'll have a salad to impress everyone.
Not only is burrata salad an excellent side dish, but you can also serve this on almost any occasion. Be it breakfast, lunch, or dinner, the burrata salad will fit right on your dining table.
Whenever the holiday comes, this authentic side dish is always present on my dinner table. This is because radicchio salad is fantastic for balancing out meaty or heavy dishes usually seen in the festive seasons.
You can get inventive with this radicchio salad. While the main ingredient is always radicchio, you can add sweet corn and feta cheese. If you're craving something tart and tangy, you can add a few slices of apple to the salad. Do feel free to get inventive with this Italian side dish.
Vegetables
While they're not salads, these authentic Italian side dishes will ensure that you get your fill of vegetables. Incorporate these into your meal for a fit and healthy body.
Italian pickled eggplant is the perfect side dish if you're looking for something that you can prepare in advance. Because pickled eggplant can last up to a month inside the fridge, you can make this in a large batch to ensure you'll always have a tasty side dish to enjoy.
This Italian eggplant goes best with toasted bread. You can also serve this side dish with salami and cheese. As you can probably guess, Italian pickled eggplant is perfect alongside meaty main dishes.
Another pickled side dish for you to consider, Italian giardiniera is a delicious concoction of vegetables. The colorful appearance of this side dish alone is more than enough to invite you to take a bite.
The main ingredients you can find in Italian giardiniera are carrots, cauliflowers, peppers, and even eggplants. Like Italian pickled eggplant, you can serve this tangy side dish with salami, toasted bread, or meat dishes.
These appetizing, juicy stuffed tomatoes will take the room by storm with their deliciousness. Imagine taking a bite of these tangy, oozy tomatoes with savory ground beef and aromatic onions. Are there any better side dishes than these Italian stuffed tomatoes?
Even though Italian stuffed tomatoes are scrumptious and fulfilling enough on their own, they're much better when you serve these with something else. For instance, Italian stuffed tomatoes will taste amazing when you pair them with creamy pasta.
Prepare the best stuffed tomatoes with the recipe shown in this video.
At first, I wasn't convinced that stuffed artichokes would be delicious. However, as soon as I took a bite of this authentic Italian side dish, I realized how wrong I was. Somehow, the cooked artichokes are amazingly savory.
The secrets behind the appeal of this Italian side dish cannot be put down to artichokes alone. In fact, the allure behind stuffed artichokes also comes from the decadent cheese, savory bread crumbs, aromatic garlic, and parsley, as well as pepper and salt.
Believe it or not, it's always an excellent time to serve Italian roasted potatoes as an accompaniment with your main course. Starchy with creamy cheese and savory herbs, these roasted potatoes will go like hotcakes.
With just 5 minutes of preparation, you can get your potatoes ready to go in the oven. By using similar kitchenware, you can also make a Moroccan-style accompaniment to roast potatoes. I have tried both of them, and they come out perfectly.
Even though they take roughly half an hour to roast, the hands-off time means that you can spend your time and efforts whipping up the main dish. Now that's what I call convenience.
Brace yourself; these Italian marinated mushrooms are so enticing that they will be gone within an eye blink. Because mushrooms are porous in nature, you'll see that they will soak up all the delicious juice and spices that you marinate them in.
One particular thing I love about this flavorful side dish is that I can prepare it in advance. I don't have to worry that the mushrooms will lose their taste the longer they sit in the fridge. In fact, the longer you let the mushrooms marinate, the tastier they become.
Excellent as a side dish or an appetizer, these Italian stuffed zucchini flowers contain a generous amount of mozzarella cheese. Even though these flowers are all deep-fried, they still manage to retain their freshness, which makes the dish even more enticing.
To make the best Italian stuffed zucchini flowers, you'll need to learn the art of picking these flowers. First, you should always pick zucchini flowers in the early morning, when the flowers have yet to open. You should also only pick male flowers, which always have a stamen inside.
Resembling tiny pizzas, these zucchini bites will be an absolute delight for anyone who tries it. Made from flavorful zucchini cultivars, Italian zucchini bites are a great substitute for traditional pizzas. Even better, this Italian side dish can go with almost any Italian dish.
Like real pizzas, these zucchini bites feature cheese, tomato sauce, Italian seasonings, as well as pepperonis. If you wish to enjoy side dishes that are both delicious and healthy, these keto zucchini bites are definitely a great choice to consider.
This recipe will help you make the crispiest zucchini bites.
Cacio e Pepe brussels sprouts are the best choice of side dish for people on a strict diet. Low in calories and carbs, this authentic Italian side dish is packed with explosive flavors and texture. You will definitely love how these brussels sprouts are amazingly crispy and flavorful with various spices.
If you're craving something cheesy and creamy, you can add a handful of mozzarella cheese into Cacio e Pepe Brussel sprouts. In this case, you should definitely try pairing this with tomato pasta; I can guarantee that you'll love it.
Breads
These simple yet fulfilling side dishes below are different types of Italian enticing bread. Simple as they may be, these authentic Italian bread types will definitely shine up your meal.
Italian breadsticks are no ordinary bread. With their crunchy and crispy texture, these breadsticks taste almost like a snack.
Whenever you feel snacky, you can grab these breadsticks and dip them with melted cheese or Hawaiian ranch dip – a heaven-sent Hawaiian side order. I'm certain you'll love the taste.
However, Italian breadsticks will shine the brightest when you serve them with stews or soups. Whether you're making light soup or hearty stew, keep in mind that Italian breadsticks are the perfect side dish for all.
Sometimes, the simplicity of Italian friselle triumphs over other delicious yet complicated side dishes. Even though friselle might not stand out among many other eye-catching side dishes, its simple flavors allow it to complement almost any dish without outshining them.
Another distinct advantage of Italian friselle is that they have quite a long shelf life. In other words, you can prepare Italian friselle in bulk to ensure you always have a delicious side dish at hand.
Serve these Italian pinwheels at your next family gathering, and everyone will be too busy devouring these to complain. Soft tortilla wrappings slated with savory cream cheese, layered with a generous amount of salami, ham, cheese, pepperoni, and lettuce. Yummy in my tummy.
As Italian pinwheels are incredibly hearty and fulfilling, you can prepare these in bulk. On the rare occasions of leftovers, you can store them in the fridge and enjoy them as breakfast the following morning. Two birds with one stone, how convenient!
Buttery, crunchy bread with a hint of fragrant garlic. Who doesn't love some crispy slices of garlic bread? I doubt that anyone can refuse a savory slice of garlic bread topped with ricotta cheese, mayonnaise, garlic, parsley, and basil.
Like many other types of bread, Italian garlic bread is a fantastic accompaniment to virtually all kinds of soup and stew. While this is best paired with tomato-based soups, you can also serve garlic bread with stews made from beans, chicken, beef, or seafood.
Italian focaccia bread is basically like pizza, but without the extravagant toppings. But don't let yourself be fooled into thinking that focaccia bread is just plain pizza dough. Truth to be told, if you've grown bored of regular bread, this Italian variation will be a great addition to your meal.
There are so many things you can do with focaccia bread. For instance, you can slice it in the middle to prepare a savory sandwich. On a cold day, you can serve focaccia bread as a side dish with Italian beef stew, vegetable stews, fish soup, or tortellini soup.
With 6 easy steps, you can prepare amazing focaccia bread to amaze everyone.
Wait, how can cookies be categorized as a side dish? Aren't cookies supposed to be desserts?
You're right – these cookies can be served as both an excellent Italian-based dessert and a side dish. When enjoyed as dessert, they go best with wine. When served as a side dish, they're fantastic with stew.
One fantastic thing about these Italian parmesan cookies is that you don't have to spend too much time preparing the ingredients. With only three basic ingredients, you can whip up a hearty batch of delicious parmesan cookies for the whole family.
No matter who you serve these Italian bruschettas to, I'm certain they will be blown away by their delicious flavors. The juicy tomatoes, savor mozzarella, and crispy baguette is more than enough to completely knock everyone off their feet.
The best thing about bruschetta is that they can go with virtually any Italian dishes. Whether you're whipping up spaghetti bolognese, beef lasagna, fettuccine, or ravioli, feel free to serve Italia bruschetta as the side dish.
Soups
What are authentic Italian side dishes that can make your meal extra cozy and welcoming? That's right; the answer is hot, steamy soups.
A great dish in Italian soup ideas that works for busy people, this Italian minestrone soup will make canned vegetables taste as if they were freshly harvested. Featuring mainly vegetables, this savory soup is delicious, healthy, and vegan-friendly. Talk about the perfect meal!
Wondering what you should serve minestrone soup with? If you're feeling uncertain, the safest choice you can consider is roasted chicken. After all, chicken and soup always go perfectly well together. Another great dish to pair minestrone soup with is scrumptious pizzas.
Suitable for all kinds of weather, pappa al Pomodoro can be served either hot or warm. Aside from tomatoes, this delicious soup also features various ingredients such as parmesan cheese, onions, chicken stock, and various herbs.
Now, the simplest way to enjoy Pappa al Pomodoro is to dip it with bread. However, did you know that Pappa al Pomodoro is a great side dish for potluck or grill parties? I'm serious – the light flavors of this Italian dish will surely cleanse your palates between heavy dishes.
You don't need to wait until weddings to enjoy this out-of-the-world Italian soup. In fact, this soup doesn't gain its name from being served only at weddings. Its romantic name is actually derived from how the ingredients are a perfect match for one another – just like couples at weddings.
As you may guess from my description, the key behind a delicious bowl of Italian wedding soup is the perfect balance between ingredients. Fortunately, as long as you're following the recipes closely, you'll have guaranteed success with this seemingly complex side dish.
Nutrition Facts
6 servings per container
---
Amount Per ServingCalories238
% Daily Value *
Total Fat 17.1g

27

%
Cholesterol 30mg

10

%
Sodium 499mg

21

%
Potassium 151mg

5

%
Total Carbohydrate 5.8g

2

%

Dietary Fiber 0.8g

0

%
Sugars 2.6g

Protein 16.6g

32

%
---
* The % Daily Value tells you how much a nutrient in a serving of food contributes to a daily diet. 2,000 calories a day is used for general nutrition advice.