If you are a loyal fan of healthy eating styles, I am sure Spanish side dishes will effectively satisfy your reasonable desire. For those who love protein meals, you will find the ultimate balance with the addition of Spanish sides.
There are tons of veggies and fruits included in Spanish treats that will complement meaty main courses and bring you a healthy diet.
In addition, moderate amounts of cheese, seafood, red meat, and nuts are used in Spanish-styled sides. This will help reduce the risks of health problems like obesity, diabetes, and cardiovascular diseases.
Even if you aren't good at cooking, the Spanish side recipes are not tricky at all! You don't have to prepare many ingredients.
Instead, some eggplant and bell peppers are enough for you to make an addictive roasted veggie dish. So, simple cooking methods are a plus you will love!
For these convincing reasons, it is completely worth taking a trip to 26 beautiful Spanish side ideas! Now, let's dive into them and bring some favorites to your home meals.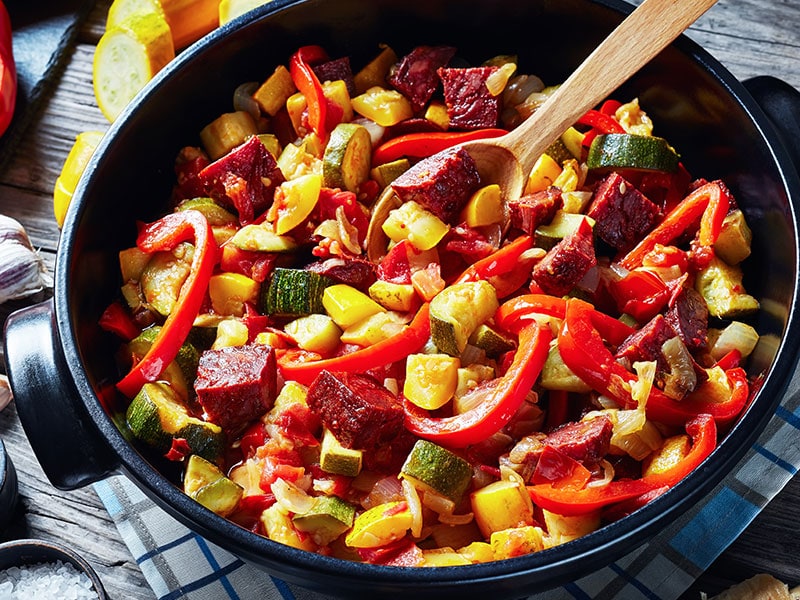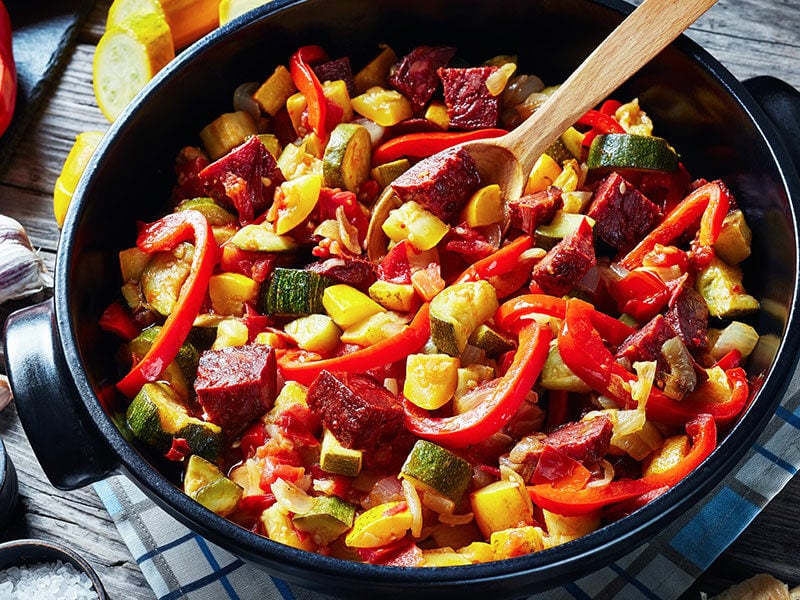 For those who usually undergo busy days, you will not go wrong with traditional 26 Spanish side dishes.
Spanish-Inspired Salads
Ensaladilla Rusa (Spanish Potato Salad)
Bean Salad
Ensalada Mixta (Spanish Mixed Green Salad)
Pipirrana de Jaén (Tomato Salad Of Jaén)
Broccoli And Prawn Salad
Spanish Chickpea Salad
Soup And Stew Recipes
Menestra De Verduras (Spanish Vegetable Soup)
Pisto
Zucchini Soup
Chorizo Soup
Garden-Fresh Gazpacho
Spanish Sauces and Dips
Mojo (Spicy Latin Sauce)
Spanish Black Olive Tapenade
Almogrote Recipe
White Bean Dip
Baked Side Dishes
Mallorcan Tumbet
Escalivada ( Catalan Roasted Vegetables)
Patatas Bravas
Pan Con Tomate
Smokey Spanish Potatoes
Spanish Style Oven-Roasted Tomatoes
Baked Brown Rice
Stir-Fried and Fried Side Ideas
Patatas a lo Pobre (Poor Man's Potatoes)
Champinones Al Ajillo (Spanish Garlic Mushrooms)
Fried Calamari
Padron Peppers Recipe
If you love something hearty and light, some soups and stews will be fine. In case you are craving some smoky flavor, just find out your favorites among baked Spanish side recipes. Also, many other options are waiting for you to discover!
Spanish-Inspired Salads
Salad is one of the most versatile side dishes that can be prepared quickly and then fit well with various main courses. Just store in your mind the following Spanish-inspired salads!
There is no doubt that potato salad is a big hit of all time due to its deliciousness and versatility to be matched with a variety of main courses.
The Spanish-styled potato salad also comes with the typical starchy and creamy taste of potatoes and mayonnaise. The ingredients making it are quite different from the regular one.
It is a seasoned salad bowl of potatoes, boiled eggs, carrots, canned tuna, and cooked peas. You can also substitute them with shrimp, roasted peppers, and pickles if you like.
The recipe's title indicates the main ingredient of the salad is beans, so that it would be a healthy and perfect vegan dish. The salad is so simple and just takes you a couple of minutes to make.
The green mixture tossed with a savory and refreshing dressing will brighten up every gentle bite in your mouth! You can let it chill in the fridge for a cool serving as a light meal or side dish.
Some leftovers after the meal are not a big problem because the salad soaked up with its vinegar sauce tastes even better at the next lunch or dinner.
A colorful salad with tons of veggies will surely be a crowd-pleaser you should not miss! It is so attractive thanks to both appearance and fresh flavors.
Besides two common salad ingredients: onions and tomatoes, this mouth-watering treat calls for white asparagus and artichoke hearts with some diced olives and canned tuna.
All of them will be folded with a simple but super tasty salty oil and vinegar mixture. Serve the salad with some bread for a favorite taste!
This video will show you how to make a mixed green salad.
If you have some eggs and tomatoes on hand, making a delightful Spanish salad is at your reach! Although it calls for simple ingredients, you need to undergo some cooking steps for a delicious salad.
The Mayonnaise-inspired egg mixture is the special note of this recipe. It is simply mashed egg yolk and green pepper mixed with virgin olive oil and salt.
This rich dressing will be blended with pureed tomatoes, canned tuna, and chopped egg whites. That's easy, right!
The blending of cooked shrimp and poached broccoli in a lemony and tangy salad will be a nice match from heaven!
When making the salad, you need to boil the broccoli for an attractive green color and tender texture, which will determine the deliciousness of the side dish.
Various vegetables will be presented in the salad as surprising gifts for everyone! No cheese no mayonnaise is required in this recipe, but this treat will satisfy you no less than a creamy salad.
This is a popular salad from Spain. It can be served year-round due to its simplicity. When using canned chickpeas, the recipe takes you about 15 minutes to prepare and put all the ingredients together.
In case you do not have canned beans on hand, the raw one would be fine. However, you need to soak up the beans in water in advance and then cook them for hours for a tender texture that is ready for making the salad.
The important component of this recipe is the homestyle savory vinegar dressing that gives the chickpea mixture a fresh and addictive flavor. The salad is perfect to be served cool, especially on hot days.
Are you ready to wow your whole family with some chickpea salad? You can see this video to know more:
Soups and Stews
In this section, I'll introduce several soup recipes to bring some Spanish flavors to your home! These nutritious soup and stew recipes are always among the top choices of comforting meals.
The traditional Spanish dish has many variations depending on the regions of Spain and different vegetables put in the recipes.
The hearty veggie soup is usually served in main meals during cold days. The warm treat with a bustling of Mediterranean flavors will surely bring you to heaven!
You will never find any bland veggies in this soup that will be wonderful to be served with steamed rice at the dinner table.
Originating from Murica of Spain, this classic Spanish dish is a savory stew packed with colorful vegetables. However, some would say that it looks like an appealing sauce rather than a stew due to its thick consistency and vivid red color.
At the first look, all the veggies are cooked well and absorb the soup content, so it will be a promisingly beautiful side for any comforting meal.
The crushed tomatoes will create a nice appearance and also a desired texture for the stew. So simple but super palatable!
The meatless and oil-free zucchini soup is perfect for healthy vegan diets and those who do not like soups containing much oil. In this recipe, chopped potatoes will be cooked well to bring a thick soup consistency.
In addition, the potato content will make your soup creamy naturally without the need for milk, heavy cream, or cheese. The zucchini is also minced before it is put in the soup.
Everything will be simmered thoroughly with seasonings and a touch of herbs for a puree-like soup mixture that will rock your world!
If you love adding some protein to a favorite Spanish-inspired soup, you will not go wrong with this recipe. The recipe requires Spanish chorizo sausage, one of the most popular chorizo types, but you can substitute it with chicken sausage if you don't like pork. It's optional.
The drained lentil, chopped veggies, herbs, and spices will be simmered in a seasoned soup mixture that is thickened with some flour. This tasty combination is accentuated by chorizo's alluring nature. If you like a more hearty soup, you can cook it with vegetable, chicken, or beef stock instead of water.
This soup recipe requires no cooking. I know it sounds weird, but it actually works well on summer days when you don't want much heat in your kitchen.
The veggies like tomatoes, stalks, peppers, onions, and others will be pulsed into chunks with a food processor.
The green soup with an explosion of herbs will be served cold with some fresh corn, avocado, or sour cream topping.
Just cool down your hot summer with some fresh gazpacho. You can see this video to know more:
Spanish Sauces and Dips
Consuming sauces and dips is a comforting and fun way for you to enjoy typical ingredients from Spain. You can find spicy, creamy, or nutty recipes meeting your preferences!
When you want to bring some unique Spanish flavor to your home cooking, the simple sauce will satisfy your desire!. All of the herbs will be blended well to create a pureed mixture with stunning green color.
For serving, dip some bread or chips into the zesty and fresh sauce for the best result. This sauce also makes an amazing side dish for BBQ parties. You can also drizzle the puree over cooked rice for a delicious meal.
The time-saving dip just takes you a couple of minutes to make, so you should prepare the sauce when dishes call for it so that you can enjoy its most freshness.
Now, you will come back to a common ingredient of Spanish cuisine. It is olives that are usually presented in salad and soups. And now, it will be used to make one of the most addictive dipping sauces from Spain.
Once you check whether olives can get rancid, the cooked shallots and black olives will be ground into a paste, sweetened with some honey, and then flavored with salty balsamic vinegar. The savory and sweet treat is commonly spread over sandwiches or topped green salads.
For those who are big fans of cheese, I'm sure this recipe will not make you disappointed! The Almogrote recipe has a rich taste of goat's cheese, garlicky flavor, and a slight spiciness from dried Choricero pepper.
All the ingredients will mix well in a dense and smooth dipping texture that can be spread over bread. Such a unique and appealing treat!
If you are craving a quick lemony and creamy dipping, this recipe is right for you! Ideal as both a side dish and snack, white bean dip can also be a great Spanish dish to serve during the courses. To enhance its flavors, you should pair it with tortilla chips, veggies, or sandwiches.
To make the dip, you will grind the mixture of beans, tahini, lemon juice, garlic, salt, and water with a food processor or blender. Then you top the paste with some whole or chopped Hojiblanca olives before it is ready for serving.
Take one more step into this visual direction in making white bean dip!
Baked Side Dishes
Whenever you are disinterested in baked or grilled meat recipes, just substitute them with Spanish-styled baked side dishes. Their refreshing flavors will bring you sound meals!
This baked recipe contains fried vegetables tossed with a garlicky and spiced-up tomato sauce. You will start with frying salty eggplant slices and then sliced potatoes. After that, you continue with bell peppers.
All the veggies will be lined into a baking dish in separated layers. It is topped off with savory tomato sauce before being baked until the top turns brown. The baked veggies will go well with roasted meat recipes.
This is another version of Mallorcan vegetable bake that doesn't require tomato topping. Instead, the baked veggies incorporated with garlicky and savory vinegar dressing will bring you a new favorite!
The eggplants, bell peppers, and onions will be baked and then removed skin. This will allow the vegetables to fully absorb the dressing flavors.
No words can be used to describe this beautiful taste!. Just try it once, and you will know the surprising result!
Now, roll up your sleeves and head to your kitchen for some escalivada! You can see this video to know more:
The patatas bravas is baked potatoes coated with fragrant salsa brava and a touch of spiciness and creamy garlic aioli.
For the most desired crispiness, firstly, you need to boil the diced potatoes for 1 minute in the mixture of baking soda and water.
Then, the drained potatoes will be coated with olive oil, salt, and pepper before it comes to the baking time. Just prepare a big batch of the baked potatoes to wow your whole family!
It's time to turn leftover bread into something much more special with a garlicky tomato topping. This would be a quick appetizer for every lunch or dinner. You can make this side in two different ways.
For a time-saving treat, you will rub the garlic and the cut side of tomato over toasted bread. Next, top it with some salt and olive oil for serving.
For the second option, you need to prepare a topping with grated garlic and tomatoes that are seasoned with oil and salt.
Are you looking for step-by-step instruction for making pan con tomate? You can see this video to know more:
The Spanish baked potatoes with a crispy outside texture and creamy starch inside will surely please your family members! It is a wonderfully delicious side of any roasted meat or seafood main course.
The secret ingredient of this recipe is the Spanish paprika that will bring the treat a little bit of spiciness and bursting of smokiness that will be your favorite taste!
When the baked potatoes are done, squeeze some lemon over them for a refreshing taste!
The halves of baked tomatoes will be loaded with goat-cheese-style vegan cheese and seasoning mixture.
It seems to be simple in both presentation and flavors, but it would be a perfect taste combination! In case you don't really like the cheese topping, garnish the chopped parsley over the tomatoes is fine enough.
Start your meal with a batch of oven-roasted tomatoes! You can see this video to know more:
It will be a big mistake if you don't add some rice side to your full meals! The Spanish-styled brown rice will be cooked in an oven rather than a rice cooker. It is such a creative cooking method, right?
In comparison with white rice, brown rice needs more cooking time, but the result of tender and fluffy rice will not betray your expectations! For a better taste, you can season the cooked rice with some salt and pepper.
Spanish Stir-Fries and Fries
When being compared with other kinds of Spanish sides, the stir-fried and fried recipes contain more cooking oil. However, just try the following side dishes once, and you don't have to complain about any greasy treat!
I guess you are curious about the special recipe's name. Actually, there is no official explanation for it. However, you can understand this is an extremely affordable treat for the poor.
The potatoes will be cooked with sauteed green peppers, onion, and garlic and then seasoned with some salt. The slightly sweet and starchy simmered veggie dish is a lovely side for any full meal!
If you are planning a home party, you can prepare some Spanish-style sauteed mushrooms that can be paired well with most main dishes. The addition of some lemon juice and dry sherry will help highlight the bright flavor of the sauté.
To neutralize the earthy and spiced-up mushrooms, drink some beer, red wine, or refreshing cocktails from Spain. Their combination will make you unable to stop!
You can see this video to know more:
The crispy sliced squid with a tender texture will be a big hit for every crowd! The thick slices of squid will be coated with flour batter made of all-purpose flour, spices, and seasonings.
To make the batter thicker with the favorite crispiness, you can dip the applied-flour squid into a beaten egg mixture and then one more layer of flour.
The single ingredient you need in this recipe is Padron peppers. When being cooked, the peppers will become piquant, sweet, and slightly nutty. They will not be too spicy for you to consume.
You have four different cooking methods, including deep-frying, pan-frying, oven roasting, or grilling for this simple treat, which will depend on whether you want to cook them with much cooking oil or not.
Start Your Healthy Diets With Beautiful Spanish-Inspired Sides!
I know many of you sometimes think of healthy eating styles, but you don't know where to start. In addition, the busy daily life does not give you enough opportunities to prepare balanced meals that are the key point of a healthy life.
For example, when coming back home after a long working day in the office and checking out your fridge, you find some steak or salmon. Then, you come up with the cooking idea of pan-searing the meat.
However, you don't know what to do with some potatoes, tomatoes, and other veggies in your fridge. Then, Spanish side recipes can be among your top choices.
Whether you choose the soup, salads, or stir-fried dishes, they all provide your dinners with some fiber. It is amazing, right!
Last but not least, if you have any Spanish side ideas, please feel free to share them with me below this post. When finding what I share useful to you, just drop me a like or share to support me!
Nutrition Facts
8 servings per container
---
Amount Per ServingCalories151
% Daily Value *
Total Fat 12.6g

19

%
Sodium 612mg

26

%
Potassium 370mg

11

%
Total Carbohydrate 10.6g

4

%

Dietary Fiber 3.6g

12

%
Sugars 4.1g

Protein 1.9g

2

%
---
* The % Daily Value tells you how much a nutrient in a serving of food contributes to a daily diet. 2,000 calories a day is used for general nutrition advice.