Greek breads are an important aspect of Greek cuisine. Have you ever been curious about the gastronomy of this country? If the answer is "yes", don't skip this article because these types of Greek bread will tell you how unique this country's food can be.
Greek bread is not simply cake made with flour they are the perfect combination of the specialties of this country. After going through this post, you will know different types of bread, the ways to make them, and how to enjoy them for the best taste. Let's check it out!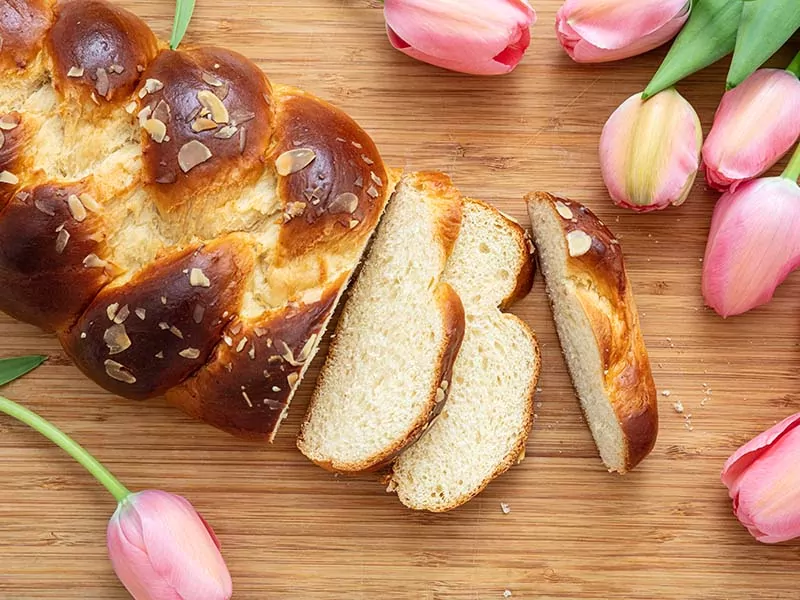 Diversify Your Next Meals With Different Types Of Greek Bread
Do you need some interesting suggestions for your quick meals? They are not only delicious but also healthy enough to boost your energy. These types of Greek bread will give you the answer.
Total time: 1 hour 45 minutes.
Let's start with a very simple recipe, Eliopsomo, also called Greek olive bread. Eliopsomo is one of the most loved breads in Greek cuisine. The ingredients used for Eliopsomo are also similar to those of other regular types of bread.
However, Kalamata olives are an ideal flavor booster in this recipe. It is a typical Greek olive that is only grown in the Peloponnese Peninsula in Greece.
Kalamata makes your baked goods more aromatic and delicious. You will feel these slices of bread are very crispy outside but still keep the soft-textured inside.
If you like a more creative version of Eliopsomo, you can add some feta cheese and sundried tomatoes to this delicacy. This bread goes perfectly with your favorite Greek cheeses such as feta cheese, olives, dips, or even a cup of coffee.
You will know the easiest way to make Eliopsomo at home through this tutorial.
Total time: 1 hour 45 minutes.
People often know Lagana as a type of bread made for Pure Monday, a day to signify the beginning of the Lent period in the Greek Orthodox tradition. If you want to enjoy this wonderful bread, you have to travel to Greece at this time.
However, why do you have to do that when you can make it at home? All you need to prepare is water, yeast, sesame seeds, flour, and some other ingredients. But I also suggest you add dried tomatoes, rosemary, and olives to make your bread more attractive.
Lagana is typically flat and oval. Moreover, there are small dimples on the surface caused by pressing your fingers into the dough. The bread is airy, soft, and fluffy with a rich and comforting flavor.
It will be a wonderful option for appetizers to enjoy. You can also pair it with some typical Greece-made dishes such as Taramosalata (Greek fish roe dip), Melitzanosalata (Greek eggplant dip), olives, or other lenten foods.
Total time: 3 hours 30 minutes including baking time.
Horiatiko Ppsomi, known as "the Greek country bread" is one of the most beloved types of bread in Greece. This bread appears to contain a few simple ingredients such as bread flour, milk, honey, yeast, etc.
This nice combination results in delicious loaves of bread with a unique flavor and texture. Its unique flavor derives from the perfect blend of olive oil and honey.
Moreover, Horiatiko Psomi is a dense and crusty type of bread with a delicious taste that is similar to sourdough bread.
It's a good idea if you serve Greek village bread as an accompanying dish with feta cheese, sliced ripe tomatoes, and olives.
Making Greek village bread will be easier than ever if you follow these instructions.
Total time: 50 minutes.
If you are looking for a tasty Greek-style side dish, an appetizer, or even a snack, Tiropsomo is here to solve your problem. The main ingredient used in this recipe is feta cheese, one of the most consumed cheeses in Greece.
However, the taste it can bring will delight you. Tiropsomo is a soft bread with a creamy and tangy filling. Such a perfect blend, right? This type of bread will bake until golden brown. Although its appearance is not outstanding, its robust flavor will score with you the first time.
It's up to your preference if you want to enjoy this dish alone. However, I advise you to serve it with Fasolada (Greek white bean soup) and olive oil. You will be attracted by this perfect combination.
Total time: 3 hours 5 minutes.
A very important component of every Greek meal is something you can use to describe Greek Pita bread. For this recipe, you also use some easy-to-find ingredients such as bread four, water, virgin olive oil, yeast, etc.
To have those mouthwatering slices of bread, all you need to do is prepare your pita bread dough and shape them into circles. After that, cook them in the skillet for about 1 minute on each side and wait for your amazing results. Easy as a piece of cake!
It not only has a perfect texture but its taste also fascinates you. This type of bread is soft and fluffy with a golden brown exterior. It smells fragrant as a garden of herbs and fruits, with a delicious flavor in the air.
Greek pita bread is an ideal side dish. You can pair it with a variety of Greek dishes such as feta cheese dip, Tzatziki (Greek cucumber yogurt sauce), or Fava (yellow split pea dip).
Total time: 2 hours 10 minutes.
If you are looking for a delicious treat for a Greek vegetarian diet, Ladenia is a great idea for you. This type of bread originated from Kimolos, an island in Greece.
It looks like a pizza with a few ingredients like tomatoes, oregano, plain flour, olive oil, etc. You just need to prepare the dough and the toppings to have a delicious Ladenia. However, its taste will amaze you. Ladenia is a little sweet thanks to tomatoes and slightly salty.
You can make Ladenia in a round or a rectangular shape, depending on your preference. It's a little sweet thanks to the inclusion of tomatoes and has a soft as well as fluffy center. You can serve it with some eggs or dip it into a stew.
Don't skip this tutorial because you will discover the best way to make Ladenia.
Total time: 50 minutes (plus 30-40 minutes of resting time).
Tsoureki, also known as Greek Easter bread, is a treat that you shouldn't miss on this list. This type of bread will surprise you with its interesting appearance. It is decorated with brightly red-dyed Easter eggs, which will attract you at first glance.
Traditionally, this kind of bread is only served at Easter, but thanks to its delicious taste, Tsoureki has become more and more popular throughout the year. It not only has a beautiful brown semi-soft crust but also possesses a soft and fluffy texture.
Moreover, Tsoureki scores a big win with its aroma of citrus and aniseed, together with the sweetness. All these things give it a unique taste, and you don't have any reason to skip this recipe.
You can enjoy this wonderful bread as an ideal treat for a Greek-style breakfast or as a midday snack. An accompanying touch of coffee or tea will enhance your appetite.
Total time: 1 hour 45 minutes.
A type of bread that is suitable for any time of the day, Tiganopsomo is the best choice for you. It is a classic Greek dish that is very easy to make. This delicacy uses yeasted dough, olive oil, graviera cheese, and feta.
This Greek bread is round in shape and has an extremely attractive golden color. Moreover, the center is delicious and filled with fatty melted cheese, which will make you want to try it again.
You will get the taste of Tiganopsomo at its peak when it's still warm. Moreover, you can also serve it with some Greek salads and Tzatziki. This wonderful blend of flavors will delight you magnificently and provide you with an amazing experience of Greek cuisine.
Total time: 2 hours 10 minutes.
Vasilopita is traditional Greek bread. An interesting thing about Vasilopita is that it is often served on New Year's Eve to celebrate the life of Saint Basil, a great priest who served the Church as an archbishop of Caesarea in Cappadocia, Turkey, in the 4th century.
He is remembered for his contributions to monastic life and is known as the father of communal monasticism in Eastern Christianity.
After this type of bread is cooked, people insert a coin into its base. It is believed that the first person to find the bread with the coin will be the luckiest person of the year.
Vasilopita is not only visually satisfying, thanks to the decorative pattern on the top of each loaf, but it is also very delicious, sweet, and moist. Moreover, the blend of eggs, milk, and orange zest add a depth of flavor to Vasilopita.
Is making Vasilopita as easy as you think? Let's check it out!
Total time: 1 hour 10 minutes.
If you want to make homemade bread to enjoy but you don't have a bread machine, don't worry because Psomi Spitiko (literally "homemade bread") is a good option for you. You can make it entirely by hand if you want.
This easy recipe uses yeast, bread flour, lukewarm water, and olive oil. You can also add some sesame seeds to the surface before baking them.
The texture of Psomi Spitiko closely resembles that of Horiatiko Psomi; however, that of Horiatiko Psomi is a bit denser. Psomi Spitiko is flavorsome and wholesome but not too sweet. Don't miss this easy recipe because it's a great make-ahead bread idea for you.
Total time: 1 hour 45 minutes (including 1 hour of resting time for the dough).
Koulouri Thessalonikis is one of the most popular Greek street foods that you should try once in your life. This bread variety is present on every corner and every bakery in Greece.
You can find some typical ingredients in the making of this bread, like flour, sesame seeds, dried yeast, etc. This mixture will create delicious bread ring-shaped that is covered with toasted sesame seeds.
To have the visually satisfying shapes of Koulouri Thessalonikis, you should prepare the dough and divide it into small portions. After that, you need to flatten them and shape them into circles.
It is crispy outside but soft and chewy on the inside. Koulouri is an ideal choice for any time of the day. You can serve it with butter, feta cheese, honey, jam, etc. The blend of their flavor will make you want to make it again and again.
Total time: From 50 minutes to 1 hour 10 minutes.
Greek Yogurt Pumpkin Bread will stimulate your taste buds with its earthy and sweet flavor. This wonderful recipe only includes some simple ingredients such as flour, pumpkin, Greek yogurt, eggs, etc.
This wonderful Greek yogurt-included treat is very straightforward to make. You just need to mix the ingredients together, then bake them at 350 degrees Celsius for about 1 hour. When it's out of the oven, you will have delicious slices of bread to enjoy.
These baked goods are not only sweet and flavorful but also very good for your health. It contains a variety of vitamins, minerals, fiber, copper, etc. If you want yummy bread that contributes to improving the eyes, heart, and skin health, don't miss this type of bread.
Total time: 1 hour 15 minutes.
Do you want to try these delicious little honey-covered donuts? Loukoumades are an ideal option for you. To have these scrumptious donuts, you need to create a soft dough by combining yeast, honey, butter, and eggs.
The next step is to shape the dough into small balls and drop them into the oil to cook. The results are desirable. While those donuts have a golden, crispy exterior, the center is fluffy and airy. They are small balls with a seductive honey flavor.
You can enjoy this traditional delicacy as a wonderful Greek dessert for Greek salad, Moussaka (Greek eggplant Lasagna), etc.
Follow this guide, and you will be surprised with your homemade Loukoumades.
Total time: 4 hours 25 minutes.
Paximadi Kritiko, also known as Greek barley rusks, is an ancient twice-baked bread. It is one of the traditional specialties from Crete, the largest island in Greece. It is a product of bread made with barley flour, wheat flour, yeast, and other necessary ingredients.
Greek barley rusks derive the slightly nutty and earthy tang flavor from barley flour, making it tastier than ever. However, this kind of bread is also crunchy because it is baked twice. That's also the reason why Paximadi can be preserved for a long time.
You can serve it as a breakfast or a snack. Using it as an accompaniment with soups, sauces, casseroles, and salad is also an ideal option to improve your appetite.
First Try Greek Bread, Then Love Them
Bread is a type of fast food that is very convenient for everyone. However, many people worry that they are not nutritious enough. Have the Greek breads I just introduced changed your perception of this fast food?
You not only serve these Greek specialties as a snack or a breakfast, but you can enjoy them as a main course or a side dish at any time of the day. Is that interesting enough?
If these delicacies are useful for your family meals, don't hesitate to give this post a "like" and share it with your friends. If you have any comments or feedback about this post, feel free to leave a comment. Thank you for reading, and have a nice day.
Nutrition Facts
6 servings per container
---
Amount Per ServingCalories330
% Daily Value *
Total Fat 2.4g

4

%
Sodium 390mg

17

%
Potassium 41mg

2

%
Total Carbohydrate 61.8g

21

%

Dietary Fiber 0.4g

0

%
Sugars 3.4g

Protein 11.7g

22

%
---
* The % Daily Value tells you how much a nutrient in a serving of food contributes to a daily diet. 2,000 calories a day is used for general nutrition advice.