British drinks and English drinks are truly spectacular. These incredibly refreshing beverages will not only satisfy your thirst, but they can also help you discover new things about this country's cuisine culture.
Because there are countless delicious drinks in the UK, the never-ending drink menus might exhaust you. So here's a quick rundown of the most popular alcoholic and non-alcoholic beverages that you can't ignore during your trip to this lovely country. Enjoy!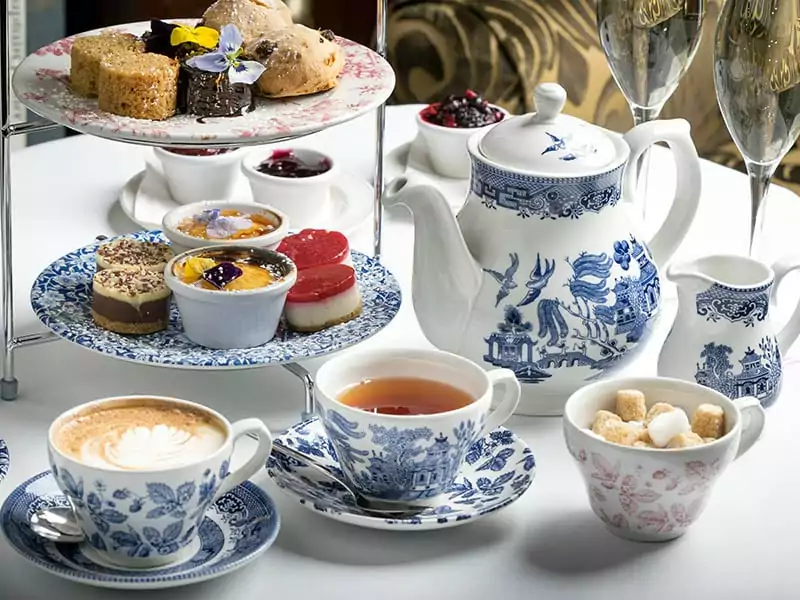 British Non-Alcoholic Drinks
British Non-Alcoholic Drinks present a refreshing beginning to our exploration. Beyond the renowned teas, Britain boasts a myriad of delightful and wholesome beverages you should sample during your journey through the land of hope and glory. Dive in to discover these must-try options!
1. English Breakfast Tea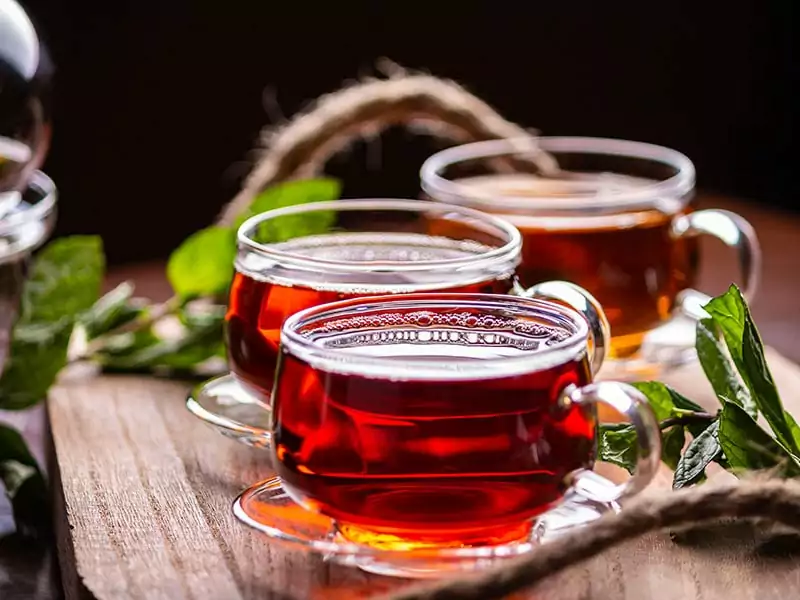 Although the origin of this tea variety is unclear, English breakfast tea is undoubtedly one of the most well-loved drinks in the United Kingdom. It usually comprises a black tea mix of Assam, Ceylon, Chinese, and Kenyan.
This robust, full-bodied tea tastes excellent with milk and sugar. You can enjoy this drink while eating a plate of Full English Breakfast – one of the most popular dishes in England.
According to some locals, a Scottish tea expert named Drysdale developed this iconic drink in 1892. Although this is technically a Scottish-based bevarage, people still call it "English breakfast tea". Keep in mind that this name originated in America during colonial times, not England.
Where to find it: At almost every cafe, restaurant, and dessert shop in England. You can also buy dry tea from the supermarket and make your own.
2. Earl Grey Tea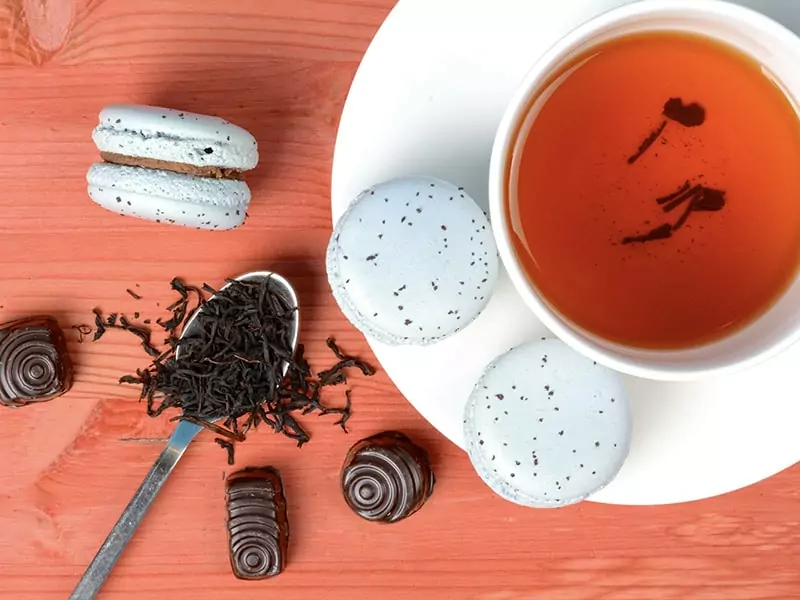 Of course, I cannot make a list of British drinks with only one type of tea. Earl Grey tea is another iconic tea made with black tea and bergamot oil as a flavoring.
Bergamot-flavored teas have been around since 1824. However, the name "Earl Grey" was not mentioned in any article back in the day. Many people believe this tea got its name from Prime Minister Charles Grey, but this theory is still under debate.
Traditionally, the locals brew Earl Grey with Chinese Keemun tea and drink it without milk. But nowadays, many tea companies have started to use stronger teas to produce Earl Grey, making the drink more suitable with milk or cream.
Earl Grey is available in loose tea leaves or tea bags, and it produces a slightly tannic tea with powerful lemony bergamot scents. Overall, it is a definite must-have in this country.
Where to find it: Similar to English breakfast tea, it is available in every cafe, restaurant, and dessert shop in England.
3. Ovaltine & Horlicks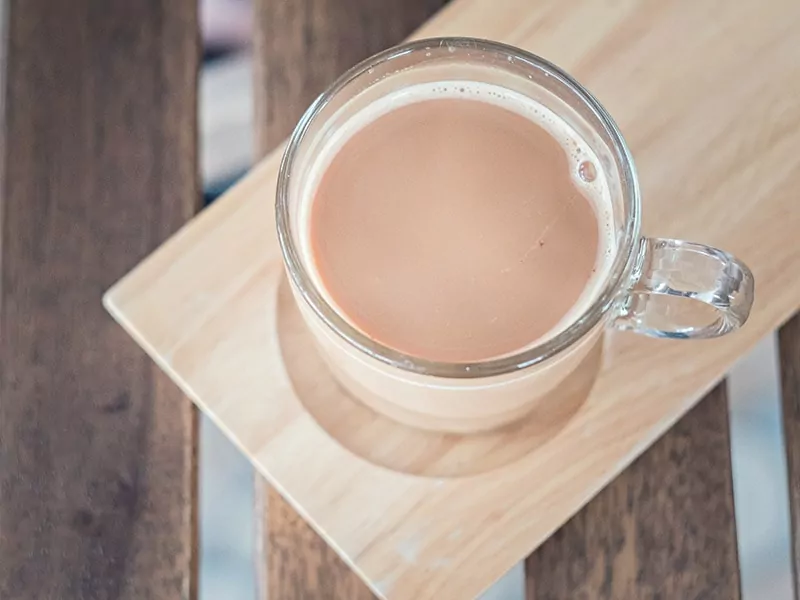 Every British kid's childhood is full of Ovaltine or Horlicks. They are malt-based beverages created with hot milk. Although these brands have no link whatsoever, they are equally delicious, comforting, and good for your health.
Despite their popularity in the United Kingdom, Horlicks actually came from the United States, whereas Ovaltine came from Switzerland.
British youngsters usually drink a hot cup of Ovaltine or Horlicks right before bed, either to warm themselves up during the winter months or to facilitate sleep.
Ovaltine and Horlicks are considered nutritious drinks since they both provide necessary nutrients, vitamins, and minerals. However, they also contain lots of sugar, so adults should treat them like a hot chocolate drink instead of a daily nutritious drink.
Where to find it: Nearly every supermarket and convenience store around the UK.
4. Squash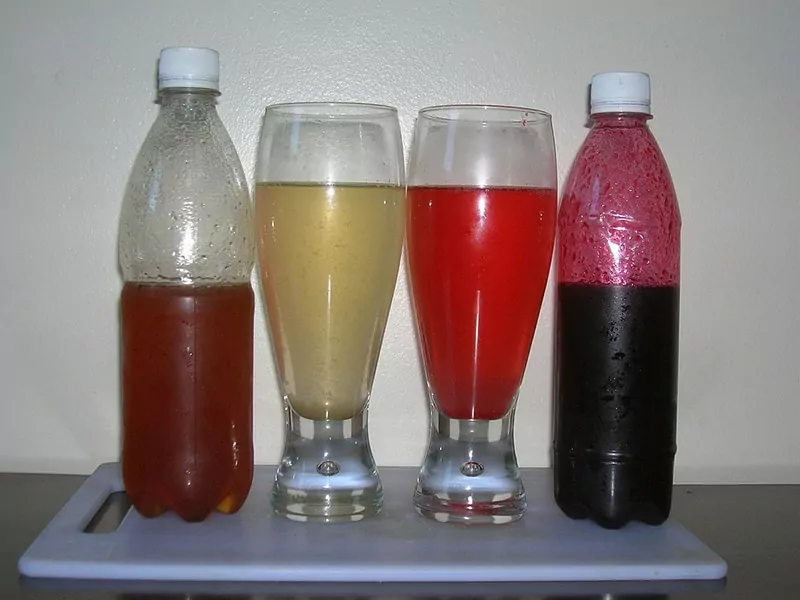 When it comes to British cuisine, Squash is not just a kind of vegetable but also a concentrated fruit-flavored beverage mixed with water. Some bartenders will combine it with alcohol to make a cocktail.
To make Squash, locals will mix this concentrated fruit syrup with water or carbonated water. The syrup to water ratio is usually 1:4 or 1:5, with the Squash tasting blander as it is diluted.
In the United Kingdom, Squash is frequently made with blackcurrant, elderflower, and different types of citrus fruits. There are countless brands of fruit Squash in England, but the most common one is Robinsons.
Where to find it: Every supermarket and convenience store around the UK. You can also order it online.
5. Vimto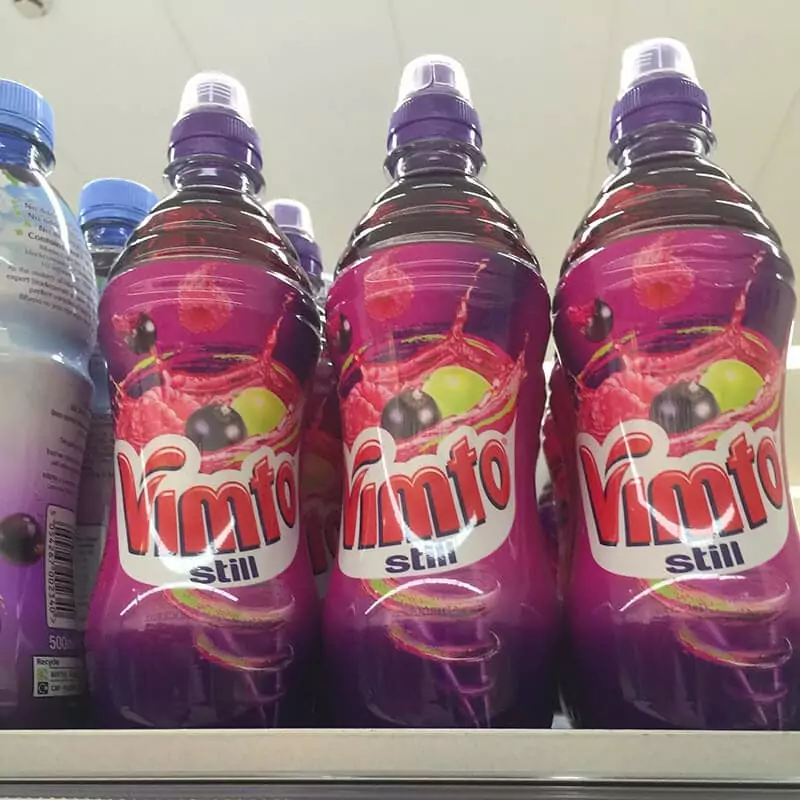 In the mood for a fizzy drink? Just grab a can of Vimto and enjoy! This soft drink was initially introduced as a cordial health tonic in Lancashire, England. However, it was categorized as a carbonated drink decades later.
Vimto comes in cans and bottles, as well as as a draught soft drink at bars. The manufacturers even turn it into fun British desserts like lollipops or candy sprays.
This fizzy soft drink contains grapes, blackcurrants, raspberries, along with a variety of herbs and spices. John Noel Nichols created the original recipe for Vimto in 1908, but it still maintains its popularity until this very day. It is distributed throughout the world, especially in Saudi Arabia.
Where to find it: Every supermarket and convenience store in England. You can also find them at the local bars.
6. Ginger Ale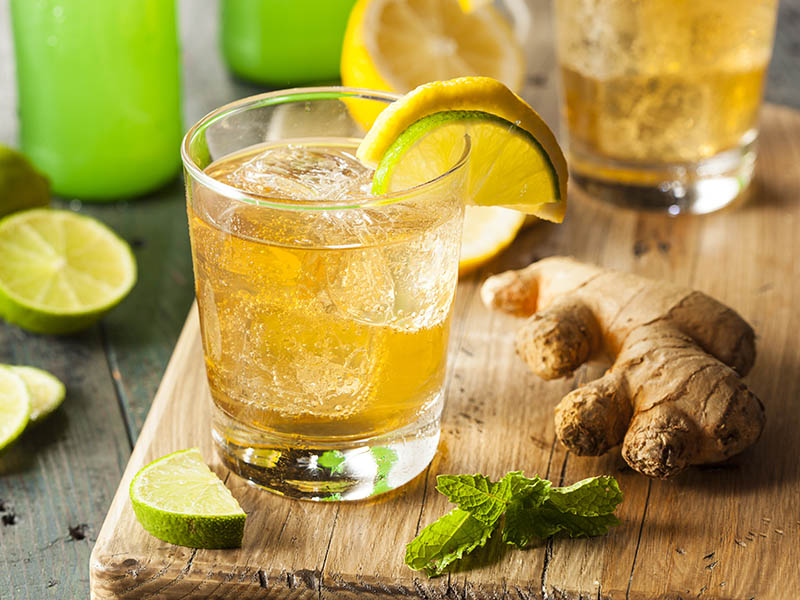 Even if you can't visit England, drinking Ginger Ale is a terrific way to transfer yourself to a local pub. This popular beverage is a ginger-flavored carbonated soft drink. Locals usually drink it on their own or mix it with other spirits-based beverages.
Besides being an excellent non-alcoholic substitute, Ginger Ale can also be used as a stomach pain palliative. Many people believe it can help with indigestion and motion sickness, as well as coughs and sore throats.
Ginger Ale is divided into two categories: dry and golden. The first beverage came from Canada as it was invented by a Canadian pharmacist, John McLaughlin. As for the latter, an Irish doctor, Thomas Joseph Cantrell, created it.
Where to find it: At bars, pubs, and restaurants in England.
7. Ginger Beer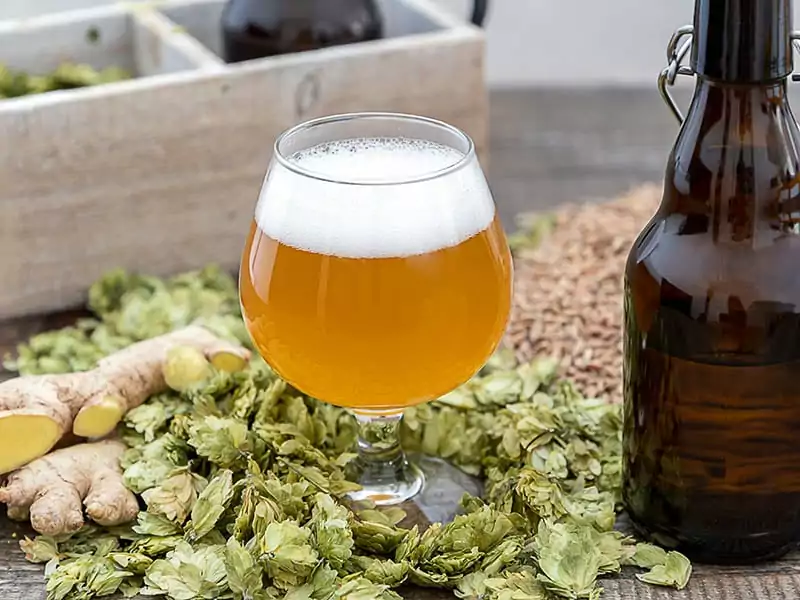 Enjoy the taste of Ginger Ale? Give Ginger Beer a try as well! Despite being called "beer", it is actually a sweetened, carbonated non-alcoholic beverage. Many commercial Ginger Beers now contain less than 0.5% alcohol.
The carbonation in Ginger Beer is a natural response generated by the brewing process. Nonetheless, Ginger Beer is less carbonated than Ginger Ale.
The roots of Ginger Beer may be traced back to the colonial spice trade with the Orient and the Caribbean's sugar-producing islands. It became a typical drink in Britain and its colonies in the 18th century.
Back in the day, locals used to brew Ginger Beer by fermenting ginger spice, sugar, and yeast. This drink can be blended with different types of alcohol to make cocktails like Dark 'N' Stormy or Moscow Mule.
Where to find it: At many bars, pubs, and restaurants across England.
8. Lucozade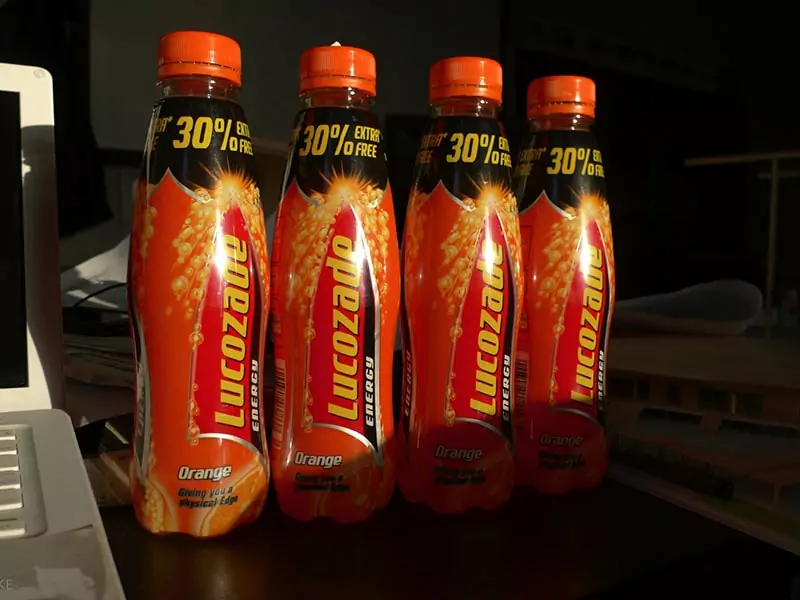 Before the 1980s, this drink was first sold in pharmacies as an energy drink for sick people. British parents used Lucozade as a type of medicine and prescribed it for nearly every ailment. At that time, Lucozade comes in a glass bottle with a familiar yellow cellophane wrap.
However, in 1983, the manufacturer decided to rebrand the drink to distance it from its link with diseases. Nowadays, Lucozade has become the UK's No. 1 energy drink. This pick-me-up drink is now available in a range of flavors. In addition, it now comes in a plastic bottle instead of glass.
Where to find it: At every supermarket and convenience store around England.
9. Lime and Soda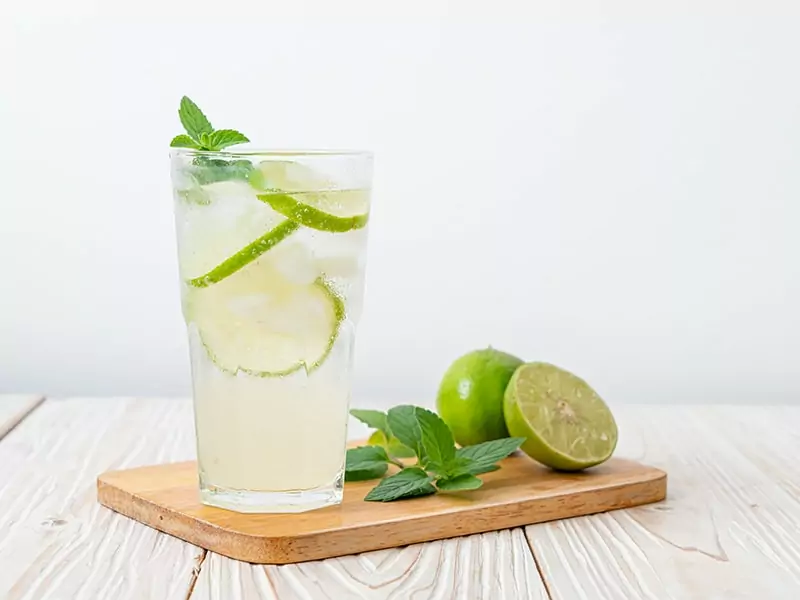 It doesn't get any simpler than this! Lime and Soda is a common and refreshing drink made with soda water, sugar, and lime concentrate. Some bartenders will throw in some fresh lime slices for good measure.
Although this British drink is very simple, every bar and restaurant has a different way to make and serve it. Lime and Soda is one of the cheapest drinks at bars and pubs, costing only about £1 a cup. Some bars even serve it for free!
Where to find it: At any bar, pub, and restaurant in England.
British Alcoholic Drinks
British Alcoholic Drinks are central to the vibrant nightlife experience in the country. If you're plotting an evening out with your travel companions, this segment offers a guide to the quintessential beverages to request at the native bars and pubs. Delve in and select your favorites!
10. Stout
Alcoholic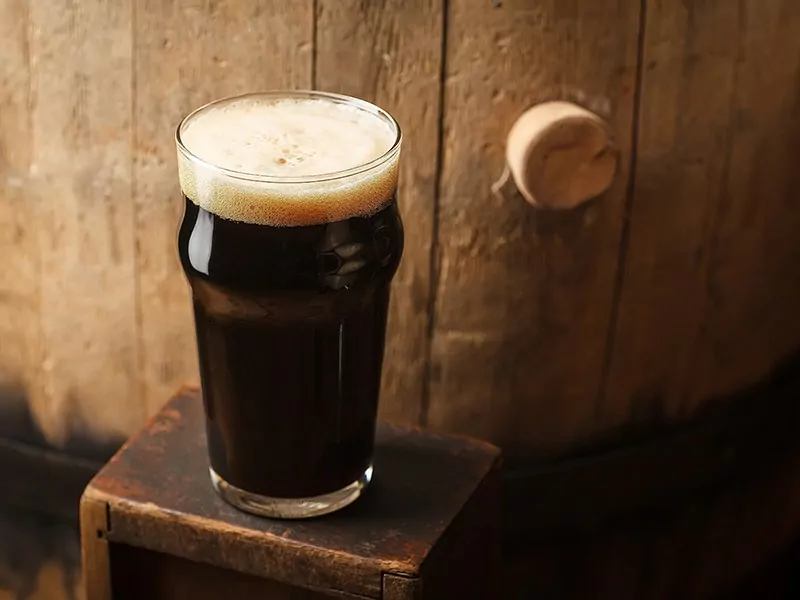 Stout is a dark, top-fermented beer that comes in various variants, including dry, oatmeal, milk, and imperial stouts. Their origins may be traced back to the British Porter style, which originated in London in the 18th century.
The distinctive aroma of Stout is similar to roasted malt or barley, reminiscent of cocoa and coffee. It also has a unique roasted taste that the British can't say no to.
Traditional dry Stout is dark brown to black in color. The term Stout itself is synonymous with dark beer. This color might be a bit intimidating to light drinkers, but trust me, you will get hooked after just one sip!
Where to find it: Many bars, pubs, supermarkets, and convenience stores around London and other regions in England.
If you are confused about the differences between Porter and Stout, this will help you out!
11. Dandelion and Burdock
Alcoholic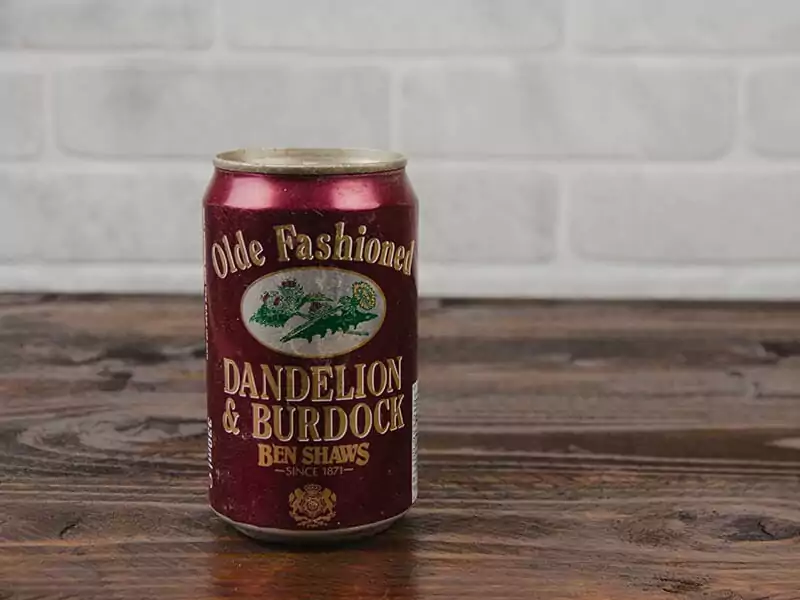 Dandelion and Burdock began as a light Mead, but it has grown into the commercially accessible carbonated soft drink. Locals have been drinking and making this fizzy beverage since the Middle Ages, and its fame continues to spread.
This European-style recipe calls for fermented dandelion and burdock roots, which explains its name. Dandelion and Burdock are among the best-known British carbonated beverages. Many people say it tastes identical to Sarsaparilla – another standard soft drink in the US and UK.
Where to find it: Many bars, pubs, supermarkets and convenience stores in England.
12. Cider
Alcoholic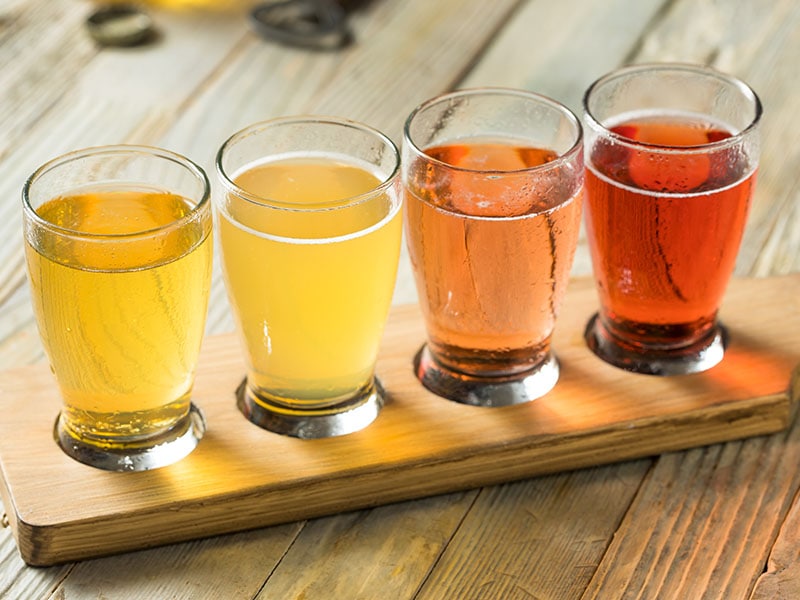 Cider has been made in England for hundreds of years. It is even considered a regional specialty in South West England and the county of Cornwall. Locals often enjoy this summer drink in the garden or at a county fair.
In the United Kingdom, there are two primary cider-making traditions: The West Country tradition and the Eastern Kent and East Anglia tradition. The West Country Cider is richer in tannins and has a sharper flavor, while the latter is clearer and lighter in body and flavor.
The color and flavor of the Cider highly depend on the locality and the type of apples people use to make it (cider apples or culinary apples).
In England, many wineries and breweries allow you to come in, learn about this British alcoholic beverage, and sample different types of Cider. So be sure to visit these places when you have time, it will surely be the highlight of your trip.
Where to find it: You can find Cider in every bar, pub, supermarket, and convenience store across the country.Most of them are produced in Kent, Herefordshire, and Somerset.
13. Pimm's
Alcoholic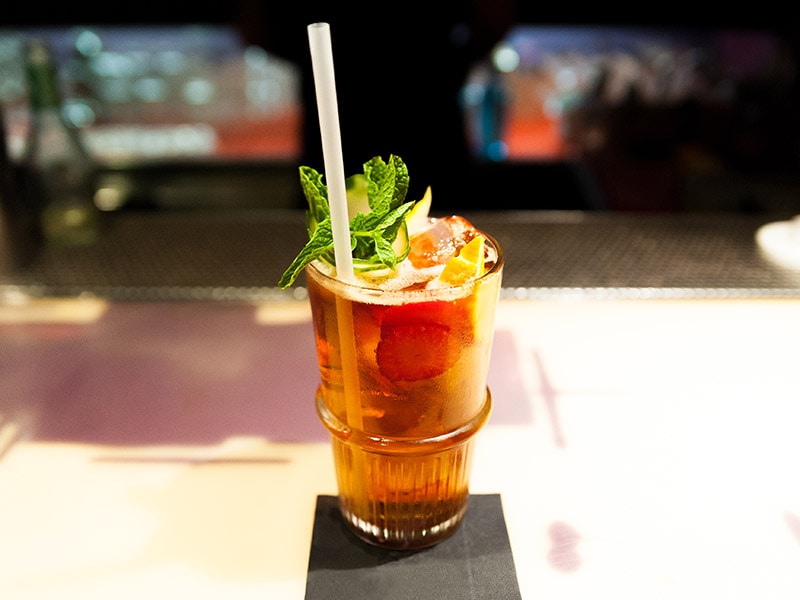 This fruit-flavored gin cocktail is extremely popular in the UK, especially during summertime. Locals usually drink Pimm's during Wimbledon, one of England's most important sporting tournaments.
Invented in the 19th century by James Pimm, this cocktail was an instant hit with the London crowd. He first advertised Pimm's as a health tonic, but most people consider it a typical summer drink nowadays.
This gin-based fruit cup is typically served with lemonade, fruits, cucumber garnish, and mint sprigs in a tall glass. Its subtle spice and citrus fruit flavor can instantly put you in a good mood.
Where to find it: At any bar, pub, and restaurant in England, especially during Wimbledon.
14. Vodka Martini
Alcoholic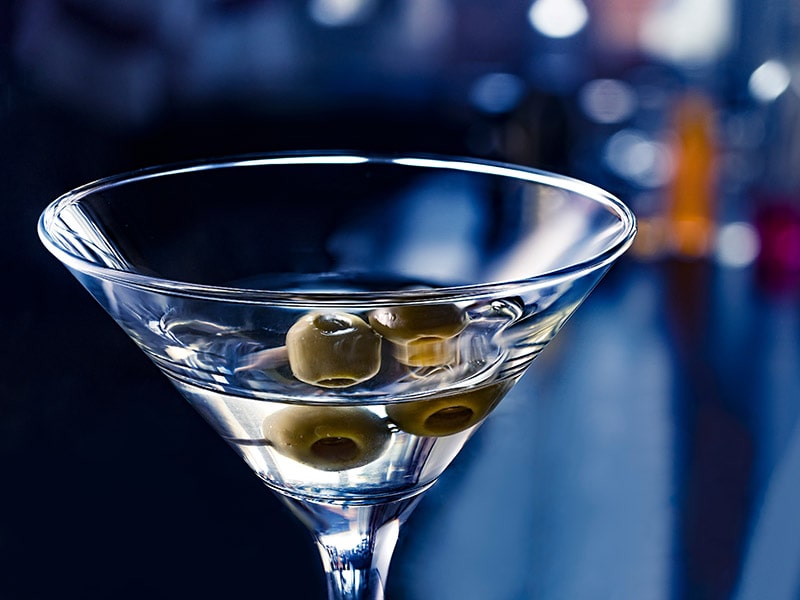 To make Vodka Martini, bartenders will combine Vodka, dry Vermouth, and ice using a cocktail shaker. Then, it is filtered and served in a cold cocktail glass. This delightful Martini cocktail can be served with an olive or a slice of lemon as a garnish.
Although this drink didn't originate in the UK, many people associate it with England due to its link with James Bond, an iconic British literary and film character.
In one of his movies, Agent 007 ordered a "Vodka Martini, shaken, not stirred". Movie fanatics began to copy him and asked for the same thing in many local bars, making the drink incredibly trendy.
Where to find it: Many bars, pubs, restaurants in England.
15. Espresso Martini
Alcoholic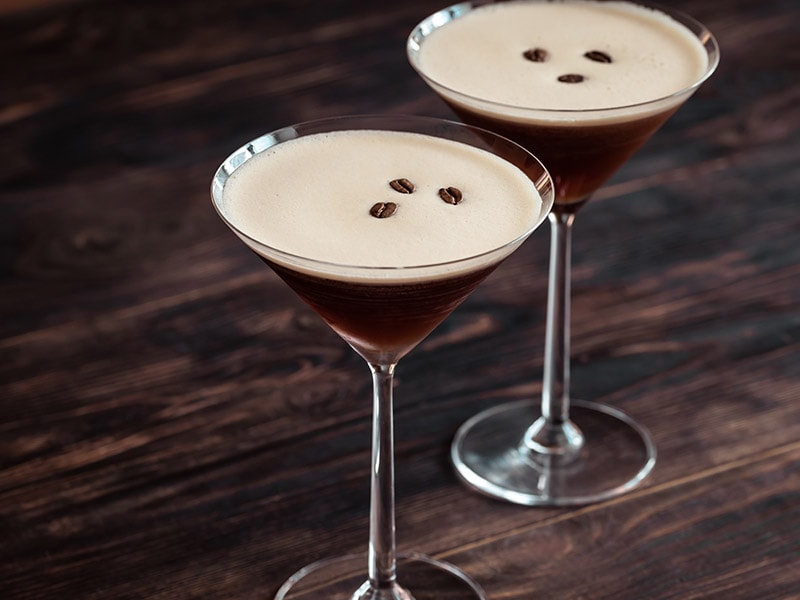 Another must-try Martini cocktail in England is Espresso Martini. This creamy drink contains Espresso, Vodka, sugar syrup, and coffee liqueur.
To make it, local bartenders will combine every ingredient with ice in a cocktail shaker, shake it until it becomes frothy, and strain it into a Martini glass.
Dick Bradsell, a bartending legend, was the one who created this drink at Fred's Club in the late 1980s. He initially made it for a young lady who asked for a strong alcoholic beverage to wake her up.
In 2021, Espresso Martini had a rise in popularity. Bartenders were concerned about this since it takes a lot of time and effort to prepare the drink.
Where to find it: Several bars, pubs, restaurants in England.
16. Mead
Alcoholic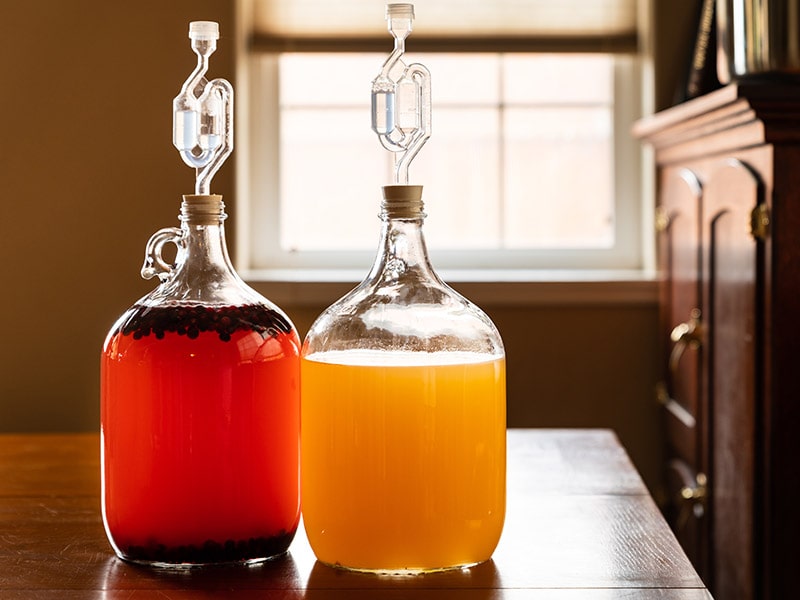 Mead has been around for thousands of years, making it an essential part of the country's drinking tradition. This ancient drink is created by fermenting honey and water, sometimes with fruits, spices, or grains. Mead can either be still, naturally sparkling, or carbonated.
This fermented honey water is not that easy to find compared to the alcoholic drinks I mentioned earlier. But if you want to try this delicious sweet alcohol, visit the Holy Island of Lindisfarne. This is the place where the monks first created Mead.
Where to find it: At the Holy Island of Lindisfarne off the Northumberland coast. You can also find it in a few gift stores at English Heritage and National Trust locations around the country.
17. Gin and Tonic
Alcoholic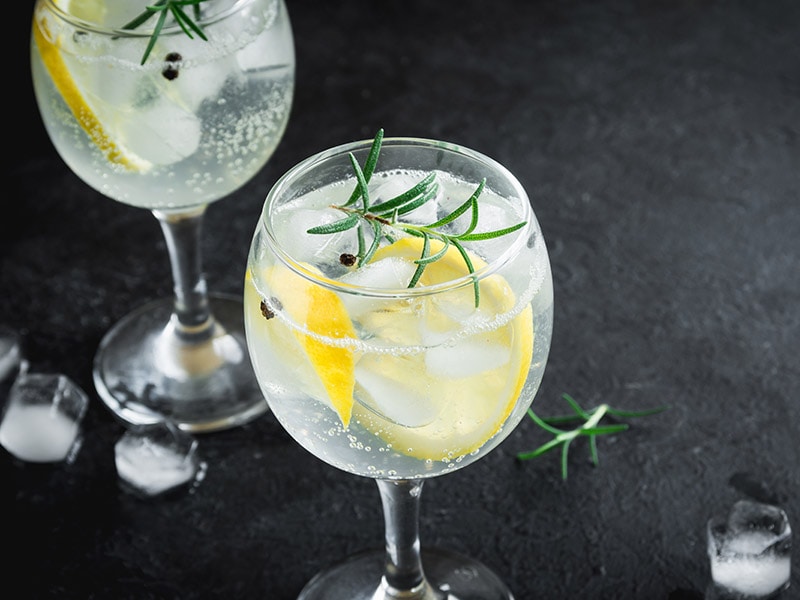 The Gin and Tonic cocktail dated back to the British occupation of India in the 19th century. The history behind this drink is quite complicated. Back in the day, a bitter compound called Quinine was used to prevent malaria.
To make it taste less bitter and easier to consume, people combined it with Tonic water. Afterward, the locals started to mix Tonic with Gin, and it eventually became a worldwide famous cocktail by the early 20th century.
History aside, Gin and Tonic is truly an iconic English cocktail. Some even consider it the official England national drink, even though the British Gin and Tonic did not originate here.
You can pair Tonic with any Gin, and in any ratio you like. So just be creative and mix-match your perfect concoction to enjoy the most refined taste of England.
Where to find it: Nearly every bar, pub, and restaurant around this country.
18. Buckfast
Alcoholic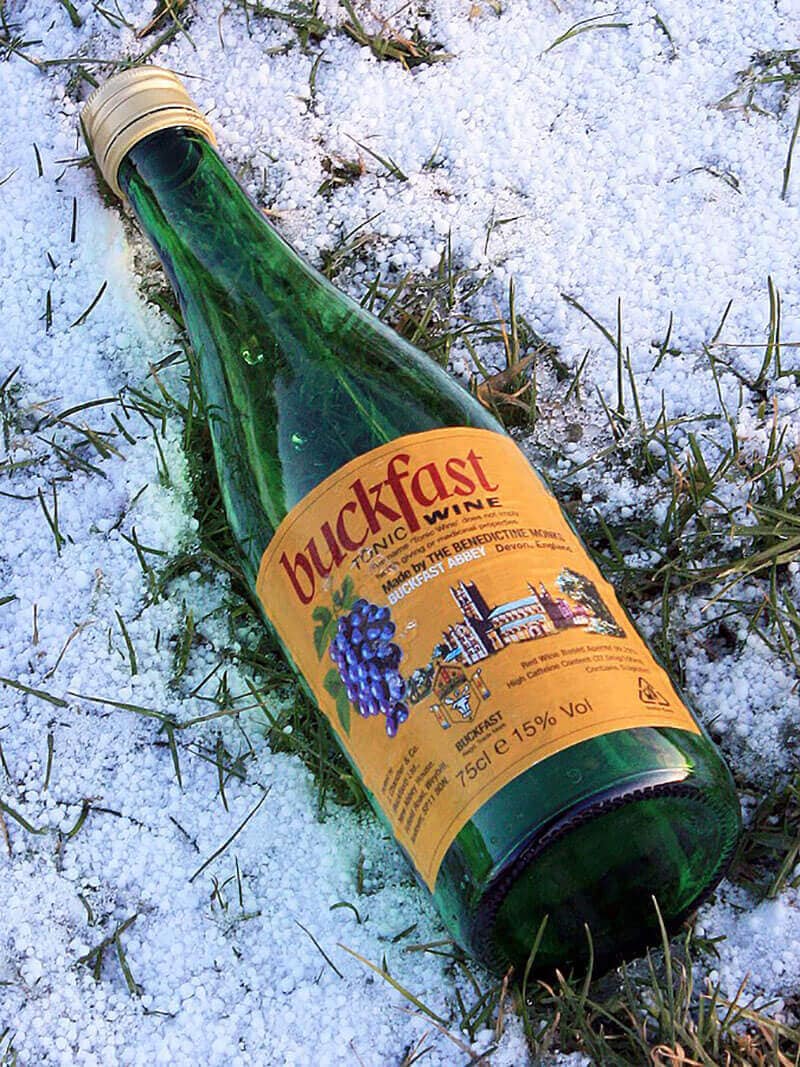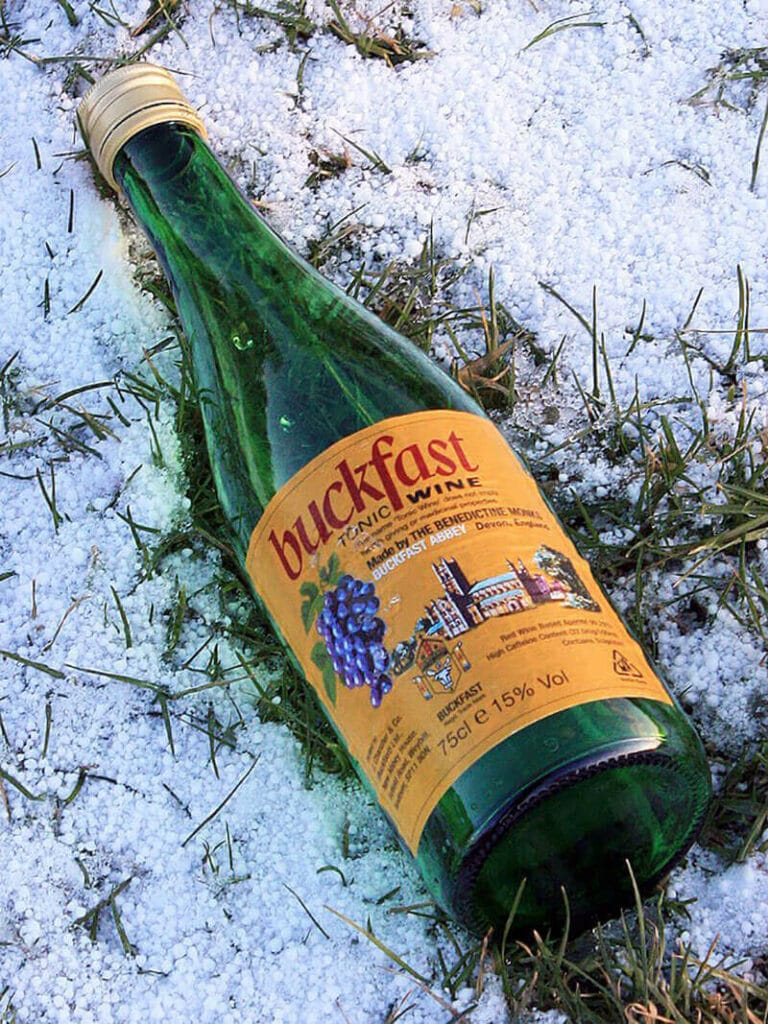 Buckfast Tonic wine is a caffeinated alcoholic beverage made from fortified wine and pure caffeine. Buckfast is more commonly associated with Scottish cuisine, but it was actually made in the late 19th century at Buckfast monastery in Devon, England.
Originally advertised as a medical substance, Buckfast is now better known for its associations with the loutish ned culture and antisocial behavior in some Scotland and Northern Ireland regions.
Fans of Buckfast even created a "National Buckfast Day" in 2015 to honor this tonic wine. National Buckfast Day, which later becomes World Buckfast Day, is celebrated on the second Saturday of May each year.
Where to find it: A few supermarkets, bars and pubs in England.
How To Make The Most Popular British Drinks?
Make the most popular British drinks right in the comfort of your own home! Even if a trip to England isn't on your immediate horizon, you can still savor the flavors of the region.
In this section, I'll guide you through both a non-alcoholic and an alcoholic drink recipes. Pick your preference, gather your ingredients, and embark on a delightful mixology journey!
1. Ginger Ale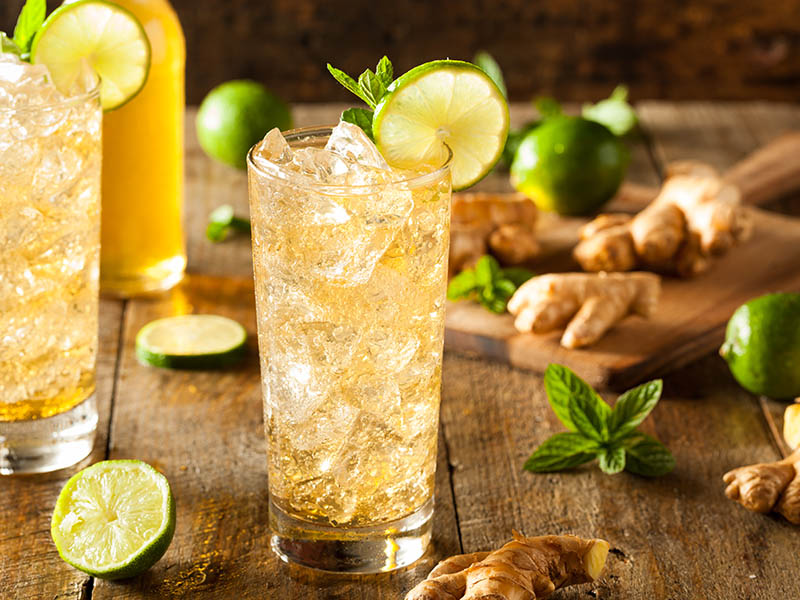 With cheap and accessible ingredients like lime, soda, and ginger, you will be able to make a delicious and refreshing drink for your whole family. Take a look and learn how!
Step 1: Prepare The Ingredients
For this recipe, you will need 3 cups of water, 1 cup of ginger, 1 cup sugar, club soda, lime juice, lime wedges, and ice.
Step 2: Make The Ginger Water
Pour 2 cups of water into a saucepan and bring it to a boil. Then, add peeled and finely chopped ginger to the saucepan. Reduce the heat to medium-low and allow it to sit for 5 minutes.
Once done, remove the saucepan from the heat and wait for 20 minutes. Strain the mixture to remove the ginger pieces.
Step 3: Make The Simple Syrup
Put the remaining cup of water into a separate saucepan. Bring it to a boil and dissolve the sugar in it. Then, set it aside.
Step 4: Serve It
Add 1/2 cup of ginger water, 1/3 cup of simple syrup, and 1/2 cup of club soda to a tall glass. Then, add ice and a few drops of lime juice. Garnish the glass with a lime wedge.
2. Gin and Tonic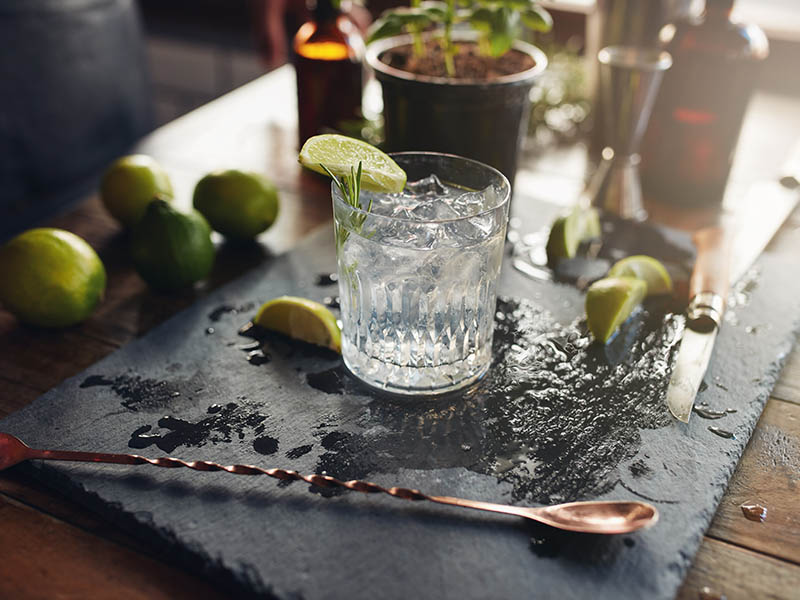 Let's move on to something alcoholic now! This is a super easy Gin and Tonic tutorial; check it out and make yourself a refreshing happy hour drink.
Step 1: Prepare The Ingredients
First, prepare 2 ounces of gin, 4 to 6 ounces tonic water, ice, and lime wedge.
Step 2: Make The Drink
Fill a highball glass with ice, then add the gin and tonic on top. Gently stir the drink; remember not to overmix to avoid losing carbonation.
Step 3: Serve It
Garnish the glass with a lime wedge and serve it immediately.
---
Indulge Yourself In English Cuisine!
When people think of England, they often think of afternoon tea parties with tiny jam-filled scones and finger sandwiches. But besides tea, there are many more delicious local drinks waiting to be discovered.
Did the treasures in the list above inspire you to learn more about the unique food culture of England and the United Kingdom? Which of them are you looking forward to sampling? Please give me your thoughts in the comment section down below!
Also, if you like this article, don't forget to give it a like and share it with your friends! Have a lovely day, and I hope to see you all soon!