The diversity and robust flavor of Hungarian foods have surprised many visitors. So if you have the chance to visit Budapest or any city in this nation, be sure to check out the delectable dishes available there.
Hungarian cuisine culture is easily identified by a few essential components that appear on every restaurant menu. These ingredients include seasonal vegetables, meats, bread, fruits, and spices, mainly paprika.
There are far too many Hungarian traditional delicacies to name here, ranging from flavorful savory dishes to inviting sweet treats. But for the time being, these are a few diverse meals to try out in Hungary.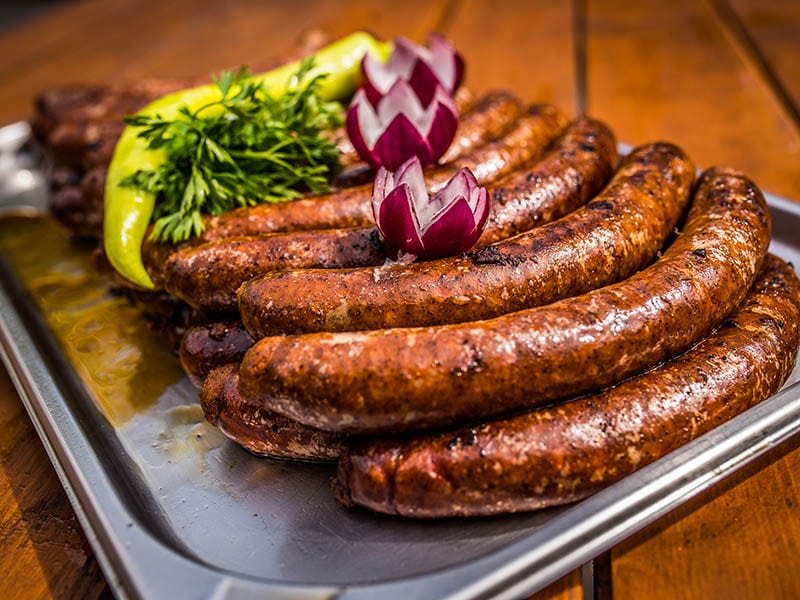 Similar to the cuisine of many other Eastern European countries, Hungary has many savory dishes that can blow your mind. So have a look at these Hungarian recipes and give them a try. But remember that these dishes will make you hungry!
Stew and Soup Dishes
Let's start Hungarian food with some comforting soups and stews below:
1. Pörkölt – Hungarian Meat Stew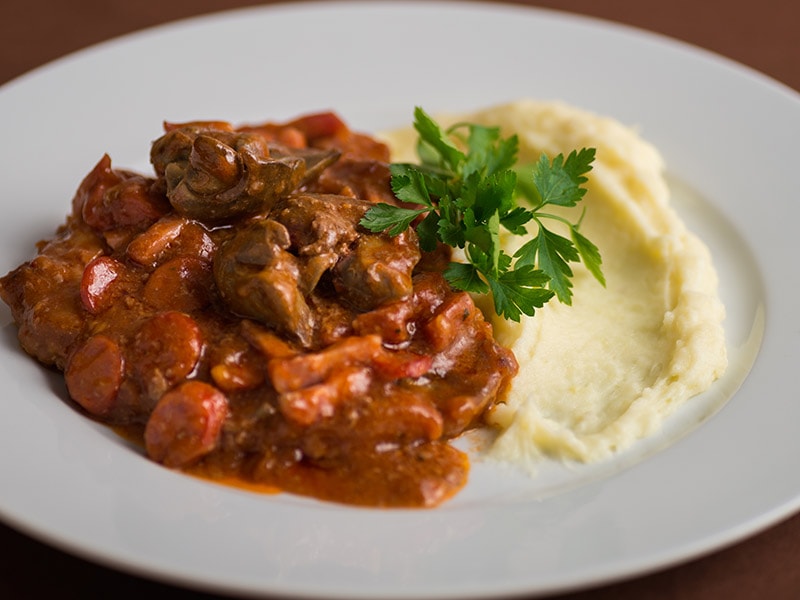 If you ask the Hungarians about their national stews, they will definitely say Pörkölt, Paprikás, and Goulash. Let's start with Pörkölt first!
Pörkölt is a meat stew that originated in Hungary and is now widespread across Central Europe. This hearty dish takes on varied forms depending on each region. But most of the time, it is cooked with beef or pork.
Pörkölt is usually eaten as a side dish in Hungary with Tészta (pasta), Tarhonya (egg-based noodle), or Galuska/ Nokedli (egg dumplings). People usually pair this stew with pickles and potatoes to balance its heaviness.
2. Paprikás Csirke – Chicken Paprikash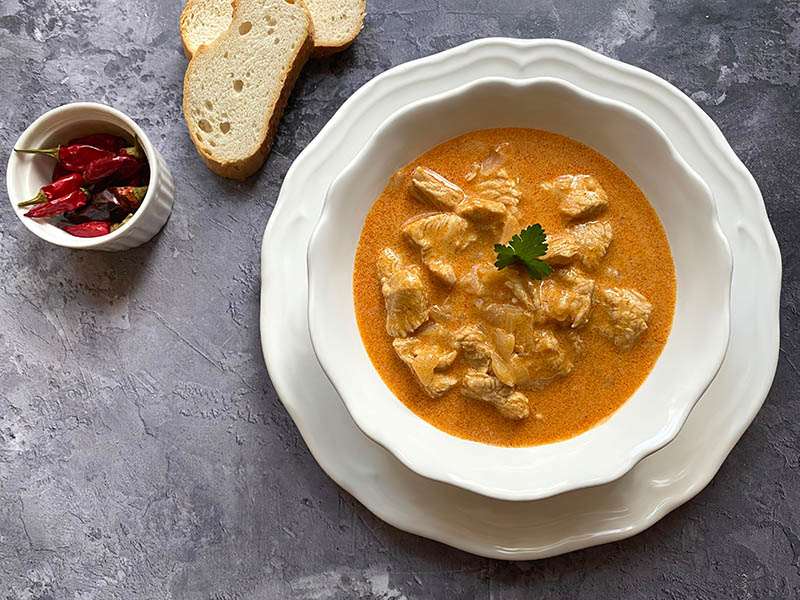 Another stew you must taste during your trip to Hungary is Paprikás Csirke or chicken paprikash. This name, of course, comes from the extensive usage of paprika, a prominent spice in Hungarian cuisine.
This Hungarian dinner recipe calls for édes nemes, which is sweet paprika. The sweet paprika gives the dish its signature rose hue and elevates its taste.
Another version of Paprikás Csirke is beef Paprikash, which is a dish widely beloved thorough Europe. Whether the dish is made from scratch or cooked with leftovers, beef Paprikash certainly will leave behind long-lasting impression on anyone who tastes it.
In Bulgaria, the locals also love to enjoy Paprikás. However, their version (called Пaприкаш) uses less paprika and has green, sweet peppers.
3. Gulyás or Goulash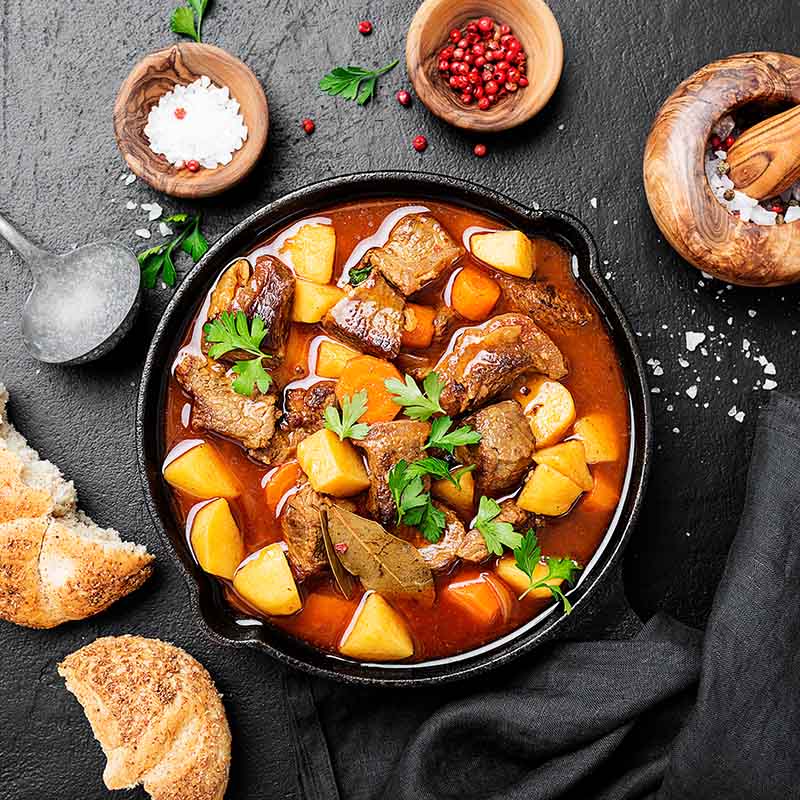 Even though Goulash is one of the most well-known meals from Hungarian cuisine, there are many misconceptions regarding the original version of this classic dish.
The term Goulash comes from gulyás (herdsmen), who cooked their hearty dish in a kettle over an open fire. Until this very day, people still prefer this authentic cooking method. Suffice to say; it's the perfect dish to prepare for Wednesday dinner to get everyone's spirit up.
Almost every region has its own version, but a basic Goulash is usually made with beef, veggies, and paprika. If you are familiar with traditional Serbian foods, you might also know the Serbian version of Goulash.
Goulash has been around since the 9th century, but it wasn't until the 1800s that it became a national emblem and a means to maintain Hungarian culture.
4. Főzelék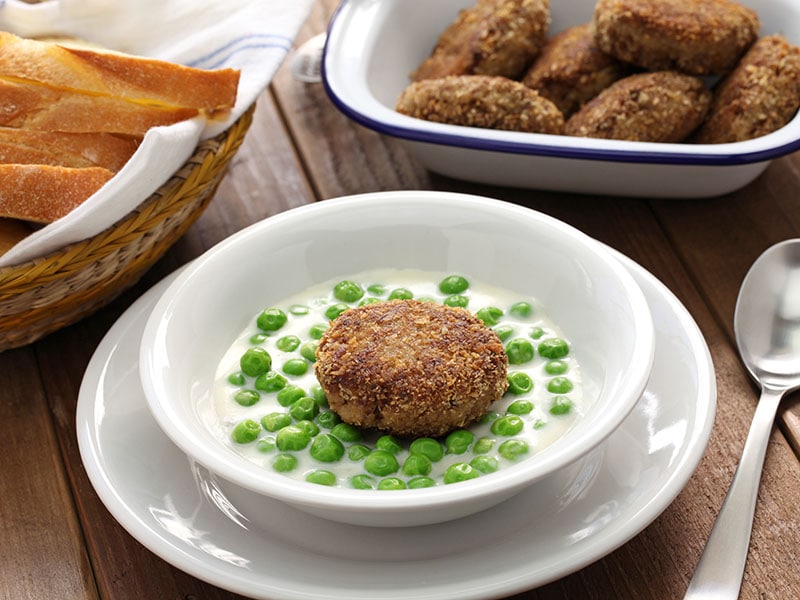 Fzelék, similar to pottage, is a thick Hungarian vegetable stew or soup. Hungary's love affair with this healthy dish is infinite, whether it's green peas, beans, potato, cabbage, spinach, lentil, or squash.
Fzelék is commonly served as a main dish for lunch or a garnish for various meat dishes. It usually comes with thick bread slices, sausages, and a sunny-side-up egg if it's the main dish.
This meal comes from the word főz, which means "to cook" in Hungarian. Overall, főzelék roughly translates to "something resulted from cooking".
5. Jókai Bableves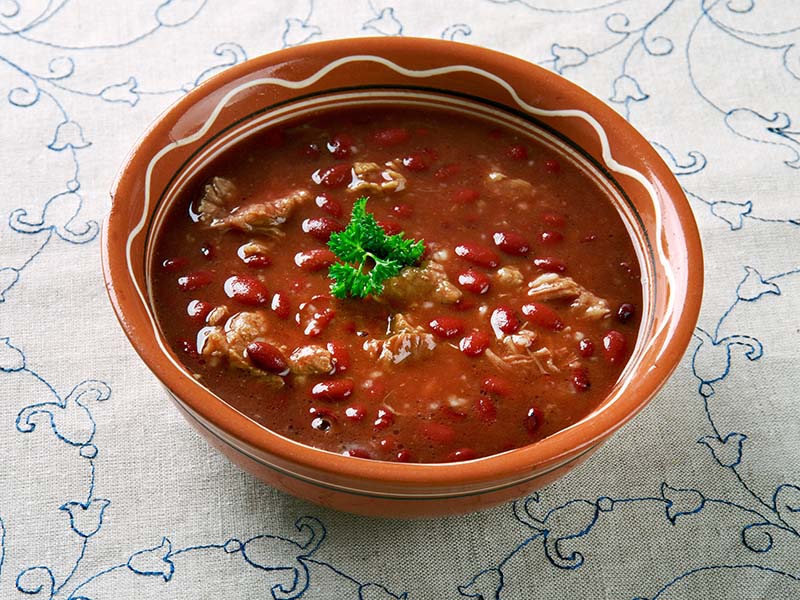 This deliciously robust winter dish is named after Mór Jókai, a famous Hungarian writer and a massive fan of this soup. Jókai was a frequent visitor to a restaurant in Balatonfüred, where he always had a bowl of bean soup. Eventually, people started calling this dish Jókai bean soup.
The key ingredients to this delicious comfort food are sausages, smoked pork, pinto beans, root vegetables, and Csipetke (Hungarian pinched noodles). It's frequently served with a dollop of sour cream, similar to many other Hungarian soups.
6. Palócleves – Palóc Soup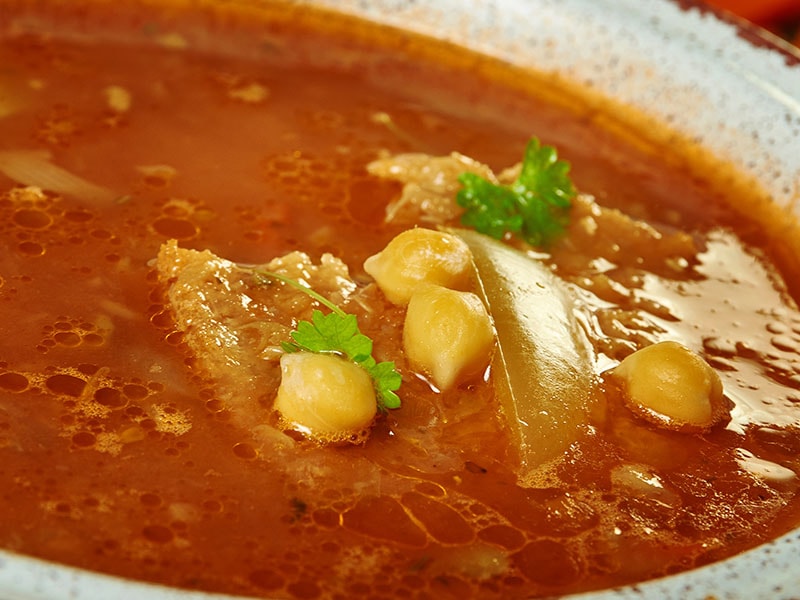 The creator of Palócleves was the famous Hungarian restaurateur János Gundel, former owner of the Gundel Restaurant – the most prestigious restaurant in Budapest.
In 1892, he came up with this delectable green bean soup and served it as a birthday present for Kálmán Mikszáth, a well-known author and politician who was a regular customer at his restaurant.
Although the original recipe of this dish called for mutton, most people nowadays use pork or beef since mutton is not very accessible.
7. Újházi – Chicken Soup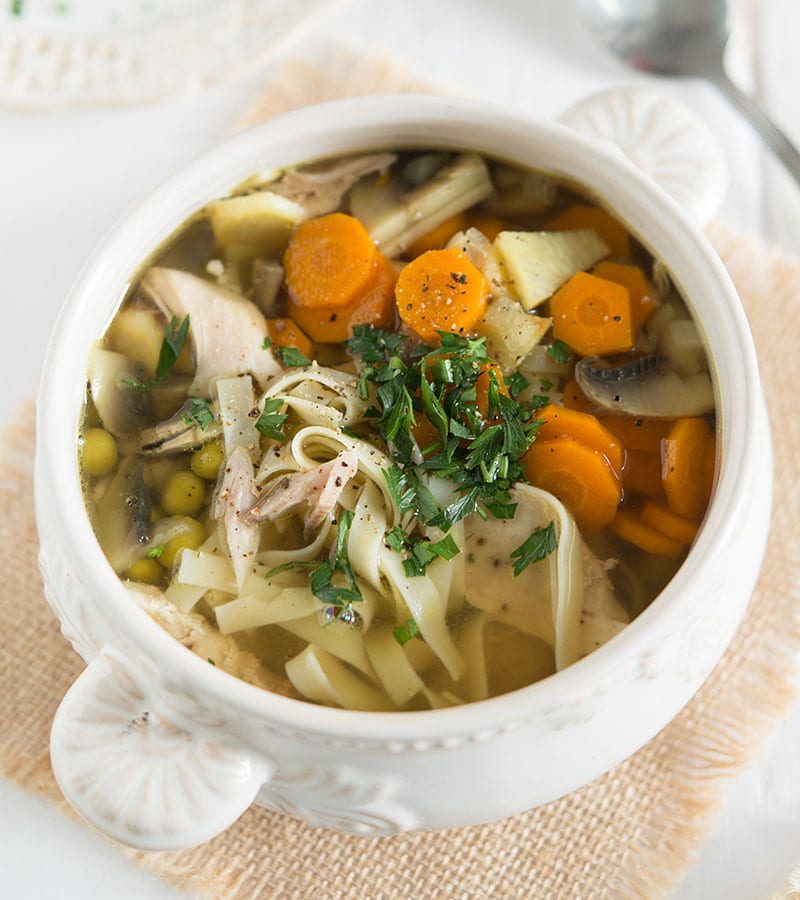 Újházi chicken soup was called after Ede Újházi, a prominent 19th-century Hungarian actor who enjoyed cooking this rich soup for his guests. He was well-known for his love of food, and he even had his own bar on Dohány street.
Ede Újházi was a frequent visitor to Budapest's Wampetics restaurant, where the famed soup was created following his orders. The soup was a hit, and other eateries quickly copied the dish.
It was initially produced with capon, but nowadays, chicken is more common. Free-range hens are recommended for this Hungarian lunch dish since the quality of the chicken mainly determines the final dish. The same goes for other veggies like peas or mushrooms.
And if you're serving this soup for a large crow, it's best that you pair chicken noodle soups with some appropriate side dishes. Some viable suggestions include garlic bread, pretzel rolls, and grilled vegetable panini.
8. Halászlé – Fisherman's Soup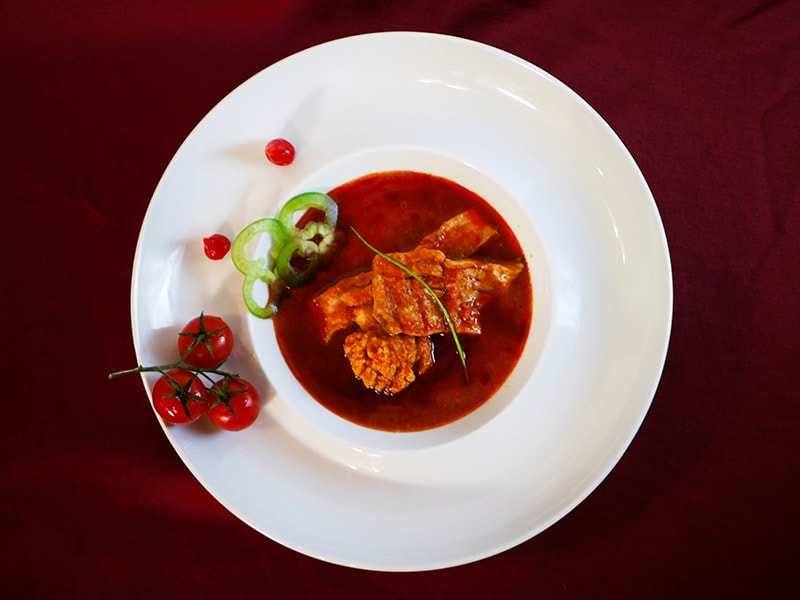 As suggested by its name, the fisherman's soup's main ingredients are fish. For this dish, the Hungarians usually use river fish, such as catfish, carp, pike, or perch. Paprika is also added to give the soup a distinctive red color and fiery taste.
Halászlé comes in a variety of flavors. The most renowned versions are a la Baja (prepared carp and thick noodles) and Szeged (made with four different fish types). This iconic recipe has made its way to the cuisine of Ivory Coast – a West African country. 
Fisherman's soup can also be seen during Christmas Eve. The locals love to pair it with a glass of white wine to make the experience more enjoyable.
9. Lecsó – Tomato Pepper Stew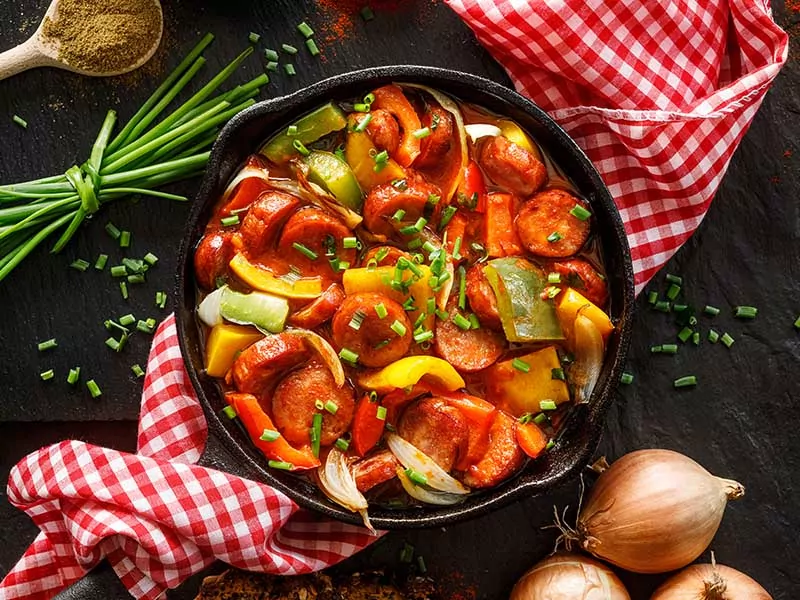 Lecsó is a thick vegetable stew made with tomato, yellow pointed peppers, tomato, onion, salt, and crushed sweet or fiery paprika. Despite its Hungarian origin, it's also regarded as a traditional dish in Czech, Slovak, and Former Yugoslavian cuisines.
This Hungarian stew is best served in the late summer when the veggies are at their ripest. Lecsó is usually made with the mildest type of Hungarian wax peppers. However, some substitute it with bell pepper or banana pepper.
10. Cholent – Jewish Stew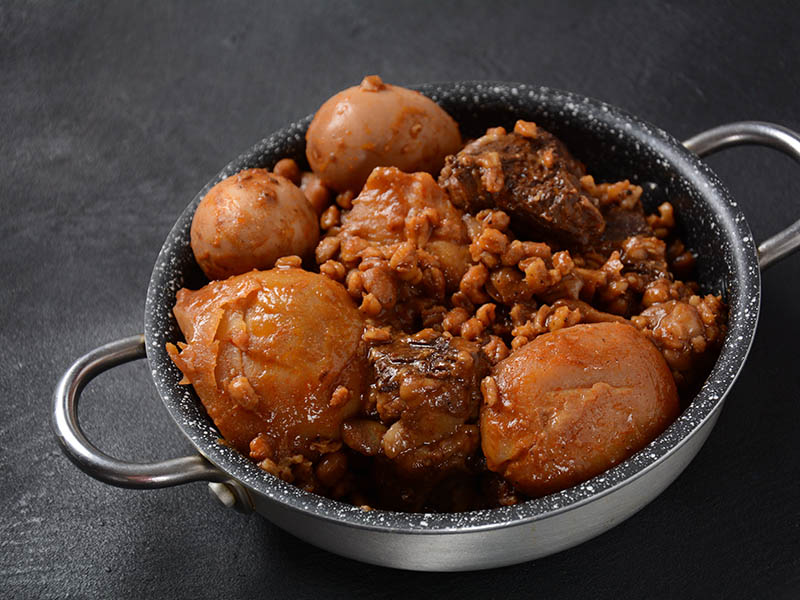 This classic medieval Sabbath food was first introduced into the mainstream in Hungary by the local Jewish population. This traditional Jewish dish has its origins in ancient Judea, dating back to the Second Temple era.
There are several cholent varieties around Hungary. In Budapest, it is prepared with slow-cooked beans, pearl barley, then topped with goose leg, sliced brisket, and eggs. On Fridays and Saturdays, many Jewish-style eateries offer it.
Sólet, which includes barley, kidney beans, paprika, meat, and onions, is one of the most popular variants. The Magyars living in the Pannonia province were probably the ones who adapted this recipe after the Jews introduced it. Non-Jewish Hungarians might also incorporate pork into the stew.
Noodles Dishes
In case you're craving some carbs today, here are Hungarian noodles dishes:
11. Túrós Csusza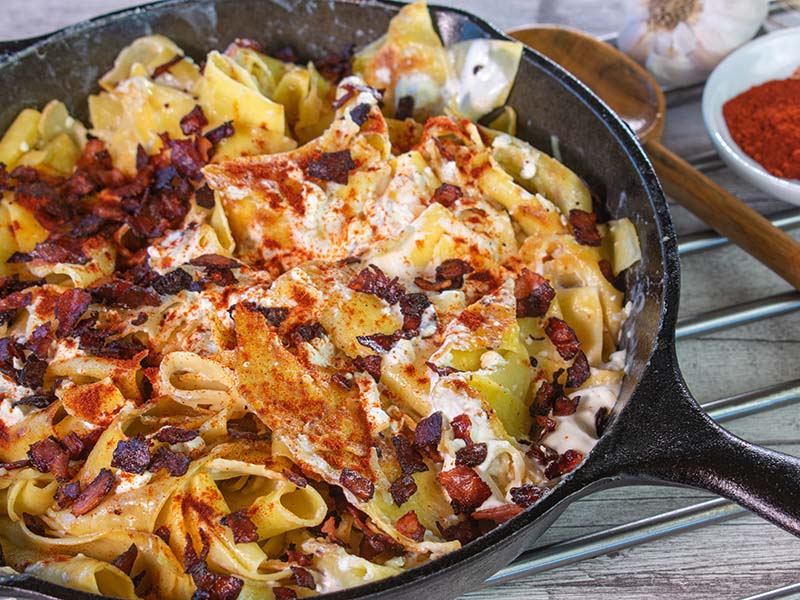 The translation "pasta with cottage cheese" might freak some people out, but trust me, you will regret not trying this dish. It is the unforgettable flavor of cottage cheese that makes Túrós Csusza stand out among the many, many pasta dishes out there.
Túrós Csusza is a well-known savory dish prepared with cottage cheese and homemade pasta (Csusza). The noodles are boiled in salt water, combined with butter, cheese, and crispy bacon, and lightly salted Hungarian sour cream (Tejföl) to make this dish.
There's also a sweeter version of this pasta dish called Túrós Tészta. All you have to do is replace the bacon with heaps of powdered sugar. This variation is equally popular among residents but relatively new to visitors.
12. Káposztás Tészta – Cabbage Noodles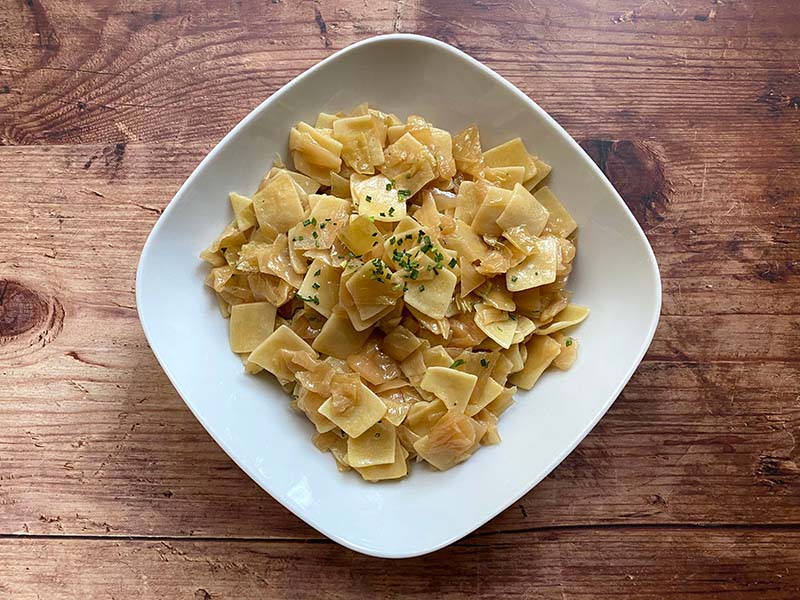 Cabbage and noodles have been one of the country's primary food sources for hundreds of years. Every inch of the homemade square-shaped pasta is covered with shredded and roasted cabbage, creating a terrific main or side dish that holds up well on a buffet table.
There are many distinct variants of this classic Hungarian pasta dish. Some families only use cabbage, while others combine it with caramelized onion. Some will even add bacon or other smoked meat to enhance its flavor.
13. Krumplis Tészta – Potato Noodles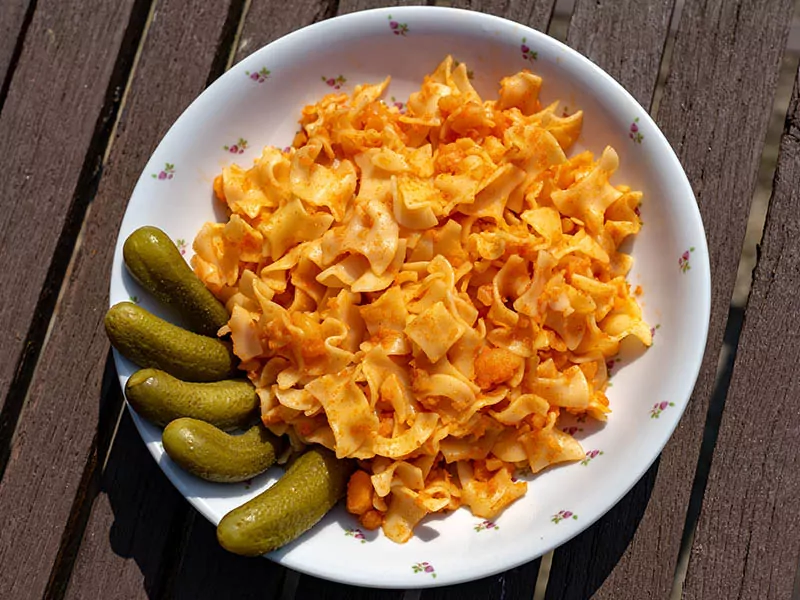 Another excellent pairing with Tészta is potatoes. According to legend, the meal dates back to the Napoleonic Wars, when the Habsburg military's only option for feeding its troops was noodles and potatoes.
Nowadays, Krumplis Tészta is still a mainstay in Hungarian households. It's far from a fancy dish, but it's a true comfort food that everyone enjoys.
14. Mákos Tészta – Poppy Seeds Noodles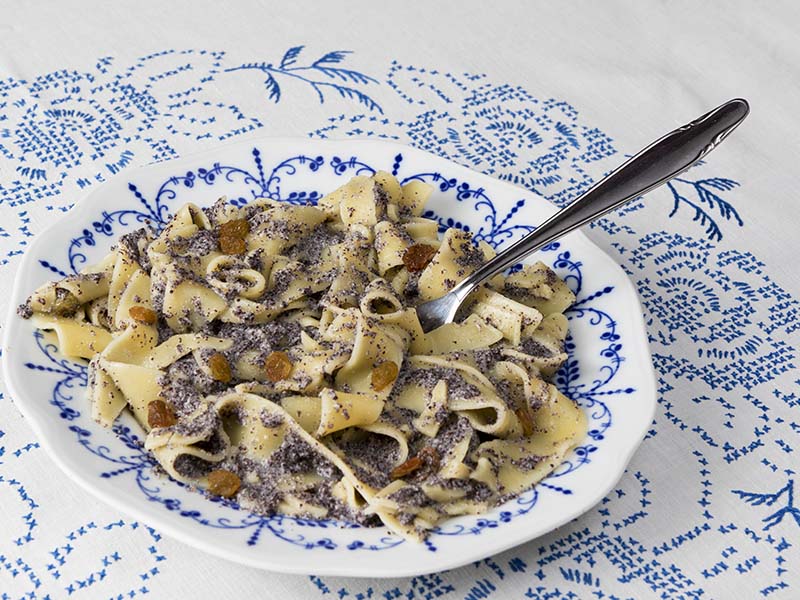 Poppy seeds are highly significant in Hungarian cuisine. It's utilized in bread, pastries, sweet rolls, coffee cakes, and even noodles. Poppy seeds noodles is a weeknight recipe, and the locals usually serve this dish after some type of one-pot soup like Goulash or bean soup.
Although it used to be a lavish dish, it is now regarded as a low-cost sweet main course or even dessert.
According to 16th-century recipe collections, the Hungarians used to consume this easy-to-make noodle dish coated with crushed poppy seeds and powdered sugar during days of abstinence.
The tiny amount of opiates in poppy seeds can make you feel sleepy. That's why exasperated parents often use this dish to quiet their rowdy children.
15. Galuska or Nokedli – Egg Dumplings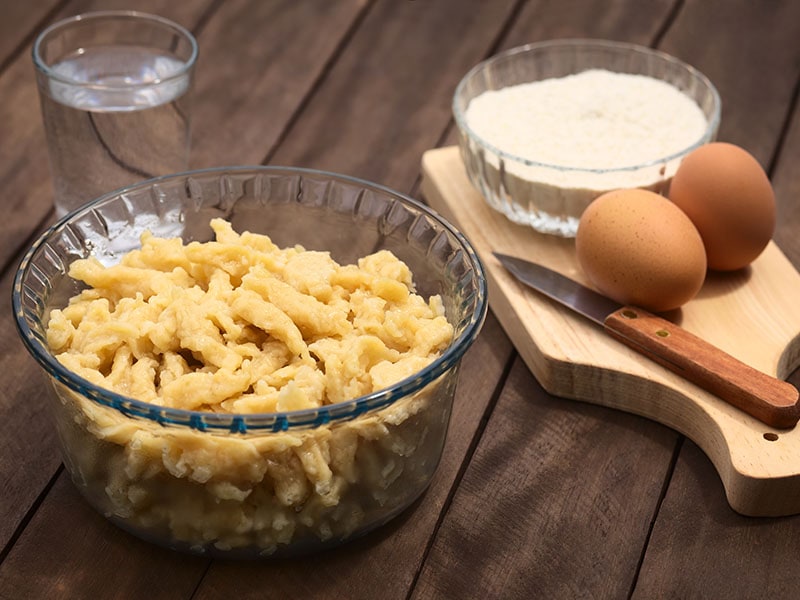 This egg noodle dish has many common names, including Nokedli, Galuska, Csipetke, or Spätzle. Overall, it is a sort of tiny noodles or dumplings prepared with creamy scrambled eggs. It is generally served as a side dish with gravy for meat entrees.
The exact location of Galuska's origin is unknown, but numerous sites claim to be the pasta's originators. The custom of preparing noodles like this dates back to the 18th century. However, medieval illustrations suggest the pasta dates back much farther.
Other Savory Dishes
Of course, soups and noodles are not the only savory options in this beautiful country. There are many more Hungarian traditional dishes that you've yet to explore. So let's dive right in!
16. Libamáj – Foie Gras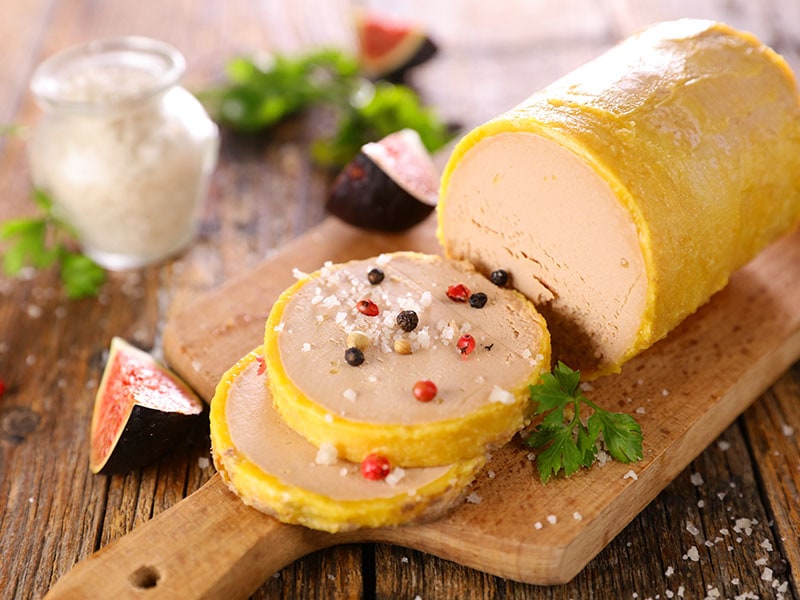 Everyone knows foie gras is a specialty in France, but very few know that Hungary is the second-largest producer and the largest exporter of foie gras. In fact, the foie gras business supports around 30,000 Hungarian geese farmers.
In Hungary, goose foie gras is typically cooked in goose fat and served warm. Some chefs take an extra step and smoke the foie gras over a cherry wood fire.
Most fine dining establishments offer this delicacy as an appetizer with some fruit jam to complement the fattened duck liver's rich flavor and buttery texture. While not inexpensive, foie gras in Budapest is less expensive than in other parts of the world.
17. Töltött Káposzta – Stuffed Cabbage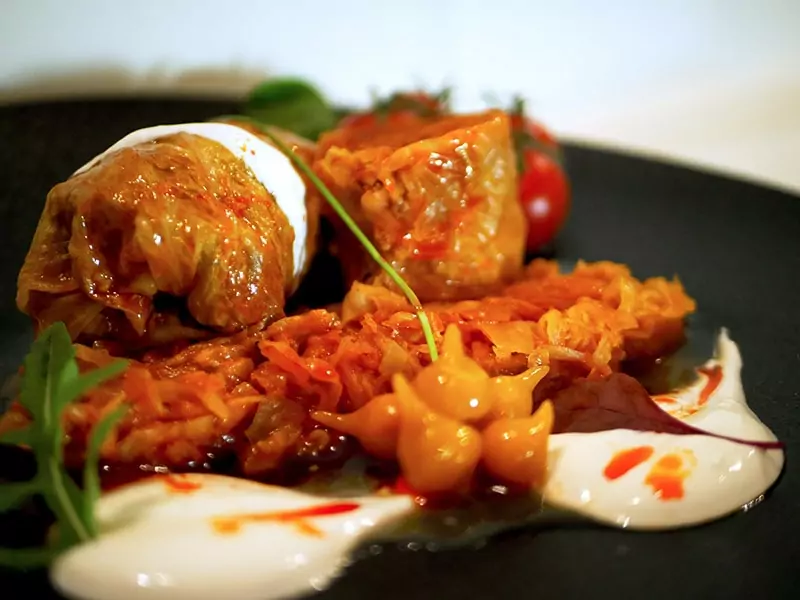 Stuffed cabbage is a well-known delicacy in many countries, including Hungary. The Turkish tradition of packing meat inside vegetable leaves was adopted during the Ottoman period, so cabbage rolls were born.
The local version is distinguished from the regional variants by a bed of sauerkraut and a large dollop of sour cream topping. These delicious stuffed cabbages are a beloved winter dish and a must-have at any Hungarian wedding celebration.
Töltött Káposzta is a traditional Easter and Christmas meal. Although it is primarily a home-cooked dish, most Hungarian bars retain it on their menu.
18. Töltött Paprika – Stuffed Peppers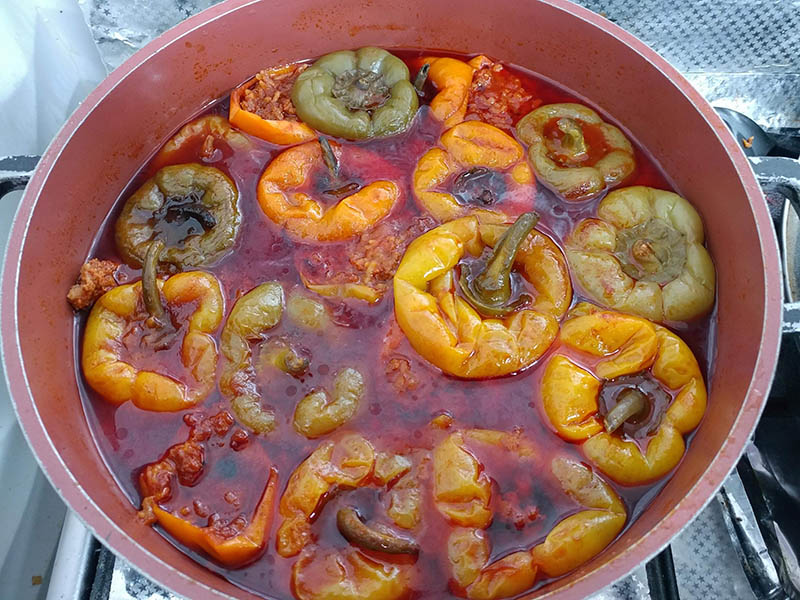 Stuffed peppers, like stuffed cabbage, have their origins in Hungary during the Ottoman Empire. Since then, the dish has grown in popularity across the United States.
The peppers are stuffed with a tasty blend of minced meat, rice, sautéed onions, and herbs and spices. They're usually served with cooked potatoes and a bed of gently sweet tomato sauce.
Töltött Paprika is incredibly popular around Central and Southeast Europe. Every country has a different name for this dish, but they can all be translated to "filled/stuffed/full peppers".
19. Kolbász – Cured Sausage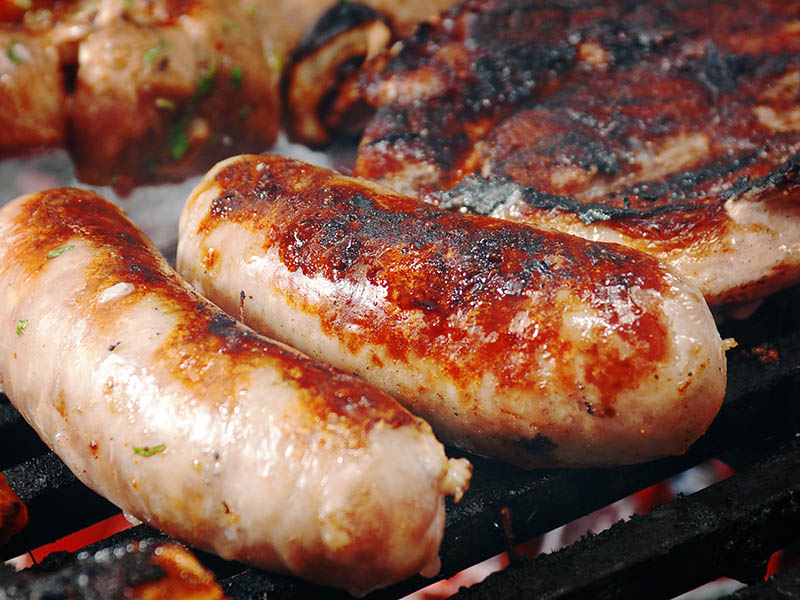 Remember the soup dishes I mentioned earlier, like Paprikás, Goulash, Jókai Bableves? These soups and stews are excellent on their own, but you can elevate them further by adding some Kolbász to them!
Kolbász is a well-loved paprika-seasoned Hungarian smoked sausage. The most popular version of this sausage is Gyulai sausage, named after the Hungarian town of Gyula.
The Gyulai Kolbász received a gold certificate at the World Exhibition of Food in Brussels in 1935. Sliced Gyulai Kolbász is a versatile ingredient in various Hungarian dishes, like Lecsó and Rakott Krumpli (potato-egg casserole).
20. Lángos – Fried Bread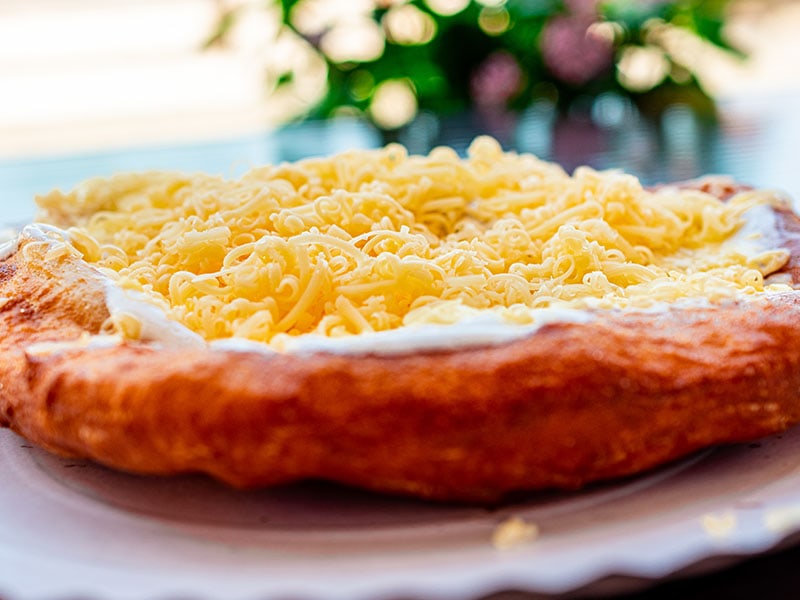 Lángos is a popular street snack in Hungary. Many Hungarians identify this deep-fried bread dough disc with the summer holidays at Lake Balaton.
In the past, Lángos were baked in a hot oven. This explained its name's meaning (which translates to "flamed" in Hungarian). But nowadays, it is known as a deep-fried flatbread.
The crunchy, golden exterior and the soft, steaming inside at its best will make this bread irresistible. Try rubbing the snack with garlic and topping it with sour cream and grated cheese for a truly unforgettable experience.
Desserts
Now that you've learned about the exquisite savory dishes, it's time to give the sweet treats in Hungary some attention! This section will provide you with a handy checklist of all the desserts you have to try during your trip to this nation, so feel free to write them all down.
21. Palacsinta – Hungarian Crepes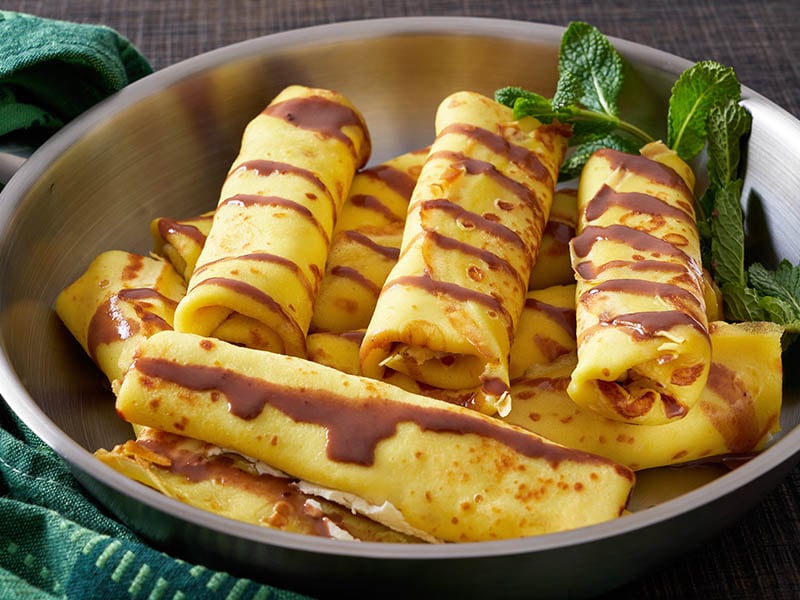 The term Palacsinta is taken from the Latin word placenta, which is derived from the Greek word plakous, meaning thin or layered flat loaves. The dish's final name is borrowed from numerous Central and Southeastern European languages.
These delightfully paper-thin crepes are, without a doubt, Hungary's most famous dessert. This Hungarian breakfast food pairs well with sugary cottage cheese (túró), fruit jam, sweetened lemon juice, cinnamon-sugar, or sweetened lemon juice.
If you don't feel like having sweets for breakfast, you can try some savory stuffings as well. The most notable savory version of this dish is Hortobágyi Palacsinta, which is stuffed with veal stew.
For some people, it might be quite challenging to achieve crepe's paper-thin texture. However, you can easily address this issue by getting a beginner-friendly crepe maker, which will allow you to whip up delicious crepes like a pro.
22. Somlói Galuska – Hungarian Trifle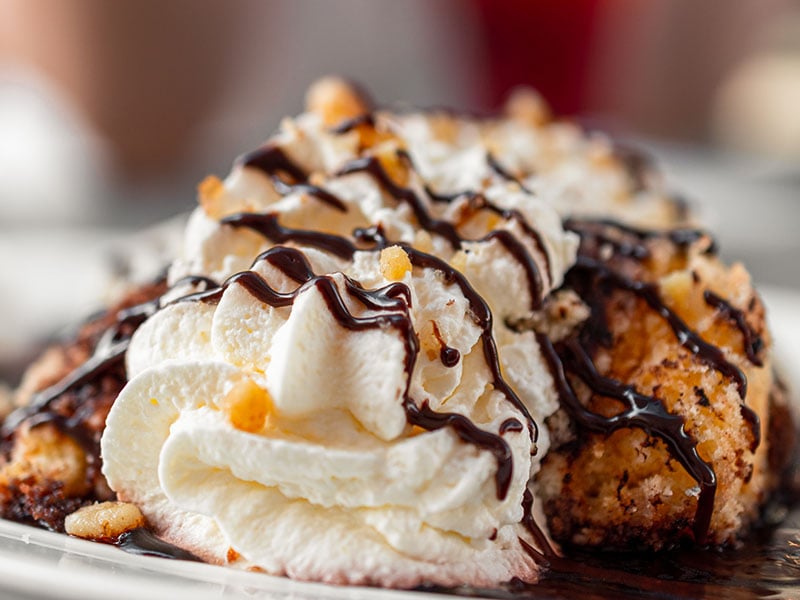 Somlói Galuska is one of the most iconic Hungarian desserts. This trifle cake is constructed of sponge and custard cream layers and studded with raisins steeped in rum or Tokaji Asz wine. Everything is then topped with whipped cream to make it extra mouth watering.
The unique dessert was initially conceived by Károly Gollerits, the headwaiter at Budapest's famed Gundel restaurant. It was later constructed by Gundel's pastry chef József Béla Szcs, whose cake won an award at the 1958 Brussels World's Fair.
Somlói Galuska is still one of Hungary's all-time favorites, despite being reinterpreted and modernized many times, with some regions even creating their own distinctive versions.
23. Dobos Torte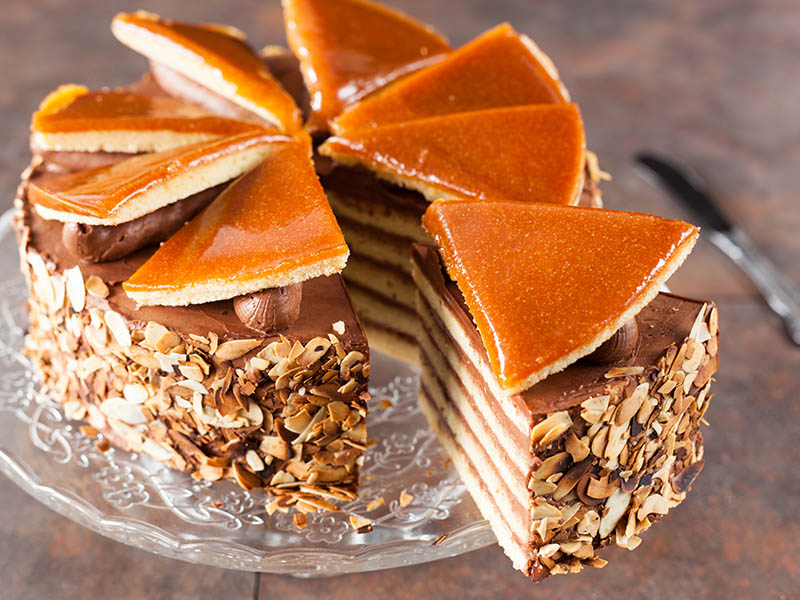 The tale of the Dobos Torte began in 1885, when József C. Dobos, a Hungarian confectioner, debuted his groundbreaking dessert at the Budapest National General Exhibition.
Coated with chocolate buttercream and topped with caramel, this mouthwatering sponge cake is one of the most famous Hungarian desserts.
People at the time described the cake as "revolutionary" due to the usage of buttercream, an unusual but vital component. Dobos kept his recipe a secret until he retired, but Dobos Torte today comes in various flavors.
But wait, is the Dobos Torte a cake, or a torte? Well, it's very easy to differentiate tortes from cakes, and I can say with confidence that Dobos Torte is both a torte and a cake.
24. Kaiserschmarrn – Shredded Pancake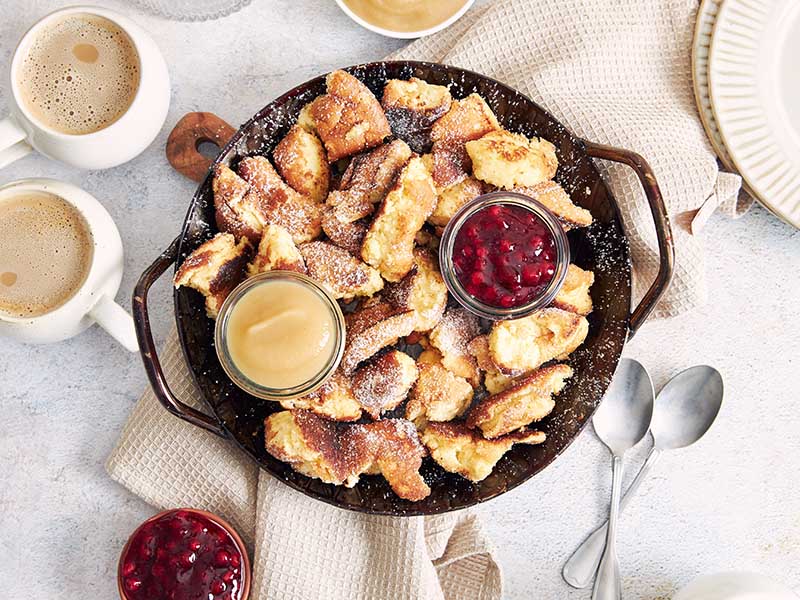 Another popular delicacy in the old Austria-Hungary is this shredded pancake with powdered sugar and raisins. Nowadays, it's a prevalent dish in Austrian cuisine, and of course, incredibly famous in Hungary. 
The dish name in the Hungarian language is Császármorzsa. In Hungary, semolina is used instead of regular wheat flour, and the platter is usually covered in delicious runny fruit sauce.
This lightly sweetened pancake is named after the Austrian Emperor (Kaiser) called Franz Joseph I since it was his favorite dessert. There are also other stories about the origin of this dish.
One tale claims that a farmer in the Alps created this dessert to serve to Francis Joseph and his wife. The farmer wanted to cook a delicious pancake but accidentally scrambled the cake due to his clumsiness. He then had to cover the cake with plum jam; fortunately, the Emperor liked it!
25. Szilvás Gombóc – Plum Dumplings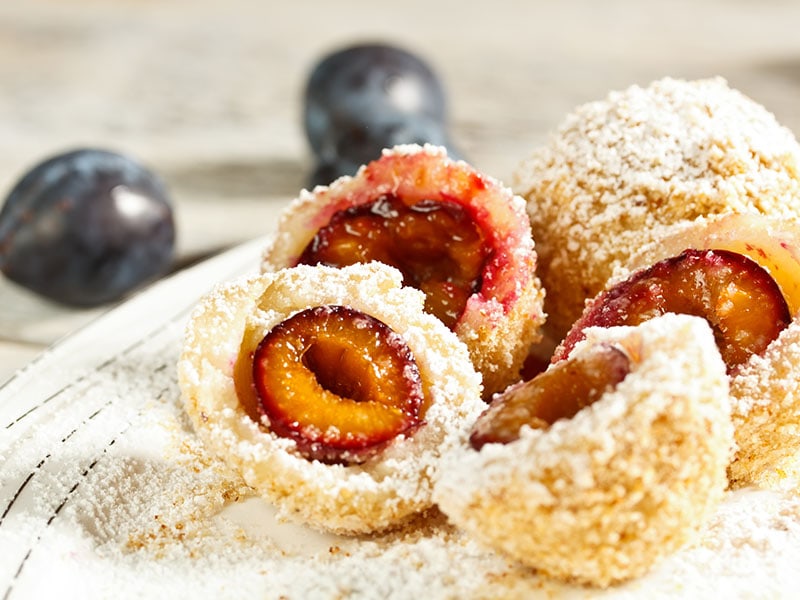 Szilvás Gombóc is a well-known dessert, not just in Hungary but also across Eastern Europe. This sweet treat consists of sweetened cinnamon breadcrumbs and fresh ripe plums covered in mashed potato dough.
Although this dessert is relatively uncommon in other nations, it's a favorite to many locals in Hungary. Even George Lang, the famed Hungarian-American restaurateur, also chose plum dumplings as one of his options for his final supper.
26. Kürtös Kalács – Chimney Cake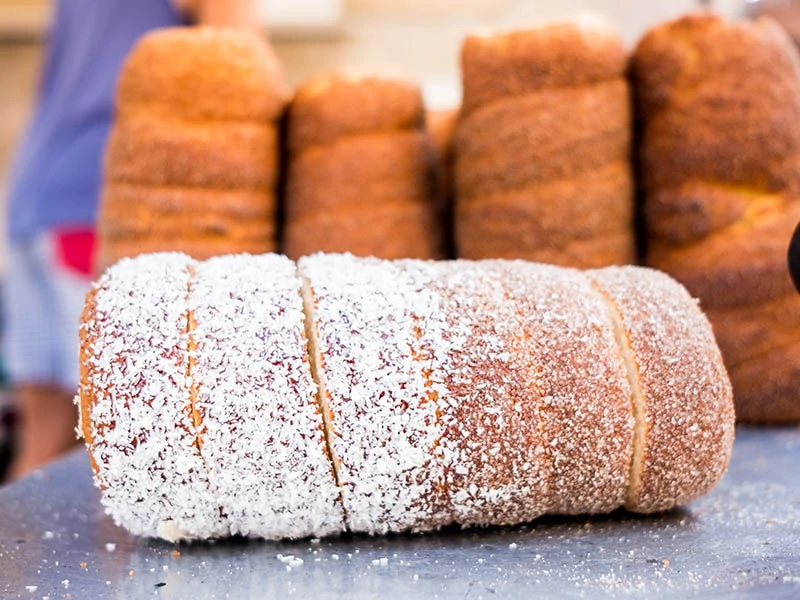 Kürtös Kalács was first popularized in Romania's Hungarian-speaking regions and began to spread across Romania and Hungary. The earliest written record was discovered in 1679 in the town of Úzdiszentpéter, and the first recipe was found in a 1781 manuscript cookbook.
This attractive split cake is a sweet yeast dough spun and wound around a cone-shaped spit before being rolled in granulated sugar. It's roasted over charcoal, basted with melted butter, until it's golden brown on the outside.
Originally a must-have delicacy for nobles and a vital component of every wedding or baptism, Kürtös Kalács has evolved into a beloved everyday snack, a sought-after dessert at Christmas markets, and an essential element in every celebration.
27. Fánk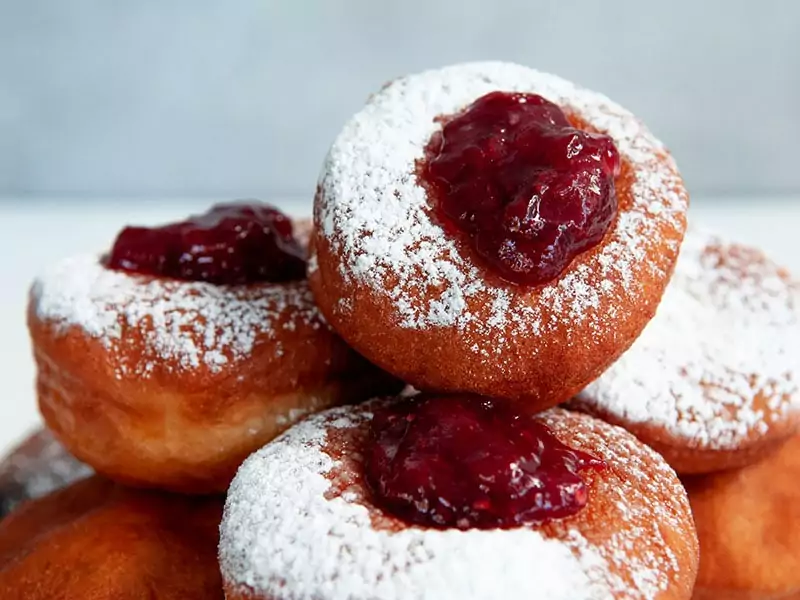 Fánk is the Hungarian form of the centuries-old deep-fried confection, also known as jelly donuts. Fánk is typically served with powdered sugar and lekvár, which is a thick Hungarian jam, primarily apricot.
Nowadays, you can easily find these sweet traditional Hungarian donuts at almost every bakery and grocery store.
28. Vargabéles – Sweet Noodle Cake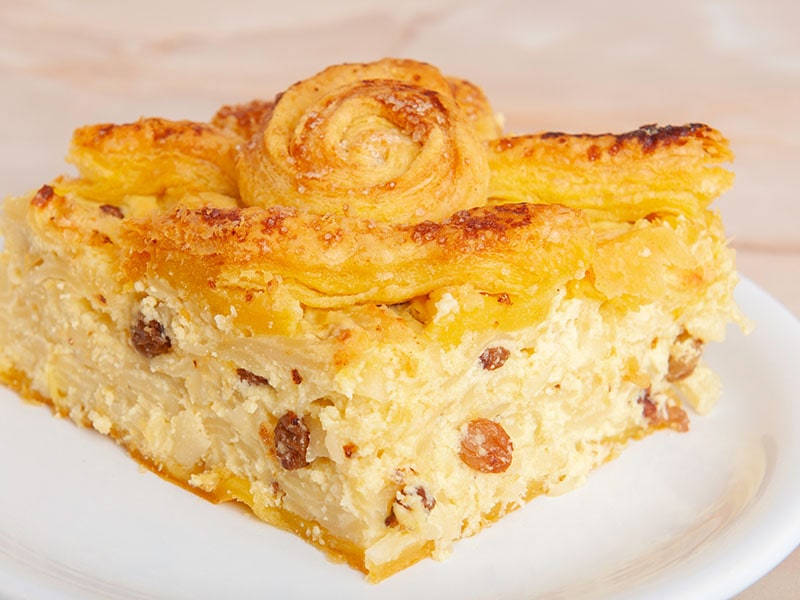 This decadent dish dates back to the 1930s in Transylvania when it was one of the hallmark dishes of Darvas restaurant in Cluj (Kolozsvár).
The desert became so well-known that the Gundel restaurant in Budapest would arrange same-day air delivery.
Vargabéles is a delectable treat consisting of layers of pastry filled with cottage cheese (túró) and noodle filling. Yes, it sounds odd at first, but trust me, the taste of this cake is mindblowing!
29. Rétes – Hungarian Strudel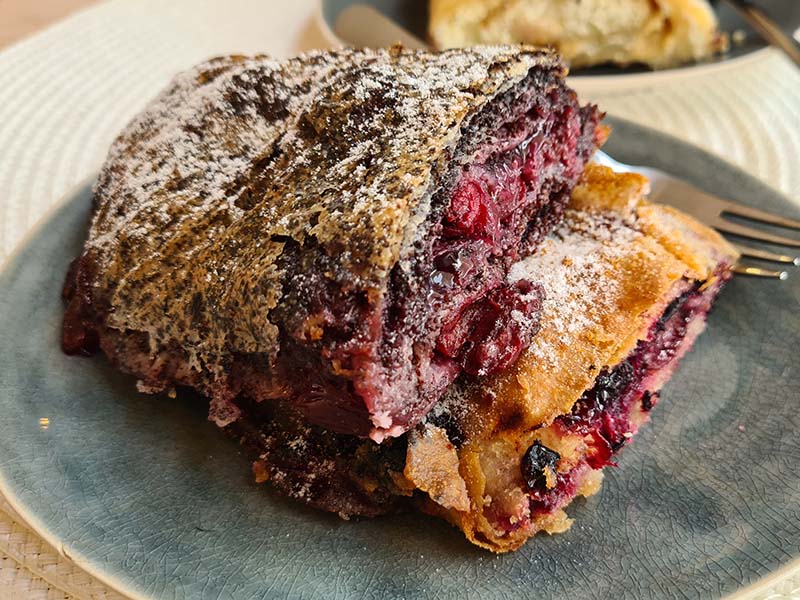 Rétes was inspired by Baklava, a layered pastry dessert in the Ottoman Empire. The Hungarians imported this lovely dessert from Ottoman Turkey during the Ottoman Empire's reign in the 16th and 17th centuries.
This dish eventually expanded across the Austro-Hungarian Empire. The sheer diversity of sweet and savory fillings distinguishes them in Hungary.
They often use apple and raisin for sweet fillings, while savory strudels call for braised cabbage, caramelized onions, and caraway seeds.
30. Tejberízs – Rice Pudding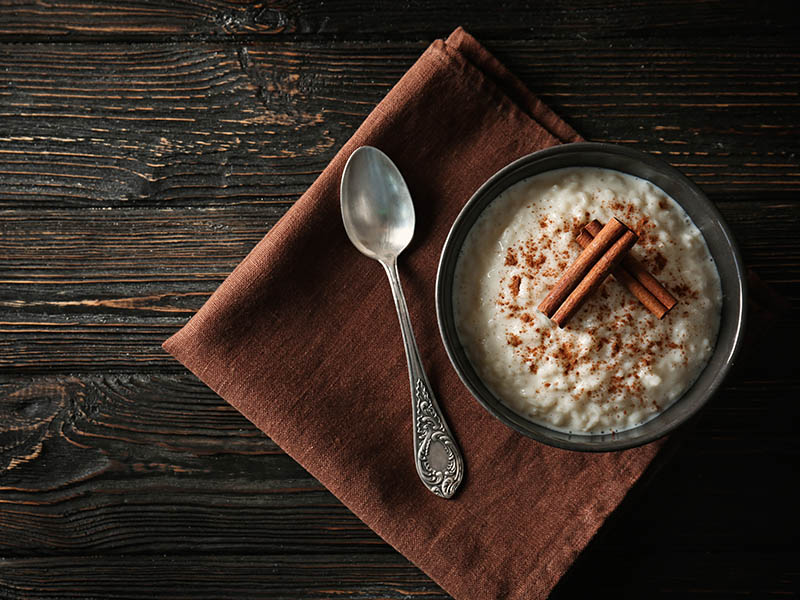 Imported rice was once regarded as a luxury item in Hungary, as it was throughout Europe and was only used on exceptional occasions. Wedding celebrations used to end with a bowl of rice pudding cooked in sweet milk and flavored with ginger until the 19th century.
Tejberízs is now primarily a comfort dish, and it is especially popular among children.
31. Túrógombóc – Cottage Cheese Dumplings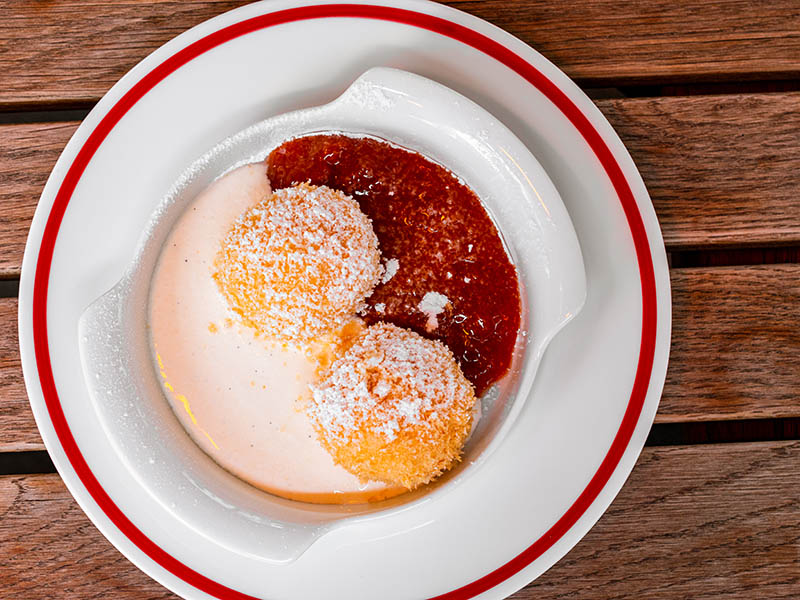 The Hungarians' love for cottage cheese (túró) is once again represented through this dessert. After all, it is the most popular cheese in this nation.
These cheesy dumplings used to be salty and hard, but as the 20th century progressed, they got lighter and sweeter, finally achieving their current shape and taste.
Túrógombóc has been refined and tweaked to suit our Hungarian taste buds, thanks to the Hungarian gourmet revolution of the previous ten years.
---
Enjoy Hungarian Cuisine To Your Heart's Content!
Hungary is a landlocked country in Central Europe that shares borders with six other countries (Austria, Romania, Poland, Czech Republic, Slovakia, and Serbia). As a result, it should come as no surprise that Hungarian cuisine has been inspired by its gastronomic neighbors.
Even if you're not a huge foodie, learning about a country's primary cuisine is a great way to learn about its history and culture. So don't forget to note down the dishes I mentioned above and experience the cuisine like a local.
If you like this article, be sure to give it a thumbs up and share it with all your friends and loved ones. Also, let me know which Hungarian dishes you look forward to the most in the comment section below. Thank you all, and stay safe!