If you don't know where to start learning more about Serbian foods, this article will be the best because I will provide everything you might need here.
Serbian cuisine fully converges the diverse colors of the great Western cooking, but it does not overshadow the unique identity of their nation. All of that combined helps create signature features for a whole culinary culture.
From savory to sweet or from light to heavy dishes, everything I recommend today will help you have a memorable dining experience in Serbia.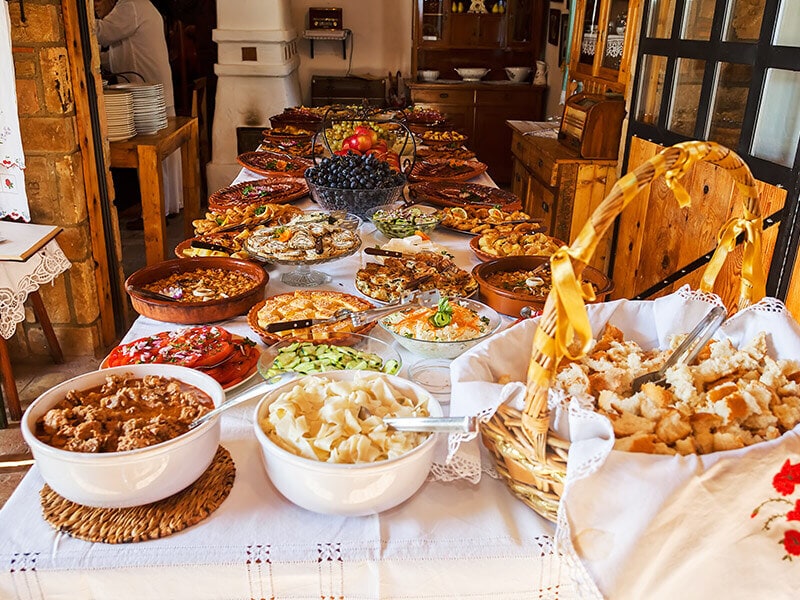 About Serbian Cuisine
Serbia, or the Republic of Serbia, is a landlocked country that lies in the Southeast position of Europe. Since various extensive cuisines bound the country, Serbia's culinary culture is a harmonious mix between all the goodness in cuisines of different European countries.
Therefore, don't be surprised if you see some familiar famous foods belonging to other lands introduced in the Serbian version.
In Serbia, people typically have three meals a day, yet breakfast was a recent norm in this country as it was just widely introduced in the late 19th century.
The biggest meal of the Serbian people is lunch, and they will have a hearty and heavy lunch to have enough energy for a day.
Enough with the prolonged talk; let's move to the must-try food suggestions in the upcoming section!
Serbian Soups and Stews
Do you wonder how to have perfect soups and stews in Serbian style? Here are my recommendations for you!
1. Consommé (Serbian Clarified Broths/Clear Soup)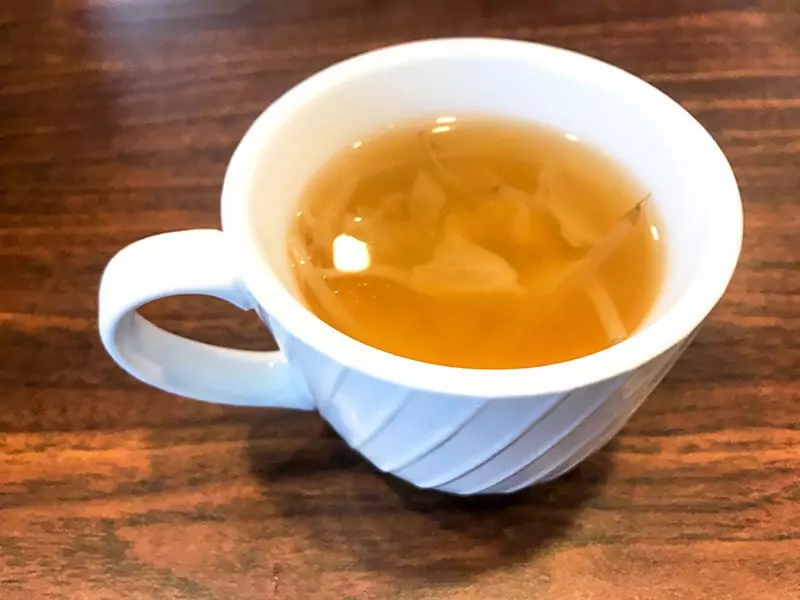 Consommé is an ancient food that existed from the Middle Ages, and there is a fascinating story behind that. King Louis XIV of France was the first one who thought of creating a clear broth/soup so that he could see his reflection.
Many tend to think beef broth and beef consommé are two different words to refer to the same dish. However, the truth is that you can spot many distinctions between beef broth and consommé, meaning that these two are completely different.
Generally, you can expect beef consommé to be at least twice thicker and purifier than the regular broth. Although it is not an authentic Serbian dish, it is widely loved in this country, and the variation is also tasty.
To enjoy this dish in its finest quality, my tip is to drink it when piping hot. Don't let the broth cool down, as it will form a jelly-like texture gradually. The tastes will be even more robust when enjoying fresh garnishes like chopped onions, green herbs, and egg yolks.
2. Goulash (Serbian Beef Stew)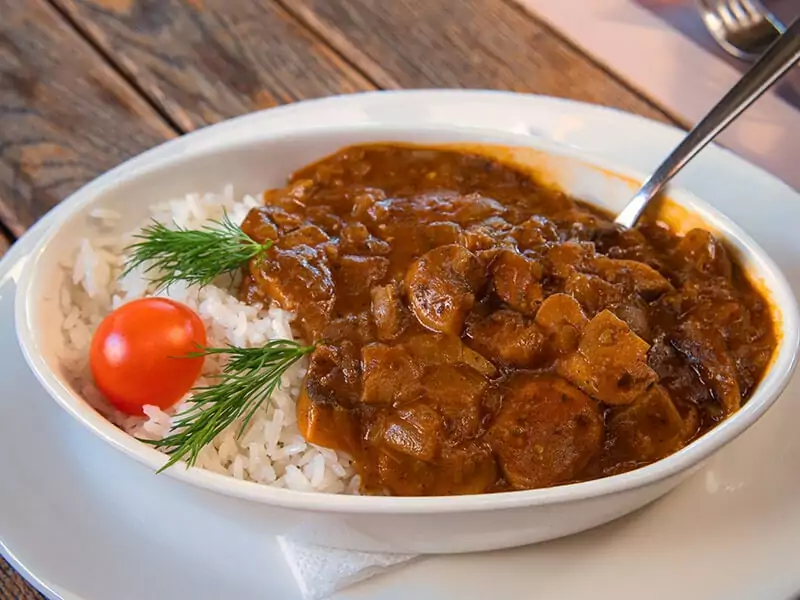 Goulash is not a traditional Serbian dish; it is actually a famous Hungarian dish with the original name "Gulyás". This dish in the original version also includes meat, vegetables, and spices (especially paprika).
When Goulash arrived in Serbia, the Serbs changed it to a more typical Serbian color recipe. They'll sometimes add tomatoes and dark chocolate to the stew's last step and serve it with noodles or mashed potatoes.
This meal was invented in the 9th century, and the first people to make it were shepherds.
Meat has been dried or treated somehow rather than being fully cooked from raw meat. This dish was only popular in Hungary and did not catch on in adjacent countries (for example, Afro-Eurasia) until the 16th century.
You can know more about how to make Goulash here!
3. Bela Čorba (White Chicken Soup)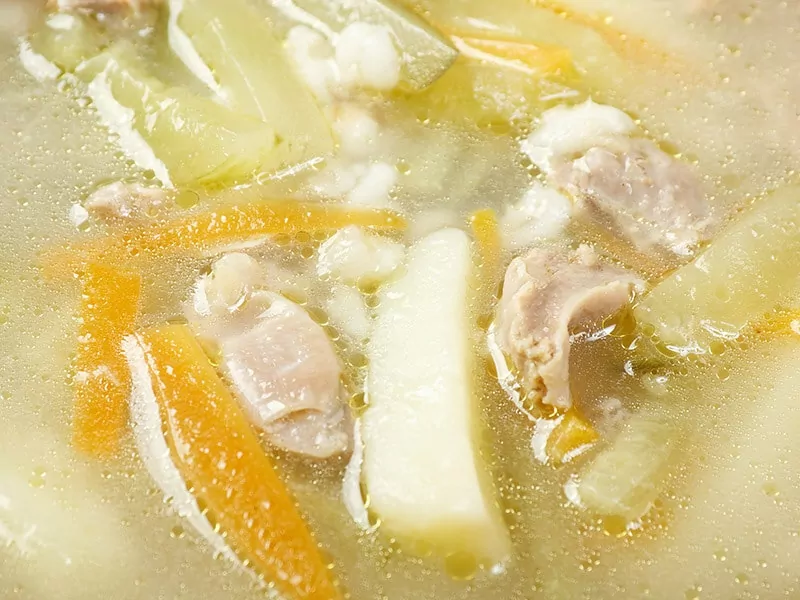 This soup is considered a fancy soup in Serbia, and it is made of chicken broth, egg yolk, sour cream (added in the last step), and some additional root veggies like potatoes.
The name "Bela Corba" also reflects its general appearance with the dominant white shade from sour cream and other ingredients. Once trying it in a restaurant, you will realize they use it mainly for appetizers or the first courses.
When the summer comes, and the weather becomes hotter, the Serbs will love to enjoy this treat as light summer lunches with more potatoes and fresh salad on a side.
If you don't want your ordered chicken soup to be too sour, you can ask for a separate serving of sour cream.
4. Mućkalica (Leskovac BBQ Meat Stew)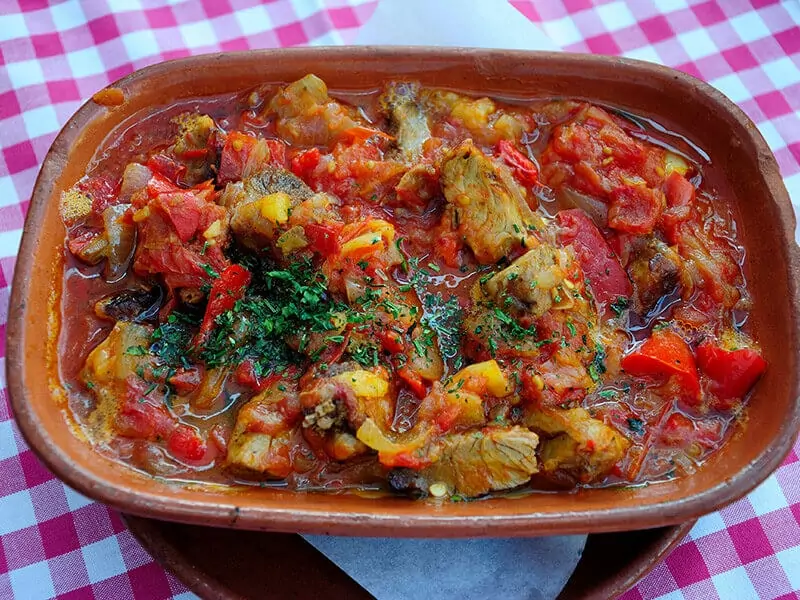 This Mućkalica, as its names indicate, is a classic Serbian dish that originated in Leskovac. The idea was to use leftover BBQ pork (a nice treat in Leskovac), and they opted to put it into a new base of vegetable broth. Mix everything in one pot and bake until done.
The name of this dish is derived from the Serbian term "Mućkati," which means to mix, shake, and combine.
There will be no challenge to enjoy this treat, you can have it almost anytime. But I suggest you go to its hometown, Leskovac, for a better-guaranteed first experience.
5. Škembići (Tripe Soup)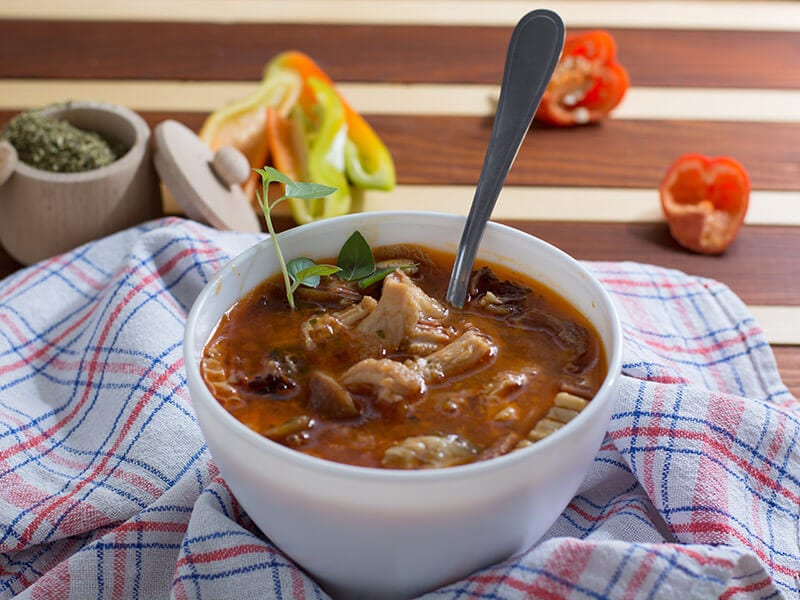 Serbian cuisine is a harmonious combination of Asian, Central European, and local Balkan cuisines. And they usually include various meat, pastry, or veggies to their high-calorie food. This tripe soup is also solid proof to show you clearly about this culinary culture.
There are various varieties of this dish in Eastern European cuisine, yet, the original version is in Serbia. The first Škembići recipe was found in the 13th century, so it is considered one of the oldest Serbian dishes.
If you are curious about this soup's taste, you should try it as an authentic restaurant before attempting to do it at home. The smell of the pork/beef tripe and intestines will be vital for beginners.
6. Pasulj (Serbian White Bean Soup)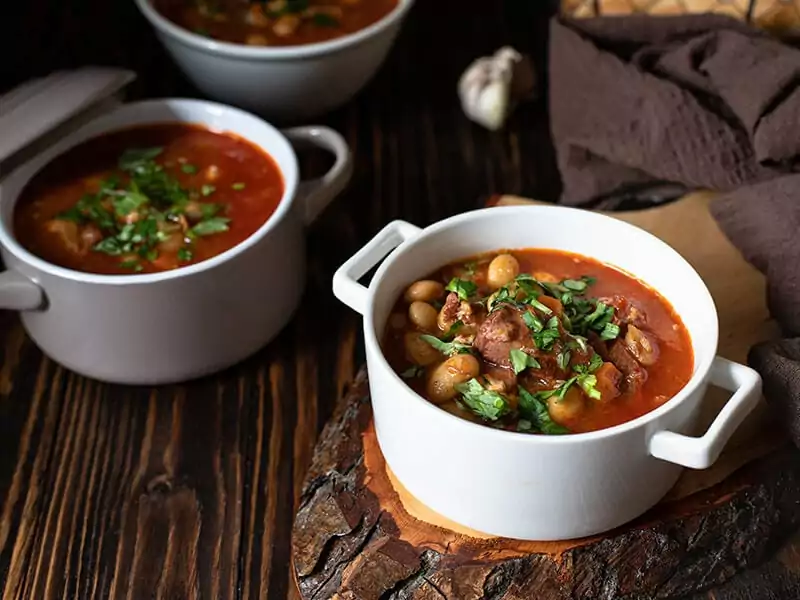 Not only famous in Serbia, but this Pasulj soup is also renowned in many other countries, especially in the culinary scene of Montenegro and German-speaking countries. In those countries, this dish is usually known as "Serbische Bohnensuppe" (meaning "Serbian bean soup").
The main ingredients for this dish are white and pinto beans, with some kinds of meat (smoked bacon, hammock, and so on). You can still have the vegan choice for this dish with the components including only beans, carrot, and onions.
There is a famous Serbian idiom, "prosto kao pasulj," and it has a similar meaning of "as easy as pie". Now you know a new fascinating idiom in the Serbian language.
Serbian Bread Dishes
When it comes to any cuisine, bread dishes are the essential part. If you are curious about them, let's discover some right here!
7. Srpska Proja (Cornbread)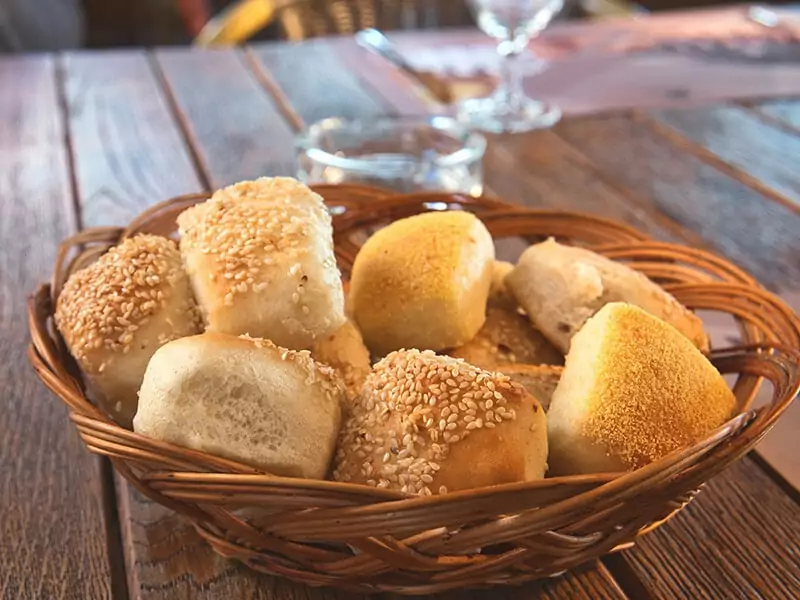 Cornmeal is a frequently used ingredient in Serbian cuisine, and you can see there are varieties of dishes made of this humble powder. Based on the different regions, you can find it by many other names such as Projara, Projanica, or Muruzara.
Proja is the most famous staple for Serbian peasants. The food was introduced and developed widely in the widespread poverty period in the 1950s. The cornmeal was the only thing approachable at that time and became a part of everyday meals.
Time passes; now, the cornmeal is still eaten thanks to its deliciousness. Serbian people usually eat it with yogurt, cottage cheese, Pasulj or Sauerkraut dishes, or something else as an appetizer or a fast breakfast.
8. Česnica (Christmas Bread)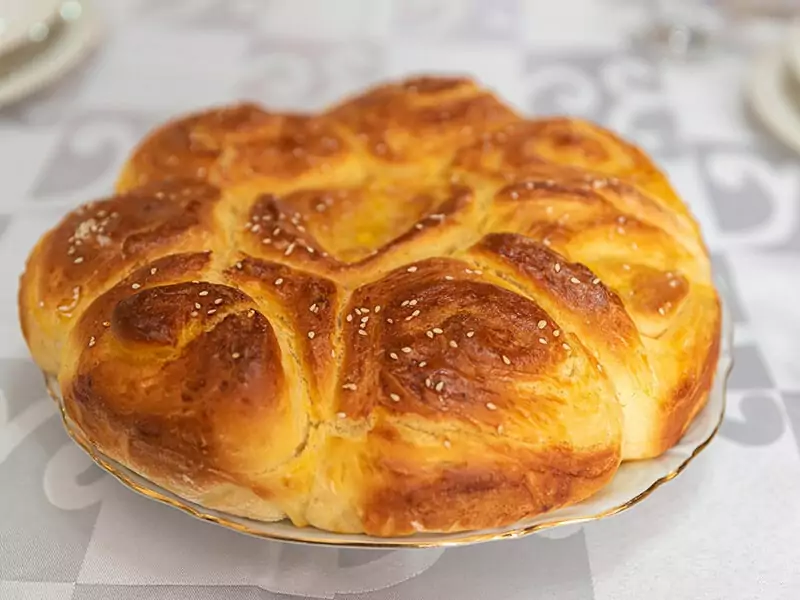 Do you know what is the must-have dish in Serbian Christmas? A perfect dinner of Serbian people in their traditional Christmas cannot be done without the existence of this Česnica.
The name of this dish has a gorgeous meaning when it is genuinely derived from the term "čest", which means "share".
There are various religious beliefs around this bread, one of them is " the lucky coin ". When making Česnica, the maker will put in a coin or other small objects.
Before eating, the people around the dinner table will rotate the bread three times counterclockwise, and each person in the family will choose the bread part they want. If there is a coin or a lucky thing hidden in their bread portion, they are the lucky ones.
The women in a family will make this bread a day or a night before their special occasions with chopped nuts, raisins, and wheat flour.
9. Kiflice (Cheese Rolls)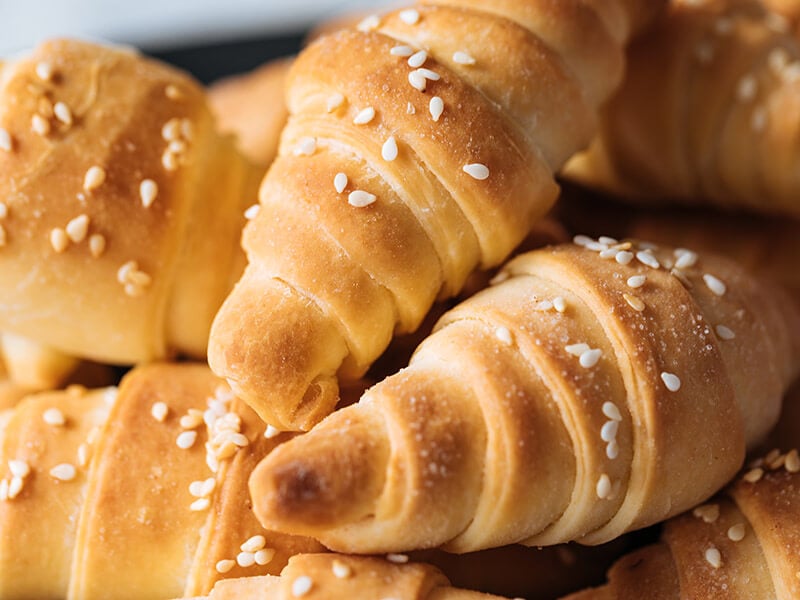 Serbian Kiflice looks absolutely like croissants, an iconic dish when it comes to French cuisine, and they are genuinely relatable. None of the Serbian Kiflice and French croissants are the original version of this specific cheese roll; the authentic recipe of this bread was from Austria.
In the Austrian language, the name of this dish is "Kipferl" and is described as wheat rolls with pointed ends. Kiflice appeared from ancient times and mentioned a lot from the 10th and the 17th centuries' records.
In Serbian, they serve Kiflice the most on Serbian Christmas (on January 1st) and their version of bread with sheep cheese or fruit jams fillings, sprinkled sesame seeds, and paprika powder.
10. Pogača (Balkan Butter Bread)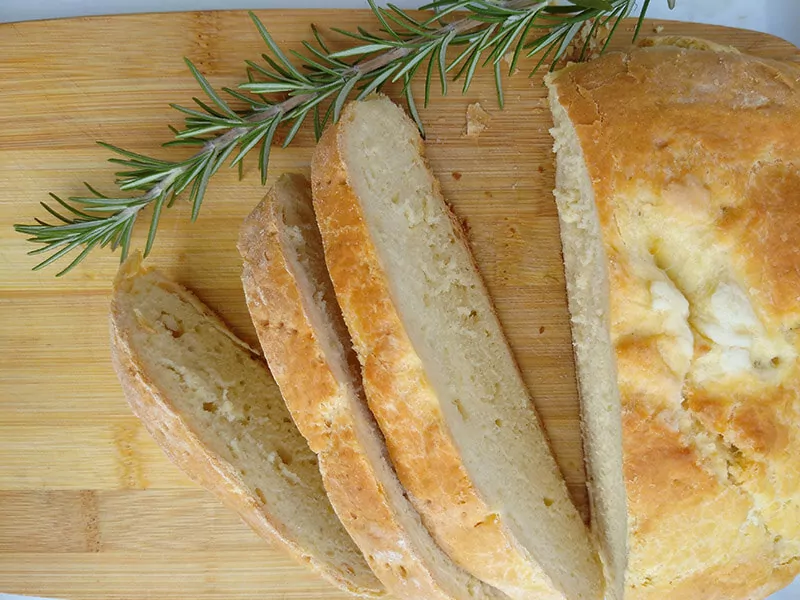 The word "Pogača" is derived from the Latin word "panis focacius" (which means "flatbread baked directly on a fireplace/under the fire's ashes").
Pogača is not an authentic Serbia flatbread, it is a staple of Balkan cuisines, and there are also many varieties in the other Southeast European countries.
The bread is usually made of wheat flour (with optional rye or barley amount) and potatoes, cheeses, or ground beef fillings.
11. Lepinja (Flatbread)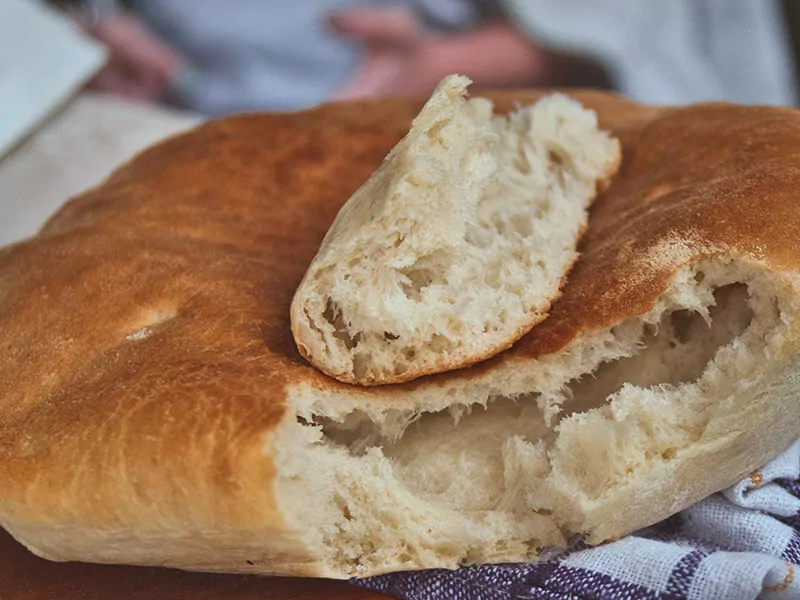 What is the difference between this Serbian flatbread and the previous Pogača? The Pogača is spongy and denser, while the Lepinja has a softer and airier interior. You can also find this flatbread in Bosnian cuisine.
Since the taste of this bread is pretty bland and neutral, it is usually used as the bread base for various savory dishes or Serbian burgers alongside a fresh salad.
About the appearance of this Lepinja, as you can see in the illustration, it has a round shape and is relatively flat. That might be the reason why they call it Serbian flatbread in English. You will find its appearance in some dishes below.
Serbian Salads
If you are in the mood for some salad, this category will suit you the best. These suggested salads will be absolutely pleasing!
12. Srpska Salata/ Sopska Salata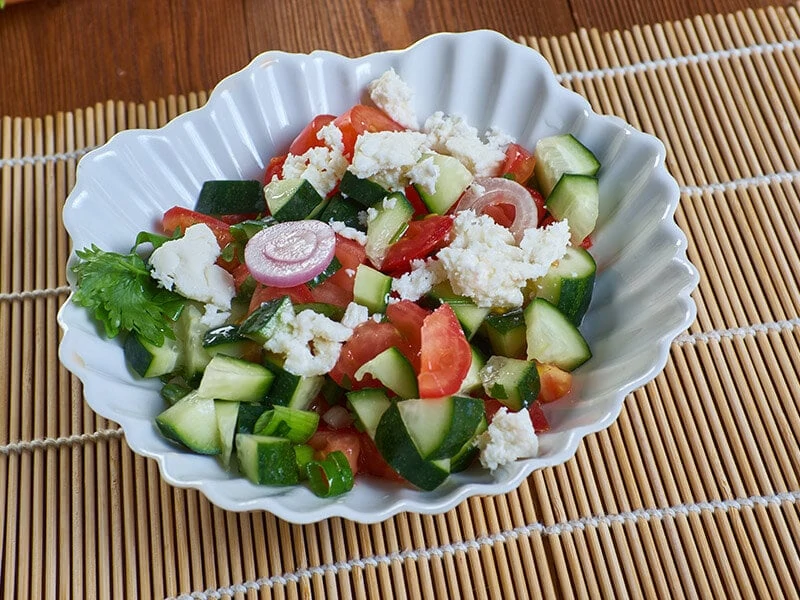 Now, let's turn to something fresher and lighter for an ideal Serbian meal which is a salad. This Serbian-style salad (Srpska Salata) is favored in the whole nation and even in other countries.
One fact is the true origin of this salad is from a western part of Bulgaria; yet, Serbs did their job well in adding beautiful twists to the dish.
Made of fresh ingredients such as diced tomatoes, onion, cucumber, roasted or raw peppers, and salted cheese toppings, the salad will be absolutely refreshing and light enough for a summer-y side dish.
Sunflower oil or olive oil is also a signature feature of Balkan and Eastern Mediterranean cuisine. That's why these two are commonly seen in Mediterranean foods for vegetarians. So don't be surprised if you see sunflower oil and olive oil everywhere in this cuisine.
You won't regret seeing this Sopska salad-making tutorial.
13. Moravska Salata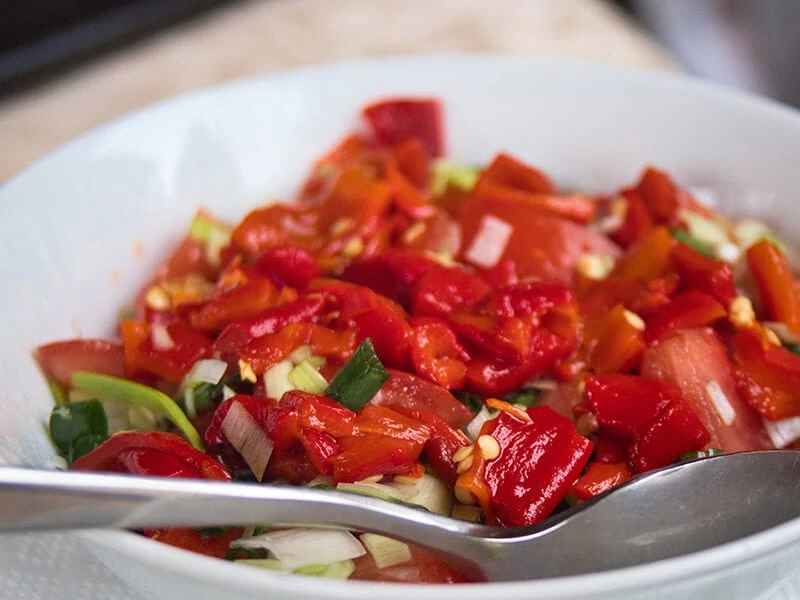 Another salad for your Serbian side dish options is this Moravska salad. This salad is an authentic Serbian dish since it came from the Niš and Leskovac region.
The idea to make this cheese is quite the same as the previous Sopska salad; they will also use chopped tomatoes, roasted and hot peppers with an additional contribution of chopped leeks. The flavoring condiments are simple, and they use only salt and oil.
Serbs love enjoying the food as a side dish beside grilled meat or as a light full-meal combined with toasted bread and some hard cheeses. This is the perfect appetizer to have during the summer, thanks to its lively flavors that will awaken your taste buds.
14. Urnebes (Spicy Cheese Salad)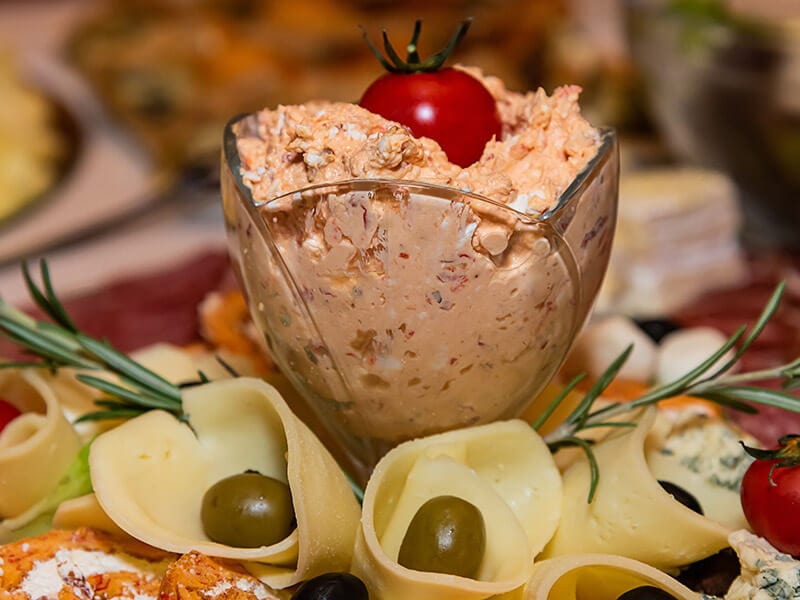 Urnebes is a traditional Serbian salad and one of the most favorite ones. Serbs usually combine salty cheese, cooked egg yolks, sour cream, garlic, roasted peppers, paprika, and some oil to create this particular salad.
In Serbian, Urnebes is frequently served with main courses or meaty treats as a side dish. They will also use it in Serbian burgers as a toothsome topping, and you can always ask for it in the food stall.
The southern Serbian Urnebes will be spicier than the regular ones, so be mindful if you don't like something too spicy in your food.
15. Belolučene Paprike (Traditional Serbian Garlic Roasted Peppers Salad)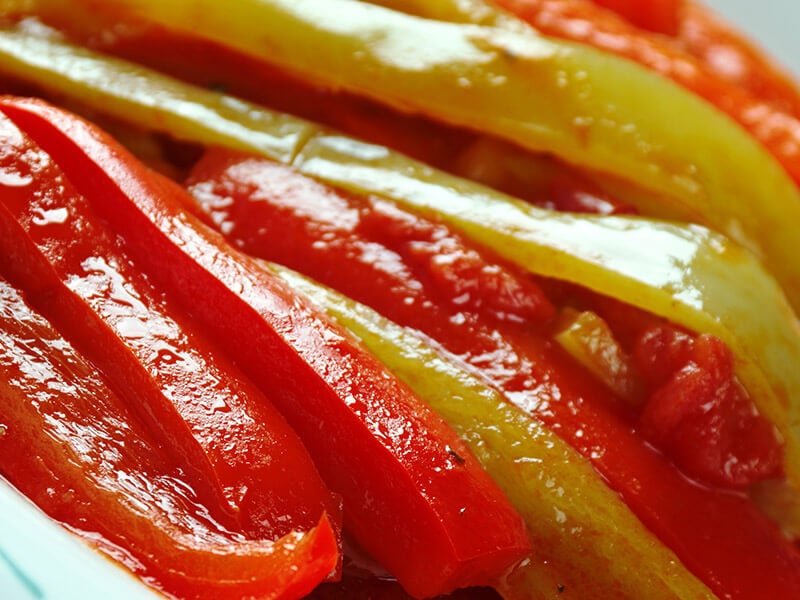 Have you ever seen a salad with roasted veggies? If not, this Belolučene Paprike will lend you an exciting experience. The food is ranked as the second favorite dish in Balkan countries, especially Serbia.
The ingredients will include garlic, roasted bell pepper, vinegar, oil, fresh herbs, and sometimes roasted aubergines. Simple, yet delicious.
You can find the suggestion on every Serbian restaurants' menu, and they will use it as a side dish besides roasted meats, hearty stews, or simply some slices of crispy bread and white cheese.
Serbian Main Course Dishes
As mentioned, lunches are the most important meal in Serbia. So, to have the best suggestion for your mid-day meal in this country, opt for the following dishes.
16. Sarma (Cabbage Rolls)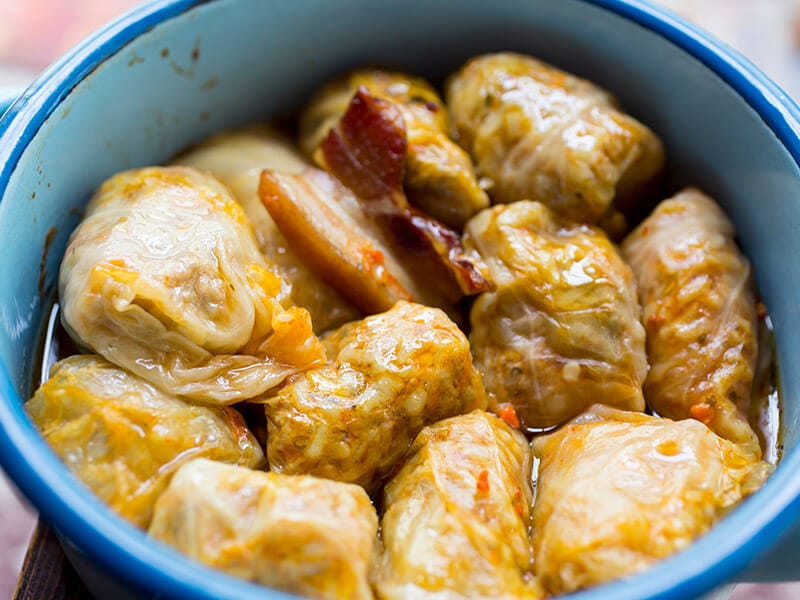 It is one of the most delicious and long-favored dishes of Serbian cuisine. The original sarma is made with pickled cabbage, minced pork, and rice, but there are a few variations, such as grape leaves wrapping or fish fillings.
If you haven't tried Sarma in Serbia yet, you have missed such an irreplaceable experience of a national delicacy. They will cook each Sarma (included the fillings) with bacon in tomato sauce for about 3 hours so that the overall flavor profile will be richer and more enticing.
Once talking about the origin of this Sarma, you have to date back to the former Ottoman Empire, and the original variation was called Dolma. Nowadays, Serbs love having the vegetarian variant of this treat during the observance of Lent.
Let's take a deeper look at this review to know how Sarma tastes like now!
17. Ćevapi/Ćevapčići (Grilled Serbian Sausages/Skinless Sausages)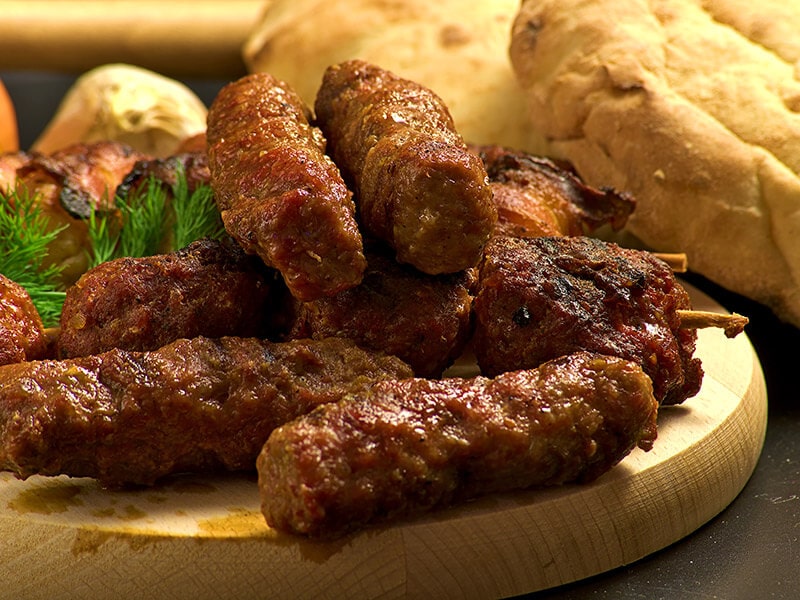 Ćevapi or Ćevapčići is a prevalent food in the Balkans, and it can be used as both a Serbian mid-day dish or a takeaway snack you can find on the streets. And there is a long story behind the popularity of this authentic Serbian delicacy in the area.
Let's date back to the Ottoman Empire! During the period, many hajduks (meaning outlaws or rebels) created a type of meaty skewed dish which included meat and smoked lard. They first called the dish "hajdučki ćevap" / "hajduk ćevap", which were many dishes' precursors.
Later on, in the 1860s, the Ćevapi variation from Leskovac appeared on the market. The love for that dish had increased rapidly because of the people's enthusiastic support.
In the years 1927 to 1928 in Belgrade, people had to queue to eat this dish, and many shops were selling it starting at 10 AM. Thanks to its growing popularity, Ćevapi is gradually becoming more known as a specialty of eastern Serbia.
18. Punjene Paprike (Stuffed Peppers)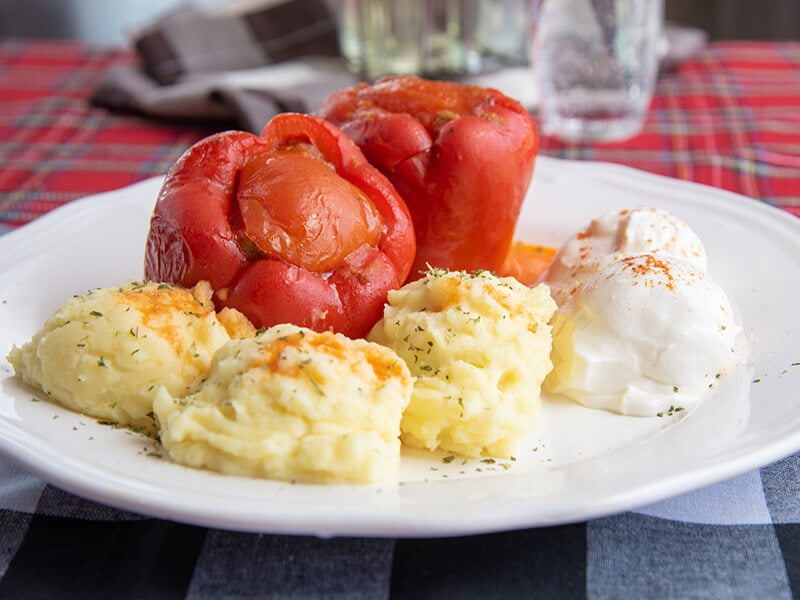 The name Punjene Paprike of this treat means "stuffed peppers" in the Serbo-Croatian language, which efficiently describes the general idea of the food.
Each pepper includes a mixture of meats, rice, egg, red capsicum, and some spices so that you can expect a flavor kick from the first bite. Punjene Paprike isn't an authentic Serbian dish, it was from Bulgaria, and the original version offered fewer ingredients in the filling mixture.
This dish is heartier than you might think, and you totally can have it for dinner. Then if you want to have a loaded dinner of this delicacy, feel free to go to a Serbian restaurant and call for one.
19. Karadordeva Snicla (Stuffed Cutlet)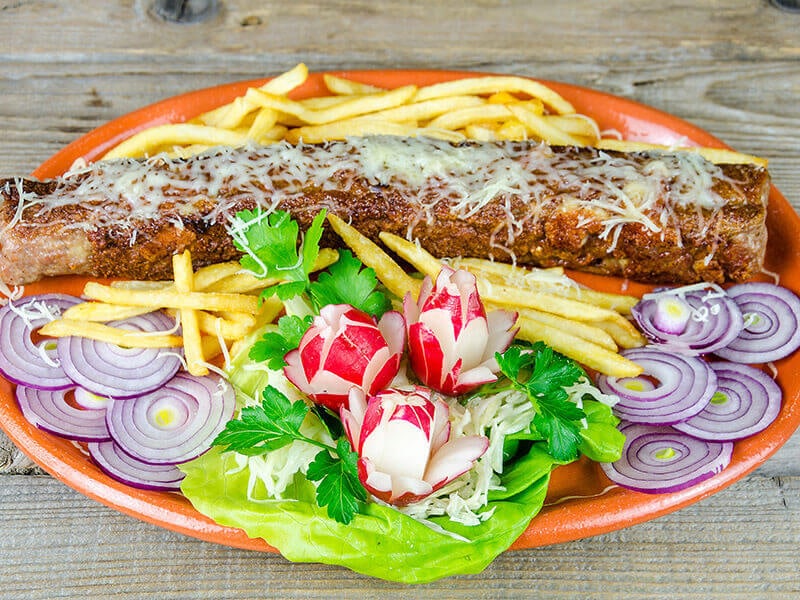 Turn back to a traditional Serbian dish with its name inspired by a Serbian revolutionary, Karađorđe. This dish was initially conceived as a breaded, deep-fried rolled pork or veal cutlet, but later it was also served with light dishes such as tartar sauce or baked potatoes.
Today's Karadordeva is a slightly modified version of the ingredients by chef Mića Stojanović in 1959. When chicken suddenly became scarce, he was forced to use veal instead in a dish served for his distinguished guest.
While replacing, he was trying various ways, including sauces and fresh vegetables, he suddenly achieved a finished product that looked quite like a piece of medal. Because of that beautiful shape, the food is called Karadordeva Snicla to this day.
20. Pljeskavica (Traditional Serbian Burger)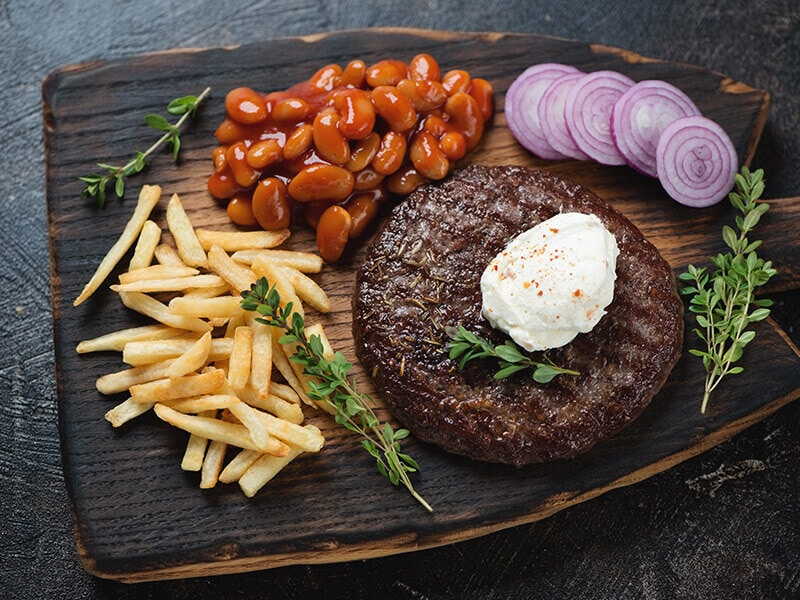 If you ask a Serb about a burger suggestion, they won't tell you any name of fast-food chains. Instead, they will surely recommend this flavorful Pljeskavica. The dish is so tasty that it is considered one of the Serbian national foods.
Although it looks pretty similar to Ćevapi, the ideas to make them are totally different. The meat patties of Pljeskavica will include various types of meats (beef, pork) and hot spices for a robust flavor.
Never forget to pair it with the delicious Lepinja bread with some additional sauces/condiments such as Kajmak (milk cream), Ajvar (relish), and Urnebes (spicy cheese salad). They will beautifully combine and create a great harmony.
One funny fact about this treat is the term "pljesak" in their name means "to clap your hands". It is also the most prevalent street food in Serbia that you can quickly grab while wandering on the sidewalk. Now, take a big bite and Pljesak if you are amazed by its taste.
21. Leskovački Voz (Leskovac Barbecued Meat)
The name of this dish represents where it comes from and the manner they use to serve it. Leskovački Voz means Leskovac train, with Leskovac is a town in the south of Serbia and train is the way they "endlessly" serve you this BBQ meaty feast.
Before you feel full and tell the staff to stop refilling food, they will continuously give you more and more. The meats included in this BBQ feast are various, you can have čevapčići, pljeskavica, stuffed pork loin, sausages, and mućkalica.
Therefore, if you want to try all the grilled/roasted meaty Serbian treats at one time, this Leskovački Voz is a perfect choice. Unluckily, you won't be able to have this dish all the time; it is usually served only at the Leskovac Grill Festival in early September each year.
Serbian Sweets and Desserts
Desserts are the fairy tales of every meal, and everyone will crave its alluring sweetness. After all of the above recommendations, do you wonder how the Serbian sweet treats look like? And more importantly, are they delicious?
You don't have to wait anymore; these flavorsome desserts will surely please your taste buds. Some of these are so delicious that they're famous sweet treats in Mediterranean cuisine as well. So you better brace yourself, or you'll get addicted with these palatable Serbian desserts.
22. Plum Slatko (Serbian Plum Jam)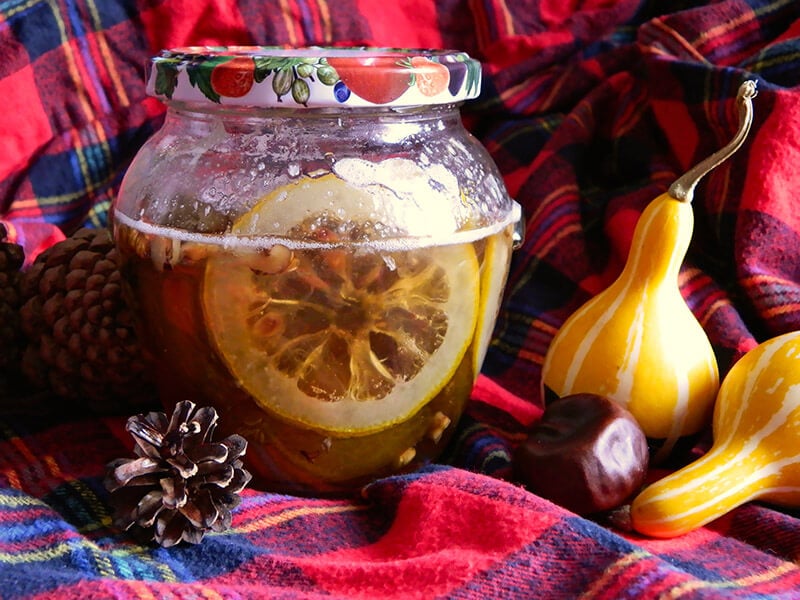 Plum Slatko is a traditional sweet treat of Bulgaria and Serbia from the old-time and can be used in various applications. Besides eating alone like jam, this Slatko can become the other desserts' topping. A shortcake will taste even more heavenly with a spoon of Plum Slatko.
There are many other variations of Slatko that are made of different ingredients, such as wild strawberry, blueberry, and cherry. All of them are sweet and syrup since the name "slatko" means sweet in Bulgarian and Serbia.
In Serbia, Plum Slatko is usually a treat for guests to show the homeowners' hospitality. Therefore, Serbs will give their guests a spoonful of Slatko as a warm welcome.
You can ask for another spoonful if it is too delicious and you want to taste it again; the homeowner will love that. Yet, don't try to ask for the third time since it will be considered as an improper manner.
23. Tufahije (Stewed Stuffed Apples In Syrup)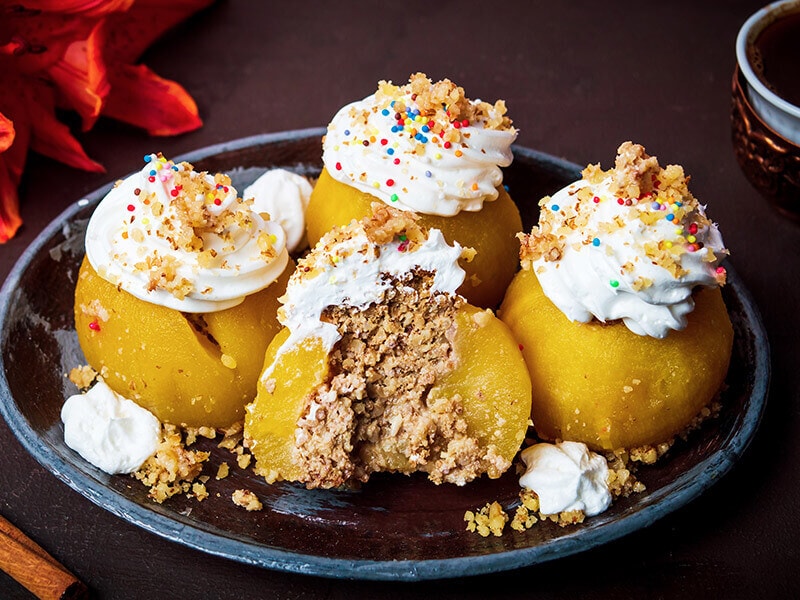 Its name, Tufahije, is derived from an Ottoman Turkish word, "tuffāḥa," which means "apple". Although this is a signature dish from Turkey (specifically during the former Ottoman reign), it is prevalent in various other countries, especially in Serbia.
Tufahije is made of apples poached in sugar water, stuffed with walnuts, and topped with whipped cream. My tip for you is to have it with some coffee, the bitterness from the drink will help you milden the sugary sweetness from Tufahije.
24. Zito/Koliva (Wheat Pudding)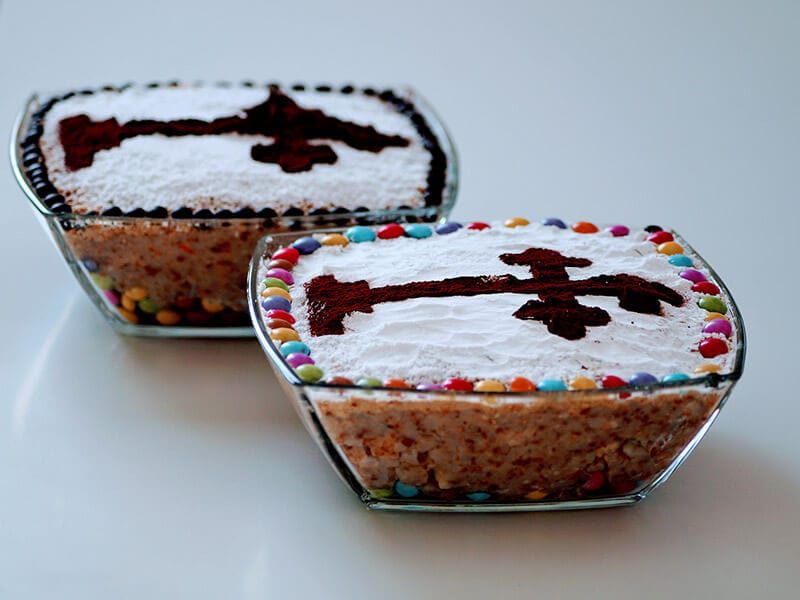 Zito or Koliva is a sacred Serbian dessert that offers the meaning of appreciating life and death, harvest and renewal, so it is usually served on special occasions. The word "zito" (or zhito) also means "wheat" in Serbian.
For instance, on the Slavas Day (a day for the family's saint), Serbian Christmas, or the first day of the Great Lent, they usually have this zito/koliva.
This treat appeared a long time ago, from the time before Christianity. Its name is derived from "kollybos" (an Ancient Greek word that means "a small coin" or "a small boiled wheat pie").
Koliva became a ritual food during Emperor Julian the Apostate's reign (from 361 to 363) and brought the mentioned meaning. Don't worry; you can still find yourself some Koliva in Serbia and don't need to be on the right occasion.
25. Kitnikes/Membrillo (Quince Cheese/Quince Paste)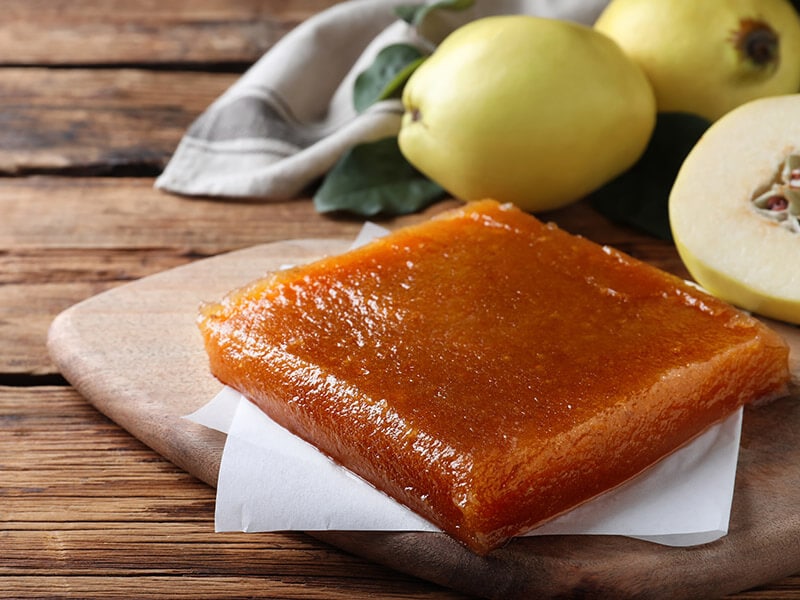 Membrillo or Quince Cheese is a type of jelly-like confection famous in many countries. It was created from Roman times. And they found its first recipe in a Roman cookbook of Apicius ( including many recipes from the late 4th to the early 5th centuries).
This sweet treat is made of quince, a golden and hard fruit that offers an alluring apple, pear-like, and citrusy fragrance. Then if you want to start with a light and fruity sweet, you should not miss this Quince Cheese.
You can see this video to know more:
26. Tulumba (Fried Dough Pastry)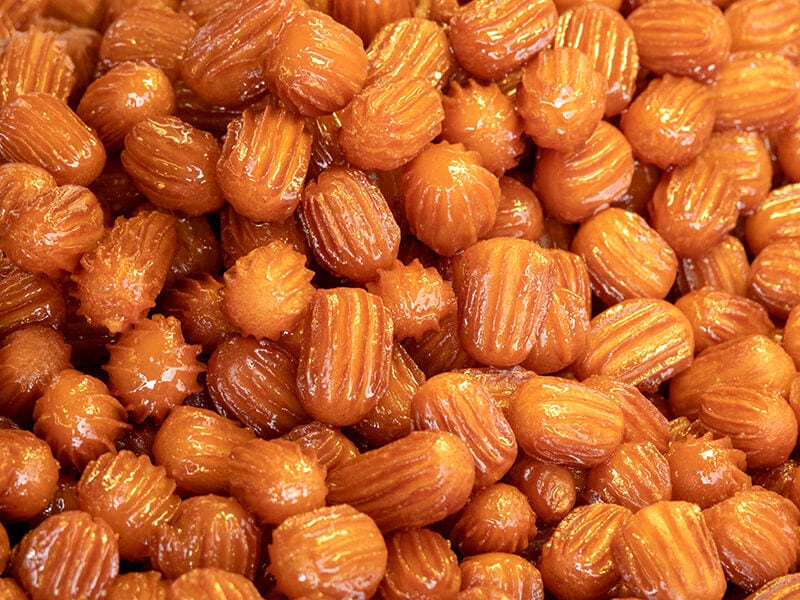 This sweet looks like small-size churros and is cooked in the same way as the Indian famous Jalebi (deep-frying). It is also coated with syrup for more flavors and sweetness. The only significant difference is people prefer eating this treat cold.
Tulumba is a dessert with Turkish roots; it was a specialty during the Ottoman Empire and at the end of the 18th century. These Tulumba pieces will not have a filling or be as crispy as some other similar-looking sweet treat. But, I am sure it will not disappoint you.
27. Doboš Torta (Dobos Cake)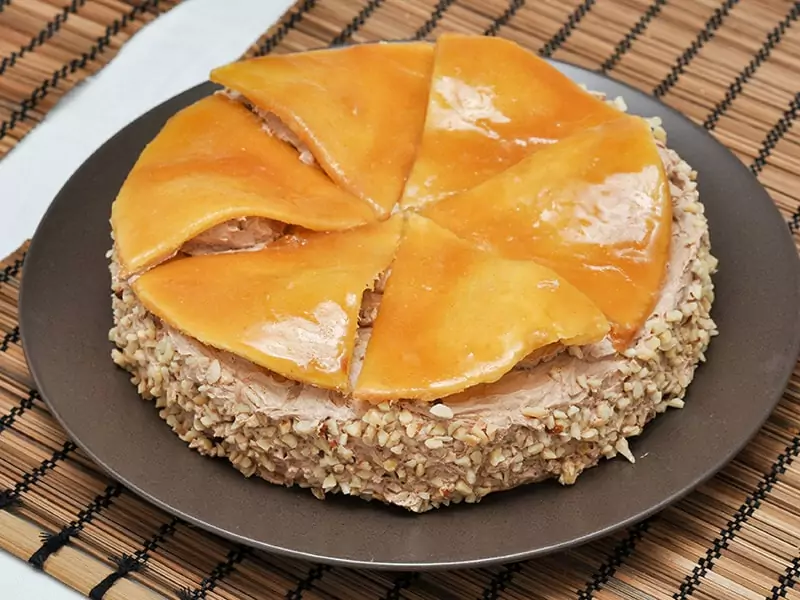 You will be impressed knowing who was the first to try this delicate Dobos Cake. This treat was first officially represented in 1885 at the National General Exhibition of Budapest, and the cake was named after the one who created it, József C. Dobos.
The two honored guests of the exhibition, Emperor Franz Joseph I and Empress Elisabeth tasted it first. Initially, these Dobos cakes consist of plenty of nuts that help preserve the form of the cake and prevent them from drying out.
After time making and twisting, the Hungarian chef, Dobos, came up with the official recipe with the cocoa buttercream. His treat was loved by many people in Europe and has become a famous dish in Europe.
You should not miss this instruction to make Dobos Torta and learn more about it!
28. Palačinke/Palaccinka (Serbian Pancakes)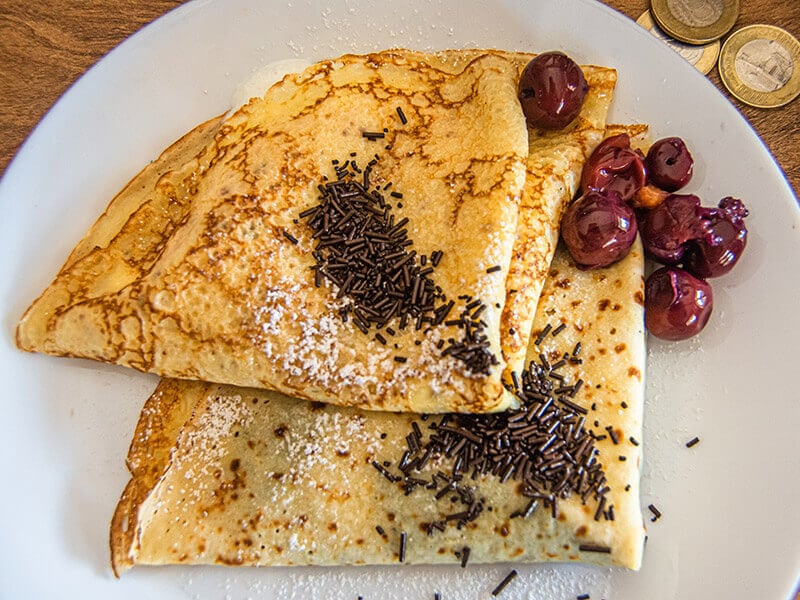 This pancake is quite familiar because it is also thin, like the French crepe, yet, it doesn't have a French origin. Back in 350 BCE, the first record for the food started to appear, and up to date, it is still unclear whether the food came from ancient Greek or Roman.
The name of this Palačinke is inspired by the Latin word "placenta" or the Greek word "plakous", which describes a food including several layers of flatbread. Besides Serbia, it's an immensely popular dessert in Croatia, Czech, Ukraine, and many European countries.
In Serbia, it is typically filled with various components of walnuts, honey, chocolate sauce, or cream. You also have savory options for the filling, such as ham or loads of cheeses. How flavorsome!
29. Krempita (Vanilla Slice)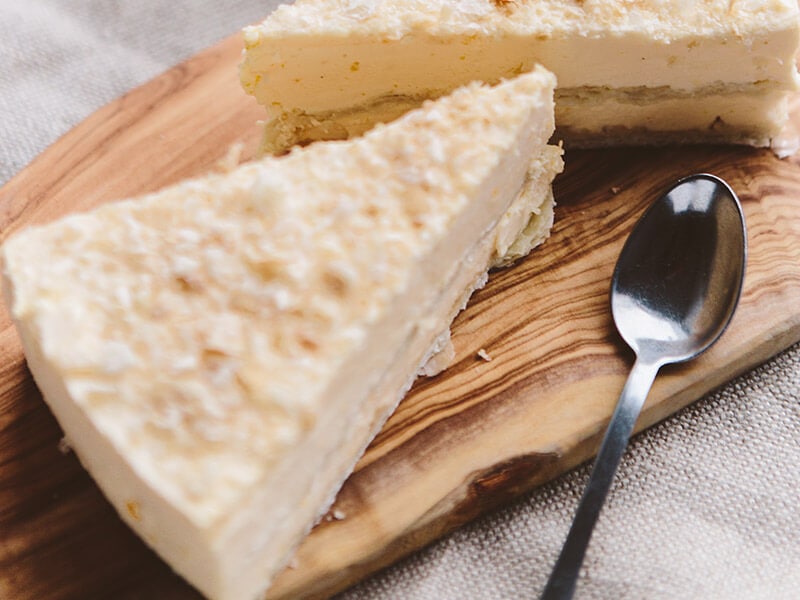 In German, this Serbian Krempita is called Cremeschnitte, and it was a signature dish of the former Austro-Hungarian Monarchy. Nowadays, Krempita is widely known in Central Europe and the Balkans regions to find many variants there.
It is expressly understood as "cream pie" or "cream pastry dough" in Serbia. It is because "krem" means "cream" and "pita" means "pastry dough" in this country's language.
The combination of the smooth and sweet cream with layers of puff pastry which are a bit flaky and chewy, is genius. You will not be able to stop eating more and more.
Other Serbian Foods and Condiments
The above are not all the dishes you should know about in Serbia cuisine. You won't know what you've missed if you skip this category.
30. Cicvara (Serbian Corn Pudding)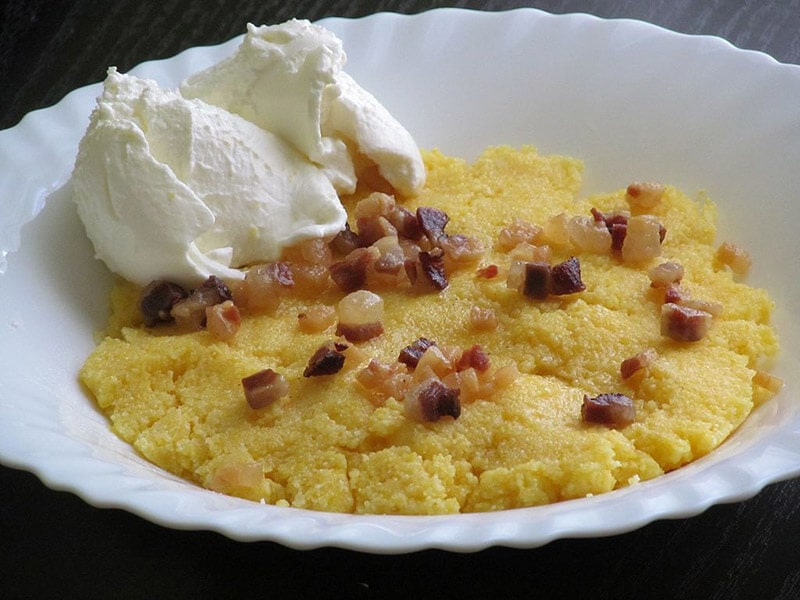 If you want to find a dish for a perfect Serbian-style breakfast, this Cicvara is the best option here! In Serbian, the smell of Cicvara is a signal that the new day has come.
This Cicvara is authentic Serbian food from a long time ago, and it was first made of various ingredients such as barley, oats, rye, or some other things.
It was not until the corn was introduced into Europe that cornmeal became a major ingredient for this dish and replaced the other grains.
31. Pule (Donkey Cheese)
Pule cheese is the most expensive cheese in the world. The secret behind this price is that it is made from the milk of the Balkan donkey (a rare type of donkey) and is considered a feature of Serbian cuisine.
Pule is extremely rare as it takes 25 liters of donkey milk to make 1kg of cheese while this donkey is in danger of extinction. Currently, these donkeys are raised in the Zasavica nature reserve of Serbia.
Pule cheese was born thanks to the crazy idea of Mr. Slobodan Simić, a former member of the Serbian Parliament then turned into a conservationist of nature and wildlife.
When he saw donkeys being abused about 20 years ago, he brought them to his land and decided to make cheese from their milk.
How about finding the answer for why this Pule Cheese is expensive right here?
32. Kacamak (Cornmeal Porridge)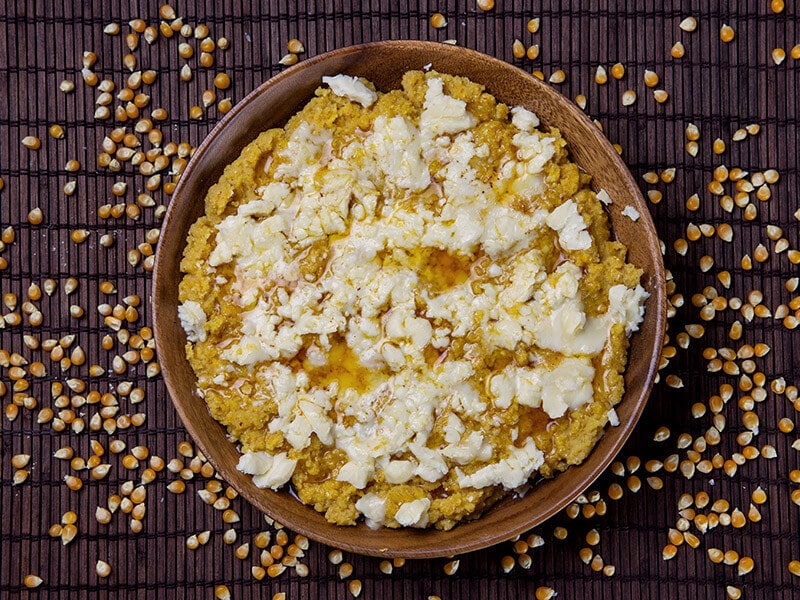 Serbian Kacamak or Bakrdan is a famous cornmeal/maize porridge that has plenty of variations in other countries of Southeast Europe and Western Asia. The term "Kacamak" is actually derived from the Turkish term "Kaçamak" (which means escapade).
This Kacamak is relatively important to Serbian people since many of their generations grow up with this rustic food on the table every morning. They love enjoying a bowl of Kacamak when the weather is cooler or when they crave something filling.
With the main ingredients being only ground cornmeal, butter, or oil and some condiments, this dish is so versatile that it can be a full meal or a side dish besides heartier treats. I suggest enjoying the simple version with some feta and crispy bacon on top.
33. Burek (Fried Filled Pastry with Fillings)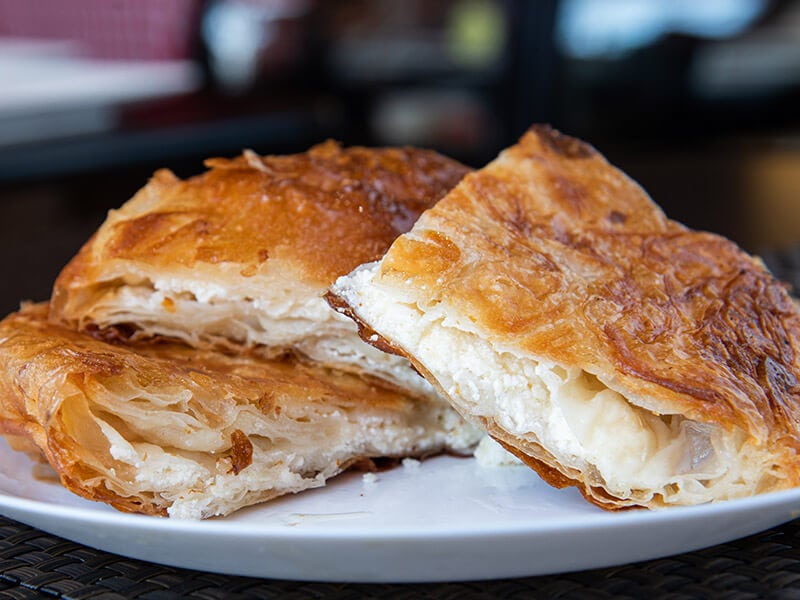 A delectable Burek consists of a ground meat filling (lamb, pork, beef, or all three) or a cream filling with cheese.
It is also said that this Burek would not be a Burek if it had no meat, yet the cheese variants still exist, and they are absolutely flavorsome. This dish is eaten as a breakfast dish in Serbia and comes in many shapes depending on the seller.
Burek is not a Serbian dish but a Turkish dish brought to Niš (a Serbian city) in the 15th century. Later this became one of the most popular dishes in Croatia, Serbia, and Slovenia. 
If you don't want to have the treat for breakfast, eating it as a snack or lunch will also make sense. Remember to order some yogurt when eating this Burek, it will help to reduce the greasy feeling when eating a large amount of meaty dish.
Following this introduction and know more about the best Burek dish in the world.
34. Prebranac (Bean Casserole)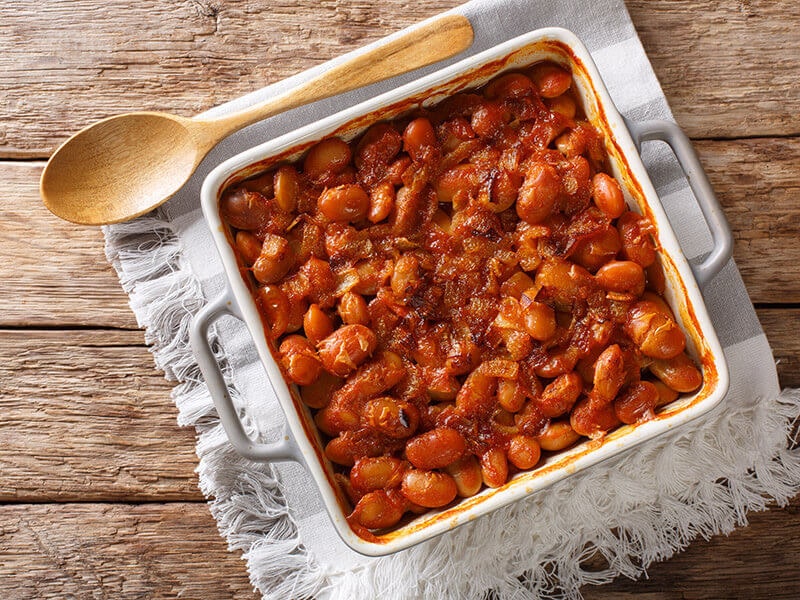 You can think of this dish as the most simple dish on this list, but its tastes will surely tempt you with gorgeous rusticity. This dish also appears in various restaurants in Serbia, so you can easily enjoy it.
To talk more about the origin of these Serbian baked beans. Beans were the New World's specialty before being introduced to Europe in the 16th century. In the 17th century, beans were brought to Serbia by the Tusks, and they gradually existed in Serbs' daily life.
The Serb farmers first made the food during a long winter. Nowadays, they love to have a plate of Prebranac on the dinner table on Christmas Eve or Patron Saint Day.
There are various other bean casseroles from other European countries, such as Gravce Na Tavce (Macedonia) or Cassoulet (France), but the Prebranac is entirely distinguished.
Don't need to overdo it to enjoy its best taste. Prepare some crispy bread slices, and they will be tasty!
35. Lutenica (Red Pepper And Tomatoes Spread)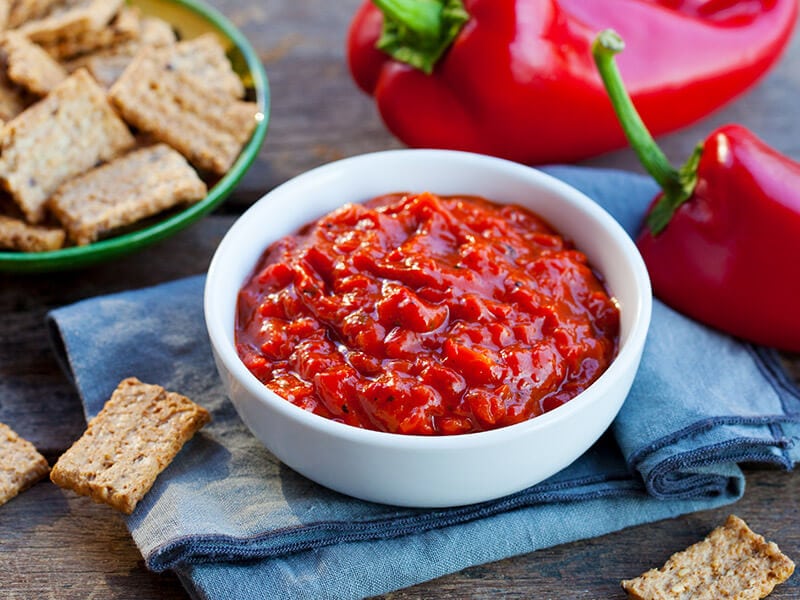 This lutenica is a spicy veggie relish/chutney that you can find in two other cuisines with nearly resembling names Ljutenica (Bulgarian) and Lyutenitsa (Macedonian).
They will include peppers, tomatoes, aubergines, carrots, garlic, vegetable oil with some sugar, salt to taste. Although the required components are basic, the chutney is so delicious that it has played an essential role in Serbia (and other countries).
To enjoy fully and thoroughly the goodness of this Lutenica, my tip for you is to serve it with a side of freshly baked bread. Nothing can go wrong when combining sour, spicy, and fresh-y flavors with a crunchy slice of bread.
An easy peasy guidance on making Lutenica you might ask for.
36. Ajvar (Serbian Red Pepper Spread/Relish)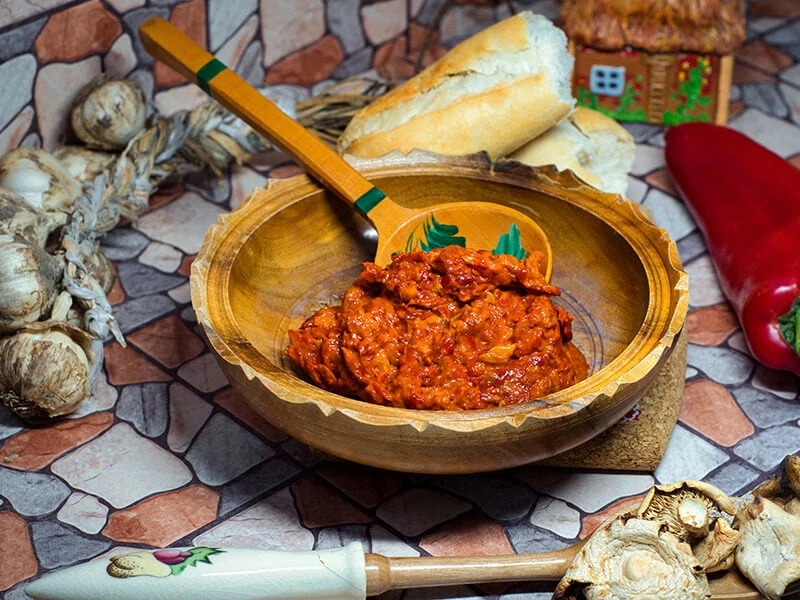 Not a fan of tomato? Then this Ajvar should be included in your consideration list. This relish is made of specific roasted red bell peppers, eggplants, hot pepper, garlic, olive oil, and salt to taste.
Ajvar is a traditional dish of Serbia and renowned in every Balkan country (or even globally) with its versatile tastes ranging from sweet, smokey, tangy, and a bit salty.
You can have various ways to enjoy this Ajvar. For example, both methods will make sense by spreading bread/crackers for a flavorsome snack or eating it with meat and sausages.
37. Pirotska Peglana Kobasica (Pirot Ironed Sausage)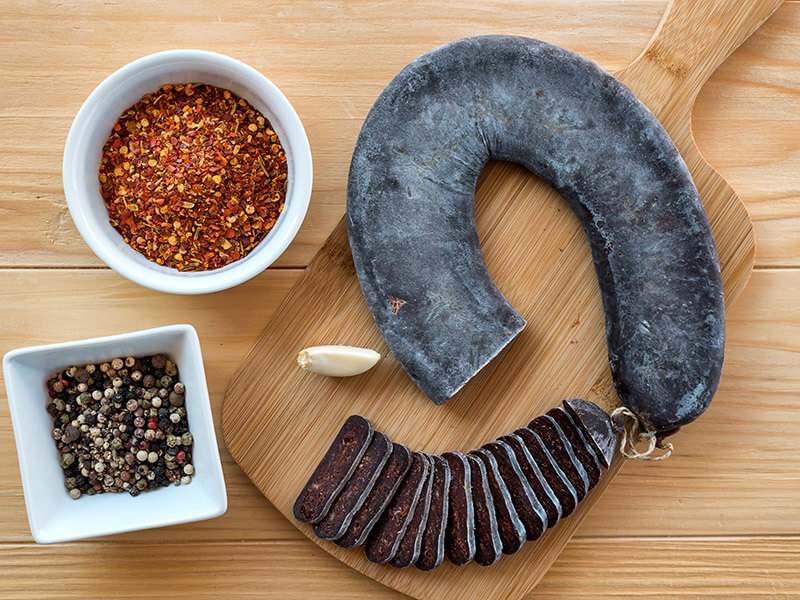 Let's talk about the term "sujuk" first! Sujuk (or sucuk, sudzuk) is a typical sausage kind mainly made of meats from older animals. The sausages that belong to this kind will be fermented and be spiced with various hot spices. It would be best when it is hot and spicy.
The Serbian Pirotska Peglana Kobasica belongs to that kind of sausages, and it also fully offers all the features of those sujuks. About the ingredients, Pirot Ironed sausages contain mainly donkey, goat, sheep, beef meats, and there is no pork included.
In Serbia, they will make this specialty in late November, and the whole process will be done in early December. These unique sausages require many steps before coming to the dinner table, yet, I promise you every effort is worth it.
---
Nothing Can Compare To Trying A Palatable Dish Yourself
Have you had a plan to experience these enjoyable treats yourself yet? If it is too hard to choose which one to start first, I suggest something light and sweet or crispy fried food. Those will not disappoint you on the first try.
If you have tried any more delicious Serbian foods and think they should be added to this list, feel free to comment below. Sharing your experiences will help this foodie community grow faster.