If you plan to travel to Scotland and want to eat Scottish foods like a local, this food guide here will show you all the tastiest Scottish treats you can have throughout the country!
Scotland, known for its rich history and unique cuisine culture, has a lot to offer in terms of traditional and tasty dishes.
If you have no idea where to start, I shall give you some distinct types of traditional Scottish cuisine that are worth eating in the sections below. So don't waste another second, let's get started!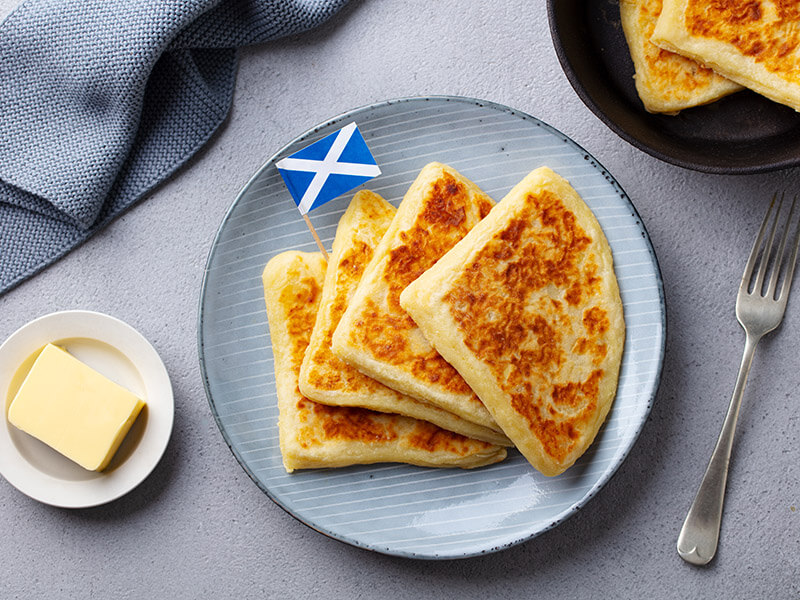 Breakfast, lunch, or dinner, these classic Scottish meals will surely satisfy your appetite. So take out your notebook and write these names down!
Breakfast Dishes
Nowadays, more and more people decide to skip breakfast to avoid wasting precious working time. That is not advisable since breakfast is an important meal that can give you the necessary energy for the day. So take a look at these breakfast options and fill your stomach.
1. Scottish Porridge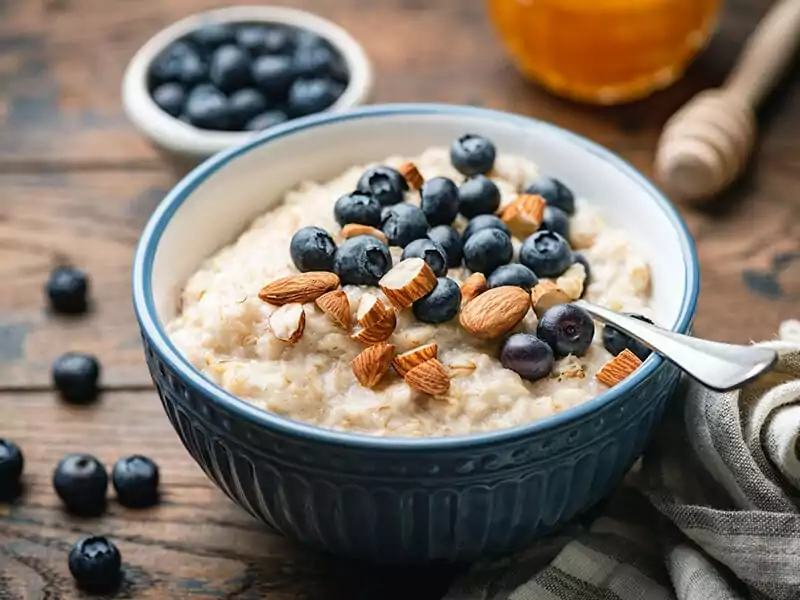 Nothing surpasses Scottish porridge's hearty and comforting flavor, whether it's boxed Scott's Porage Oats or a gourmet restaurant version.
Porridge is a cornerstone of Scottish cuisine. It is one of the healthiest Scottish breakfast recipes because it contains oats, an incredibly nutritious ingredient that has been farmed in Scotland since the late Middle Ages.
Porridge was originally made solely with oats, water, and salt. But now, people can make it sweet or salty, thick or light based on their preferences.
2. Black Pudding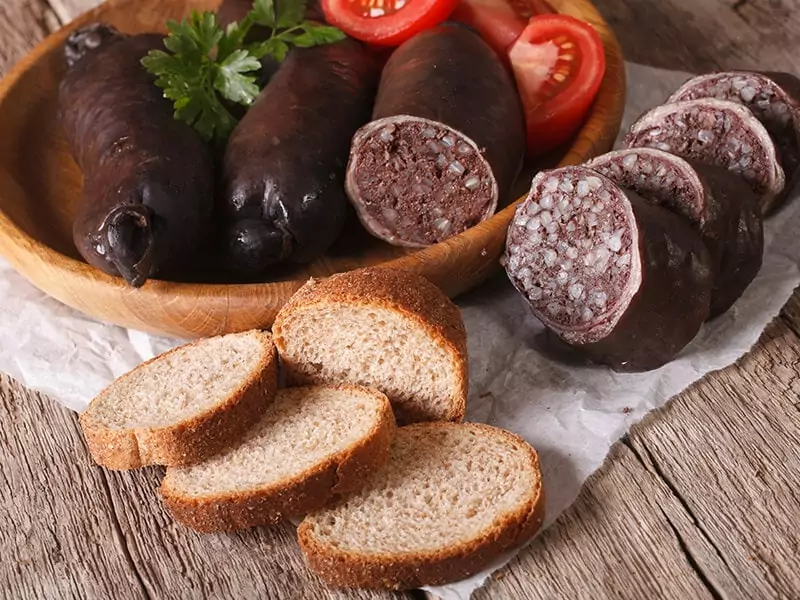 Black pudding is a type of blood sausage popular around the United Kingdom. These sausages are made from the blood and fat of cows or pigs, along with oatmeal.
The high grain level of black pudding sets it apart from other nations' blood sausages, as does the incorporation of specific herbs.
Although pigs' blood is used in most modern black pudding recipes, black puddings were traditionally made using cow or sheep blood until the 19th century.
Blood puddings are said to be one of the first kinds of sausages. Because blood quickly degrades after each slaughter, making sausages out of it is the simplest way to prevent it from going to waste.
3. Full Scottish Breakfast or Scottish Fry-up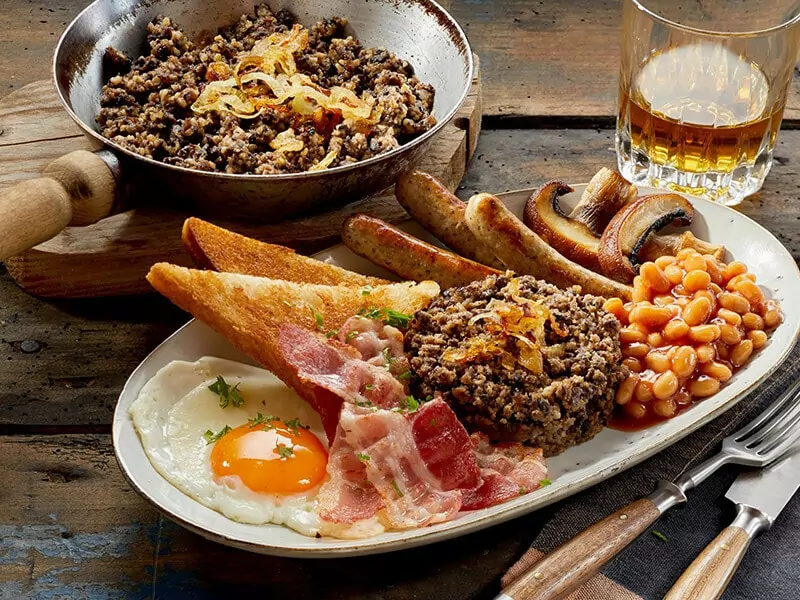 You might be familiar with the full English breakfast, but what about the full Scottish breakfast? To be honest, there aren't many differences between the two dishes. The full Scottish breakfast just has a few extra ingredients, that's all.
With the classic full English breakfast, you will get buttered toast with bacon, sausages, over-easy eggs, baked beans, grilled tomatoes, and mushrooms. To make it Scottish, add some black pudding, Lorne sausage, tattie scones, and perhaps haggis and oatcakes.
Like the English, people from Scotland usually have this meal on the weekend following a big night as a celebration.
4. Oatcakes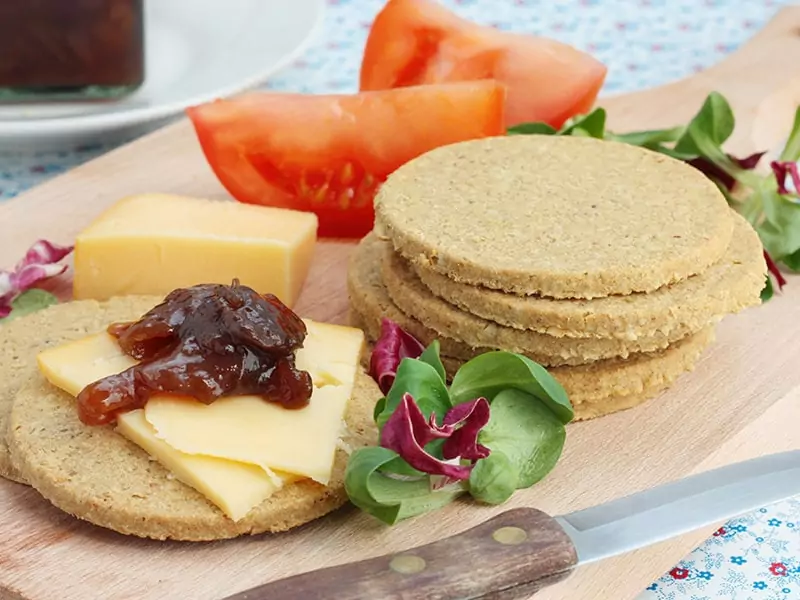 Oats are one of the few crops that can grow in northern Scotland, and they were the staple grain until the 20th century. So don't be surprised by how often it is included in Scottish dishes.
This breakfast option is also popular in Nova Scotia. However, Nova Scotia's oatcakes are square or rectangular-shaped, while those in Scotland are circular. Oatcakes made in Nova Scotia are sweet and use rolled oats, while Scottish ones are less sweet and have steel-cut oats.
Oatcakes are full of slow-digesting, low-GI carbohydrates that will keep you full for many hours. Plus, they are healthier than bread. You can have oatcakes as a simple breakfast on the go or serve them with your favorite dips and cheese as a delightful afternoon snack.
5. Bacon Butty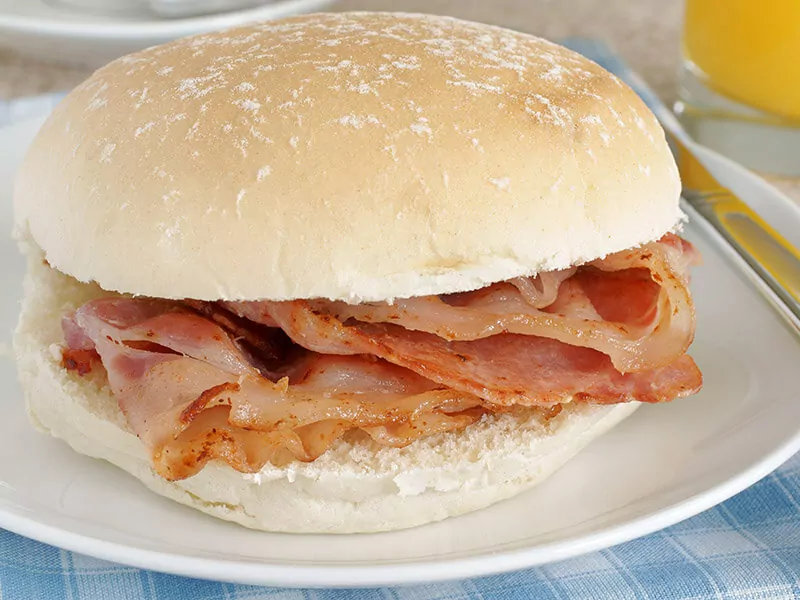 How come a simple combo of bacon, buttered toast, and ketchup or brown sauce can be so comforting? This dish is indeed a guilty pleasure for those who had a rough morning. You'll finish this dish so fast that bacon's shelf-life at room temperature will no longer be a major concern.
In the United Kingdom and the Republic of Ireland, bacon sandwiches are a popular all-day snack. They're commonly offered in delis and restaurants, and they're said to be a great hangover cure.
This dish can also be called a "rasher sandwich" in Ireland or a "bacon sandi" in Australia.
6. Arbroath Smokies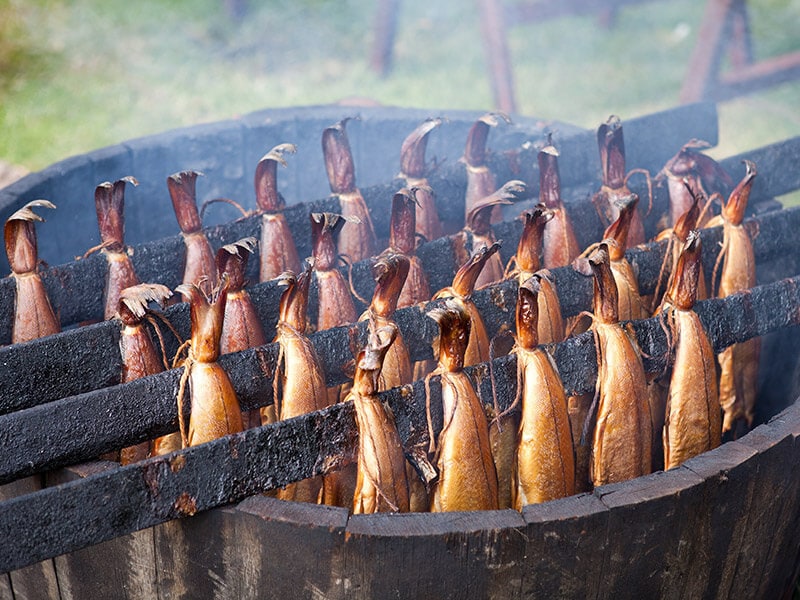 Arbroath Smokies is initially made in Arbroath and goes through a traditional procedure that dates back to the 1800s. The Scots salt the fish overnight to keep them fresh, then they grill them for about an hour over a scorching and humid fire.
These smoky fish will a hearty breakfast when paired with hot buttered toast. They will also taste amazing in soups or chowders.
7. Toast with Marmalade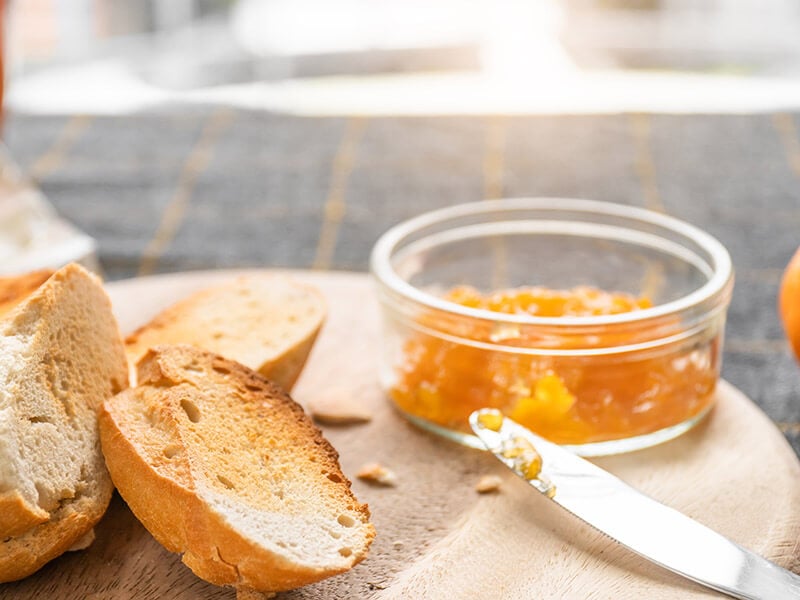 Marmalade is a type of spread produced by boiling citrus juice and peels with sugar and water. People often use bitter orange for marmalade, but it can also be made from other citrus fruits such as sweet oranges, mandarins, grapefruits, lemons, or limes.
The English word "Marmalade" first appeared in 1480. It came from the French term marmelade, derived from the Galician-Portuguese word marmelada.
This sweet and tangy spread is incredibly popular around the United Kingdom, and it goes great on a couple of slices of crispy buttered toast.
8. Buttery or Aberdeen Roll
A buttery or an Aberdeen roll is a savory bread roll that originated in Aberdeen, Scotland. This pastry has a flaky texture and a buttery flavor similar to a croissant, although it's a little saltier. The Scots love to enjoy these rolls with jam or butter and a cup of tea.
According to folklore, the buttery was created for the fishermen of Aberdeen. They needed something that could not get stale during their time at sea (two weeks or longer), so these tasty pasties came to the rescue.
Because of its high-fat content, the bread offered an immediate source of energy, which was exactly what the fishermen asked for.
9. Drop Scone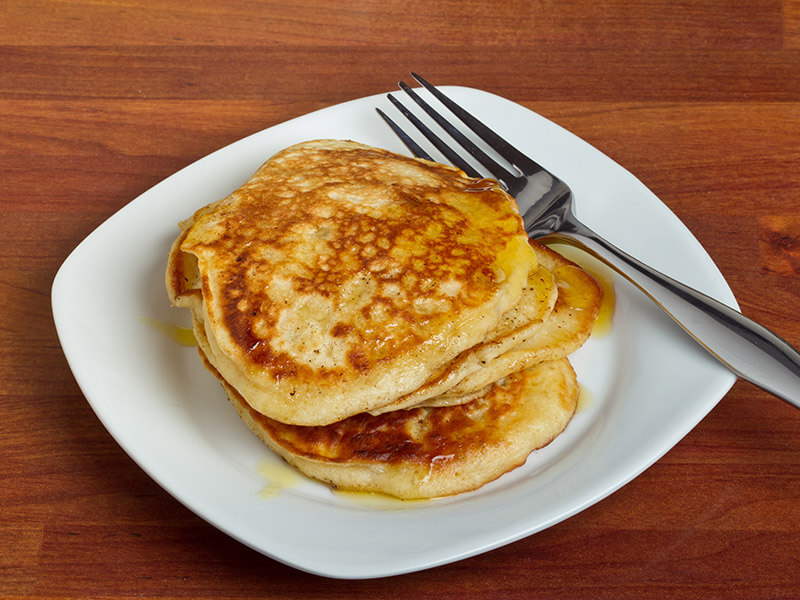 Despite its name, this popular morning treat resembles a pancake rather than a scone. Drop scones originated in Scotland and swiftly spread throughout the British Isles.
Queen Elizabeth liked these lovely Scottish pancakes so much that she supposedly made them for President Dwight Eisenhower in 1959 during his visit to Balmoral Castle.
Since drop scones are so basic, they may easily be transformed from a simple breakfast to an appealing dessert when drizzled with honey or combined with cream and berries.
Lunch and Dinner Dishes
It's time to move on to the larger meals of the day now that you've learned about the most iconic breakfast options. These Scottish lunches and dinners will definitely make you hungry, so read this at your own risk!
10. Cullen Skink (Scottish Smoked Haddock Chowder/Soup)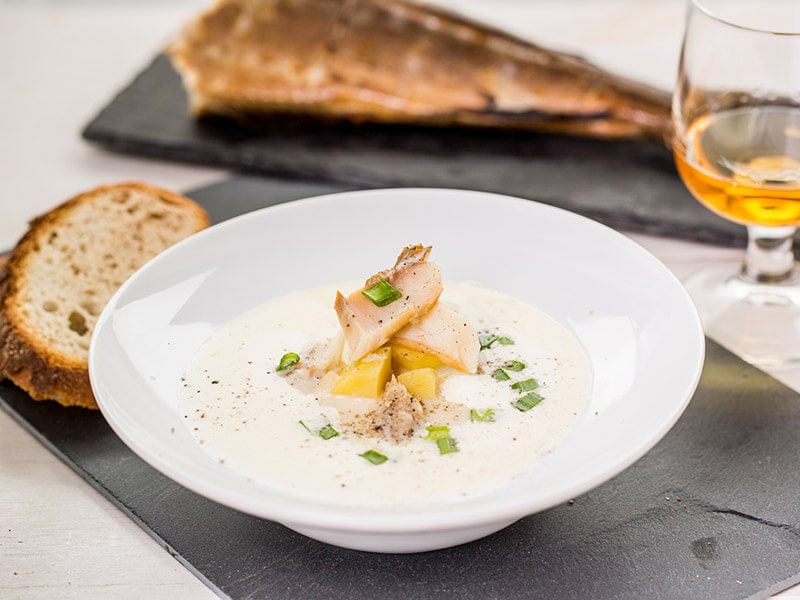 Cullen Skink, aka smoked haddock soup, is one of the most well-loved Scottish lunch recipes. Besides haddock, this authentic soup also calls for potatoes and onions.
The word "Cullen" refers to a small village on Scotland's northeast coast, while "skink" is the Scottish term for a cattle hough, shin, or knuckle. Most soups containing these pieces of beef have this name.
You might be thinking, why is this soup called "skink" when it is made out of fish? Well, in the past, when people in northern Scotland couldn't find scraps of beef owing to economic hardships, they opted for smoked haddock instead since fish is always available.
In the end, the traditional meat stews became fish-based soups, but the name "skink" stayed.
If you are fascinated by Cullen Skink, here's how you can make it at home!
11. Scotch Pie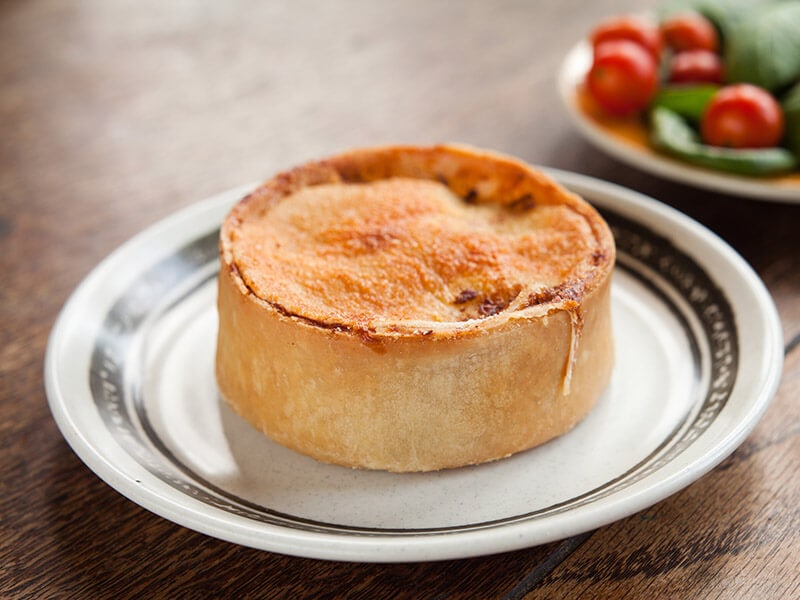 A Scotch pie, sometimes known as a mutton pie, is a tiny meat pie with a double crust and minced mutton filling. However, minced lamb or beef is more common these days.
As suggested by its name, the Scotch pie originated in Scotland. And yes, the Scots call this dish "pie", not "Scotch pie".
The people here love this dish so much that they even have an annual baking competition called the World Championship Scotch Pie Awards to find the best Scotch Pie in the nation.
The trade organization Scottish Bakers has held this event since 1999. The winner will be crowned the World Champion.
12. Haggis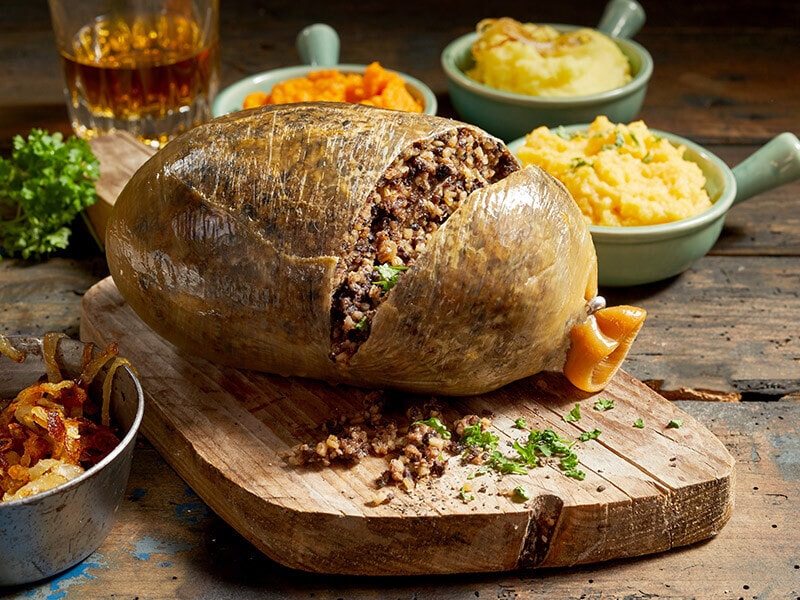 As mentioned in Larousse Gastronomique, a classic culinary reference book, haggis has an exquisite savory flavor and superb nutty texture, despite its slightly unattractive appearance.
This savory pudding is made with sheep's heart, lungs and liver, oatmeal, onion, suet, and different spices. The mixture was initially wrapped and baked in the animal's stomach, though people nowadays use artificial casings.
Although haggis originated in Scotland, other nations have developed similar meals under various names. In Lithuanian gastronomy, there's a similar dish called Skilandis. The treat is also famous in Canada, the United States, Australia, and New Zealand.
13. Neeps and Tatties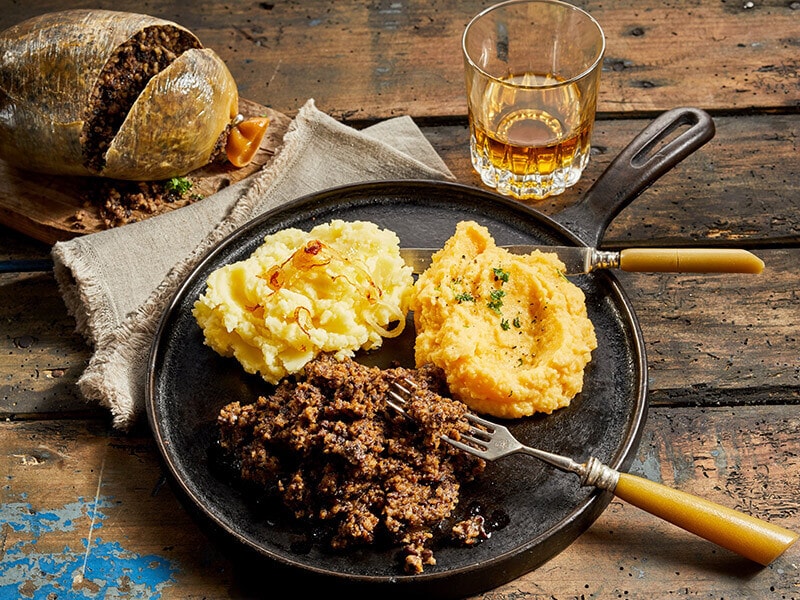 Neeps and tatties are two excellent side dishes created from cooked and mashed root vegetables. "Neeps" are mashed turnips, while "tatties" are mashed potatoes. Another name of Neeps and Tatties is Clapshot.
Clapshot's origin is from Orkney Islands. It is usually served with cold meat, sausages, and of course, haggis. The name of this dish comes from the Orcadian language.
In fact, this treat can be seen as a national dish of Scotland. If you pair these healthy and tasty side dishes with haggis, the savory pudding I mentioned earlier, the whole dish can be called a "Burns supper".
Although often used to complement haggis, they will also taste amazing next to other national meals.
14. Scottish Salmon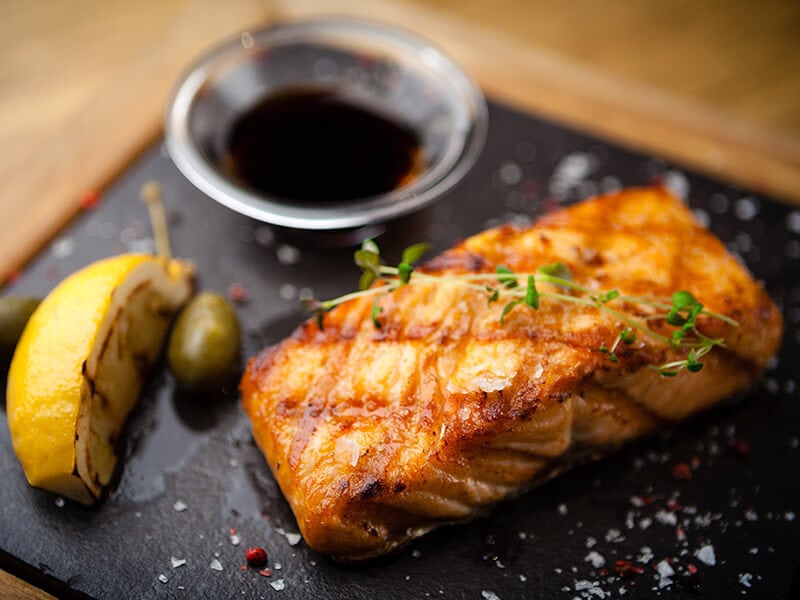 Having the freshest water on the planet, Scotland is one of the best places to breed salmon. In fact, Scotland's salmon is known worldwide for its delicious salmon flavor and excellent texture.
Although Scottish salmon dishes are available across the world, even at the most high-end restaurants and stores, the fish flavor is not nearly as fresh and tasty. So if you have the chance to visit the heart of Scotland, make sure to experience it for yourself.
15. Angus Beef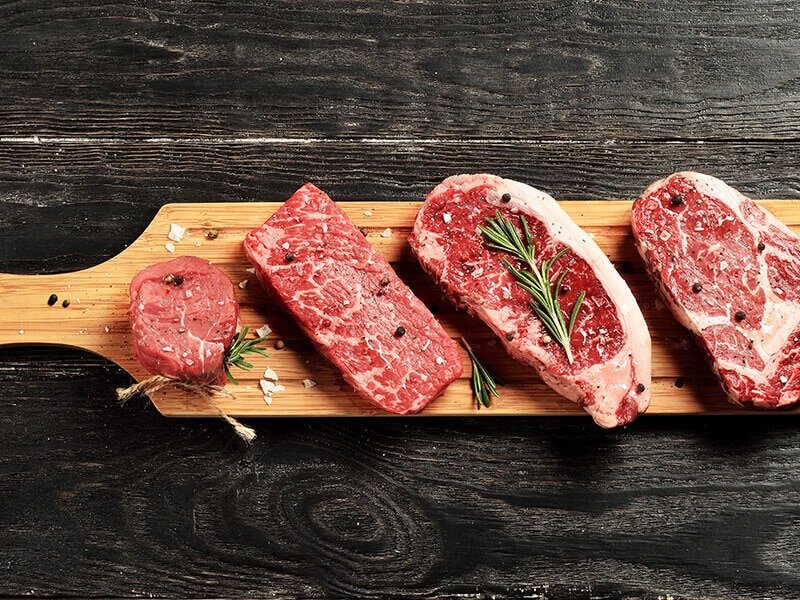 This is not like the typical cheap meat you can find at the supermarket. Angus beef is praised for its outstanding marbling, which contributes to the meat's superb texture, softness, juiciness, and taste.
Angus beef comes from Aberdeen Angus cattle, which originated in the Scottish counties of Aberdeenshire and Angus.
Because the breed is frequently mixed with other cattle breeds, the breed's features only partially impact the meat's quality. As a result, the final product is influenced by the meat's nutrition, age, lifestyle, maturity, and processing.
16. Stovies (Scottish Potato-based Dish)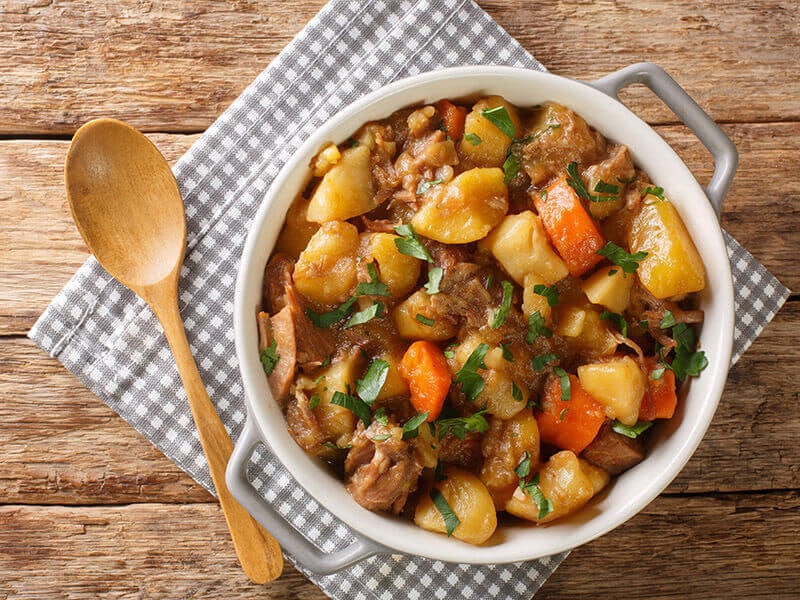 Now here's a Scottish dinner recipe that I know you will love! Stovies, or stovy tatties, is a potato-based Scottish dish.
The dish's components and recipes vary in different households, but it commonly includes potatoes, onions, meat, and some kind of fat. Veggies may be incorporated in some variants. Stovies is also an excellent dish to use up the leftover roast.
In Scots, the verb "stove" implies "stew", that's where stovies got its name. But sometimes, people also call it "barfit" (version without meat) and "high-heelers" (version with meat).
17. Fish And Chips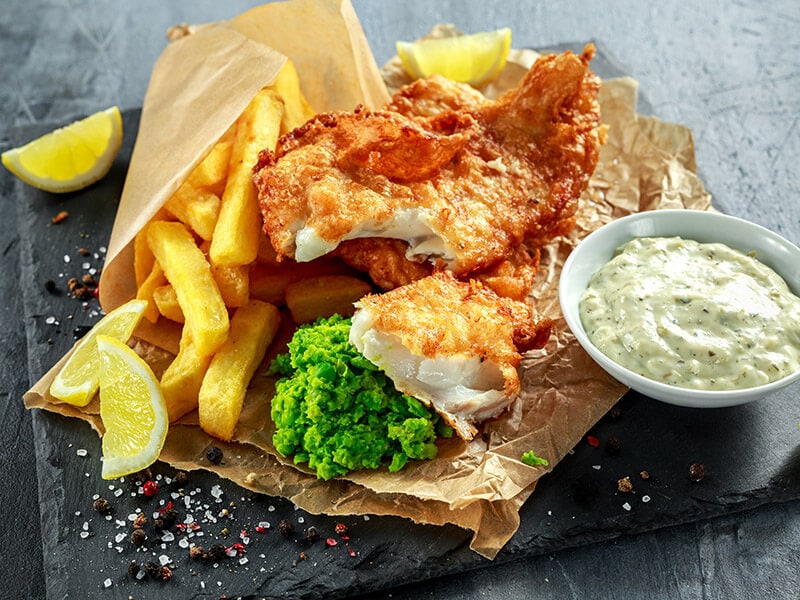 It's not an exaggeration to say that fish and chip is a timeless classic of British food. The British are proud of their fish and chips. In fact, if someone says something terrible about their fantastic batter-fried fish, they are prepared to go to war with the rest of the world!
If you've ever visited Scotland, you've probably noticed how many fish and chip establishments have Italian names. That's because, in the late 1800s, a large number of Italians fled to Scotland to escape poverty and starvation.
Since fish and potatoes were inexpensive and accessible, the Italians contributed to the popularization of this traditional British dish.
18. Bangers And Mash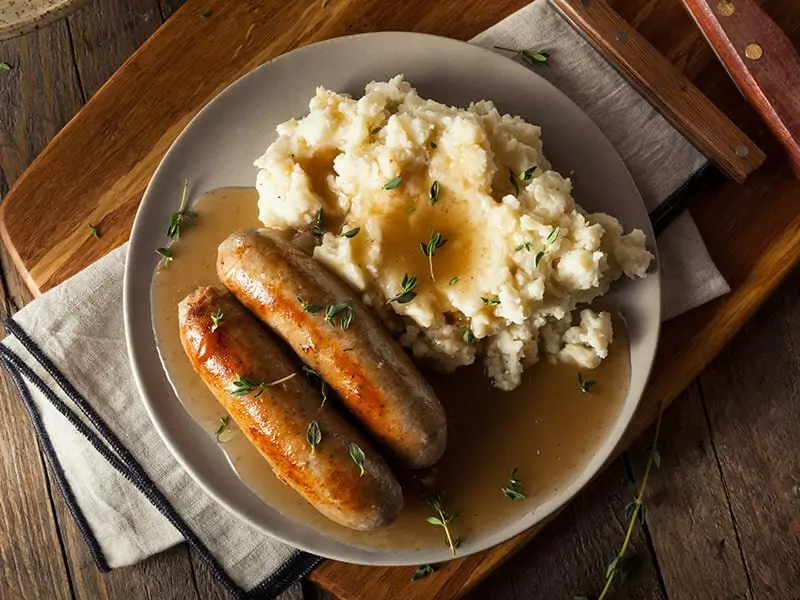 During WWI, when meat shortages led sausage producers to add a variety of fillers, including water, which caused them to explode when cooked, the term "bangers" was coined.
This dish may be found on the menus of nearly every restaurant and tavern in the nation. Despite its simplicity, this supper is undoubtedly a must-try dish in Scotland.
Look at this platter of delectable sausages, creamy mashed potatoes, and deep brown gravy; isn't it tempting? If you want to make this dish at home, go ahead and try it. It'll be a hit with the youngsters!
19. Grouse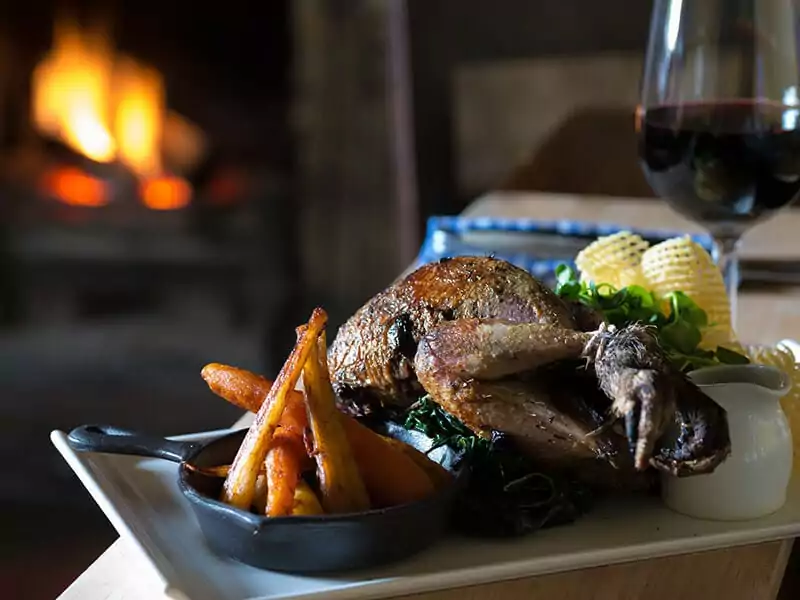 Despite being a Scottish bird, grouse can also be found around the United Kingdom. The grouse meat has a unique red color and a rich, gamey flavor.
Roasted grouse is one of the most common dishes in Scotland, but you should only use young birds for this recipe. For older ones, making a casserole is a better option.
This bird is the king of all feathered games. That is why grouse dishes are considered a Scottish delicacy, especially around the time of the Glorious Twelfth (the 12 first days of the shooting season for red grouse).
20. Cock-a-Leekie Soup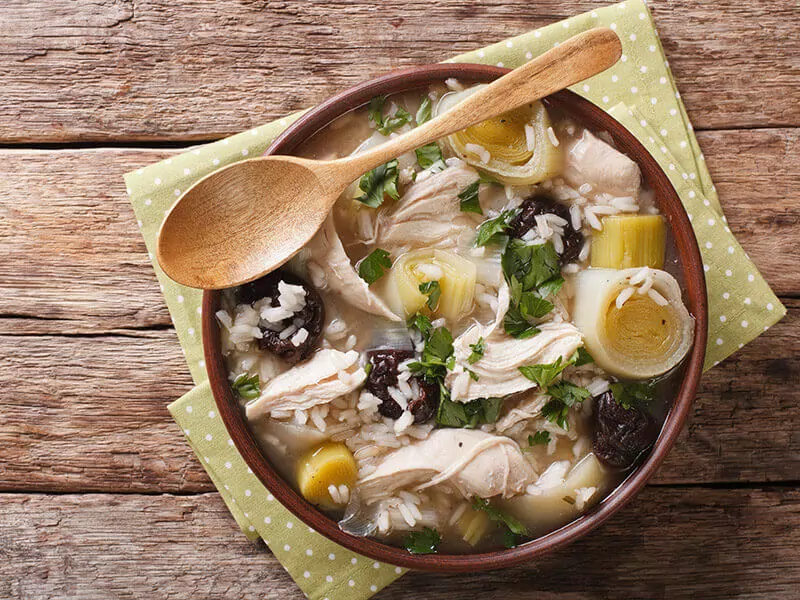 Cock-a-leekie is considered Scotland's national soup for a reason! This traditional soup's pleasant mild flavor and wonderful scent can instantly warm you up.
This classic meal is created with chicken stock, leeks, and occasionally prunes. People also use rice or barley to thicken the soup. This 16th-century Scottish variation of traditional chicken soup is the ideal dish to enjoy on a chilly day in Scotland's hectic weather.
Desserts
Here's a whole section for those who have a sweet tooth! The mouthwatering Scottish desserts below are truly iconic and tempting. So what are you waiting for, let's dive right in!
21. Deep-fried Mars Bar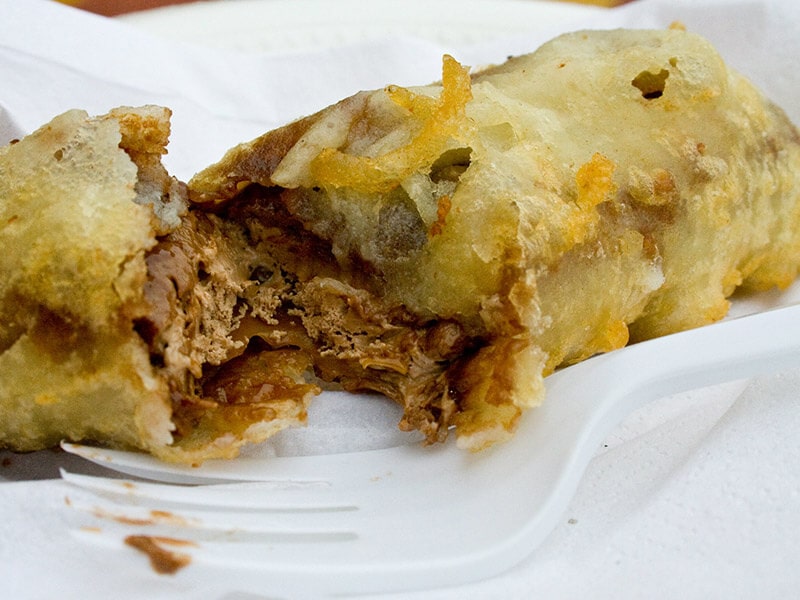 The Americans aren't the only ones who love deep-frying candy, the Scottish like to have fun with their sweets too!
Mars bar is a famous chocolate bar first manufactured in England around 1932. These candy bars are battered and deep-fried in oil, creating a crunchy and chocolatey delight.
In 1992, John Davie claimed to have developed the deep-fried Mars bar in Stonehaven, at The Haven Chip Bar (now The Carron). However, the origin of this dish is still under debate.
22. Scottish Tablet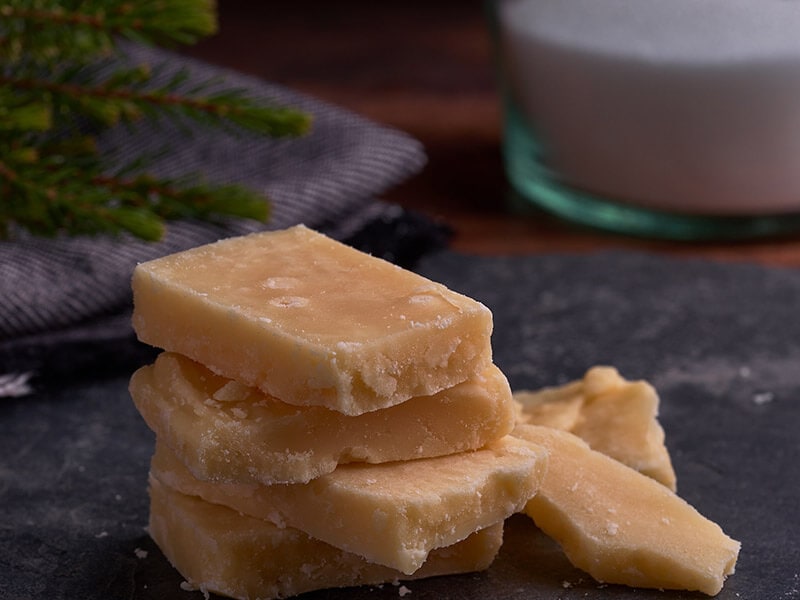 Imagine a mixture of sugar, butter, and condensed milk heated together until it crystallizes; that's the Scottish tablet. These delectable semi-hard candies are usually flavored with vanilla, but some even include whiskey in them.
Although they might look like fudge, the texture of Scottish tablets will give it away. To be more detailed, the tablet texture is grainy and brittle, whereas fudge is considerably softer.
This wonderful dessert is first mentioned in The Household Book of Lady Grisell Baillie around the early 18th century. Sugar and cream are the only ingredients in the old recipe. But since cream tends to burn when boiling, most current recipes use condensed milk and butter instead.
23. Sticky Toffee Pudding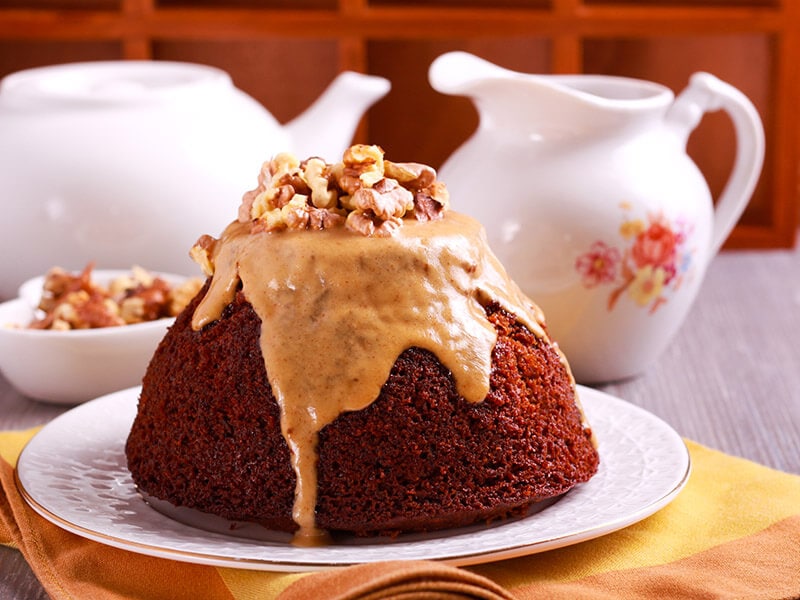 Sticky toffee pudding, or "sticky date pudding", is a traditional English dessert consisting of a moist sponge cake baked with chopped dates and coated in a toffee sauce.
In the 1970s, Francis Coulson and Robert Lee made the dish and served it at their Sharrow Bay Country House Hotel. According to food reviewer Simon Hopkinson, Coulson stated that he received the recipe from Patricia Martin of Claughton, Lancashire.
24. Tunnock's Tea Cakes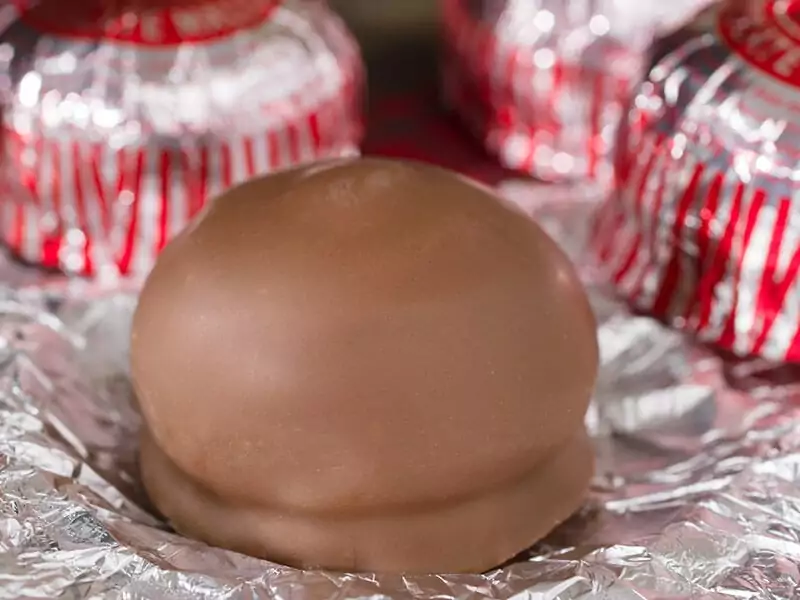 Tunnock's tea cakes are little chocolate-covered biscuits topped with soft marshmallows. Teacakes have been popular sweets in the UK since their introduction in 1956. These round sweet treats are frequently served with tea or coffee.
These national treasures were developed by Sir Boyd Tunnock, the current owner of Tunnock'. Boyd Tunnock is the grandson of Thomas Tunnock, who founded Tunnock's in 1890.
25. Shortbread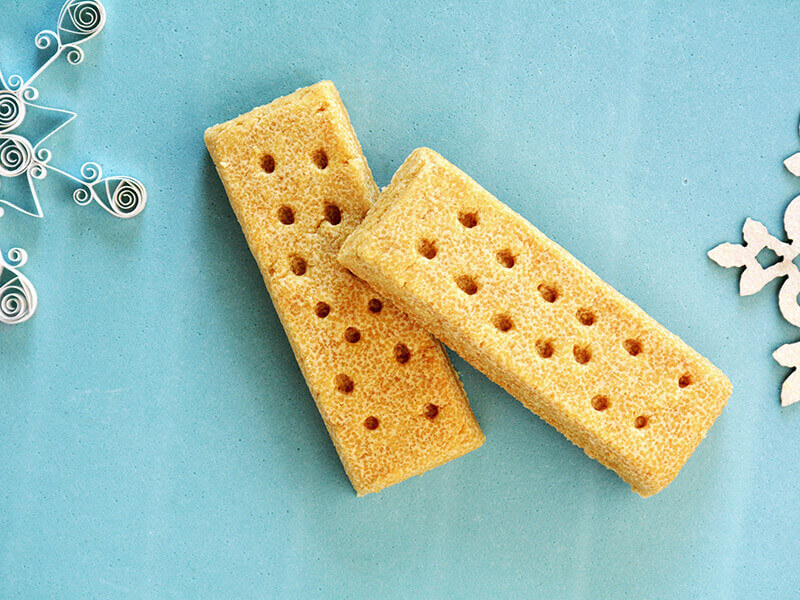 Shortbread has been a go-to Scottish dessert for ages, with the first documented recipe appearing in 1736. This buttery dessert is almost too exquisite to describe, and it goes excellent with cranachan, raspberry, and a cup of tea or coffee.
These crumbly delights were considered luxury items for special holidays and events like weddings, Christmas, and Hogmanay (Scottish New Year's Eve). Shortbread was also often presented as a gift.
Shortbread gets its name from its crumbly texture (which means "short" in old English). The high-fat content of the butter is the leading cause of this.
26. Cranachan (Traditional Scottish Dessert)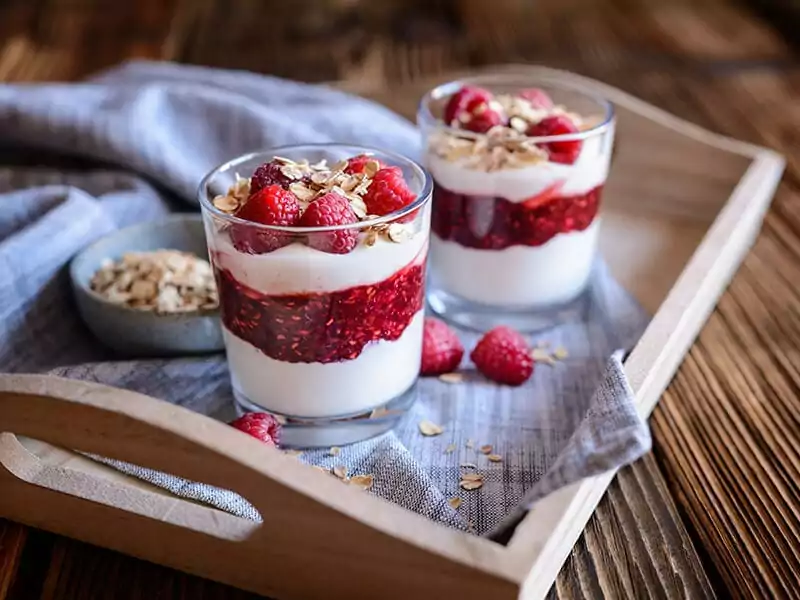 During Christmas and other special occasions in Scotland, you can often catch sight of cranachan on the dinner table. This delectable delicacy is served in a tall glass with components such as whipped cream, fresh raspberries, oats, honey, and Scotch whiskey.
Initially, cranachan was created as a harvest celebration after the raspberry harvest in June. But now, cranachan is available all year, especially on the holidays.
27. Bannock (Scottish Flatbread)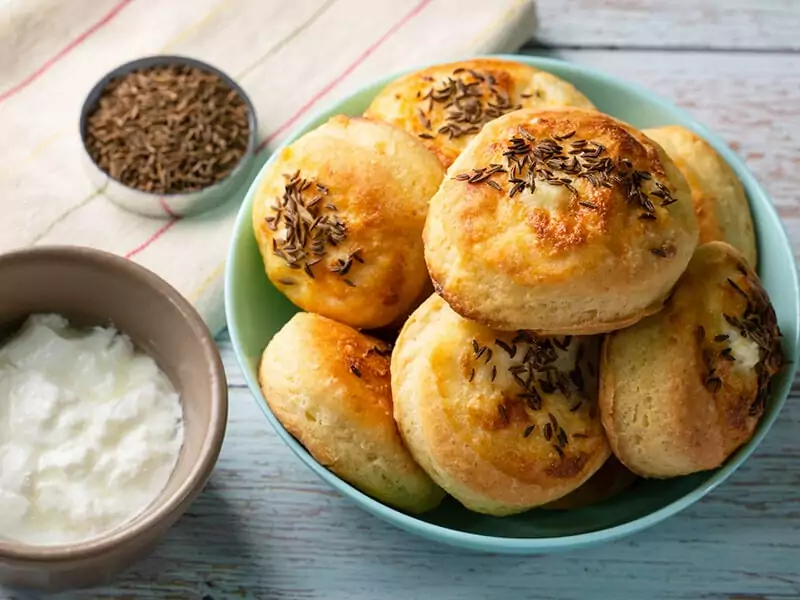 This griddle-baked recipe for unleavened flatbread originated from Scotland's Highlands, where it's usually cooked with grain and water or buttermilk. Baking powder or baking soda is also a common leavening ingredient in most modern bannocks, giving them a light and airy texture.
Before the 19th century, bannocks were cooked on a bannock stane (a big, flat and rounded sandstone block).
28. Scone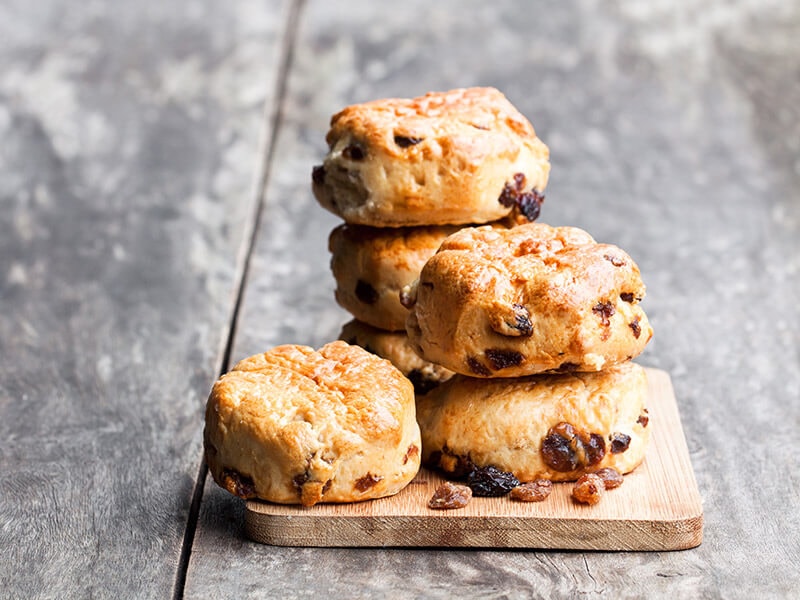 The Scots appear to have taken the word scone from the Dutch phrase schoonbrood, which means "fine bread".
Some said that these baked goods originated in Scotland during the early 1500s. The term scones derived from the Stone of Destiny, where the Kings of Scotland were once anointed.
History aside, these delicious oven-baked quick bread is a go-to dessert for the Britsh's afternoon tea party. They are now prepared using wheat flour, milk, egg, sugar, butter, baking powder, or soda. However, they were made with oats and baked in a griddle in the past.
29. Petticoat Tails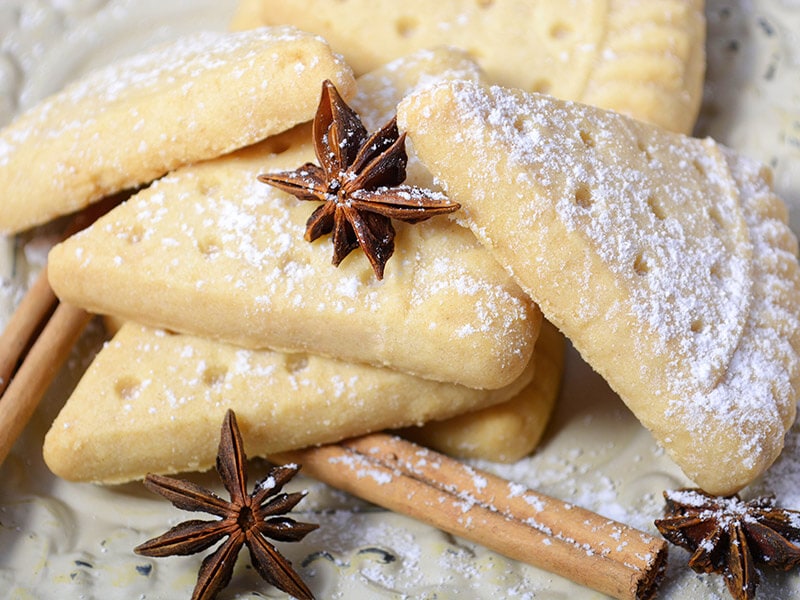 The delicate petticoat tails got their unique name and triangular form from their resemblance to the pieces of fabric used to make the ornate 16th-century petticoats, especially those worn by Mary Queen of Scots, who was said to like this buttery shortbread.
Although that is everyone's favorite origin story, some suggest that its name comes from petits cotés, an old French phrase for little biscuits.
30. Dundee Cake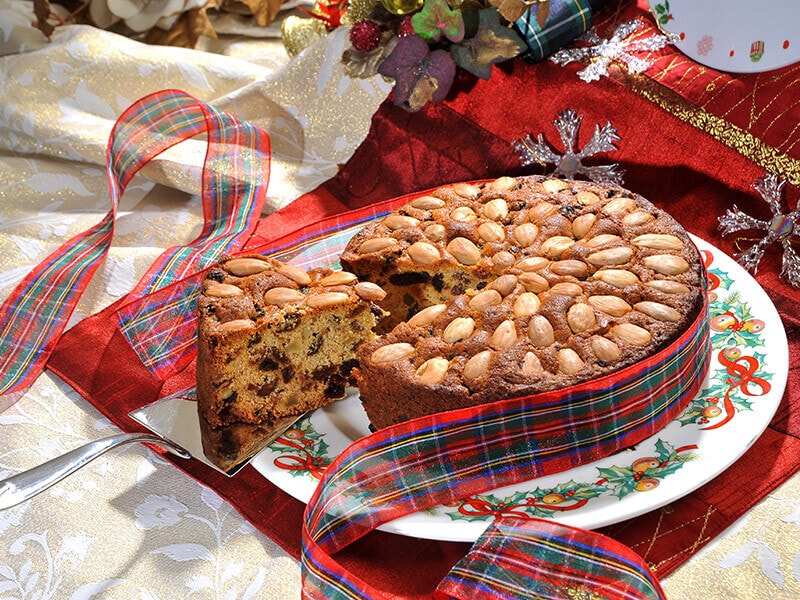 This classic almond-studded fruit cake originated in the city of Dundee and was first mentioned in the late 19th century.
The cake was invented by Keiller's, Dundee's famous marmalade producers. Allegedly, he made use of the leftover citrus peel and baked a cake with it during the months when they weren't manufacturing marmalade.
Keiller's were the only commercial bakers in Scotland authorized to create the cake until the 1970s. However, the recipe was extensively replicated throughout the UK.