Scottish dessert is one of the most top-rated in the world. They are the lifeblood of Scottish culture and economy. Not experiencing all the desserts here would be an omission!
With rolling mountainsides, crystal clear coastal waters and fertile lands, Scotland brings many of the finest natural essences to create the finest customary desserts.
Indeed, Scottish desserts carry all the unique flavors of British cuisine. They have been known for their rich history and varied variation. There are many scrumptious Scottish desserts that I will show you in this post.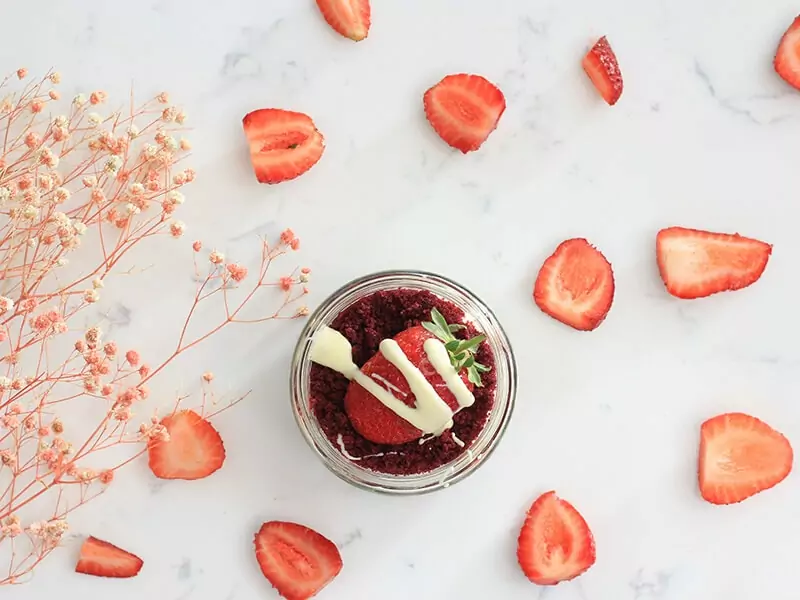 The list I mentioned below will bring you 20 best Scottish desserts recipes with bold Scottish vibes. They are guaranteed to impress everyone at every dining table:
Traditional Scottish Shortbread
Petticoat Tails Shortbread
Caramel Shortbread 
Scottish Black Bun
Old Fashioned Raspberry Bun
Apple Shortbread Pie
Scottish Fruited Gingerbread
Melting Moments Biscuits
Dundee Cake
Clootie Dumpling
Scottish Scones
Sticky Toffee Pudding
Raspberry Cranachan 
Scottish Oat Cake
Deep-fried Mars Bar
Scottish Whisky Tablet
Scottish Berry Brulee
Scottish Chocolate and Orange Mousse With Whisky
Scottish Tipsy Laird
Scotch Tea  
Scotland is famous for an attractive dessert made from butter – the time-honored shortbread. There are no fancy ingredients, but Scottish shortbread is still loved because of the unique fatty taste of butter blended in a soft and crispy sponge cake.
The simple ingredients when combined together create an extremely famous shortbread, not only in Scotland but also appearing all over the world, and be the pride of the Scottish people.
The Scottish shortbread is super easy to make, only with some ingredients that can be found anywhere. Let's make your own breakfast shortbreads – a nutritious choice for the whole family!
Petticoat tails shortbread is special just like its name. This shortbread is cut into triangles after baking, and the baker decorates the edges with folds to look like soft and beautiful "petticoat tails".
This is also one of the traditional Scottish desserts that stands out with its delicate, natural sweetness, combined with a gentle aroma. It is a harmonious blend of butter, flour, sugar, etc. The texture of these shortbreads is as soft as petticoat tails.
Have you tried the roasted caramel shortbread? As the name suggests, this dessert consists of the main ingredients such as bread, sugar, butter, and milk. These ingredients are simple and provide important nutrients for your body.
After completion, this sweet treat has a characteristic flavor of caramel mixed with a bit of butter and milk fragrant. When eaten, it is soft and smooth, blended with the caramel layer on the surface – extremely attractive!
Moreover, this dessert can help provide you with enough energy to work for a long day. Each small saccharine bread bar covered will spark your joy and relieve your stress!
Scottish black bun is an age-old cake used in Scottish breakfasts. This is a rustic dessert that has existed in the hearts of Scots for hundreds of years.
The ingredients for this black bun are quite simple. It is a combination of some ingredients such as flour, margarine, milk, etc. Under the talented hands of bakers, these simple ingredients create a legendary cake with a spongy taste and soft texture.
This is a favorite dessert not only for Scottish people but also people all over the world. Why not try to make a dedicated dessert with a special Scottish black bun?
The little buns are so cute, aren't they? Old fashioned bun with rich and warm raspberry jam right on the tip of your tongue! Nothing better than enjoying this on a cold day.
The crunchy crust combined with the determined raspberry flavor will make the perfect desserts that will be passionate to you. This goes to show that these yummy R-something fruits can make virtually any sweet treat as close to perfection as they can get.
This simple Scottish dessert that can be completed quickly to enjoy after every meal. Let's start learning how to make a raspberry bun!
Fragrant baked goods are waiting for you to bring into your kitchen! The Scottish breeze in each dessert will satisfy both your taste and smell!
Apple shortbread pie has a sweet and sour taste characteristic of apple. This baked pie is made according to an accustomed Scottish recipe combined with many ingredients to create a perfect apple pie with particular flavors.
This apple shortbread is covered on top and bottom by a crust made of flour and butter. This pie is usually eaten with a cream topping or with cheddar cheese to supply the fatty taste.
Making a baked apple pie recipe at home for breakfast ensures energy for an active day. The way to make baked apple pie is not too complicated, so you can experience the simplest apple pie-making steps that I bring.
For Westerners, the Christmas holiday cannot be complete without gingerbread. With such a simple appearance, Scottish fruited gingerbread brings an amazing feeling of the holiday into a warm night at home.
This Scottish dessert uses fresh ginger, so it is very fragrant and attractive. I tried using orange zest and apricots for this shortbread and it turned out really blown away. Orange zest and apricots make the texture moist and smooth, with a wonderful taste.
Why "melting moments"? Because this biscuit melts in your mouth as soon as it touches the tongue! This feeling is indescribable. You may feel the need to be very gentle when you want to pick it up!
The small fragrant yellow biscuits have a medium sweet light crust, blended with the cream layer and a mild sour lemon flavor. This biscuit is easy to make and lasts a long time. It is super suitable as a gift or a fun snack.
Melting moments can be made into many different shapes. A circle shape is probably the simplest way. What a sweet and buttery dessert with a hot cup of tea!
The name of this cake comes from Scotland's largest city, Dundee. Dundee cake is light and fluffy; topped with the small dry fruits. These pastries are especially suitable for those who love the light flavor.
Not only has a unique shape, but Dundee also owns the impeccable taste. The sourness of the toppings as well as the sweetness of the base combined so well. This special cake is usually decorated with black currants, raisins, or cherries arranged in a concentric circle.
This cake is considered a cake served during Christmas and major festivals in Scotland. It's also well-known in other places. For example, British people often use this dessert for family and friends gatherings. You can add Scottish whiskey to increase flavor and softness.
Clootie dumpling is a long-established Scottish dessert. This recipe will fill your home with a wonderfully appealing fragrance that wafts all over the place.
This recipe is made with dried fruit, oatmeal, or breadcrumbs, combined with a little flour, seasoning, and beef filling. It is boiled just like other dumplings.
You can enjoy this dumpling on a chilly morning or evening with a cup of whiskey. The custard or ice cream is also great to go with this dessert.
Scottish scones are only made with a few simple ingredients, including flour, oats, and walnuts, yet they still have an extremely attractive flavor. The golden scones after baking shall be eaten with a little melted honey or strawberry butter.
Scots often eat this scone as a side dish for breakfast. These simple nutritious pieces will provide enough energy for a new day. You can make these amazing Scottish scones yourself to explore Scottish cuisine.
Sticky toffee pudding has a soft texture and attractive appearance. The pudding is fragrant, cool, and melted in your mouth. With these characteristics, it is very suitable for making this Scottish dessert on hot summer days.
A bit of sticky toffee pudding – a slightly bittersweet taste mixed with the passionate aroma of milk and the fatty of butter – will make you fall in love! Let's learn how to make this dessert recipe to enjoy the taste of Scotland.
Raspberry cranachan is a classic Scottish dessert usually served around Christmas time or on other special occasions. It has the best quality Scottish raspberry fruit – undeniably delicious!
With main ingredients including whipped cream, scotch whiskey, oatmeal, and fresh raspberries, this sweet treat is served in a tall glass like the trifle. It is often featured on the dessert menu of many fancy tables.
Usually, this special dessert is served by bringing out each ingredient and letting each person make and enjoy it themselves. Why not try to bring this fun to your family?
Oat cake is a customary breakfast cake in Scotland. This Scottish cake is gradually becoming hot among food lovers. Because the taste of oatcake will make you irresistible. It is also great for your weight loss journey!
The ingredients for this cake are easy to find. It is a combination of barley flour and oats then baked. Oat cake brings many benefits to human health such as typically fiber, protein or fat, along with vitamins and minerals.
This is a familiar Scottish snack that resembles French fries. This delightful treat with the Mars bar has become popular around the world. So why don't you try it today!
Yes, deep-frying a Mars bar in cooking oil sounds super weird, but it will totally conquer you! This particular dish actually tastes a lot better than you think. The inside is extremely fatty, and the crust is attractively crispy.
Whiskey tablets are often served on Christmas as a conventional dessert in Scotland. These tablets are not too difficult to make, but the taste is very attractive.
With just a few simple steps, you've got a unique dish for any special occasion. Scottish whiskey tablets are even better to be paired with a full glass of whiskey. Join me in the kitchen to learn how to make this stunning dessert at home!
The sweet and fatty dessert from Scotland – berry brulee, has made many people flip on the first try. This pretty famous dessert is a relative of the fluffy flan, but with a more complex way of processing.
If anyone has tasted it, they will never forget the impression of the scrumptious taste and the crispy sugar layer that melts in the mouth. And it would be great for a weekend dinner. You treat the whole family with this dessert, together tell the story of the past week!
This no-bake dessert is the first choice for you on hot days. Learn about Scottish chocolate and orange mousse with whiskey and how to make it at home without using an oven! The method also becomes simpler and saves a lot of effort.
The soft and sweet mousse cake with sour orange flavor and the rich chocolate is beautifully decorated. In particular, the strong aroma of Scottish whiskey will also make you ecstatic.
This dessert will surely make you fall in love with its taste! It is extremely easy even if you are not good at cooking. Start making yourself a cool orange mousse with chocolate and whiskey right now!
The tipsy laird has graced Scottish dining tables for centuries. Because this dessert looks as beautiful as the British triple with eye-catching decorations.
This special recipe uses whiskey and sometimes original Scottish raspberries to make it even more impressive. Not only fantastic, but it is also easy to make. So don't just save this recipe for one holiday, because you can absolutely enjoy it every day!
Try a simple warm cup of Scottish tea for a chilling morning, why not? A little hot water and a few simple ingredients can make you extremely satisfied with the frugality of this scotch tea!
So let's find out how to make a great cup of scotch tea right here. With a fairly simple method, but you have an interesting drink to serve with any other dessert!
Nutrition Facts
18 servings per container
---
Amount Per ServingCalories161
% Daily Value *
Total Fat 10.3g

16

%
Cholesterol 27mg

9

%
Sodium 68mg

3

%
Potassium 18mg

1

%
Total Carbohydrate 15.6g

5

%

Dietary Fiber 0.4g

0

%
Sugars 0.1g

Protein 1.5g

2

%
---
* The % Daily Value tells you how much a nutrient in a serving of food contributes to a daily diet. 2,000 calories a day is used for general nutrition advice.