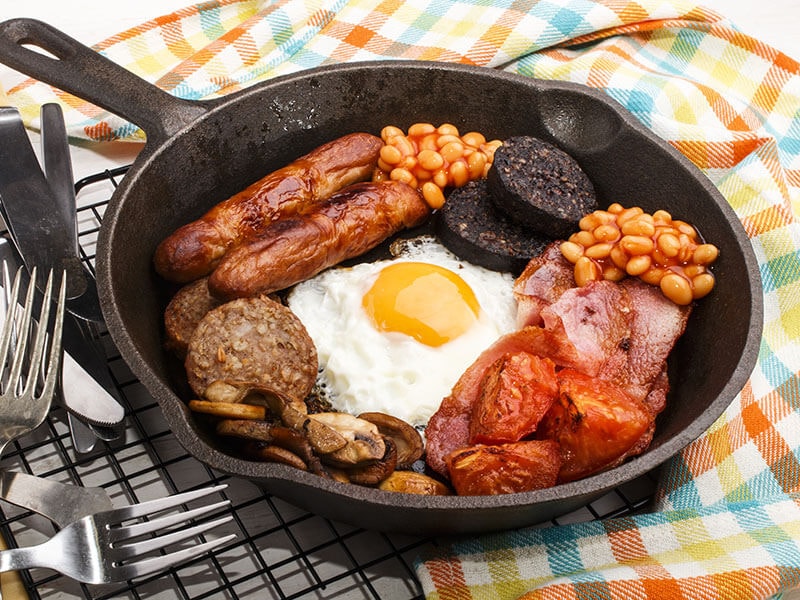 Irish breakfast recipes are part of the uniqueness of this country's cuisine. Each dish has its own charm. Why not try a few delectable recipes for a hearty breakfast this week?
And what makes them even better? Let's prepare some lightly yet tasty breakfast sides and serve with your dishes!
The unique flavors of Irish breakfast recipes will never let your taste buds down. So, let's find some toothsome Irish breakfast dishes to bring to your table!
18 most amazing Irish breakfast recipes. Don't hesitate, and take these tickets now!
Irish Soda Bread
Irish Potato Bread
Irish Brown Bread
Chocolate Chip Soda Bread
Irish Rolls (Waterford Blaas)
Irish Soda Bread Muffins
Irish Scones
Irish Potato Boxty
Irish Mashed Potatoes (Colcannon)
Irish Potato Salad
Green Oatmeal
Irish Flapjacks
Irish Oatmeal
Irish Egg Benedict
Irish Egg Salad Sandwiches
Green Pancakes
Green Fruit Salad
Full Irish Breakfast
Irish love to use flour to create a convenient breakfast which provides enough starch to start a day. Let's see how diverse their recipes are!
Irish soda bread is unlike other bread. You will use baking soda and buttermilk to rise the dough instead of yeast. Therefore, this bread has a distinctive buttery aroma and crispy texture when fresh out of the oven.
Particularly, soda bread does not need to be floured, just mix the ingredients and then gently knead a few times to shape the dough and bake! With these recipes, you can easily succeed from the first try. Don't forget to prepare a large batch on the weekend to share with your neighbors.
And if there is too much bread that you cannot finish at one time; do not throw it away, try to transform them into mind-blowing dishes with leftover bread instead.
The delicious Irish-style bread with the typical taste of potatoes will create an extraordinary feeling. This dish helps to add a fantastic vibe to your family's breakfast.
Potato bread is soft and flavorful. The chewy potato crust will make you passionate. You should take the bread out of the oven and enjoy it while it's still hot.
You can enjoy this quick bread throughout the day. Let's make Irish-flavored potato bread for this weekend with your loved ones.
Irish brown bread is made with whole wheat flour. You can make light or dark brown bread depending on the type of flour used and the ratio between buttermilk and molasses. Compared to traditional Irish bread, brown bread has a firmer and crispier crust, with a richer flavor.
The presence of whole-grain wheat flour and Irish buttermilk also creates an exceptional buttery taste for this bread. It also provides nutrients for you to start your day.
You can immediately make a loaf of whole wheat bread with a high fiber content and fewer calories than regular bread with just a few essential ingredients. There is nothing better than the smell of Irish brown bread baked in the morning!
​​If you want to try, don't hesitate to go to the kitchen and make this bread recipe right away! And a nonstick-coating bread loaf pan is a must-have item to make sure your loaf of bread comes out beautifully.
Chocolate chip soda bread is another exciting variation of classic Irish bread. This bread has long become familiar in its hometown and will become a new favorite dish for your children—my favorite breakfast.
The soft and light texture of soda bread, combined with sweet chocolate chips, will make you feel more attractive when eating. The taste is amazingly balanced because the amount of sugar and chocolate chips are used moderately.
With the simplest ingredients and the easiest way to make, you can prepare your chocolate chip soda bread with an eye-catching appearance, buttery aroma, and sponge texture.
Irish rolls are also known as Waterford blaas. You can find this flavorsome Irish delicacy in most bakeries on Irish streets. You can also make your own in the kitchen at home since it is easier than you think. The Irish rolls are soft, fluffy, and light to delight your taste.
To bake the rolls that meet all of these flavor criteria, you just need to refer to these effortless recipes. With just a few simple steps, you will not need to arrange a long waiting time to enjoy it.
Another variation of traditional soda bread is Irish soda bread muffin. This muffin is an indispensable dish in any restaurant, hotel, or bakery in Ireland. The taste of the soda bread muffin is not inferior to other complicated breakfast dishes.
Soda bread muffins have a similar buttery taste to soda bread but are sweeter and more enjoyable with dried fruits mixed in the bread dough. You will find it attractive with every bite, thanks to the sweet and sour taste of dried fruits.
In particular, these muffins also have many recipes that you can make yourself at home. You can use many different types of components to create a variety of muffins.
Irish scones are medium-sized quick toasts with a boost of flavor. This is a typical dish that always appears in Irish breakfasts or tea parties. Or you can serve this dish as a dessert for your Irish party to impress your Irish friends.
These scones have a moderate thickness. Although not as soft as other bread, they still retain their particular sponginess. Scones are made from wheat flour.
This scone is usually enjoyed with Irish cream and strawberry jam on top while it is still warm. Soft scones will blend well with them to create a great taste.
Try this recipe now, and you will gain the flavor combinations in a uniquely Irish way!
Potato boxty is one of the Irish specialties. According to the Irish concept, a breakfast without potato dishes like boxty is almost not a proper meal.
This age-old crepe is made of mashed potatoes and flour. This is crunchy on the outside and fluffy on the inside. You can serve this dish with bacon and eggs or smoked salmon and cream sauce for the best experience.
While you can go for the ever-so-popular American bacon, I think you'll find the defining features of Irish bacon blend better with Potato Boxty. Who can say no to the tender flesh, the juicy texture, and the savory flavor of a slice of Irish bacon?
This potato boxty has a unique texture thanks to the combination of mashed potatoes and raw grated potatoes. Therefore, you will find it crispy on the outside and soft on the inside.
Try this special recipe to make the ultimate crispy and tasty Irish potato boxty!
The Irish have various ways of processing potatoes, and colcannon is one of them. This recipe is made of mashed potatoes mixed with green onions and greens (usually kale or cabbage). And the indispensable part is lots of butter and cream, maybe milk!
The interesting thing about eating colcannon is that while feeling the creamy and smooth taste of potatoes and cream in your mouth, you will encounter crunchy chopped greens mixed with the particular aroma of green onions.
This recipe is fun: you make a hole in the center of mashed potatoes and put your favorite amount of melted butter in it. Then use a fork to dip a few mashed potatoes in this butter and enjoy!
Plus, it is crucial to learn a few tips to thicken mashed potatoes to prevent unsightly and watery ones as well.
Yet another Irish potato recipe! This potato salad is quite similar to the one above with a creamy texture. It also includes some green onions, but this time the greens used are dill pickle. And mixed in with some bacon, that's what matters.
The taste of this salad is exceptionally creamy yet not dull. It is a bit salty with salt and sour with sour cream, great to pair with grilled meats! For the best experience, chill this potato salad before serving.
You only need a few baby spinach to create a nice green color for your Irish oatmeal! This is one of the most popular cereals used in Ireland. Its taste is excellent like its look.
The sticky texture of oatmeal will be balanced by the freshness of greens, all making for a great whole. You will feel the specific cheesy flavor melting in your mouth, along with the crunchy texture of every baby spinach.
Not only has significant effects on weight loss, but green oatmeal is also used as healthy food to nourish the body. And the bright green color of this breakfast will also make you feel more excited to eat it without feeling bored.
Don't mistake these flapjacks for your regular pancakes. They are typically sweet and thick Irish bars made from oats. You can serve them as a lovely breakfast with tea or coffee. They are also suitable to be a quick snack!
The unique taste of oats, brown sugar, butter, and golden syrup are blended perfectly in these flapjacks. You can keep them for breakfast throughout the week.
The ingredients for Irish flapjacks are also simple and easy to find, and you can customize them by adding your favorite chocolate or fruit.
These lovely caramel Irish oat flapjacks will surely be your favorite treat! You can see this video to know more:
Irish oatmeal is usually made by adding oats to milk. This dish has a sticky and coarse texture like porridge – so enjoyable to eat. In fact, there are some textural distinctions between porridge and oatmeal, but when it comes to breakfast, these 2 choices are excellent.
Oatmeal is also perfect for those who like a sweet breakfast. It only takes a few minutes to prepare, and you are ready to eat.
Oatmeal is effective for weight loss and widely used in daily life in the prevention and treatment of some chronic diseases. Irish oatmeal also provides healthy unsaturated fats and essential nutrients.
The egg is a characteristic of Irish cuisine that you cannot ignore. This is the perfect choice to provide everyday nutrition. To make it more unique, let's learn to make egg benedict in the Irish style and contribute to your fabulous breakfast menu.
Combine eggs with some other ingredients according to this recipe. You will get a well-deserved reward! It would be great to enjoy a breakfast with Irish eggs and cheddar cheese sauce. You can also serve it with the beautiful Irish soda bread for extra carbs and energy for the day.
This may be the oldest Irish breakfast dish. These egg and salad triangle sandwiches are enjoyable to eat. You can catch slices of onion, tomato, or lettuce while chewing very creamy and fatty pieces of egg and cream sauce in your mouth.
The best part of this recipe: you can thoroughly choose the ingredients you want to sandwich in the middle: do you prefer the rich flavor of eggs or the crunchiness of onions and lettuce? Or do you prefer sweet and sour mayonnaise or more rich cream when mixing the filling?
Depending on your choice, the taste is also somewhat different, but it can't go wrong – it is mouth-watering either way! Try making your Irish egg salad sandwich today since it doesn't take much time!
Green pancakes are a famous cake on St. Patrick's day. This is an exciting no-bake breakfast for those interested in cakes yet don't like baking much.
The Irish green pancake has a mild taste, with the layers are soft, smooth, and spongy. It is not too hard to make green pancakes. To create an eye-catching look, you just need to use available ingredients in your pantries, such as flour, milk, butter, and green food coloring.
When you enjoy it, just place three to four layers of green pancake on top of each other, drizzle on the top with syrup, honey, or melted chocolate. The fluffy green pancakes melt quickly in your mouth with a distinctive aroma. Just thinking about it is enough to make everyone crave!
Mixed fruit salad may not sound strange to you because of its health benefits. But in the Irish way, you will mix all the greens to get the Irish spirit as much as possible!
The incredible taste of green fruits will bring you a completely new and unexpected experience. The characteristic natural flavor combined with the sauce creates a very savory breakfast dish.
The dish provides many essential vitamins for the body and is especially suitable for weight loss diets. Depending on the preference of the eater, you can choose the right fruit. Hopefully, your family will have a plate of fresh green salad in the coming days.
There are many common ingredients in a full Irish breakfast to choose from and combine your favorite dishes. They are usually toast, bacon, sausage, eggs, mushrooms, potatoes, and butter. And of course, it cannot be perfect without tea!
Not only for breakfast, but you can also take this nutritious meal as a replacement for your St. Patrick's Day party. This will be a hearty meal that all your guests will admire.
This Irish breakfast looks gorgeous, and you must try it now!
Nutrition Facts
12 servings per container
Serving Size1 loaf
---
Amount Per ServingCalories108
% Daily Value *
Total Fat 4.9g

7

%
Cholesterol 14mg

5

%
Sodium 335mg

14

%
Potassium 54mg

2

%
Total Carbohydrate 13.4g

5

%

Dietary Fiber 0.3g

0

%
Sugars 6g

Protein 2.2g

4

%
---
* The % Daily Value tells you how much a nutrient in a serving of food contributes to a daily diet. 2,000 calories a day is used for general nutrition advice.