Portuguese foods are definitely delicious, and they will surely please your stomach. The ingredient that the locals use to make their delicacies are abundant, including meat, seafood, vegetables, and spices. Therefore, Portuguese delights are full of flavors.
If you plan to visit Portugal but do not know what to eat in this beautiful country, take a look at these remarkable dishes and save them for your next trip! I bet that this list will be a helpful guide for your food tour in Portugal!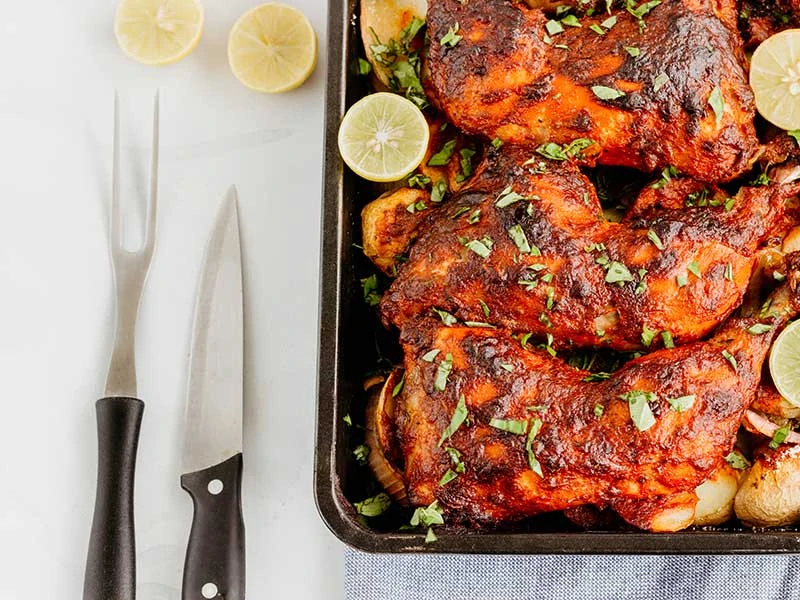 Portuguese Main Dishes
Here are the best Portuguese dishes you should bring to your food list and make a whole food tour when you come to Portugal! If you are looking for Portuguese recipes to revive dinner plans, also take a look! Let's see what they are and what their secret weapons are!
---
Portugal is basically a coastal country near the Atlantis Ocean. Therefore, this country is super famous for its seafood! You will be amazed by the number of seafood dishes here and how delectable they are!
1. Cataplana de Marisco (Fish and Seafood Stew)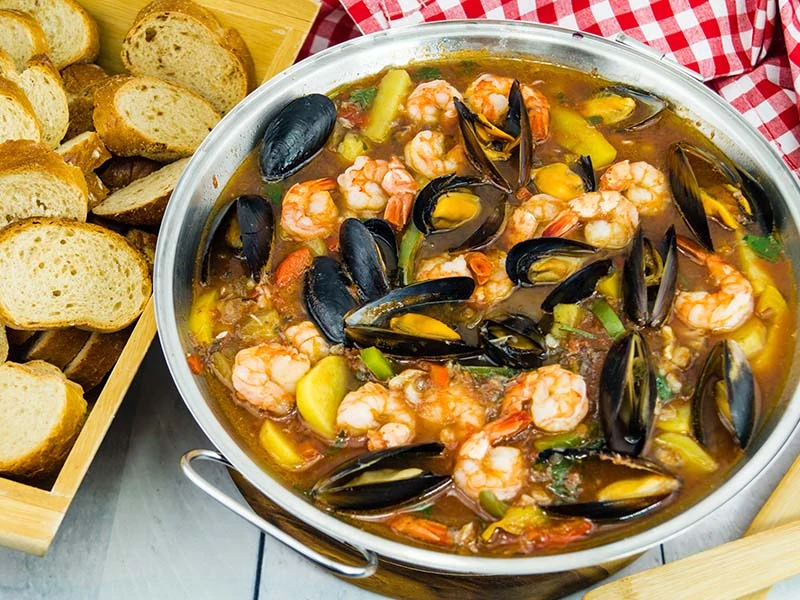 "Cataplana" in Portuguese describes a pan that can open and close like a clam. It also refers to dishes that are cooked in the metal vessel. And Cataplana de Marisco is a feast seafood dish named after the way Portuguese cook it.
This dish from Algarve includes everything you love for a seafood serving! It consists of a combination of seafood such as shrimp, prawns, mussels, clams, and fish with some other local components like tomatoes, onions, olive oil, peppers, and white wine.
2. Sardinhas Assadas (Grilled Sardines)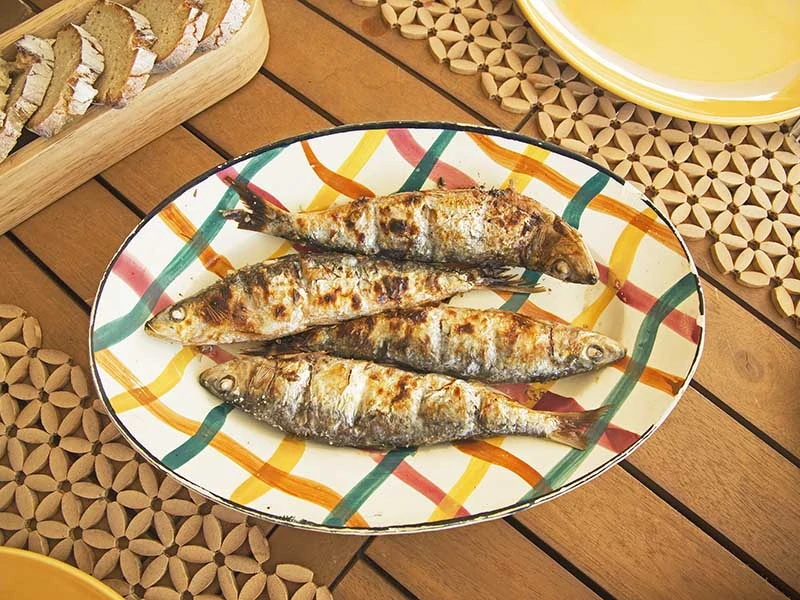 Sardinhas Assadas are simply seasoned sardines grilled on an open flame. Portuguese cook and serve the fish with whole heads and bones. It is also a traditional feast dish that usually appears in the Feast of St Anthony, also called "the Sardine Festival," in Lisbon.
Want to know how the Portuguese eat Sardinhas Assadas? They will hold the head with one hand and the tail with the other hand. After that, they bite the grilled fish from the side and eat the rest like that. If you want a local experience, do as they do!
3. Bacalhau (Codfish Stew)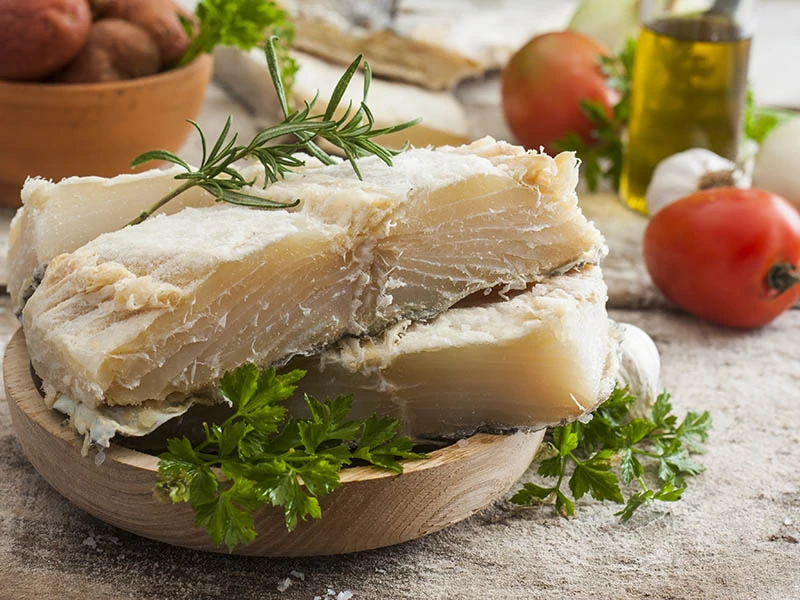 Bacalhau refers to codfish – one of Portugal's most popular types of fish. Do you know that the Portuguese have thousands of ways to cook Bacalhau? They can bake, grill, fry, sauté or do anything with codfish until they get a perfect dish!
Bacalhau usually appears in Portuguese dinner dishes for its versatile characteristics. You will definitely have Bacalhau for at least one meal if you visit Portugal. And you, as a visitor, should totally try it because it is the iconic seafood of this country!
A famous dish from Bacalhau is Bacalhau à Brás including codfish with eggs, garlic, onions, potatoes, and parsley. Another popular variant is Pastel de Bacalhau made from shredded codfish with garlic, potatoes, and onion. The cook will roll the mixture into balls and fry them.
It is a mystery that the Portuguese like to garnish most of their Bacalhau editions with canned black olives while they are growing olives right in Portugal!
4. Polvo à Lagareiro (Octopus Dish)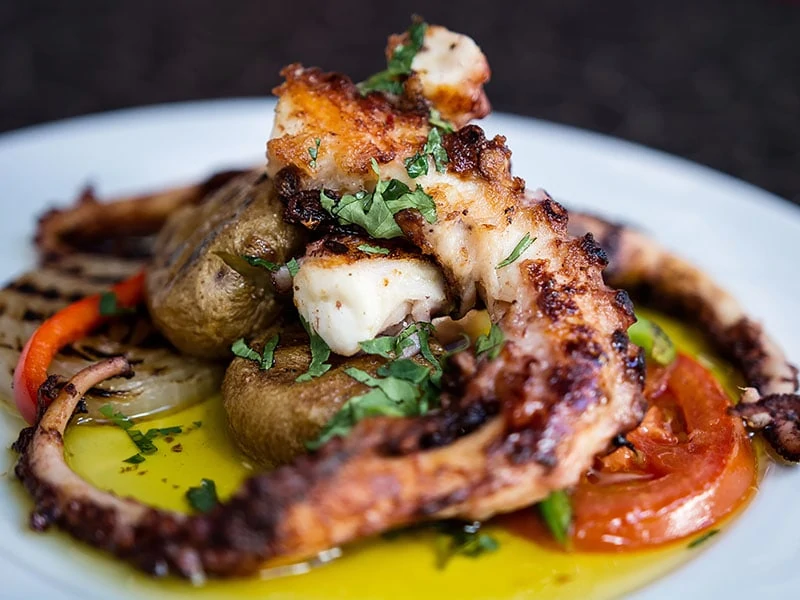 Besides codfish or sardines, octopus is also the favorite seafood of the Portuguese. And Polvo à Lagareiro is a simple octopus dish baked and roasted with potatoes. "Lagareiro" is a cooking method in Portuguese using a lot of olive oil, which is also applied to cook this dish.
Many people claim that Polvo à Lagareiro comes from Beiras, the region that stands between the North of the Tagus River and the South of the Douro River. Nowadays, it can appear on any table throughout Portugal for no special occasion.
If you're finding easy Portuguese lunch dishes to cook for your family, try this seafood dish! Interestingly, when the Portuguese serve this dish, it means that they want to welcome someone in the family returning from fishing boats.
The cook is so careful when he is dealing with octopus to make Polvo à Lagareiro!
5. Amêijoas à Bulhão Pato (Clams in White Wine)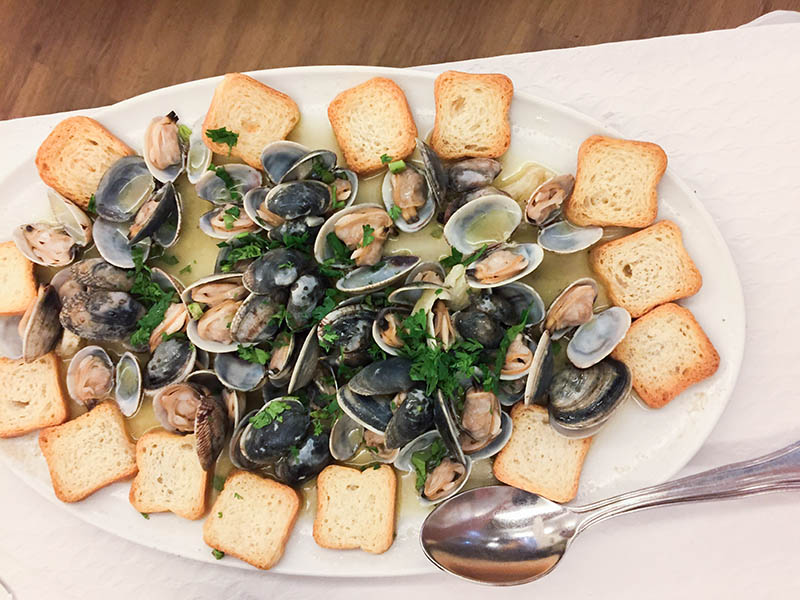 Amêijoas à Bulhão Pato originates in the Estremadura region. It is simply lots of clams cooked in white wine, oil, coriander, lemon, and garlic.
The whole dish's success will be based mainly on the original quality of the clams; therefore, they are considerably chosen beforehand.
This wonderful Amêijoas à Bulhão Pato dish is a well-known specialty of Portugal's capital – Lisbon. It is named after a Lisbon poet, Bulhão Pato, from the 19th century. Portuguese usually serve this dish with bread to dip in the special sauce.
6. Caldeirada de Peixe (Fish Stew)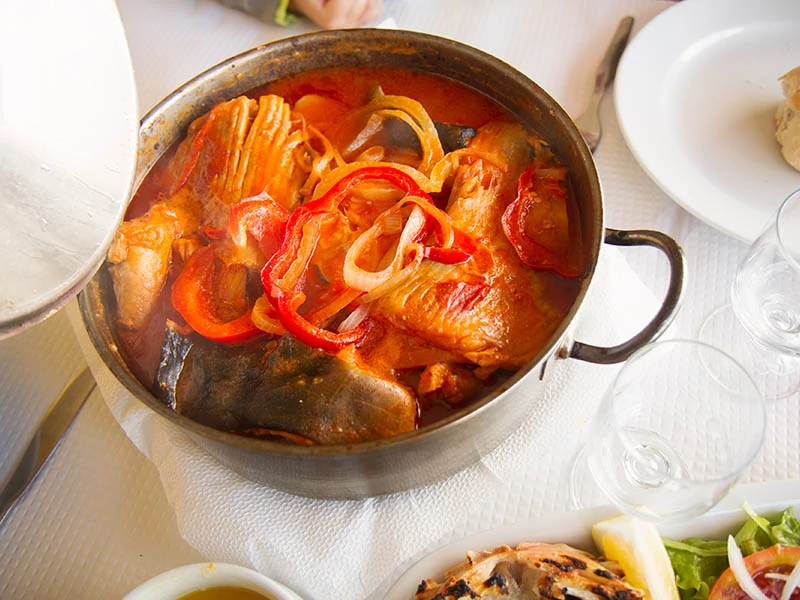 Caldeirada de Peixe is a ubiquitous fish stew throughout Portugal. The cook will combine many types of fish together and start to stew them with potatoes, tomatoes, herbs, and peppers. This dish has a lot of variations due to the different fish choices of other regions.
Caldeirada de Peixe should include white fish with tender flesh that won't easily fall apart when being cooked for a long time. Portuguese often use some typical fish types: fresh cod, conger, and grouper. It doesn't have any specific recipe for this dish!
7. Gambas al Ajillo (Garlic Shrimps)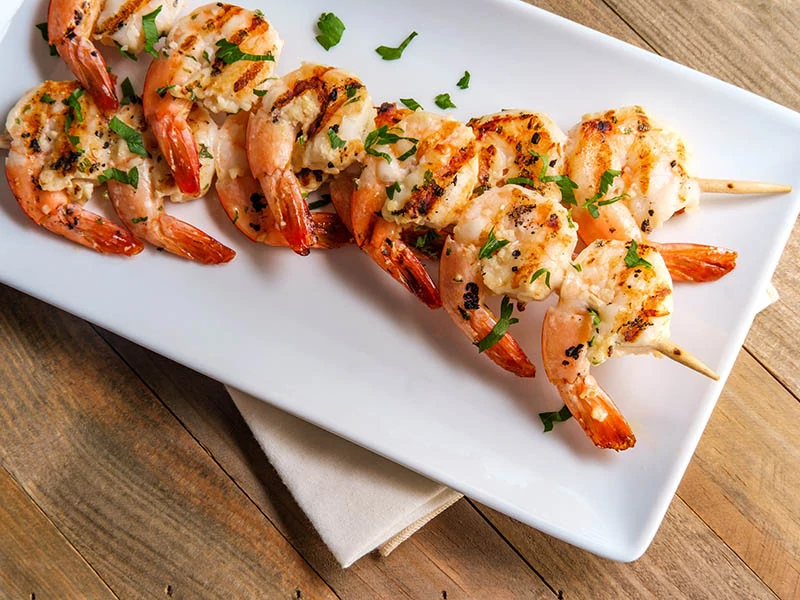 Gambas al Ajillo includes two easy-to-find ingredients in Portugal: shrimp and garlic. The cook will saute the minced garlic first, then add shrimps seasoned with olive oil, fresh Piri-Piri, and spicy peppers for a super flavorful dish.
Gambas al Ajillo comes from Spain, but this Portuguese version is also unique! The locals usually serve Gambas al Ajillo with Pão (bread) and wine. After finishing the shrimp, it is great to dip Pão in the garlic sauce to eat as a side dish!
---
If you are so into eating meat, you cannot miss these Portuguese dishes when you visit this country! Some of them can be the most popular and delicious Portuguese breakfast recipes with meat! Find out what their names are and what is unique about them!
8. Porco Preto (Black Pork)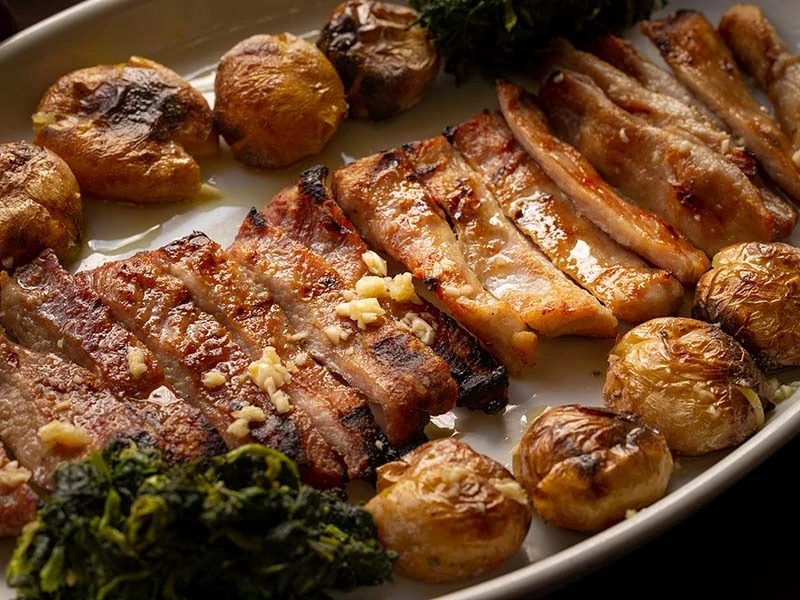 Porco Preto is literally "black pig," which is a common kind of domestic pig in some parts of Spain and Portugal. This meat is on a whole new level compared to that normal pork. Thanks to the incredible fat amount, it never gets dry and is more flavorful than any other type!
Are you curious about how this food starting with "P" tastes yet? You can easily find Porco Preto dishes in the local restaurants of Southern Portugal!
They will have many cooking methods to deal with it, but a famous one is Porco Preto com Molho de Alho, which is black pork in garlic.
9. Alheira de Mirandela (Traditional Portuguese Sausage)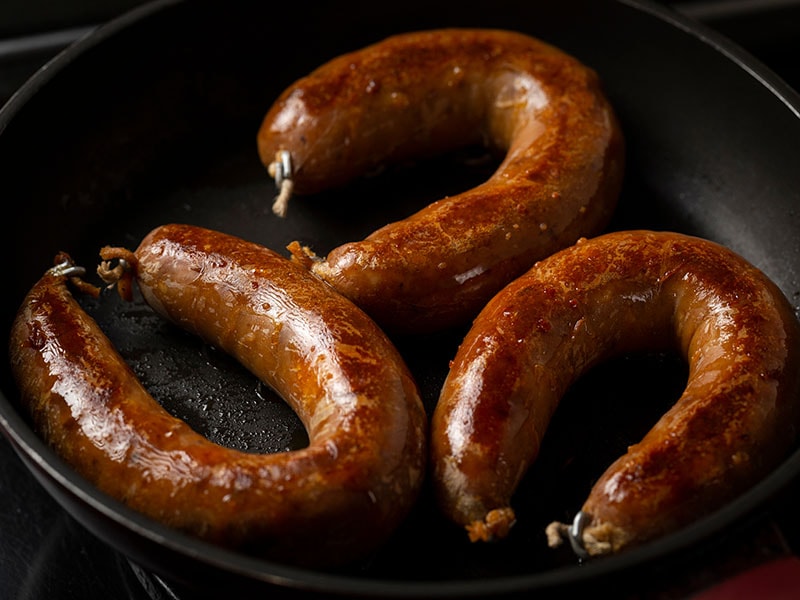 Alheira de Mirandela, or Alheira, is a traditional type of sausage from Portugal. It is smoked and consists of a mixture of meat (veal, rabbit, etc.) and bread. The Portuguese will grill or roast Alheira de Mirandela and serve it with a fried egg and some crispy French fries.
There is an interesting history behind the meat used in Alheira. It shows the consistent belief of remaining Portuguese Jews from the expelling act since the 15th century. Therefore, they don't use pork in this sausage.
10. Cozido à Portuguesa (Boiled Dinner)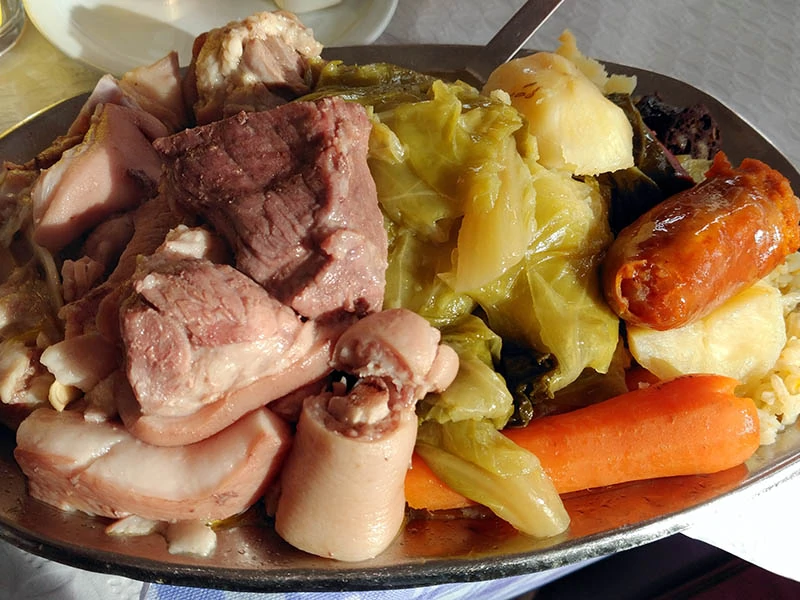 Cozido à Portuguesa, or Cozido for short, is a traditional meat stew of Portugal. It includes the most typical meats, sausages, legumes, and veggies in Portuguese cuisine. The cook will put all of them in a huge pot and slowly boil them to make a perfect Cozido dish.
The ingredients of Cozido may vary according to local cuisine. In the South of Portugal, you may find a chicken, mint, and potato variation. Meanwhile, in the Northeast, Cozido includes Morcela (blood sausage), Alheira (traditional sausage), and Farinheira (breaded sausage).
11. Frango Assado (Chicken Piri-Piri)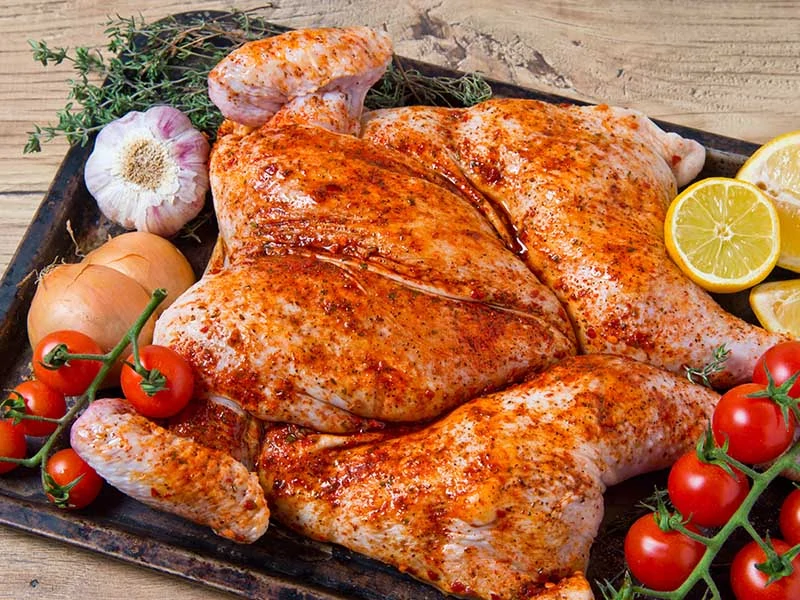 Frango Assado is Portuguese chicken covered in Piri-Piri chili, a small spicy chili pepper that is famous in this country. In addition to Portugal, Piri-Piri is also widely used in the culinary world of Rwanda and other Southern African countries. 
The locals may serve this national dish with French fries and salad, including lettuce, tomato, and onion.
You may be surprised to know that the food stalls selling this chicken dish even have a distinct name: Churrascarias. You will bump into these places throughout Portugal. The locals are likely to eat chicken Piri-Piri with bare hands, so do as they do if you like!
12. Arroz de Pato (Duck Rice)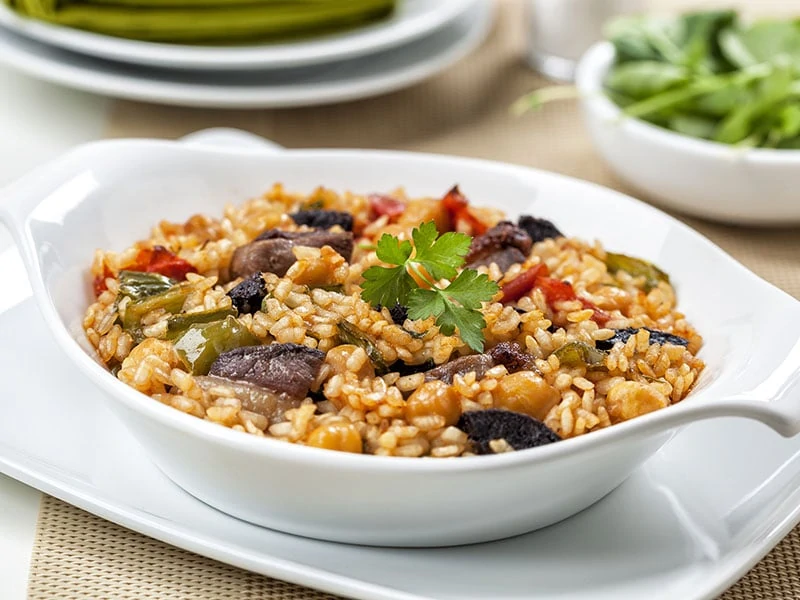 Arroz de Pato is simply roasted duck and steamed rice. The Portuguese will cook the duck first to get the suitable tenderness, then they will add slices of smoked chouriço sausages on top before roasting it. The chef will ornament the final dish with slices of fresh orange.
Arroz de Pato originates from the North of Portugal, especially the city of Braga. It is the combination of the best ingredients from Portuguese cuisine, such as garlic, bay leaves, rice, and wine. The rice used in this dish is Carolino – popular short-grain rice in Portugal.
13. Espetada (Beef Skewers)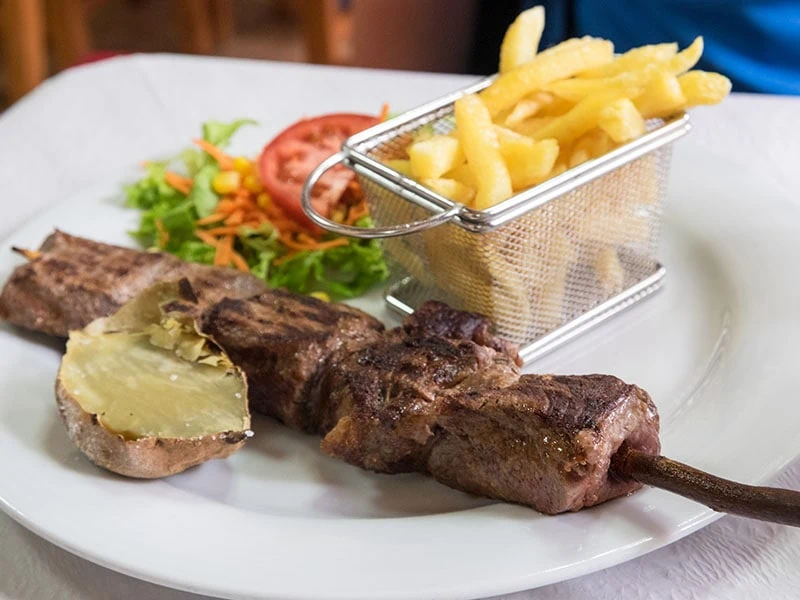 Espetada is a specialty from the Madeira archipelago of Portugal. It is the beef skewers with huge cubes of beef marinated with garlic, salt, and then grilled over an open flame in hot coals. Espetada is a fantastic summer dish, especially at BBQ parties or picnics.
You can also use octopus, pork, or sausage to replace the beef with the same recipe, but beef is always the best choice for an original Madeira dish. Portuguese also serve this dish with bread, French fries, and a cold drink called Sangria.
---
Craving for some sandwiches here in Portugal? Some of the best versions of Portuguese sandwiches are here! You can note down the names and save them for your upcoming trip to this dynamic nation!
14. Bifanas (National Portuguese Pork Sandwich)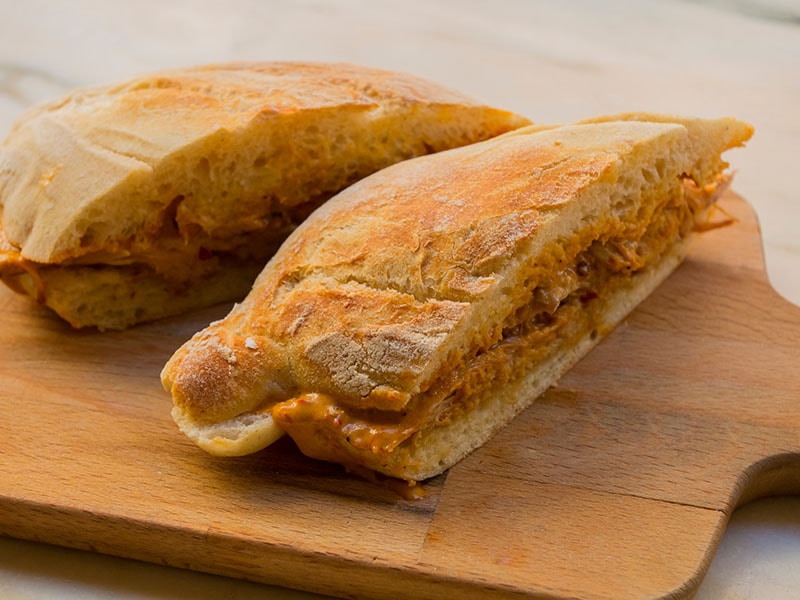 This will be the Portuguese sandwich that you are looking for! A simple one with a thin slice of grilled pork seasoned with garlic, wine, and other spices. But the secret lies in the sauce! You will meet many variants in different regions of this country due to the marinade.
The simplest and original Bifanas come from a tiny town called Vendas Novas in the Alentejo area between Lisbon and Evora. Later on, the Portuguese developed a lot of variations of this dish, including more ingredients like bacon, lettuce, tomatoes, eggs, etc.
Bifanas are extremely famous street snacks in Portugal. If you want a big lunch or dinner, just have Bifanas with some soup and French fries or a beef dish for a late-night snack. It is indeed a popular national sandwich with its own version in McDonald's called McBifana!
15. Francesinha (Porto Sandwiches)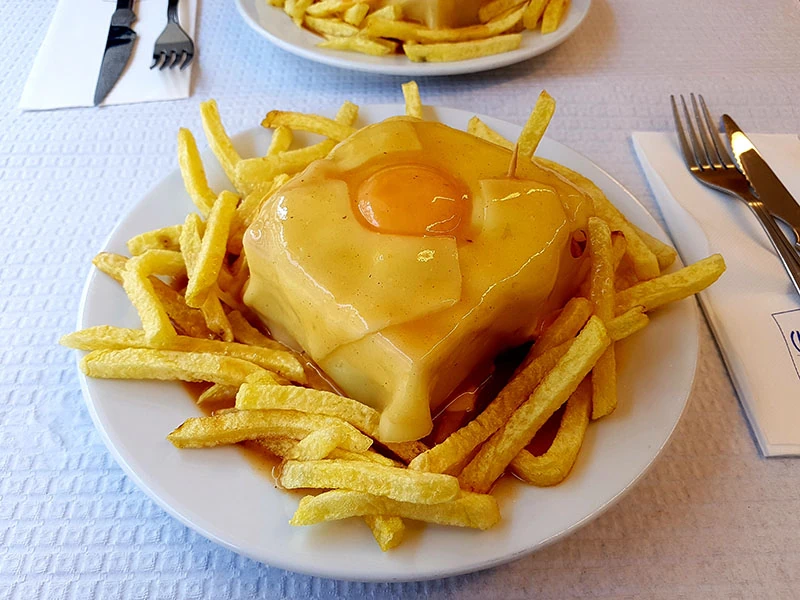 In Portuguese, "Francesinha" literally means "the little French girl." And this sandwich is indeed an adaptation from a French sandwich called Croque-Monsieur. The special marinade containing tomato and beef sauce is also a spotlight of this sandwich.
This dish is the superstar in Porto. The yellow shade from cheese and egg yolk on top is very eye-catching and appealing, which will make an excellent first impression!
It is often served with French fries and sauce. The diner will pour the sauce on the sandwich to melt the cheese. You may want to use a fork and knife to eat Francesinha since eating it with bare hands is inconvenient.
---
Want a more refreshing dish for dinner in Portugal? Since most well-known and delectable soup dishes are lying here, look no further! You should try these soups if you have a chance because they are heaven-made!
16. Caldo Verde (Green Soup)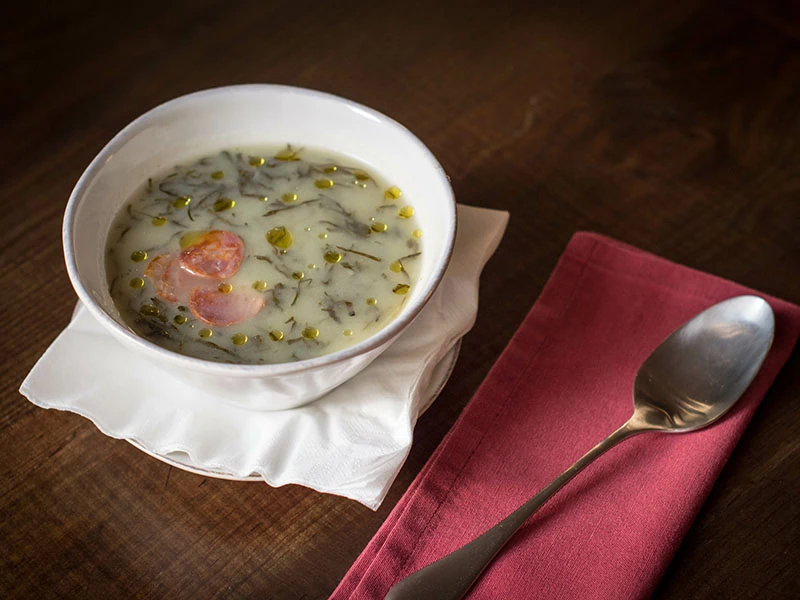 Here comes the most famous traditional Portuguese soup! Caldo Verde is a green soup made from dark green cabbage, or sometimes kale, collard greens. You can have this simple soup anytime in the year, especially in the winter.
Caldo Verde is a delicious mixture between veggies, potato puree, chouriço sausage, and Portuguese olive oil. You will see it at many celebrations, holidays and weddings. It usually pairs with a traditional cornbread called Broa.
Don't hesitate to pick this hearty and delicious soup for one of your nights in Portugal!
17. Açorda (Bread Soup)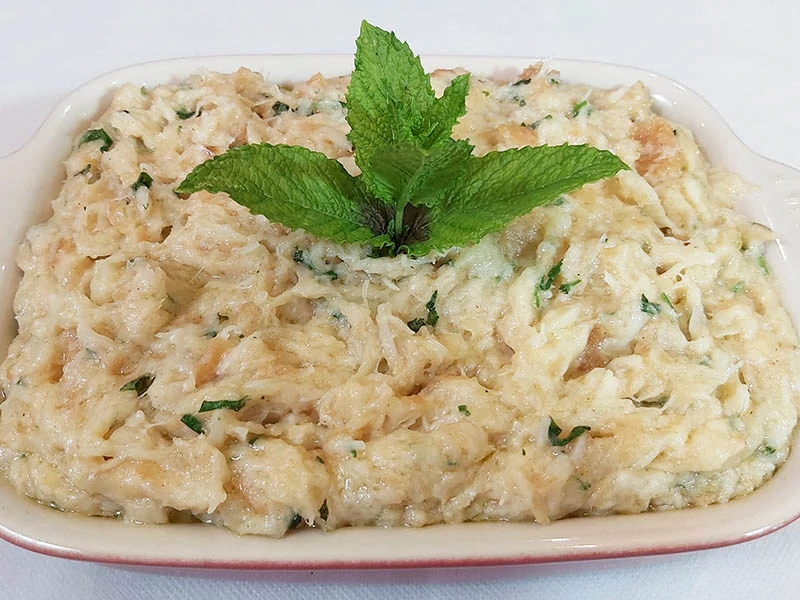 Açorda is pleasant with garlic, olive oil, vinegar, coriander, and eggs mashed bread pieces. It actually originates from the Alentejo region but has become popular in Portugal. It is the most versatile type of food that can pair with anything, from seafood to wild game.
In Portugal, you'll meet two common types of Açorda, which are Lisbon Açorda from Papo Seco bread and Alentejo Açorda from leftover Sopas – a local bread type of Alentejo. Açorda is filling enough to become the main dish itself.
Açorda is a dish for both the rich and the poor because of its cheap base ingredients. All it needs are old-day bread and some ordinary herbs and spices. The rest of it will rely on the wealthiness of the family!
18. Sopa da Pedra (Stone Soup)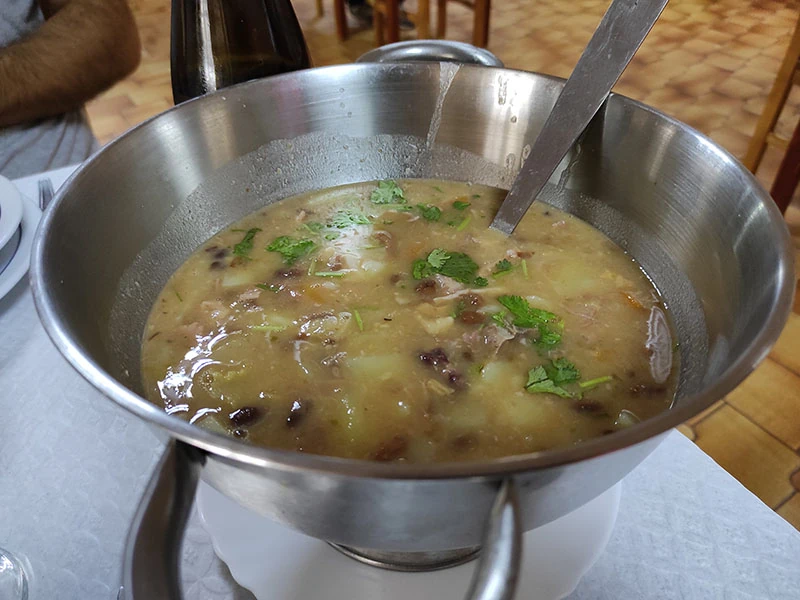 Sopa da Pedra in Portuguese is literally "soup with stone." But it actually doesn't have any stone inside. It includes many types of meat, sausages, and veggies that make the best soup ever! But why does it have "stone" in its name? Let's find out!
The story began with a poor monk who did not have anything to eat at the time. Then he boiled a stone in water to make a soup. The villagers felt really bad for him and decided to put other ingredients in his boiling "soup." With their help, the monk enjoyed a hearty meal!
It is a great folklore that reminds us of the meaning of sharing! Sopa da Pedra is not only delicious but also has a beautiful story!
19. Sopa de Castanhas (Chestnut Soup)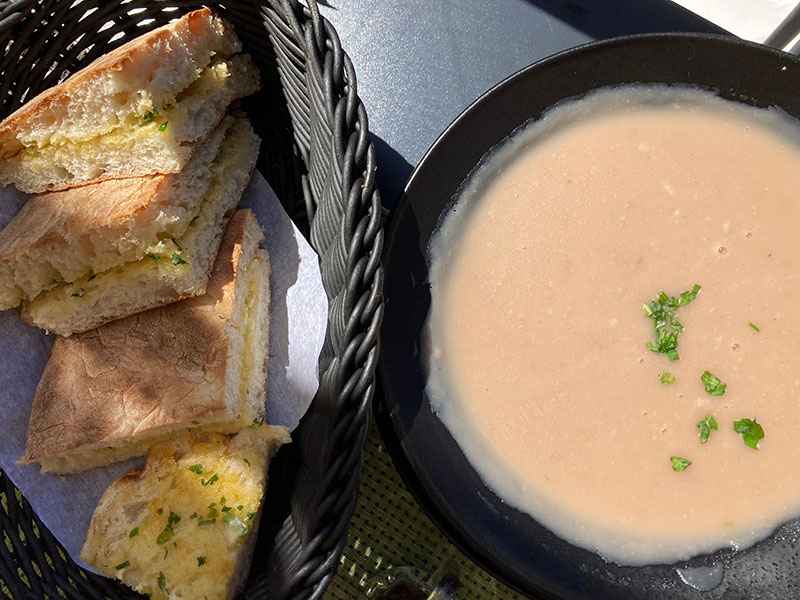 Sopa de Castanhas is a typical soup in Portugal with sweet chestnuts. Castanhas, or chestnut, is an all-time favorite snack of Portuguese, so it is understandable to appear in a soup. This soup also includes carrots, celery, onions, garlic, butter, and olive oil.
You'll be surprised to know that Sopa de Castanhas has thousands of variants throughout the country. Some of them contain red beans, stale bread, leeks, potatoes, cabbage, etc. Portuguese usually serve this dish warm in any variation.
---
20. Feijoada (Bean Stew)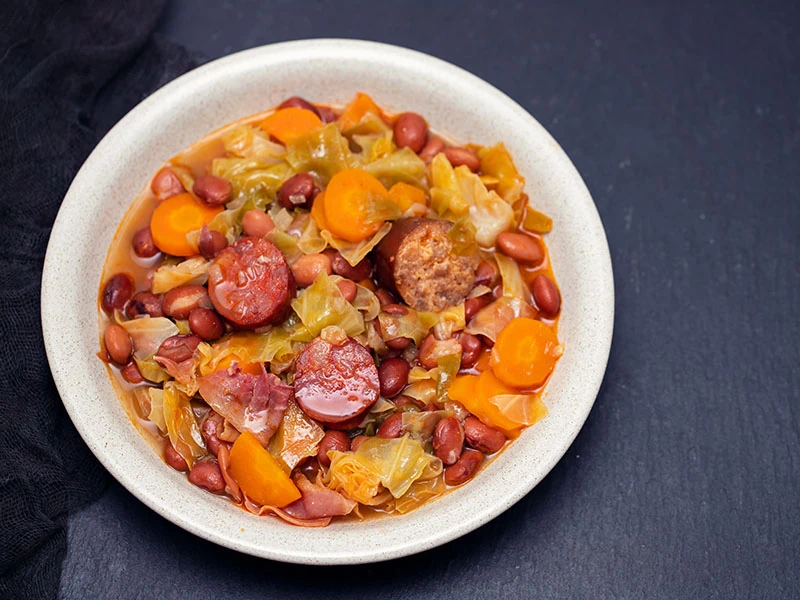 Feijoada is a favorite stew of Portuguese with beans and meat. The used meat can be pork or beef. All of them are boiled over low heat in a clay pot.
In Portugal, they will serve Feijoada during winter with steamed rice and local sausages such as Morcela and Farinheira. The dish is also revered in Brazilian food culture, and many Brazilians consider it their national dish.
Plus, Feijoada has made its way into Indian cuisine and has become a well-loved dish in Goan, a state located on the southwestern coast.
This stew dish can be traced back to the Roman Empire era. The first edition with pork and vegetables has inspired the next variations in the future. The most popular Feijoada version may be Brazilian with black beans and salted meat products like bacon.
21. Peixinhos da Horta (Fried Green Beans)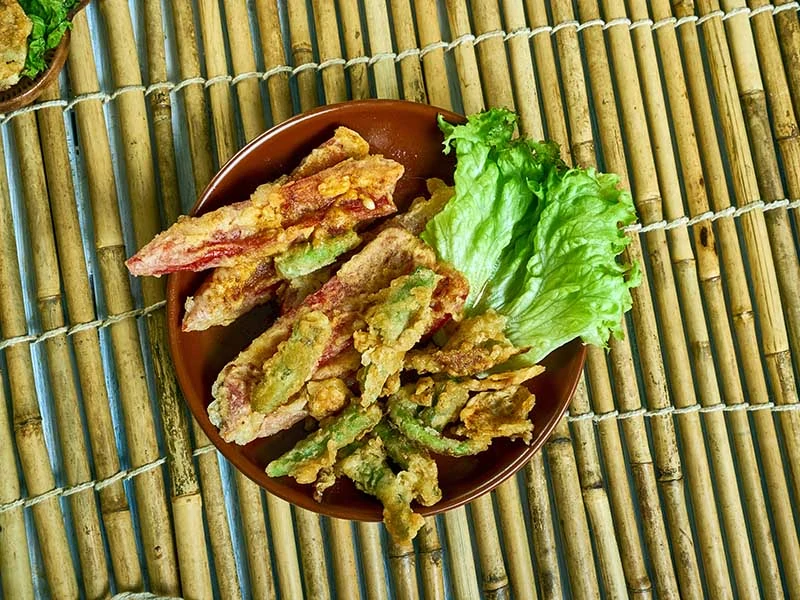 An excellent dish for vegetarians is finally here! The cook will coat green beans in a flour mixture and deep fry in oil. The name "Peixinhos da Horta" literally means "little fish in the garden," but it actually includes no fish.
Portuguese may replace the green beans with peppers or squash on special occasions, but of course, the flavor will not stay the same. This dish has been in Portugal for centuries. It also has a special adaptation in Japan called tempura.
Portuguese Pastries and Desserts
You should know the most popular Portuguese desserts are not easy to follow, because they are unique and need great cooking skills for a perfect final dish! But don't worry, these pastries and desserts are so popular in Portugal that you may find them in most of the eateries!
You should be aware that creating the perfect Portuguese dessert can be challenging due to their unique recipes and the advanced cooking skills required. However, there's no need to worry! These pastries and desserts are so beloved in Portugal that you can easily find them in most local eateries.
22. Pastel de Nata (Egg Tarts)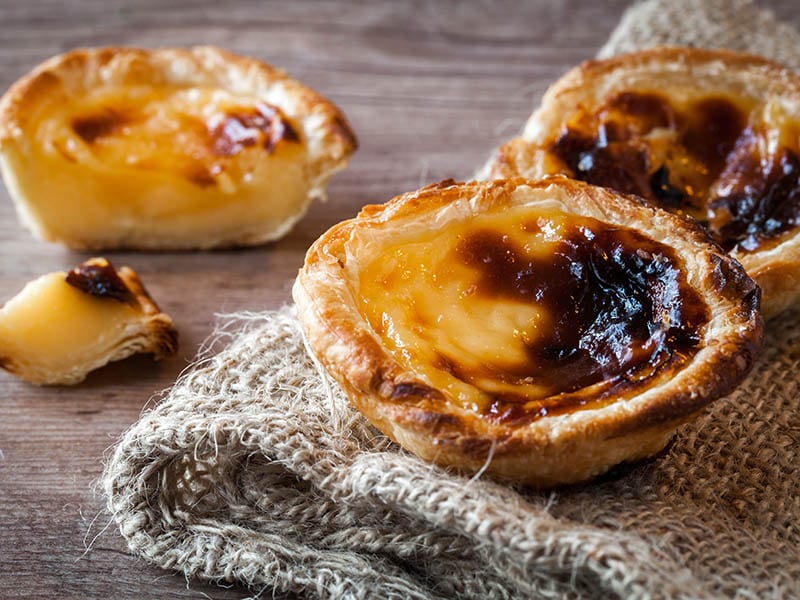 Pastel de Nata is truly representative of Portuguese desserts! These egg tarts are the iconic sweet treats of this country and the pride of European cuisine. You can just randomly pick any restaurant on Portugal street, and you can always find Pastel de Nata on the menu!
In Portuguese, every Pastel de Nata is well-prepared with the golden brown, flaky layer outside, and creamy, buttery filling inside. The locals usually serve these egg tarts with a cup of coffee, which is the best combination after a big meal.
It's interesting to know that the inventors of Pastel de Nata were the monks at the Jeronimos Monastery in Lisbon from the 17th century. After using the whites to starch clothing, they used the leftover egg yolks with lots of sugar and cream to create this delicious pastry.
In Lisbon, you can try the most famous Pastel de Nata at an old bakery from 1837 named Pastéis de Belém. You will get to taste the original custard tarts from the monks' recipe, which has been kept for more than 180 years!
23. Pão de Ló (Sponge Cake)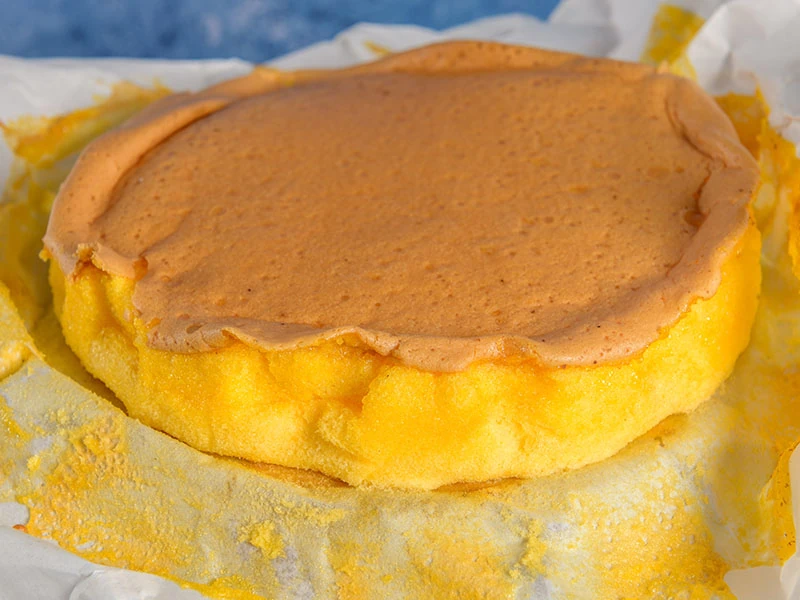 Pão de Ló is a popular variant of sponge cake in Portuguese cuisine. It has a lot of versions: the one with a dry center or the one with a moist cake base. Besides Christmas Eve, it is one of the most typical cakes on Easter Day in Portugal.
Pão de Ló is actually an adaptation from a French cake called Pain de Lof. In the 16th century, the Portuguese traders brought this dish to Japan, and the Japanese developed their own edition, which is nowadays known as castella or kasutera.
24. Ovos Moles De Aveiro (Egg Yolk Sweets)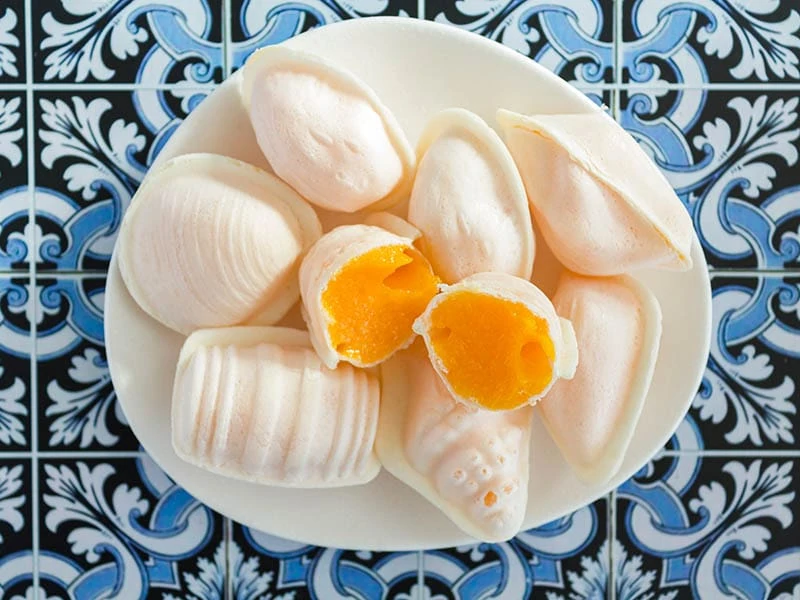 Ovos Moles is a well-known pastry delicacy in Portugal that has gained its popularity from the nuns in Aveiro from the early 20th century. Ovos Moles' mixture consists of an appropriate amount of egg yolks and sugar, sometimes chocolate.
You may be surprised to know that the European Union even protects this special dish! Ovos Moles has been on the list of products with Protected Geographical Indication since 2008.
25. Pudim Abade de Priscos (Abbot of Priscos Pudding)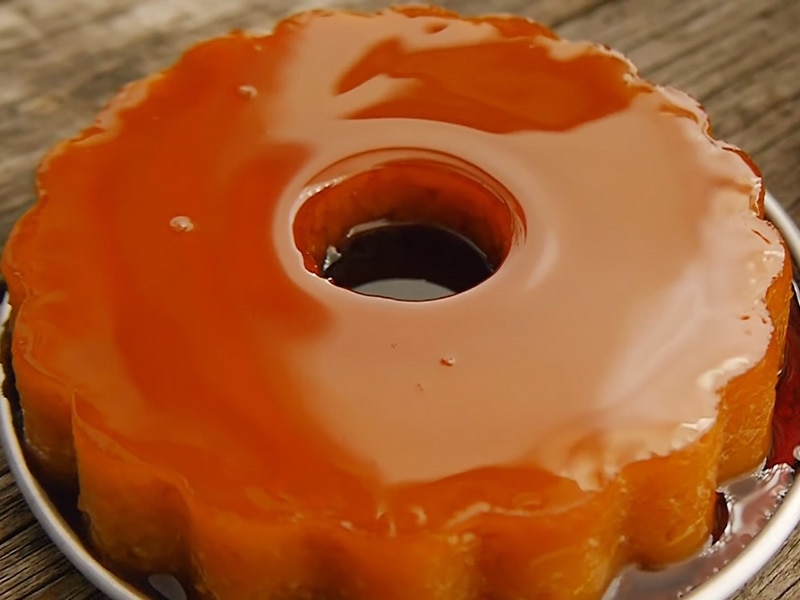 Pudim Abade de Priscos is another typical type of Portuguese dessert from Braga. It is a caramel pudding created in the 19th century by the Abbot of Priscos, Father Manuel Joaquim Machado Rebelo.
This unique dessert contains a lot of egg yolks (up to 15 yolks), sugar, lemon zest, cinnamon, and a striking presence of fresh bacon. After a delicate process, the cook will bring the final mixture to bake in a bain-marie with caramel.
26. Torta de Azeitão (Lemon Sponge Cake)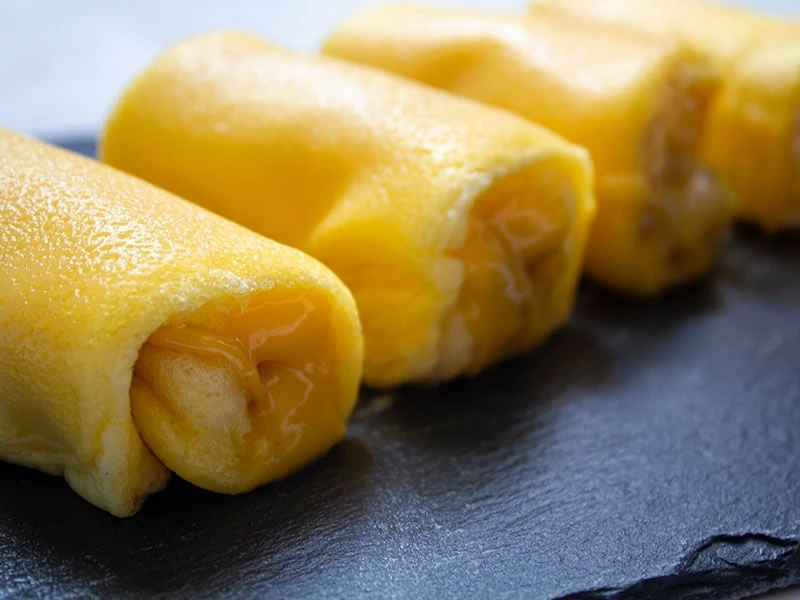 Torta de Azeitão is another dessert made from eggs. It seems that the Portuguese love these egg-based pastries! It is a traditional type of sponge cake with the outside layer wrapped in eggs and cinnamon. The filling inside is super fluffy with egg yolks and sugar.
The cook will handily roll the whole thing up to create a perfect Torta de Azeitão. If you have a sweet tooth, you should never miss this sweet treat when in Portugal, especially in Azeitão! You can eat it like a dessert or just simply a snack.
27. Queijo Serra da Estrela (Sheep's Milk Cheese)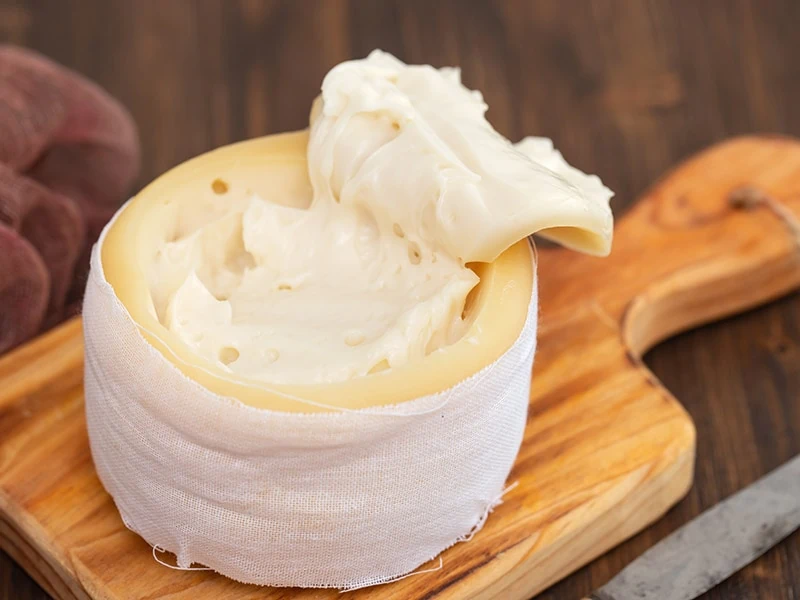 "Queijo" is "cheese" in Portuguese, and "Serra da Estrela" is a famous semi-soft cheese from sheep milk. It is the oldest traditional dairy product in Portuguese cuisine! It even appeared in the first cheese market in Celorico da Beira in the 13th century.
Queijo Serra da Estrela usually goes with regional wines like Port wines and a local cornbread called Broa. It is definitely one of the biggest prides of Portuguese cuisine! So you have to try this cheese once you come to this country.
28. Bola de Berlim (Doughnuts Filled with Custard)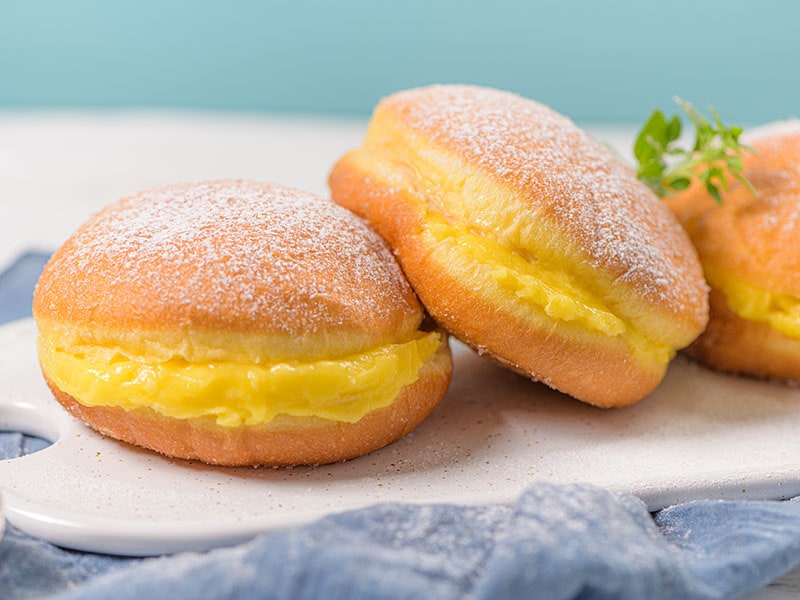 Bola de Berlim is mouth-watering dough balls stuffed with egg-based custard, or you can call it Portuguese doughnuts. As the name suggests, Bola de Berlim is a variation from the original Berliner doughnuts of Germany, but their fillings are totally different.
You can find these doughnuts along the coast of Portugal. The street vendors sell them at the beaches throughout the country and locals usually buy them to enjoy while they are sunbathing. These balls have a sugary coat outside, so they may be a little sweet for you.
For those who don't like to eat the cream filling in Bola de Berlim, you can call the Sem Creme on the menu instead of the original one.
Portuguese Drinks
Thirsty for some tasty drinks in Portugal? Read this section right away! Beer, wine, and coffee are worldwide famous, but they are on a whole new level here in Portugal! They have unique characteristics that you cannot find in any other drinks from different regions!
29. Cerveja (Portuguese Beer)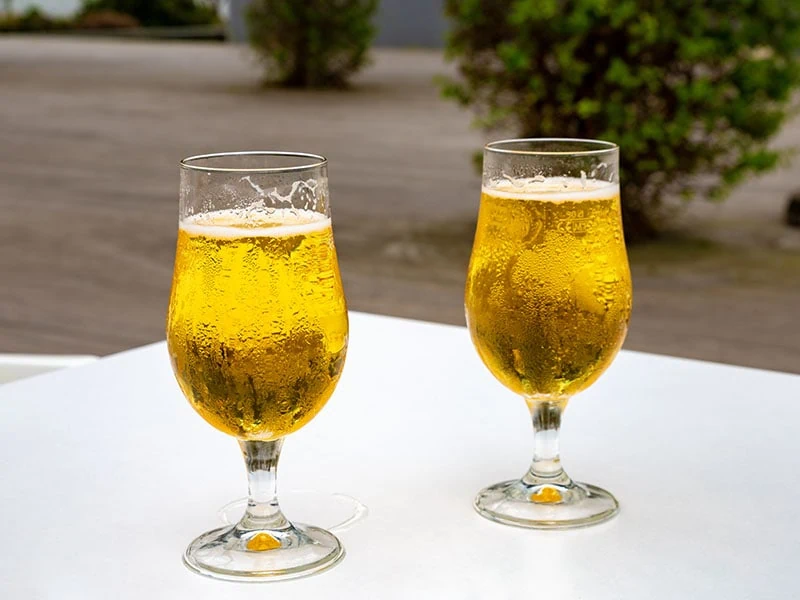 I guess there is nothing better than sitting by the beach and sipping some cold beer! "Cerveja" is "beer" in Portuguese, and you can find this word on any menu of an eatery. The two most common beer brands here are Super Bock and Sagres. Craft beer is also popular.
The Portuguese have been drinking beer for centuries and got themselves a beer culture! Even though they are not famous as a brewing nation like Germany or Belgium, their beer has something special that keeps people binge drinking!
30. Bica (Portuguese Coffee)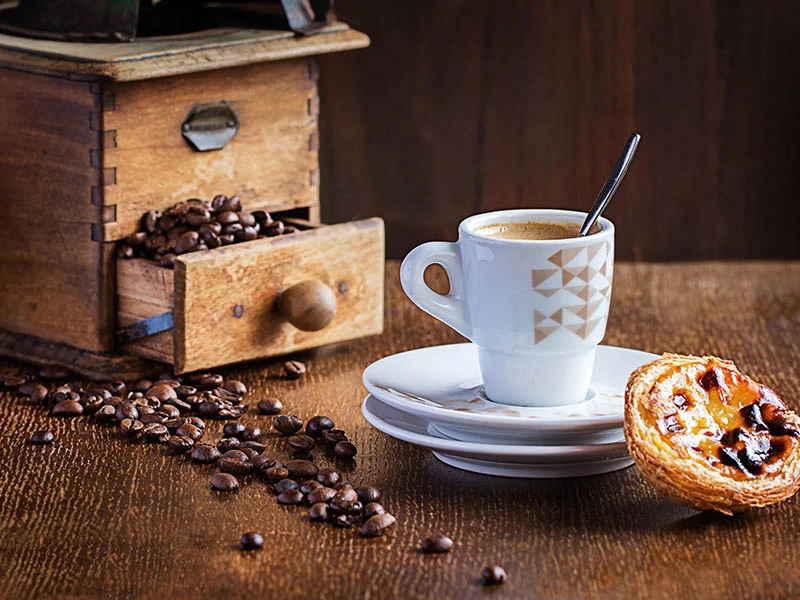 Bica is a common term to call a coffee cup, mostly espresso, in some regions of Portugal, while some other parts usually call coffee "um café." Portuguese often serve coffee in a Demitasse cup – a special cup to hold dripping coffee.
The first coffee shop was opened in Lisbon in 1905. It mostly sold Brazilian coffee and also the first version of Bica with fresh goat milk.
You can also find this drink in Montreal and other parts of the world with Portuguese migration such as Toronto, New Bedford, or Fall River.
31. Vinho do Porto (Port Wine)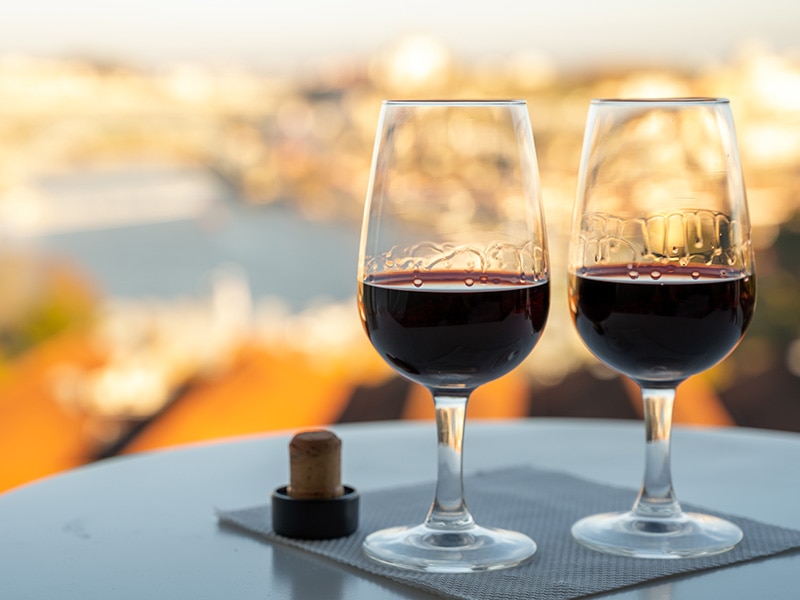 Vinho do Porto, also called Port Wine, or just Port is a sweet red fortified wine from Portugal. It is well-known as a dessert drink for its richness. There are many Port types: ruby, róse, white, and an old-aged style, namely Tawny Port.
When you are in Portugal, you can visit the Port house in Porto. They will allow you to take some vintage Port sips to find your favorite one and bring home some wine bottles! It is a must-try experience in this beautiful country!
32. Medronho (Fruit Brandy)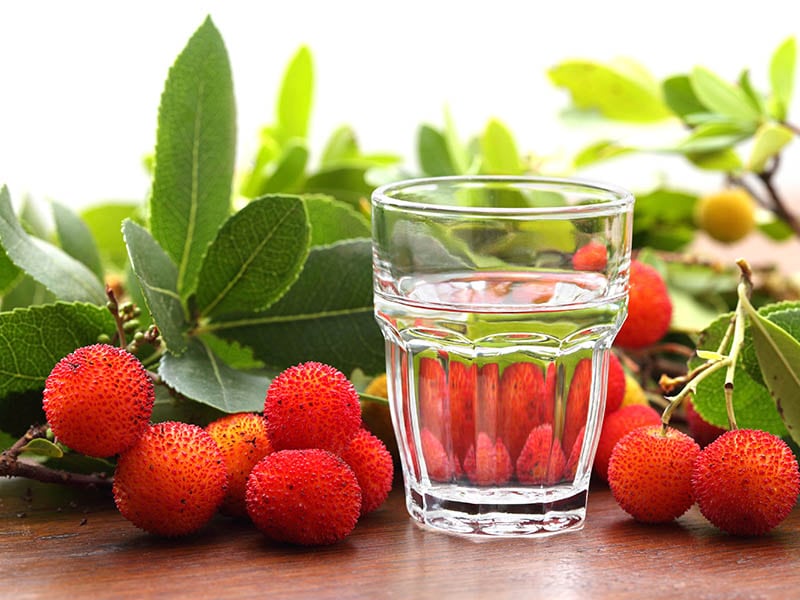 Medronho, or Aguardente de Medronhos, is a strong traditional Portuguese brandy from Medronho berries. This fruit grows wild in the Algarve and Altentejo regions of Portugal. It is known as "firewater" fruit to those non-Portuguese speakers.
The locals usually prefer to make Medronho brandy at home. Sometimes after a big meal in Portugal, you will be asked to have a quick shot of Medronho. You can also easily recognize it in some typical cocktails.
33. Ginjinha (Sour Cherry Liquor)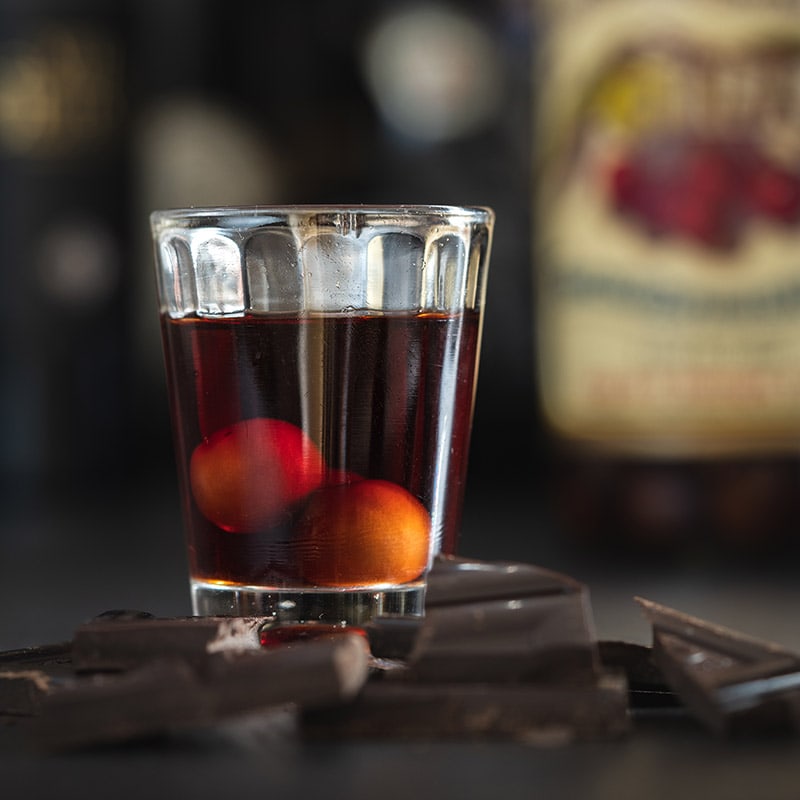 You may want to taste Ginjinha if you are a cherry fan! Ginjinha, or Ginja, is a dark red liquor made from fermented sour cherry extract with alcohol, cinnamon sticks, water, and sugar. This liquor is super easy to find in Lisbon, Alcobaça, Óbidos, and throughout the country.
This drink comes from the city of Óbidos. Portuguese usually serve Ginjinha in a special cup made of miniature chocolate. Cherry and chocolate are a great couple! It can also be served as an apéritif or many other ways. Interesting, right?
34. Poncha (Sugarcane Drink)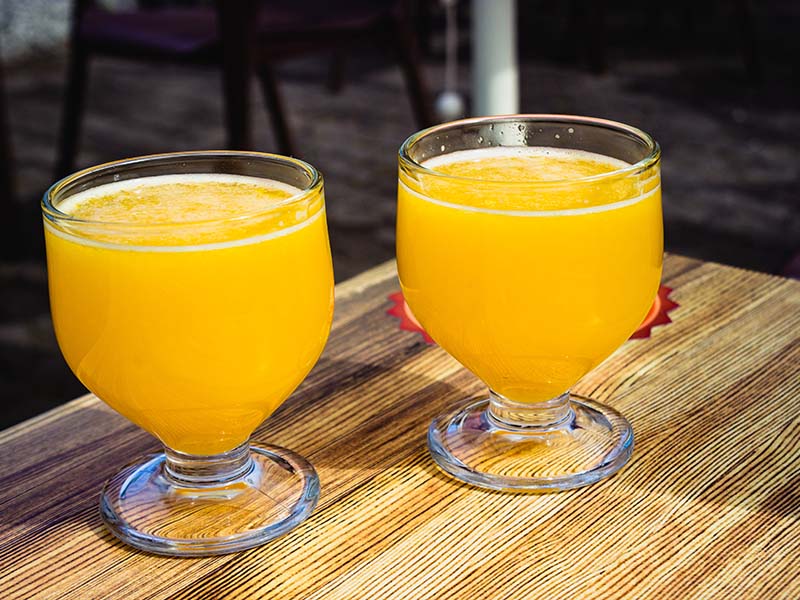 Here comes a refreshing alcoholic drink for the summer! Poncha is a typical beverage from the island of Madeira in Portugal. It includes a mixture of distilled alcohol from sugar cane juice. Sugar, lemon juice, and honey are also added to create this beautiful drink!
Poncha has a bright yellow shade from the sugar cane and lemon juice, so it looks remarkable! The Portuguese often serve it with ice in the summer and without ice in the winter. Poncha is also a great energy drink for you to absorb vitamin C!
---
Will You Try All of These Dishes When In Portugal?
If you have time when traveling to this lovely country, you must try those listed dishes, especially when you are a food lover! I'm pretty sure that you'll be amazed by what Portuguese cuisine brings you!
For final words, please like and share this article if you find it useful for your next trip! Also, comment below in case you have a fascinating story with Portuguese foods or any thought crossing your mind! Love to hear all of your sharings!