There are a lot of choices when it comes to Portuguese drinks, from the finest wines and beers to refreshing soft drinks and exquisite coffee variations. These beverages perfectly complement every traditional Portuguese luscious dish, whether for breakfast, lunch, or dinner.
You may already know about port wine and cherry liqueur, but they are just a small taste of what Portugal can give. Below are the most popular drinks you can find in the country. Let's check it out!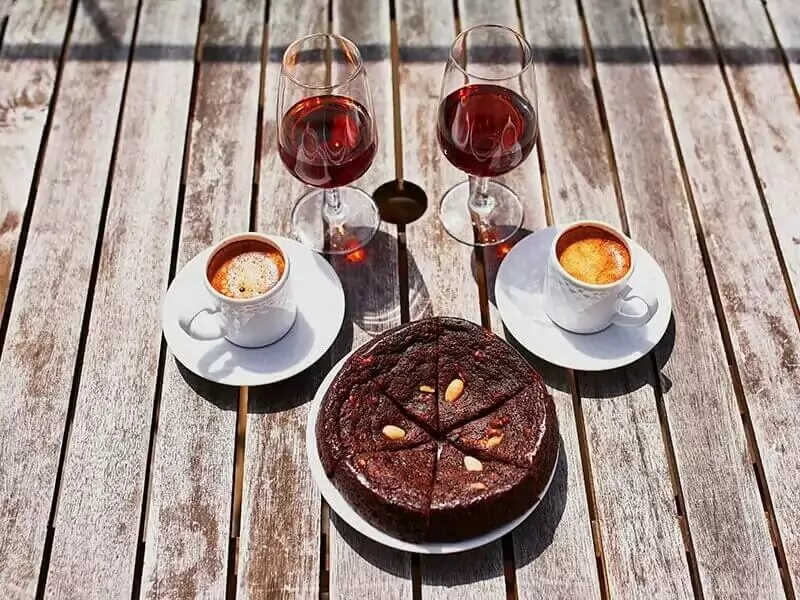 Overview of Portuguese Drinks
Portuguese drinks play a central role in the country's celebrations and traditions, from the casual sharing of a bottle of wine among friends to the more formal toasts made during weddings and other special occasions.
The country's rich history and cultural heritage have produced a diverse array of beverages. Besides the influence from neighboring Spain, this Iberian country also inspires beverages in many African and Latin America due to its past.
For example, Brazil's national drink, the Caipirinha, is believed to originate from Portugal (though a different theory claims São Paulo as the cocktail's birthplace). Meanwhile, Catemba (an alcoholic mix with many variations) is widespread in Angola and Mozambique.
Let me give you a big picture of the leading beverage categories in Portugal.
Wines
Portugal is one of the top producers and exporters of wines in the world, and grape wines are the dominant alcoholic drink here. Understandably, while the country's average alcohol consumption was about 12 liters of alcohol per person (in 2021), a large proportion came from wines.
Portuguese wines' popularity surged in the 18th century due to a trade dispute between England and France. As French wine imports were halted, British wine drinkers turned to Portuguese wines. The Methuen Treaty made it easier for Portuguese wines to enter the new market.
The most well-known wine in Portugal must be port wine, a fine fortified wine similar to Italy's vermouth. Meanwhile, Portuguese sparkling wines and liquors made from grains (similar to whiskey, Japan's sake, and shochu, or Korea's soju) are much less famous.
Aguardente
Many people refer to Aguardente as Portuguese brandy, but a more faithful translation should be firewater (with "agua" meaning "water" and "ardente" for "burning/ fiery").
In addition, it isn't a purely Portuguese creation: Spain and many Latin American countries have their own version of Aguardiente (the Spanish name for Aguardente). By definition, Aguardente means any distilled alcoholic spirit with alcohol content ranging from 29% to 60%.
In Portugal, it is often distilled from grape wines and can be used to fortify wines or make cocktails in Portugal, such as Aguardente de Anis (anise-flavor spirit) or Ginjinha (more on this later). In other countries, fruits, grains, sugarcane, or tuber vegetables can go into Aguardiente.
Beers, Meads, And Ciders
Portuguese are quite fond of beers, though they don't give them as much love as their wines. The two most popular beer brands you should try in Portugal are Super Bock and Sagres. Beer lovers can easily find craft beers and draught beers in numerous brewhouses in the country.
Meads are far from traditional Portuguese drinks, while farmers in Madeira and Minho occasionally use fermented fruits to make alcoholic drinks, such as perries and ciders. However, recent years have seen an increase in the popularity of both drinks with drinkers from all walks of life.
Soft Drinks
Along with dairy and soy drinks and alcoholic drinks, soft drinks account for a considerable part of the Portuguese beverage market. Must-try brands include Sumol Ananás (pineapple soda), Kima Maracujá (passion fruit carbonated drink), and Água das Pedras (sparkling mineral water).
Coffee
Introduced to Portuguese people in the early 18th century, coffee is a morning ritual in this Iberian nation. It is almost synonymous with espresso and is the most widely-consumed drink for breakfast.
Locals sometimes enjoy espresso with Bagaços (Portuguese pomace brandy, something like Italy's Grappa or Georgia's Chacha).
The local favorite is a blend of slowly roasted Arabica and Robusta, which produces a bold taste and a full mouthfeel, unlike what you find in other Western countries. Each Portuguese person consumes about 4.5 kilograms of coffee per year.
Tea
Since Portugal was the first European country to establish direct trade routes with China, it got access to plenty of oriental delicacies to introduce to the rest of Europe, including tea.
However, tea isn't among the most popular beverages in the country. While Portugal is one of the very few tea-growing countries in Europe, its people prefer wines, soft drinks, and coffee to tea.
Alcoholic Portuguese Drinks
From fragrant wines to refreshing cocktails, here are the best-tasting drinks to sip on when you visit Portugal.
1. Ginjinha/ Ginja (Sour Cherry Liquor)
Alcoholic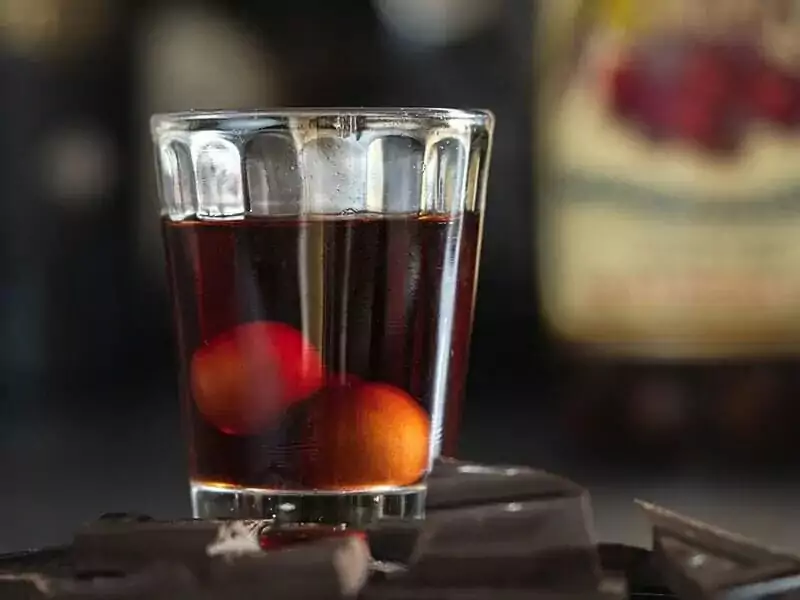 Ginjinha (or Ginja for short) is a type of liquor made from sour cherries, which are known as Ginja berries in Portugal and Morello cherries in other countries. Though the fruit is tart, the liquor is very sweet and has an appealing dark red color.
This cherry-flavored beverage first appeared around the early 17th century, thanks to a Gacilian monk in Lisbon who tried infusing the berries in Aguardente and spices. The resulting drink was an instant success and has been a Portuguese favorite ever since.
Besides fruity notes from sour cherries, Ginjinha also boasts a nice floral fragrance coming from cinnamon. Locals often serve this drink with fermented cherries (including their pits) at the bottom of the glass. This way is called "com elas" in Portuguese.
But if you dislike it, feel free to ask your bartender for a "com fruta" drink (without the cherries). This liquor is about 18 – 24 % alcohol and should be enjoyed in small sips. Interestingly, inhabitants in the town of Óbidos may serve the drinks in small, edible chocolate cups.
Where to buy: You can find Ginja shots at almost any bar and liquor store in Portugal.
2. Port Wine
Alcoholic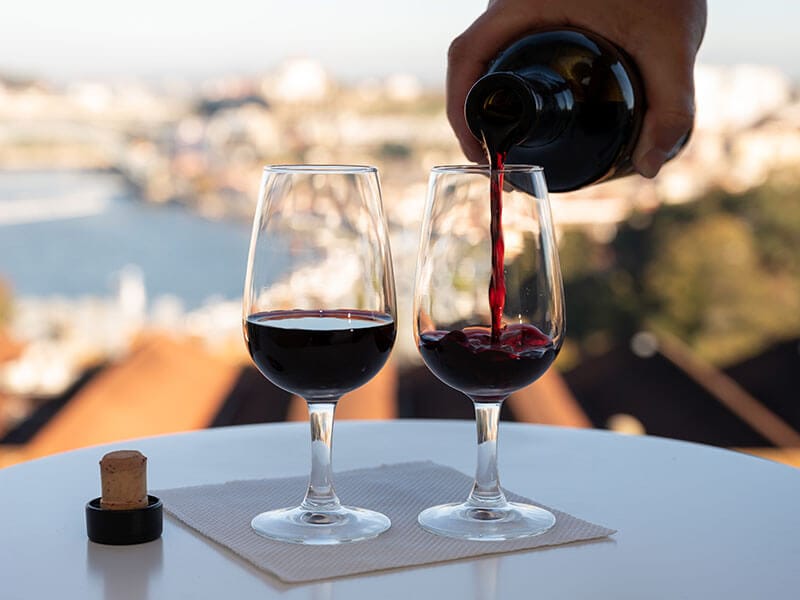 You may think port wine (or port for short) is a generic name, but it is actually a world-renowned Portuguese fortified wine. Like cognac and Champagne from France or prosecco from Italy, it is named after a location; in that case, that is Porto, Portugal's second-largest city.
Port wine is produced with grapes cultivated in the Douro Valley, a famous wine region in northern Portugal as well as one of the world's oldest. To make port wine, people add grape Aguardente to a wine base during fermentation, which halts the process and leaves residual sugar.
The result is a sweet beverage that is higher in alcohol content and more complex in flavor than other types of fortified wines. The taste resembles the sweetness of ripe berries enhanced with the nuttiness and bitterness of chocolate and caramel.
There are many varieties of port wine, depending on the type of grapes used and the aging process. The most popular style is ruby port, which is derived from red grapes and has a deep ruby hue and fruity flavor. It can be categorized into common, reserve (premium), and rosé port.
Other styles are white port (made from white grapes), vintage port (aged in large wooden vats and later in bottles), and tawny port (amber-hued, can be a blend of vintages, and matured in small casks). The last two can take many years to age.
All port wine varieties are excellent at pairing with savory dishes or small plates. Outside Portugal, the drink is also popular in America and many European countries, especially in Britain, where the tradition of "passing the port" to the left is an important custom.
Where to buy: You can find port wine at many restaurants and bars in Portugal.
3. Poncha (Madeira Island's Cocktail)
Alcoholic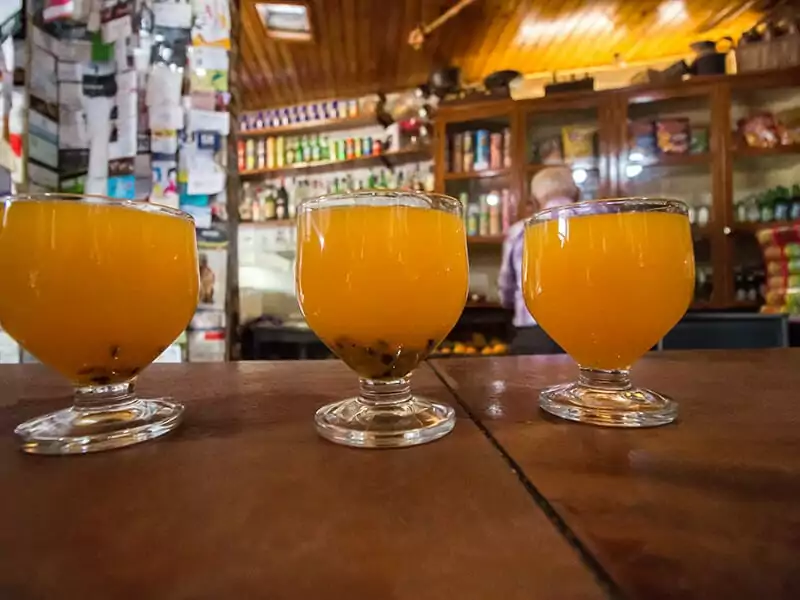 This beverage is a famous cocktail consisting of Aguardente de Cana (a local sugarcane spirit, more commonly known as Madeira rum), honey, sugar, and lemon or orange juice. It hails from Madeira, an autonomous island of Portugal.
There are a few theories about its origin. Some say it dates back to the 19th century when Madeiran fishermen created the drink to ward off colds during their long voyages at sea. Others think that Poncha games from the Age of Exploration, as sailors brought it with them while going exploring.
Yet another story says that the punch brought from India inspired the drink. Anyway, while this Portuguese punch is pleasantly sweet, thanks to the addition of honey and fruit juice, it is still highly alcoholic and should be enjoyed with plenty of ice.
The Portuguese consider it a great flu cure, and they usually drink it when having cold symptoms. They also send this drink as a gift to tourists as a sign of hospitality.
Poncha has inspired a variety of regional adaptations, with additional ingredients like passion fruit ("maracujá" in Portuguese), tangerines, and even tomatoes. Locals often use a wooden muddler called mexelote to mix the drink.
Where to buy: Bars in Portugal usually offer Poncha.
4. Madeira Wine
Alcoholic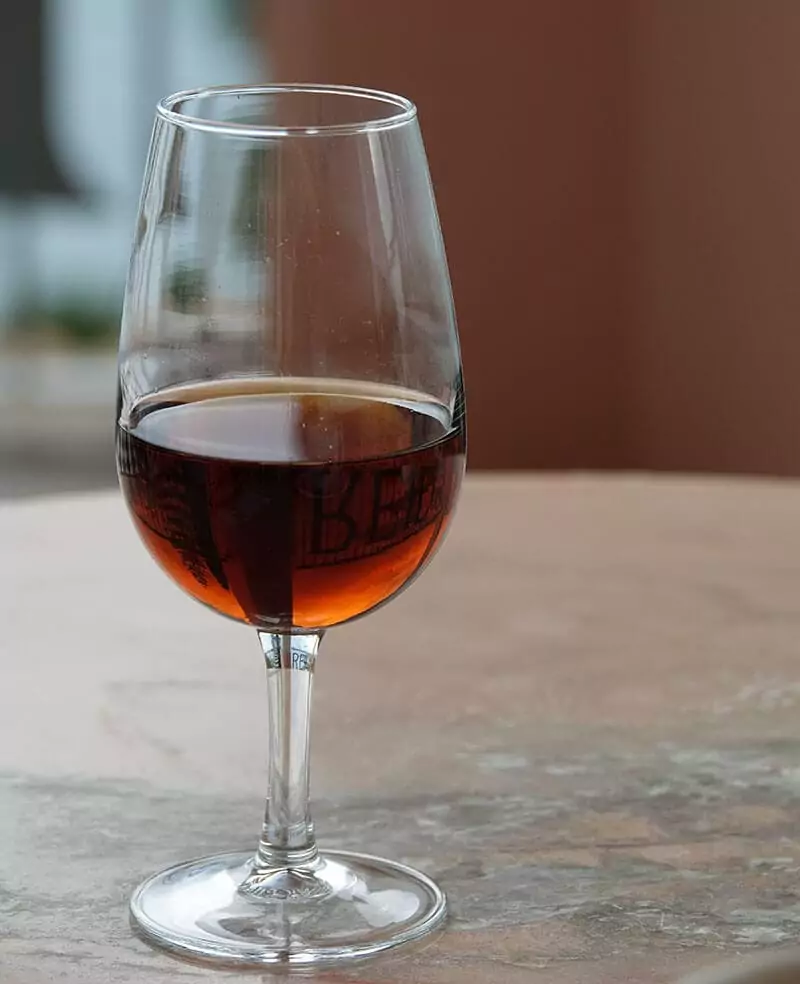 Apart from port wine, Portugal also produces another premier variety of fortified wine called Madeira wine. By the name, you can guess that it hails from the island of Madeira.
Back in the 15th country, this region was a crucial port for trading ships traveling between Europe and distant lands. Many ships transported wines, which dramatically changed their flavors for the better due to exposure to high heat and movement during the long voyages.
Madeira winemakers eventually discovered the phenomenon and exploited it to develop a new winemaking method. This technique involves heating the wine in large tanks, either with the sun or artificial heat. Nowadays, locals often use the Estufagem process.
Madeira wine can be aged for a long time, with colors varying from pale gold to rich amber. The grape variety also plays an important role here: the grapes used for making this fortified wine need to be picked earlier, meaning that they are more acidic than typical wine grapes.
As a result, this type of wine has high acidity levels and a slight sweetness, but the unique aging method also imparts a distinctive caramel-like flavor with smoky and nutty notes. Popular variants are Sercial, Malmsey, Verdelho, and Bual, which differ in sweetness and flavor.
With approximately 18 – 20% ABV, Madeira wine can fit many purposes. For instance, a good bottle of dry Madeira can work well as an apéritif (a pre-meal drink). Meanwhile, sweet Madeira is a great drink to pair with desserts.
You can also cook with Madeira wines. Those versions usually contain salt and pepper and are used solely for cooking. They are cheaper and of lower quality than the drinkable types.
Where to buy: Like port wine, you can also find Madeira wine at bars and restaurants. Traveling to Madeira Islands for an authentic Madeira wine-tasting experience is also a great idea.
5. Aguardente de Medronho (Fruit Spirit Made From Arbutus Berries)
Alcoholic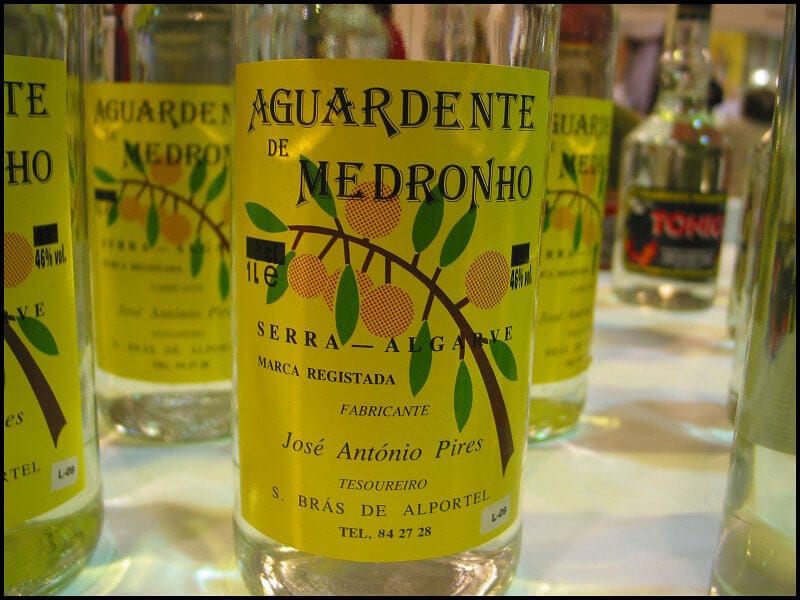 This traditional fruit brandy hails from the rural regions of Portugal. Also known as Medronho, it is made by distilling the fermented arbutus berries or sour cherries, commonly called the "strawberry tree."
In the past, this type of berry only grew in the wild and was picked solely by farmers who brewed their own brandy, so Aguardente de Medronhos wasn't easy to find. With the arrival of modern technology, however, this strong beverage can now be enjoyed by everyone.
Since this brandy's alcohol content ranges between 40% and 50% (roughly the same as vodka), you should drink it in shot-glass portions. It boasts a crystal-clear appearance (like Rakia, a fruit brandy from the Balkans), a smooth texture, and a robust flavor. You can drink it neat or chilled.
Where to buy: While Aguardente de Medronhos may not be as popular as other names, you can find it in liquor stores and bars all over Portugal.
6. Licor de Amêndoa Amarga (Bitter Almond Liqueur)
Alcoholic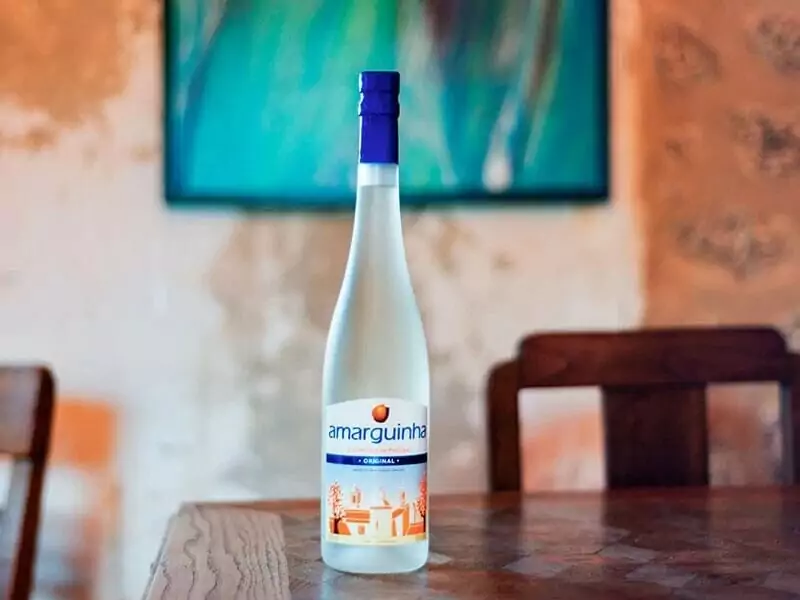 Algarve, Portugal's southernmost region, has an international reputation for Algarve oranges, which are among the juiciest fruits in the world. A glass of sweet orange juice made from these top-notch citrus fruits is sheer bliss. But do you know that Algarve is also famous for its bitter specialty?
While bitter almonds contain a dangerous amount of cyanide in their drupes, the people of Algarve discovered long ago that with careful preparation and distilling, they could turn them into an alluring liqueur. Thus was born Licor de Amêndoa Amarga.
It combines sweetness and nuttiness with a touch of bitterness similar to the Italian liqueur Amaretto. Interestingly, the classic Portuguese drink's name was derived from the Portuguese word "amargo" for "bitter," while "amaretto" means almost the same thing in Italian.
Often available in a yellow straw color, Licor de Amêndoa Amarga contains about 20% ABV. The most popular brand you can find in Portugal is Amarguinha, which was founded in 1999. Besides the classic version, it also offers lemon-flavored bitter almond beverages.
Where to buy: You can find bottles of Amarguinha in liquor stores and supermarkets in Portugal, especially in the southern region.
7. Vinho Verde (Portuguese Green Wine)
Alcoholic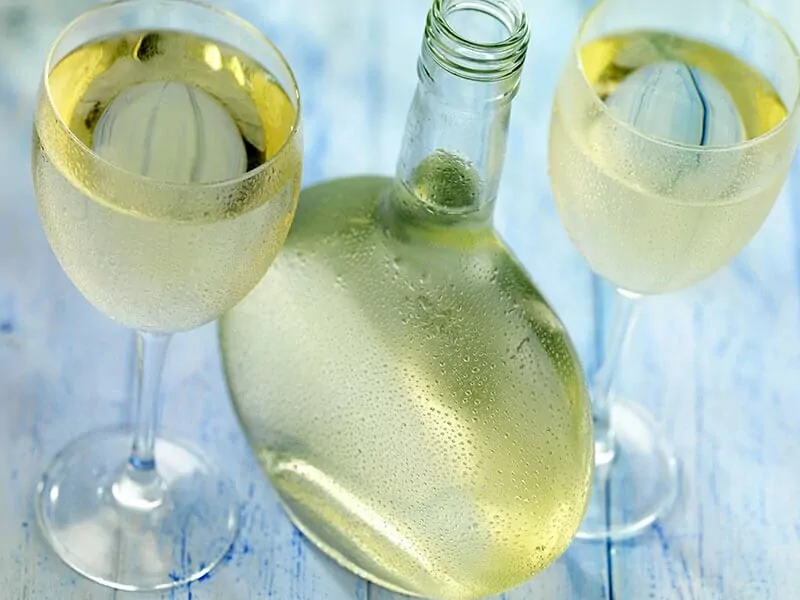 Vinho Verde, pronounced "ving-yo vaird", is a type of wine from the region of the same name in northern Portugal. This region has been producing fine wines for around 2000 years (since Roman times). Its name comes from its year-round green foliage and fertile soil.
Although the phrase Vinho Verde translates into "green wine" or "young wine" in English, it doesn't have the same color as the aromatic spirit Absinthe, but rather white, red, or rosádo (rosé). It's known for its crisp, fizzy, fruity, and floral qualities, not to mention its very affordable prices.
This wine is quite light, containing about 8.5 % to 14% alcohol. It comes in two main categories. The white variety (which is much more popular) usually requires Trajadura, Avesso, or Alvarinho grapes. Meanwhile, locals use Borraçal, Espadeiro, or Vinhão grapes for the red one.
You'll see Portuguese people everywhere sipping on their chilled glass Vinho Verde and savoring the crisp taste and bubbly sensation once the summer arrives. This drink goes especially well with seafood, so make sure to try some at seafood restaurants in Portugal.
Where to buy: You can look for Vinho Verde wine at bars and restaurants.
8. Sangria (Wine Cocktail)
Alcoholic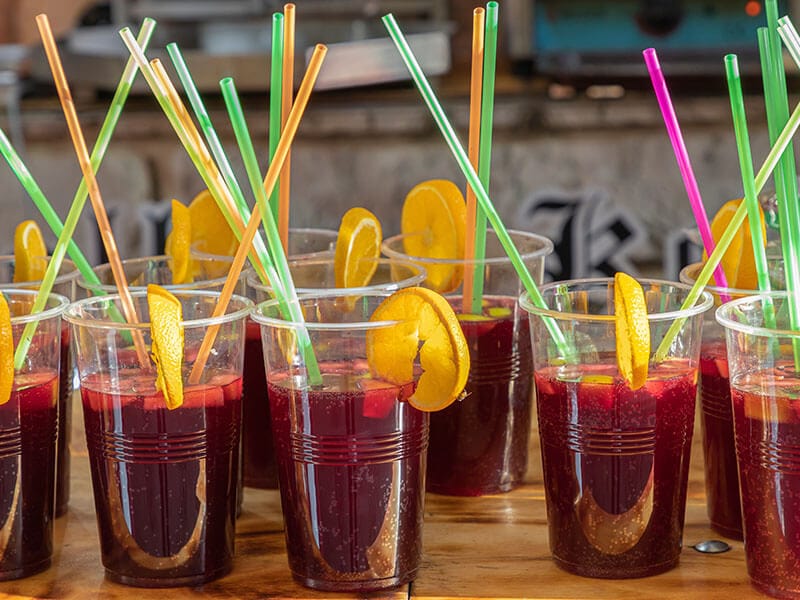 While you may be under the impression that this iconic Spanish beverage is confined to Spain and Spanish-speaking countries only, sangria is similarly popular in Portugal. In 2014, EU lawmakers passed a labeling law dictating that true sangria can only come from the two Iberian nations.
Meaning "bloodletting" in Spanish and in Portuguese, sangria probably debuted in the 18th century. This punch drink consists of regional red wine, local fruits, and a sweetener as the base. It can be sweet, tart, or a mix of both, depending on the ingredients.
As such, sangria is an extremely flexible drink that can cater to any palate. While the classic version boasts a ruby red hue, the white variation, known as Sangria Blanca and made with white wine (such as tequila), often presents a lighter color with shades of gold.
Another version is Ponche de Sangria, a kid-friendly beverage that replaces alcoholic ingredients with a soft drink. Whether to accompany tapas (small plates) or hearty dishes, to enliven a special party, or serve as a casual afternoon drink, sangria is always a perfect choice.
Where to buy it: Since it's one of the most famous drinks in Portugal, you can find it at almost any bar or restaurant.
9. Licor Beirão
Alcoholic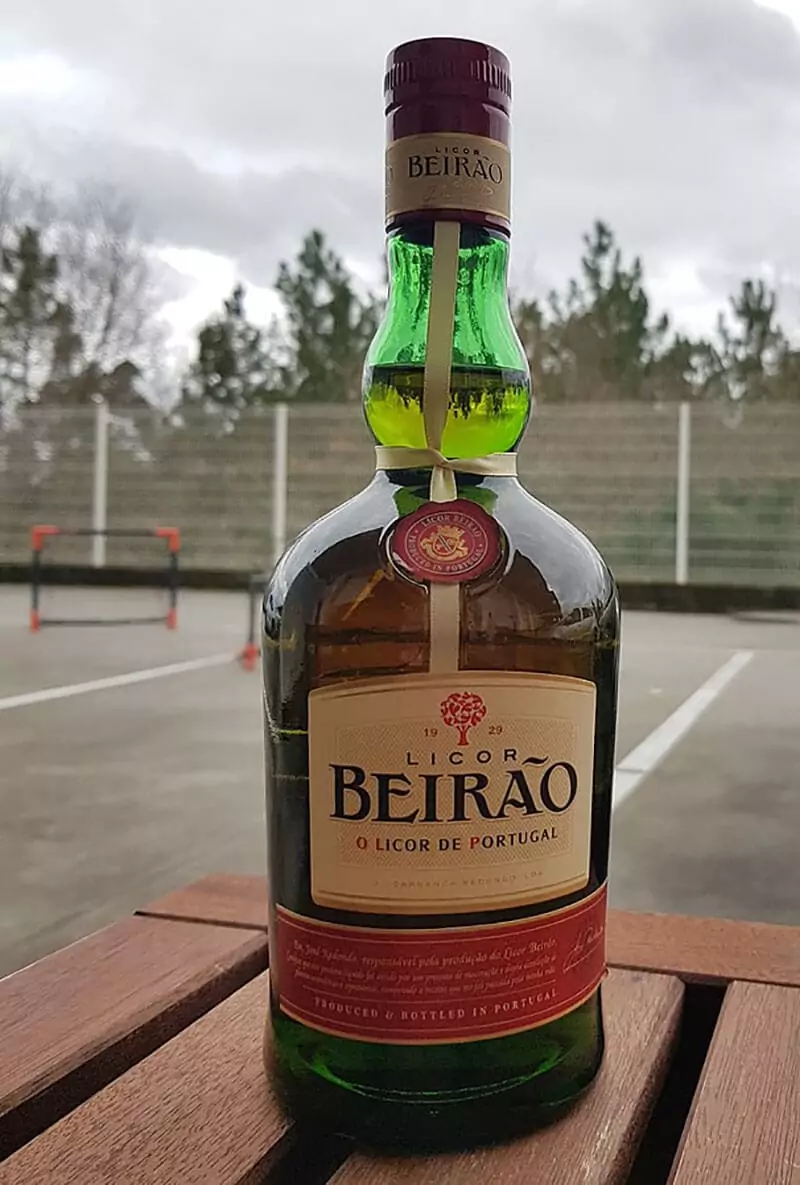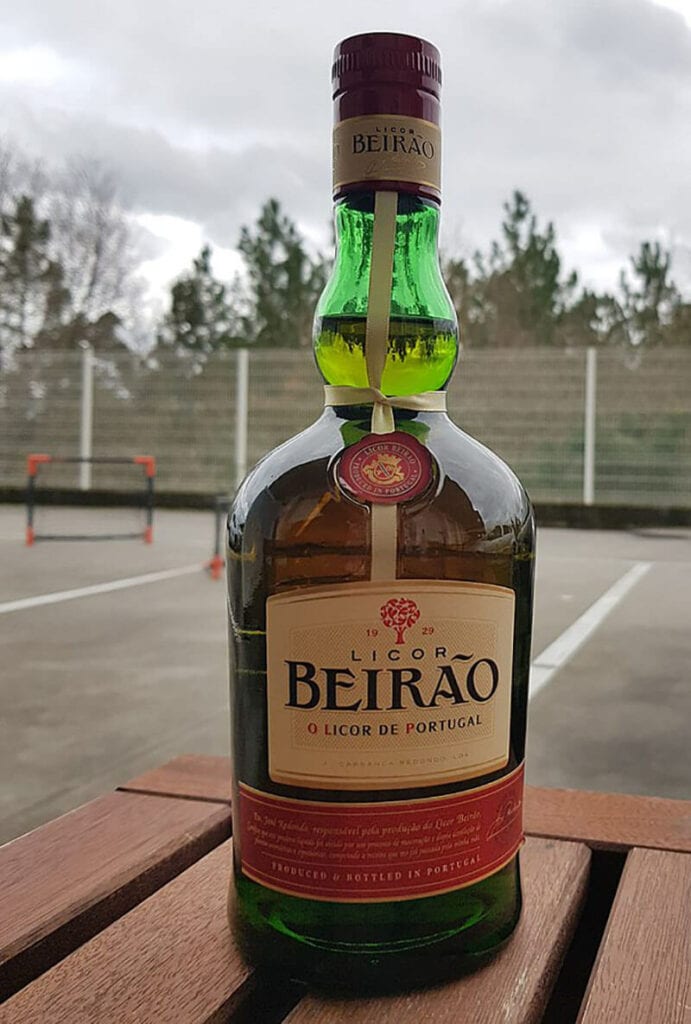 Licor Beirão, or Beirão for short, originated in the Beirã region in north-central Portugal, hence the name (Beirão means"from Beirão"). Created in the 19th century as a remedy for stomach aches, it is now the most consumed spirit in Portugal.
Beirão is a fairly sweet double-distilled liquor with 22% ABV. Its recipe is a well-kept secret, but the liqueur has the aromas of various spices and herbs, like lavender, cardamom, and cinnamon. Outside Portugal, you can find the drink in countries like Brazil, Sri Lanka, and India.
At various Portuguese bars, it is common to see bartenders here use Beirão in their cocktails, specifically Caipirão (the Portuguese variation of Caipirinha) and sangria. This addition perfects the cocktails with floral sweetness and a unique flavor.
Where to buy: Many liquor stores in Portugal sell this type of liquor, so it won't be a challenge to find a bottle of Beirão here.
10. Super Bock Beer
Alcoholic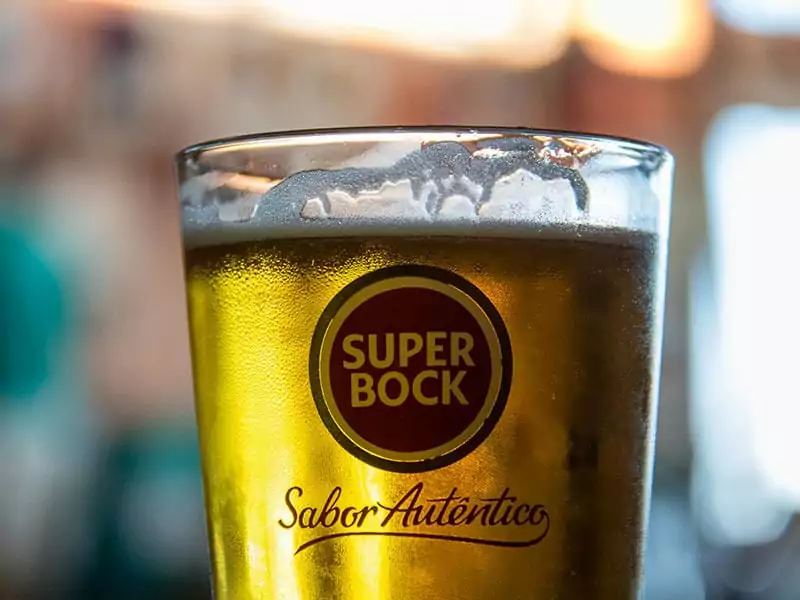 When paired with some tasty Portuguese street foods, a glass of refreshing Super Bock will greatly improve your mood. This pale lager is the top go-to choice for beer fans in Portugal as well as the most-loved Portuguese beer brand in the world.
Super Bock was first brewed in 1927 by the Unicer Brewery, located in the city of Porto. It has a crisp taste, creamy foam, deep gold appearance, and a pleasant balance of maltiness and hop bitterness. Its alcohol content is around 5.2%, but gluten-free and alcohol-free varieties are available.
This brand has won numerous international accolades, including 30 gold medals from the prestigious Monde Selection contest. You may try it without having to go to Portugal since Super Bock is sold in more than 50 countries.
Besides this brand, you can also try Sagres (the second most popular beer in Portugal) or artisan beers, from stouts to pilsners, from various brewhouses in the country.
Where to buy: You can easily buy Super Bock from bars, restaurants, and liquor stores all over Portugal.
11. Porto Tonico (White Port Tonic)
Alcoholic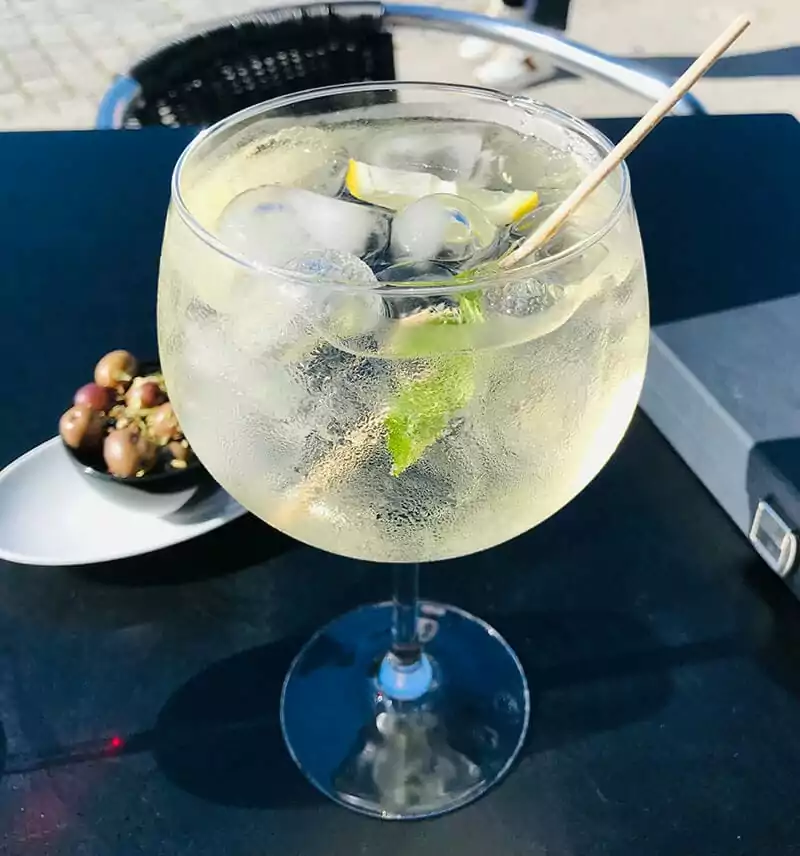 Porto Tonico (also known as Portônica) is a local twist on the classic gin and tonic. As you can guess, it uses port wine instead of gin. As the former only contains half the alcoholic content of the latter, the Portuguese version is lighter on the alcohol part.
However, Porto Tonico still boasts a tasty blend of sweetness and bitterness with tropical aromas that will captivate any cocktail fan. You can sip it as an aperitif or as a refreshing beverage to share with friends.
Although white port wine is the most popular choice to whip up Porto Tonico, the red variety can be occasionally used for a touch of berry goodness. Both are excellent at pairing with Portuguese seafood, BBQ dishes, soups, and more.
Where to buy: You can try this Portuguese drink at bars or restaurants.
Non-Alcoholic Portuguese Drinks
Besides alcoholic drinks, Portugal also boasts a wide selection of non-alcoholic beverages. Some of them can be bought in your country, while others should be enjoyed in Portugal for an authentic experience.
12. Galão (Espresso With Foamed Milk)
Non-alcoholic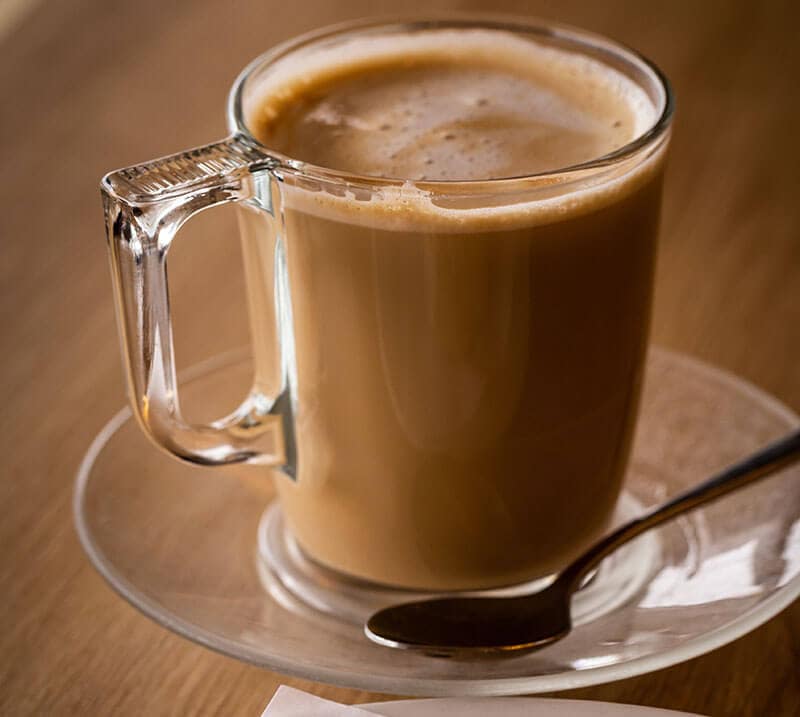 There are three primary coffee-based drinks in Portugal: Bica (an espresso shot pulled to a longer volume than the Italian one), Garoto (espresso with a small amount of foamed milk), and the creme of the crop, Galão.
This creamy coffee beverage is traditionally served in a tall glass as a breakfast or afternoon treat. Some of the most beloved pairings include the iconic Pastel de Nata (Portuguese egg custard tart) and Tosta Mista (Portuguese grilled cheese and ham sandwich).
A typical Galão contains one part espresso and three parts steamed milk. If you add more milk than coffee, it will become a Galão Claro, while Galão Escuro has more coffee than milk.
Where to buy: You can easily order a cup of Galão at any cafe in Portugal.
13. Capilè (Portuguese Cordial Drink)
Non-alcoholic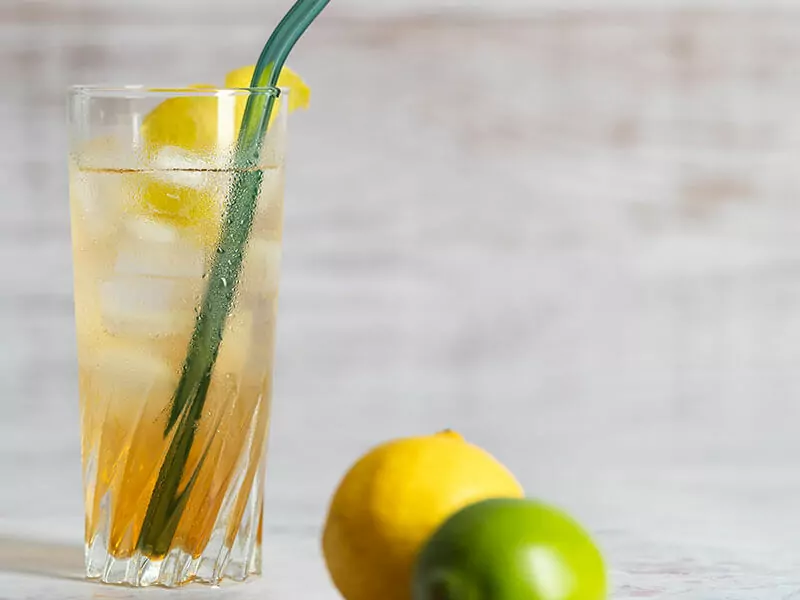 Capilè is a syrup made from adiantum (maidenhair fern) and usually diluted with water. When making this drink, Portuguese people usually add some lemon zest for a citrusy flavor.
Today, the modernized version of Capilè can use a different recipe that includes orange blossoms and sugar. Capilè is especially refreshing with a generous amount of ice. It's pleasantly sweet and can make the summer heat less irritating.
Even better, you can prepare Capilè at home. Maidenhair ferns are easy to grow in the backyard or even indoors. To cook the syrup, you just need to boil the ferns in water until it reaches the desired consistency, then strain and add a fragrant condiment, like orange blossom water.
Where to buy: The best way to try this drink in Portugal is to buy from street vendors in Lisbon.
14. Mazagran (Lemon Coffee)
Non-alcoholic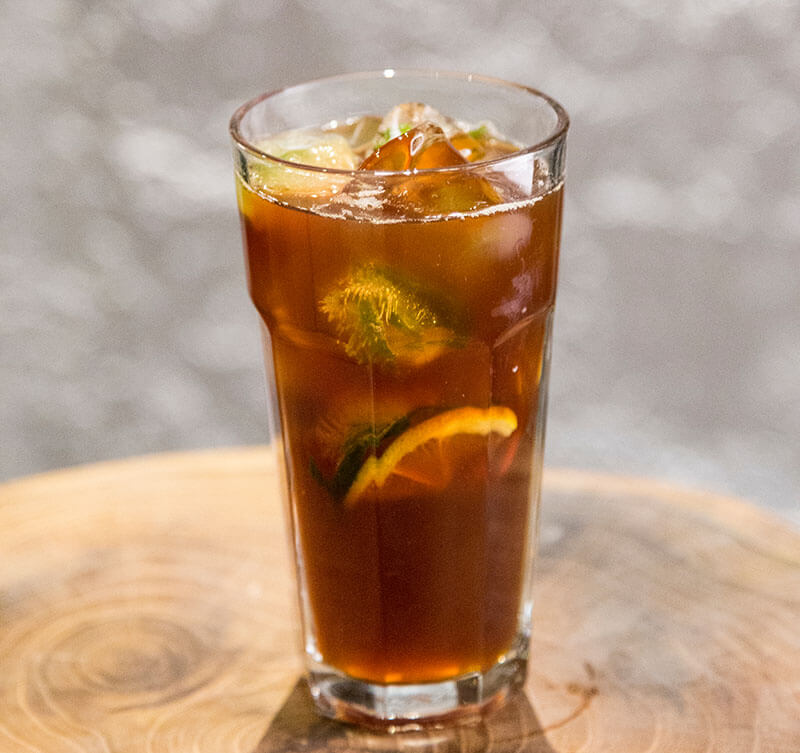 This unique coffee beverage originated in Algeria during the 19th century before making its way to Portugal and France. It goes by various names such as "mazagrin," "mazaghran," or "café mazagran."
While Mazagran has multiple variants, its Portuguese version's main ingredients include strong brewed espresso, ice, sugar, and lemon/ lime juice. Rum, soda, and sugar syrup can sometimes be part of the recipe.
With a dark hue, Mazagran boasts a delightful combination of strong coffee flavors and a pleasant tang of citrus, though some people describe it as a Portuguese iced coffee that is sweeter. It is typically served cold, occasionally with some fresh mint leaves on top (like a mojito).
Where to buy: While many cafes and restaurants in Portugal serve Mazagran, each has its twist on the drink.
15. Sumol
Non-alcoholic
In the world of Portuguese soft drinks, Sumol stands out from the rest. It is a product of Sumol + Compal, a large food and beverages company that, under a different name, began delighting Portuguese taste buds with its soft drinks in 1945.
The beverage comes in various flavors, with oranges, pineapples, and passion fruits being the most popular. It uses fresh fruit extract and sparkling water to create a fizzy sensation that tastes incredibly well with any sweet treat.
Sumol + Compal also offers spring water, bottled beer, juices, and nectars. If you want to diversify your soft drink choices, I recommend brands like Laranjada Melo Abreu (with orange flavor), Kima Maracujá, and Brisa Maracujá (the last two come with the passion fruit flavor).
Where to buy: Sumol drinks are widely available in supermarkets and stores in Portugal.
16. Chá Dos Açores (Tea In The Azores)
Non-alcoholic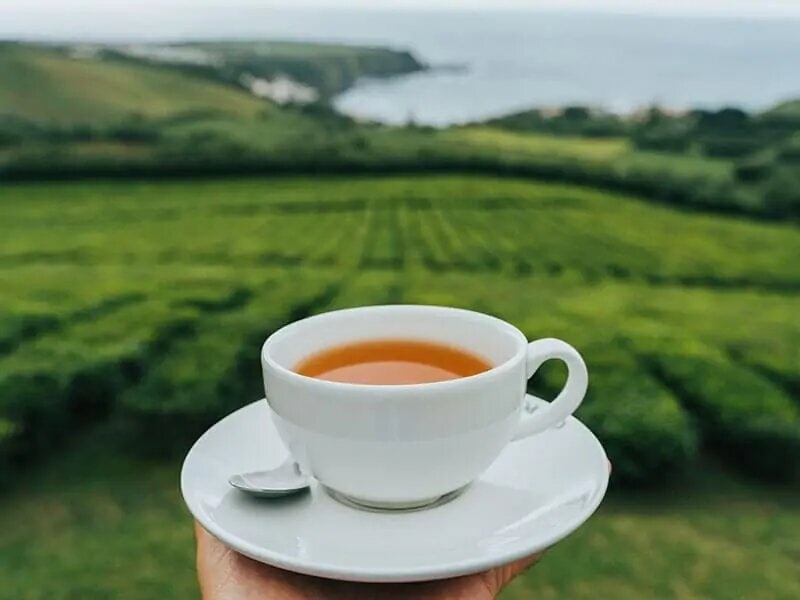 Do you know that a Portuguese princess was responsible for the British incurable appetite for tea? When Catherine of Braganza, a tea lover, married Charles II of England in 1662, she helped popularize her home country's exotic beverage in her new country.
Here is another great fact: The Azores Islands, one of Portugal's two autonomous regions, is one of the few parts of Europe that grows tea. Tea plantations began here in the 18th century. Thanks to the volcanic soil conditions, local tea plants don't need pesticides and are 100% organic.
Tea from the Azores comes in two main groups: black tea and green tea. Both boast a delicate aroma, a smooth flavor profile, and a refreshing aftertaste. In addition, Portuguese tea possesses many beneficial nutrients and antioxidants that can improve your health significantly.
Where to buy: You can find Azorean tea in shops and stores in Portugal. Packaged Azorean tea is also available in supermarkets.
FAQs
This section will help you understand better the beverages and drinking customs in Portugal.