Do you know what kind of wine goes with lasagna? If you can't find the answers to that question, it is fortunate since you have come to the right article.
I will suggest to you prevalent and palatable wines frequently used with this incredibly famous Italian dish that will definitely enhance your appetite. It will not waste your time trying one of my recommendations.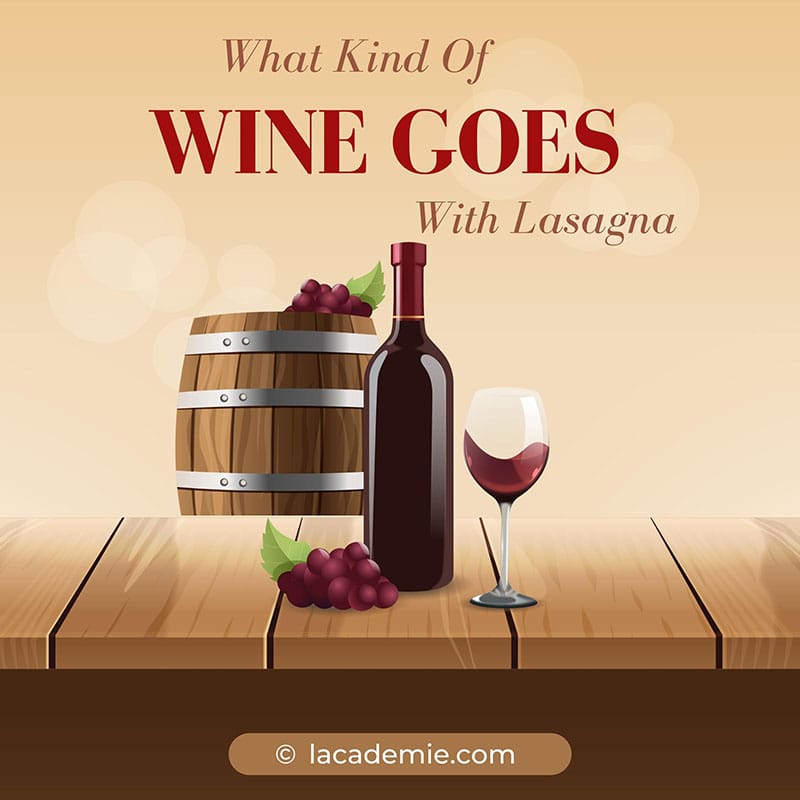 20 Kind of Wines Goes with Lasagna
In short, you can refer to these quick tips on how to choose the best wine for your lasagna. Some of these can be applied when you need to find the ultimate wine varieties to pair with fondue. So, without further ado, let's check out my tips to choose a suitable wine for you.
The wines should be more acidic than the lasagna.
Avoid using high tannin or too oak-y wine to pair with your food.
Features like sweetness or acidity of wines should be no less than any components of lasagnas.
To be safe, use white wines with a more citrusy taste for veggie lasagnas and red wine with acidic flavor for meaty ones.
Before going further on to the detailed descriptions of the taste of these below-recommended wines, you might want to take a look at this brief table. You might find which one you want to learn more about here!
Wine Names
Types
Flavor Profile
Matched Lasagna Types
Sangiovese
Red wine

Full-bodied, food-friendly
High tannic, vibrant acidity
Fruity and floral taste

Best goes with meat lasagna with tomato sauce
Basil and garlic pesto or cheese sauces lasagna

Chianti Classico
Red wine

Dry wine
Prominent lean acidity
Earthy, smokey, fruity, and herby flavors

Traditional lasagna with onions, garlic, meat, bell peppers, mushrooms, or herbs
Italian Barbera
Red wine
Low tannin, cherries' flavors, a touch of earthy, mineral, herby, and a hint of spice
Tomato lasagna
Pinot Noir
Red wine

Light, smooth, and slight acidity
Fruity layers and earthy taste

Lasagnas with tomato, herbal pesto sauces, and mushrooms
Creamy lasagna (fruiter variants)

Pinot Grigio
White wine

High acidity, dry
Light fruity notes
Some floral scents, mineral taste

Veggie lasagna
Zinfandel
Red wine + pink wine

High tannin content, fruity
Smoky, bold flavor, and slightest sweetness.
Peppery taste of black pepper
Milder and lighter (white version)

Traditional lasagnas with tomato sauces, beef, and flat noodles
Sausage-based or creamier sauces and bolognese lasagna (white version)

Primitivo
Red wine

Medium acidity taste
Less fruity, low tannin, and spicier

Tomato lasagnas
Lasagnas include grilled veggies and cheddar cheese

Aglianico
Red wine

Robust tannin and sour taste
Highly acidic
Dried fruity taste, floral notes, and smokey scents

Traditional lasagnas with meat, sauces, and cheeses
Arneis
White wine

Medium/full-bodied
Some hints of stone, fruity scents, and nutty taste

White lasagnas
Vermentino
White wine

Dry, oily
Prominent bitter taste
Fruity aromas, fresh almond taste
Bright acidity, salty and soft minerality

Lasagnas with pine nut, olive oil, and parmesan cheese or pesto sauces
Grenache
Red wine

Dry, lightly sweet, or sweet
Medium-bodied and high acidity
Fruity flavors, hints of spices, and traces of dried herbs, red grapes, licorice, tobacco, and some others
Earthy and herb-reminiscence

Heavy spice and herby lasagnas
Eggplant lasagna with bechamel sauce

Cabernet Sauvignon
Red wine

Savory taste, high tannin, and acidity
Black currants base with traces of vanilla, tobacco, cherry, and mint

Tomato lasagnas
Chardonnay
White wine

Dry, least sweetness
Neutral acidity and tannins
Tropical fruity hints
Buttery, rich vanilla, spice scents with a smooth/creamy texture (oak-aged type)

Creamy sauces (cheese) or vegetarian lasagna with mushrooms, pesto sauces
Sauvignon Blanc
White wine

Light, dry or sweet
Great acidity and herby notes
Fruity and spicy tastes

Vegetarian or turkey lasagnas
Merlot
Red wine

Full and light-bodied
Soft and smooth
Least tannins
Deep mellowy, fruity sweetness

Traditional lasagnas tomato sauces
Meaty lasagnas (full-bodied varieties)
Lasagnas with bacon, pancetta, or mushroom (light-bodied varieties)

Soave
White wine

Savory, fennel seed taste, beeswax note
Fruity, marmalade, and honey sweetness

Seafood/fish components lasagnas
Riesling
White wine
Sweet-tartness with fruity and floral tastes

Cream-based or spicy lasagnas
Lasagnas with mushrooms

Chablis
White wine

Light-bodied
Stellar, crisp, and lean
Subtle flavor, floral scents
A hint of citrus, full of salinity, mineral taste, and touches of fruity flavors

Less spicy or veggie lasagna
Prosecco
Pink wine

Vibrant, refreshing, and aromatic
Dryness and tartness (Rosé wine)
Acidic taste and mild sweetness (sparkling wines)

Any types of lasagnas
Rose wine with cheese lasagnas
Traditional lasagna (sparkling lasagna)

Bellavista
Pink wine

Refreshing
Savory taste, a hint of vanilla, ripe fruits aroma

Fish (especially salmon), poultry, and veggies lasagnas
1. Sangiovese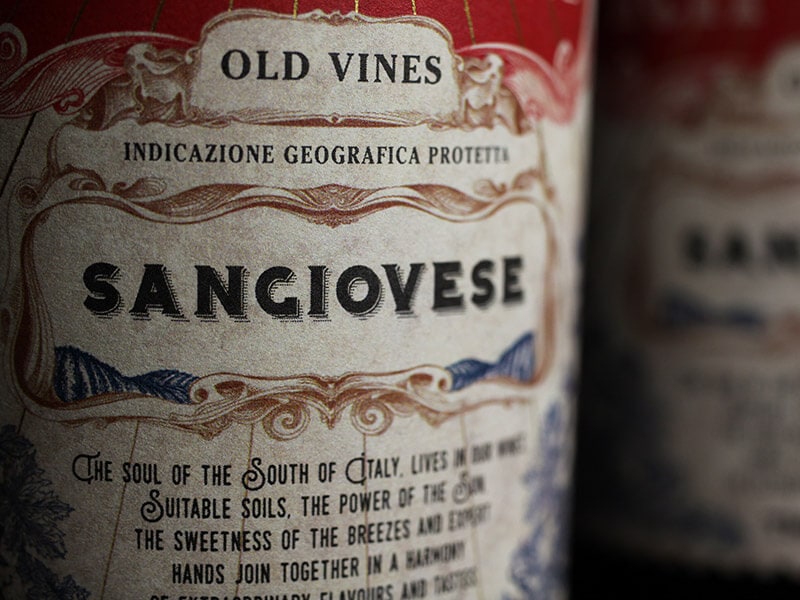 This type of red wine, Sangiovese, is renowned for its food-friendly, full-bodied characteristics. It provides a bright fruity and floral (resembles cherry, cranberry, and violet), vibrant acidic taste with a high tannic note.
If you want to find a neutral wine that is not too strong nor too subtle, you can start with Sangiovese. This wine is also versatile; it is best matched with both tomato-based lasagna (with meat) or those with basil pesto, garlic, and full of cheeses.
In the rare occasion where the required steps to rewarm lasagna can't fully bring out the dish's complex flavors, you can rectify this by serving it with this Sangiovese will still efficiently bring a new breeze to the food.
There is no reason to not give it a go and verify my word right away! My only tip for you is don't drink it too fast; just take it sip by sip to enjoy the flavors fully.
2. Chianti Classico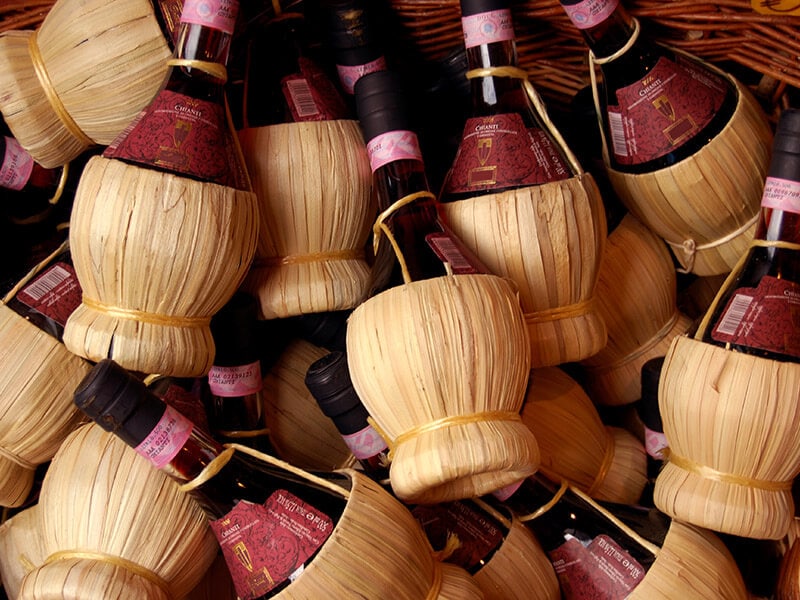 Once mentioning a kind of red wine in the supermarket, they might immediately suggest you with this Chianti Classico since it is incredibly prevalent.
Everyone knows that lasagna is delicious, but overeating will make you feel "too much" or greasy, so it needs tart and acidic flavors to balance the tastes. This Chianti Classico will help you out!
Besides the prominent dry and lean acidic features, the wine also provides earthy, smokey, fruity (sour cherries-like), oak-like, and herby flavors.
Thanks to those above, it supports every component in your lasagna (onions, garlic, meat, bell peppers, mushrooms, or herbs) and makes them stand out.
Tip: I love pairing the variant "Tenuta Perano Frescobaldi: Chianti Classico 2016" with vegetable lasagna because it reminds me of a hint of balsamic herbs.
3. Italian Barbera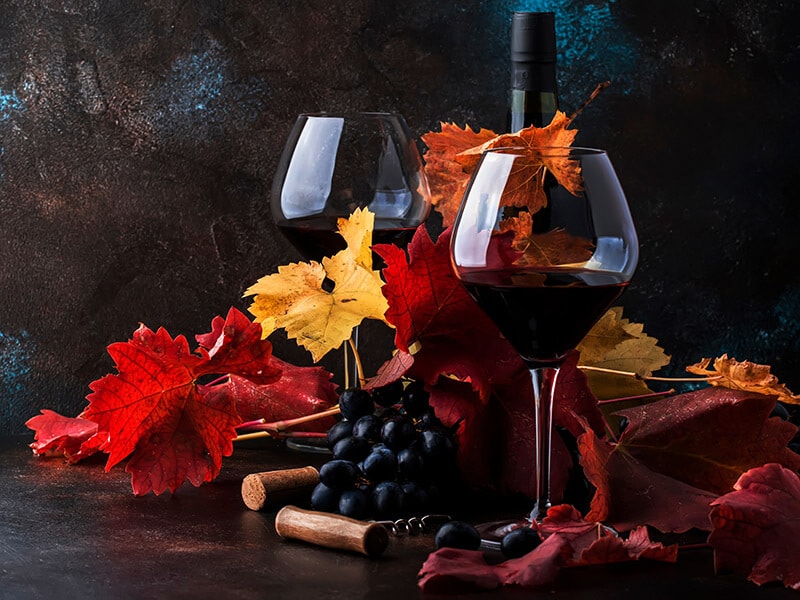 Barbera wines come in various varieties (most of them are budget-friendly), each offering a unique taste experience. Low tannin, black and red cherry flavors, a touch of earthy, herby, and a hint of spice are typical of this wine style.
And the acidity levels differ between variations. Barbera d' Asti has more acidic characteristics, but Barbera d' Alba has a fuller-bodied flavor. If you prefer something fruitier (red fruit flavors), try Barbera del Monferrato, a leaner variation.
All of the refreshing characteristics above make this type of wine perfect to be served with tomato sauce-based lasagna (with tangy and herby tastes).
4. Pinot Noir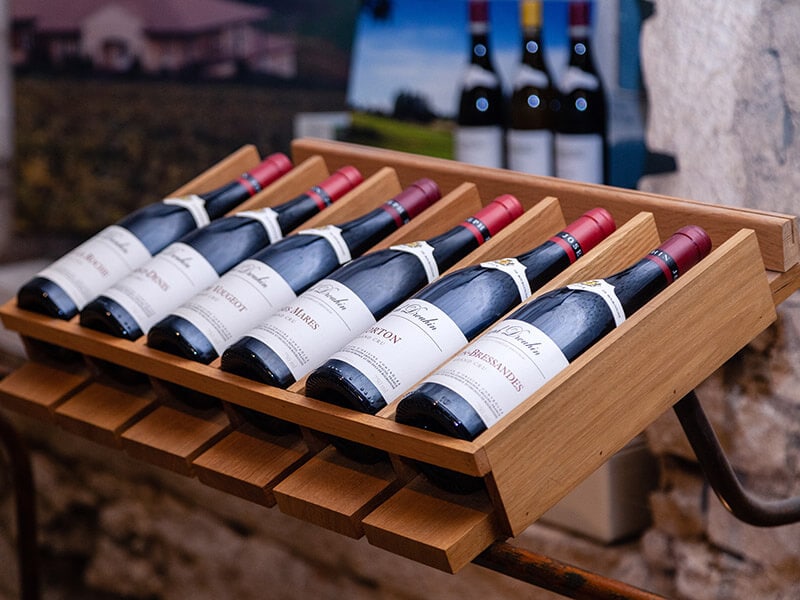 These expensive, elegant red wines are ideal with tomato, pesto, and mushroom lasagna. Since Pinot Noir is quite easy to match, you can look for some top-favored frozen lasagnas and they will still pair well with the other.
It is because its tastes are light, smooth, and mildly acidic, so it will not overpower the main dish. And if you know the ultimate ways to cook frozen lasagna, you can even fool your friends and family that everything is made from scratch. How crazy does that sound!
Although aged in oak barrels, Pinot Noir still preserves the brightening fruity layers of strawberry and cherry with a delicate add of lovely earthy taste. If the variants you choose represent the stronger fruity notes, they can match better with creamy lasagnas.
5. Pinot Grigio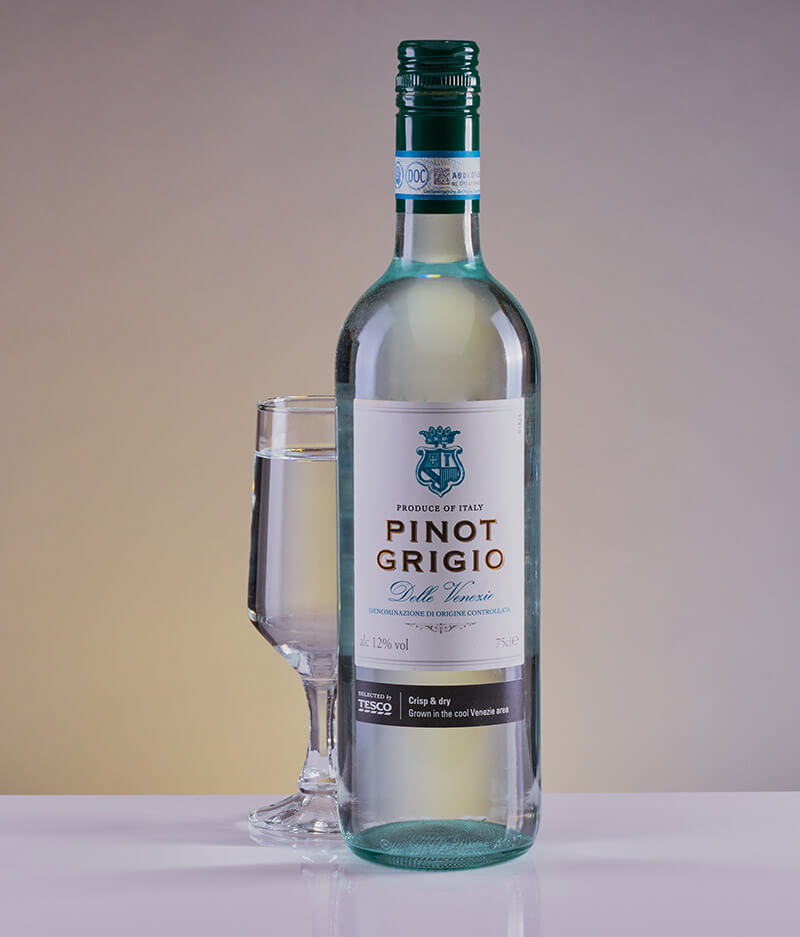 If you want to choose a white wine that is absolutely easy to match with most people's taste buds, Pinot Grigio is the one for you.
Its mild fruity notes (from pear, peach, and apple), added with some floral scents, mineral taste, and dryness from high acidity, makes this wine a genuinely crowd-choice for wine goes with lasagna.
Although Pinot Grigio wine's flavor profile shows it can match any components and support them simultaneously, I highly recommend you drink it while having a veggie lasagna. It is really a game-changing decision!
6. Zinfandel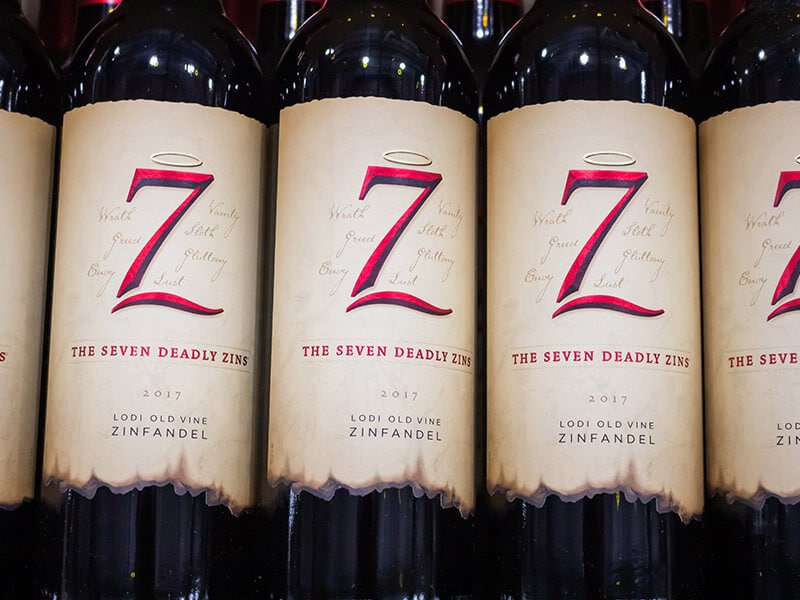 These California red wines pair beautifully with tomato sauces, beef, and layers of noodles in your favorite lasagnas.
The wines are able to do that thanks to their high tannin content, refreshing fruity (from raspberries, blackberries, and cherries), smoky taste, and light sweetness.
You can even detect a peppery taste with a hint of black pepper. Otherwise, you should be careful.
The more expensive versions of this wine have a higher alcohol content, a stronger oak flavor (due to aging), and more syrupy than the regular, mid-priced versions. Yet, the mid-priced variations will still taste great with lasagnas.
On the other hand, Zinfandel offers pink versions with a gentler flavor. This wine is ideal for sausage-based or creamier sauces (such as bechamel) and bolognese.
A small comparison between California Zinfandel and Primitivo wines you might want to see.
7. Primitivo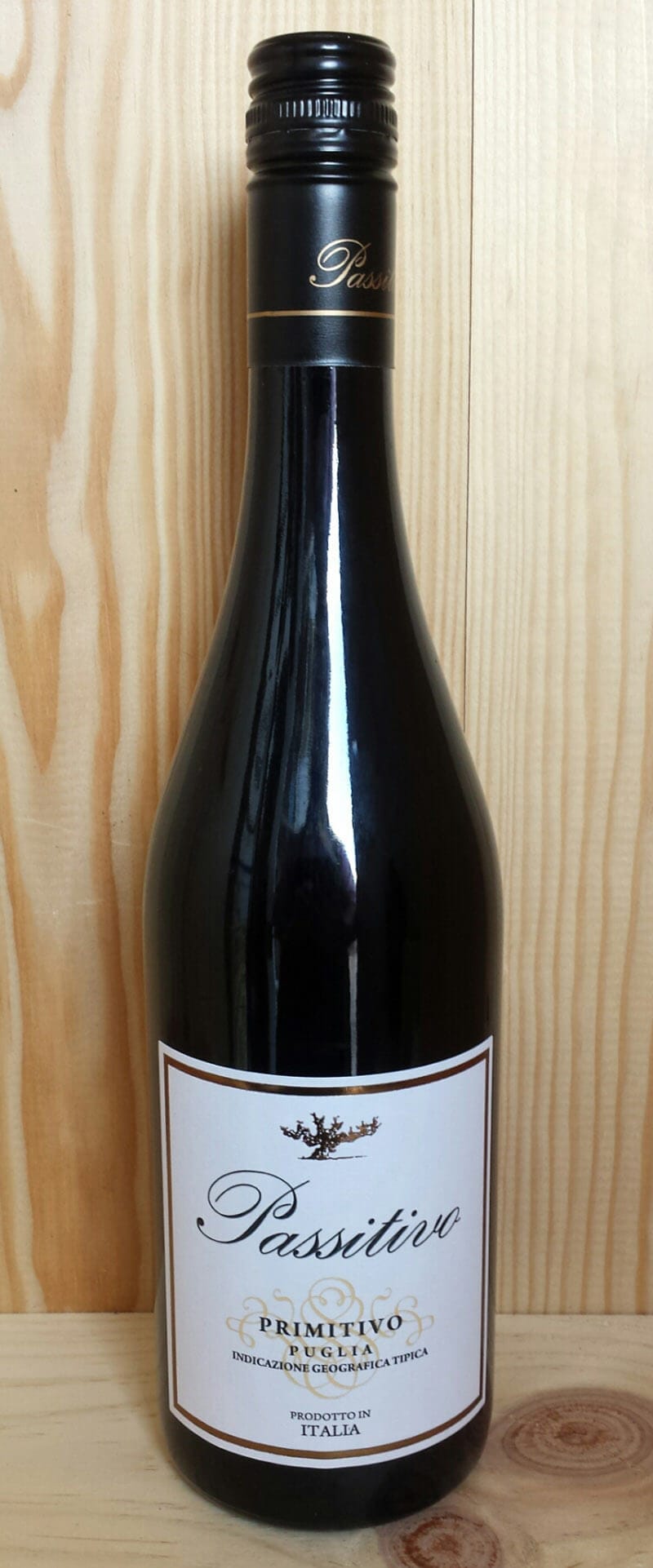 Primitivo, which is also created from Zinfandel grapes, has a medium acidic taste that is less fruity, low in tannin, and spicier. Primitivo can offer a smooth and balancing feel in your throat from the first sip.
It will be perfect if you prefer a kind of Italian red wine for your tomato-based lasagnas. This wine can also be an excellent match for lasagna dishes that include grilled veggies (eggplants, onions, mushrooms) or cheddar cheese.
8. Aglianico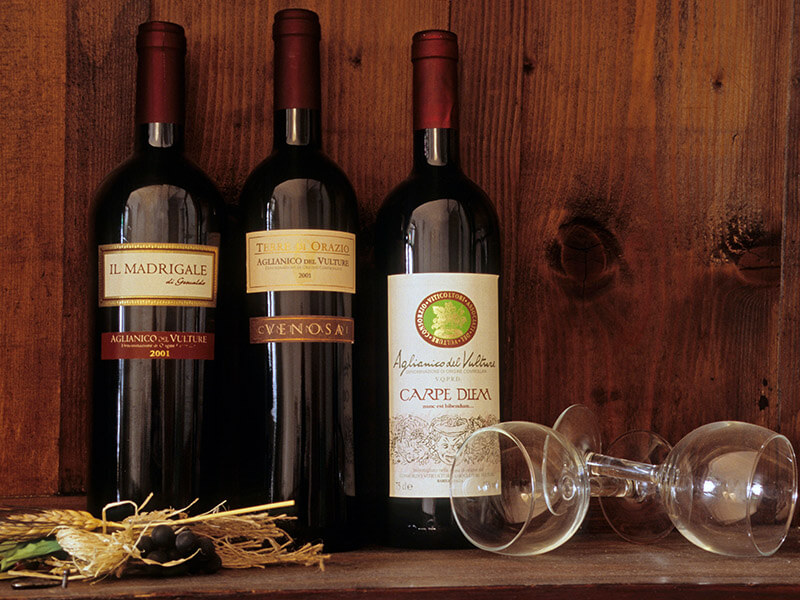 Mentioning a perfect match for the hearty, meaty, and cheesy casseroles or specifically red lasagnas, I have to call for these Aglianico wines from Southern Italy. Their signature robust tannin and sour taste can balance down the richness of your main dish.
Besides those characteristics, Aglianico also lends a high acidic, dried fruity taste, floral notes, and smokey scents. When this wine ages (for about 10 years), the tannin level will be milder, and the acidity will become more prominent.
Some new variants of Aglianico are even added with a hint of chocolate and some other exotic taste.
9. Arneis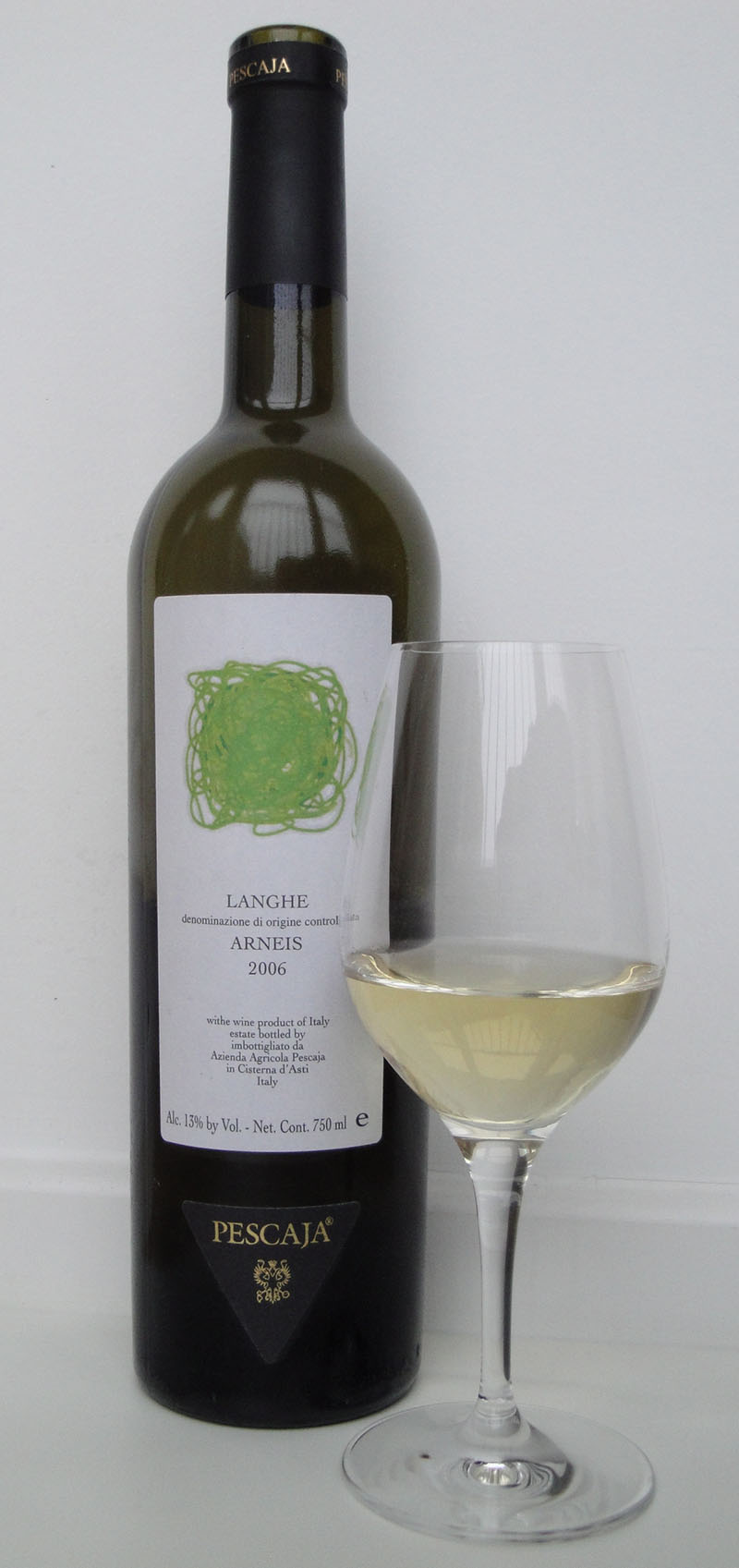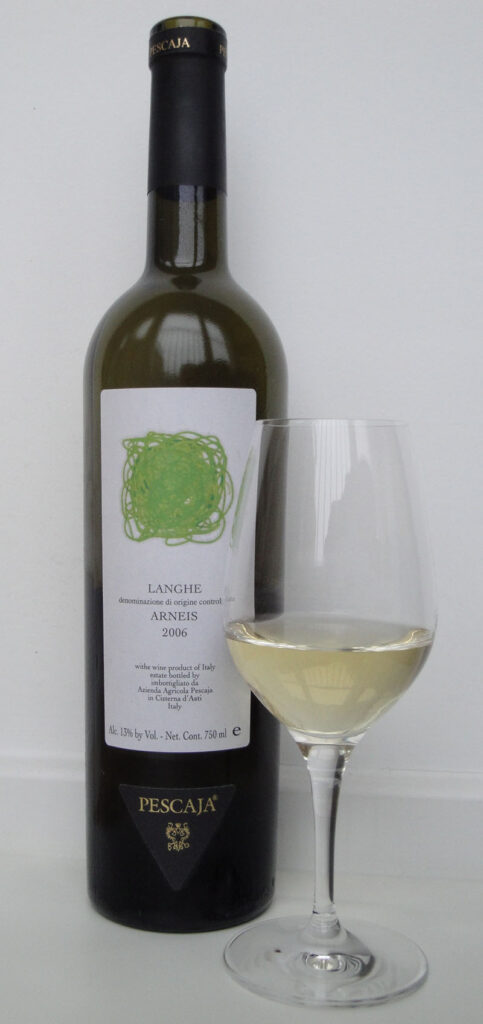 Arneis is a kind of dry white wine from Northwest Italy, Piedmont (2), which provides medium/full-bodied flavor, some hints of stone, fruity scents from pear, apple, and nutty taste.
This type of wine will be as refreshing as green herbs in your white sauce-based lasagnas. Those bechamel or bolognese lasagnas will perfectly match with these mild, lovely wines.
Unleash the secret of Arneis wines here!
10. Vermentino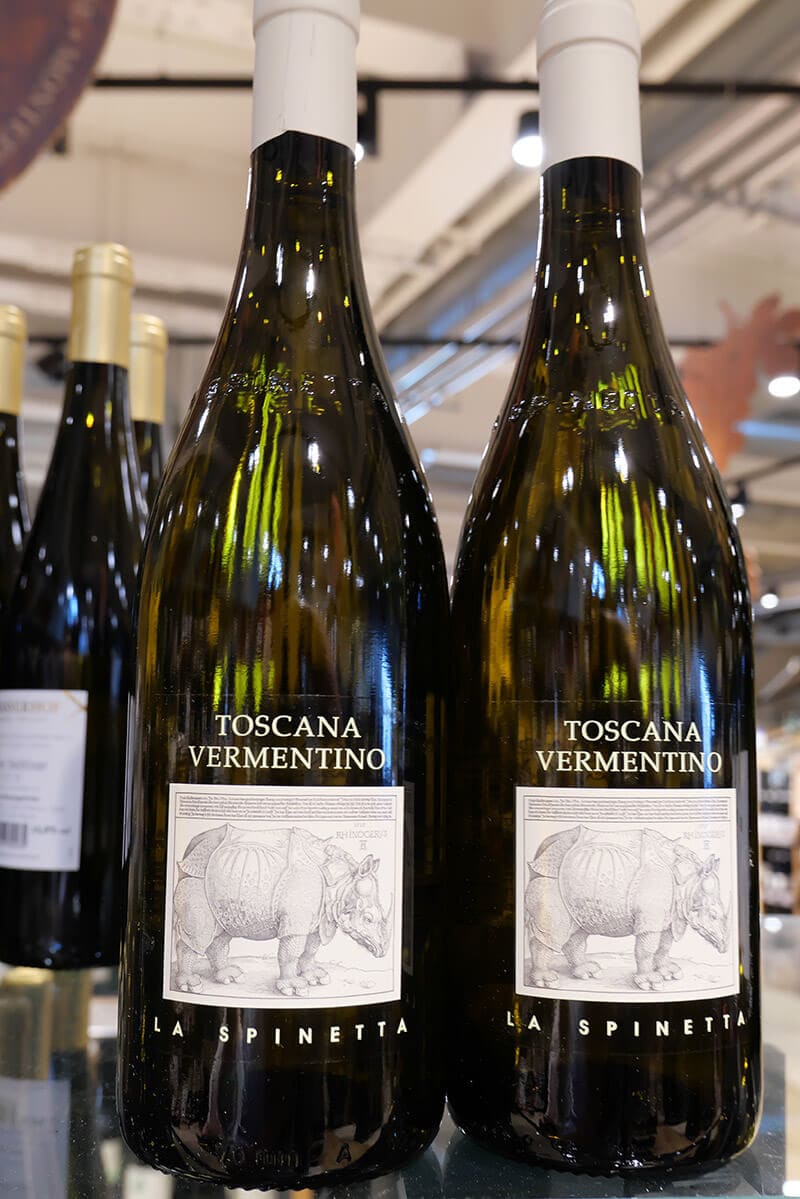 A perfect match for pine nut, olive oil, and parmesan cheese-made lasagnas, this lean and green Vermentino provides a distinctively dry, oily texture with a pronounced bitter taste.
You can feel other flavors are fruity scents from green apple, citrus fruits (lime or grapefruit), fresh almond taste with bright acidity, salty and soft minerality.
This wine can also pair with fragrant lasagna sauces like pesto, but I won't recommend you to serve it with veggie or meat lasagna (because its bitterness will overpower the food taste).
11. Grenache (Garnacha)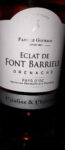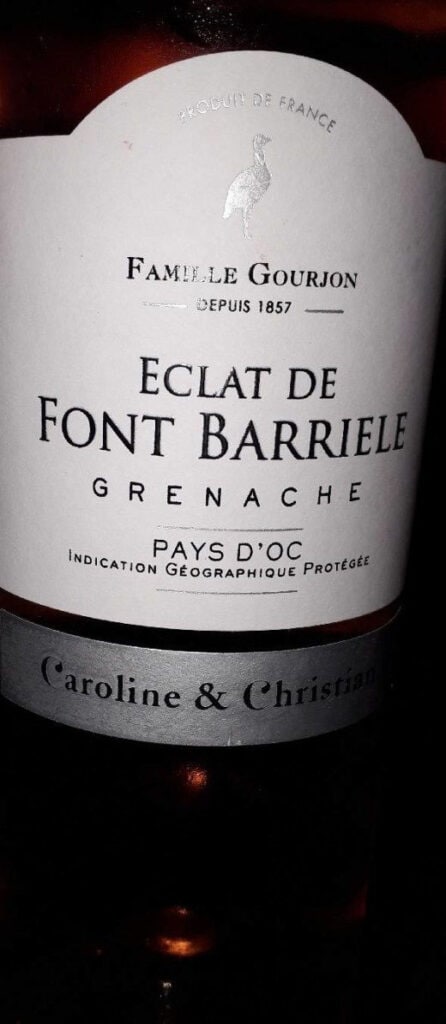 There will be many varieties of Grenache on the market, varying from dry, lightly sweet, or sweet with generally medium-bodied flavor and high acidity.
Overall it will yield fruity flavors (from strawberries, raspberries, black cherries), hints of spices (like black pepper, cinnamon, star anise), and traces of dried herbs, red grapes, licorice, tobacco, orange rind, or solid floral notes.
Thanks to the special main ingredient, grapes from old-aged plants, which provide less produce but more potent flavors, these Grenache wines exude the taste of earthy and herb-reminiscence.
The flavor descriptions above make this unique wine go well with heavy spice and herby lasagna or eggplant ones with bechamel sauce.
Little-known facts about Grenache can be shown here!
12. Cabernet Sauvignon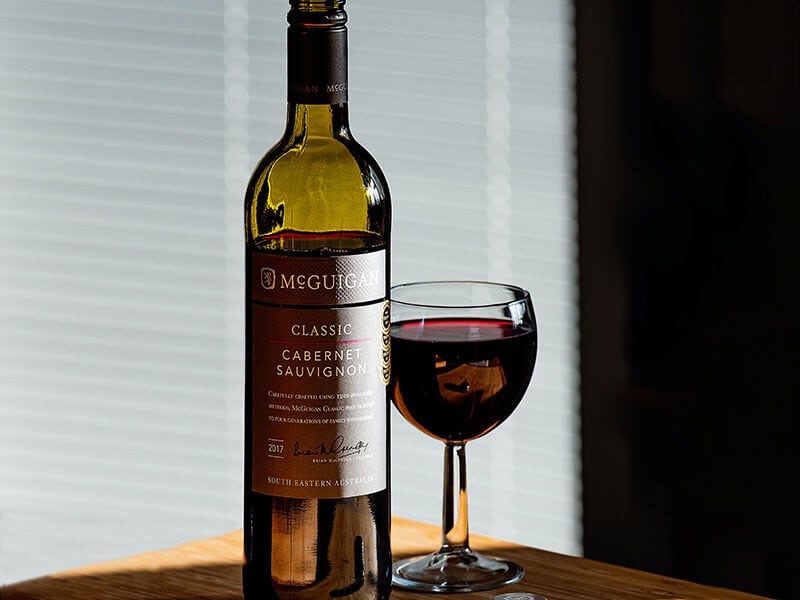 The basic taste of Cabernet Sauvignon includes the base of black currants with traces of vanilla, tobacco, cherry, and mint.
Besides those unique taste combinations, it is also loved and frequently sought-for thanks to the savory taste, cheerfully high tannin, and high acidity. You can also find some variants with tones like coffee, spice, cassis, cedar, etc.
So what kinds of lasagna match with Cabernet Sauvignon? I highly suggest tomato sauce-based lasagnas; they will deliver the best result.
13. Chardonnay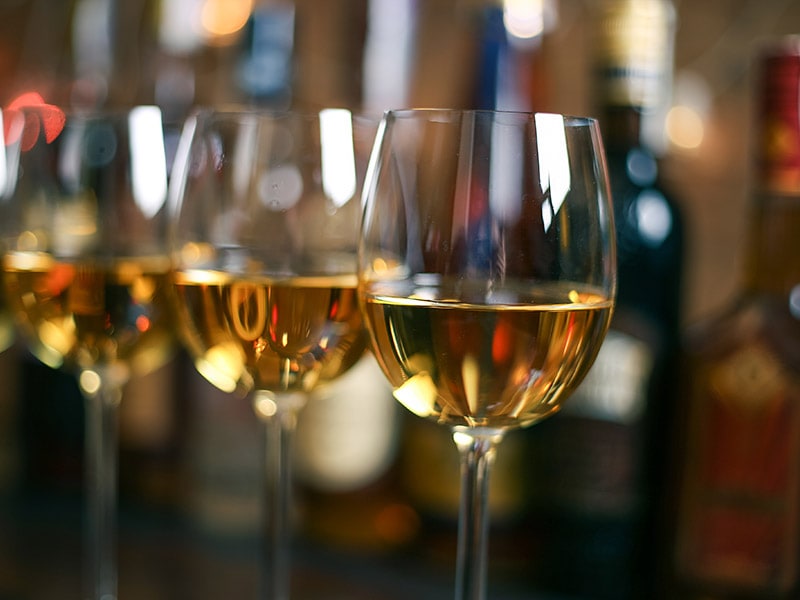 Chardonnay is an ideal partner with creamy sauces (cheese-based) or vegetarian lasagna with mushroom-based and pesto sauces; it fits these components more than the other kinds. Chardonnay is also ideal if you need something to serve with chicken cordon bleu. You can trust me on that.
Why can Chardonnay go with those foods? This top-tier American white wine is renowned for its relatively neutral acidity and tannins. It offers a dry feel, a bit of sweetness, and tropical fruity hints from mango, papaya, or pineapple.
The oak-aged type of Chardonnay can even lend buttery, rich vanilla, and some kinds of spice scents with a smooth/creamy texture. How appealing!
14. Sauvignon Blanc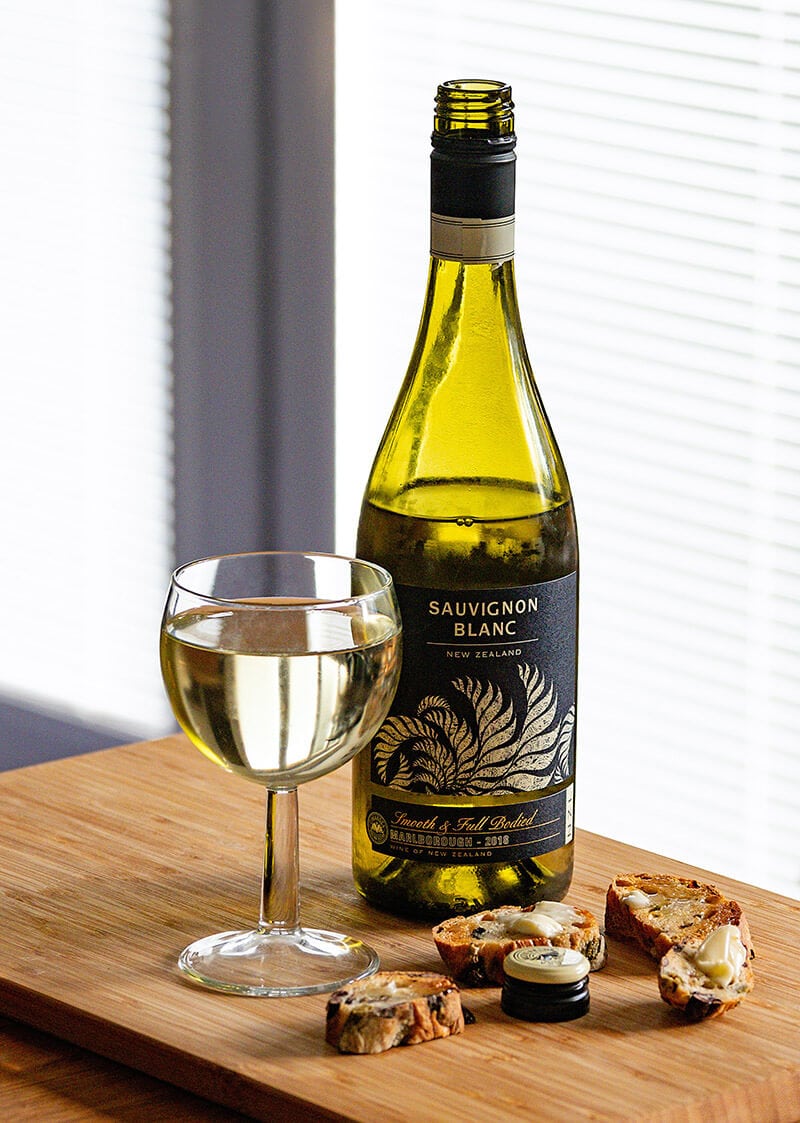 This dry white wine's flavors include fruity (from citrus fruits like lime, grapefruit, passion fruit with pear, white peach, and tropical produce) and significant spicy traces (from the jalapeno bell pepper, vanilla, nutmeg, and clove).
Sauvignon Blanc also lends great acidic, alcohol levels and herby undertones (lemongrass, cut grass, and tarragon). Thanks to all the listed features, this well-known wine ideally matches with vegetarian lasagna or those with lean meats like turkey.
One small tip for you, Sauvignon Blanc is something that goes incredibly well with caviar, especially white sturgeon caviar. The herby hints of Sauvignon Blanc truly elevate the nutty undertones of most caviar varieties.
15. Merlot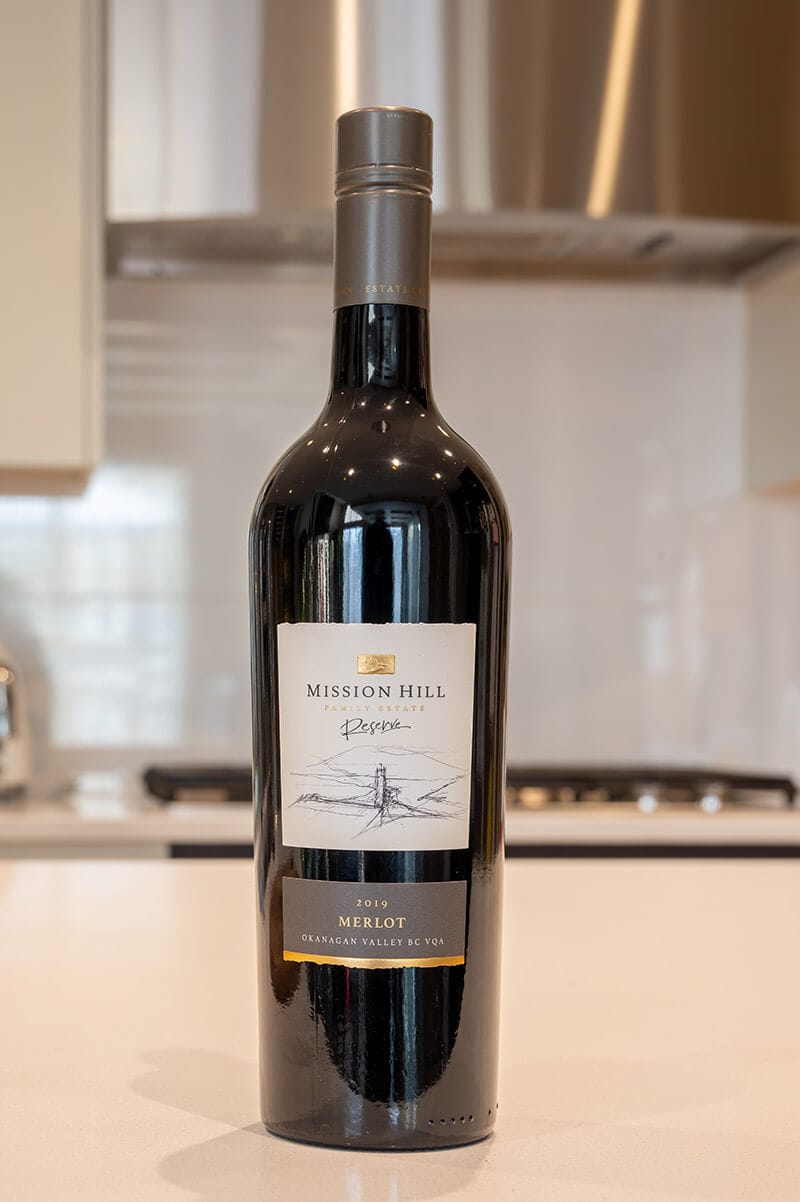 Made from a particular grape type with a dark blue/black skin, these Merlot wines are sorted as a softer, smoother red wine that is great to start with if you are a beginner.
Merlot doesn't contain many tannins and offers a more profound mellowy, fruity sweetness (from plum and blackberries), helping it become a great supporter for lasagna's tomato sauces.
This type of wine is quite versatile; it can also go well with both meaty lasagnas (with full-bodied varieties) and with bacon, pancetta, or mushroom (with lighter-bodied ones).
The only thing you should notice here is avoiding serving Merlot with creamy sauces like bechamel.
Why did I say Merlot is a wine for beginners? Your answer is right there!
16. Soave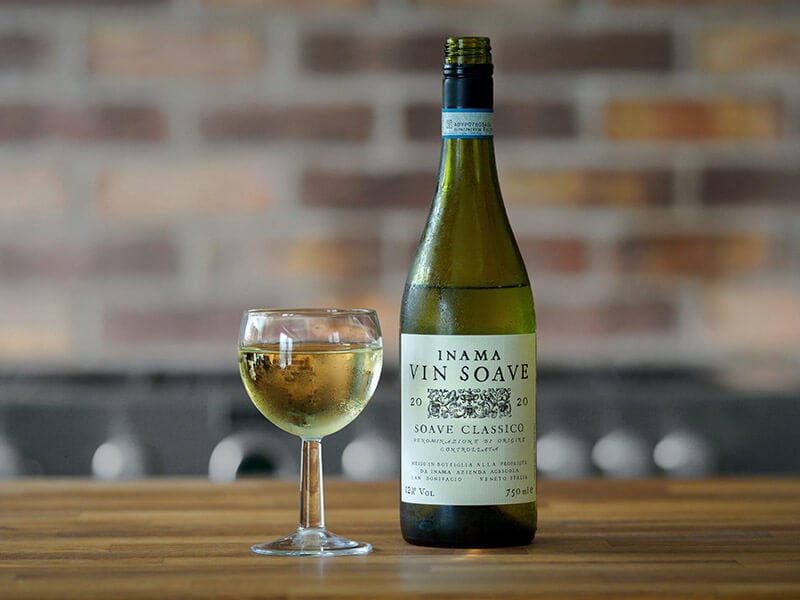 Soave is available in five different types for you to choose from, which are Citrus Zest, Honey Dew, Saline, Peach, and Sweet Marjoram, and become even better after aging.
These Soave wines will complement those lasagnas with seafood/fish components since they also lend savory, fennel seed taste, a touch of beeswax note with fruity, marmalade, and honey sweetness.
One more reason you should use Soave wine in your lasagna meal is that they are absolutely affordable.
17. Riesling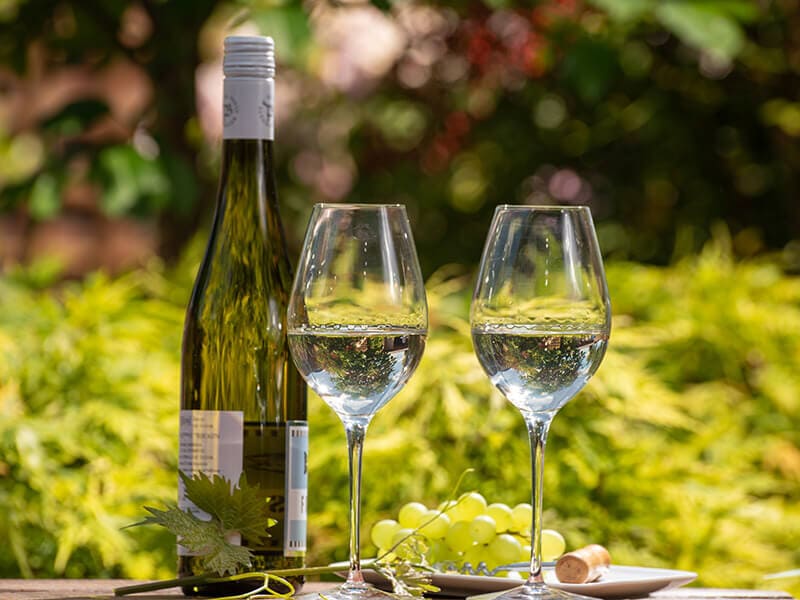 These Riesling wines can provide you with different layers of flavors. It is a zesty white wine that will offer sweet-tartness and many fruity tastes from apple, pear, peach, or even melony (based on the region it is produced).
The aromatic Riesling also shows the prominent floral notes (especially honeysuckle), which will make your milky cream-based or spicy lasagnas taste phenomenal. You can also serve it beside a plate of mushroom-stuffed lasagna since it will not disappoint you.
Learn more about this special German wine, Riesling, within this 11 minutes review!
18. Chablis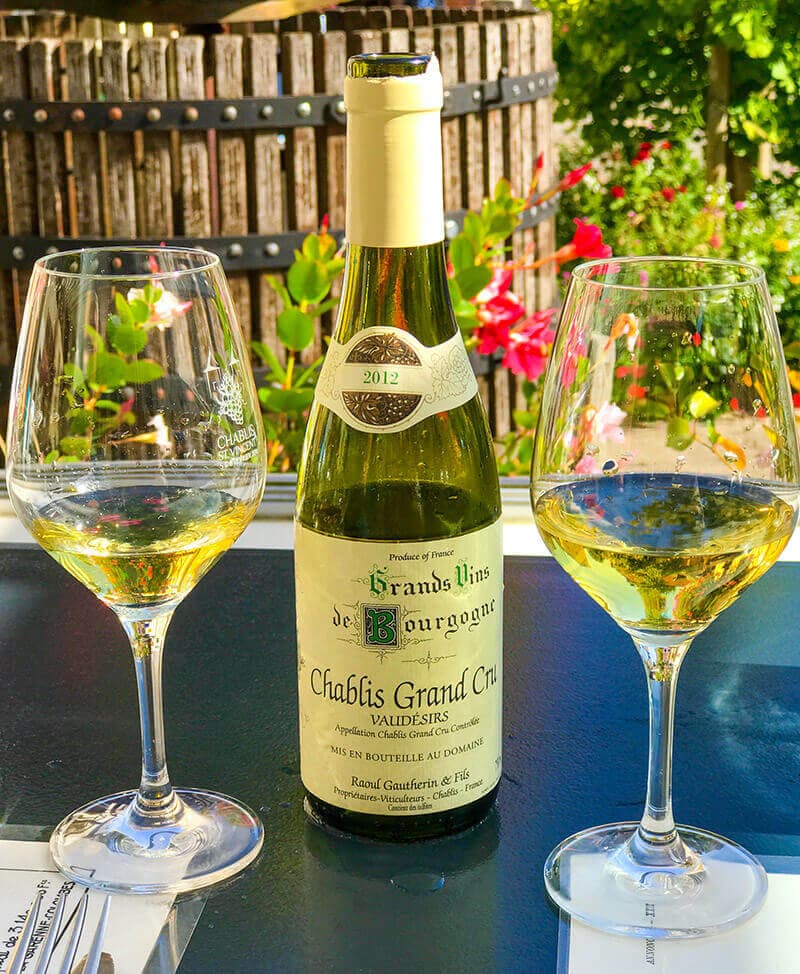 These phenomenal stellar, crisp, and lean white wines come from Northern France. (3)
They are known for their generally subtle taste, including floral scents from white flowers, a hint of citrus, light-bodied taste, full of salinity, mineral taste, and a touch of pear and apple-like flavors.
It can even offer a lovely buttery taste when being aged inside the oak. With that rich flavor profile, Chablis wines fit the best with less spicy lasagnas and veggie lasagnas.
Let's choose the best Chablis based on this taste test!
19. Prosecco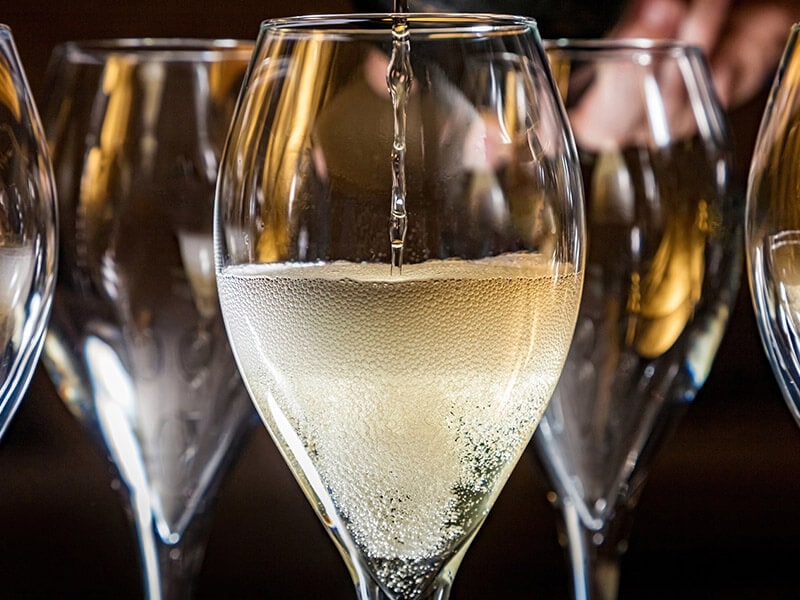 Prosecco is an irresistible beverage from Italy. Prosecco has 2 main varieties called Sparkling and Rosé wine. It is because one type will form tiny, frothy bubbles like sparkling water and one has the rosy pink shade (from the short-term fermented grape skins).
Those 2 varieties of crisp Prosecco, with the typical tastes, are vibrant, refreshing, and aromatic, can match with different kinds of lasagna.
For instance, Rosé or pink wines, with their dryness and tartness, can help reduce the greasy feeling when eating too much cheese and boost the other delicious taste layer of your dish.
Therefore, these Rosé wines are more compatible with cheese-based lasagnas. On the other hand, sparkling wines bring a more acidic taste and mild sweetness to pair with classic tomato sauces lasagnas.
20. Bellavista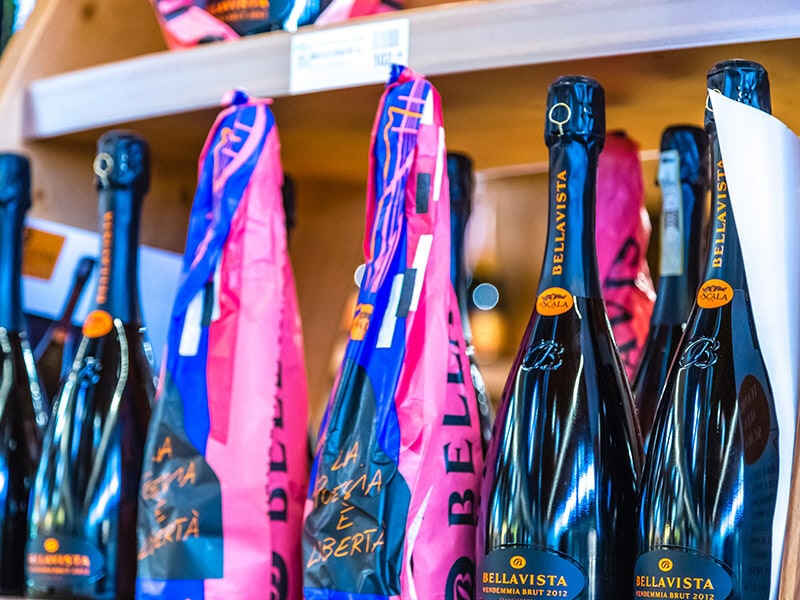 Made of Pinot Noir, Pinot Blanc, and Chardonnay grapes, this sparkling rosé wine is something that pairs exceptionally well with fish (especially salmon), poultry, and veggies-based food than those with red meat.
Therefore, you can try to serve this Bellavista wine alongside your fish or veggie lasagnas.
To talk more about this wine's flavor, you can tell it will lend you a savory taste, a hint of vanilla, ripe fruits aroma, and absolutely freshening. My suggested variant of this wine to use is Alma Brut Franciacorta.
The Basic Requirements For Wine To Go With Lasagna
If you don't know where to start, you can take a quick glance at this section. Now, look at my small tips to start pairing your food with wines.
Tip 1: Know The Wine You Will Use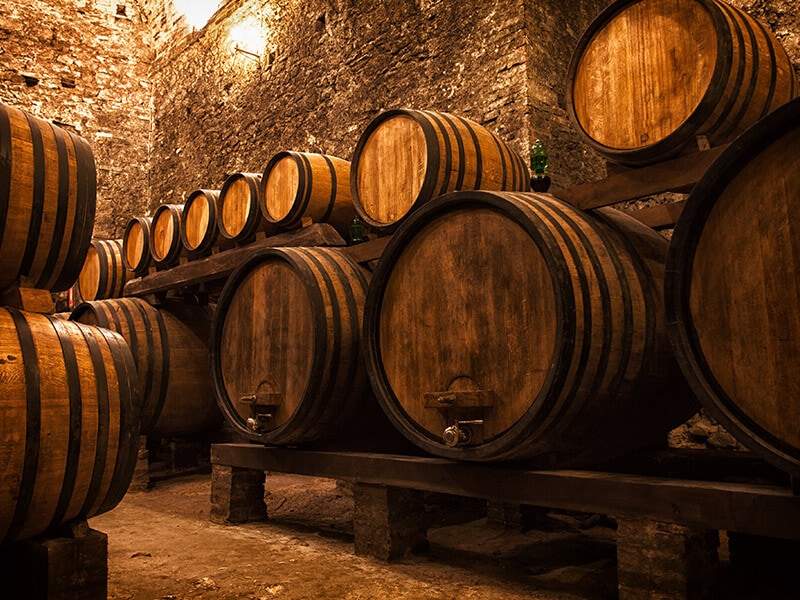 Many factors can affect the taste of your wine and deliver distinctive effects in your throat. They usually sort the flavor profile of wine into 5 main categories: acidity, tannin, sweetness, the body (full, medium, or light-bodied), and flavor dimensions.
The first and foremost component I have to mention here is the flavor dimensions or the flavor families of wines. You can normally expect several scents from wine, such as earthy, fruity, or herbal wines.
While white wines are renowned for their refreshing tastes of citrusy, sweetness from pear or apple-like, red wines are loved because of their strong dark currants and red grape flavors (plum/cherry-reminiscent).
And one most questioning component is the tannins. Basically, it offers a robust astringent flavor that can remind you of bitterness and is related to the oakiness of your wine. The special component regularly exists in aged white wines (in the oak barrel) and red wines.
Every wine bottle has taste descriptions on the label. You can refer to the instructions of wine manufacturers; the descriptions/introductions normally show you how strong those flavor layers are shown in the wine.
And looking at that information can help you choose the most appropriate one suitable for your dish and please your preferences.
Or you can start with something you are familiar with first. It is because when you know that you like it, even if the wine and lasagna don't match that well, at least the wine taste will not disappoint you.
Tip 2: Choose Wine Based On Your Preferences
Someone says that older wine will be better than the younger. That statement is not right or wrong; it is mainly based on your preferences. Older wines typically offer a much subtle, delicate taste since their tannins have been mildening after time.
Meanwhile, the freshly made wine will deliver a more pronounced earthy and fruity taste, and if you love those features, you can use them as well.
Note: Aged wines should go with simple lasagna recipes to retain the signature of the wines' flavors.
Tip 3: Start With The Old Wines
One advantage of the older wines (that are left inside the oak barrels for a longer time) is they offer a much more delicate taste than the young and fresher wines.
The oak aging process has mildened the tannin and astringent layers so that the side drink will be less likely to overpower your lasagna.
Knowing more about wine in this 6 minutes introduction!
General Noticement About Lasagnas You Should Look At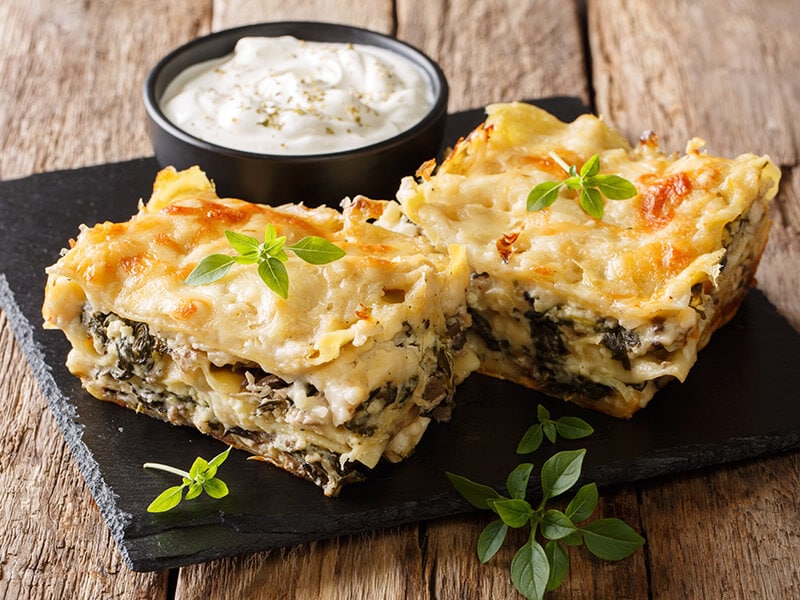 Lasagna, or literally flat noodles (lasagna sheets), has barely any taste on its own. This dish's primary flavors mostly come from how you layer different ingredients in your lasagnas: noodles, sauces, and other ingredients like veggies or proteins.
The sauces that go with lasagna are not limited to only meat sauce with tomato; there are also bechamel or pesto. To the sauce that provides tartness like tomato meat sauce (ragu), a type of wine with pronounced tannins with acidity will balance its taste.
Meat/Protein ingredients in lasagna are also varied; they can now be pork, lamb, or turkey; the requirements for those foods are obviously different from a traditional beef filling.
Cheeses used with lasagnas have various tastes should also be considered if you want to choose a type of wine that is perfectly matched.
Since there are different complicated things to consider when selecting wine, why not refer to some simple advice below.
Just like choosing some best dishes to go with your lasagna, matching wines with your dish is also important. An appropriate type of wine can enhance or elevate the taste of your dish a lot.
FAQs
Do you have any other questions about wines that match with lasagna? If you have some, you should scroll down and refer to my ask-and-answer section below and find your wanted recommendations.