If you are wondering what to serve with caviar to impress your guests at the upcoming party to stand out, or if you just want to fully enjoy the taste of caviar, this post is for you!
It is not easy to convey the exact flavor of caviar because each teaspoon of caviar brings approximately 15 flavor experiences. Discover the best ways possible to enjoy the distinct taste of caviar and eat it like a pro by checking out this article.
But wait, are you sure you know whether caviar is classified as vegan or vegetarian? If you're following either of these two dietary plans, you may want to double-check this information to avoid eating something you're not supposed to.
But first, let's answer the big question!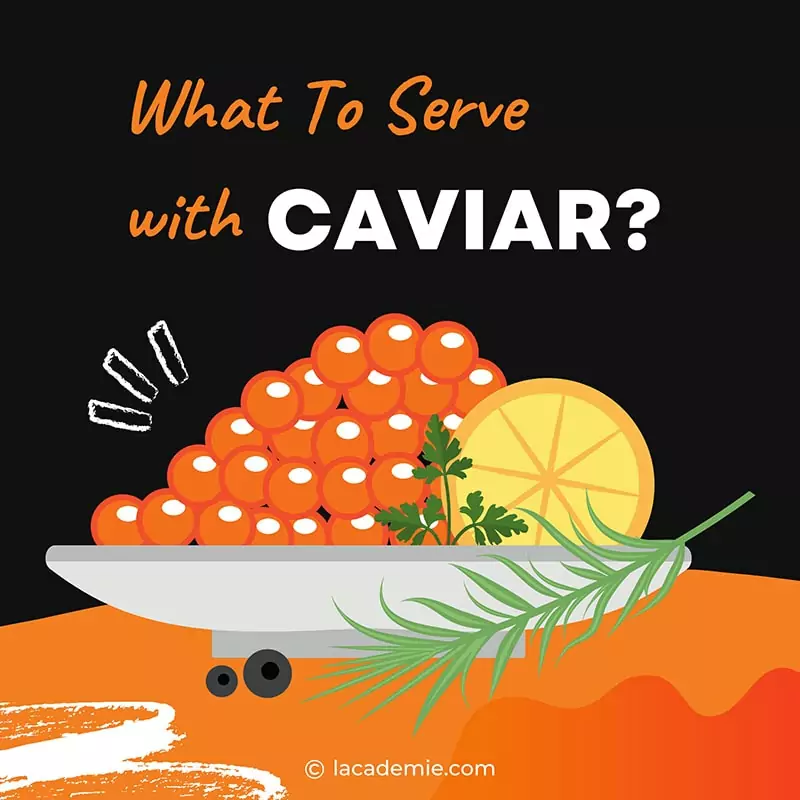 What To Serve With Caviar To Enjoy Its Best Flavor?
This luxurious sturgeon roe pairs well with various foods. On the whole, caviar tastes the best when served with crunchy toasts. Caviar is also used as a garnish and served with crispbreads or crackers. Also, pairing caviar with plain bread is not a bad idea.
On top of that, people also enjoy caviar with a variety of alcoholic beverages. The light flavor of vodka, dry champagne, or whisky will help enhance the unique salty and sea flavor of caviar. Moreover, caviar is also eaten alone, depending on the eating habits of many people.
General Knowledge About Caviar And Its Varieties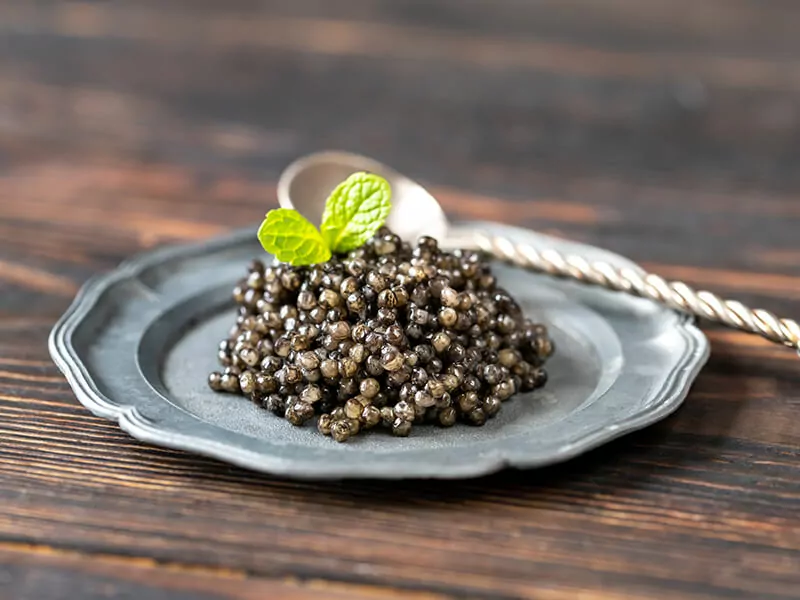 What makes caviar so costly? The "true" caviar is the roe collected from the sturgeon family of best fish from the Caspian or Black Seas. Nowadays, caviar is produced all over the world and sold at an extremely high price.
Moreover, people often classify caviar into several groups by different aspects, ranging from preparation to fish species. Also, different caviar varieties have different colors. The table below indicates the 3 most popular types of caviar species. (1)
| Factors | Beluga | Ossetra | Sevruga |
| --- | --- | --- | --- |
| Size | Large pea-sized | Medium-sized | Small |
| Appearance | Light grey pearls | Deep brown to gold pearls | Light grey to charcoal grey pearls |
| Texture | Clear; Glossy; Soft | Firm; Juicy | Soft; Juicy |
| Taste | Buttery; Creamy | Subtly salty; Nutty; Briny | Rich; Intense; Salty |
| Availability | Rare | Rare | Easier to find than Beluga and Ossetra |
| Price | Expensive | Affordable | Less expensive |
Beluga
Beluga is the rarest type of caviar, and its price is out-of-reach for many people. It is most recognizable by its large, pea-sized pearls with light gray to black color. Due to overfishing, Beluga is endangered now and illegal in the United States.
There is no doubt to say that Beluga is the highest premium grade of caviar. The reason why it is rare and extremely expensive is its distinct flavor. Beluga tastes incredibly buttery and creamy with a unique full-flavored aftertaste.
Ossetra
People also call it Asestra, Oscietra, or Osetra. This type of caviar has medium-sized eggs. Ossetra is considered the most affordable premium caviar. Ossetra's color ranges from dark brown to gold.
Ossetra is the most popular caviar all over the world because of its salty, nutty, and briny flavor. High-quality Ossetra has firm, glossy, and juicy eggs.
Sevruga
Compared to Beluga and Ossetra, the size of Sevruga is considerably smaller. However, it is easier to find, and you can buy it at a more affordable price. Sevruga has a pale gray color, and sometimes it is black.
Sevruga is a more affordable alternative to Beluga since it has a buttery flavor and soft, smooth texture compared to Beluga. However, Sevruga tastes richer, saltier, and does not have a particular aftertaste but a fresh and clean finish.
Let's explore the distinct flavor of different caviar types! Watch this video:
Caviar – A Great Source Of Nutrients You Should Not Miss
Adding to why caviar is sold at a pretty high price is that it is packed with a high level of nutrients. Vitamin B12 occupies the highest amount in caviar, which is beneficial for your nervous system, DNA, and red blood cells production.
What's more, caviar is also packed with essential vitamins and minerals, including vitamin A, D, E, and the minerals such as iron and sodium, which are good for your health. Also, omega-3 fatty acids in caviar help in the anti-aging process. (2)
What To Serve With Caviar To Bring Out Its Best Taste?
Besides the main ideas of cooking with caviar, there are various caviar accompaniments, ranging from foods to beverages. Caviar tastes the best when served with mild foods and light-bodied wine. Stay tuned and explore the best combinations of caviar!
Mouth-Watering Foods That Pair Well With Caviar
Because caviar has an intense flavor, the correct ways to serve caviar include pairing it with mild food in order not to overwhelm its flavor. People usually use caviar as a garnish to give their dishes an enticing and luxurious flavor.
Eating Blinis With Caviar Like Russian People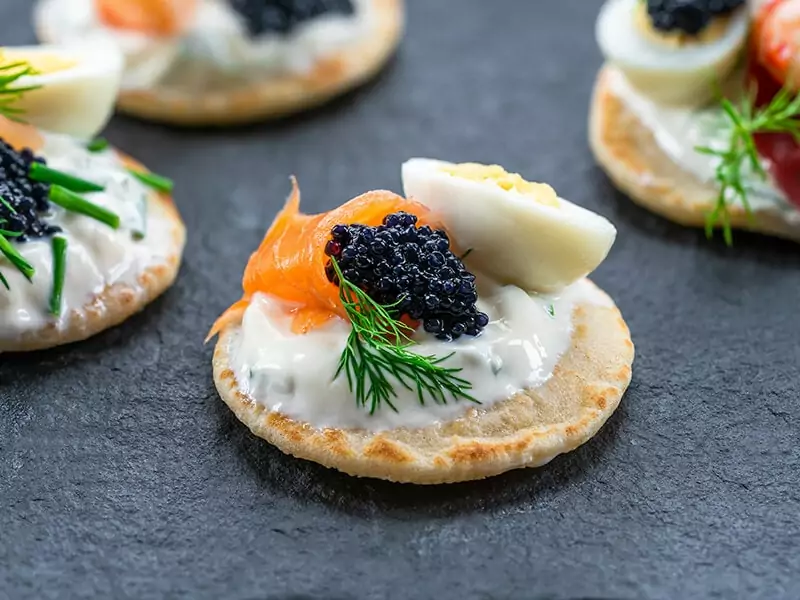 Blini is a traditional Russian delicacy of pancakes made with yeast-raised buckwheat and wheat flour in a mini plate-shaped size for easy-to-handle.
The traditional toppings of Russian blinis are caviar, salmon roe, and sour cream. People also top blinis with chicken eggs and chopped onions. In case you do not like the harsh flavor of onions, you can use chives or spring onions to alternate them.
Take a closer look at how people make their blinis with luxurious caviar! Watch this video:
Unsalted Crackers, Dry Toasts, Or Crispbreads Taste Good With Caviar
Caviar is served on ice with unsalted crackers, dry toasts, or crispbread. The mild taste of these types of dry bread will not overwhelm the unique flavor of caviar. By eating this way, you'll find it much easier to savor the taste of caviar.
In addition, people also top crackers, dry toasts, or crispbreads with caviar, lox (marinated salmon), or fresh salmon and other garnishes, including cream cheese and aromatic herbs.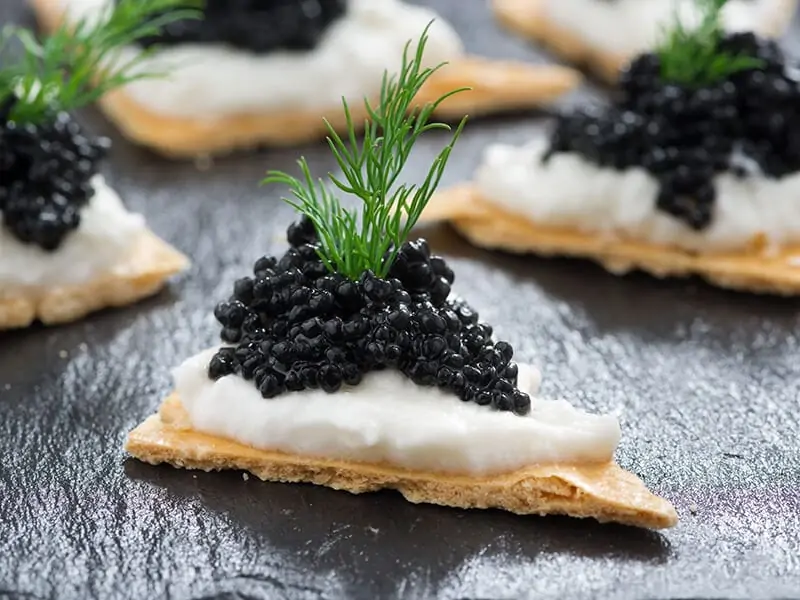 Top Chicken Eggs With Caviar To Enhance The Dish Flavor
Caviar adds a rich and slightly salty taste to balance the creamy flavor of deviled eggs. You can simply eat hard-boiled eggs with caviar on top. If there is no chicken egg available, substitute it with quail eggs.
What highlights this dish is the color of caviar in contrast to the color of eggs, making them look not only delicious but also aesthetic.
Besides, you can make Russian-style deviled eggs by mixing the egg yolks with mayonnaise, cream cheese, and flavoring with paprika and herbs with caviar on top. The subtly salty flavor of caviar balances well with the buttery, creamy taste of mixed egg yolks.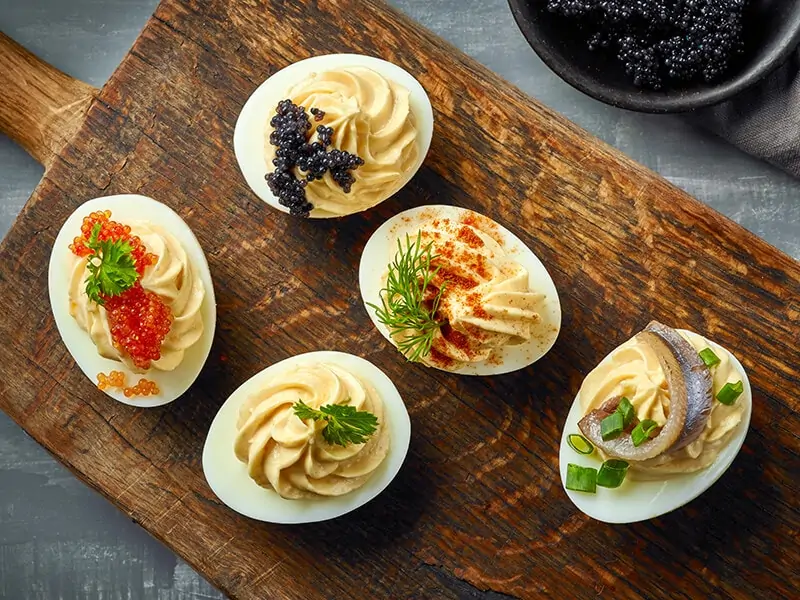 Potatoes Can Go Well With Caviar As They Taste Mild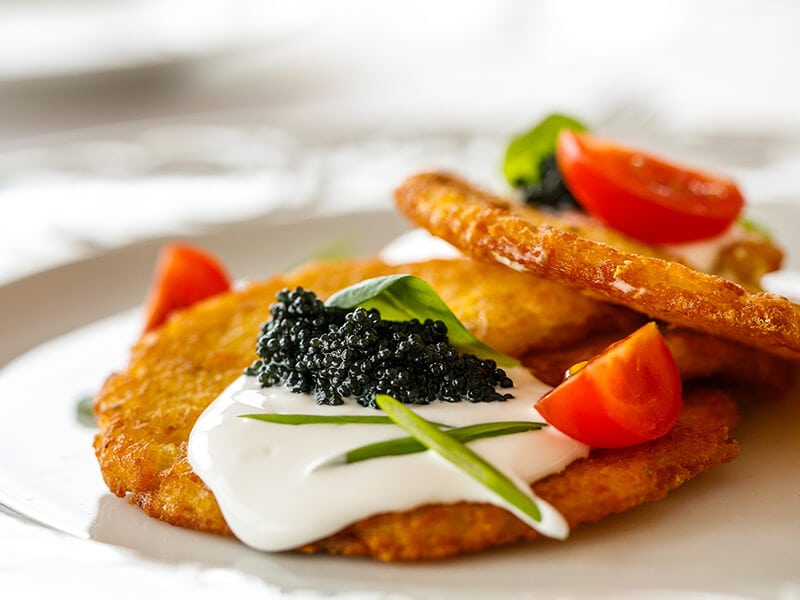 There are two ways to eat potatoes with caviar: potato pancakes and potato chips. People top potato pancakes with caviar and vegetables or herbs. You will experience a flavor explosion of crunchy potato pancakes and rich, intense caviar.
On top of that, pairing caviar with potato chips is a wise choice! These crispy thin-sliced potato chips will melt in your mouth, bringing an ocean flavor of caviar and a rich, intense aftertaste. The creme fraiche also plays an essential role in this dish.
Learn how to make a perfect creme fraiche for your potato chips with caviar by following this recipe. Watch this video:
Cucumber With Caviar Is Also A Must-Try Combination
You can pair this kind of vegetable with caviar thanks to its mild flavor and fresh, crunchy taste. The most popular appetizer made with cucumber and caviar is cucumber bites with caviar. Do not forget to add sour cream to make the dish flavor more intense.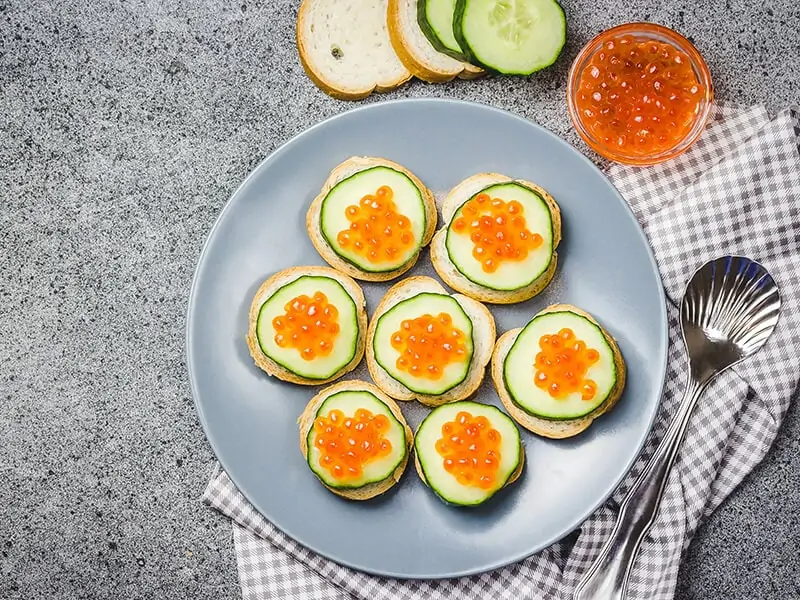 Some Must-Try Beverages To Pair With Caviar
Serving caviar with alcoholic beverages is considered a standard way to enjoy everything about caviar. Are you curious about what drinks pair the best with caviar? Keep on reading to explore!
Vodka – Russian Traditional Russian Wine To Serve With Caviar
Drinking vodka while eating blinis with caviar is a Russian tradition. Nowadays, people all around the world are fond of this combination. Vodka is served ice-cold with a lemon wedge to balance the saltiness of the caviar.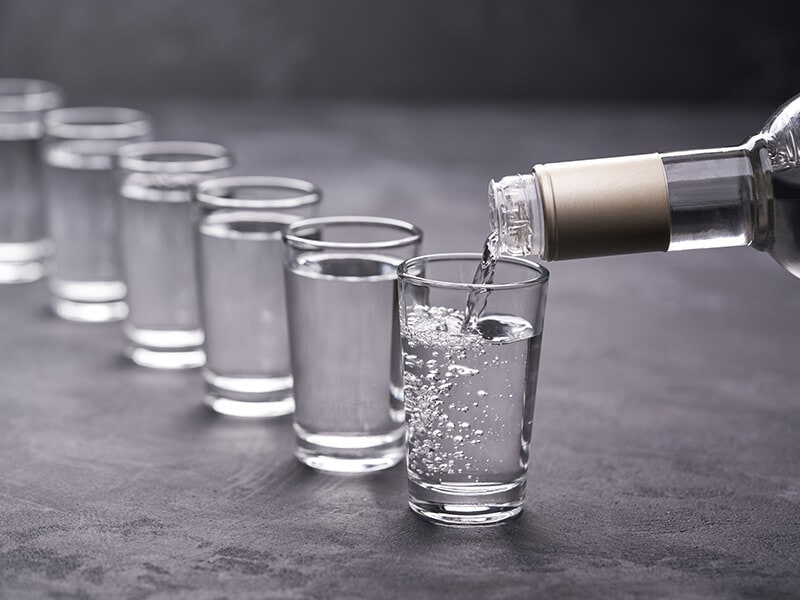 A Chilled Glass Of Champagne Goes Perfect With Caviar
The clean flavor of champagne fits the best with caviar's rich and intense flavor like they were born for each other. Like vodka, ice-cold champagne is tastier to drink while eating caviar. Some restaurants also served a flute of champagne surrounded by caviar.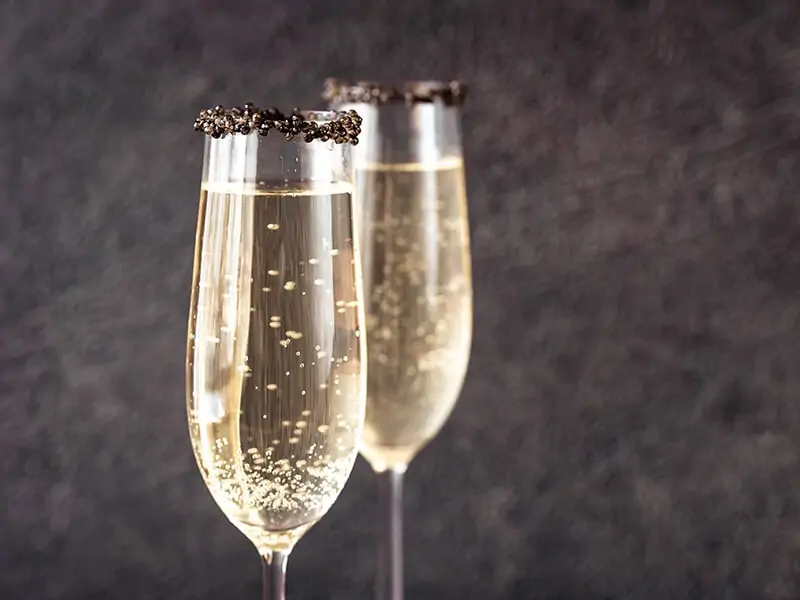 White Wine Is A Perfect Accompaniment To Caviar
An ice-cold and chilled white wine pairs well with caviar because it does not overpower caviar's rich and intense flavor. The recommended white wine to serve with caviar is slightly fruit wine. Do not forget to add some citrus notes to fit more with caviar.
All the white wines that bring light and fruity flavor will pair well with caviar. You should consider some types of white wine when serving with caviar: Riesling, Chablis, Pinots, Chenin Blanc, and Chardonnay. All of them are semi-sweet, light-bodied, fruity, and crisp.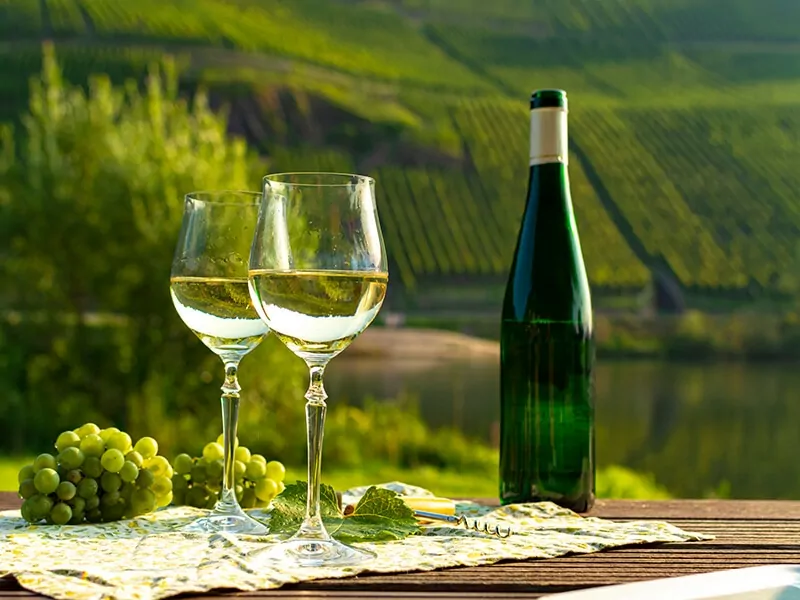 Red Wine – Not A Go-To Option But Still OK To Pair With Caviar
Although red wine is not a common pairing of caviar because of its rich and jammy fruits, some light-bodied types of red wine can still be a fine accompaniment of caviar.
Or you can enjoy this wine as the perfect accompaniment of your mussel dishes. Some red wine varieties that can pair with caviar or mussels include Cabernet Sauvignon, Pinot Noir, and Gamay.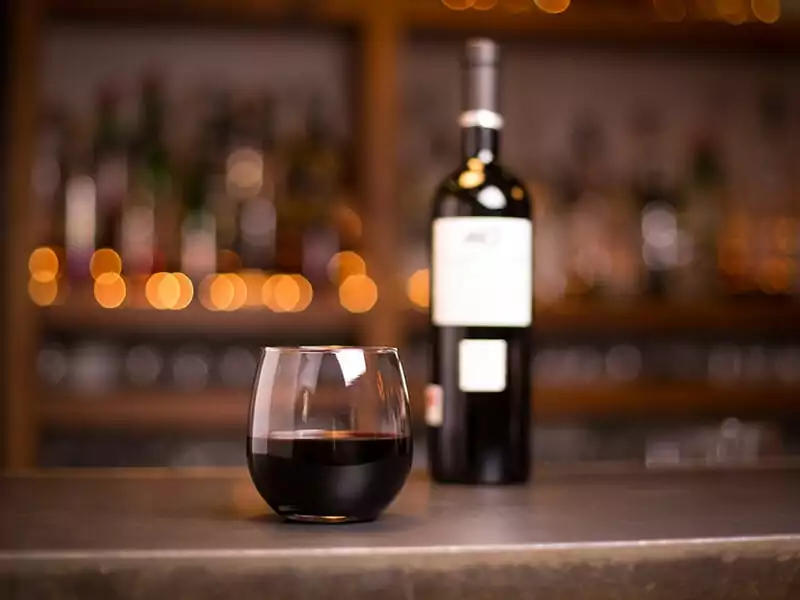 Sake Is Indispensable When Eating Japanese Food With Caviar
Sake is also known as Japan rice wine which has a mild flavor that will pair fine with caviar. Since caviar appears in many Japanese dishes, including sashimi and sushi, the mild flavor of cold sake will steer away from the fishy taste and compliment the caviar flavor.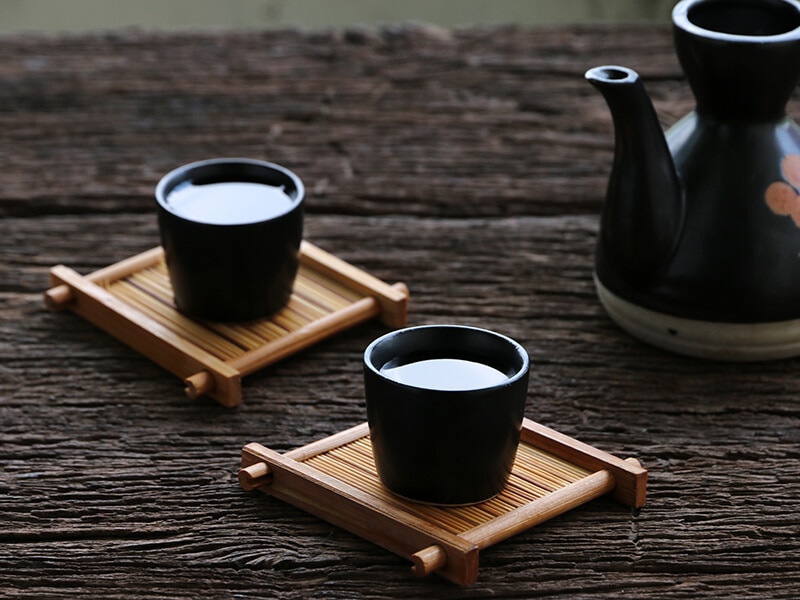 Do Not Forget Sherry To Combine With Deviled Eggs
Drinking Fino sherry while eating deviled eggs topped with caviar is the best combination. The sweet flavor of sherry just creates an exciting contrast with the intense and robust caviar. The tip is to add a little amount of salt to balance the sweetness of the sherry.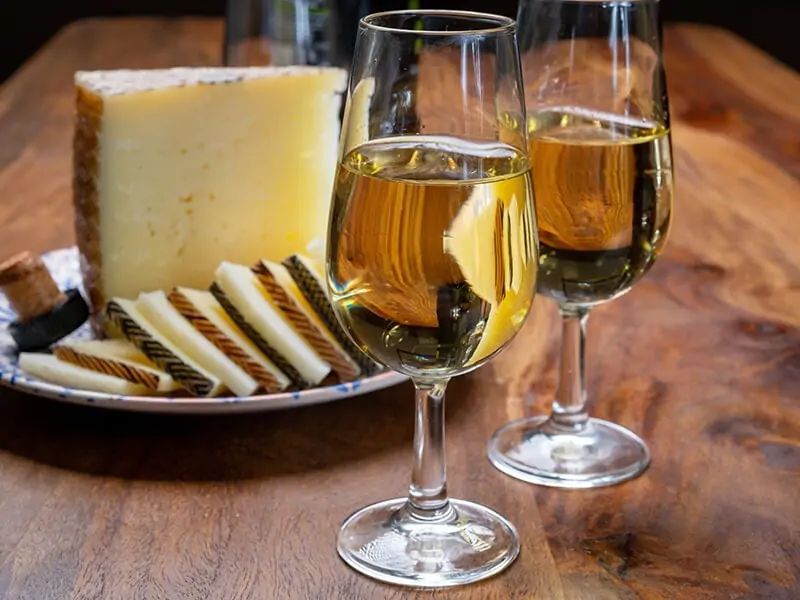 Choose Light And Crisp Beers To Serve With Caviar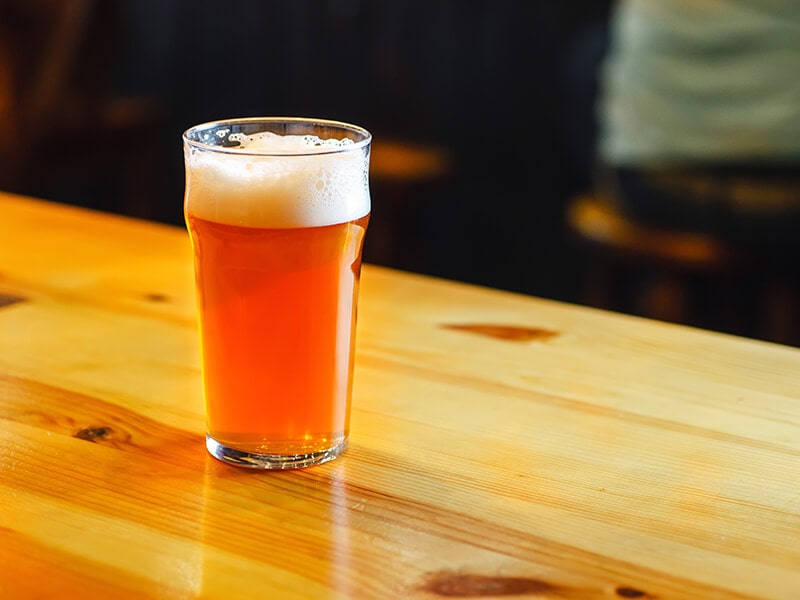 In case you are not fond of wines, pairing beers with caviar is not a terrible idea. The folks love to drink light lagers, pale ales, porter, or amber ales with caviar. Just opt for light and crisp beers; they will pair well with caviar.
Eat caviar like a pro thanks to this ultimate instruction! Watch this video:
Caviar Can Still Shine Without Any Additions Needed!
Besides being served with accompaniments like foods and beverages, some people consider serving caviar alone the best way to experience its flavor to the fullest. Here is how people serve caviar alone for your consideration:
Choose And Purchase The Desired Caviar Species
Choose the type of caviar that is suitable for your eating habit and consider its rarity and price before purchasing. Beluga, Osetra, and Sevruga have distinct flavors and textures. Therefore, decide what you prefer and buy the right one.
The amount to purchase is also worth careful consideration. You will need about a half or one ounce of caviar for each person if served alone. You should reduce the amount when serving caviar with other foods.
Store Caviar Thoroughly Before Serving
Try not to purchase caviar earlier than 3 days before serving. The best way to store caviar is to refrigerate it in the coldest part of the refrigerator. Place the caviar on the meat shelf and refrigerate it at 28 to 32 degrees Fahrenheit.
In addition, another way to refrigerate caviar if your meat shelf does not have any room is to place the caviar tin in a bowl of crushed ice. Remember to alternate new ice when the old one melted. Do not freeze caviar as it will lose the unique taste and perfect texture.
Serve The Caviar In An Exact Way
Before serving caviar, place a glass or crystal bowl and a plate with a lip edge in the refrigerator to make it fresh. The lipped-side plate helps prevent the ice added from sliding off. Leave the unopened caviar tin at room temperature for 10 minutes before serving.
Since the caviar tastes best while served cool, serve it in a bowl surrounded by crushed ice added on the lipped-side plate. You should eat caviar with a non-metallic spoon because it can absorb the silver or steel taste, which will degrade the caviar flavor.
Time To Explore The Eating Caviar Etiquette And Manners
Eating luxurious food like caviar also requires good manners and etiquette. You will eat caviar like a pro after reading the below instructions on how to eat caviar properly.
Clean Your Palate: Take a sip of vodka or champagne before eating caviar to clean your palate before tasting caviar to enjoy its full flavor.
Smell The Caviar: Hold a full teaspoon of caviar beneath your nose and take a deep inhale to sniff the aromas.
Put Caviar Directly On Your Tongue: Place the spoon of caviar onto your tongue and turn it upside down to extract its full flavor.
Roll And Burst The Eggs: Roll the eggs around your mouth to savor the rich and intense flavor. Then, burst the caviar by using your tongue to press the eggs against your palate. Finally, chew a few times before swallowing.
FAQs
It's time to answer some of the frequently asked questions about caviar and ways to eat it. Scroll down to explore more and find whether the answers below can satisfy you or not!
Extra Tips While Serving Caviar For Your Consideration
As I have mentioned above, the caviar should be served as fresh as possible. Therefore, do not think about freezing caviar for longer shelf life. Freezing caviar will alter its flavor and texture that might affect your eating experience.
In addition, do not eat large portions of caviar. A teaspoon of caviar is the perfect amount to savor its distinct flavor and unique texture.
I hope you have understood deeply about caviar and how to eat it precisely after reading my article. Do not like and share this post if it is exciting and helpful. Share with me your experiences about tasting caviar by leaving some words below.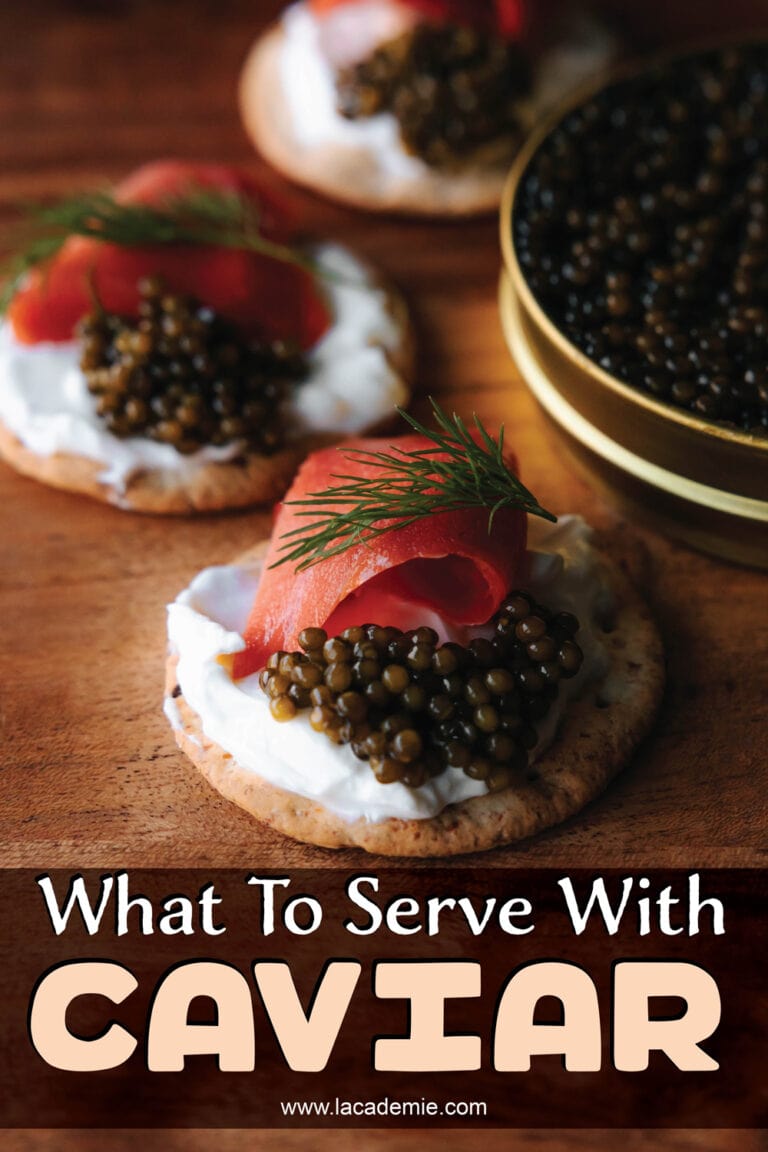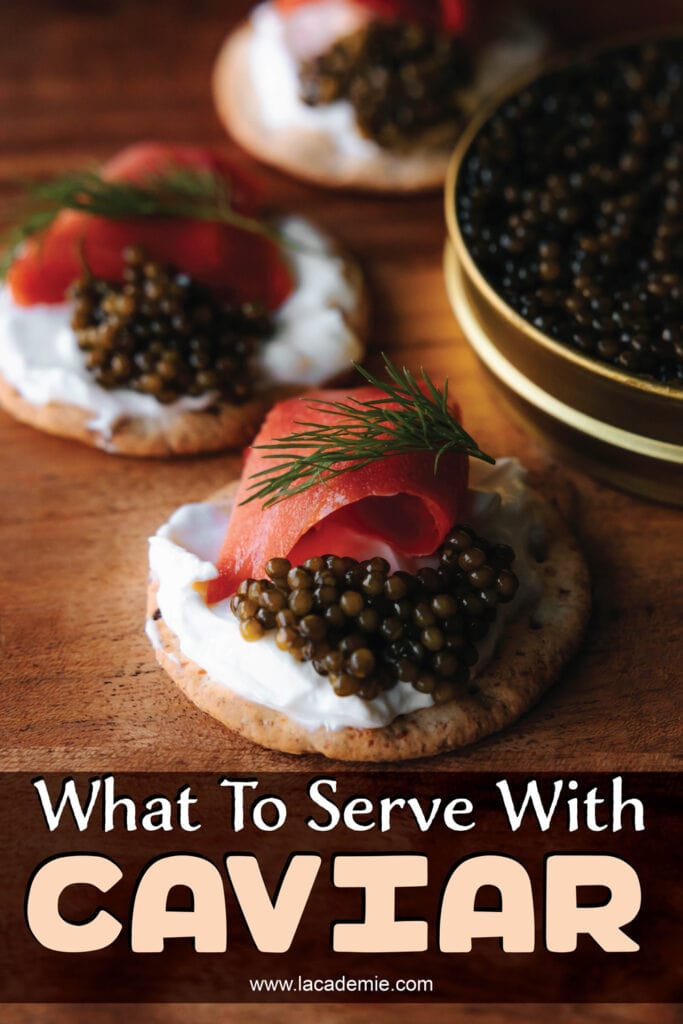 References
En.wikipedia.org. 2021. Caviar – Wikipedia.
2021. [online] Available at: <https://fdc.nal.usda.gov/fdc-app.html#/food-details/1099086/nutrients>.