Why should you know about different types of caviar? Isn't it a fancy food variety with an exorbitant price that lies beyond the grasp of ordinary people? Well, scroll down to read the rest of the post, and you will find out that this isn't always true.
If you are going to expand your menu with caviar, it is even more vital to become well-versed in this matter. Not all that glitters is gold or "black gold" like caviar. This article will show you what you should look for as well as watch out for.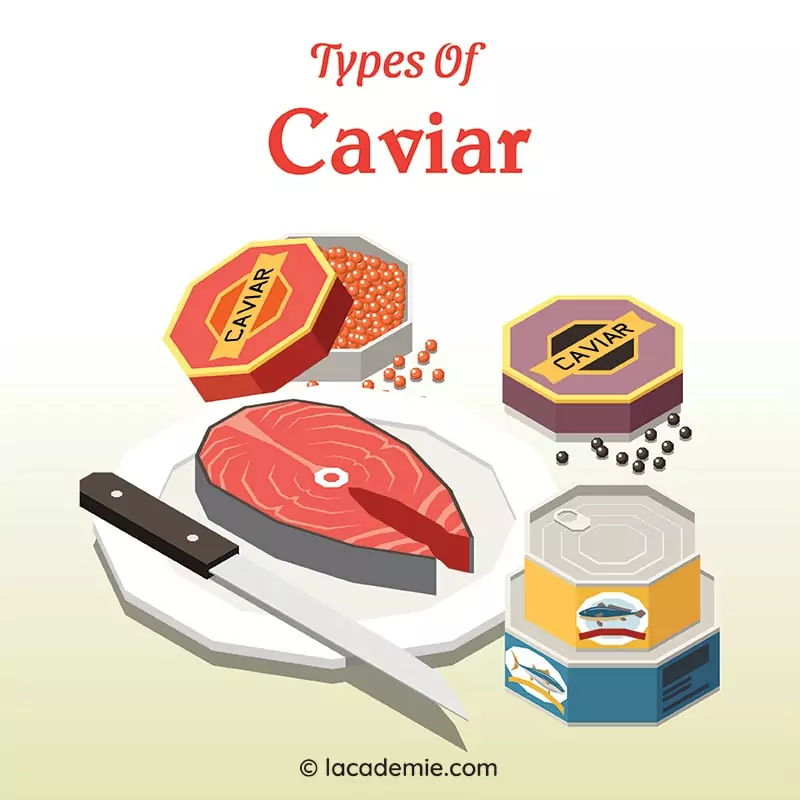 What Is Caviar?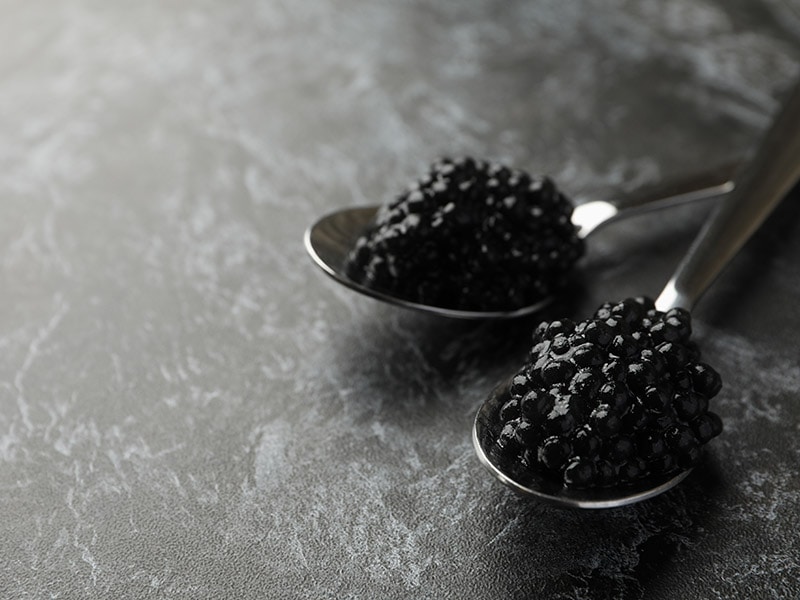 For a concise answer about the definition of caviar, it is the ripe yet unfertilized fish eggs harvested from the sturgeon. There are 27 species of sturgeons in Eurasia and North America, but only some of them produce excellent caviar.
Fish roes (a fancy term for fish eggs) are a kind of seafood, and they are no stranger to many people. Humans have consumed salmon roes, squid roes, trout roes, etc., for centuries. Nevertheless, only sturgeon-born roes deserve to be called caviar.
While caviar is always served raw, it is very safe and beneficial to your health. Pasteurized caviar comes with fewer risks, thanks to rigorous sterilization. But since it is made from second-grade caviar unfit to consume fresh, you won't get much natural flavor out of it.
10 Authentic Types Of Caviar Foodies Should Know About
It's time to tackle the crux of the problem. There are many types of caviar out there. Some are hopelessly out of the reach of the masses, while others are closer than you think. I'm going to tell you everything about them. Rest assured that they are all real caviar, not fish roes in disguise.
| Type Of Caviar | Origin | Color | Flavor | Expensive? |
| --- | --- | --- | --- | --- |
| Beluga caviar | The Caspian Sea | Black, dark silver, and gray | Mild, sweet, umami-packed | Yes |
| Osetra caviar | The Caspian Sea | Black, amber, and golden | Rich, nutty, a little salty | Yes |
| Sevruga caviar | The Caspian Sea | Black, gray, and silver | Crisp, sweet, slightly briny | Yes |
| Kaluga caviar | The Amur River | Black, amber, dark brown, and gold | Earthly, buttery, mildly salty | Yes |
| Amur caviar | The Amur River | Brown, amber, and gold | Rich and nutty with a salty undertone | Yes |
| Siberian caviar | Siberia | Black and reddish-brown | Intensely buttery and slightly salty | Yes |
| Hackleback caviar | The Missouri River and Mississippi River | Black, dark gray, and, in some cases, green | Deeply sweet, creamy, and nutty | No |
| White sturgeon caviar | The Missouri River and Mississippi River | Black, brown, and amber. | Creamy, sweet, a little fishy | No |
| Sterlet caviar | The Caspian Sea, Black Sea, Azov Sea, Siberia | Gray and amber | Subtly sweet and nutty | No |
| Adriatic caviar | The Adriatic Sea | Black and gray | Sweet, buttery, and slightly salty | No |
1. Beluga Caviar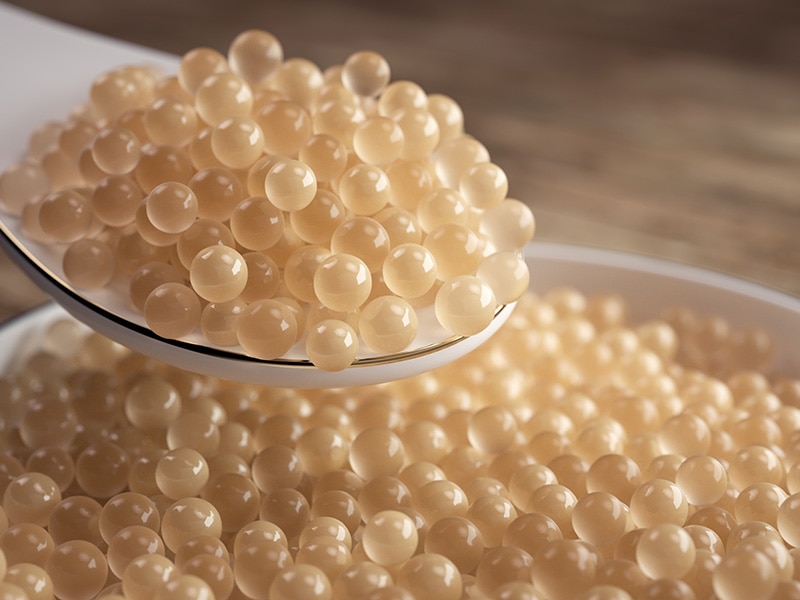 Ask anyone in the know about caviar, and they will tell you that the best variety with the best taste of caviar is this one. Beluga caviar comes from the roe of the beluga sturgeon, which lives mainly in the Caspian Sea.
This type of caviar displays everything that sublime caviar should have: a mild aroma, finely grained pearls, a smooth texture, and an umami-packed flavor that melts away in your mouth. It is also crispy and will pop up pleasantly when you twirl your tongue.
Beluga caviar is usually black, but it can sometimes be dark silver and disparate shades of gray. But you will have great difficulties finding it.
Since the wild beluga sturgeon population is on the verge of extinction, some countries, including America, have made importing caviar illegal. The good news is that farmed beluga caviar is available, albeit in a limited quantity and at a very high cost.
Anyway, the title for the world's most expensive caviar goes to the Almas variety of the Iranian albino beluga sturgeon. One kilogram of it costs as much as half a kilogram of real gold.
Currently, only one farm in America can supply beluga caviar.
2. Osetra Caviar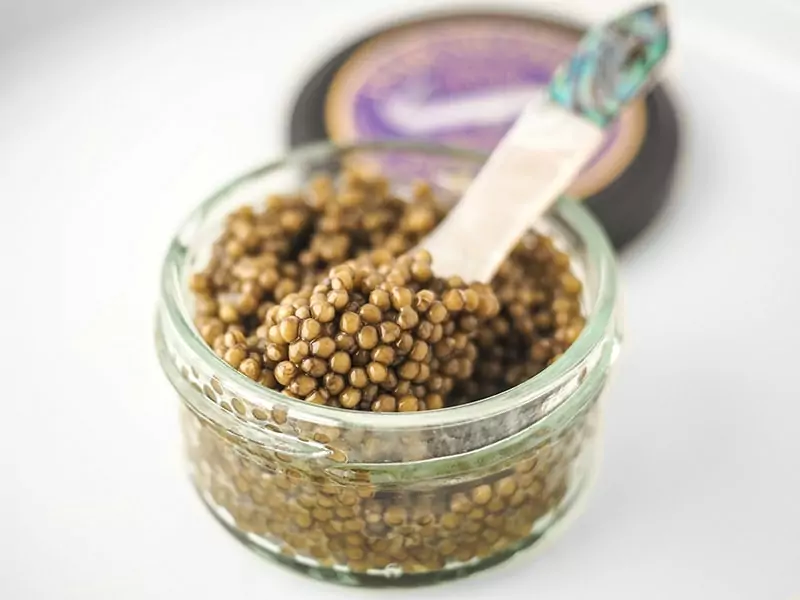 Stay away from caviar that smells fishy, literally. When it comes to the scent of good caviar, the rule of thumb dictates that the milder, the better. So Osetra caviar, with its tantalizingly subtle essence of oceans, is a choice that no caviar lover can't turn away.
Many people hold that the nutty richness and slightly salty taste of Osetra caviar are second only to the best beluga caviar. That is no coincidence because the magnificent Caspian Sea is also the natural habitat of the osetra sturgeon.
The color of osetra caviar can range from black to amber. The longer the osetra sturgeon lives, the lighter its roe will be in color and the more expensive it will be. Sometimes, this type of caviar can come in a brilliant gold form, which fetches an even higher price.
While the osetra sturgeon is an endangered animal, its caviar doesn't earn a place on the American government's blacklist. One possible reason is the proliferation of osetra sturgeon farms in many countries.
Due to the more bountiful supply, this type of sturgeon is cheaper than beluga caviar. But make no mistake: It dwarfs almost all other varieties in terms of priciness. As a result, a party with osetra caviar will never fail to wow your guests.
3. Sevruga Caviar
One of the best things about high-quality caviar is how the eggs burst open under pressure from your tongue and release an incredibly buttery mouthfeel.
That sensation is usually called the "Caspian pop" because the roe of sturgeons from the Sea usually has it, such as sevruga caviar.
This caviar variety is immensely expensive but less so than the other two Capsian ones. Moreover, it is easier to come by and available in a larger quantity. Another plus point is that it has a heavenly taste, though a little brinier.
Since the sevruga sturgeon has a modest size, its roe likewise consists of smaller beads than other types of caviar. But their uniformity of shape can easily impress any connoisseur out there. The caviar's color usually represents different shades of black, gray, and silver.
4. Kaluga Caviar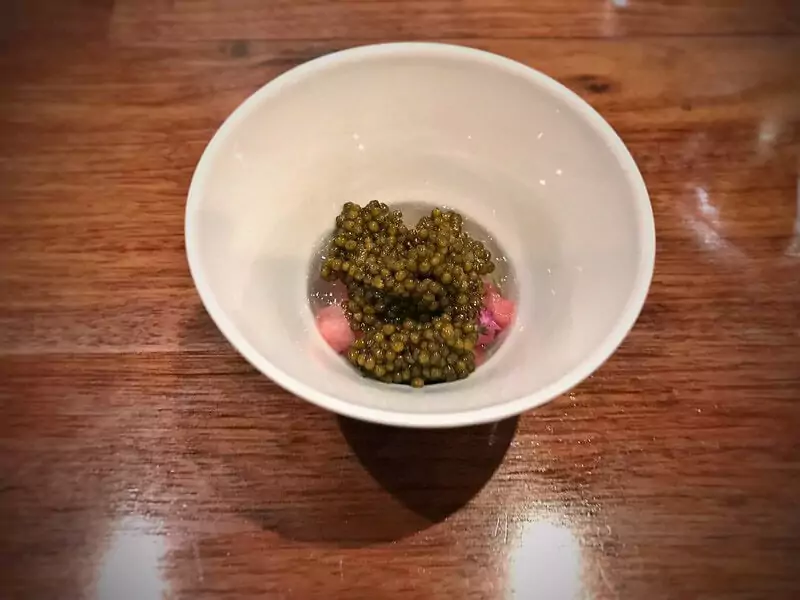 Allegedly the largest freshwater fish in the world, the kaluga sturgeon swims freely in the Amur River basin spanning over Russia and China. It is a fierce predator that feeds on smaller fish. But what really sets this fish apart is their amazing roe.
Some people describe its taste as a blend of earthy, buttery, and mildly salty flavors. Most importantly, they compare it quite favorably with the divine beluga caviar. If you're looking for a beluga substitute, the kaluga variety will fill in the void nicely.
Besides, it tends to be less expensive than other Caspian types of caviar. However, beware that it still costs a fortune, especially the sought-after golden kaluga caviar. Besides that rare color, a normal batch of this caviar can be black, amber, and dark brown.
5. Amur Caviar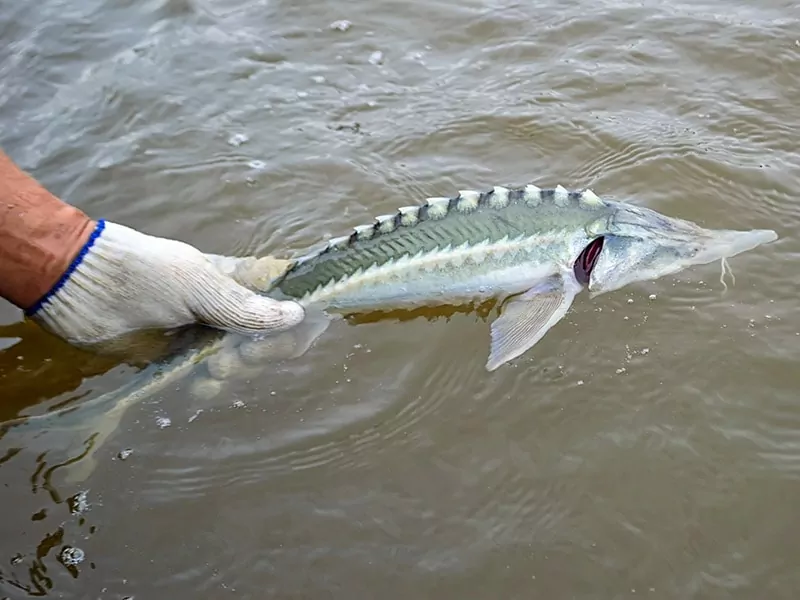 Kaluga caviar isn't the only luxury that the amazing Amur River can offer. Its Amur sturgeon lurks beneath the roaring waters. Its roe is a wonderful treat that not many have the fortune to run into.
The most intriguing characteristic of Amur caviar is the lack of blackness. It mostly comes in shades of brown, amber, and valuable gold.
If you entertain the opinion that darker caviar tastes better, brace yourself for the umami-packed richness of lightly-colored Amur caviar. Its grains are of medium size, but the superb flavor and fragrance this type of caviar showcases is of a grand scale.
People sometimes mistake Amur caviar for the Kaluga one because both come from the same place. The two types are also similarly expensive.
6. Siberian Caviar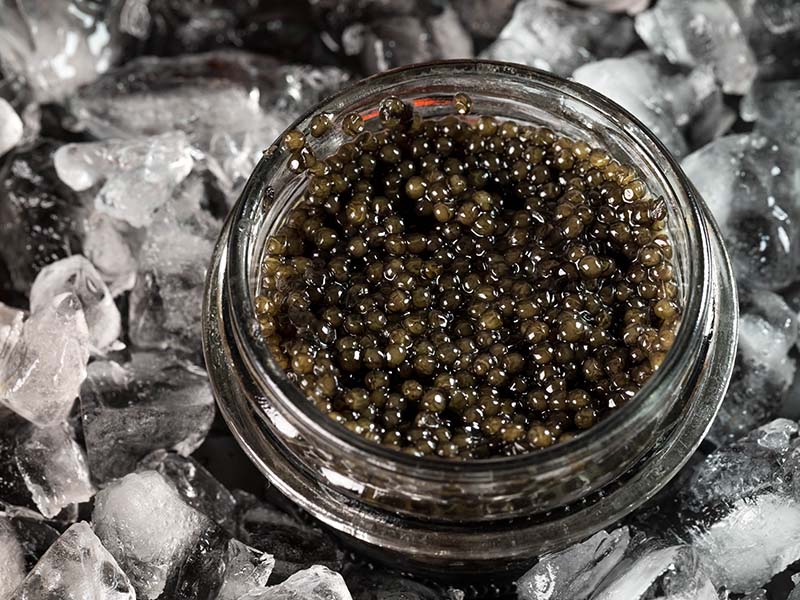 Siberia doesn't only have cold weather, lakes, taiga forests, and bears. It also produces a mouth-watering culinary wonder: the caviar from its large Siberian sturgeon. While the fish is an endangered species, the high number of fisheries ensures a sustainable supply of caviar.
The common colors of Siberian caviar are black as well as reddish-brown. While of the same round shape, the caviar grains have an insignificantly small to medium size.
But hidden inside those little beads is a firestorm of oceanic aroma and buttery richness waiting to unleash on your tongue. Siberian caviar is quite pricey, so don't forget to live every bit of enjoyment it gives you to the fullest.
If you're into this Siberian specialty, make sure that you also try Baikal caviar. It is made from the sturgeons that rule Lake Baikal's deep and cold waters in northern Siberia. Those fish feed in the richness of the lake and transfer it into their dark, delicately sweet, and nutty eggs.
7. Hackleback Caviar (Shovelnose Caviar)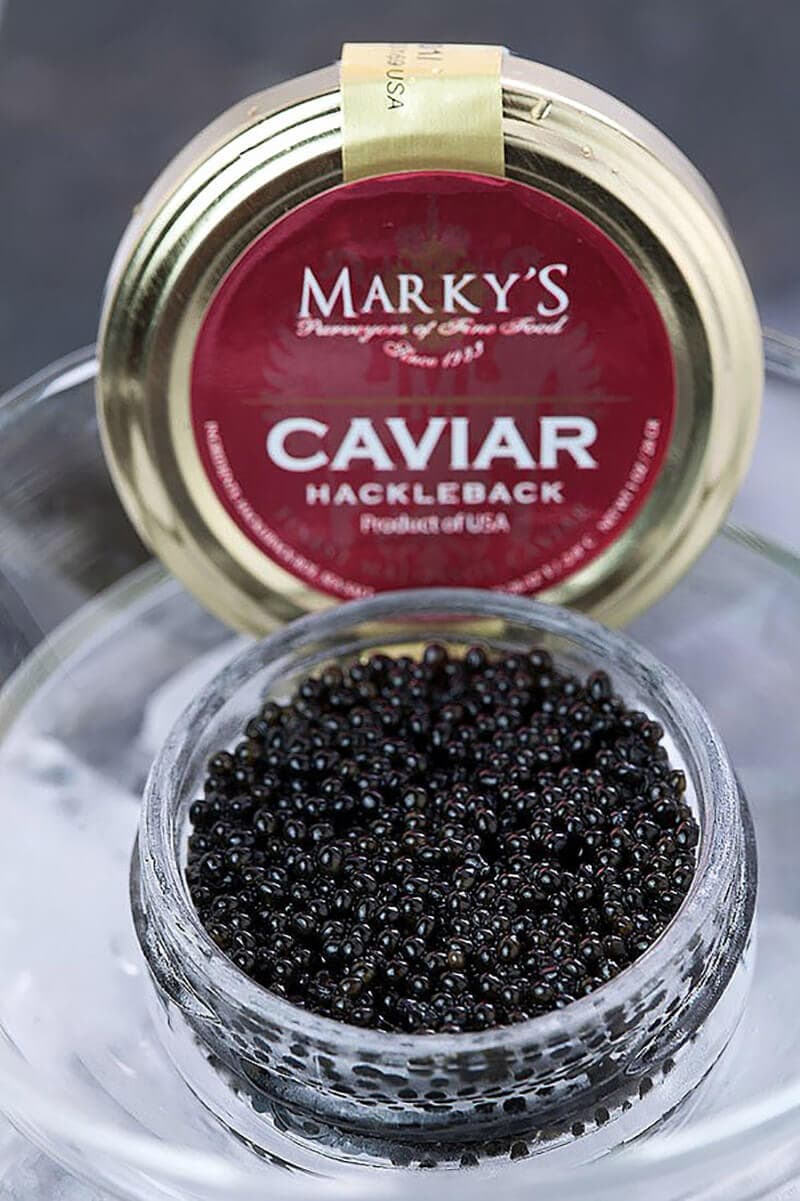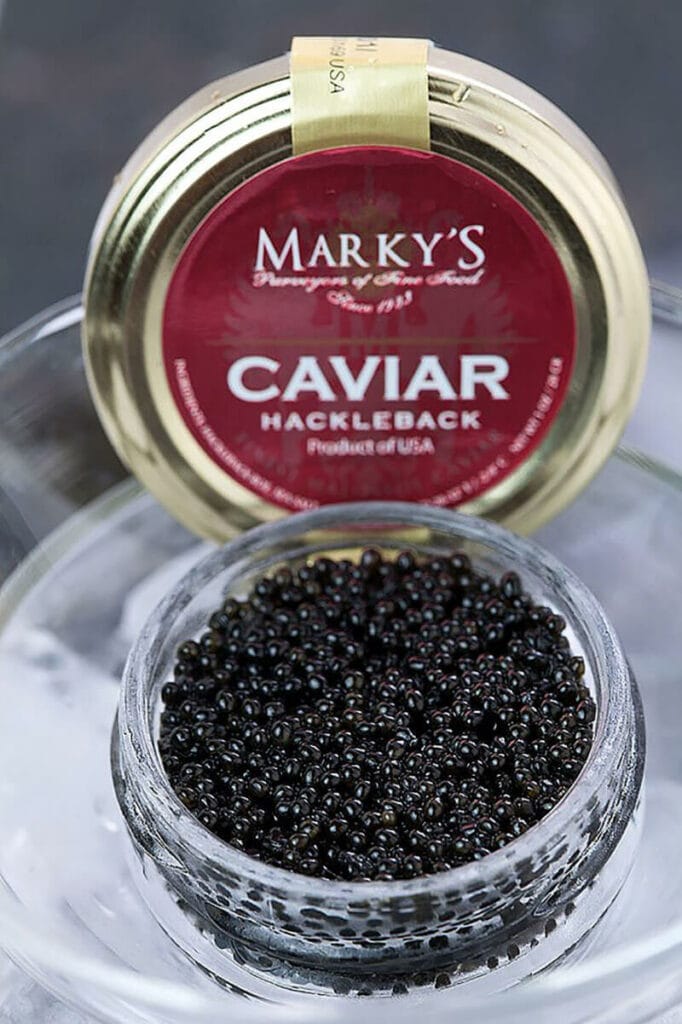 In case Caspian caviar lies teasingly beyond what you can afford, you can find excellent alternatives from other regions of the world. For example, look to the Missouri and Mississippi Rivers, which are home to the hackleback sturgeon.
The caviar made from its roe usually comes in black or dark gray. But farm hackleback sturgeons that aquafarmers raise on a wholly vegetarian diet can have a striking green hue.
The taste is intensely rich and sweet without the subtle hints of saltiness or oceanic aroma that premier varieties are known for. Therefore, while it is a delight, most people consider it inferior to the Caspian specialties.
Nevertheless, unless you are a very sensitive eater, the differences are inadequate to discourage you from trying it.
Besides, its creamy nuttiness and crisp texture are quite pleasant to savor. In fact, many 19th-century unscrupulous vendors convincingly passed it off as "Russian caviar".
In the old days of America, the hackleback sturgeon stock was so plentiful that its caviar was cheap-dirt and a ubiquitous sight at many dining establishments. Today, despite the recognition of its quality, hackleback caviar is still much more affordable than imported products.
8. White Sturgeon Caviar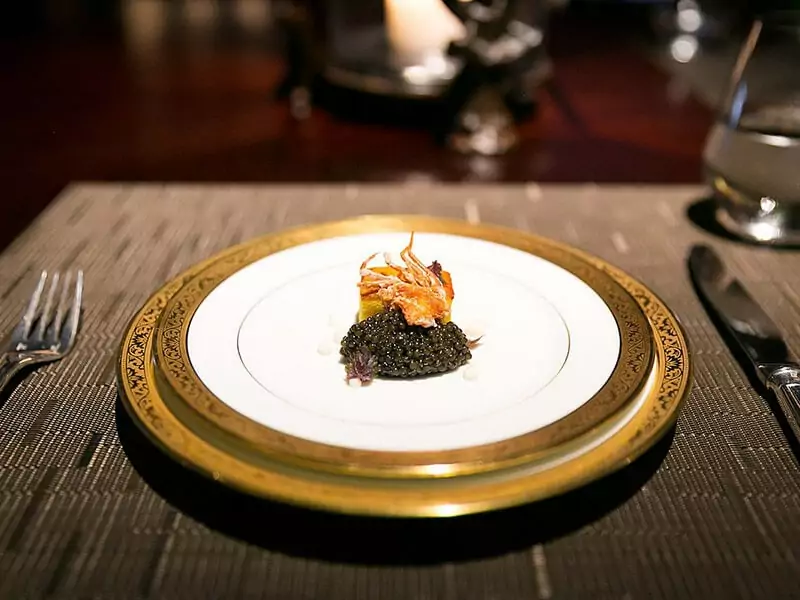 What is the color of white sturgeon caviar? Don't say "white" because the answer is anything between jet-black, brown, and amber. Along with hackleback caviar, this type of caviar is a courtesy of the mighty Missouri and Mississippi Rivers.
Before the modern days, white sturgeon caviar was a delicious treat that American people took for granted. Today, folks have learned to appreciate its even and big beads, its creamy texture, as well as its delicately fishy sweetness.
In terms of luxury status, white sturgeon caviar is unlikely to win against Caspian delicacies. But its delicious taste and affordability will allow you to enjoy a fascinating caviar experience.
There are many sorts of white sturgeon caviar, but the most well-known one is arguably transmontanus caviar. It is harvested from indigenous white sturgeons raised in California. Besides the usual taste of nuttiness, this type of caviar also has very mildly floral notes.
9. Sterlet Caviar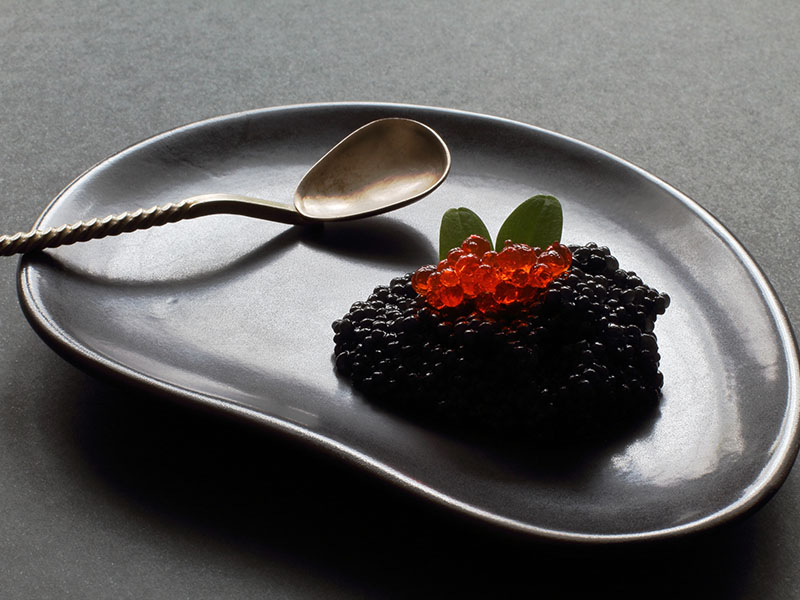 Is there any sort of Caspian caviar that I can enjoy without going bankrupt? Sterlet caviar is the answer to your prayer. It's not exactly Caspian because the sterlet sturgeon also lives in rivers around the Black Sea, Siberia, and Mongolia, but it is quite as close as you can get.
The grains of this caviar might be small in size, but their subtle aroma and buttery sweetness are mightily enjoyable. Unlike other types of caviar, the sterlet kind isn't usually black but displays different hues of gray with amber tones.
The sterlet sturgeon grows much faster than its kindred, making the fish easy and profitable to raise in aquafarms. Thanks to that virtue, it makes affordable Russian caviar a reality. You would be delighted to know that sterlet caviar costs relatively the same as the hackleback variety.
10. Adriatic Caviar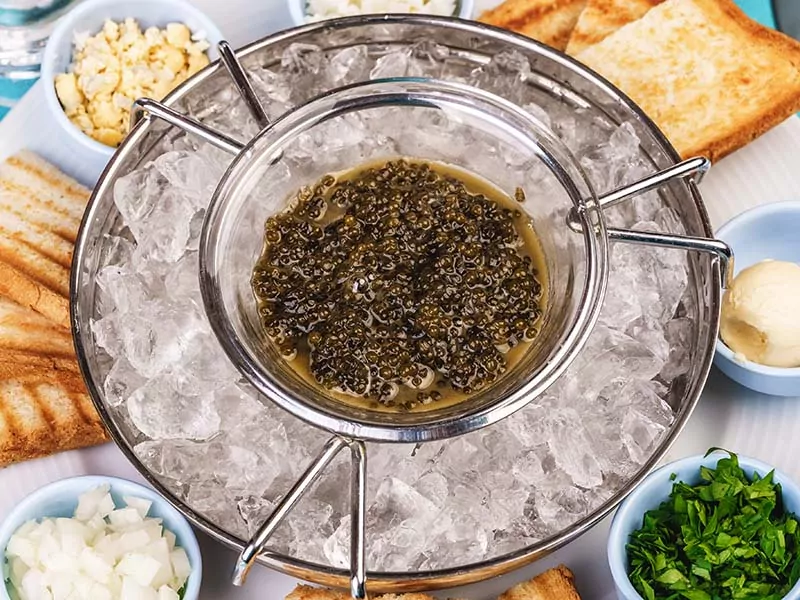 The rich Adriatic and its inland river tributaries are the breeding ground of the great Adriatic sturgeon. The fish has been brought to many countries for aquafarming, namely Spain, with commendable successes.
Adriatic caviar includes black or gray beads with considerable firmness and evenness in size. It also possesses an elegantly sweet and buttery flavor that lingers longingly at the back of your tongue.
Its silky texture that hides a tantalizing touch of saltiness is another advantage. While hailing Adriatic caviar as being on par with premier varieties from the Caspian Sea is an exaggeration, saying that it is an affordable and wonderful pleasure to enjoy isn't.
Here is a glimpse into several different types of caviar.
9 Sorts Of Fish Roe To Substitute For Real Caviar
Enough talking about the real caviar. If you want to widen your culinary knowledge, it's a good idea to include your fish roes on the menu. Affordability isn't their only advantage as you're going to find out how delicious they can be.
| Type Of Fish Roe | Color | Flavor |
| --- | --- | --- |
| Salmon roe | Bright red | Sweet, nutty, a little salty |
| Trout roe | Bright orange | Briny, clear, and sweet |
| Lumpfish roe | Gray (natural), black and red (dyed) | Sweet and salty |
| Bowfin roe | Black | Earthy and tangy |
| Capelin roe | Pale orange (natural), bright colors (dyed) | Mild |
| Paddlefish roe | Black, gray, and golden brown | Rich, nutty, and complex |
| Tobiko | A mix of red and orange | Tangy and slightly smoky |
| Cod roe | Red and orange | Mild and briny |
| Whitefish roe | Bright gold or orange | Refined and buttery |
11. Salmon Roe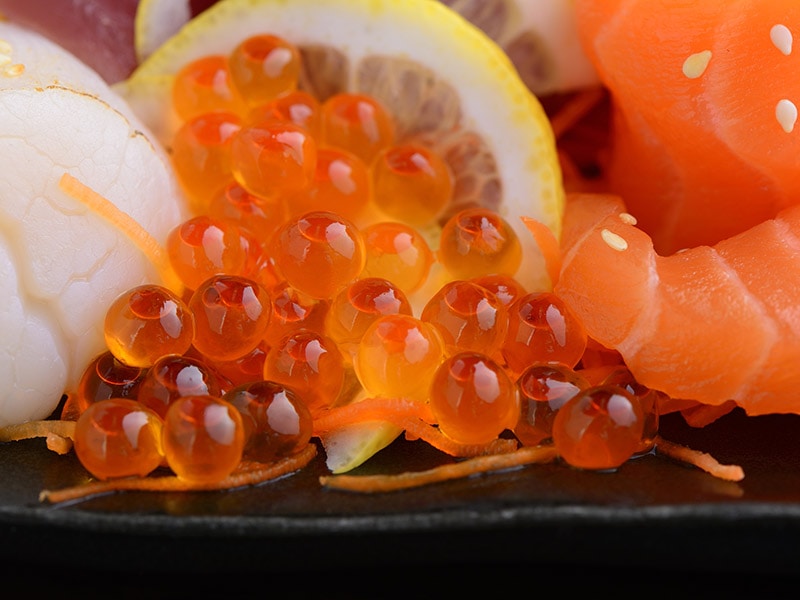 If you're looking for a caviar substitute, salmon roe is your guy. Ranging from pink to bright red in color, it will beautifully adorn your bread, sushi, or any dish you want to spread those vibrant pearls over.
Salmon roes can vary widely in size, but they are usually bigger than most types of caviar. Those creamy eggs are soft and sweetly nutty, with a fishy smell unique to salmon. This kind of roe is popular throughout the world, especially in Japan and Korea.
Learn how to prepare salmon roe for your meal here.
12. (Rainbow) Trout Roe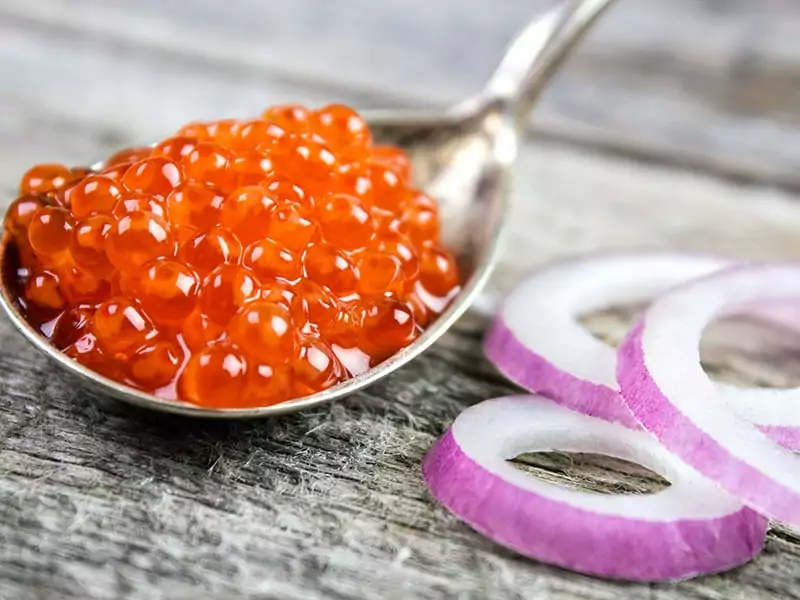 These small-sized eggs can pop up in your mouth and give out a burst of flavors like premier caviar. They release a wonderfully briny and clear taste that must be served raw to achieve perfection. While people usually say rainbow trout roe, it usually has a bright orange color.
13. Lumpfish Roe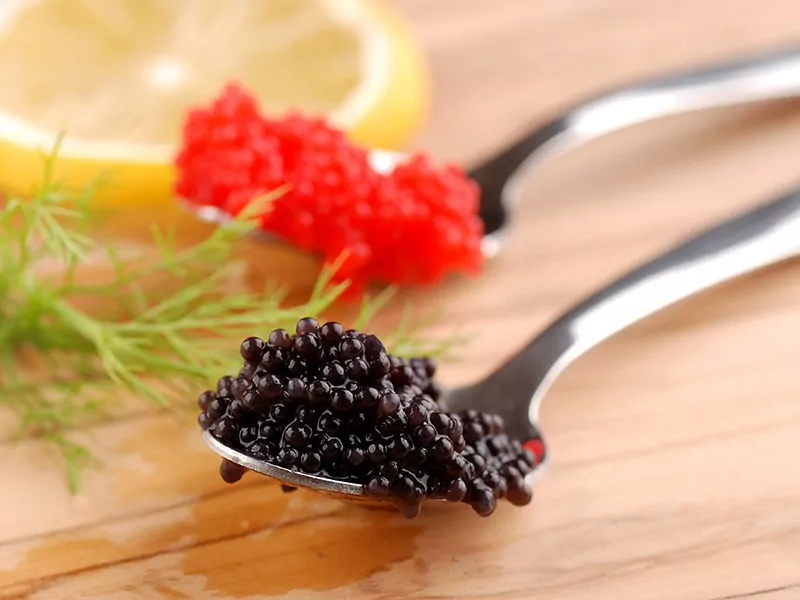 Since female lumpfish spawn up to 200,000 eggs at a time, the lumpfish roe naturally has a tiny size. But the rich combination of sweet and salty flavors that it offers is quite amazing. While natural lumpfish eggs are gray, vendors sometimes dye them black or bright red.
14. Bowfin Roe
The bowfin is something of a "living fossil" because it isn't very different from primitive fish. But its earthly, delicately tangy eggs are as mouth-watering as any modern caviar. Those shiny, jet-black eggs also come with a distinct flavor carrying a maritime aroma and hints of spice.
15. Capelin Roe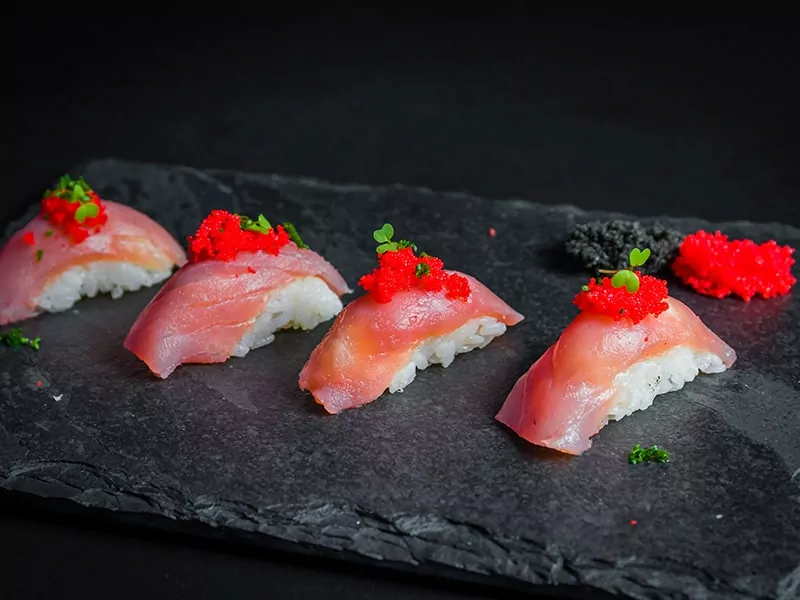 One of the cheapest fish roes in the market, capelin eggs are a perfect caviar replacement for people who want to practice economy. Their original color is pale yellow, but vendors usually dye the eggs in vibrant colors.
Capelin roe is usually known by its Japanese name, "masago". It is a highly-rated ingredient for various sushi rolls, seafood dishes, or salad toppings.
The main reason behind that appreciation is its crunchy texture, colorful appearance, along with a mild flavor good to go with strong spices.
16. Paddlefish Roe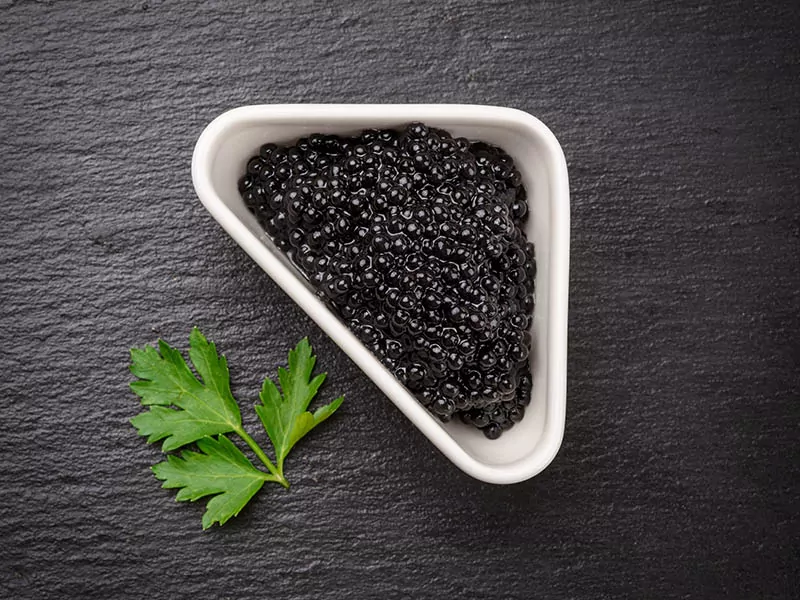 In case you need something that imitates the sublime perfection of Caspian caviar, paddlefish roe will play the role impeccably. It has a rich and complex flavor paired with earthly nuttiness. This freshwater roe is frequently available in black, gray, and golden brown.
17. Tobiko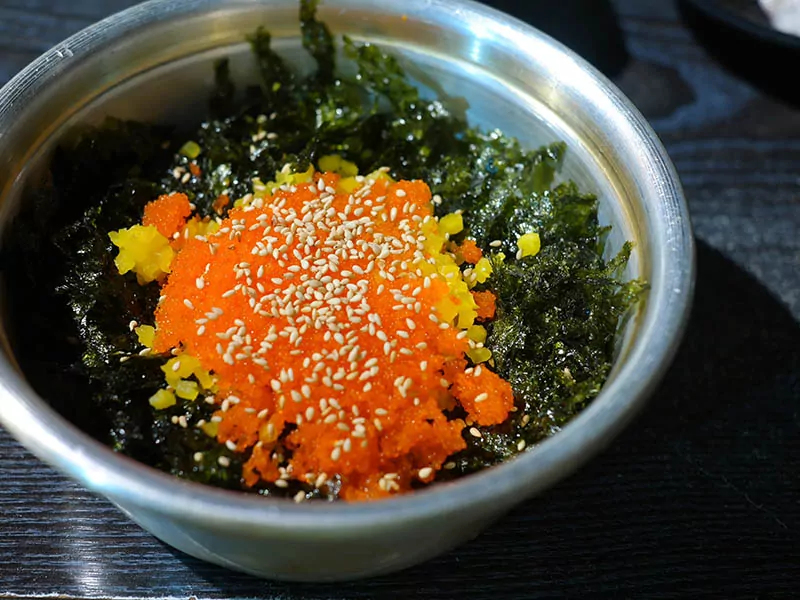 Tobiko is the Japanese name for flying fish roe and, as you can guess, a vital ingredient in many sushi dishes. Those medium-sized eggs naturally come in a red-orange color, although people tend to dye them in other shades.
Tobiko's crisp texture, tangy nuttiness, and faintly smoky notes are the highlight of countless seafood dishes. In addition, the roe's richness of vitamin B12, selenium, and omega-3 fats can protect your heart and liver as well as improve your immunity.
Check this awesome guide for making California rolls with tobiko at home.
18. Cod Roe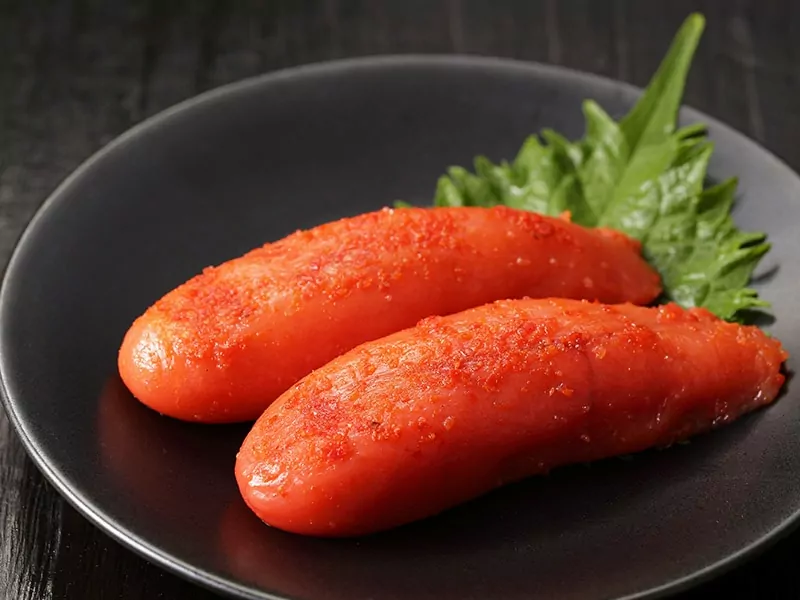 Contrary to other sorts of fish roe, cod roe doesn't consist of loose eggs. Instead, people harvest it as a single, intact ovarian sac. Therefore, you have to cut it into thin slices before enjoying cod roe.
Another different thing about cod egg sac is that you can use it in cooking, not just enjoy it raw. This red/ orange, salty, mild-tasting delicacy will make a great addition to your dinner table. People in Japan and Scandinavia especially enjoy this delicacy.
19. Whitefish Roe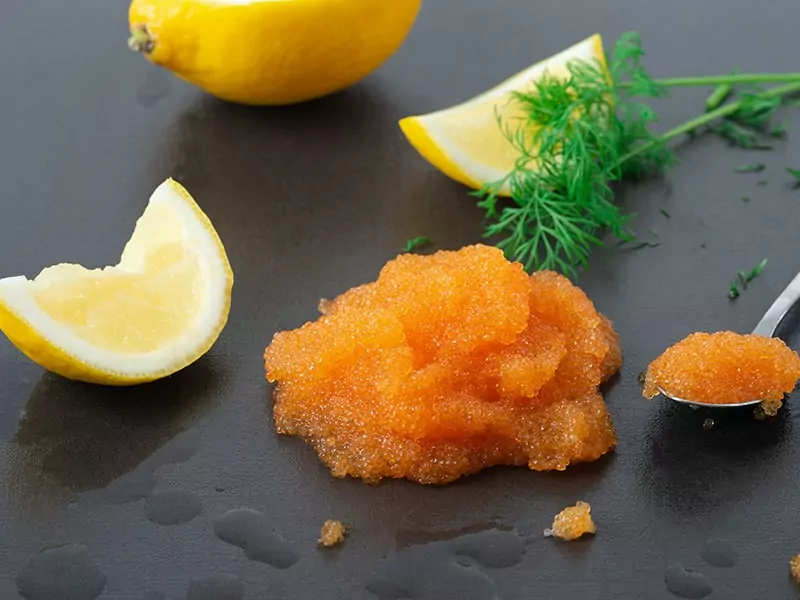 As the case with white sturgeon caviar, whitefish roe isn't white but brilliantly gold or orange. Their luminous pearls are extra crunchy and will burst open with every movement of your tongue. Once they do, your taste buds will be bathed in a refined, buttery flavor.
Other Facts You Should Know About Caviar
There is other essential information about this foodstuff that you should know. It is more interesting than you give credit for.
Is Caviar Vegan Or Vegetarian?
In this aspect, the most important thing to know is that caviar is considered something like an animal product. So for people following a strictly vegan lifestyle that only permits plant-based foods, caviar is a no-go.
But if you adhere to a vegetarian diet, there is still hope for you to enjoy this delicacy. Vegetarianism takes on many forms, some of which allow the consumption of eggs, in general, and caviar (fish eggs) in particular.
For example, lacto-ovo vegetarianism, pescetarianism, and pollotarianism are three caviar-friendly vegetarian diets. The first one excludes various animal products but allows eggs, while the other two don't discriminate against animal products at all.
As for followers of lacto-ovo vegetarianism, however, there is still controversy involved. Many people refuse to consider caviar to be on par with other types of eggs because its production usually kills the sturgeon. If you agree with them, then caviar is off-limits, and vice versa.
Therefore, the vegetarian suitability of caviar isn't the same for different people. Whether it is suitable for you or not depends on your type of diet as much as your personal opinion.
Caviar Vs. Fish Roes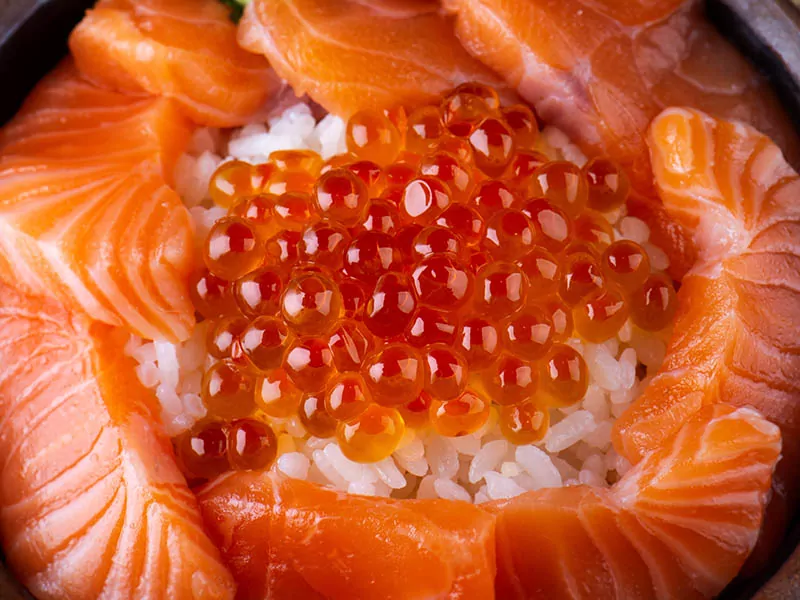 Perhaps a troublesome question is nagging at the back of your mind right now: If caviar is the roe of sturgeon, why do I see all kinds of weird caviar out there? Paddlefish caviar, trout caviar, and salmon caviar are a few notable examples. The answer is in two words: False advertising.
In America and many other countries, it is an accepted practice to brand non-sturgeon roes as caviar, provided that manufacturers signify explicitly in their labels what kind of fish eggs they use. That's why you see products whose labeling says "Capelin caviar" and the like.
In short, caviar is fish roe, but not all kinds of fish roe are authentic caviar. Don't get me wrong: normal fish eggs are tasty and affordable.
However, they can't compare with the unique flavor found in caviar. Besides, in terms of classiness, fish roes can rival the "black gold" that sturgeons produce.
What Color Is Caviar?
Caviar is always black, right? The answer is a big no because caviar is available in many colors. Even truly black caviar can come in multiple varieties, from jet-black to a light shade bordering on gray.
Besides the color of the night, ordinary caviar can also be silver, brown, or gray of different shades and hues. Meanwhile, there are also the extremely rare and expensive white caviar from albino sturgeons and the much-coveted gold caviar occasionally produced by normal sturgeons.
In addition, farm sturgeons fed on a 100% plant-based diet will create beautiful green caviar. Except for that instance, you can rarely find genuine caviar of vibrant colors such as red or orange. Some vendors may dye their goods, but that's not how to treat caviar of high quality.
Why Is Caviar So Expensive?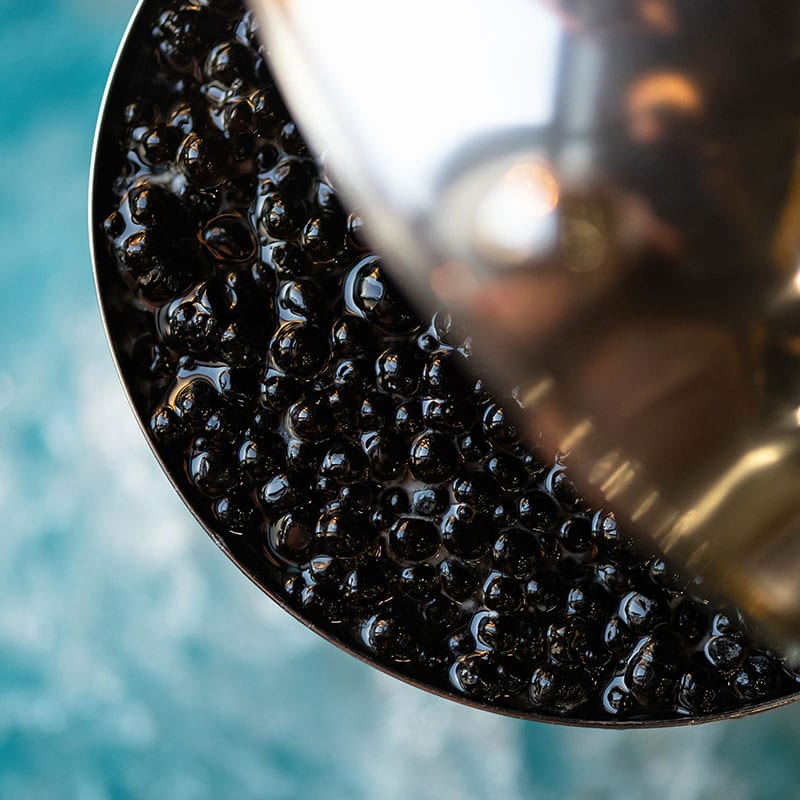 Many reasons drive up the cost of caviar. The most important one is its deeply-rooted status in people's imagination as a precious delicacy. That's what it has been for centuries and will continue to be in the future.
Besides, it takes an extremely long time and a laborious process to produce excellent caviar. A sturgeon needs from 8 to 20 years to produce its first, and possibly its last, batch of eggs. Then, people have to harvest and cure the eggs by hand, which makes caviar even costlier.
Lastly, while sturgeon aquafarms are popping up around the world, the global appetite for caviar is growing incessantly more ravenous. It will take some time to close the gap between supply and demand and reduce the price.
However, not all types of caviar go hand in hand with sky-high price tags. For example, the world's best caviar, usually from the Caspian Sea, will certainly cost you an arm and a leg. By contrast, the price of American sturgeon-born caviar is relatively much more reasonable.
Witness how meticulous it is to harvest and process caviar here.
Check Out These Useful Tips For Buying And Serving Caviar Properly
Can I buy caviar online? Is it acceptable to keep it in the refrigerator? What should I serve it with? These questions and more will be answered in this section.
Don't Go To The Supermarket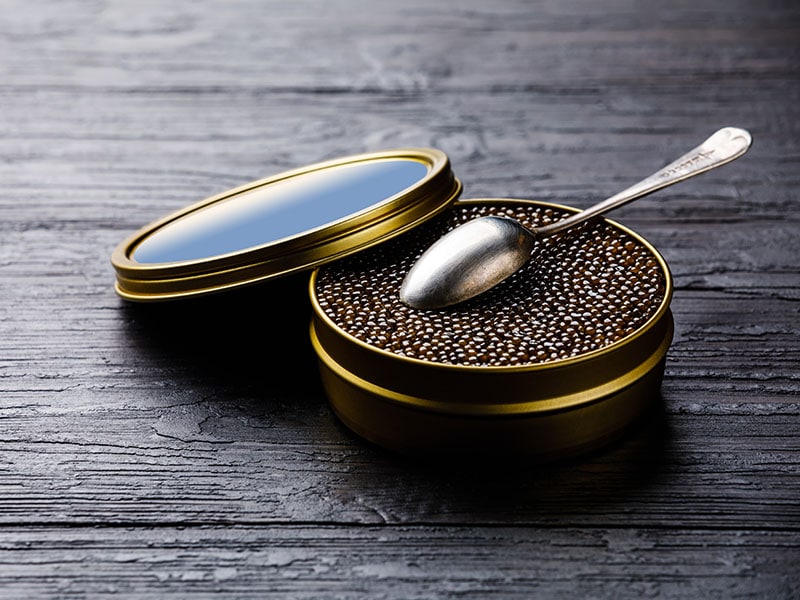 Caviar is something of a niche food. That means you will have more chances of getting good caviar at specialized shops rather than general marketplaces or supermarkets. A gourmet store devoted to fine foods, preferably with a website for online orders, is your best bet.
Dare To Taste For The Best Product
The quality of caviar can vary considerably from one tin to another. This discrepancy causes prior experiences to count little. The only way to guarantee the best purchase is to ask the vendor to let you taste the product before buying it.
If they refuse, you should consider shopping somewhere else. Of course, some situations make producing tasting impossible, such as when you engage in online shopping. In this case, you should choose a reputable retailer, ideally one with perfect customer reviews.
Don't Cook Or Freeze Caviar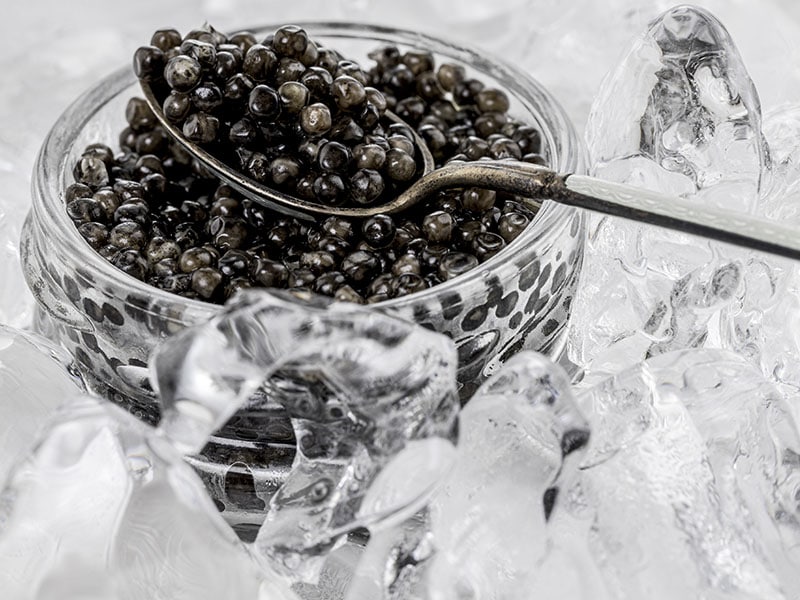 Cooking is the optimal way to ruin the unique flavor of your hard-earned caviar, and so is freezing. You can only store it in the refrigerator, which enables you to store unopened cans of caviar for 4 weeks at most.
Caviar is easy to spoil, so once you open it, make sure to use it quickly. Any leftover must be kept in plastic wraps and returned to the refrigerator.
You can preserve it for a maximum of 3 more days, supposing that you change the temperature settings to between 0°C and 5°C.
Use Special Utensils For Special Foods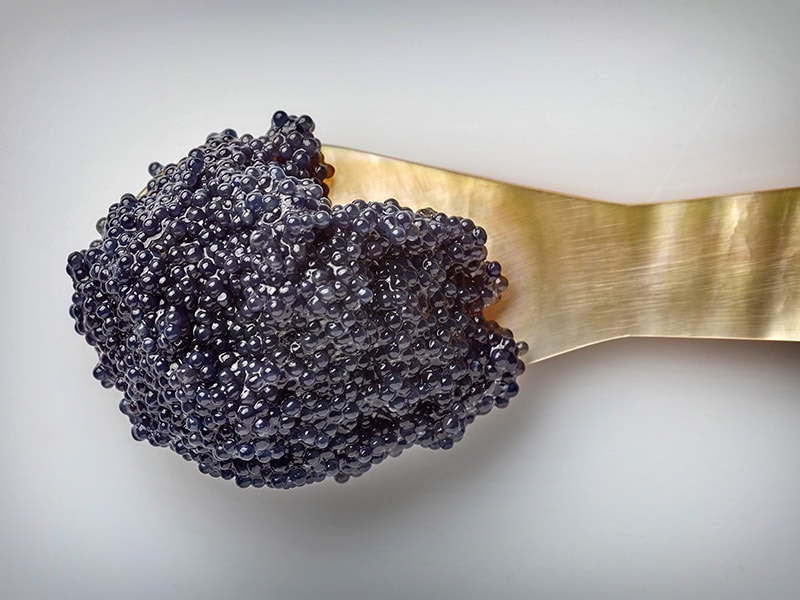 The all-important thing about serving caviar is to keep metallic utensils out. Otherwise, your caviar will absorb the metallic taste and turn unpleasantly bitter and acidic. Contrary to popular belief, silverware is unsuitable to go with caviar.
Don't be upset because the list of inert materials that can handle caviar is quite long. Affordable options are wood, bamboo, stainless steel, etc. If they are too mundane for you, go for animal horns, glass, or porcelain.
For those looking for something equally luxurious to pair with their premium caviar, mother-of-pearl and gold-plated bowls or spoons are the supreme choices.
Enjoy Caviar Alone First
A wide array of side dishes and drinks can go with caviar, such as unsalted bread, sour cream, oysters, or champagne. However, you should enjoy a small amount of plain caviar first if you wish to discover its delicious richness.
The appropriate serving amounts to no less than half a spoonful (about 8 grams) at a time. Don't use your teeth since the crisp caviar beads will pop up as soon as you move your tongue. Close your eyes and let the nutty sensation they produce rush from your taste buds to your heart.
Now, it is time to scoop another half a spoonful and replicate the enjoyment. Remember not to be too greedy with your caviar. After all, it is a rich food that is likely to spoil your appetite unless consumed in moderation.
Learn how to serve caviar with style here.
Since caviar is highly sensitive to heat, it is no easy task to incorporate it into cooking recipes. But that doesn't stop foodies from devising mouth-watering recipes with caviar. Check out the following ones for a new window into how to enjoy this sea breeze-smelling food.
One of the most popular side dishes to go with caviar is the traditional Slavic pancake, Blini. This delectable blend of buckwheat flour, cream, and egg yolks can be found at any caviar party. It is the perfect background to compliment the salty goodness of that delicacy.
Hard-boiled eggs are what many people usually pair with caviar. Although they are sweet and creamy, don't you think your caviar deserves something more sophisticated? Try your hand at making spicy deviled eggs which will bring the richness of caviar to a whole new level.
Cooking deviled eggs to go with caviar isn't time-consuming at all when you have this guide.
This version of pasta isn't so different from what you usually whip up for a quick meal, just some lasagne or macaroni with Italian cheese and a generous dollop of black caviar. You will be amazed at how such a simple addition can go a long way to enhance the value of your pasta.
All kinds of pies are cooked or baked, except for this one. It is made from caviar and a pureed mixture of mayonnaise, eggs, cheese, and onions. A caviar pie has a creamy sweetness and powerful richness that you seldom find in other desserts.
When Are You Going To Enjoy Caviar?
So this is the end of our little tour to the 50 shades of gray/ black caviar. As you can see, this delicacy can come in many colors and prices. It is possible to put caviar on your dinner table without having to go broke.
When you go shopping for caviar, it's crucial to tell the difference between caviar and fish roe. Equally important is serving caviar in the correct way so that you can get the best out of this amazing food.
Please share my post if you find it useful. If you have any questions to ask or experience to tell, please leave a comment in the section below. Many thanks and see you soon!