Believe it or not, "What color is caviar?", "How to serve caviar", and "Should caviar be considered vegan or vegetarian" are some of the questions that change your life. It marks the milestone when you do well enough to buy and enjoy this luxury food. Congratulations!
The color of caviar is a factor to consider when you buy and store this food. It can signify some useful information you need to know to prepare a perfect dish of caviar. Therefore, the more you learn about it, the better.
In this post, I am going to show you how many colors there are for caviar and what they mean, along with some other great tips and facts. Let's scroll down and get to work!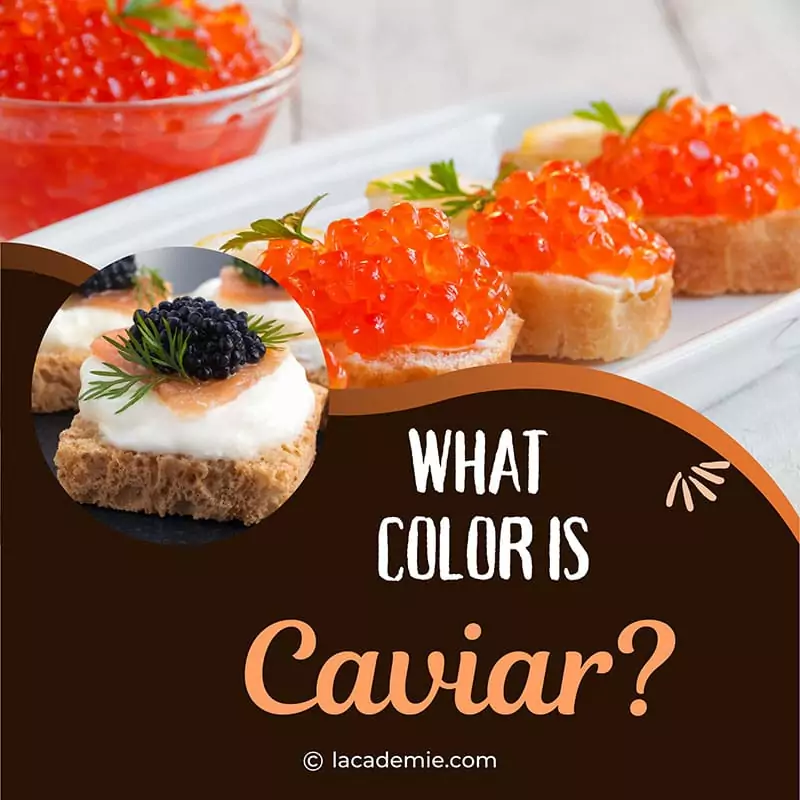 What Is Caviar? It Is More Complicated Than It Sounds
If you want to know about the colors of caviar, first you need to learn what caviar is. It is essentially fish eggs that are salted and cured. People usually refer to ripe, edible fish eggs by the term "roe" or "hard roe".
How Fish Eggs Turn Into Caviar
Caviar is a kind of food made exclusively from sturgeon roes (1). The sturgeon is a common name for 27 species of fish found in many rivers and seas around the world. The main ingredient of caviar is the eggs of sturgeons caught in the wild or farmed in fisheries.
For centuries, premier caviar was an expensive delicacy. The underlying causes for caviar's high price are many. However, the introduction of farm sturgeon has increased caviar supplies and driven down the prices. Farm caviar tastes nearly as good as wild caviar at only a fraction of the cost.
How Americans are farming Russian sturgeons to make excellent caviar.
Caviar And Fish Roe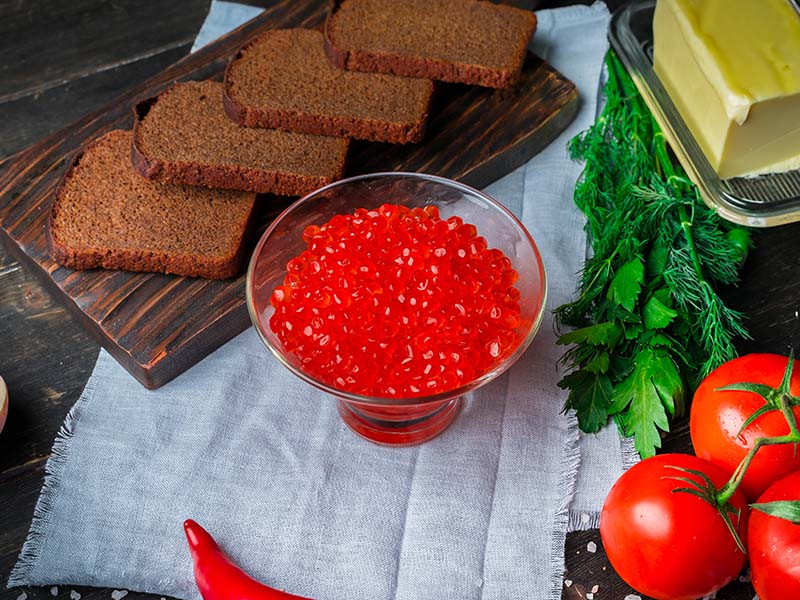 Many people use "caviar" as a generic term for all kinds of fish roe, such as "cod caviar" and "salmon caviar". Those imitators can also be called "red caviar", "yellow caviar", or "orange caviar" based on their colors. Such labeling is popular yet incorrect.
Only eggs harvested from the sturgeon family are suitable to make real caviar. For products made from non-sturgeon fish, the correct term is fish roe. When you make your purchase, be sure that you only buy authentic caviar, not some cheap knock-off with a misleading name.
Black is the dominant color of caviar, or so most people think. In popular culture, caviar is often depicted to be uniformly as dark as black pearls. In reality, it is available in many nuances of colors.
Caviar Is More Colorful Than You Think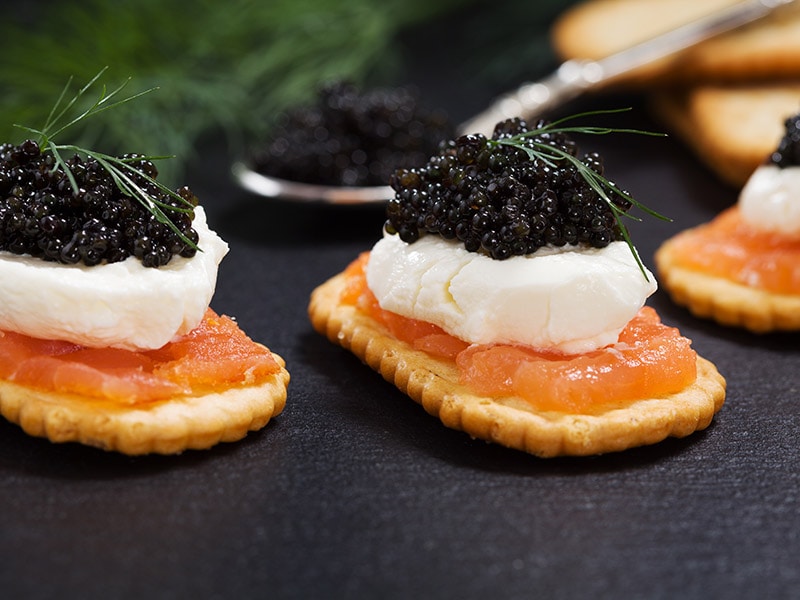 Asides from the ubiquitous black, caviar can be silver, brown, or gray in color. Each color can be further classified into light and dark shades, meaning that caviar can come in even more colors.
While caviar usually has a dark color, some batches can have a stunning gold appearance. Yellow fish roes are no big deal, but gold caviar is very rare, expensive, and sought after. It is pleasing to behold but doesn't necessarily have a superior taste.
The Importance Of Colors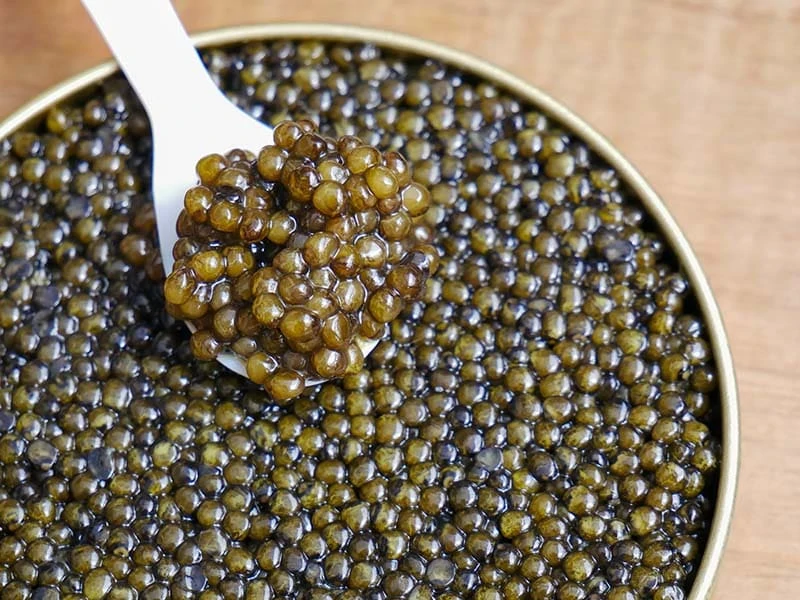 The color of caviar is totally dependent on the sturgeon species producing the roes. Other than the origin, however, it doesn't tell you about the quality, freshness, or storage method of the caviar.
Still, the color is a useful indicator of whether the caviar you buy is legitimate or not. Most non-sturgeon fish roes have really vibrant and diverse colors while real caviar is usually dark. In addition, artificial caviar made from gelatin has an oily, overly bright surface, something real caviar doesn't have.
What Colors Do Popular Types Of Caviar Have?
Of all caviar varieties around the world, the best one comes from sturgeon species living in the Black and Caspian Sea basins. However, many species outside those regions can produce equally desirable caviar.
Additionally, sturgeon farms have introduced the fish to all corners of the globe, even as remotely as Africa (2).
I will pay more attention to 3 varieties of originally Caspian caviar and 2 widely-known non-Caspian types, as well as their colors. Then I will tell you about 5 more species that are less popular but still great caviar.
To help you have a better grasp of caviar color so that you can decide which one to choose for your delicate dish featuring caviar, I will summarize this section in the table below. The first row shows colors, while the first column indicates types of caviar.
| Types Of Caviar | Black | Gray/ Brown | Silver | Amber - Gold |
| --- | --- | --- | --- | --- |
| Beluga | ✔ | ✔ | ✔ | |
| Osetra | ✔ | ✔ | | ✔ |
| Sevruga | ✔ | ✔ | ✔ | |
| Kaluga | ✔ | ✔ | | ✔ |
| Hackleback | ✔ | ✔ | | |
| Adriatic | ✔ | ✔ | | |
| Shovelnose | ✔ | ✔ | | |
| White Sturgeon | ✔ | ✔ | | ✔ |
| Siberian | ✔ | ✔ | | |
| Amur | | ✔ | | ✔ |
Beluga Caviar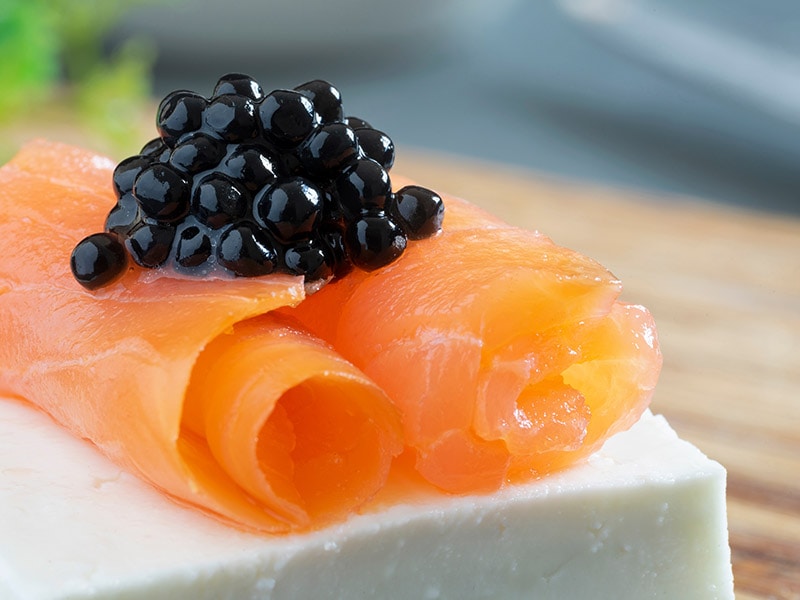 At the top of the list stands beluga caviar. All foodies, gourmets, and master chefs alive recognize it as the most delicious and expensive type of caviar. It has a wonderfully mild and delicious flavor, topped with an oceanic fragrance.
Beluga caviar is harvested from the namesake fish living around the Caspian Sea. Beluga caviar usually displays different shades of black. Other colors include bright gray, charcoal gray, and dark silver.
Osetra Caviar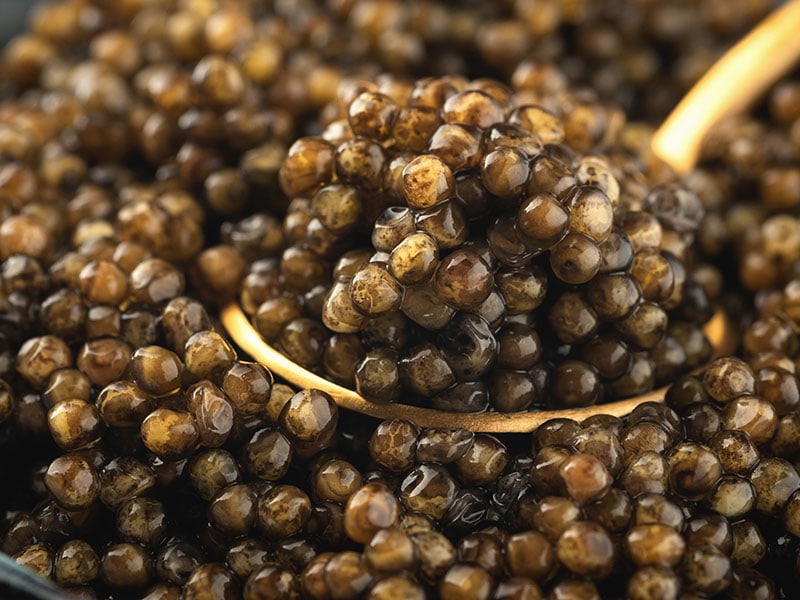 The runner-up in this race is osetra caviar. It is second only to the beluga champion in terms of price, taste, and texture. The Black and Caspian Seas are home to wild osetra sturgeons which produce rich and fairly salty caviar.
In addition to the black color, osetra caviar can have an amber look which resembles a shade between brown and gold. In some instances, it can appear in a true, pure yellow color as the incredibly rare and expensive gold caviar.
Sevruga Caviar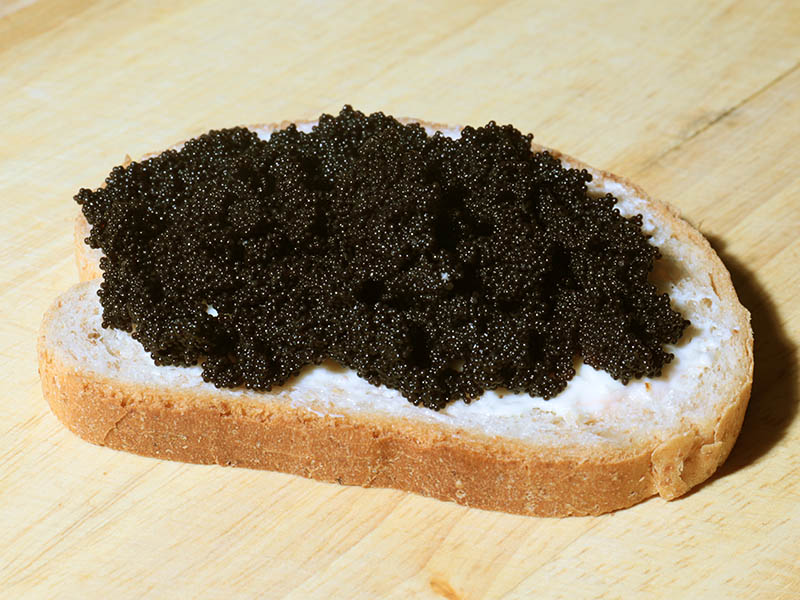 Sevruga caviar is the third most valuable sort of caviar. It is less rare and expensive than the beluga and osetra types. Part of the reason is that the sevruga sturgeon populations in the Caspian Sea aren't as overfished as the other two.
The most common way to enjoy sevruga caviar is serving it with blinis – a delectable treat from Russia that will add to the briny flavor of sevruga instead of overwhelming it.
This great variety of caviar has crisp, fatty- and briny-tasting beads. They mostly come in black color, though the light gray, blackish gray, and silver types are also common.
Kaluga Caviar
Kaluga caviar is made from the roes of kaluga sturgeons living in Asia's Amur River. Many food lovers claim that it tastes strongly like the divine beluga caviar. Consequently, kaluga caviar ranks as a popular alternative to the Caspian one.
Just like its beluga cousin, kaluga caviar is available in black form. But it can also have the colors of dark brown, amber, or gold like osetra caviar.
Hackleback Caviar
This is an American-made kind of caviar. Hackleback sturgeons are native to the Missouri and Mississippi Rivers. In terms of tastes, hackleback caviar is a little weaker than the Eurasian contenders, but its nutty and buttery flavor is quite something to enjoy.
Hackleback caviar usually has a black color. Many batches can be dark gray in color.
Note: Sometimes, you can come across caviar of light green or jade shades. It is made from the eggs of farm sturgeons whose diet consists entirely of plants.
Adriatic Caviar
Harvested from the Mediterranean Sea, this type of caviar retains the mild and fair quality of the land. It comes in the colors of slate black and various shades of gray.
Shovelnose Caviar
The shovelnose sturgeon is a neighbor of the hackleback species, living in North American rivers. Its caviar ranges from black to gray in color. People occasionally mix it up with hackleback caviar.
White Sturgeon Caviar
Don't the name fool you! The roes from North American sturgeons are deep black in color but they can also appear in brown and amber forms. Back in the old days, white caviar was a favorite snack for many ordinary Americans.
Siberian Caviar
Though not as high-profile as its Caspian cousins, Siberian caviar is mouth-watering enough as a treat and is much more sustainably farmed. It comes in black and reddish-brown.
Amur Caviar
Unlike other varieties, amur caviar isn't usually available in black. Its common colors are brown and amber. Sometimes, the amur sturgeon is also mislabeled as kaluga sturgeon as both species live in the same region.
The Best Way To Buy And Store Caviar
That's enough theory, it's time to move on to practice. I'm going to tell you a few useful pieces of information on how to purchase the best caviar and store it sustainably.
Tips For Buying Caviar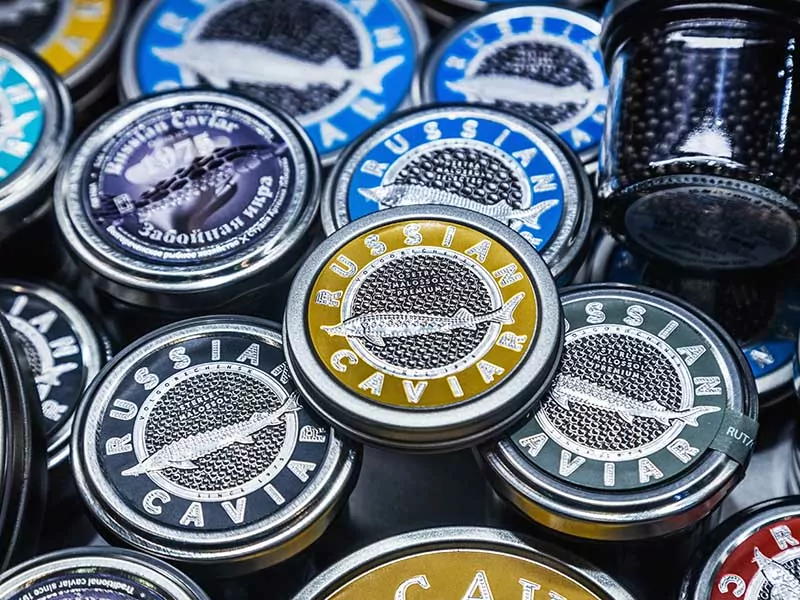 Due to caviar's nature as a high-end food, it í unlike to be available in your local supermarket. If it is, you're bound to run into low-quality caviar or ordinary fish roes in disguise.
A gourmet store dedicated to fine food is a more reliable supplier. If possible, you should go there in person so that you can try the product firsthand.
Caviar is subject to great disparities in quality. It isn't strange for two tins of caviar harvested from the same group of sturgeon to have different flavors. Rather than prior experience or reputation, tasting caviar directly is the only certain way to test its quality.
Real caviar should have a subtle oceanic scent and a mild, nutty flavor. Ignore any products that have a fishy smell or an excessively salty taste.
Caviar vendors won't refuse a customer's demand if they have nothing to hide. If they don't allow you to try their product, consider heading to a different shop.
Looking at the beads of caviar is an alternative to tasting. Good and real caviar never has perfectly round beads, only the fake one does. And the size of the beads shouldn't be larger than a pea.
Another way of testing caviar is to press it with a spoon. Real caviar will pop up immediately under such pressure while fake one is harder to break.
When product testing is out of the question, like in online shopping, you should choose well-known and trustworthy brands. Check their websites, customer feedback, and reviews on online markets for references.
The Reliable Method To Store Caviar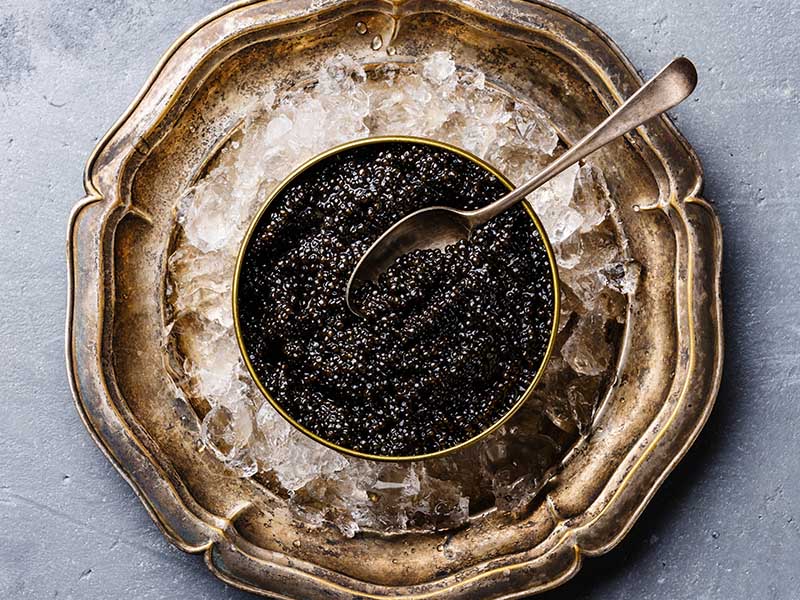 Storing an unopened tin of caviar is a piece of cake. You can keep it in your refrigerator for 4 weeks at most.
Once the tin is opened, it is a different story. At room temperature, caviar can go bad as soon as one day. Therefore, you should open just enough caviar for one serving so that there won't be leftovers.
In case you have to save it, envelop the tin in plastic wraps before returning it to your refrigerator. Adjust your refrigerator settings to make temperatures range from 0°C to 5°C. Even then, you shouldn't keep the caviar for more than 3 days.
How To Serve Caviar Like A Pro?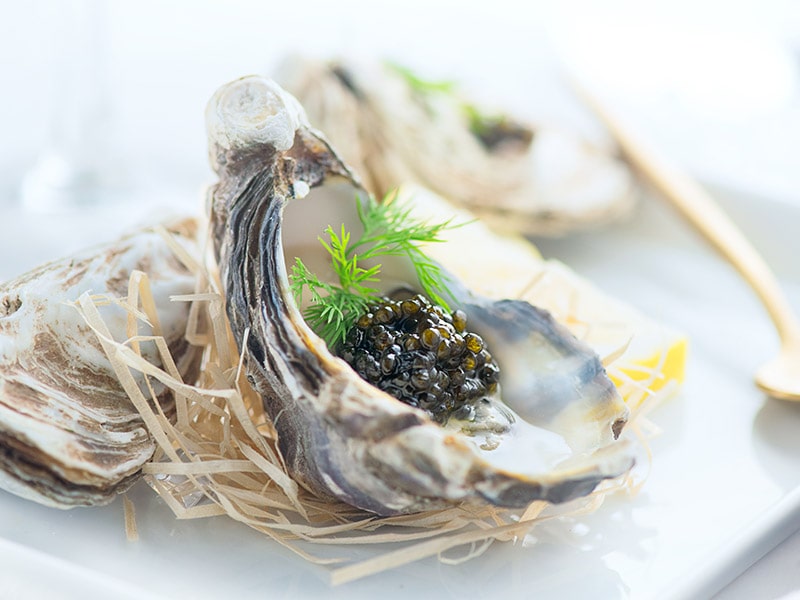 Regarding how caviar should be served, the most important thing you should remember is not to cook it. The fresh, unprocessed rawness is vital to the unique flavor of caviar. Some people take this a little too seriously by eating caviar right out of the tin, which is OK but not recommended.
Caviar can be eaten with other foods or alone. The usual accompaniments are toasts and pancakes, although caviar also goes well with hard-boiled eggs, sour cream, and lemon wedges. If you're feeling rich, you can accompany caviar with oysters and champagne or vodka.
Before being served, caviar has to be made as cold as possible without freezing it. For bowls and utensils, you should use non-metallic stuff so that the caviar doesn't get infected with a metallic taste. Scoop a spoonful of caviar into your mouth, move your tongue gently and enjoy!
Here is an in-depth guide on how to serve caviar.
Q&A
Let's check out the questions below to see how much you know about the color of caviar.
I Hope You Pass Your Caviar Test With Flying Colors
That's all I have to share. Now you've got a good grasp of what color is caviar. Hopefully, you will use this information to identify and buy caviar more easily.
If you find this post informative, please feel free to share it with other people. I would love to hear your opinion, so don't hesitate to express your opinion in the comment section. Thank you and have a good day!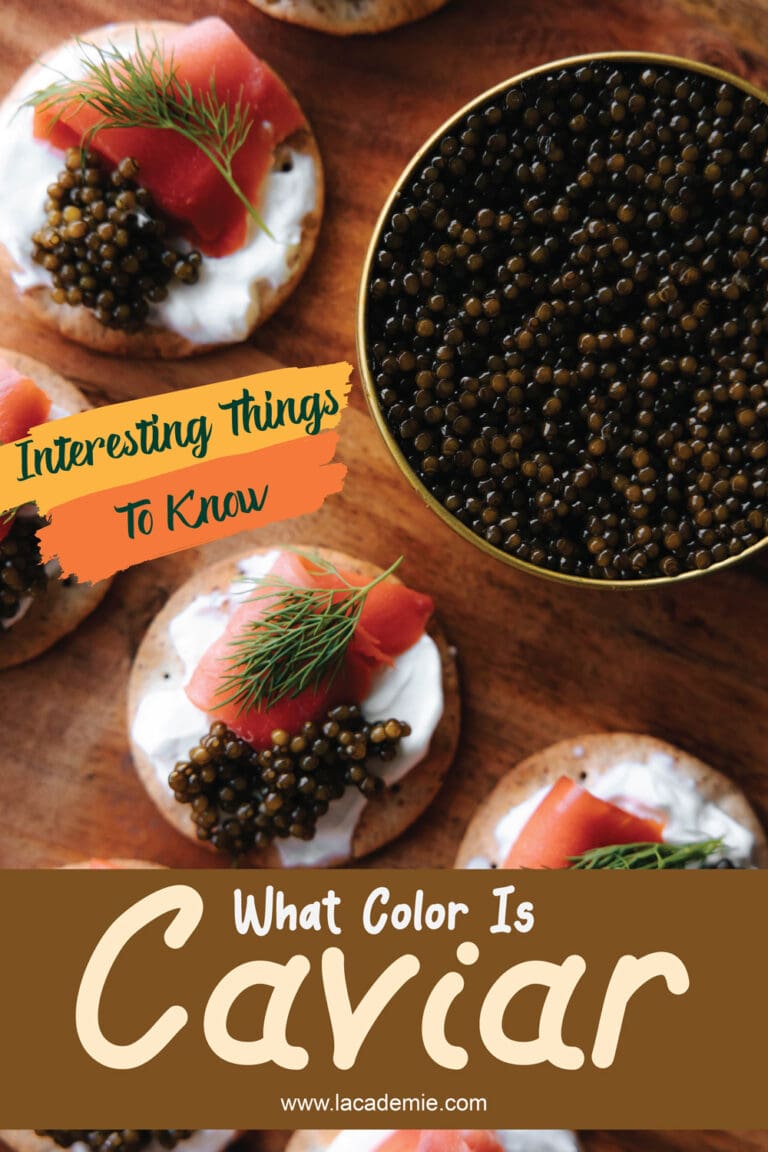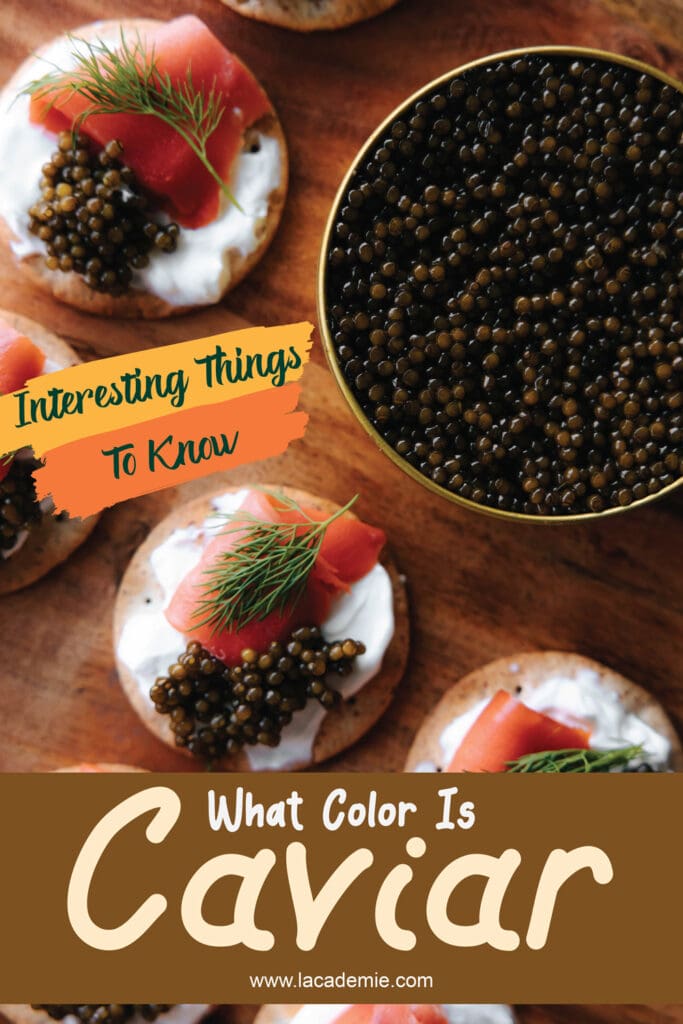 Reference
En.wikipedia.org. 2021. Caviar – Wikipedia.
African Business. 2021. Harvest on ice at Africa's first caviar farm – African Business.