Welcome to the wonderful world of Russian desserts, where icy winter winds dance with the sweet aroma of honey and sour cream. Mother Russia's rich culinary landscape, with influences from various regions, stands ready to please any preference.
From finely decorated cakes hailing from the West to creamy delights made with the fresh bounties of nature from the East, Russian cuisine boasts plenty of delish desserts from both sides of Europe, not to mention influence from outside the Old World. Read on, and you will see!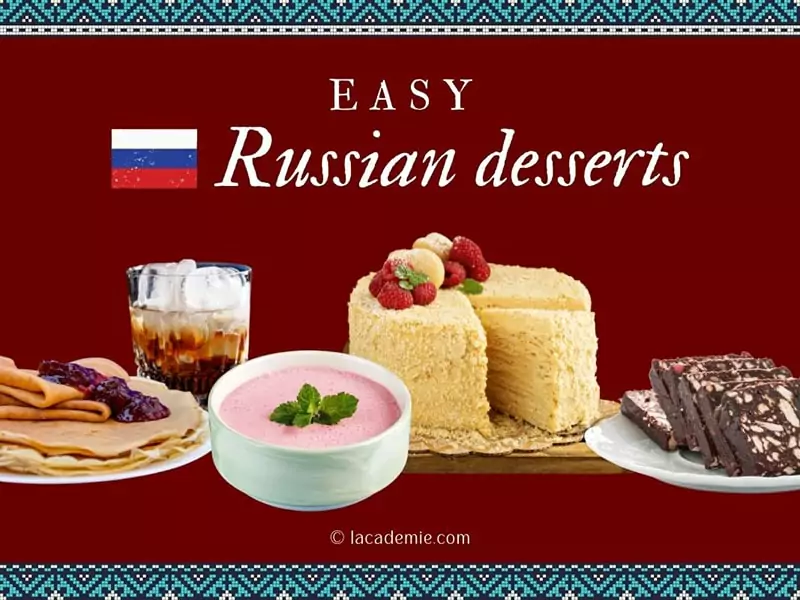 An Overview Of Russian Desserts
Do you like a crash course in the characteristics of sweet treats from Russia? Check out this part right away!
Regional Influence
As the country spans over 11 time zones, its cuisine is both culturally and geographically diverse. However, as the Slavic culture and Orthodox Christian faith are dominant in Russia, those two factors strongly influence Russian desserts.
The most obvious effect is that this country shares countless sweet treats with many Eastern European countries, especially those in the former Soviet Union. You can find some well-known desserts from Russia in the cuisines of Ukraine, Belarus, Poland, or Romania, and vice versa.
When Peter the Great ruled Russia, he began Westernizing the country, which led to the introduction of various desserts from Western Europe. French cuisine represented a particularly considerable effect, bringing delights like éclairs to Russia.
Southern Russia, with many dishes inspired by Turkish cuisine and the like, also adds more diversity to the country's dessert repertoire.
Religious Influence
When it comes to the best times to experience the Russian sweet course, Christmas, New Year, and Easter top the chart. However, since Russians still informally observe the Julian calendar (as an Orthodox practice), they celebrate those holidays on different dates from the West.
For example, Christmas in Russia falls on January 7 (and locals call their Santa Claus by the name of Ded Moroz, "Grandfather Frost"). In addition, Russians can celebrate New Year twice!
Flavors And Ingredients
Sour cream (known as smetana in Russian), tvorog (Russian thick curd cheese, which is similar to quark or farmer's cheese), honey, nuts, and fresh fruits are popular ingredients for making desserts in Russia. Spices are also present in many dishes.
In terms of fruits, apples are probably the most widely-used ones, thanks to their affordability, followed by sour cherries, berries (like raspberries), strawberries, etc.
Many Russian items for the sweet course, especially Pirog (a generic term for large pies with fillings), are rich and decadent, but you won't have difficulty finding treats with a refreshingly tart flavor.
It can get very hot during summer in Russia (yes, this country has summer), and such desserts are a must-have for locals.
From Russia With Love: The Desserts That Win My Heart
There are many terrific Russian dishes you can save for the sweet course. Take a look at this list to know more about them.
Russian Cakes
Tort Napoleon (Napoleon Cake)
Ptichye Moloko (Bird's Milk Cake)
Korolevsky Torte (King's Cake)
Moscow Cake
Medovik (Layered Honey Cake)
Sharlotka (Charlotte Cake/ Russian Apple Cake)
Paskha/ Pashka (Russian Crustless Cheesecake)
Russian Pancakes And Baked Goods
Blini (Buckwheat Pancake/ Russian Crepe)
Syrniki (Curd Cheese Pancake)
Oladyi/ Oladi (Mini Pancake)
Pryaniki (Honey Spice Cookies)
Kulich (Easter Bread)
Smetannik (Russian Sour Cream Cake)
Vatrushka (Yeast Dough Pastry Filled With Cheese)
Khvorost (Russian Twig Cookie)
Sushki (Russian Bread Ring)
Chak-Chak (Fried Honey Dough Sweet)
Pyshki (Russian Doughnuts)
Baklava (Layered Filo Pastry With Fillings)
Other Russian Desserts
Shokoladnaya Kolbasa (Chocolate Salami)
Pastila (Fruit Confectionary)
Kartoshka (Russian Chocolate Cake Truffles)
Zefir (Russian Marshmallow)
Muraveynik (Anthill Cake)
Baked Apple
Kutia (Sweet Wheat Berry Dish)
Kogel Mogel (Egg-based Dessert With Flavorings)
Guriev Kasha (Sweet Semolina Porridge)
Kissel (Viscous Fruit Dessert)
Varenye (Fruit Preserve)
Russian Cakes
I have a fact to share with you first: Pavlova isn't a Russian cake! While this meringue-based treat is named after the talented Russian ballerina Anna Pavlova, it is a fantastic dessert from Australia and New Zealand. Now, let's dive into authentic Russian sweet treats!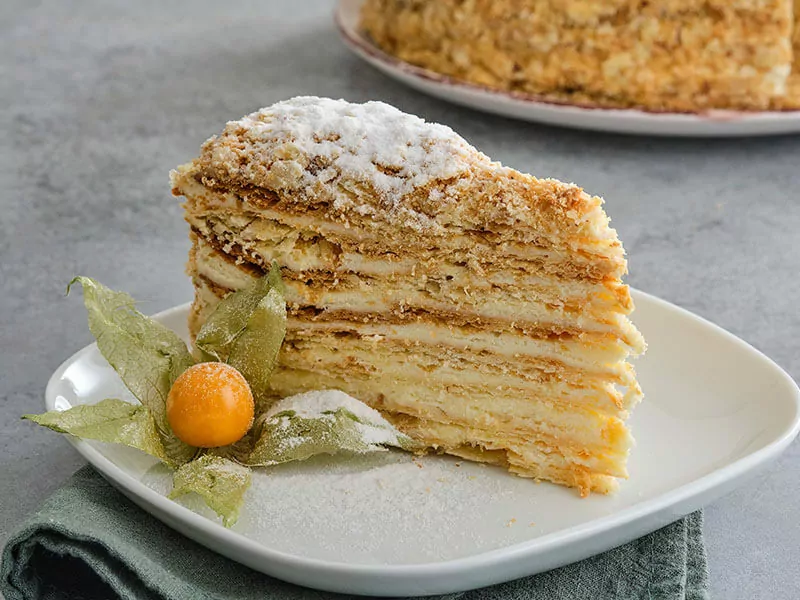 The mille-feuille, a fantastic French dessert made of layers of cream and puff pastry, is popular in many countries around the world, including Russia. While its alternative name (Napoleon cake) may or may not have something to do with Napoleon Bonaparte, it surely does in Russia.
For those not in the know, the legendary French military commander and emperor invaded Russia in 1812 but was soundly defeated and subsequently lost his throne.
One hundred years later, Russians popularized their own version of Napoleon cake to commemorate the victory. While the cake might have arrived in Russia earlier, it wasn't until 1912 did locals begin to enjoy it widely.
A Tort Napoleon consists of multiple tiers, which include layers of flaky, golden brown puff pastry, with a custard filling in between and possibly some fruit jam and chocolate on top.
Nowadays, this alluring cake is seen by many as Russia's national cake. It is perhaps as important to Russian cuisine as the historic triumph against Napoleon is to Russian history.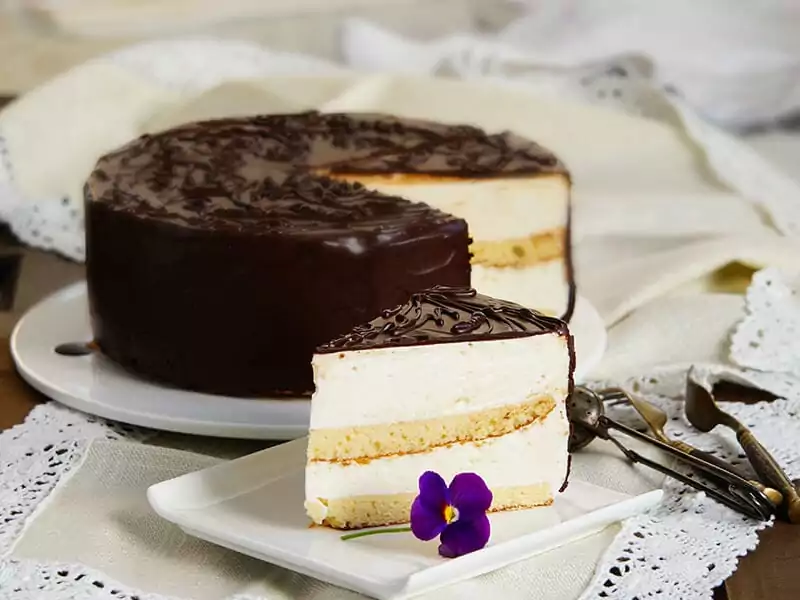 Bird's milk, seriously? Of course, if you know the story behind it. The term means something rare or unobtainable and is derived from a Slavic fairy tale in which a princess tests her suitors by demanding them to get bird's milk. In fact, the idea can trace its root back to ancient Greek plays.
In terms of desserts, "bird's milk" can refer to two different treats: one is a mousse-like cake from Russia (Ptichye Moloko), and the other is a Polish candy (Ptasie Mleczko). The latter was created in the 1930s and was the inspiration for the former.
Ptasie Mleczko was introduced to the Soviet Union in the 1960s with instant success. In 1978, the pastry chef of Moscow's famous restaurant Praga turned it into an airy, agar agar-based soufflé with chocolate glaze.
The new creation was just as popular as the original treat. This cake looks like a big brownie, but it comes with an airy marshmallow-like interior.
Ptichye Moloko was extremely popular in the 1980s, and many people regard it as a nostalgic Soviet treat nowadays. While you can find this creamy dessert all over Russia, the restaurant Praga is still the best place to find it.
In Russia, you may see this decadent multi-layered sponge cake with a rich cream filling, chocolate ganache, and nuts or dried fruits on special occasions. From Christmas to birthday parties, the atmosphere will be more festive with this beautiful cake on display!
A classic Korolevsky Torte derives its cake layer from sour cream, poppy seeds, dried cranberries, and hazelnuts, but feel free to leave out anything you don't like. To suit the cake's exciting name ("king's cake" or "royal cake"), you can add edible gold glitter for some dramatic effect.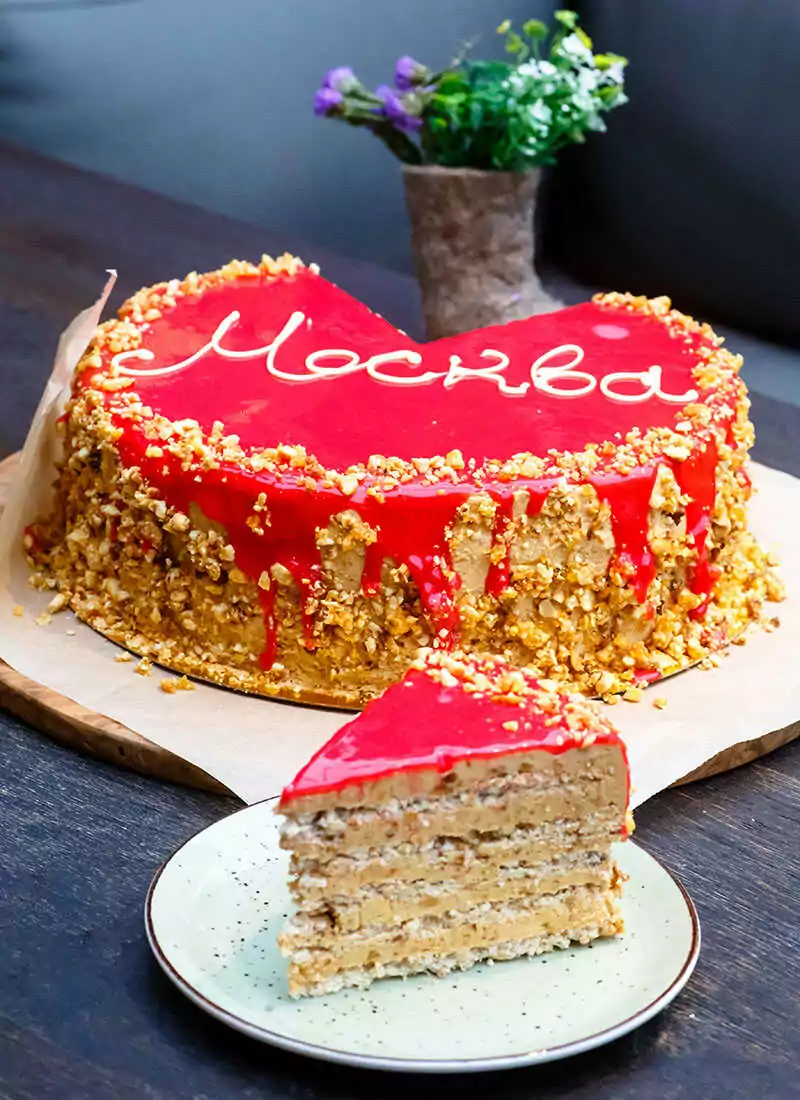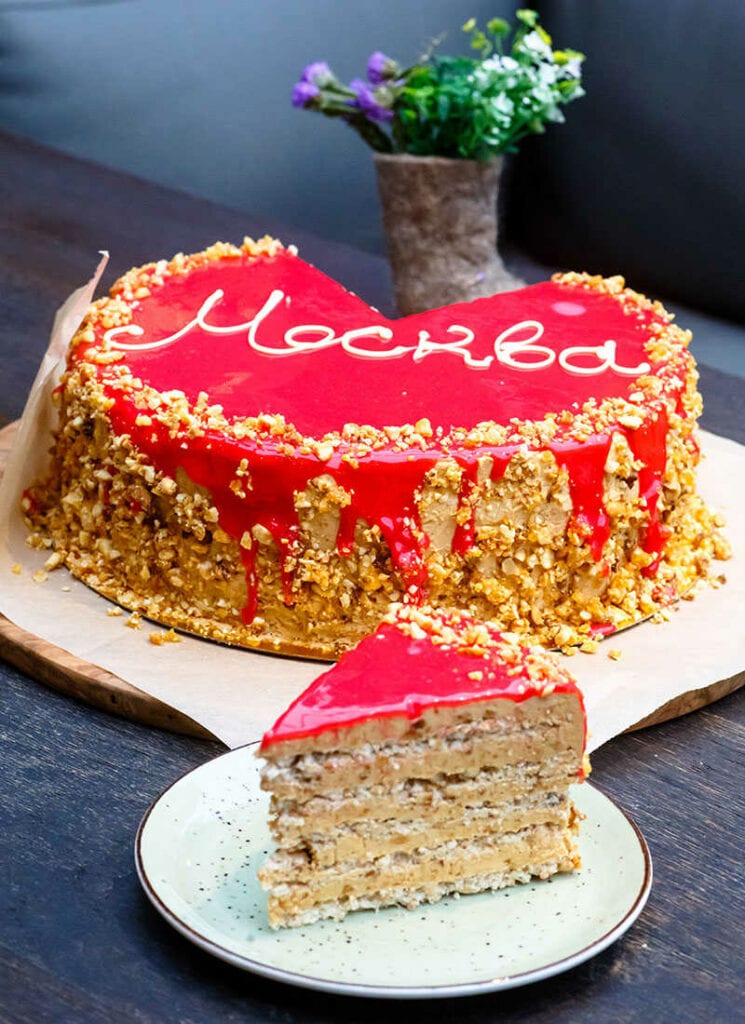 Here is a must-buy treat when you visit Russia's capital city. In 2015, United Confectioners, the leading Russian confectionery holding, was asked by the city government of Moscow to create a cake that would serve as the city's symbol.
After a competition with more than 200,000 local inhabitants as voters, the Moscow cake (or Cake Moscow in some translations) won the prize.
It is a moist sponge cake decorated with walnuts, condensed milk-based cream, and red icing. On top of it is an inscription of "Москва" ("Moskva," which is Moscow in Russian).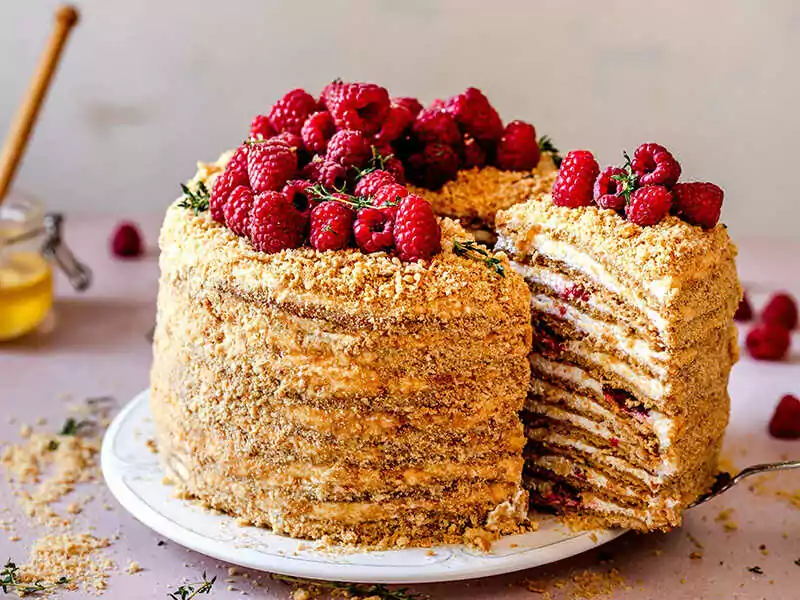 Legend has it that in the 19th century, a royal chef created Medovik for Empress Elizabeth Alexeievna, the wife of the Russian tsar Alexander I. Though averse to honey, she was pleasantly surprised by the delectable dessert.
In truth, this amber-hued treat was absent from all Russian cookbooks before the 20th century and only became popular in Soviet times. It is infused with the sweetness of honey, the tang of sour cream frosting, and the crunchiness of multiple flaky cake layers.
Medovik is also well-liked outside Russia; many Eastern European countries have similar sweet dishes made with honey. An example is the honey cake Medivnyk from Ukraine.
This tutorial will help you know how to make perfect Russian honey cakes.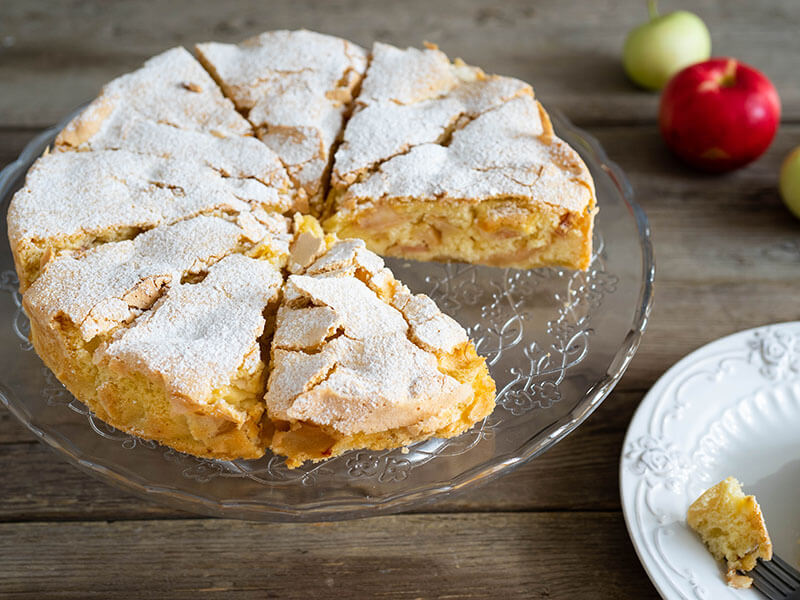 While the original charlotte cake, invented in the 19th century allegedly in honor of Queen Charlotte of Great Britain and Ireland, is a sponge cake filled with fruit puree or custard, the Russian version often uses ladyfingers, Bavarian cream filling, and apples.
Apparently, the renowned French chef Marie-Antoine Carême brought the recipe to the Russian imperial court and helped change it into Sharlotka, a fluffy, vanilla-infused dessert decorated with tart apple slices. Modern versions may include spices and other fruits, such as pears or berries.
Sharlotka is the perfect dessert for any occasion, be it a festive gathering or a quiet family dinner. Doting Russian mothers and grandmothers love to bake it for their beloved children, making it a cherished dessert in Russian consciousness.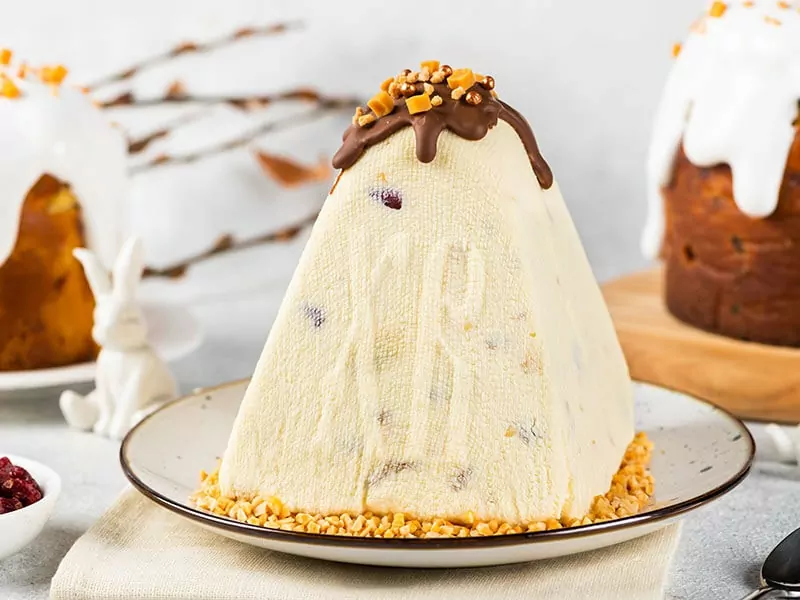 This Easter dessert means more than just a dish: its white color evokes the purity of Christ and the joy of his Resurrection. Its appearance also marks the end of the Orthodox Lent, which also forbids the consumption of dairy products (this cheesecake is made from tvorog).
It is often served alongside Kulich (Easter bread) as the classic duo for any Russian Easter meal. Like Kulich, Paskha has the shape of a dome (or a pyramid) imprinted with religious symbols, such as three-bar crosses or the letters "XB" for "Christ is risen" in Cyrillic script.
Cultural significance aside, its deeply sweet flavor, mixed with some tanginess and creamy allure, is more than enough to captivate anyone with a sweet tooth.
Russian Pancakes And Baked Goods
Russian cuisine may not have adorable treats like cupcakes or macarons, but it can offer Blini, pretty Kulich, crunchy Chak-Chak, and other things you can't take your eyes off.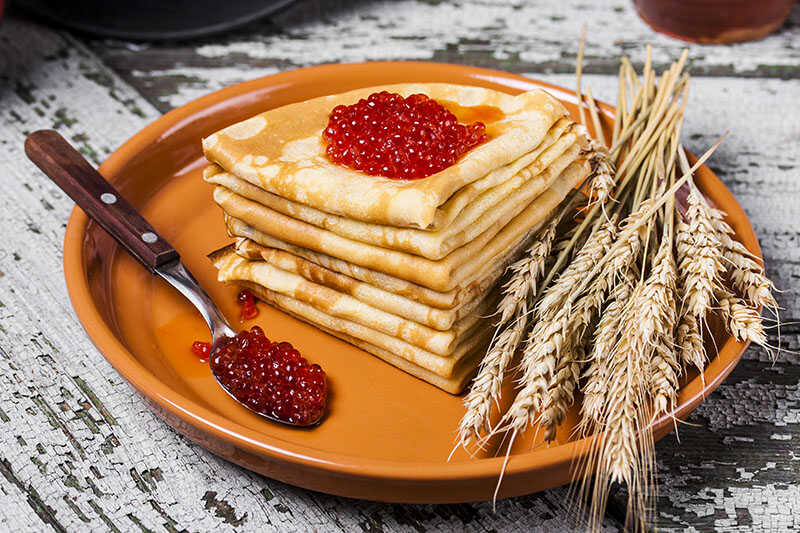 Blini, also known as Blin or Blinchiki, has become a beloved staple in Russian cuisine since the time of ancient Slavic tribes. Pre-Christian Slavs thought it to be a symbol of the sun, making the pancake important to Maslenitsa, a crucial Eastern Slavic holiday marking the arrival of spring.
Locals traditionally use a blend of buckwheat flour, yeast, eggs, and milk to create this small and thin pancake, though modern variations can replace the first ingredient with all-purpose flour.
This Russian crepe-like dish is highly versatile and can work well as an appetizer, entree, snack, and, of course, dessert. The main reason is that it can include various fillings, both sweet and savory. A Blini topped with caviar is a timeless food combo of luxury.
The pancake can also pair with Vareniki (potato dumplings), smoked salmon, sausage, and other savory dishes. But if you're looking for a sweet treat, putting sour cream, honey, or fruit jam on your Blini will be an excellent idea.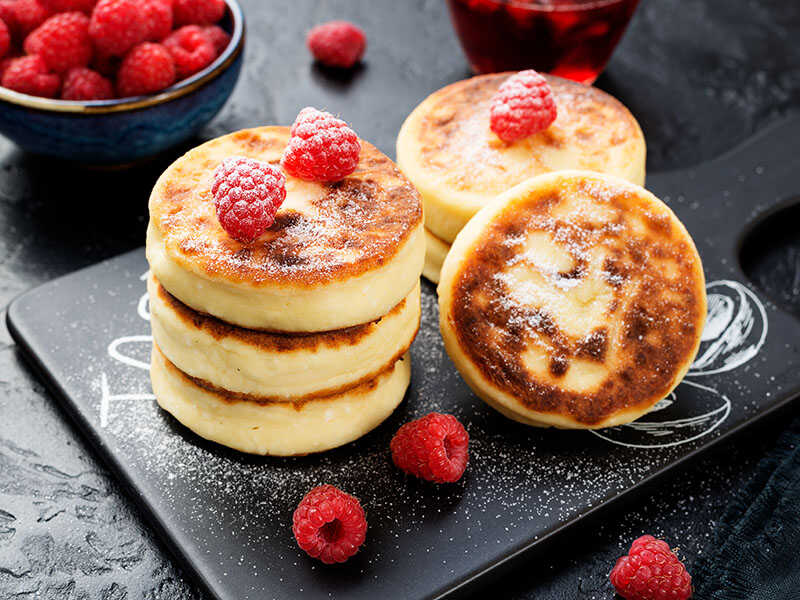 Russians and Ukrainians love to have these sweet treats for breakfast, just like the French penchant for croissants. Syrniki can go by other names, such as Tvorozhnik or Syrnyky. But this type of pancake is also highly suitable for a quick lunch or an after-meal bite.
Golden and crispy on the outside yet tender on the inside, Syrniki is excellent at pairing with sour cream, fresh berries, yogurt, or fruit jam for a light yet delightful meal.
The main ingredients include tvorog (Russian thick curd cheese, which is similar to quark or farmer's cheese), flour, eggs, and sugar. Together, they create a rich, creamy, and slightly tangy flavor. Modern variants may include raisins, vanilla extract, or lemon zest.
It's time to discover the best way to prepare how to make Syrniki at home.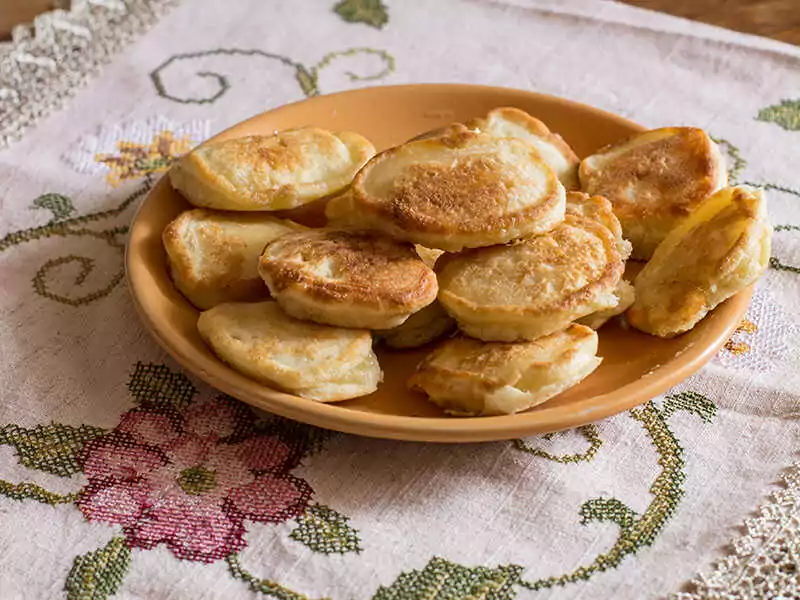 Russians have plenty of palatable pancakes for desserts, and Oladyi is one of them. It is also extremely popular in Ukrainian cuisine and can go with various alternative names, like Oladi, Oladushki, or Oladki.
At first look, Oladyi seems similar to Syrniki, with its small yet thick shape and golden appearance. In fact, some people even consider the latter a variety of the former. However, while Syrniki is always made with curd cheese, Oladyi may incorporate yogurt or no fermented ingredients.
This kind of little and fluffy pancake should accompany jam, honey, or sour cream for a pleasant dessert. Interestingly, it can be topped with caviar, just like a Blini.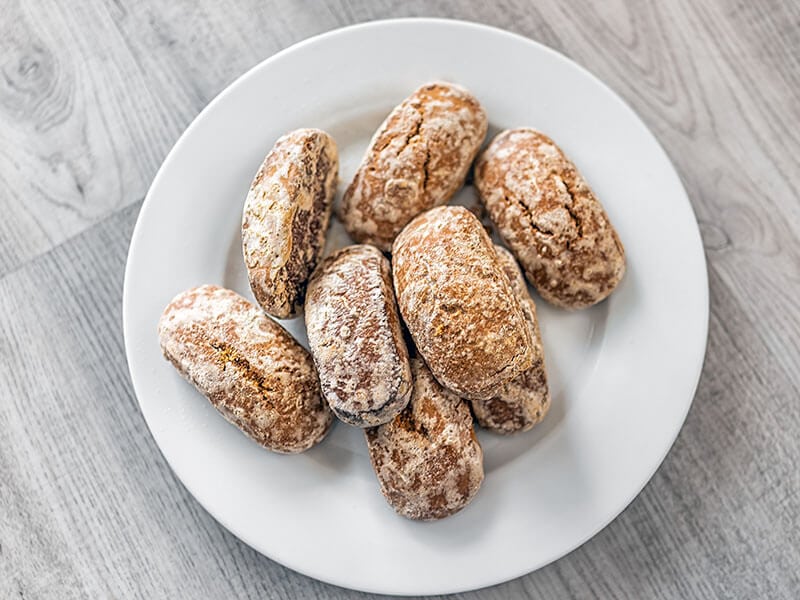 Pryaniki usually refers to gingerbread-like cookies flavored with a variety of spices, such as cinnamon, cloves, and cardamom. Fruit juices (especially those from berries) or herbal extracts can also be used to add an aromatic quality to the cookies.
The term "pryanik" is derived from the Old Slavic word "pryany," meaning "spicy" or "flavored." It is even older than Russia itself, with a history that dates back to the 9th century.
However, Pryaniki can also mean other traditional sweet baked goods made with honey. The most famous varieties are probably Tula Pryanik (a cake with elaborate designs hailing from the city of Tula) and Vyazma Pryanik (gingerbread from the city of Vyazma).
Let's get back to the Pryaniki cookie. It is almost as soft as a cake and can liven up the mood of festive occasions and holidays, such as Christmas and New Year. Drinking it with Medovukha, a low-alcohol beverage also made from honey, is a fantastic idea.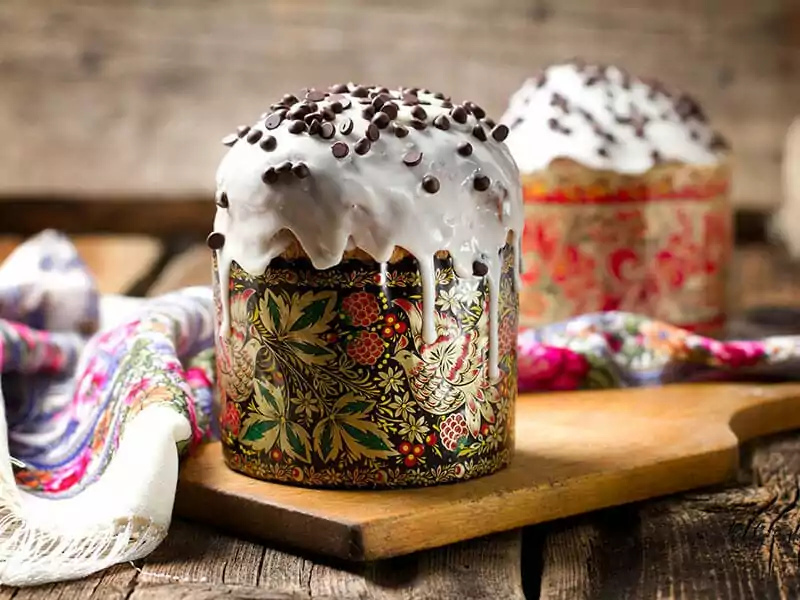 Many factors distinguish Easter in Orthodox Christian Russia from what you may be familiar with. The most delicious one is probably Kulich, the tall, cylindrical sweet bread that symbolizes the Resurrection of Jesus Christ.
This golden-brown delight's most iconic feature is probably the thick, white glaze that covers the top of the loaf. Several origin theories say that this design is meant to mimic the snow-capped dome of an Orthodox church.
Anyway, the cake's top is often adorned with colorful sprinkles or the Cyrillic letters "XB," which stands for "Christ is risen." Kulich is only available between Easter and Pentecost.
By tradition, it must be blessed by a priest and eaten before breakfast. But unblessed Kulich can accompany Paskha any time for a wonderful dessert. With many delicious ingredients like glacé fruits, dried fruits, nuts, and spices (like saffron and nutmeg), it is truly a cake to die for.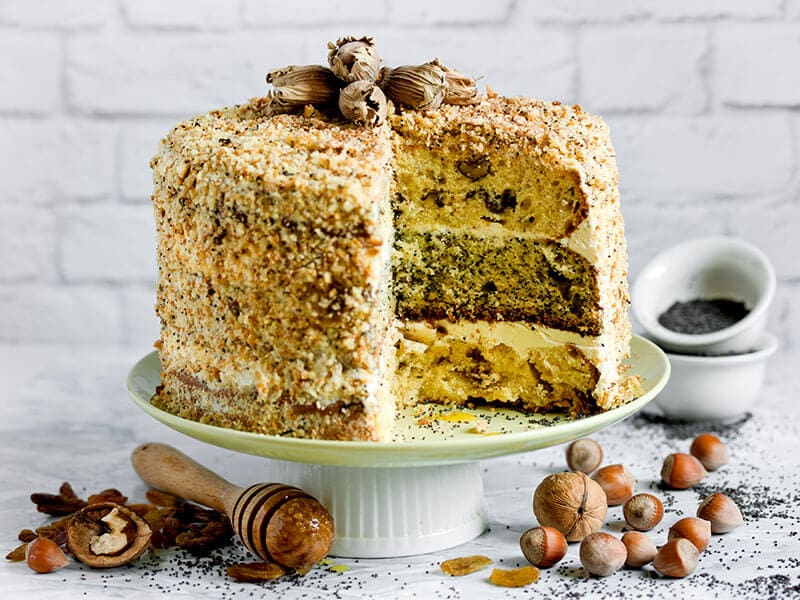 Sour cream features heavily in this decadent dessert. In fact, its name Smetannik comes from the Russian word for this ingredient, "smetana." Smetannik is particularly irresistible when you have it for a mid-afternoon tea break.
This moist and creamy layered cake is often finished with a dusting of cocoa powder or powdered sugar before being chilled in the fridge. Some Smetannik variations may additionally include seasonal berries, nuts, or chocolate chips to diversify the flavor.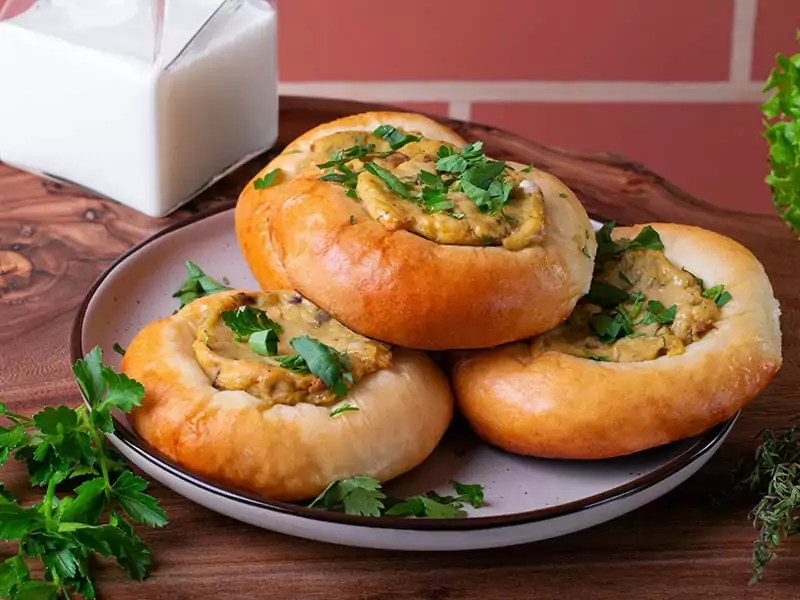 While Russians don't know exactly where the name Vatrushka comes from, they all know what it means: a perfect pastry dessert consisting of a round, yeast-based dough filled with a sweet or savory mixture, most commonly tvorog.
Alternative fillings, such as fruit preserves, meat, or vegetables, are also possible. Vatrushka has a soft, slightly chewy texture and a mildly sweet or savory filling, which provides a pleasant contrast to the dough. This treat is well-known in many other Eastern European countries.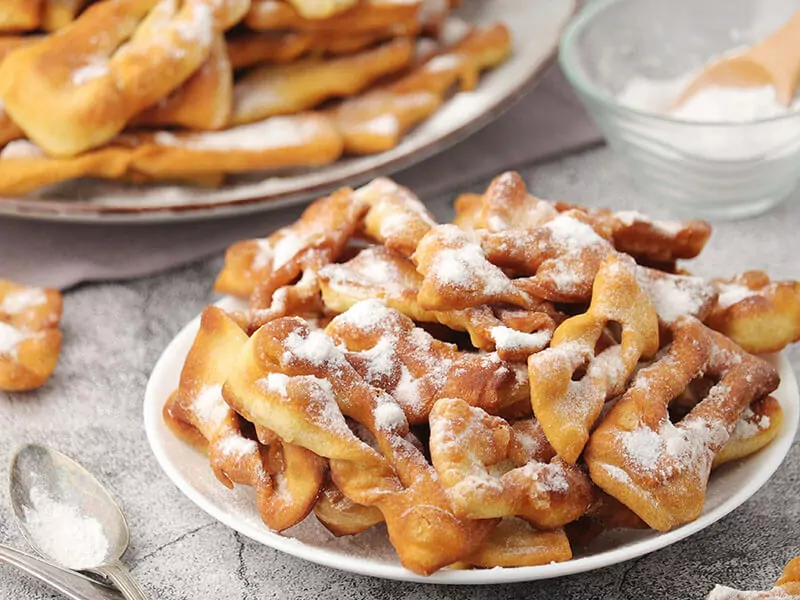 A delicious and crispy deep-fried pastry, Khvorost has graced Russian dinner tables for centuries. It is the Russian version of angel wings, a group of thin, crispy fried dough in the shape of twisted ribbons.
However, locals probably see this treat as having more in common with sticks and twigs rather than "angel wings," so they give it a more fitting name: Khvorost. It means something like "brushwood" in English.
This crunchy "wood" is highly delicious, especially with the sweetness of powdered sugar dusting.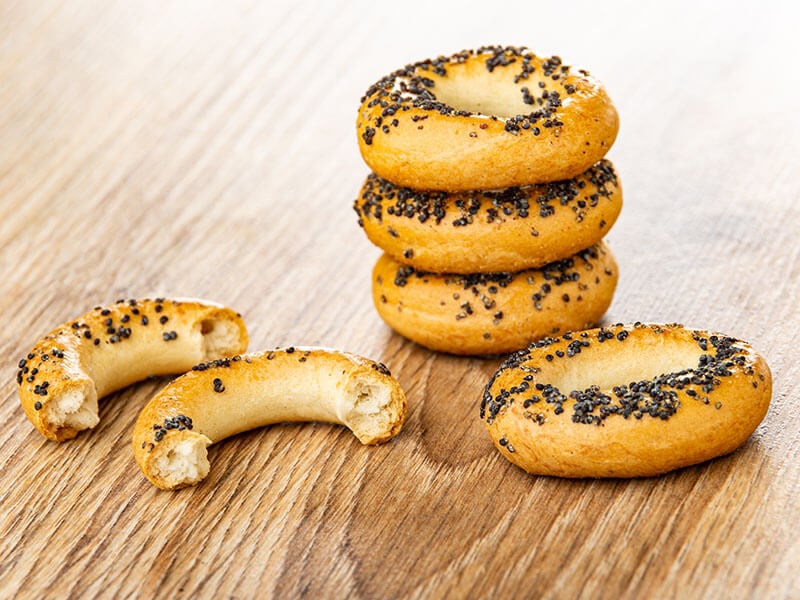 The name Sushki (or Sushka) probably originated from the Russian word "sushit" meaning "to dry," and this ring-shaped bread snack is undoubtedly crunchy. While it looks like a thin bagel, some people joke that you may lose a tooth if biting it too hard!
Therefore, Russians always dip Sushki in tea or other warm Russian beverages to soften it first. The moderately sweet flavor, plus the nutty poppy seeds on the exterior (an optional ingredient), will be more noticeable that way. Serving it with jam or sour cream is another brilliant idea.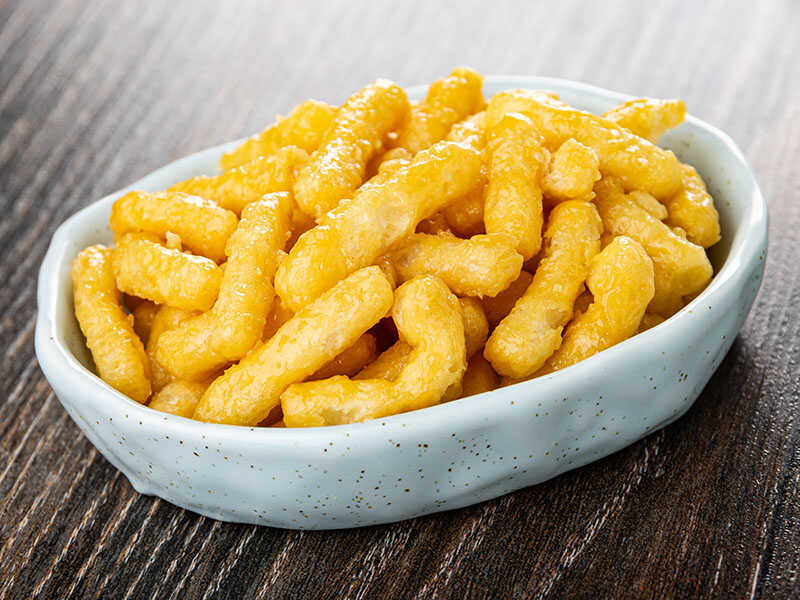 Popular in Bashkortostan and recognized as the national sweet of Tatarstan, two republics of Russia in Eastern Europe, this traditional Tatar dessert enjoys widespread popularity across Russia. Its original Tartar name is Çäkçäk, and it is deeply rooted in local culinary traditions.
Chak-Chak is made by turning unleavened dough into small deep-fried balls (Çäkçäk means "just a little bit" in Tatar) that are arranged in a pyramid-like mold. People then pour hot honey all over the balls to bind them together. Garnish like dried fruits and nuts can be added.
You can find this treat on all occasions, though the ones served for weddings are usually bigger than usual. Many Central Asian countries, especially those in the former Soviet Union, have similar dishes to Chak-Chak.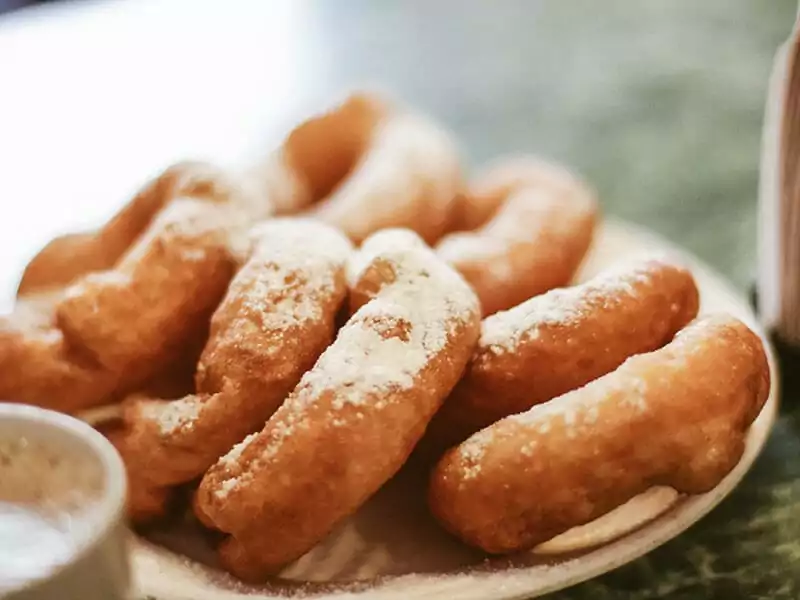 Whether Russians call them Pyshka, Ponchik, Pishki, or Pyshki, doughnuts are always an integral part of the local food scene. This version is very crispy and always covered with powdered sugar, not glazes of any kind. It is a perfect accompaniment for tea and coffee.
While all big cities in this huge country offer excellent doughnut shops, St.Peterborough (renamed to Leningrad during the Soviet era) is probably home to the best ones.
Make sure to visit Pyshechnaya (whose name is literally "doughnut shop" in Russian), a go-to destination for both local and international doughnut fans since the 1950s.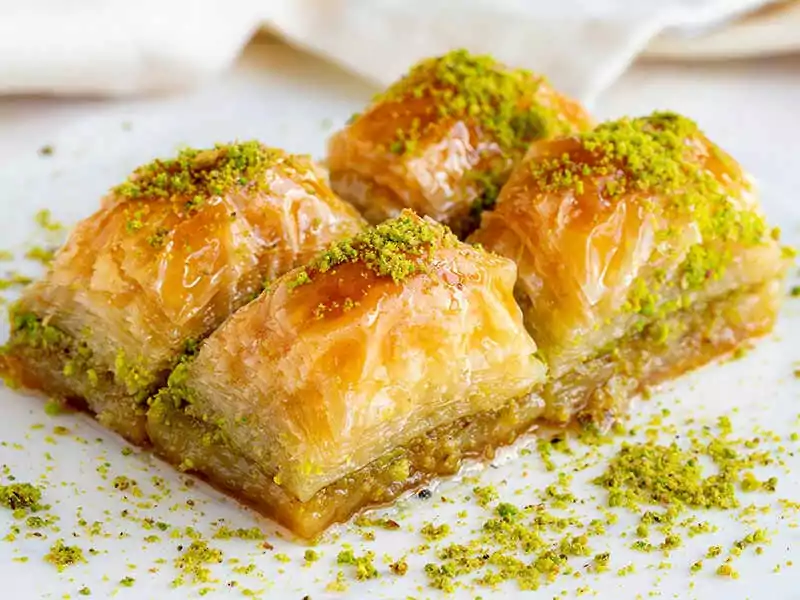 Baklava may strike you as un-Russian. That is partly true since Baklava originated from the Ottoman Empire and is mainly popular in the former Ottoman territories, such as the Middle East or the Balkans.
The bridge between Baklava and Russia was the Caucasus. The region was a long-time Ottoman domain and consequently incorporated Baklava into its cuisine. When the Soviet Union extended to it, the layered dessert pastry gradually became popular with other Soviet members.
Recipes from Armenia and Azerbaijan inspire the Russian version of Baklava, which is locally known as Pakhlava. While still consisting of many filo pastry layers filled with chopped nuts and sweet syrup, it contains more spices (cinnamon and cloves) than other variations.
Other Russian Desserts
From candy bars to creamy delights as comforting as Italian gelato, these Russian treats will satisfy your taste buds in various ways.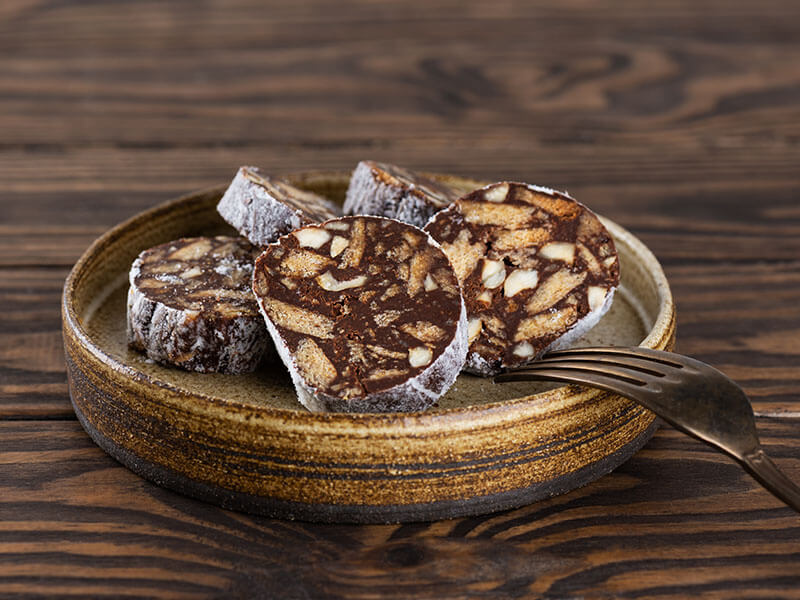 Chocolate salami began as a toothsome dessert from Portugal and Italy before becoming popular in many other countries. In Russia, people call it Shokoladnaya Kolbasa, which means "chocolate sausage."
Made from cocoa powder, sugar, butter, and crushed cookies or nuts (such as walnuts, hazelnuts, or almonds), this no-bake treat looks exactly like Kolbasa (Russian sausage) when cut into small slices. It is the perfect sweet treat to enjoy with a cup of hot tea or coffee.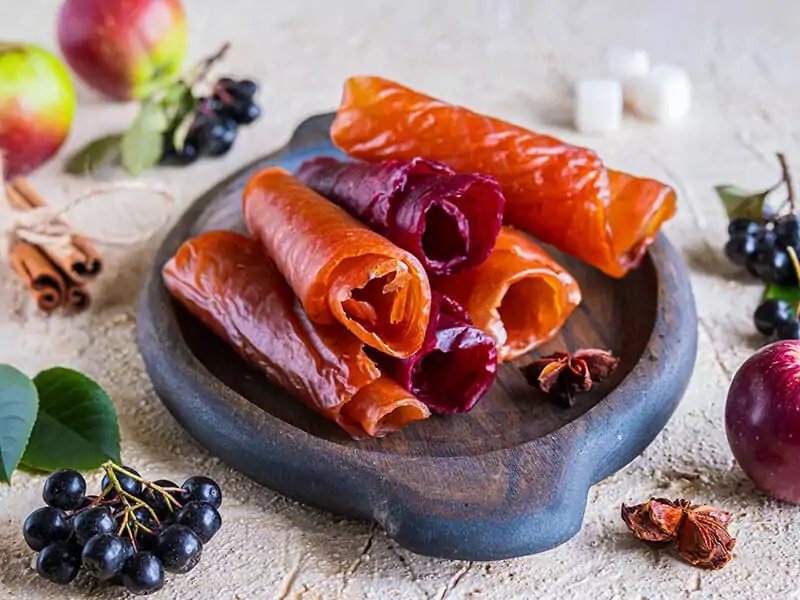 Are you looking for a captivating butter-free dessert to make your meal more wholesome? This Russian marshmallow-like fruit confectionery is the perfect answer. It is made from fruit puree (usually mashed Russian apples or berries), sugar or honey, and sometimes egg whites.
The mixture is baked in the oven for many hours before being left to dry, creating a soft, chewy texture and a delicate fruity flavor. Pastila is available in a log-like or brick-like shape. Depending on the fruit used, the color can range from white to pink, yellow, or even brown.
While that sounds simple, Pastila, which dates back to the 16th century, wasn't a cheap treat during the age of the Russian Empire. Soviet technology reduced its costs and made it accessible to everyone. This naturally sweet treat can pair with tea, Blini, or other Russian desserts.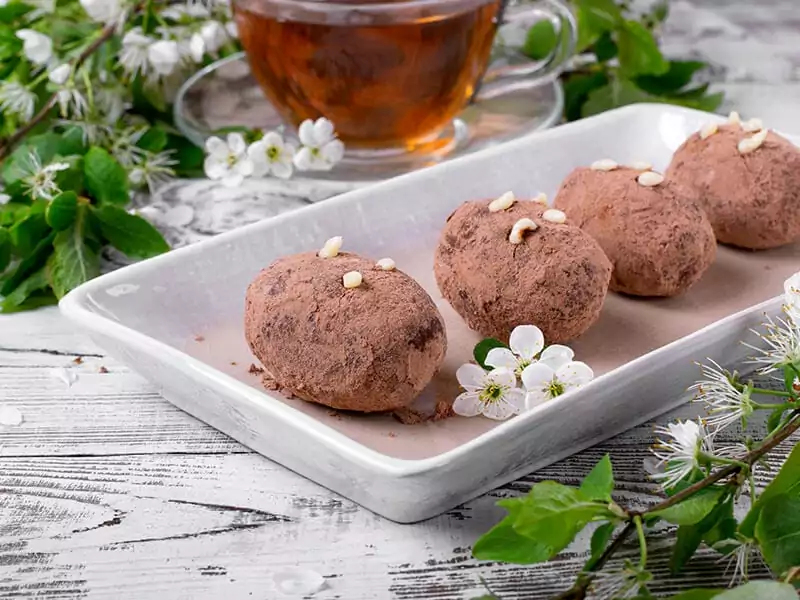 This Soviet-era no-bake treat looks like an unpeeled potato, hence the name ("Kartoshka" means "potato" in Russian). It is an extremely simple treat created as an economical way to use leftover cake crumbs.
People mix the crumbs with butter and condensed milk, create potato-shaped balls, roll them in cacao powder, and chill them until solid. The resulting dessert is full of a rich, chocolatey flavor and a crunchy sensation.
Some bakers incorporate crushed nuts, liquor (like rum or cognac), and dried fruits into the mix for more flavors. Whether the traditional or fancy version, Kartoshka goes well with hot tea and coffee.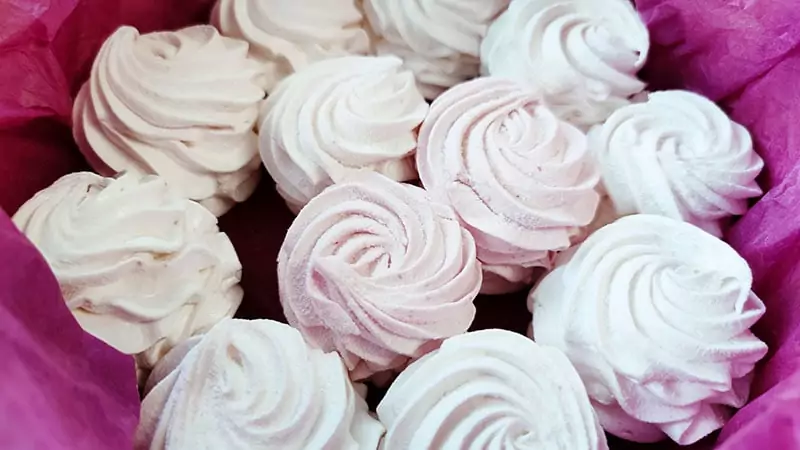 Derived from the name of the Greek god "Zephyr," meaning a light breeze, Zefir has a light and airy texture that fits its name. Since the fruit confectionary Pastila was its inspiration, its ingredients include fruit purees (such as apples or raspberries), egg whites, and sugar.
However, Zefir has the addition of a gelling agent like agar-agar or pectin. Another difference between Pastila and Zefir is the shape: the latter can have a round and shell-like shape with a fluffy texture.
According to several accounts, some 19th-century French cooks invented a dessert that resembled modern Zefir, but they used whipped egg whites. The present recipe was established in Soviet times.
This zero-fat, sweet-and-sour dessert shares similarities with French marshmallow desserts and the Italian meringue but has a unique twist of containing fruit puree. It can range from a pale ivory hue to vibrant shades of pink or orange. Some people even experiment with dipping it in chocolate.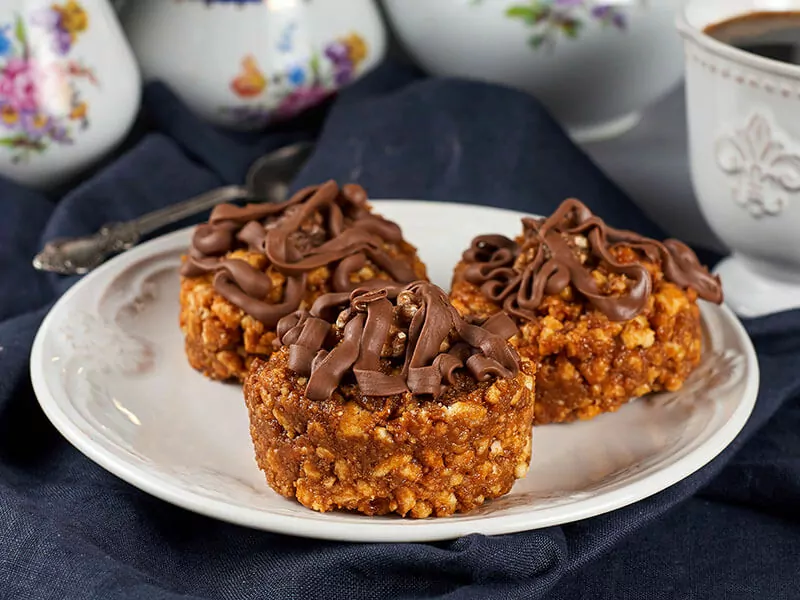 Dating back to Soviet times, Muraveynik is an easy dessert that evokes childhood nostalgia for many older Russians. The whimsical name comes from its resemblance to an anthill, with its conical shape and crumbly texture.
What makes Muraveynik so convenient is the ease of finding the ingredients and assembling the cake. You just need crushed cookies, preferably shortbread, cocoa powder, sweetened condensed milk, and butter.
This mixture is then shaped into a cone or mound before being coated with additional crushed cookies to create an anthill appearance. To add a touch of indulgence, you can blend in some nuts, dried fruits, or even a splash of liquor. Finally, let the cake harden in the fridge overnight.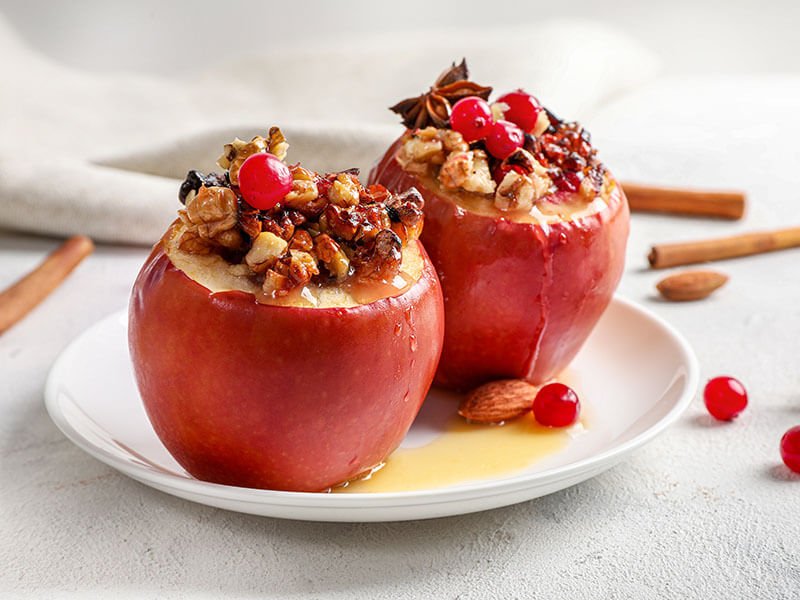 Apples are the most popular fruits in Russia, and baked apples don't fall far behind in terms of popularity. Well, perhaps they do, as this treat is now more prevalent among the older generations and rural areas than the young ones and big cities.
But if you're looking for a healthy and easy-to-make Russian dessert, few things can't beat this fruity delight. Simply core some top-notch Russian apples, stuff them with sugar and spices, then bake them in the oven until soft and juicy. Finally, serve them with sour cream in the Russian style.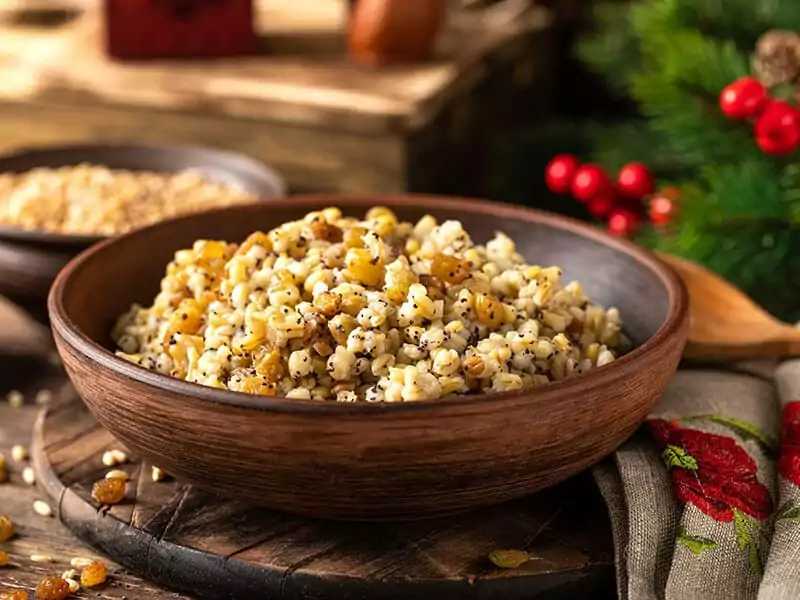 Besides a Russian treat, Kutia (or Sochivo in Russia) is also a wonderful Ukrainian dish worth trying. It is traditionally prepared for Christmas Eve as a way to honor the spirits of ancestors.
The main ingredient of this ceremonial dish is wheat berries, which include every edible part of wheat kernels (except the husks) and are counted as whole grains. They are full of nutrients and can bring about much-needed health benefits.
In Kutia, the grains are combined with sweet ingredients like honey, sugar, and dried fruits, along with nuts and poppy seeds. Since it excludes milk and dairy products, anyone on a dairy-free diet can happily slurp this nutritious dessert.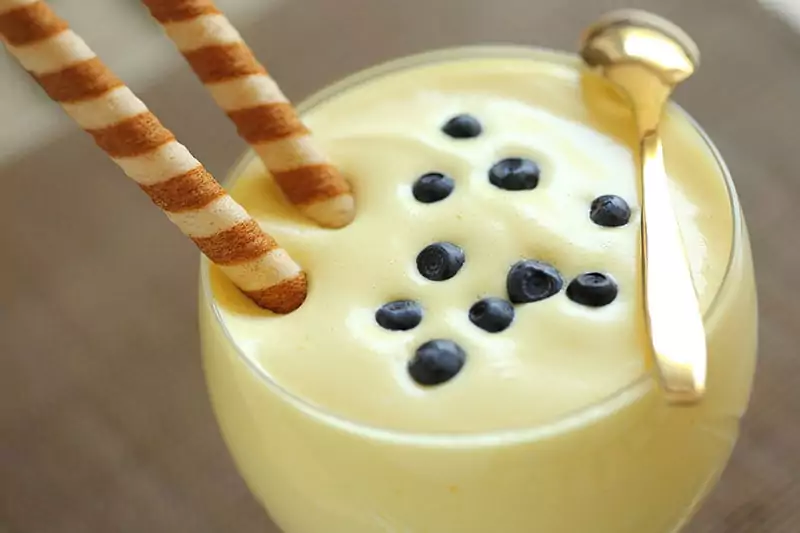 In case you think Kogel Mogel (or Gogol-Mogol in Russia) has a Jewish sound, you're right: it is a creation of Central European Jews living in the 17th century. The name of this egg-based dessert was derived from a Jewish law concerning the consumption of raw eggs.
Kogel Mogel is a simple treat, consisting of no more than raw egg yolks and sugar, though you can add vanilla extract, cinnamon, or even cocoa powder to enrich the flavor. These ingredients are whisked together until the mixture becomes thick and pale yellow in color.
Making this dessert is a breeze, yet its creamy goodness is phenomenal. In addition, it is an effective home remedy for sore throats and colds due to the soothing texture and high vitamin content of raw eggs.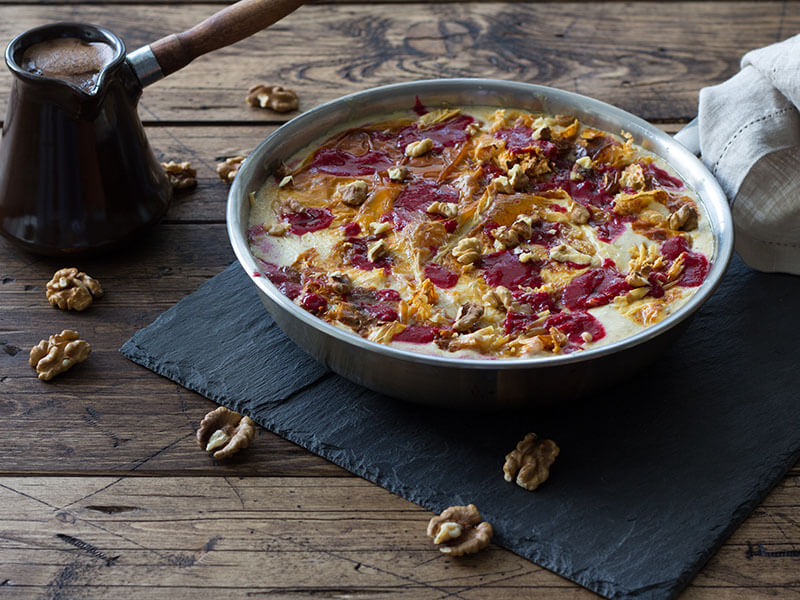 This rich porridge-like dish is made with semolina, nuts, dried fruits, and milk skins. Its preparation is very elaborate and requires a lot of effort. The most important step is to create the milk skins by baking milk and cream until a skin layer forms on top.
The chef will then carefully move it to the baking dish and wait for the next skin to form. A Guriev porridge serving consists of several milk skins, a layer of semolina porridge cooked in cream, and a layer of fruits of your choice. It can take hours to prepare.
The serf chef Zakhar Kuzmin for Count Dmitry Guriev, after whom the dish was named, created it in the 19th century. Its name is often used interchangeably with "Guriev porridge" or simply "Guriev."
Guriev Kasha was once extremely popular among the Russian aristocracy, especially with Emperor Alexander III. In fact, he was being served this very dish when he was caught up in the 1888 Borki train disaster, which his family miraculously escaped with hardly a scratch.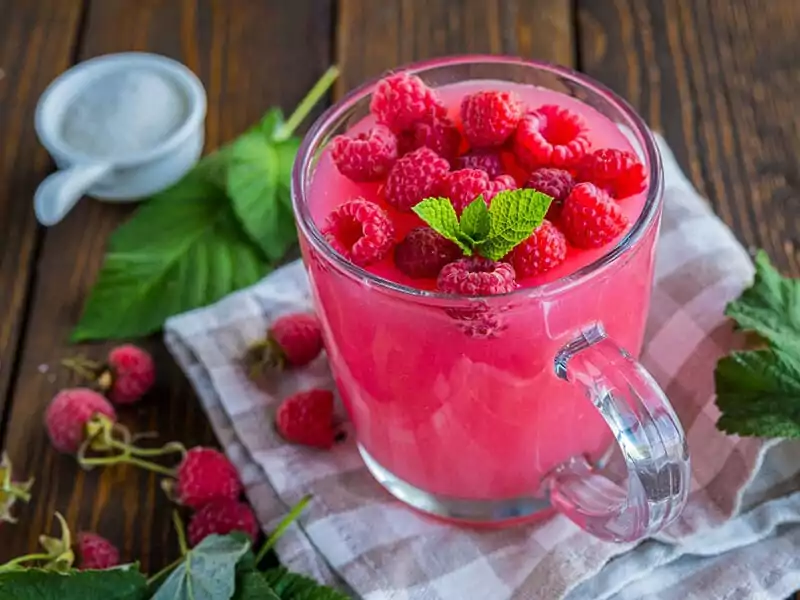 Kissel, Kisel, Kisiel, or Kysil all refer to a popular Eastern European fruit-based dessert that Russians love passionately. It is typically served chilled and especially refreshing during warmer months.
The name "Kissel" has its roots in the Slavic word "kisly," which means "sour" or "acidic," aptly describing the tart flavor of the dish. Commonly used fruits include strawberries, cherries, apples, and rhubarb, which contribute vibrant colors ranging from deep red to bright purple.
Another important ingredient is a thickening agent, such as potato starch or cornstarch. By changing its amount, you can turn Kissel into a thick pudding or a liquid beverage, or anything in between.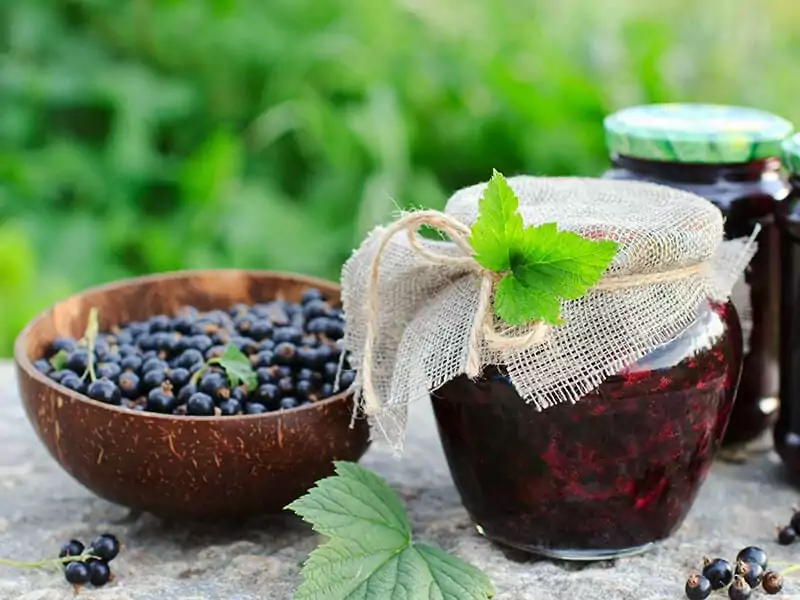 Similar to how versatile the famous Filipino dessert Ube Halaya (purple yam jam) is, Varenye is a mix of sweetness and tartness that Russians use in various recipes. From topping pancakes to sweetening cookies, there are so many ways to exploit this type of jewel-toned fruit preserve.
Eating it on its own is also a fun idea, as a spoonful of Varenye can help you recall warm memories of sunny summer days spent harvesting fruits and berries. You can serve it alongside Kompot, a fruity Russian drink prepared in the same method.
If you think about preparing Varenye at home, the good news is that no thickening agent is needed for this treat. It only requires boiling fresh fruits (like apples, strawberries, raspberries, or apricots) gently in a sugar syrup to keep the natural color.
FAQs
People often ask the following questions about Russian desserts. Let's see if you share the same queries with them.
Nutrition Facts
16 servings per container
---
Amount Per ServingCalories201
% Daily Value *
Total Fat 14.1g

22

%
Cholesterol 27mg

9

%
Sodium 221mg

10

%
Potassium 147mg

5

%
Total Carbohydrate 17.6g

6

%

Dietary Fiber 1.1g

4

%
Sugars 7.6g

Protein 3g

6

%
---
* The % Daily Value tells you how much a nutrient in a serving of food contributes to a daily diet. 2,000 calories a day is used for general nutrition advice.