Don't you want to try some Sicilian recipes for the upcoming family's dinner? Sicily is an island in southern Italy that has a culinary culture influenced by the country of Pisa tower. Other European countries like Geek and France also appear in this Sicilian cuisine.
Vegetables of all kinds appear in many dishes in Sicily with a delightful freshness. Tasty and rich in flavor are other characters that you might find in these breath-taking Sicilian specialties. Yeah, I guess it's time to dig in. Let's go!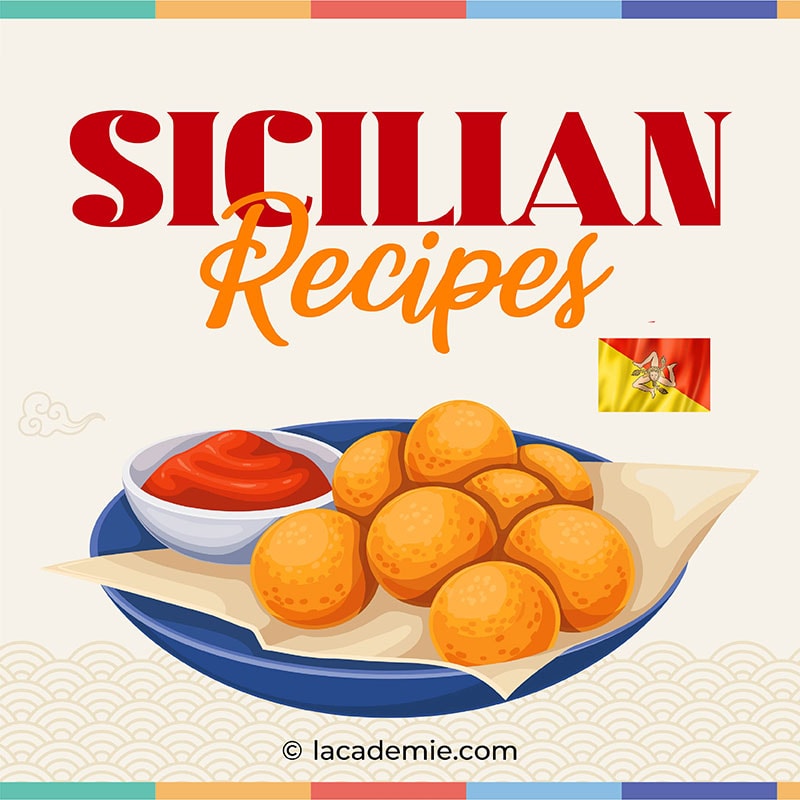 24 Sicilian Recipes For A Mesmerizing European Meal
Are you ready for this yummy list? The delectable Sicilian recipes below share some similarities with the renowned beautiful Italian cuisine and still have their own differences. Let's discover them now!
Let's start this list with a juicy meat recipe that will melt your heart. This Sicilian meatloaf has an enchanting smooth and savory paste. The dish is a spectacular roll of harm and cheese layers.
When you cut the meatloaf, the spiral appearance of different savory layers will make your mouth water. You can serve the dish with pasta or zucchini noodles to boost the dish's flavor.
Allow me to introduce this wonderful Italian dish for dinner. Bruciuluni, also known as Braciole, is a traditional beef dish from Sicily with a sophisticatedly soft texture.
There are many variants of this Braciole that provide many tasty options for you. Customarily, Braciole is coated with rich tomato sauce, but you can make the smaller version named 'Braciolette' without the sauce for a twist in flavor.
Let's get this hearty Sicilian Braciole recipe for your dinner menu!
Couscous is an antique recipe of Sicily with a flavorful and delicate flavor perfect for any time of the year. Although the dish originated in Africa, namely in the cuisine of Libya, Morocco, Tunisia, and Algeria, the Maghreb immigrants have brought Couscous to Europe.
A signature feature of this Sicilian recipe is the use of veggies. From tomatoes, carrots, or bell pepper, these vegetables make this dish light and refreshing.
You can use seafood or turn this recipe into a vegan version to match your taste. Every spoonful of this couscous will make your day, believe me!
Sicily has a special way to twist ordinary spaghetti in an unexpected way. The pasta's flavor is boosted with minced garlic. You can perfume the dish with a fragrant touch from basil or parsley.
Since Spaghetti Alla Carretera is effortless to make, it makes a lovely Italian breakfast specialty. You can make it for busy weekdays when you don't have much time.
Arancini will surprise your family with a perfect crispiness and a savory meat and pea filling. The balls also have a creamy taste from butter and milk. They have a pyramid-like shape that hypnotizes your kids and drives them crazy.
Making these balls will give you so much fun because you get to shape them with your hands. Ask your kids to make this meal with you; I bet you will have a great time with your family.
Fantastic recipe! It will be a mistake if you miss out on this arancini recipe!
You can enhance the Arancini flavor with this casserole recipe. Unlike most other casserole recipes, this rice ball casserole is crumblier and drier. However, the taste is still rich with Pecorino Romano cheese.
The dish requires different steps to achieve the perfect flavor. But don't be worried, the final result is worth the try.
Hey! Do you want to try a lovely midday dish from Sicily? This caponata recipe will amaze you with its delicate flavor. The dish is a beautiful salad that has a natural sweetness from eggplant.
Sicilian citizens usually serve Caponata on special occasions like Birthday parties, Easter, or even Christmas. You can add some sugar for a kick of sweetness to make this dish friendly for everyone.
As surrounded by the ocean, Sicilian cuisines embrace the taste of seafood. This grilled swordfish is the best representative of ocean culinary cuisine. The fish is perfumed with a delightfully delicious smoky scent that will evoke your taste.
The touch from oregano complements the whole dish's flavor with an alluring aromatic scent. The swordfish is incredibly soft with a hint of saltiness. You will love it for sure!
How about a pizza with a tiny square shape? Lo Sfincione is an original bread-like pizza of Sicily with a crispy bottom. The top is spongy, soft, and melty that will leave a pleasant savory taste in your mouth.
The tomato sauce layer is the hit of the dish with a slightly sweet and tangy taste. The pizza base is thick, so you will adore every bite of it.
Gosh! This Sfincione is so awesome! You must try it immediately.
Who loves the crumbliness and the slight aroma of sesame seeds? This Biscotti Regina recipe will satisfy your taste. These iconic Mediterranean sweet treats will comfort you after a hard-working day with their breath-taking flavor.
These cookies are a perfect Sicilian sweet course to complete your delectable meal. Make a batch of these cookies and tell me if you love them.
Panelle is a small and delicious fritter that significantly contributes to the street culinary reputation in Sicily. Chickpea flour and pepper are the primary ingredients that create a soft texture and a gentle piquant flavor of these fritters.
You might find these paneled stuffed in a dish called 'Mafalde'. These panels are a bit crispy with a soft center.
Have you ever tried a rolled pizza-like dish with cheesy layers? This Scaccia Ragusana will surprise you with its rich and savory flavor. The dough is rolled before baking to make such a delicious dish.
When you cut the pie, you will see the thin and crispy dough layer with other cheese and tomato fillings. A taste from this pie will fly you to the heaven of sophisticated foods.
How about a refreshing fennel salad from Sicily? Sicilian people adore the taste of fennel, and you can see that this fruit appears in many dishes of this country. The fennel bulbs give the salad a mild licorice flavor that highlights other veggies flavors.
The orange segments will pop in your mouth and give a nice sweet and citrusy flavor that emphasizes the whole salad flavor. Add a kick of sourness from lemon juice to trigger your taste; yummy!
Who wants some crispy rice balls? Arancine Di Riso is a cute deep-fry recipe that has a melt-in-the-mouth texture. The filling inside is waiting to fall out and please your taste with a rich and savory flavor.
A hint of red wine or white wine will give you a kick of solid flavor. Trust me! Alcohol creates a beautiful bold character that emphasizes the taste of these balls.
I want to introduce you to the top famous Italian sweet snack, cannoli. This cannoli is a delicate combination of melty-crispy shells and creamy filling. The crispy shells are a masterpiece of Sicily that you can not find in other recipes.
After you roll and fry the dough, fill the cream in the center, and the dish is ready to serve. You could add fruits, nuts, or chocolate chips for extra flavors.
Don't hesitate to give this cannoli recipe a try! You will love it.
Do you want to try a vibrant veggies mixture? Don't hesitate and try this authentic Sicilian caponata recipe. The dish is a party of unique Italian fruits and herbs that enchants your veggies lover's soul.
A touch of red-wine or white-wine vinegar will give the dish a refreshing sweet and sour taste. Eggplants bring such a beautiful soft texture to this stew dish.
What if you mix the slightly chewy texture of pasta with savory pesto? This pistachio pesto pasta is a national culinary treasure of Italy. Pistachios form a mild sweetness for the pasta that is so irresistible.
If you like the dish to be a little creamy, add some cheese to balance the savory taste. This recipe is a hit for pasta lovers; give it a try now!
Can I see squid lover's hands? The squid's body is stuffed with savory and juicy filling in this Sicilian-style recipe. The dish's sauce coating is thick with a delightful creaminess from Parmesan cheese.
If you are a fan of piquant flavor, you can choose the recipe using a little white wine. Treat your family to this recipe for a lovely dinner!
Lasagna is such an interesting dish because you can customize all the layers inside the dish. The best part while making lasagna is the freedom to use various kinds of cheese that match your taste.
You can use ricotta, mozzarella, parmesan cheese, or mix all types of cheese for a rich and buttery lasagna dish. Cheese lovers should not miss out on this recipe.
Sicily island is a hometown of many delicious pesto recipes. Let me introduce to you this Sicilian pesto Rosso. The sauce has a tangy and sweet flavor from fresh tomatoes complemented with an aromatic scent from basil or rosemary.
There are many ways to serve this pesto Rosso; you can add it to sandwiches or pizza recipes to bring their flavor to the next level.
This pesto Rosso will be the easiest sauce you have ever made.
Here comes a sweet course recipe to enlarge your dessert menu. Pignolata is colorful and moist fried balls that will treat you with a soft sweet taste. These fried balls are bathed in honey with a shiny and tasty appearance.
Apply some colorful sprinkles to complete the dish. These honey balls are perfect for holiday tables or parties that need a fabulous dessert.
Do you know that Sicily has a creamy and amazing cheesecake recipe? The ricotta cheese is a perfect choice because its taste is rich and creamy with a mild smell. The graham cracker bottom is so crumbly that it ties with the soft cream.
There are plenty of topping choices to finish this cake. You can use powdered sugar for a powdery coating or chocolate chips for a slight bitterness.
If you have no idea what flavor to pair with a sponge cake, why not add a hint of orange to it? The citrusy touch from orange highlights the soft and fluffy texture of the cake.
There are many ways to decorate this cake. You can use the typical vanilla glaze for a slight creaminess or apply a candied orange coating for an eye-catching look.
Let's finish this list with a unique Sicilian cookie recipe! The name of this unique cookie is a result of its appearance. The 'S' shape represents the first letter of 'Sicily'. It is not an exaggeration to say that cookies are a solid representative of this country.
The cookies are soft and buttery that will dissolve and leave a mild sweetness in your mouth. Coat the cookies with a milk glaze cover to complete the recipe.
Better Food, Better Mood
If you have a rough day, a lovely meal with delightful flavors will help you out. With a well-prepared meal, all the depression will fade away. If you have any doubt, just try one of these recipes, and you will comprehend what I said.
Hit the subscribe button and share this post if you love the mentioned recipes. Have a wonderful meal with your family! Peace!
Nutrition Facts
6 servings per container
---
Amount Per ServingCalories393
% Daily Value *
Total Fat 17.8g

28

%
Cholesterol 163mg

55

%
Sodium 1049mg

44

%
Potassium 559mg

16

%
Total Carbohydrate 13.8g

5

%

Dietary Fiber 1.3g

6

%
Sugars 1.7g

Protein 42.8g

86

%
---
Calcium

82

%
Iron

4

%
Vitamin D

5

%
* The % Daily Value tells you how much a nutrient in a serving of food contributes to a daily diet. 2,000 calories a day is used for general nutrition advice.