Besides the beautiful scenery, Sicilian street foods are also a significant highlight once you visit this island. But, have you prepared the list of must-try Sicilian foods yet? If you don't, my article will be your savior! 
Sicily is Italy's largest island on the Mediterranean Sea, and people living there are proud of their distinctive delicacies. Most visitors when coming here have the purpose of spending most of their time enjoying the food.
Spending time learning the norms of eating or the flavor combinations in Sicilian foods will enhance your culinary experience here more than ever. Now have a look at what I've prepared for you!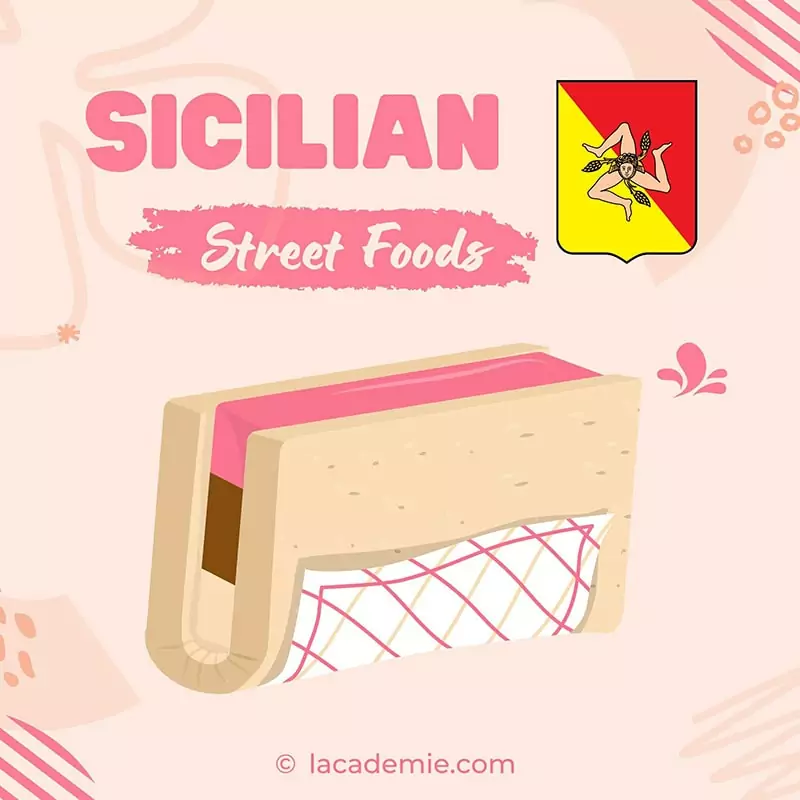 Let's start today's food recommendation with some hearty dishes that you can easily find on Sicily streets! You can refer to my suggestions below for savory and rich breakfast ideas in Sicily or any other meals of the day. All of them are great and worth trying once!
1. Scaccia or Scaccia Ragusana
(Lasagna Bread)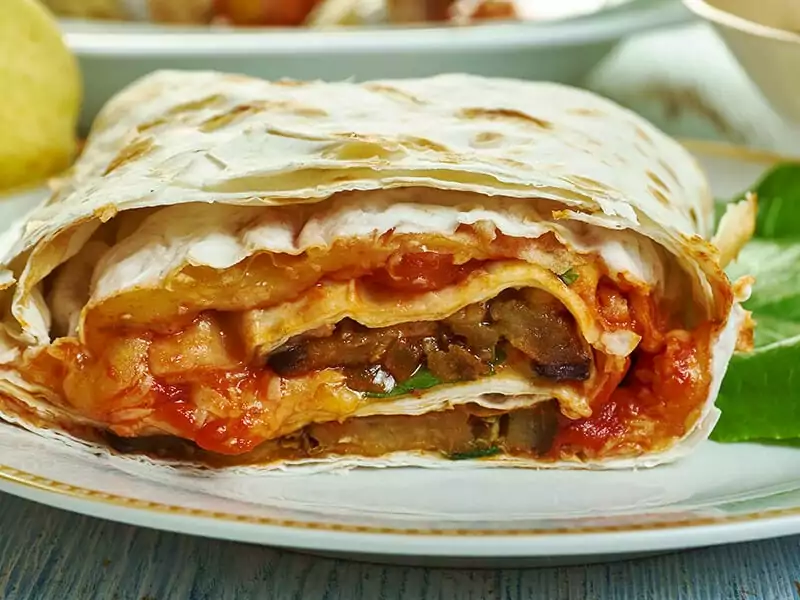 Scaccia is a tasty and unique Sicilian stuffed flatbread dish; you can also call it Scacciata or Sciachiatta. This food has its origin in Ragusa, in the southern region of Sicily, and you can now find its variations all around the island.
Basically, to make this Scaccia, the chef will use a large layer of thin bread and spread the filling onto its surface little by little while folding it in. When you cut into a batch of Scaccia, you will see many layers of thin flatbread inside it.
The fillings for a portion of Scaccia vary between many kinds of cheese and veggies. Some most prevalent choices are cheese with onions and tomato or vegan Scaccia with only veggies. Different localities also add various ingredients to the filling.
2. Carne Di Cavallo
(Sicilian Horse Meat)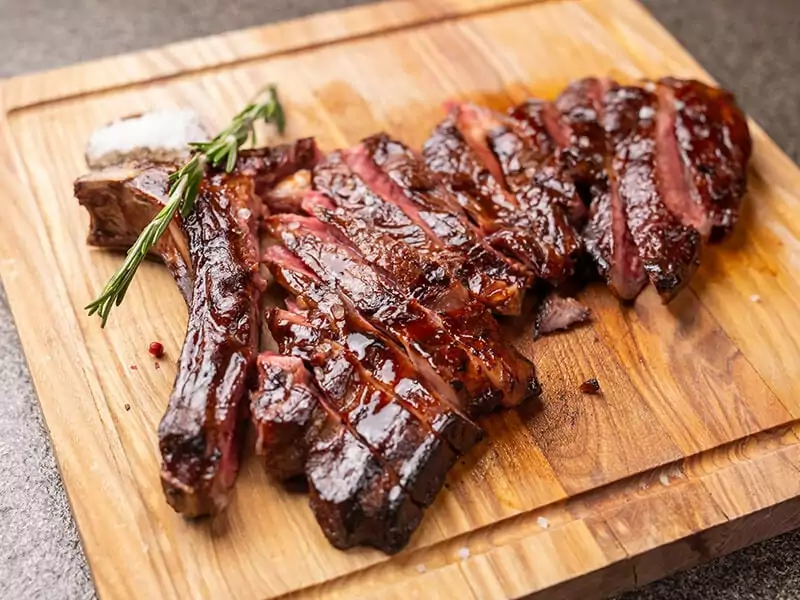 The idea of eating horse meat might be quite unpleasant to some people. But Carne Di Cavallo is an Italian specialty that many Sicilians can't live without. They adore this kìnd of protein, and you can see they make it into various dishes.
Some of the most famous ways to enjoy Carne Di Cavallo in Sicily are eating it as hamburgers, steaks, or sausages. Believe me, it tastes absolutely like beef and will be even more tempting when paired with suitable spices and stringy cheeses.
3. Paneddi or Panelle
(Chickpeas Fritters)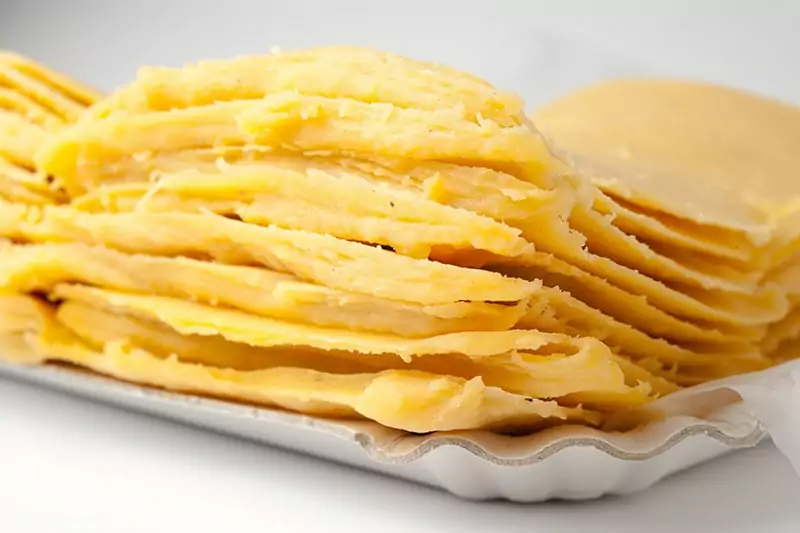 Paneddi are the small, fried balls that can be stuffed between sandwich slices. That is also the most common way to enjoy this treat in Palermo, Sicily, and Italy.
This food of Arabic origin came to Sicily between the 9th and 11th centuries and has become a staple street food there since then.
One more thing you should notice when ordering these Chickpeas Fritters in Sicily is that Sicilians call it Paneddi, not Panelle like in other parts of Italy. The best way to enjoy a portion of Paneddi is to pair them with lime juice and freshly-grated ricotta cheese.
The mentioned combination will never go wrong, and every Sicilian friend of mine is addicted to it. Therefore, you might want to try it once.
4. Pani Câ Meusa or Pane Con La Milza
(Spleen Sandwich)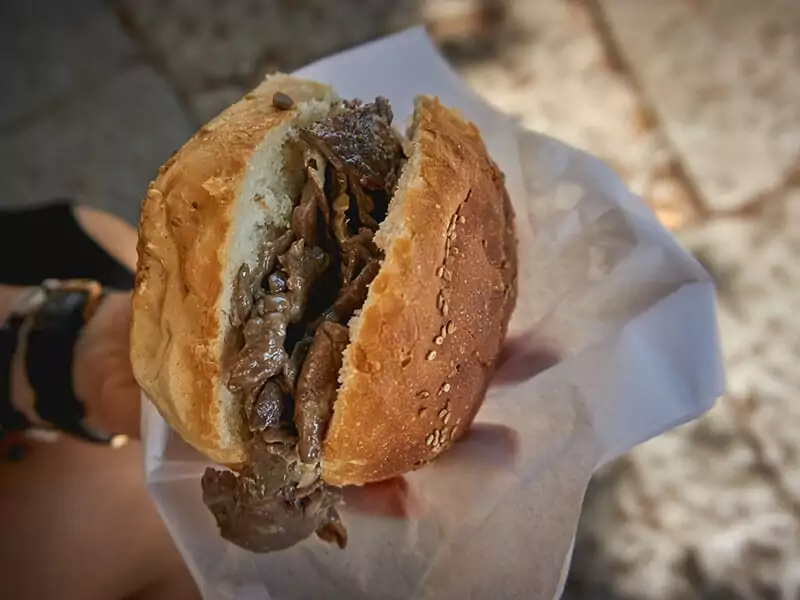 If you have never thought of matching animal offals with bread or have never tried them before, you should taste this combination once in Sicily. Pani Câ Meusa consists of various parts of the cows' or lambs' offals (spleen's most prevalent) and soft buns.
More specifically, a poor Jewish man living 1000 years ago was the first to create this dish when his communities settled down in the island or Palermo region.
When serving, the chefs will offer you your Sicilian Spleen Sandwich with Caciocavallo/ricotta cheese and lemon juice to balance the overall tastes. Modern Sicilians love this delicacy a lot; you can find the vendors selling it in almost every corner of Sicily.
People there regularly have this food as a quick breakfast, and they will buy it on the way to work. So, my suggestion for you is to go to the Pani Câ Meusa stores later in the mornings so you can avoid waiting too long for only a piece of this treat.
It is hard to find an authentic portion of Sicilian Spleen Sandwich outside its motherland, so don't miss your chance to try it when visiting Sicily.
5. Stigghiola
(Grilled Intestines)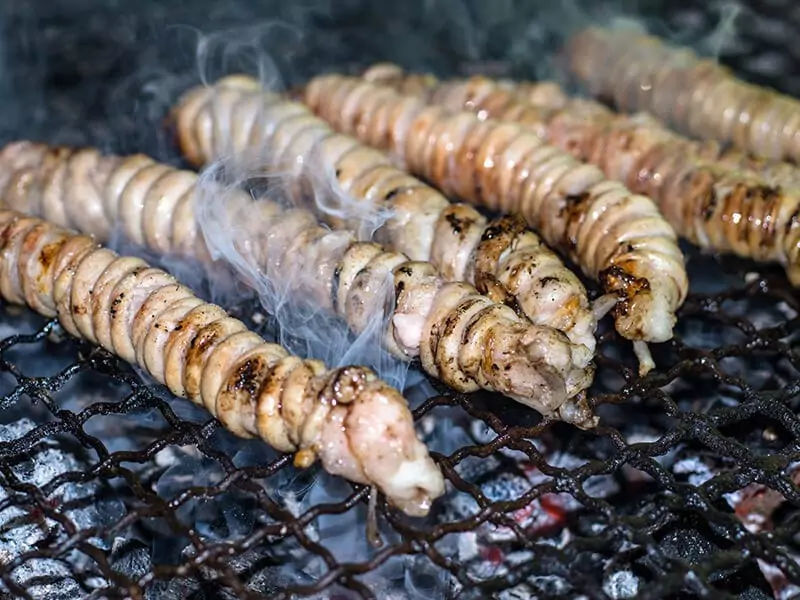 The next dish that calls for intestines is this favorable Stigghiola, which consists mainly of lamb, goat, or chicken offals. Stigghiola is not a completely Sicilian dish; it drew inspiration from a prominent Greek recipe that came to the island a long time ago. Both variations taste great!
If you hesitate a bit because of the typical smells from the intestines, you don't have to worry about them when enjoying this delicacy. The cooks have to clean these ingredients carefully with saltwater and marinate them with herbs in the preliminary processing stage.
After that, they will wrap them around a few sprigs of parsley and green onions tightly before grilling. As you can see, it takes a lot of steps to make this Stigghiola come to your table, so there is no reason to ignore it. Sicilians serve it as a snack so that you can have it on the go.
6. Sfincione
(Sicilian Pizza)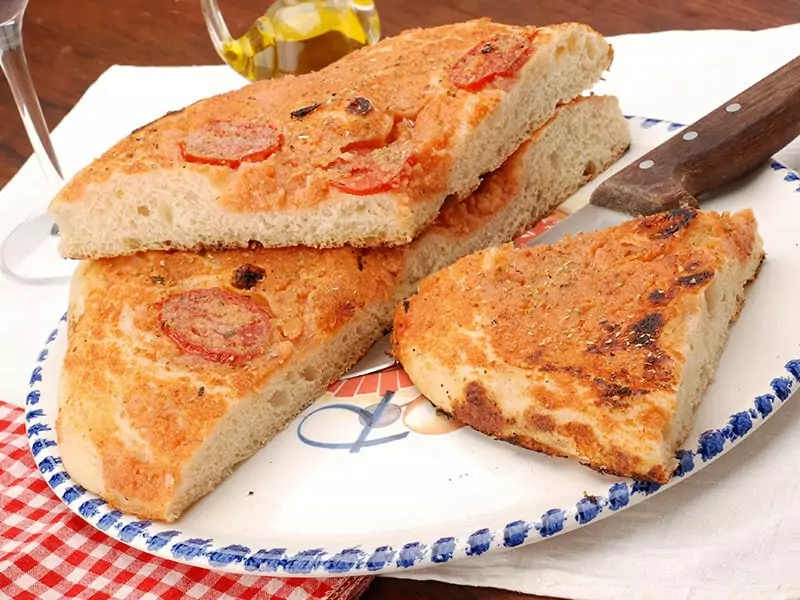 Once talking about Italian-related street delicacies, it is a must to discuss pizza! Unlike the regular Italian pizza with thin dough and cheese-filled toppings, Sfincione is quite distinguished. It has a bread-like base with a crusty, spongy texture.
A typical traditional Sficione has a rectangular shape and appeared in Sicily in the 17th century. Toppings for Sicilian pizza are also versatile. You can see it with or without cheeses, and some will include anchovies or tomatoes.
Nowadays, Sfincione also has a round shape like the regular Italian pizza, and you might also find the American version. But the best place to have this treat is nowhere but its birth place. Palermo, Siracusa, Catania, and Messina regions are the suggestions for you.
It is not challenging to find a portion of Sfincione to try on the streets of Sicily. Sidewalk vendors, small mobile pushing carts, or tiny stores, you can quickly encounter this treat anywhere. Then, if you want to give this delicacy a go, do it right away.
7. Arancini or Arancina
(Rice Balls)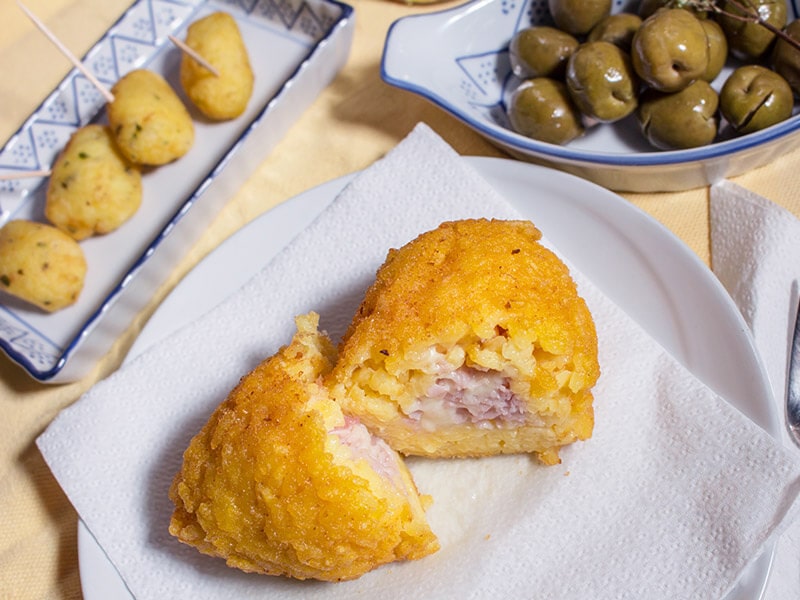 Arancini is an Italian term meaning "little oranges" (perhaps because the outer skin is fried well and has a beautiful orange color on the exterior). In general, this dish consists of crispy rice balls stuffed with a rich filling.
The cooks may alter the fillings between cheese, chicken, ham, or all of them in one. The regular Arancini is fried food, but you can ask the cooks for baked Arancini instead if you prefer something healthier.
Arancini, which originated in Sicily in the 10th century, is now a finger-licking street food you can easily find on this gorgeous island. It can satisfy you hunger right away with only a few balls because its size is quite big (about 9 cm in diameter)
Don't forget the accompanying sauce on the side; it helps a lot to enhance your taste experience.
8. Crocchè or Crocchè Di Patatte
(Fried Mashed Potatoes)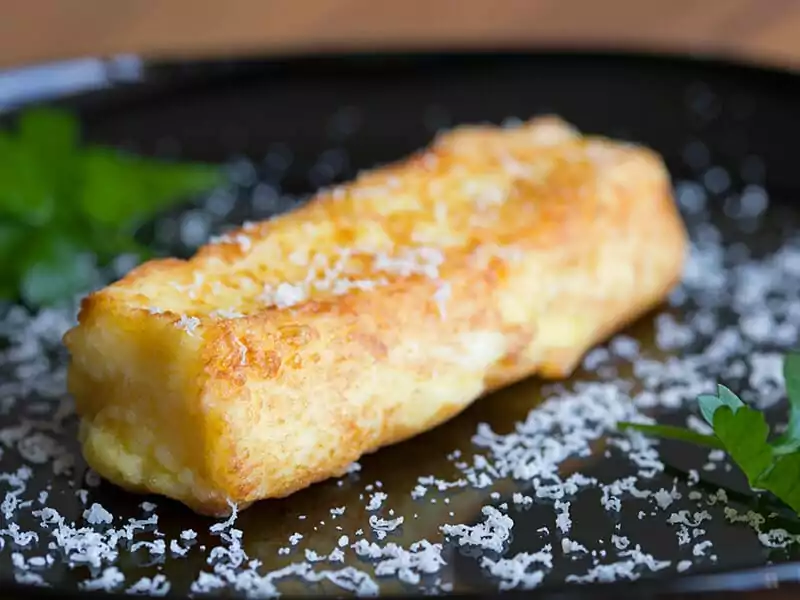 Inspired by the French Croquette from the 17th century, this Crocchè has been twisted to fit the Sicilian palates over the past centuries. No matter how deeply they change it, you will still receive gorgeous pieces of crispy fried treats that can easily crumble under your teeth.
In general, it also consists of mashed potatoes or cheeses and herbs; yet, Italian cooks will put in some other additional ingredients such as prosciutto or salami for more flavor.
Unlike the previous Paneddi, Sicilian people enjoy having Crocchè alone with sauces (antipasto) or some refreshing side dishes more than eating with bread or buns. You should not forget the lime/lemon juice; its mild sourness will help you decrease the oily taste and enjoy Crocchè better.
---
Next, it is time to talk more about Sicilian-Italian lovely sweet treats and the most recommended drinks to wash them down! My suggestions here are the most popular ones, so you won't waste a lot of time finding them on the streets.
9. Sicilian Craft Beers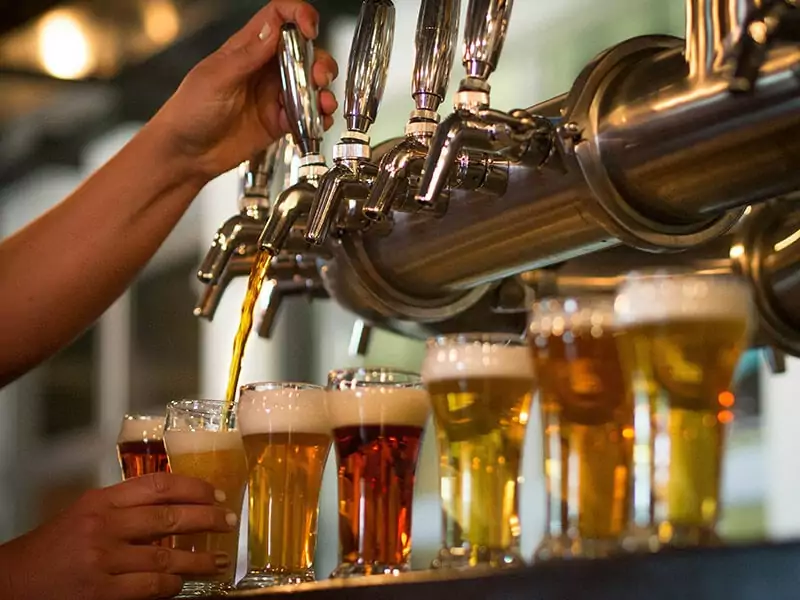 Beer has a long history of development in the island of Sicily since the Phoenicians started using, consuming, and selling this refreshing drink there from the 7th century BC. Because of that, I can guarantee with you that your familiar drink will be extra tasty here.
Furthermore, craft beers in Sicily are also varied in flavors as local people love brewing them with thousands of different condiments/components. The most popular ones are lime and honey; you should try these two first.
10. Grillo
(White Wine)
How about talking about wine here? Wines are the favorite drinks of Italians in general, and you can see them having these treats frequently. Among all the wines produced in Sicily, I highly recommend this Grillo, a white wine made from local grapes.
This kind of white wine from Sicily generally is a full-bodied kind of wine with relatively high alcohol content and is also famous for its distinctive aromas. Grillo appears on this list because it can pair with many foods, so you can try combining them together.
Grillo performs best with savory seafood (such as fish and crustaceans) or starchy dishes like pasta and risottos. Its herbal and fruity aromas can complement well with the treats, making your taste experience more remarkable.
11. Brioche Con Gelato
(Ice Cream Sandwich On Brioche)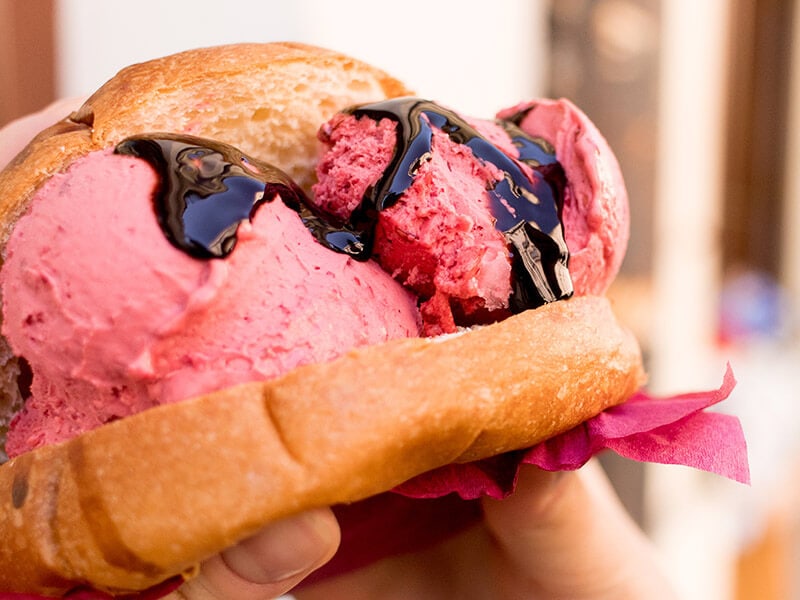 While Gelato is quite prevalent as an Italian dessert, I would like to recommend you a more interesting Sicilian recipe combining this favorable ice cream with Brioche. Once you have a bite, you can easily feel the soothing sweetness spread all over your tongue.
Since Brioche buns are typically not too dense or starchy, people can use them to partner with silky, milky, and cold ice cream. These two ingredients complement each other well and create a lovely harmony for the whole delicacy.
You might be surprised by the fact that Sicilian people enjoy this Brioche Con Gelato as breakfast, especially during the summertime. It will never go wrong when having a cold treat in hot weather.
My only advice for you when having this food is to have your Brioche Con Gelato before the ice cream part melts. Otherwise, the liquid can soak the Brioche and decrease the dish's quality.
12. Siciliani Cannoli
(Fried Tube-Shaped Pastry)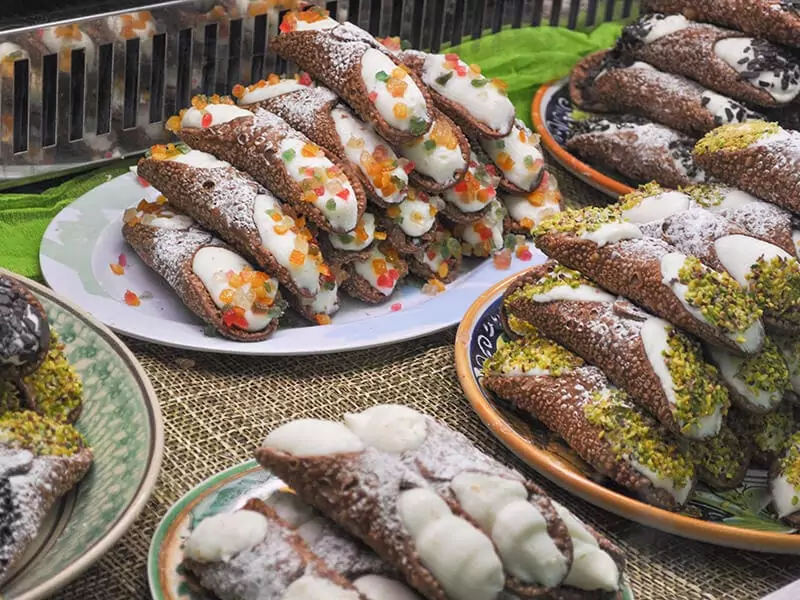 While most people think of Cannoli as an authentic Italian dessert, which is not wrong, not everyone knows that this outstanding treat actually comes from Sicily.
A qualified Cannoli has a crispy tube outside and a rich ricotta mixture filled inside it. Each bite will be phenomenal.
Ancient Sicily citizens created this delicacy during the Saracen times (when this island was an Arab colony) from the 9th to 11th centuries. The Arabs brought sugar and their desserts to this land, and the local people were solidly affected by that.
The unique thing about Siciliani Cannoli is the ricotta cheese used needs to be fresh, and the chefs will prepare the food right after receiving the orders. Because of that, you can ensure that your Cannoli will always be fresh and satisfying.
13. Frutta Martorana
(Fruits-Shaped Marzipan Pastries)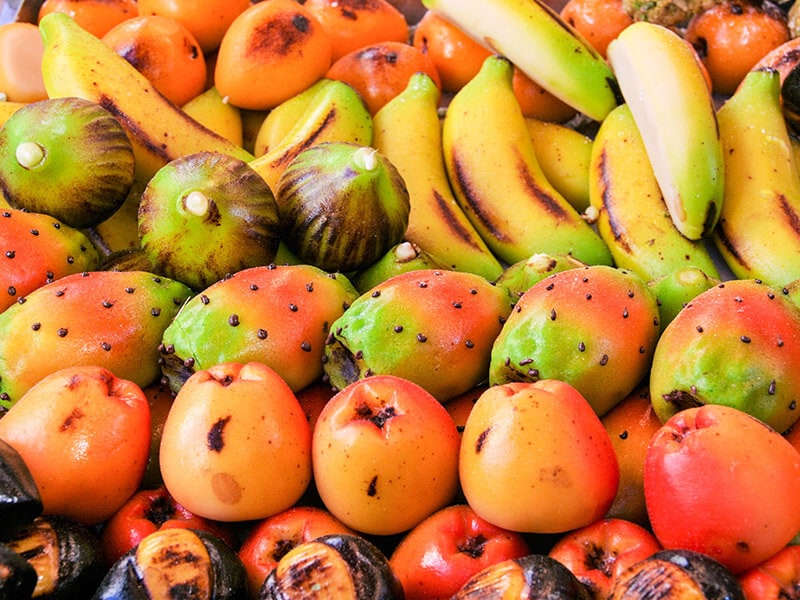 Are you looking for a gluten-free sweet treat in this category? This traditional Frutta Martorana from Palermo and Messina is for you! Not only a daily street snack, but you can also find this dessert being served on some special occasions in Sicily.
The food has its name because it usually has the fruit-resembling shapes (Frutta) and the nuns in Martorana were the first to invent it. Their original goal was to make these sweets into fruit shapes to decorate their barren trees and impressed a visiting archbishop.
This marzipan pastry has existed on this island for centuries and undergone major changes. You will be amazed at first sight because of their tempting appearances with all the eye-catching colors.
The Most Exquisite Sicilian Street Delights Are Waiting For You!
Sicilian street gastronomy has been praised by tourists and mentioned by prestigious newspapers as one of the best street foods in the world. Therefore, you should always include "trying street food" in your things-to-do list when visiting this beautiful island.
The food suggestions that I have introduced to you above are Sicily's most famous street delicacies. On the other hand, if you have any other suggestions for these must-have dishes, please leave your thoughts in the comment. Also, don't forget to share this post! Many thanks!