Italian foods represent a long-standing culinary culture of Europe and the world. Italy is the cradle of ancient civilization. And with a cuisine that mirrors its rich culture, Italy promises an unforgettable culinary experience.
So let's join me to unveil a wonderful collection of Italian delicacies that will not only broaden your gastronomic horizons but also inspire your next culinary adventure to this country.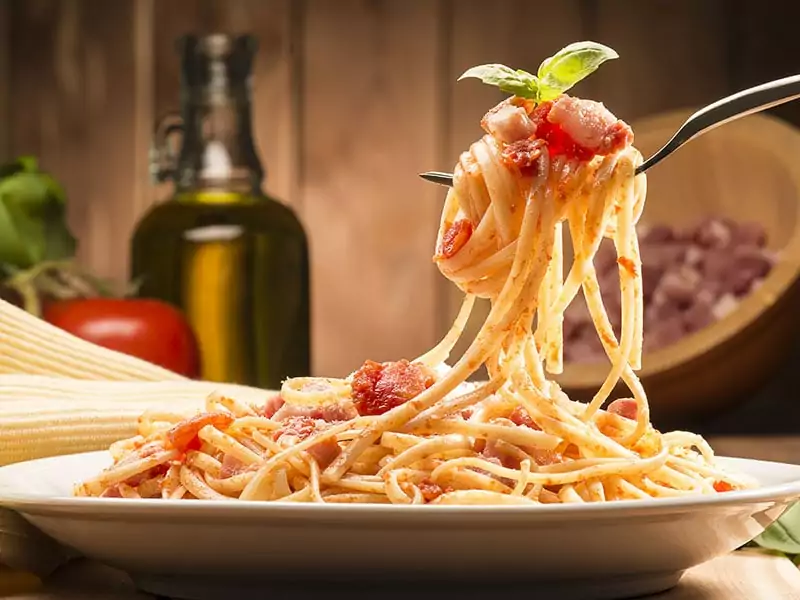 Pasta Dishes
Pasta is the identity of Italian food. Below is a list of pasta that you must try in this country.
1. Tagliatelle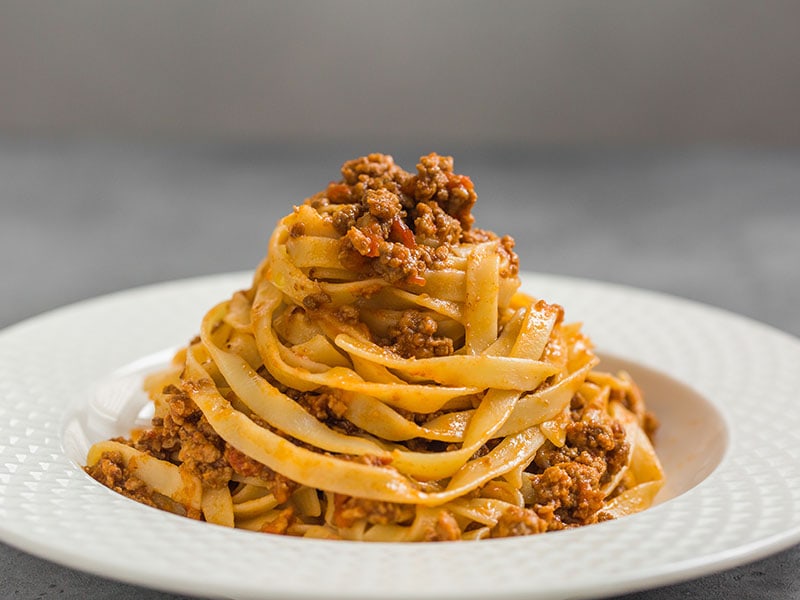 Imagine yourself savoring the delightful essence of tagliatelle pasta in the picturesque landscapes of Emilia-Romagna and Marche regions. This classic Italian lunch recipe will fulfill your cravings with its long, flat noodles.
However, to experience the genuine spirit of this kind of pasta, treat yourself to tagliatelle paired with the legendary Bolognese sauce. This is an iconic Italian sauce that can elevate this pasta to new heights of flavor and richness.
2. Spaghetti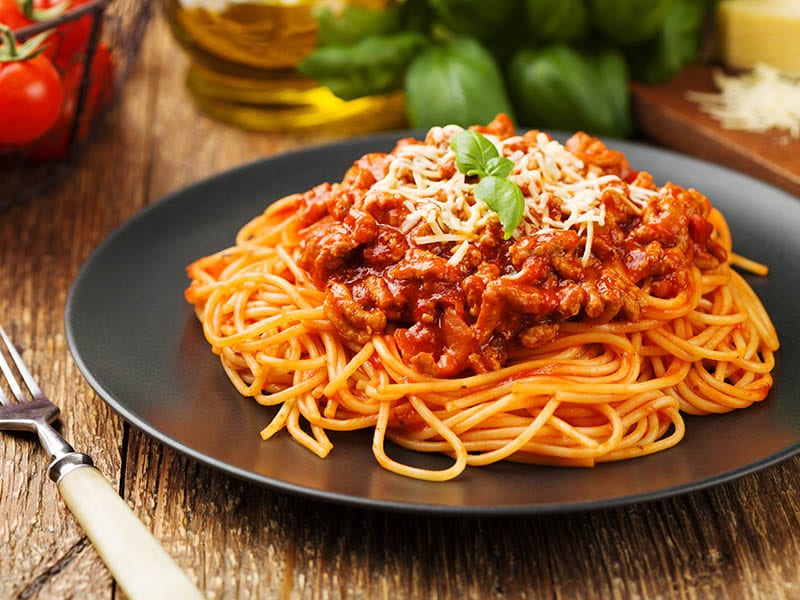 Tracing its origins back to the 5th century AD, spaghetti has been a staple in Italian households for centuries. However, it wasn't until the 19th century that this delightful pasta soared in popularity.
Spaghetti is a long, thin, cylindrical pasta shape that is today's most widely consumed type of pasta in the world. The main ingredient to make it is durum wheat semolina. It is named after the Italian word "spaghetto," which means "little cord" or "thin string."
Each region of Italy has a distinct charm of spaghetti creations. It is normally served with tomato sauce or other flavorful sauces or mixed with other ingredients in pasta dishes like spaghetti carbonara, spaghetti aglio e olio, and spaghetti alla puttanesca.
Plus, spaghetti is great accompanying food for porcupine meatballs, a refreshing salad, or flavorful Cacio e Pepe Brussels sprouts.
3. Ravioli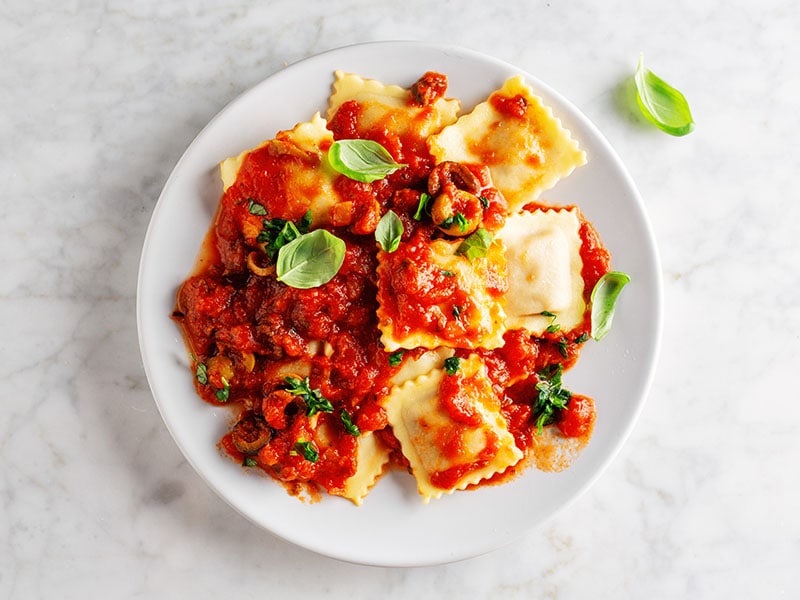 Ravioli is a type of stuffed pasta that is believed to have originated in Italy, particularly in the north, in Lombardy. With its charming square shape and tempting fillings nestled within, each bite of ravioli promises a good meal.
The dish called for herbs to be mixed with fresh cheese and a beaten egg before being cooked in a broth. This enchanting recipe is traditionally associated with the season of Lent, a time of fasting and reflection that spans approximately 40 days.
Plus, in the past, ravioli was regularly served in broth. But nowadays, this pasta served with tomato sauce is more common.
Speaking of food that goes well with ravioli, there are so many fun combinations you can try. They can be a vibrant spring salad or a few slices of aromatic garlic bread.
4. Lasagna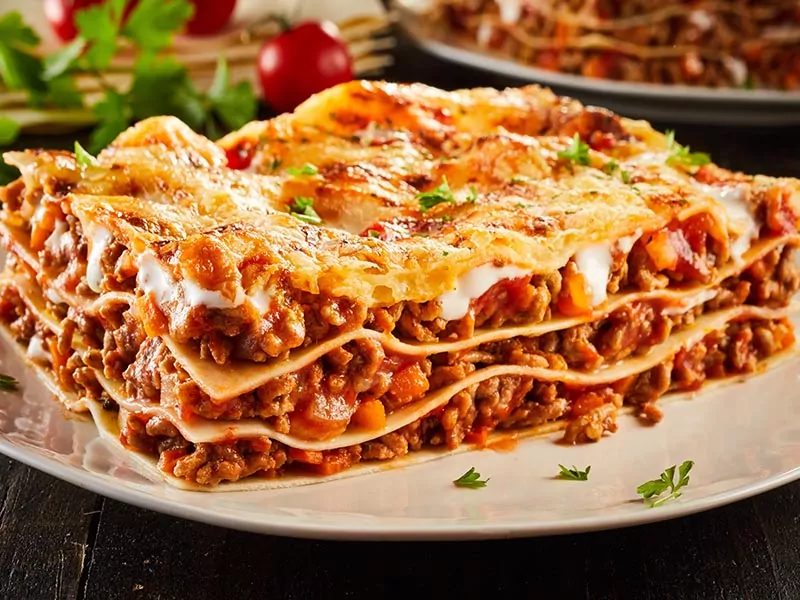 Lasagna (or lasagne) comprises many layers of flat pasta and is bathed in a rich sauce with meat, vegetables (chopped onions and carrots), and cheese.
To achieve the authentic lasagna taste, you'll need to know the specific cheese varieties that are compatible with lasagna. Picking the wrong one might result in less than desirable flavor and texture.
Regarding its origin, Naples is the birthplace of this fantastic recipe, which dates back to the Middle Ages. However, modern lasagna was introduced into the English cookbook in the 14th century. Its name is taken from the Greek word "laganon."
FYI, Magillo Restaurant and Macro Supermarket in Poland teamed up on June 20, 2012, to create the largest lasagna ever made, weighing an incredible 4,865 kg.
The event took place during the European football championship while the Italian national team was competing. It required the effort of 5000 people to assemble the colossal dish.
5. Fettuccine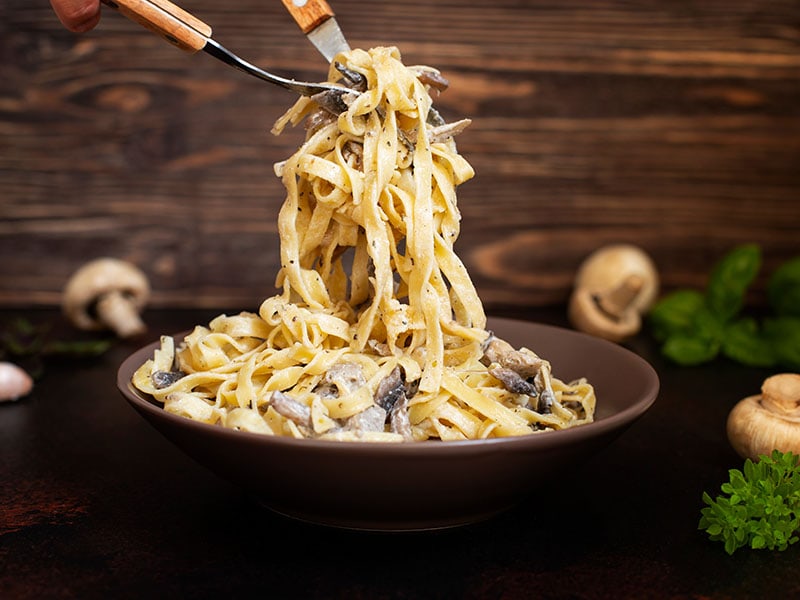 Fettuccine is another famous Italian pasta recipes, especially from the Roman and Tuscan regions. It is a type of Italian pasta that is long, flat, and ribbon-shaped.
Fettuccine typically contains egg and flour, giving it a rich and slightly chewy texture. Plus, this pasta is often served with rich and hearty sauces, such as Alfredo or Bolognese sauce.
It is one of those Italian recipes with a long history. Alfredo Di Lelio invented this incredible dish in 1914 when he opened the first restaurant in Rome with his name.
And if you are new to the above pasta varieties, keep in mind that there are differences between fettuccine and linguine. Their main ingredients, overall shape, sauces, and possible side dishes, are not similar.
6. Pappardelle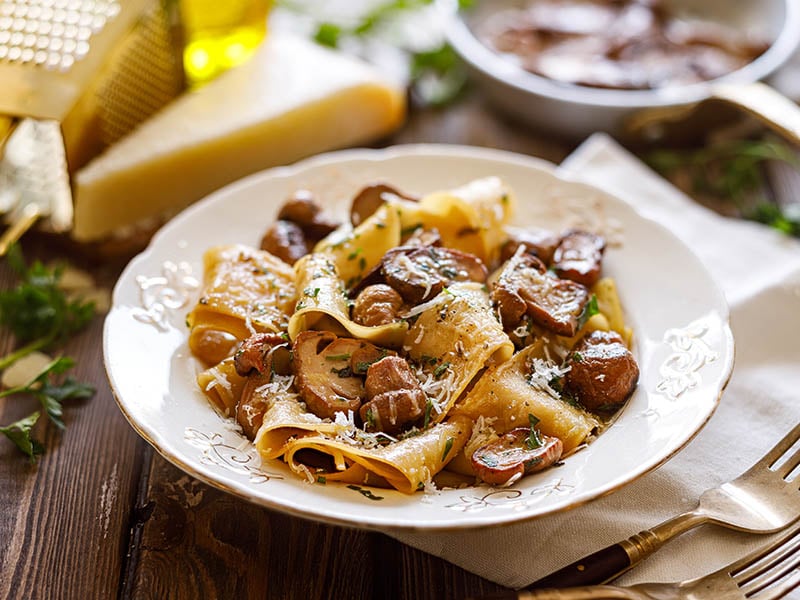 The region of Tuscany has produced a wonderful pappardelle pasta dish to treat tourists when coming to beautiful Italy. Nowadays, you can easily come across pappardelle plates with thick and flat noodles in restaurants in Rome, Tuscany, and central Italy.
Though it shares similar characteristics to fettuccine, pappardelle is wider. The width of the pasta makes it a great option for pairing with thick and hearty sauces, such as ragù, or meat sauces (made from beef or chicken), as it is able to hold up to these flavors.
It can also be served with lighter sauces like olive oil, garlic, and Parmesan cheese or with seafood or vegetable-based ones.
Quick fact: Pappardelle is derived from the Tuscan word "pappare", meaning "to gobble up".
7. Pasta E Fagioli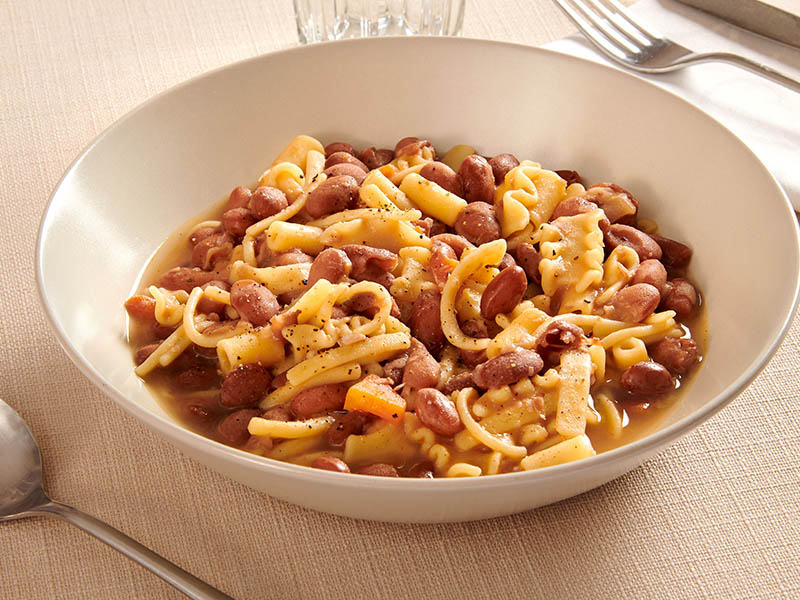 Pasta e Fagioli, which translates to "pasta and beans" in English, is a classic Italian pasta soup.
In general, the soup comprises small pasta, such as ditalini or elbow macaroni, and cannellini beans. Other ingredients commonly added to the soup are diced tomatoes, carrots, celery, onions, garlic, rosemary, and thyme.
This traditional food originates from the regions of Campania and Emilia-Romania. However, there are many variations of Pasta e Fagioli, and different regions of Italy have their own unique recipes.
As a comforting and nutritious dish, Pasta e Fagioli is best to enjoy during the colder months of the year.
8. Linguine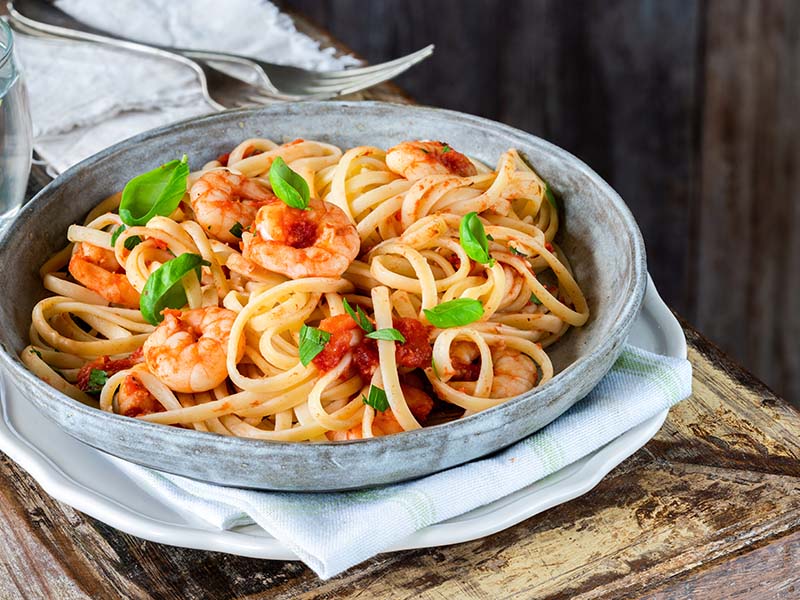 Linguine is a type of Italian pasta that is similar to fettuccine, but it is narrower and flatter. To enjoy authentic linguine, you should visit restaurants in Genoa because this is the hometown of this traditional pasta.
This is a versatile pasta that can be enjoyed in various dishes, from simple pasta dishes to more complex recipes. You can serve it with seafood sauces, such as clams or shrimp, or with lighter sauces made from olive oil, garlic, and herbs.
Quick fact: The name linguine comes from the Italian word "lingua," which means "tongue," reflecting the pasta's long, slender shape.
9. Gnocchi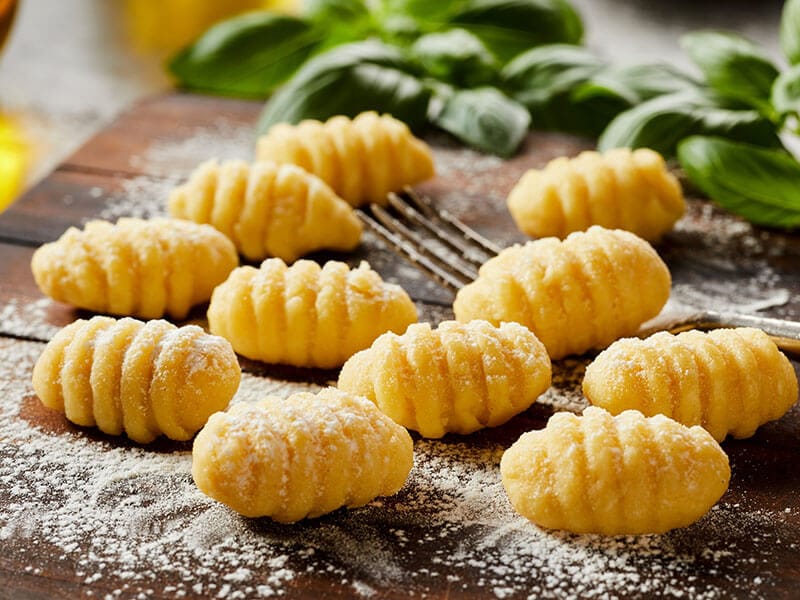 Originating in northern Italy, gnocchi has been a beloved dish for centuries in the country.
The ingredients of gnocchi are relatively simple, with potatoes, flour, and eggs. The dough is then shaped into small dumplings that are boiled until they float to the surface of the water. The resulting gnocchi is soft and tender, with a delicate texture.
The most common shape looks like small dumplings that are roughly the size of a grape. It can go with various sauces, like rich tomato sauce, a creamy Alfredo sauce, or a simple garlic and olive oil sauce. It is also a great choice for a first course or a side dish.
---
Baked Goods
From traditional pizza to rustic focaccia, Italian baked foods come in many shapes and sizes. Here are some most popular ones that you should know here:
10. Focaccia – Flatbread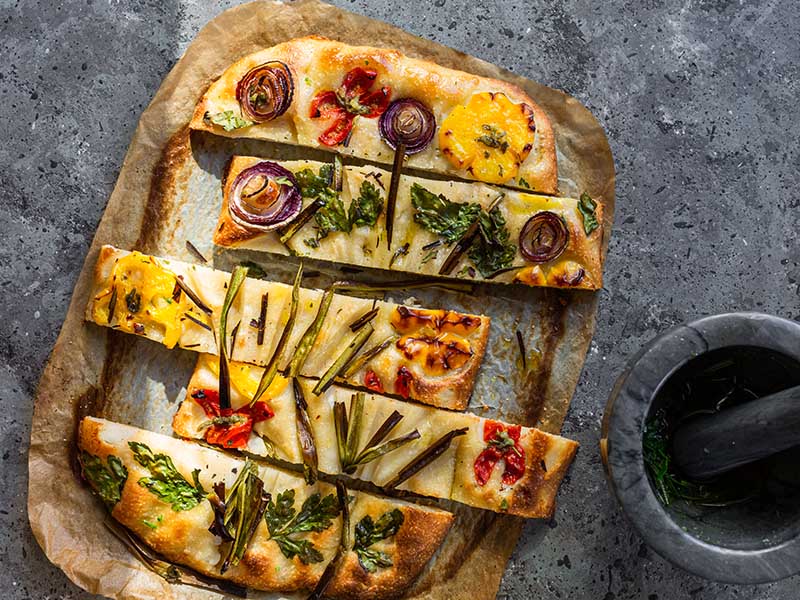 Focaccia is a type of Italian bread that is flat and typically round or square in shape. It is made from a simple dough that is topped with olive oil, herbs, and sometimes other ingredients such as olives, onions, or tomatoes.
You will be immersed in the tenderness of the inside and the crunchiness of the outer crust. To enjoy it, you can serve focaccia as a side dish or as a base for sandwiches and other dishes.
This fantastic food originated in the North-Central part of Italy in the pre-Roman era and was made by the Etruscans. Its name is taken from the word "panis focacius", which means "hearth bread".
11. Pizza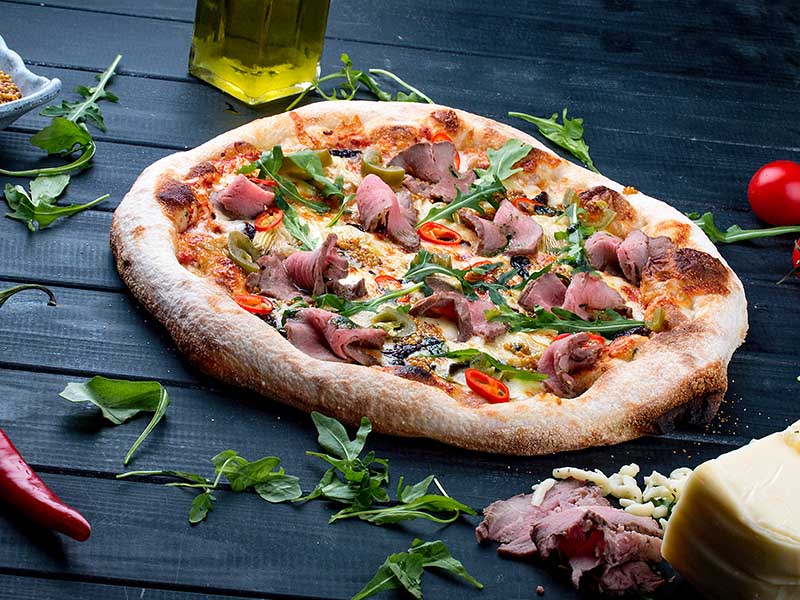 Pizza is a quintessential Italian dish that has brought Italian cuisine closer to the world, especially in the USA. According to research, Americans have spent 17.3 billion US dollars on pizza in 2022.
The flatbreads are carefully shaped to an excellent round shape. It typically comes with a base of dough that is topped with tomato sauce, cheese, and a variety of other toppings. If you are a fan of mushrooms, you can try Pizza ai Funghi e Salsiccia, consisting of mushrooms and sausage.
Its origins can be traced back to ancient civilizations in the Mediterranean with the seasoned flatbread. In fact, this wonderful dish was first created in 997 AD in Gaeta and commonly appeared in Southern and Central Italy.
However, it was not until the 18th century that modern pizza was made in Naples and became popular in the 1940s. FYI, the dish is celebrated with a yearly festival called "Pizzafest" in Naples.
12. Panettone – Sweet Bread
Panettone is especially famous in Milan because this is its origin. Italians create a Panettone from yeast-based dough studded with raisins, lemon zest, or oranges. Moreover, it has a characteristic dome shape.
It is incredible to gather with family and enjoy delicious Italian cakes and pies. Today, it is popular in Italy and has also become an indispensable dish in Christmas and New Year celebrations in Western, Southern, and Southeastern Europe.
The cake has a soft and fluffy texture, with a slightly sweet flavor that is perfect for serving with coffee or tea.
13. Bruschetta – Finger Bread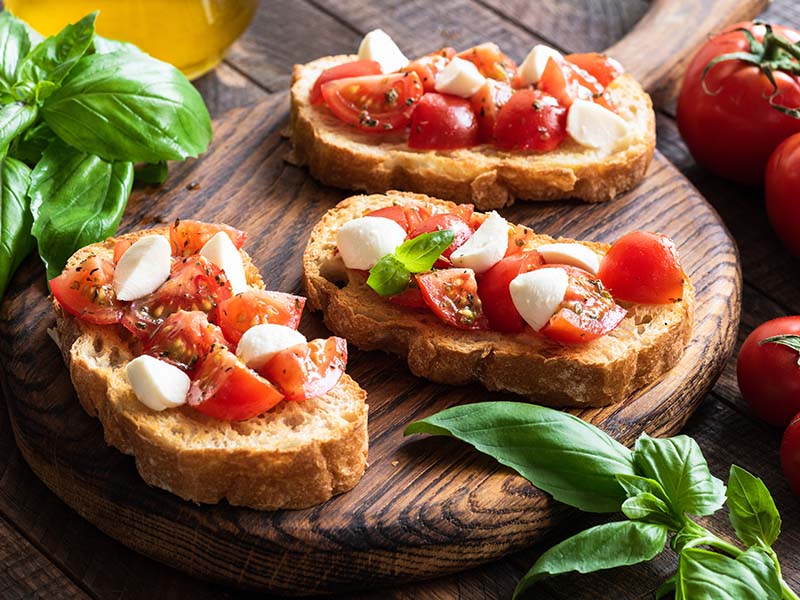 If you are a big fan of bread, bruschetta is a perfect choice for you. This famous recipe dates back to ancient Rome and is popular worldwide.
This is a fantastic addition to your list of tasty Italian appetizers and is perfect for sharing with friends and family.
It features toasted bread topped with a variety of delicious ingredients (like tomatoes, basil, olive oil, garlic, and Parmesan cheese).
Some popular variations include bruschetta topped with prosciutto, figs, or goat cheese, among many others.
14. Colomba di Pasqua – Easter Bread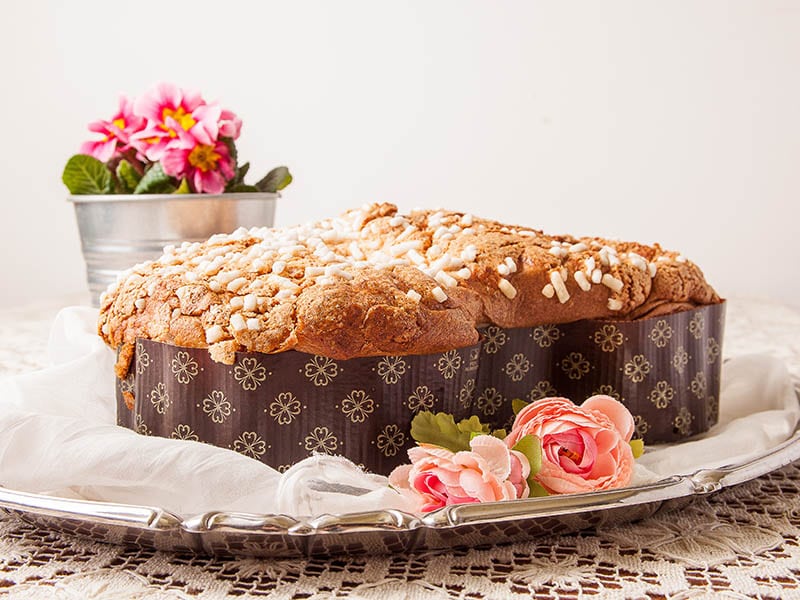 Colomba di Pasqua is a traditional Italian Easter cake that is similar in taste and texture to panettone. It is shaped like a dove, which is a symbol of peace.
This cake contains flour, butter, sugar, eggs, and natural yeast. With a sweet, fluffy texture, Colomba di Pasqua is perfect for serving as a dessert or as an accompaniment to coffee or tea.
It is typically coated with a layer of almonds and sugar, which gives it a crunchy texture and adds to its sweetness. Unlike panettone, Colomba di Pasqua does not contain raisins but may be filled with candied fruits or chocolate chips.
For the root of Colomba di Pasqua, it is believed as a food to celebrate the successful defense of Lombardy against the Holy Roman Empire in 1176AD.
Another legend says that the bread was a peace offering to King Alboin of Lombardy in exchange for his mercy for 12 young girls and the city of Pavia.
15. Grissini – Breadsticks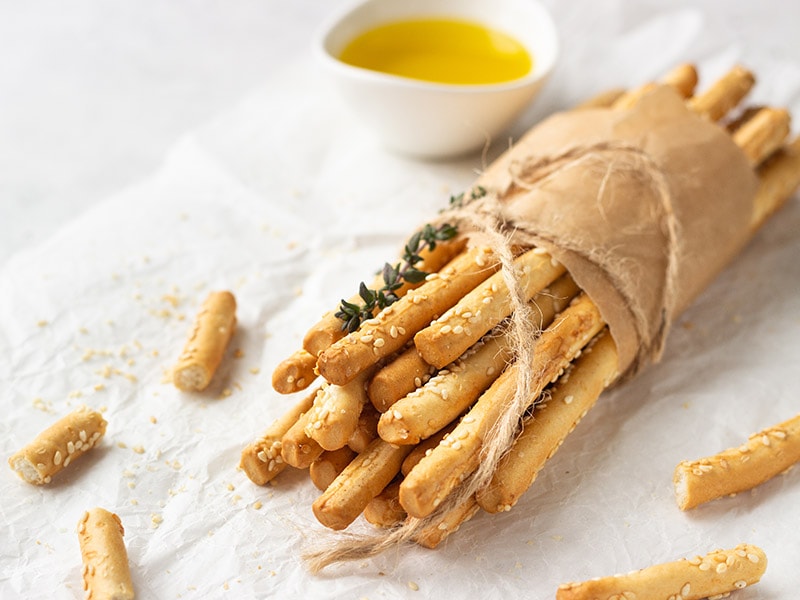 Produced in the city of Turin in 1670, Grissini is a typical Italian snack that you should definitely try. They are thin, crunchy sticks of bread that are typically made with wheat flour, water, yeast, and salt.
The dough is rolled out into long, thin strips and then baked until crisp and golden brown. Grissini are a popular snack in Italy and are often served with antipasti or as an accompaniment to wine.
They are also a staple of Italian restaurants and can be found on the table at many dining establishments throughout the country. What's more, they can be crumbled and used as a crunchy topping for salads or soups.
For more information, this famous bread is associated with Duke Vittorio Amedeo II. He suffered from indigestion as a child, so a doctor advised the Duke to eat foods that were easy to digest and stimulate his appetite, and a local baker created Grissini for him to eat.
Seafood Dishes
It's time to diversify beyond just pasta and carb-heavy dishes with these meat or seafood specialties in Italy.
16. Bistecca Alla Fiorentina – Fiorentina Beef Steak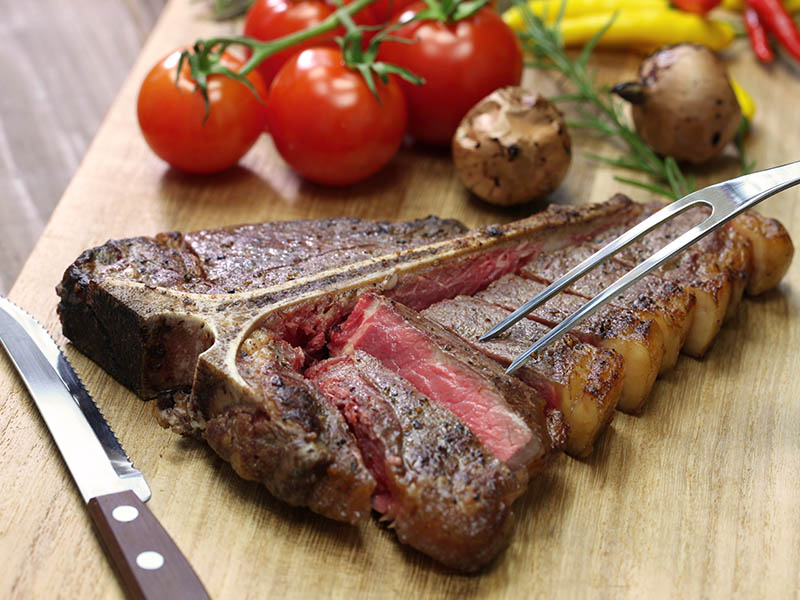 Bistecca alla Fiorentina is a famous Tuscan dish that is popular among meat lovers around the world. Originating from Florence, this dish is made with a high-quality cut of beef, ideally from a young steer or heifer, with olive oil, coarse salt, and black pepper.
It is a grilled dish cooked over hot embers. The texture of the steak is tender and juicy, with a slightly charred crust on the outside. So if you haven't known which Italian-style dinner to try, save this name to your list!
When served, Bistecca alla Fiorentina often goes with simple side dishes that complement its flavor without overpowering it. Some traditional sides are roasted or grilled vegetables, Tuscan beans, or a simple salad.
In addition, Bistecca alla Fiorentina is best enjoyed with a glass of red wine and good company.
17. Carpaccio – Raw Fish or Meat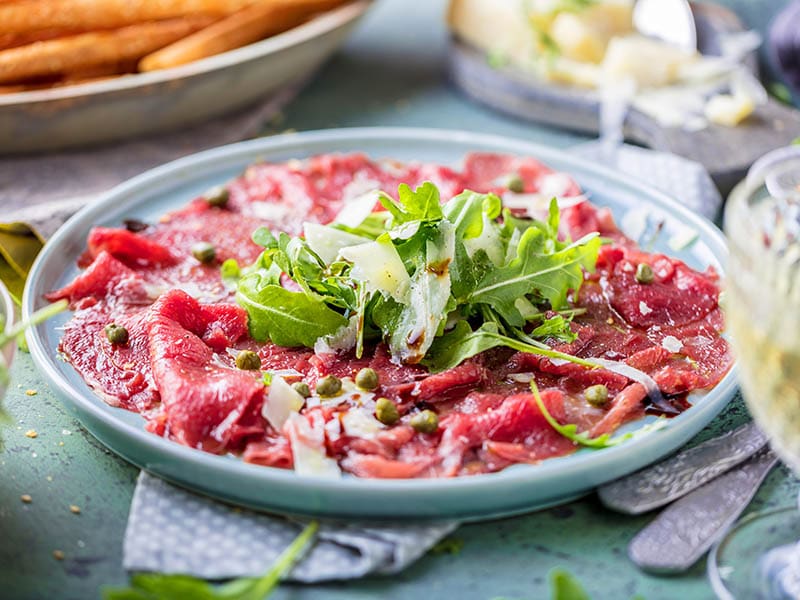 If you are craving raw fish or meat, you should not skip the Carpaccio. This treat has an eye-catching appearance, with thin slices of beef, veal, salmon, or tuna arranged neatly on the plate. Plus, this is a fantastic Italian appetizer recipe.
This dish originated in Venetian gastronomy. It was first made in 1950 in Venice by Giuseppe Cipriani. You will feel the freshness and authentic flavor of seafood and meat.
For the best experience, you should enjoy it cold and season it with olive oil, lemon juice, capers, herbs, or spices.
Overall, Carpaccio is typically an elegant appetizer in upscale restaurants, often accompanied by a glass of fine wine.
18. Vitello Tonnato – Veal And Tuna with Sauce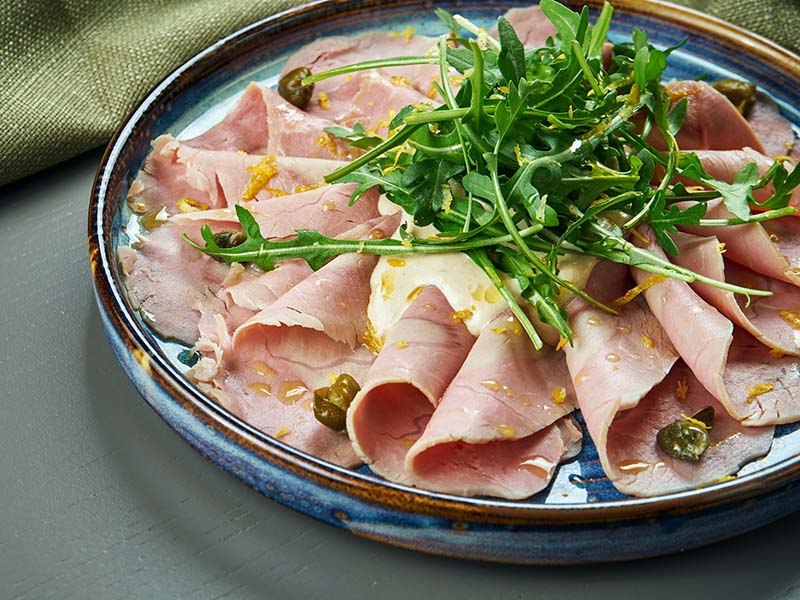 Vitello Tonnato originated in the Piedmont region of Italy, but it has become popular throughout the country, particularly in the summertime since it is ideally served chilled or at room temperature.
This food whose name begins with V's main components are veal, canned tuna, mayonnaise, capers, and anchovies. To make Vitello Tonnato, locals will cook the veal with herbs and spices, before they slice and serve the meat with a smooth tuna sauce.
This is an ideal treat for an antipasti, which is eaten before a main course. For more texture, pair it with some slices of bread to enjoy!
19. Polpette – Meatballs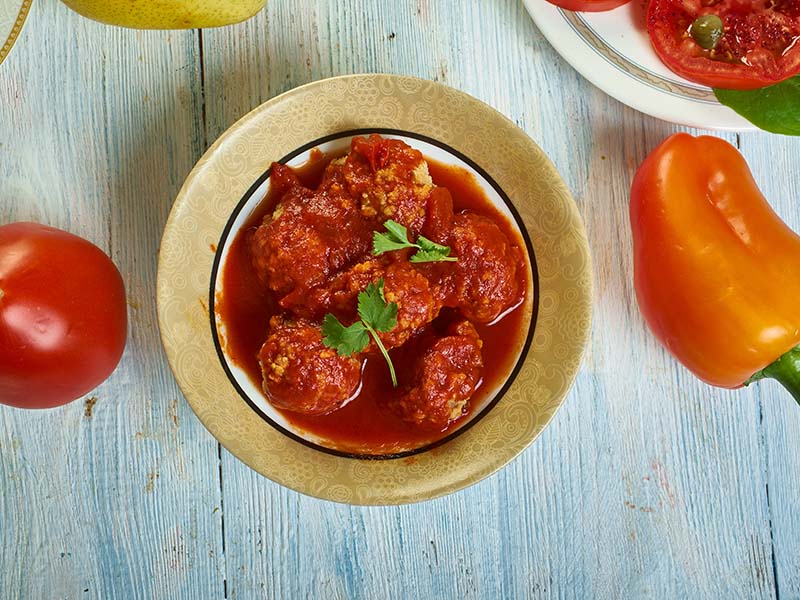 Meat lovers will fall in love with this wonderful Polpette. These small balls of seasoned ground meat are typically made with a combination of beef, pork.
The preparation of Polpette can vary across regions and households in Italy. Some recipes use breadcrumbs, while others prefer grated Parmesan cheese or Pecorino Romano cheese to add flavor to these meatballs.
Polpette can be a hearty main course, accompanied by pasta or bread, or as an appetizer or snack.
According to Italians, this meat dish was first prepared in Persia by the ancient Romans. Initially, it was called Kofta, and the cookbook recorded it as a meatball in the 14th century. It is considered a dish tied to the history of Italian cuisine.
20. Salami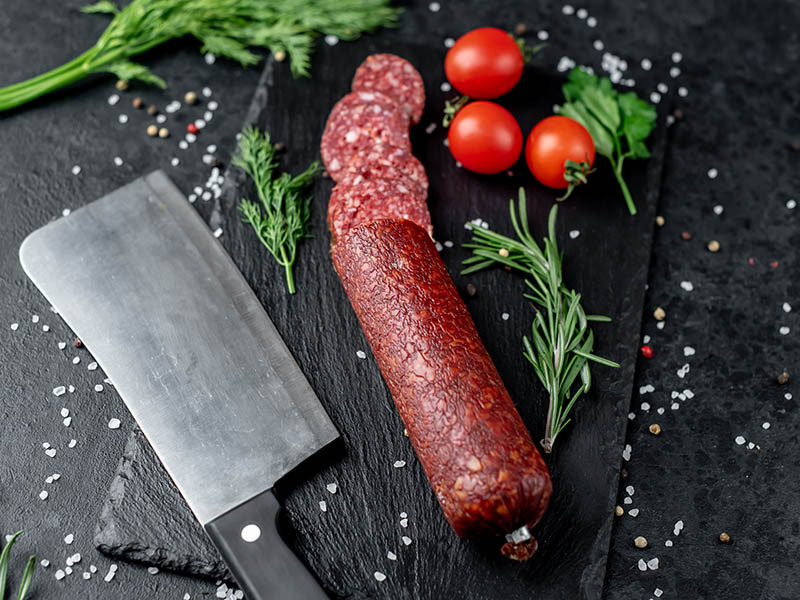 Salami is a traditional Italian sausage. For more specifically, it is a type of dry-cured sausage. Since Roman times, salami has been a favorite dish. It is famous in Italy and many other parts of Europe. In Latin, the word "salami" means salt or salare.
When buying salami, you'll notice that there are many types of salami out there, each with its own unique features. For instance, there are many distinctions between Genoa salami and hard salami, despite their apparent similar appearance.
Salami is a mixture of meat (mostly pork), fat, salt, spices, and flavorings that are ground together and then cured with salt. Different regions of Italy will have various types of salami as they can be made from beef or veal.
People normally slice it thin and place Salami on a charcuterie board or use this food as a topping on pizza or in sandwiches. It can also be cooked and made into some dishes, like pasta, soups, and stews.
21. Prosciutto – Air-Cured Ham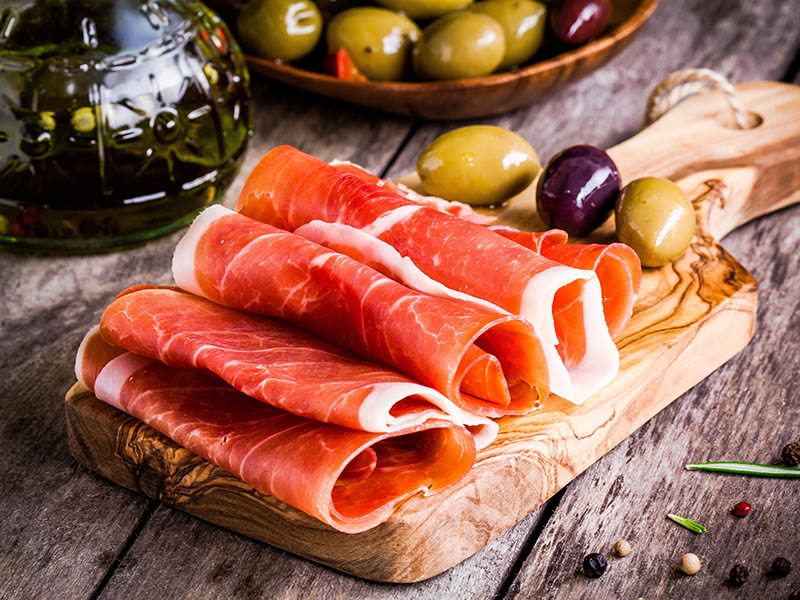 Prosciutto is a beloved cured meat hailing from Italy. There are several regional variations of prosciutto, with each having its own degree of protected status.
Some of the most prized are Prosciutto di Parma, Prosciutto di San Daniele, and Prosciutto di Modena. Prosciutto di Parma, in particular, is widely recognized as one of the finest types of prosciutto.
Regarding its flavor, it varies depending on the variety. Moreover, Prosciutto usually includes raw and cooked ham. This specialty is usually thinly sliced and served as an antipasto, as a topping for pizzas and sandwiches, or as an ingredient in pasta dishes.
22. Mortadella – Bologna Sausage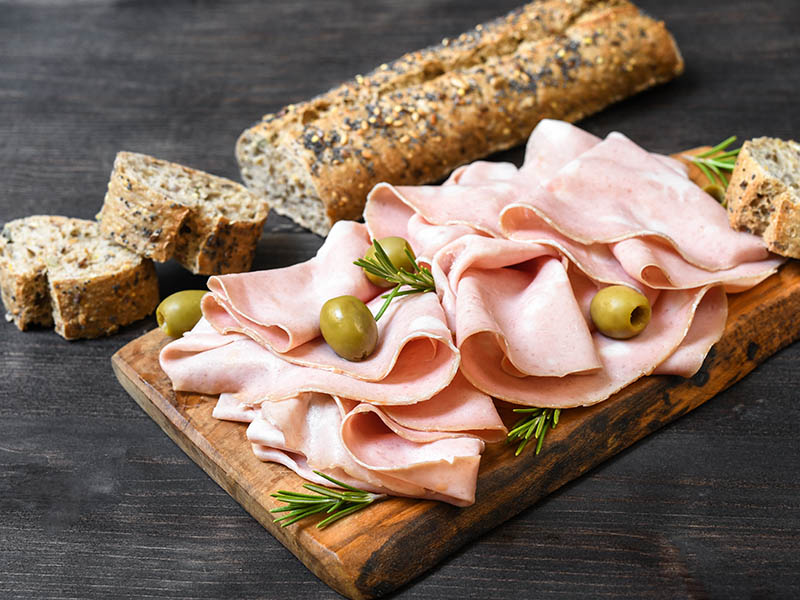 Mortadella is a type of sausage from Bologna. It is made of finely ground or hashed cured pork mixed with some small cubes of pork fat, giving it a distinctive "polka dot" appearance.
The best-known version of mortadella is Mortadella Bologna PGI, but other varieties are found across Italy, including some other meats.
Mortadella is traditionally flavored with black pepper, but some modern versions may contain pistachios or myrtle berries. All ingredients will be mixed well before being stuffed into a casing.
Mortadella is normally served cold and often appears in many delicious Italian sandwiches or as part of an antipasto platter.
23. Sarde In Saor – Marinated Sardines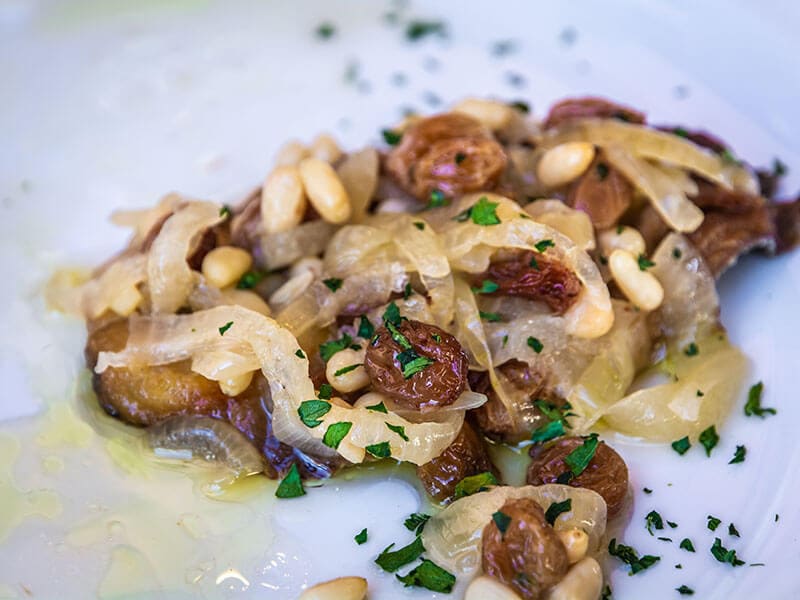 Sarde In Saor, with origins steeped in the Venetian region, is an explosion of flavors that will transport your taste buds to the charming canals of Venice.
The star here is the "sarde" or sardines, which are marinated to perfection in a mixture of vinegar, onions, and other ingredients. In fact, the term "saor" translates to "flavor" in the Venetian dialect, and this dish certainly lives up to its name.
When relishing Sarde In Saor, you can feel its incredible flavors and textures. As the sardines soak in the vinegar marinade, they take on a tanginess that complements the natural richness of the fish. The onions, on the other hand, add a sweetness and crunchy texture.
Allow the dish to rest in the refrigerator for a few hours or overnight so flavors can meld together.
For serving Sarde In Saor, you can enjoy it as an appetizer, paired with crusty bread or a selection of Italian cheeses. Alternatively, it can be served alongside a refreshing salad or a bowl of creamy polenta.
Other Specialties In Italy
This section will provide you with other fabulous dishes from Italy. They vary in styles, ingredients, and textures, but they are all tasty.
24. Parmesan (Parmigiano Reggiano) – Incredible Cheese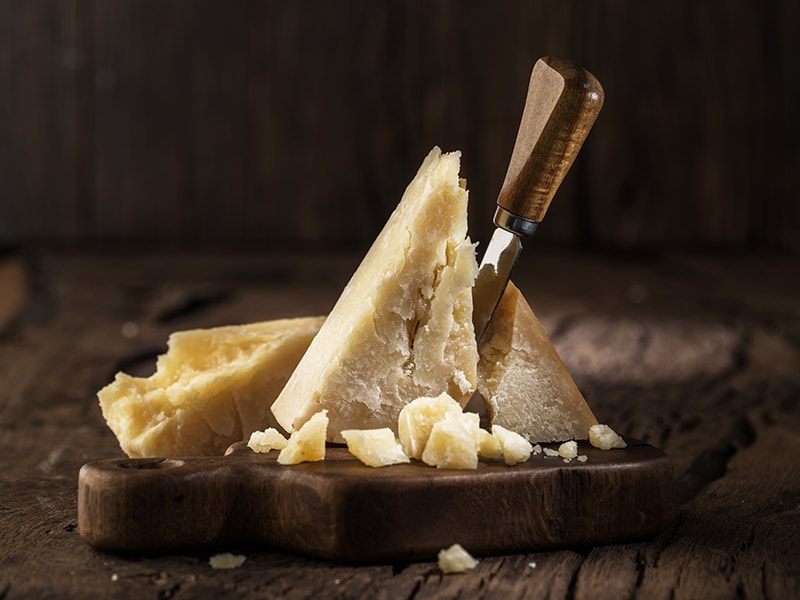 Italy is a country famous for its great cheeses, and Parmesan is one of them. People in the Parma province of Emilia Romagna created this delicious cheese in 1928. Its name is also derived from the name of this province.
This hard cheese is made from cow's milk aged for at least 12 months. With a granular texture and a strong, nutty flavor, no wonder why it is considered the king of cheese in Italy.
Its versatility has allowed it to appear in several dishes, including salad, pasta, risotto, and pizza. Do not forget to enjoy slices of parmesan cheese when visiting Bologna or Modena.
Parmigiano Reggiano is a legal name protected by Protected Designation of Origin since 1996. Similar cheeses outside of Europe can use the name Parmesan, but Parmigiano Reggiano is only used for authentic parmesan cheeses made in certain Italian provinces.
Find out some reasons why the cost of Parmesan cheese is so high.
---
25. Mozzarella – Southern Italian Cheese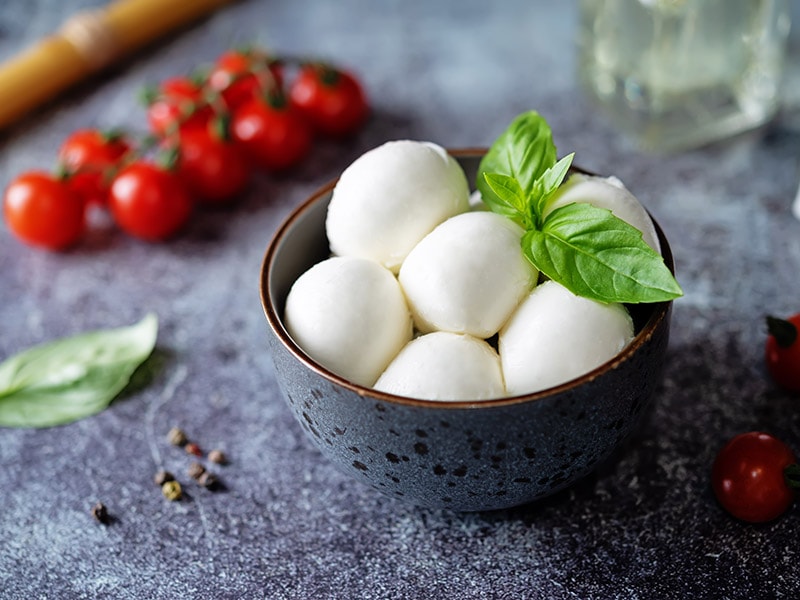 The list of well-known Italian cheeses cannot be complete without Mozzarella. It is made of buffalo milk and water. However, cow's milk versions are also commonly made.
It has a semi-soft, smooth texture and a mild flavor. This cheese is usually white but can turn slightly yellow when seasoned.
There are a lot of ways to savor fresh Mozzarella. People can use it as a topping for pizza, in salads, or as a garnish for sandwiches. It can also be eaten on its own, as part of a cheese plate or antipasto.
26. Tiramisu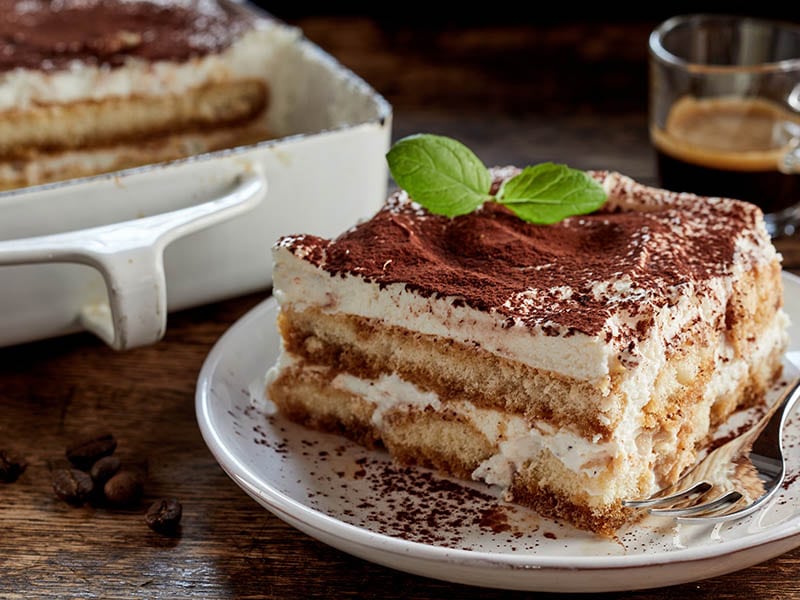 Tiramisu – a delicious Italian dessert, is famous for its coffee flavor and creamy texture. It is typically made with ladyfingers soaked in coffee, layered with a mixture of whipped egg yolks, sugar, and mascarpone cheese, and dusted with cocoa powder.
There are many variations of Tiramisu, including ones made with different liqueurs or flavored syrups, and some use fruit or chocolate. Despite these variations, the classic one remains a favorite dessert all over the world. Plus, March 21 every year is celebrated as Tiramisu Day.
The origins of tiramisu are still under dispute, but it is believed to have been invented in the 1960s. It was traditionally made as a dessert for special occasions and holidays but has since become a popular dessert served year-round.
Quick fact: The name tiramisu means "pick me up" or "cheer me up" in Italian.
27. Risotto – Rice Dish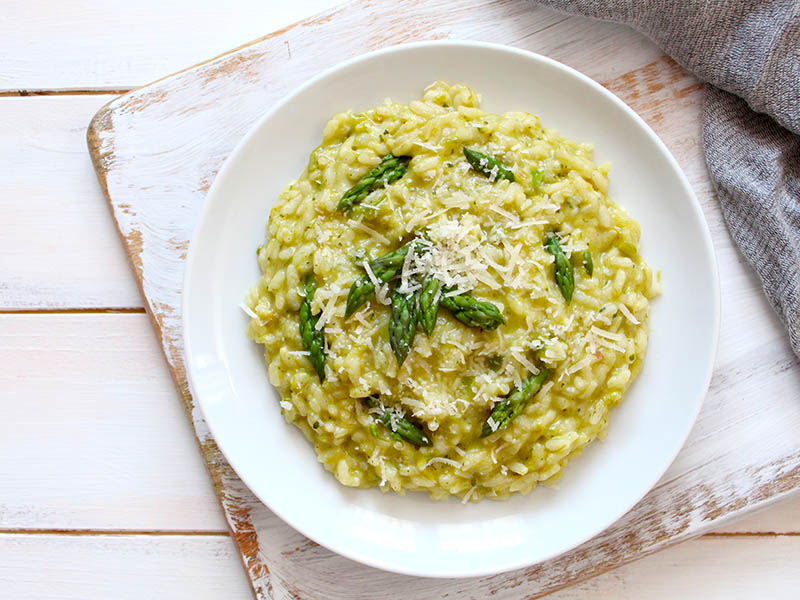 Regarding Italian rice dishes, Risotto is one of the most famous delicacies. The origins of Risotto are still unclear, but it is believed to have originated in Northern Italy.
Rice is cooked in broths made from meat, fish, or vegetables until it becomes creamy and rich. This makes Risotto a hearty dish that is perfect for cooler weather.
Arborio and Carnaroli are two types of rice used frequently for this wonderful treat. Though it is mostly an entree, this rice-based food can also be served as a side dish or topped with a variety of ingredients like crispy pancetta, sautéed mushrooms, or Parmigiano-Reggiano cheese.
What is the history of Risotto?
28. Arancini – Rice Balls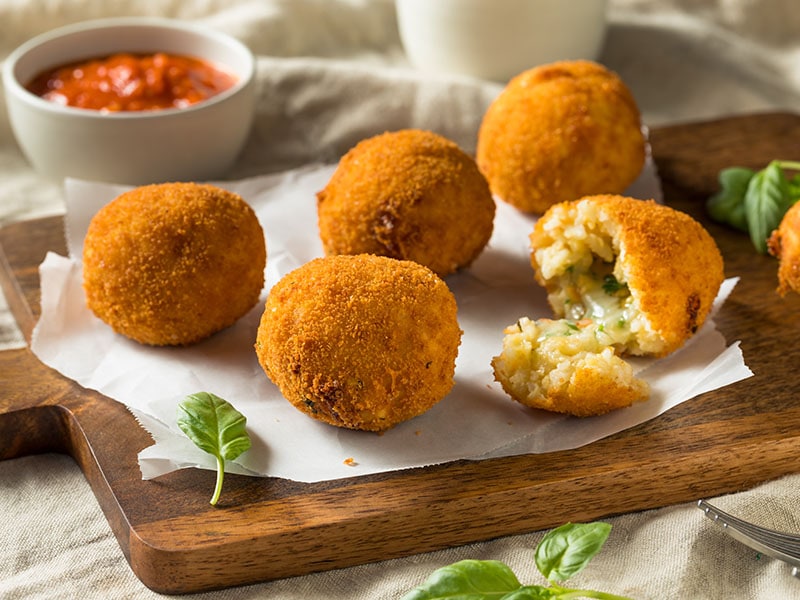 Considered an essential delicacy of Sicilian cuisine, Arancini are deep-fried rice balls coated in breadcrumbs and stuffed with a variety of fillings, such as cheese, ham, peas, and meat sauce.
The rice used in arancini is typically a short-grain variety like Arborio or Carnaroli. Traditionally, arancini are coated in breadcrumbs, which create a crispy and golden-brown shell while keeping the filling soft after frying.
In addition, Arancini gets its name from the Sicilian word "aranciu", which means "orange" in English. The dish is named so because of its shape and color, which resemble an orange fruit after it is cooked. Arancini are often served as a snack or appetizer in Italy.
29. Melanzane Alla Parmigiana – Eggplant Parmigiana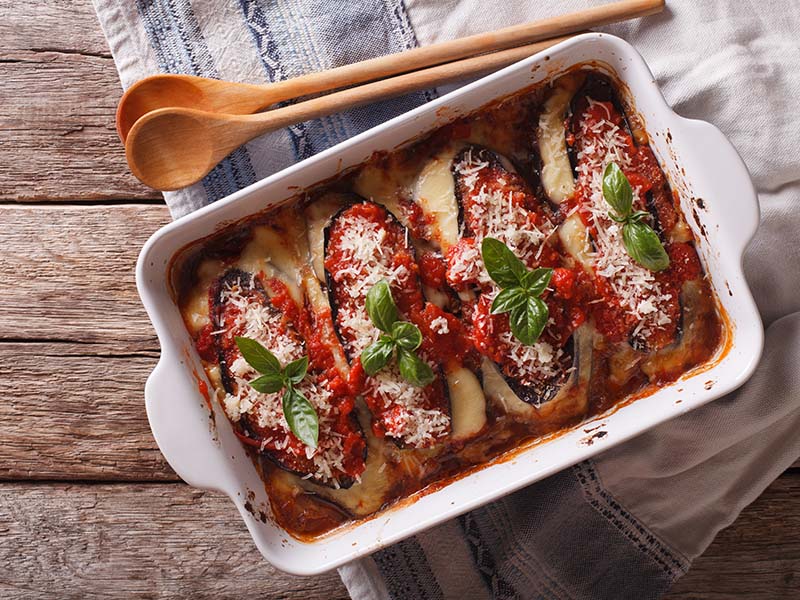 Melanzane Alla Parmigiana is a healthy choice for those who love vegetable-based dishes. It is an iconic food from Sicily and Campania.
The key component here is eggplant slices. Plus, the signature feature of this classic casserole from Italy is its rich sauce, which is made with tomato sauce, and cheese, usually Parmigiano and mozzarella.
To make it, the eggplant slices are breaded and fried before being layered in a baking dish with other ingredients, then baked to perfection. Finally, you can serve it as a main course or a side dish.
30. Caprese Salad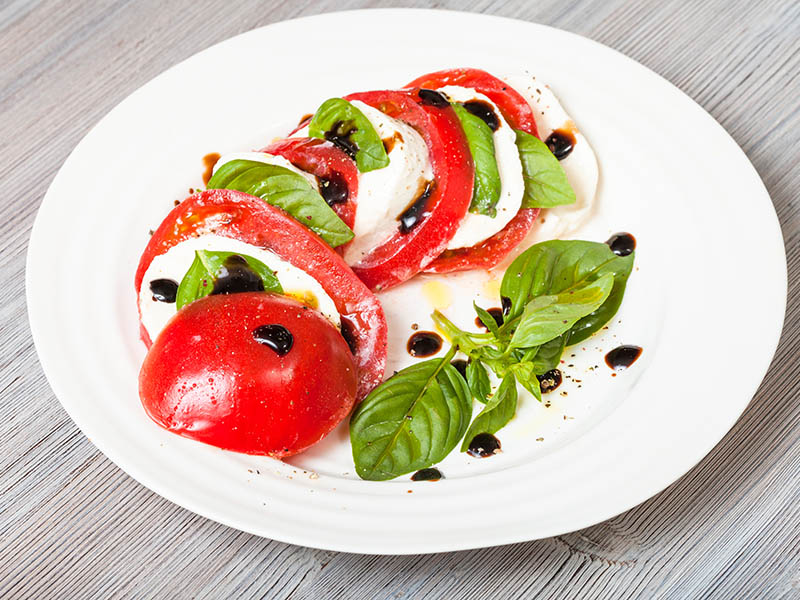 It is time to refresh your taste with yummy Caprese salads. This food is a perfect combination of mozzarella cheese and tomatoes. Other great additions to this salad are basil leaves, olive oil, and vinegar.
Caprese salad is known for its vibrant colors of red, green, and white, which represent the colors of the Italian flag. Its texture is amazing, with the creaminess of the mozzarella cheese and the juiciness of the ripe tomatoes.
Also, the flavor is fresh, light, and refreshing. It will be served as a great appetizer or a light salad.
There are many variations of Caprese salad, which include using different types of tomatoes (such as cherry or heirloom), adding balsamic vinegar or pesto for additional flavor, or substituting the mozzarella cheese with other types of cheese (like feta or burrata). Some variations also include additional ingredients like olives, prosciutto, or arugula.
Check this clip to discover the history of Caprese.
31. Gelato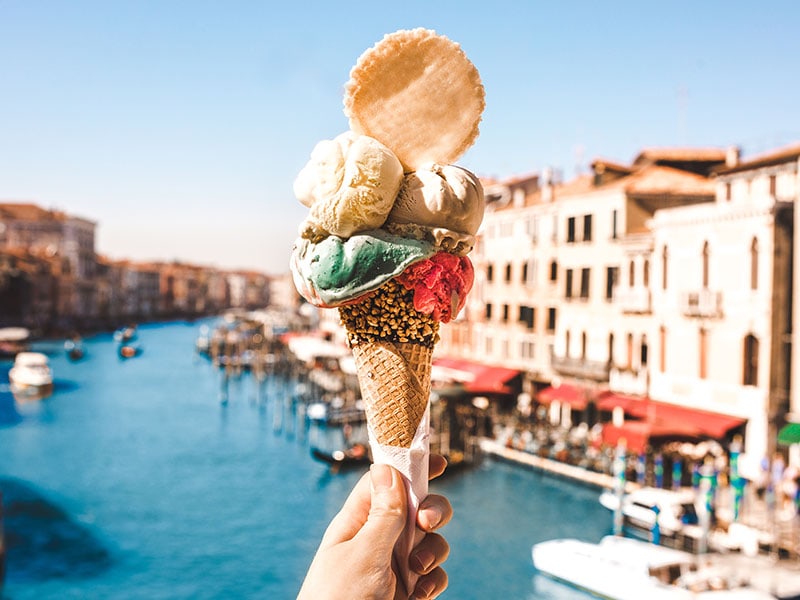 Originating in Italy during the 16th century, Italian gelato is a widely-known dessert around the world. FYI, the renowned architect Bernardo Buontalenti, who lived in Florence, is commonly recognized as one of the creators of this iced dessert.
Eggs and milk are the main stars to add creaminess and richness to gelato. In addition, it comes in a wide variety of flavors, including fruit, chocolate, and nut flavors.
In Italy, gelato is preferred over ice cream because it has a silkier and thicker texture than ice cream. This makes the flavor of the gelato richer and more appealing. People generally serve it in cones or cups.
32. Aperol Spritz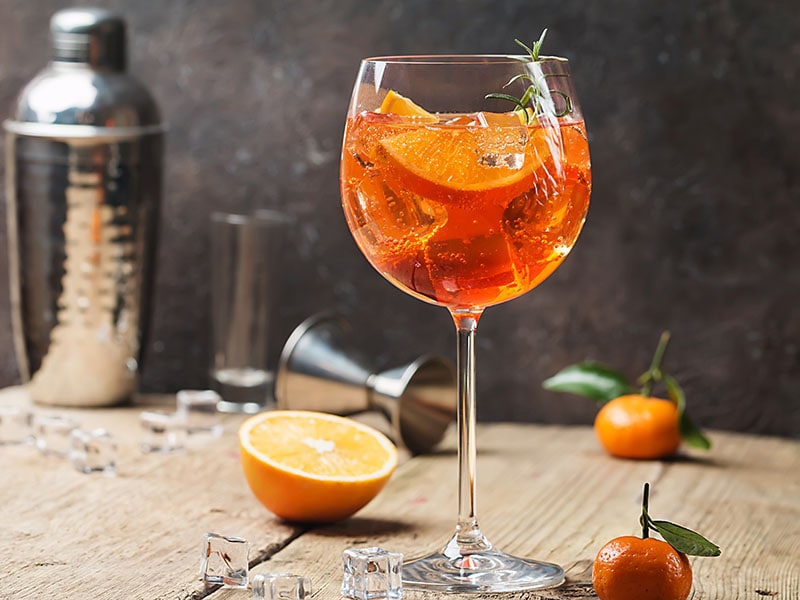 There's no shortage of enchanting drinks in Italian cuisine. So let's unleash your palate with this amazing Aperol spritz cocktail. You will be less likely to get drunk when drinking it because of the low alcohol content.
Aperol spritz was invented in Padua city. This is a concoction of soda, Prosecco – sparkling white wine, and Aperol – bright orange bittersweet liqueur.
In Italy, Aperol spritz is usually consumed before dinner with snacks and garnished with a lemon wedge.
33. Ribollita – Bread Soup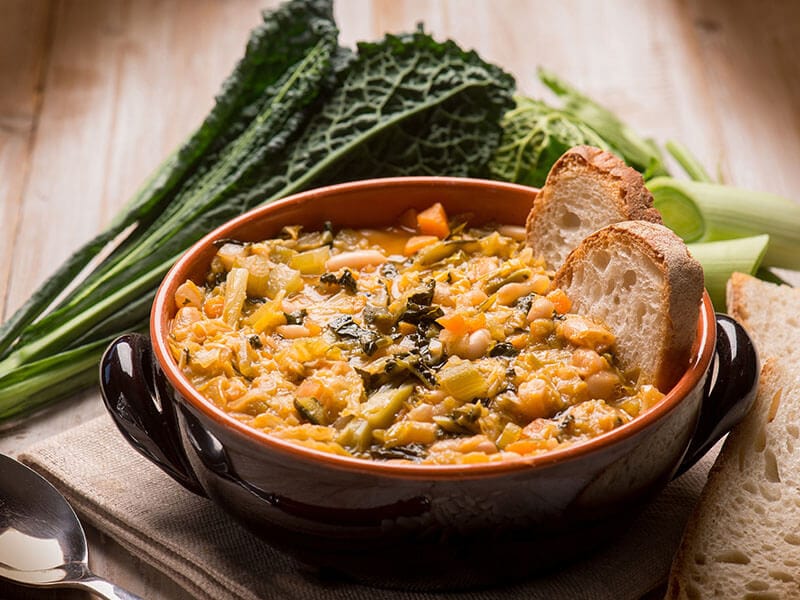 Ribollita is a heartwarming Tuscan bread soup, which can also be described as a panade or porridge. It has a rich history rooted in the rural countryside. Additionally, it is believed to be a "poor" dish of peasant origin.
The uniqueness of Ribollita is its ingenious use of leftover vegetables and stale bread. The dish normally includes cannellini beans, kale, cabbage, carrot, and zucchini.
The harmonious marriage of these ingredients creates a rich soup, making it the perfect dish to enjoy on a chilly evening.
34. Bagna Càuda – Anchovy-Garlic Dip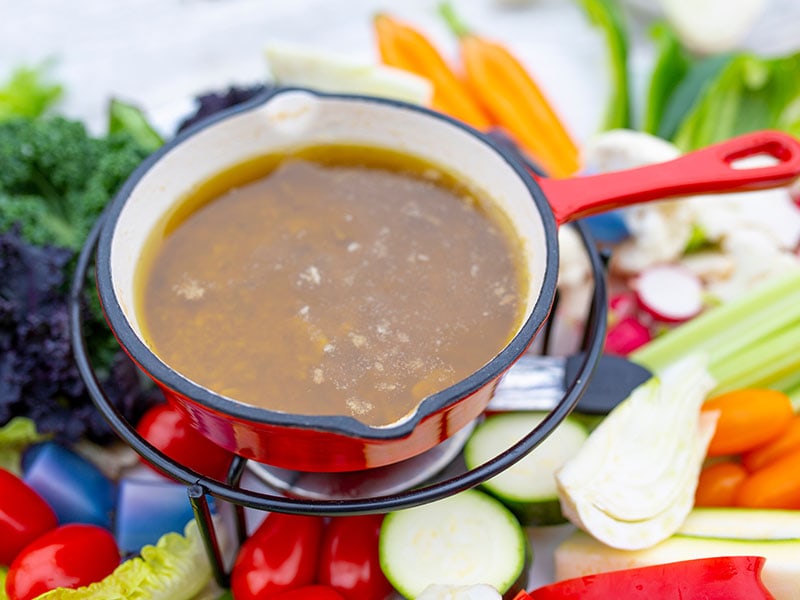 Hailing from the picturesque region of Piedmont, Bagna Càuda is a sumptuous dish dating back to the 16th century. Its name, which translates to "hot bath" in English, perfectly implies the essence of this comforting delight.
Traditionally enjoyed during the colder autumn and winter months, Bagna Càuda is a festive favorite. It is commonly served and eaten like fondue, often as a starter.
Bagna Càuda contains garlic, anchovies, and olive oil. Sometimes it may include truffle and salt. These things create a velvety sauce that invites guests to dip vegetables or even crusty bread into its flavorful depths. These vegetables typically are fennel, artichokes, peppers, carrots, and more.
35. Polenta – Corn-Based Dish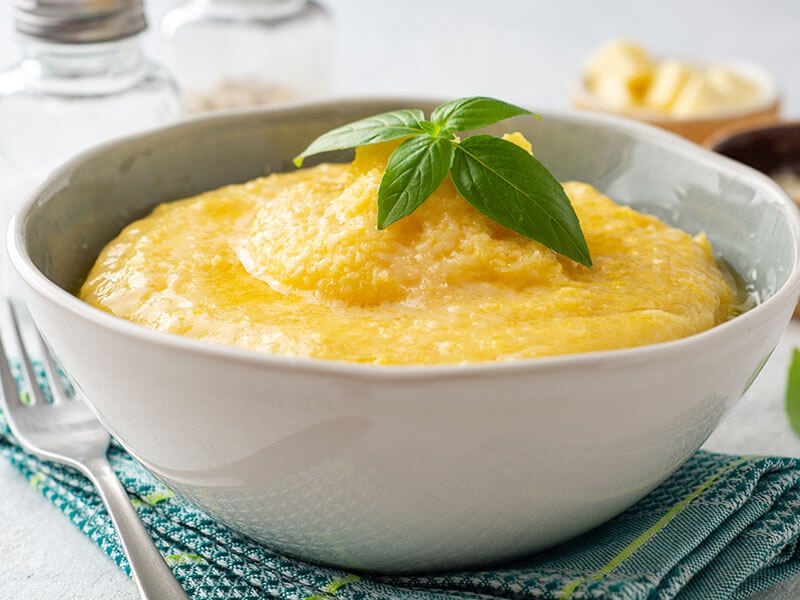 Another tasty dish from the northern regions of Italy, such as Piedmont, Lombardy, and Veneto, is Polenta. Its popularity has even spread beyond Italy's borders, becoming a loved dish in the cuisine of the Swiss and Balkan.
At its core, polenta is made from coarsely ground corn, which is cooked with water, and salt to create a smooth, creamy dish reminiscent of porridge. In addition, Polenta's flavor profile can be enhanced with butter, cheese, and various toppings.
The standard Polenta tastes mild and earthy, allowing it to pair with various main dishes. The texture of polenta can vary, depending on its preparation. When freshly cooked, it is soft and creamy. However, when allowed to cool, polenta firms up and can be sliced into different shapes.
One may wonder whether polenta is the same as grits, a popular Southern American dish. Polenta is made from coarser, yellow cornmeal, whereas grits are made from finer, white cornmeal.
A Beginner's Guide To the Italian Gastronomic Scene
First of all, it would be better to explore the soul of this Mediterranean cuisine, filled with vibrant regional flavors and time-honored traditions through these factors.
Furthermore, according to the Google Popularity scale in 2019, Italian cuisine was in the 3rd place in the ranking, with 38 points out of 100 points.
Italia's Culinary History And Regional Diversity
Historically, Italy's culinary tradition has been shaped by numerous foreign influences. The reason is the country was a crossroad for different cultures and civilizations, namely the Etruscans, Greeks, and Romans.
Therefore, Italian cuisine is a magnificent blend of history, tradition, and love. Rooted in Mediterranean cooking, this cuisine celebrates each Italian regional cuisine, showcasing distinctive flavors and dishes.
Essential Ingredients
Using high-quality and fresh ingredients is Italians' priority in cooking. Plus, with the diverse source of food, they create various culinary masterpieces.
Grains
Grains play an important role in Italia's daily meals, with ingredients such as pasta, rice, and bread being a staple in various dishes.
Fruits And Vegetables
Some popular fruits in Italy are lemons, figs, pomegranates, and quince.
On the other hand, tomatoes, for example, are a key ingredient in many Italian sauces. In fact, with over 6 million tonnes of tomato production, Italy is the second biggest producer of this fruit/vegetable.
Plus, zucchini, eggplant, and bell peppers are widely used in a lot of authentic dishes.
Herbs and Spices
Some of the most commonly used herbs and spices in this country's cooking practices are basil, oregano, parsley, and rosemary. Basil, in particular, is a symbol of love and fertility in Italian culture and is often used in tomato sauces and pesto.
Meats and Fish
Many Traditional Italian dishes feature meats, such as prosciutto, salami, and fish like anchovies. In particular, anchovies stored in salt or olive oil are known for their strong flavor.
Olive Oil
Olive oil is a fundamental ingredient in locals' recipes. In 2021-2022, this European country was the second biggest producer of olive oil. There are many ways to use it, such as drizzling it over salads, dipping it with bread like focaccia, and as a garnish to increase flavor to dishes.
Traditional Italian Meal Structure
An authentic Italian meal is a symphony of courses, starting with aperitivo (pre-meal beverage), followed by Primi Piatti – the first course. They can be pasta, risotto, soup, or polenta). Then, you will relish the Secondi Piatti, which is heavier than the first one.
The reason is Secondi Piatti is typically meat or fish-based dishes. On the other hand, the Contorni (side dishes) is typically served alongside Secondi Piatti. They are salads or vegetable dishes so they can balance the second main course out.
Finally, the diners can finish their meals with sweet treats (aka Dolce in Italian).
Wine and Beverage Pairings
When it comes to Italian cuisine, it is incomplete without mentioning the drink pairings, like wine. This nation is the largest wine producer in the world, with 702,000 hectares of vineyard cultivation.
On the other hand, aperitivo, the appetizing beginning of an Italian meal, can be alcoholic drinks like spritz Aperol, Campari, or non-alcoholic options.
FAQs
Before ending your culinary journey to this southern European nation, please take a quick glance at these short answers to learn more about Italian cuisine.
---
---
It's Never Too Late To Discover Italian Cuisine
Food is an extensive category for you to explore, but it is always fun as you discover. With many fantastic dishes, Italian culinary traditions can transport you to the heart of its rich culture and history.
So, why not share your favorite Italian dishes and hidden gems in the comments below? Together, we can uncover the secrets of this vibrant cuisine and inspire others to savor the exquisite flavor. Buon appetito!