Visit Italy without trying Italian drinks that are as delicious as Mediterranean sunshine? That absolutely flies in the face of the ancient wisdom "When in Rome, do as the Romans do". Since the Romans enjoy their diverse beverages heartily, don't deny yourself that pleasure.
Keep on reading to know what liquid refreshments to look for in Italy. But why do you have to wait for a visit to the "Bel Paese" ("beautiful country", Italy's nickname) to try its fabulous drinks? Many of them are easy to whip up at home. This post will tell you everything about them, too.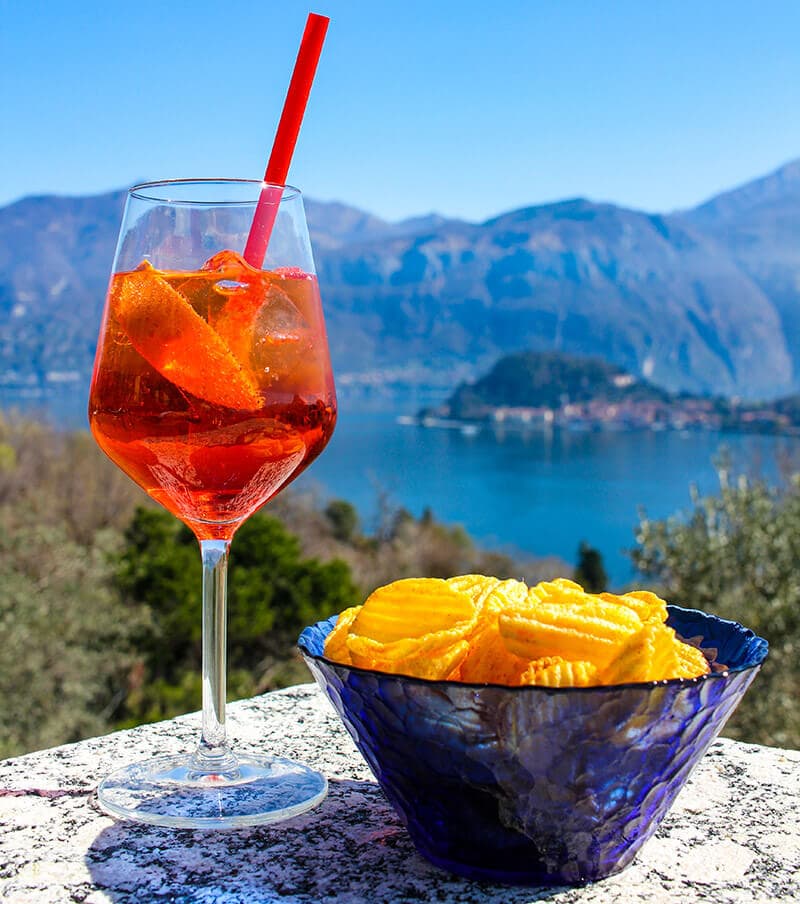 Italian Wines and Liqueurs
Italy is the land of infinite fine wine. Whichever region you choose to visit, there will always be wonderful wine and liqueurs to satisfy your thirst for new experiences.
1. Campari
Alcoholic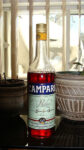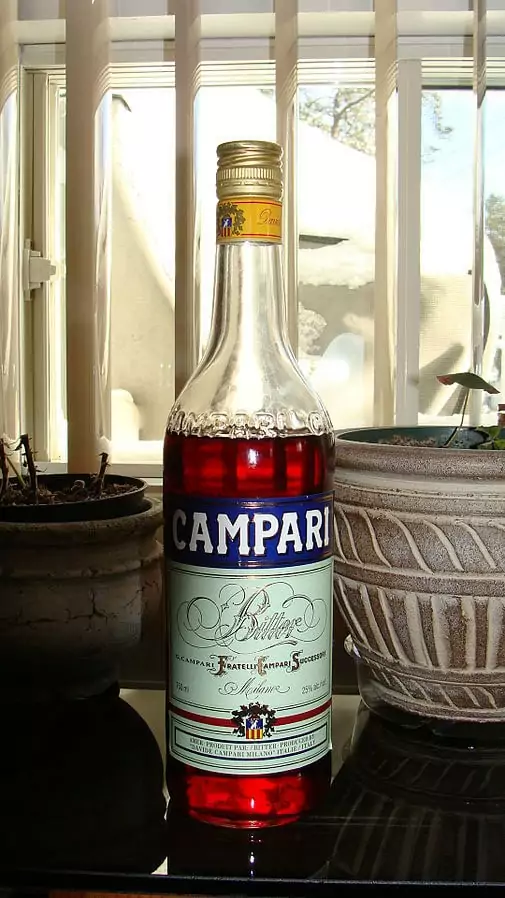 What is the national drink of Italy? That is a hard nut to crack because the Mediterranean country boasts a vast number of sublime beverages. But when it comes to popularity, Campari from the Piedmont region in northwest Italy totally deserves that title.
This drink is named after its inventor, Gaspare Campari, who came up with it in 1860. From a little-known bar, it quickly became all the rage in Italy, then Europe, and finally the whole world. Today, it is a favorite aperitif as well as an indispensable ingredient for many iconic cocktails.
In essence, Campari is a fusion of alcohol with herbs and fruits, but the exact recipe is a guarded trade secret. What isn't a secret is that its distinct fruity, bittersweet flavor feels unpleasant at the first sip but will soon become addictive once you get used to it.
This robust, tangy taste is a boon to your appetite and digestion. Therefore, Italians usually drink Campari before a meal, sometimes with soda water. It is an enticing aperitif not to be taken lightly.
It is amusing to enjoy a cup of Campari before sinking your teeth into yummy Italian signature foods. The appealing rosy color of the drink will stimulate your appetite strongly. Until 2006, that color came from insect-derived carmine dye; few people know where the beverage gets its color from now.
Where to find: Anywhere in Italy.
2. Limoncello (Lemon Liqueur)
Alcoholic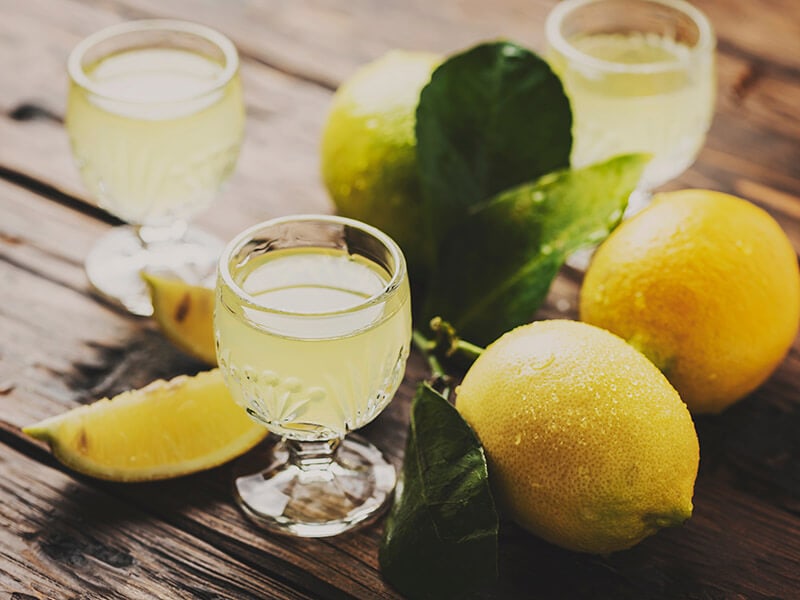 Limoncello is a relatively young drink compared to other traditional Italian beverages, with a history of "merely" a century. There are various stories about the origin of this drink. The most well-known one says an old 'nonna' or grandmother first made it from her garden lemons.
Today, people still brew Limoncello according to the old way, starting with infusing neutral spirits with the zest of local Sorrento lemons for days or weeks. The next step is to mix the resulting yellow liquid with sugar syrup before filtering it out to create a yellow, citrus-flavored liqueur.
This drink is especially well-known in Sardinian gastronomy. For Italians, chilled Limoncello is a favorite after-dinner drink (digestivo). It is also a vital ingredient in many irresistible Limoncello-based cocktails and desserts.
But before being tempted by its aromatic sweetness, beware that this drink can be quite strong with the typical alcohol content of about 30% by volume.
Where to find: Most pubs and bars in Italy sell Limoncello. But this drink is particularly prevalent in the southern part of the country, especially around the Amalfi Coast region.
3. Grappa
Alcoholic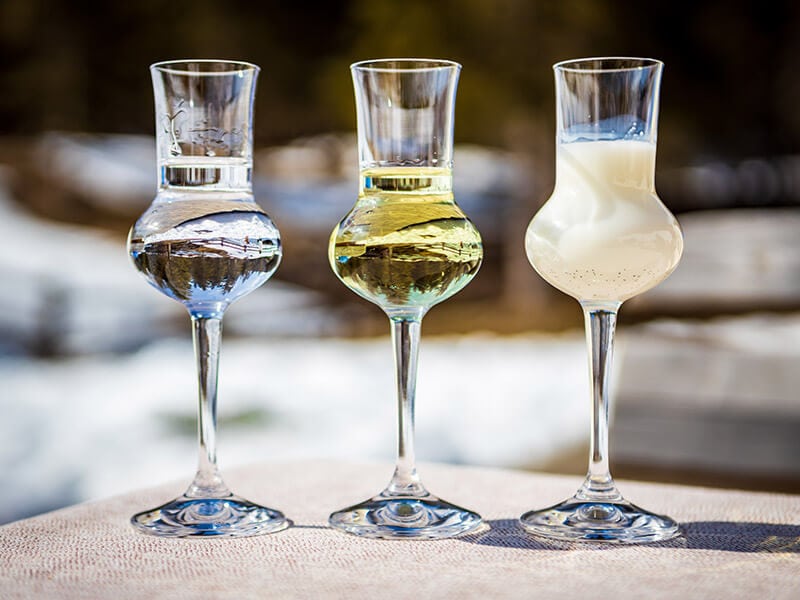 Grappa is an Italian pomace brandy, meaning that it is distilled from the solid leftovers that winemakers get after pressing grapes. They ferment the pulp of such out-of-juice grapes with yeast and lemon juice to create a colorless, peppery, and sweet liquor.
But Grappa isn't always a clear liquid. This brandy comes in two principal types: Grappa Bianca (white Grappa) aged in stainless steel tanks and golden Grappa aged in wood barrels. Both varieties should be enjoyed in a curved, tulip-shaped glass to hold in the aroma.
Long ago, Italians came up with Grappa to get rid of the winemaking waste. While the intention may cast doubt on the quality of the drink, Grappa is an amazing delight that locals love dearly and bring it everywhere with them.
A prominent example of this devotion is the drink's popularity in Latin America, a region far from home. That is thanks to Italian immigrants who arrived there in the 19th and 20th centuries and subsequently popularized their traditional Grappa.
However, Grappa is an acquired taste since it usually comes with a high alcoholic content (ranging from 35% to 70%). Aged Grappa tends to have a smoother and more drinkable taste, so start with that one if you don't want to get overwhelmed.
Where to find: Though Grappa originated in northern Italy, these days, you can easily purchase it from any bar, pub, and liquor store in the country.
4. Sambuca
Alcoholic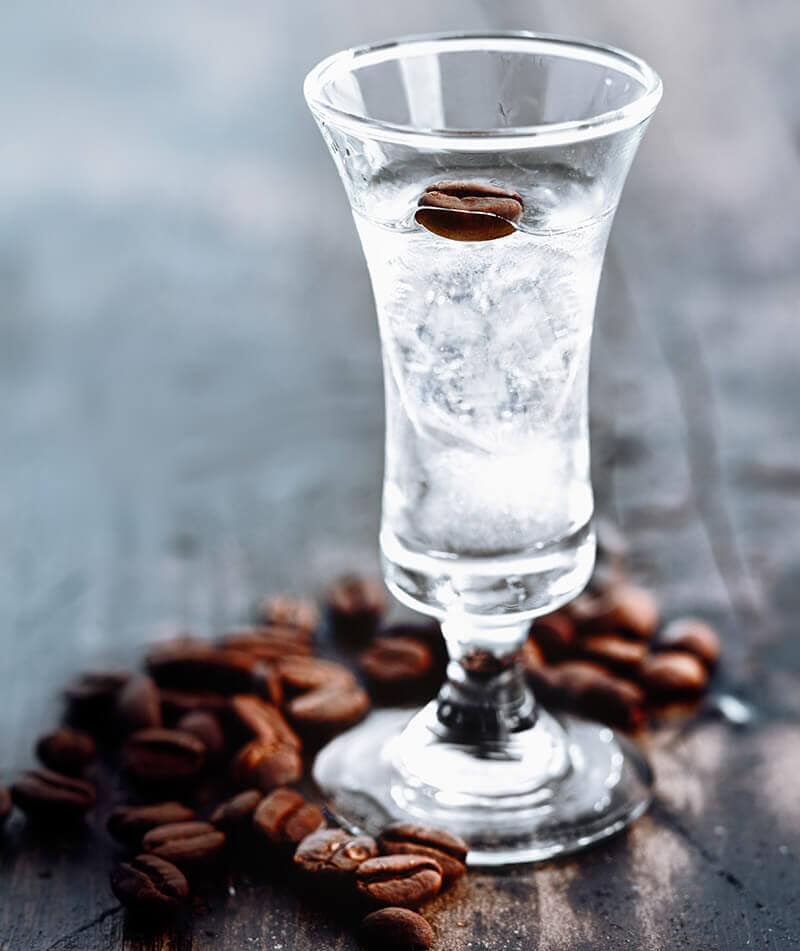 The list of the best Italian aromatic liqueurs can never be complete without Sambuca. It is a clear, anise-flavored drink that an Italian invented in 1851. The drink functions as a sweet digestif to be consumed after the meal or coffee break.
A liqueur with coffee? That's right: Sambuca reduces the bitterness of the coffee while improving its sweet taste with the herbal fragrance of anise. To order this combo in Italy, you should ask for "Caffè corretto" or "un caffè alla Sambuca".
The name "Sambuca" possibly stems from "sambuco", the Italian word for "elderberry". This ingredient isn't present in the liqueur but got stuck by mistake. Another theory says that "Sambuca" was derived from "sambuchelli", a word for men who sold anise-infused water.
What is the best way to enjoy Sambuca? With a fly (con la Mosca)! Well, that doesn't mean an actual fly but rather that you should drink this liqueur with three coffee beans floating on top. Chewing those beans or flambéing Sambuca before drinking it is also recommended.
Where to find: While Sambuca originated on the western coast of Italy, you will have no problem buying it in any part of the country.
5. Amaro
Alcoholic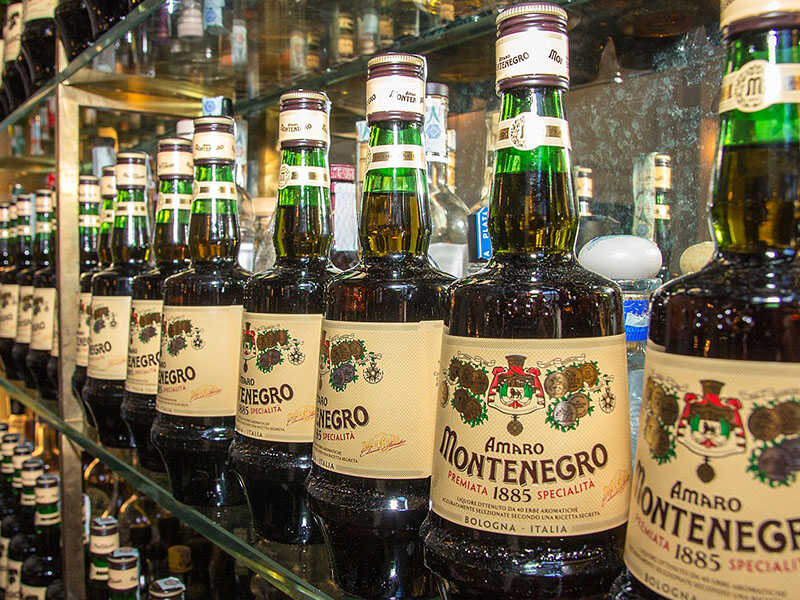 While "Amaro" means "bitter" in Italian, the dominant taste of this herbal liqueur is a floral sweetness. When the earthly, bitter notes do appear, you will find them mingle perfectly with the syrupy taste and significantly improve your enjoyment.
The secret to the drink's magic lies in a smooth combination of spirits (or wine) and various kinds of ground herbs and spices. Then, people mull that mixture with sugar syrup before aging it in casks or bottles; the longer Amaro is matured, the sweeter and more perfumed it will get.
Italians are fond of enjoying Amaro as a digestif with ice cubes, coffee, or lemon juice. Besides, the drink is versatile and can play other roles, going into multiple Italian desserts or famous cocktails. Amaro chocolate cake and amaretto sour cocktail are a few notable examples.
Depending on the choices of herbs, there can be countless kinds of Amaro. Several popular ones are made with lemon balm, juniper, citrus peels, wormwoods, among other things. Additionally, Amaro can be mild or strong with an alcohol content between 16% and 40%.
Where to find: As Sicily is the birthplace of Amaro, going there and enjoying superb Sicilian foods with the liqueur is a great idea. But you can also buy it from pubs, bars, and restaurants throughout Italy.
6. Prosecco
What Italian drink do you want to have for dinner? How about Prosecco, the government-guaranteed white wine produced in the Veneto and Friuli Venezia Giulia regions around the northwestern part of Italy? It has a rich history dating back to the 16th century at least.
There are three main types of Prosecco: sparkling, semi-sparkling, and still. All three are mostly made from the native white grape glera and have a crisp, tart, and sweet taste accompanied by a fresh aroma. It can be bubbly or not, depending on what type you choose.
Prosecco is a subtle wine with a strength of around 12%. In many parts of Italy, it is a must-have pre-dinner drink that aids digestion with its fruity sweetness. But the role of Prosecco doesn't stop there: Many famous Italian cocktails, mixed beverages, or desserts couldn't exist without it.
Just one thing to remember: As a sparkling wine, Prosecco doesn't improve with age. A few years after its vintage, it will grow stale and void of bubbles. Therefore, you should check the expiration date on the package before buying this wine.
Where to find: In bars, restaurants, and liquor stores in Italy. If you don't mind traveling, go to the main Prosecco-producing region of Italy in the northwest.
7. Barolo
Alcoholic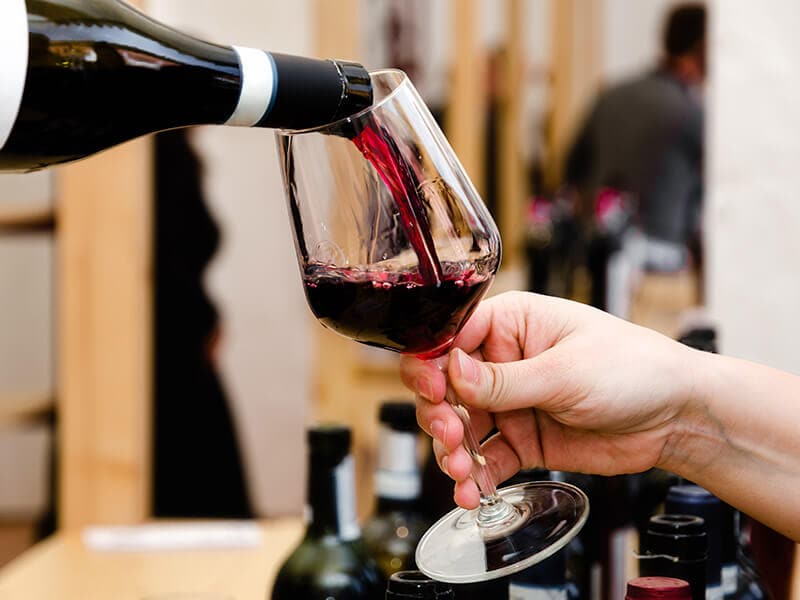 Greasy, rich food will become irresistible if you pair it with a cup of strong, dry, and peppery Barolo. The problem is that this beautiful red wine is costly and made from the grapes that only grow in Piedmont. Unsurprisingly, Piedmont truffles go nicely with this local wine.
Another hindrance is that the production of true Barolo is meticulous. Each batch requires at least 3 years of aging to become drinkable and perhaps as many as 10 more years to acquire the best taste. In return, Barolo is one of the highest quality wines you can find in Italy.
Where to find: In select restaurants and liquor shops in Piedmont.
8. Chianti
Alcoholic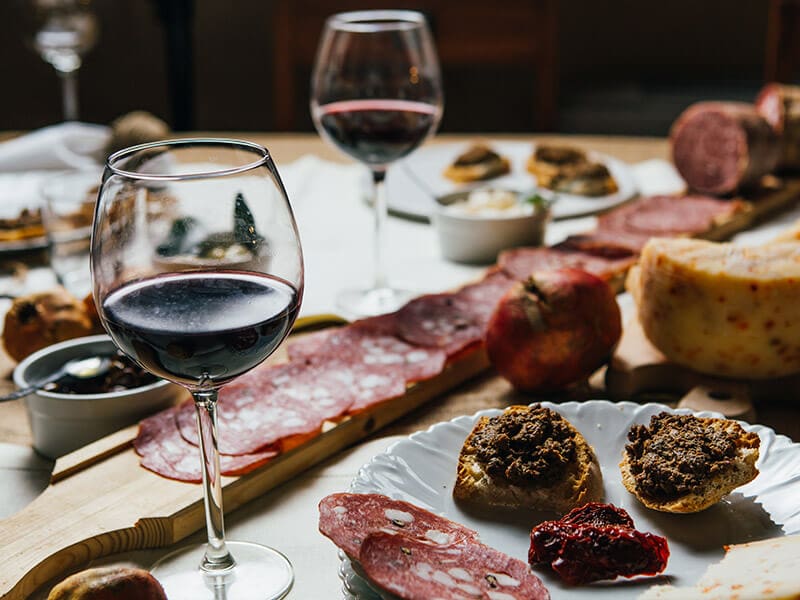 Similar to the famous region of Champagne in France, the Chianti region of central Tuscany produces an excellent wine named after it. However, the area underwent multiple administrative changes and only stabilized since the mid-20th century.
The main ingredient for Chianti is the local juicy, thin-skinned Sangiovese grape. Its crimson color and high acidity contribute to the distinct look and taste of the wine. Being made in Chianti isn't enough for a product to be called Chianti; it also has to contain at least 70% Sangiovese grapes.
Besides its appealing ruby color, Chianti charms drinkers with its floral fragrance, dry sweetness, and a pleasantly bitter flavor combined with cherry undertones. Those characteristics are even more evident with Chianti Classico, a premier variety with no less than 80% Sangiovese grapes.
Chianti is a perfect drink to go with lunch, especially when you plan to stay in the picturesque hilltop towns of Tuscany. The tangy taste of the famous wine complements the umami flavor of meaty and starchy dishes, such as burgers, grilled meats, or pizza.
Where to find: In restaurants, pubs, and bars in Tuscany, west-central Italy.
9. Cannonau Wine
Alcoholic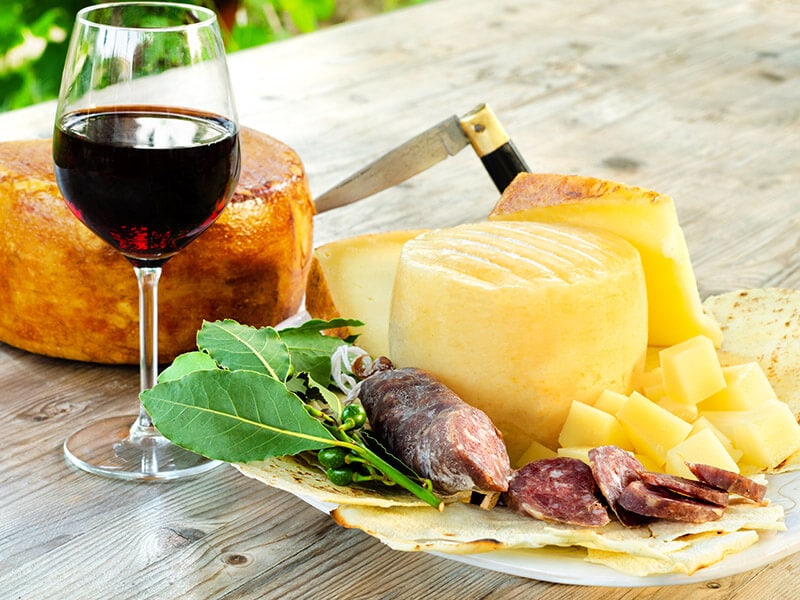 If you're looking for a wine to accompany mesmerizing Mediterranean foods, what can be better than the signature drink from an island lying at the center of the Mediterranean Sea? I give you Cannonau wine, courtesy of Sardina.
Produced from the grenache grape, this full-bodied red wine has a dry, rich taste and an even richer amount of beneficial, disease-fighting antioxidants. It is also fruity, earthly, high in alcohol content, but not very acidic. Drinking Cannonau wine in moderation will be a boon to your health.
Where to find: The place with the easiest access to this wine is naturally in Sardinia, especially in the provinces of Cagliari, Ogliastra, and Nuoro.
10. Lambrusco
Alcoholic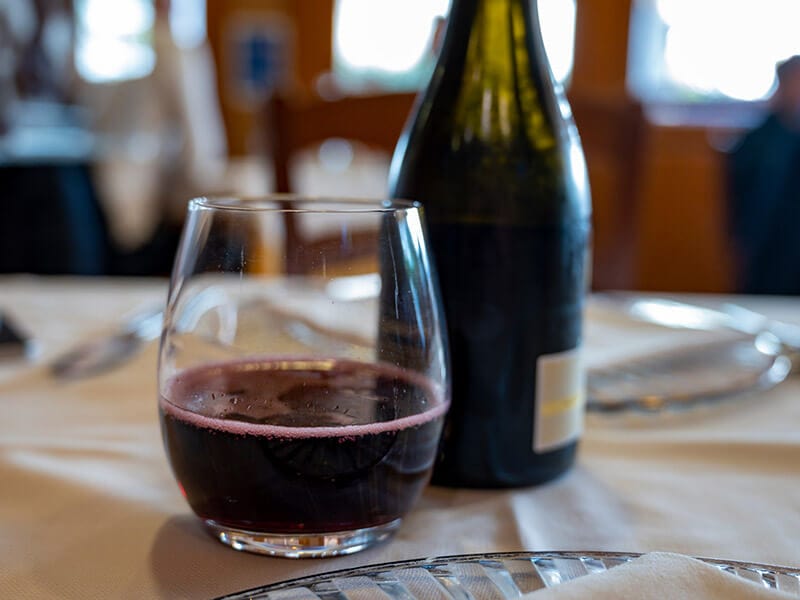 Lambrusco is an ancient sparkling red wine produced from a high-yield, brightly-colored grape of the same name. By "ancient", I mean it predates many other Italian drinks by a wide margin. The wine allegedly first appeared in the 1st century.
That is no surprise since Lambrusco comes from the Emilia-Romagna region, one of Italy's most culturally and gastronomically richest places. Enjoying a sip of Lambrusco while immersed in the elegant beauty of local beaches and medieval towns is an unrivaled joy.
Anyway, I guarantee you will fall in love with Lambrusco because this wine is extremely flexible. Depending on the fermentation time, It can take on many qualities, from extremely sweet to incredibly dry, from light-bodied to highly fruity and scented of berries or violet.
Where to find: You can buy this wine in the Emilia-Romagna region. However, it is equally easy to find Lambrusco in bars and eateries in other parts of Italy.
11. Vermouth
Alcoholic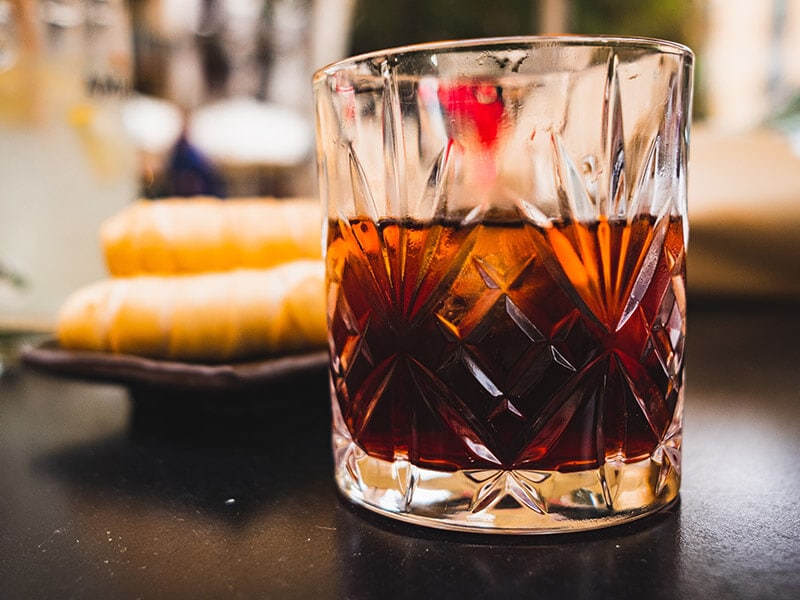 Perhaps you have heard of the famous Spanish drink vermouth? Truth be told, this pale yellow wine is an Italian contribution, a creation that an 18th-century merchant from Turin, Piedmont, perfected based on existing recipes.
Vermouth is essentially a fortified wine (brandy-added wine). By Italian laws, authentic vermouth must consist of at least 75% wine. People make it fragrant by adding various kinds of herbs and spices. Popular choices are wormwood (a must-have), citrus peel, ginger, and cloves.
Due to the herbal infusion, vermouth is endowed with a powerful fragrance. That's why people used it as a medicinal drink in the past. However, its pleasant spicy, bittersweet taste eventually convinced them to adopt vermouth as an aperitif.
When you do a Google search, you may find various varieties of vermouth out there. However, the term "Italian vermouth" usually refers to the red one that is mildly bitter and sweet. You're more likely to run into it in Italy than white, dry vermouth.
Where to find: The entirety of Italy.
Italian Cocktails
Italy's drink menu wouldn't be so enchanting without its popular cocktails and mixed beverages. Give them a try to see how their fiery sweetness can light up your life.
12. Bombardino – Italian Eggnog Drink
Alcoholic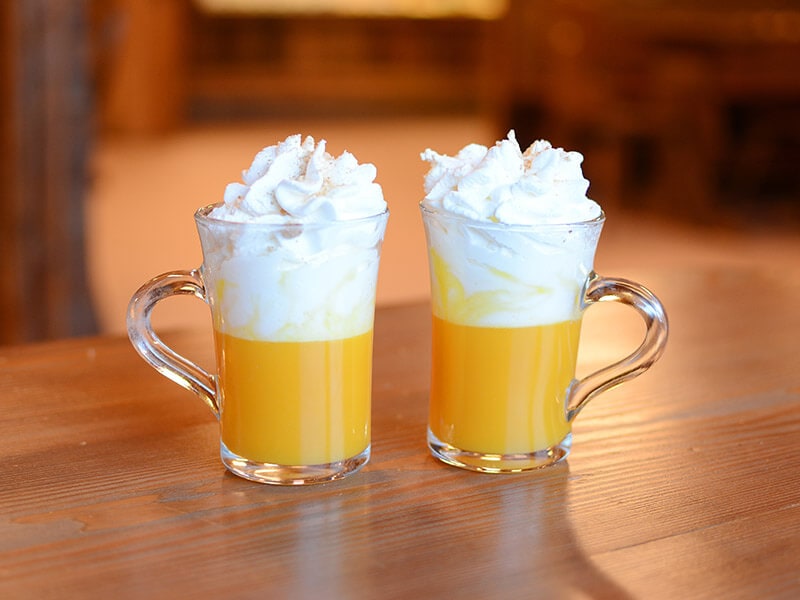 Bombardino, literally "bomb", will keep you warm against the chilly weather of the Italian Alps where it comes from. Created in 1845 by a chef, it is a must-have drink when you visit renowned snowy ski resorts in Italy.
The chef who came up with Bombardino first made it from leftover egg yolks, marsala wine, and alcohol to outstanding effect. Nowadays, fresh egg yolks, brandy, whipped cream, and spices (like cinnamon) are the building block of this creamy, fatty, and heart-warming drink.
Legend has it that one of the first customers exclaimed "what a bomb" was after tasting it, hence the name. When your tongue makes contact with the rich, silky texture of this drink while the icy air threatens to invade your body, you will fully understand that customer's joy.
Where to find: Restaurants or ski resorts in the Italian Alps.
13. Negroni – Gin, Vermouth, And Campari Cocktail
Alcoholic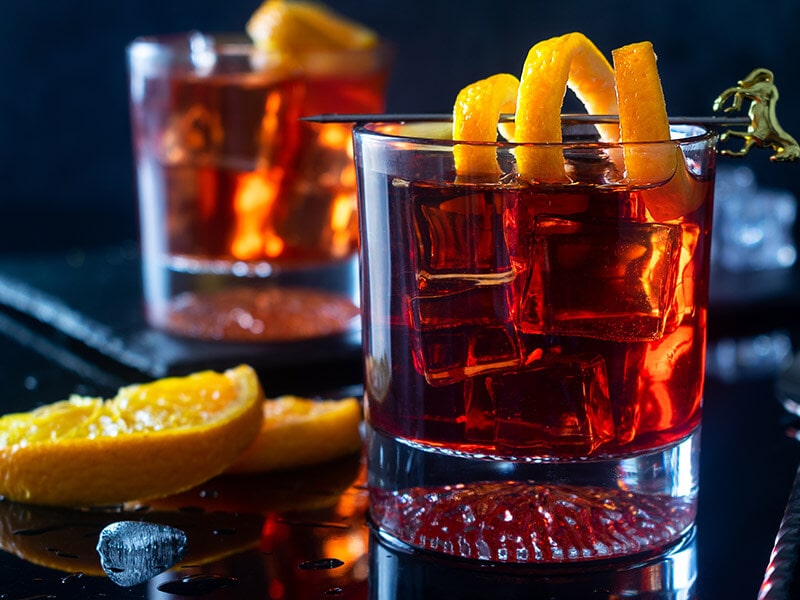 How to immortalize your name? Perhaps you can try the way of a French count named Negroni who, in 1919, asked a bartender in Florence to add gin rather than soda water to his cocktail. The improvisation turned out to be a roaring success, and folks named the new drink after him.
Looking at the recipe, it is puzzling why something that simple can gain such international acclaim. Negroni merely consists of one part gin, one part red vermouth, one part Campari, and orange peel. The cocktail is unsophisticated, yet few people can say no to it.
Negroni is now one of the most recognizable Italian cocktails in the world. It is the inspiration for many similar drinks, such as Old Pal cocktail (with Canadian rye whisky), Tegroni (using tequila instead of gin), or Queen's Negroni (more like Britain's Negroni).
Where to find: Restaurants, bars, and pubs in Italy. But do you know that in Treviso, northern Italy, lies a distillery that the Negroni family established?
14. Campari Spritz
Alcoholic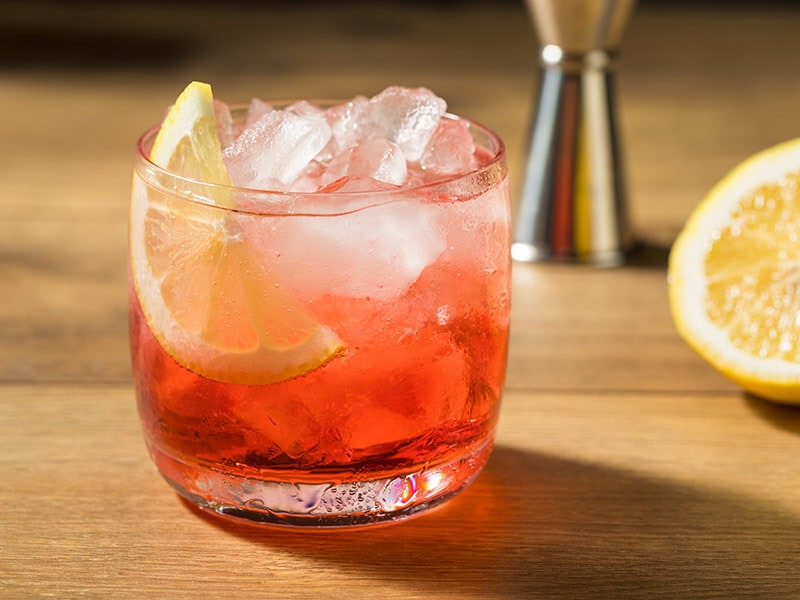 A spritz is a wine-based cocktail. The concept of this drink dates back to the early 19th century when the people of Venetia experimented with combining different beverages. But it wasn't until more than one hundred years later that the modern spritz recipes (Spritz Veneziano) took shape.
Let's go back to Campari spritz. As indicated by its name, the drink is a mouth-watering cocktail concocted from the Italian national drink Campari. Though Gaspare Campari invented his namesake wine in 1860, it's unclear when this spritz first arose.
But that doesn't matter. All you have to care about is how attractive its ruby red color is and what its bittersweet, fruity flavor, which ranges from cherry to orange, will do to your taste buds. Besides, it is pretty high in alcoholic content, so make moderation your motto when enjoying it.
To create this cocktail, you just need to mix Campari, Prosecco (or champagne), and soda water. Some ice cubes and a tawny lemon wedge will complete this killer combo.
Where to find: Pubs, bars, and restaurants all over Italy.
15. Aperol Spritz
Alcoholic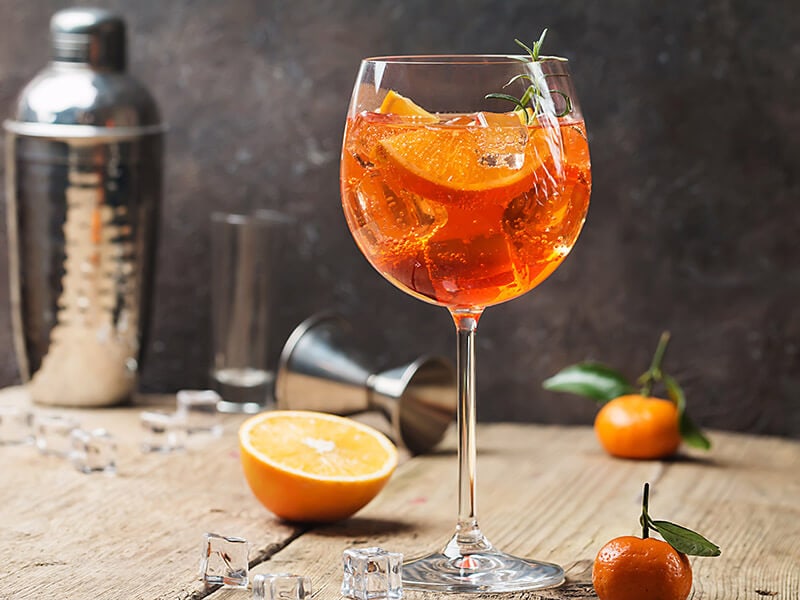 If you want something savory to go with elegant Italian appetizers, let's try the cousin of Campari spritz: Aperol spritz. I call it cousin because the latter is based on Aperol, a beverage that looks and tastes just like Campari but is lower in alcohol content and popularity.
Local inhabitants whip up Aperol spritz in pretty much the same way as Campari one, only replacing one aperitif with another. So why bother to create a drink with the same appearance and flavor? Because Aperol spritz is less bitter and consequently more drinkable.
In addition, it also has a much lower amount of alcohol than Campari spritz. If you can't tolerate Campari spritz yet, starting with this one will be a wise choice. Chewing Cicchetti (light snacks and side dishes) or popcorn with Aperol spritz is a charming local custom you should follow.
Where to find: Any bar in Italy, the more tourists there are, the more likely. However, I recommend you to go to Venice. This place serves a special variety called Select Aperol spritz that is less bitter and sweet but will give you a spicier sensation.
16. Hugo Spritz
Alcoholic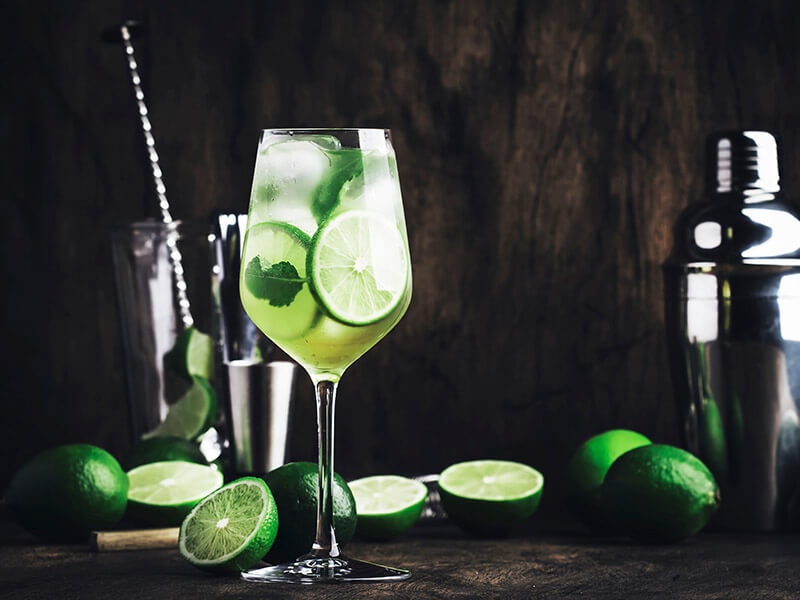 Here is another mouth-watering spritz you can't miss. In case you're expecting a fantastic story behind the name, don't set your hopes high. The barman from South Tyrol (northern Italy) who devised it in 2005 chose the name Hugo randomly.
While retaining Prosecco and soda water, Hugo spritz distinguishes itself by utilizing elderflower liqueur (the original version contained lemon balm syrup). This combination creates a mild, fruity, sweet drink with light floral notes.
Hugo spritz is usually even less intense than Aperol spritz. Therefore, you can relish it to get a short introduction into the diverse world of Italian spritz.
Where to find: Bars and restaurants in Italy.
17. Campari And Soda
Alcoholic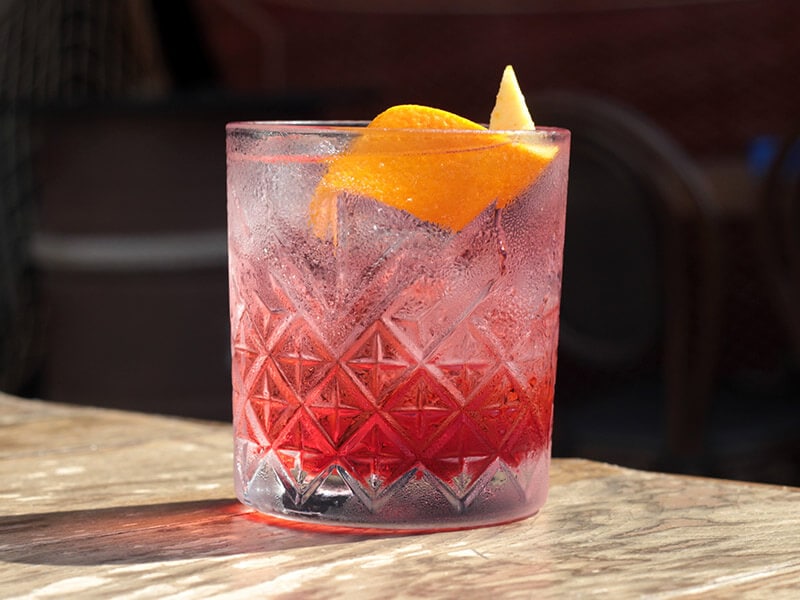 The name says it all. This delicious beverage is a mixture of Campari and soda water, plus a lot of orange slices to improve the flavor. A glass of Campari and soda with ice doesn't take much time to prepare, but it is more than enough to give you a whale of a time.
But wait, is it just like Campari spritz minus Prosecco? Yes and no. Campari spritz usually mixes Campari and soda water according to a 2:1 ratio, so its alcohol content can be significant. By contrast, this drink consists of one part Campari and two parts soda water, which is more subtle.
Where to find: Pubs, bars, and restaurants all over Italy.
18. Bellini
Alcoholic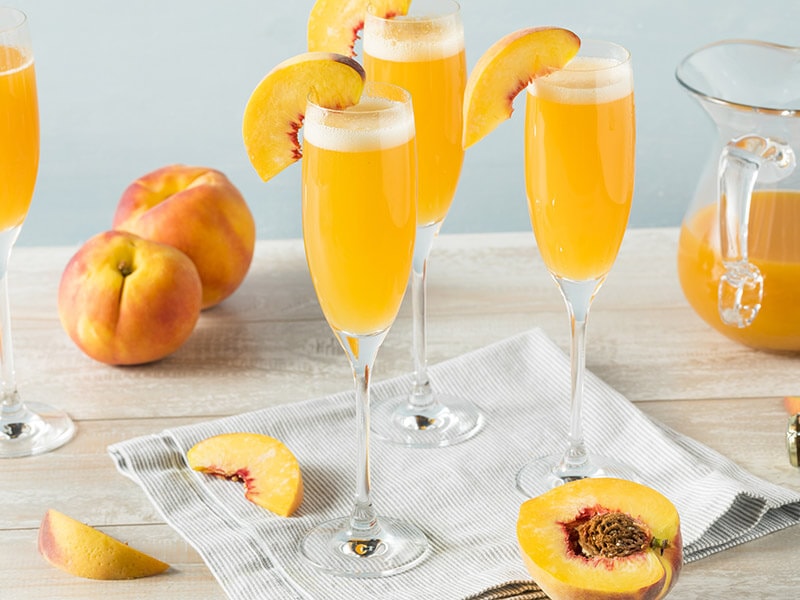 Between the 1930s and 1940s, a bar owner in Venice invented this cocktail in honor of the 15th-century Venetian artist Giovanni Bellini. He said that its pink color reminded him of a saint's toga in one of Bellini's paintings, hence the name.
That is kind of difficult to understand because modern versions of the cocktail can come in different shades of yellow. The reason is that the original Bellini includes Prosecco and puréed white peaches, while current recipes show a preference for slightly tangier yellow peaches.
Since its birth, Bellini has become a trademark of Harry's Bar, its birthplace. Today, stopping by that bar for a glass of sweet, refreshing Bellini is a highlight of any trip to Venice.
Where to find: Besides Harry's Bar, many other bars and restaurants in Italy can provide you with high-quality Bellini.
If you're dying for a glass of Bellini, follow these easy instructions to bring it home.
19. Garibaldi – Campari And Orange Cocktail
Alcoholic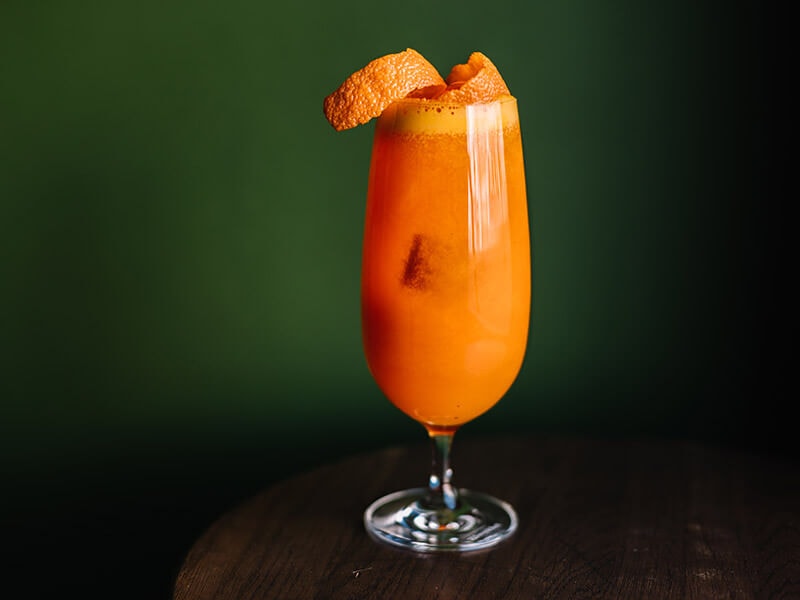 This cocktail is alive with fruity tartness and refreshing sweetness, using fresh Sicilian and Calabrian oranges, one of the best Italian fruits. It is named after Giuseppe Garibaldi, the charismatic revolutionary leader that united Italy in the 19th century.
The ingredients of this drink themselves reflect the unity that Garibaldi fought for. They include Campari from the north and juicy oranges from the south. All those Italian elements come into one thing that all Italians hold in great esteem: First the cocktail, then the hero.
The Garibaldi cocktail usually mixes alcohol and orange juice with a 1:1 ratio. But don't hesitate to change it to suit your taste.
Where to find: Anywhere in Italy. After all, it represents the unity of the country.
Italian Non-Alcoholic Drinks
Coffee is a cornerstone of Italian non-alcoholic drinks. Many coffee-based drinks you take for granted are the brainchild of different Italian inventors and coffee masters. Besides coffee, fizzy soft drinks are also important in Italy.
20. Caffè Macchiato – Espresso With Foamed Milk
Non-alcoholic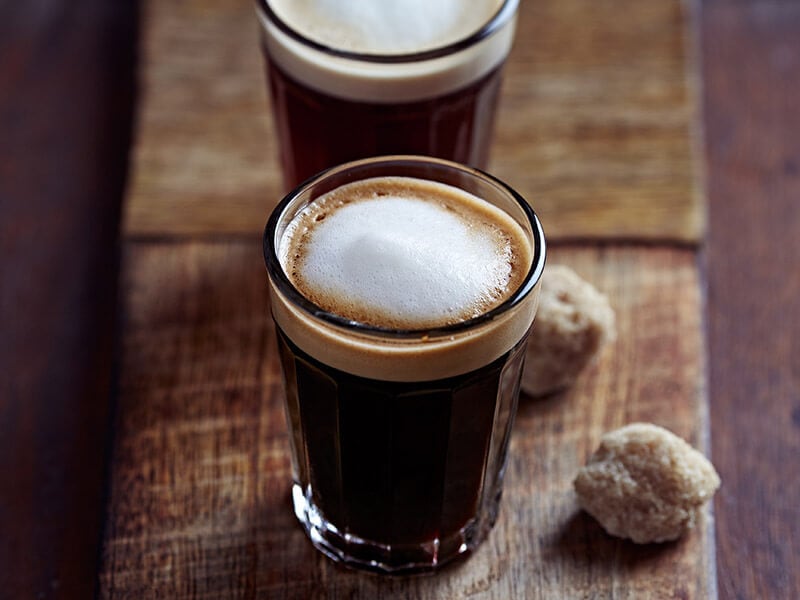 Espresso is such a popular European drink that it is easy to forget its Italian roots. In the early 20th century, an Italian inventor devised a device that helped brew finely-ground coffee beans with steam pressure, paving the way for the appearance of espresso.
This type of coffee is thicker, foamier, and more caffeine-packed than regular coffee. But do you know what else you can do to improve its flavor? Simply pour a small amount of steamed milk into your cup and some foamed milk on top to create the creamy Caffè Macchiato.
In that way, espresso's bold and bitter flavor is tamed by the sweet fattiness of milk to become something more balanced and irresistible. Baristas (waiters working in coffeehouses) probably coined this name in the 1980s to mark a milk-added espresso order from plain one.
Where to find: In cafes, coffeehouses, and restaurants across Italy.
21. Caffè Latte – Coffee And Milk
Non-alcoholic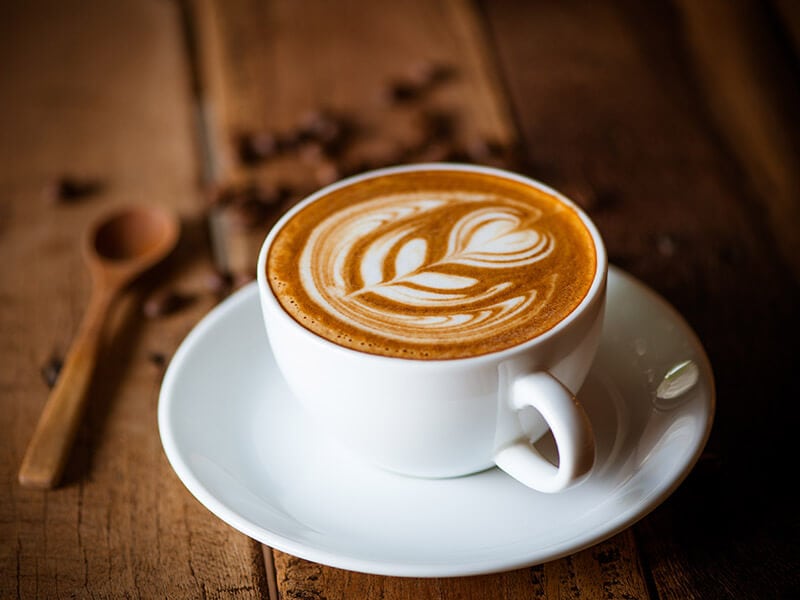 Caffè latte, literally "coffee and milk", is an indispensable breakfast drink for many Italian families. Although Europeans drank coffee and milk together as early as the 17th century, only after the invention of espresso did Italian caffè latte begin to gain renown.
Due to containing more milk than coffee, this drink has a tongue-pleasing sweetness and silky texture. But it still has enough caffeine to keep you alert for the morning.
While shortening the name to just "latte" is prevalent in many countries, you shouldn't do so in Italy. "Latte" means "milk" in Italian, so just saying so will only get you a cup of cold milk. And don't be surprised to see Italians serve caffè latte in tall glasses rather than cups or mugs.
Where to find: Any coffee house or restaurant in Italy.
How to make caffè latte like an Italian? Get your answer here.
22. Ristretto
Non-alcoholic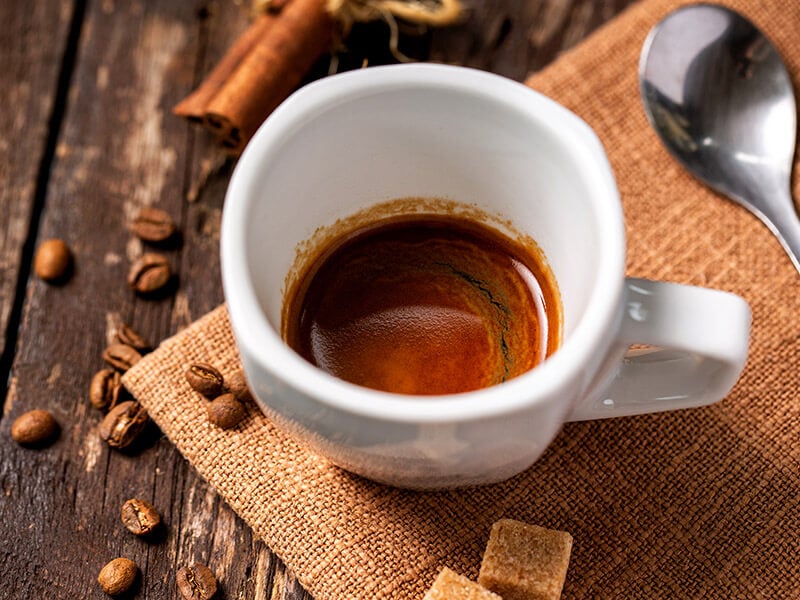 Why does this drink carry a name meaning "restricted" or "shortened"? Because it is made from espresso that people extract with only half the amount of water used for standard espresso. The result is a darker and fuller-bodied type of coffee that comes with less bitterness.
Although ristretto is best served alone, it can be a good idea to add steamed milk to your cup to further enhance the espresso's distinct sweetness. The opposite of ristretto is lungo ("long") which uses twice as much water as classic espresso.
Where to find: All Italian coffee houses, cafes, and restaurants offer this espresso.
23. Cappuccino
Non-alcoholic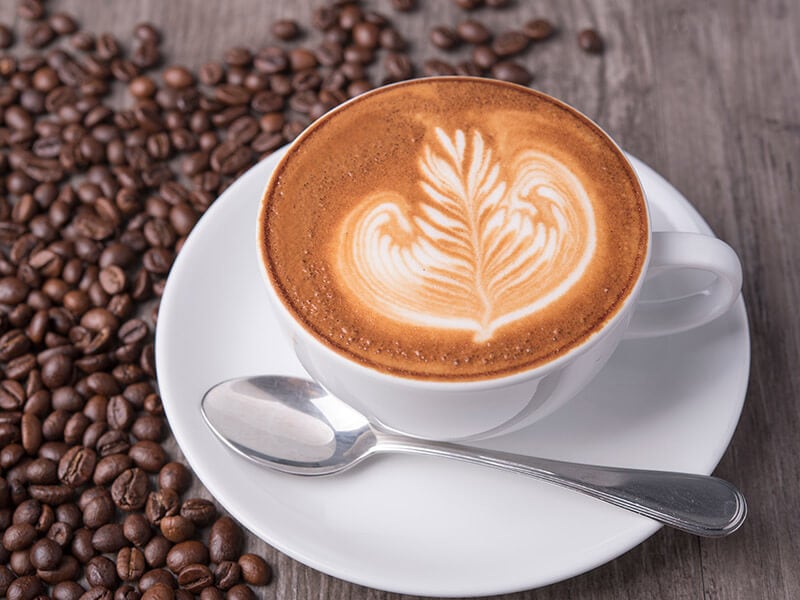 It would be a grievous offense to list the most delicious European drinks without the cappuccino. This espresso and milk-based drink is common on many Italian breakfast tables. It should be on yours, too.
The precursor of cappuccino is the 17th-century kapuziner, an Austrian coffee beverage. Meanwhile, the name "cappuccino" stems from the Capuchin friars in Rome. The robes have the same color as a steaming cup of cappuccino.
The main ingredients of this beverage are espresso (usually a single shot), steamed milk (or cream), a lot of foamed milk, and cinnamon powder for flavoring. There should be more foamed milk than the liquid.
True cappuccino always has less milk than espresso, as well as an airy layer of foam on top. Therefore, it will never fail to give you a rich and velvety mouthfeel when your taste buds are bathed in the sweet, fatty liquid.
Where to find: In cafes, coffee houses, and restaurants across Italy. Don't forget that Italians only drink cappuccino in the morning and rarely in the afternoon. You will have no trouble ordering one after 11 AM as a tourist, but it will look very weird.
Are you wondering why Italians never drink cappuccino in the afternoon? This will give you the answer.
24. Bicerin
Non-alcoholic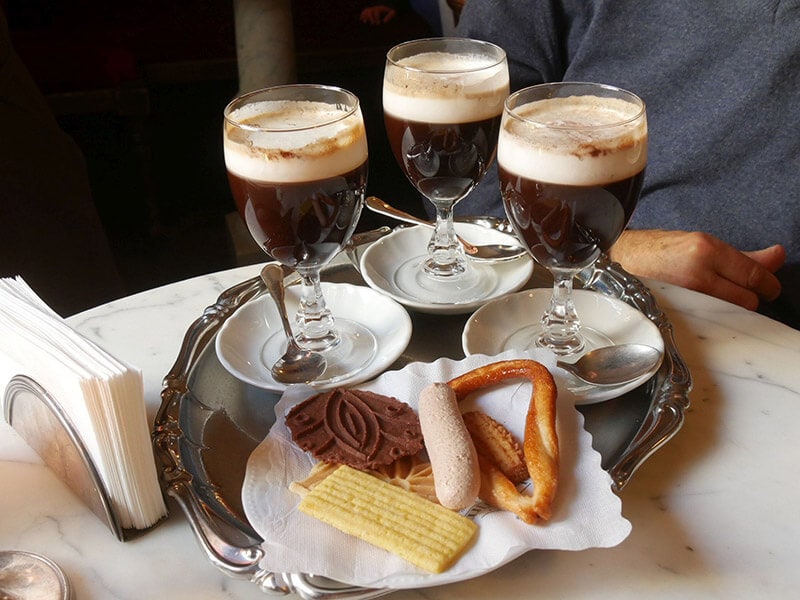 When the breathtaking landscape and cultural richness of Turin have pleased your heart, let's delight your tongue with the city's signature drink: Bicerin. Created in the early 18th century, it is a warm and mouth-watering combination of espresso, chocolate, and milk.
"Bicerin" means "small glass" in Piedmontese, so you can guess what it is held in. But you can't predict how visually appealing the three ingredients are layered in the glass.
The espresso, chocolate, and milk touch but don't mingle with each other until they're scooped into your mouth. Only then will your tongue twirl these three liquids into a sublime blend of fatty flavors that you can't wait for a second gulp.
Where to find: Turin, of course. Some people say the historic Caffė al Bicerin or Caffė Fiorio was the first place that bicerin appeared. Nevertheless, you can easily buy this beverage in Italy's big cities or tourist attractions.
25. Chinotto
Non-alcoholic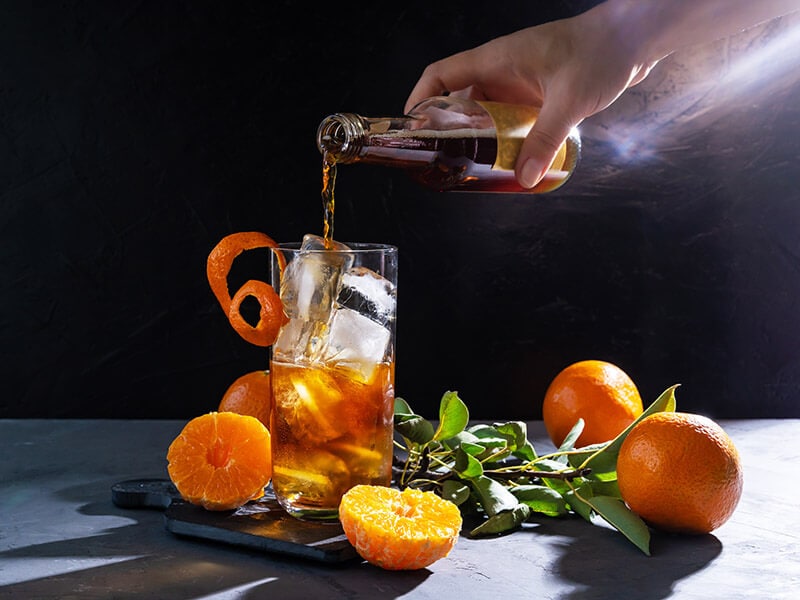 Looking for a delightful non-alcoholic drink to pair with Italian recipes? In the country grows the myrtle-leaved orange tree whose fruits are small but teeming with a pleasant tartness. It gives rise to a traditional carbonated soft drink called Chinotto.
This beverage has a dark, kind of brownish-orange along with a citrus aroma. At first glance and sip, you may think that it strongly resembles orange juice. But the more you dive into it, the more you will find its bittersweet flavor and fresh aftertaste quite different from any other juice.
In Italy, Chinotto is sold in bottles and cans as ubiquitously as Coke. It is something like the country's national soda.
Where to find: Supermarkets, cafes, and restaurants all over Italy.