British foods have always been considered a highlight in the diverse, multicultural cuisine of the United Kingdom.
When people think of England, they often think of afternoon tea parties with tiny jam-filled scones and finger sandwiches. However, the diversity of British dishes might surprise you.
This article shall walk you through the most iconic and famous dishes of this beautiful country. So if you're ready, take out your notebook, and let's get learning!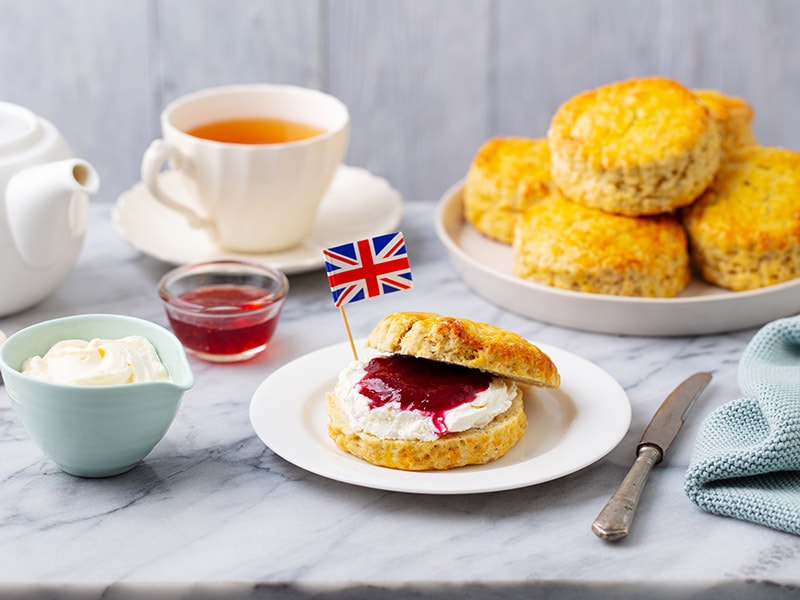 British Breakfast Dishes
You know what people say, breakfast is the most important meal of the day. But to be honest, I never eat British breakfast for its health benefits. I simply do it because it is mind-blowingly delicious! Don't trust me? Just take a look at this section and find out.
1. Full English Breakfast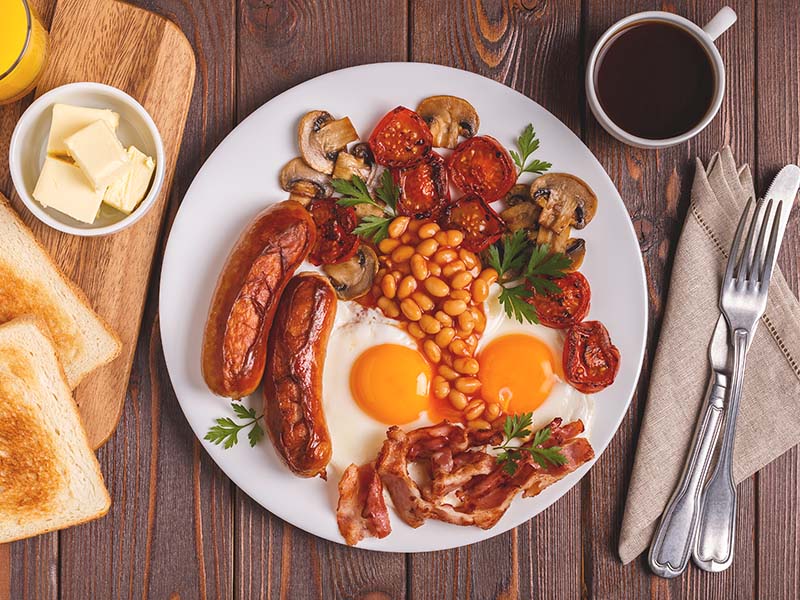 Despite the enormous amount of English breakfast dishes out there, nothing can come close to the fame of the full English breakfast.
People from England tend to have this dish on the weekend after a big night as a form of celebration. One of the most famous recipes in Europe, English breakfast goes well with a cup of steaming tea.
A typical full English breakfast includes back bacon, pork sausages, over-easy eggs, baked beans, black puddings, grilled tomatoes, and mushrooms. This dish will pair amazingly well with some butter-fried or toasted bread. What a way to start the day!
British chef Darren McGrady will teach you how to prepare a proper full English breakfast!
2. Black Pudding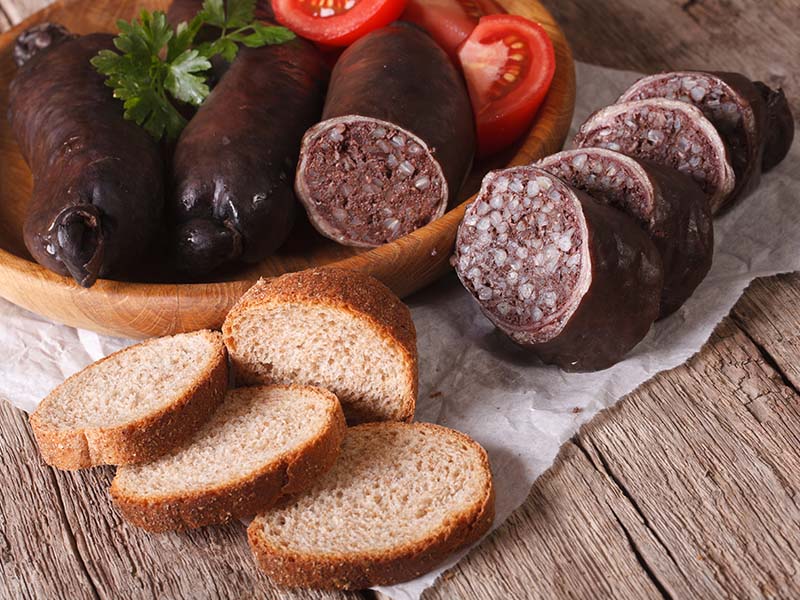 Black pudding is a kind of blood sausage that originated in the United Kingdom and Ireland. It's created from beef or pork blood, fat, and cereal.
Blood sausages are not uncommon in the food culture of Luxembourg and many European nations. However, black pudding is distinguished from other countries' variants by its high grain content and the inclusion of particular herbs.
Blood puddings are regarded as one of the earliest types of sausage. Because blood degrades quickly upon slaughter, preparing a pudding with it is one of the simplest methods to ensure it does not go to waste.
While pork blood is included in the bulk of current black pudding recipes, cow or sheep blood was the typical foundation for black puddings until the 19th century.
3. Devilled Kidneys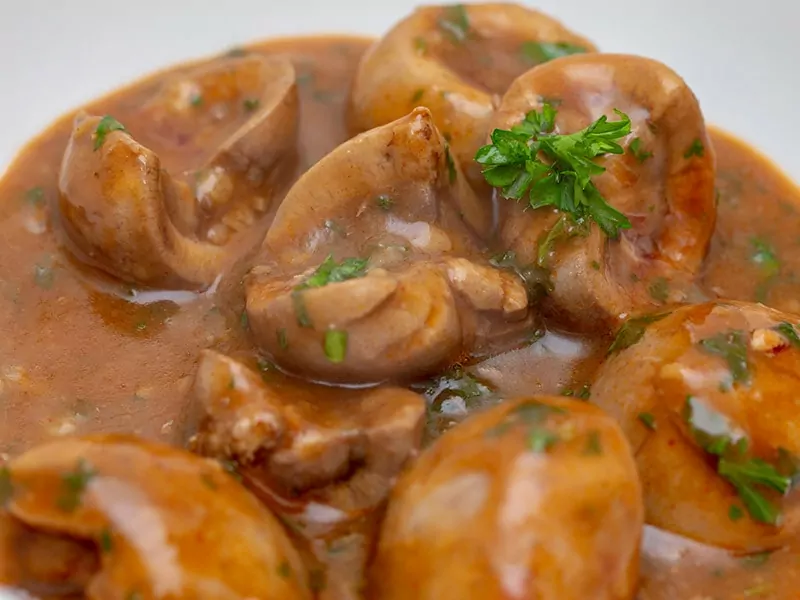 Devilled kidneys is a Victorian British breakfast meal made with lamb kidneys stewed in a spicy sauce mixed with Worcestershire sauce, mustard, vinegar, cayenne pepper, and fruit jelly. People sometimes garnish the dish with parsley and serve it with fried bread.
Devilled kidneys became a classic of London gentlemen's clubs in the 18th century, and subsequently a favorite of rationed wartime households. However, it was removed from menus after the war since people no longer needed to consume organs to withstand Nazi blockades.
Nowadays, it has once again risen in fame and become a popular appetizer or suppertime meal. It's also frequently included in cookbooks by famous British chefs.
4. Eggy Bread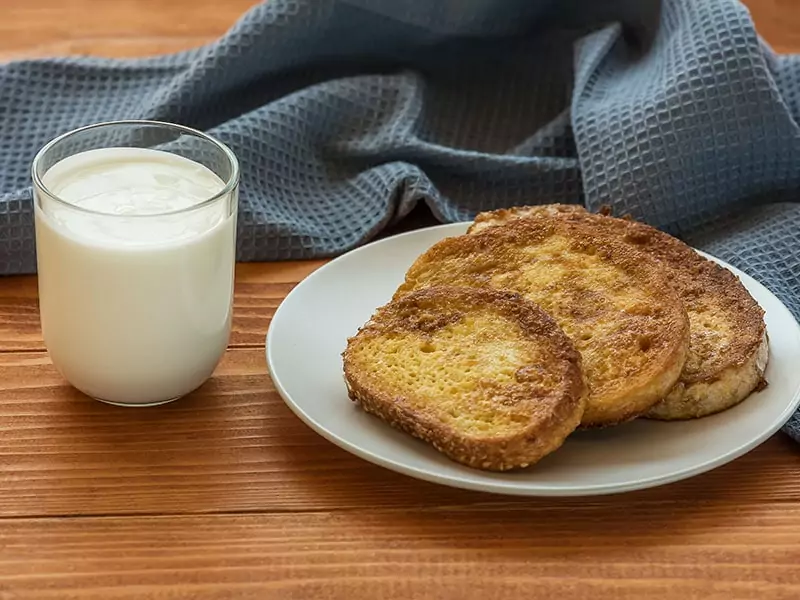 You might think eggy bread is inspired by the French since it looks similar to French toast, but that is just a myth! Plus, French toast is not even French, it was created by a chef called Joseph French in 1724. Although some might argue that it was invented by medieval European cooks.
Despite the long history of French toast and the name difference, the ingredients and cooking techniques of eggy bread and French toast are nearly identical.
Imagine having a plate full of sweet, fluffy and buttery bread topped with whipped cream, maple syrup, and fruit for breakfast; who can resist it?
5. Kedgeree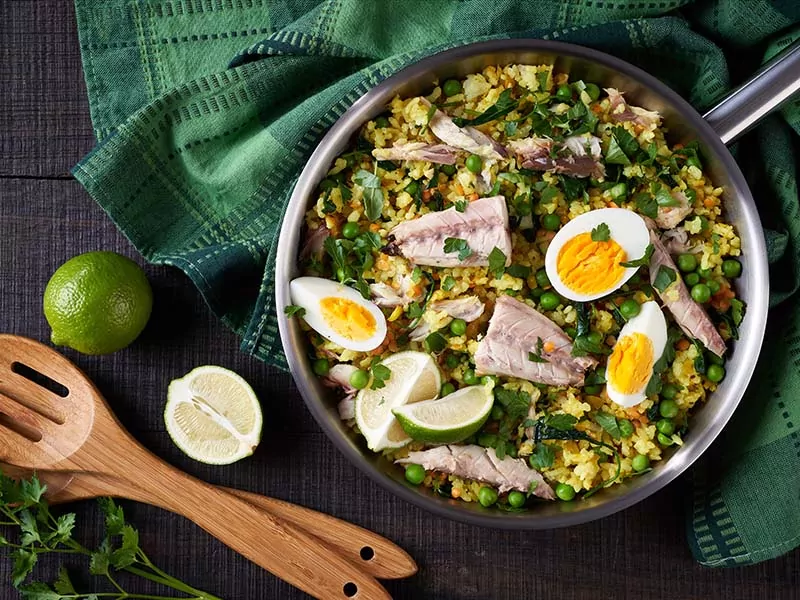 By looking at this famous British dish, you can quickly tell the influence of Indian cuisine on British foods.
Kedgeree is the English version of a popular Indian dish called khichdi (spiced rice and lentils). Although the original recipe of khichdi doesn't call for fish, smoked haddock is an irreplaceable ingredient of Kedgeree.
A heavy rice dish is not what people usually anticipate for breakfast, but Kedgeree is a ubiquitous breakfast choice in England.
6. Crumpet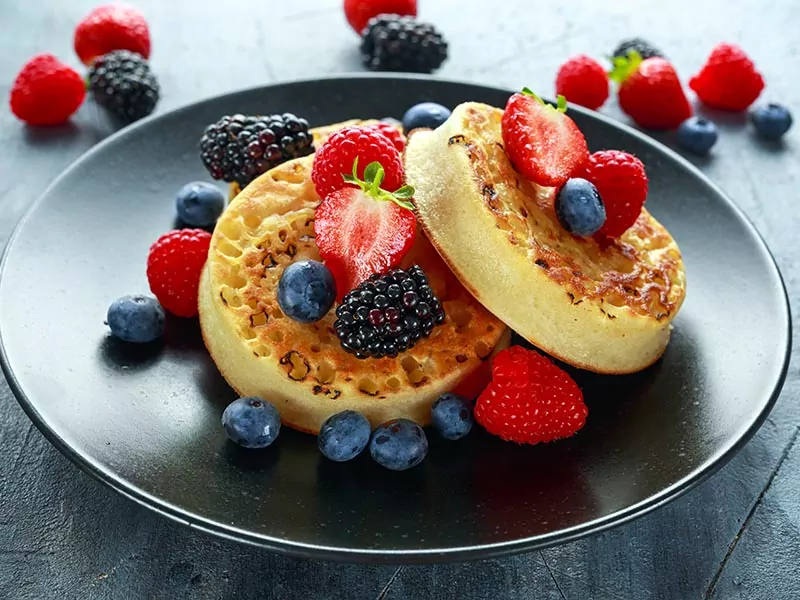 The British "muffin" was initially created for Victorian servants using biscuit dough scraps and leftover bread. However, when the family members became aware of this light, crispy muffin, they began to ask for this pastry for their afternoon tea time.
At first, these little round cakes might look like pancakes, but the spongy and soft texture of crumpets will give it away.
Crumpets' flavor is not that strong on their own, so people usually top it with honey, jam, or mixed berries. Or, if you prefer having something savory for breakfast, go for some butter, marmite, or even bacon and poached eggs.
British Savory Dishes
Now that you have learned about the most iconic British dishes, it's time to move on to the bigger meals of the day. Whether it's for lunch, dinner, or supper, the savory dishes below definitely put a smile on your face.
7. Fish and Chips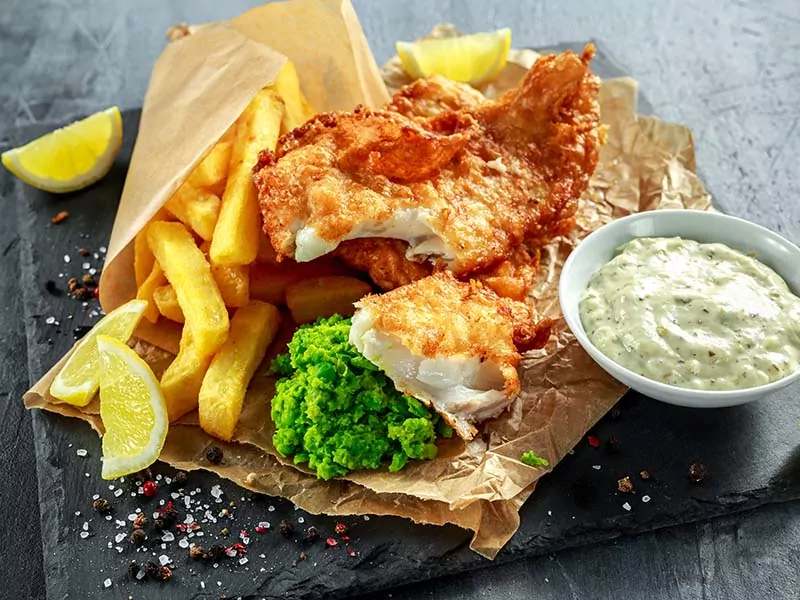 The moment you set foot on British land, you will be able to find a fish and chips shop on every corner. However, according to the natives, the best place to enjoy this dish is by the ocean.
Chips were an affordable and staple dish of the industrial north, while fried fish was introduced in London's East End. Both Lancashire and London claim to be the first to produce this iconic meal.
British people take pride in their fish and chips. In fact, they are willing to go to war with the rest of the world if someone disrespects this delicious batter-fried fish dish!
If you ever need an idea for preparing healthy meals in air fryers, don't hesitate to consider making fish and chips. With a side of tartar sauce, your air-fried fish and chips will taste heavenly.
Allow Gorden Ramsey to show you the best way to make a perfect plate of fish and chips!
8. Steak and Kidney Pie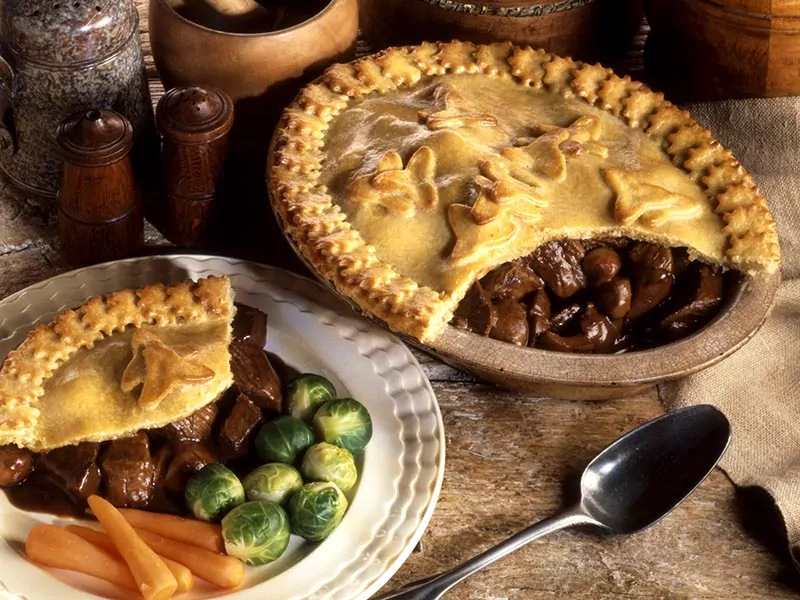 What's not to like about beef, kidney, fried onion, and gravy, all wrapped up in puff pastry? This delicious British pie is another must-try while visiting the United Kingdom.
Steak and kidney pie is a staple of British cuisine and the ideal remedy to the bitter British winter. This dish dates back to the 19th century and it's still one of the most well-loved national dishes.
If you're looking for the best steak and kidney pie in this nation, travel to Manchester or York in the North of England. This place is considered the home of pies, where you can get excellent handcrafted pies at local markets and restaurants.
9. Bangers and Mash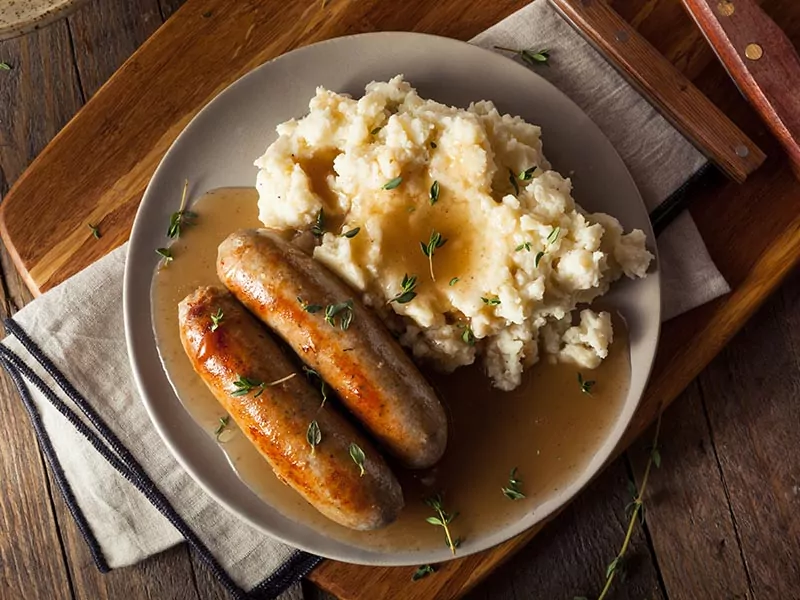 The word "bangers" is said to have arisen during WWI, when meat shortages forced sausage makers to employ a variety of fillers, including water, which caused them to burst when cooked.
Despite the simplicity of this meal, it still sits on the top table of traditional English dishes. Just look at this plate of succulent sausages, buttery mashed potatoes, and thick brown gravy; doesn't that look super inviting?
This meal is commonly featured on the menus of every restaurant and pub around the country, and it is also extremely simple to prepare at home. So if you're in the mood for comfort food, try out this British dinner dish and share it with your family. The kids will love it!
10. Sunday Roast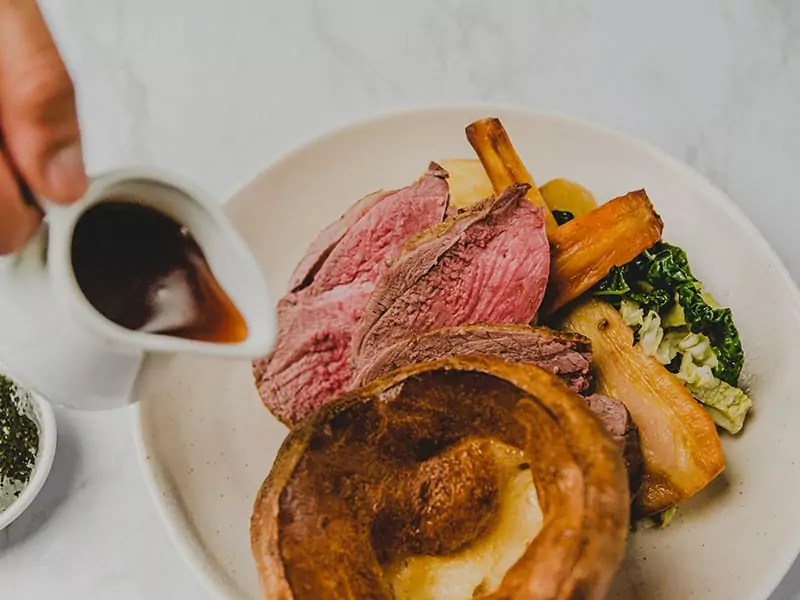 The Sunday Roast is, without a doubt, one of the most popular British lunch dishes out there. People all around the UK love to enjoy this dish on special occasions with friends and family members.
This fulfilling meal consists of roasted beef, roasted potatoes, Yorkshire pudding, vegetables such as brussels sprouts, carrots, peas, broccoli, and roasted parsnips. Sometimes, people will switch roasted beef to roasted pork, chicken, and lamb.
The Sunday Roast originated in the British Isles, namely Yorkshire, as a Sunday lunch after church. The practice of eating a huge lunch after church services is popular across Europe, but the Sunday Roast is special to the British.
Suffice to say, the Sunday Roast is the perfect dish to prepare for Sunday dinners. My favorite side dish for Sunday Roast is mashed potatoes. However, you can also consider pairing this dish with savory green beans or balsamic mushrooms.
11. Yorkshire Pudding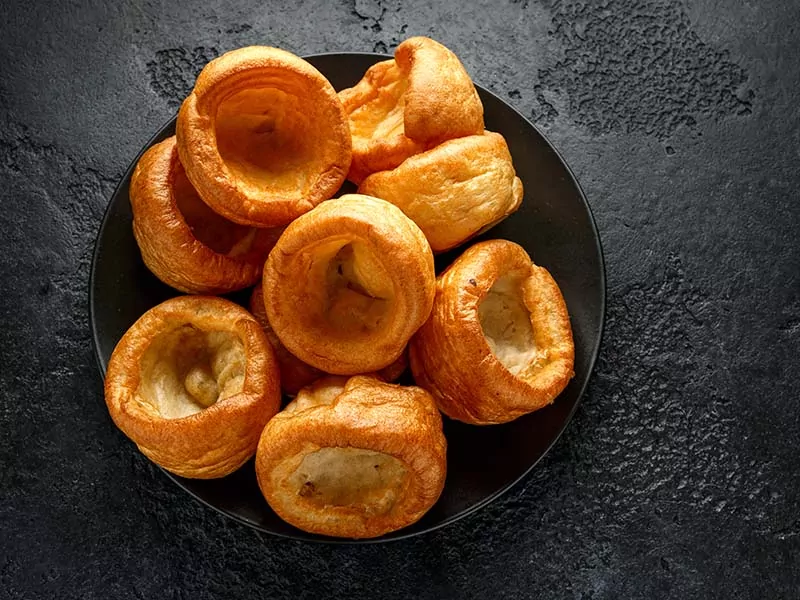 Despite being called "pudding", this iconic dessert from Britain is a fluffy plain pastry that pairs nicely with savory and meaty dishes in England.
This dish was originally recorded in an old English recipe book in 1737, and it still maintains its nationwide fame until this very day.
Yorkshire pudding is made from a simple combination of flour, eggs, milk, and fat. Once all the ingredients are stirred together, they are placed in the muffin tray coated with hot oil. Then the puddings are baked until they rise and turn brown.
12. Toad In The Hole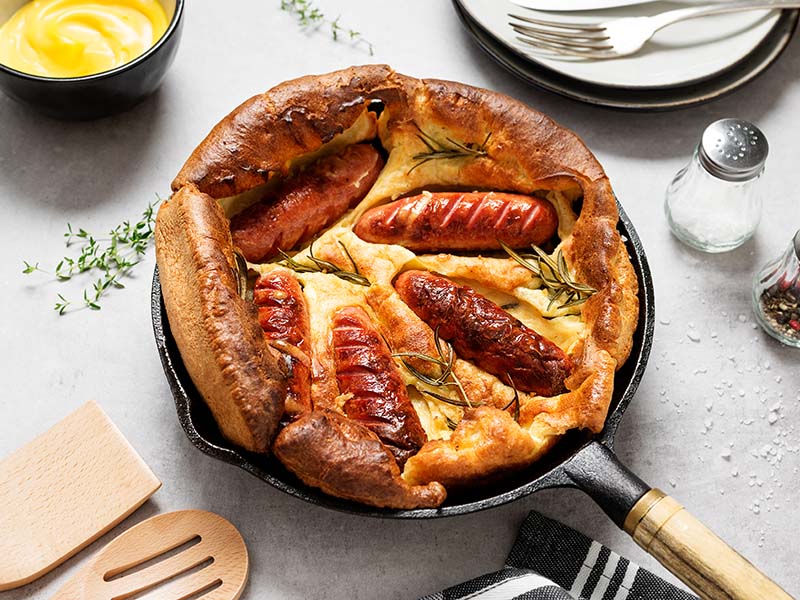 If you want to turn this side dish into a full meal, add some protein in your Yorkshire pudding and turn it into Toad in the Hole! The recipe for it is also straightforward to make, just place some cooked sausages in the Yorkshire pudding batter and bake it well.
This flavorful dish makes a lovely and substantial winter supper when served with mashed potatoes, gravy, and peas.
Toad in the hole was invented as a means for poor families to stretch out their meat. It was first mentioned in print in 1762, when its name was characterized as "vulgar".
13. Shepherd's Pie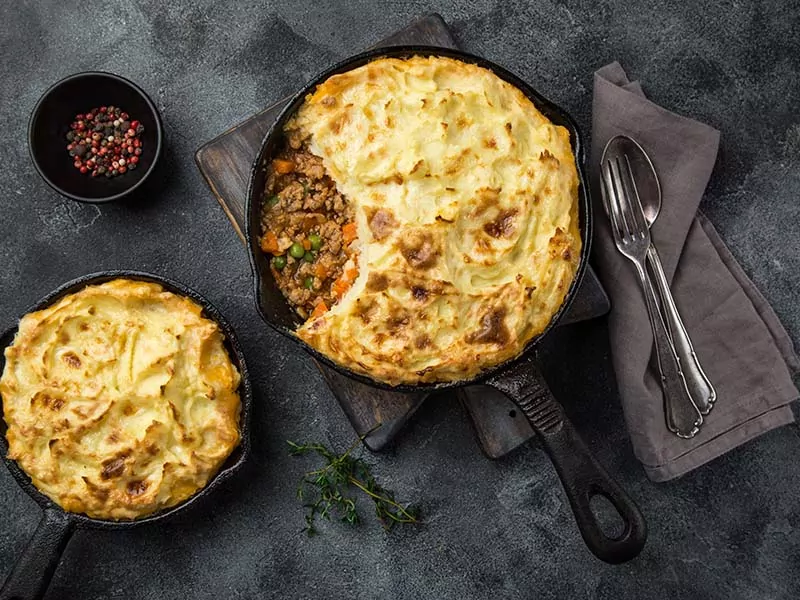 Shepherd's pie is a traditional and hearty British dish composed mostly of minced lamb and potatoes. Many households would prepare this meal using beef, although they might as well call it Cottage Pie because shepherds only tend sheep.
Aside from lamb and beef, Shepherd's pie is also a dish you can make with ground bison. Other than the swap in the meat, most of the ingredients in ground bison Shepherd's pie remain the same, with mashed potatoes and meat sauce being the two most important ones.
Shepherd's pie is rarely served in restaurants since it is more like a household meal. However, if you're keen to sample a fantastic Shepherd's Pie, go to the Ivy in London and grab a bite!
14. Cornish Pasty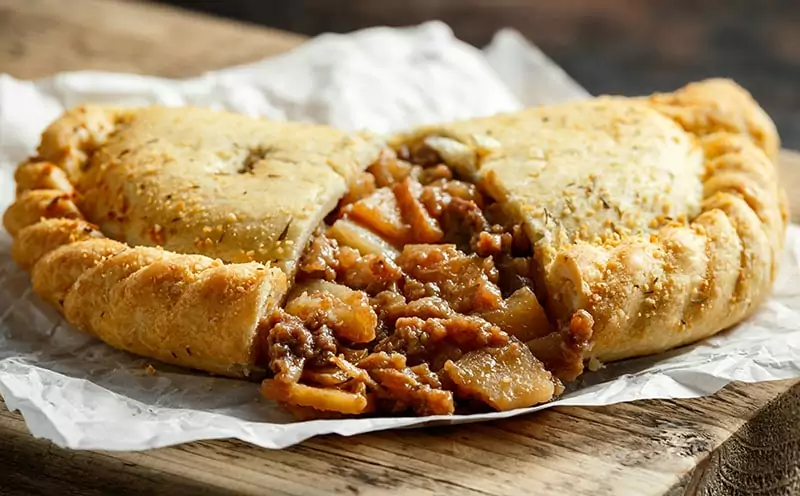 Cornish pasty is a pastry packed with meat and vegetables. It became popular among Cornish tin miners because they were easy to transport and consume without a plate or silverware.
The traditional filling for a Cornish pasty was beef, onion, turnip, and potato. The thick crust allowed the miners to eat without worrying about arsenic contamination from the tin mines.
The modest pasty now plays an essential role in British cuisine. Variations of this dish can be found in the United States, Australia, Mexico, and many other places.
15. Scotch Eggs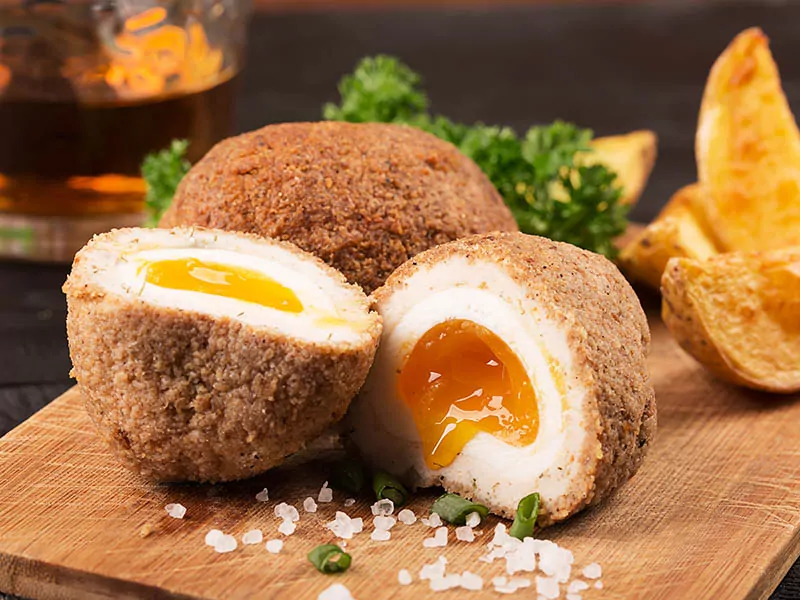 The Scotch egg is a deep-fried or baked dish with hard-boiled or soft-boiled eggs in the center, covered with sausage meat and breadcrumbs coating. You can easily find this dish in various places in Scotland, like supermarkets. They are usually eaten during brunch or picnics.
In case when you want to have this dish as a light snack, you can go for a miniature version of Scotch eggs. Instead of whole chicken eggs, this version can be made with chopped boiled eggs or quail eggs.
Fortnum & Mason,  London department shop, claims to have developed Scotch eggs as a traveler's snack in 1738, however this is based on archive information that has since been lost. However, Scotch eggs were certainly popularized by Fortnum & Mason.
British Desserts
If I list out all the traditional desserts people usually make in this country, it will probably take me more than a week. However, I can give you a shortlist of the most mouthwatering British desserts. So please give it a read and find out!
16. English Trifle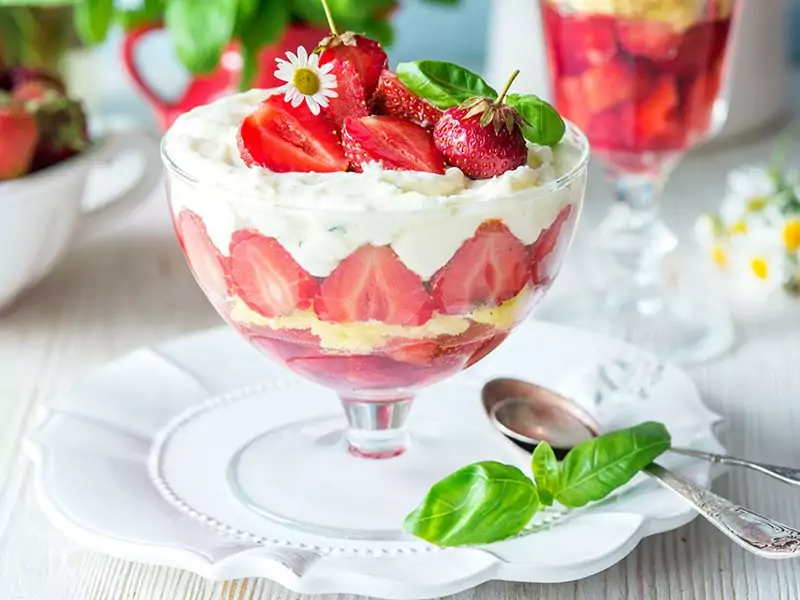 English trifle is an iconic British dessert enjoyed by the royals from over 300 years ago and the ordinary people in modern times.
The delicate dessert is created from layers of sponge cake, custard, jelly, whipped cream, and fresh berries.
English trifles can be simple in flavor but look visually stunning, making it a party favorite for many British people. It was made to be the centerpiece of fancy dinner parties back in the days; however, it is possible to make smaller single-serving portions of this dish.
17. Jam Roly Poly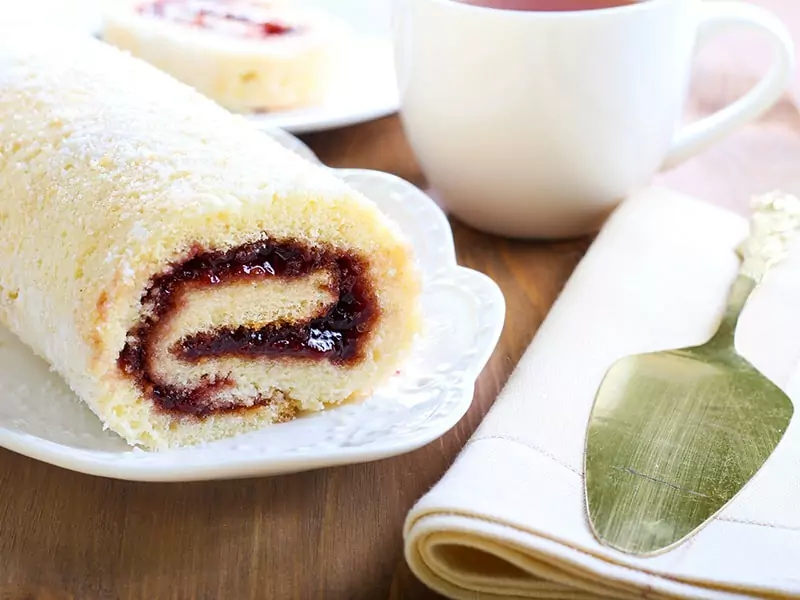 Jam Roly Poly is a rolled-up sponge cake baked in a water bath. Food made using this method is called "pudding" in the UK, which is entirely different from the American understanding of that word.
Because it used to be cooked and served in an old shirt-sleeve, this delicacy was called short-sleeve pudding back in the day. It was also once referred to as roly poly pudding.
Jam Roly Poly was first created in the 1900s and is still enjoyed by British people today. This dish is customarily enjoyed with a hefty serving of vanilla custard.
18. Spotted Dick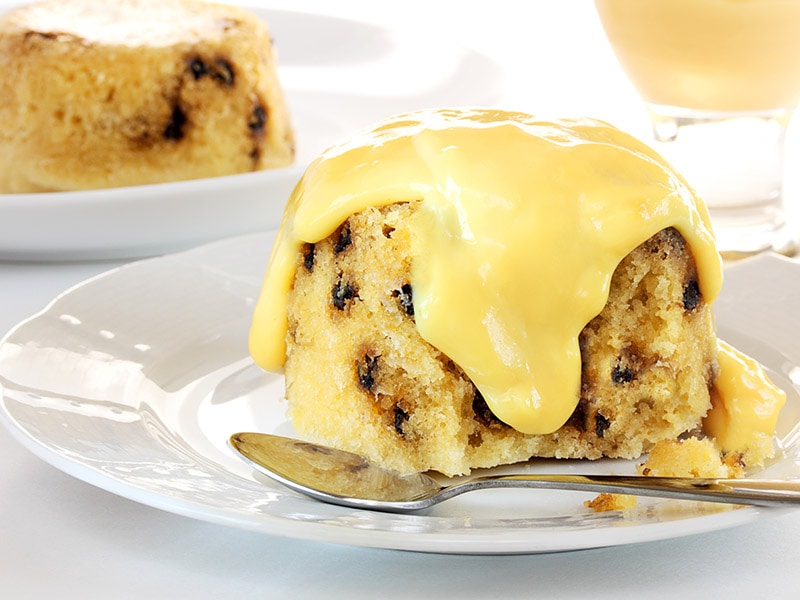 Spotted dick is an infamous British dessert to many foreigners due to the nature of its name. However, this delicious steamed pudding is an authentic British delicacy.
The dish is made from a dough mixture with suet (small chunks of beef fat) and raisins. The raisins make the cake "spotted", and the word "dick" is derived from the word "dough". The dish was originally mentioned in Alexis Soyer's 1849 book The Modern Housewife or Ménagère.
Spotted dick can't be served without a generous topping of custard, which gives the dish its distinctively heavenly taste.
19. Bread & Butter Pudding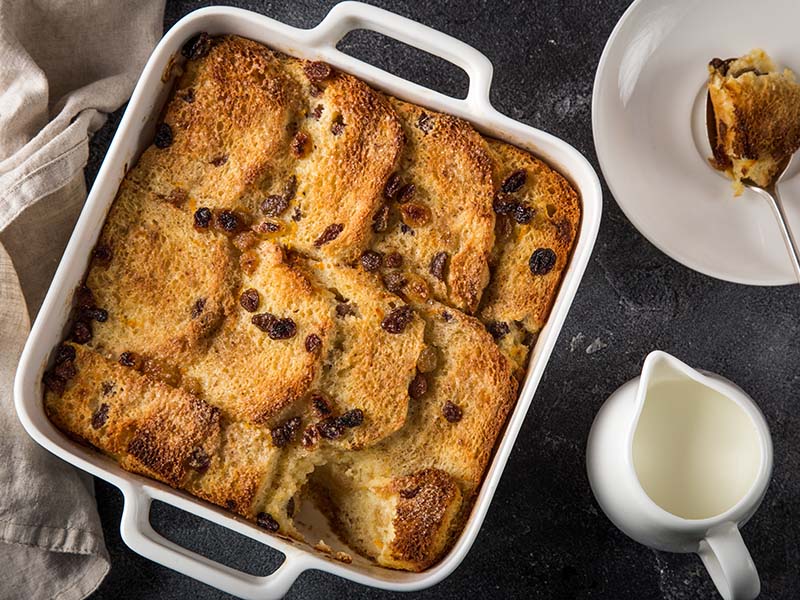 Bread & butter pudding is a humble dish created by the less fortunate in older times as a way to use up stale bread.
The dish is created using day-old bread slides layered with vanilla custard, dried fruit, and lemon zest. Afterward, it will be baked in the oven until the upper layer crisps up.
The dish's origin is still up for debate as some sources believe bread & butter pudding was created in the 1700s, while others claim it can be traced back to the 11th century. Bread & butter pudding was reported to be Princess Diana's favorite food.
20. Eton Mess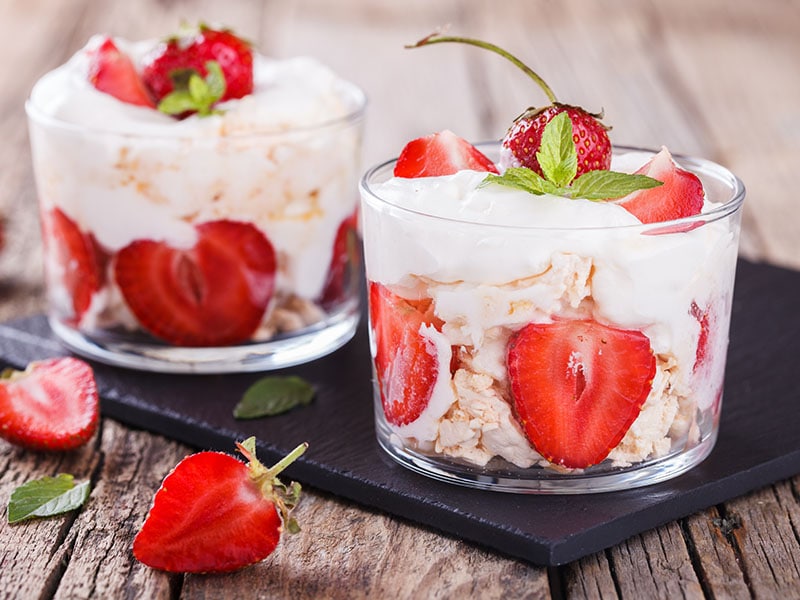 The story behind the unique name of this dessert is rather interesting. In the 1920s, at a cricket match in Eton College, an all-boys school that many British royals came to study, a labrador accidentally sat on a meringue made for the players.
The students didn't mind this at all and still enjoyed the broken meringue with strawberry and whipped cream. The dish soon became a favorite for students and was usually served at Eton College's annual cricket match.
This is the story that most people know about this dish. However, the oldest documentation of this dish dates back to 1893.
Whatever the origin of this dish is, it is still a fact that the Eton mess is immensely popular. The messy mixture of meringue with strawberry and whipped cream is easy to make, and the taste is just lovely.
21. Banoffee Pie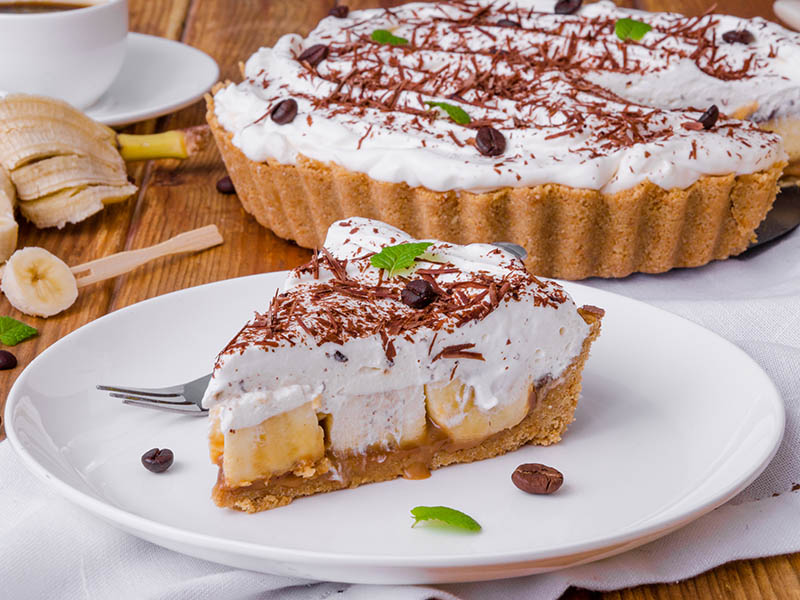 Banoffee pie is a popular British dessert created in the 1970s. The name is a combination between bananas and toffee, the main ingredients of this lovely dish.
The base of this dish is made using a mixture of light digestive biscuit crumbs and melted butter. The filling is made from bananas, cream, and dulce de leche.
It is then topped with whipped cream and chocolate shavings. In some places, the dish even calls for the addition of chocolate and coffee.
---
Sharing Is Caring!
And there you have it, guys, the most awe-inspiring and delectable dishes of England! All of these recipes deserve its spotlight, so give them a try the next time you crave the taste of England!
I hope this article gave you some helpful knowledge about English foods and British cuisine. Don't forget to leave a like and share your thoughts in the comment section if you like it.
Remember, sharing is caring! So be sure to share this post with your friends and loved ones to help them learn more about this beautiful country and its cuisine. Thank you for reading, guys! Take care and goodbye!