Looking at the most well-known and well-loved Somali foods, you can easily see the Arab, Persian, Indian, and Italian subtleties in Somali cuisine culture. This is primarily due to the country's protracted civil conflict in the past decades.
Whether it's for breakfast, lunch, or dinner, Somali recipes will undoubtedly be an exciting addition to your kitchen. So if you are ready to spice up your daily diet, the mouthwatering traditional dishes below won't disappoint. Let's dive right in!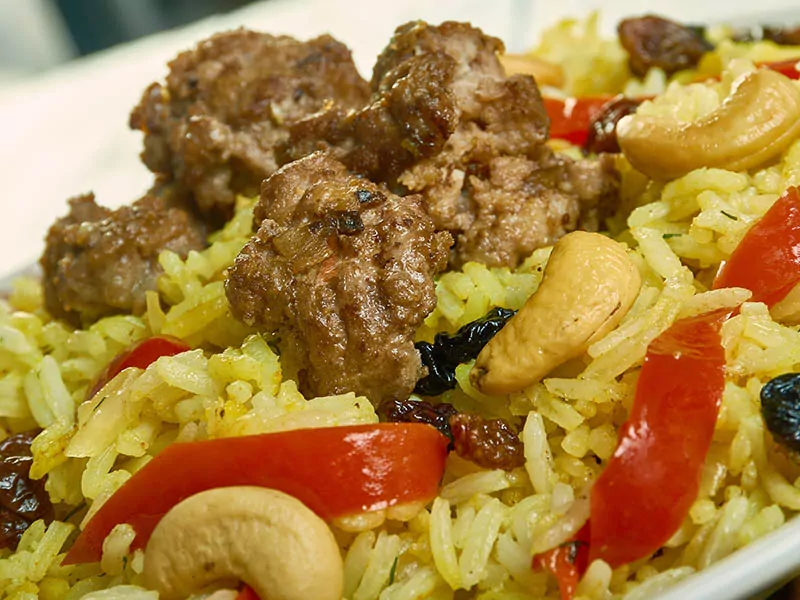 Somali Breakfast Dishes
Breakfast (or Quraac in Somalia) is an important meal for the Somalis. In this country, the locals love to start their days with a cup of coffee (Qaxwa in Somalia beverage list) or Somali-style tea (Shaah/ Shaax) along with something light like pancakes or flatbread. Take a look at this list and find out!
1. Canjeero/Anjero – Sourdough Pancakes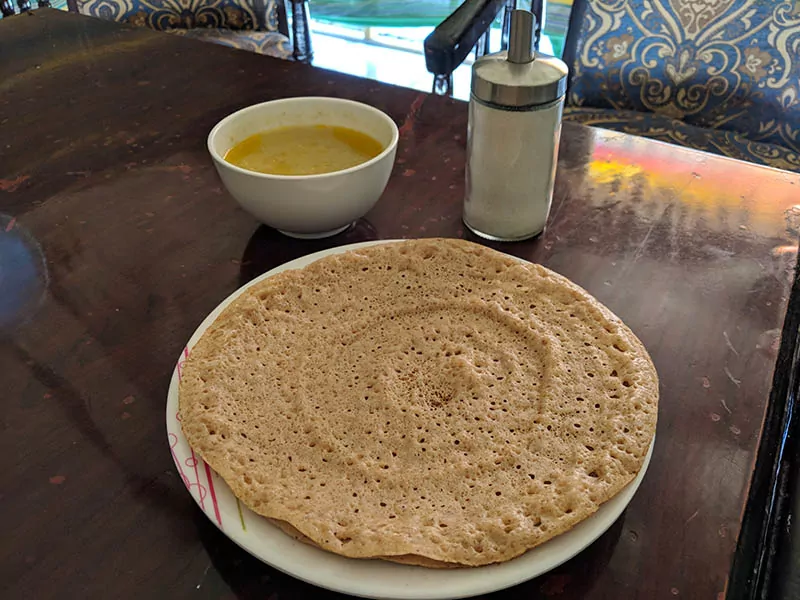 Like many other countries worldwide, the Somalis love to have pancakes for Quraac. So it's safe to say that Canjeero, or sourdough pancakes, is one of the most common Somali breakfast dishes.
The people here enjoy these thin pancakes in various ways. For those who have a sweet tooth, they might drizzle the Canjeero with honey and eat it with tea. But those who prefer something savory usually pair it with sesame oil, olive oil, or ghee (clarified butter).
During lunch or dinner, the locals also enjoy these sourdough pancakes with a bowl of warm stew, soup and curry.
There are other Canjeero (or Anjero) varieties in the cuisine of Yemeni. Moreover, canjeero looks and tastes quite similar to Injera (a type of flatbread in Ethiopia). However, authentic Somali Canjeero is thinner, smaller, and sweeter.
2. Malawah/Malawax – Sweet Pancakes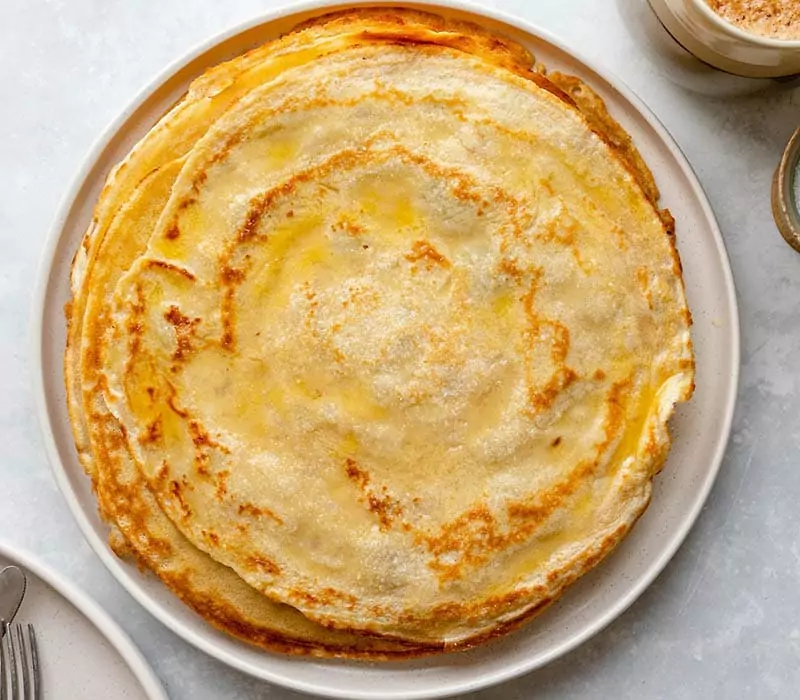 Another common breakfast choice in Somali is Malawah or Malawax. These plate-sized pancakes are slightly sweeter and greasier than Canjeero. Despite this difference, Malawah is also served with tea.
This dish is not only a typical home-cooked recipe in Somali, but it is also a staple dish in Yemen, Ethiopia, and Djibouti.
While most Somalis refer to this pancake as Malawah, the Yemenis and Jews use this name to describe a type of flatbread. This flatbread is also a well-known breakfast dish in Somali, but the locals call it Sabaayad, not Malawah.
3. Sabaayad Flatbread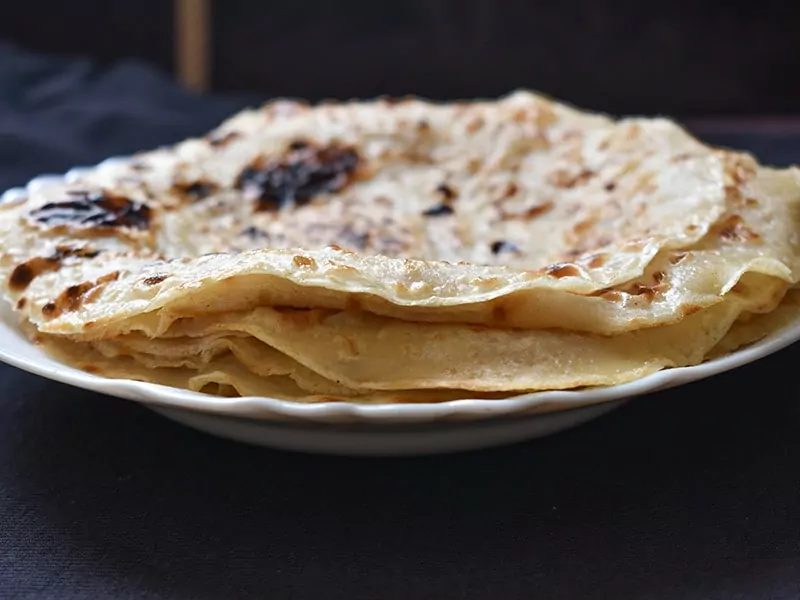 As mentioned earlier, Sabaayad is a very popular bread in Somali cuisine, and it's frequently eaten for breakfast. However, this versatile flatbread can also be paired with Somali stew, soup, and curry for lunch and dinner.
The Sabaayad is very similar to the Indian subcontinent's Desi Paratha. Crispy on the outside and soft on the inside, this simple dish is truly a fantastic dish to start your day.
This dish tastes great with almost anything. But for breakfast, most locals serve it with cinnamon sugar, honey, butter, and of course, a cup of tea.
Sabaayad is easier to make than you think; check this out!
4. Mushaari – Porridge
Having a bowl of sweet porridge with butter and nuts is also a great way to energize your body in the morning. The Mushaari is packed with minerals and vitamins, making it one of the healthiest dishes in Somali cuisine.
In this country, Mushaari is often prepared for mothers after childbirth to speed up their recovery and help with lactation. It is also suitable for the elderly, frail, or sick.
This comforting dish is traditionally cooked during the Muslim holy months of Ramadan and Iftar, but you can find it at any time of year.
5. Ful Medames – Fava Beans Stew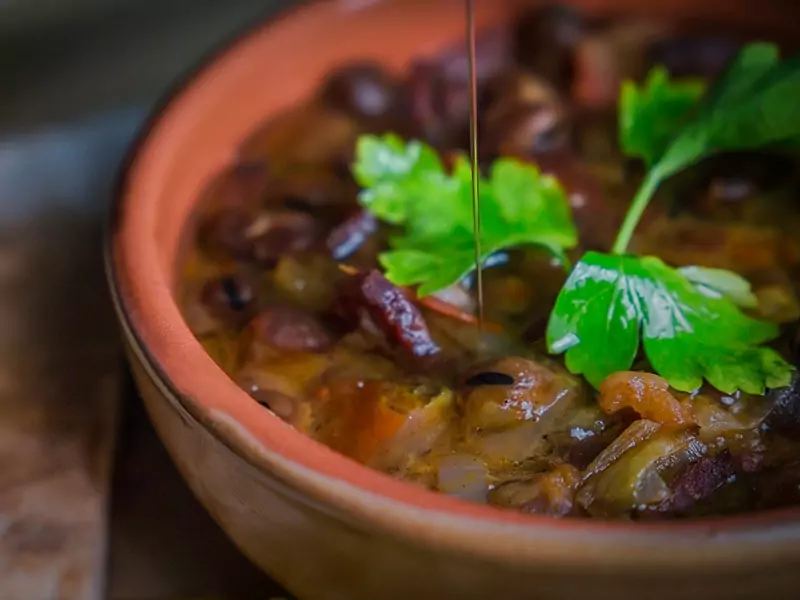 Ful Medames is a hearty dish made with stewed fava beans and a Somali xawaash spice blend. Sometimes it also comes with raw onion and sliced hard-boiled eggs. This dish pairs amazingly well with Canjeero, Kimis, and Hummus.
You might find a similar dish in the authentic Sudan food or Egyptian cuisine; however, the Ful Medames in Somalia is much spicier thanks to the xawaash. 
The locals also combine the softened fava beans with olive oil, chopped parsley, a pinch of chili for heat, and lemon juice to balance the fat.
Somalian Lunch Dishes
For lunch (or Qado), the Somalis love to enjoy elaborate main dishes. So if you're ready for some mouthwatering Somali lunch dishes, give this section below a read and enjoy!
6. Muqmad/Oodkac – Preserved Meat
Muqmad is, without a doubt, the epitome of Somali cuisine. Due to the harsh desert climate in this country, the Somalis had to discover techniques to prepare foods that could stay good for extended periods. And that is how they came up with this tasty meat jerky.
Muqmad could be stored for up to a year, providing a constant source of protein and energy for the nomadic nomads.
This dish is quite simple to make. You just need to slice the meat into strips and sundry them. Afterward, cut them into cubes, deep fry, and store them in a wooden container. Muqmad is usually preserved in ghee.
People often serve Muqmad at weddings in a xeedho, a unique container designed with seashells and leather. The meat jerky is best served with Canjeero; however, it tastes incredible on its own as well.
7. Bariis Iskukaris – Rice with Spices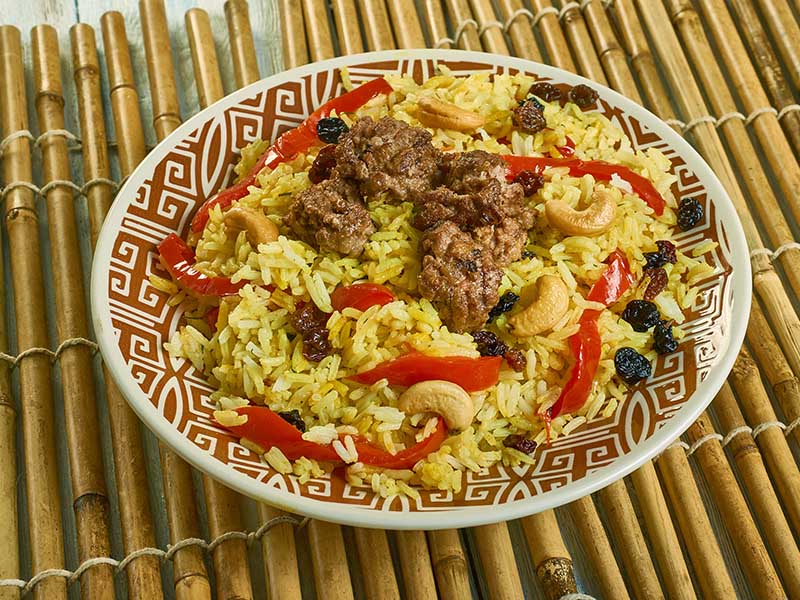 Bariis Iskukaris is genuinely a mainstay of the local cuisine of the Somalis. Also known as Isku-dheh Karis or just Bariis is a typical rice dish with a variety of meats, including chicken, mutton, fish, and camel meat. It's served with a banana in certain Somali eateries.
This filling dish usually comes in a clay pot known as a baris dhari, making it taste different from dishes cooked in metal pots. It is particularly popular among Somali Muslims.
The recipe for Bariis Iskukaris includes a spice blend called xawaash, which comprises ground cumin, paprika, cardamom, black pepper, and cloves. To give the dish its signature orange hue, people sometimes add saffron or orange food coloring once the rice is cooked.
8. Suugo & Baasto – Pasta and Sauce
Baasto, which means 'pasta' in Somali, first appeared in Somali cuisine during the Italian colonialism of southern Somalia from the 1880s to 1960. The term Baasto is not only used to describe the noodles, but it can also refer to this well-loved midday dish.
Somali Baasto consists of pasta (typically spaghetti) spiced with cardamom, cumin, cloves and covered with a rich meaty sauce. Overall, it is pretty similar to the classic Bolognese pasta – the signature food in Italy. Sometimes this dish comes with grilled or barbecued chicken on the side.
Somalian Dinner Dishes
Now that I have covered the best dishes for breakfast and lunch, it is time for the most delectable Somali dinner dishes! The locals usually enjoy their dinner (or Casho) as late as 9pm with many filling dishes. Here are some of the most common ones:
9. Cambuulo – Adzuki Beans
Cambuulo is a traditional evening dish made with cooked adzuki beans (a bean variant with red skin) or digir and rice. Sometimes, people also combine it with other beans, lentils, or corns. This unique rice dish is typically served with sesame oil, sugar, and a tomato sauce called Maraq.
Although this might look like a simple dish, it can take up to 5 hours to thoroughly cook the beans at a low temperature. Yes, it is rather time-consuming to make, but this dish is so tasty that I'm sure you'll ask for a second serving.
10. Maraq Digaag – Chicken Soup
Although Maraq Digaag is commonly referred to as a soup, its texture is similar to a stew. Flavored with coriander and ginger, this delicious chicken stew has a European or Middle Eastern flavor profile that the locals can't resist.
Besides those classic spices, Maraq Digaag also includes carrots, potatoes, and tomatoes in addition to chopped or shredded chicken. Like any other soups or stews in Somalia, this dish is often enjoyed with some traditional flatbread on the side.
If you want to try this ultimate comfort food, here is a recipe for homemade Maraq Digaag!
11. Muufo Flatbread
Speaking of pairing soup with flatbread, let's talk about Muufo! Muufo is one of the most common types of Somali flatbread. Although it is nearly identical to Sabaayad, it is slightly thicker and traditionally baked in a clay oven. This dish is very popular in the South of Somalia.
Unlike Sabaayad, this traditional unleavened flatbread is made with cornflour and lightly spiced with fenugreek, a common clover-like herb in the Mediterranean region.
The Somalis like to eat this flatbread with honey, sugar, and butter for breakfast. And of course, it also makes its appearance during lunch and dinner as a side dish of stews and soups. This crispy yet soft bread can soak up the soup nicely, making the meal more fun and enjoyable.
Somalian Snacks
If the breakfast, lunch, and dinner options I mentioned above are not enough to satisfy your hunger, these savory snacks will surely fill your belly to the brim! So remember to try them out if you have the chance to visit this lovely country.
12. Kabab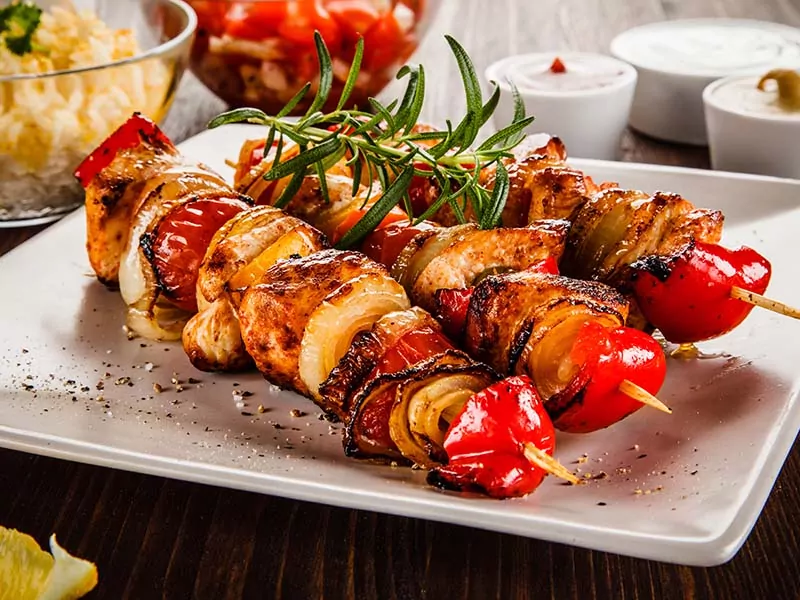 Although this flavorful grilled meat dish originated in Middle Eastern cooking recipes, many different Kebab variations are famous in numerous countries around the world. This, of course, includes Africa.
Kebab is not an unfamiliar dish in African cuisine, so it is no surprise that these meat skewers are one of the popular snacks in Somalia, especially in the western regions.
The Kebab in this country comes in a variety of flavors. Sometimes, it consists of seasoned meat cubes grilled with veggies like tomatoes and onions. In some cases, it is made of only minced meat and no veggie, similar to the Kofta Kebab in the Middle East.
13. Sambuus – Samosa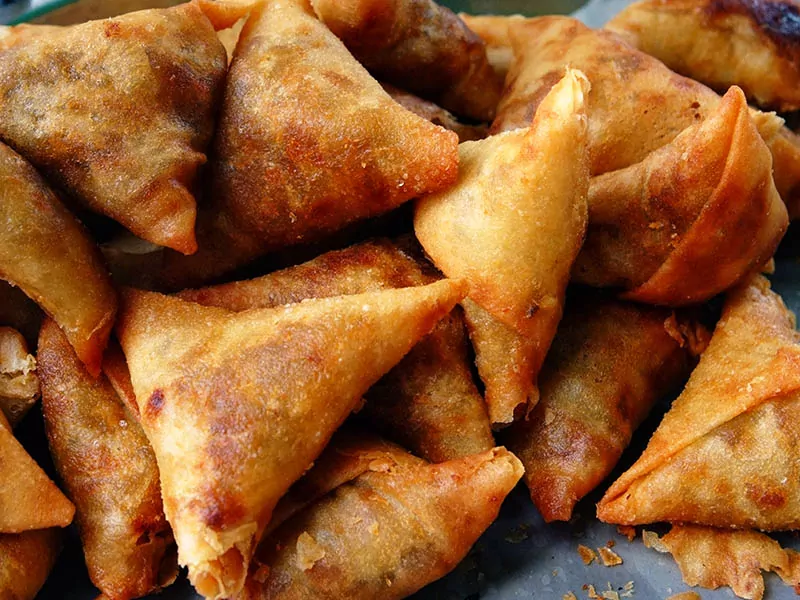 Samosa, also known as Sambuus, is a savory pastry with a filling of potatoes, onions, peas, chicken, and other meats. Depending on the location, this dish can have various shapes, such as triangle, cone, or half-moon.
These tasty treats are now often cooked in various regions of the world due to emigration and cultural dispersion from these locations. Of course, this includes the Horn of Africa countries of Djibouti, Somalia, and Somaliland.
The Sambuus are generally packed with ground beef and prepared with a thinner pastry dough in Somalia. They may be eaten at any time of year, although they are typically saved for special events.
14. Nafaqo – Egg-Stuffed Potatoes
At first glance, this dish might be mistaken for the worldwide famous Scotch egg from England. But unlike a Scotch egg, the locals don't use sausage meat to wrap the egg; they use chopped or mashed potato instead.
This egg-stuffed potato dish is prevalent throughout the Middle East and Arab countries. With a soft interior and crunchy exterior, Nafaqo is undoubtedly a delightful dish to brighten your evening. If you have time, you should give this dish a try; your kids will love it for sure!
Nafaqo is not hard to make if you have the right recipe!
Somalian Desserts
Are you a sweet lover? If your answer is yes, this section is perfect for you! Besides tasty savory dishes, this country also offers countless lovely Somali desserts. Let's check them out!
15. Xalwo/Halva – Candy
Made from sugar, cornstarch, cardamom, and ghee, this sweet is a must-have at Eid festivities or wedding receptions across Somali. There will usually be long lines in front of Xalwo markets till late the night before Eid.
Besides the common ingredients above, some Xalwo recipes call for crisped peanuts or toasted sesame seeds. This treat goes perfectly with a cup of Somali spiced tea.
Curious about how the locals make Xalwo? This short clip can help you out!
16. Basbousa – Semolina Cake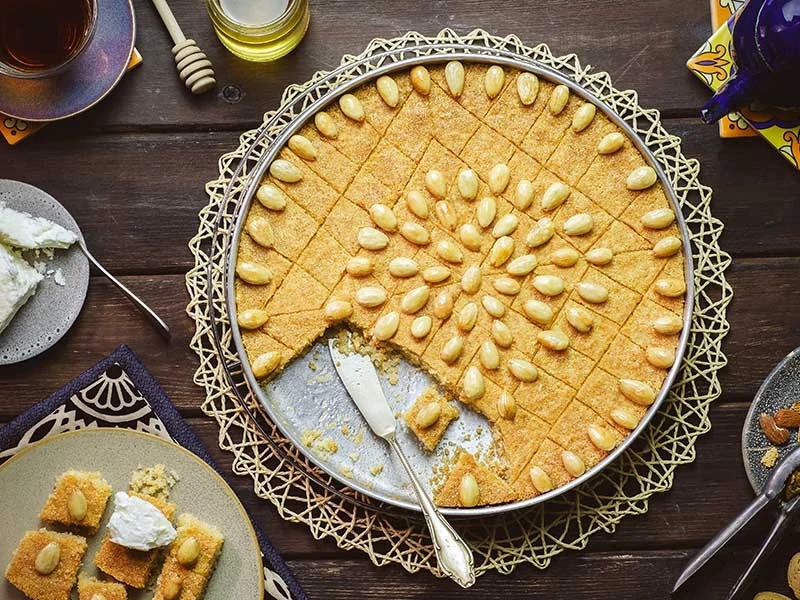 Despite its Egyptian origin, this syrup-soaked semolina cake is very well-loved among the Somalis and has become a traditional sweet in Africa in general, thanks to its wonderful tastiness.
When making Basbousa, the semolina batter is cooked on a sheet pan, then sweetened with simple syrup, orange flower water, or rose water. Once baked, the locals will cut the cake into diamond or square bite-sized pieces and serve it to the guests.
Basbousa is the go-to dessert for Christians when fasting during Eid and Ramadan since this tasty cake can easily be turned vegan.
17. Gashaato/Kashata – Coconut Candy
If you're a fan of coconut, this is the dish for you! To make this delightful treat, the sugar is dissolved in water over the heat of an oven before adding shredded coconut. Cardamom is a common addition in Gashaato to balance out the richness of the sugar and coconut mixture.
The melted sugar in the mixture forms a thick paste that can be molded into balls or pressed into a baking dish and cut into squares or rectangles after cooling.
In terms of origin, Gashaato is a sweet treat of Swahili cuisines. Besides Somali, these coconut candies are also an adored dish in Tanzania and other East African nations.
Gashaato is like a close relative of coconut ice – an old-fashioned treat popular among youngsters in the United Kingdom. So if you enjoy this traditional British candy, Gashaato will be an excellent alternative.
18. Kac Kac – Donuts
Crispy, crunchy on the outside, and soft, pillowy on the inside, these Somalian donuts are the perfect snack to satisfy your sweet craving, especially during Ramadan. Sometimes Kac Kac is referred to as Somali beignets.
If you want to give this dish a try, you can find it at almost any traditional Somali eateries in Mogadishu and other Somali cities. These delicious treats are often paired with coffee or milk tea (shaah caddeeys).
Here is another popular dessert for Eid that no one can resist: Icun, traditional shortbread cookies! The Somalis always make incredible sweet treats the night before their Eid rituals, and the aroma of freshly baked Icun can surely lift everyone's spirits.
In Somali, the term Icun actually means "eat me", which reminds people of the adorable cookies in Alice in Wonderland. Although these cookies won't make you grow giant, the crumbly and melt-in-the-mouth texture of these treats is truly magical.
---
Somali Cuisine Is Worth Exploring!
Somali cuisine is incredibly tempting, drawing influences from Africa, Europe, the Middle East, and the Ottoman Empire. Because of that, you can often see familiar dishes from other continents like pasta, curried rice dishes, flatbreads, and samosas.
When you have the chance to visit the Horn of Africa, don't forget to try out the delectable dishes that I have mentioned above and experience the locals' culinary expertise.
Did you enjoy reading this article? Please leave a like and share it with friends and family if you did. And if you have any further concerns about Somali foods or cuisine culture, don't hesitate to leave a comment down below. Thank you all so much for reading, and I hope to see you soon!