The excellent flavor of Pakistani foods is worth discovering. As you explore this culinary landscape, you'll encounter many remarkable dishes, each steeped in centuries-old traditions and techniques.
All Pakistani dishes in this post are a harmony of textures and a true taste of South Asian culture. Wait no further, let's dive into the beautiful world of Pakistani cuisine.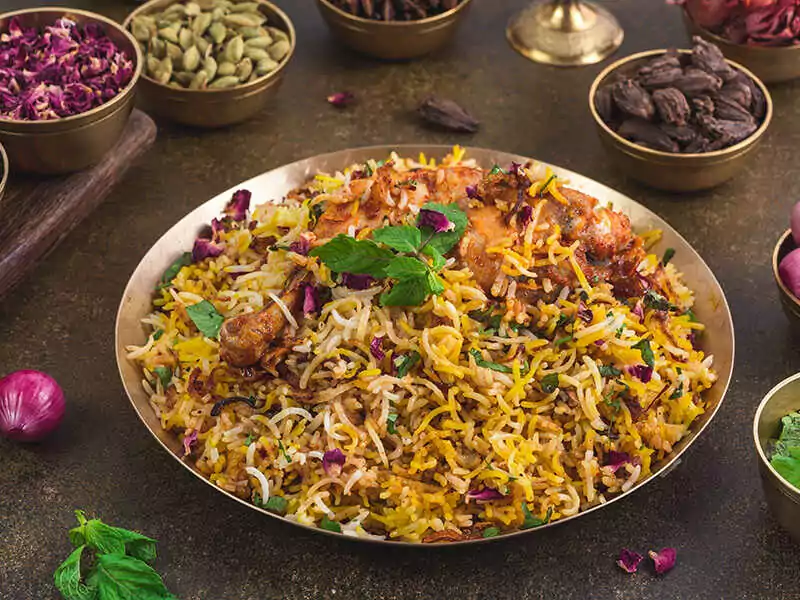 Guide To Pakistan's Gastronomic Gems
Before exploring 30 signature dishes, let's check this overview regarding several factors related to the cuisine of Pakistan.
Culinary Influences
Pakistan's culinary traditions showcase a confluence of flavors and cooking cultures from various regions, including South, Central, and West Asia, the Middle East, and, of course, neighboring India.
As a result, you will have a diverse gastronomic experience with this Desi cuisine.
Common Ingredients
Staples like rice, wheat, and lentils form the backbone of Pakistani daily meals, while aromatic spices such as cumin, chilies, fennel seeds, coriander, turmeric, etc., add depth and complexity to flavors.
Regarding meats, chicken, beef, lamb/mutton, and fish are widely used, often marinated in yogurt or spice blends.
Cooking Methods
Traditional cooking techniques include simmering, braising, and the use of tandoor ovens for baking bread (like naan/nan) and roasting meats. This provides a smoky flavor, making their dishes more flavorful.
Regional Cuisine
Pakistan's vast landscape brings forth distinct regional flavors, from Punjab's rich, buttery dishes, Sindh's fiery curries, the succulent slow-cooked fare of Balochistan, Khyber Pakhtunkhwa signatures with rice dishes and kebabs, to exotic Gilgit-Baltistan's delicacies from the northern mountains.
Each region celebrates its own unique culinary identity, making Pakistani cuisine an outstanding journey of flavors.
Pakistani Main Dishes
Meat is a rich source of protein, and these Pakistani main dishes with meat are amazing
1. Haleem – Thick Meat and Grain Stew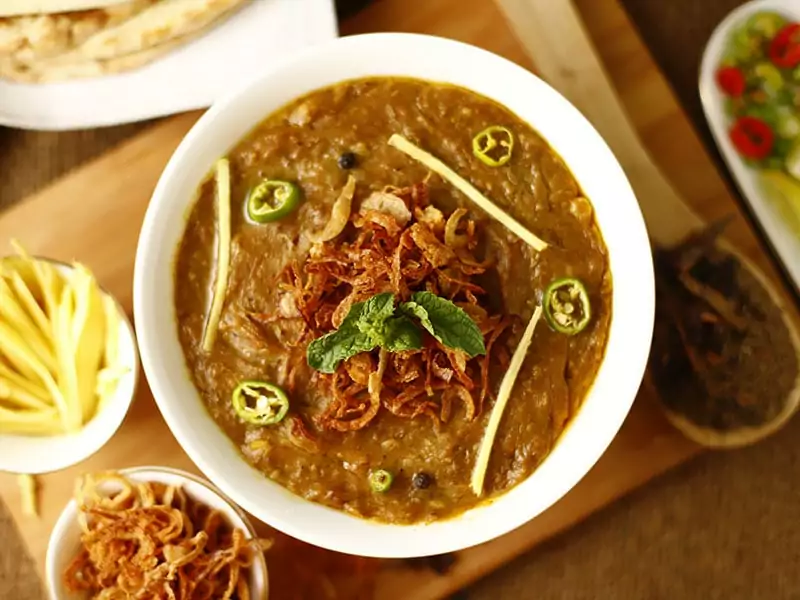 Haleem is a fantastic food for your Pakistani lunch dishes. Hailing from Harees – an Arabic dish, Haleem was brought to the Indian subcontinent by Arab soldiers.
The key ingredients are barley, meat, wheat, and chana (chickpeas). This thick stew is popular in this country, particularly for mouthwatering Pakistani street food, or in the Indian subcontinent, the Middle East, and Central Asia.
To get the best flavor, some chefs have to cook for seven to eight hours or more than a day at low heat to get a consistent texture.
Moreover, Pakistanis eat this food all year. It is especially a common choice during Ramadan and Muharram.
2. Nihari – Pakistani Slow-Cooked Stew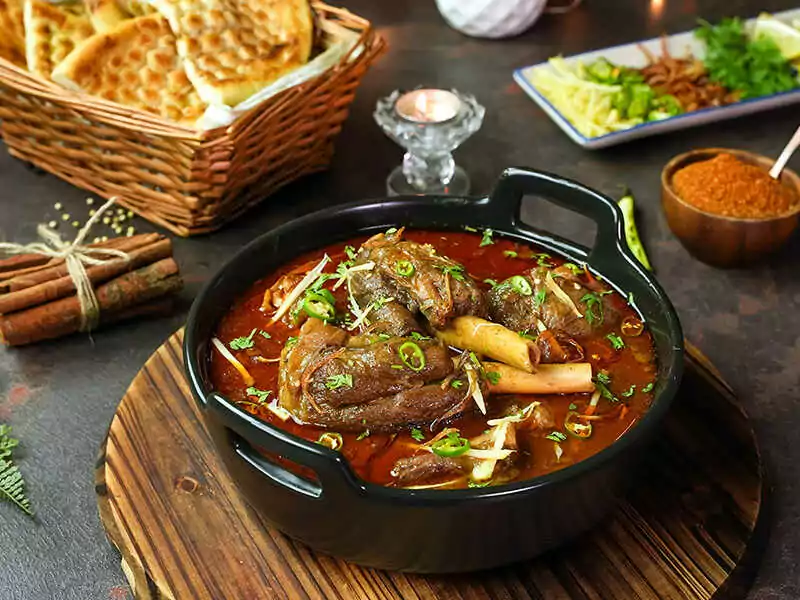 Nihari will fill your empty stomach quickly. This food was born in Old Delhi, including beef shanks, mutton, or chicken as the main complements.
The meat gets a rich taste when slow-cooked with cumin, cardamom, cloves, and masala. With the spicy taste and tender meat, this treat is perfect for enjoying with rice or bread (naan/nan).
In terms of its history, Indian immigrants brought Nihari to Pakistan when they gained their independence in 1947. Gradually, it became a signature food in Pakistan, especially in Karachi city, where you can buy it from many local restaurants.
Quick fact: The name "nihari" comes from the Arabic word "narha", which means "morning".
3. Seekh Kabab – Meat Kabab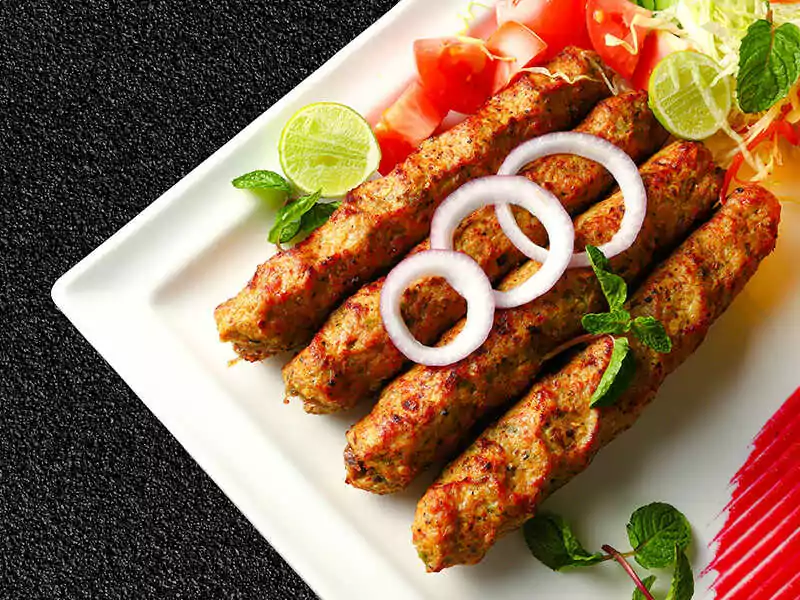 Seekh Kabab is a popular Pakistani delicacy that people of all ages love. It is a type of grilled meat dish made of skewering minced meat (usually lamb) with various spices and herbs on a long skewer.
This food is the creation of the Pakistani and Indian people, and you can easily find them in the Indian-style starter menu.
Making Seekh Kabab is not hard at all! People will mix minced meat with various spices like ginger, garlic, and chili to make this food.
These grilled meat skewers will bring out a distinctive smoky flavor because it is cooked in a tandoor oven or on a mangal. For the best experience, locals normally serve it with flatbread, salads, fries, and chutney.
4. Chicken Karahi – Chicken Stew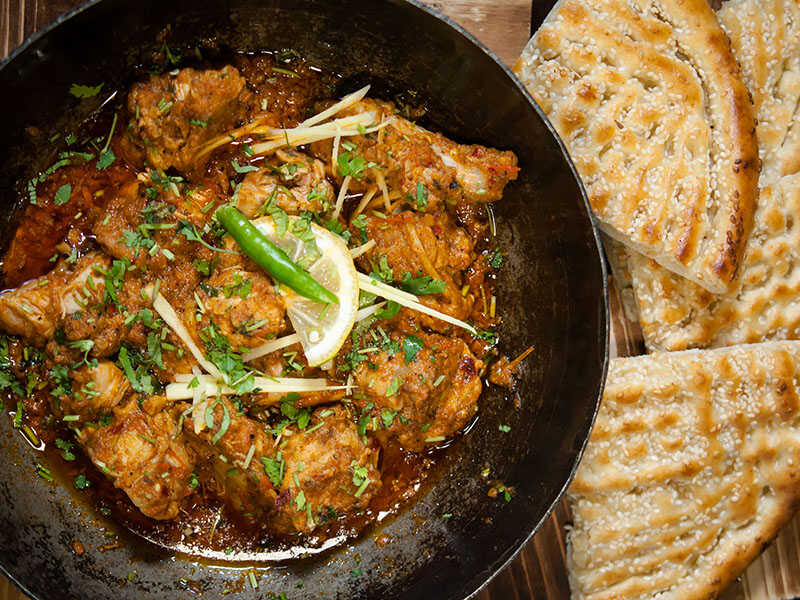 When it comes to Pakistan cuisine, chicken Karahi is one of the most famous dishes. Named after the "karahi" or "kadai" thick pot it is cooked in, which resembles a wok with two handles, this dish is a staple in this cuisine.
Obviously, chicken is the main source of protein. But its taste is more amazing with the appearance of chili powder, allspice, cardamom, cumin, and garlic, offering a perfect balance of spicy heat and aromatic flavors.
The feature that sets chicken Karachi apart from others is the tomatoey base that brings a rich flavor to it. If you make it at home, feel free to use any form of tomatoes, such as canned tomato puree or fresh ones.
Gosht Karahi (from the Khyber Pakhtunkhwa region) and prawn Karahi are variations of the original Chicken Karahi recipe, where goat or lamb meat and prawns, respectively, are used instead of chicken.
While it can be served with many accompaniments, naan, roti, or other types of bread is ideal for soaking up the delicious sauce. Raita – a cool, yogurt-based side dish may also be served to help temper the heat from the dish's spices.
5. Sajji – Roasted Whole Chicken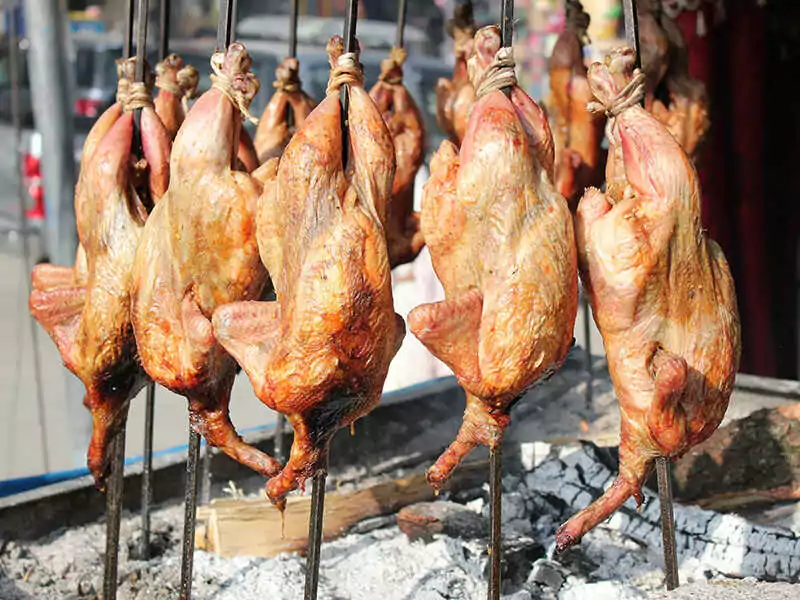 Sajji is the pride of the cuisine of the Balochistan province of Pakistan. If you want to enjoy the best Sajji in Pakistan, you should go to Lehri Sajji House.
This restaurant was established in 1967 by Haji Aman Ullah, who is credited with bringing this delicacy to many Pakistanis. The dish's main ingredients traditionally include lamb, although cities such as Karachi, Islamabad, or Lahore use chicken.
A distinctive aspect of Sajji is the cooking technique, which involves skewering the mildly marinated meat and roasting it over an open flame until it is tender and crispy outside.
Moreover, it typically goes with rice or Balochistan's traditional bread, which complements the succulent, flavorful meat perfectly.
6. Kabuli Pulao – Steamed Rice Mixed with Meat and Veggies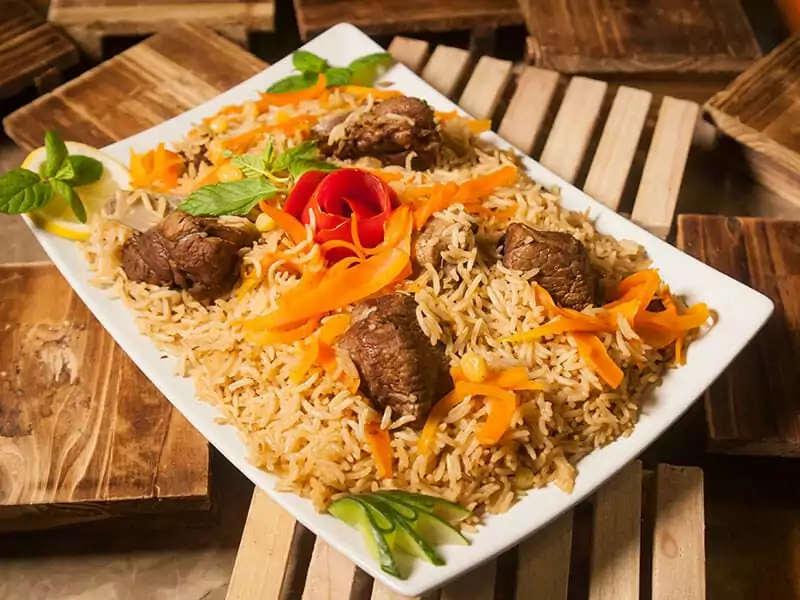 Although Kabuli Pulao is a specialty of Afghan cuisine, it is also common in Pakistan. It originated from Kabul's upper-class families when they had money to buy raisins, nuts, rice, and caramelized carrots.
Silk Road traders brought it from Afghanistan to western Pakistan, and it gradually spread throughout the country. The rice grains fried with dry spices make Kabuli Pulao richer in flavor. Moreover, mutton and beef are indispensable in this dish.
There are many places selling Kabuli Pulao in Pakistan. If you find a dish served on large stainless steel pots that look like bells tilted at a 45-degree angle, this is Kabuli Pulao.
7. Lahori Chargha – Steamed and Fried Chicken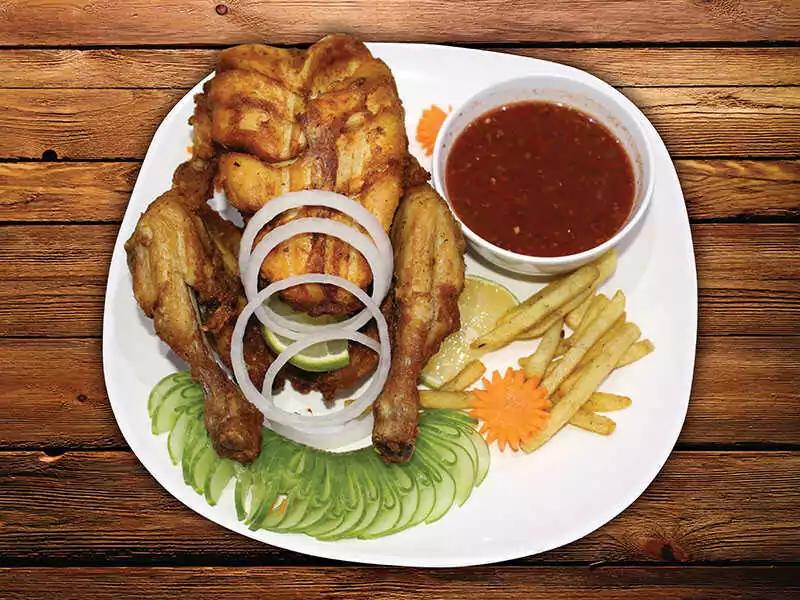 Chargha is a fantastic suggestion for you if you are a fan of chicken. This recipe combines chicken, spices, and yogurt to make a distinctive and delicate flavor. The chef will prefer to use freshly pecked chicken to keep it succulent and tender.
Moreover, the chicken will be steamed first to make it tender and juicy from the inside before being shallow-fried to achieve a golden roasted crust.
Its name "Chargha" means "chicken" in Pashto, and it is an invention in Lahore city, Pakistan. It is also a common street food here.
You can choose from the Tandoori Chargha version with roasted chicken or the traditional deep-fried chicken version.
Learn new things about chicken Chargha and how to make it with this review.
8. Chapshoro (Chapshurro) – Fried Dough and Yak Meat Filling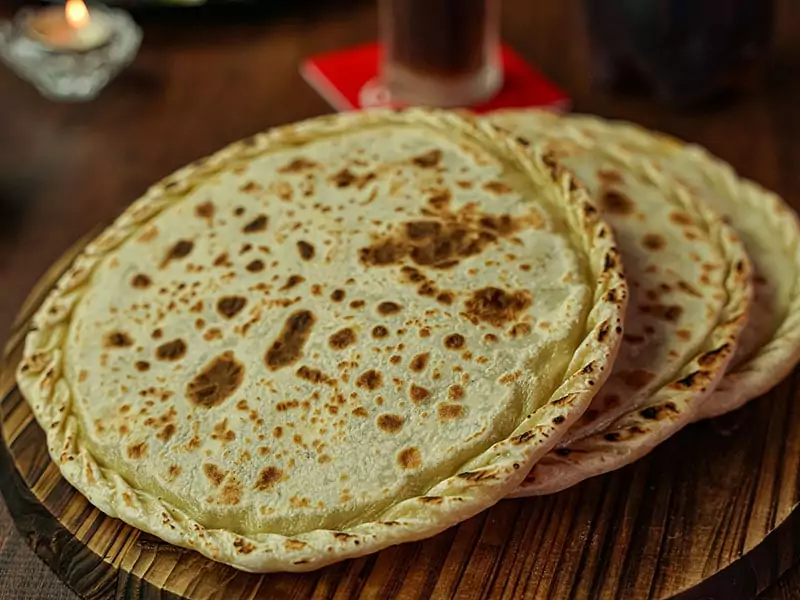 Let's move to the North of Pakistan, especially Gilgit Baltistan – a mountain area in this country, to enjoy the traditional Chapshurro. The word "Chap" means "meat" in its name, which refers to the yak meat in this delight.
This dish cooked on a convex steel plate is a favorite choice of tourists on cool days. It is a versatile yet simple food that consists of chopped meat stuffed between two flatbreads. Some variations use lamb or beef instead of yak meat.
Besides these main proteins, you will also feel the taste of pepper, onions, and sweet carrots in Chapshurro. Moreover, wheat is the key ingredient in making dough.
Of course, the most authentic Chapshurro can be found in Gilgit Baltistan, but luckily, you can also find it in many other regions across Pakistan, from Gilgit City to Hunza Valley.
9. Biryani – Rice and Meat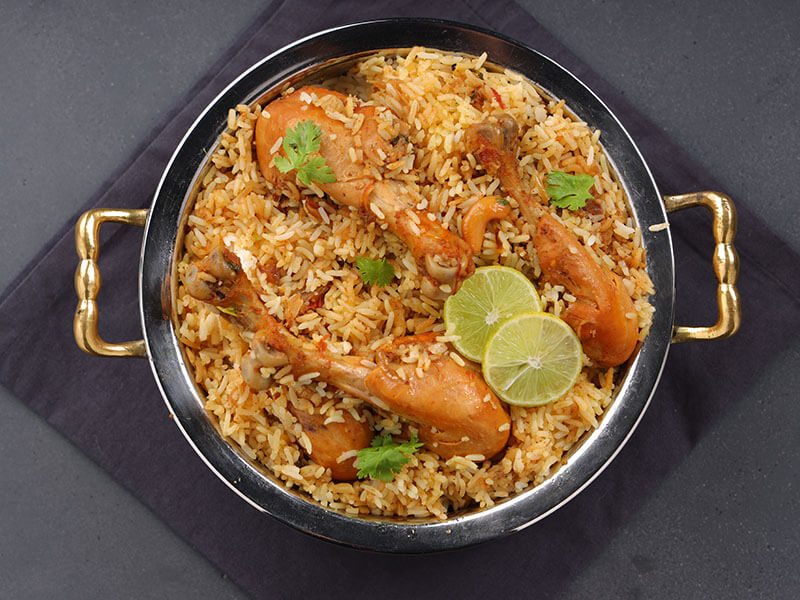 If you have a chance, try Biryani on the streets of Pakistan. This food looks pretty similar to Pulao, but they are different. Pulao consists of ingredients fried together, while elements in Biryani are entirely separate.
As rice is an essential component, choosing a suitable type among many rice varieties to prepare Biryani is important. 
Regarding the cooking, before steaming, the rice is layered into a cooking vessel and seasoned with nutmeg, cumin, and cardamom. Then add a layer of peanuts and carrots over the top. Locals also combine meat strips and light yogurt to enhance the flavor.
Moreover, Karachi city is famous for the bone marrow Biryani version. This food first appeared in North India and was created by the Mughals. If you prefer seafood, let's try prawn Biryani!
Biryani is typically a main course, so it is excellent to pair with some side dishes, like raita or simple green salad.
10. Aloo Matar – Green Peas and Potato Dry Curry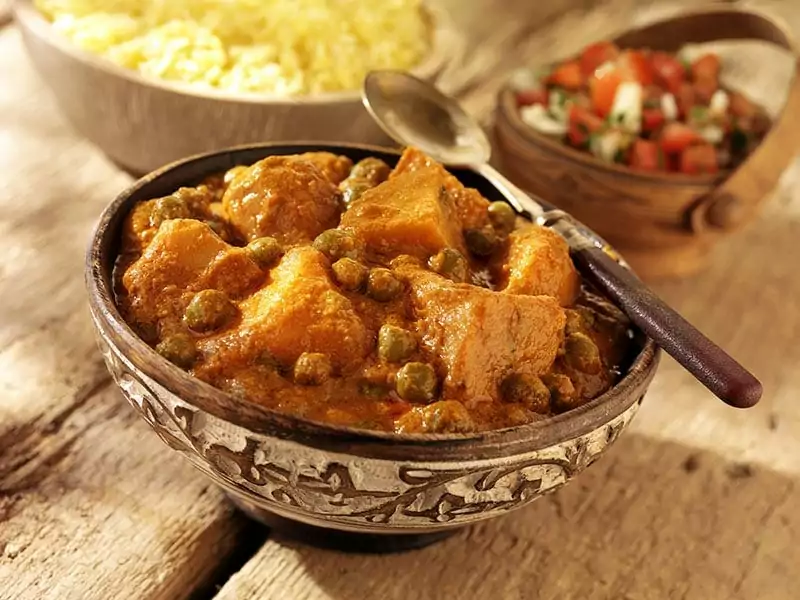 If you seek a Pakistani dinner recipe to fill your stomach after a long day, you should not neglect the delicious and nutritious Aloo Marta. It is a good choice for vegetarians, thanks to its plant-based ingredients.
Potatoes and peas are the main elements in making outstanding food. In fact, its name is taken from the name of two primary ingredients when "aloo" means "potatoes" and "matar" means "peas". Alternatively, it becomes more flavorful with a tomato-based sauce.
Today, you can find packages of Aloo Matar at supermarkets since it is also available as a commercial product. You just need to buy them and heat them before eating. In addition, it also appears in the fillings of all kinds of Dosa – a crepe-like pancake.
Besides Pakistan, you can find it in India, especially in North Indian restaurants.
It is straightforward to make mouthwatering Aloo Matar.
11. Punjabi Kadhi Pakora – Yogurt-Based Curry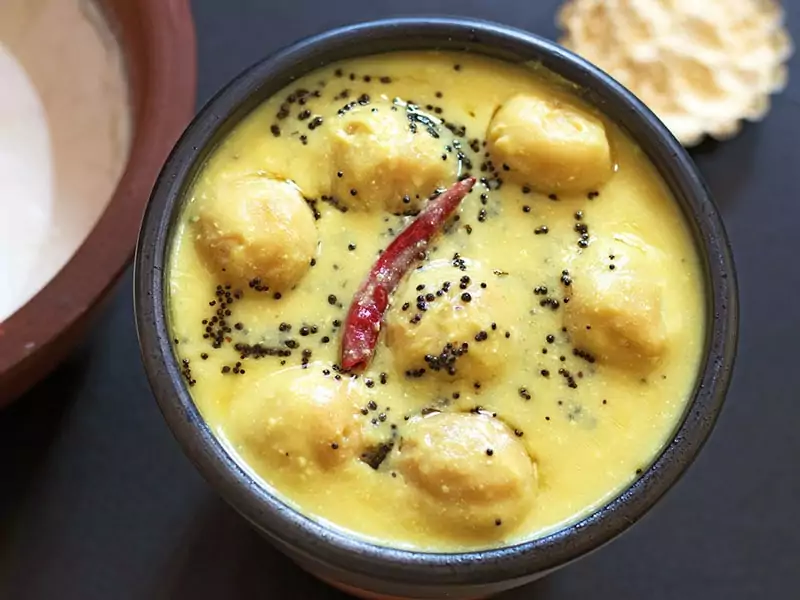 If you are looking for a vegan and yummy dish, Punjabi-style Kadhi Pakora is a delectable dish that you should consider.
The dish comprises two main components: the Kadhi, a tangy and slightly spicy yogurt-based curry, and Pakoras, deep-fried fritters made from gram flour (besan), onions, and various aromatic spices.
You will love the smooth and consistent texture of this food. This mouthwatering curry recipe originates from Rajasthan and is popular in Pakistan and India. People often serve it with steamed rice or flatbreads, such as roti or naan.
12. Chicken Qorma/Korma – Chicken Curry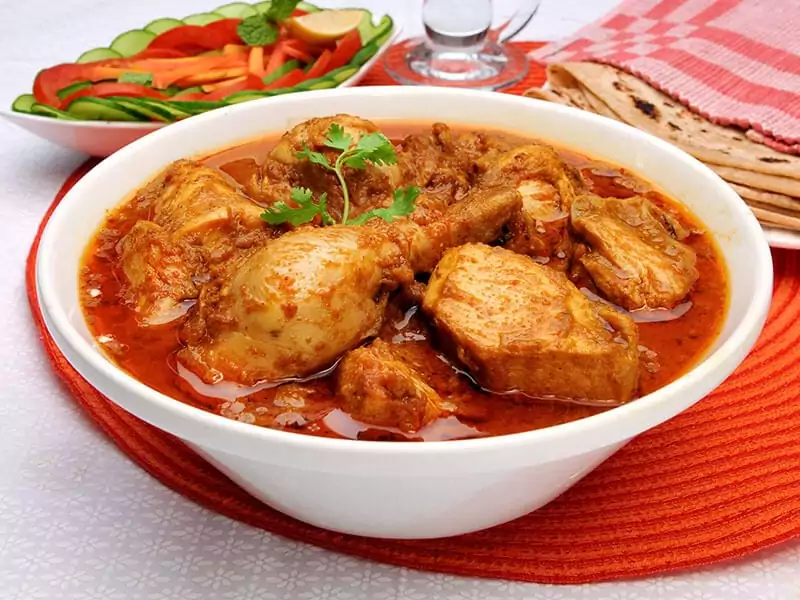 Chicken Qorma (or Korma), a culinary treasure in Pakistani cuisine, traces its origin to the opulent Mughal kitchens. This scrumptious dish can be found across Pakistan and India, earning a special place on festive tables or at normal family gatherings.
The signature color of Chicken Qorma comes from a blend of spices. Key ingredients include tender pieces of chicken, aromatic spices, and a velvety, nutty sauce made from yogurt, cream, or coconut milk, often thickened with ground almonds or cashews.
Although Korma and curry both feature a medley of spices, they differ in significant ways. While Korma has a rich and creamy sauce, curries typically have thinner, more broth-like sauces and can range from mild to very spicy.
Pakistani Snacks, Side Dishes and Breads
There are many fantastic snacks, side dishes, and bread that you should not miss while wandering Pakistani streets. So keep reading to explore!
13. Halwa Poori – Fried Dough and Semolina Pudding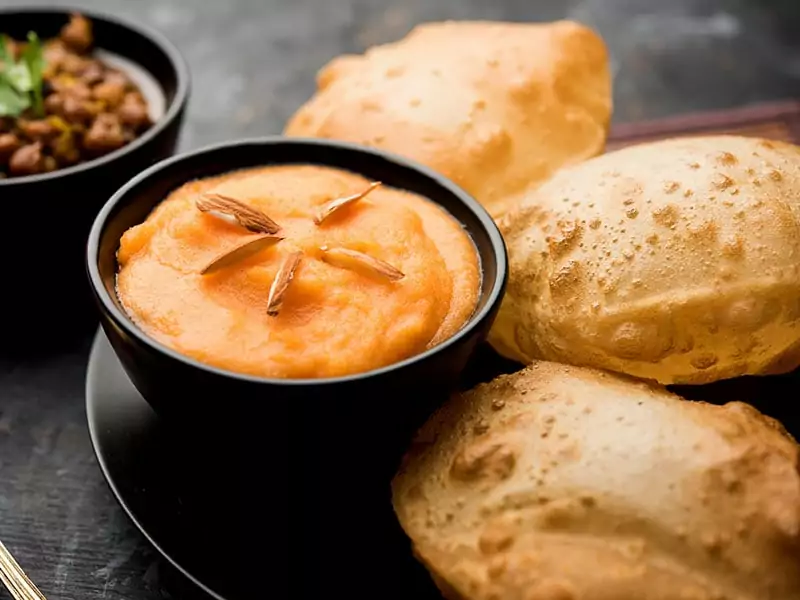 People normally consume Halwa Puri for snacks, but it is also an amazing Pakistani breakfast recipe. This is a traditional Pakistani and Indian dish. This food consists of fried dough – Poori, a kind of Indian bread, and semolina pudding (Halwa).
This treat also features the signature flavors of cloves, cardamom pods, and kewra essence. Halwa Poori is a product of the Indian subcontinent (Punjab) people, and it gradually spread to Pakistan, Nepal, and the Madheshi community.
It is a preferred choice of Pakistanis for special occasions and celebrations like religious festivals, holidays, or weddings. Besides serving at breakfast, it also usually appears at lunch or brunch.
14. Paratha – Pakistani Flatbread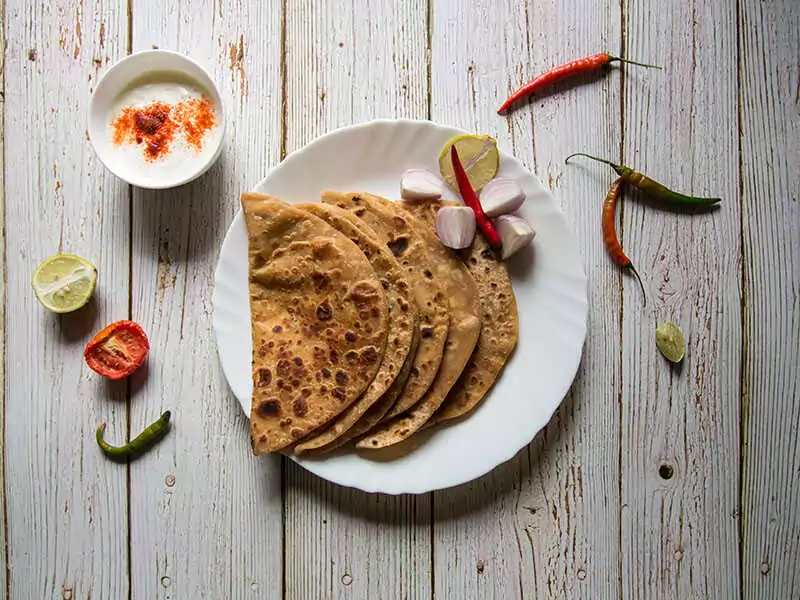 Besides naan (or nan), Pakistanis often choose Parathas for their breakfast. This food with a P at the beginning is a flatbread with wheat flour as the key ingredient. 
Its name comes from the words "parat" and "atta" (flour). Locals normally cook it on a tawa (frying pan) with ghee to enhance the seductive aroma of Parathas.
Some versions come with fillings, like boiled potatoes, garlic, radish, and cauliflower. Plus, you can find it in triangle, round, square, and heptagonal forms. With its soft, thin, and flaky texture, Paratha usually goes with pickles, curry, and Lassi (yogurt).
There are similar versions of this bread, like Sabaayad flatbread – a popular Somali-based food. This bread appeared a long time ago, and it was presented in the book Panjab of Nijjar in 1968. According to the information in the book, it was popular with the nobles from 1000 to 1526 A.D.
Listen to this review about an incredible Paratha.
15. Chapli Kabab – Minced Kebab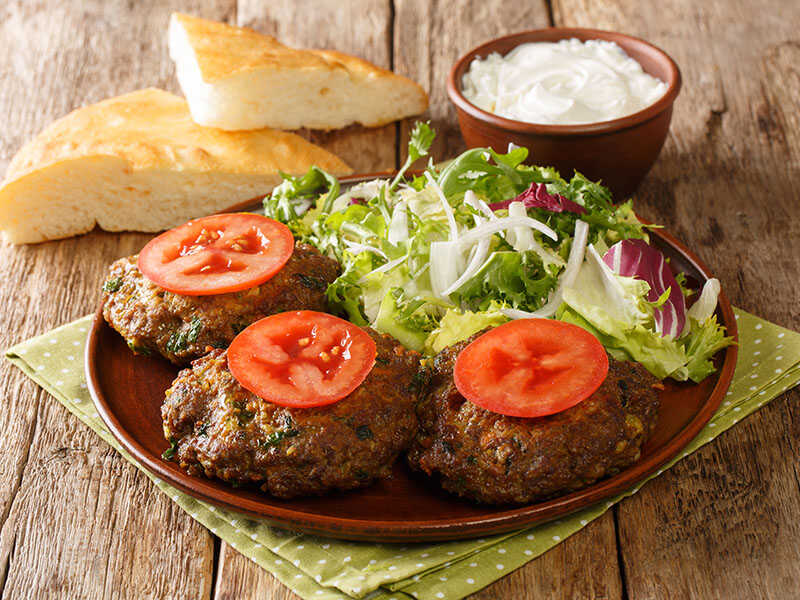 The name "chapli" originates from the Pashto word "chaprikh," which translates to "flat," a fitting description for the flattened shape of the minced meat patties. This creation is attributed to the inventive culinary traditions of the northern regions of Pakistan, specifically Khyber Pakhtunkhwa and Peshawar.
Overall, Chapli kebab is a renowned street food in Pakistan. Plus, it is not only a delectable side dish but can also be savored as an appetizer or main course. This grilled minced meat dish is the perfect accompaniment for a relaxing drink, such as beer.
Chapli Kabab is typically made with ground beef or mutton, though some variations may also use chicken. The choice of meat is mixed with an assortment of spices and herbs to make it more flavorful.
16. Pani Puri – Filled Deep-Fried Flatbread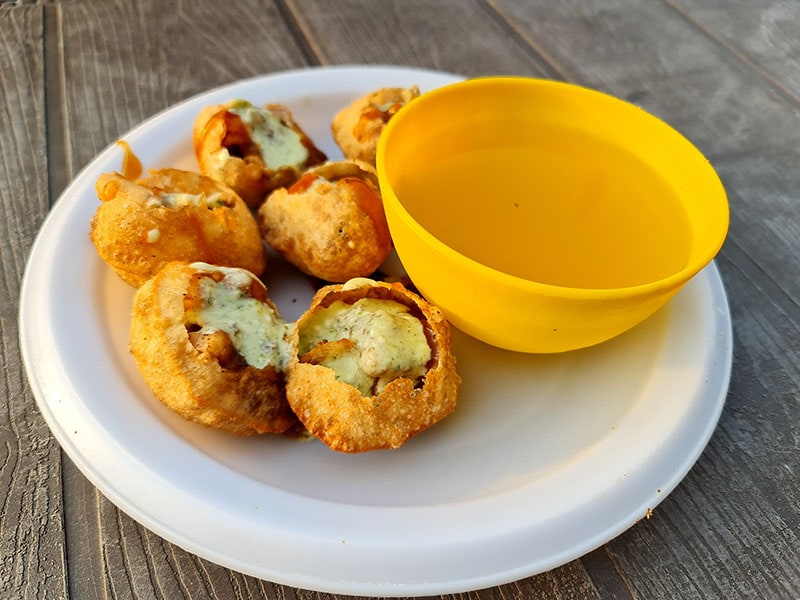 When you walk on the streets of Pakistan, you will easily come across vendors selling scrumptious Pani Puri. This food was created in the Indian subcontinent and is also a beloved street food in India.
The puris are typically small, round, and hollow, allowing them to hold the tasty fillings. There are other variations of Pani Puri, like those in delectable Bangladeshi foods.
To eat Pani Puri, you simply take a whole puri, puncture a small hole on its top, fill it with the mixture of your choice, and then pop the entire puri into your mouth in one bite. You can choose from sprouts, chopped onions, or mashed potato fillings.
This street food tastes even better when dipped into tamarind sauce or chutneys.
Quick fact: Pani Puri means "water in fried bread" in English.
17. Brain Masala – Brain Gravy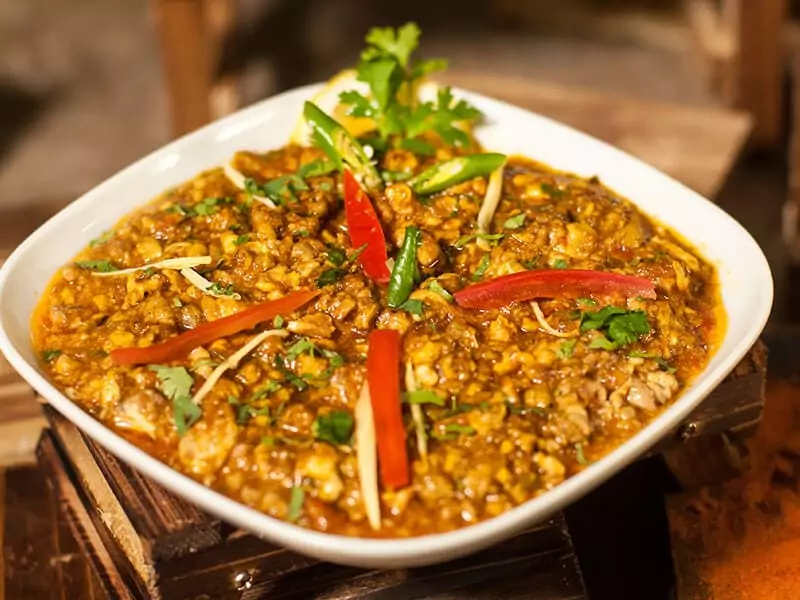 If you like foods made from animal organs, Brain Masala is a recipe you should not miss! This side plate is pretty popular in India and Pakistan. This food has been around since the Mughal Empire in the Indian subcontinent.
Masala in its name means "gravy", so people often call it "brain of gravy". This recipe will use the brains of lamb, cow, camel, or goat, then gently fry it with red chili powder, cilantro, and onions until thickened like a curry.
This food is not only loved due to its creamy texture and robust taste but also its nutritional value. They are basically a side dish to serve alone, but if you pair them with rice or naan, you will have a full main course.
18. Saag – Mustard Green Sauce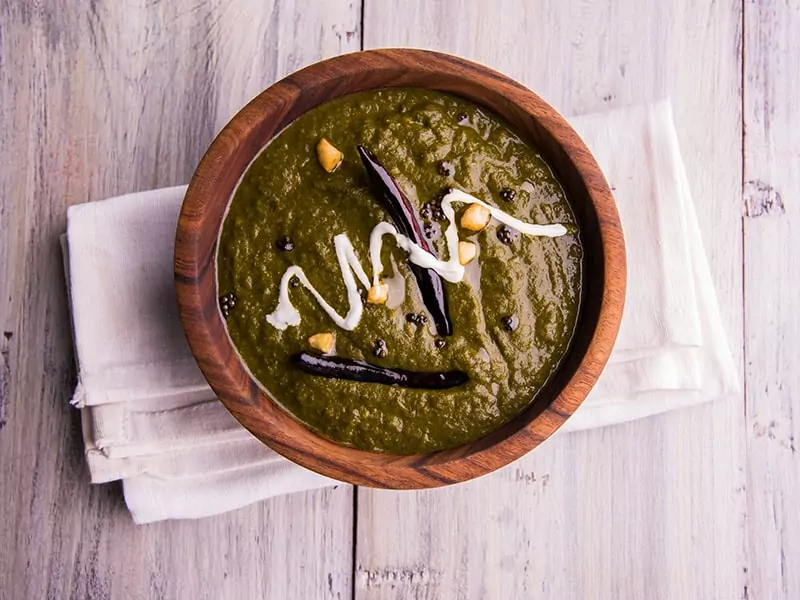 Saag or Sag is a famous Pakistani vegetable dish. This recipe is a staple in the Punjab province of Pakistan. Its name means "mustard green", reflecting its appearance with a characteristic green color.
This recipe usually comes with naan and roti and sometimes goes with rice. Spinach, mustard greens, collard greens, and more are cooked until tender. The most famous version of Saag is Saag Paneer, with soft cheese as the main component.
The Northern Pakistan town of Skardu has a unique version of Saag made up of vast chunks of mutton. On the other hand, Peshawari Grandfather created a variation with a distinctive sour taste and is suitable for health when it does not contain much spice. Enjoy it cold for the best flavor.
19. Baingan Bharta – Smoky Mashed Eggplants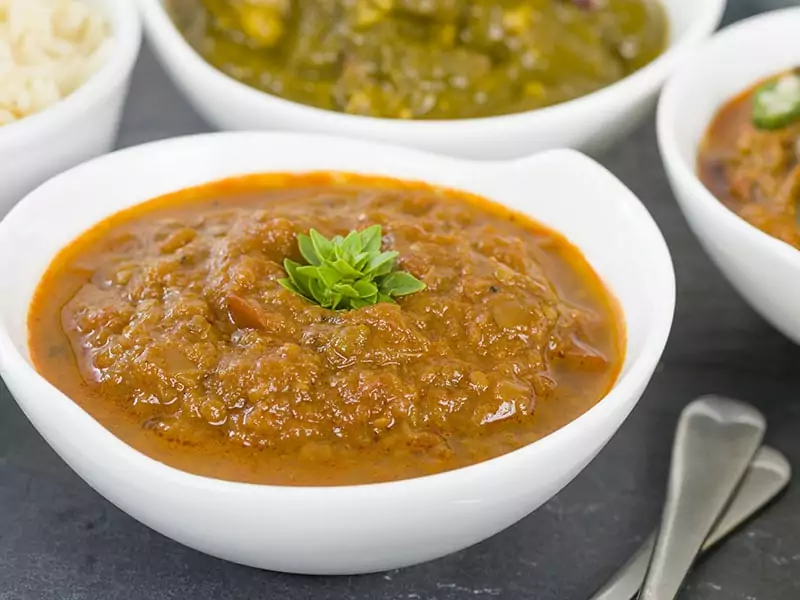 Baingan Bharta (aka Baigan Chokha) is the must-try plant-based recipe of Pakistani cuisine. This food originates from the Indian subcontinent and is common in Pakistan, Bangladesh, and India.
Aubergines (eggplants) are the key ingredients that make up this food. Pakistanis will grill aubergines over a charcoal fire, so you will feel some smoky flavor when eating this food.
After baking, people saute it with onions and tomatoes. A little taste of cumin, coriander, and ginger are ideal additions to increase the overall flavor. Finally, you can eat it with flatbread like naan or paratha to fully savor the delicious mixture.
20. Achar – Vegetable Pickle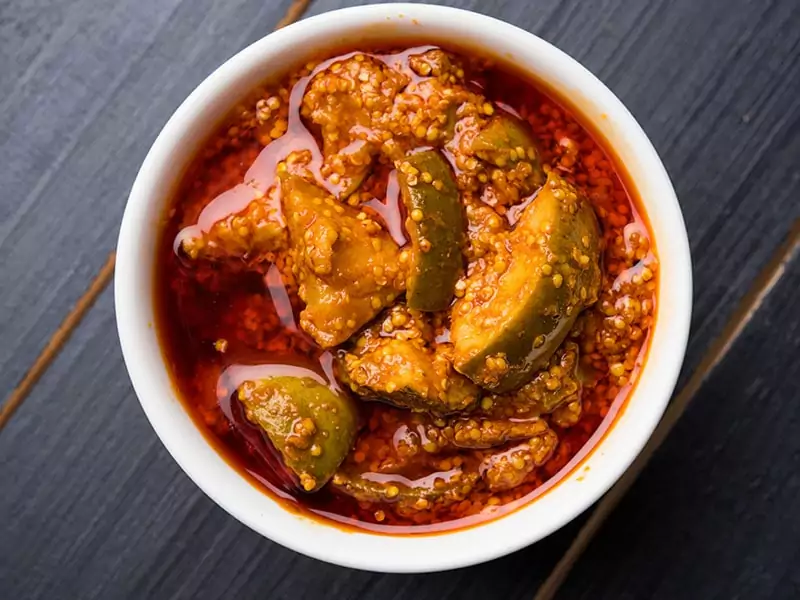 Achar (or achaar), a vibrant and zesty condiment, has deep roots in South Asian cuisine. Its origins can be traced back to ancient India, where it was revered for its role in preserving vegetables and fruits. Today, Achar enjoys immense popularity across South Asia, including in Pakistan.
In Achar, the main star is vegetables or fruit that are meticulously combined with spices. They can be mangoes, lemons, carrots, or chilies. The mixture is then preserved in oil or vinegar, resulting in a tangy flavor.
Achar is a versatile accompaniment that can elevate any Pakistani meal. It pairs beautifully with a wide range of main dishes. Plus, some variations might be very spicy, so be careful!
21. Raita – Yogurt-Based Sauce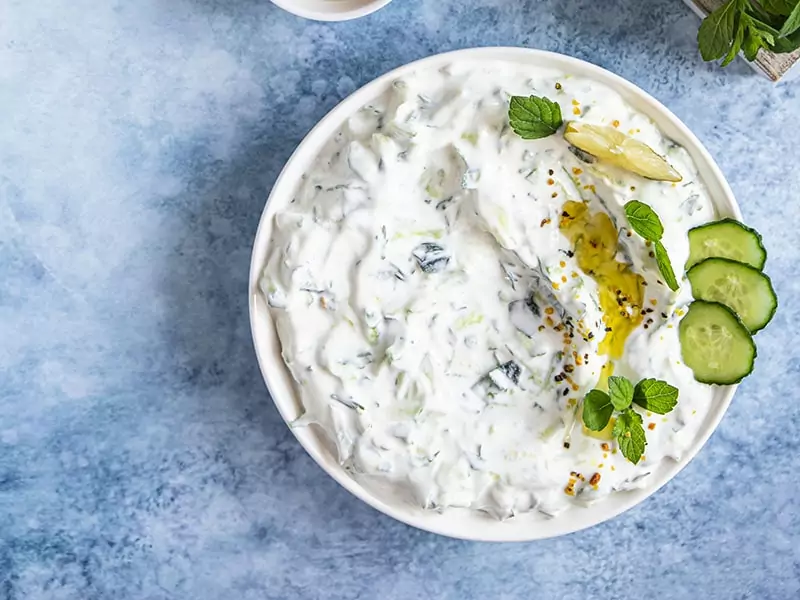 Raita is a refreshing side dish in Pakistani cuisine. The beauty of Pakistani Raita lies in its simple ingredients. Combining creamy yogurt with vegetables or fruits, such as cucumber, tomato, onion, or pineapple, you will have a big bowl of Raita.
It is then seasoned with spices like cumin, mint, and black pepper for an invigorating taste. Typically served chilled, Raita offers a palate-cleansing effect, making it an ideal companion to rich, spicy dishes.
It is often enjoyed alongside an assortment of Pakistani flatbreads, such as naan or paratha, as well as Biryanis and grilled meats.
While Raita shares similarities with the Mediterranean Tzatziki, they are distinct in their seasoning and composition. Raita is primarily yogurt-based, with a thinner consistency and a greater variety of fruits, vegetables, and spices. In contrast, Tzatziki is thicker and features a blend of yogurt, cucumber, garlic, and dill.
Pakistani Desserts
Desserts play a vital role in culinary, and they will help you refresh your taste buds after a heavy main course. Let's refer to these fantastic Pakistani desserts to add to your menu.
22. Zarda – Pakistani Sweet Rice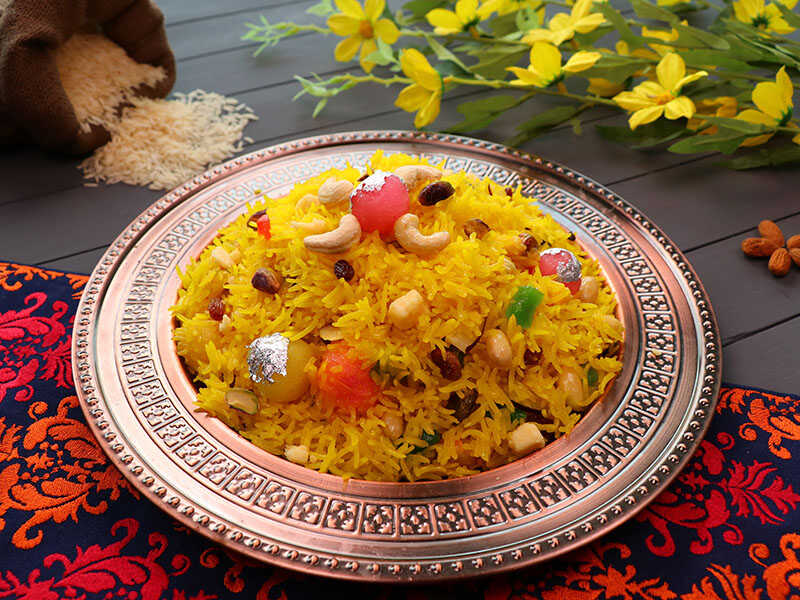 Zarda is a fantastic Pakistani dessert recipe that you should try. The key ingredients in Zarda include basmati rice, sugar, and a generous helping of ghee or clarified butter. 
To infuse the dish with its characteristic golden hue, saffron or yellow food coloring is added. In fact, its name Zarda is derived from the Persian word "Zard," which means "yellow", referring to the eye-catching yellow color of sweet rice.
The colorful presentation, studded with dried fruits and nuts, makes it an appetizing treat. Moreover, Zarda is a popular choice for Pakistani festivals and special occasions, like weddings.
23. Lassi – Sweet Yogurt-Based Drink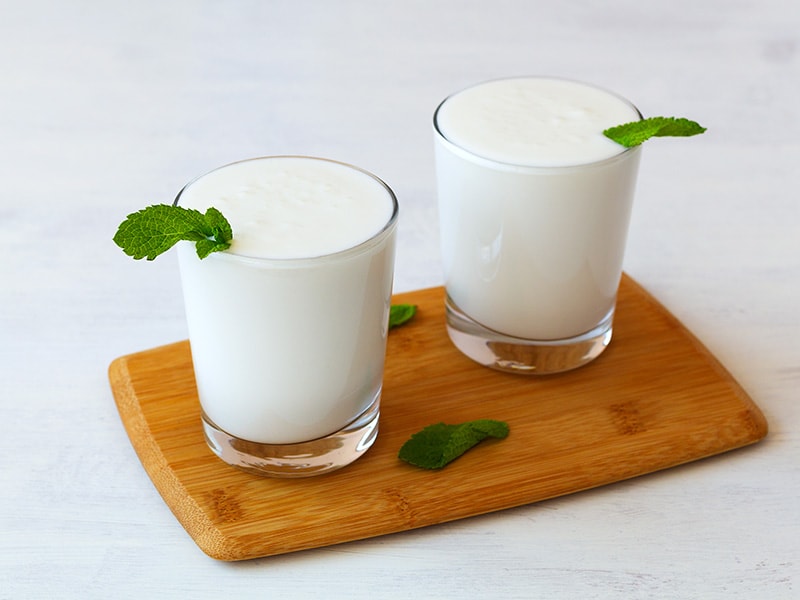 Lassi is an ancient drink of Pakistani cuisine. It might be one of the first smoothies created in 1000 BC.
This yogurt-based drink is a great option to refresh your taste buds. What's more, it contains Ayurvedic healing properties suitable for the stomach and mind. It is often served alongside spicy meals, as it helps to cool the palate and soothe any heat from the dishes.
This silky smoothie also has different variations, from savory to sweet, and a fruit version with mango. Some variations have cream and butter to enhance the creamy texture.
24. Falooda – Dessert with Ice Cream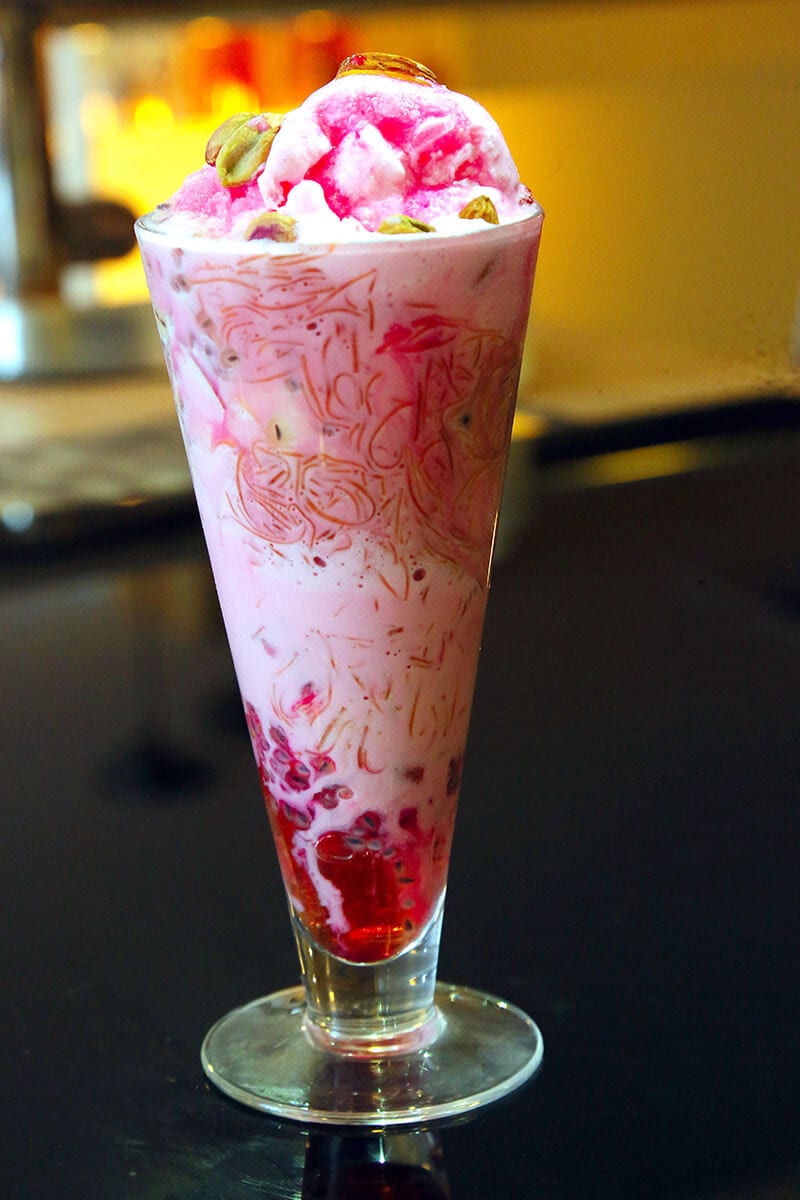 It is time to cool down with a delicious and visually striking cup of Falooda. This scrumptious dish originated in Iran, but it has become an essential part of the cuisine of Pakistan and many other countries.
The key components include vermicelli-like noodles, soaked basil seeds (tukmaria or sabja seeds), fruit jelly cubes, and a scoop of ice cream or kulfi. All these elements are layered in a tall glass and topped with rose syrup to give a beautiful pink color to the dessert.
The resulting dessert is a delightful mix of textures and the perfect sweetness. Falooda is best enjoyed as a refreshing treat on hot summer days or as a satisfying dessert after a spicy meal.
Pakistanis also often enjoy this delight during Islamic holidays, weddings, and other important occasions.
How to make Falooda at home? Here is an instruction you are looking for.
25. Kheer – Pakistani Rice Pudding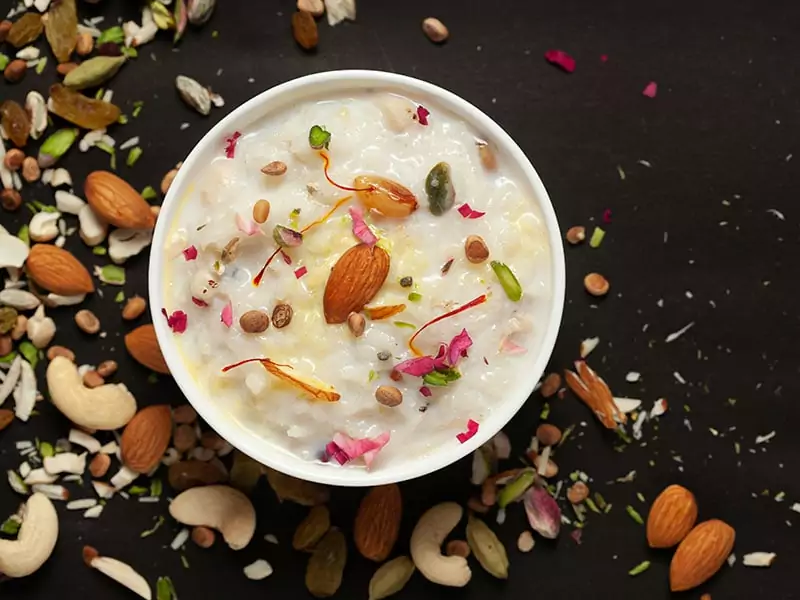 Everyone who comes to Pakistan wants to enjoy this smooth and fabulous dessert, Kheer (aka payasam).
This dish originated in India 2000 years ago in the Lord Jagannath Temple in Orissa and was introduced to Pakistan in the Middle Ages. It is one of the ancient deserts of the Indian subcontinent.
This sweet dish is a type of wet pudding typically made by boiling milk, sugar or jaggery, and rice.
You can eat it hot or cold, depending on your preference. This recipe will have raisins, nuts, and desiccated coconut on top to increase the texture of Kheer.
26. Gulab Jamun – Sweet Ball-Sized Dessert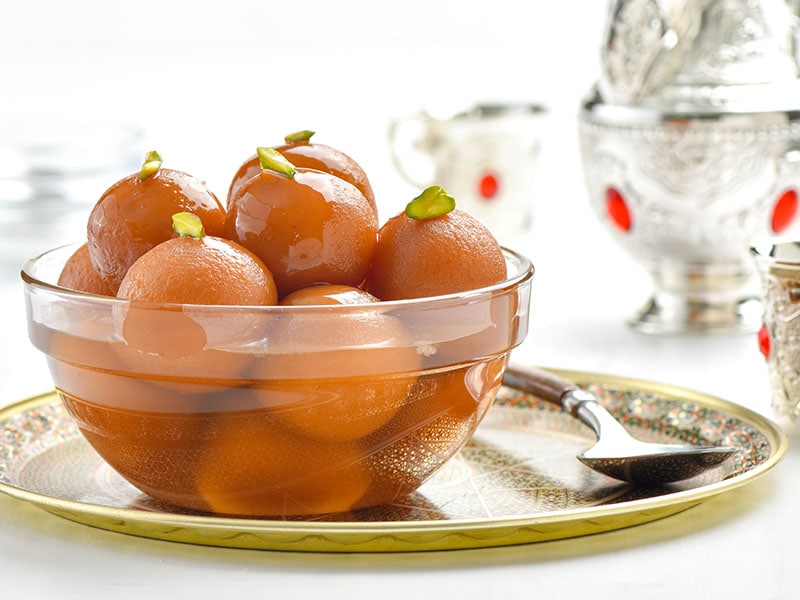 Gulab Jamun is a sweet dessert that originated in Medieval Iran and spread to Central Asia and the Indian subcontinent. However, many believe it is the product of a Mughal emperor Shah Jahan's chef.
As a famous dessert here, You can easily find it at many Pakistani restaurants or tea houses. These small deep-fried balls are typically made from milk. However, some chefs also use more flour to enhance the crunch.
After frying, the Gulab Jamun balls are immediately transferred into a warm and fragrant sugar syrup. In some cases, rose water or cardamom are excellent alternatives.
27. Shahi Tukray – Bread Pudding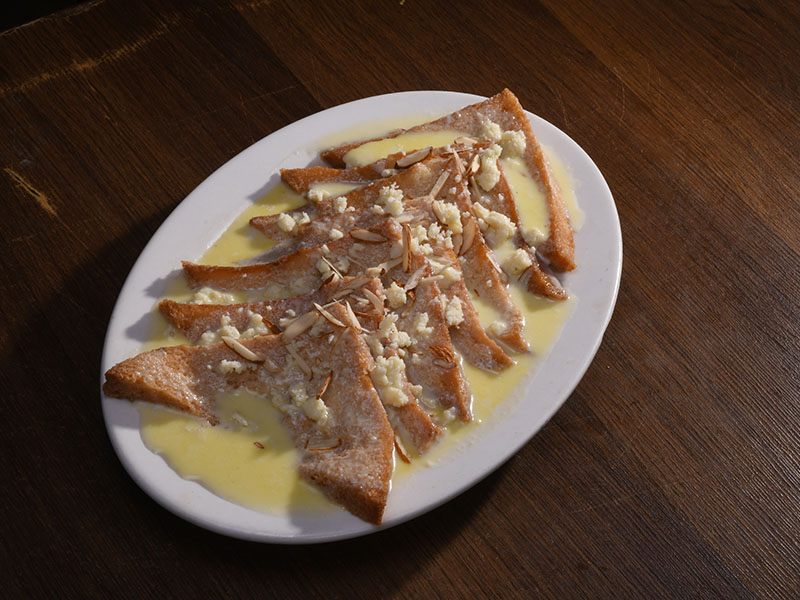 Have you ever thought about making pudding with bread? Shahi Tukray is a famous Pakistani bread dessert. This food had its origins in ancient Egypt when it was developed from Umm Ali – an ancient bread pudding.
There is a story that the Sultan and a group of people entered a village near the Nile searching for food and found it. Gradually, it became popular in South Asian countries and many other nations.
This dessert consists of crispy slices of fried bread drenched in a mixture of hot sugar syrup and a cardamom-and-saffron-scented milk sauce. Then it is topped with some chopped almonds and pistachios.
28. Kulfi – Ice Cream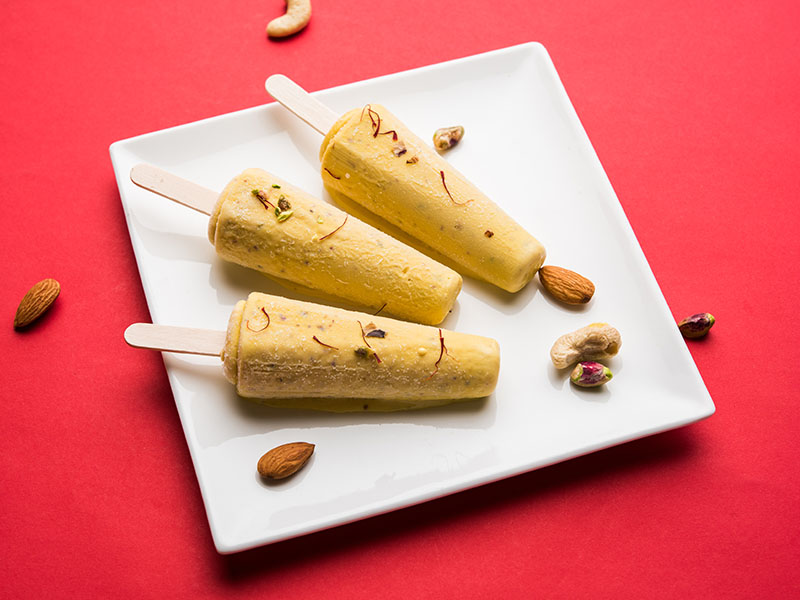 Kulfi ice cream is a frozen delicacy with a rich history. Often referred to as "traditional Indian ice cream," Kulfi has become an iconic treat across the region and in Pakistan as well.
Kulfi mainly contains sweetened, reduced milk, which is then infused with aromatic spices like cardamom, saffron, or rose water. Nuts such as pistachios or almonds add a delightful crunch.
Traditionally served on a stick, Kulfi is a convenient and refreshing treat, perfect for enjoying on a hot day. It is commonly sold by street vendors known as kulfiwallahs.
Though Kulfi and ice cream look similar, they differ in texture, preparation, and composition. Kulfi's dense, creamy consistency is achieved by slow cooking and reducing the milk, while ice cream is churned to incorporate air.
In terms of health, Kulfi may be considered a healthier option, as it often contains fewer additives and artificial ingredients. However, both should be enjoyed in moderation.
29. Jalebi – Crispy Snack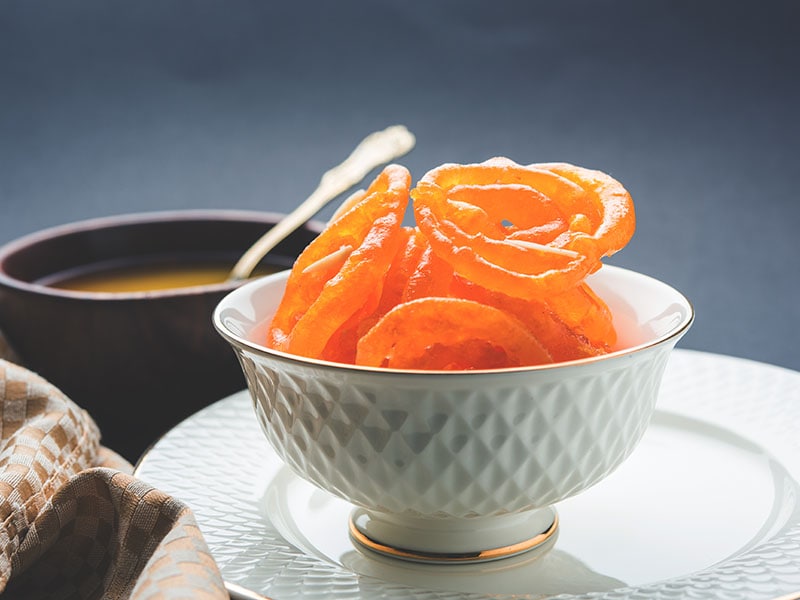 Jalebi is an iconic sweet treat with ancient roots. With alternative names such as Zulbia or Jilapi, this vibrant confection has become an integral part of everyday indulgence.
In general, Jalebi snacks are deep-fried spirals made of flour batter (usually (plain flour or all-purpose flour) soaked in fragrant sugar syrup. They are also a fusion of crispy, chewy, and syrupy sensations.
In Pakistan, people normally serve it at public events, festivals, or weddings.
30. Barfi – Milk Fudge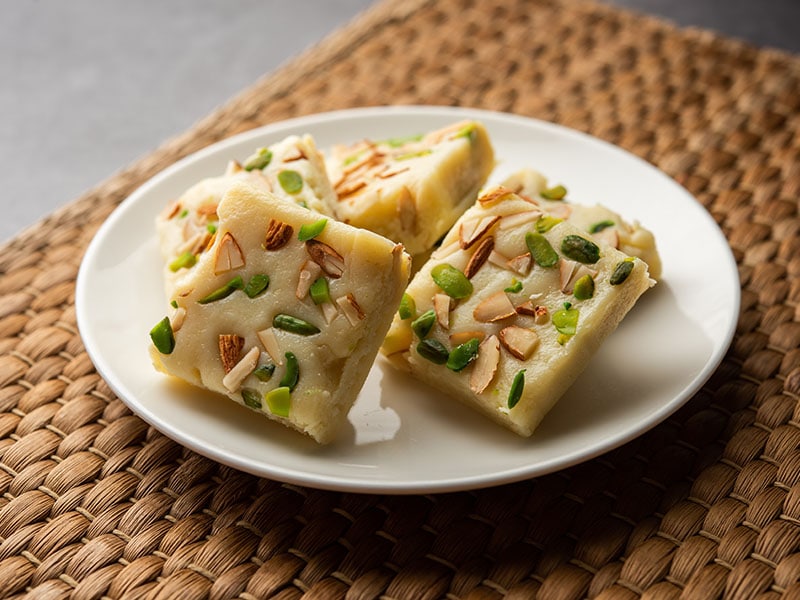 Barfi is another beloved dessert in this country. They are milk fudges made from condensed milk, sugar, and ghee. All ingredients are combined and cooked to create a rich, thick consistency.
The mixture is then set, often in a square or rectangular mold, and cut into bite-sized pieces. Plus, Barfi's texture is smooth and slightly crumbly.
Grab a bite, then you will feel the heavenly fusion of sweet, milky flavors with a hint of the nuttiness of Barfi. There are numerous varieties to explore. Some popular types include Besan Barfi, made with gram flour; Kaaju Barfi, crafted from cashews; and Pista Barfi, featuring ground pistachios.
FYI, the most famous Barfi manufacturer in Pakistan is the Bhera-based Abdul Wahid Sweets, which has gained a reputation for crafting exceptional Barfi for decades.
FAQs
Here are some frequently asked questions regarding this cuisine. Read on to get more information!
---
Do You Love The Cuisine of Pakistan?
Do you want to try these fantastic dishes right away? I am sure that their attractiveness will pique your curiosity. I am glad that this article has brought you valuable information about Pakistani cuisine.
It is fantastic when this knowledge reaches more people, so do not hesitate to share this post with the people around you. If you still have other concerns, please share your opinions and questions in the comment section. Thanks for reading!