All types of Indian bread represent an aspect of the rich culinary culture of this country. Indian foods have inspired neighboring countries and even other nations around the world. Their crown jewel in the form of Indian breads can pair with tons of exciting spices.
When traveling to this country, all these splendid culinary masterpieces will delightfully treat your taste bud. I bet you and your family will adore the following Indian breads, from soft to crispy ones.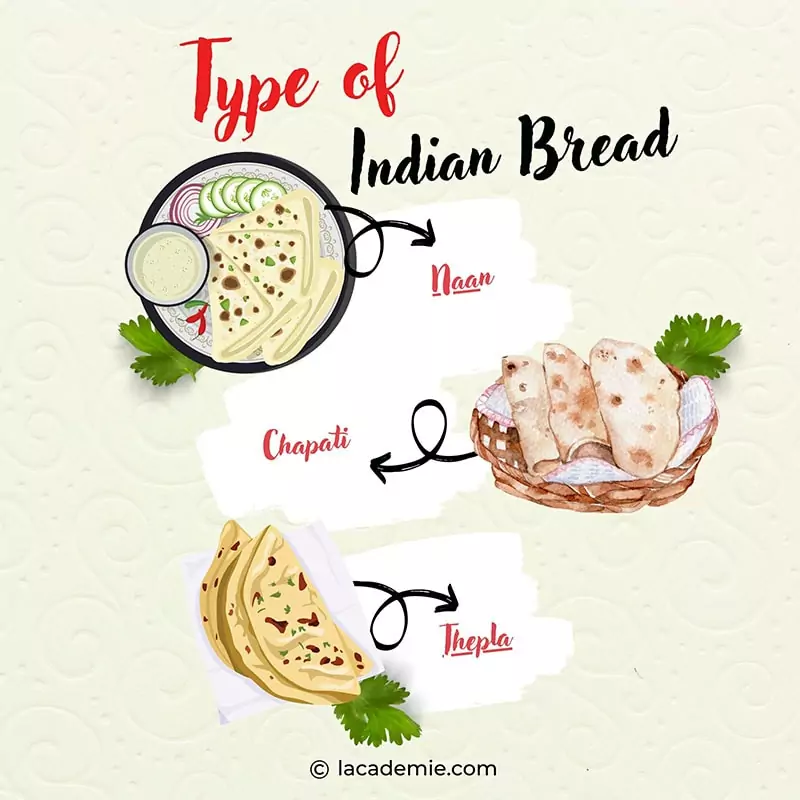 24 Best Indian Bread That Will Enlighten Your Meal
It's time to dig into this list to explore Indian cuisine. Remember to prepare some tissues as the food can make your mouth water.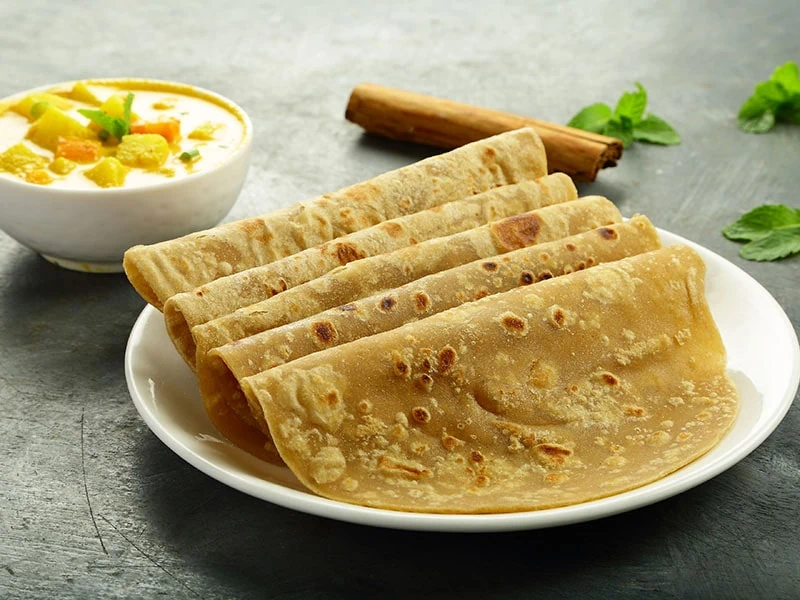 Place of origin: Indian subcontinent
Let's kick off this list with the most famous Indian bread, Chapati. This bread has so many names across every region of India. Some of the top common names are Roti, Phulka, Shabaati, Rotli, and Roshi.
Traditionally, Chapati is an unleavened flatbread and a staple food in Indian cuisine. It is also a wonderful street specialty in India adored by most local citizens. Chapati is soft and slightly chewy with a magnificent melty edge.
The name 'Chapati' comes from the Hindi word 'Chapat', which means 'flat' in English. Chapati's dough is made from finely ground wheat flour that you might not find in the Western world. Chapati has its size varies in different areas (usually smaller than 18 cm).
It is a perfect side dish for many savory or sweet relishes in India. People often tear the bread and enjoy the taste.
Don't hesitate and give this Chapati a try!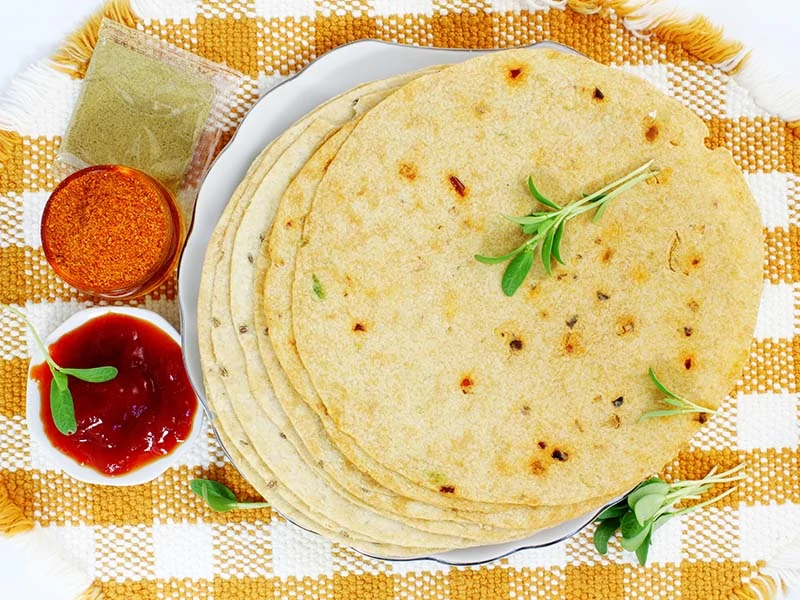 Place of origin: Gujarat (Western Coast Of India)
Jain people in India love the thick and crunchy body of Khakhra. It is a flatbread made out of wheat flour, mat bean, and oil. This dish is an Indian top choice for breakfast or as a dry snack during the day. It's a perfect choice for people who are concern about whether bread is vegan-friendly or not.
This famous Gujarati treat is often roasted with slow heat and flattened by a wooden press. When the bread turns brown, and the texture is crispy, you can now enjoy it.
There are many variants of Khakhra throughout the country. The famous sweet version is known as Mungdi. Anyway, Khakhra often goes with a lot of veggies, herbs, and spices with powerful health benefits.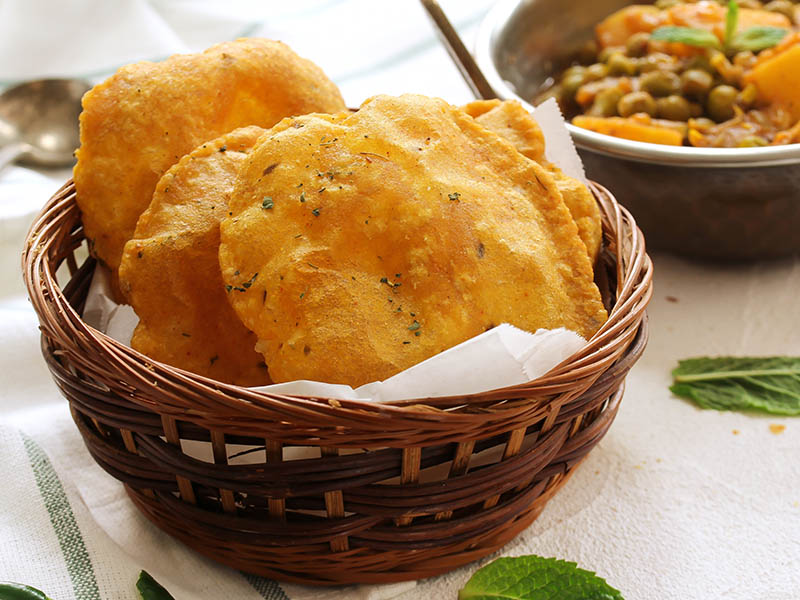 Place of origin: India, South Asia, Southeast Asia.
Puri is a crispy deep-fried treat from India with a golden-brown color. It is a specialty derived from unleavened whole-wheat flour. People often enjoy Puri as a snack or a quick breakfast. You can have it as a light meal during the day.
Indians usually pair the dish with curry or bhaji for a little savory taste and aromatic spices. However, it is also a breathtaking dessert from India waiting to satisfy your hunger. Puri is also a religious dish in ceremonial rituals like Prasadam.
Pair this bread with potato-based curries or some savory dishes like Chana masala or Korma for an exploding meal. Halwa (semolina dessert) or Kheer (wet pudding) are typical sweet accompaniments.
As India has various languages that vary from region to region, Puri has a different name for each language. For example, the Sanskrit word is 'pūrikā', Tamil word is 'Boori', Kannada word is 'pūri', and even more.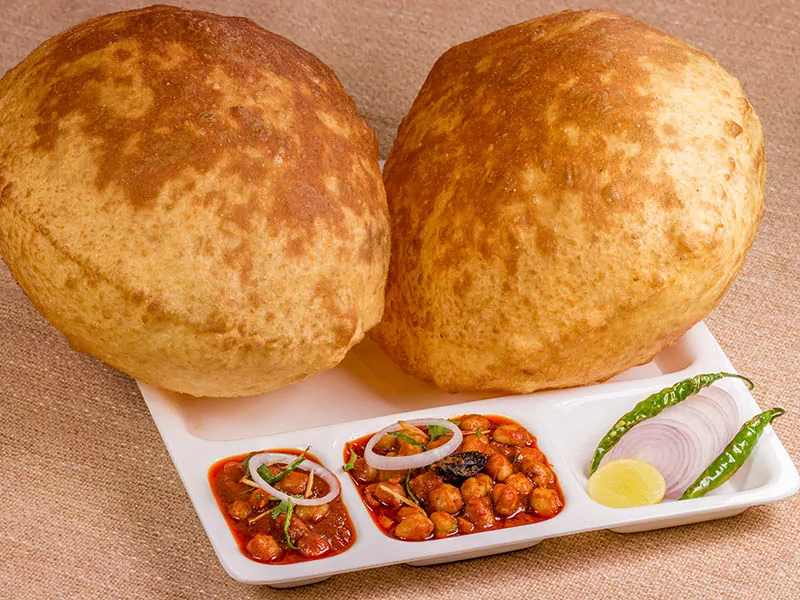 Place of origin: Punjab and Northern regions of the Indian subcontinent.
Speaking of mesmerizing specialties in India, it would be a mistake not to mention Bhatura. This is a spongy leavened sourdough bread deep-fried for a crispy cover. Local people often have it for lunch or breakfast, especially in the northern and eastern states).
Bhatura is similar to Puri, but it has a larger size and is made with leavened dough. The bread has a light brown color with a plain taste and chewy texture.
People often make Chole Bhature (from Punjab) by pairing Bhatura with chickpea curry. You can add pickles, vegetables, or yogurt in Chole Bhature too.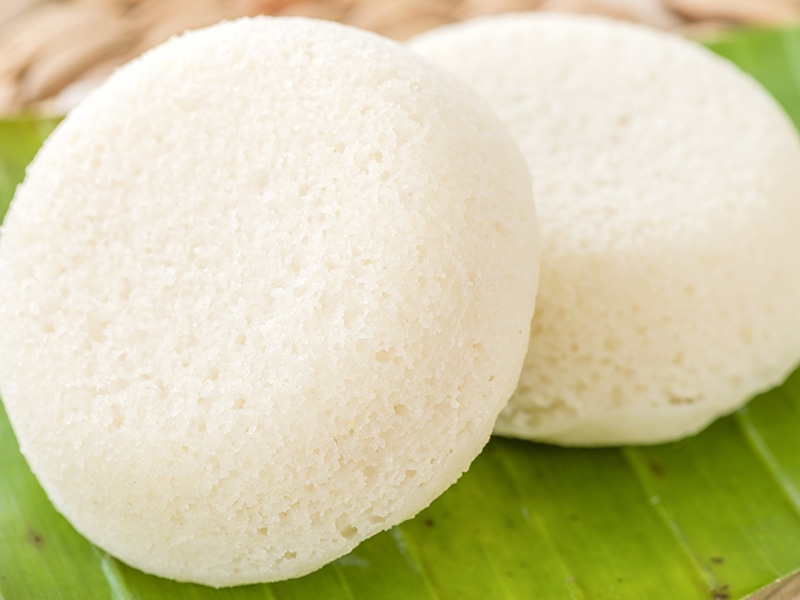 Place of origin: Goa and Karnataka (India)
Do you want to enjoy a delicious Indian lunch meal? Sanna is steamed rice bread with a beautiful spongy texture and white color. This treat has its origin in the West Coast region in the Indian subcontinent.
Local people often make this treat with coconut milk and coconut water for fermenting. This coats the bread with a delicate milky aroma and boosts the creaminess level.
Sanna usually consists of toddy-fermented batter and coconut. It has two typical variants: plain and sweet. The latter includes jaggery (unrefined cane sugar). You can serve Sanna with pork Bafat (spicy pork), chicken or mutton curries.
Sanna is an ideal breakfast choice when paired with coconut chutney or Sambhar (lentil-based vegetable stew). In the modern-day, Sanna is often leavened with yeast instead of using the toddy-fermentation method.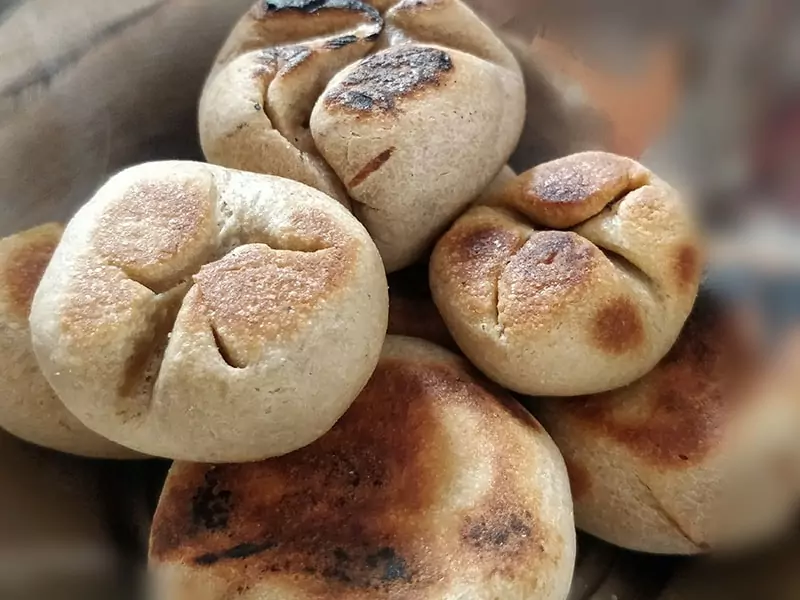 Place of origin: Rajasthan, Madhya Pradesh, and Khargone
Are you looking for a unique version of bread? Baati will not let you down. This is unleavened and hard bread from Rajasthan and Madhya Pradesh in India. Baati has a long shelf life and is packed with valuable nutrients and a low-water content.
The bread is typical in desert areas and is often eaten with Dal (a dish with beans, peas, lentils) to create a lovely dish called 'Dal Baati'. Daal-Baati-Churma and Daal Baati Thaali are some typical dishes using Baati.
Indians also pair Baati with a mashed and roasted aubergine to form a dish known as 'Bharta'. Bharta is a religious dish served in Madhya Pradesh. People bake this bread using cow dung cakes as baking fuel.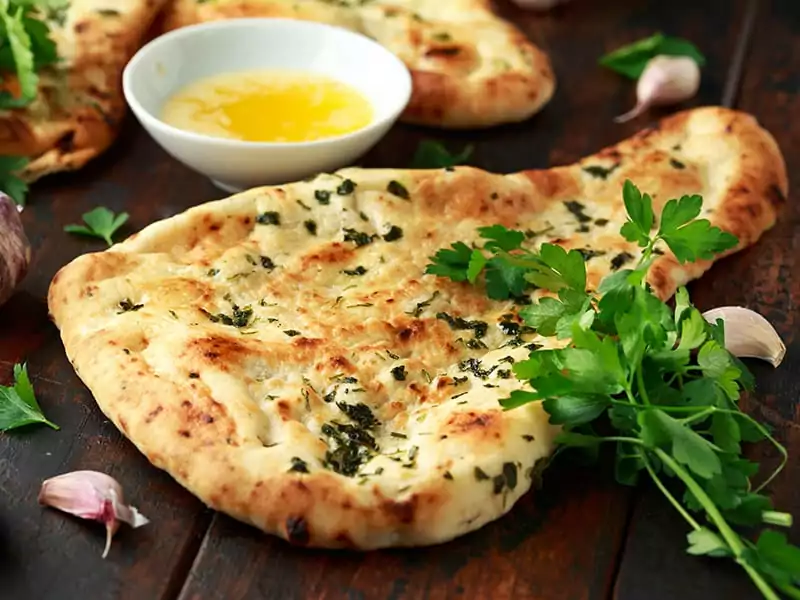 Place of origin: Indian subcontinent, Western Asia, Myanmar, Indonesia, and the Caribbean
The soft, slightly fluffy, and tasty Naan is right here! This flatbread is a delicacy in the Caribbean region, West and Central Asia. It varies with different shapes and flavors in each country. The one in the Indian subcontinent is the most famous one.
Traditionally, Naan dough is a mixture of white flour with salt, dry yeast, and water. The chef will use baking powder instead of yeast to raise the bread in modern recipes. If you want a twist in flavor, add milk and yogurt to Naan dough, and you will be amazed.
The bread is stuck onto the inside of a tandoor oven and baked until perfection. If you can't find a tandoor oven, you can use a cast-iron pan to fry the bread. Enjoy Naan when it is still warm for the best quality. It is also a fascinating choice to pair with curry.
Alternatively, you can freeze Naan for around one to two days and create a lovely leftover bread dish the next day. Spread some melted butter on the surface and enjoy it now!
Don't you want to taste this mesmerizing Naan?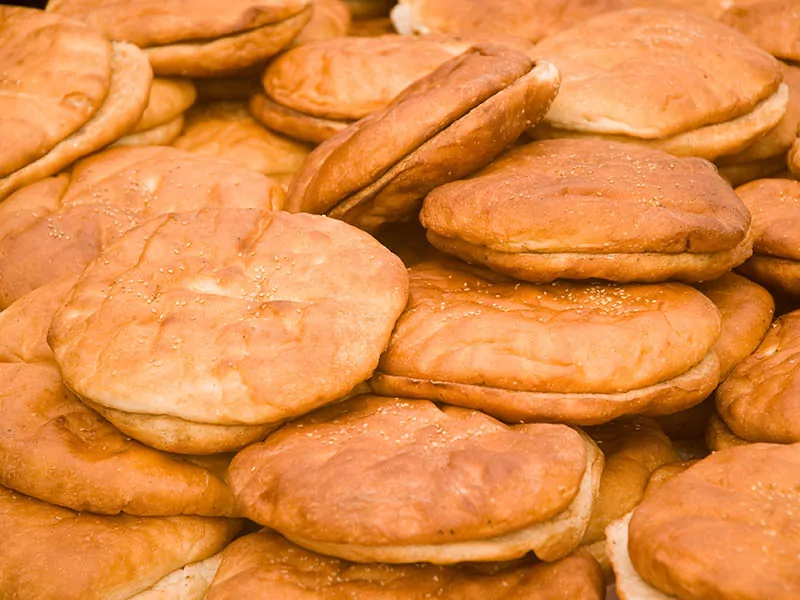 Place of origin: Iran
In India, saffron is a high-class ingredient popular across the nation. Sheermal is a flatbread flavored with saffron for a twist in flavor color and to boost the nutrient package of the bread to a higher level.
Sheermal originates in Greater Iran, and the Mughal emperors brought this bread to the North of India. The bread is a crucial member of the Awadhi cuisine of India. It also appears in Aurangabad, Hyderabad, and Lucknow with a lovely flavor.
The bread is leavened dough perfumed with the rich taste of milk. This feature forms the name of this bread because 'Sheermal' means 'milk rubbed' in English. The presence of milk makes Sheermal distinct from the famous Chapati.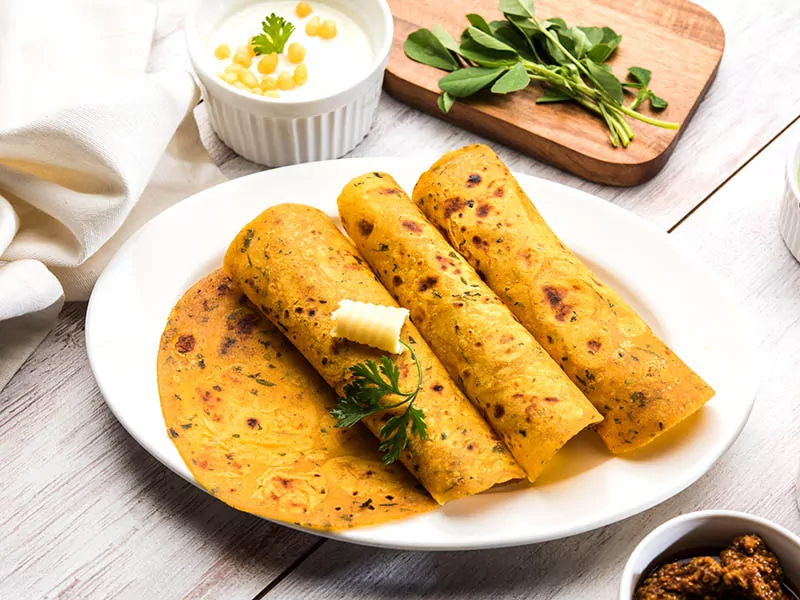 Place of origin: Gujarat (on the western coast of India)
India is truly a kingdom of flatbread with tons of different recipes, which include the tempting Thepla. It is a breathtaking flatbread made of wheat flour and fragrant spices like Methi (fenugreek leaves).
Thepla is an excellent side dish from India that you can pair with almost any meal. It is a great choice for breakfast or a tasty snack to recharge your energy during the day.
Different spices added will form a unique taste for Thepla. As a result, this bread has many variants throughout the country. Dudhi, mashed potatoes, Methi, mixed vegetables, and mooli are typical choices to enrich the flavor of Thepla.
The mild taste of Thepla is just wonderful to pair with red garlic chutney, sweet mango pickle (Chhundo), or yogurt.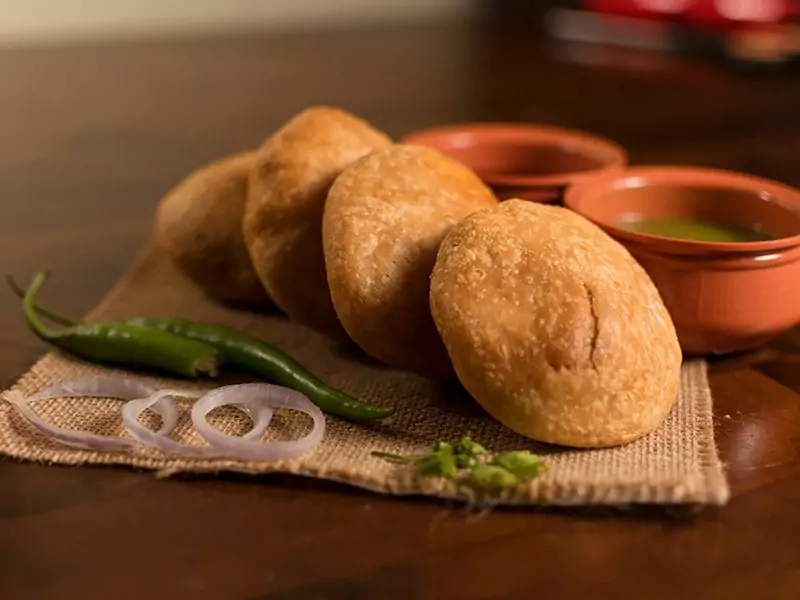 Place of origin: Bhojpuri region (India)
You better prepare the most-excellent bread container if you want to keep this exciting-tasting bread for the long term. Kachori will kick your taste buds with a spiciness from the first bite.
The bread is common both inside and outside the Indian subcontinent. Kachori is also popular with the South Asian diaspora. Red chili powder, black pepper, and other spices are typical ingredients for this bread.
Kota Kachori (from Rajasthan cuisine), Pyaaj Kachori, and Mawa Kachori (in Jodhpur) are prominent versions of Kachori you should try. You can enjoy Kachori as a lovely snack or make it become a creamy dish like Chaat (common in Delhi).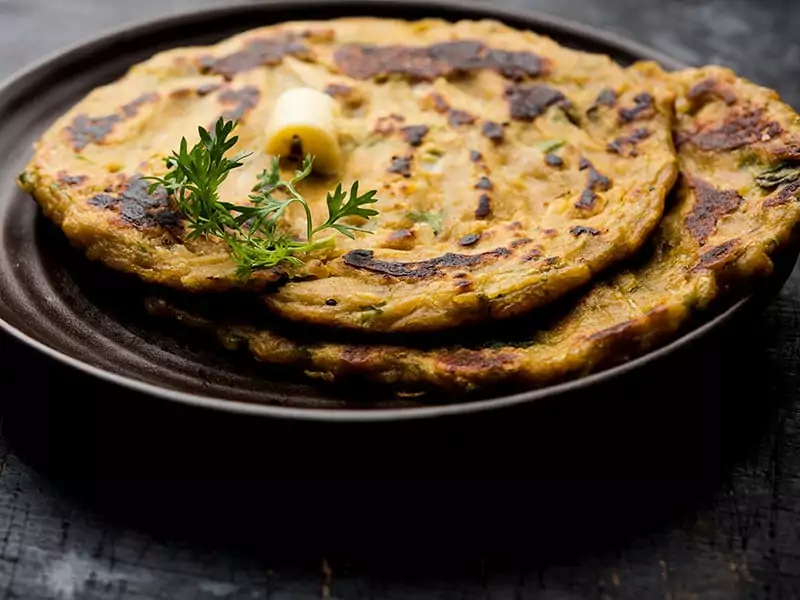 Place of origin: Maharashtra, Kolhapur, and North Karnataka
Who is craving some pancakes? Thalipeeth will treat you with a savory taste from plenty of types of grains and spices. Fragrant ingredients like Bajra, coriander, cumin, and Jowar will stimulate your nose with their lovely scent.
Thalipeeth is a traditional dish on Hindu fasting days. People also use tapioca and Rajgira flour to make this pancake. Indians often enjoy Thalipeeth with ghee, yogurt, or butter made from water buffalo milk. This pancake is a nice choice for breakfast or a midday snack for your kids.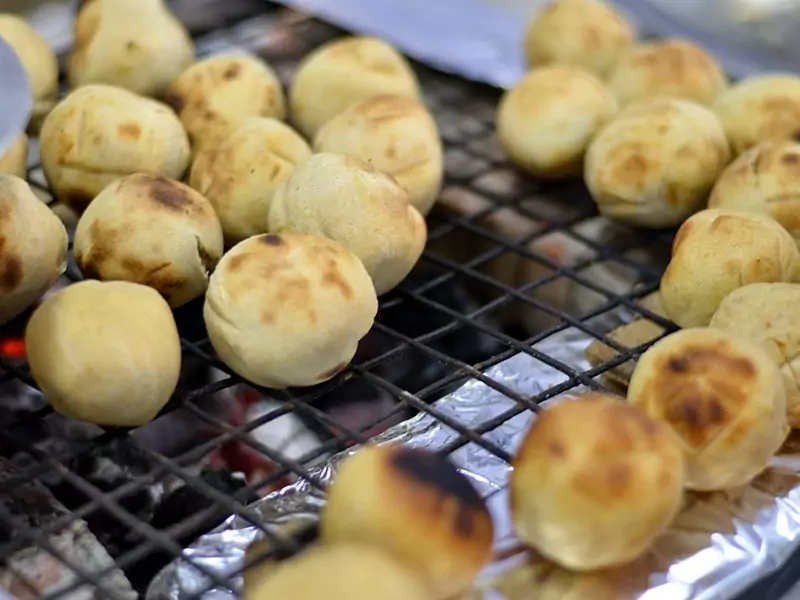 Place of origin: Bhojpuri region
Litti is a whole wheat dough ball usually paired with aromatic herbs or spices. These balls have a smoky flavor from being baked over a coal or wood fire. People often complement Litti with a touch of ghee (buffalo milk butter).
Indians will pair pickles, chicken curry (murgh korma), or vegetable dish (Chokha) for a touch of savory taste for this bread. You can serve Litti as a side dish for yogurt and papad too. The combo of Litti and Chokha is a specialty in Bihar (eastern India).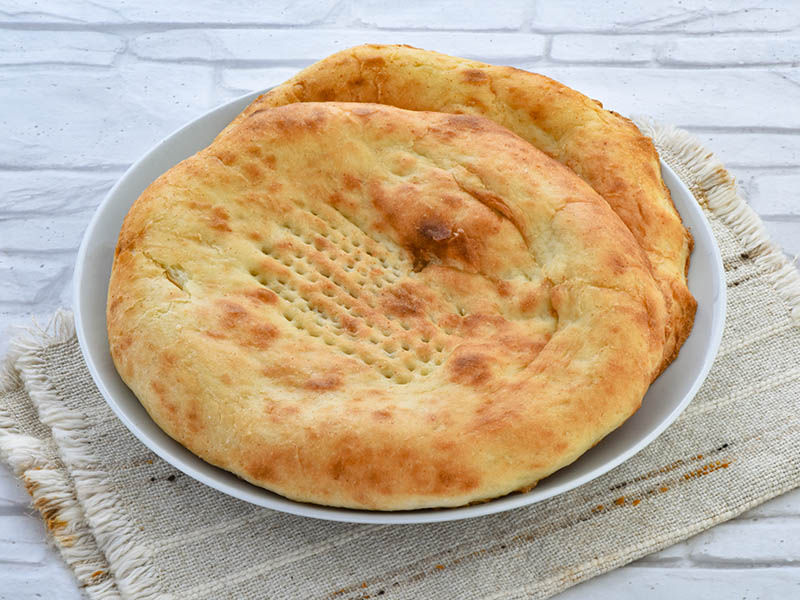 Place of origin: Iran, India, and Pakistan
Taftan is a tasty flatbread originating in Iran and Pakistan that is extremely famous in India. This bread resembles the Indian Naan for its flat appearance and buttery aroma from yogurt and milk. Traditionally, people will bake Taftan in a clay oven for a smokey flavor.
It usually has the color and taste of saffron and cardamom powder. Garnish this bread with poppy seeds, and your Taftan is ready to serve.
You can pair Taftan with soup or stew to complement the plain flavor of this bread. A spicy dish is a perfect side with Taftan. Soft, slightly chewy texture and burned edges will charm you for palate right away.
Hey! The taste of this Taftan will melt your heart.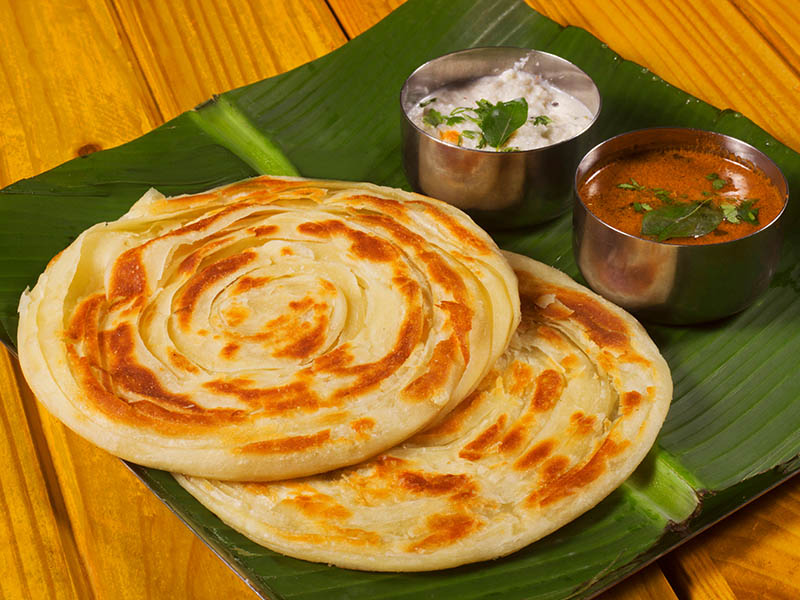 Place of origin: Indian subcontinent, Southeast Asia and the Caribbean
Paratha is an insanely popular flatbread in the Indian subcontinent that has become a staple food in other countries' cuisine. The Caribbean and Asian countries like Singapore, Myanmar, Nepal, and Trinidad and Tobago adore the taste of this bread.
Paratha is an unleavened flatbread made from whole wheat dough. It is traditionally cooked with a Tava (a cooking utensil resembling a pan). The bread has a thicker body compared to Chapati.
People often have Paratha for breakfast or eat it as a snack in Tiffin (tea-time meal in India). Local people usually stuff mashed and spiced potatoes with lentils (dal) for the bread. You can use veggies like radishes, cauliflower, or paneer too.
Enriching the bread with butter, pickles, yogurt, or chutney will make it tastier. You can also roll Paratha and dip it into a cup of tea to enjoy it.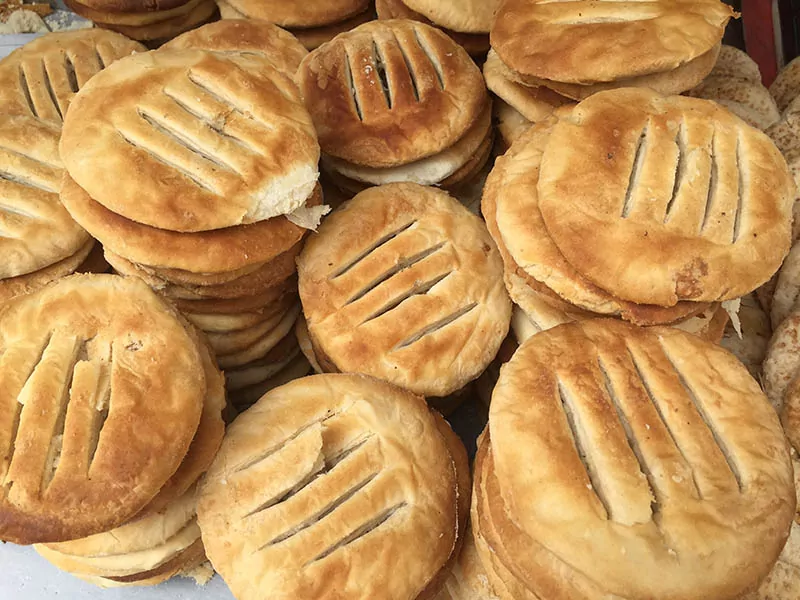 Place of origin: Bangladesh, India, and Pakistan
Here comes another flatbread from India that you can have as a tasty snack. Bakarkhani (also known as Bakar Khani Roti) is a spiced, thick bread in the Mughlai cuisine. People often make it with a sweet version for many Muslim religious festivals.
The bread's thick crust is a bit hard, just like a well-baked cookie. Bakarkhani has its sweetness from sugar and molasses mixed with a touch of saffron.
In Kashmiri (northern India), there is a crispy version of Bakarkhani coated with sesame seeds. When enjoyed warmly and paired with Noon chai (tea beverage) for breakfast, this version has its best taste.
This is how local people make an authentic Bakarkhani.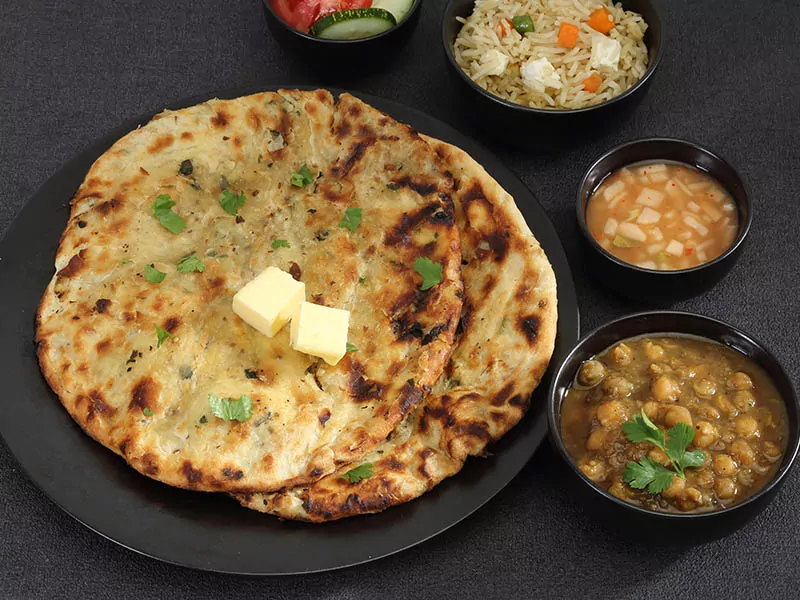 Place of origin: Indian subcontinent: Kashmir, Jammu, Punjab region, Himachal Pradesh, Uttar Pradesh, and Haryana.
Get ready to be amazed by this mild flatbread from India! Kulcha is a star among the Indian leavened flatbread with a delicate, mellow taste. The dough is kneaded until tight and raised before the second kneading process.
The baker will make it into a flat and round shape and bake them in the tandoor oven. People often brush a layer of ghee or butter to moisten the surface and create a slight creaminess for the bread.
To highlight the bread flavor, you can pair the bread with Dip Kulcha and Chole (chickpea curry) or other spicy curries. Different versions of Kulcha are created for different regions and occasions. Kulcha is a traditional dish in Mughals and Nizam.
Amritsar and Delhi have the most famous Kulcha variant with a signature soft and airy texture. Matar Kulcha is a breathtaking street food made from white peas that you should try while visiting Delhi.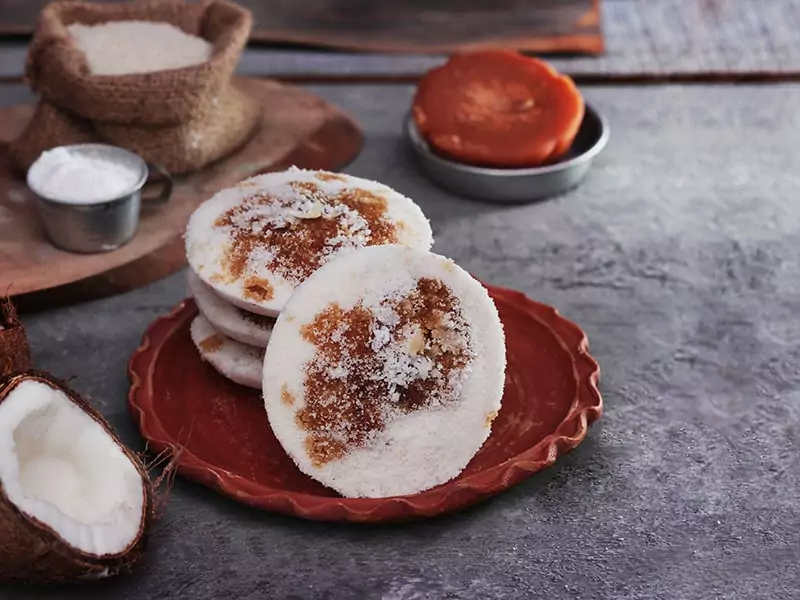 Place of origin: Odisha (Eastern India), Assam (Northeastern India), Bengal region, and Bangladesh.
Stop right there! Pitha is a sweet or savory rice snack resembling the shape of a pancake. Some variants might look like a dumpling or a fritter. Pitha is a specialty created by the Bengali and Assamese people.
Pitha is often made from dough or batter, and the chef can fry, stream or griddle to create different textures for this bread. Oven-baked or boiled variants are some other tasty choices for you. Indians usually enjoy the treat on special occasions or pair it with chai (tea).
Some variants might have fillings, sauce, or garnish to enrich Pitha. The traditional recipe uses rice flour, but some variants may contain wheat flour.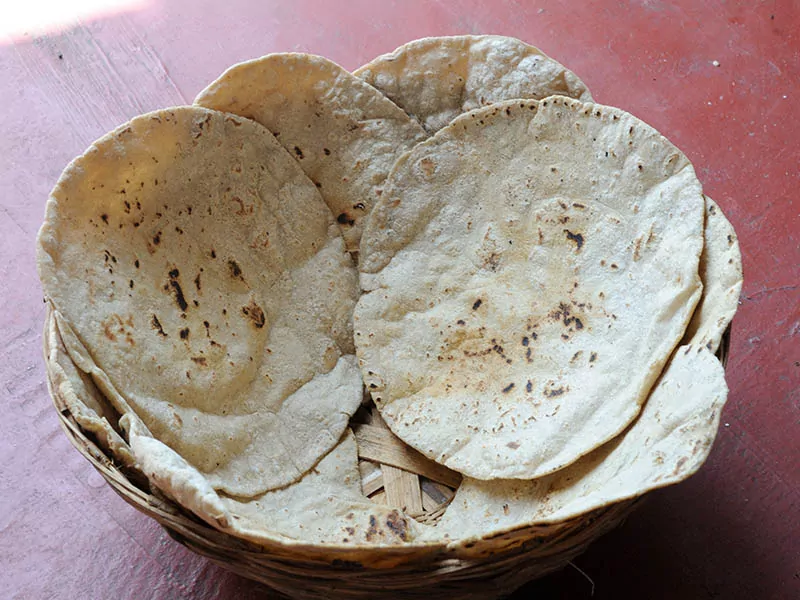 Place of origin: Malwa, Gujarat, Maharashtra, Goa, Rajasthan Karnataka, and Central India.
By kneading whole wheat flour, salt, water, and ghee, you have created the dough for making Bhakri. This popular bread is a staple dish in India and many other countries. Some recipes even use other types of flour, such as Jowar or Bajra, but the outcome is coarser than the original one.
Bhakri might remind you of a famous kind of bread in Italy called 'Piadina'. People can make Bhakri soft or hard, depending on their preference. Spread Bhakri with some ghee, yogurt, or garlic chutney, and you have a wonderful meal.
Or you can pair it with curry, Pithla, and Thecha. Some vegetables and raw onions are perfect for Bhakri too.
Indians also use different millets to create different variants of Bhakri. The top common millets used are Nachni, Jowar, and Bajra. Rice and pulse are great alternative choices for wheat flour to make Bhakri.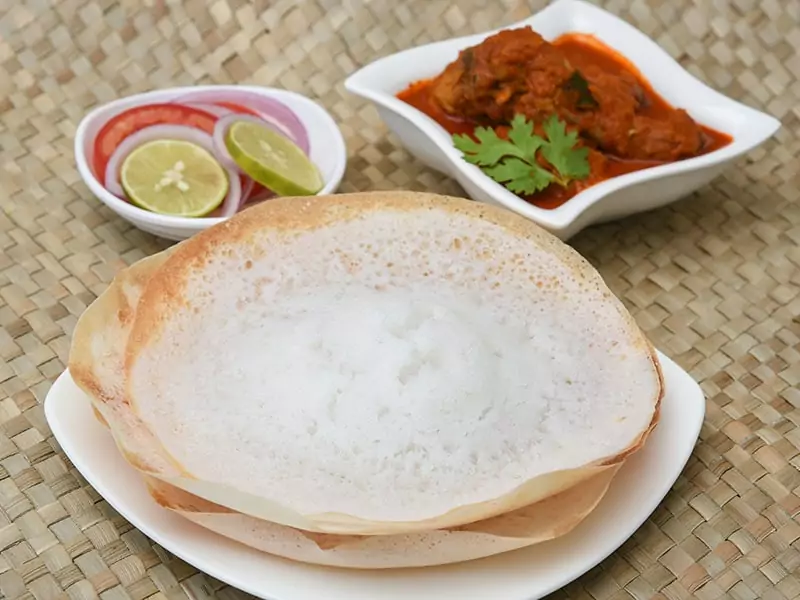 Place of origin: South India.
This South Indian fermented rice pancake with buttery coconut milk will satiate your hunger nicely. It is fermented with toddy (a local alcoholic drink often made from coconut or palm flower).
Appam is a delicate specialty perfect for dinner. This white pancake is crisp on the edge and soft in the center. It is incredibly delicious when paired with vegetable stew for breakfast, brunch, or other meals of the day.
The treat has countless variants around the world. Some prominent Appam versions are Neyyappam (a traditional dish in Hindu temples for God), Kue Apem (in Indonesia), and Achappam (Syrian Christian food).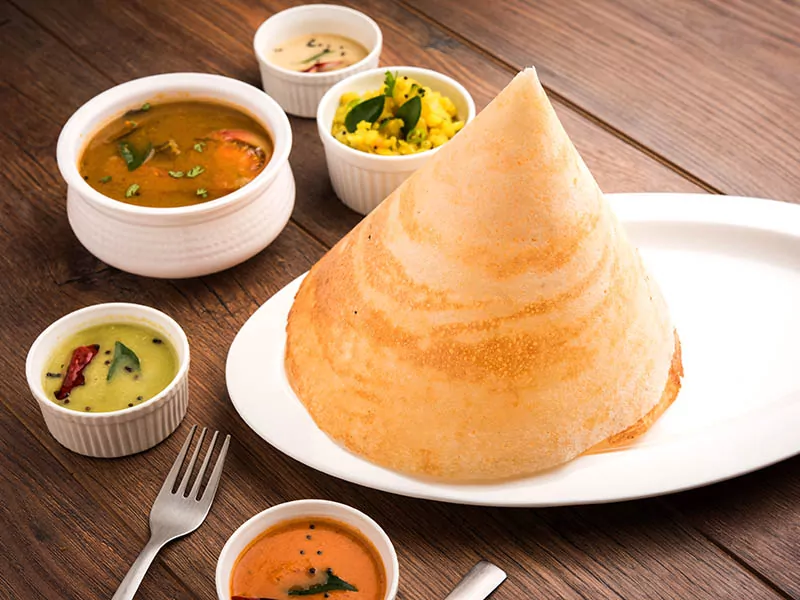 Place of origin: Udupi, Karnataka (South-Western India)
Who wants to try a giant crepe from India? Dosa is a crispy street food that you can enjoy at any time of the day. Local people usually enjoy the crepe as a snack or a tasty midday snack.
Thin Dosa appeared in the 5th century in South India and is a must-try dish here. You should enjoy Dosa hot with chutney or sambar for the best savory experience. A mixture of lentil and groundnut powder (chutney powder) is also a perfect choice.
Like other Indian bread, Dosa has various versions in each region. Masala Dosa, Neer Dosa, Cheese Dosa, and Rava Dosa are some of the most famous variants of Dosa you should not miss.
These street food vendors have such a skillful hand while making Dosa.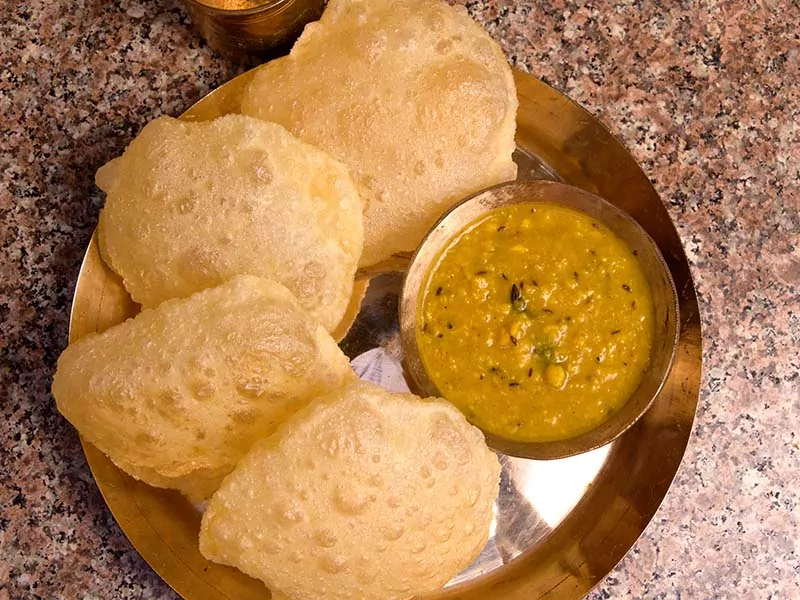 Place of origin: India, Bangladesh, Bengal.
You are not a real foodie if you haven't tried Luchi. It is a deep-fried flatbread with excellent crispiness. This is a masterpiece from Bengali cuisine that people from India and other surrounding countries adore.
Local people often pair Luchi with Aloor Dum (a potato-based curry) or Kosha Mangsho (a meat and vegetable curry in Bengal food culture). As the recipe doesn't call for rice or rice flour, the dish is a traditional food in Ekadashi (the eleventh lunar day).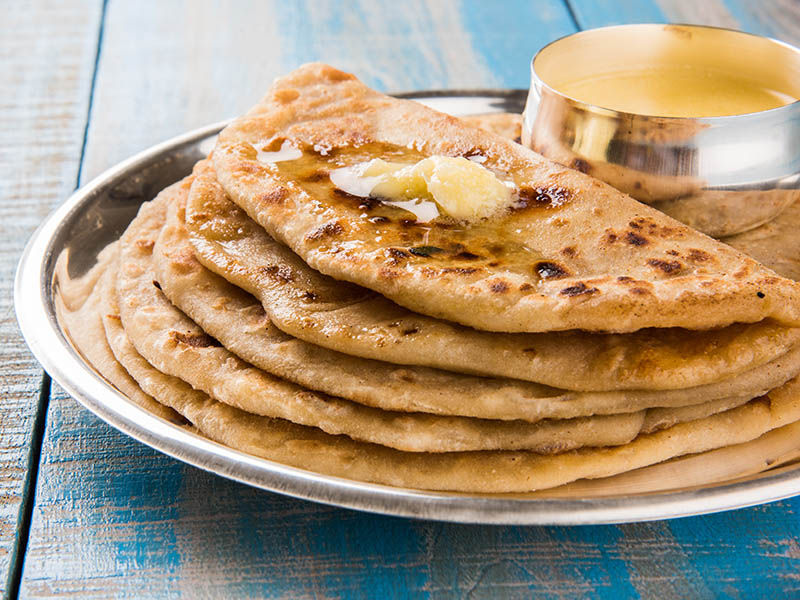 Place of origin: Karnataka, Andhra Pradesh, Gujarat, Telangana, Maharashtra, Goa, Kerala, and Tamil Nadu.
Want to try a sweet flatbread? Puran Poli will make your day. This flatbread is stuffed with sweet fillings like lentils or jaggery. The treat originates in South India and has plenty of other names like Obbattu, Bobbattu, or Holige.
In Kerala and Tamil Nadu, Puran Poli is a tasty side dish for Paal Payasam (creamy South Indian pudding). People often have it warm and serve it in special festivals and celebrations.
In the Ganesh Chaturthi festival in Maharashtra, local citizens will match Puran Poli with Nariyal Ladoo (coconut balls). Pairing Puran Poli with ghee or some pickle recipes is an excellent way to complement the bread.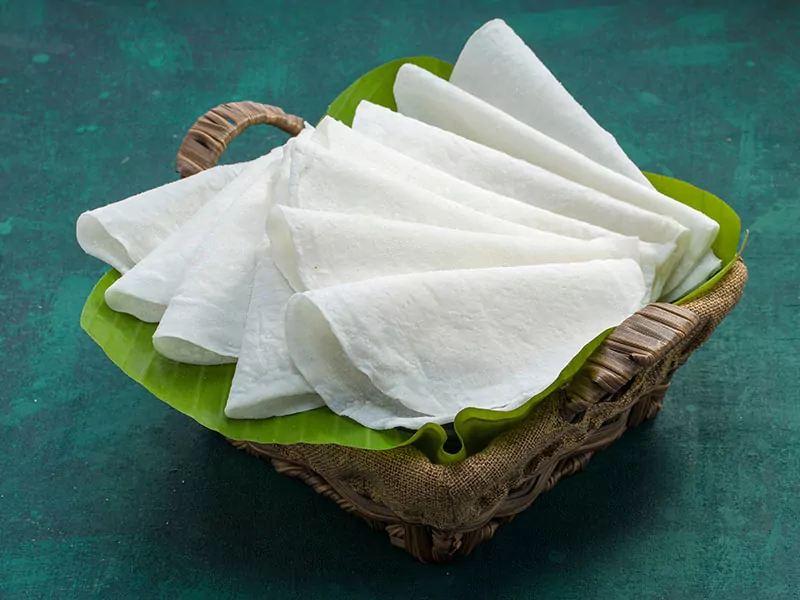 Place of origin: Kerala (On the Malabar Coast of India)
Let me introduce a white pancake made from rice flour in Kerala (Southern India). Pathiri has a soft texture with a mellow taste that will highlight any spicy stew or soup recipes (curry is a nice choice). This pancake is a hit among the Muslim community.
When it comes to special occasions like the Ramadan fasting season, Pathiri is a traditional choice to serve for a whole group. The pancake is a fascinating choice for dinner too. Delicious types of Pathiri you should try in India are Ney Pathiri, Meen Pathiri, and Erachi Pathiri.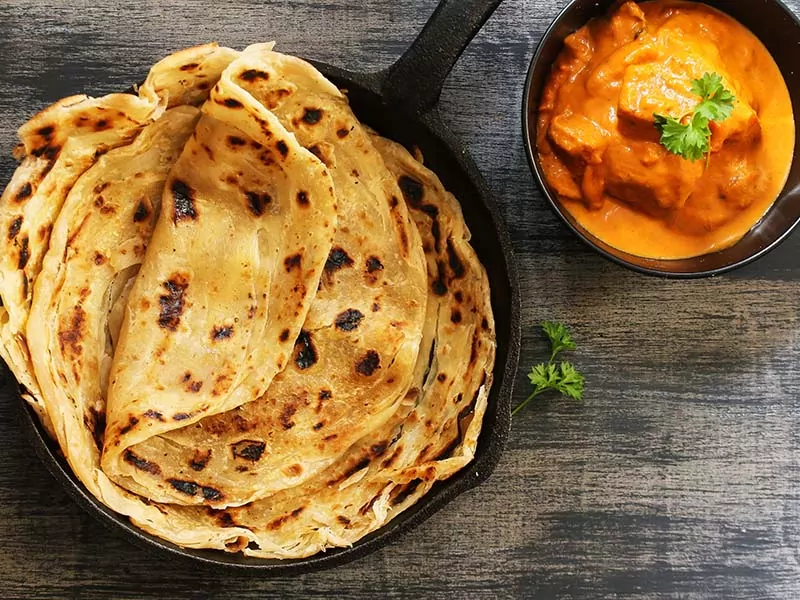 Place of origin: Indian subcontinent
Parotta is another special bread from the South of India. It is a flaky ribbon pancake with multiple layers. Customarily, you can serve it with vegetable Kurma or any North Indian curries (mutton or beef curry) for a lovely savory experience.
You might run into street food vendors selling Parotta in Indian streets or restaurants in the Southern region. Local citizens sometimes stuff this pancake with vegetables (potatoes or radish) and pair it with raita (Indian creamy condiment) or yogurt.
Indians also turn this bread into other famous dishes such as Chili Parotta and Kothu Parotta.
Why Not Try These 5 Wonderful Recipes To Pair With Indian Bread?
Just like most tasty different kinds of French bread, Indian bread is best paired with savory sauce or soup, especially curry. The following recipes will suit whichever type of Indian bread you like.
This Indian curry is packed with beautiful spiciness and savory flavor from plenty of herbs. Murgh Kari has juicy broth from chicken breast. Turmeric, coriander, and cumin will perfume the curry with a fragrant aroma.
Murgh Makhani is one of the top popular curry recipes in India. The curry has a creamy taste from butter that balances the authentic spiciness. Naan, or specifically Tandoori Naan, is the best choice to pair with this curry.
Who loves a delectable Indian shrimp-based recipe? Chungdi Malai will bath your favorite ingredient in coconut flavor and wonderful aroma. You can pair this curry with white rice or any plain Indian bread to have the best savory experience.
Treat your family with this delectable Rogan Josh now! The curry has its sophisticated flavor from lamb or mutton. After the first taste, the delicate scent from cinnamon sticks, coriander, and cumin will amaze you.
Have you ever thought of combining chickpea and coconut in a curry recipe? This coconut chickpea curry from India will charm you with its nutty and rich taste. Naan and cucumber salad are the best choice to pair with this curry.
Welcome To The Wonderful World Of Indian Breads!
India is one of the most influential cuisines in Asia. Each recipe represents a cultural aspect and serves a different purpose. To experience all the spectacular food in India, you might need days or weeks. But this post will provide a shortcut for you, at least when it comes to Indian breads.
Feel free to share your opinion about the best types of Indian bread. Do you know any other type of bread in this country? I can't wait to hear your ideas! Share this post with your friends and subscribe to our site to receive more interesting posts about food worldwide!