Vietnamese banana, coconut, and tapioca dessert (Chè Chuối) is a must-try dish for anyone with a sweet tooth. This treat belongs to the sweet soup (Che) food category, which is full of delectable Vietnamese desserts and snacks made from various ingredients.
Che Chuoi is a combination of sweet and tender bananas, a rich coconut milk-based broth infused with pandan leaves, and crunchy tapioca pearls. Top it with some roasted peanuts, and you have yourself an excellent dessert that tastes phenomenal whether served chilled or warmed.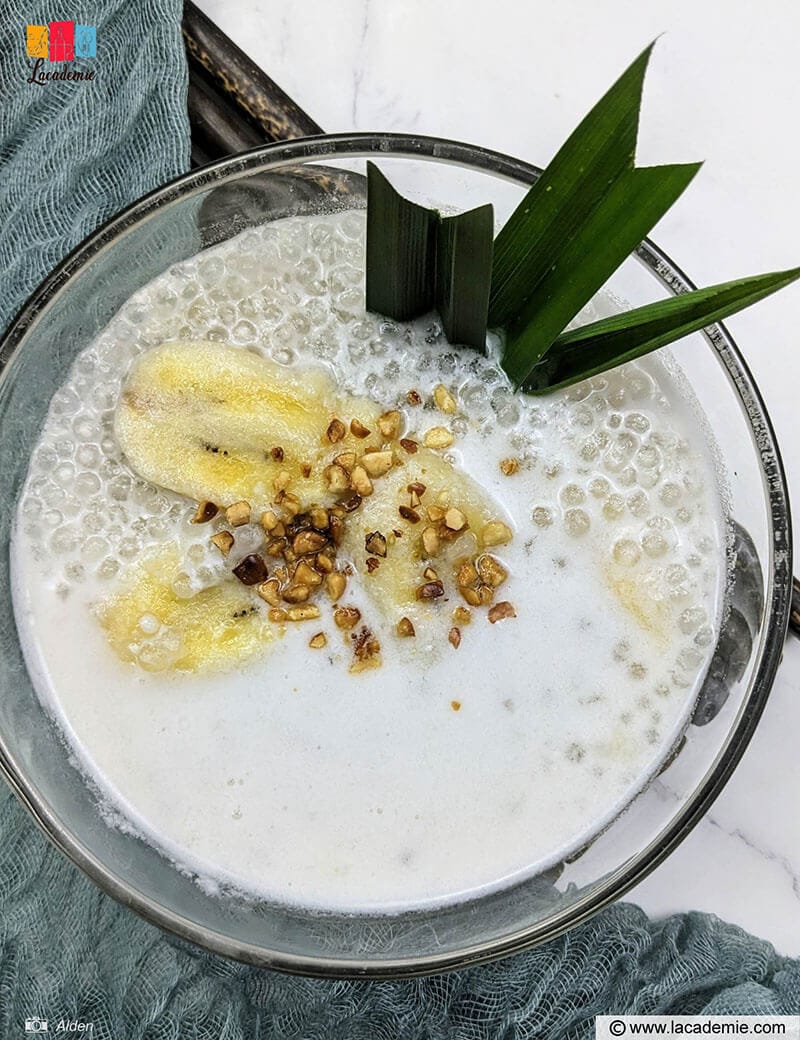 Why You Should Try Che Chuoi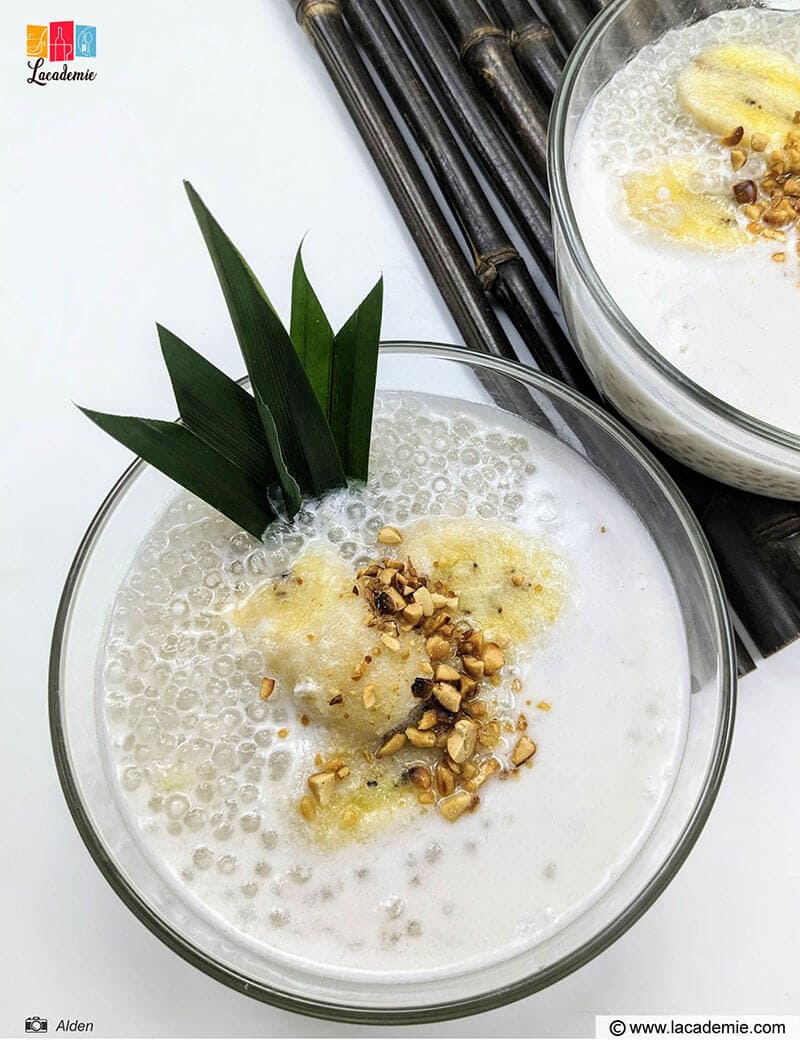 If you're a fan of Vietnamese street delicacies, you've certainly heard of their wide collection of Che, with well-loved treats like Suong Sao Hot E (grass jelly with basil seeds) and Che Banh Lot (cendol sweet dessert).
In addition to being super tasty and refreshing, Vietnamese Che can also be beneficial for your well-being. For example, Che Sam Bo Luong (Ching Bo Leung) is a flavorsome sweet soup full of medicinal ingredients.
Living up to the name, Che Chuoi is also both delicious and health-giving. Everyone knows that bananas are great for the body, being rich in nutrients and antioxidants. Moreover, the dish also contains tapioca pearls, a gluten-free source of starch known for promoting digestive function.
Tools
To create the perfect Che Chuoi, you'll need a few cooking tools on hand. They are all essential tools, though, so you might already have them in your kitchen.
Knife and chopping board: For slicing the bananas.
Mortar and pestle: For crushing the roasted peanuts.
Ladle: For spooning the sweet soup.
Sieve: For draining the soaked tapioca pearls.
Spoon: For stirring the sweet soup.
Pot: For cooking the sweet soup.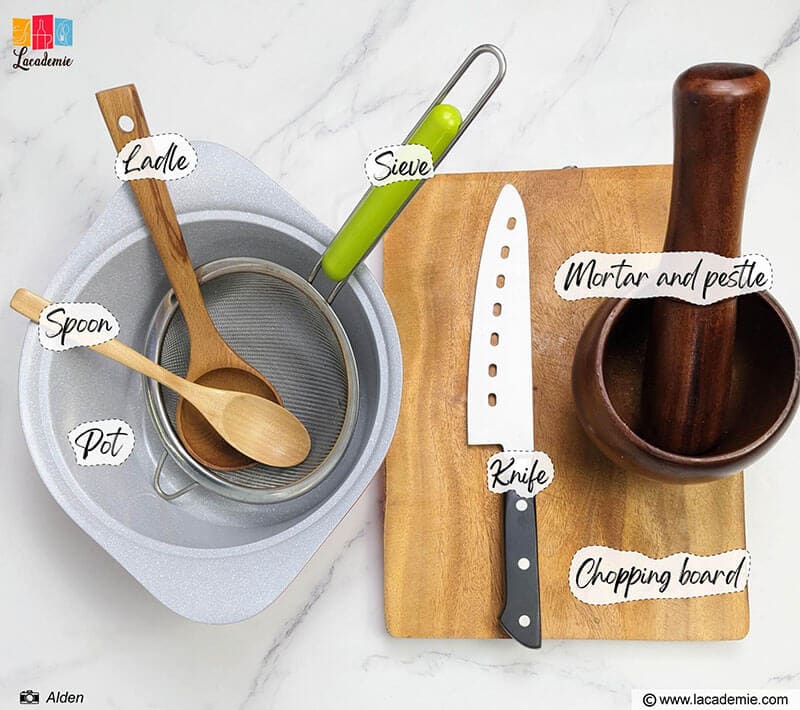 Ingredients
Picking the right cultivar of bananas is the most important part of making authentic Che Chuoi. In addition, coconut milk and tapioca pearls are also must-haves.
Siamese bananas: The locals call this cultivar Chuoi Xiem or Chuoi Su. You might also know them as pisang awak. In general, these bananas are shorter than the common Cavendish variety and have a more subtle sweetness.
Coconut milk: Get the full-fat version, sometimes referred to as coconut cream, for the best consistency.
Water: Helps you thin out the coconut milk a little. Also, you'll need some water to soak the tapioca pearls.
Small tapioca pearls: Opt for small tapioca pearls. Although they don't taste like much, their chewiness adds contrast to the sweet soup, making it more interesting.
Pandan leaves: Add more aroma to the sweet soup.
Roasted peanuts: For garnishing.
Simple seasonings: Sugar and salt.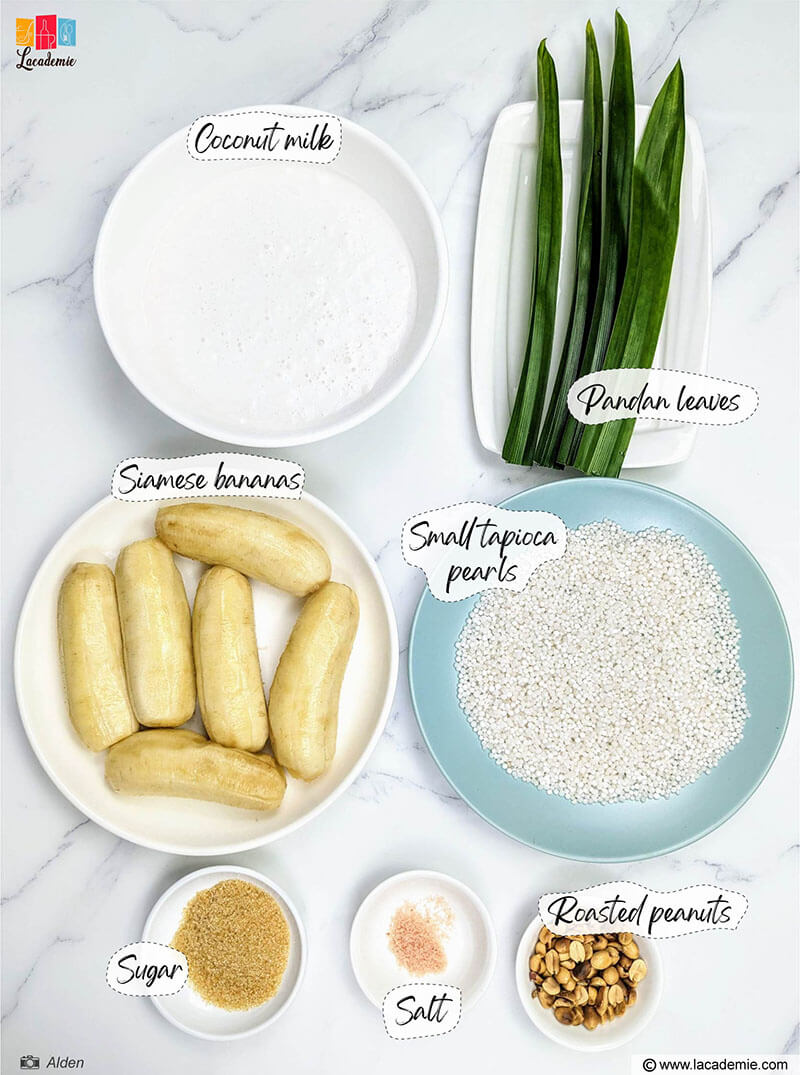 Directions
Here's the recipe for making the Vietnamese banana, coconut, and tapioca sweet soup that you've been waiting for. Let's start cooking!
Step 1: Prepare The Ingredients
Cut the bananas into even slices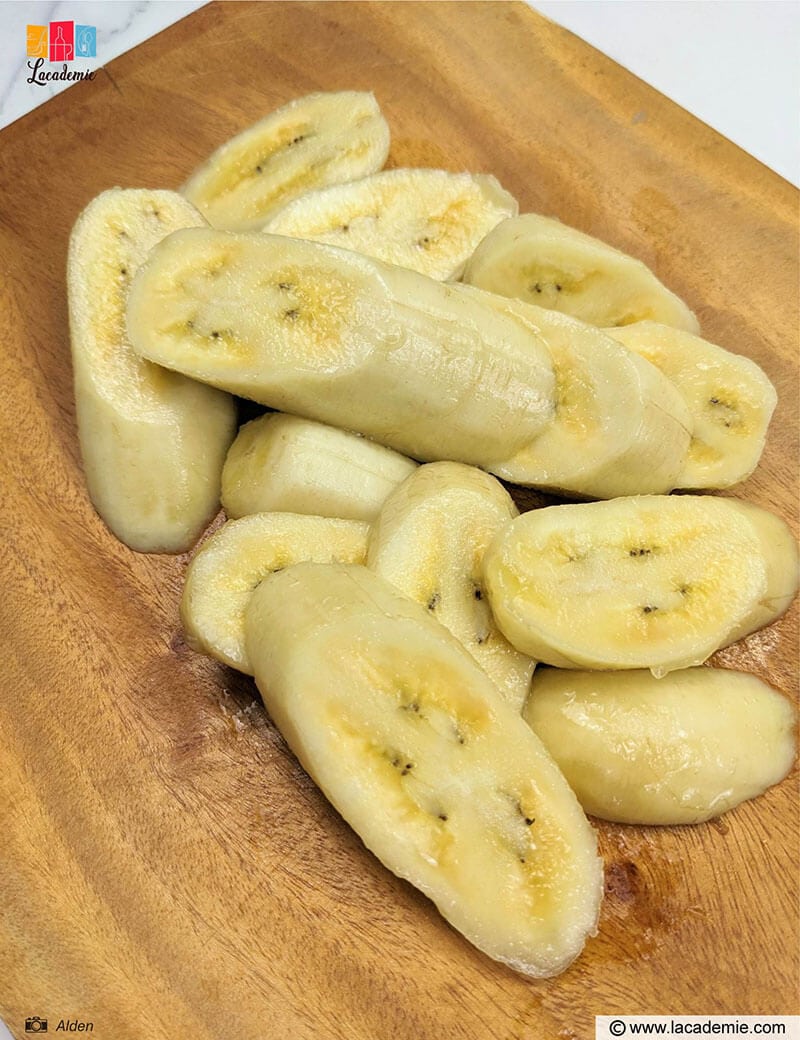 Season them with 1 tablespoon of sugar and mix well. Let them rest for 20 to 30 minutes.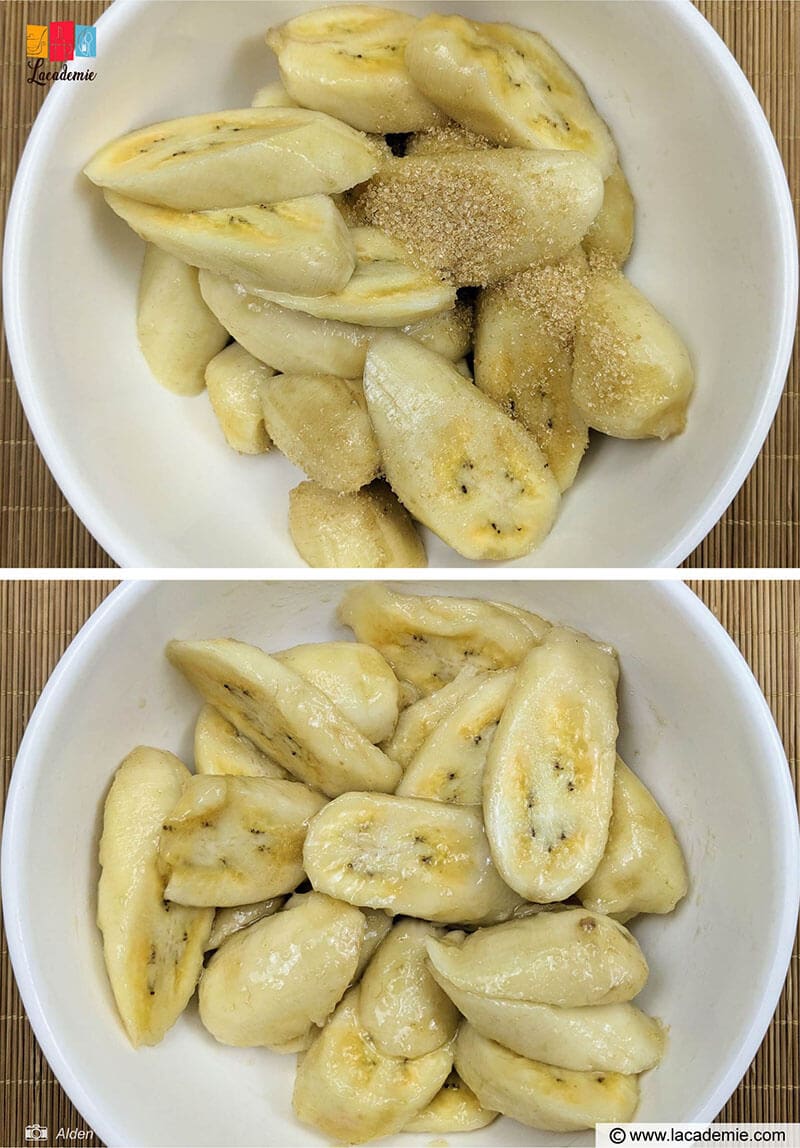 Soak the tapioca pearls in warm water for 20 minutes.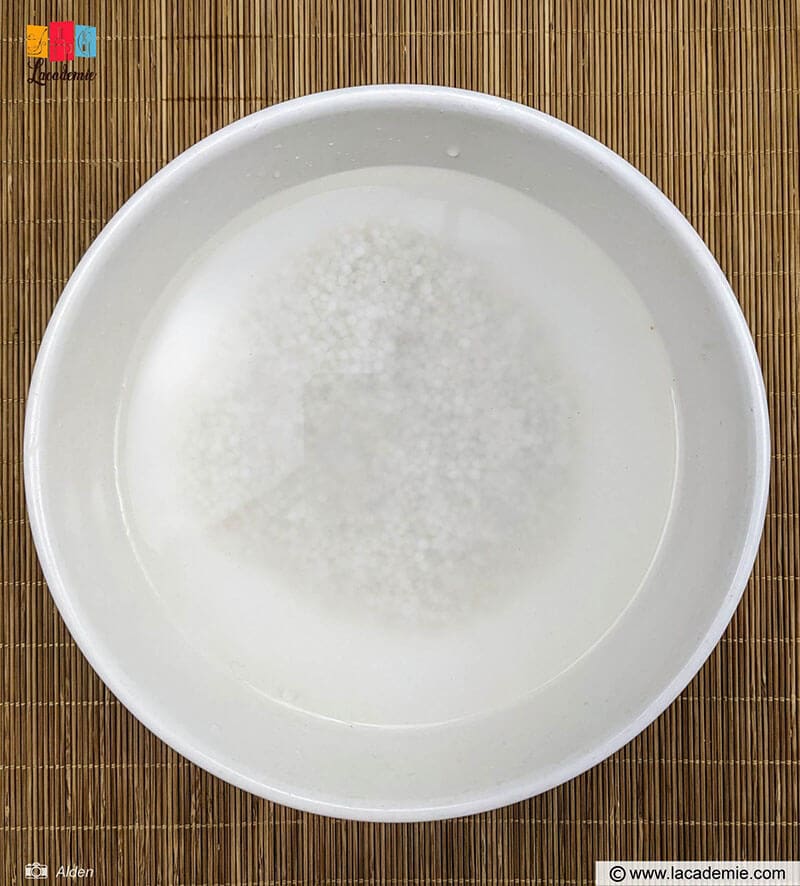 Crush the roasted peanuts coarsely using the mortar and pestle. Do not crush them too finely.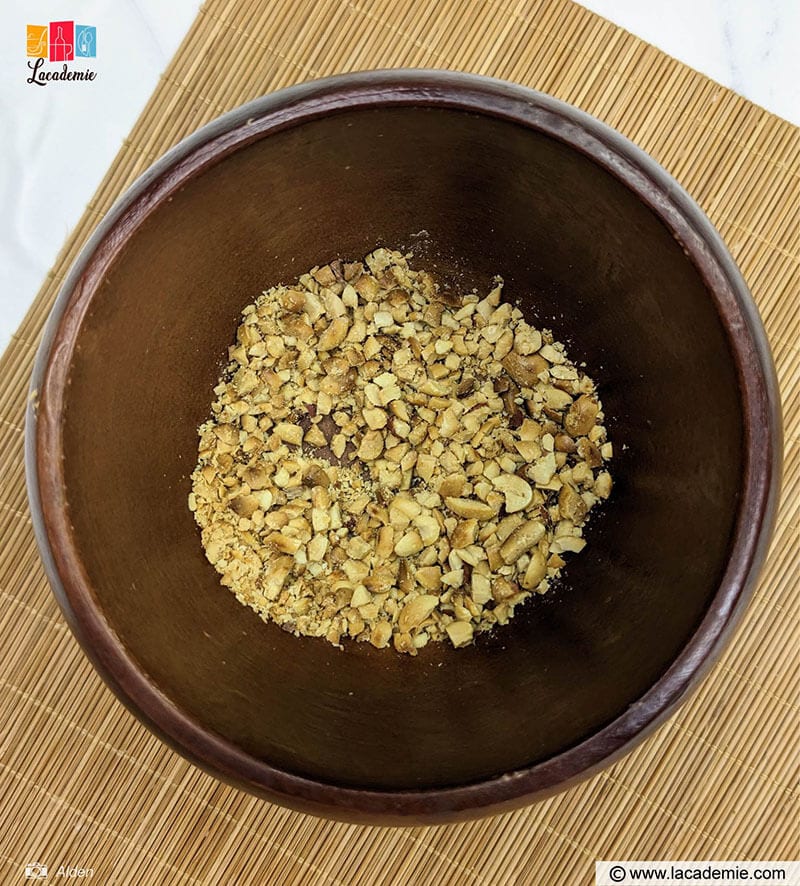 Step 2: Cook The Sweet Soup
Fill a pot with water and add the pandan leaves. Cook them for about 5 minutes to extract the leaves' aroma.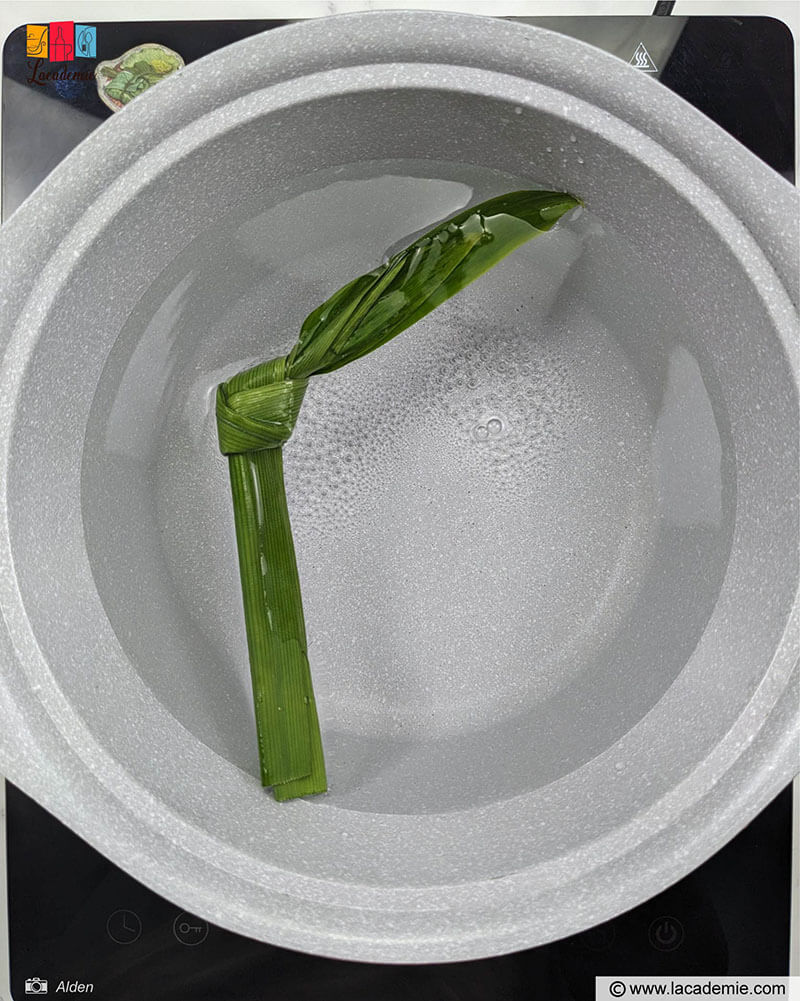 When the water is warm, pour in the coconut milk and gently stir to combine.
Then, add 1 teaspoon of salt. This small step will increase the soup's shelf life.
Continue to cook for 5 minutes, then remove the leaves.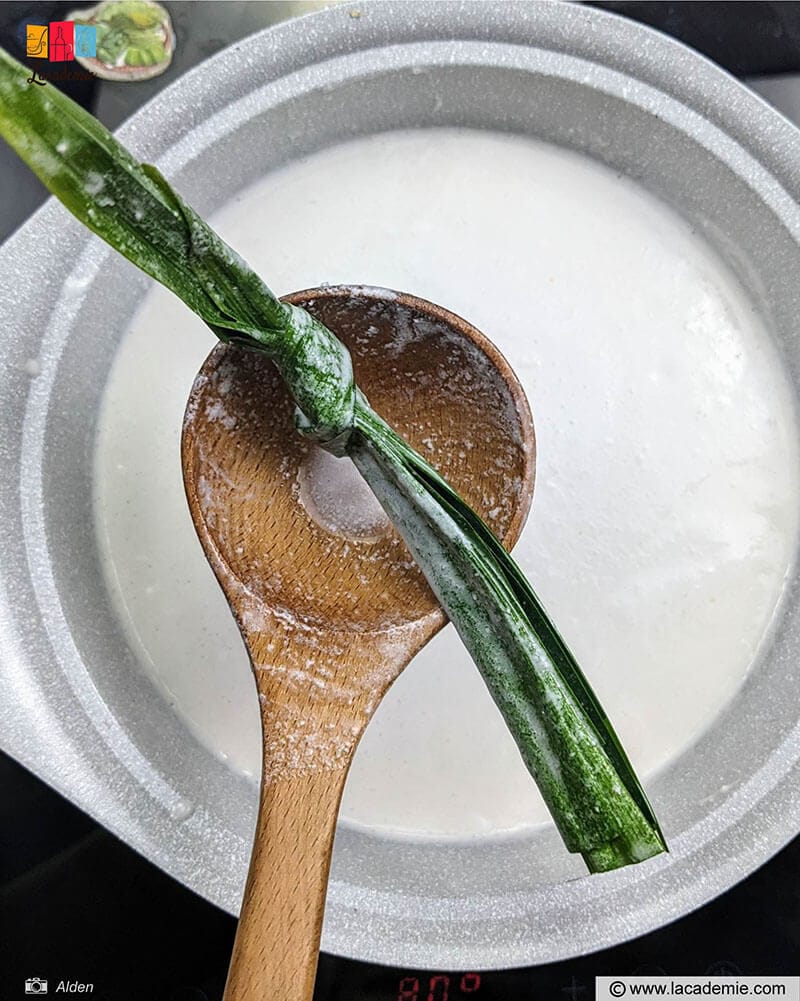 The tapioca pearls should have swollen up at this point. Drain them with a sieve.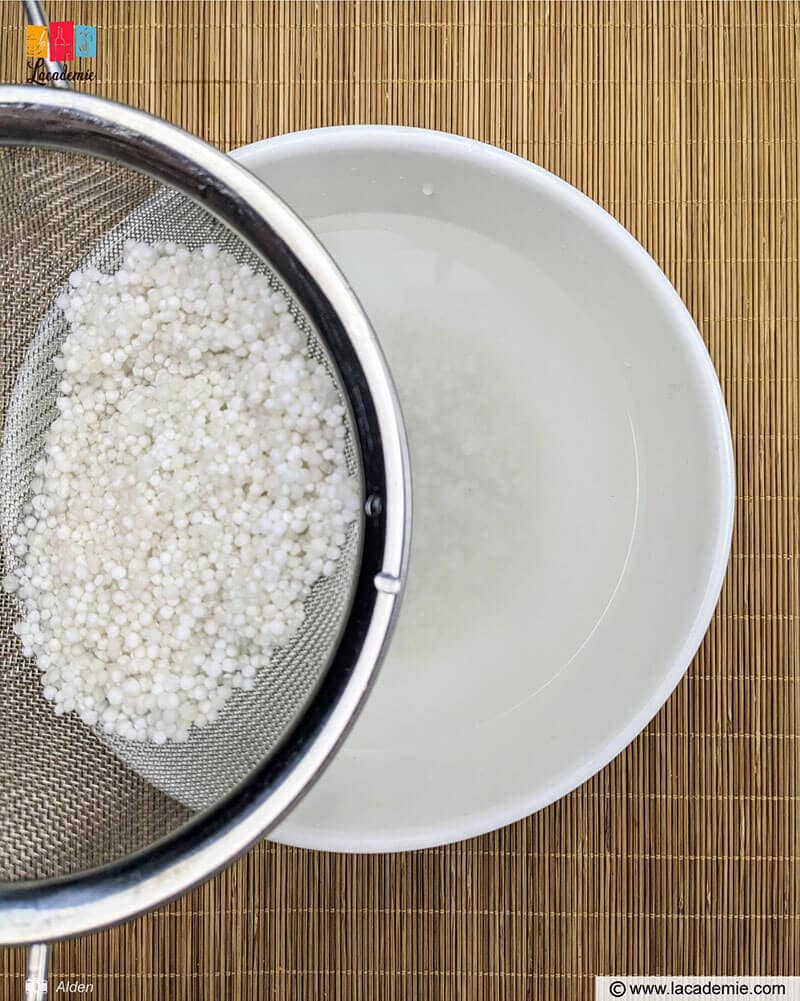 Add the drained tapioca pearls to the soup and season with 2 tablespoons of sugar. Cook for 15 minutes or until the pearls become transparent and have come to the ideal size.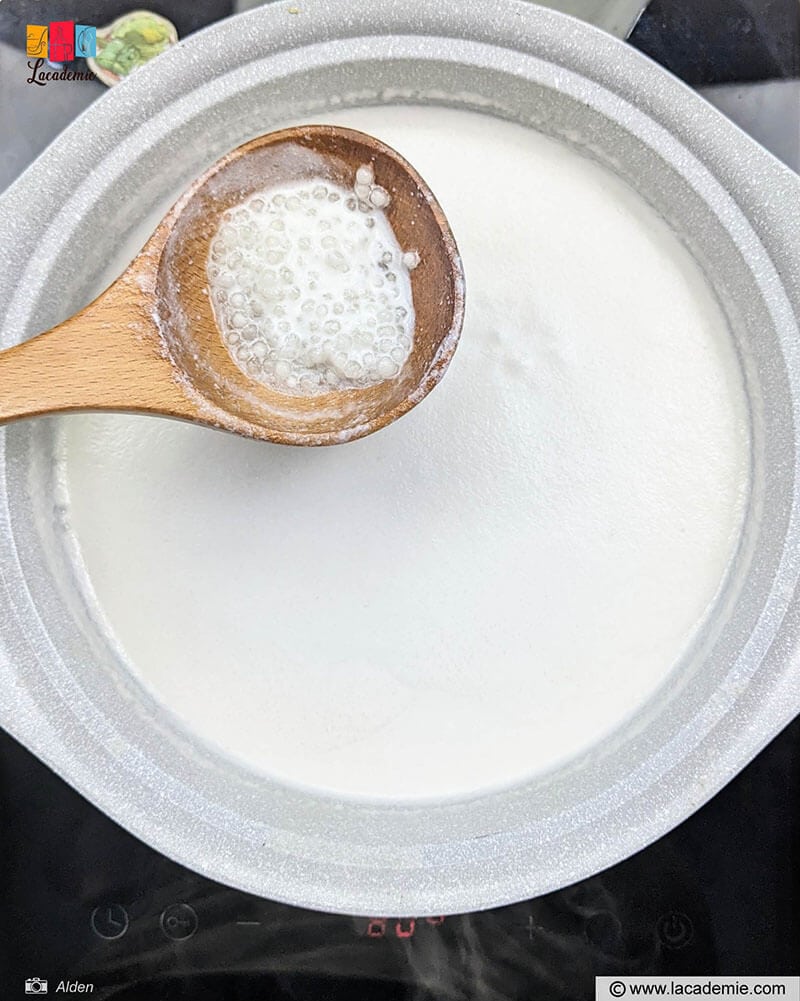 Add the banana slices and cook them for another 5 minutes. Then, cut the heat.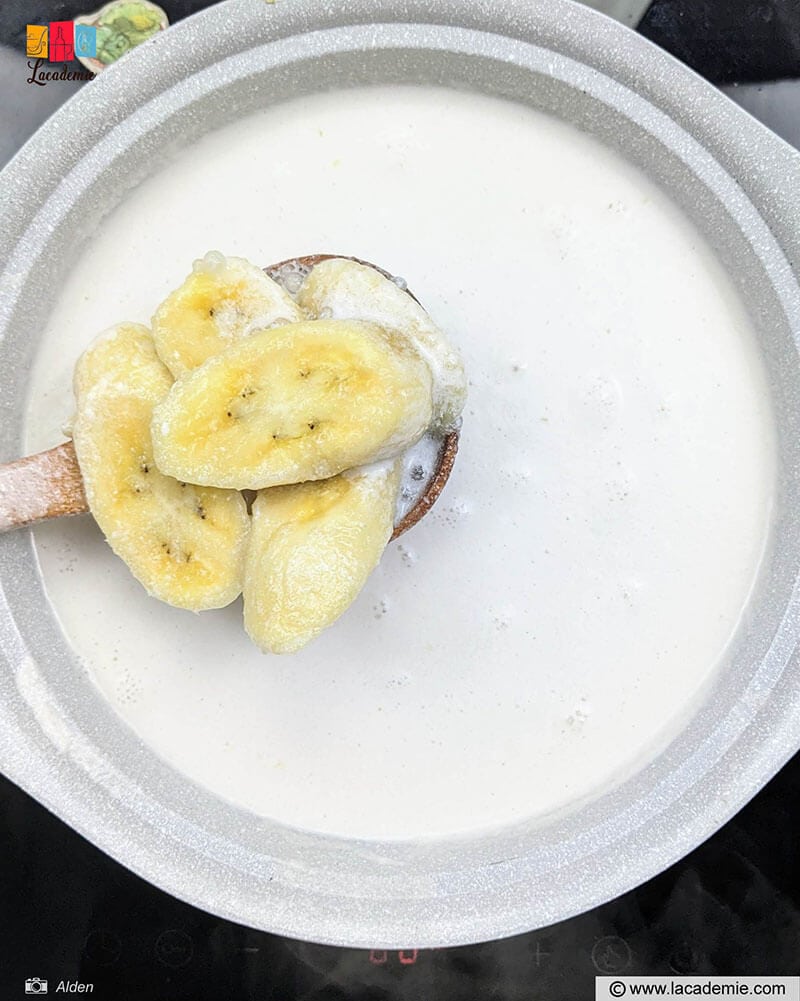 Step 3: Serve The Dish
Ladle the soup into a bowl and sprinkle some roasted peanuts on top. Enjoy!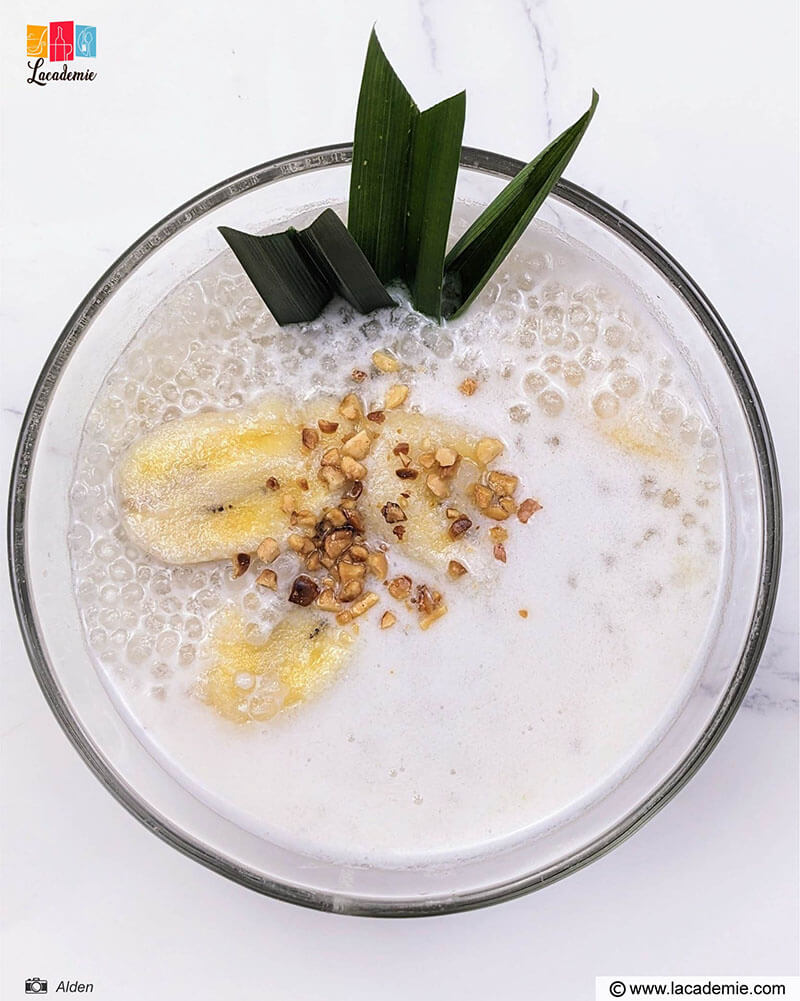 How To Store The Leftovers
The best way to store leftover Che Chuoi is to put it in an airtight container, then refrigerate it. The sweet soup will last for about 3 days, but if it smells off, then you should toss it away.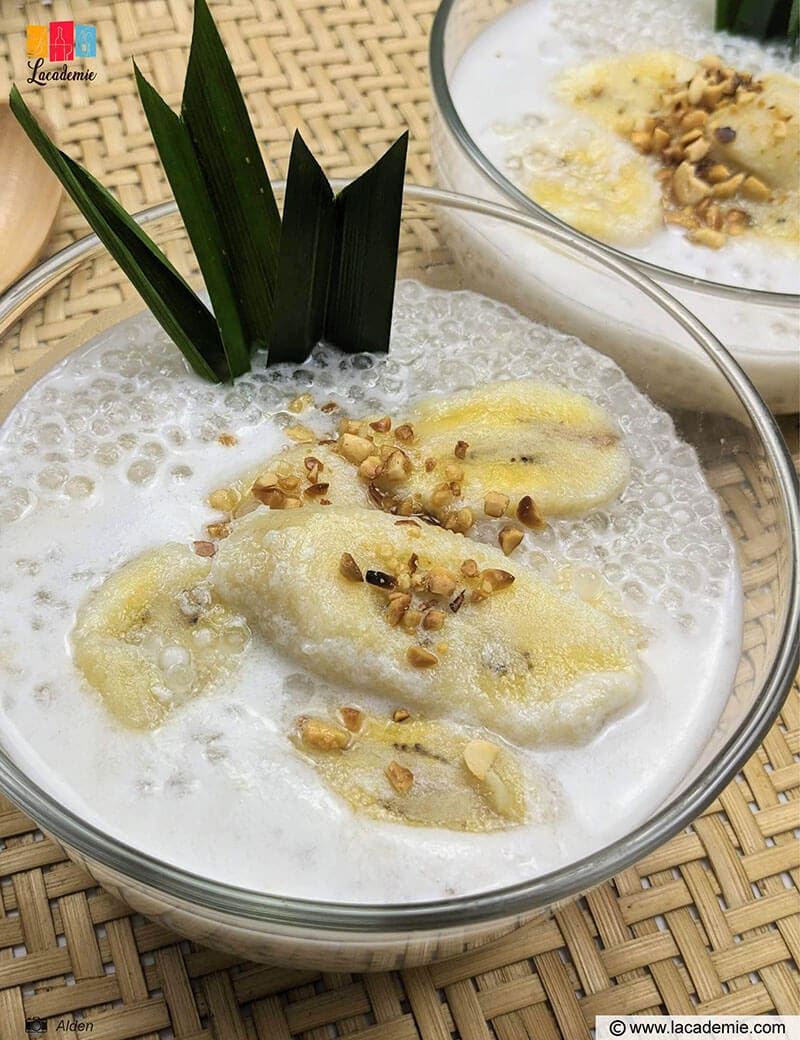 One thing about coconut milk-based desserts is that the fat will solidify at low temperatures. So you'll need to mix it well before scooping it out. You should also let it rest for a little while at room temperature.
Unfortunately, this dessert doesn't freeze very well. The bananas will become mushy, and the consistency won't be very enjoyable. All in all, I recommend eating your Che Chuoi right after cooking for the best flavor and texture!
Some Other Kinds Of Banana To Consider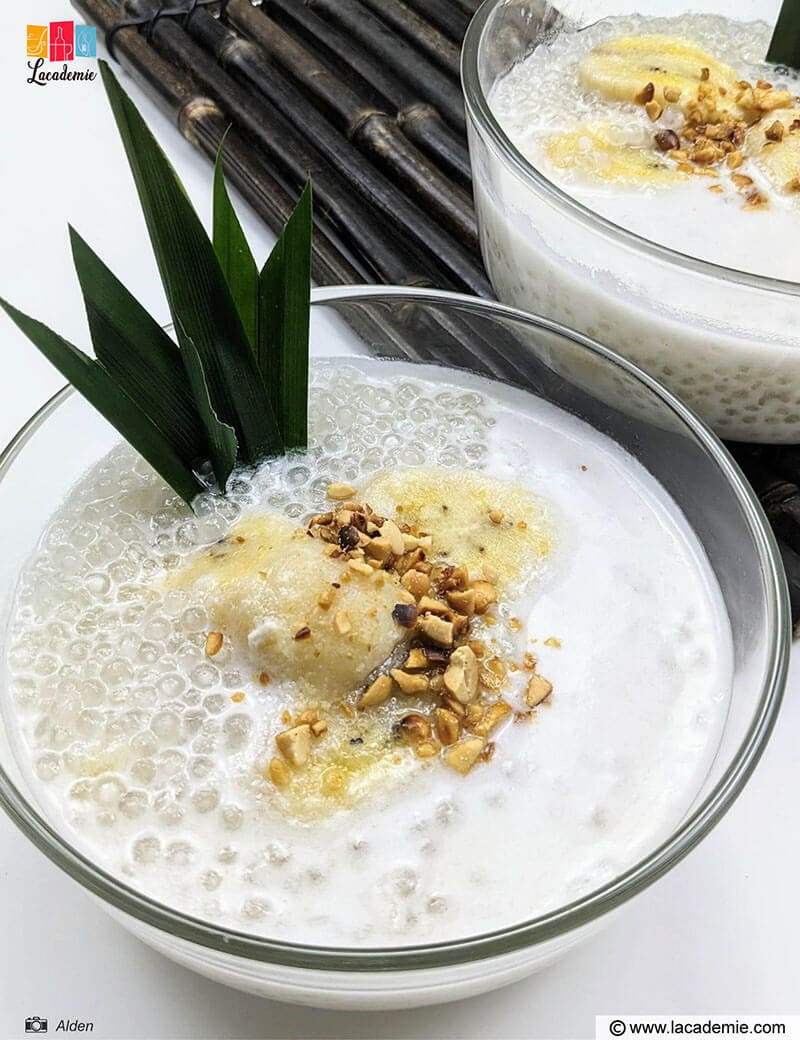 Besides Siamese bananas, you can also use other cultivars to make this dish. Of course, Siamese bananas are the best choice, but in case you can't get hold of them, here are some possible alternatives:
Lady Finger bananas (fig bananas): Small bananas with thick skin and a sweet flavor.
Plantains: They have great firmness and hold their shapes well during cooking. Plantains are generally less sweet than bananas, though.
Cavendish bananas: They are very easy to find and available year-round.
Saba bananas: Known for their meaty and moist flesh that is softer than that of plantains.
Apple bananas: Short bananas with subtle sweetness and slightly fruity notes.
Note: No matter what kinds of banana you use, always select ripe ones (not overripe) with a medium size.
Tips And Tricks
Now that you've learned how to make the perfect Che Chuoi, here are some tips and tricks that will help you upgrade the dish and adjust it to your liking.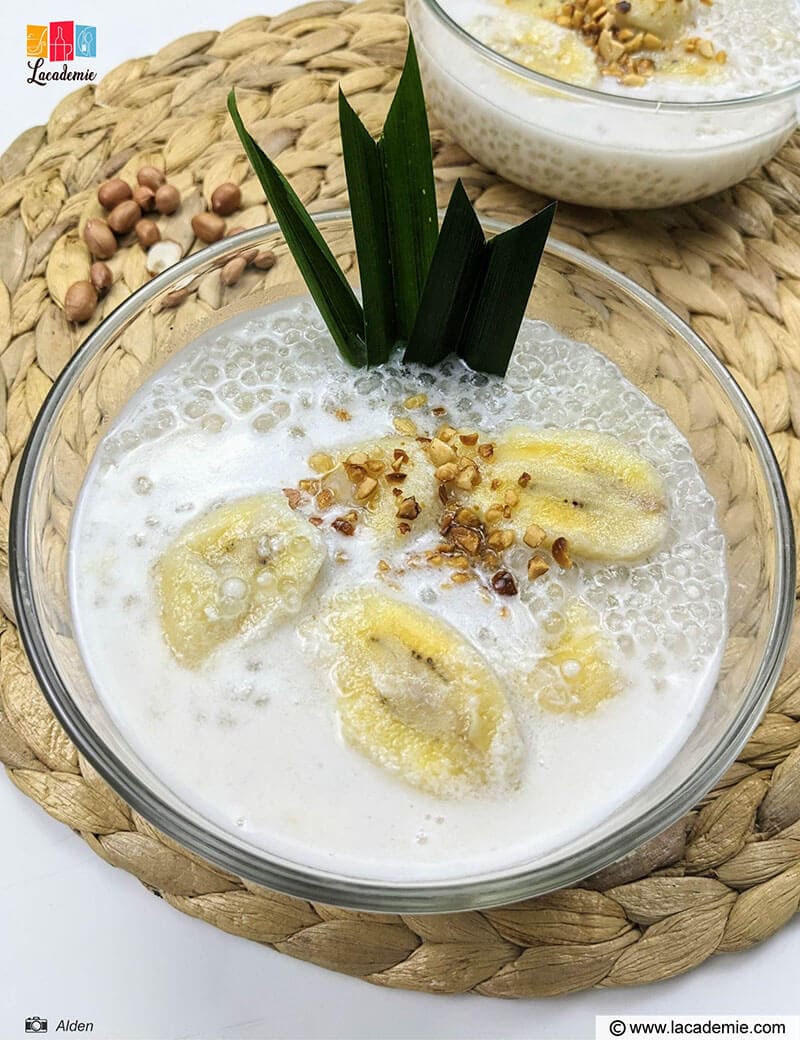 Remember to stir frequently during cooking. Otherwise, the tapioca pearls will stick to the bottom of the pot.
Do not cook the soup for too long after adding the bananas, as doing so will cause them to turn mushy.
If you prefer a thicker soup, adding a little tapioca starch is a great idea. First, combine the starch with some water. Slowly add the mixture to the pot, stirring continuously until the soup thickens. Don't add too much, though, as the soup might be too thick.
You can enjoy this dessert chilled or warm. The amount of sugar I used in the recipe is ideal for warm Che Chuoi. If you want to serve it chilled with some ice cubes, I recommend adding a bit more sugar.
If you can't get your hands on pandan leaves (fresh, frozen, or dried), vanilla powder or pandan flavoring are acceptable substitutes.
While waiting for the bananas to absorb the sugar and the tapioca pearls to swell up, move on to other tasks. You'll save a lot of time this way!
FAQs
Before ending the post, here are some commonly asked questions about this dessert that might pique your interest.
A Must-Try Dessert For Banana Lovers!
Bananas have always been an outstanding dessert, and if you've been a fan of this health-giving fruit, you'll love Che Chuoi right after the first try. And with today's easy-to-follow recipe, I believe that you'll be able to make it without any problem.
Have you tried Che Chuoi? Are there any Vietnamese sweet soup recipes that you'd like to learn? Please leave your answer in the comment. I'll make sure to read all of them. Also, kindly like and share the post so more people get to enjoy this delightful dessert.
Nutrition Facts
5 servings per container
---
Amount Per ServingCalories303
% Daily Value *
Total Fat 12.2g

19

%
Sodium 241mg

11

%
Potassium 642mg

19

%
Total Carbohydrate 50.7g

17

%

Dietary Fiber 4.9g

16

%
Sugars 26.1g

Protein 3.5g

6

%
---
* The % Daily Value tells you how much a nutrient in a serving of food contributes to a daily diet. 2,000 calories a day is used for general nutrition advice.