If you're searching for keto air fryer recipes, the chances are that you're trying to jazz up your daily meal when you're on a low-carb, high-protein diet. If that is truly the case, you're in the right place. This article is to help you find the best keto dishes made with an air fryer.
That's right – you can prepare quick and easy keto meals with your trusty air fryer. Any air fryer model can help you prepare breakfast, appetizers, dinner meals, and even desserts that are entirely keto-friendly.
Should you want your meal to be even healthier, you can opt for pressure cookers as well. However, you'll need to understand the key differences between pressure cookers and air fryers to determine which kitchen appliance to opt for when preparing your dishes.
So, if you're planning to give up on your keto diet because of how seemingly restricting it is, perhaps this article will help you change your mind.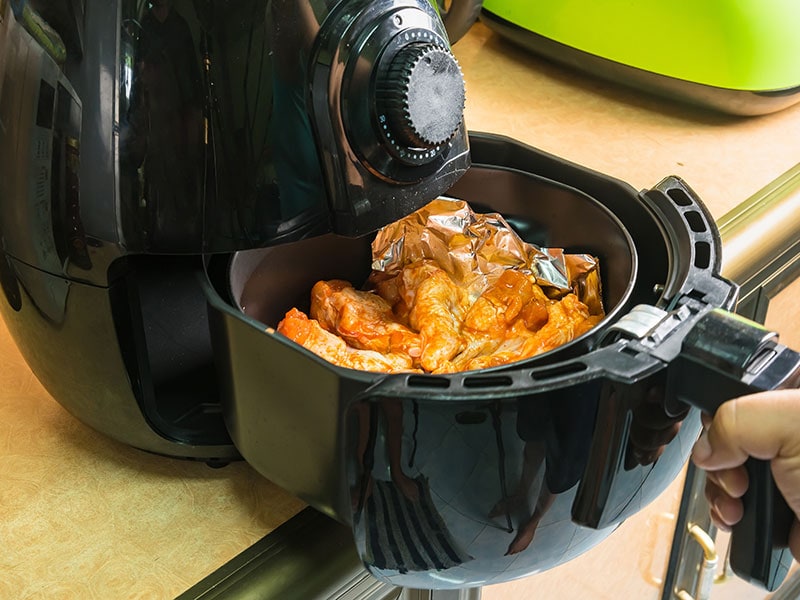 30+ Enticing Keto Air Fryer Recipes You'll Surely Love
As I've mentioned, you can plan tasty, nutritious, and healthy meals throughout the day with my list of best keto air fryer recipes. From breakfast to full-course meals and desserts, there's nothing you can't do with an air fryer.
And if you need ideas for keto accompaniments, they are varied and easy to make as well.
Breakfast
Bacon
Sausage And Egg Bite Cups
Scrambled Eggs
Air Fryer Breakfast Frittata
Scotch Eggs
Bagels
Cinnamon Rolls
Lunch
Burger
Chicken Breast
Garlic Butter Salmon
Buffalo Chicken Wings
Dinner
Appetizers
Caramel Goat Cheese Balls
Coconut Shrimps
Garlic Cheese Rolls
Sausage And Cheese Balls
Italian Meatballs
Zucchini Fries
Cauliflower Bites
Mozzarella Sticks
Crispy Fish Sticks
Main Dishes
Fried Chicken Tenders
Crispy Pork Chops
Pepper-thyme Flank Steak
Steak Bites And Mushrooms
Pizza
Desserts
Brownies
Chocolate Chip Cookies
Chocolate Chip Cheesecake
Cinnamon Candied Pecans
Churros
Cheese Biscuit
Keto Air Fryer Recipes To Help You Prepare Breakfast Effortlessly
Don't skip breakfasts; start your day with these keto recipes. Indeed, you'll get to enjoy a healthy and delicious breakfast with an air fryer every day. Keep yourself fit and energized so that you can always take on a new day with enthusiasm.
Bacon is undoubtedly a favorite breakfast in many households. But did you know that you can make keto-friendly bacon with the aid of an air fryer? Even without the excessive oil and fat, air-fried bacon still tastes amazing with its signature crunchy texture. Delicious!
No need for excessive oil; your air-fried bacon will still turn out amazing with the instructions here.
Sausage and egg bite cups provide a quick, hearty, and keto-friendly breakfast. They can be made in less than 20 minutes, and you can store them in an air-tight container for busy mornings. Fluffy and luscious, these breakfast cups will make sure your morning starts on a high note.
Among hundred egg-based ideas, scrambled eggs are indeed an excellent choice for those on a keto diet, thanks to its virtually free of cab and high in protein.
This classic breakfast meal now undergoes a slight change: it's now prepared in the air fryer, thus reducing the amount of butter needed.
This scrumptious low-carb frittata is ideal for a protein-packed breakfast or a quick brunch. Loaded with eggs, cheddar, tomatoes, and various ingredients, this frittata dish will give you an amazing energy boost to start the day.
Scotch eggs involve wrapping boiled eggs with ground sausage. In traditional scotch eggs, you'll need to cover the eggs with crispy bread crumbs. However, you can omit this layer to ensure a keto-friendly breakfast or switch to Keto pork rinds breading.
Would you like to start your day with a fresh batch of steaming bagels? If so, you'll like this bagel variety made totally from keto ingredients, which only require 10 minutes to cook in an air fryer.
You can customize the bagels' filling to your own preferences, thus ensuring that your morning meal is always perfect.
With how luscious and decadent these cinnamon rolls taste, you might not even think that they are completely keto-friendly.
Made with almond flour, each of these Keto cinnamon rolls contains only two net carbs. No more worrying about breaking your diet for a tasty breakfast. Plus, you can make dessert with cinnamon rolls and other ingredients as well.
Keto Air Fryer Recipes You'll Need To Prepare Low-Carb Lunch
Just because you're on a diet doesn't mean that you have to eat bland dishes for lunch. Thanks to these delicious keto air fryer recipes, your lunch will be so full of flavors that you'll be looking forward to lunchtime.
Who says you can't eat burgers when you're on a keto diet? With only a few everyday ingredients, you can whip up some fulfilling air fryer ground beef dish for the whole family. Thanks to the air fryer, you can prepare a savory dinner for everyone in less than 30 minutes.
Although the main star of this dish is ground beef, you can also go for ground chuck. Just take into account what makes ground chuck different from ground beef and adjust your recipes accordingly. Most of the time, no one will even notice the switch!
You can whip up juicy and succulent chicken breasts that taste just as delicious as those found in renowned cookbooks for air fryer recipes with ease. Instead of the crispy breading, these keto chicken breasts are flavored with Italian dressing or olive oil.
Sometimes, you'll encounter chicken breast so hard there's a term for it: woody breast. Luckily, it's easy to rectify this issue. The key application of meat tenderizers is to soften the meat, so with the use of a meat tenderizer, you'll be able to make your hard chicken breast soft and juicy.
Additionally, if you don't know which one to choose between chicken tenderloin and chicken breast, good news, both cuts are perfect for your keto diet.
Packed with protein and omega-3, salmon is always an excellent dish to add to your keto diet meal plan. When I tried to prepare these in an air fryer with some garlic and melted butter, the result was mind-blowing. I've been making keto garlic butter salmon in an air fryer ever since.
Even without breading, these savory buffalo chicken wings are still incredibly crispy and appetizing. Glazed with spicy and buttery buffalo sauce, these luscious chicken wings will be flavorful to the very last bite. You'll love having these for both lunch and dinner.
And do you know that using an air fryer is also one of many greatest ways to warm leftover chicken wings? Such a versatile appliance, right?
Fulfilling Dinners Are Easy With Keto Air-Fryer Recipes
Dinner should always be made with love. With these keto air-fryer recipes, your dinner will always be filled with memorable flavors and succulent bites.
Whip Up Mouth-Watering Appetizers For Dinners With Keto Recipes
Are you having trouble coming up with delicious keto air fryer appetizers for your daily meal? If that is the case, this section will be able to give you a helping hand.
Start your meal with a bang, thanks to these immensely gooey cheese balls. Creamy on the inside and crispy on the outside, these golden cheese balls will awaken your palates and whet your appetite. Nobody will be able to resist these creamy, gooey cheese balls.
Crispy and mouth-watering, coconut shrimps are the perfect keto appetizer for any meal. Imagine sinking your teeth into these succulent shrimps, which are coated with fragrant and crispy coconut shreds. You won't be able to stop yourself after just one bite.
Excellent as a starter or a side dish, these garlic cheese rolls give off such an enticing smell that everyone will gather around the dining table within seconds. Thanks to the garlic powder, these rolls are impossibly aromatic, and there's subtle complexity behind the cheesy goodness too.
These scrumptious sausage and cheese balls are proof that you can prepare a flavorsome keto appetizer in an air fryer with only 4 everyday ingredients. With their crispy layers, these low-carb appetizers promise to deliver a savory and cheesy bite that you'll never forget.
If you have Italian dishes for dinner, it makes perfect sense to begin your meal with the classic Italian meatballs. Packed with authentic Italian flavors, these savory meatballs are incredibly tender and savory. Even your picky eater friend will fall in love with these.
Not only are zucchini fries completely keto-friendly, but they're also perfect for a gluten-free diet. Coated with a layer of nutty Parmesan cheese, these zucchini fries will help you start your meal on a high note. They're also the ideal snack when you feel hungry during the day too.
Keto and gluten-free, these savory cauliflower bites will give you a burst of mouth-watering flavors. Thanks to the excellent blend of garlic powder and various spices, these bites are much tastier than they look. If you like your appetizer cheesy, throw in some Parmesan cheese.
Impossibly cheesy and alluring, these keto mozzarella sticks are perfect as both an appetizer or a midday snack. Due to their cheesy, gooey goodness inside, these mozzarella sticks are best served warm. Suffice to say; these mozzarella sticks will be a hit on your dining table.
And what makes it even better? Remember to choose the highest-quality mozzarella cheese on the market.
You won't believe how delicious these keto air fryer mozzarella sticks will taste. You can see this video to know more:
Another delicious low-carb and gluten-free appetizer for you to consider, these fish sticks are coated with almond flour for a satisfying crunch. Serve these with some Cajun spice blend or lemon pepper, and you'll have the perfect appetizer to start your meal.
Make Delicious Main Dishes For Dinner With Keto Air Fryer Recipes
Keto-air fryer appetizers should be followed by delicious keto-air fryer main dishes. Check out the best low-carb main dishes you can prepare with an air fryer.
Fried chicken is a popular dinner in many households. By preparing fried chicken tenders inside an air fryer, you'll be able to cut down the excessive fat and calories. Even better, these chicken tenders are both low-carb and gluten-free. Talk about healthy, delicious meals.
This easy recipe for fried chicken tender will certainly become your favorite. You can see this video to know more:
No one on the dinner table will be able to turn down these juicy pork chops. Requiring only 30 minutes to prepare in an air fryer, these delicious pork chops will take everyone by storm. So if you don't know which meal to make for dinner, these crispy pork chops are a good choice.
At the mention of juicy, luscious steaks, I always think that they need to be grilled or seared to achieve perfection. However, it turns out that I can make the perfect succulent steaks with an air fryer as well. High in protein and low in carb, these air-fried steaks are ideal for a keto diet.
Transform your dining room into a high-end restaurant with keto steak bites and mushrooms. With their irresistible taste, exquisite look, and delightful fragrance, steak bites and mushrooms will instantly make your meal course look luxurious. You'll certainly grow obsessed with this.
What do you do when your family is having a pizza night, and you can't afford to eat something so high-carb? Easy; you can make keto pizza by ditching the crust or switching to almond flour as an alternative. Just because you're on a diet doesn't mean that you have to stop eating this.
Even pizzas can be made into a keto meal with an air-fryer; isn't that amazing?
What's more, you can warm your leftover in this useful appliance as well. But there are a few tricks for correctly reheating pizza in air fryers, so make sure you are familiar with it.
Irresistible Keto Air Fryer Desserts No One Can Turn Down
Thanks to these keto air fryer recipes, you'll still be able to enjoy scrumptious desserts. Why desert desserts when you can follow keto recipes and indulge yourself?
That moment when you crave some fluffy brownies, but you're on a keto diet. No worries; this recipe for keto, air-fried brownies is a great way to curb your cravings without breaking your diet. Yes! These keto brownies will allow you to have your cake and eat it too.
There's no need for an oven to whip up low-carb homemade chocolate chip cookies. As long as you have the air fryer by your side, these cookies are incredibly easy and quick to make. For extra crumbly cookies, don't forget to fry these on both sides. Yay crumbly, fudgy goodness!
You can learn the secrets behind 45-second keto chocolate chip cookies too. You can see this video to know more:
That's right; even something as decadent as cheesecake can be turned into a keto and healthy dessert too. Load with savory cream cheese and chocolate chips, this effortless cheesecake is just as delicious as regular ones. What an excellent, guilt-free way to enjoy your favorite cake!
Even though this snack is "candied" pecans, it contains only 4 grams of carb per serving, which makes it perfect for all Ketogenic diets. Preparing these in an air fryer allows you to have a quick and hassle-free snack, which is salty, sweet, and crunchy at the same time.
With grain-free churros, you can enjoy these treats to your heart's content without worrying about your carb intake. Made with almond and coconut flour, these churros are heavenly to the palates. You'll love these even more when you pair them with some sugar-free chocolate syrup.
Great as a side dish and a snack, these cheese biscuits will definitely curb your craving. You'll love how savory, fluffy, and cheesy these biscuits feel. You can also add some extra seasonings to these biscuits for extra flavors. Yummy in my tummy!
Make Keto Diets More Wholesome With These Keto Air Fryer Recipes
Keto diets don't have to be bland, boring, or overly restricting. You can make several exciting meals with keto air fryer recipes. As long as you know what you're doing, you won't even notice that you're following a strict diet.
With all of that being said, I hope that you're successful with your keto diet. And I hope that this article will partly contribute to your success. If you find my post helpful, do share it with your fellow friends so that they'll find following keto diets fun and easy too.
Nutrition Facts
4 servings per container
---
Amount Per ServingCalories228
% Daily Value *
Total Fat 5.9g

10

%
Cholesterol 164mg

55

%
Sodium 430mg

18

%
Potassium 26mg

1

%
Total Carbohydrate 1.2g

1

%

Dietary Fiber 0.5g

2

%
Sugars 0.2g

Protein 43.6g

88

%
---
Calcium

70

%
Iron

2

%
Vitamin D

4

%
* The % Daily Value tells you how much a nutrient in a serving of food contributes to a daily diet. 2,000 calories a day is used for general nutrition advice.