Char siu is undoubtedly one of the most beloved dishes in Asian cuisine, and for good reasons. I mean, who can resist its sweet, savory taste and appealing reddish color? Whether you pair it with rice or noodles, char siu pork will always be a feast for the eyes and the palate.
The big question here is: is it possible to make char siu pork at home? Definitely yes! All you need is an oven and other common kitchen tools. Follow the steps in this post to cook up tasty char siu pork for your family and friends!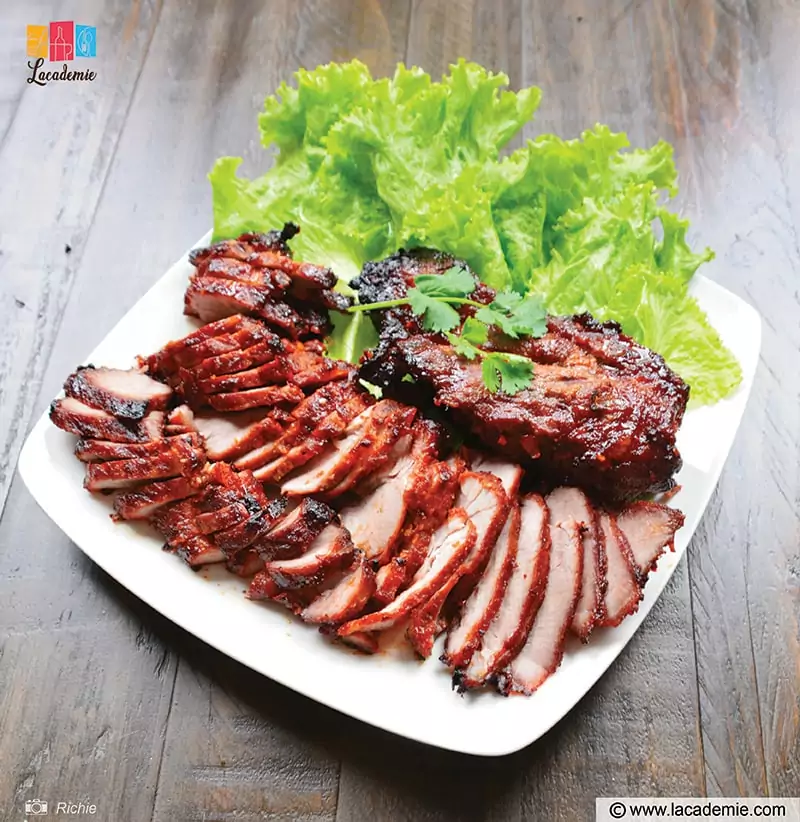 Let's Learn A Little About Char Siu
Char siu (literally "fork roasted") is a quintessential barbecued pork dish in Cantonese cuisine. The dish is known for its characteristic red color and savory-sweet taste.
The flavor comes from a mixture of five-spice powder, sweeteners (such as sugar and honey), and many other spices. Traditionally, red yeast rice is the reason for char siu's unique color.
Char siu is best enjoyed with a starchy dish or used in stir-fries. You can easily pair it with egg noodles to create delicious dried char siu noodles. Rice and buns are also common complementary foods for this delicacy. Apart from China, you can also find char siu in Malaysian, Thai, Vietnamese, and many other Southeast Asian countries' cuisine.
Tools
As mentioned above, this recipe doesn't require complicated kitchen devices. You can easily make char siu pork in an oven.
Multifunction oven: For roasting the pork.
Needle meat tenderizer: You'll need this tool to soften the pork.
Marinade container: The marinade is the heart and soul of this recipe, so make sure you invest in a good marinade container.
Knife: For cutting the meat.
Chopping board: Plastic, rubber, wood, and bamboo cutting boards are all great choices.
Tongs: Use this tool to handle hot ingredients.
Basting brush: For brushing the marinade on the meat.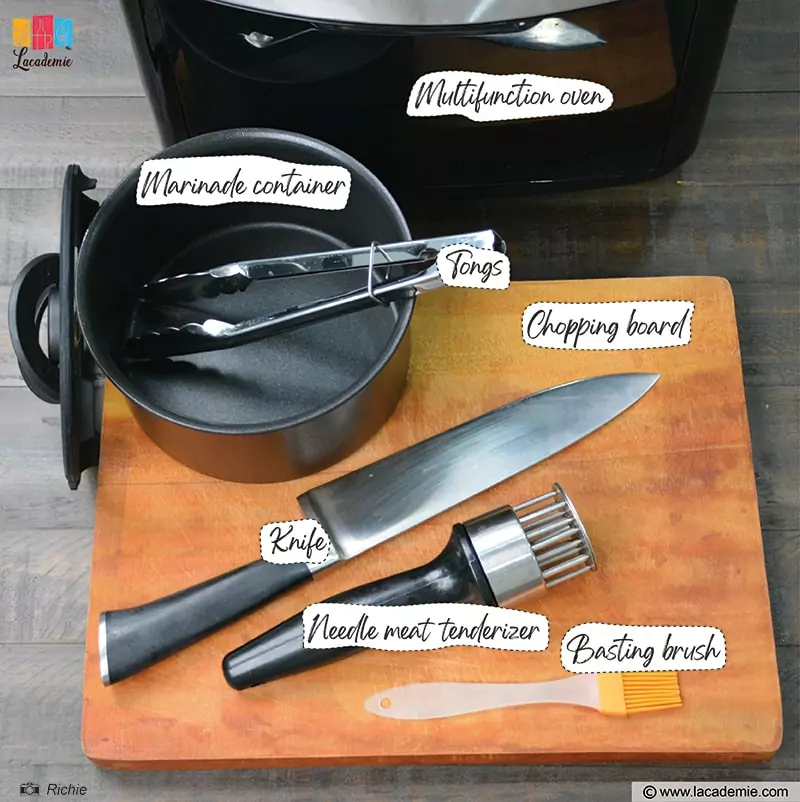 Ingredients
Make sure that your pork is fresh, and try to gather all the spices and sauces, as they're the backbone of your marinade.
Pork collar: Pork belly or pork loin are also viable choices. However, pork collar is the best cut for this dish.
Shallot and garlic: This is a classic spice combination in Asian cuisine.
Spices and sauces: Pepper, chicken powder, five spice powder, peanut butter, honey, oyster sauce, etc. These flavorful ingredients make up the tasty marinade.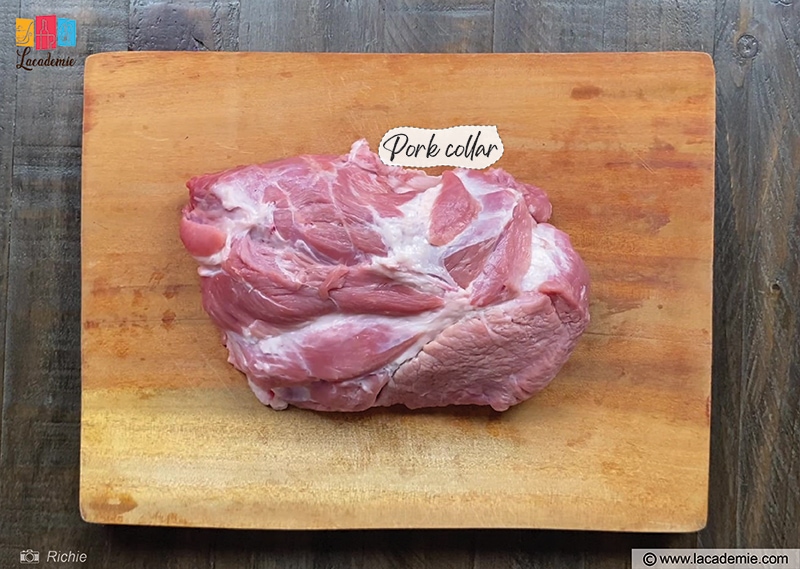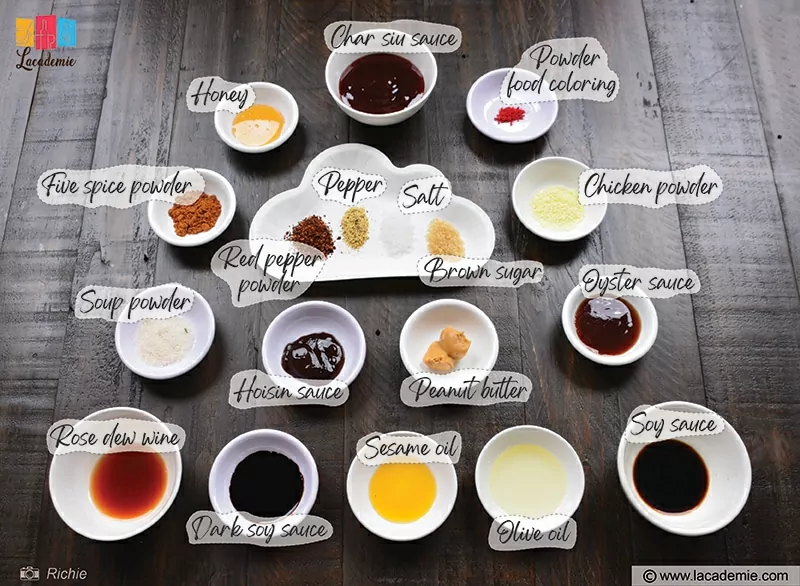 Instructions
Have you got all the necessary ingredients? Let's start cooking right now!
Step 1: Prepare The Ingredients
Rinse the pork and leave them to dry or pat dry with paper towels. Cut the pork collar into large strips and tenderize using the needle meat tenderizer. Not only does doing this make the meat tender, but it also helps your pork marinade better.
Next, mince the shallot and garlic.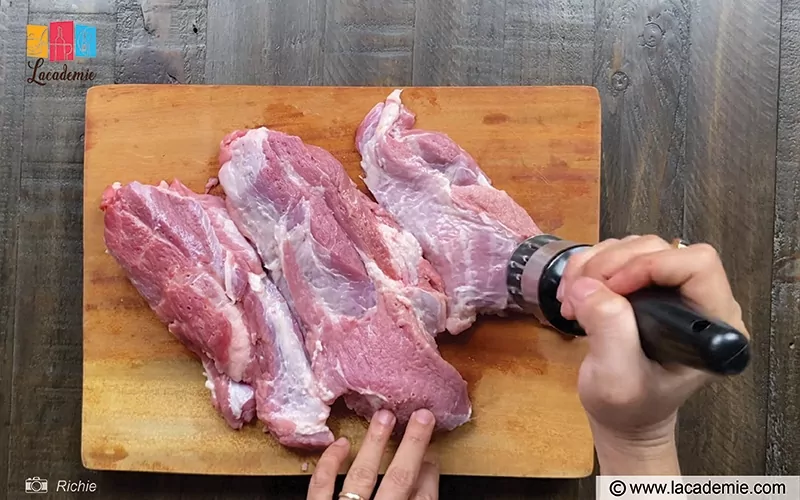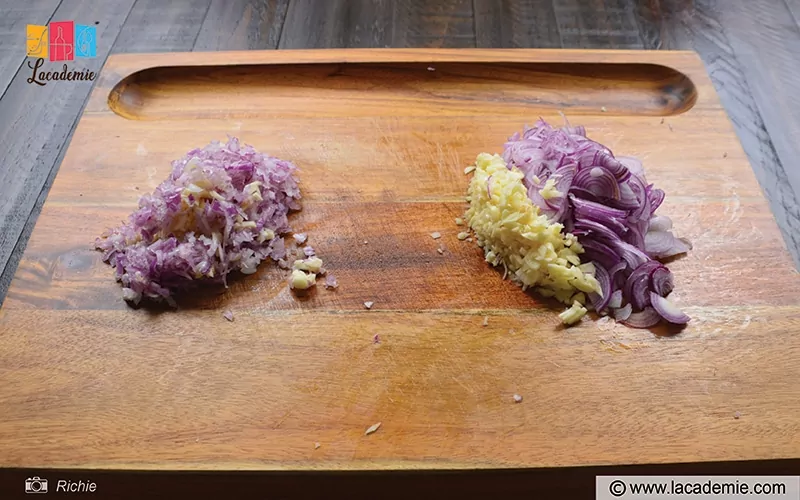 Step 2: Marinate The Pork
Marinate the meat with the prepared spices and sauces, including powdered food coloring, pepper, five-spice powder, chicken powder, etc. Put a pair of food prep gloves on and mix the ingredients well. Marinate for at least 30 minutes so that the meat has time to absorb the flavors.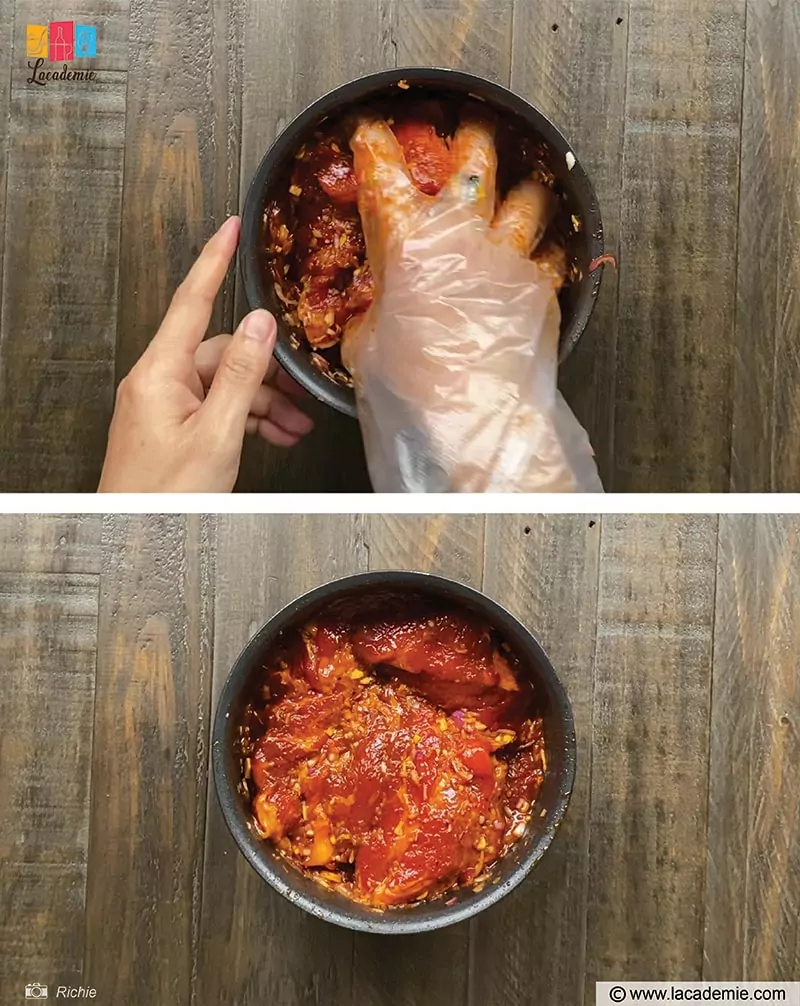 Step 3: Cook Your Char Siu
Once the pork strips are well-marinated, preheat your oven for a few minutes. Brush some oil on the grill plate to prevent sticking, and arrange the pork on it. Roast the meat for 20 minutes at 350 degrees F.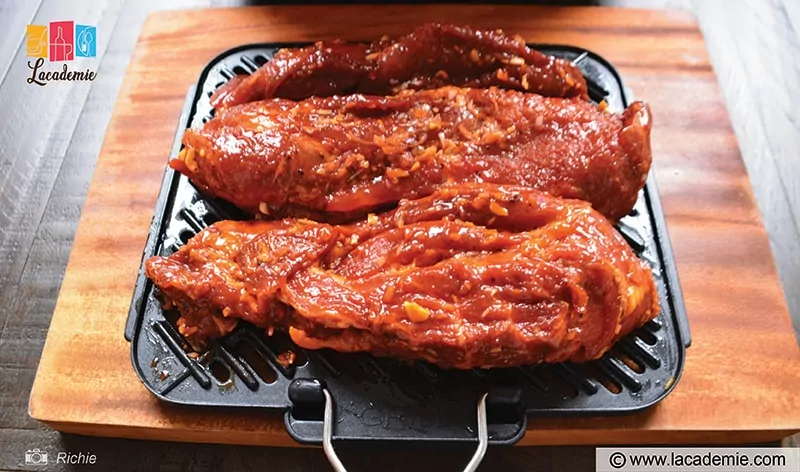 After the 15-minute mark, take the pork out and brush a layer of marinade on one side. Continue roasting for 5 minutes. Then, flip the pork and roast for another 20 minutes.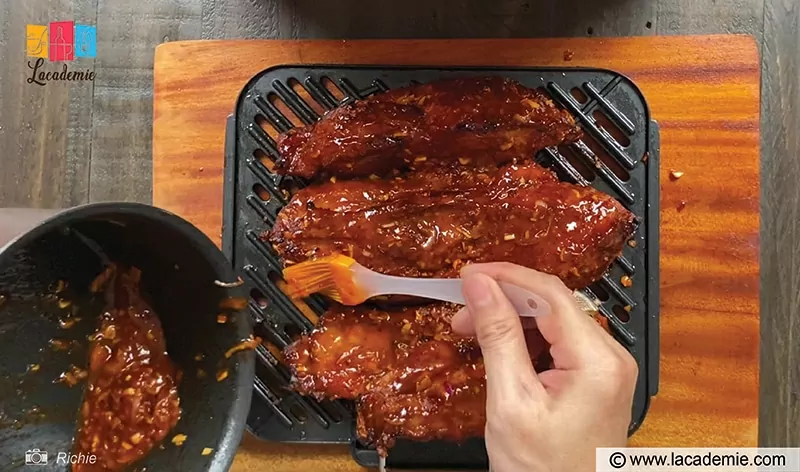 Take the meat out after 15 minutes, brush it with the rest of the marinade, and roast for 5 minutes more. Although this process takes work, your meat will be juicy in the end.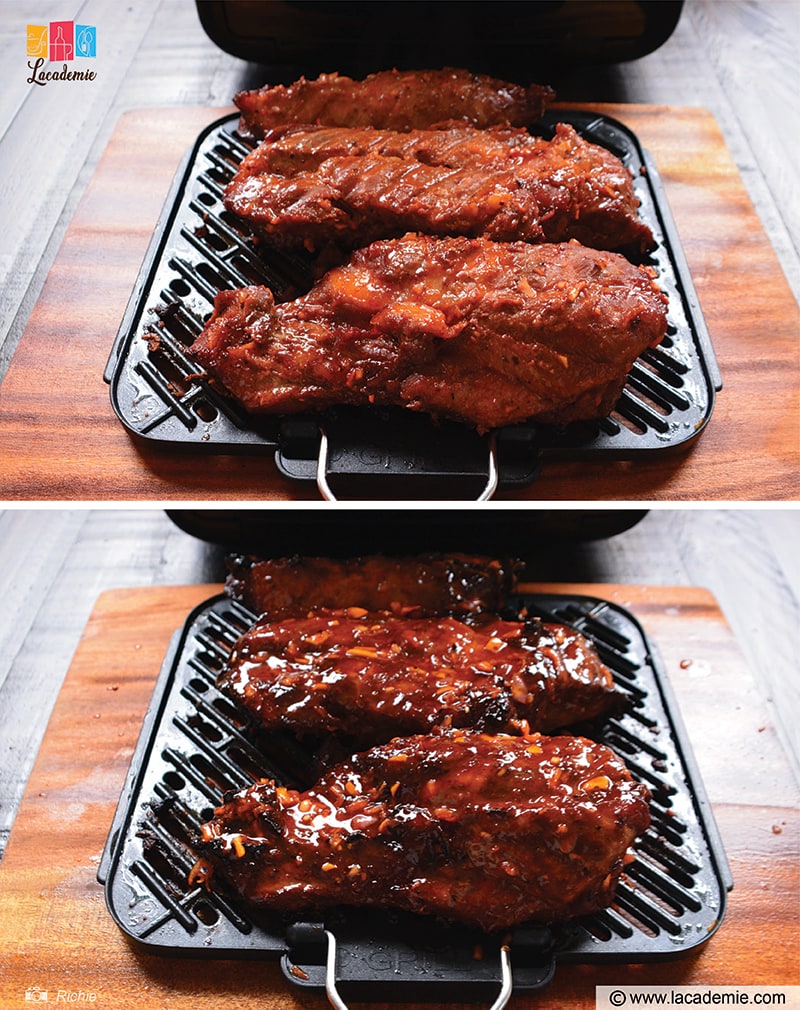 Step 4: Time To Serve!
Take the perfectly cooked char siu pork out of the oven. Slice the pork strips into the preferred size. Arrange them on a dish. And that's it. Have a great meal!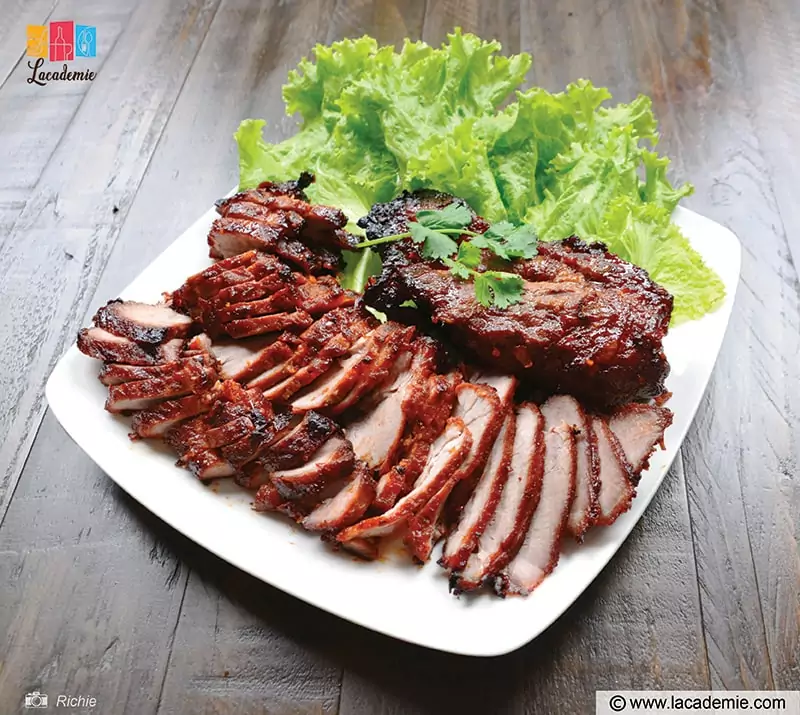 Storage
If you have any leftovers (though I doubt you do), transfer them into an airtight container and refrigerate them. The char siu will last for about 3 days this way. You can also put the pork in a freezer bag and freeze them for up to a month.
Bring Yummy Char Siu To Your Dinner Table
Whether you're cooking for a dinner party or a family gathering, you can't go wrong with char siu. Given how delicious and simple to make this dish recipe is, you have every reason to try it today!
Do you like how the dish turns out? Leave a comment to let me know what you think about the recipe. I'd also appreciate it if you could share this article with fellow home cooks. Thank you for reading, and see you next time!
Nutrition Facts
4 servings per container
---
Amount Per ServingCalories445
% Daily Value *
Total Fat 21.8g

33

%
Cholesterol 98mg

33

%
Sodium 2629mg

110

%
Potassium 722mg

21

%
Total Carbohydrate 21.4g

8

%

Dietary Fiber 1.7g

4

%
Sugars 13.3g

Protein 40.6g

80

%
---
* The % Daily Value tells you how much a nutrient in a serving of food contributes to a daily diet. 2,000 calories a day is used for general nutrition advice.