How many Thai breakfast recipes have you tried? If you're struggling to name a few delicious Thai dishes, then allow me to broaden your horizon with this article. You will soon learn that there are so many choices for your breakfast.
All you have to do is keep on reading the article and prepare yourself with some notes to save your favorite recipes. Without further ado, let's jump into some of the most exciting dishes that you should make for your family breakfast.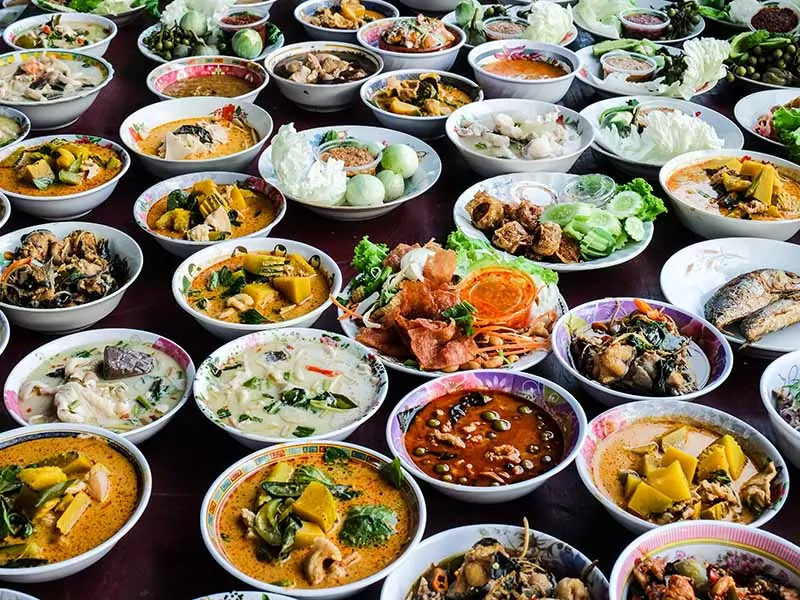 Are You Ready For Thai Breakfast Dishes?
You will never have to struggle to come up with the right dish to start your morning. Instead, you are now ready to learn more interesting Thai cooking techniques to diversify your meals for your entire family.
Total time: 1 hour.
Let's start with a classic rice meal in Thailand. Jok Moo is essentially porridge with minced meat. Many people think the word "Moo" refers to beef, but in Thai, it's minced pork instead. The dish often appears in many Thai food stores as a comforting food as well.
Jok Moo recipes usually have partially cooked or raw eggs that help build up a creamy flavor. For the rice, people love cooking rice with chicken stock to have the chicken flavor infused into the dish. The result is super soft rice grains that instantly melt in your mouth.
I like rolling minced pork into little balls to cook along with the porridge. As for the egg, just to be safe, you should cook the egg until the white is fully done. Since there are not a lot of seasonings in Jok Moo, the flavor mainly comes from the chicken stock and pork.
Total time: 25 minutes.
Khao Tom is quite similar to Jok Moo; however, it's the ingredients that separate these two dishes. Most often, you can even use left-over rice to make a delicious soup for your morning.
Khao Tom stands out from other soup recipes from Thai cuisine because of the flavorful seasonings. However, the color of Khao Tom is not affected by the condiments or ingredients. Instead, the rice gives Khao Tom a natural white color.
For Khao Tom, you should use ground chicken because it is a versatile ingredient. Like Jok Moo, people also roll ground chicken into little balls to cook in the same pot with the rice.
Choosing the right type of rice for Khao Tom is important. I suggest using Jasmine rice to accompany chicken stock for the natural sweet flavor and decent aroma. Remember, you can always adjust the water content to get the desired consistency on your Khao Tom.
To add some more flavor to Khao Tom, you should use soy sauce, palm sugar, and mushroom seasonings. When serving, I like to sprinkle some herbs over Khao Tom for a refreshing taste.
Start your morning with a nice bowl of Khao Tom right at home.
Total time: 2 – 5 hours (with 2 hours of resting time).
Who's up for some doughnuts to start the day? I do, with my favorite meal being Pa Thong Ko. Despite having a very native name, the dish originates from Chinese cuisine. However, Pa Thong Ko is super easy to make with only a couple of ingredients required.
Traditionally, the batter of Pa Thong Ko consists of all-purpose flour, baking powder, and active yeast. In Thailand, people usually deep fry small portions of the dough. Normally, you will get golden brown short dough sticks that are crunchy and slightly hollow on the inside.
Pa Thong Ko often appears at many vendors or food stalls in Thailand as a grab-and-go dish. The most common dip to go with this fried dough stick is sweetened condensed milk or hot fresh soy milk.
Total time: 5 minutes.
Kai Jeow is one of the most popular Thai street foods that appear in every corner of the country. The recipe of Kai Jeow has to be one of the easiest to recreate from your kitchen. It won't take long before you get the hang of the Kai Jeow for your breakfast.
You only need to beat the egg well with some seasonings like fish sauce and green onions. To perfectly fry the egg, I suggest pouring a generous but not too much oil into the pan. It's best if the oil just barely covers the surface of your omelet.
It usually takes 2 minutes to fully cook Kai Jeow, but the result you get is a beautiful golden brown omelet. Don't forget you need to crank up the heat so the oil is hot enough to create a fluffy surface of Kai Jeow. It's the egg texture that makes it perfect for pairing with rice.
Total time: 5 hours 20 minutes (with 4 hours of marinating).
Nothing beats the exciting sensation of having some delicious meat skewers to start your day. In Thailand, people also love having Moo Ping as a pork skewer to begin their day. These skewers are tossed with various condiments to achieve a super deep taste after grilling.
Preferably, locals thinly slice pork butt so that the condiments can easily coat every piece of meat. When you're skewering the meat, make sure to tightly pack the pork pieces together. That way, you will get a whole meat skewer after grilling instead of individual meat slices.
As for the marinating sauce, my best blend begins with a mixture of oyster sauce, soy sauce, and fish sauce. In addition, you need to add some MSG powder (a type of food additive) for that umami flavor to your Moo Ping.
It's best to leave your meat marinated overnight, but if you have no time, then 4 hours should do the job. Commonly, Moo Ping comes in a beautiful orange color with a slightly charred flavor.
Total time: 30 minutes.
It's hard to say no to a bit of the zesty, savory, and creamy flavor of Khao Rad Kaeng for any meal of the day. The dish is an iconic Thai curry recipe that will surely wake you up from your slumber with its superb aroma of chicken and vegetables.
I know it's not easy to make Thai curry paste, so I will cut you some slacks by advising you to get that ingredient from Asian markets. Remember, the striking red color of Khao Rad Kaeng depends heavily on the curry paste.
In addition, people often add coconut milk to tone down the spicy flavor and give the curry a bit of a creamy texture. For protein, I strongly recommend using chicken since it's always easy to find.
If you want a thicker broth consistency, then corn starch is your best pick for the job. Seasoning is also important as you will need fish sauce, lime juice, and brown sugar to adjust the flavor to your liking.
Khao Rad Kaeng is perfect for giving you an early kick to start your day.
Total time: 40 minutes.
I know what you're about to say, a dumpling is not an authentic recipe for Thai cuisine. That's right, but since so many Asian countries adopt Chinese dumplings for their cuisine, I don't see any reason not to include dumplings here in this list.
However, local Thai also made some slight adjustments to the original recipe. Instead of having the dumplings with soy sauce, people prefer using a special peanut butter sauce. The dipping concoction includes creamy peanut butter, sesame oil, and rice vinegar for an acidic taste.
Of course, the key feature of any dumpling is the dough wrapper. Since I want your morning to be an enjoyable one, you should buy the dumpling dough from Asian stores. The filling of these Thai dumplings is a mixture of chicken breast, peanuts, and cabbage.
Most often, you want to flash fry the dumplings with a little bit of oil. The best sign to start serving the dish is when you get a crunchy texture on the dumpling wrappers. The dumplings are packed with sweet chicken flavor and perfect to dip with the flavorful peanut sauce.
Total time: 15 minutes.
Although Kanom Krok is more popular as a snack or dessert in Thailand, people also feature these sweet coconut pancakes for breakfast. A little bit on the history side, the dish has existed ever since the Ayutthaya period (1351 – 1767).
For Kanom Krok, Thai locals prioritize using rice flour and coconut milk for the dough base mixture. In addition, people like to sprinkle a little salt and green onion to adjust the flavor.
Commonly, Kanom Krok is cooked using a special pan that has numerous little molds of the pancakes. On average, locals can make dozens of Kanom Krok in just one short hour.
When the surface of Kanom Krok is slightly solidified, locals will then throw in some shredded coconut on top. If you serve the dish hot, Kanom Krok will have a crunchy crust with a soft inside that bursts with coconut flavor.
Total time: 2 hours 55 minutes (including 2 hours 15 minutes of resting the dough).
Traditionally, Roti is a type of flatbread that originates from Indian cuisine. However, the Thai also adopt this type of flatbread with some slight modifications to the recipes to fit their taste. In Thailand, Roti is a popular street food that pops up everywhere in the country.
The dough mixture of Roti consists of all-purpose flour with egg, sweetened condensed milk, and butter. Knead the dough well and let it rest for around 2 hours before you can move on to the next phase.
The dish is extremely addicting thanks to a crunchy dough layer. Locals tend to grill the flatbread with a banana filling over a griddle before serving. Typically, you can choose a variety of sweeteners to go with the Roti but I prefer sweetened condensed milk or simple sugar.
Remember, you should cut the Roti into bite-size pieces right after grilling so it's easier to work with. The banana gives the dish a natural sweetness and a little bit of sliminess after being grilled.
Total time: 12 hours 45 minutes (with 12 hours of marinating).
If you love Thai chicken dishes, then Gai Yang is a must-have for your menu. The dish is popular in both Laos and Thailand, where locals serve it as a street food delicacy. Most often, the flavor of Gai Yang is the most difficult thing to recreate.
However, I got your back with this recipe by using lemongrass and tasty fish sauce. Be sure you execute every step of marinating Gai Yang carefully because it will directly impact the flavor of the dish. The most optimal time to marinate the chicken is overnight or around 12 hours.
Your marinating concoction should take lemongrass as the central ingredient to combine with palm sugar, soy sauce, and turmeric powder. Don't forget to add fish sauce as well. After grilling, the chicken should have a nice golden brown color with juicy and flavorful meat.
To accompany Gai Yang, I recommend fixing yourself a savory sauce blend. My pick is a tamarind dipping sauce with some chili flakes, herbs, and fish sauce.
Learn how you can recreate the flavor of Gai Yang from your comfort kitchen.
Total time: 5 minutes.
I never say no to a caffeine kick in the morning, especially when it is Thai iced coffee. In Thailand, locals often have a drink with bread for a simple but refreshing Asian breakfast. Another time to serve the beverage is during the summer when people need to fight that tropical heat.
Better yet, Thai iced coffee is incredibly easy to make with only 4 ingredients needed. There's no special requirement for the type of coffee, but you should consider using ground coffee so it's easier to brew.
Milk plays an essential part in Thai iced coffee. My personal choice is a combination of sweetened condensed milk and whole milk to get that creamy flavor to your coffee. A unique feature of Thai iced coffee is the addition of vanilla extract. The drink is best served cold.
Total time: 20 minutes.
The concept of having fried bananas as a dish may sound weird to you guys, but it's a common dessert in many Asian countries. Testing out this recipe at morning mealtime is the perfect way to have your Asian tweak to your day.
To make Kluay Kaek, you need to get your hands on Namwah bananas for the closest flavor to the original recipe. Naturally, Namwa bananas have a sweet, rich, and vanilla flavor, making them a perfect choice to coat with a dough mixture before frying.
The batter mixture is a simple blend of baking powder with rice flour, sesame seeds, and shredded coconut. Commonly, you need around 5 minutes of deep frying so the dough can turn to a perfect golden brown color.
After frying the bananas, you should give them a couple of minutes of rest to shake off some oil. However, Kluay Kaek also tastes best when it's still warm and possesses a crispy outside.
Total time: 10 minutes
Get ready for an explosion of flavor with Thai mango salad. The nice thing about the recipe is that it takes under 15 minutes to come together. Mango is perfect for anyone who is on a diet as the fruit is low in calories and fat but packed with vitamins and antioxidants.
As you can guess, mango is the cornerstone of this recipe. The fruit delivers a silky texture with a sweet and sour flavor to the salad. In some cases, people even feature mango salad as a Thai starter to kick start their taste buds before the main course.
Aside from the mango, you need to accompany the fruit with some bell peppers, cilantro, and bean sprouts for an additional crunchy texture. A convenient thing is you can use either ripe or unripe mango to make the salad.
Every salad needs to accompany a flavorful dressing. For me, it's a mixture of sweet chili sauce with lime juice, fish sauce, and some grated ginger. Thai mango salad is super refreshing to start your day with a light yet flavorful meal.
Thai mango salad is light but always brings a lot of flavors to the table.
Total time: 12 hours 45 minutes (with 12 hours of soaking the sticky rice).
Khao Niao Mamuang is a special way that Thai people enjoy tropical fruits like mango with delicate sticky rice. Commonly, locals have Khao Niao Mamuang as a traditional Thai treat, but no one will stop you from having it for breakfast as well.
Rice is an essential ingredient in Khao Niao Mamuang. For that, I want you to use glutinous rice (sticky rice). This variety of rice has bigger grains and is much stickier than any other kind of rice. Before cooking, sticky rice needs around 12 hours of soaking in water.
Traditionally, locals cook the sticky rice with coconut milk and pandan leaves to infuse the grassy flavor with some hints of almond in the dish. In addition, you can adjust the sticky rice flavor by adding some sugar or salt.
Besides the slices of mango that often go on top of the rice, locals also drizzle a coconut sauce mixture. The concoction has a thick consistency thanks to the use of tapioca starch mixed with coconut milk. Khao Niao Mamuang is characterized by a creamy texture and sweet flavor.
Total time: 2 hours (1 hour of chilling).
Are you a huge fan of creamy custard? Lucky for you because I have Sangkaya, a Thai custard dessert that is tasty and healthy at the same time. Sangkaya will instantly surprise you because the main ingredient of the dish is pumpkin.
It sounds strange, right? But the Kabocha pumpkin variety helps create the main creaminess flavor of Sangkaya. To accompany the pumpkin, people use eggs, coconut cream, and cinnamon. Most often, the custard mixture will need some time to set before it will be steamed.
I forgot to mention that instead of pouring the custard mixture into regular molds, people use a carved-out squash. The way that Sangkaya is presented inside of a squash will surely impress anyone.
The result you get is a creamy and velvety custard that bursts with the pumpkin flavor. Sangkaya tastes amazing despite the simple ingredients that you use.
Total time: 45 minutes.
I don't see how this compilation is complete without featuring Pad Thai, an iconic representative of the country's cuisine. The recipe of Pad Thai is essentially stir-fried noodles with a mixed variety of vegetables and meat.
Usually, locals prefer using rice noodles to other varieties of Thai noodles to make Pad Thai. To make it simple for you, I suggest using the chicken breast and whisked eggs as the main protein source. The vegetable mixture needs to consist of bean sprouts and shredded carrots.
Now comes the fun part, you want to crank up the heat on the pan and quickly stir fry all the ingredients together. Remember, it's the high heat that gives Pad Thai a signature smoky flavor. Don't forget to also mix a sauce blend of tamarind with fish sauce, soy sauce, and lime juice.
Your Pad Thai should be full of the savory flavor from the sauce and a hint of smoky flavor. For garnish, my suggestion is to sprinkle a generous amount of crushed peanuts.
Total time: 20 minutes.
I know iced tea may not sound like a meal, but the Thai variation is enough to provide you with the energy for the morning. Better yet, the beverage is creamy, refreshing, and possesses a mesmerizing orange color.
It's simpler to get the original flavor of Thai tea from Asian markets to make Thai iced tea. The milk concoction is a combination of sweetened condensed milk, sugar, and water.
As a reminder: you need to keep the tea and milk separated. You will only mix the tea with the milk concoction when you're ready to serve the beverage.
For storing, find a clean container, and your Thai iced tea should last up to a week in the refrigerator. The drink is a perfect light breakfast for anyone.
Discover the secret to making a perfect cup of Thai iced tea.
Total time: 1 hour 15 minutes (with 30 minutes of marinating the chicken).
I know spring roll is a traditional dish of Chinese cuisine however, I have made my tweak to the recipe by using a tasty Thai chicken recipe for the filling. These spring rolls are packed with all the aromatic goodness in one bite and accompanied by creamy peanut sauce.
If you're unfamiliar with spring rolls, people often make them by utilizing thin rice paper to wrap a variety of fillings. In addition, many locals love dipping these spring rolls in their personalized sauce concoction.
Let's process the chicken first. You will need to use a combination of peanut sauce, ginger, and soy sauce to marinate the meat. You should allow the meat to soak up the sauce for around 30 minutes before cooking.
To further enhance the spring rolls flavor, I tend to add some peas to the filling. A small side note for the spring rolls: Don't get greedy with the filling or else the rice paper may burst.
Contrary to many foods, people often enjoy the spring rolls at room temperature without having to reheat them.
Total time: 1 hour 45 minutes.
If you love fish dishes, the Aeb Pla Nin from Northern Thai cuisine is for you. It's hard to resist a piece of fish filet covered in various spices and herbs. Interestingly, Thai locals tend to wrap the fish in banana leaves to prevent any loss of moisture during the grilling process.
Almost any type of fish can adapt to Aeb Pla Nin, but my favorite choices are either catfish or tilapia because they have firm and juicy meat. If you're not a fan of fish, then replacing it with pork or chicken is not a bad idea.
To marinate the fish, people use a unique chili paste concoction made by combining lemongrass with dried chili, lime leaves, and turmeric. In addition, individual fish packets will receive extra lime leaves and all sorts of basil to infuse extra flavor during the grilling process.
It usually takes around 15 minutes to fully cook Aeb Pla Nin, but you should constantly check to avoid drying the fish. Normally, the filet will have a light yellow color from the turmeric with a nice aroma from the wide variety of herbs.
Total time: 23 minutes.
When people think about egg salad, most will picture soft-boiled eggs accompanied by various vegetables. However, the Yam Khai Dao offers something completely different by using fried eggs to get a crispy texture instead.
The salad is a combination of Chinese celery with tomatoes, chili, and coriander. For the egg, I want you to fry it like a regular omelet until it gets slightly crunchy. Instead of scrambling the egg, you should try to retain the omelet's shape.
The dressing of Yam Khai Dao is a simple blend of palm sugar, fish sauce, and lime juice. If you want to spice up the heat, then I suggest using bird's eye chilies (an Asian small and spicy chili).
Total time: 1 hour 5 minutes.
Strap yourself in to taste one of the most addicting Thai dishes! Khanom Pang Na Moo, also known as Thai pork toast, is made by using very basic ingredients. Surprisingly, Khanom Pang Na Moo is among the first dishes that many children in Thailand learn to make.
The recipe makes use of sandwiches as the base to spread the minced pork filling over it. Before you jump in and fry the sandwiches, make sure to toast them first to prevent excessive oil from the frying process.
Furthermore, locals love having Khanom Pang Na Moo with Ajaad, a common Thai side dish made from cucumber. Commonly, people will combine cucumber slices with chili, rice vinegar, and sugar to make the side dish.
Khanom Pang Na Moo is extremely crunchy with flavorful pork fillings and a cucumber side dish. If you want to start your day with Khanom Pang Na Moo, then make sure to grab a lot because their size is relatively small. But I'm sure you will never get tired of its addicting flavor.
Quick and delicious, what more can you ask from Khanom Pang Na Moo?
Total time: 30 minutes.
Don't let the name Drunken Noodles fool you as this amazing Pad Kee Mao has nothing to do with alcohol. Instead, Thai locals stir-fry broad rice noodles with a variety of meat and vegetables for a hearty meal.
Commonly, people like mixing the oyster sauce with soy sauce, fish sauce, and chili to stir fry with the rice noodle. I prefer having ribeye steak for my drunken noodle recipe but you can switch it up for other types of protein.
Don't forget to sprinkle some Thai basil for that authentic taste of Pad Kee Mao. In terms of flavor, Thai drunken noodles are savory and drenched with flavor sauce blend. As a side note: I want you to toss the noodles well until they get a brown color and a slight smokiness.
Total time: 1 minute.
Here's another beverage that you should add to your morning menu. Nom Yen, commonly known as pink milk, is a frosty drink to start a hot day. In terms of ingredients, you can easily find them available around you.
The essential ingredient of a cold glass of Nom Yen is the Sala syrup, made by using a copious amount of sugar with Salak (a type of fruit from a palm tree) flavor and water. The sweet Salak syrup also helps create a beautiful pink color to the drink.
In addition, people tend to drizzle some sweetened condensed milk into the regular milk blend to get that extra creamy flavor. Locals describe the flavor of Nom Yen as a frosty strawberry milkshake.
Thai Breakfast Will Never Fail Your Morning
Thai cuisine offers different modifications and flavors that you can adapt to your taste. So what are you waiting for? Now it's your time to hop into your kitchen and test out one of these flawless recipes for your next morning meal.
I hope you find this article enjoyable and informative at the same time. If you want to contribute your idea, then I will love to hear more from the comment section. Don't forget that sharing the article is one way to show your support for my work. Thank you!
Nutrition Facts
4 servings per container
---
Amount Per ServingCalories351
% Daily Value *
Total Fat 16.5g

25

%
Cholesterol 246mg

82

%
Sodium 2255mg

94

%
Potassium 593mg

17

%
Total Carbohydrate 12.2g

4

%

Dietary Fiber 0.3g

0

%
Sugars 1.9g

Protein 37.6g

74

%
---
Calcium

68

%
Iron

2

%
Vitamin D

15

%
* The % Daily Value tells you how much a nutrient in a serving of food contributes to a daily diet. 2,000 calories a day is used for general nutrition advice.