Suitable Indonesian desserts can make your meal much tastier. They are essential to maximizing all dishes' flavor and putting a sweet end to the party. However, among thousands of Indonesian desserts, it can take time to pick one.
That's why I've written this article. With detailed descriptions about each sweet, you can easily decide which one to choose for your snack time, parties, or special occasions. So, don't hesitate anymore; it's time to discover the beautiful world of Indian sweets.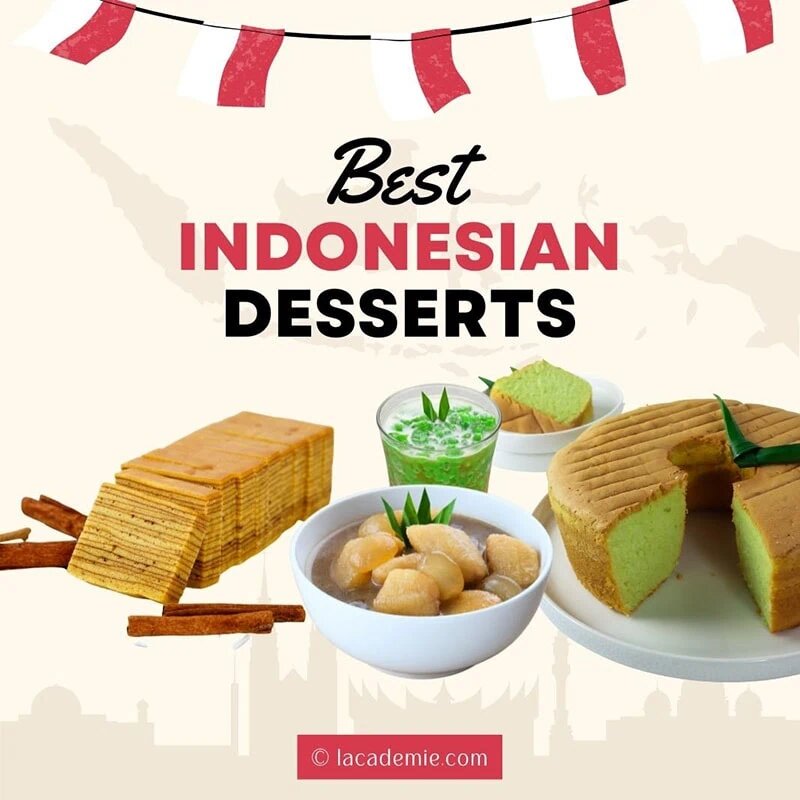 30 Best Indonesian Desserts
Regarding the famous Indonesian cuisine, it'll be a mistake not to mention the incredibly luscious desserts there. Here is a list of the most delightful Indonesian sweets.
17 Indonesian Sweets With Coconut
Ongol Ongol (Indonesian Mochi)
Nagasari (Indonesian Steamed Banana Rice Cake)
Kolak
Kue Lapis/Kuih Lapis (Indonesian Steamed Layer Cake)
Wajik/Wajid (Palm Sugar Glutinous Rice Cake)
Bubur Sumsum (Coconut Rice Pudding)
Kue Lumpur (Mud Cake)
Serabi/Surabi (Indonesian Pancakes)
Dodol (Indonesian Toffee)
Kue Ape/Apem (Indonesian Pandan Pancakes)
Klepon/Kelepon (Glutinous Rice Balls With Palm Sugar Filling)
Kue Bugis (Glutinous Rice Balls With Coconut Filling)
Bingka Ubi Jalar (Sweet Potato Cake)
Dadar Gulung (Rolled Pancakes With Coconut)
Wingko/Wingko Babat (Sticky Coconut Cake)
Es Teler (Indonesian Shaved Ice With Fruits)
Bika Ambon (Golden Cake)
13 Indonesian Sweets With Other Ingredients
Bubur Ketan Hitam (Indonesia Black Glutinous Rice Porridge)
Getuk (Cassava Paste)
Nastar (Pineapple Cookies)
Pisang Goreng (Fried Banana)
Es Cendol (Iced Pandan Jelly Dessert)
Colenak/Dicocol Enak (Fermented Cassava With Sweet Coconut Sauce)
Martabak/Murtabak/Terang Bulan (Indonesian Thick Pancakes)
Kue Cucur (Bowsprit Cake)
Pai Susu/Pie Susu Bali (Balinese Milk Custard Tart)
Lapis Legit/Spekkoek/Spekuk (Thousand Layers Cake)
Kue Putu (Steamed Rice Cake In Bamboo)
Bakpia (Mung Bean Pastry)
Es Campur (Mixed Shaved Ice Dessert)
A Close Look At Indonesian Desserts
Since Indonesia is influenced by many countries: India, China, Europe, etc., its desserts represent a unique blend of flavors and techniques that have evolved while keeping their special touch.
History
Indonesian dessert starts with the indigenous Indonesian making sweets from locally available ingredients like rice, coconut, palm sugar, and fruits. Then, Indian traders introduced new ingredients and techniques, such as spices and fermentation.
European colonial powers, notably the Dutch, also left their mark on this field. They introduced butter, milk, and other dairy products, creating new sweet creations, like the Lapis Legit.
Today, Indonesian desserts still showcase this country's unique history. They continue evolving with new ingredients and techniques, ensuring history remains vibrant and ever-changing.
Common Ingredients
Indonesian sweet treats are known for their diverse ingredients. And below here are some of the most common ones:
Rice: As a staple ingredient in Indonesian cuisine, rice is a regular face in the sweet field. Glutinous rice is a popular choice for many dishes.
Coconut: This ingredient helps add a rich, tropical flavor. And the grated coconut is a topping, while coconut milk and cream create a velvety texture.
Palm sugar: This sugar is made from the sap of various palm trees. Since it has a caramel-like flavor, it's a common natural sweetener in Indonesian sweets.
Fruits: Indonesia has countless tropical fruits. Some regular choices include jackfruit, banana, mango, and avocado.
Serving And Presentation
Since Indonesia is a tropical country, most sweets are served cold or at room temperature. Some treats even include shaved ice for a more refreshing feeling.
Moreover, traditional treats often use natural materials like banana leaves or coconut shells for an exotic touch of authenticity. The locals also enhance the desserts' flavor and visuals with colorful syrups, edible flowers, shaved coconut, etc.
Culture Importance
Indonesian sweets are often enjoyed during festivals, religious events, and family gatherings to connect people and celebrate shared traditions. Some are even staples during the Islamic month of Ramadan.
Other crucial events requiring desserts in Indonesia are family gatherings and celebrations, such as weddings and birthdays. The locals think making these treats together will strengthen connections and create lasting memories among family members.
And some desserts symbolize friendship, love, and appreciation, hence a thoughtful and memorable gift for friends and loved ones.
30 Suitable Indonesian Desserts
Jump into the detailed information to know what Indonesian sweets look and taste like, along with what to serve with them.
17 Indonesian Sweets With Coconut
As mentioned above, thanks to its comforting flavor, coconut is indispensable in many Indonesian desserts. Let's find out what I have here for you!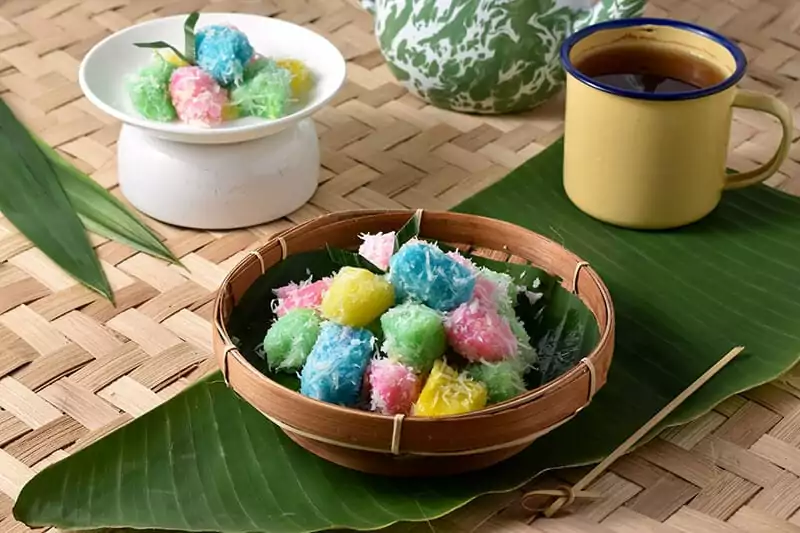 Ongol Ongol is a sweet West Java treat with a soft, bouncy, and chewy texture. Often compared to mochi, it's made with palm sugar, grated coconut, and starch (mung bean flour, glutinous rice flour, or sago flour).
Depending on the starch used, it goes by different names: Ongol Ongol Hunkwe (mung bean flour), Singkong (grated cassava root), or Kanji (tapioca starch). But no matter which type, this signature Jakarta snack is usually covered with desiccated coconut.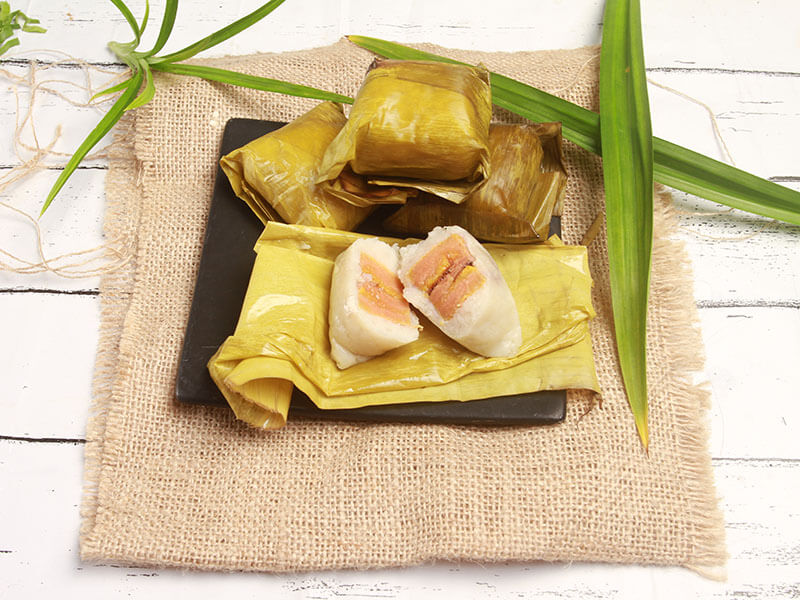 If you're a fan of steamed cakes, you must try this Javanese snack called Nagasari! It contains a batter made of rice flour and coconut milk, besides banana stuffing. Then, people wrap it in banana leaves before steaming it.
The result is a chewy cake that melts in your mouth. Nagasari is usually white, but it takes on a beautiful green hue if made with pandan leaves.
The following video will guide you on making banana and coconut custard with some simple steps: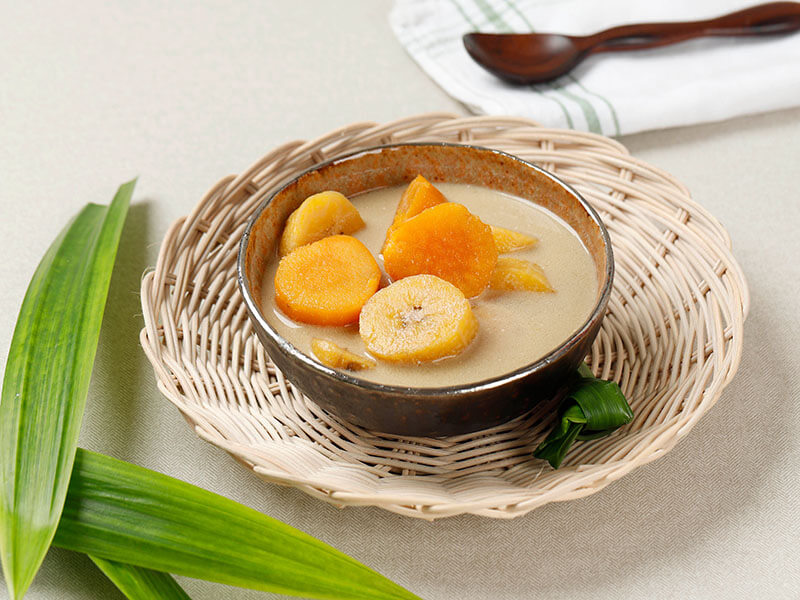 Kolak is an enjoyable Indonesian dessert soup combining various fruits, vegetables, and condiments in a base of coconut milk and pandan leaves. Palm sugar or coconut sugar is added for extra flavor.
You can find different Kolak versions with bananas, jackfruit, cassava, Cendol (rice flour jelly), or sweet potatoes. The locals enjoy it throughout the year, especially as a breakfast staple during the Ramadan fasting.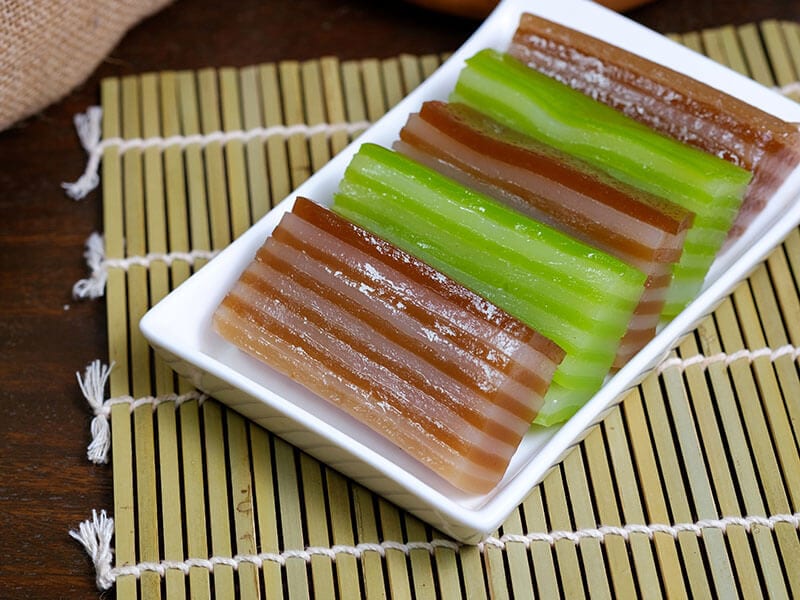 Kue Lapis gets its name from its beautiful, colorful design. Made with coconut milk, rice flour, tapioca flour, and sugar, it's wiggly, sticky, and chewy. The traditional version only has dark and light green layers, but modern ones can even look like a rainbow, thanks to food coloring paste.
Kue Lapis is steamed and sold in slices, allowing you to peel and savor each layer. Besides Indonesia, it's also popular in Malaysia, Suriname, Brunei, and Singapore!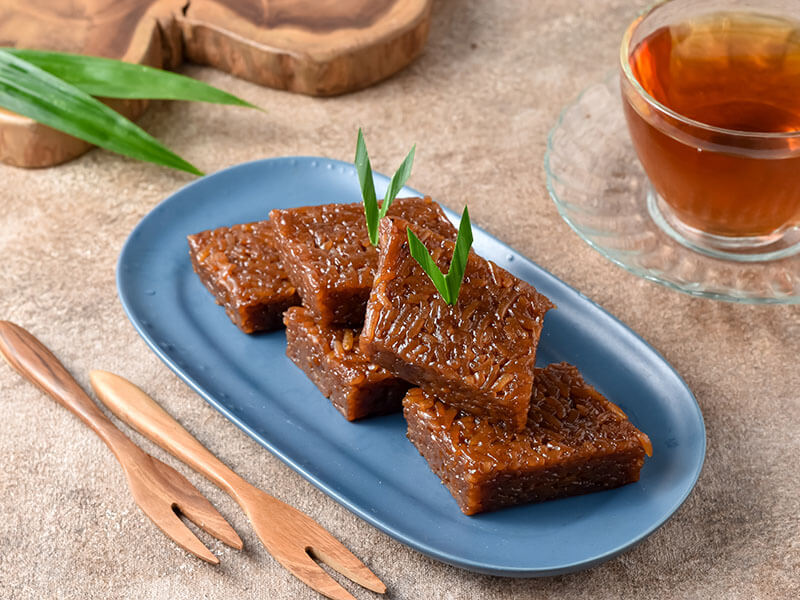 Wajik is a sweet and sticky rice cake that gets its name from its unique diamond-like shape. This Indonesian snack, also known as Pulut Manis, contains glutinous rice flour, coconut milk, and palm sugar.
Wrapped in banana leaves or dried corn husks, it's primarily found in Central Java's local markets. Wajik isn't just an afternoon snack; it's also a symbol of a lasting marriage, making it a national choice at Indonesian weddings.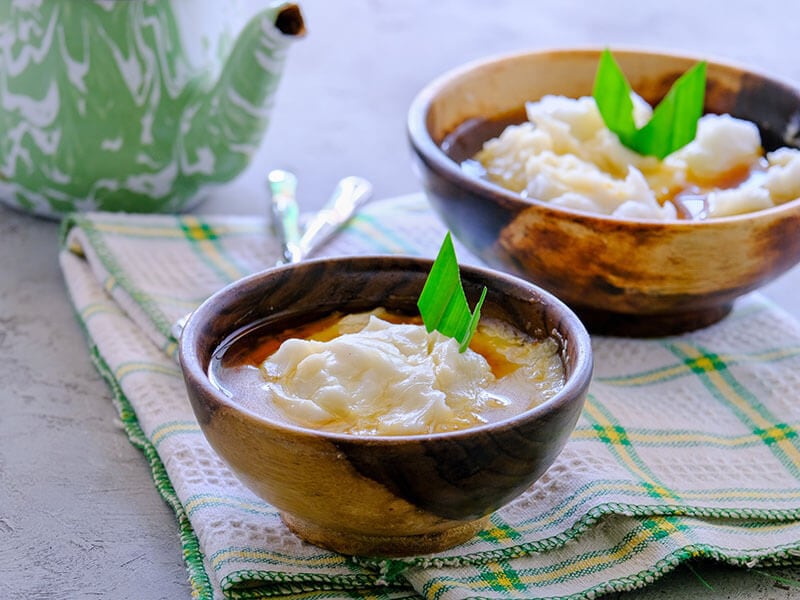 Bubur Sumsum is a pleasing Indonesian porridge-like dessert resembling a coconut pudding or yogurt. Made from coconut milk, glutinous rice flour, and pandan, it has a smooth and creamy texture. And this treat also offers a faint savory note alongside sweetness.
The locals usually serve Bubur Sumsum warm with a palm sugar sauce. It also accompanies various toppings, such as biji salak (sweet potato balls), black glutinous rice porridge, or tapioca pearls.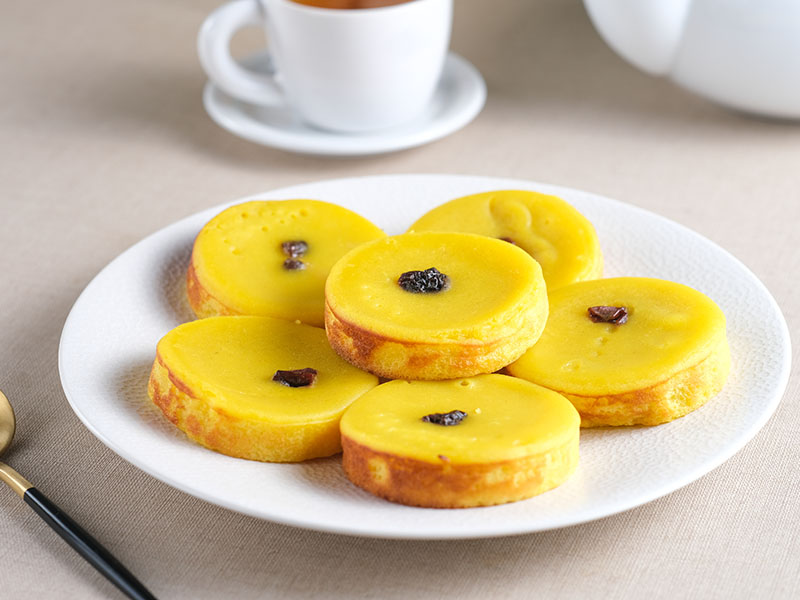 Kue Lumpur is a gooey, sweet Indonesian snack with a slightly savory aftertaste. Its batter mainly contains coconut milk and flour. Then, the locals add potatoes, eggs, and vanilla to the batter and top it with raisins.
Kue Lumpur is more filling than many other snacks, thanks to the potatoes. It's available across Indonesia, particularly at street vendors and restaurants in Java. Originating from Bandung in West Java, Kue Lumpur is a staple at Javanese and Sundanese traditional ceremonies.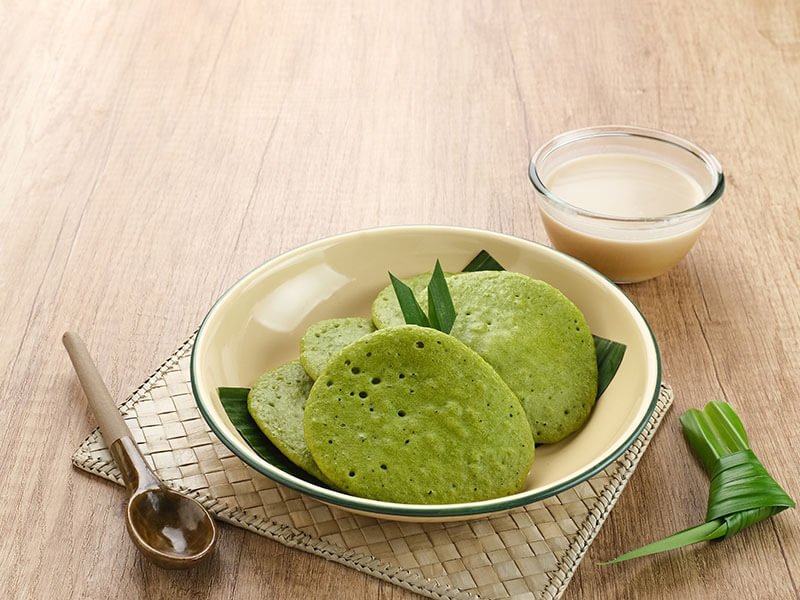 Serabi is a yummy Javanese-Balinese snack with a similar look to pancakes. It's a batter of rice flour and coconut milk roasted in a bowl-shaped wok over a charcoal flame.
This cooking technique results in a dry and crispy outer bottom with a bright and juicy inside. Traditionally eaten with kinca (coconut sugar), Serabi has evolved to include modern toppings like jackfruit, durian, cream cheese, and chocolate sprinkles.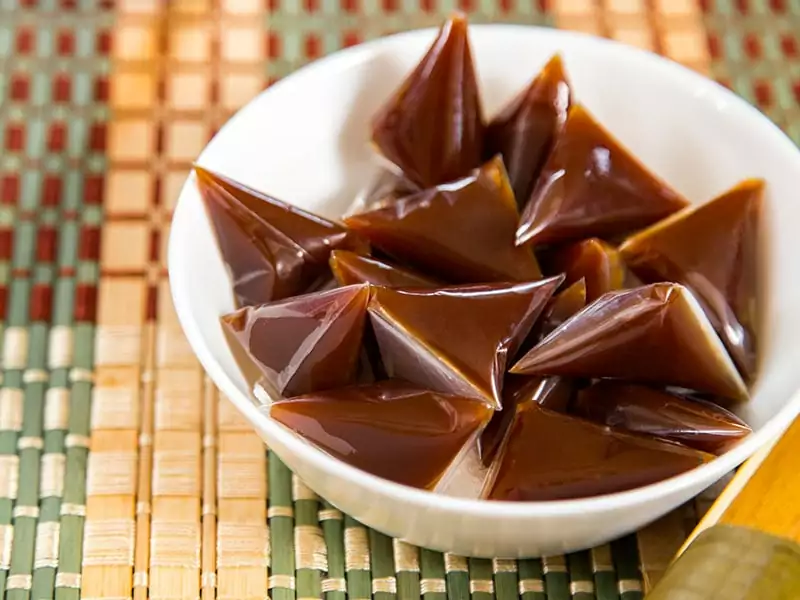 Dodol is a rice flour cake reminiscent of caramel candy with a toffee-like taste. Its modern variations may include native Indonesian fruits like durian or chocolate, making it a well-liked souvenir choice.
The sauce, made from coconut milk, salt, and palm sugar, gives Dodol a slightly nutty flavor. Its chewy, sticky, and filling nature makes it a satisfying treat. Dolol has other names in various regions, such as Jenang in East and Central Java.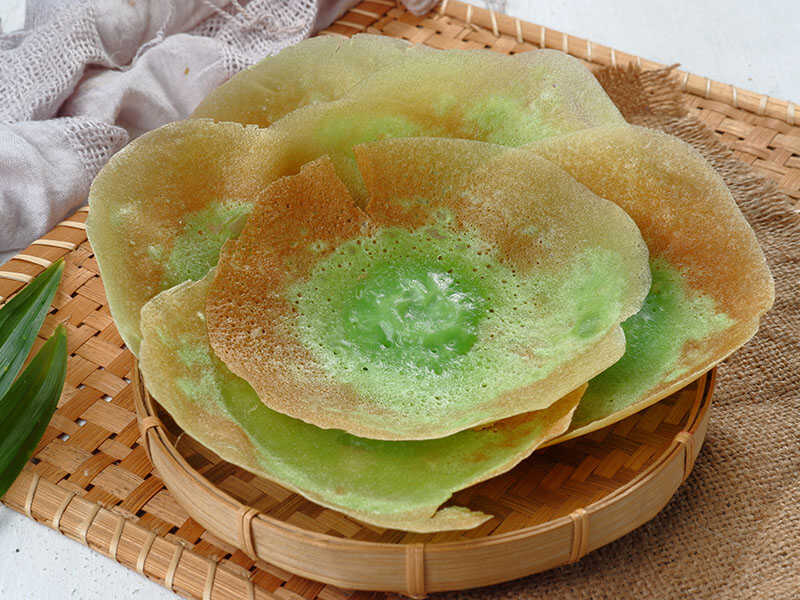 Kue Ape is a thin pancake with a saucer-like shape that has gained significant popularity in Jakarta. Besides wheat flour, rice flour, and coconut milk, it also includes sugar and baking powder.
Its bright green color at the soft center comes from suji leaves, contrasting with the brown, crispy outer edges. With a subtle coconut taste, Kue Ape is commonly enjoyed during celebrations and festivities.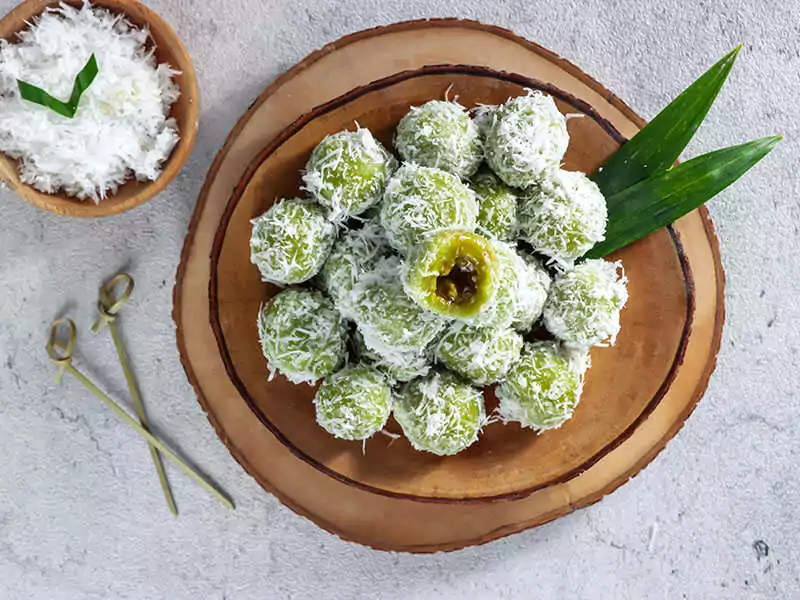 Klepon is earthy, sweet rice balls with dough made of glutinous rice flour and pandan leaves. Inside hides a molten, gooey center melting from solid palm sugar during boiling.
Once they're cooked, the locals roll them in grated coconut for an extra layer of flavor. Akin to Japanese mochi, Klepon is available at traditional Indonesian markets and street vendors. The latter only sells it early, from 5 AM to 9 AM.
The video will help you with simple periods to get Indonesian rice cakes finished!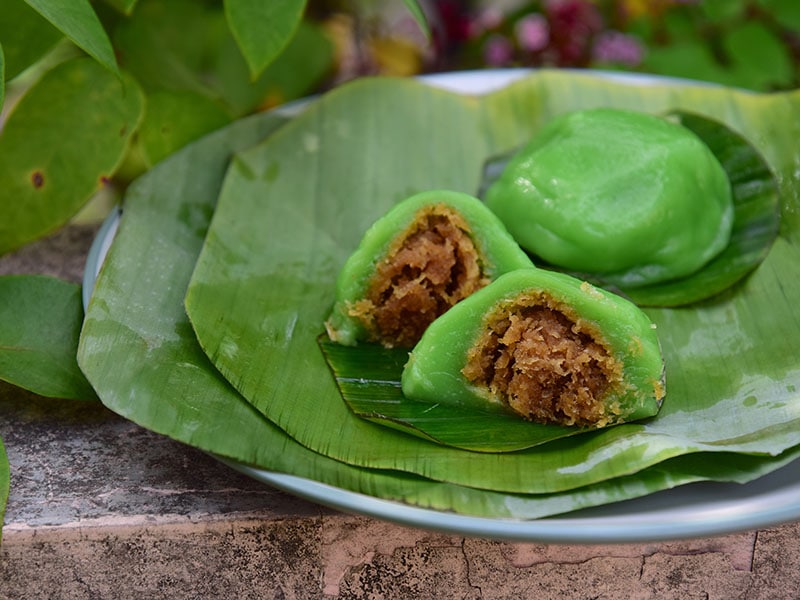 Kue Bugis is a bite-sized delicacy reminiscent of Klepon. Yet, unlike Klepon, it lacks a molten palm sugar core. It is one of the oldest treats in Java.
The dough uses sticky rice flour, coconut milk, sugar, and pandan extract, while the filling consists of coconut sugar or sweet-grated coconut. Wrapped in banana leaves and steamed, Kue Bugis is widely available at local markets and events.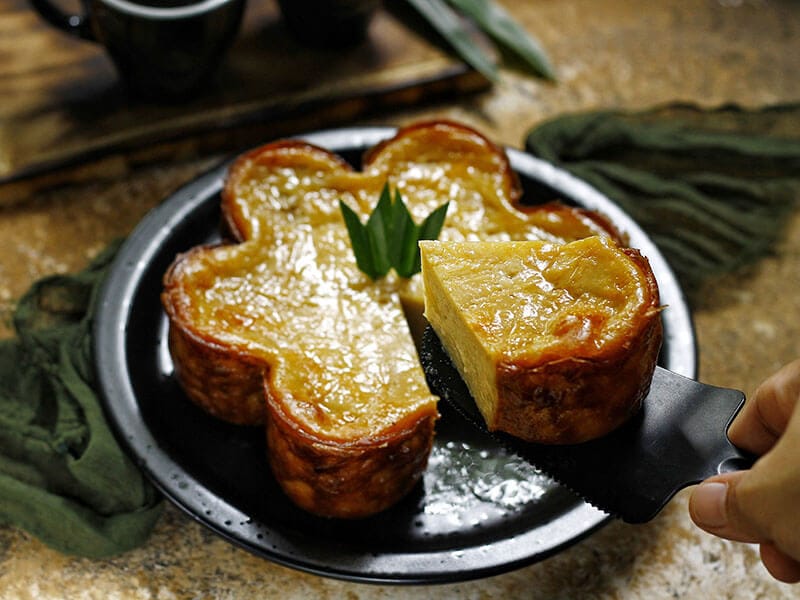 Bingka Ubi Jalar will steal your heart with its light crust and creamy filling. This Indonesian sweet dish's main ingredients include sweet potato, coconut milk, cinnamon, and other typical cake ingredients.
When done, this cake looks quite similar to a crustless pumpkin pie, especially with its bright orange hue and custard-like, velvety texture.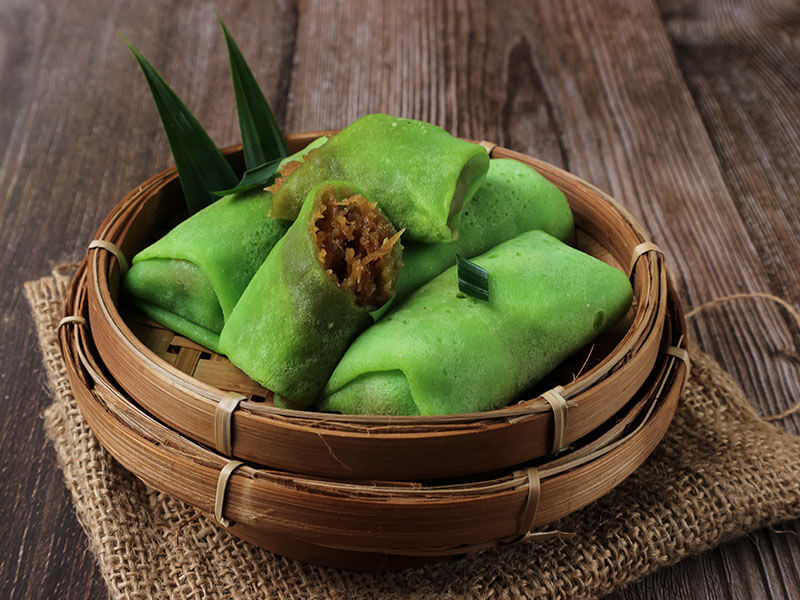 Dadar Gulung is a traditional Indonesian sweet. It features thin, bright green rice flour pancakes rolled into a tube shape. Their color and fragrance come from the use of pandan leaves.
Inside, you'll find a delicious grated coconut and palm sugar filling. Give Dadar Gulung a try, and you'll love its flavor!
Let's finish coconut-filled pancakes with these easily followed guidelines: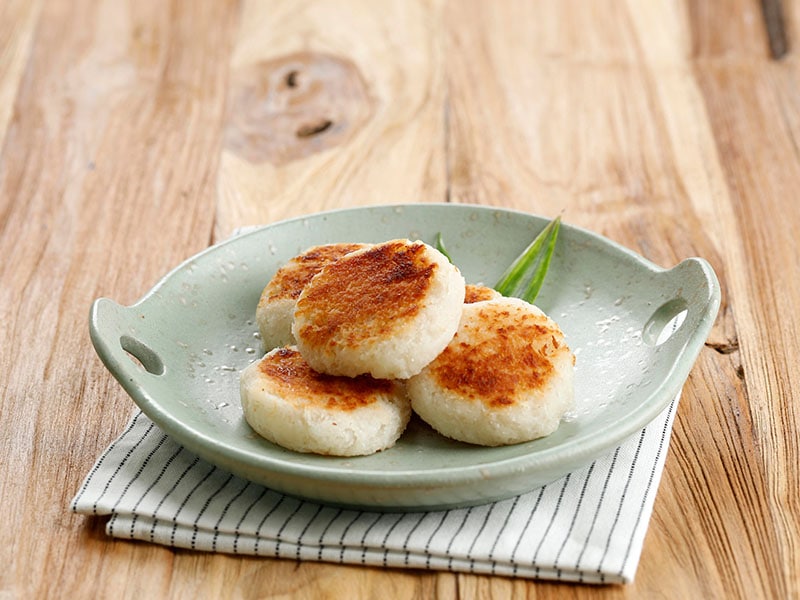 Wingko is a traditional coconut cake from Lamongan, East Java. It is often made with rice flour, grated coconut, and coconut milk, hence a subtly sweet flavor.
You can easily find Wingko sold by street vendors and peddlers at public transport stations or trains. These round cakes can vary in size, but one thing's for sure: they're absolutely mouth-watering!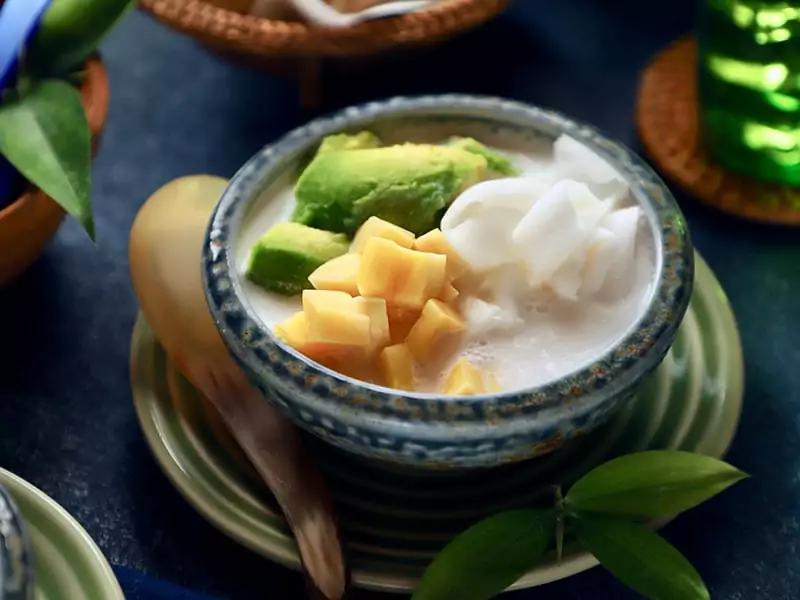 Es Teler is a refreshing Indonesian drink, perfect for cooling down on a hot day. It's basically a combination of different fruits (jackfruit, avocado, coconut, etc.) with coconut milk, condensed milk, syrup, and shaved ice.
There are even variations with jelly, mango, rambutan, or other seasonal fruits. Since it's thicker than most beverages, Es Teler is usually served in a bowl with a spoon. And the ingredients are sliced or diced for easier enjoyment.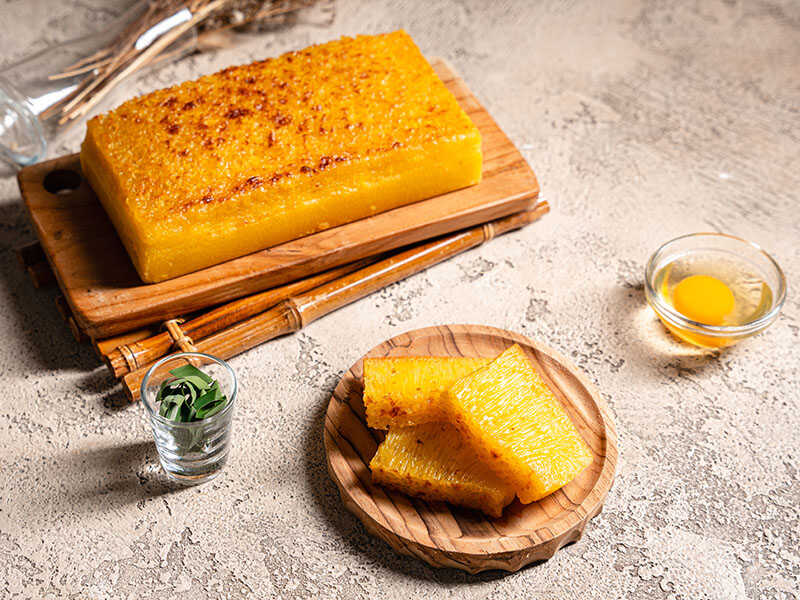 Bika Ambon is a spongy, moist cake made from tapioca flour, eggs, sugar, yeast, and coconut milk. This specialty from Medan, North Sumatra, is named after an island and its largest city, Ambon.
The traditional versions of pandan and banana are most popular, but modern twists like durian, cheese, and chocolate have emerged too. Due to similarities to Malay sponge cake, Bika Ambon makes a delightful souvenir gift for your loved ones.
13 Indonesian Sweets With Other Ingredients
Besides coconut, Indonesia still has many other sweets made with other ingredients, like cassava, mung beans, tropical fruits, etc. They are as delicious as the above section.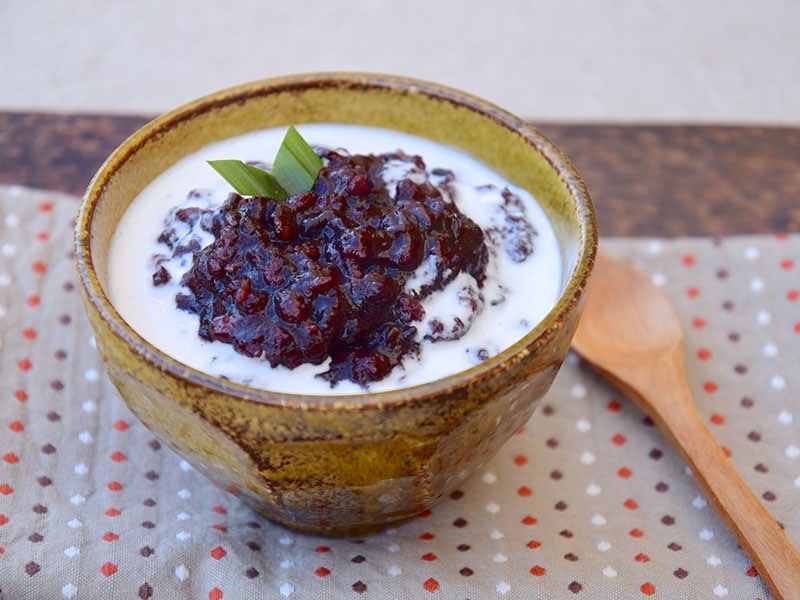 Indonesian black glutinous rice porridge is a versatile and delicious dish flavored with coconut milk and palm or cane sugar. Boiled until soft, it's reminiscent of the black rice tong sui (a Chinese sweet soup).
Enjoy it as a supper, during tea time, or even for breakfast; it's a national choice any time of day! Besides mung beans and bread, you can add toppings like baked or fried banana and a sprinkle of cinnamon powder for extra flavor.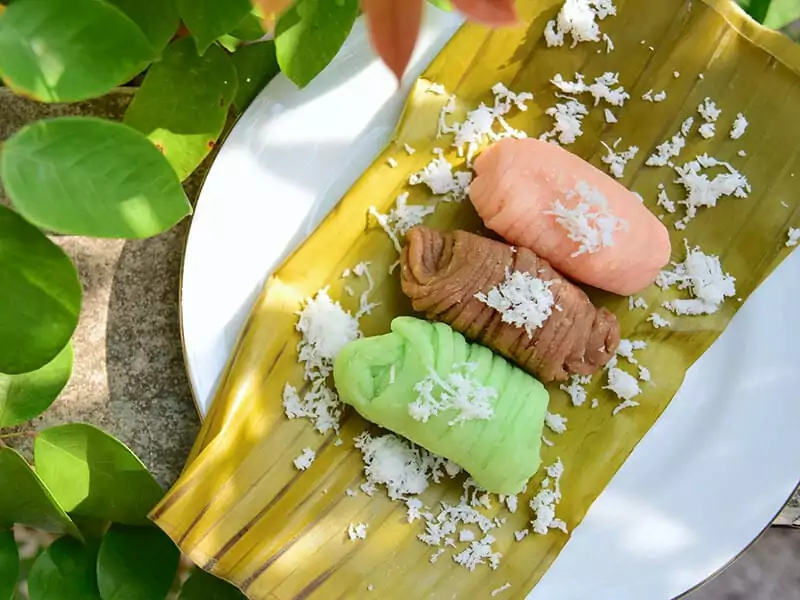 Getuk starts by boiling and mashing cassava into a paste and sweetening it with sugar. This starchy, delicate treat often has a rich brown shade with a sprinkle of grated coconut when served.
Nowadays, Getuk has various types, using taro, bananas, or sweet potatoes for different colors and tastes. Widely cherished across Java, Getuk is a symbol of modesty.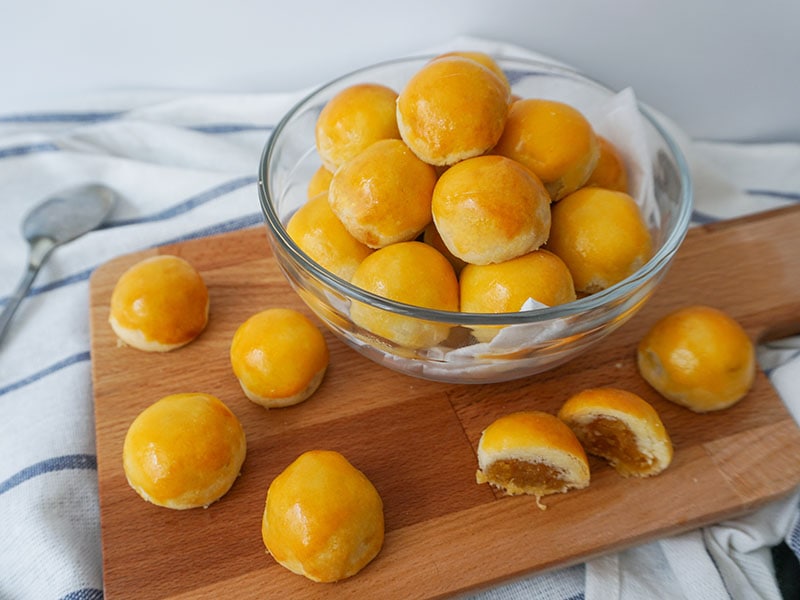 Have you ever tried Nastar? These delightful pineapple tarts are made with a light dough sweetened with condensed milk for a creamy feel. With spiced pineapple jam as a filling, they are irresistible.
Often described as shortbread cookies, these round treats have a Dutch influence in their creation.
Go through the video to get basic steps for making the best pineapple cookies: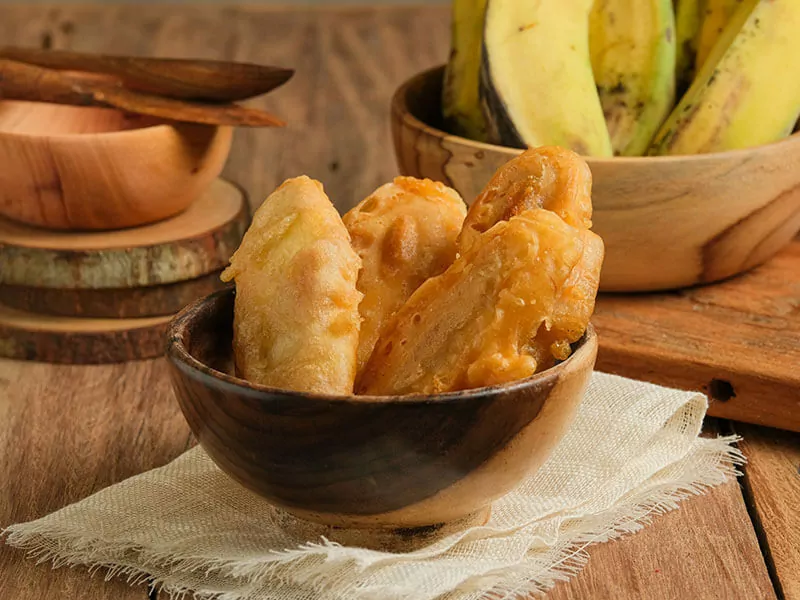 Pisang Goreng is a famous street food in Indonesia to snack on daily. These batter-coated bananas are deep-fried to crispy perfection in hot oil, making them an irresistible treat.
You can find Pisang Goreng at any street stall and cart nationwide. With different types of bananas, such as Pisang raja, Pisang saba, or even plantains, it's always fun to try them all.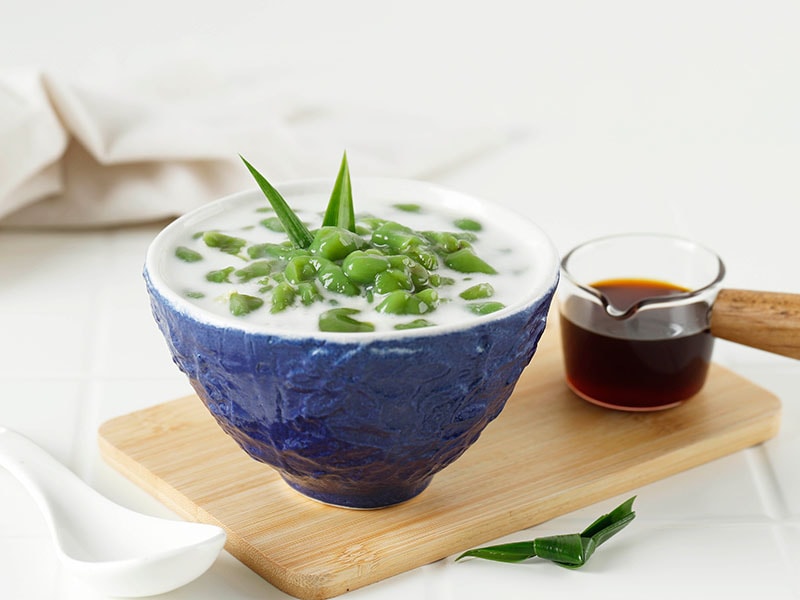 Cendol refers to dark-green rice flour jelly strands that resemble little worms. And other main ingredients are palm sugar syrup, coconut milk, and shaved ice, creating a refreshing treat.
You might find cendol combined with extra toppings in a tall glass,, like tapai (fermented sweet cassava), diced jackfruit, durian, black grass jelly, or sweetened condensed milk. This yummy concoction is a must-try during summer.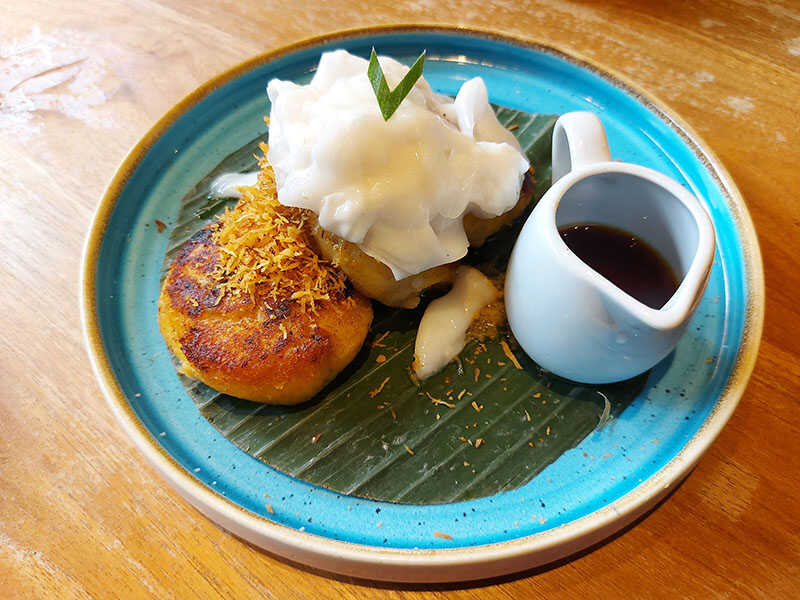 Colenak is a well-loved treat in Bandung's provincial capital, originating from West Java. Its name is a combined word of "dicocol enak", meaning delicious dip. It goes best with tea or coffee.
Peuyeum, fermented cassava, is the main ingredient that gives Colenak its exotic character. The cassava is roasted on charcoal, resulting in a tantalizing hint of bitterness. Still, what truly elevates this dish is the sweet sauce made from desiccated coconut and palm sugar.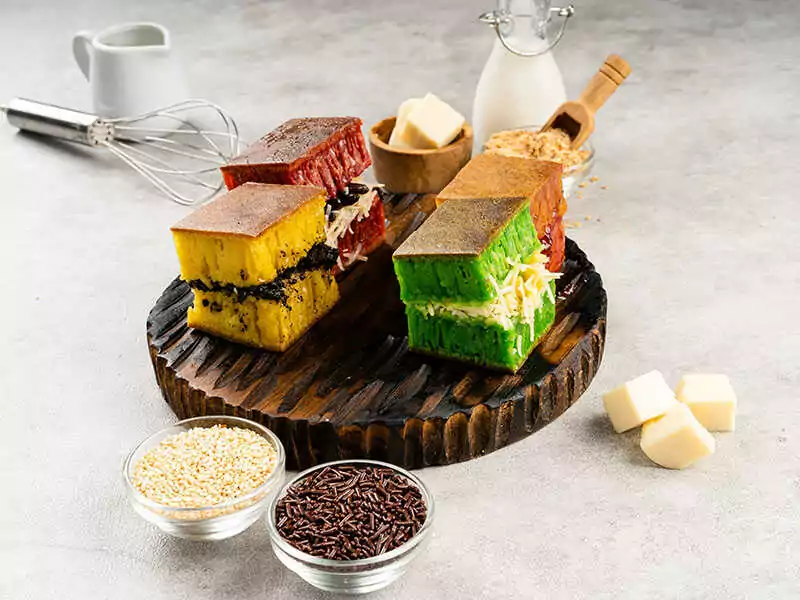 Martabak, also known as Terang Bulan, is an Indonesian thick and sweet pancake. As the sun sets, around 6 PM, multiple street vendors sell this treat with tasty toppings: chocolate, condensed milk, durian spread, matcha, cream cheese, peanuts, and fruits.
The round-shaped dough is cooked similarly to a crepe but with the same batter as pancakes. This fusion creates lots of fun, with its crispy outer layer and gummy inner part, served as is or folded in half.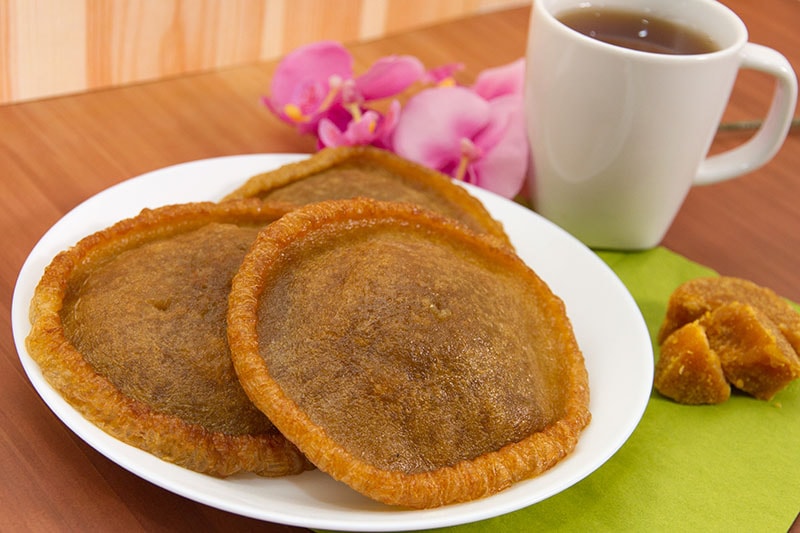 Kue Cucur is a bright red sweet cake available in traditional markets across Indonesia and Southeast Asia. Hailing from India, it has become famous under various names like Pinajaran in Malaysia, Kuih Pinyaram in Brunei Darussalam, and Khanom Chuchun in Thailand.
Using rice flour, palm sugar, and fragrant pandan leaves, Kue Cucur is a perfect companion for afternoon tea. With thick middle and thin edges, it offers a satisfyingly chewy texture. Since it symbolizes love, this treat often appears in love ceremonies, including weddings.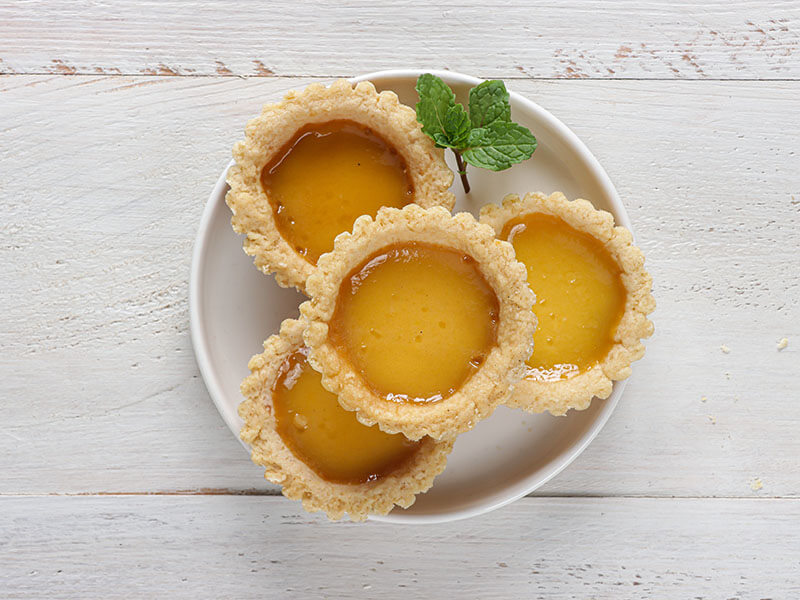 Translated to "milk pie," Pai Susu is a dish in Bali so well-loved that people often bring it back as a souvenir dessert. At first sight, it quite resembles a Portuguese pastel de nata, with a shortcrust pastry base filled with egg custard.
However, once tried this bite-sized snack, you'll realize how tempting it is, especially when it's sweetened with condensed milk. So, if you want to know the Bali flavor, you know what to try!
All detailed guidelines to finish pie Susu Bali are in your hand now!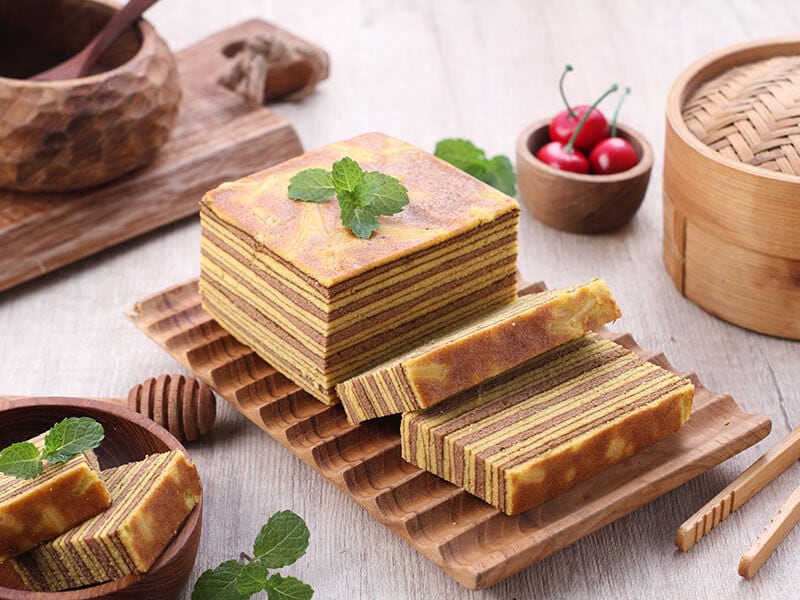 Lapis Legit, also known as Spekkoek, is a stunning Dutch-Indonesian layer cake. This labor-intensive cake boasts over 18 thin light and dark-colored layers; each flavored with warm spices like cinnamon, nutmeg, and mace.
The cake's firm and sweet nature makes it a perfect winter dessert. Lapis Legit is especially loved in Java and Bali, sold as a whole cake. Modern versions may feature cinnamon or chocolate, setting it apart from its relative, Kue Lapis.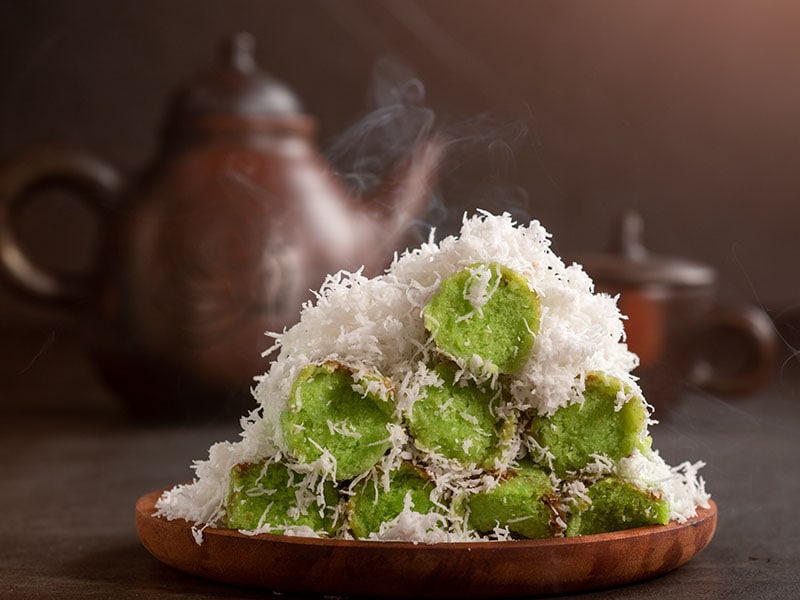 Kue Putu is a pleasing Indonesian street food with an exotic tube shape. These rice cakes use 5 or 6-cm bamboo tubes as molds and get steamed to perfection. The filling is Javanese palm sugar, while the topping consists of coconut shreds.
You can recognize Kue Putu vendors by the high-pitch whistling sound during steaming. This process is similar to that of Puttu, a South Indian snack. Between two popular variations, the green Kue Putu attracts people with its aromatic scent from pandan leaves.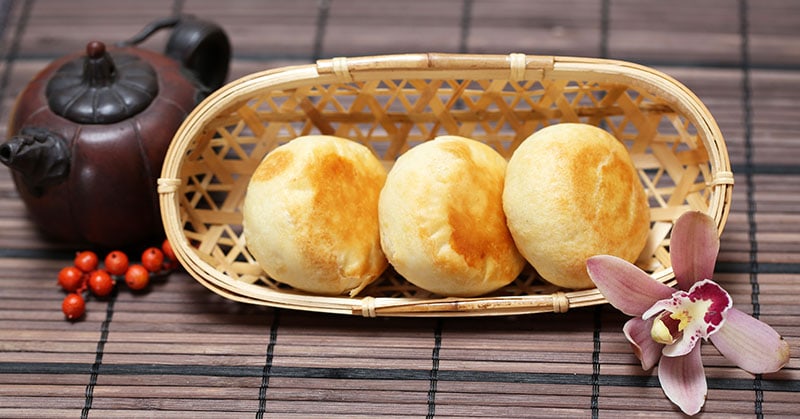 Bakpia is a moon cake-like pastry filled with sweet bean paste, favored in both Indonesia and the Philippines. This tasty treat was introduced by Fujianese immigrants and got its name from a suburb in Yogyakarta that specializes in pastry.
The most famous variation of Bakpia uses sweet split mung bean paste as its filling, hence a unique and delicious taste.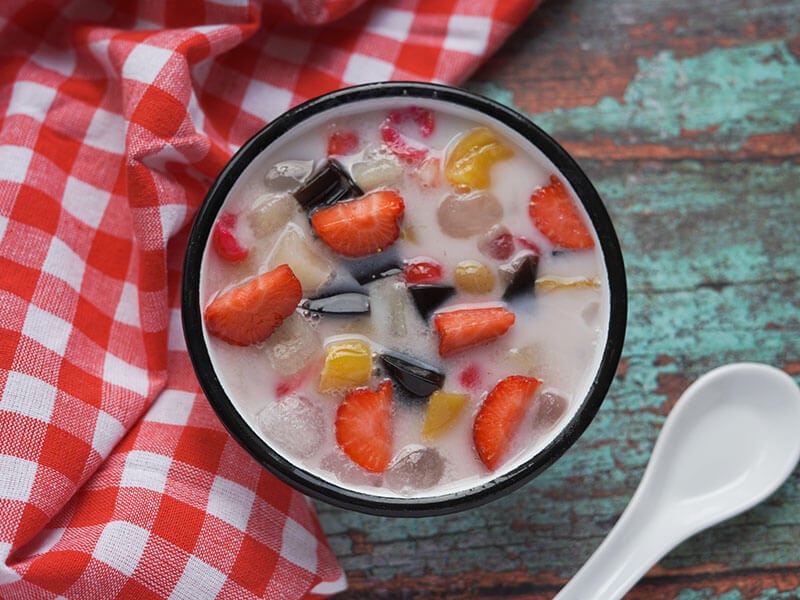 Es Campur is a refreshing cold dessert perfect for a hot day. This treat includes various fruits, coconut, tapioca pearls, and grass jellies. People served it with shaved ice, syrup, and condensed milk to make it more delicious.
You can find Es Campur at restaurants or traveling trolleys on the streets. It's mainly in demand during Ramadan among Indonesian Muslims, as it's commonly sold before breaking the fast.
FAQs
Do you want to know more about Indonesian desserts? If yes, this section will bring several exciting questions about this theme with quick yet detailed answers.
Is There Any Indonesian Dessert I Have Missed?
You have run through all the famous Indonesian sweets worth trying during your journey to Indonesia. They are all flavorful and have a charming appearance, so you can even gift them to your friends.
If there are other Indonesian desserts not available on this list, you can leave their names in the comment section below. I will add them to the list as soon as possible. And feel free to introduce this helpful article to all of your relatives.
Nutrition Facts
10 servings per container
---
Amount Per ServingCalories130
% Daily Value *
Total Fat 8.3g

13

%
Sodium 37mg

2

%
Potassium 87mg

3

%
Total Carbohydrate 14.4g

5

%

Dietary Fiber 1g

4

%
Sugars 7.7g

Protein 1.2g

2

%
---
* The % Daily Value tells you how much a nutrient in a serving of food contributes to a daily diet. 2,000 calories a day is used for general nutrition advice.