Asian appetizers are a marvelous way to kick-start your dinner parties. They are guaranteed to pack a punch with all the flavorful ingredients and savory spices. Right from the get-go, you can impress your guests with just a little bit of effort and attention.
Asian cuisine in general is full of unbelievably great potentials. You may find yourself intimidated at first by some unfamiliar ingredients, but try them out anyway. Immerse yourself in the cultures and take your tastebuds on adventures with these recipes.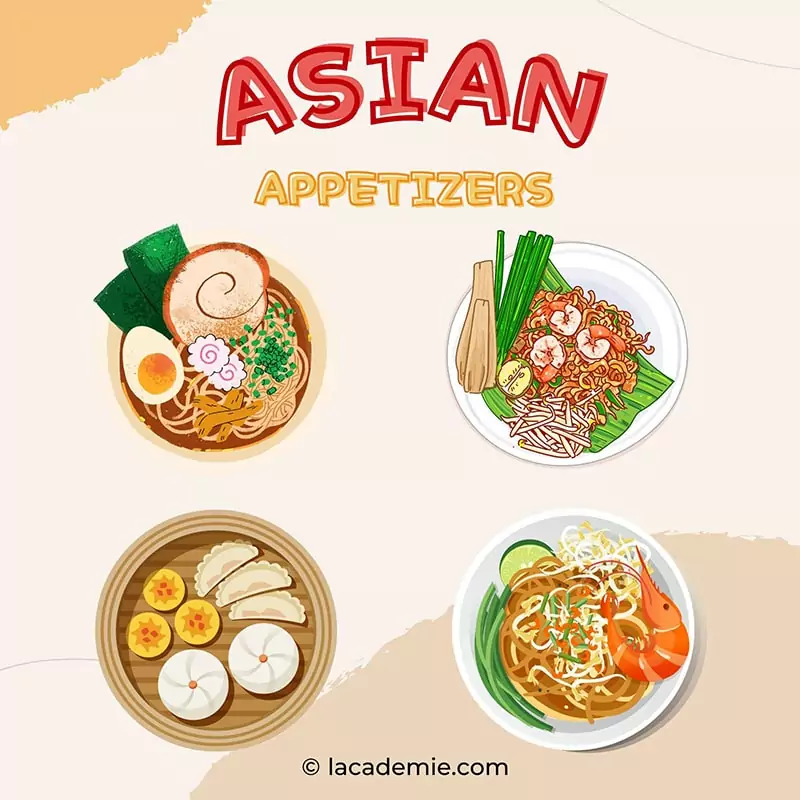 What are the popular Asian appetizers?
Asian cuisine is incredibly diverse, and you might find yourself overwhelmed when you first look into it. This is why I have categorized it into regions whose food you may be familiar with: Korea, Japan, Thai, China, India, and other countries.
Kimchijeon (Kimchi Pancake)
Kimchi Arancini Balls
Korean Chilli Pork Lettuce Cups
Mandu (Korean Dumplings)
Wanja Jeon (Pan-Fried Beef Patties)
Dongchimi (Radish Water Kimchi)
Hiyayakko (Japanese Chilled Tofu)
Vegetable Tempura
Onigiri (Japanese Rice Balls)
Tsukune (Japanese Grilled Chicken Meatballs)
Chawanmushi (Japanese Steamed Egg Custard)
Spicy Edamame
Japanese Sake-Steamed Clams
Spicy Thai Chicken Wings
Green Curry Spring Rolls
Baked Thai Coconut Shrimp
Thai Fried Calamari
Thai Zucchini Meatballs
Chicken Satay with Peanut Dipping Sauce
Steak and Cheese Wonton Cups
Baozi (Chinese Steamed Pork Buns)
Cong You Bing (Scallion Pancakes)
Egg Rolls
Crab Rangoon Dip
Chinese Style Potato Salad
Vada Pav (Indian Potato Sliders)
Indian Tomato Soup
Papdi Chaat
Corn Pakora (Indian Fritters)
Shami Kebab
Chao Tom (Vietnamese Sugar Cane Shrimp)
Bola-bola (Filipino Meatballs)
Kabak Dolması (Turkey Stuffed Squash)
Baba Ganoush
First thing about these stunning Korean dishes below, they mainly revolves around vegetables, rice, and meats with great emphasis on savory and spicy flavors.
They have all the warmth and comfort you could ever need in a homemade meal. And these recipes also have great flexibility, so you can always adjust the ingredients to fit your likings.
Kimchi is the most famous Korean food starting with the letter K. And this Korean pancake uses it as the main component. It's so easy to make, as long as you have some kimchi and flour. Plus, it's a quick and excellent way to use up all your leftover kimchi.
You can always expect a good flavor explosion when you see kimchi as the main ingredient of a dish. This one is spicy, sour, salty, and a little bit sweet too. The recipe is typically vegetarian, but you can add some meat to the mix if you'd like.
Instead of trying the South Korean version of kimchi for this recipe, you can opt for North Korean kimchi as well. In the cuisine of North Korea, kimchi is less spicy than its Southern counterpart but has a noticeably tangier taste that will get you addicted.
Arancini is actually a famous Italian starter with rice balls stuffed by cheese and deep-fried to crispy perfection. This recipe brings a spicy Korean twist to the traditional food by using Kimchi as the main ingredient.
This dish is an addicting mixture of heart-melting cheese, chewy rice, and flavorful kimchi. The golden crunchy crust contrasts the gooey insides perfectly, giving your meal an unforgettable starter. Dip it with some yogurt sauce to soften the heat, or squeeze some lime in to add a sour taste.
If you are a fan of Korean BBQs, you may be familiar with this tasty dish. It's like a salad, but with an Asian twist that makes it so much more flavorful and interesting. These lettuce cups can be the perfect appetizer for all your summer barbecues.
This recipe features meat marinated in Korean seasonings such as gochujang, sesame oil, soy sauce, etc, and fresh green lettuce with customizable toppings. You can easily put it together using the pre-existent ingredients of your meal in just less than 30 minutes.
Mandu is homemade dumplings that many Korean associate with good luck and happiness. They are made by covering meat and vegetables in thin wrappers to boil, steam, or deep-fry. It creates incredibly juicy and savory dumplings that you can enjoy with your loved ones.
These dumplings can also be enjoyed for many, many days. You can make them in large quantities, freeze them up, and save some for later. They might take some time on the first try, but in the end, they are worth every bit of effort.
Wanja Jeon are basically meatballs pressed into mini patties. They are a very common finger food in Korean streets. This is because of how delicious they still taste hours after being made.
These meat patties have a very harmonized mixture of sweet and savory tastes, all wrapped up in little soft and juicy balls of meat. The ingredients are quite versatile and yet very simple, ranging from meat, vegetables to tofu. It's also a great way to use leftovers from other meals.
Dongchimi is kimchi whose main ingredient is Korean radish. Contrary to regular kimchi, dongchimi has a very mild, fresh taste, and it can get sweet and tangy if well-fermented. As the radishes become plumper in the winter, this recipe is mostly eaten during the cold season.
You can eat this kimchi as a side dish on its own like a soup, or pair it with spicy Korean BBQs to balance out the flavors. Korean also eat it with baked sweet potatoes to improve their digestive health. If you're looking for a healthy, gluten-free appetizer, give this one a try!
This one-step appetizer is the best thing you will have this summer. Hiyayakko is a traditional Japanese dish made by draining silken tofu and leaving it to sit for about 15 minutes. Add some toppings, and there you have it, a healthy and deliciously creamy appetizer.
As this tofu is relatively mild in flavor, it's the perfect canvas for any topping of your choosing. If you are a vegetarian, there is a variety of veggies to choose from, like tomatoes, shallots, ginger, and more. Get creative with the sauces for an extra layer of flavor.
This is one of the most popular vegetable dishes in any Japanese restaurant. It's made by deep-frying different vegetables like eggplants, sweet potatoes, mushrooms, squash, bell pepper, and more in a light batter.
Tempura dishes usually take a few tries to get right, but once you do, you won't be able to stop making them. There's nothing more addicting than crunchy, crispy vegetables dipped in savory and flavorful sauce to start your meals.
Onigiri is balls of rice stuffed with various fillings and often wrapped in a type of dried seaweed called nori. They are one of the most common snack foods in Japan. You can find them in any convenience store with many varieties in flavors and shapes.
These simple rice balls have no limit to them. You can make them any way you like. Season the rice for an extra flavor kick and fill the insides with fried chicken, canned tuna, marinated vegetables, whatever you feel like making. Get creative all you want with this tasty treat.
A simple guide on two different ways to make onigiri.
Blow all your guests away at this year's cookout with this savory-sweet grilled Asian chicken delicacy. Tsukune are Japanese-style chicken meatballs covered in caramelized soy sauce. They are tender, juicy, and slightly charred on the outside; what more could you want for a barbecue side dish?
Even though it's a grilled recipe, you can still make these on a pan or in the oven if it's just for a regular meal. These chicken meatballs are also keto and low carb, so you don't have to worry too much about breaking your diet and still be able to enjoy a perfectly good dish.
Although they're not quite the same, these scrumptious meatballs remind me of Pkhali, a delicious dish originating from Georgia. Often shaped into appetizing, bite-sized balls, Pkhali will make your mouth water just by its look alone.
This is no regular egg custard. It's a traditional Japanese steamy mixture of eggs, soy sauce, salt, mirin, and a versatile selection of add-ons. You can fill it up with anything, from vegetables like carrots, mushrooms to meat like shrimp, chicken, and even fish cakes.
Chawanmushi is often served in a teacup or any small cup with lids, giving it a very delicate and authentic appearance. It has the usual egg custard silkiness but is accompanied by a complex flavor fusion of sweet and savory. Truly a must-try when it comes to Japanese cuisine.
Edamame is an immature soybean you can eat straight from the pods. The common way many like to enjoy this healthy vegetable is by boiling them in saltwater. However, you can switch it up a little and make them spicy instead.
These beans are naturally sweet and soft with a nutty undertone. Add some heat to them by sautéing them with some garlic, chili, and any spicy sauce you have. You can make some for appetizers and use the rest as toppings for noodles, salads, stir fry dishes, or even sushi.
​​Make a restaurant-worthy appetizer for your dinner in less than 20 minutes. This recipe features clams (any clam varieties), onions, and ginger steamed in sake, an exquisite Japanese drink known for its light fruity taste.
This delicious dish is the perfect appetizer for cold winter nights. Nothing warms you up quicker than a toasty bowl of savory clam soup with a sweet aroma. You can add a little bit of chili pepper for some extra heat to make it even better.
Expand your BBQ horizon with these Thai-style chicken wings. They are grilled chicken marinated in a sweet and tangy authentic Thai sauce. Let them fill your tastebuds with some incredible flavor bursts that will have you thinking about them for days.
Great as more than just appetizers, you can make this dish as snacks for game nights or even eat as a main course. Save some of the sauce for future meals because it will go great with just about anything.
This recipe combines two familiar and beloved foods from Thai cuisine: spring rolls and green curry. If you are hosting an Asian dinner party or just simply wanting to make authentic Thai dishes, this is an easy one to try.
It's a unique appetizer, both in flavors and textures. At first bite, you are welcomed by the crunchy exterior, then completely amazed by juicy and sweetly spicy fillings inside. Believe me when I tell you it's an experience like no other.
Healthy, delicious, and an absolute joy to eat, this baked coconut shrimp recipe has it all. Despite their crunchy exterior, you don't have to deep-fry these shrimps in oil, which means they have significantly less fat and calories.
The main thing that separates this tasty Asian shrimp dish from regular fried shrimp appetizers is the coconut bread mixture. It makes the shrimps feel way more tender and juicy with a milky sweet note. Pair this dish with some sweet chili sauce, and you'll have a crowd-pleasing appetizer for any party.
Calamari is not a brand-new appetizer to most people. It's a dish made by frying squids that are coated in a light batter. However, this must-try Thai dish offers a signature sweet and spicy flavor twist that makes it infinitely more exciting to eat.
As you can tell by looking at it, this dish is quite simple to make. Twenty minutes by a frying pan and a crispy batch of squid rings are ready for you to serve. In addition to the traditional sweet chili sauce, you can also make some Thai mango sauce for a tropical fruity taste instead.
If you need a quick pick-me-up dish for yourself and the kids, have a look at this recipe. Tender and juicy meatballs are already good on their own, smother them in chewy zucchini with some creamy sauce, and it's a good time guaranteed.
Thai sauces are very diverse, but the most popular one used to eat with savory appetizers is mango sauce. It's a perfect harmony of sweet and spicy with a rich tropical aroma. Soak your meatballs in this delicious sauce to start your meal in the best way possible.
Your summer barbecue is about to get a whole lot better, thanks to this wonderful dish. These are marinated chicken skewers drenched in a sweet and tangy peanut sauce. They're nothing too complicated but still enough to steal your heart for a while.
Even though the recipe calls for chicken, you can use anything you want in place of it. You can substitute it for pork, beef, or for those who are vegetarians, vegetables and tofu also taste unbelievably good.
If you've tried out several Asian cuisines, you'll notice that satay is present in many Asian countries. Considered a staple food in Singapore, Malaysia, Indonesia, Thailand, and so on, satay makes a fantastic appetizer and satisfying street food.
Steak and wontons certainly are nothing new, but what happens when you combine them? The result is something you have never seen before, crunchy bite-size wonton cups filled with creamy cheese and savory beef.
These adorable little cups make not only great appetizers but also snacks for all your game day festivities. They come in small portions so you don't get overwhelmed too quickly and can still fully enjoy the main course later on.
Don't deprive yourself of goodness; give these steamy buns a try right now. Baozi is a classic in Chinese cuisine. It can be found almost anywhere, from street corners to fancy restaurants. This fluffy treat is usually stuffed with various sweet and savory fillings, most notably pork.
Pillowy soft buns filled with juicy and savory pork fillings are the best way to kick-start a meal. The tender meat just completely melts inside your mouth at the first bite. These small buns are light and can fit in the palm of your hand; you can eat them on the go as well.
Fun fact: Chinese baozi are so delicious that they inspired Keke Pua'a, a beloved dish in Samoan cuisine. So don't be surprised to come across these fragrant little buns when you're trying out the various dishes Samoan cuisine has to offer.
Another popular Chinese street food you can turn into an appetizer is these scallion pancakes. Unlike regular pancakes, they are made with dough instead of batter, which gives them a very crispy and crusty exterior.
The fillings of these pancakes, however, are pretty soft and tender with a savory, earthy taste. The contrast makes them so much more fun and delightful to eat.
Moreover, the Taiwanese enjoy these treats as street foods. They can be served with popular dipping sauces like soy sauce, hot chili sauce, and pepper.
These egg rolls can often be found in American Chinese restaurants as take-outs. They bear great similarities to spring rolls but are richer on the outside, thanks to the egg-dipped wrappers.
You can get as experimental as you want with the fillings of these egg rolls. The most common choices are vegetables and meat, but some make them sweet with fruits and jams; others add cheese to the mix. Don't be afraid to get creative and make your own unique appetizer.
Crab rangoon is a fried dish of crab, cream cheese, and various seasonings stuffed in wonton wrappers. This dip is a deconstructed version of crab rangoon. It has the same beloved ingredients, but with the crispy skins removed, you can get all the creamy cheesiness you want.
This heart-melting dip can be served as a side to anything, from wonton chips, crackers, rice, pasta, chicken, and soup as well. If you're looking for an Asian party appetizer anyone can enjoy, this delicious dip is the perfect candidate.
This potato salad is unlike any other version you have tried before. It isn't drenched in typical creamy dressings, but traditional Chinese seasonings like sesame oil and rice wine instead. The potatoes are also shredded and not cut into slices or cubes either.
You will find yourself loving how unique and unusual this salad tastes. It's slightly spicy, salty, and garlicky while still manages to be crispy texturally. This makes it a flavorful companion for all your meat-based meals, like BBQs, steaks, or roasted chicken.
You can find Vada Pav on every corner of the streets in India. This food with "V" as the first letter is cheap, easy to make, and carries a versatile taste anyone would enjoy. It's spicy potatoes sandwiched between two small buns with heaps and heaps of savory seasonings.
You can eat Vada Pav with a lot of things; however, most Indians prefer chutney. Chutney is a sweet and spicy vegetable sauce. If you want to take this dish to the next level, garlic chutney is highly recommended.
Get your heart and soul all warmed up with this deliciously spicy tomato soup. If you are already familiar with tomato soup, you should have no problem making this one. It uses the same ingredients, only adding some extra Indian spices for the toasty heat.
This iconic soup from Asia is a flavor bomb with how intensely sweet yet spicy and sour it is. Its creamy and rich texture makes it so fulfilling, not just as an appetizer but also as the main dish if you pair it with some bread splattered in butter.
For those looking to try out authentic Indian recipes, this easy street food may be a good starter. Papdi Chaat is chips made by frying dough wafers with chickpeas, potatoes, and chutney. They are then topped with some traditional Indian sauces and yogurt.
Depending on what chutney and toppings you use, Papdi Chaat's taste may vary between recipes. However, generally, it's an exciting mixture of sweet, sour, and spicy with a perfectly blended creamy and crunchy texture.
Pakora is the Indian version of fritters, which means it can be made with almost any fruit and vegetable. However, sweet corn is the most popular and well-loved of all. You can find this crispy snack at any Indian kitchen during the monsoon season.
Much like most Indian snacks, you can pair it with some green coriander or red garlic chutney for a flavor boost. If not, ketchup or sour cream are also great. Many also have it as a light tea time snack alongside some chai latte or coffee.
Shami Kebab is patties made from minced meat, chickpeas, eggs, and some toasty spices. Everything is smashed together and pan-fried to crispy yet delicate palm-sized snacks for all your dinner parties.
These shami kebabs taste incredible as individual appetizers, but you can also repurpose any leftovers for other recipes. Pair them with some bread to make sandwiches or rice and curry for a fulfilling main course.
Chao Tom is an addicting Vietnamese appetizer made by frying sugar canes wrapped in ground shrimp. It's the perfect finger food for all your Asian parties because despite the simplicity in looks, their taste is quite complex.
Each bite will give you an insanely aromatic taste of shrimp infused with sugar cane and herbs. They are crispy on the outside, but juicy all the way to the core thanks to the sugar cane. You can even chew on the sugar cane for some extra sweetness once you are done.
Bola-bola are Filipino meatballs made from a mixture of ground beef, vegetables, eggs, and spices. These delectable Filipino dishes are often served as an appetizer or a snack, but you can also turn them into steamy hot soup or eat them as a main course with some white rice.
Versatile in more than just one way, these Asian ground beef-based treats are loved also because of their taste. The meat themselves are savory and salty, but they blend their flavor wonderfully with any sauce they go with, like sweet and sour sauce, tomato sauce, or curry sauce.
When fall comes around the corner, make sure to take full advantage of the winter squash with this recipe. It looks overwhelming and filling, but in fact super effortless to make. The recipe itself is also very flexible, allowing you to stuff the squash with anything you prefer.
Get as creative as you want with the fillings of this recipe. You can make it entirely vegan with other veggies, or toss some sausage and cheese in to make a hearty mixture even your kids will love.
Those who love the classic Greek dish Hummus will find themselves falling in love with Baba Ganoush as well. This Middle Eastern dip is a vegan dream come true. It's made by mixing roasted eggplants, tahini, olive oil, lemon juice, veggies, and some seasonings.
Simple as it may be in the cooking process, the actual taste of this dish is full of complexity. It has a slight smokiness from the roasted eggplants, but also depths of flavors from the other ingredients. Give this silky and irresistible dip a try and you'll see what I'm talking about.
Don't Underestimate The Power Of Appetizers!
Asian appetizers have endless creativity to them. They mainly emphasize the diversity in flavors and heart-warming homemade qualities of a dish. From the cooking methods to ingredients and spices, you can never have a dull moment with these foods.
First impressions are more important than you think. Start your meal with these flavorful and memorable Asian appetizers to keep your guests interested all the way through. Get a little experimental with your cooking journey, and let me know how your work turned out.
Nutrition Facts
3 servings per container
---
Amount Per ServingCalories170
% Daily Value *
Total Fat 4.1g

7

%
Cholesterol 55mg

19

%
Sodium 685mg

29

%
Potassium 68mg

2

%
Total Carbohydrate 23.4g

8

%

Dietary Fiber 0.8g

0

%
Sugars 2.8g

Protein 9.6g

18

%
---
Calcium

34

%
Iron

1

%
Vitamin D

5

%
* The % Daily Value tells you how much a nutrient in a serving of food contributes to a daily diet. 2,000 calories a day is used for general nutrition advice.